One of the most frequent questions I'm asked, in regards to Langkawi, is "Where are the best places to stay in Langkawi?" or "Which Langkawi hotels do you recommend?" Seriously, those questions over-shadow any What to do? Where to eat? queries I receive. And when it comes to places to stay in Langkawi, the accommodation selections are as numerous and diverse as the island and visitors themselves. People visit Langkawi for a plethora of reasons. Surprisingly enough, not all actually come to 'go to the beach'! And rightly so, as the Langkawi Geopark has much more to offer beyond a few beaches. From exploring rainforests and waterfalls to duty-free shopping to the simple opportunity to slip into island time and relax, Langkawi has something for nearly everyone.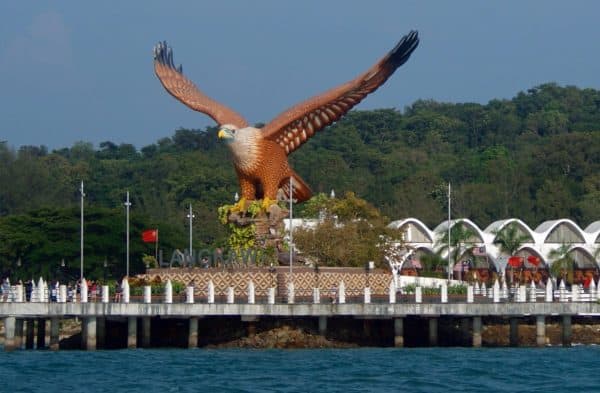 So, where to stay you ask? Much of that depends on what you plan to do or what type of traveler you are. Staying in a remote location means needing transportation. Days at the beach could mean a saunter across the road or a daily journey of 45 minutes or more, etc. You get the picture. And there are hundreds of Langkawi hotels, guest houses and homestays to choose from. But you're in luck! I've whipped up a list of some of my personal favorites to help you cut to the chase. And! I've even divided them into location, so you can see just what you are getting into.
Locations of Langkawi hotels:
Kuah Town
Kuah is the busy commercial center part of Langkawi. Da 'big' city if you will. It's also home to the main ferry terminal which services, Kuala Perlis, Kuala Kedah, Penang and Satun, Thailand. It also services Koh Lipe, Thailand from October to June. Kuah is most popular with visitors whose main goal is to duty free shop 'til they drop, but it's also very convenient for the Koh Lipe bound who arrive from the mainland. In addition to plenty of hotels, there are loads of shops and services available within the busy Kuah township; everything from electronics to hair salons. Plenty of restaurants too. In fact, you would be hard pressed to find 'bad' food in Kuah as there are so many fantastic little eateries it could take months to eat your way through them all. Including the Kuah night markets on Wednesdays and Saturdays. Local sights in the area include Eagle Square, Lagenda Park and the Al-Hana Mosque as well as two main shopping malls and an abundance of duty free shops.
Bella Vista Waterfront Langkawi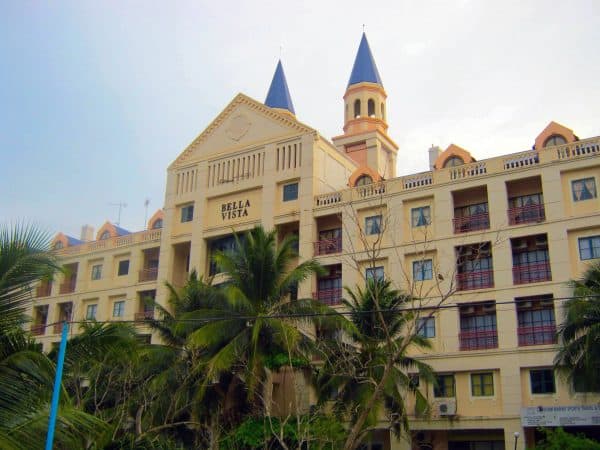 The Bella Vista's castle-esque appearance is a real eye catcher on the waterfront and is quite popular with tour groups and families. It's a good mid-range hotel, located about 25-minute drive from the airport and about a 10-minute drive from the Kuah ferry terminal (30+-minute walk for hearty travelers). The spacious rooms are a mix of older and more recently remodeled and come with garden or sea views. This property also has a restaurant, bar, spa and an infinity pool. The Bella Vista is conveniently just a short walk from an abundance of local eateries and shops. You can check the Bella Vista's room rates and availability HERE
Langkawi Yacht Club Hotel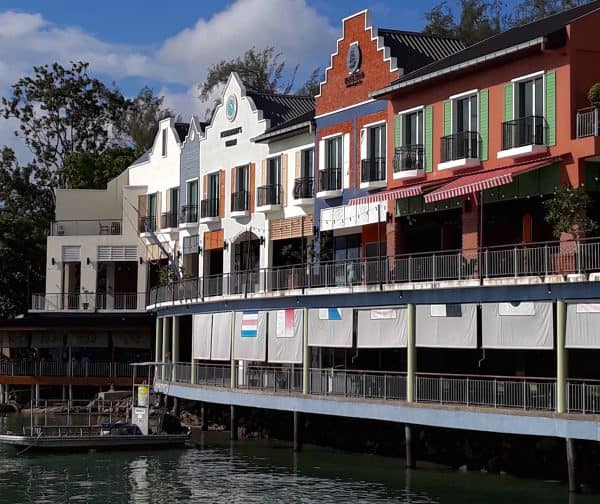 Over looking the waterfront and the marina of of the Royal Langkawi Yacht Club, the Langkawi Yacht Club Hotel is a picture perfect option for couples and solo travelers. It is also just a stone's throw from the Kuah ferry terminal. Incorporated  into the Yacht Club property is Fisherman's Wharf which offers further panoramic seaside views, restaurants, bars, several shops and a spa. In addition to plenty of floor space, some of the airy, nautical-themed rooms come with small balconies. Perks of this property include use of the Yacht Club pool and a gorgeous sunset view. Can read our review HERE and can check rates and availability HERE
Westin Langkawi Resort & Spa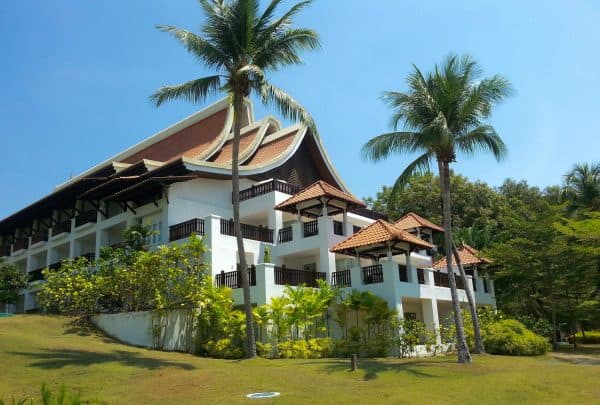 If 5 star is more your style, the more remote Westin Langkawi is just up the road from the Kuah ferry terminal and comes with its own private beach, two pools, a spa and several in-house restaurants and bars. A big hit with families, business travelers and romance seekers, the Westin Langkawi offers a selection of room styles, from standard garden view to sea view VIP suites. Not especially conveniently located, but taxi service, rental car and even bicycle rental options are available. Additional amenities of this property include a tennis court, excellent gym, plenty of greenery and scenic views of the surrounding archipelago. You can check the Westin's room rates and availability HERE
Don't like my selections? Check here for more Kuah options: Kuah Hotels
Pantai Cenang
If you love tourist-y type beaches with endless souvenir shops as well as the competing beachfront sound systems of restaurants and bars, then Pantai Cenang is the place for you. Parasailing, banana boats, jet ski tours and jet ski rentals are all popular activities along the waterfront, and there are even a few cars and motorbikes zipping along the shoreline as well. However, the 1.8 kilometer stretch of white sand beach is perfect for those long walks on the beach, as it's the longest stretch of uninterrupted beachfront in Langkawi and the sunset views from Pantai Cenang are cliché worthy. Local sights in the area include Museum Laman Padi, a mall, two nearby-ish night markets and several duty-free shops.
Bon Ton Resort / Temple Tree Resort
Often referred to as Bon Ton at Temple Tree, these unique boutique resorts are two resorts in one. Sharing the grounds of an old coconut plantation, Bon Ton Resort is on one side and Temple Tree is on the other side. Located just to the north of Pantai Cenang, Bon Ton is about a 10-15-minute walk to the beach and all that Pantai Cenang has to offer, yet enjoys the quieter ambience of padi fields and an adjacent wetland.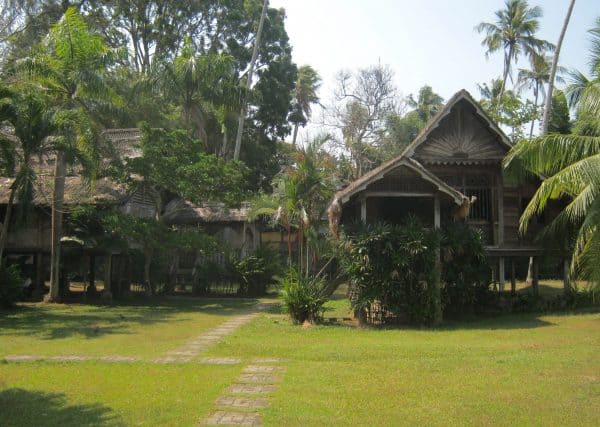 Bon Ton offers 8 villas, which are original houses from various states in Malaysia. The traditional Malay houses were brought to Langakwi and re-assembled creating a one of a kind mini-kampung. The spacious rooms are decorated with historic collectables and traditional and ethnic furnishings. You can check Bon Ton's room rates and availability HERE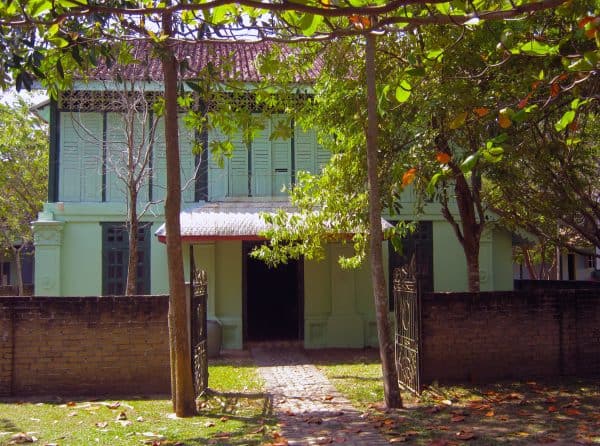 Temple Tree Resort consists of 8 antique buildings of Chinese, Malay and Indian origin reminiscent of colonial times. Each building was previously a family home which was a forethought during the restoration process. Spacious and beautifully decorated, the villas can be booked in their entirety or as separate suites within. The resorts offer a lap pool and two onsight restaurants, as well as a library and game room. Some of the proceeds from these resort go to LASSie (Langkawi Animal Sanctuary) which operates on the grounds of the resort. You can check Temple Tree's room rates and availability HERE
Casa Del Mar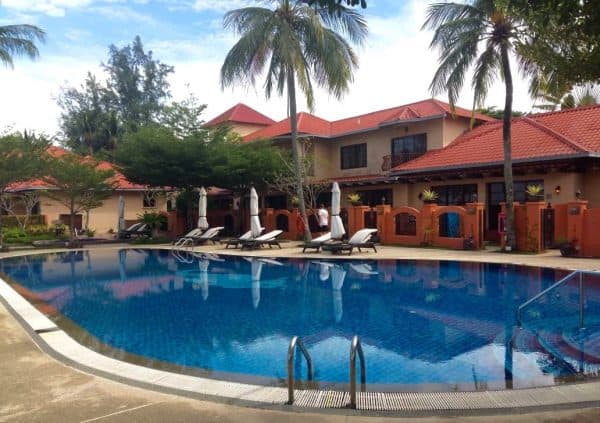 This small 4 Star boutique resort presides over a beautiful stretch of sandy beach at the north end of Pantai Cenang. The 34-room Casa del Mar has a timeless Mediterranean architecture of stucco, timber and clay tiled roofs. It is surrounded by lush greenery and a seaside border of swaying palms. The various room options include spacious sea view rooms with private balconies to studios and junior suites. You can't go wrong with all the rooms facing the sea on the upper and ground floor. Each with its own balcony or terrace. A beachfront pool and poolside bar adds to the tropical ambiance of the Casa del Mar and for those gorgeous Langkawi sunsets it is a perfect spot for a sundowner cocktail. You can check their room rates and availability HERE
Gecko Guesthouse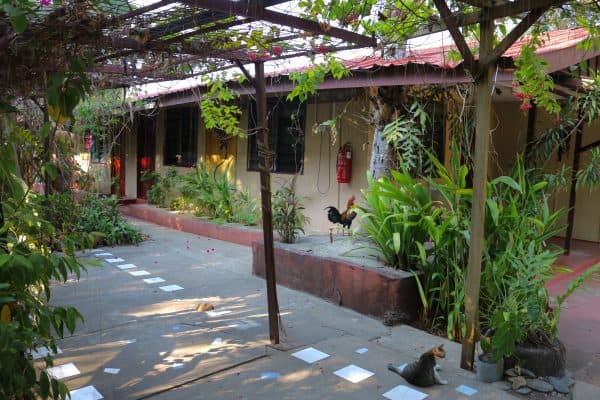 Tucked away off the main thoroughfare of Pantai Cenang on a small windy road is Gecko Guest House. This long-established guest house is extremely popular with backpackers and budget travelers from all walks of life. The central lounge and reception area is surrounded by lush gardens and is the place where guests generally congregate, use the WiFI and compare travel notes. The rooms are in a group of both timber and brick buildings that surround the central garden and are basic, yet clean and comfortable. With only 18 rooms and a dormitory Gecko is almost always full, so be sure to book in advance. The guest house also serves breakfast from 9:00am until 2:00pm daily with additional bar service in the evenings. You can check Gecko's rates and availability HERE
Gemalai Village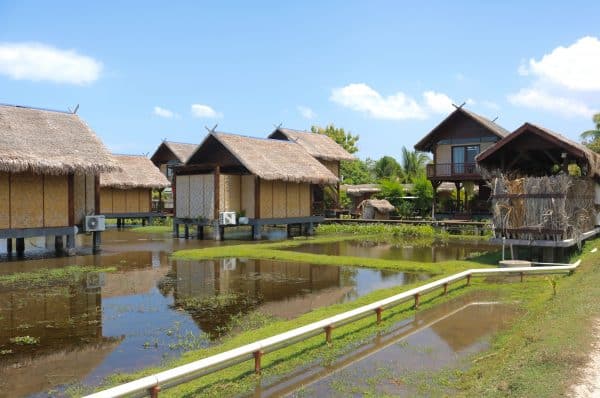 Smack in the middle of the famous Pantai Cenang Laman Padi, the Gemalai Village is a hotel-y version of an actual padi field kampung. The six stilted rooms are designed to mimic traditional Malay thatched roof houses yet include plenty of modern amenities and creature comforts, such as a massive bed, flat screen TV, mini fridge and the like. Each wood finished bungalow has a private balcony where one can enjoy the sunset or oversee the padi field below. The beach is just a 10-minute walk from the hotel and complimentary bicycles are available for guests. Local restaurants and sundry shops are also within walking distance as is the nearby Museum Laman Padi. You can check their room rates and availability HERE
Panji Panji Tropical Wooden Home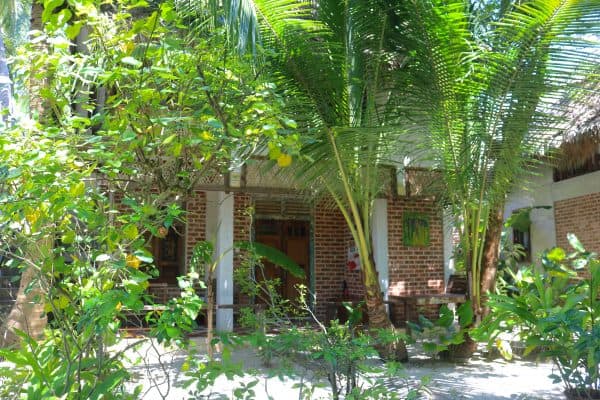 Located to the north of the official Pantai Cenang entry road, Panji Panji Tropical Wooden Homes offers a quiet seaside hidey-hole within walking distance to Cenang Beach. Previously a private Malay style residence, Panji Panji has reinvented itself by tastefully adding  3 new, 2- story, buildings to the Panji Panji kampong-style, estate. However, the term, 'new buildings', may be a bit misleading as all the additional construction utilizes recycled timber, doors, windows and red brick.
The immediate impression upon arrival at Panji Panji is one of timelessness. Every timber, every window and door, every construction joint was meticulously fitted in the old style of Malay timber construction. Tucked amidst lush tropical gardens, the rooms have open air showers and are decorated with period pieces as well as ethnic accents. A private pool and the popular Smiling Buffalo Restaurant are conveniently located onsite for those who prefer to simply shift into island time and enjoy the hotel's laid-back vibe. You can check Panji Panji's room rates and availability HERE
Soluna Guest House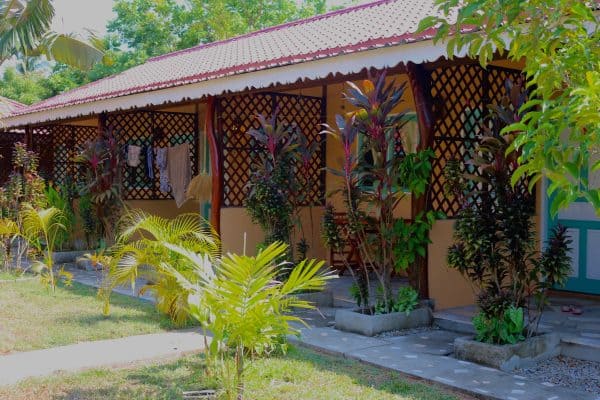 Located between the green fields of Laman Padi and a field of swaying palms the Soluna Guest House offers warm hospitality and a laid back kampung vibe. The 2-story traditional Malay house overlooks a landscaped garden bordered on two sides by the single-story guest house accommodations. With choices ranging from a dorm room, to fan rooms with shared bath and aircon ensuite rooms, the Soluna meets the diverse needs of backpackers as well as solo travelers. The main house upper floor is the owner's residence and below is a comfortable open air common area and breakfast nook. Though the main road access to the property make it appear more remote, the Soluna is in actuality just a short walk (as the crow flies) to the beach. Local restaurants and sundry shops are also just a short distance away. You can check the Soluna's rates and availability HERE
Tubotel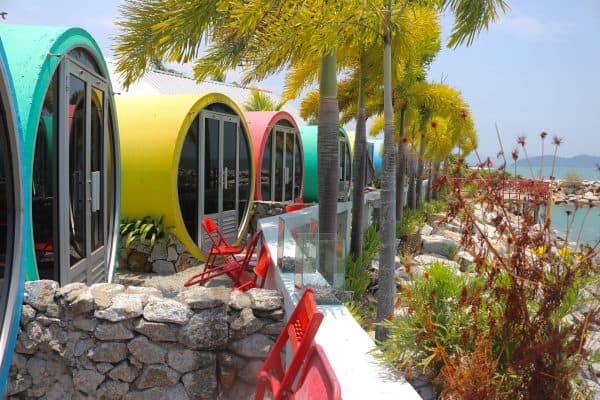 Located just outside of the main stretch of Pantai Cenang, Tubotel is located at the end of the jetty near the Rebak Island Ferry Terminal. Each room is a section of colorful, concrete pipe (or tube) with full glass panels and doors creating the entrance way. The interior walls are decorated with hip murals adding to the already artsy appeal of the unique Tubotel property. Although short on floor space there is plenty of storage beneath the king size bed.  The sea view rooms are picture perfect and offer a cozy spot for catching the sunset or doing some after-hour star gazing.  Tubotel's main building houses the hotel's reception, common area and restaurant, in addition to the hotel's two saltwater pools and massive patio day beds. The beaches and restaurants of Pantai Cenang are conveniently just a 10-15-minute walk away. You can check Tubotel's room rates and availability HERE
Not quite what you are looking for? Check here for more Pantai Cenang options: Pantai Cenang Hotels
Pantai Tengah
Separated by a rocky headland from the all popular Pantai Cenang, Pantai Tengah is far less crowded than its neighbor to the north. The tree lined Jalan Pantai Tengah is less developed and has a selection of tasteful shops, restaurants and bars which lend it a more bohemian ambiance. Several new hotels have recently opened here and they each have a unique charm as well as access to the often, almost deserted beach. And if you need a dose of the buzzier, tourist-y atmosphere of Pantai Cenang, it's just a 20-minute walk away.
Ambong Ambong Rainforest Retreat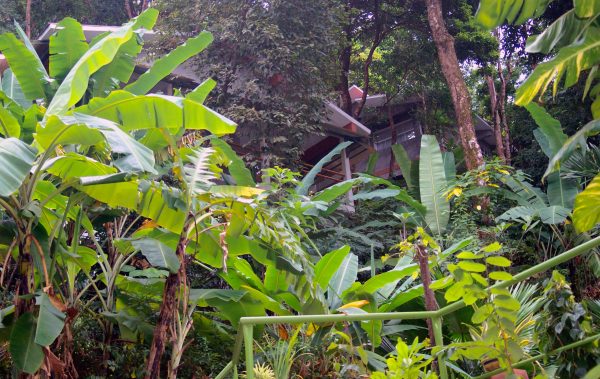 Amidst the jungle clad hills of Pantai Tengah, Ambong Ambong Rainforest Retreat was designed and painstakingly constructed to have a minimal impact on the surrounding environment. The studios and suites have incredible views of the sea as well as being eye level with a host of wildlife that inhabit the surrounding property. With comfortable living area and a small kichtenette you may never wander from the resort and its intimate pool and restaurant. You can check Ambong Ambong's room rates and availability HERE
Aseania Resort Langkawi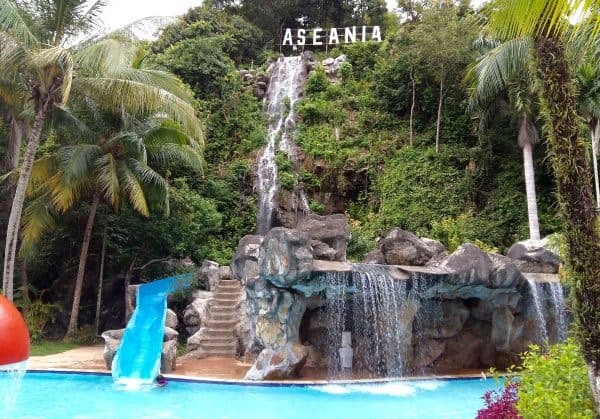 Although the 'official' beginning of Pantai Tengah is at the rocky headland under the famous Langkawi Kedah sign, I consider the location of the Aseania Resort to be 'Tengah Beach'. Aseania Resort offers the best of both worlds as it is just a 10-minute walk to the beach, Pantai Cenang or 'downtown' Pantai Tengah. The very affordable Aseania is chocked full of amenities both in-room and onsite. The standard rooms come with a mini fridge, desk, coffee and tea set but it's the onsite perks that make this hotel stand out. In addition to their endearing landmark mansion appearance, the Aseania has 5 swimming pools, several restaurants, a spa, poolside bar, disco and cultural dinner show four nights a week. Taxi, rental car and tour desk services are also conveniently available. Can read our review HERE and can check the Aseania's room rates and availability HERE
Dash Resort Langkawi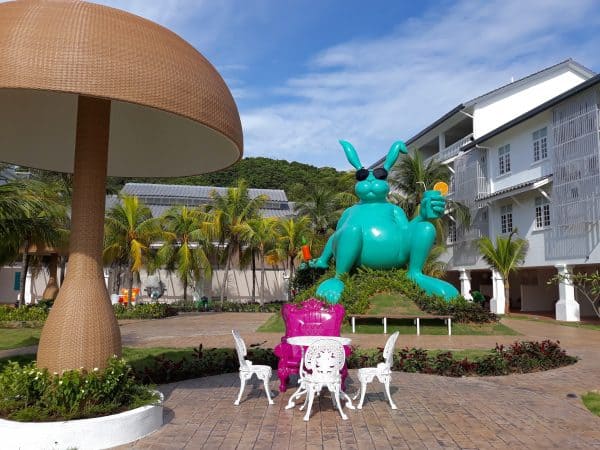 Located at the far end of Pantai Tengah, the Dash Resort Langkawi is an eclectic blend of old and new embracing the hotel's colonial architectural features with a new and inspired modernity. The whimsical design features large "Alice in Wonderland' sized sculptures and furniture with a nuance of psychedelic adventure. The resort's playful theme and basic white pallet is carried through to the room interiors. The plush beds, colorful oversize furniture and well-appointed baths create a soft and inviting environment. The attentive and friendly staff creates an intimate ambiance throughout the hotel. The infinity pool with an in-pool bar as well as an adjacent poolside bar and restaurant have stunning seaviews and are just steps away to the pristine sands of beautiful Tengah Beach. You can check their room rates and availability HERE
Frangipani Langkawi Resort & Spa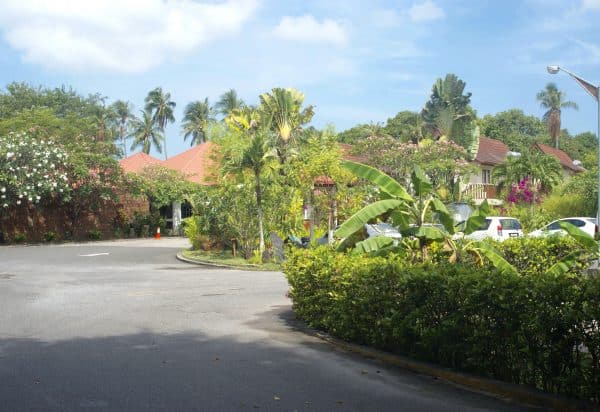 In addition to having a prime beachfront location, the Frangipani Langkawi Resort & Spa is rated as the greenest resort on Langkawi Island. Their organic water treatment system, clever recycling, onsite composting and herb garden are just part of the Frangipani's efforts to be as sustainable as possible. But going green doesn't mean scrimping on creature comforts or amenities for guests. The Garden and Seaview rooms all have outdoor showers and bathtubs as well as private balconies. The onsite Coco Jam Beach Bar and Mentari Grill compliment their large swimming pool, salt water lap pool, sauna and spa to create an ultimate relaxing destination stay. Local shops, restaurants and bars are just outside the Frangipani property, should one care to explore the area. You can check the Frangipani's room rates and availability HERE
Padang Matsirat
The Padang Matsirat location can often be generalized map-wise to include a lot of terrain, but for the most part it is the area surrounding and near the Langkawi International Airport terminal. There are lots of perks to staying in this area as it includes a kampung 'town' with many shops and services, it is surrounded by padi fields and sub-kampungs and it is just a stone's throw away from the airport. Padang Matsirat is also about the halfway mark between Pantai Cenang and Pantai Kok offering a clear shot to the beaches as well as area sightseeing, such as Oriental Village and 7 Wells Waterfall. Padang Matsirat itself is home to the famous Field of Burnt Rice and a fabulous Sunday Night Market. There are also plenty of restaurants in the Padang Matsirat area that are diverse and quite good.
Bella Vista Express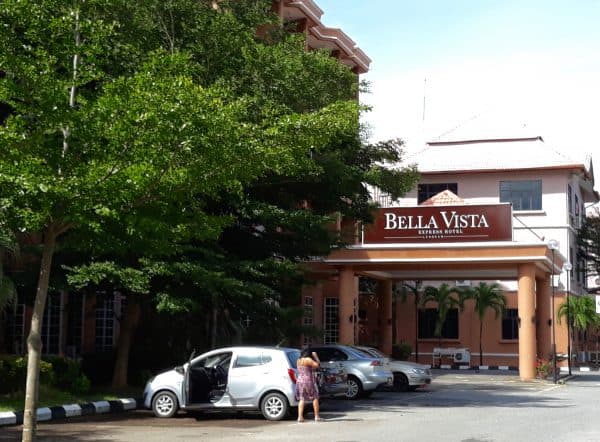 Minutes from the Langkawi International Airport, the Bella Vista Express is in a good central location for exploring the island or a comfortable spot for a layover between flights. The younger sibling of the Bella Vista in Kuah is not only a convenient distance to the airport, but has a beautiful pool on the property as well.  The room interiors are modern with subdued tones of wood and tile and have plenty of floor space. Designed with the business traveler in mind, each room is equipped with a desk and ample work space. Additional free WiFI, flat screen TV. mini fridge and tea/coffee service seal the deal for a perfect office away from home. The rooms also include a private terrace or balcony. You can check their room rates and availability HERE
The Smith House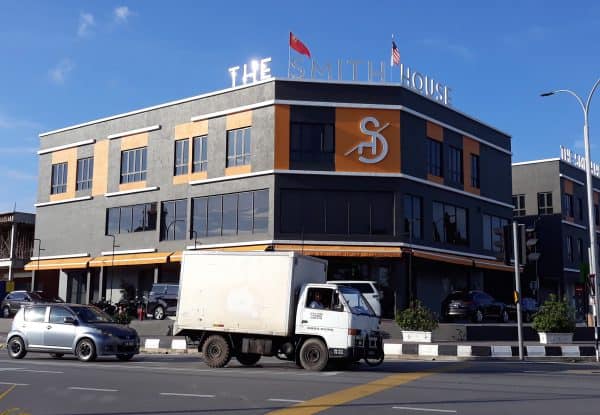 The Smith House sits in a commercial shop block at the main intersection in Padang Matsirat. This unique boutique hotel brings a flair of subtle sophistication to this traditional Malay community. Popular with both business travelers and tourist alike, The Smith House offers a selection of 6 different room configurations. The muted tones and tasteful accents give each room a homey feel and they are jam packed with amenities. In addition to The Smith House's in-house restaurant and bar, the roof top pool is one of its best features. The 360-degree view of the surrounding island is stunning. The adjacent poolside is spacious and the perfect place to relax and enjoy the sunset over the mountains. You can check The Smith House's room rates and availability HERE
Pantai Kok
Pantai Kok, located on the west side of the island, is adjacent to Telaga Harbour. Once a very popular local beach, continued development has slowly transformed the area, and public access to the beach is becoming more limited. Telaga Habour's busy marina and wharf is also the location of the ferry terminal for the seasonal Telaga Harbour- Koh Lipe ferry service. Nearby Perdana Quay has several small shops, bars and restaurants and just across the road is the Skytrex Adventure Park ziplines. There is also a new 4-lane road that bypasses the original beach front road and climbs over the headland to Oriental Village, the Panorama Cable Car, Langkawi Island Horses and Seven Wells Water Falls.
The Danna Langkawi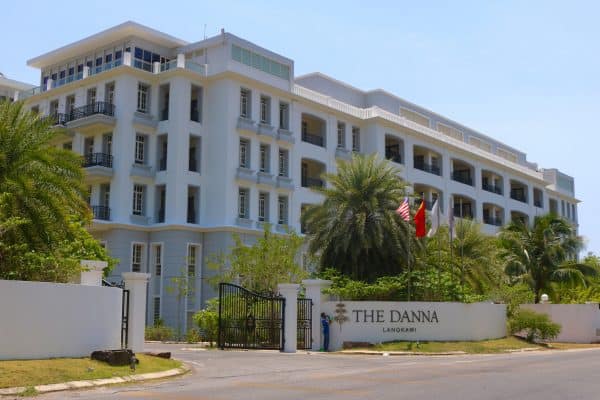 One of the most beautiful hotels on Langkawi, The Danna Langkawi's architecture is a fusion of modern comfort embracing the strong influence of Malaysia's colonial past. Located adjacent to the main wharf of Telaga Harbour and a sandy stretch of Pantai Kok, the Danna's large infinity pool seamlessly joins the sea beyond. The rooms are all large and luxuriously appointed, each with either a terrace or balcony and stunning views; be the view of the harbor, the mountains or the beach. Dine at one of the 5 Star restaurants; The Terrace for chic Italian, Planters for fusion cuisine from European to Asian or The Straits Café for a casual afternoon tea. And after dinner retire to the Drawing Room for a glass of port and a cigar reminiscent of days gone past. You can check The Danna's room rates and availability HERE
Geopark Hotel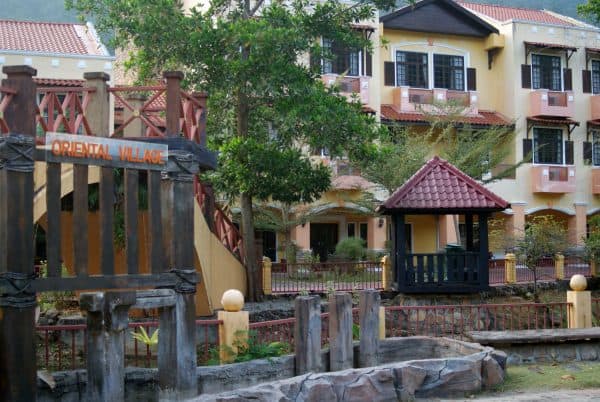 Located in the middle of Oriental Village, Geopark Hotel is an often-overlooked gem of an accommodation option. The hotel's European style architecture blends in quite well with the surrounding buildings in the village and the general theme creates a casual 'pension' ambiance. With only 30 rooms, the hotel retains a homey, comfortable atmosphere and at affordable prices. The small lobby has dark wood furnishings against deep yellow walls and traditional casement windows overlooking the small street and the lake; further adding to the European flare. The lobby's seating area, flat screen TV and internet certainly encourages guests to kick back and make themselves at home. They also have a rather spacious open-air common area upstairs with an excellent view of the surrounding mountains and rainforest. You can check their room rates and availability HERE
The Ritz-Carlton Langkawi
The recently opened Ritz-Carlton Langkawi has expanded on the previous seaside location of Tanjung Sanctuary. Nestled amongst the rainforest on a prominent headland between Kuala Teriang and Telega Harbour, the resort embraces the rainforest and its wildlife. Each seaview and jungle villa comes with a private swimming pool, creating an inviting balance between luxury and nature. The deluxe rooms and junior suites are spacious and modern with all the amenities that one would expect of a world renown brand. With three pools, a spa and on property restaurants including their Beach Grill and Horizon Lounge the Ritz Carlton Langkawi offers a secluded luxury rainforest hideaway. You can check their room rates and availability HERE
Datai Bay
Teluk Datai is a small bay on the north-western coast of the island of Langkawi. Surrounded by thickly forested hills, the bay's crescent shaped, white sand, beach is home to only two resorts. Aside from the beautifully maintained grounds of the ELS Club Golf Course there are no services available on this remote part of the island outside of the resorts. If jungle seclusion and communing with nature is what you are looking for Datai Bay will meet all your criteria.
Datai Resort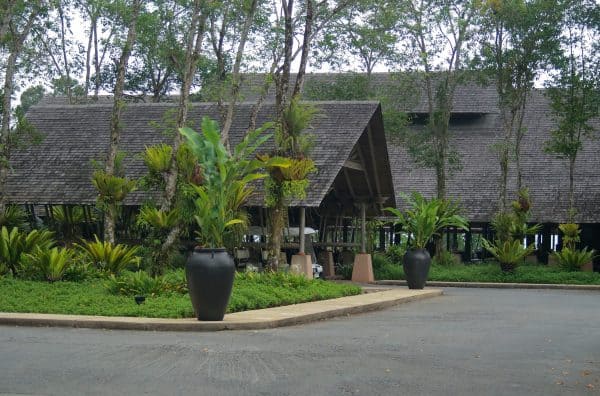 The Datai Resort is designed to enhance the presence and majesty of the surrounding jungle, sea and mountains.  This is a self-contained, rather isolated, resort offering luxury accommodations, exquisite dining options and on-site award-winning spa services, and they encourage 'the be here' now philosophy. The Datai's customer service team is so in-tuned to guest's comforts that no stone is left unturned in the pampering department, from the daily smiles to the turned down bed at night.
The Datai has many accommodation styles to choose from, each unique in design and location from Jungle and Beach Villas to Poolside Suites. The rooms are all luxuriously spacious starting at a comfortable 62.5 square meters to the enormous 258 square meters. The tasteful use of wood and stone is enhanced by the simple but elegant furniture creating a soft and balanced interior to each room, suite or villa. The Datai Resort is committed to creating a sustainable balance between luxury and the surrounding jungle environment. There is even an on-staff naturalist available to introduce you to the indigenous inhabitants of the surrounding jungle. Can read our review HERE and can check The Datai's room rates and availability HERE
Pantai Tanjung Rhu
Pantai Tanjung Rhu, in my opinion, is still the prettiest stretch of beach in Langkawi. Located on the north side of Langkawi, Tanjung Rhu is the gateway to the Kilm Karst Geoforest Park and home to two side-by-side 5 star resorts and a smattering of smaller hotels and guest houses. Nearby Kampung Ayer Hangat offers a few local restaurants and sundry shops, however, unless you seriously enjoy walking or plan on primarily hunkering down in an all-inclusive resort, having transportation is a convenience I highly recommend. Local sights in the area include the Kilm Karst Geoforest Park mangroves, Ayer Hangat (Hot Springs), a Friday Night Market, the impressive Gallery Perdana and the not-to-be-missed Komplex Kraft (Craft Complex).
Tanjung Rhu Resort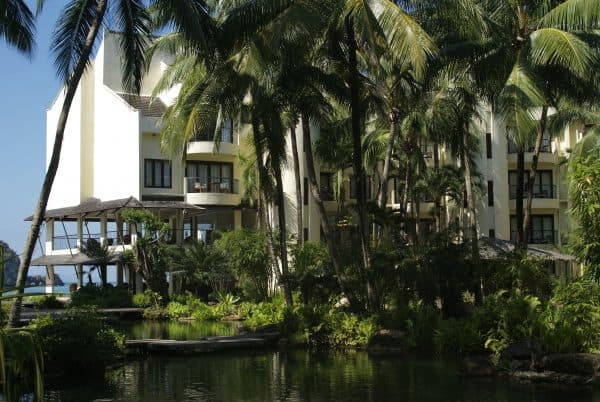 One of my personal all-time favorites, Tanjung Rhu Resort is located on a gorgeous stretch of 'private' beach and offers non-pretentious 5-star luxury with a sea view to die for. The tasteful interiors of the rooms are balanced with older pieces, newer pieces and even a bit of eco touches. There are five different types of rooms available and all are quite spacious. The hardwood floors and large opening windows make the suites airy and elegant. The rooms are well equipped with all the creature comforts you could imagine; LCD TV, DVD and compact disk player, mini bar and those oh-so-glorious oversized bathtubs! From romantic 5 star dinners on the beach to luxurious spa treatments Tanjung Rhu Resort delivers the luxury goods. You can check Tanjung Rhu's room rates and availability HERE
Inland Interior
Away from the beaches the Langkawi interior offers towering rain forests, waterfalls, vast padi fields and many explore-worthy, local 'kampung' nooks and crannies. Off the beaten path you will find many (and I do mean many) small hotels, guest houses and homestays that offer a completely different Langkawi experience as well as an opportunity to mix and mingle more easily with locals. Why the difference you ask? Some might say kampung style can be a bit contagious and the concept of living like a local is quite easy to do, but also because interior accommodation properties are often owned and/or staffed by island born families. Sustainability at its best.
Box Chalet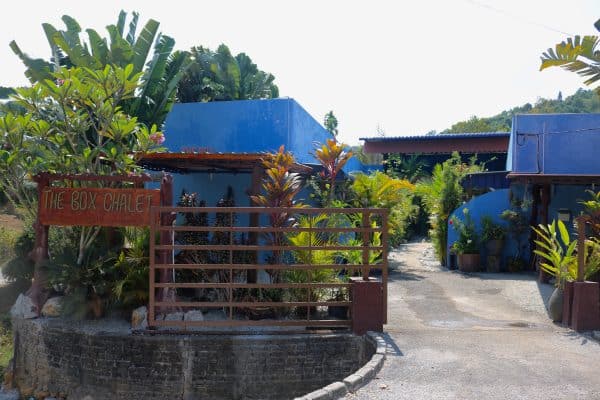 If being seaside is not your priority, you can't go wrong with The Box Chalet. Located about a 15-minute drive from Pantai Cenang, the family owned, Box Chalet offers simple, air-conditioned rooms with colorful accents and private bathrooms. Box Chalet's spacious common area is surrounded by lush foliage which is the direct results of the owners' green thumbs. Newspapers as well as food are provided daily per guest's request. Tours or further travel information can be arraigned with the property's onsite tour desk or through the owners' themselves as they are a wealth of local information and inside scoops. You can check their rates and availability HERE
Sunset Valley Holiday Houses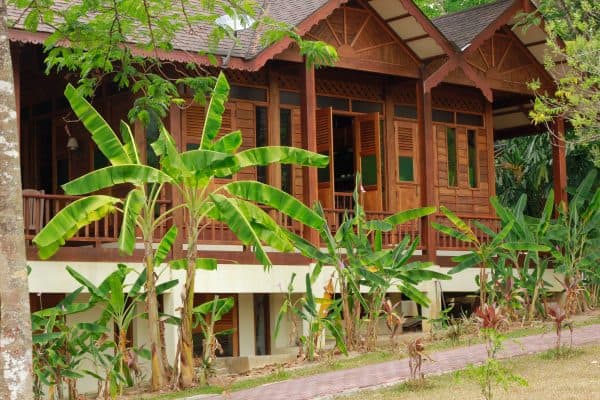 Located in Langkawi's interior, at the foot of Mat Gunung Raya, Sunset Valley Holiday Houses has a selection 6 traditional Malay houses that were meticulously dismantled, reassembled and restored on the expansive Sunset Valley grounds. The original houses (the oldest is over 185 years old) have been upgraded to integrate modern kitchens, bathrooms and living areas without sacrificing their heritage. Overlooking the vast paddy fields of Langkawi's central valley, the thoughtfully located houses create a glimpse of a simpler time. There is a central gazebo and a large pool which is a perfect location for guests to meet and enjoy the stunning sunsets. The owner's residence is also located on the premises and, as gracious hosts, they can provide access to tours of the island, car rentals and all around information about the island. You can check Sunset Valley's rates and availability HERE.
Islands
The Langakwi archipelago is made up of 99 islands and islets (104 at low tide), but only four islands are 'inhabited'. In addition to Langkawi main island itself, there are Pulau Tuba, Pulau Dayang Bunting, and privately owned Pulau Rebak with a resort and a yachty live-aboard community. There is however a fifth island worth mentioning and that is Pulau Jemuruk, which is a private island with a resort and no 'community' per say. So for hard core island lovers, if Langkawi is just not island-y enough for you, rest easy there are more options!
Pulau Rebak
Vivanta by Taj-Rebak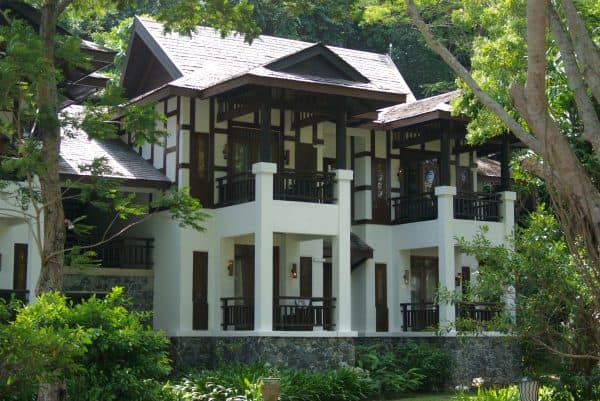 Located just 7-minutes by boat just off the coast of Pantai Cenang, 390-acre Rebak Island is the privately-owned home of Vivanta by Taj and the Rebak Marina. This affordable, luxury resort offers surrounding jungle, private beaches, 5 dining options, 3 bars, a spa, fitness center, tennis court, pool and even a kids club. Speed boat ferry service to and from the Langkawi mainland runs throughout the day, however it does end around sunset. Inspired somewhat by Malay architecture, the rooms come in a variety of spacious floor plans with sturdy wooden furnishings and either a garden view or sea view. They also each come with a private balcony. Area sightseeing options include Pantai Cenang's Museum Laman Padi or a 15-minute drive down the coast to Oriental Village and the Panoramic Cable Car. Local tours can also be arranged with the Taj's onsite tour desk. Check rates and availability HERE
Pulau Tuba
Faridzuan Motel
The often overlooked and underappreciated Tuba Island is located 5 km south of Kuah. Tuba is a laid-back island community, abundant in greenery and surrounded by rocky shorelines and white sand beaches and offers several comfortable hotels, guest house and homestay options. The Faridzuan Motel has been in the accommodation business for years. Their motel grounds and adjacent beachfront are kept in tip top shape and their rooms are practical, clean and spacious. They are easy to reach and their gorgeous seaview seals the deal. For bookings, call Faridah at 012 6214 433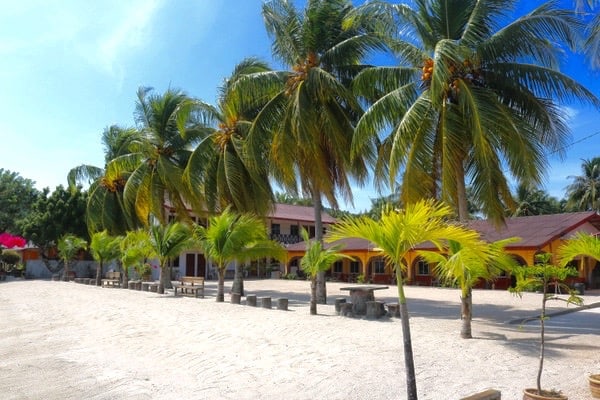 Just down the beach is popular Tuba Beach Resort with its colorful waterfront chalets and oh-so-inviting swimming pool. The Tuba Beach Resort also offers kayaks and local sightseeing tours to their guests. For something more exclusive, Nadia's Villa offers a detached waterfront 3-bedroom villa that comes with a dining area and full kitchen. It would be perfect for a family or small group of friends. A big hit with couples is the eclectic beachfront Wild Pasir Panjang which comes with the perk of catering to two guests at a time, a private beach, staff of two and a bar.
Interested in local Tuba Island sights and activities?
Check our First Time Visitors Guide or inquire at the accommodation of your choice.
Pulau Dayang Bunting
Directly across from Pulau Tuba and connected via bridge is Dayang Bunting Island. Similar to Pulau Tuba, Dayang Bunting offers visitors a unique island experience as well as unique accommodations. In addition to the rustic charm of Barkat Chalets, the Terapung Hotel & Fish Garden may be available for those seeking a 'houseboat' experience. That's right, a floating hotel with an attached fish farm. Unique as well as popular. The closest local sightseeing option would be the very famous Dayang Bunting Lake, better known as the Lake of the Pregnant Maiden.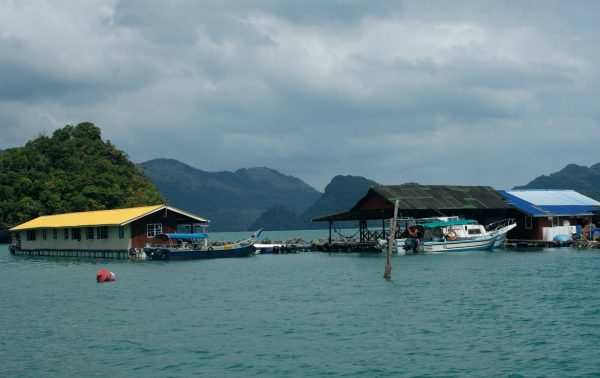 As you can see, there are loads of Langkawi hotels, guest houses and various other accommodation options available, but these are just a select few of my personal favorites. And you may have noticed that I've included booking links for your convenience. By booking through The Island Drum website I may make a small commission at no cost to you, so thank you in advance! Don't see an accommodation that suits your needs? Check out Booking com for listings of more Langkawi hotels and guest houses.
Here's a map, to help you find your way.
Have any questions about Langkawi travel? Check out some of my Langkawi Information blog posts or just shoot me an email and I'll be happy to assist. *Updated Feb 2021