Hearing the words Langkawi Geopark may conjure up images of a stone age-style theme park or perhaps a rock garden of grand proportions, but those images would be completely erroneous. The Langkawi Geopark is the honorific moniker of the Langkawi archipelago in its entirety. That's right, all 99 islands (104 at low tide). And depending on which social circles you run in, Langkawi UNESCO Global Geopark would be the 'official' title claim.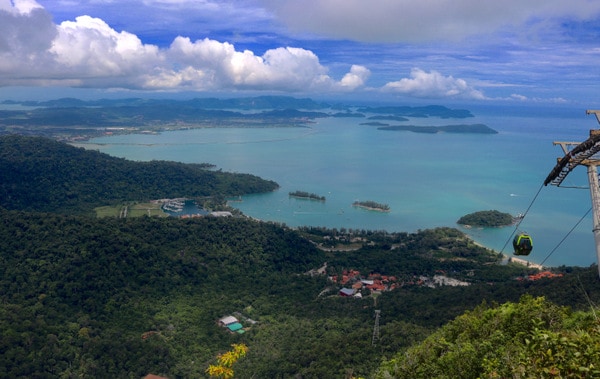 Langkawi Geopark in a Nutshell
Of the 99 islands (and 5 additional tide dependent islets) the Langkawi Geopark is broken down into more than 90 documented areas of geological diversity within 3 separate Geoforest Parks; Machinchang Geoforest Park, Kilim Karst Geoforest Park and Dayang Bunting Marble Geoforest Park. Within those parks are a number of protected geosites and geological monuments within permanent forest reserves.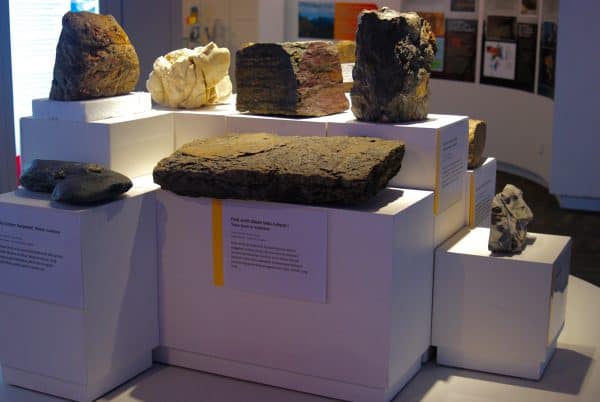 These designated geoforest parks are also intended to protect the diverse natural habitats of those areas'; mangroves, beaches, estuaries, tidal flats, coral reefs and caves; to ensure their abundant nature can continue to flourish. Outside of those geoforest parks, the archipelago has even more ancient rock formations and geological wonders, including an ancient dropstone discovery along the border of Pantai Cenang and Pantai Tengah in the non-geoforest location of Tanjung Mali.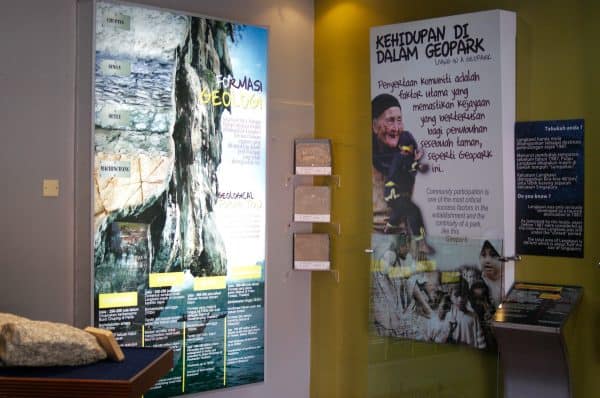 And although the original geopark tourism approach focused primarily on the most popular activities within the 3 geoforests themselves, 3 additional geosite locations are now getting a bit more tourism focused attention; Pulau Tuba, Kubang Badak and of course Tanjung Mali, as well as the local culture and heritage that is so abundant in Langkawi.
Bragging Rights
The significance of the Langkawi Geopark status may generally be lost on the average tourist, or simply not factor into to the destination decision at all. Not when there is Duty Free status and miles of beaches to entice visitors. But it's always good to be prepared, right?
Here are the facts.
According to the Global Geoparks Network, the Langkawi Geopark is the first geopark in Southeast Asia. And its Machinchang Formation (within the Machinchang Geoforest Park) is the oldest in Malaysia at 550-million years old. Now let that sink in for a moment.
But despite such bragging rights as the possible birthplace of Malaysia (if not the entire region), getting recognized as a UNESCO Global Geopark did not come overnight. It took years. Any country can declare one of its locations to be a geopark, and that is exactly what Langkawi did. From the initial proposal to the Kedah government in 2001, Langkawi was renamed Langkawi Geopark by the Kedah government on May 31, 2006 and affirmed by the federal government about 4 months later.
But the only way to get international geopark validation clout is to gain membership into the UNESCO founded, Global Geoparks Network (GGN). Langkawi was granted membership in 2007. According to GGN, there are presently 140 UNESCO Global Geoparks in 38 countries, but Langkawi is the only one presently in Malaysia, with the nearest one being in Satun, Thailand.
The UNESCO Global Geopark honor is not an award one just hangs on the wall and occasionally dusts. The UNESCO validation is a renewable contract that gets reassessed, every four years, by inspectors keen on ensuring proper UNESCO guidelines are being followed (Langkawi passed its renewal inspection in 2011, 2015 and 2019). If you would like to know more about the Top 10 Focus Areas of UNESCO Global Geoparks, you can read about that HERE
The Langkawi Geopark Sightseeing Experience
(the non-geologist version)
So, where to go and what to do to make the most of your sustainable Langkawi Geopark experience? Well, unless you have a degree in geology the significance of ancient rock formations and geosites may slip past you but the sheer beauty and diversity of 'old rocks' will not. Nor will the surrounding flora and fauna of the archipelago.
Visiting the Geoforest Parks
Machinchang Cambrian Geoforest Park
As mentioned previously, it's the three Geoforest Parks which are the 'stars' of the Langkawi Geopark geology show, with the northerly located Machinchang Cambrian Geoforest Park  leading the pack. Within the 4,274 hectare geoforest park, Machinchang (mountain) (also spelled Mat Cincang) is the focal point. The 550-million-year-old mountain is also the home of Oriental Village and Langkawi's number one tourist attractions, the Panorama Cable Car and the adjacent Sky Bridge.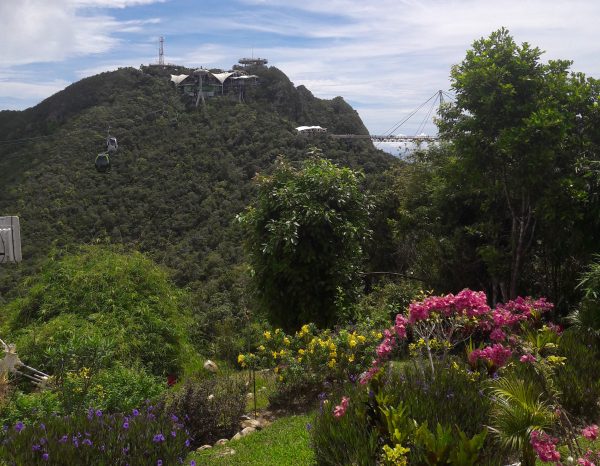 The Panorama Cable Car ascends along 1,700 meters of cable skyward to a Middle Station located at 650 meters above sea level. Passengers can disembark here or head on up to the Top Station and enjoy the view from over 700 meters above sea level. The 360-degree view of the archipelago is stunning and on a clear day you can see distant neighbor Koh Tarutao, Thailand.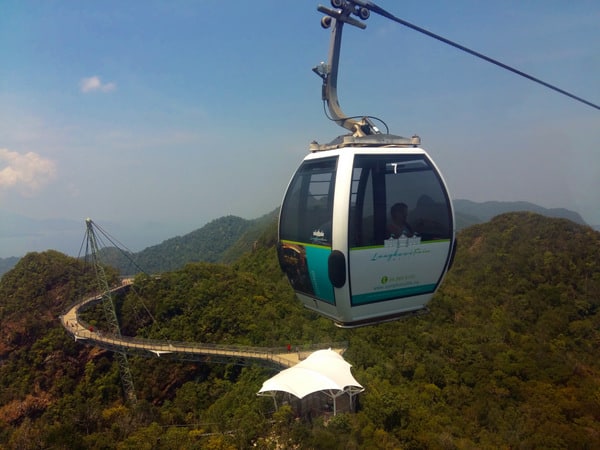 Located between the Top and Middle Stations Station is the highly acclaimed Sky Bridge. Completed in 2004, the Sky Bridge is suspended from an 82-meter high single pylon and at 125-meters in length it's one of the world's longest curved suspension bridges. For adventurers and nature lovers, the Sky Trail (aka Geopark Trail) nature walk/trek is available for visitors who are interested in exploring Machinchang's flora and fauna. The trail runs from the cable car base station to the Top Station.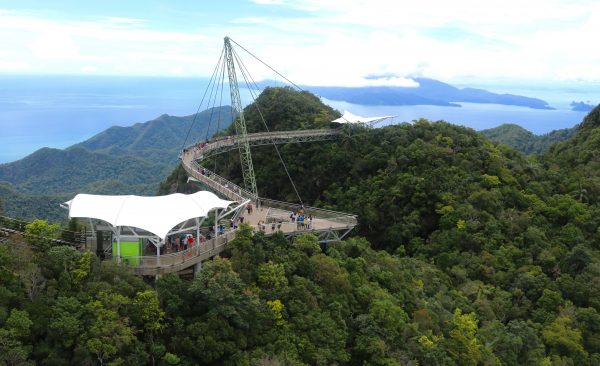 Just down the road from Oriental Village is picturesque geosite Air Terjun Telaga Tujuh (Seven Wells Waterfall). The seven pools (not wells) of the waterfall have incredible geological formations and are surrounded by dense rainforest. A great place to enjoy a refreshing swim or picnic and keep an eye out for various birds, wildlife and perhaps even fairies.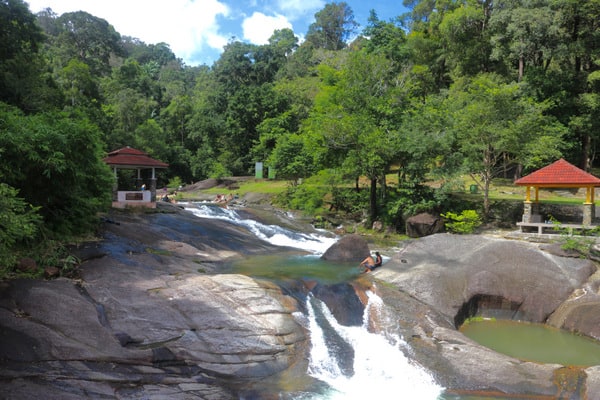 Legend has it that the seventh pool couldn't be seen by humans as it was used for bathing by fairies from 'kayangan' (fairyland). Only a few humans have been able to see the fairies, which is an ability considered to bring good luck. Unfortunately, if the human tells anyone about their sightings then that good luck just gets cancelled. Another part of the legend is that the seventh pool could also bring bad luck. The risk of slipping on the rocks and getting injured or killed being a very real possibility. So, the advice from Langkawi village elders is, that if you visit Telaga Tujuh and can't see the seventh pool, don't go looking for it.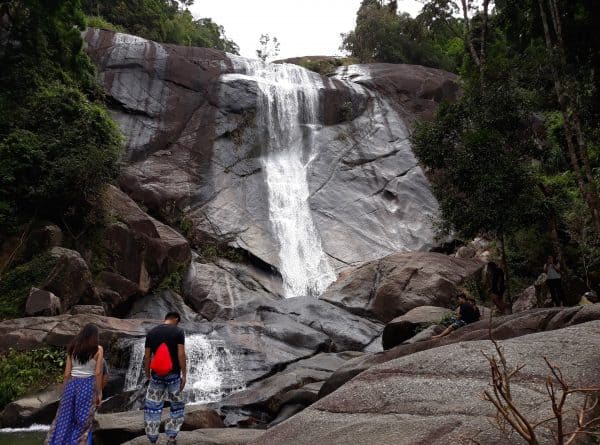 Head north to Teluk Datai (Datai Bay) and you will find Pantai Pasir Tengkorak (Skull Sand Beach). Along with a stunning white sand beach, this geosite includes two very, rustic geotrails; a 1.5km trail along the rocky coast and a 600m jungle and mangrove trail. This beach area is popular with local families for swimming and good old fashioned cookouts, perhaps one of the last Langkawi beaches where locals feel free to basically 'take over the beach' without the restraints of a nearby rule laden 5-star hotel.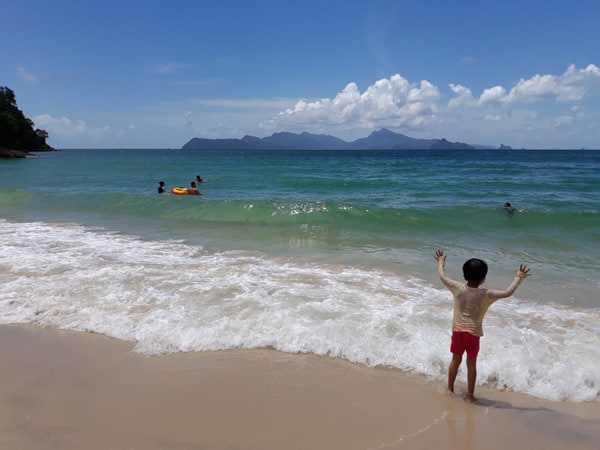 There is well maintained signage, on the eastern end of the beach, which explains how the beach got its name. Of course, with names like Skull Sand Beach, Skull Beach or even Sandy Skull Beach there has got to be a story or two, right? Local folklore credits a once-upon-a-time sea monster whose victims' body parts drifted ashore. Another version credits gigantic mythical birds of Koh Tarutao, the Garudas and Jentayus, whose fighting resulted in many dead bodies which ended up in the sea and drifted to Langkawi's famous beach.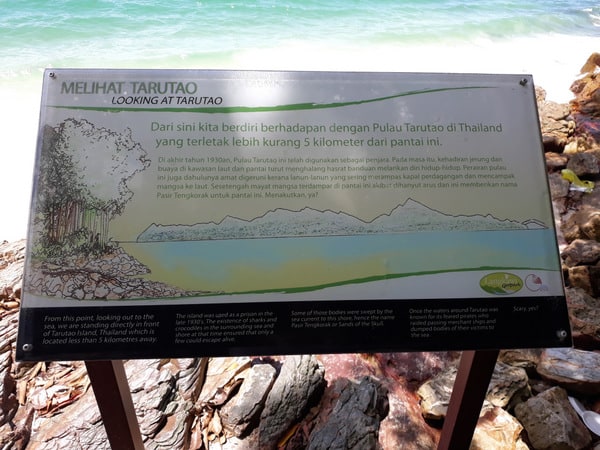 The most plausible story is that nearby island Koh Tarutao, Thailand was once a penal colony used for Thai political prisoners. In addition to prisoners who died from Malaria and at the hands of cruel prison guards, World War 2 came into play. During the Japanese invasion of Thailand and Malaya, getting food and medical supplies to the prison became problematic. Prisoners as well as guards became quite desperate and resorted to attacking passing ships. Unceremonious burials at sea being the norm and depending on the tides, Skull Sand Beach became a popular final resting spot.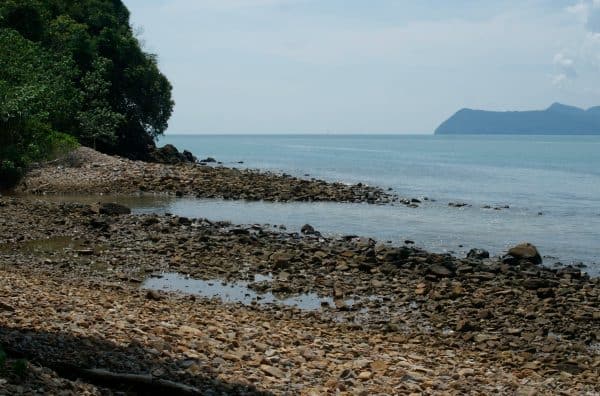 To the west of Pantai Pasir Tengkorak is the aptly named Pantai Pebble (Pebble Beach) which is a rather obscure pocket of beach covered with smooth stones and rocks. The most prominent location landmark for this beach would be the adjacent parking lot, used primarily for visitors to across the highway geosite Air Terjun Temurun (Temuran Waterfalls).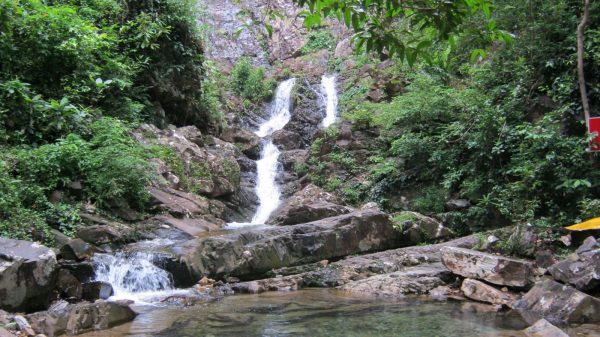 Temuran Waterfalls is three-tiered and the tallest waterfall in Langkawi. The waters cascade 30-meters below with a swimmable pool at the bottom. Do note that the pool is much more swimmable during wet season when there is an abundance of rain. Either way it's a beautiful location for a picnic and nature gazing.
Other notable geosites in the area;
Gua Pinang, Tanjung Burau, Tanjung Buta, Tanjung Chinchin, Tanjung Hulur, Pantai Datai (Pantai Teluk Datai), Pulau Jemurak, Pulau Anak Datai
Kilim Karst Geopark Forest
The 8,261 hectare Kilim Karst Geopark Forest Park is famous for its magnificent Kilim River mangroves. Being only accessible by boat or kayak, mangrove tours are a great introduction to the complex ecosystem of the mangroves. Wildlife is highly visible along the banks and in the sky, so keep your eyes open and your camera ready!
Do note that feeding wildlife, in any capacity, is a big no-no as it encourages wildlife to not only 'trust' humans but to be more dependent on humans for food. This includes eagle and monkey feeding. And speaking from personal experience, monkeys can become extremely aggressive and are quite capable of biting.
Also, speeding mangrove boats have recently become a big problem for the enclosed mangrove rivers. With increased popularity of mangrove tours, the larger wakes created by the faster moving boats are now causing severe erosion of the river banks. This causes trees to be uprooted and collapse into the waterways. If your boatman (or woman) is going too fast for you to take a photo of the shoreline, then they are probably going above the recommended speed limit.
Please ask the boat operator (or your tour guide) to slow down. Feel free to enlighten them about the negative (non-sustainable) environmental factors related to large wakes. This also includes jet ski mangrove tours. No one should be speeding through the mangrove waterways unless it is an emergency situation.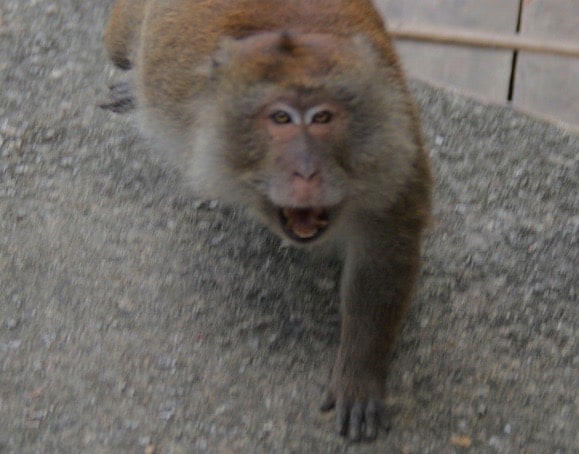 Most Kilim River mangrove tours include a stop at Gua Kelawar (Bat Cave), which is only accessible by boat. The limestone cave includes a wooden walkway through massive hanging stalactites and protruding stalagmites. And as the name implies, there are plenty of bats 'hanging around'; 3 different species in fact.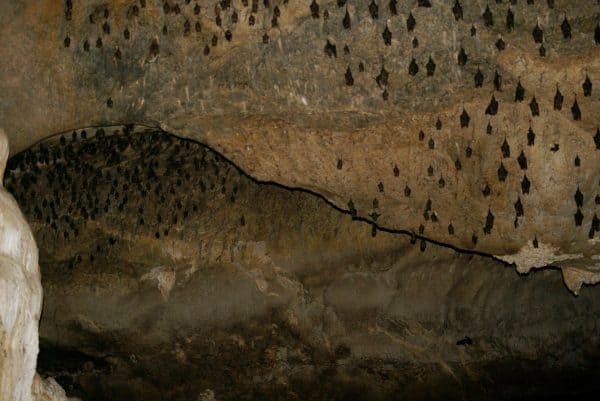 The nearby Gua Cerita (Cave of Stories), which faces the Straits of Malacca, has numerous references attached to it; from Arab explorers to ship wrecked royal families to mythical creatures. The double-decker limestone cave(s) has had many incarnations until now, where it simply wows visitors with its interesting geological formations and ancient inscriptions which are still visible. This cave is only reachable by boat and is not located in the mangroves.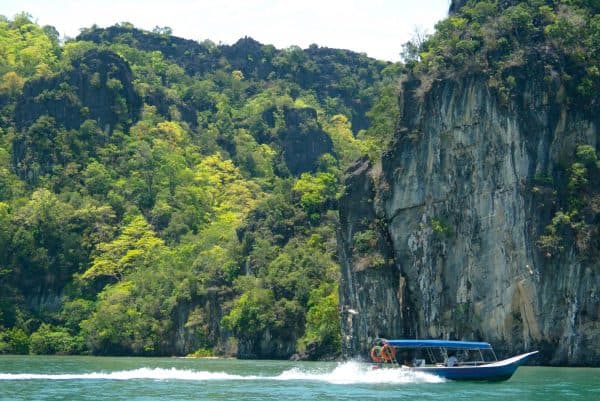 A geosite with additional cultural aspects, Ayer Hangat Village is home to a saltwater hot spring Ayer Hangat (ayer or air hangat) ; one of only eight known salt water hot springs in the world. Having morphed awkwardly in its 'tourist attraction' development, its basic concept is still unique in that it offers two hot spring wells (a male; Telaga Jantan and a female; Jantan Betina) for the public to soak their feet in community style.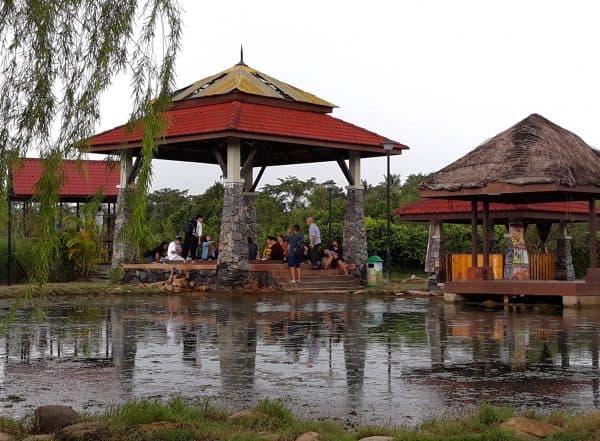 Scientifically speaking, the salt water hot springs were created by the formation of geothermal rocks. But as legend has it, two feuding families of giants were having a row and a giant pitcher of 'hot water' (ayer hangat) was thrown and landed in the now famous Ayer Hangat Village location. Apparently, giants were very 'big' back in the day and are referenced in Langkawi a lot.
Other notable geosites in the area;
Belanga Pechah, Gua Buaya, Gua Langsir, Pulau Anik Tikus,
Pulau Langgun, Pulau Timun, Teluk Mempelam
Dayang Bunting Marble Geoforest Park
Primarily located on Pulau Dayang Bunting, the 4,354 hectare Dayang Bunting Marble Geoforest Park is the home of fresh-water Tasik Dayang Bunting (Lake of the Pregnant Maiden). Named for the surrounding hills' likeness to a reclined pregnant woman, the lake is famously known for its rumored fertility-enhancing properties.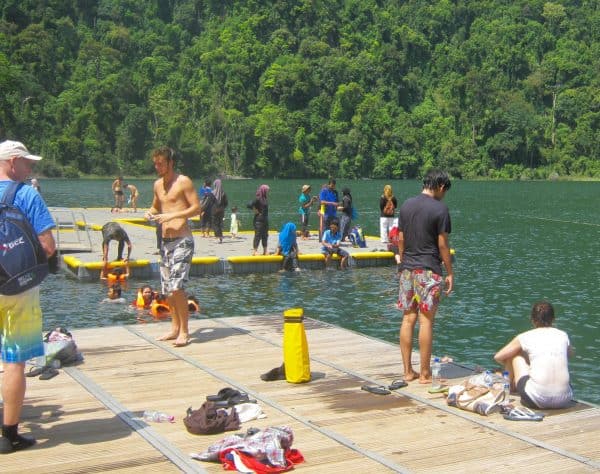 Most Island-Hopping tours include a visit to Pulau Dayang Bunting and the Lake of the Pregnant Maiden; boat tours as well as jet ski tours. After disembarking at the entry of the park, visitors can enjoy the vast forestry via a bricked walkway, which leads to the lake. A rather steep hand railed staircase ends at the magical lake's edge.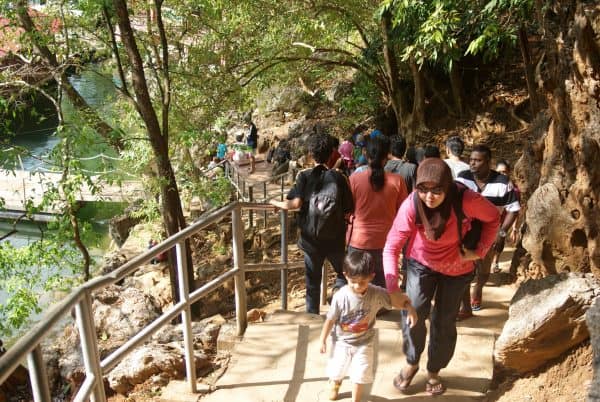 So, what's this hoo-haw about fertility enhancing waters, you ask? Well, one version is of a fairy princess who was tricked into marrying an earthling whom she had met at the lake. At the time the jungle was so dense that few locals had ever been there, thus any man suddenly appearing would certainly be a special catch for a lonely fairy princess. The child, born of their union, unfortunately died and the princess buried the baby in the waters of the lake. She then blessed the waters. And as legends go, any barren female who drinks from the lake will become pregnant.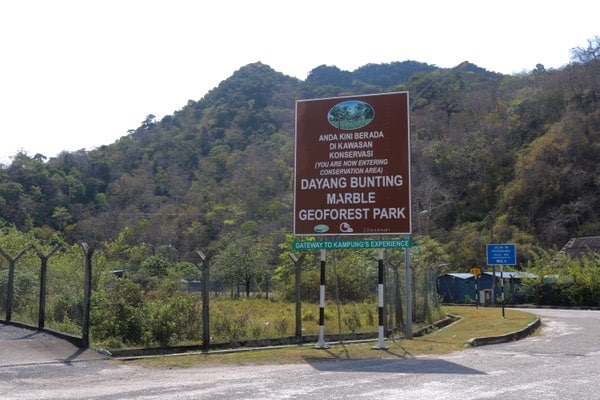 Part, but not all, of neighboring Pulau Tuba is officially included in the Dayang Bunting Marble Geoforest Park which often helps get the two islands mistaken as one. But in addition to Pulau Tuba's charming step-back-in-time ambiance, this unique island is also home to the Gua Wang Buluh (Wang Buluh Cave) which is filled with a sparkling collection of stalactites and stalagmites. The star of this cave's show is the magical stalagmite known as Guan Yin (aka Praying Man), due to its uncanny (but shadow-y) resemblance to the Goddess of Mercy. You can read more about Pulau Tuba HERE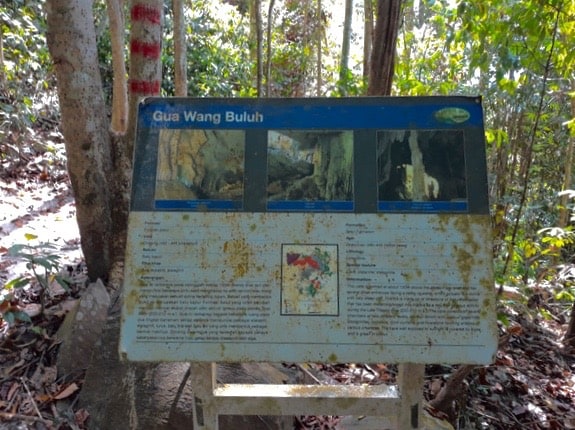 Other notable geosites in the area;
Gua Kelawar, Gua Pasir Daging, Pulau Dua, Pulau Jong, Pulau Lima, Pulau Ular, Pulau Singa Kechil
Outside of the official Geoforest Parks, new kids on the block Kubang Badak and Tanjung Mali have also been attracting visitors. Lying quietly between the Machinchang Cambrian Geoforest Park and the Kilim Karst Geopark Forest, is the newly developed 490 hectare Kubang Badak geosite. The location is so new that its appearance contradicts itself as a stated gold mine of ancient, geological discoveries, yet with prearranged reservations, local boatmen and guides are more than willing to lead you to the hidden gems, which includes 11 geotrails.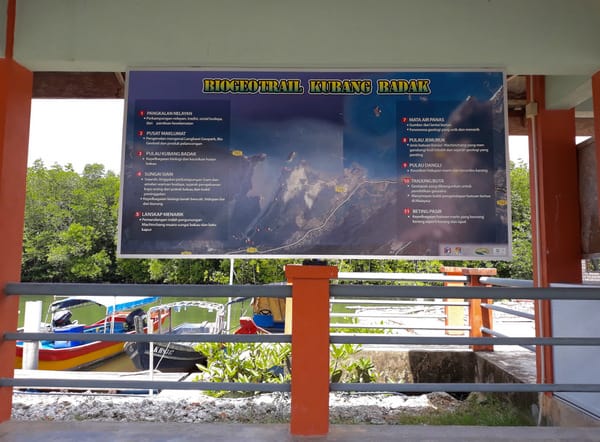 Located in the rather precarious spot underneath a waterfront restaurant in Pantai Cenang, it's safe to say that the Tanjung Mali 1-million-year-old dropstone discovery came long after The Cliff Restaurant was built. To the non-geologically inclined the rocky shoreline will most likely simply look like 'a bunch of rocks', but those in the know can marvel at the discovery as well as its significance. What's a dropstone you ask?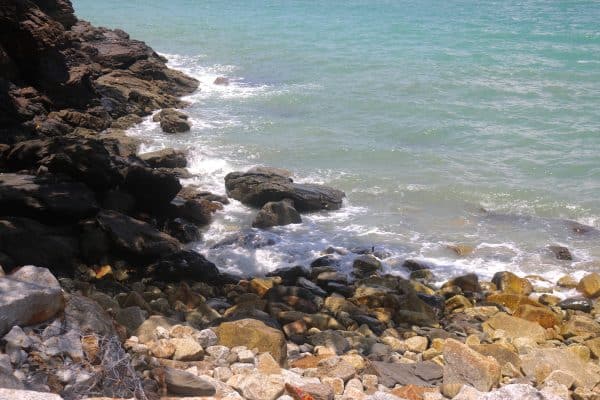 Geologically speaking, dropstones are pebbles or chunks of rock brought by glaciers and dropped on the seafloor, millions of years ago. This implies that the Langkawi islands were once joined with other continents and sub-continents as part of a super-continent called Gondwana. You can read more about that HERE. This geological marvel is located to the right of the leaf strewn stairs behind The Cliff Restaurant. You can also see this area from the restaurant dining room, but you may want to ask permission first or better yet make this stop part of your lunch or dinner plans.
Langkawi Geopark Legends, Culture and Heritage
Where there are ancient lands, one can always expect variations of history and olden day explanations of the mysteries of the world. Lands (and islands) where news and stories were often imaginatively, embellished for community enlightenment purposes, or because the storyteller simply preferred a more colorful narrative for their captive audiences. As evident with the previous mention of waterfall loving fairies and fertility enhancing lake waters, Langkawi is certainly no stranger to myths and legends. A charming aspect of the archipelago's culture and heritage, which are more specifically highlighted in at least two local sightseeing venues.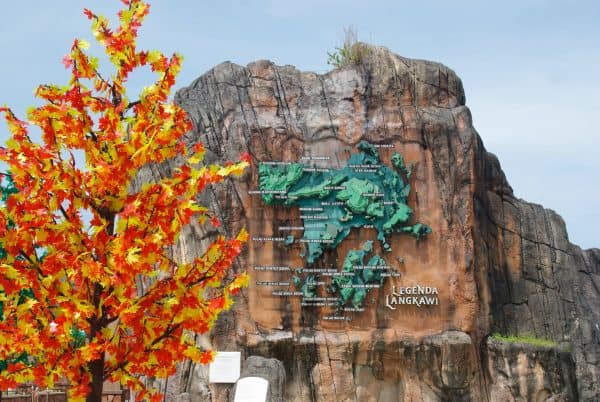 The 50-hectare Lagenda Langkawi Dalam Taman (Lagenda Park) is a waterfront garden museum containing 17 unique sculptures depicting various scenes from the legends and myths of Langkawi. Having opened in 1996, the park's stone residents are showing their wear and tear a bit, but the grounds themselves are still well-maintained and picturesque.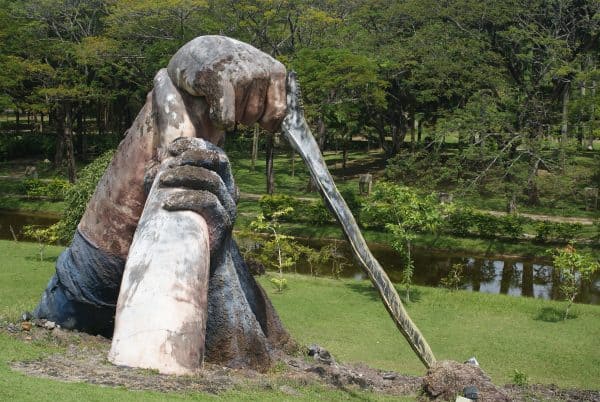 Although there are several versions of the Legend of Mahsuri, Mahsuri's Tomb still captivates visitors who come to pay their respects to the famous maiden. Falsely accused of adultery and sentenced to death, Mahsuri's legacy is that 'with her dying breath' she cursed the island of Langkawi with seven generations of 'bad luck'. Various dioramas and art works explore the life and times of Mahsuri, along with a small cultural show.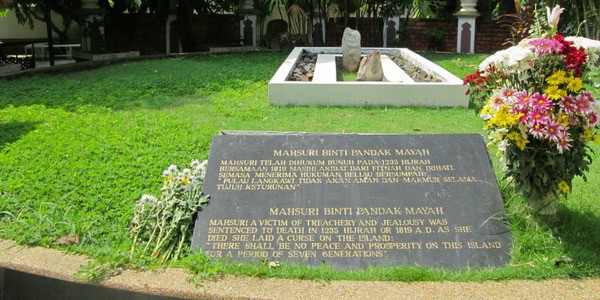 Langkawi Culture and Heritage is of course visible throughout the island, from day to day life in the kampungs to the expansive green of the numerous padi fields, to the amazing assortment of local foods offered island wide. But a few specific stops around the island offer an inside look at the Langkawi of yesteryear and the Langkawi of today.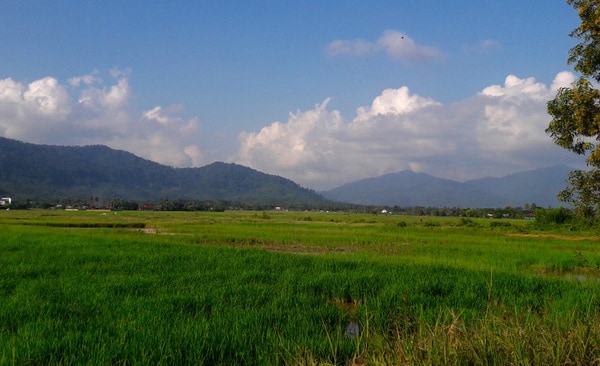 Culture seekers will find a hefty dose of Malaysian culture and heritage at Komplex Kraft (Craft Complex). The complex covers about 32 acres with a main building housing three museums which focus on culture, heritage and (even) the wedding practices of the 13 states of Malaysia. It's a fascinating insight into Malay culture and entry is free!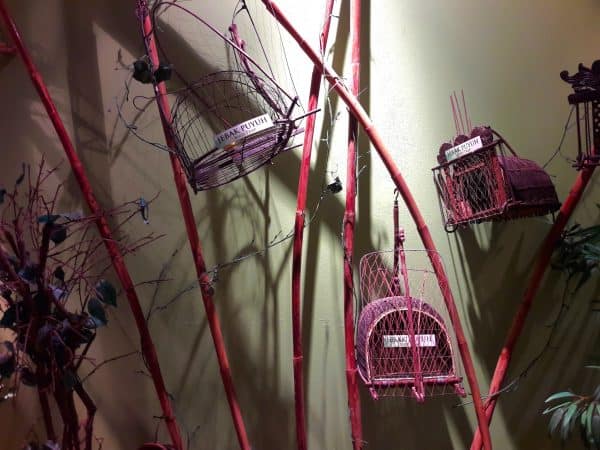 With Kedah's claim to fame as 'the Rice Bowl of Malaysia', it's more than fitting that Langkawi should have its own Rice Museum. Muzeum Laman Padi (Laman Padi Museum) opened in 1999 as an exhibition center for all things 'rice' including local artifacts and rice farming tools. An educational eye opener for locals as well as tourists, who will certainly have a much greater appreciation for the labor-intensive crop after visiting the museum.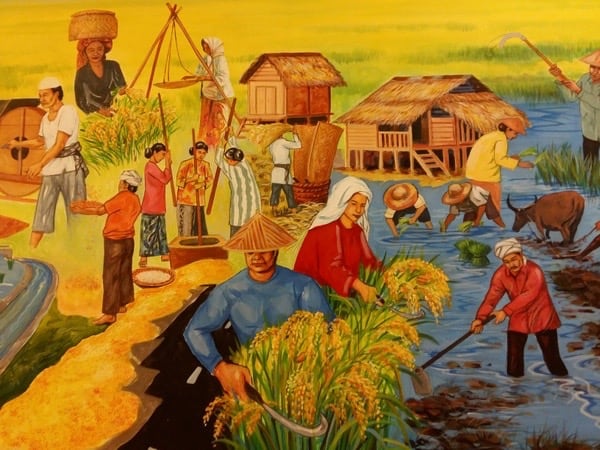 More of a small monument to a historic site, but important none the less, Beras Terbakar (Field of Burnt Rice) was the last-ditch effort to save Langkawi from invading Siamese troops in 1821. Datuk Karma Jaya, the Chieftan of Langkawi at the time, ordered the rice grainery of Padang Matsirat to be burnt and fresh water sources to be poisoned in a strategic effort to deter the invaders. Regardless of the questionable scorched earth policy, Langkawi warriors were outnumbered and the island fell into the hands of the Siamese. Rumor has it that chard rice grains can sometimes still be found in the area after a heavy rain. Something to consider if visiting Langkawi during the monsoon season.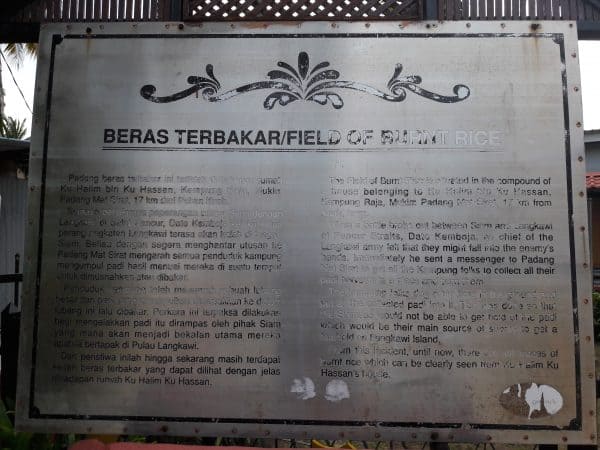 For a taste of Langkawi culture (literally), a trip to a Pasar Malam (night market) is a great place to start. With a night market seven nights a week, and at different locations across the island, this culinary adventure allows for plenty of taste testing opportunities. Many of the food items are created from recipes which have been handed down from generation to generation. Be sure to go with an empty stomach so you can sample them all!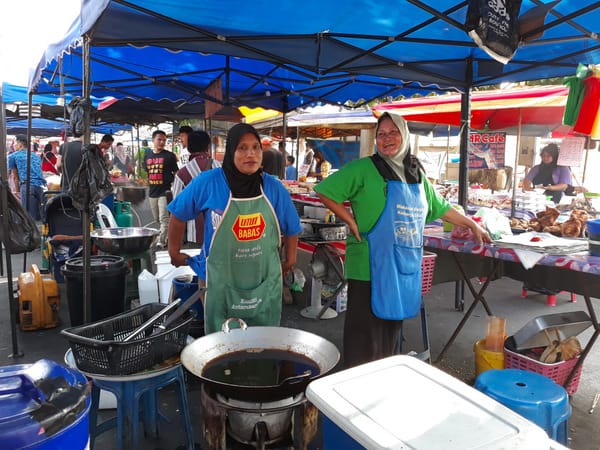 Going to a Pasar Awam (wet market) may seem like an odd thing to do while on vacation, but for visitors keen on learning about local produce it can be an educational and unique experience. Learning about local produce and their uses is a cultural experience you simply don't get from a book, so the reward for your efforts can bring useful knowledge for the future and some interesting memories.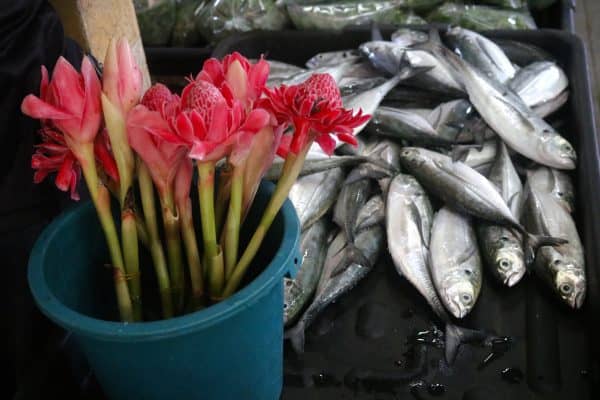 UNESCO now has an expanded definition of a 'Geopark', which, beyond rocks and nature, includes more community involvement in ecological conservation and the socio-economic advantages related to tourism; sustainability if you will. In addition to the locals who work directly in the tourism industry, more cottage industry efforts are visible with roadside stalls or specialized product marketing.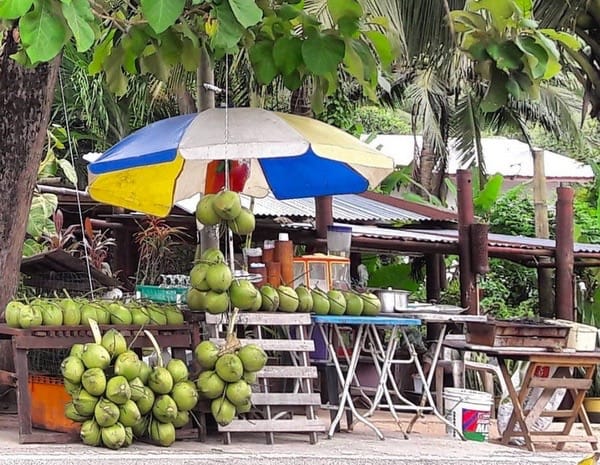 Three Langkawi-made product makers who open their doors to visitors are Buffalo Park Langkawi (temporarily closed January 2020), which specializes in water buffalo dairy products; the highly popular Nusantara Gamat that makes and sells every possible known gamat (sea cucumber) product; and the Langkawi Black Bee Farm, which is the go-to-place for fresh stingless bee honey.
So, there you have it!  As you can see the Langkawi archipelago is much more than a duty-free island full of sandy beaches and swaying palms, it's a geopark! The Langkawi UNESCO Global Geopark at that.
If you would like more information about the geology of the Langkawi Geopark, the UKM Langkawi Research Centre in Pantai Kok has a plethora of informative displays. This branch of the university is a research center and the exhibition is primarily for educational purposes, but it's open to the curious public as well.  An information center at Oriental Village is also available to the public.
Need a place to stay in Langkawi or help with your itinerary?
Check out our top picks of 30 Great Places to Stay in Langkawi
and My Perfect 4 Days in Langkawi Itinerary