They say Pulau Ubin Island is like stepping back in time; to the 60s or 70s if you will. I disagree with that description of the Pulau Ubin experience. A living museum may be a more actuate description. But at the same time, Pulau Ubin is an impressive example of successful preservation of both Singapore's heritage as well as environment. An admirable by-product of not 'selling out' and becoming yet another cookie cutter private resort island.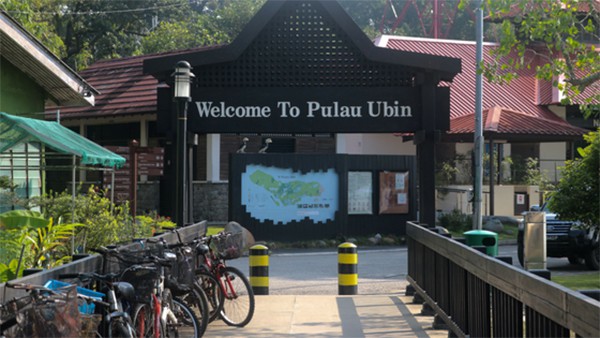 The Pulau Ubin moniker is a shorter version of its original name, 'Pulau Batu Jubin' (Granite Stone Island) as Pulau Ubin was once a vast supplier of granite.  The earliest inhabitants of Pulau Ubin Island were Orang Luat (Sea People) and indigenous Malays of Bugis and Javanese descent. By the mid-1800s many Chinese families arrived to work in the granite quarries. During the late 1800s about 50 Malay families moved to Pulau Ubin from mainland Singapore to embrace the fishing industry. Quite a melting pot, right?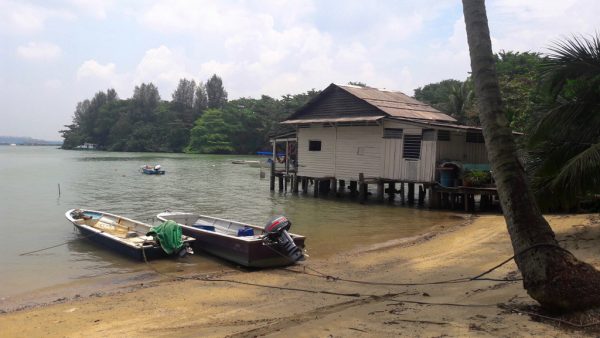 Things To See And Do In Pulau Ubin Island
So what is there to do in Pulau Ubin? More than one might actually think. Or maybe more to see than one might think. I managed to kill 5 hours of time just cruising around (and getting lost a few times). And unfortunately, I also missed a few things I would have liked to have seen. Here is a run-down on some of the Pulau Ubin sightseeing highlights to help you plan your trip and maximize your Pulau Ubin experience.
First Stop: The Nature Gallery
My recommendation would be to arrive in the morning, preferably before 11:00, and head immediately to the Nature Gallery upon arrival to the island. The Nature Gallery has brochures with a map and there is also a large wall map to help you visualize your own personal what-to-see plan. Speaking from personal experience, one could easily hop on a bike and accidentally go in the right direction (or not). But if you have your heart set on seeing any particular sites, take the time to properly map out a plan.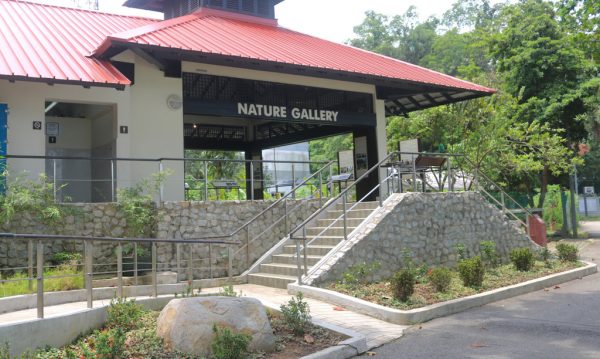 Bike Through The Kampungs
Pulau Ubin is very park-like and perfect for cycling. With exception to a few small hills, the smooth paved roads and ample signage make for a relatively easy bike ride. Heading north from Ubin Town and following the roads in a clock-wise direction will lead you to most of the local sightseeing hot-spots as well as give you a healthy dose of fresh-air and nature.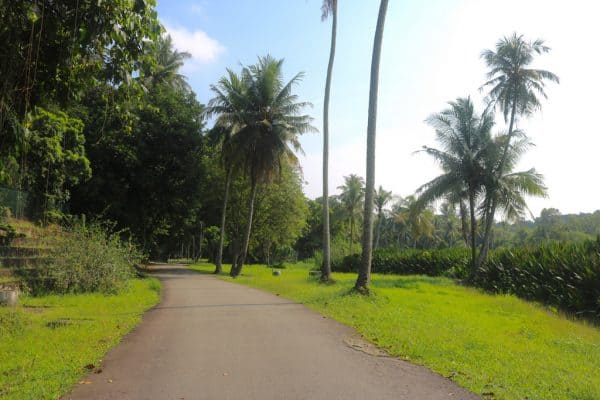 Butterfly Hill
A must visit for butterfly fans; Butterfly Hill was created to preserve and showcase regional butterflies. Singapore butterfly expert, Khew Sin Khoon, suggested over 50 plant species to be planted on the hill which would attract butterflies. And indeed it did. His scientific recommendations paid off as Butterfly Hill now has about 140 different species of butterflies residing on Pulau Ubin.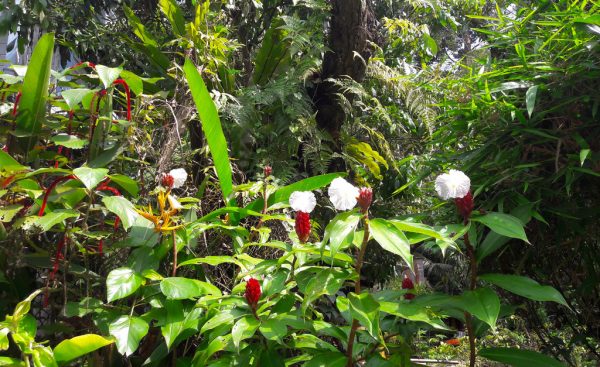 Visitor Centre, House No 1
At the entrance of Chek Jawa near the shore, the Visitor Centre, which is also known as, House No 1 was built in the 1930s and restored to its present Tudor style finest in 2003. Of the original house, the fireplace and brick chimney are still intact. The ground level of the house has informative displays about the Chek Jawa Wetlands.
Chek Jawa Wetlands
Located on the eastern end of Pulau Ubin is the Chek Jawa Wetlands, where visitors can observe the wetland's biodiversity; from various water birds to tidal sea creatures. The Chek Jawa Boardwalk is a man-made walkway through and around the wetland area. It has two routes; the 600m Coastal Loop and the 500m Mangrove Loop. Allow yourself at least 90-minutes to complete each. There are educational panels along the way that help visitors identify a few flora and fauna and learn a few fun facts to wow the folks back home with. Along the Chek Jawa Boardwalk is the 20-m Jejawi Tower that visitors can climb for a panoramic view of the island and the wetlands. A maximum of 20 people are allowed in the tower at a time, so another good reason to come early.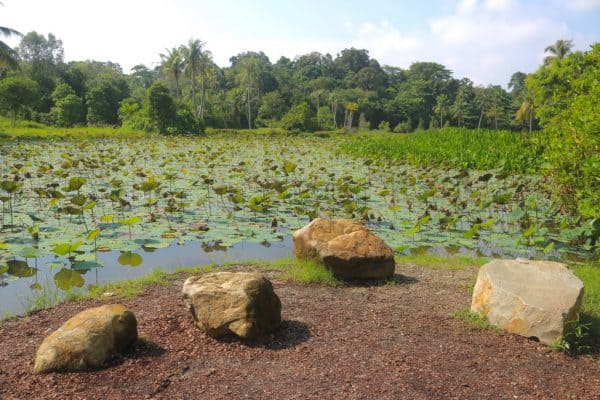 Fo Shan Ting Da Bo Gong Temple
Located near Pekan Quarry, the Fo Shan Ting Da Bo Gong Temple was originally built at its present location as a convenience for those living in the area at the time. The Pekan Quarry was at its peak between the 1950s and 1970s when the population of the island was about 2,000; three quarters of the residents being Chinese.
Pekan Quarry
Pekan Quarry is one of five granite quarries located on Pulau Ubin. Back in the day granite had huge economic value in Singapore as much of the granite was used in the construction of early public housing, roads and even a few local icons such as the Raffles and Horsburgh Lighthouses. The quarries were mined to about 40-m below sea level. Pekan Quarry has now been given new Ubin Island life as a lake. It has become a haven for local birds and a popular bird watching destination.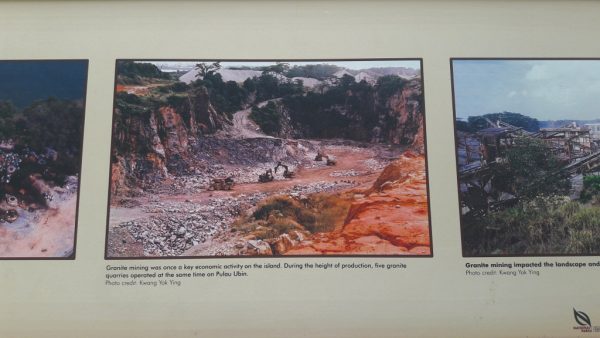 German Girl Shrine
In the early 1900s, a German family was running a German owned coffee plantation on Pulau Ubin, just before the First World War. When war broke out, the British military arrived at the plantation manager's house to 'remove' the family. The 18 year old daughter ran away in fear and was never heard from again. Her body was later found by Boyanese plantation workers and eventually local Chinese workers gave her a proper burial on top of the quarry hill. Complete with a shrine.
Sensory Trail
The Sensory Trail is one of the first places you come to as you head out of town. You can't miss the sign or the sights and sounds of nature. The 1.5 kilometer trail is flat and picturesque. You will truly want to just stop and take it all in. Keep an eye out for a variety of local vegetables and fruit trees which there are plenty of.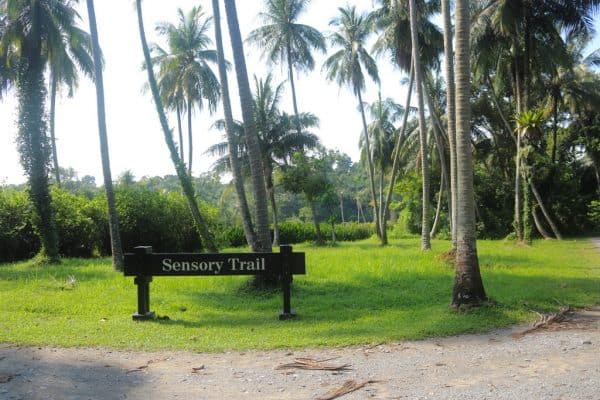 Teck Seng's Place
Once owned by Mr. Chew Teck Seng, the historic Chinese kampung house was home to three generations of the Chew family. Returned to the state in 2005, the house has been refurbished yet maintains its original architectural style and 'rustic charm' as an 'immersive' museum for visitors to experience the good old days of the 1970s. (If that makes you feel old, trust me you aren't alone).
Ubin Fruit Orchard
The Ubin Fruit Orchard is located along Jalan Ubin. What may appear as private property is not. Visitors are welcome to walk through and get up close and personal with some of the 30 species of fruit trees. But please don't help yourself to any fruit unless given permission.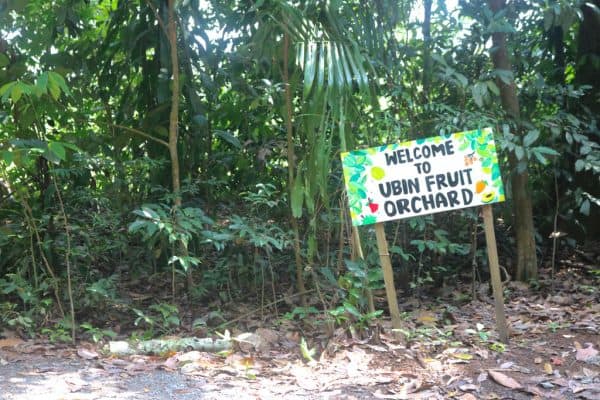 Where To Eat In Pulau Ubin Island
There are a few shops in the main town area which sell beverages and snacks, but for a full meal two places stood out. Season Live Seafood which is open Wednesday through Monday and Cheong Lian Yueh, which is open Friday through Tuesday. Out along Jalan Ubin, you can also get a cold drink from Encik Ahmad Kassim. A special Ubin resident who is also a survivor of World War 2.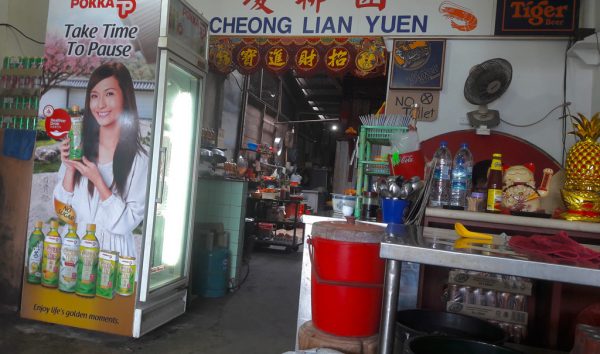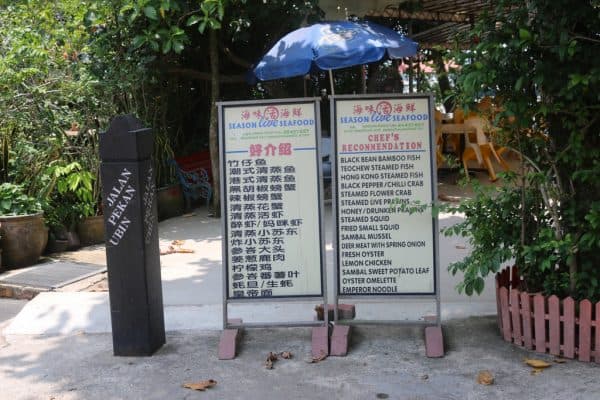 How To Get To Pulau Ubin Island
No special reservations are needed to visit Pulau Ubin. Unless camping is on your agenda. Other than that, it's just a matter of showing up at the Changi Point Ferry Terminal between 06:00 and 19:00. The 10-15 minute ferry ride is 3Sing Dollars each way. (And additional 2 dollars if you bring a bike). Ferry boats (called bumboats) have no set departure time either, so it's rather stress free. There is a small waiting area for passengers and when 12 people show up to fill the seats, then the bumboat is ready to depart. Passengers pay the boat captain once on board, so have cash in hand.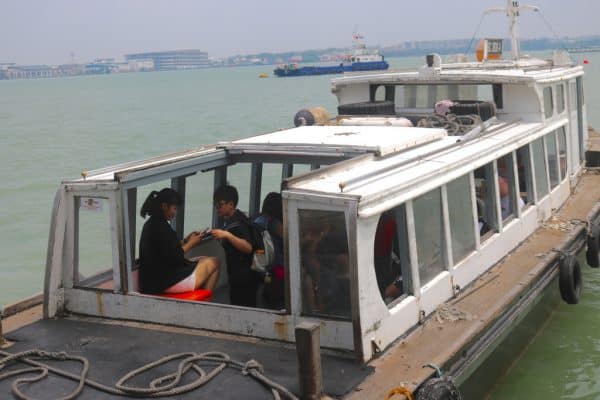 How To Get To The Changi Point Ferry Terminal:
Bus Services: Take buses 2, 29, 59, 109 to the Changi Village Bus Terminal (it's located next to the Changi Village Hawkers Centre)
MRT: Tampines MRT Station (EW2), board Bus No. 29 at Tampines Bus Interchange to Changi Village or Tanah Merah MRT Station (EW4), board Bus No. 2 at Tanah Merah Station Exit B Bus stop (85091) to Changi Village.
Taxi: For taxi app users use this address–>Changi Point Ferry Terminal, 51 Lorong Bekukong
Getting Around Pulau Ubin Island
Pulau Ubin is much larger than it appears from the far shores of Singapore. The 1,020-ha island was once five smaller islands separated by rivers, so the various must-sees are scattered around the island a bit. Visitors have three transportation options:

Renting a bicycle on Pulau Ubin Island
If there is one thing Pulau Ubin has no shortage of and that's bicycle rentals. Bike rentals are available for as low as 5 Singapore dollars for the day. I visited on mid-week day, so maybe it's possible to actually run out of bikes on a weekend or holiday. But like I said before, get there early and you will beat the crowds. You will also cover more terrain on a bicycle (and save time), thus a great way to see the island.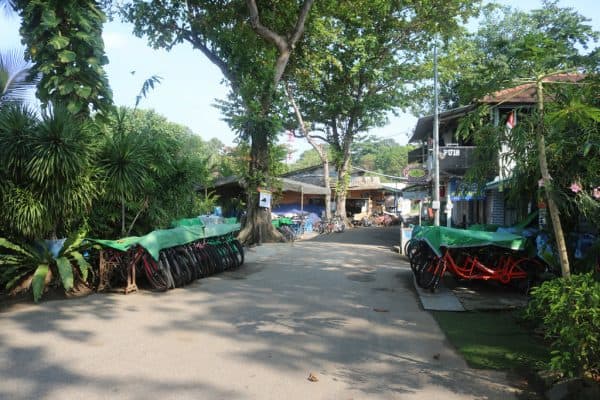 Walking tours
If you prefer walking, one can easily shuffle around town and take a few selfies. Or the Singapore Parks services has two DIY Walking Tours mapped out and they offer a variety of guided tours as well. You can find that information HERE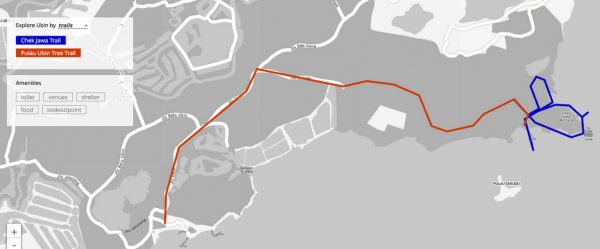 Taxi service on Pulau Ubin Island
Taxi service? Yup, that's right! If you are in a big hurry or just plain lazy, you can't miss the taxi stand just on the left from the arrival pier. Rate negotiations and other inclusive taxi driver services are between you and your driver.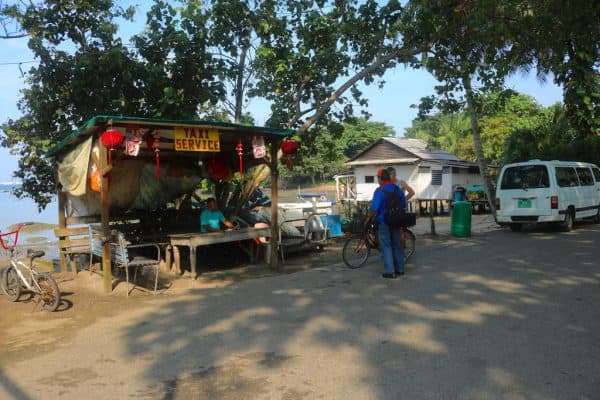 Where To Stay (Changi Village)
Although there are buses that run to and from Changi Village (and taxis of course), if you have the time I recommend including the 'Changi Village Experience' in your visit to Singapore and actually stay in the village. I can recommend two local Changi Village hotels which I personally have stayed at. For ultra-convenience, the Village Hotel Changi is directly across the street from The Changi Point Ferry Terminal. It's family friendly as well as group tour friendly. If you prefer a quieter hotel, I highly recommend the Raintr33 Hotel which is just a 10-15 minute picturesque walk from the Changi Point Ferry Terminal. For the hearty adventurers, camping is allowed on Pulau Ubin. Just bring your tent and register at the local Pulau Ubin Police Station upon arrival.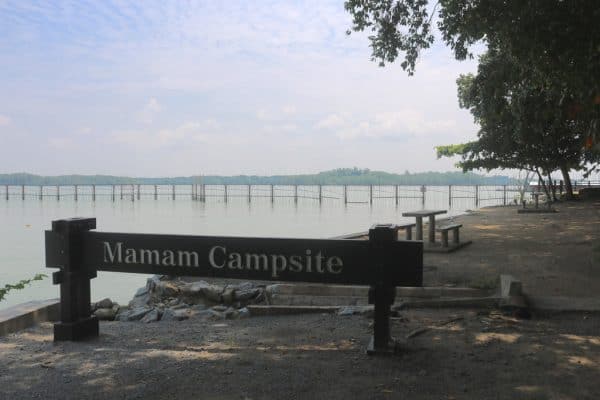 My 'What To Bring' for Pulau Ubin Day Trip Tips:
Bring Cash: There are no ATMs on Pulau Ubin, but there is an ATM kioske in the center of the Changi Village Hawkers Centre
Bottle of water: Depending on when you arrive, you may find no stores are open yet. So rather than wait around, just bring your own just in case.
Snacks: I was starving by the time I cycled back to town. Just bring something to keep your blood sugar in check, but do watch those cheeky monkeys. Monkeys equate bags and day packs with food regardless of what's inside. Within a blink of an eye your bag could be up a tree with a monkey. Also, please remember: Do Not Feed Any Wildlife (including cute monkeys).
Sunscreen: Yes, you will have ample opportunity to get plenty of intense sunshine.
Insect repellent: I'm usually an insect magnet but luckily had no problems with Pulau Ubin's bug population. But better safe than sorry.
Small umbrella or light rain jacket: Singapore can be blue skies one minute and pouring rain the next. A good Pulau Ubin scout is always prepared.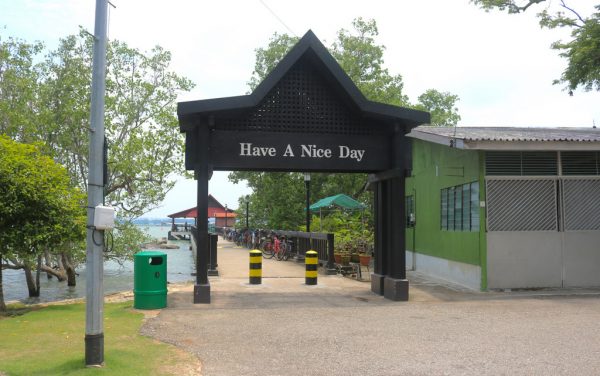 For travelers who loves roads less traveled or embracing local culture and heritage, a visit to Pulau Ubin will not disappoint. In fact, it's inspiring to see the possibilities of what a community can do when they combine their efforts. Both ecologically as well as culturally. Singapore's Pulau Ubin is a breath of fresh air in more ways than one and proof that heritage needn't disappear in a modern age. For more information about Pulau Ubin and the various programs and tours they offer, do check their very informative website HERE
Here are a few video clips from my visit to Pulau Ubin Island
Can Subscribe to The Island Drum's You Tube Channel HERE
Have you been to Pulau Ubin Island?
What are your favorite things to do there?