The Aseania Resort and Spa has always been an eye catcher for me since my first visit to Langkawi way back in 2005 and also on my wish list of places to stay. In the early days, its Florida-esque tropical hue of conch shell pink earned it the nickname of  the 'pink cake' amongst locals. Although it's since been repainted, its massive colonial style presence against the lush jungle backdrop to this day remains one of Langkawi's most endearing local landmarks.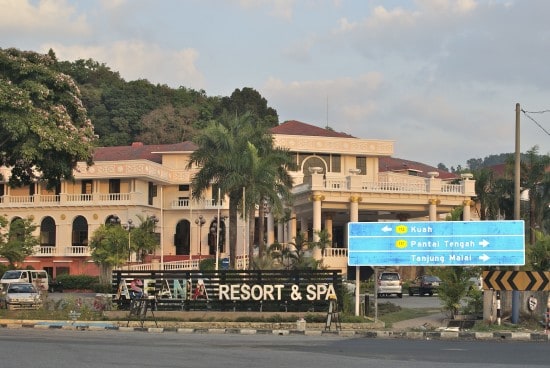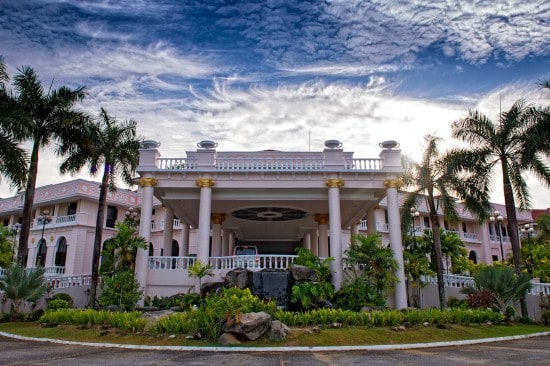 I was recently invited to be a guest of the Aseania Resort and Spa and I can tell you I couldn't say yes fast enough. How was my first Langkawi staycation? It was a refreshing change of scenery for sure! The Aseania also has much more to offer than I ever knew. So I'll give you seven excellent reasons to put the Aseania Resort and Spa on your list of places to stay in Langkawi.
Location, location, location…
The Aseania's prime location between bustling Pantai Cenang and the more laid back Pantai Tengah offers the best of both worlds to their guests. Not only does the resort have a distant sea view from their perch on the hill, their seven and a half acre domain allows for plenty of breathing room as well as a quiet buffer zone from the nearby roadway and active beach community. White sand beaches, shopping and plenty of restaurants are conveniently within a short walk from the resort.
Ambiance
Considering that the Aseania Resort has been around awhile, it's inevitable that the seaside icon would eventually need a few nips and tucks along the way. And luckily renovations over the years have left the Asian colonial style architecture intact, which now gives the resort a slightly retro hip edge to it. The lobby's interior pillars mark the passing of time as they cast shadows against the new white hues, along with the romantic lighting of chandeliers, adds to the resort's elegant four-star feel.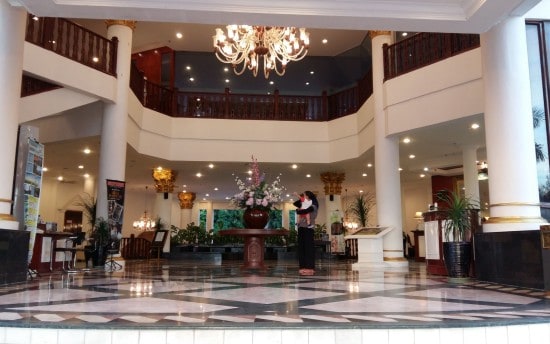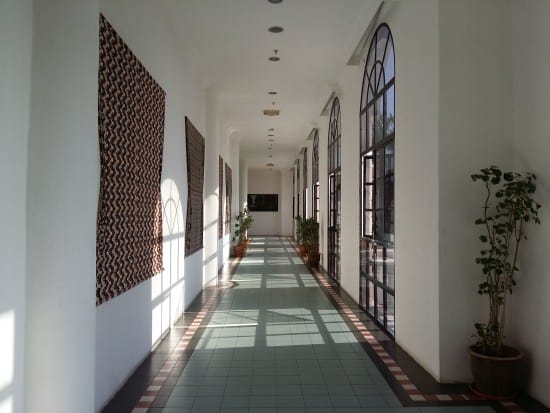 My deluxe room was spacious and practical in decor.  The oh-so-comfortable queen size bed, adequate working space (including a desk with well placed electrical outlets), wifi, mini fridge and even a small settee and table, provided all the conveniences I needed at my fingertips. And despite the Aseania being very family oriented and kid friendly, it was surprising quiet and relaxing.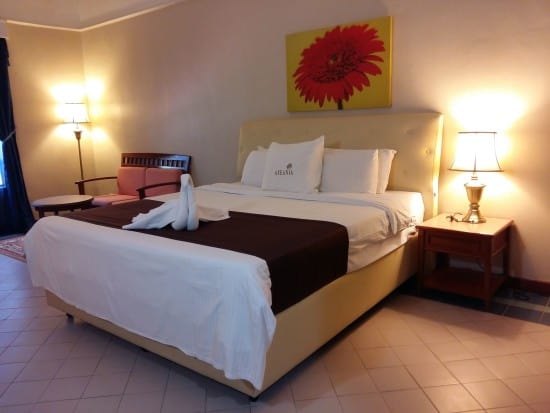 Culinary Delights
Conveniently, the Aseania has food and plenty of it. Mahsuri's Kitchen as well as the Pool Bar both have excellent selections of diverse local and western cuisine and it's delicious! The Smoked Salmon Caesar Salad was one of the hearty selections that I tried and there was certainly no skimping on the fresh ingredients.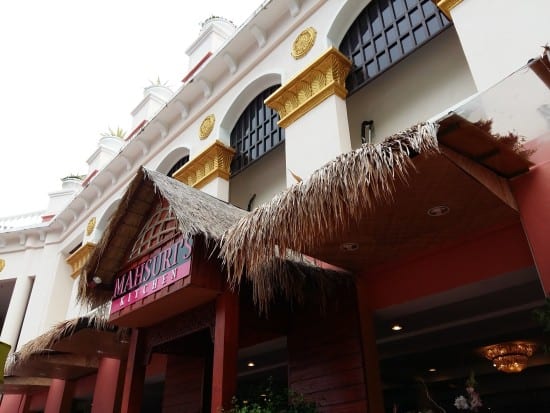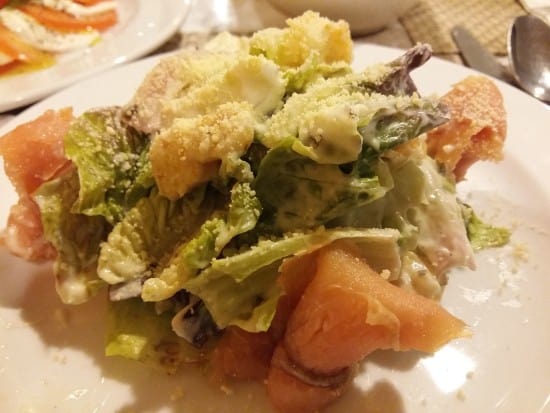 I also love a breakfast buffet and Mahsuri's Kitchen puts on quite a daily spread with several specialty stations serving such favorites such as Dim Sum, Yee Mee, Rice Porridge and they even have an as-you-like-it Omelet Bar.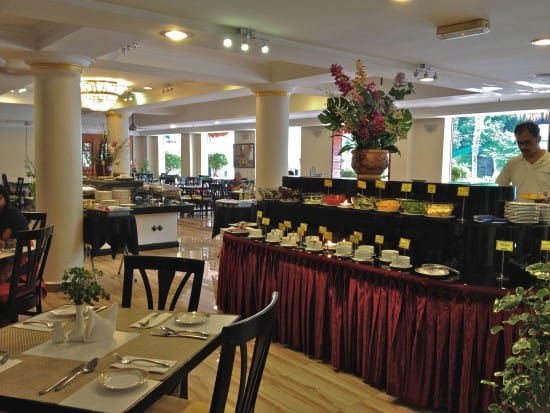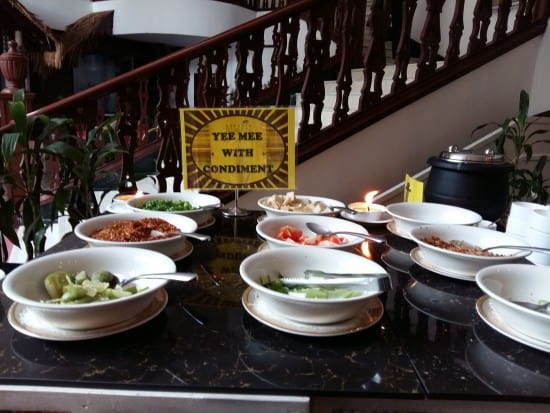 The Pool Bar also serves 'beverages of choice' and additional lunch and dinner selections. Don't feel like leaving your room? Room service is available with their ala Carte menu from 11:00am until 10:30pm.
It's Showtime!
Speaking of food, another dinner option the Aseania offers is an International Buffet and Cultural Show four nights a week (unless there's a private function). This buffet is a winner! Not only is it amassed with every type of food imaginable, it's set up poolside with festive, colorful lighting and the backdrop of the adjacent forest and the Aseania's melodic feng shui waterfall. It all makes for a lovely dining experience.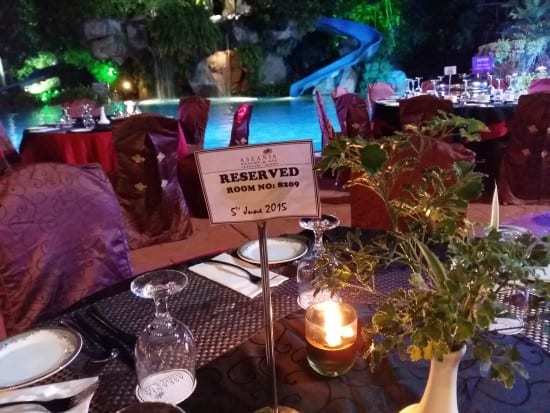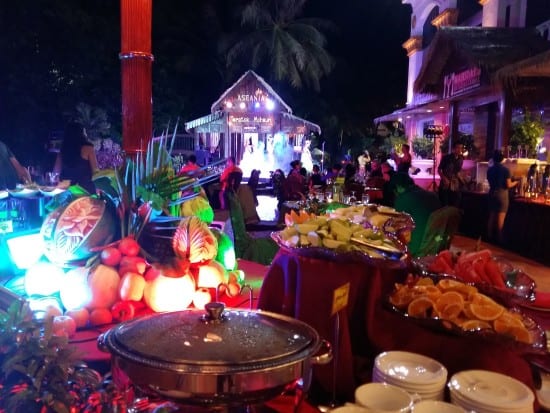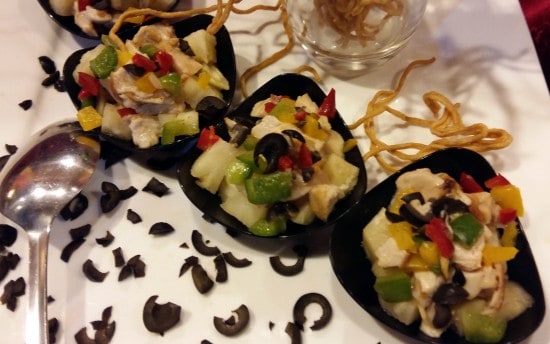 This Cultural Dinner Show is one of the few that are consistently available in Langkawi. It's also open to the public and affordable too! Showcasing Malay traditional singing and dancing along with some rather dramatic fire dancing. It's a not-to-be-missed by any visitor to Langkawi.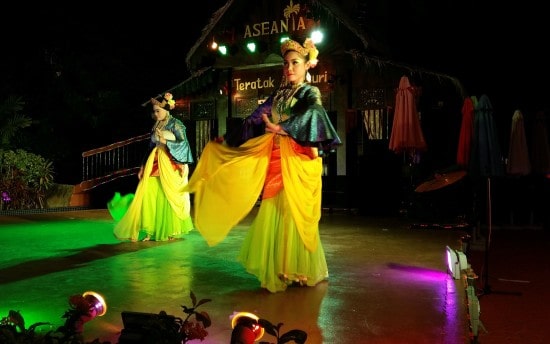 Dive On In
Although the beach is just a ten minute walk away, a swimming pool option is always welcome. Especially for families with kids. But the Aseania doesn't have just one pool, it has five! And those pools are all connected making it essentially one massive pool at over 154 meters.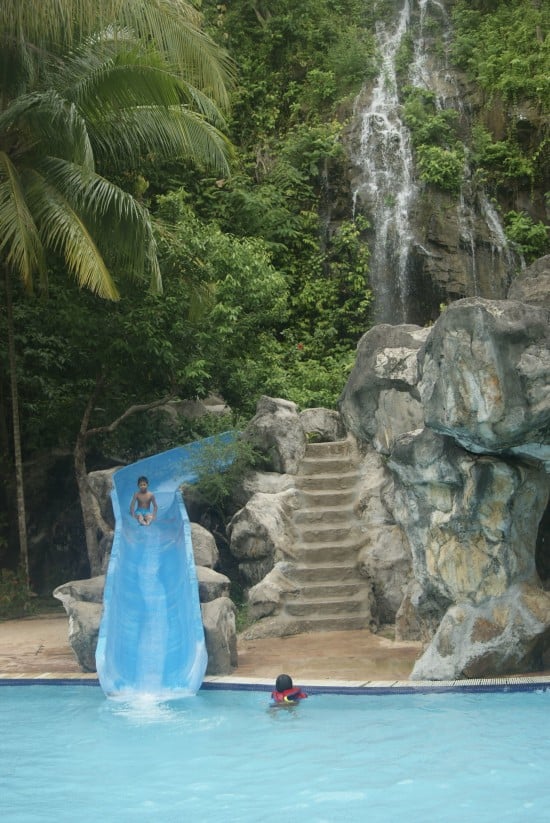 They once had bragging rights as being the largest swimming pool in Malaysia which landed them in the Malaysian Book of Records. That's still a brag-worthy fact in itself! This cooling stretch of aquatic magic includes a mini water theme park with sliding boards and waterfalls, a small wave pool and even a 'lazy river' pool, which winds through a small tropical garden. Lots of space and plenty of poolside loungers, umbrellas and a pool bar, what more could you ask for?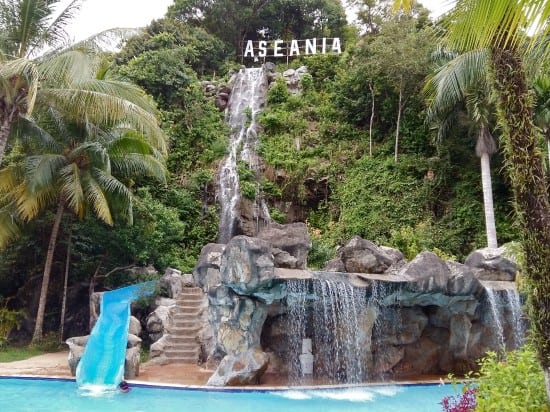 The Zen Zone
The Aseania Resort has an onsite spa and an excellent one at that! Sari Dewi Spa is located on the edge of a tropical garden, with indoor and outdoor massage areas. I had the Sari Malay Traditional massage that was 90- minutes of pure bliss at the hands of experts.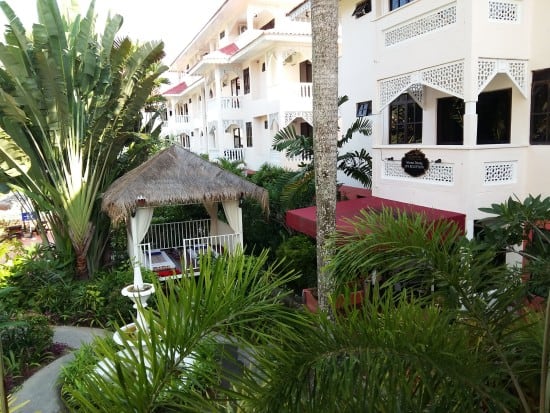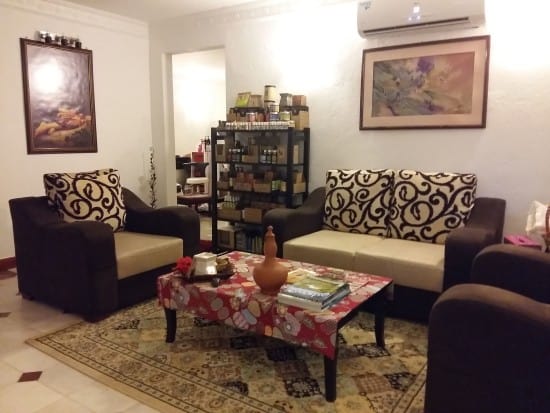 I did a happy dance when I found out they also offered manicures and pedicures, facials and even basic hair salon services. They get an A+ from me on all of the above and a place at the top of my recommendable Langkawi Spas list.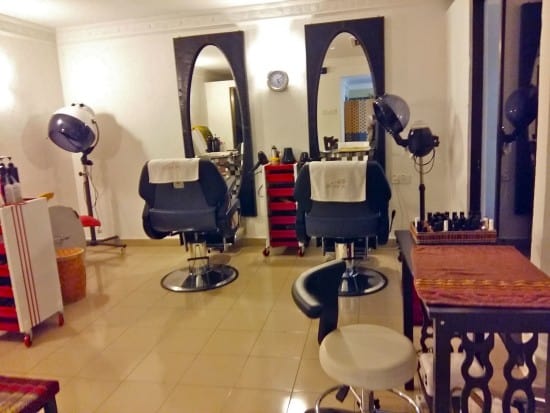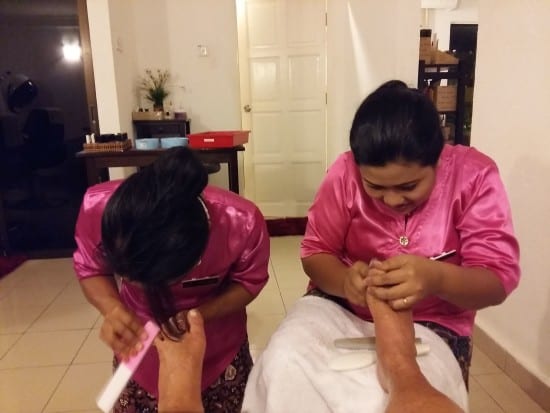 Last but not least.. That Lovin' Feeling
Aseania Resort has great customer service! Being an invited guest, I'm always aware that my guest experiences might be slightly tainted by 'special treatment'. But to be honest, I think I slipped in unnoticed. In fact I was tempted to pass out business cards and shake hands to announce my presence, to test that theory.  But the staff gives 'special treatment' to all guests. They are genuinely warm, welcoming and very attentive to guests' needs and they work as a team to keep the resort's vibe relaxed and fun.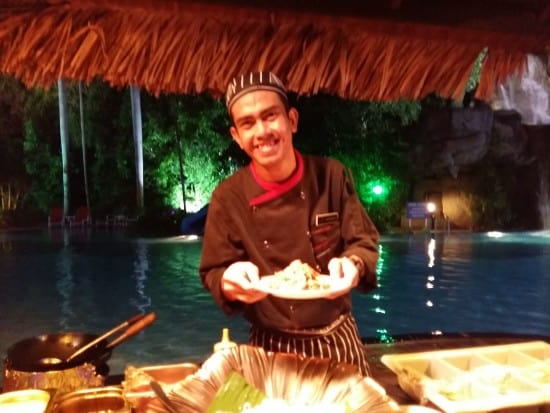 The Aseania Resort and Spa is a solid part of Langkawi's history and it's very exciting to see their unpretentious, subtle refurbishing tackled without losing their unique island charm. I hope you put them at the top of your list of places to stay in Langkawi. I'm sure you'll love them as much as I do. You can check rates and availability HERE
Aseania Resort and Spa
Pantai Tengah, Langkawi, Malaysia
T: +604 955 2020
F: +604 955 2115/955 2136
[email protected]
www.aseanialangkawi.com.my
www.saripacifica.com