Songkhla City, Thailand is not just a day tour destination. Songkhla is the kind of place that simply cannot be properly introduced through the smudged window of a passing tour bus. Seriously. There is so much more to Songkhla than getting a selfie at the Golden Mermaid! Songkhla's cultural authenticity and heritage even rivals such renown township gems as Ipoh or Kota Bharu, Malaysia. And surprisingly, despite it's somewhat sleepy looking façade, there are a lot of things to do in Songkhla. If given the chance, Songkhla may even win your heart, as it has mine.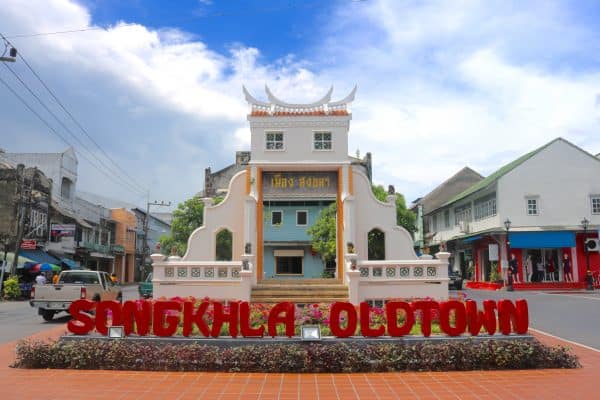 Quick Guide:
Where The Heck Is Songkhla City?
Songkhla, located in the Mueang Songkhla District, is a provincial capital in Southern Thailand. This means that it is a capital city within a province of the same name. Every province in Thailand has a city by the same name, which can often make booking hotels tricky if you mistake a city location with its much larger provincial area. Speaking from personal experience, it's quite easy to accidentally book a hotel nowhere near your actual target destination, so be sure to double check a map!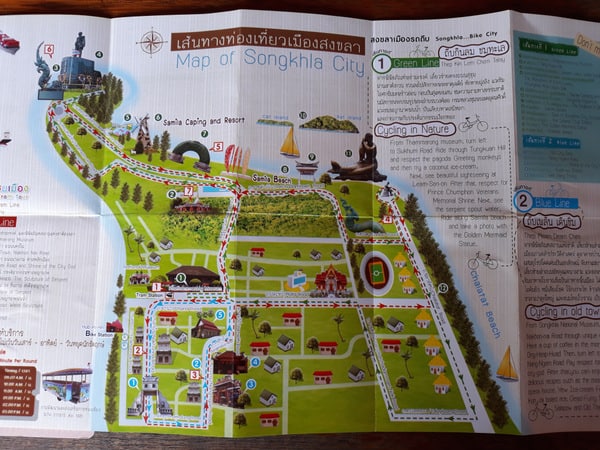 That said, Songkhla City is about a 30-45 minutes drive northeast of the popular city of Hat Yai. The city straddles a narrow peninsula between the South China Sea, on the east side, and a salt water estuary (referred to by locals as 'The Lake'), on the west side. This of course creates a break in the coastal land mass and there isn't a bridge connecting the two coastlines.
Arriving from the south, from Hat Yai, it's a clear shot into town via the northbound 407 highway. Arriving from the north, there are two options; follow the 408 southbound highway to 4222 and take the small car ferry across or continue on the 408 and cross the bridge to Ko Yo (Island), and another bridge to the mainland and the entry to the Songkhla City peninsula. If this sounds a bit confusing, trust me it is, unless you have a Google Map (which I have conveniently provided for you above).
Songkhla History
Since the 12th century, Songkhla's history as a port town is extensive and complex and that's apparent, beginning with the city's name itself. The city's original name was Singgora, which means 'the city of lions' (and has nothing to do with Singapore in case you were suddenly thinking that). Named by Persian and Indian traders who, upon maritime approach to Songkhla, likened present day Koh Nu (Rat Island) and Koh Maeo (Cat Island) to two crouching lions guarding the entry to the nearby estuary. Obviously, lion sightings were popular back in the day, especially within the vivid imaginations of seamen. Over the years, there were a variety of language distortions of the name, including Singha, Sing lha, Singkhon, Sating, and Singora, with Songkhla eventually being the last moniker allocated.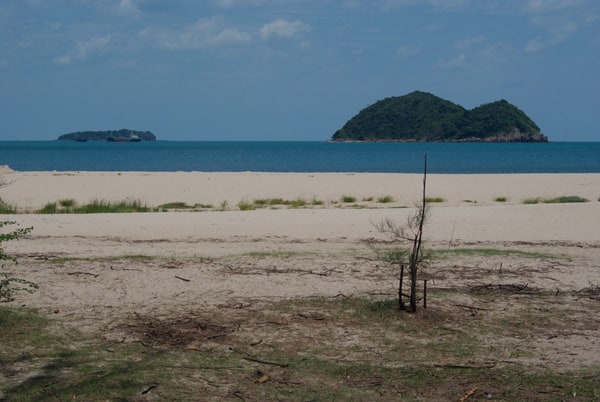 The 'new' Songkhla was established in 1842, along with the addition of a city wall surrounding the port town. Songkhla was the center of power for the northern most territories of the Malay Kingdom of Langkasuka from the 3rd to 13th century. The city then transitioned into the Sultanate of Singgora, which continually rebelled against the Thai King for its independence. It was then brought firmly under the sovereignty of Thailand in the early 18th century until it officially became part of Thailand with the Anglo-Siamese Treaty of 1909.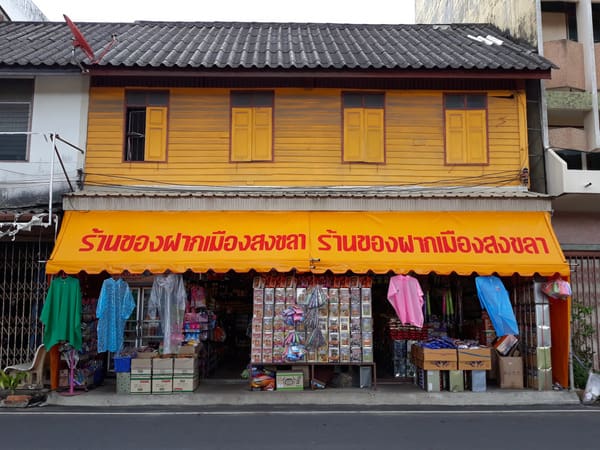 The city of Songkhla had also long been a trading partner with China. When war broke out in China, in the early part of the 19th Century, many people were left as refugees and living under harsh conditions. This created an exodus to Songkhla from China. The ever-growing Chinese community had a great influence in Thailand, through to today. And rather than isolate the Chinese, King Rama IV realized the economic benefit of this new immigrant community and moved to integrate their culture into the Thai city, through allowing freedom of Chinese religion and ceremonies that are still celebrated here. The significant Chinese influence can still be seen today in the architecture of Songkhla Old Town, with many of the buildings and temples dating back to the 1800s.
Things To Do In Songkhla
When it comes to things to do in Songkhla, the selections are diverse. But unfortunately detailed information about these various local sights and activities is not consistently available to the non-Thai fluent public in brochure or local map form. But at the very least there are well placed street signs in Songkhla which will point you in the right direction. And except for a few, most sightseeing options are free of charge.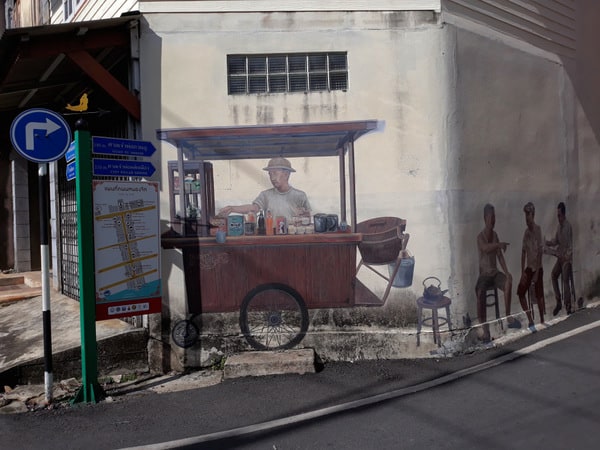 SONGKHLA CITY
Singora Tram Tour
The Singora Tram Tour is a great way to get a general overview of Songkhla Old Town and it's free. Although their operating times are posted as running the 30 to 40-minute tours hourly, they are somewhat inconsistent in their schedule. However, it is well worth taking the 'tour', because they do a scenic loop through the area (which may or may not additionally include Samila Beach). They may even stop at a few places along the way, depending on the guide's enthusiasm. I've taken this tour twice with two very different experiences. So, good luck! I would also recommend that you visit them soon after your Songkhla arrival, to increase your chances of actually finding them operating. *Singora Tram Tour, Chana Road between Ramvithi Road and Saiburi Road, Entry: Free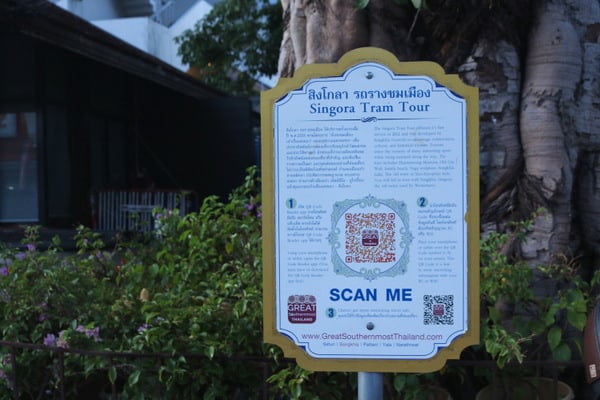 Phathammarong Museum
The impossible-to-miss Phathammarong Museum is located at the corner of Chana and Saiburi Road, just to the west of the Songkhla Clock Tower. The Malay style home turned museum was the birthplace of the 16th Prime Minister of Thailand, Prem Tinsulanonda. Several rooms full of memorabilia are on display, including artifacts from Tinsulanonda's military career. He served as the 16th Prime Minister of Thailand from March 1980 until August 1988 and is highly regarded in the Songkhla community. *Phathammarong Museum, Corner of Chana and Saiburi Road, Entry: Free, Open: Daily 08:00-17:00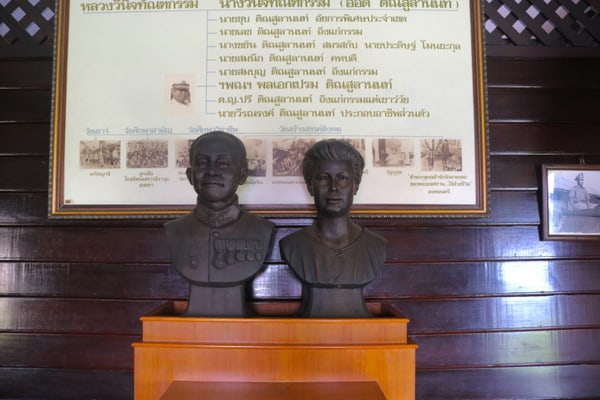 Songkhla Old Town Wall
Not exactly the best of Songkhla sightseeing, but it is a noteworthy landmark at any rate. It's also located on the same street as our old friend the Songkhla Clock Tower, so you can't miss it.  The Songkhla Old Town Wall was built in 1836 during the reign of King Rama III to encapsulate 'new' Songkhla in a new location. Songkhla had previously been in the Leam Son district before being relocated to its present, third location. The original wall length from east to west was 1,200 meters and from north to south it was 1,000 meters. Today, only 114 meters of the northern city wall remains. It is now officially considered a Historic Monument. *Songkhla Old Town Wall, Chana Road between Ramvithi Road and Saiburi Road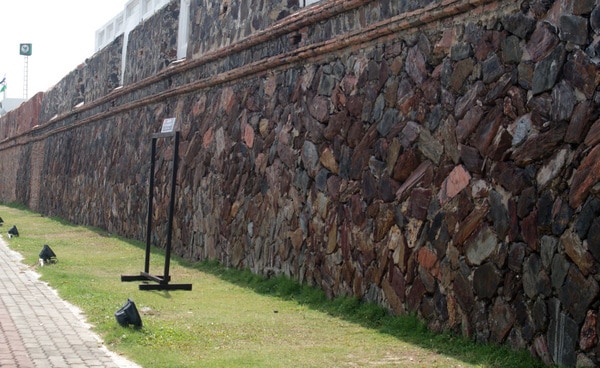 Songkhla National Museum

The Songkhla National Museum is an in-depth look at the history of the province and well-worth a visit. The building itself is an architectural landmark whose identity has morphed over the years; starting life as the ruling 'Na Songkhla's family residence from 1878 to 1894, and was then passed on to Songkhla's administrative officers, eventually becoming Songkhla City Hall from 1917 to 1953. Originally opening as a museum in 1982, the museum's most recent refurbishing effort includes the addition of a multi-language historic video via flat screen TV. There are new dioramas displaying everything from archaeological findings, historic documents and they even touch on the Japanese invasion during World War II. Be prepared to spend at least two hours there to get your 150 baht worth. *Songkhla National Museum, 13 Wichianchom Road, Entry: 150 baht (free for monks, priests & students in uniform), Open: Wed through Sun 09:00-16:00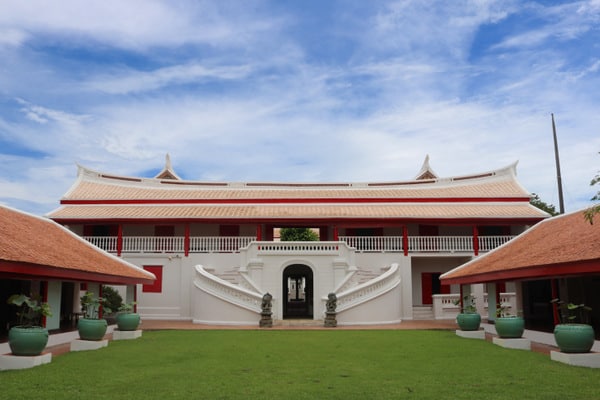 Khao Tang Kuan (dog mountain) or Tan Kuan Hill
Tan Kuan Hill is definitely a must-see in Songkhla. This is the location of the Sala Phra Wihan Daeng Royal Pavillion, which was initially constructed during the reign of King Rama IV, in 1886 during the Nakhon Si Thammarat Empire. Unfortunately, the pavillion was not completed during that reign. Construction was resumed in 1889 by King Rama V, resulting in the addition of the rather dramatic Naga staircase. The project was finally completed in 1889. The Phra Chedi Luang Royal Pagoda also shares the mountaintop as a golden, hilltop landmark, visible for miles around.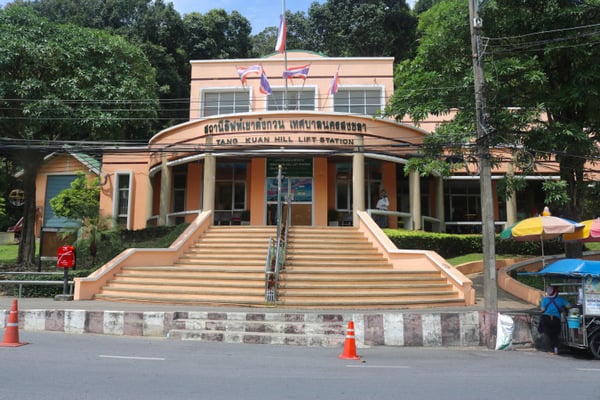 There is more than one way to get to the top of 'dog mountain'; one much more exotic and challenging than the other. The easy way would be to take the Tan Kuan Hill lift at Sukhum Road, which for 30 baht you can ride 105-meters up the side of the mountain in an elevator. The more adventurous may want to choose to ascend via the free Naga stairs on Ratchadamnoen Alley, across from Wat Laem Sai. The unsuspecting may not realize the distance from the first step to the hill top Dvaravati chedi, so be forewarned it is a full 300 plus step, calorie burning vertical climb. At the top of the stairs the panoramic view of Songkhla will leave you breathless in more ways than one. *Tan Kuan Hill, Sukhum Road /Naga stairs on Ratchadamnoen Alley, Entry: 30 baht, Open: Daily, 08:30–18:30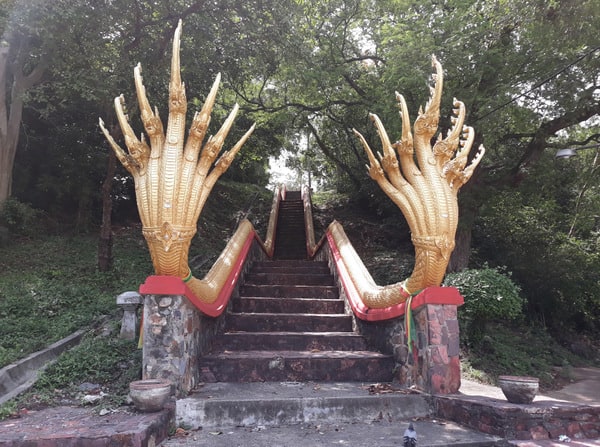 Weekend Night Market
The Weekend Night Market is a highlight for visitors to Songkhla as well as for locals. This weekend event starts setting up around 16:00pm with the street closing to traffic, and the vendors commence to setting up their stalls with great enthusiasm. Of course, with karaoke being quite popular in Songkhla, the stage is set literally at the corner of Chana Road and Saiburi Road and audience participation is encouraged and appreciated, so don't be shy!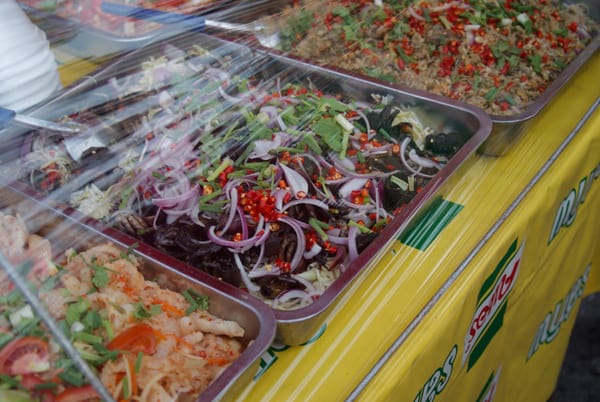 Food vendors of every description are on hand serving up regional specialties, in addition to their own culinary creations. From skewers of satay to piping hot cauldrons of Thai-Muslim Oxtail Soup. Aside from the corner stage 'audience seating' there are a few Japanese style picnic tables set up along the sidewalk. There is not much in the way of napkins and I can assure you that this eating extravaganza can get quite messy, so be prepared. *Weekend Night Market, Chana Road between Ramvithi Road and Saiburi Road, Open: Friday, Saturday, Sunday, 17:00-21:00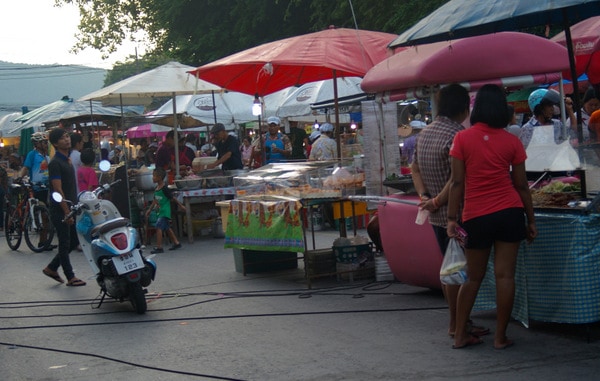 Songkhla Lake
Considered to be the largest natural lake, as well as the only fresh water lake in Thailand, the Songkhla Lake is technically not a lake at all. It is a lagoon and estuary. But when in Rome, or in this case Thailand, then it's a lake. And a brag worthy lake at that. The 80-kilometer-long lake's Songkhla City side waterfront is eclectic; from its scenic serpent enhanced, vista near Samila Beach to the heavily populated boat docks of Old Town's fishing community.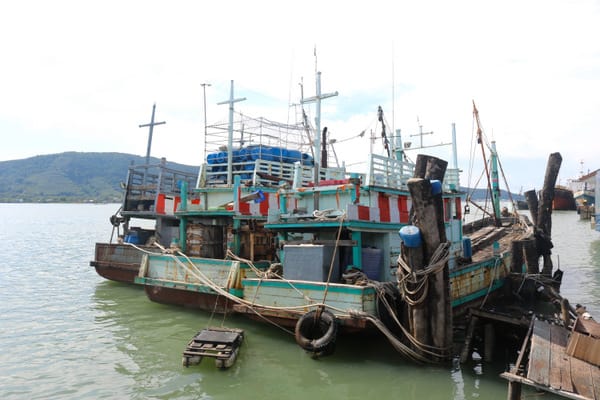 SONGKHLA OLD TOWN
City Pillar Shrine (Lak Mueng)
To non-Thai visitors, the Lak Mueang or 'City Pillar Shrine' of Songkhla may be of little significance, but this particular shrine is more than just another colorful temple. It is considered by many locals as being the heart of the community and a symbol of central power. The City Pillar Shrine was constructed when the city itself was built, during the 24th Buddhist Century. The buildings in the surrounding area of Nakhon Nai and Nakhon Nok Roads are also an architectural testament to the significance of the Chinese immigrants in establishing Songkhla. *City Pillar Shrine (Lak Mueng), Nang Ngam Road, Entry: Free, Open: Daily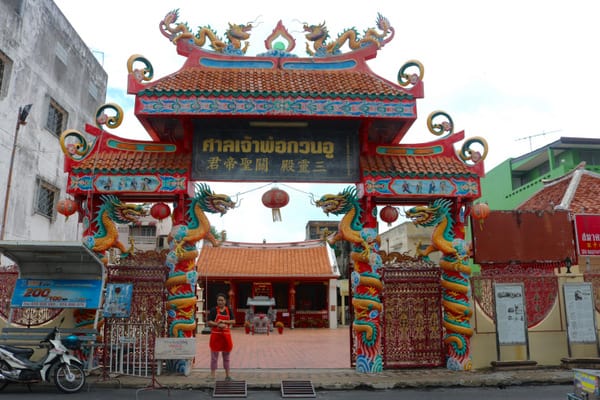 Wat Matchimawat or Wat Klang
Amazingly there are more than 15 wats in Songkhla, but history and culture buffs should put Wat Matchimawat at the top of their must-see list. Considered to be one of the most important Buddhist temples in Songkhla, the construction of the 400-year-old beauty was funded by the generous donations of a wealthy patroness. The park-like grounds are picturesque as well as serene as monks silently stroll the grounds oblivious to gawking tourists. This temple also has the unique Matchimawat National Museum that houses numerous artefacts gathered from the region in addition to an abundance of information on the various factions of Buddhism in Thailand. *Wat Matchimawat, Saiburi Road at Ramvithi Soi 6, Entry: Free, Open: Wednesday through Sunday 13:00-16:00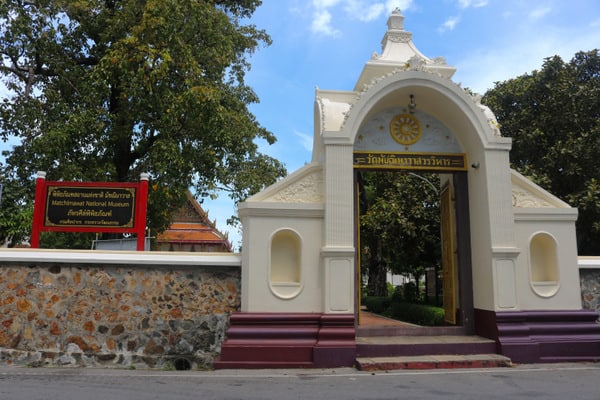 The Songkhla Old Town Art Scene
Visitors to Songkhla Old Town will be pleasantly surprised to find lots of street art adorning various walls and sidewalks. In fact, at a glance one might think they have been transported to Penang, Malaysia, because the art work is of equal quality and variety as the highly popular street art of George Town. The Old Town community art project apparently began in 2016, so they have only just started and have plenty of room to expand their impressive efforts.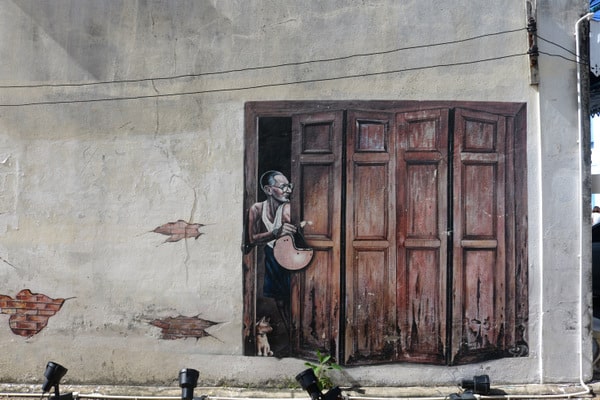 Maritime, street art and sunset photo fans can snap three birds with one stone by visiting Buddaraksa Jetty or Saksitphithak Jetty, where the jetties have been developed into mini-community parks, complete with benches and street art. The nearby waterfront is jam-packed with fishing boats, making for quite the nautical sunset shot at the end of the day.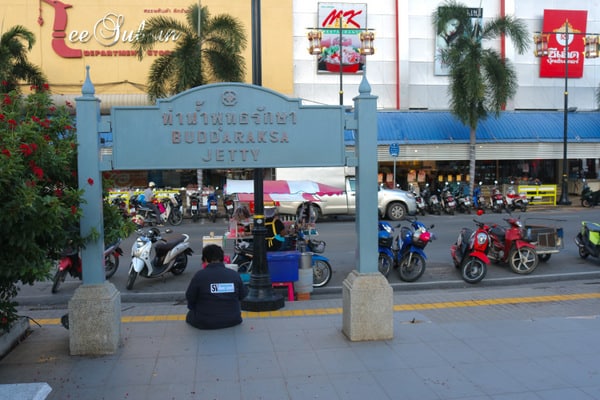 While you are in the area, be sure to stop by the Hub Ho Hin building. Built in 1914, this once upon a time rice mill became an ice factory in the 1930s, and in modern times has been revamped into a community art center. You can't miss the bright red barn-style building, as it also has several statues of rice mill workers in front. There are ongoing photo and art exhibitions inside as well as a small performance theater.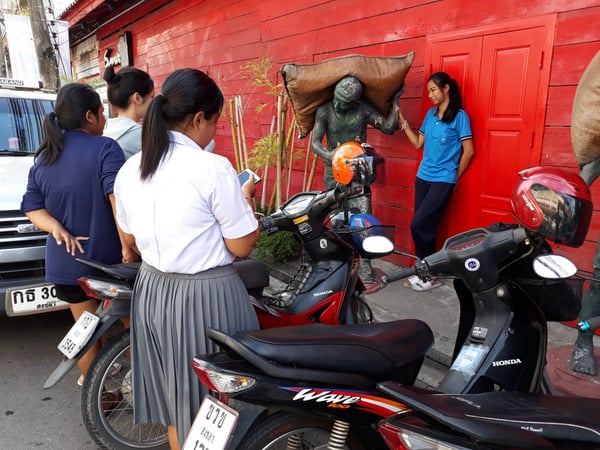 SAMILA BEACH
Laem Samila (Samila Beach)
It's inspiring to see that Songkhla's Samila Beach has not succumbed, like so many seafront communities, to mass development. Its natural beauty and local charm has been well preserved. The length of east coast shoreline is an endless golden sand beach with plenty of shady pine trees. It is a magnet for locals as well as tourists, especially on the weekends and holidays. Don't be surprised to find yourself the only one donning swimwear, because sun bathing does not seem particularly encouraged (or discouraged) and many of the visitors seem content to simply enjoy the festive, relaxed environment fully clothed. But the shallow sea is calm and relatively clear and certainly splash-worthy on a sunny day.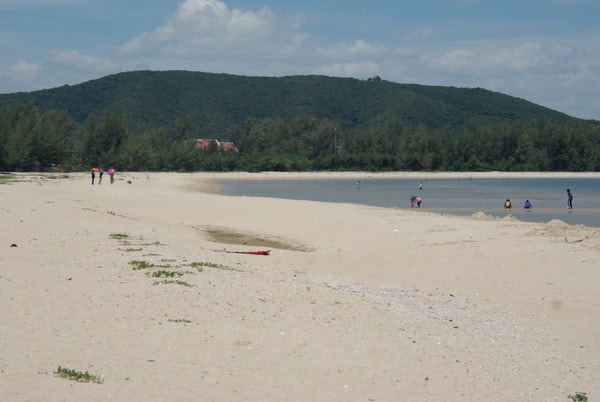 There are less populated stretches of Samila Beach for visitors to explore and have more privacy. Head north towards Laem Son On (Pine Tree Cape) or south of the Golden Mermaid Statue as Samila Beach becomes Chalatat Beach. Some areas are more isolated than others, so exercising common sense, safety precautions would be wise.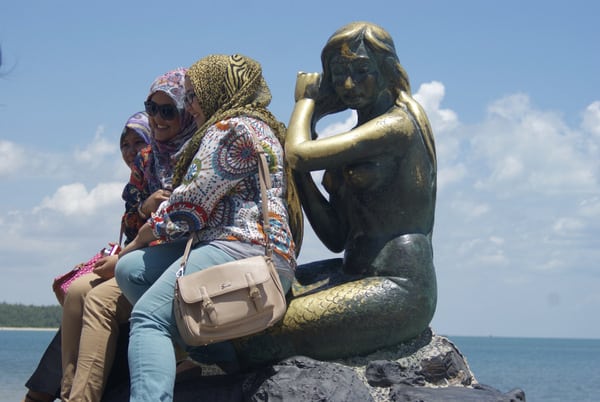 The majority of the beach scene is concentrated in the area of the iconic Golden Mermaid Statue. It is the most prominent of the statues and sculptures that make their appearances throughout the seafront areas of Sculpture Garden Chaloem Phrakiat and nearby Seri Park. Plenty of vendors congregate along the beachfront, selling everything from cheap eats to Songkhla souvenirs, so bring extra cash. And for those in need of toilet facilities or a quick shower, located behind the Samila Thai Massage is a community bathhouse with showers for 10 baht and toilet use 5 baht.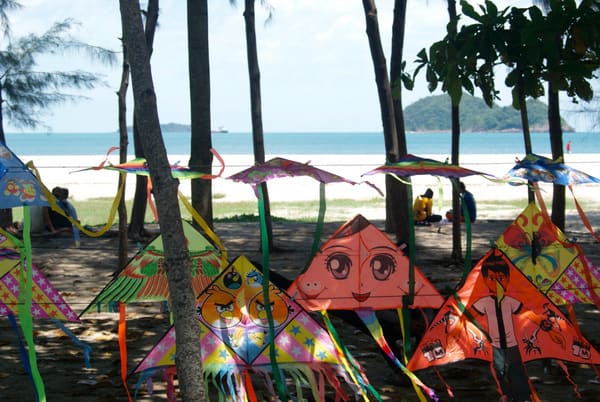 The Great Serpent Nag (Laem Son-On NAGA)
The Great Serpent Nag is regarded by locals as a sacred site, but spiritual reasons aside, the majestic Naga head does indeed have a monumental beauty that makes it a magical must-see in Songkhla. Divided into three separate parts, the serpentine head faces Songkhla Lake and pulls double duty as a 9-meter high water spewing fountain. Created in 2006 the serpent's sea green patina perfectly belies its age and has a beguiling power over visitors. The serpent's mid-section is in Sculpture Garden Chaloem Phrakiat as a mysterious u-shaped metallic structure. The tail emerges even farther south with even less fan fair, totaling a three-kilometer length from head to tail. *The Great Serpent Nag, North end of Samila Beach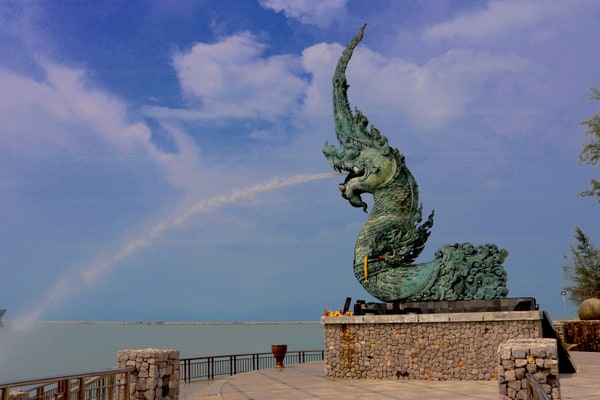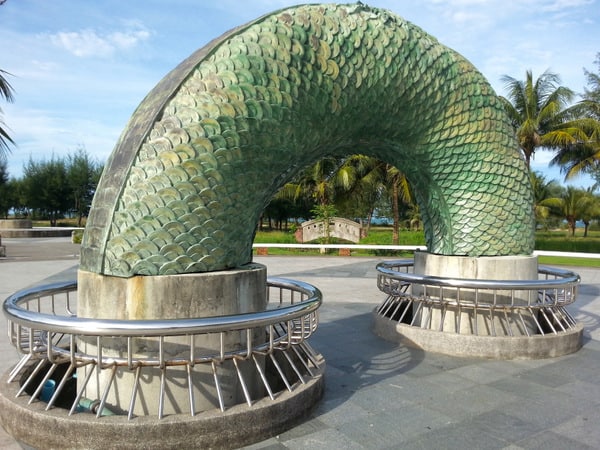 Day Trip to Ko Yo
To be totally honest, I was smitten by the idea of getting to Ko Yo (island) and seeing that magnificent Sleeping Buddha at Wat Phranon Laem Pho. This goal even took me a few years to accomplish, but now I can say, "I've been there, done that". If you are coming to Songkhla from the north, by car or motorcycle, you must cross the bridge to Ko Yo and the bridge into Songkhla City, unless you are taking the car ferry across. Unfortunately, the Sleeping Buddha is on the opposite side of the 4-lane highway. I took the scenic route from Songkhla via motorbike.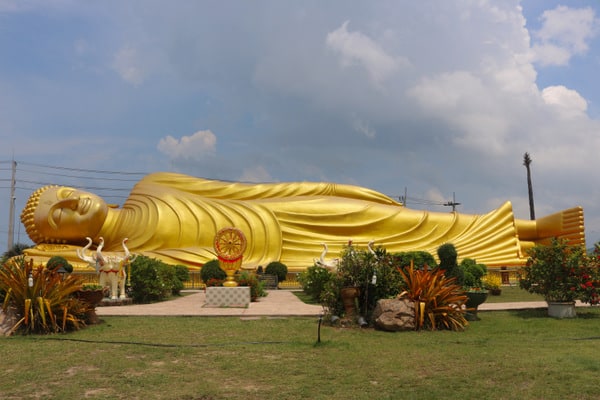 My scenic route involved taking a ferry from Samila Beach to the other side, getting lost for an hour or so, and then taking the bridge across to Ko Yo, which is located in the middle of Songkhla Lake. Was it worth it? No. At least in my opinion. With rows of mini vans and the stench of rubbish, it had all the makings of an uninspiring tourist trap.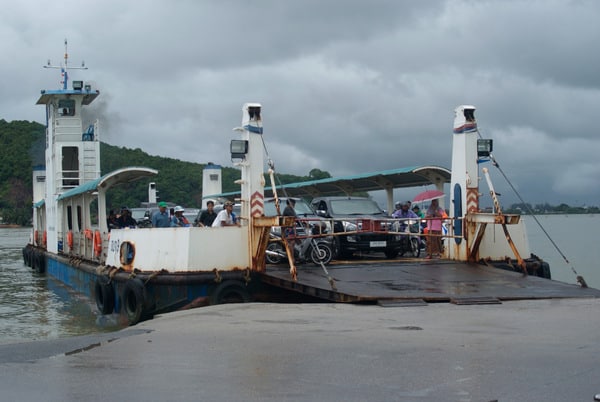 However, I do highly recommend taking half of my scenic route, by renting a motorbike, taking the ferry across to the other side (3 baht each way) and exploring the back roads there. The dusty remoteness of it all will make you feel like a true explorer and the ferry ride alone is worth it! Do note that if you opt to go on foot, there is a lot of vastness between the scattered temples, mosques and restaurants, so wear comfortable shoes and do consider dressing conservatively. *Ferry price: Cars 20 baht, Motorbikes, 3 baht, Pedestrians, free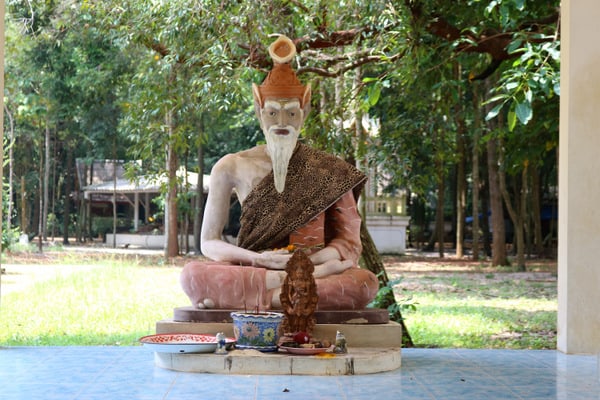 Where To Stay
Accommodation options around Songkhla City are plentiful and relatively inexpensive. However, during my most recent visit I chose The Luxury Residence and found them to be my best choice so far. Not only is their central location convenient and the rooms comfortable, their customer service goes well above and beyond. They were extremely helpful to me by providing local information, helping arrange a motorbike rental and even personally driving me to the correct minivan upon my departure. Like I said, above and beyond!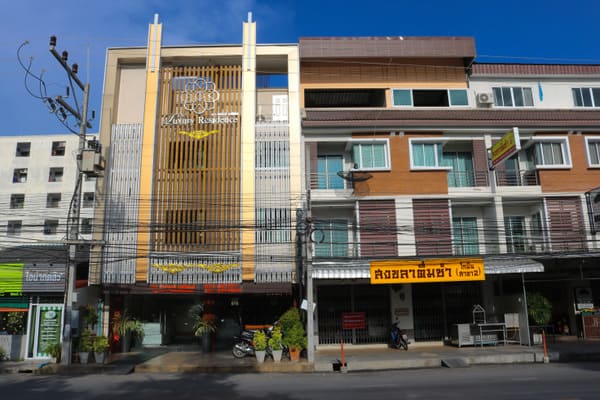 My room included a small kitchenette, mini fridge, comfortable work space (with fast WiFi) and a balcony facing the street. They also have a mini-convenience store and 'wine cellar' connected to their lobby. Unfortunately, they don't have an elevator, so if stairs are a problem for you then I would recommend choosing a ground floor room. I took an upper floor room and found it no real issue though. You can check room rates and availability HERE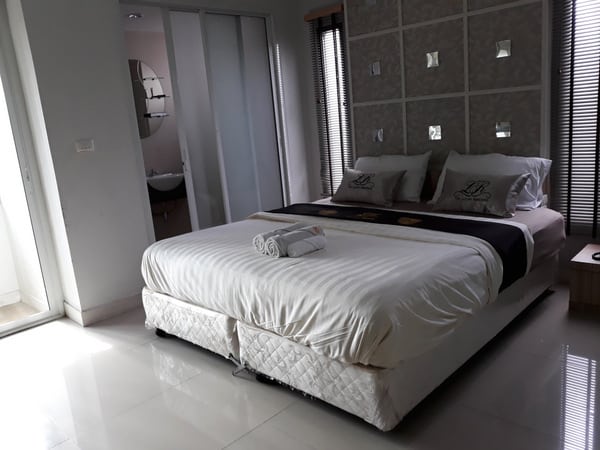 If you are looking for something less expensive, Holland House is the best of the lot in the Soi Rong Mueang area. Located directly across from the Songkhla National Museum, Holland House has 11 rooms available and the rooms are spotless. Ensuite hot water showers are available in the windowless room, but on my previous stays I opted for the cold shower, room with a view selection.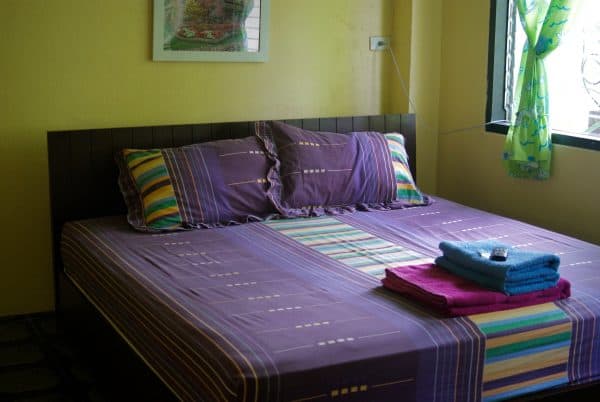 The rooms have simple homey touches such as pastel colored walls and linens, a small table and chair, satellite TV and free WiFi. With a few sundry shops in the area, the gourmet shop on the corner and everything imaginable within walking distance, Holland House is a great budget pick. They are walk-in only, but you can call them ahead and check availability. (061) 8796524 (074) 314890
Travelers with rambunctious kids in tow, might prefer to situate their family at the B.P. Samila Beach Hotel on Samila Beach. The rooms are a bit 'retro' but the hotel does have a pool and a beachfront. It wouldn't be my personal top pick, as I've stayed there before and found it too remote and noisy. But it's a decent pick for families. You can check their rates and availability HERE
Don't like my hotel picks? Check Booking.com for more options!
Places To Eat
One thing Songkhla has is plenty of cheap eats. From the most basic of street food like satay or other meat on a stick to more elaborate authentic Thai cuisine like braised duck and gizzards. You will never have to trek far for a culinary experience in Songkhla. And If you happen to be in town on the weekend, the Friday through Sunday Night Market is a not-to-be-missed, one-stop shopping, smorgasbord to die for.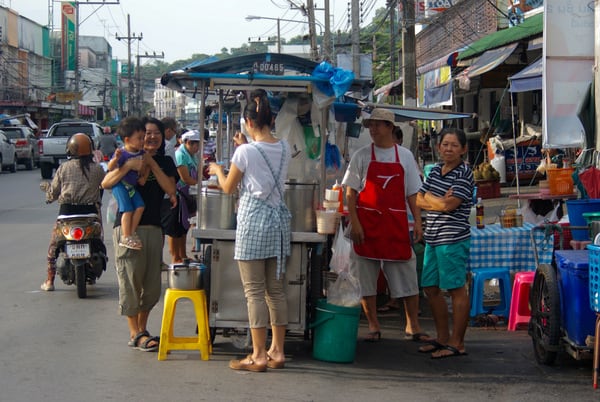 Along Wichiamchom Road, near the Ancient City Wall you will find the street lined with mobile hawkers, especially in the evenings. Many set up plastic tables and chairs along the sidewalks for the non-take away diners to relax and enjoy the street ambiance. Fried and barbecue chicken and guay teow (noodle soups) along with pad thai and papaya salad are always available as well as sweets such as kao tom mag (sticky rice) and tasty blended juice drinks. Looking for some serious Chinese Thai cuisine? The neighborhood surrounding the City Pillar Shrine and Nang Ngam Road has a vast selection of eateries, including the renowned 80-year-old Tae Hieng Iew Restaurant. A new addition in 2023 is Ban Duen Chay Restaurant on Soi Nong Chik, truly not-to-be-missed!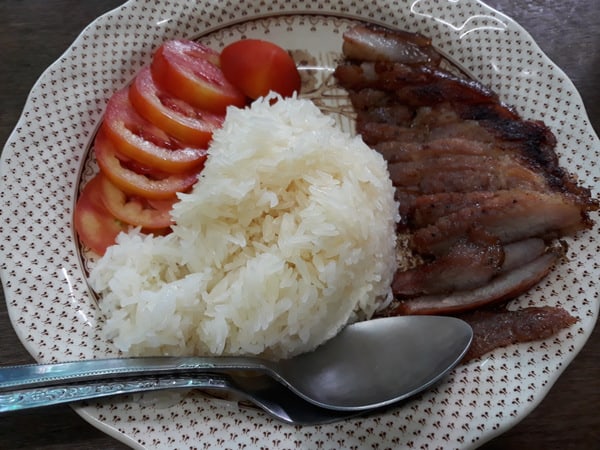 If you are heading to the Semila Beach you will be over whelmed at the food available. Especially on the weekends. Along Sculpture Garden Chaloem Phrakiatand and the seaside area of the Golden Mermaid the hawkers appear endless, and are some serious competition for the row of nearby restaurants selling fresh seafood dishes. A short walk south of the Golden Mermaid Statue on Chalatat Road and there are several more stationary hawkers stalls serving delicious local cuisine as well as offering cozy, thatched roof pavillion style seating. There are also plenty of open space picnic spots along the adjacent Chalatat Beach.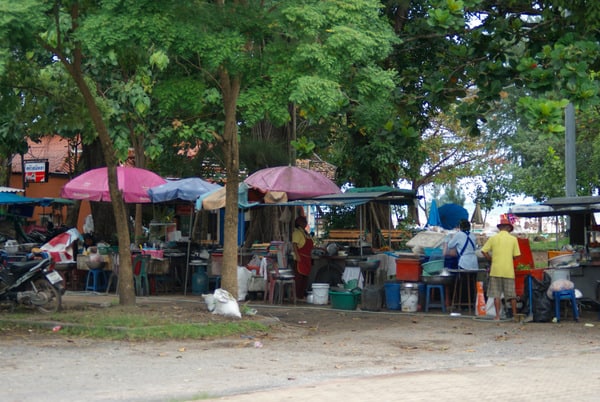 There isn't much in the way of alcoholic beverages along the beachfront, but if you are hankering to wet your whistle with a cold one it is available in certain areas with discretion being appreciated. A few expat bars can be found along Sai Ngam Road, such as the Corner Bier which attracts a rather diverse clientele of fun loving folks. They are also an excellent resource for Songkhla information.
Getting Around
Songthaew and motorbike taxis are plentiful in Songkhla. You will often find motorbike taxis clustered under a shade tree or cruising the streets looking for a pick up. They usually wear a taxi vest, so they are easy to identify. For songthaew rides, drivers will sometimes honk at pedestrians to let them know an alternative to walking is in their midst. There are also several 'bus stop' looking spots throughout Songkhla where songthaews make regular stops. Either way, you will have no problem finding a ride. Motorbike rentals are also available for about 200 baht per day.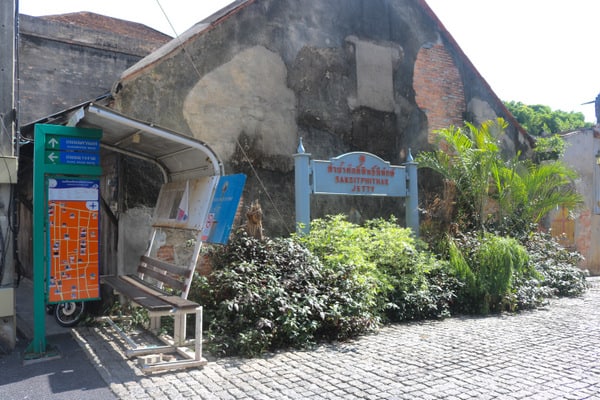 How To Get To Songkhla
For first time visitors, getting to Songkhla City can be tricky. Especially if relying on public transportation. The easiest way is via Hat Yai. However you arrive in Hat Yai, whether it be by train, plane, bus or minivan, you can connect with a Songkhla bound minivan at Bus Station #1 or at the Hat Yai Clock Tower, on Phet Kasem Road. The mini vans typically depart as soon as 12-14 passengers are in place. If arriving by mini-van from Hat Yai, the main Songkhla drop off stop for passengers is at the corner of Ramvithi Road and Phetchakhiri Road in front of the Caltex Petrol Station. If you can provide the driver with a specific location or street address in Songkhla City, there is a good chance you can get dropped off there. Trust me, it will be much easier for you in the long run, so be prepared. You can 'explore' later without your suitcase.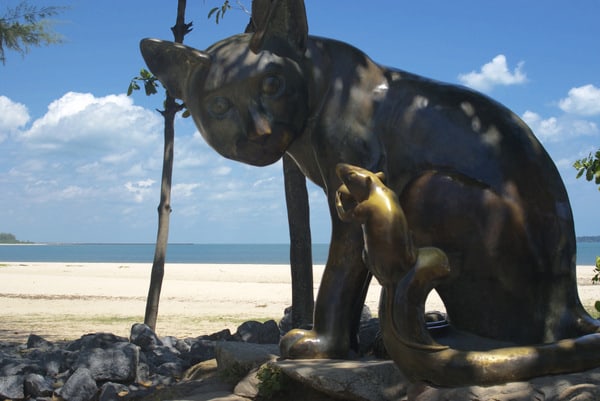 As you can see, Songkhla City has much more to offer than could ever be experienced on a one day tour. And there are even more things to see and do there than I listed! But if you are traveling through the area, I do hope you get a chance to visit this charming city, because you won't be disappointed.
Already visited Songkhla City? Have any other tips to share?