Train travel in Malaysia is a marvel. Especially along the west coast of Peninsula Malaysia. For a mere RM100 (about 21usd) you can get all the way from KL Sentral to Padang Besar, Perlis and the border of Thailand in about 5.5 hours. Malaysia train travel is an excellent alternative to over-priced flights or long distance bus rides and a great way to see the country too!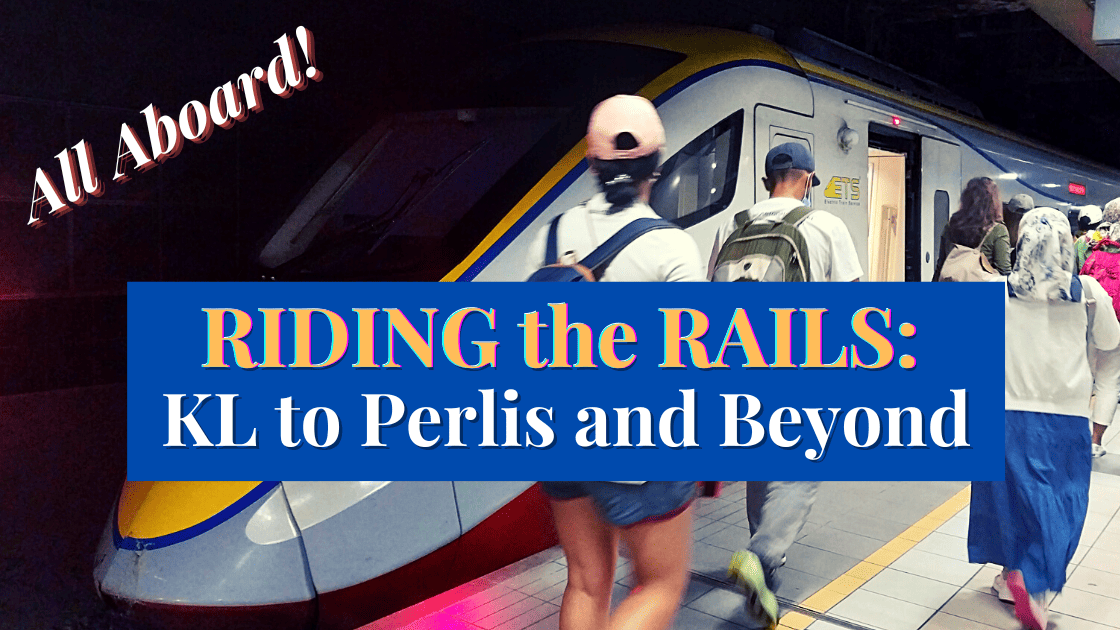 It was two last minute flight reschedules and a 4 hour flight delay for a 1-hour flight that got me pondering Malaysia train travel again. Kuala Lumpur to Langkawi no less. Four long boring hours waiting at the gate, not only wasted my time, but it pissed me off, especially when my scheduled arrival went from 8:00pm to Midnight (and no apologies for the delay I might add).
Surely there must be other options besides inconsistent budget airline flights. And guess what? There is! Taking a Malaysia train service from Kuala Lumpur to Perlis and beyond is not only cheap, it's fast and convenient. The cost to get from KL Sentral to KLIA is already RM55, so for another RM45 I could get all the way to the border of Thailand by train in about 5.5 hours (which, considering the possibilities of flight delays is already a time saver).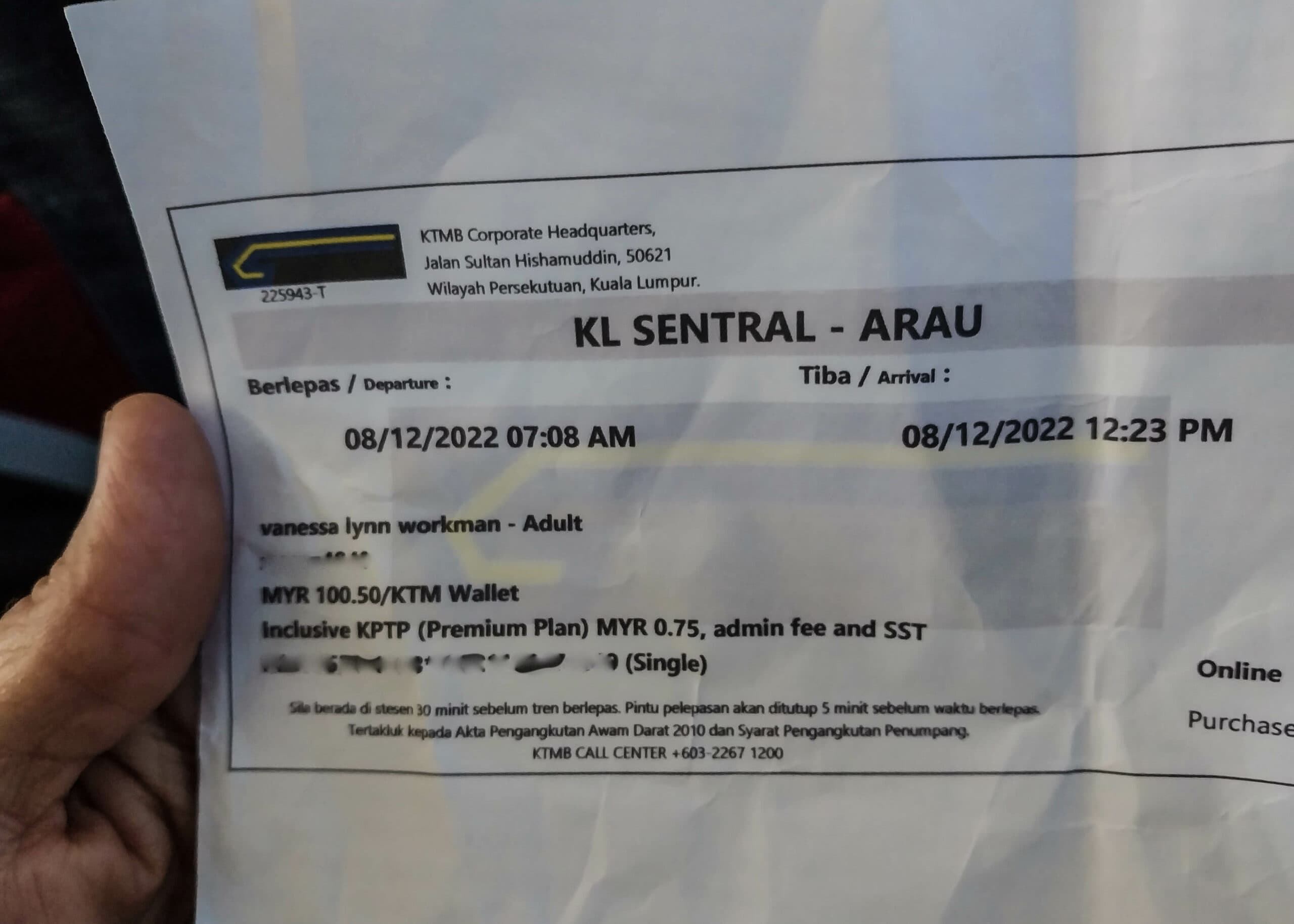 However, there are some particulars to Malaysia train travel that newbies should be aware of, and that is that some trains are faster than others. I once hopped a north-bound train out of Butterworth, Penang and can't say I was thrilled with the experience, because it was slow and had community bench seats rather than individual seats. But it was a much better option than the RM300 flight from Penang to Langkawi (a 30-minute flight by the way).
Ahhh, but now I am much wiser. Now I know that it is the ETS (Electric Train Service) Platinum train that makes Malaysia train travel a practical choice. The cost might be a bit more but it's worth it.
ETS Platinum Train is a Rockstar
Both ETS Gold and ETS Platinum trains are scheduled for the entire distance of KL Sentral to Padang Besar, Perlis, but the Platinum class trains are the quickest and most comfortable. They are also scheduled at more popular travel times. *These trains have EP before their number.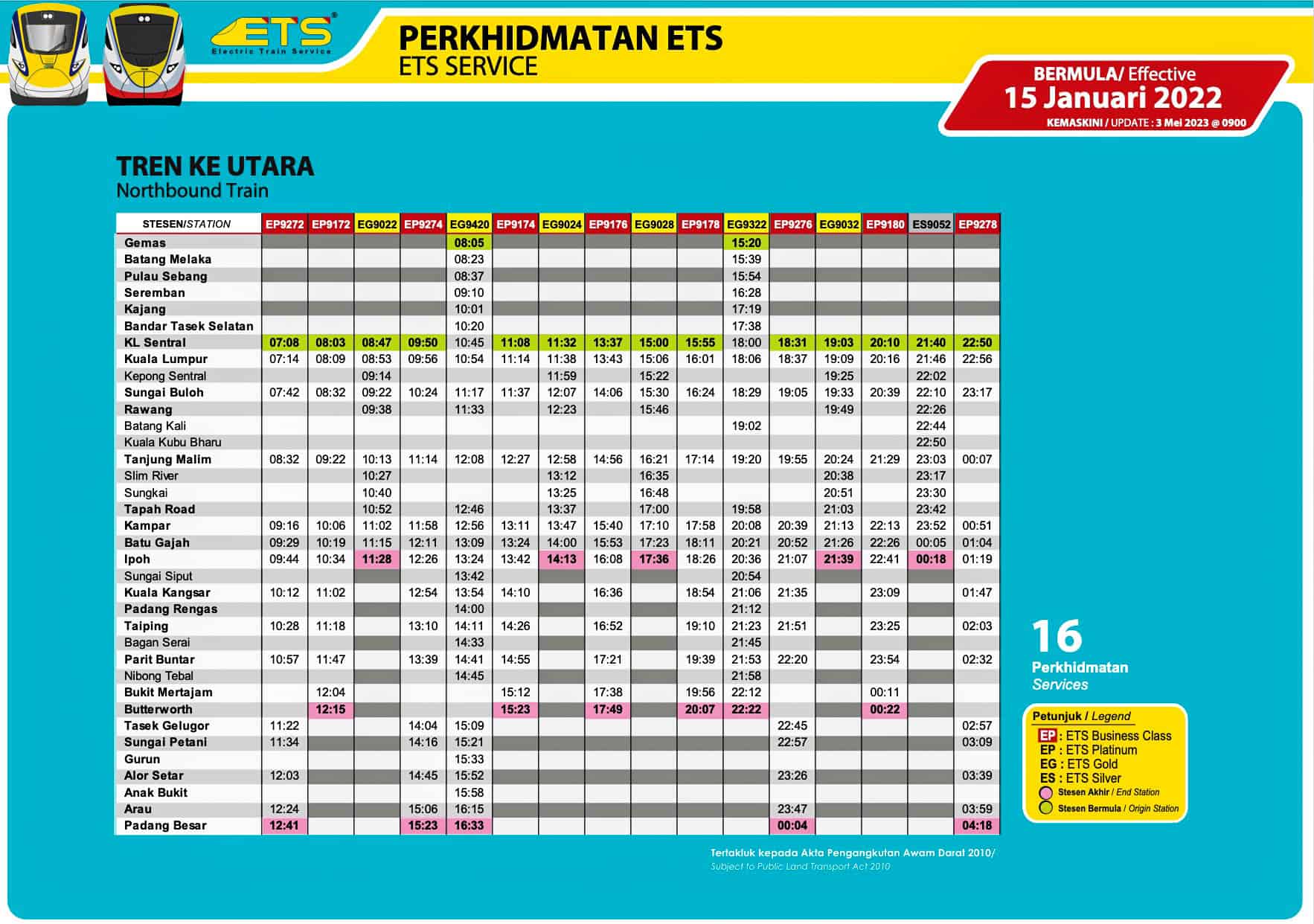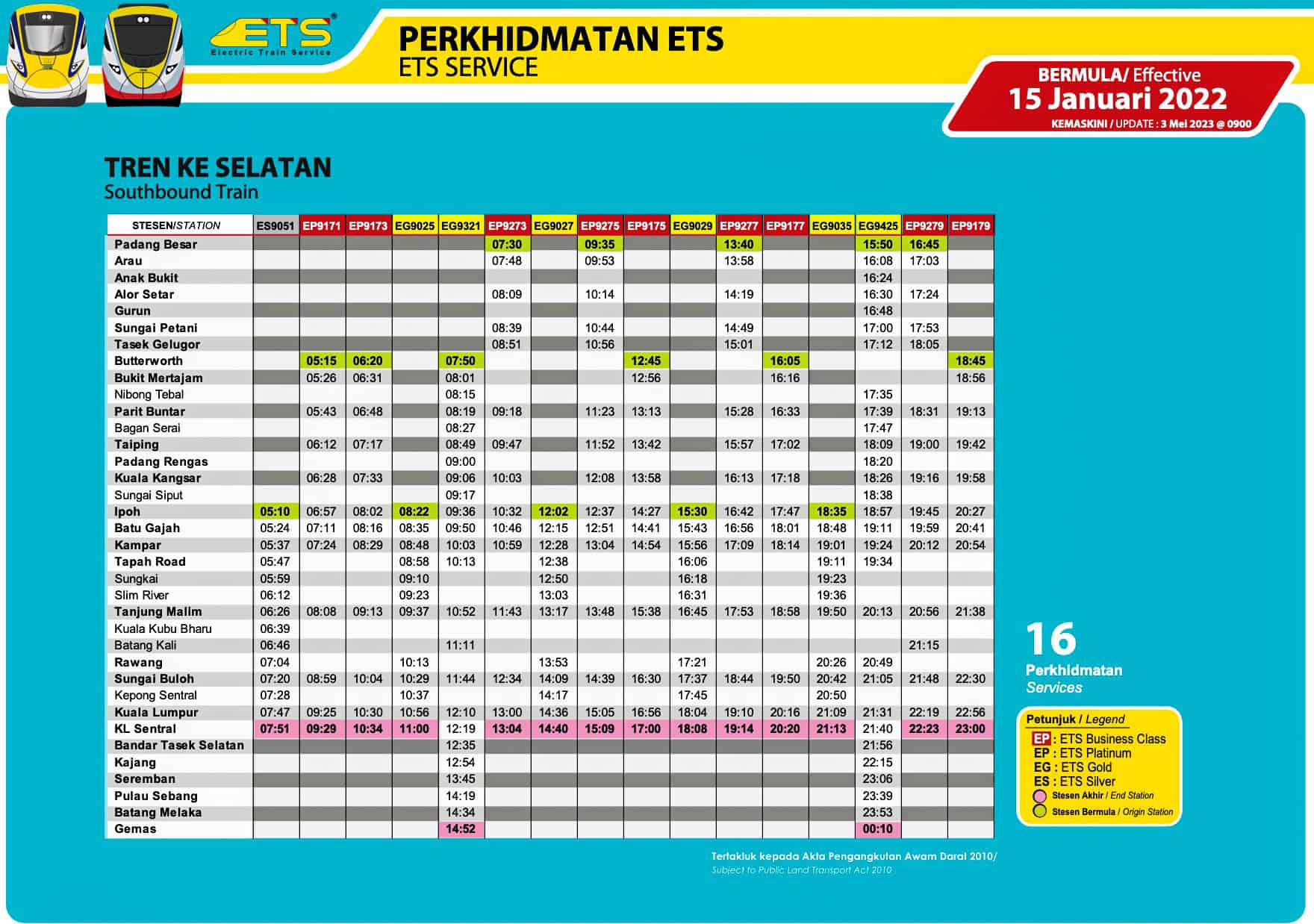 Having already had a slow train ride experience, I felt like royalty when I first rode an ETS Platinum train. It felt luxurious in comparison to previous Malaysia train travel experiences. The Platinum train seats are ample sized and some are situated to face forwards or backwards (in case you are traveling with a chatty group). Small individual tables are also available; similar to an airline. There are also electrical outlets under the seats for charging electronics, overhead compartments for your 'stuff', and even hooks on the seats to hang your purse or bags.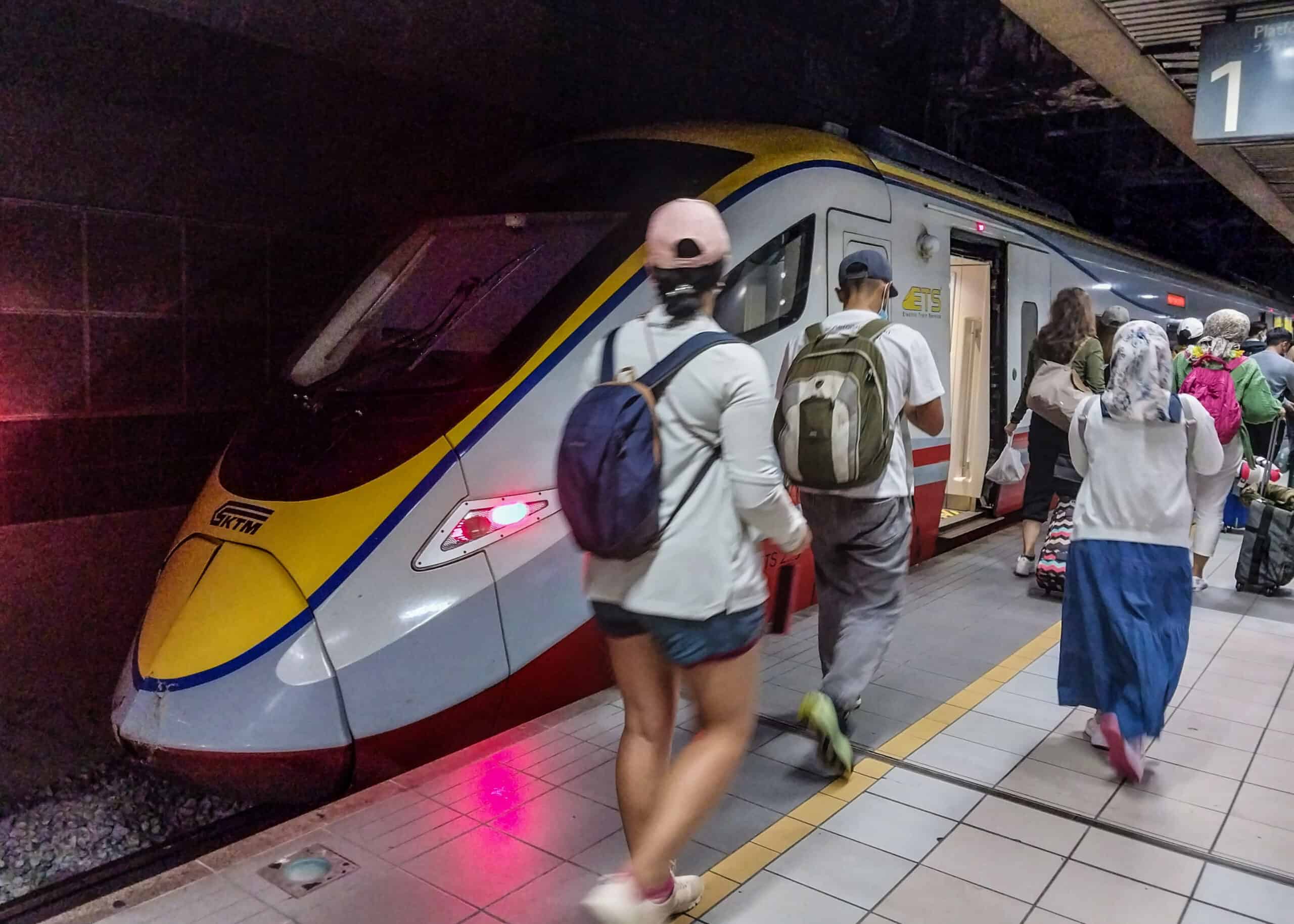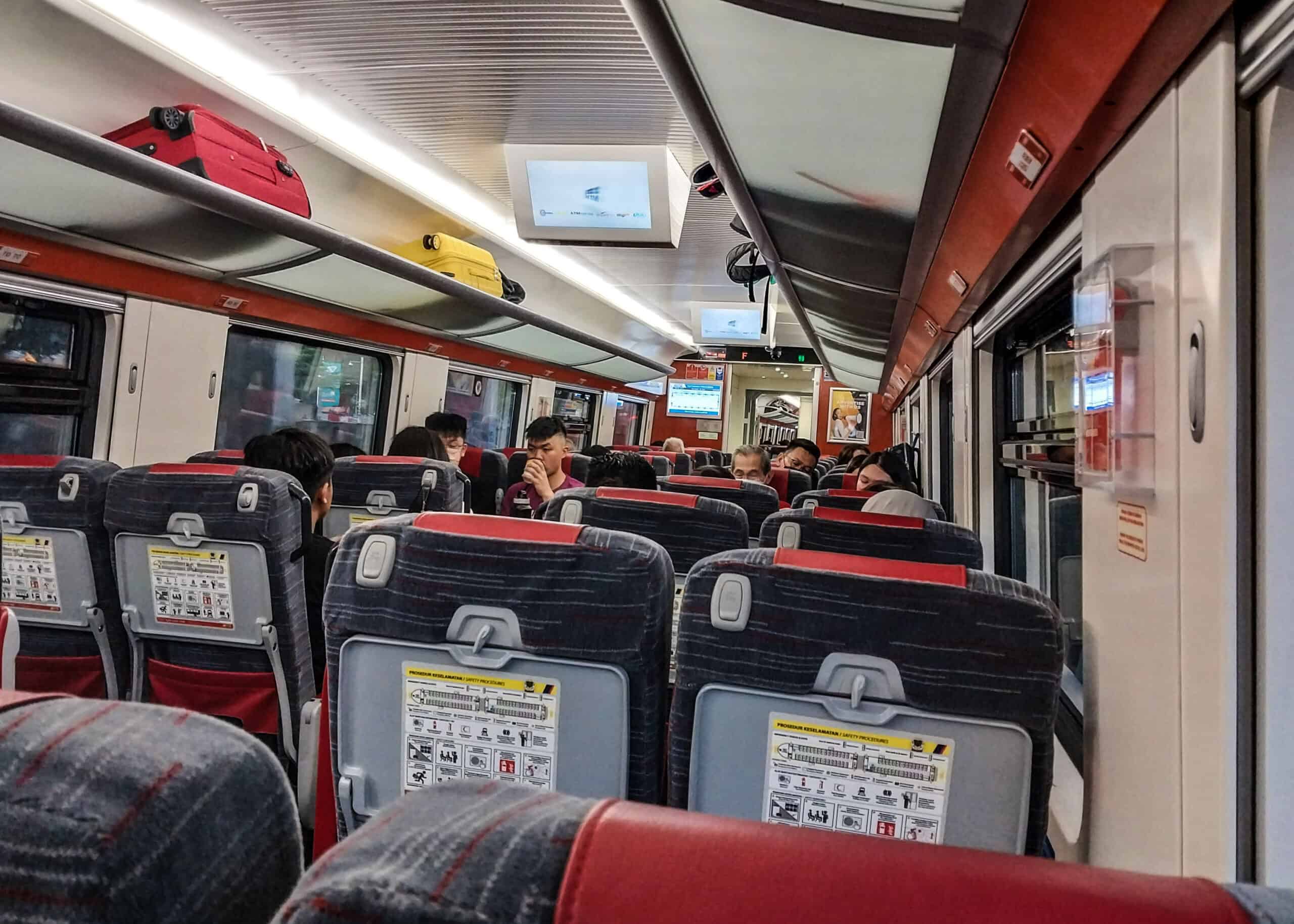 And of course, there are toilets on board, which are 'western' style and spacious. In fact, I'd say the train is also relatively wheelchair friendly (depending on the size of the chair). A much better travel option for the physically disabled than a bus or plane. The ETS Platinum train also has food and beverages available throughout the duration of your journey. Decent food too, not just chips.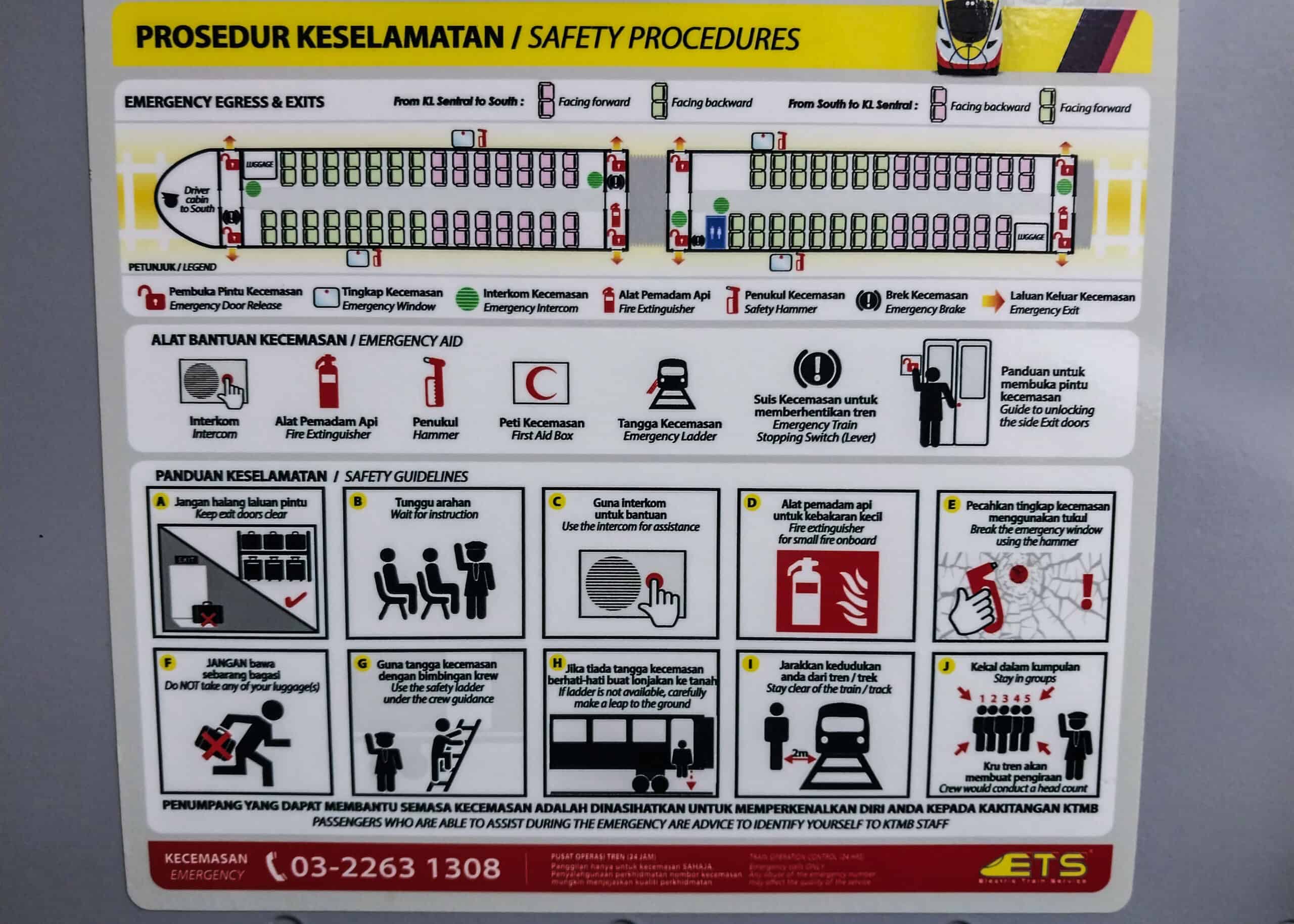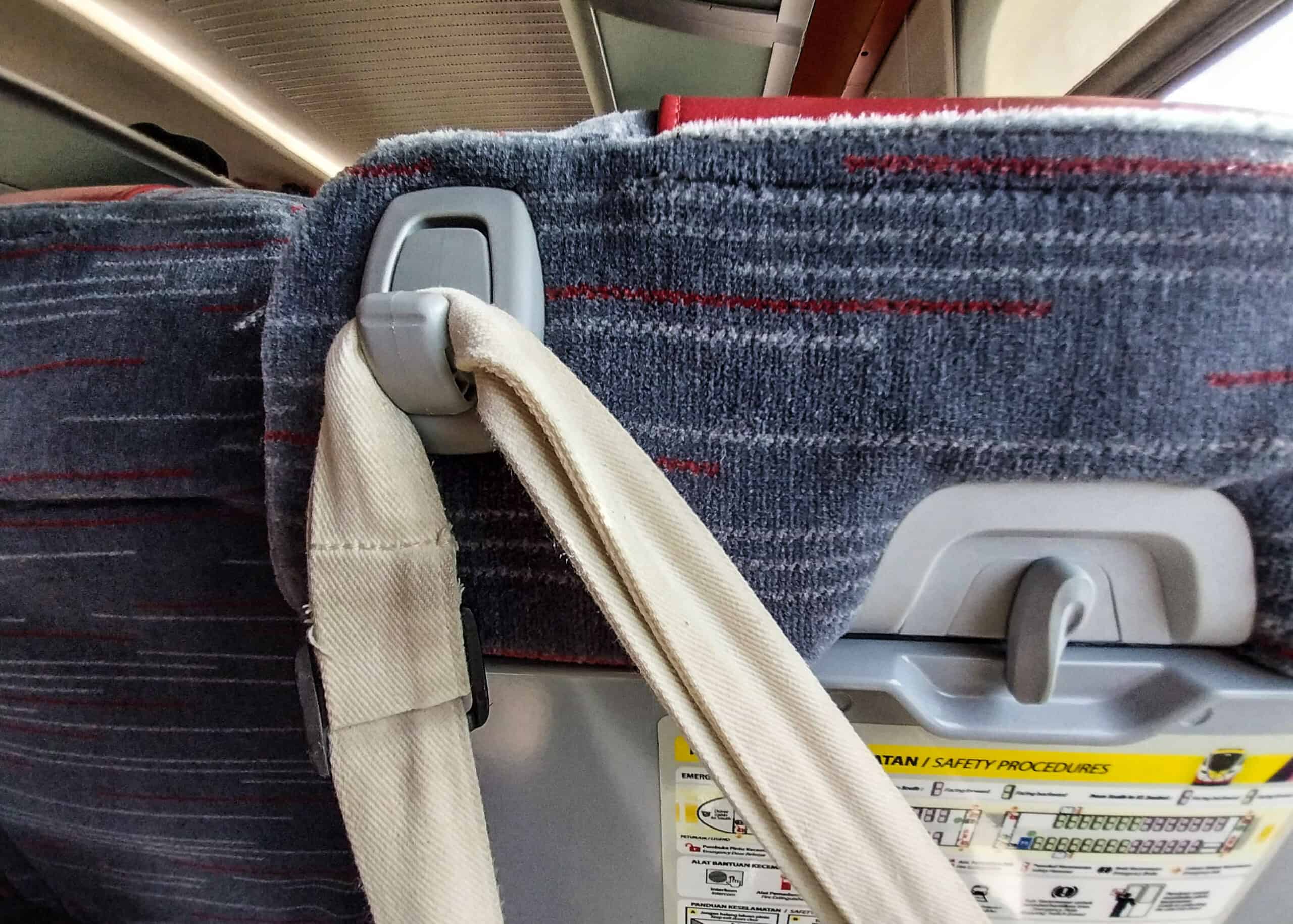 Yup, the ETS Platinum train is definitely the way to go when booking a Malaysia train. If you are heading north from Kuala Lumpur there are 5 scheduled daily trains that go from KL Sentral to Padang Besar. There are plenty of trains scheduled, but only 4 ETS Platinum trains go all the way to the border (and 1 ETS Gold). These key trains also stop in Alor Setar, Kedah and Arau, Perlis, which are both ferry stop locations for Langkawi; Kuala Kedah and Kuala Perlis respectfully.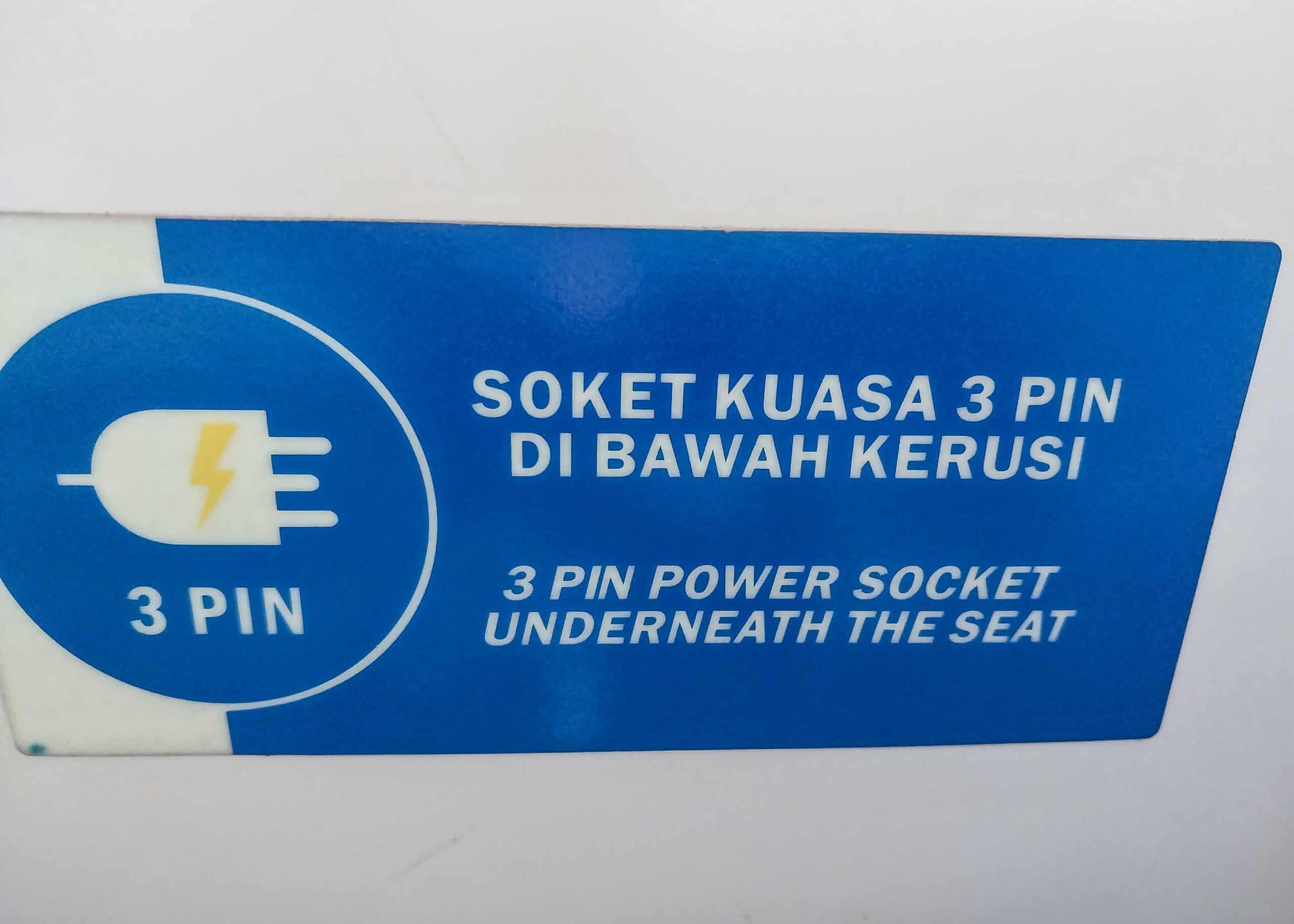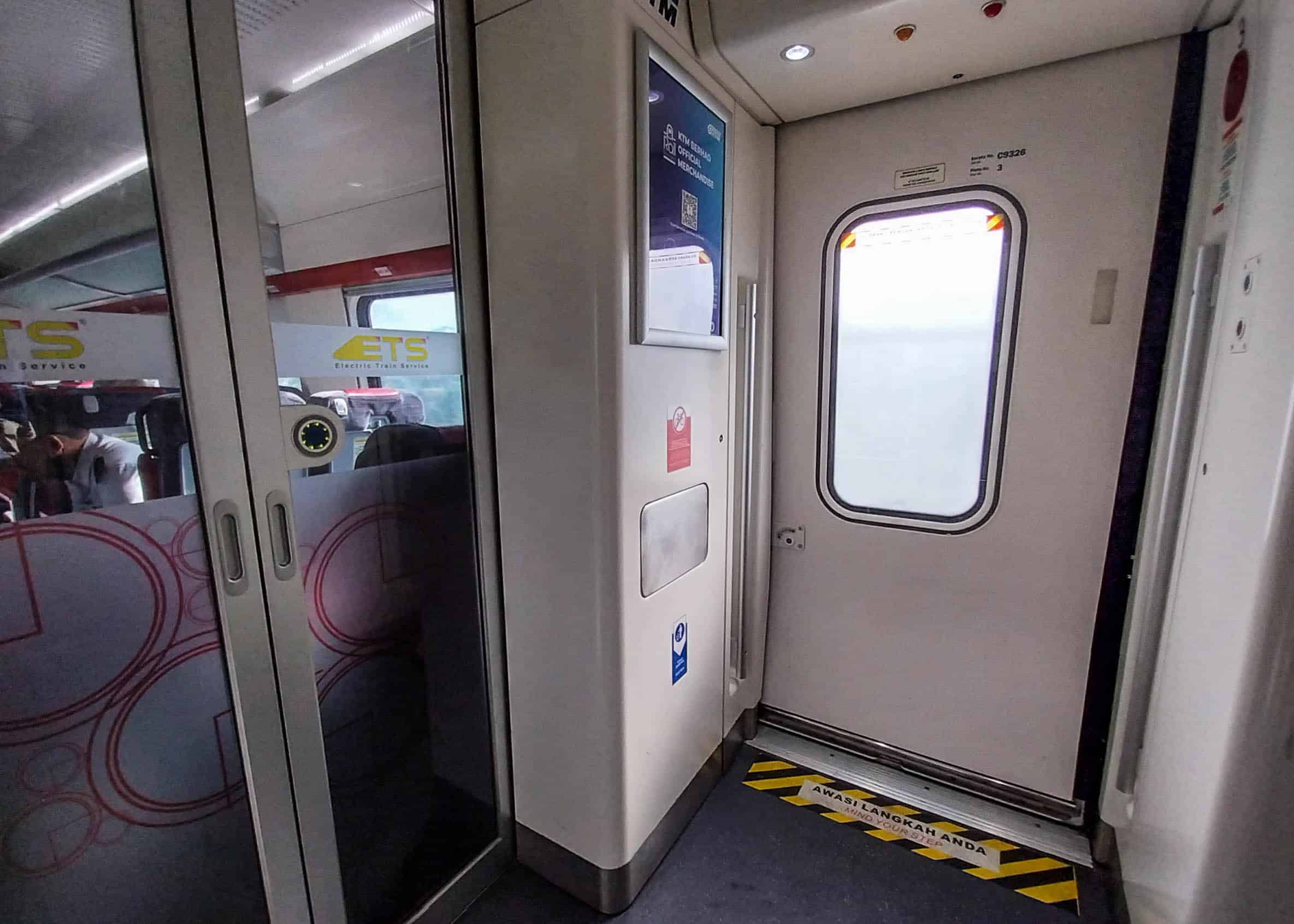 All Aboard!
Train travel in Malaysia dates back to 1885 when the first railway opened in Malaya between Taiping, Perak and Port Weld (now known as Kuala Sepetang), Perak. A year later a railway from Kuala Lumpur to Klang was successfully achieved. KTMB started their first commuter train service in 1995, connecting Kuala Lumpur with Seremban, Negeri Sembilan and Rawang, Selangor. It's come a long way since then, right?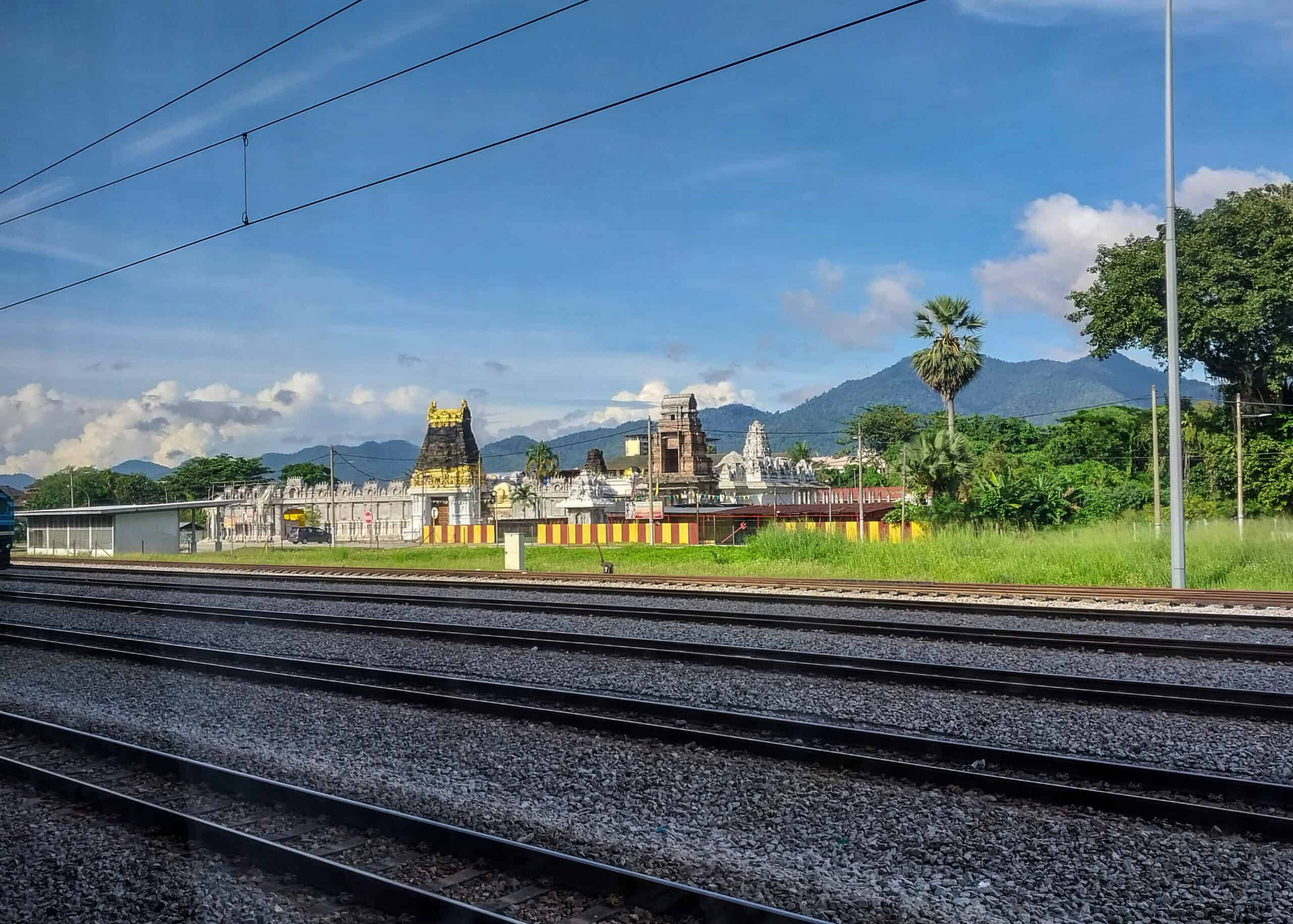 Initially these efforts were for shipping tin, which Perak was especially famous for. Tin mining in Perak is likely what helped make Malaysia the melting pot that it is today, due to the vast need for imported labor at the time. In fact as you take your train journey from Kuala Lumpur to the border of Thailand you will see more than a few beautiful Hindu temples along the way, situated a stone's throw from the tracks. Despite the daily grind of hard labor laying tracks, religion still played a large part of daily life.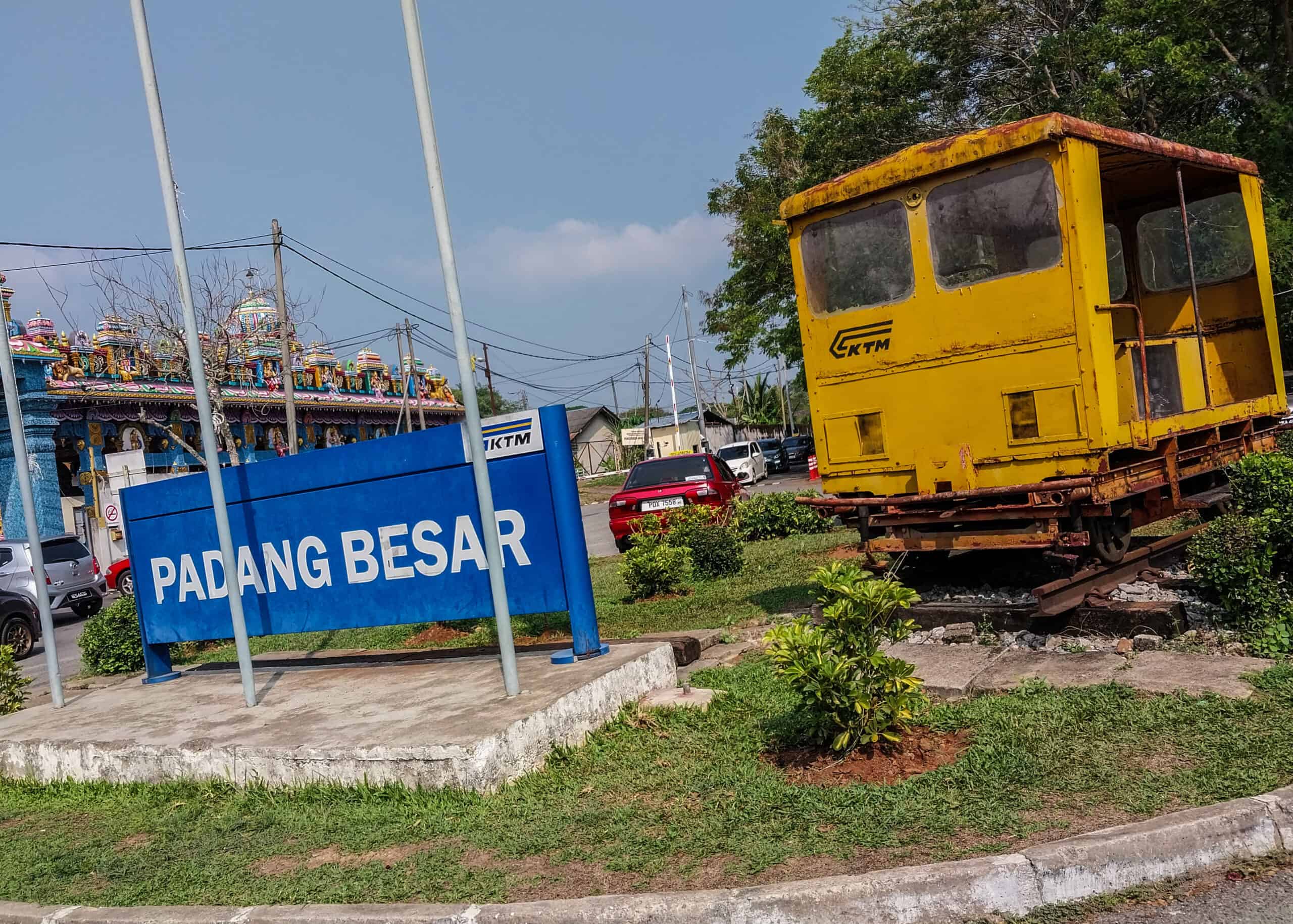 Today there are 34 train stations  on the west coast of Peninsula Malaysia, but like I said, only 14 stops (presently) from KL Sentral Station to Padang Besar, Perlis via direct ETS Platinum (EP) route. Some of these locations are even worth exploring, because there is a lot of Malaysia history out there that you might never know about had you chosen to fly. So, if you have the extra time to explore an area, take advantage of it.
How Many Station Stops Along the Way?
The ETS Platinum train journey from KL Sentral to Padang Besar, Perlis takes five and a half hours and makes 14 stops along the way. It used to be just 9 stops, but that recently changed. However, if no one is getting off or on at a particular stop it is likely the train will bypass that stop and skim a few minutes off the journey as well.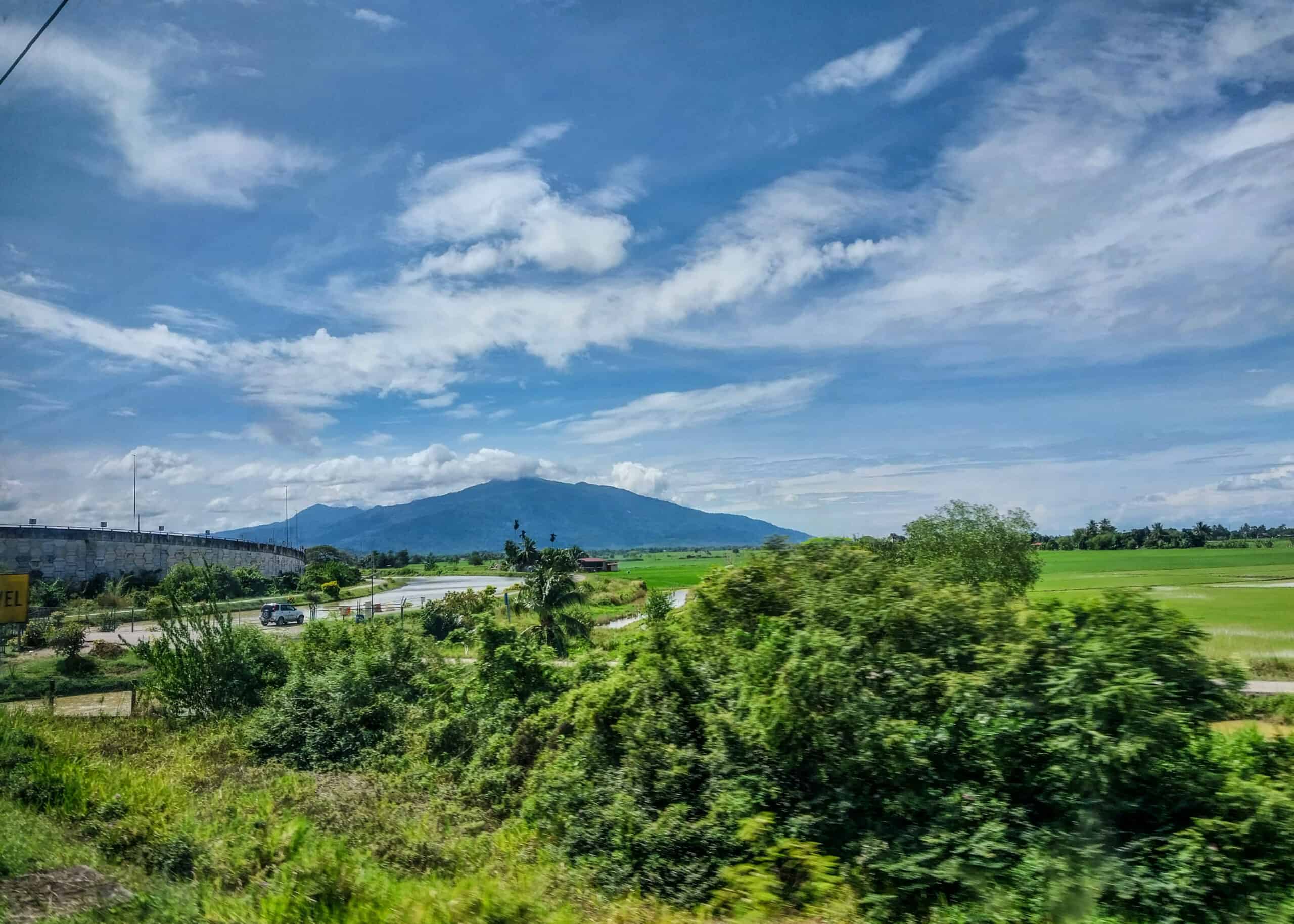 But some train stations along the way are especially popular (like Ipoh) and if you were eyeing an empty seat when you left KL, you can expect it to be eventually filled. So do choose your seat wisely when initially booking, because it will be yours for your entire journey. *I recommend an 'A' or 'D' window seat in the B or C section because the passing scenic views are lovely.
KL Sentral Station (Kuala Lumpur)
Kuala Lumpur Sentral Train Station (KL Sentral) is a main transportation hub in Kuala Lumpur. You can get practically anywhere from this central location, or at least get very good directions regarding buses and trains. It can be overwhelming for newbies, so if you have any questions look for one of the local station police to guide you in the right direction. They are extremely helpful.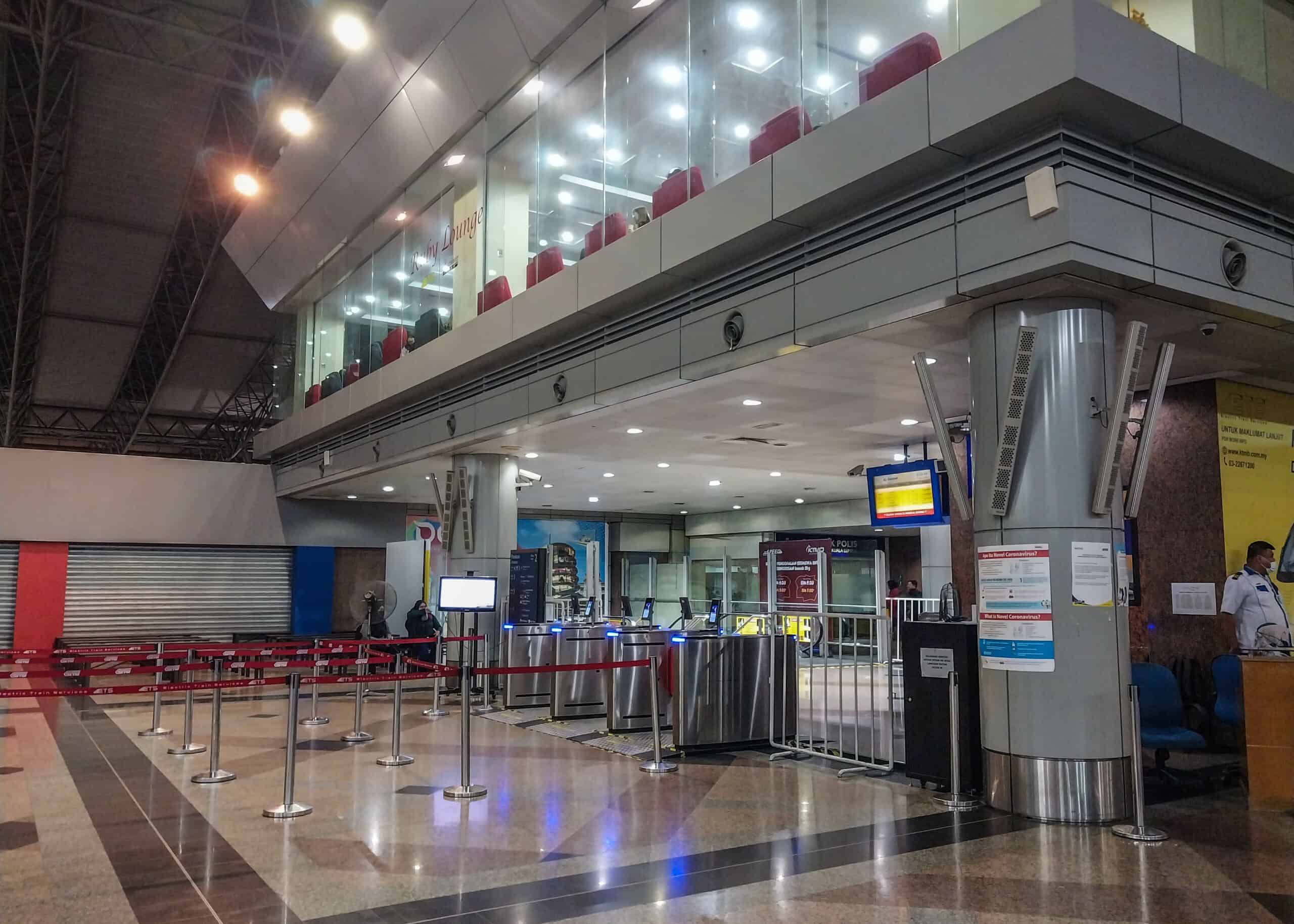 This station opened in 2001, replacing the old Kuala Lumpur Station as the city's main station. Located in Brickfields, it was previously the site of the Malaysian Railways Central Railroad Repair Shops and was bombed twice during World War 2.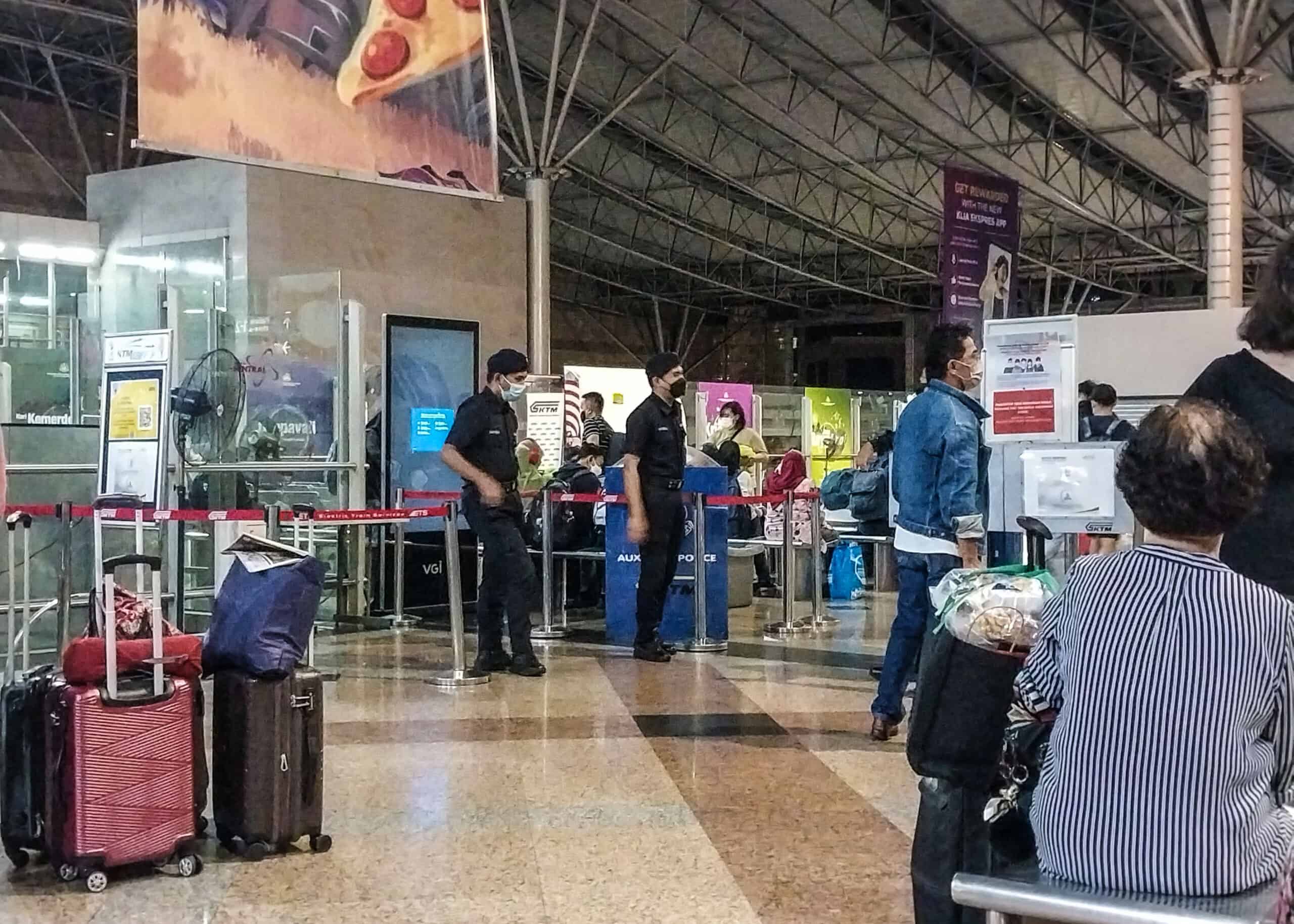 Needless to say the area is colorful as well as convenient with the surrounding neighborhood of  Little India, many restaurants and budget hotels, and NuSentral Mall right next door to the train station. I love this area so much that it's usually my base camp and I stay at either Easy Hotel or Sentral Hotel Kuala Lumpur; both just short walks from the KL Sentral Train Station.
Here are the KL to Padang Besar ETS Platinum Route Stops
1. Kuala Lumpur Station (Kuala Lumpur)
Not to be confused with KL Sentral Station, Kuala Lumpur Train Station was built in 1917, replacing an older railway station that had opened in 1886. The station is still functioning and is one of Kuala Lumpur's many architectural marvels. It will be your first brief stop leaving KL Sentral if you are heading north.
2. Sungai Buloh Station (Selangor)
Located 8-kilometers from the Subang Airport, Sungai Buloh Train Station is your only stop in Selangor. Although Selangor was once the capital city of Malaysia, Sungai Buloh (Bamboo River) itself is historically notable as a famous Leper Colony. Malaya's 1926 Leper Enactment Act required segregation of those inflicted with Leprosy and in 1930, Bukit Lagong, Sungai Buloh became, at one point, the second largest Leprosy settlement in the world and is presently being considered for a UNESCO Heritage Site endorsement.  Previously Pulau Jerejak (Jerejak Island), Penang had been originally designated as the main leper asylum for the Straits Settlements back in the late 1800s.
3. Tanjung Malim Station (Perak)
Tanjung Malim Train Station is your first stop in the beautiful state of Perak. This train station was first constructed in 1900 and was rebuilt in 2007. The town's history goes way back and is both complex and culturally diverse. You can read a sample here on Wikipedia.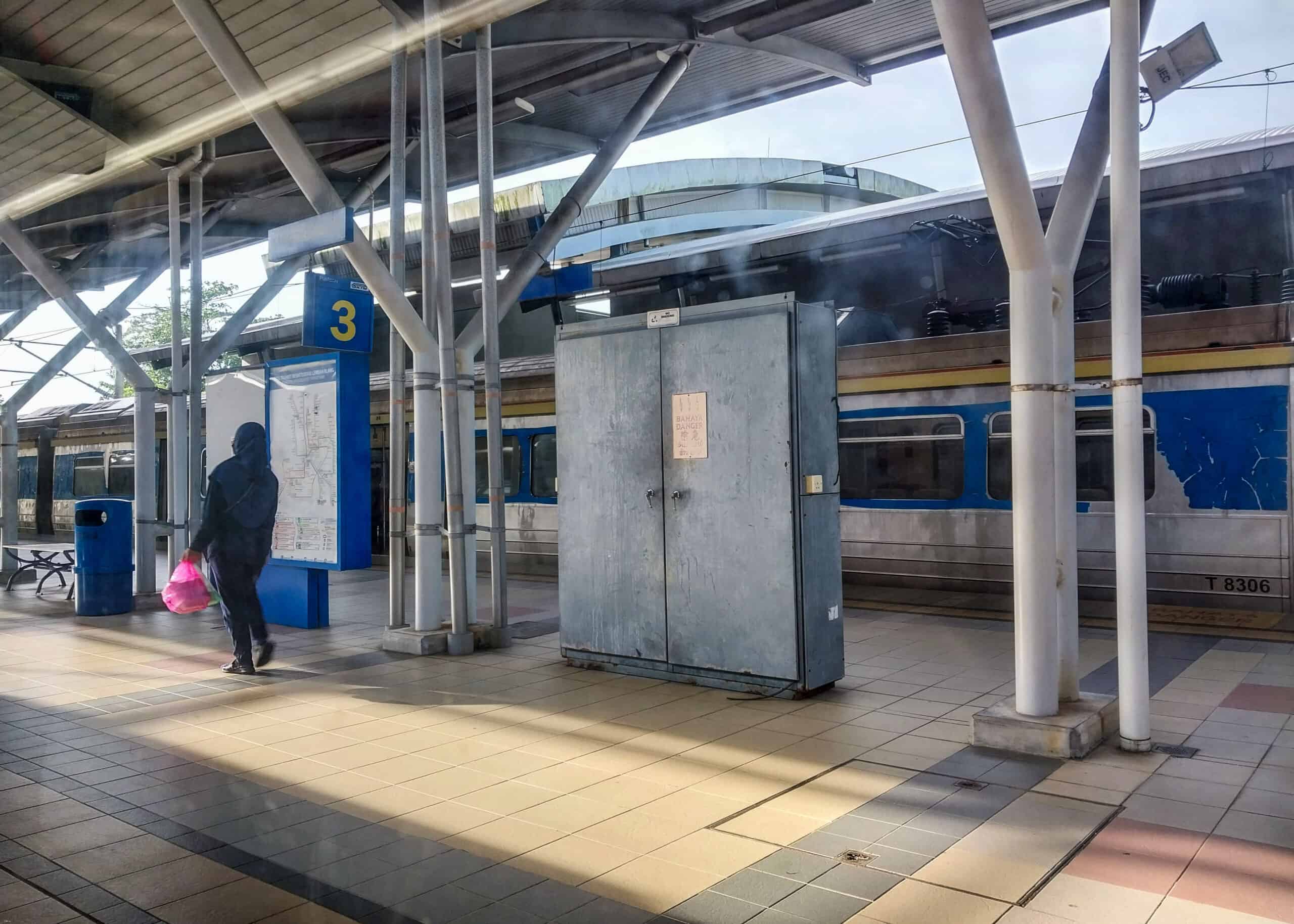 4. Kampar Station (Perak)
The Kampar Train Station originally opened in 1895 as part of the Perak Railways for transporting tin from nearby mines. If you find yourself stopping in Kampar, be sure to visit the Kinta Tin Mining (Gravel Pump) Museum, which will give you great insight into the history of tin mining in Malaya.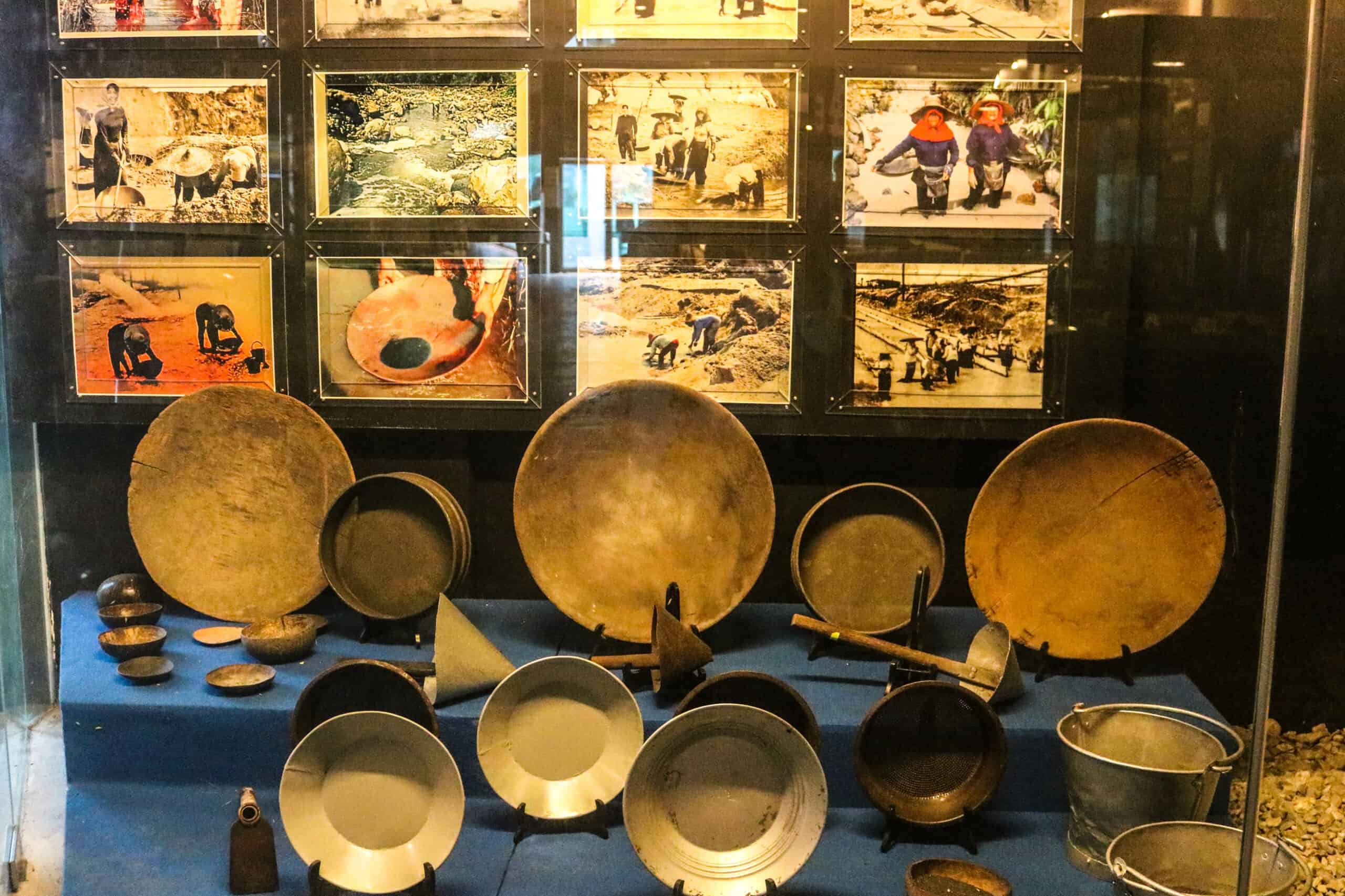 The Kinta Tin Mining Museum is dedicated to Malaysia's miners and the huge economic impact the country's mining community had on Malaya (and later Malaysia) since the mid 19th century. Established in 2012, the idea of creating the museum came from former miner Tan Sri Hew See Tong, who was a third-generation miner and worked in the industry from 1949 to 1989; starting at age 18.
5. Batu Gajah Station (Perak)
The old Batu Gajah Train Station was replaced (and relocated ) in 2005. It is now located in Kampung Pisang, near Batu Gajah town, in the Kinta District of Perak. Batu Gajah means 'elephant rock' in Bahasa Melayu; a folklorean name derived from two large elephant shaped rocks standing sentry along the Kinta River.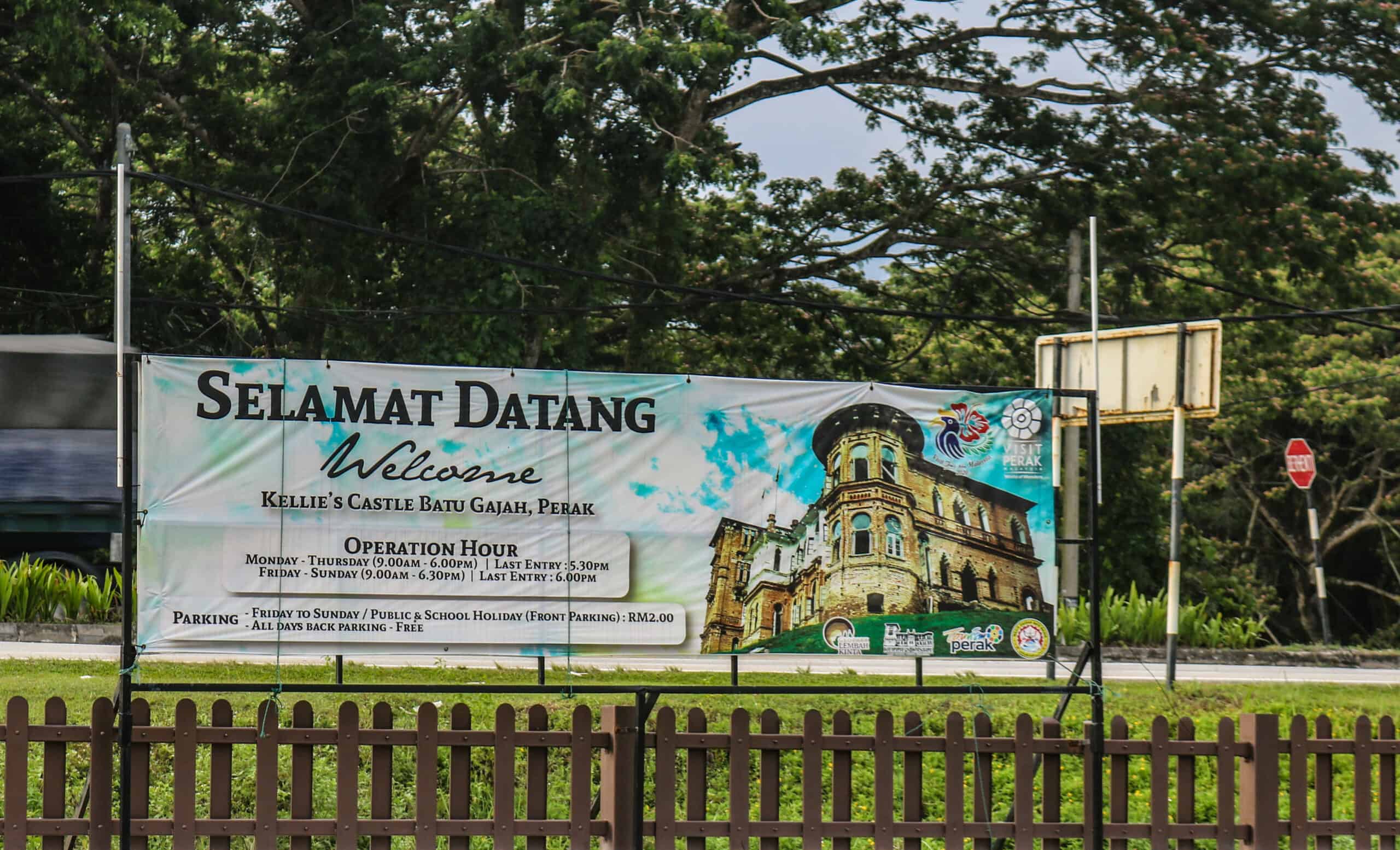 Batu Gajah is famous for its tin mining history, and is home to Malaysia's last tin Dredge; Tanjung Tualang Tin Dredge No. 5. Batu Gajah is also home to the mysterious Kellie's Castle, which is a definite must-see if passing through Perak. So keep that in mind if you're planning a Malaysia train travel itinerary.
6. Ipoh Station (Perak)
Ipoh's first train station was constructed in 1894 and served the town for 20 years. In 1914, a second train station was built along with a train station hotel. This project took three years to complete, but it is still standing to this day. The train station's hotel was named Majestic Hotel and that it was (and still is). Although the hotel is no longer used as a hotel, the Ipoh Train Station complex is an architectural beauty inside and out.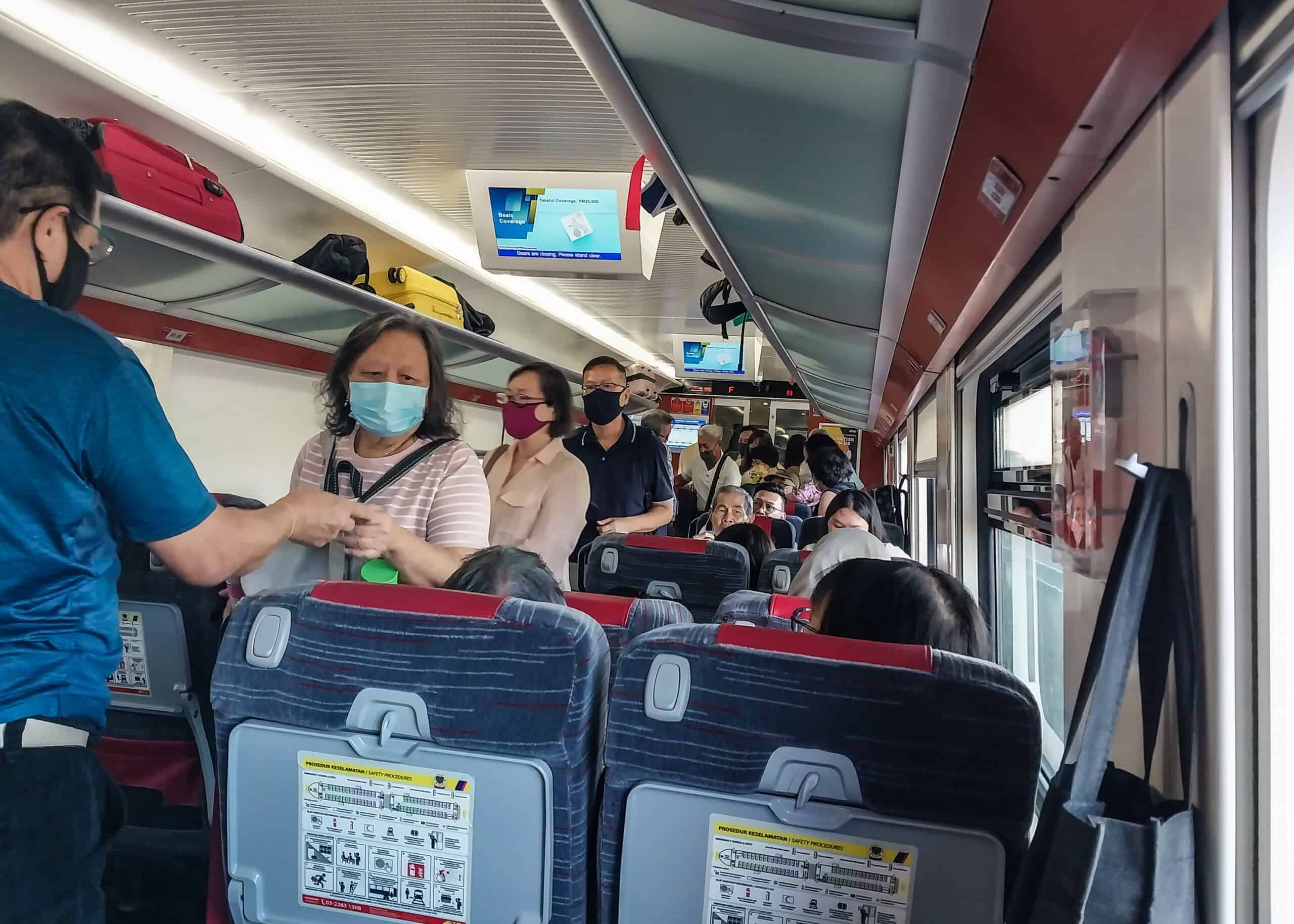 The Ipoh Train Station is just a short walk into town where visitors will find plenty of hotels, restaurants, street art and more. Ipoh is also filled with history and culture, so if your travel timeline doesn't allow for a side trip to Penang, you'll get a dose of similar heritage in Ipoh (without the traffic jams).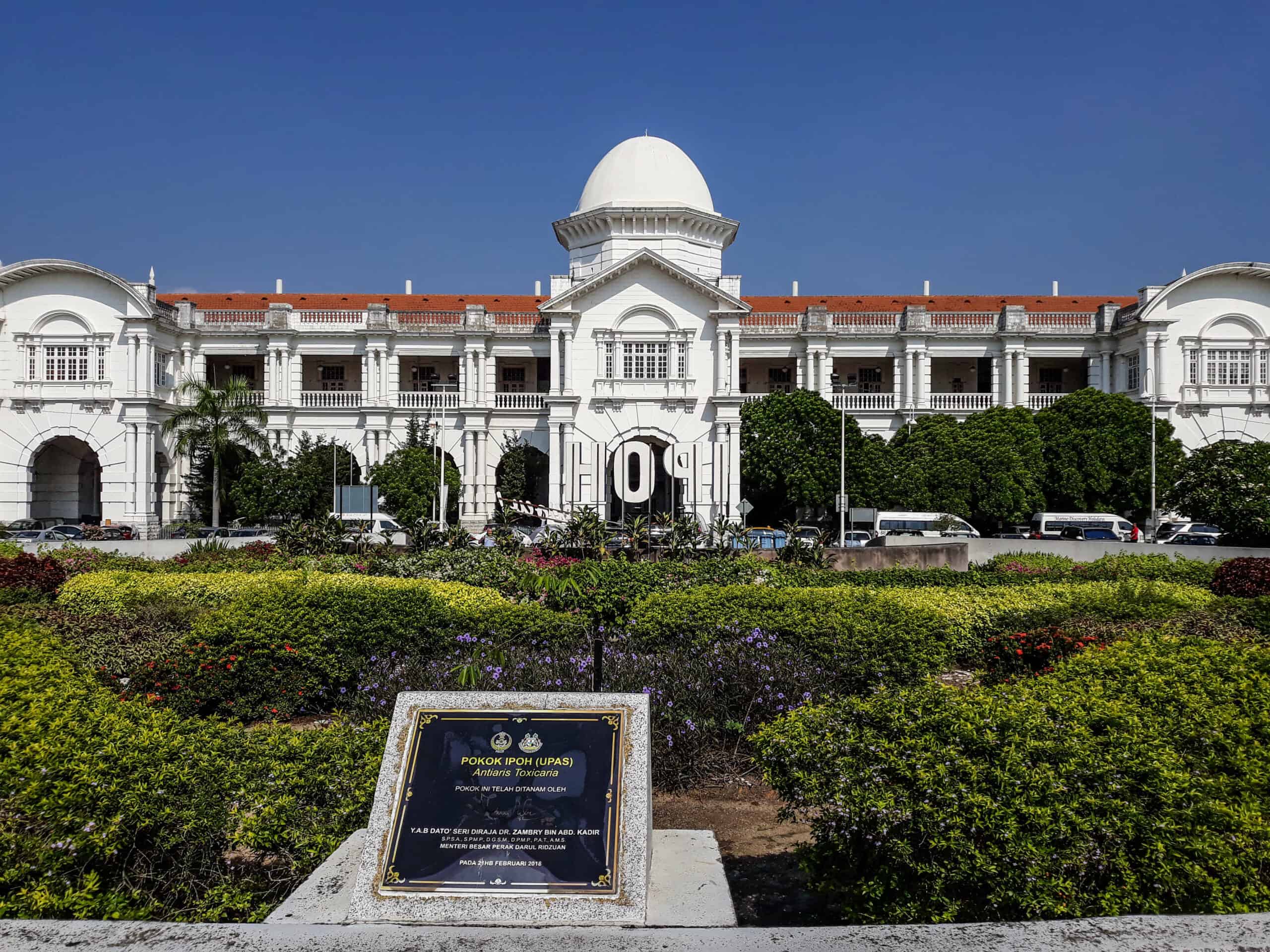 Heading Onward to Penang?
Ipoh Station is a major stop, but for anyone going to Penang, there are 6 other Platinum trains scheduled that stop specifically in Butterworth, Penang. The Butterworth Train Station  is also the location of the ferry and bus terminals, which offer direct transportation options to Penang Island. *This train is NOT the same one that goes all the way to the Malaysia-Thailand border*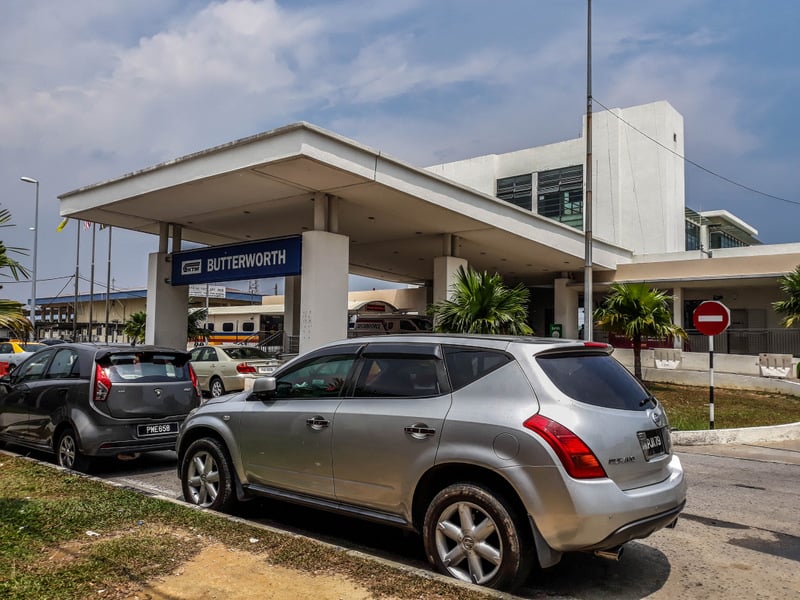 7. Kuala Kangsar Station (Perak)
The Kuala Kangsar Train Station was built in 2008 to replace Kuala Kangsar's 'old' station. Located about 25 km northwest from Ipoh, Kuala Kangsar is the 'royal town' of Perak, meaning that the Sultan of Perak and the royal residence is here. Kuala Kangsar is where the first Rubber Tree was planted after seedlings were brought to Malaya from Kew Gardens, England in 1877. That famous tree still stands to this day and has an estimated worth of nearly RM200,000. Malaysia, by the way, was once the leading exporter of rubber worldwide. Needless to say, the Royal Town of Kuala Kangsar is full of unique Malaysian history.
8. Taiping Station (Perak)
Originally opening in 1885, the Taiping Train Station was the first train station in Malaysia, and its original location is where the King Edward VII Primary School is now located. The first replacement train station was located at Jalan Stesen sometime between the late 1800s and early 1900s. The most recent train station replacement came in 2014 and was built nearby.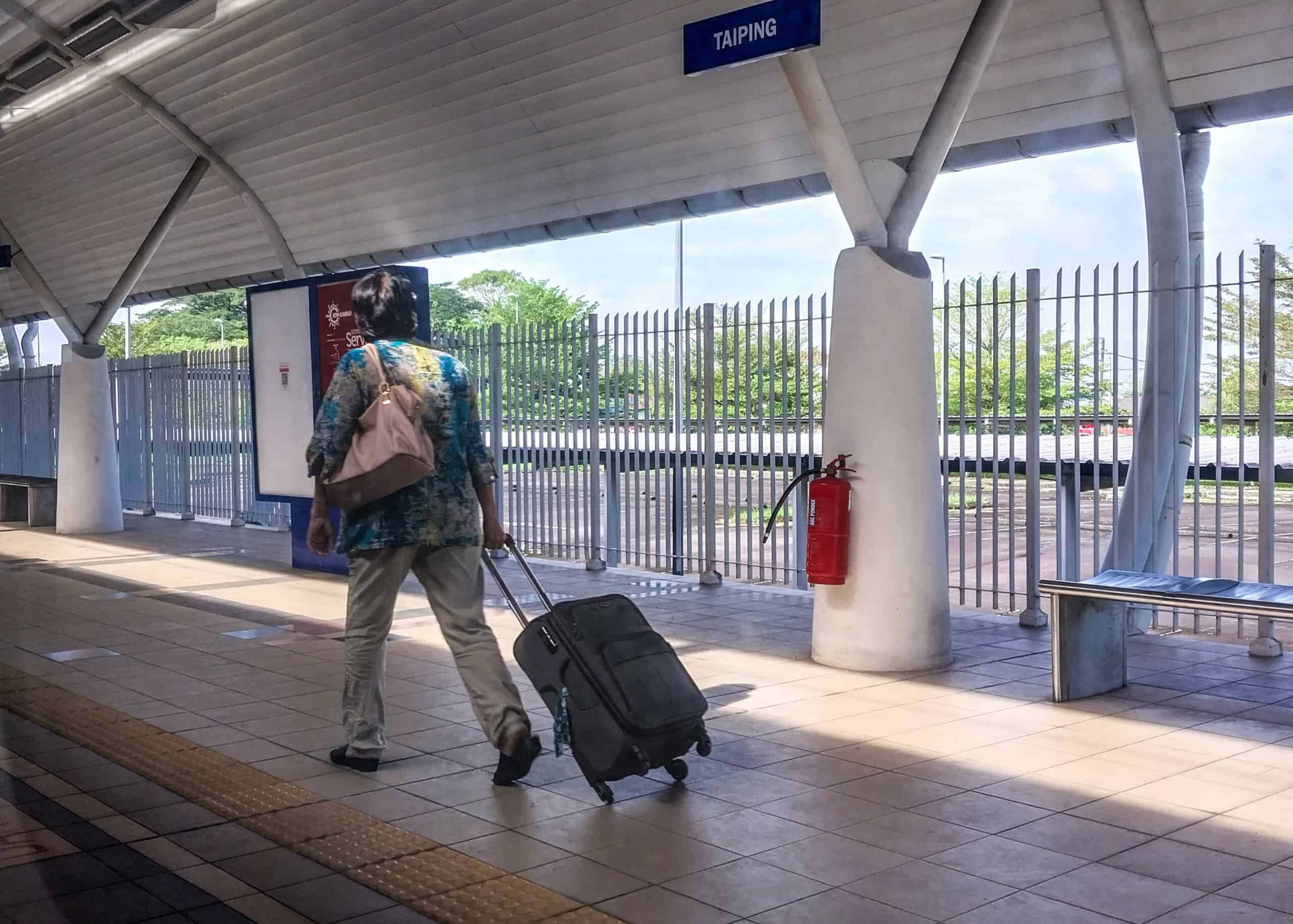 Taiping is charmingly known as a city of Malaysia firsts. In addition to having Malaysia's first railway and station, they also had the first hospital, prison, museum and zoo. Bragging rights indeed and intriguing as well. Definitely on my sightseeing future to-do list.
9. Parit Buntar Station (Perak)
Trains have only been passing through Parit Buntar since 1903, but the old station was replaced by a more modern Parit Buntar Train Station in 2015. Parit Buntar may seem like an unlikely town for a train stop, but the seemingly in-the-middle-of-nowhere town of Parit Buntar is famously known as the 'Rice Bowl of  Perak'; another historic hidden gem.
The story goes than a local leader named Tok Buntar initiated the building of an irrigation ditch from the Kerian River to the padi fields, which in turn was a huge economical boost for the community. The 'ditch' canal was named Parit Tok Buntar and later shortened to Parit Buntar, also becoming the town's name. 'Parit' means 'ditch' in Bahasa Melayu.
10. Tasek Gelugor Station (Penang)
Tasek Gelugor Train Station is the only Penang train station on the Platinum KL Sentral to Perlis and beyond route. Most online sightseeing associated with the rural area tends to blur the geography directing curious travelers straight to Georgetown (on Penang Island).
For newbies to Malaysia, Penang is a mainland state and not just an island. Penang's sliver of mainland turf is tucked between the states of Kedah and Perak. As you pass through Tasek Gelugor, the surrounding landscape is dotted with a patchwork of small lakes reflecting the skies above. It's picturesque and photo-worthy, so have your camera handy for a quick shot.
11. Sungai Petani Station (Kedah)
Sungai Petani (Petani River) is the largest city in the state of Kedah and had train service as far back as 1920 (or 1915 per some online sources). The original Sungai Petani Train Station was rebuilt in 2013 and revamped again in 2015. The present train station is conveniently just a short walk from the Sungai Petani Bus Station.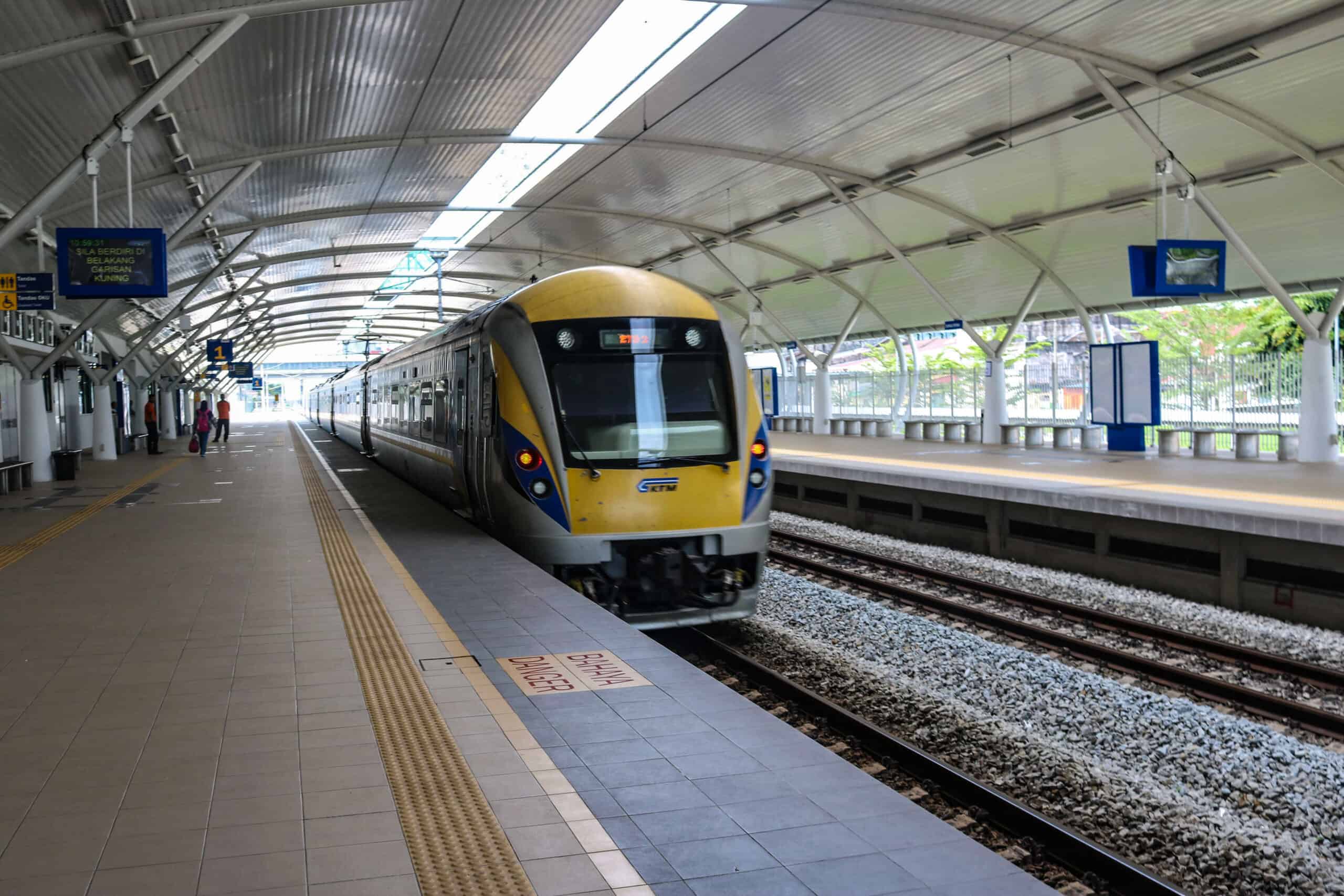 Sungai Petani has enough old school charm to make it a worthwhile explore. The local people are friendly, there are plenty of local eateries and lots of history. In fact, 'Petani' is said to be coined from a Sanskrit word 'pathini', which means 'virgin nymph'. Pathini was also the name of a daughter of Langkasuka Empire founder (and first King) Merong Mahawangsa. The Kingdom of Langkasuka became Kedah in 1136. So, yes this part of Kedah is indeed very rich in history.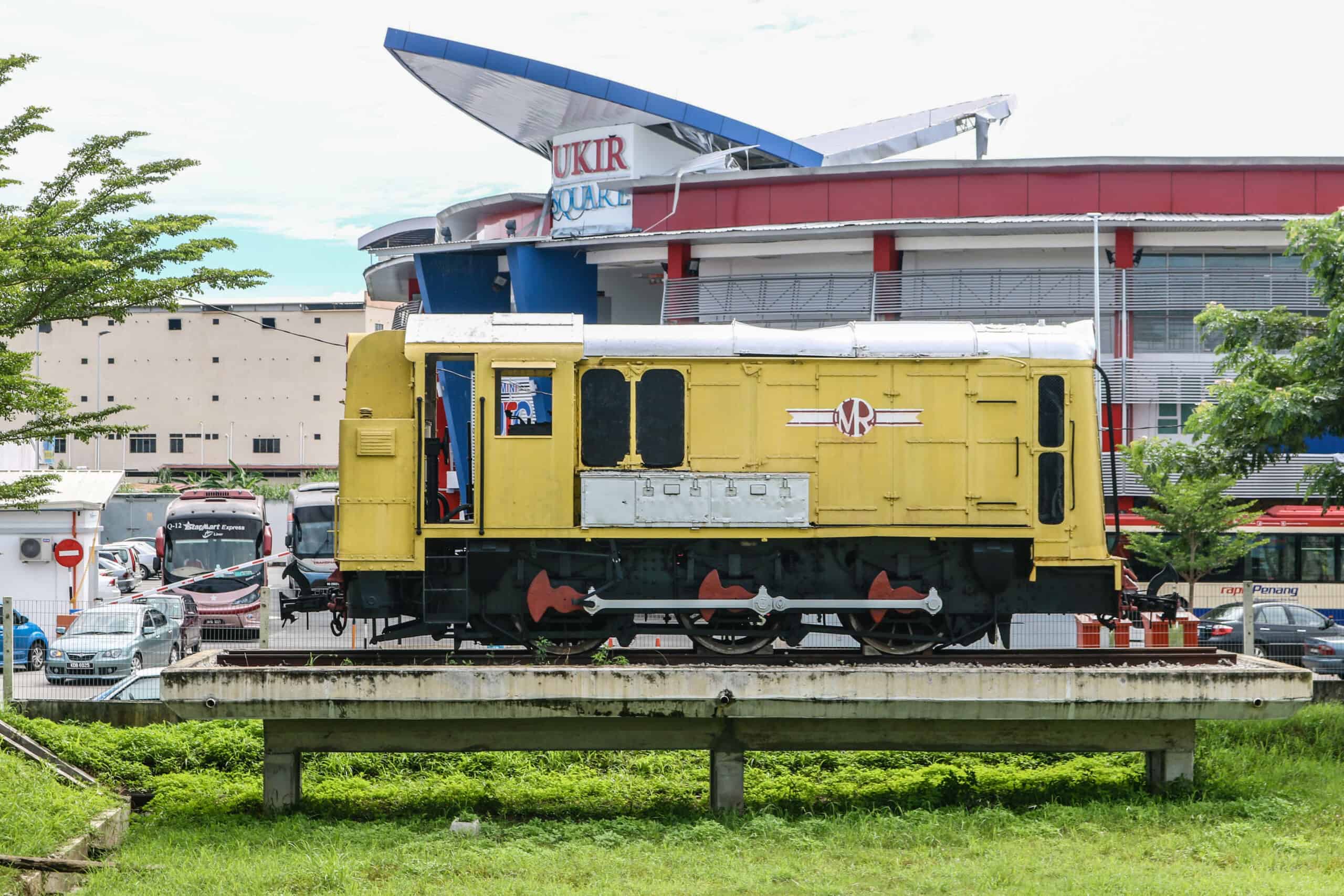 12. Alor Setar Station (Kedah)
The Alor Setar Train Station is centrally located and just walking distance from downtown Alor Setar. A healthy walk, but a walk none-the-less. The new modern station was built next to the old one, which has since been refurbished into a restaurant. It's a buzzy little area and easy to get a GRAB taxi from.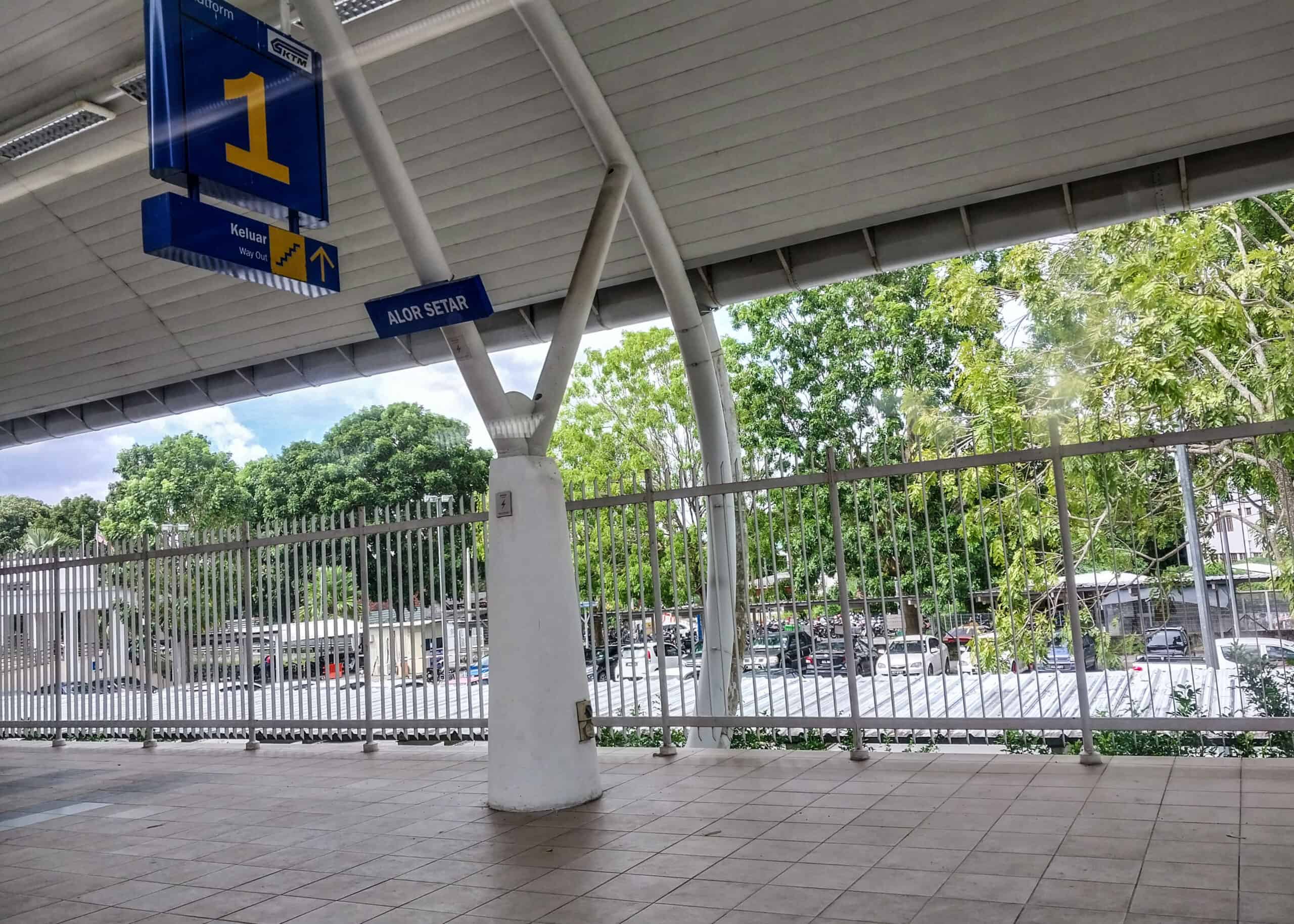 There was once also a Hindu Shrine near the entrance of the station, which was built by Indian laborers in the early 20th century. It was demolished in 2020 during road expansions. The old shrine can be seen in the Malaysian film Ombak Rindu. Can read more about Alor Setar HERE.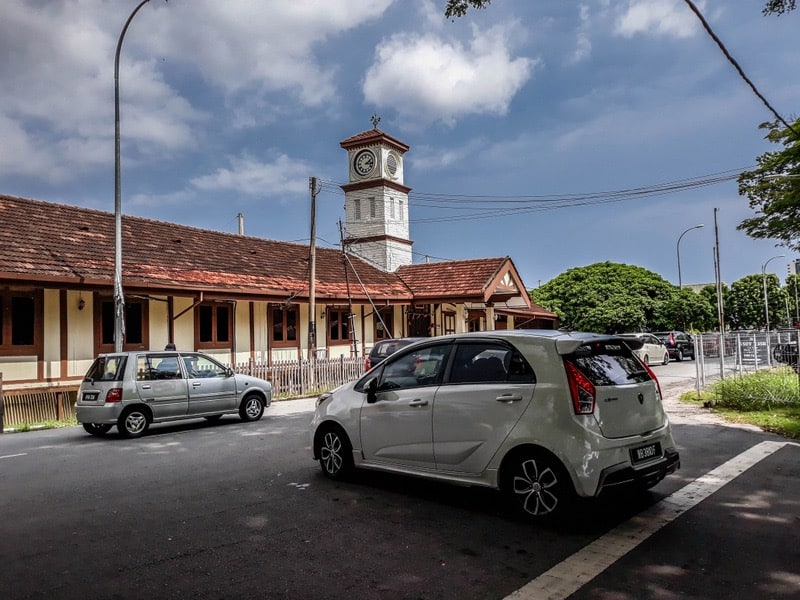 Heading Onward to Langkawi?
If you are heading onward to Langkawi, there are direct ferries from the Kuala Kedah Jetty  to Langkawi.  The Alor Setar Train Station is about a RM15 GRAB ride away from the Kuala Kedah Jetty, but the ferry will take about 90-minutes to 2-hours (depending on the direction of the tide). Booking your ferry ticket in advance is wise, because tickets do occasionally sell out, especially during holidays.
If you take the first Platinum train 7:00am-ish, you should be able to connect with the 1:00pm ferries at Kuala Kedah pretty easily. And you'll be in Langkawi by 3:00pm give or take. With any luck you'll be checked into your hotel and on the beach with plenty of time to catch a few rays and sunset. This of course depends on the exact times of the ferries (on the day of your travel) as well as available seats.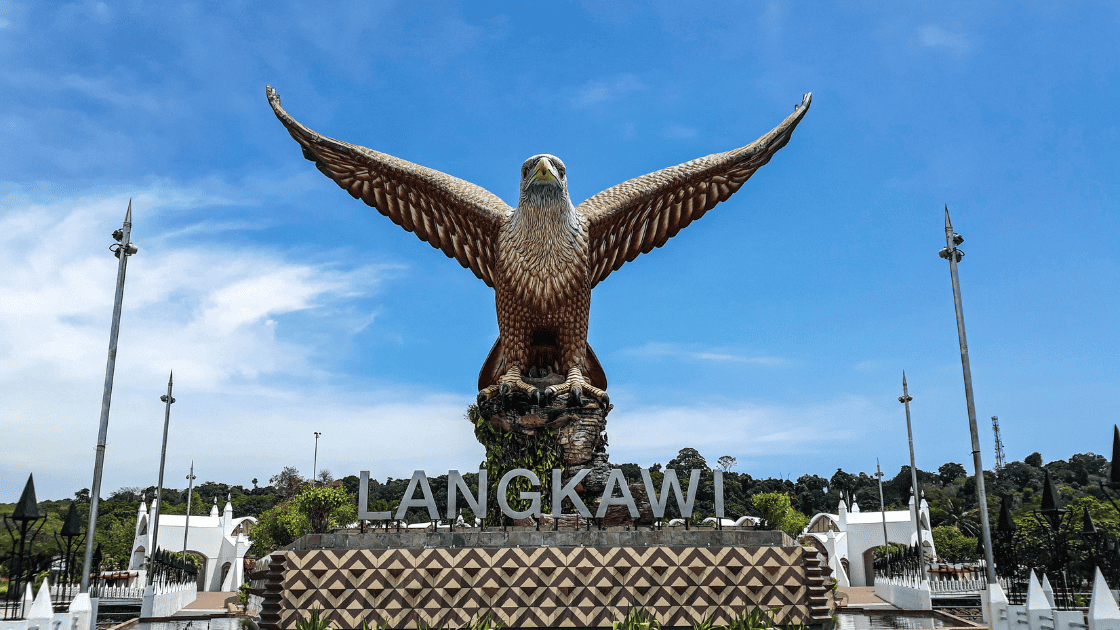 If you take the next scheduled Platinum train from KL Sentral Station at 9-ish, your timeline will shrink a bit and you may spend some time 'waiting' for the next ferry. A bit boring and a waste of your time actually. Sure there are plenty of things to see and do in both Alor Setar , but if you're lugging a suitcase with you I can assure you that sightseeing under those conditions is not optimal.
My recommendation? Catch the early Platinum train and disembark at Alor Setar. Then hustle your butt to the Kuala Kedah Jetty. Booking your ferry ticket in advance is advisable, especially for travel on weekends and holidays. *There is a small shop across from the Kuala Kedah Jetty ticket booth and you can get water or a 'snack' for the trip.
13. Arau Station (Perlis)
Although Kangar is the capital city of Perlis, the Arau Train Station is located in the Royal Town of Arau, meaning that the royal palace is in Arau. The old original station closed in 2011 and was replaced with the present station in 2014. Perlis is the smallest state in Malaysia but is incredibly rich with history and heritage. And also because it's so small, it is quite easy to see a lot in a short period of time. Perlis is a lively little state and especially buzzy on the weekends.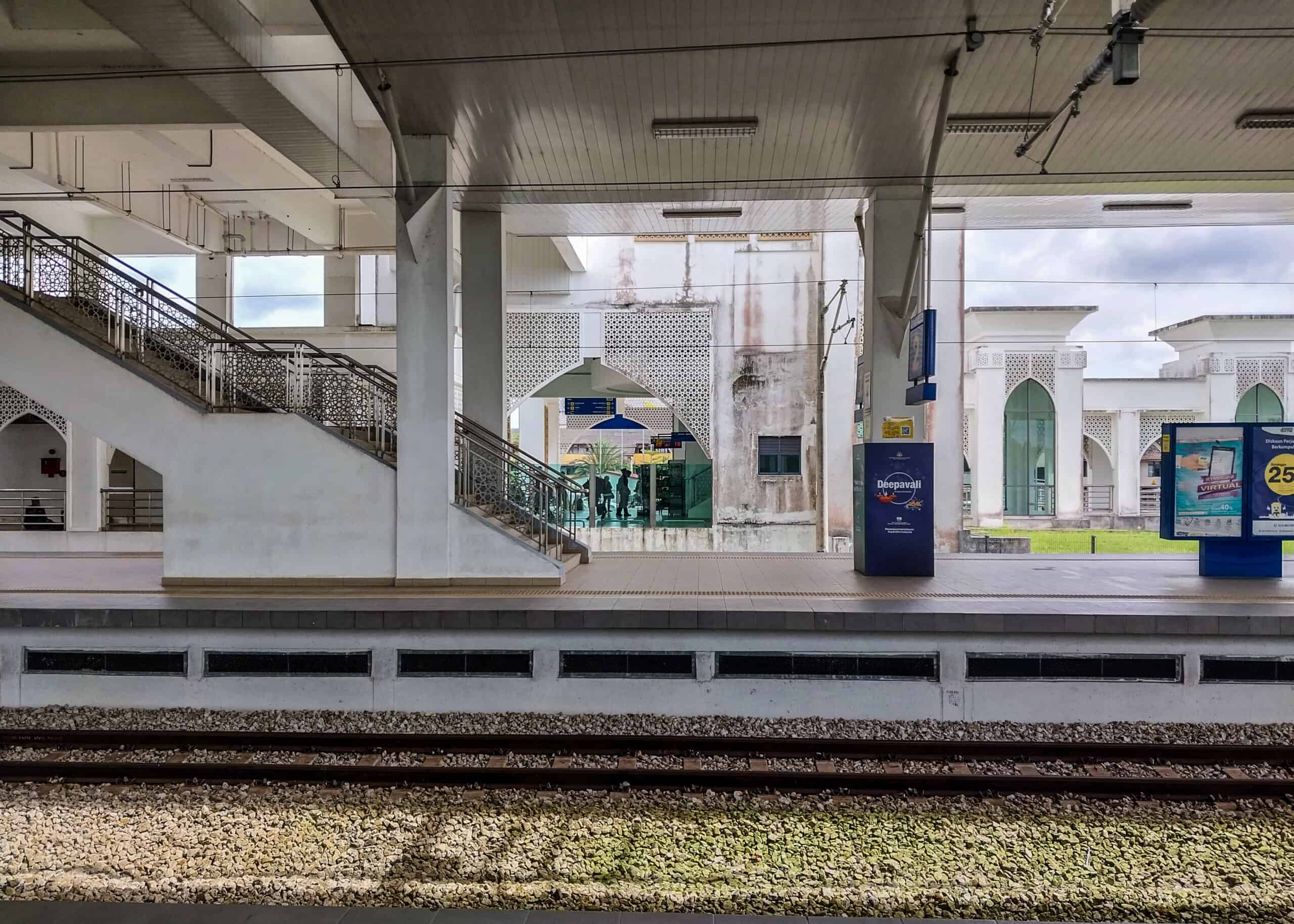 Perlis also borders Thailand and has at least three land border immigration offices; one next to Satun, Thailand and the other at Padang Besar, Malaysia, which is next to Padang Besar, Thailand. Yes there are two Padang Besars and conveniently the immigration office for train passengers is in the same building.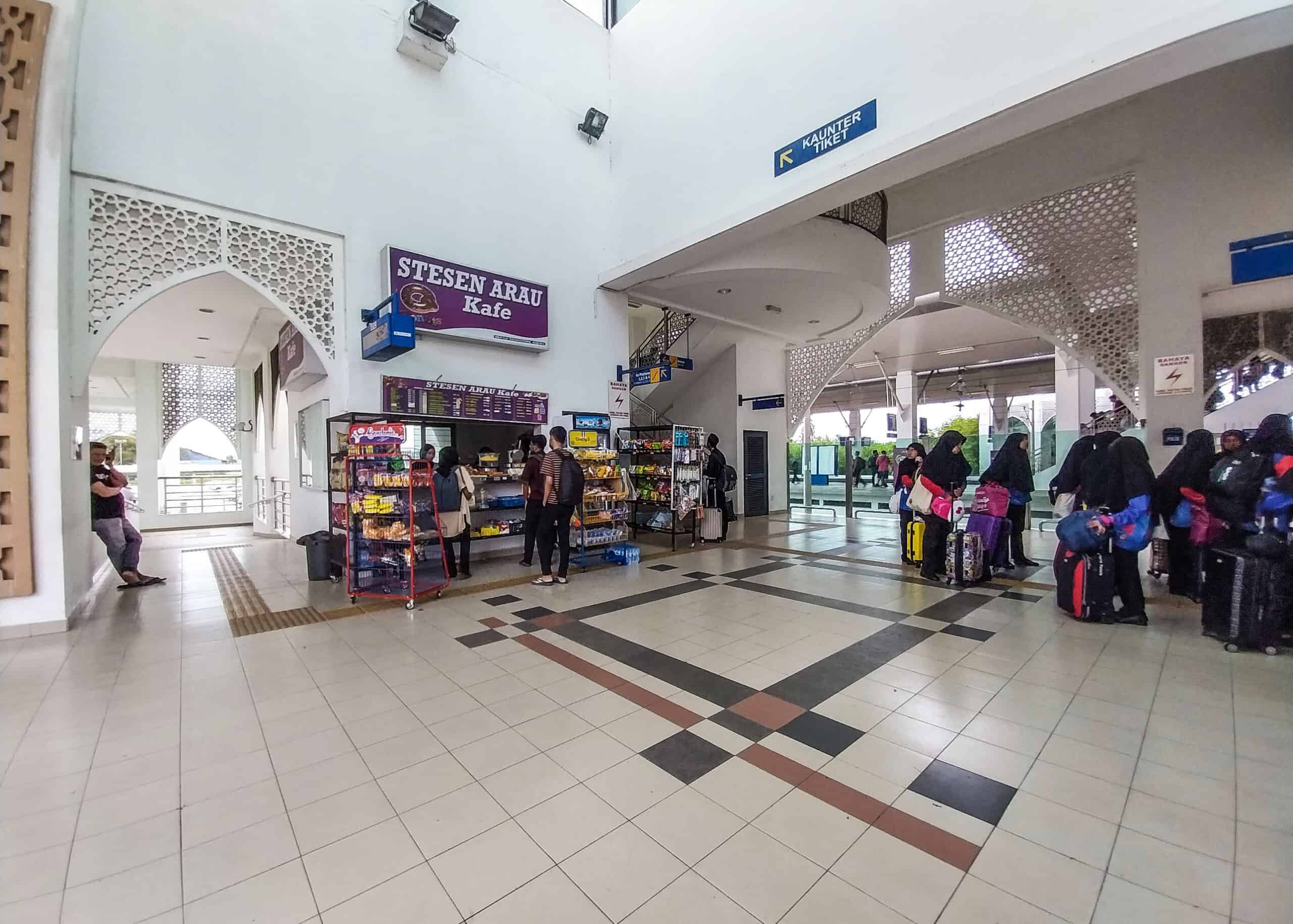 The Arau Train Station has a big parking area, which makes it perfect for those driving to the border and then crossing into Thailand by train. GRAB taxis are easy to hire from the train station, so it is easy to go from there to any location in Perlis for a relatively inexpensive price. You can read more about Perlis HERE.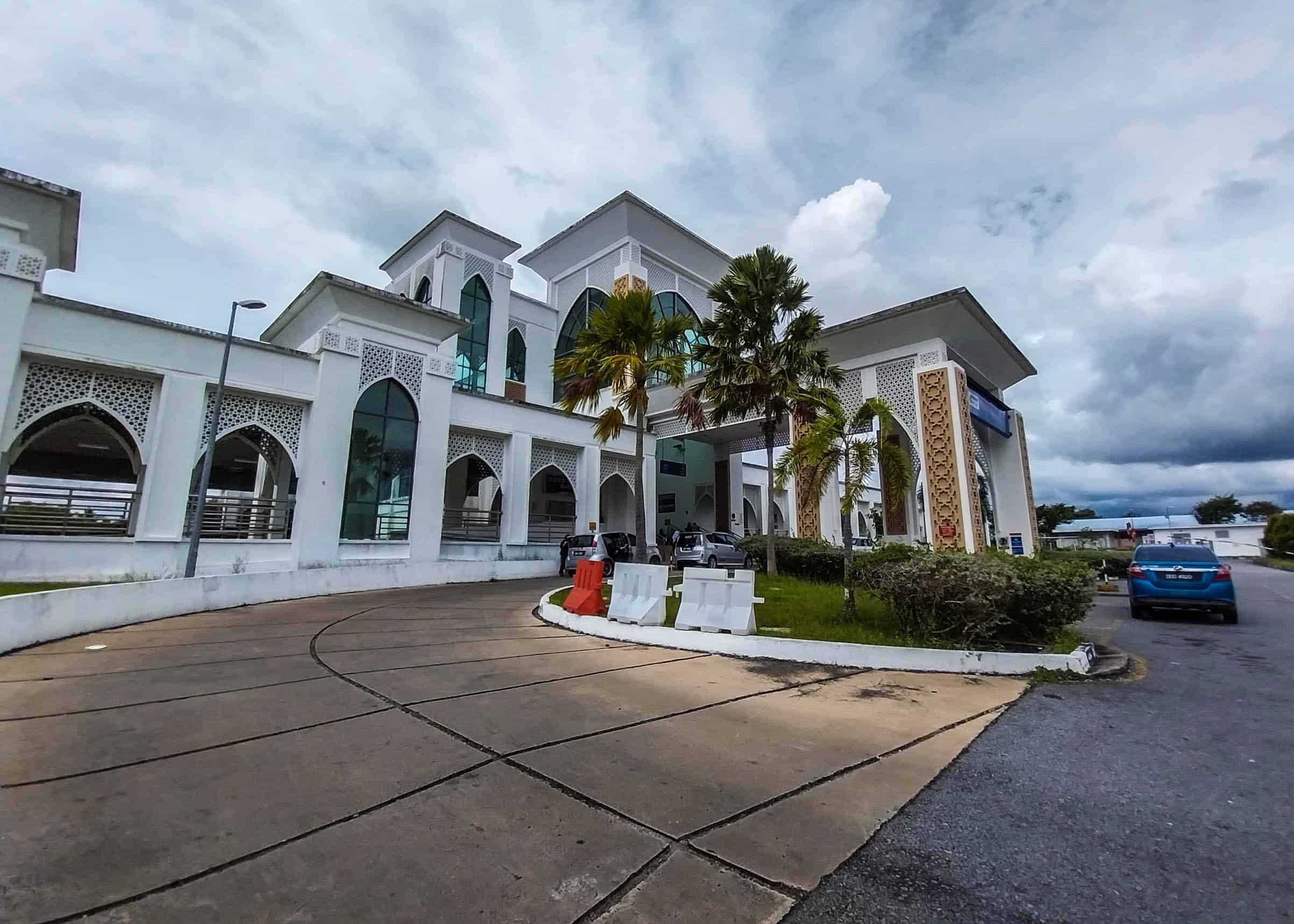 Heading Onward to Langkawi ?
If you're heading onward to Langkawi, there are direct ferries from Kuala Perlis Jetty to Langkawi. The Arau Train Station is about a RM20-25 GRAB ride away from the Kuala Perlis Jetty, but the ferry will only take about 60-90-minutes (depending on the direction of the tide). Again, purchasing your ferry ticket in advance is wise. But if you get 'stuck' in Perlis, fear not as there are plenty of interesting things to see and do there, despite its facade of remoteness.
14. Padang Besar Station (Perlis)
If the Padang Besar Train Station is your final destination, then you are probably heading onward to Hat Yai or perhaps connecting with a mini van to another part of Thailand. But do be aware that there are two Padang Besars, which can be confusing as heck unless you are traveling by train.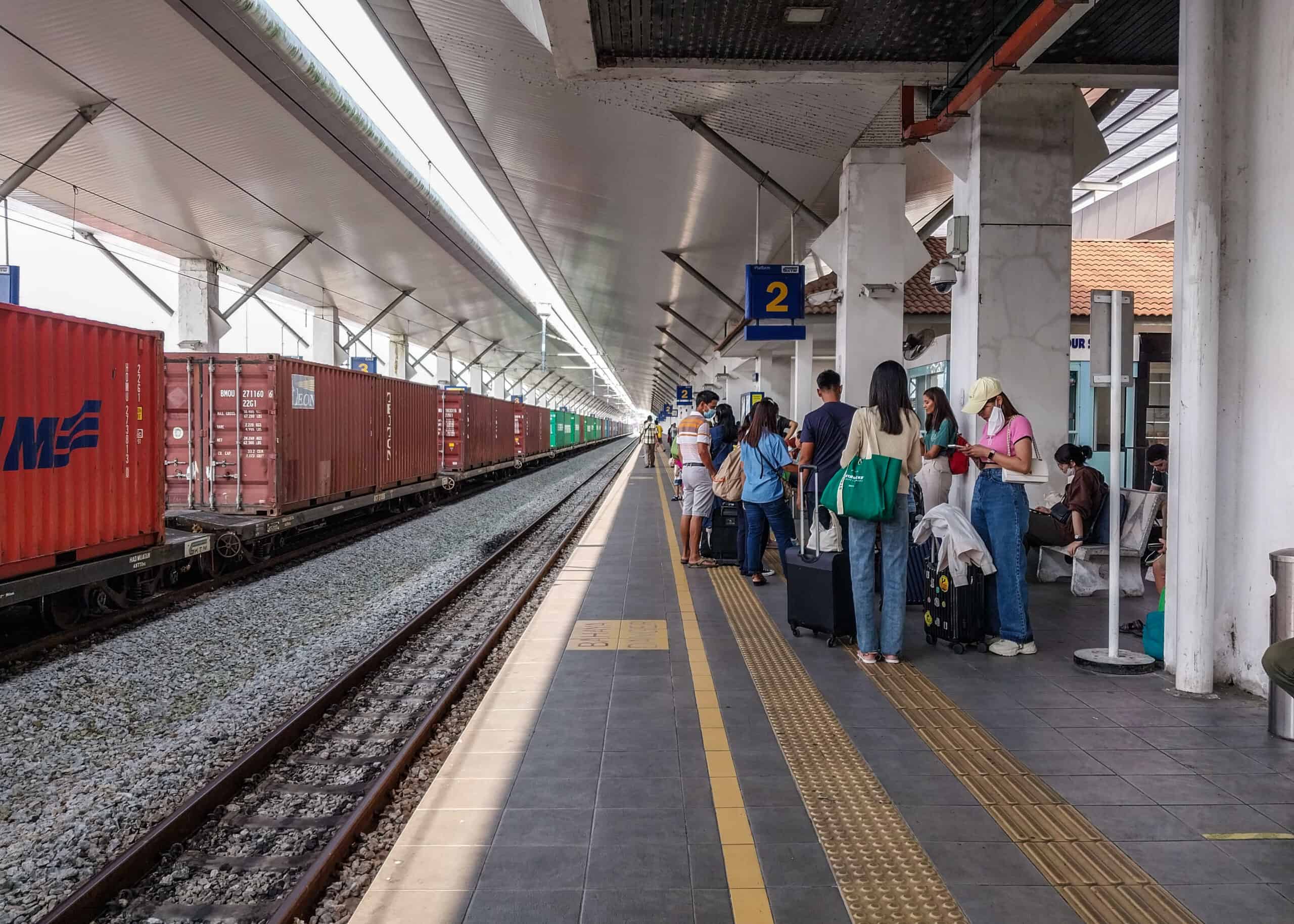 Also be aware that the magic one stop shopping train station immigration desks are for train passengers only. And they only open up when trains are arriving or departing. If you arrive from Malaysia or Thailand and will be waiting for a train, you won't be able to check out and in until those officers are on duty.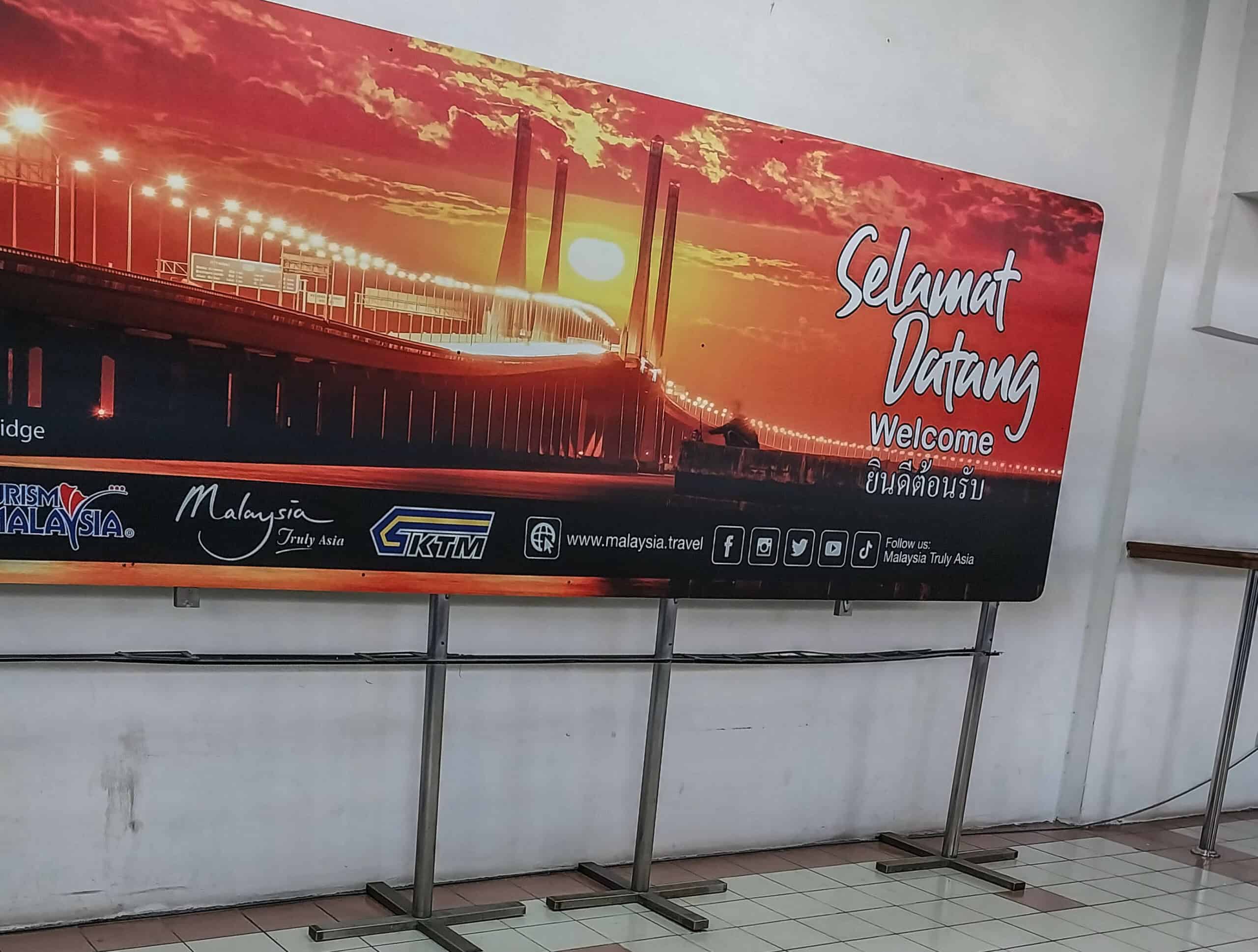 Once you arrive at the Padang Besar Train Station, all passengers disembark and then go through Malaysia immigration check point (when it opens) to get their passports stamped out of Malaysia. The herd then lines up at the Thailand immigration check point to get stamped into Thailand. It may seem a bit chaotic, but they are surprisingly well organized. The immigration staff from both countries are also super nice.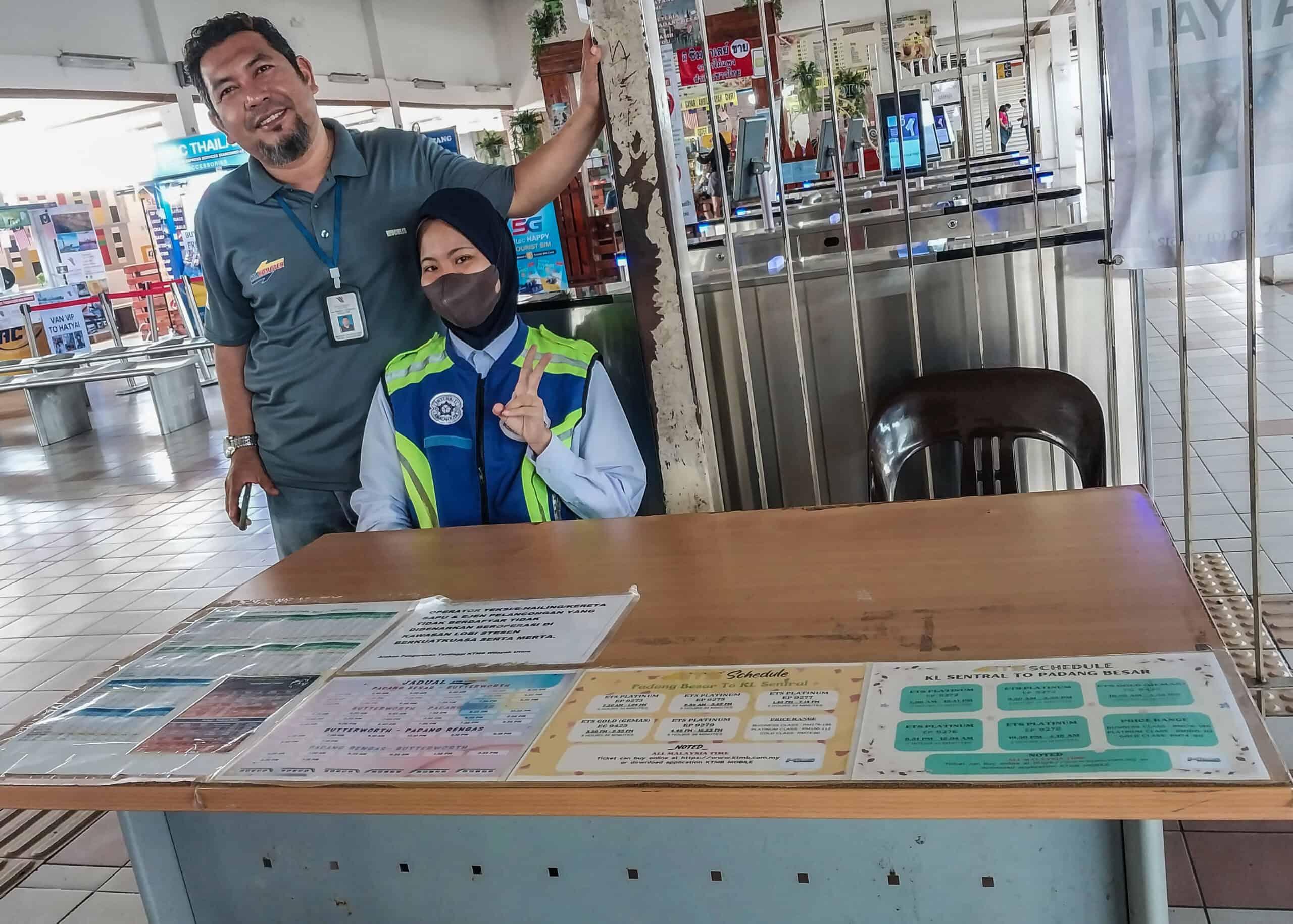 The good news is that the Padang Besar (Malaysia) Train Station is a decent place to while away time, in case you have to wait a bit. It's spacious, has food, information, a money changer, sim cards and they even sell mini van tickets in case you can't wait any longer. But! Remember, you are saving a lot of money by taking the train, so patience is a money saving virtue. Oh, and there is also an  Indian Temple you can visit next door.
Additional Malaysia Train Travel Tip
And if you are heading into Thailand and decide to leave the station because a whole lot of other people are in a hurry and doing just that? Don't do it! Especially if you are not from 'these' parts. Your journey will go much smoother if you stick with your onward train travel plan (even if you have to wait an hour or so). Getting a GRAB from the train station to Thailand Immigration/ Customs is hit or miss, and regular taxis can (and will) charge you basically whichever the wind blows. I ended up paying RM60 to one friendly old chap, who had just charged an entire Malaysian family RM10 for the same route in reverse. So, yes it can be like that lah. And you will likely say yes out of sheer exasperation.
**Update December 2023: There is now a VIP Mini Van from Padang Besar Train Station all the way to Hat Yai (including the immigration stops). The cost as of this update RM30 per person (really!). Certainly less confusion, but seats fill up fast.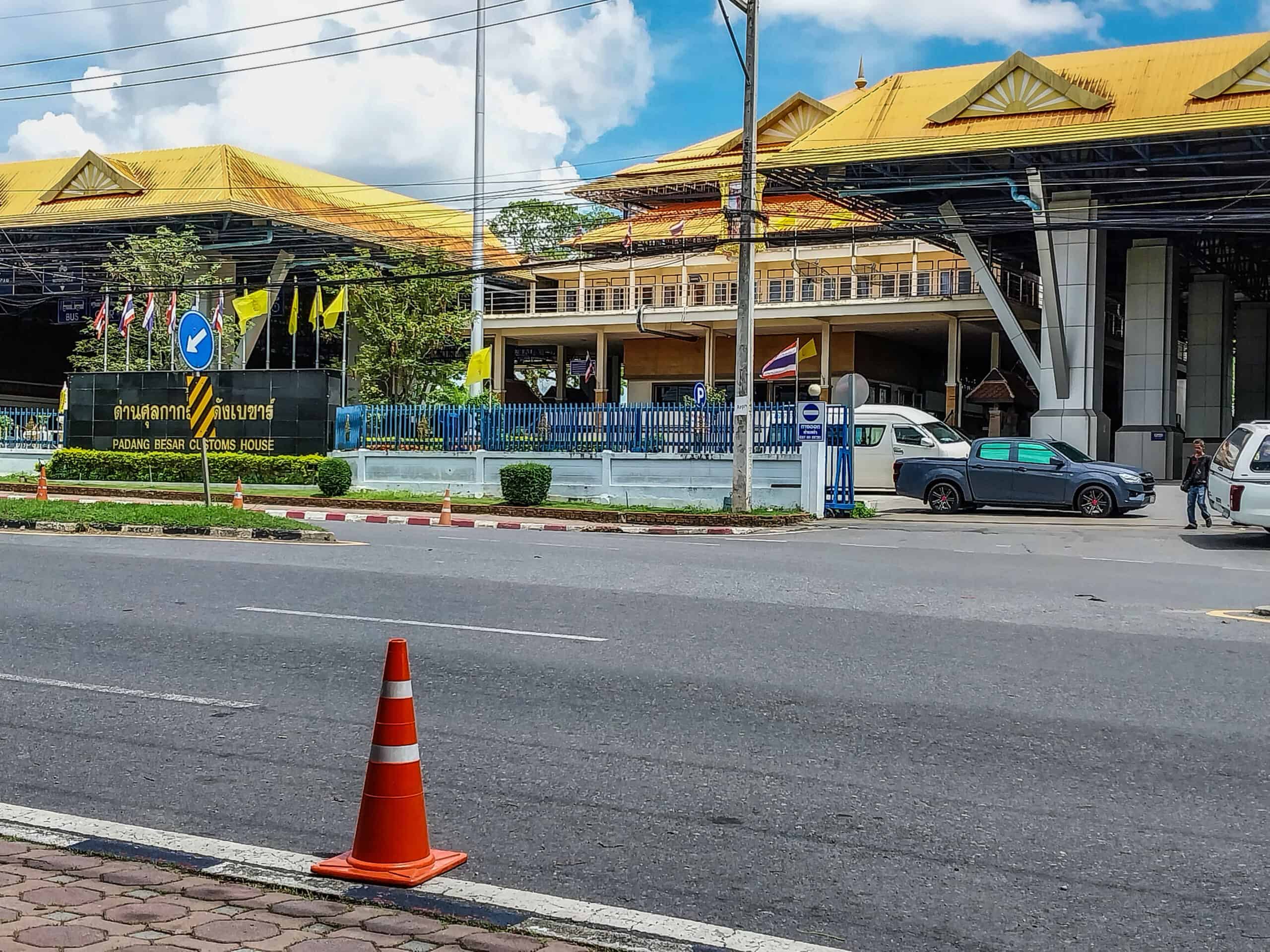 Taking a taxi to a non-train station Thailand immigration office involves stopping at a roadside immigration booth and passing your passport to an officer, and then another lengthy taxi ride to the 'official' immigration office where you will likely stand in line for a while, and eventually get pulled aside for a 'closer' look at your passport. And after that bit of fun, getting a ride to Hat Yai or elsewhere is an exhausting exercise in self restraint. Taxi touts will be all over you with their 'special prices'. You may even need to be down right rude to keep them at bay.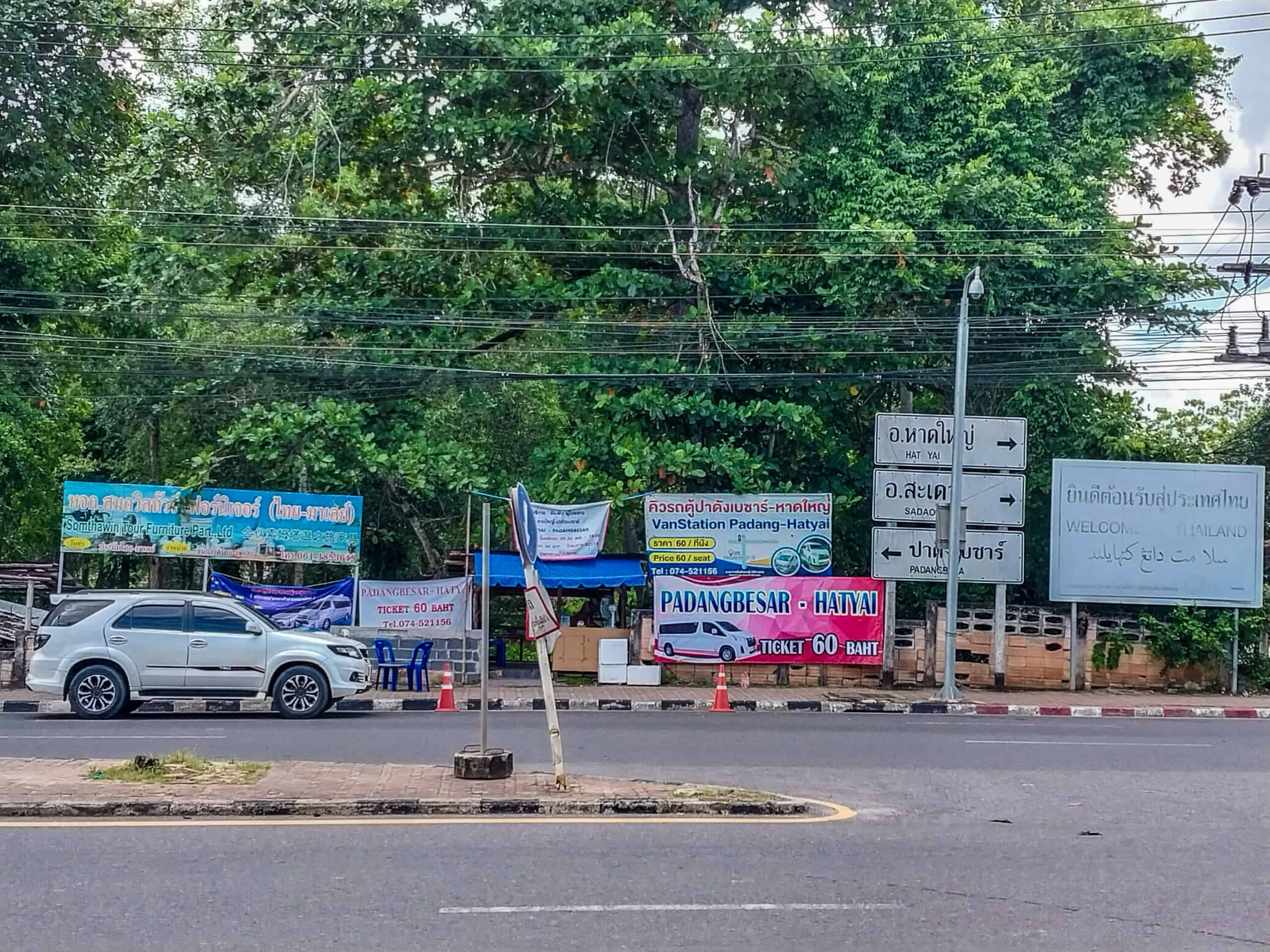 However, the good news is, that in case you have completely ignored my warnings, there is a mini van stop across the street from that main Padang Besar Immigration Office/ Customs House. A solar powered little roadside stall doubles as a beacon of hope for an affordable get-the-heck-out-of-town option. Those folks have fair prices and are also kind. You may have to wait an hour or so, but then you'll remember me… the blogger who tried to warn you.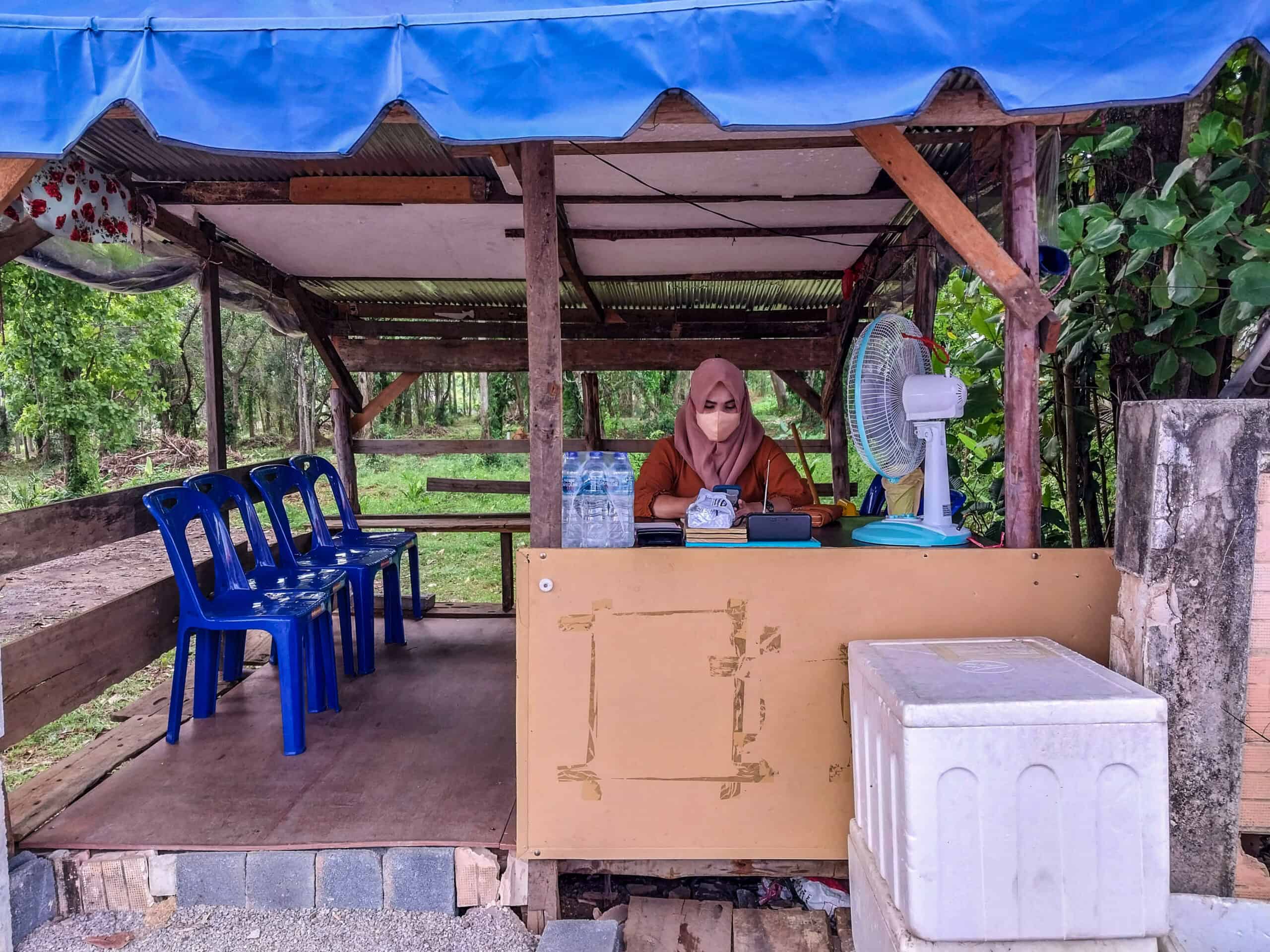 And if you are doing this Padang Besar to Hat Yai train route in reverse? I wrote this especially for you:
Hat Yai to Padang Besar by Train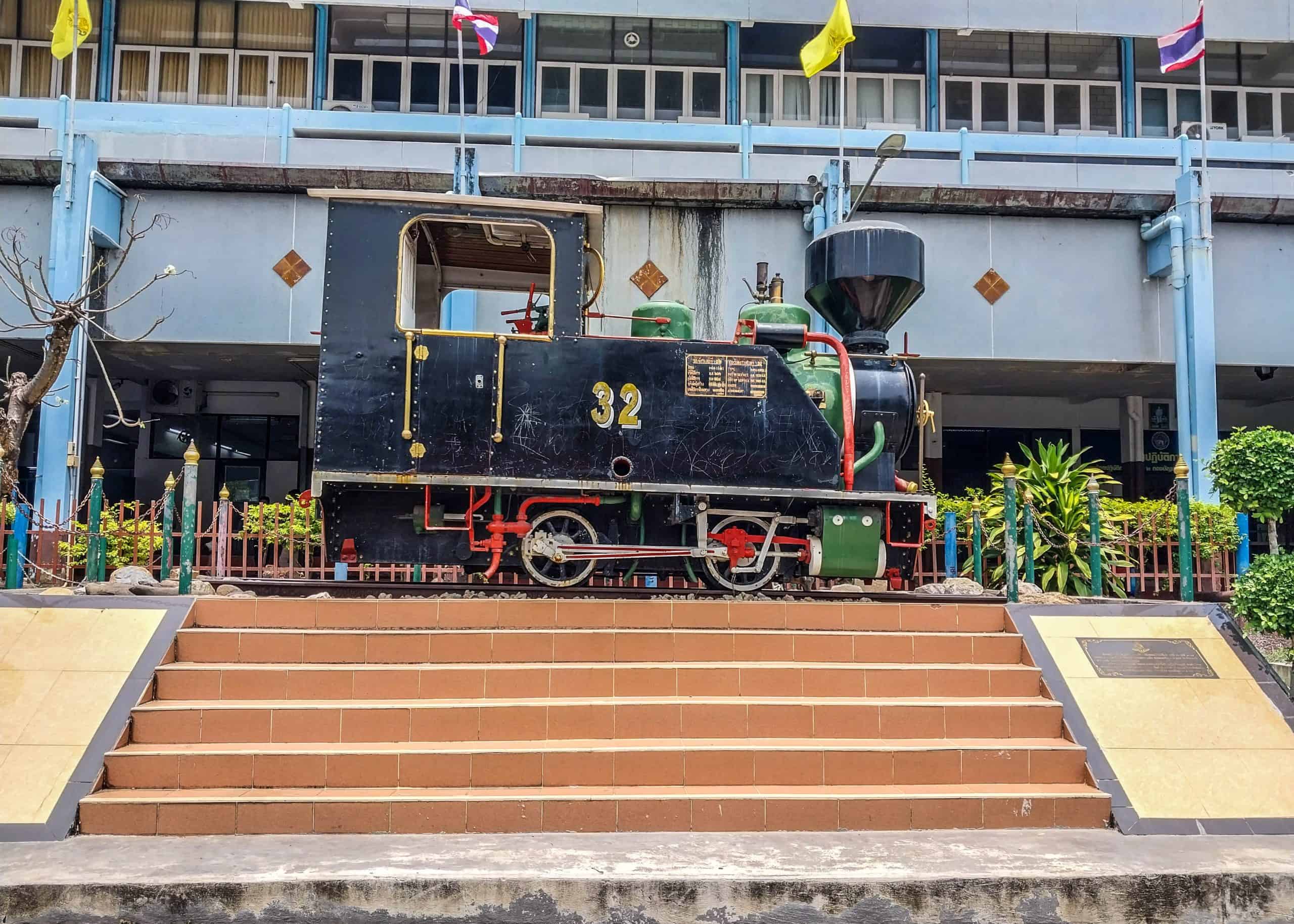 Booking Tickets for Malaysia Train Travel
From personal experience, I once got stuck in Kuala Lumpur during a long holiday weekend because no trains were available (as in all sold out), and flights were sky high in price. Lesson learned. Book your ETS Platinum train ticket in advance, especially if you have any plans of traveling during a holiday (which Malaysia has a lot of). One way tickets are RM100 (21USD) or less depending on where you are headed.
You can book ETS Platinum (EP) tickets online directly through KTMB HERE
Or you can book through Bus Online HERE
I also recommend the morning ETS Platinum trains, especially if you are new to Malaysia travel. Not only will you have scenic views along the way, it is just much easier to get oriented to new places during daytime hours, as well as get public transportation once you arrive at your destination. And if you are heading all the way to Thailand, even better. Safe travels!