Have you ever walked 30 minutes into a foreign country only to realize that you had somehow overlooked the immigration checkpoint? Yes, it does sound a bit farfetched, but imagine my surprise and sudden discomfort to realize that was exactly what I had done, on my way from Langkawi, Malaysia to Hat Yai, Thailand. And surprisingly no one stopped me.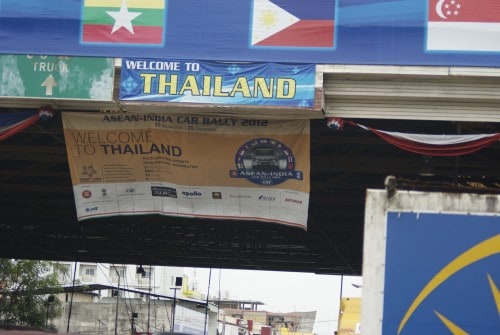 I actually take those border check points quite seriously and assume others do too, but in this instance perhaps my timing was just so as to be totally overlooked by anyone, even as I waved at the CCTV cameras and yelled hello a few times.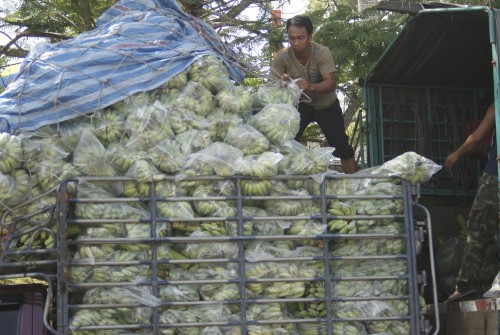 I had thought I'd already researched which route from Langkawi to Hat Yai was the easiest and quickest after already experiencing a few odd passages that I didn't want to duplicate. But here I was having yet another learning experience after an obvious miscommunication with my taxi driver.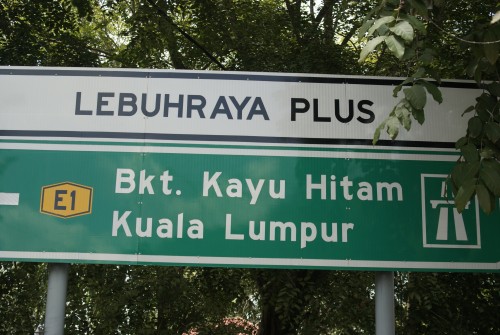 I was dropped, not at my intended destination, but at an unfamiliar Malaysia-Thailand border crossing and there was no one around who appeared official. Just a few truck drivers milling about. So I walked onward  looking for a familiar sight. At the time I had thought it was a 'secret' local second entry to my regular Bukit Kayu Hitam/ Dannok border crossing.
But nope,  I soon realized I was an illegal alien standing in Thailand who now had to walk all the way back to Malaysia.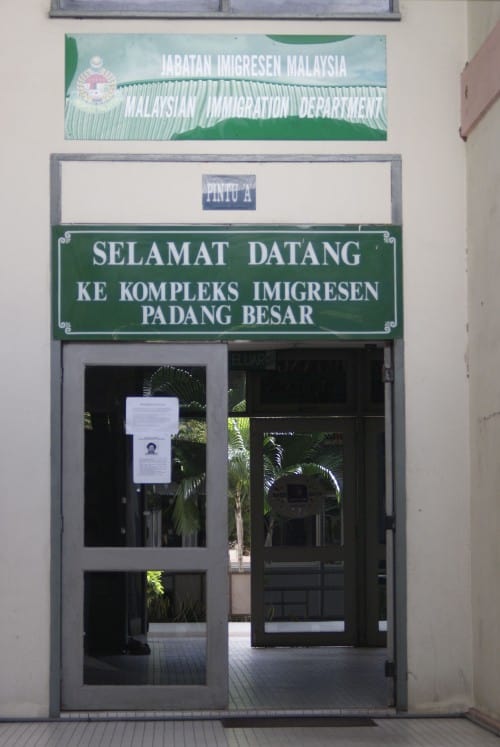 This is when things can get desperate. A lone foreign face that appears 'lost' will most likely have to accept whatever potential ride comes their way. And do so happily. One whine about price and you could see your ride vanish before your eyes and word can quickly spread that "there's a 'troublemaker' in town". You can smile all you want but do expect to pay for your lack of social graces under dire circumstances. It's especially true if you happen to be the only obvious non-local in the area. A suitcase or backpack is also a dead giveaway.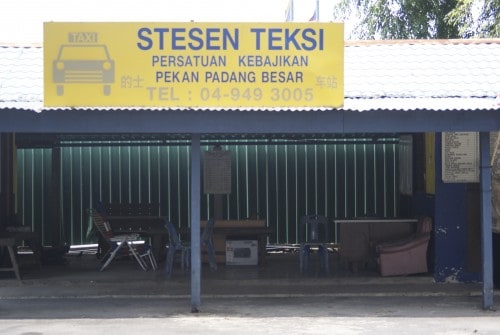 At any rate, if you happen to be one of those people who has similar luck as I do,  I'm going to share my tried and true easy way to get from Langkawi to Hat Yai within 3 to 4 hours. Leaving little room for strange travel experiences…
if you stick to the plan.
Step 1: Ferry from Langkawi to Kuala Perlis
With Kuala Perlis having much more frequent ferry arrivals and departures, they get my vote for getting me from Langkawi to the mainland. The 'regular' non-local tickets are 18 ringgit for adults and 13 ringgit for kids and it takes 45-60 minutes. Kuala Perlis is also a stone's throw away from Thailand.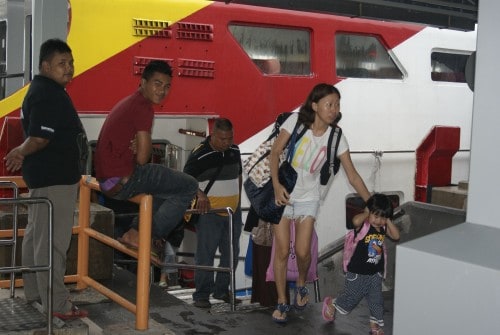 Step 2: Taxi from Kuala Perlis to Bukit Kayu Hitam
Once you arrive at the Perlis Ferry building, head straight out to the street and take a left. Just down the road across the street you'll see a taxi stand with a selection of uncles casually waiting for a fare. They work together quite nicely and within a few minutes you and your escort service will be on your way.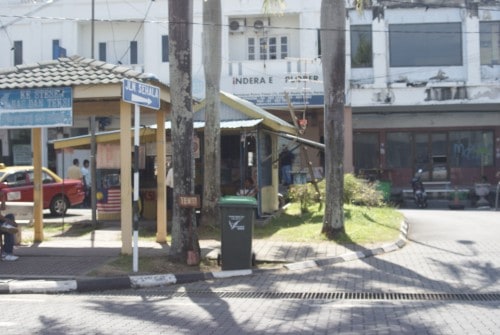 I've been quoted 50-(60 ringgit in 2018) for all my rides to Bukit Kayu Hitam and I think that's the general price. If that's a 'tourist' price, I'm quite happy to pay for the convenience and time saver rather than muck around trying to save a few ringgit. The trip to Bukit Kayu Hitam takes about 30 minutes and it's a picturesque journey through some lovely Perlis countryside, so keep your eyes open and your camera ready!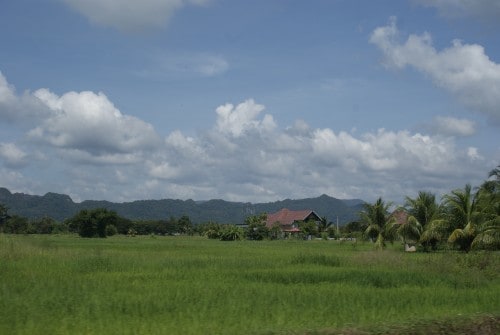 Once at Bukit Kayu Hitam, immigrations awaits. It may seem a bit confusing with all the cars and buses, but to the left just off the sidewalk (behind the barricades) is the office to get your entry forms. Pick a line outside to wait in and hand them your filled out form and you're good to go. Quick and easy. The 'official' areas may not be the best place to take photos so try and restrain yourself, even though it's quite tempting. (speaking again from personal experience)..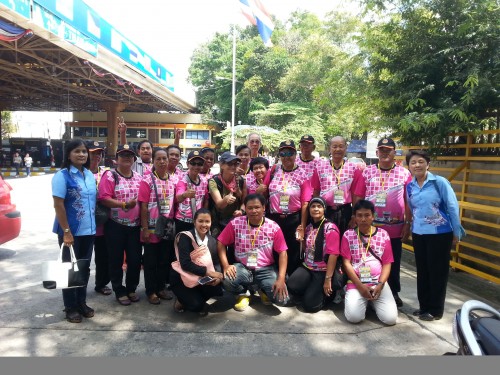 You are now entering beautiful Dannok, Thailand! A busy little place for sure. One that begs to be explored, but you're on your way to Hat Yai right? But now you know how to get from Langkawi to Dannok in 2 Steps, for future reference.
Step 3: Minibus from Dannok to Hat Yai
Ok, so head up the jam-packed sidewalk 2 blocks towards the 7-11 (on your left hand side). There will be a few minibus companies scattered about, but you want the one directly in front of the 7-11. They speak little English, so don't bother making small talk, these folks aren't interested and a miscommunication could land you at an unintended destination. Stick to the plan.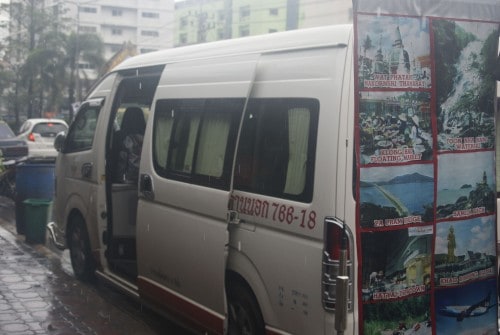 Tell them, "One way to Hat Yai" and as of this writing that price was 54 baht. (70baht in 2018) I don't recommend wandering off anywhere at this point, because your minibus could suddenly appear and be filled up within a blink of an eye. You most likely won't get any priority seating and be lucky just to get squeezed in after all the regular commuters, but that's part of the fun right?
*Do note that you will be jammed in with a selection of locals and you may want to dress somewhat modestly for the ride out of respect for the other passengers.
Ok, so you're on your way to Hat Yai!
The driver may ask you where you're going, they mean specifically…so do not roll your eyes and repeat "Hat Yai!" loudly…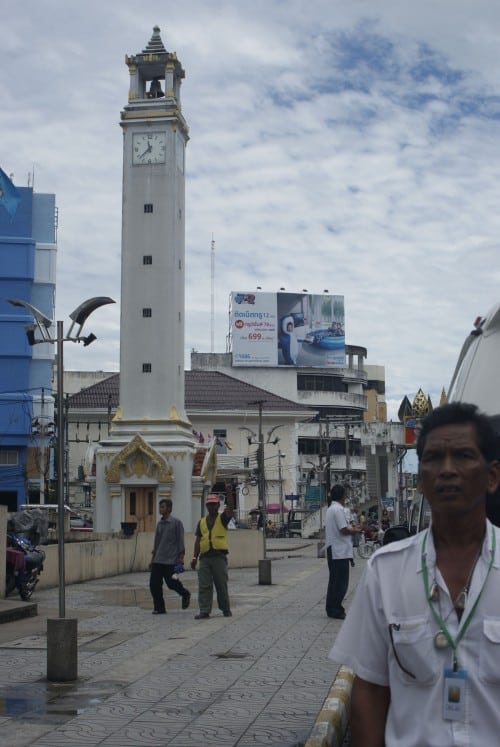 The closest minibus drop near Hat Yai's central area is on Phetkasem Road (where the clock tower is located), and the nearby intersection at Suphasarngran Road. For future reference, the clock tower is also a pick up area for folks heading farther north. The #1 Bus Station, south of the central district and near Diana Department Store, is also a decent drop off location but you may need a taxi to negotiate your way out through the maze of streets surrounding the terminal. That could come with a 100 baht price tag. But, if you've already booked a hotel, tell your van driver the hotel name and he may be able to drop you off at your chosen accommodation free of charge.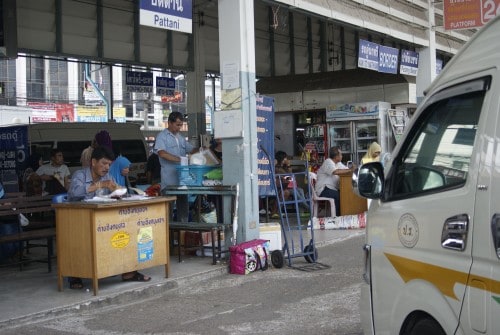 It seems that many things are magically calculated in denominations of 100's. This of course makes me suspicious, but it certainly makes the math easier. If you're pinching pennies your best bet is to hop in a songthaew with a few others and hope it heads where you might want to go.
*Do note that many of the streets in Hat Yai are one way, so the journey from point A to point B can be a nice little side tour of weaving in and out of side streets.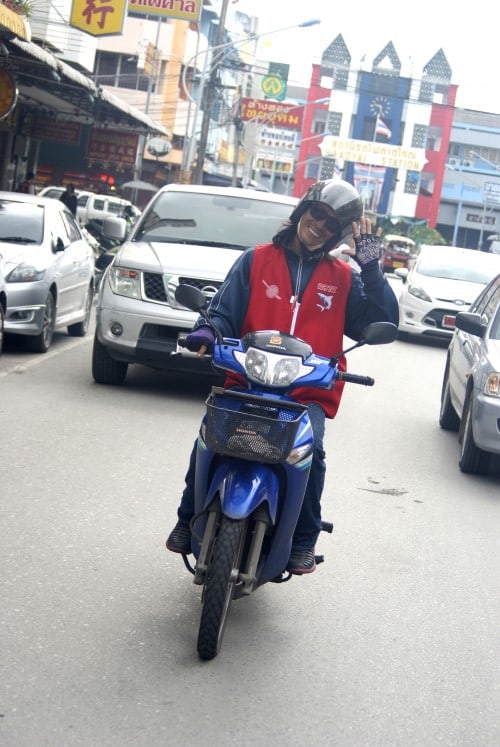 If it's your first trip to Hat Yai  I can recommend getting a feel for the #1 Bus Terminal area, by selecting that location as your drop off point. Hat Yai actually has two bus terminals, but Hat Yai Bus Terminal #1 can be quite helpful with information, and ticket sellers for onward travel destinations are well marked. Whether it's a weekend jaunt from Langkawi or a stepping stone for onward travels, Hat Yai is well worth visiting. While you are in the area, be sure to check out Songkhla City too!
*This post was updated in October 2018. The only significant change is a new 'exit' immigration building at the Dannok border.
*If you are heading to Thailand for longer than 30 days, you may need to bring additional money (in baht) to pay for the extended visa. The prices and procedures may vary depending on the border, but you can check the latest updates and prices HERE.

For travel from Hat Yai to Bangkok or other parts of Thailand,
you can book transportation tickets from BusOnlineTickets
 This post contains affiliate links, which means that if you click on one of the product links I may make a small commission, at no cost to you.
Do you have any Hat Yai recommendations or tips to share?
I would love to hear them!