Who doesn't feel a slight twinge of jealousy when seeing friends' photos of exciting adventures at exotic locations? Rafting in treacherous boulder strewn rapids, skydiving over snow capped mountain ranges, scuba diving with whale sharks; the list goes on and on. Exciting adventures which often encompass the four corners of the earth and then some. Some of these adventures can also be, not only expensive to get to, but flat out dangerous! Is it possible to find a few affordable adventures in an exotic land that can also give newbie adrenaline junkies some brag worthy photo ops? Absolutely! Allow me to introduce you to Langkawi, Malaysia and the many adventures in Langkawi that await!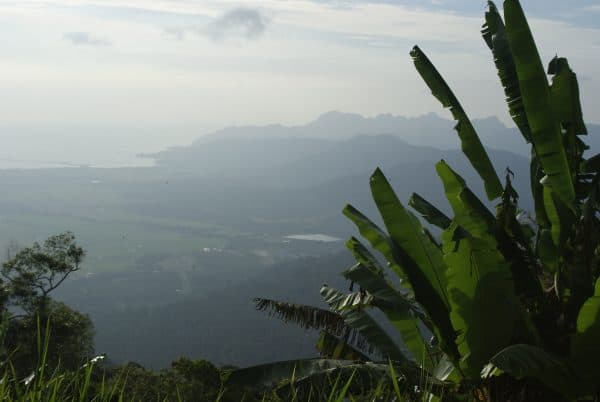 The Langkawi archipelago is famously known for its Geopark status. The first UNESCO Geopark in Southeast Asia to be more precise. The abundance of nature and ancient geological formations was one of the main reasons for this. And Langkawi does indeed have plenty of fauna and flora, fascinating limestone cliffs and rocky outcrops and a myriad of exotic wildlife. That's right, everything from gorgeous tropical birds and cheeky monkeys to massive water buffalo and cobras. Sounds adventurous, right?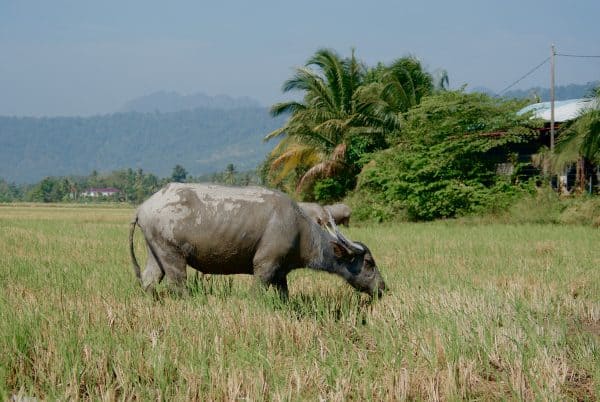 How does one experience these incredible wonders without feeling like you're on a science class field trip? By having a few fun adventures that also have an added thrill factor or two. Here are my top picks for affordable and brag worthy Langkawi adventures that won't break you or your wallet. You'd be surprised what an island the size of Langkawi actually has to offer for the adventure seeking traveler.
Langkawi Mangrove Tours
Mangrove tours through the Kilim Karst Geoforest Park can be taken by boat or kayak. Skirting the beautiful yet sometimes eerie banks of the Kilim River, with its thick mangroves, usually rewards visitors with sightings of a variety of critters; from majestic Sea Eagles and Brahminy Kites to swimming monkeys and tropical snakes. Trained nature guides are well-versed in spotting wildlife early, so you'll have plenty of time to get your cameras ready. A stop at the Bat Cave (Gua Kelawar) is usually on the itinerary too. Never seen a bat before? You will when you visit this creepy cave!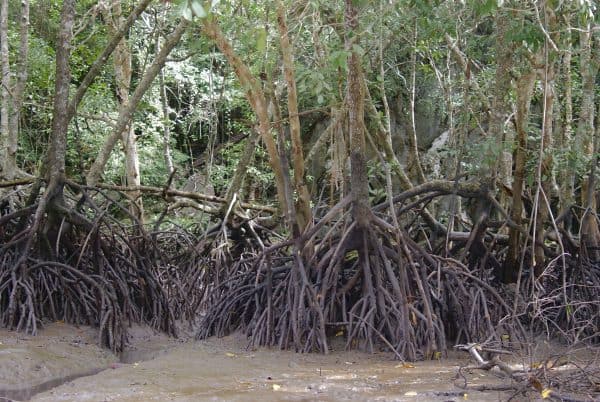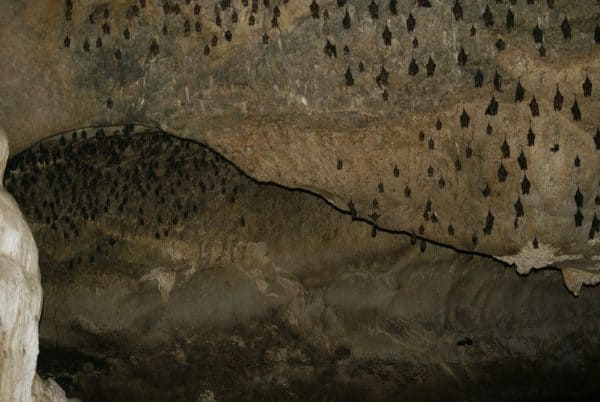 I highly recommend this four-hour tour for visitors of all ages, but I also only recommend embarking on this adventurous activity with a knowledgeable, licensed guide from a reputable company. Why? Because your (possibly) once in a lifetime Langkawi mangrove trip can be either a boat ride with pretty scenery or a fascinating look at Langkawi's diverse eco-system. (And I do mean fascinating). Don't scrimp on this trip!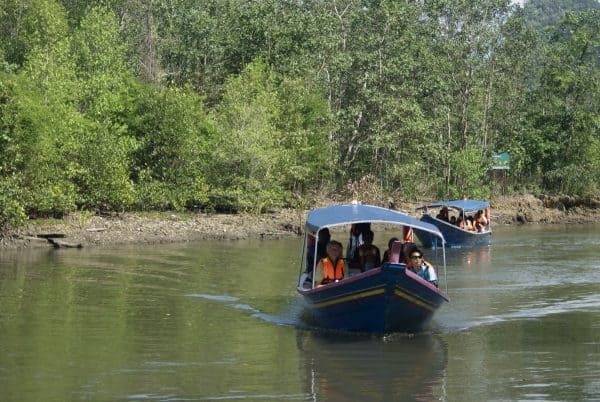 My Two Cents:
The physical exertion factor for this Langkawi adventure is low, but you will need steady legs for getting in and out of your boat or kayak. And also, please don't feed the monkeys!
Langkawi Jet Ski Tours
Jet ski tours can be another tricky adventure activity, because you will find an abundance of jet ski rentals up and down the various waterfronts. And it can get confusing seeing all the signs boasting to be 'the best!' or 'the most fun!' But trust me, you will have a far better experience going with a company who makes safety and the environment their priority. I have personally taken three different jet ski tours  with Mega Water Sports and each one is unique, exhilarating and definitely brag worthy.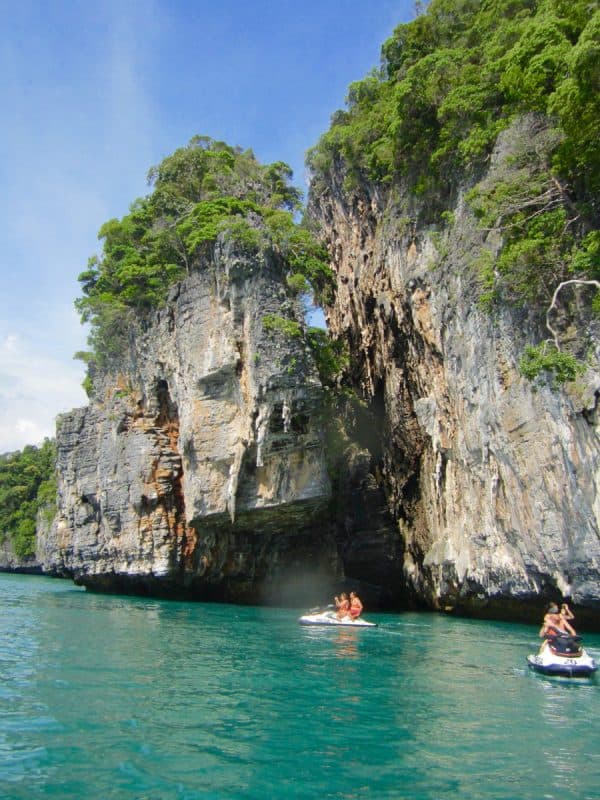 Four hours of offshore fun is also alot of bang for the buck. The individual tours can include island hopping, lunch on a secluded beach, exploring mysterious islets and craggy rock formations with plenty of opportunity to go as fast as you want in a safe environment (off shore). You will also never see Mega Water Sports guests or staff 'trick riding' next to swimmers close to shore, so do take note that not all jet ski companies should get credit for such erratic and irresponsible behavior.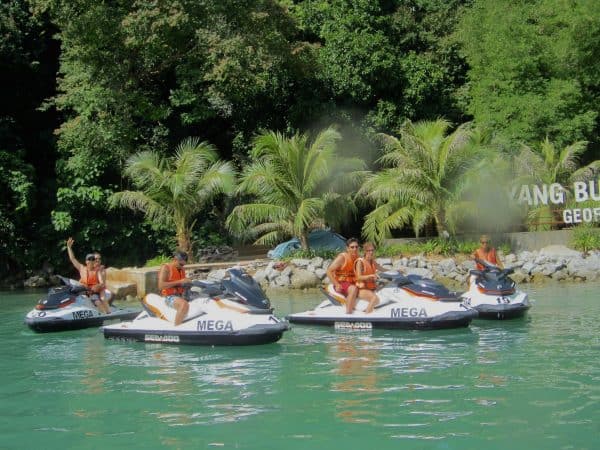 My Two Cents:
These tours are suitable for all ages and the guides will ensure that you are comfortable with any level of challenges. And again, your safety and the safety of others is a priority with Mega Water Sports.
Langkawi Jungle Trekking
Excited to don your pith helmet and go all Indiana Jones? Well Langkawi has jungle trekking which ranges from climbing slippery leaf strewn mountain sides and navigating thick, dense rainforest vines to following well trodden foot paths under moonlight. Full on jungle trekking or evening walks which embrace sights, sounds and smells you will remember for years.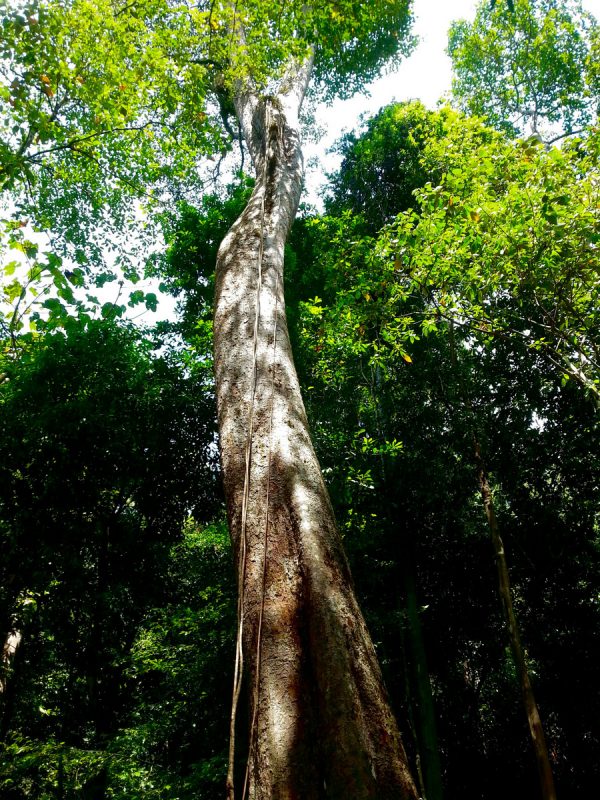 My Two Cents:
Absolutely do not underestimate Langkawi's jungles and attempt to explore them on your own! I also recommend a licensed local expert rather than a taxi driver's friend's cousin. It doesn't take much to get disoriented and 'lost'.
Langkawi Ziplines
For anyone who has never tried ziplining, this tree top adventure can look boring and slow or scary as heck. But at Langkawi's Skytrex Adventure Park they've added a twist to the adventure equation with some challenging obstacles. The obstacles are actually more physically challenging than the zipline rewards that greet you along the way.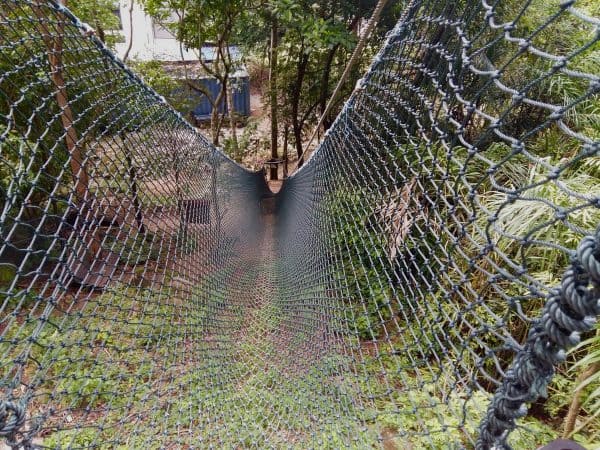 And the zipline rides are fantastic! High enough, fast enough and just long enough to feel that surge of adrenaline bring a grin to your face. Three levels of Langkawi adventures are offered; beginner, intermediate and advanced, so no one is left out from giving it a go.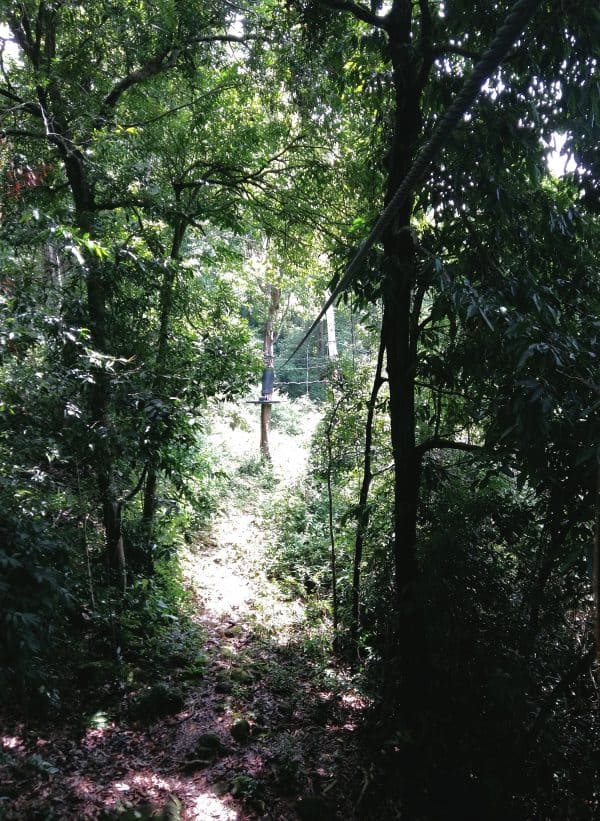 The Skytrex team has a solid reputation preceding them with well established Malaysia locations in Selangor and Melaka. These guys know their ziplines and excel at customer service too. The combination of fool proof high tech equipment and enthusiastic staff make this affordable adventure relaxing, fun and a must try!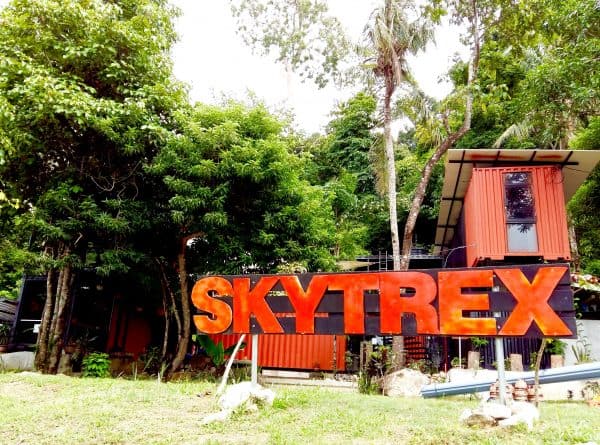 My Two Cents:
It doesn't take an elite athlete to take on this zipline challenge. There is a certain degree of climbing and physical exertion involved, so I recommend fueling up with some good carbohydrates and wearing loose breathable clothing. If you're a mosquito magnet (like me) you should also bring insect repellent.
Langkawi Parasailing
I did my first parasail from a boat in Mexico and all I can say is if you ever in your life have the opportunity, that it is a must do. Langkawi also has parasailing from a boat, as well as beach launches. The beach launch and beach landing versions are very tempting with the low price tag, but why indeed take the risk? Your post adventure selfie will look much more impressive against the back drop of a beautiful white sand beach rather than an emergency room.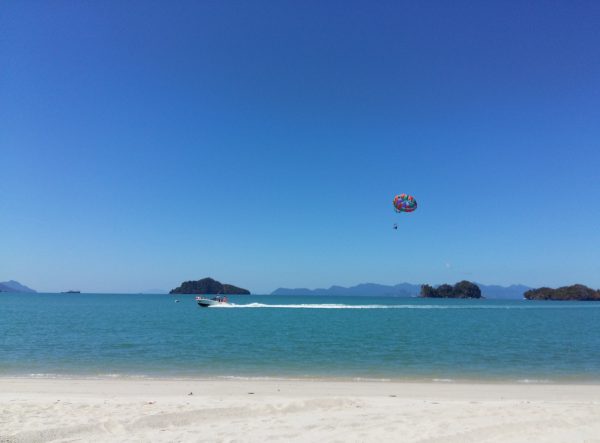 Naam's parasailing operation is ultra safe and delivers views from one of the most gorgeous locations in Langkawi. They also have room for two so you won't get lonely during your flight. The launch and landing is from the back deck of the boat and the equipment used is high end and solid. It is by far the safest parasailing offered in Langkawi and this breathtaking excursion is one not soon forgotten.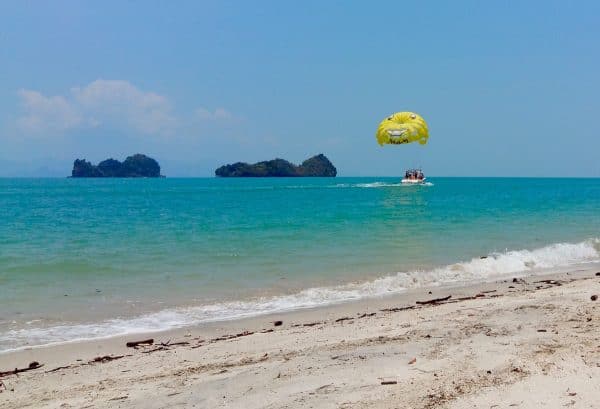 My Two Cents:
I myself have been very tempted to take the beach parasailing, because the low cost is especially attractive. But it isn't the equipment and businesses I question as much as my own fragile body parts. I'd personally rather be safe than sorry.
Langkawi Cycling Tours
Don't pooh pooh this 3-4 hour adventure option because this isn't just a ride around the city block. Nor is it a death defying, seat-of-your-pants sort of thing either. The Nature Cycling Trip is an adventure of a different variety. Picturesque stretches of seaside to inland kampungs filled with a cultural island smorgasbord. Experience daily kampung (village) life without being an intruder and have the opportunity to ask your guide practically anything during the ride.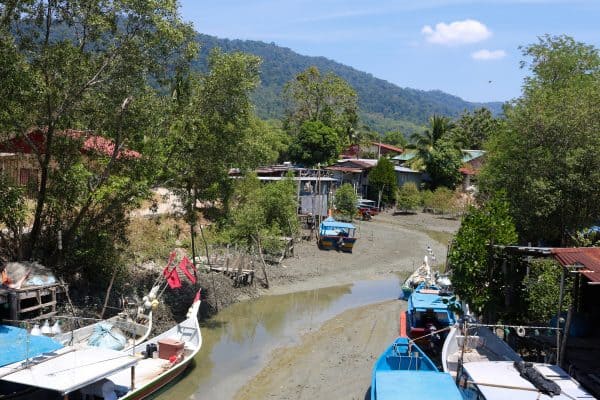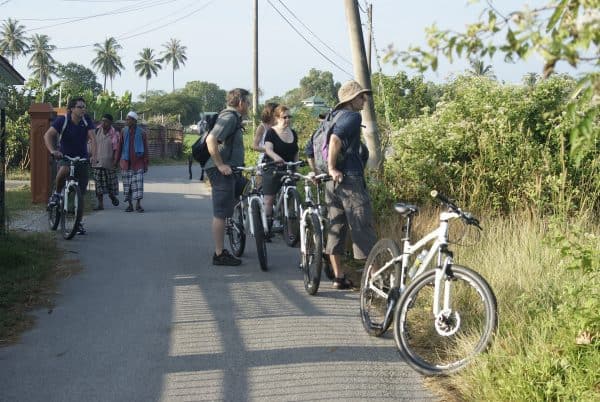 There are plenty of stops along the way to take photos, grab a snack, admire nature and see another side of Langkawi that may well make you want to move there! At the very least you will gain an appreciation of the unique island culture that has captivated many (including myself).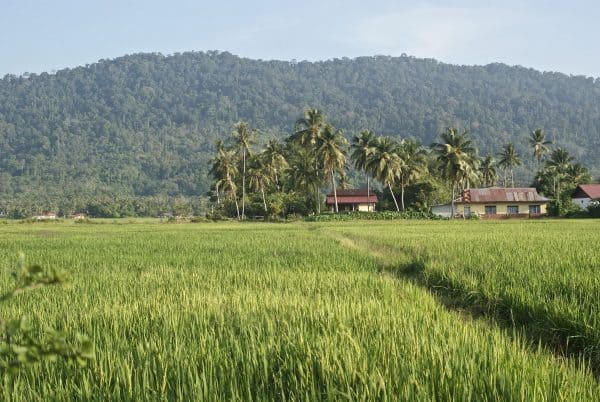 My Two Cents:
This is not an exhausting bike ride and for those who have not ridden a bike in years, trust me you'll be fine!
As you can see, you certainly don't need to risk life or limb to be an adventurous traveler,
especially when you visit Langkawi, Malaysia!
My Last Two Cents:
Don't under estimate your abilities. Also by booking direct with the source you will get encouragement as well as reassurance, rather than possibly get answers from booking agents who have never actually had the experiences themselves. I've personally done all of these activities and I wouldn't steer you wrong. Go for it!
Need Travel Insurance?
You can buy and claim online, even after you've left home. Travel insurance from WorldNomads.com is available to people from 140 countries. It's designed for adventurous travellers with cover for overseas medical, evacuation, baggage and a range of adventure sports and activities.
When was your last adventure and where? I'd love to hear about it!