Despite golf becoming more mainstream it is still a sport which maintains an elite air about it. And it isn't exactly an inexpensive hobby, at least not for those of us new to the sport. But for golf enthusiasts (or potential golf enthusiasts) traveling through Malaysia, high end, world class, and challenging golf courses are not only available they are also quite affordable. However, of the 200-plus Malaysia golf courses available in East and West Malaysia none compare to the tropical beauty of The Els Club Teluk Datai on Langkawi Island in Peninsular Malaysia. This challenging golf course, designed by Ernie Els, is also ranked number 2 in Malaysia! And what a great place to take beginning or more advanced golf lessons in Langkawi, right? Some serious bragging rights too!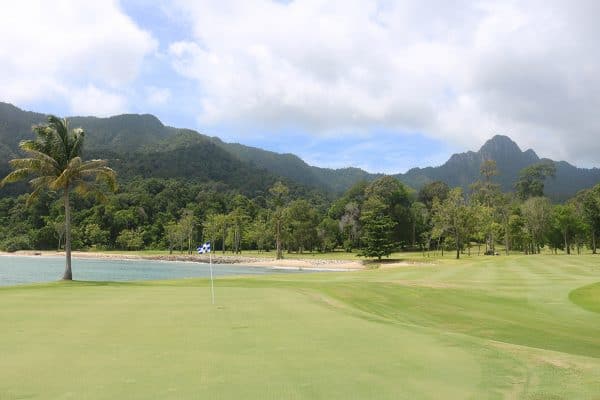 The best of Malaysia golf courses:
The Els Club Teluk Datai offers introductory golf lessons and special rates which make learning to golf or practicing your nearly perfect swing a unique activity option when visiting the Langkawi archipelago. And what better time than during vacation travels?  The Els Club's affordable luxury also comes with a drop dead gorgeous 18-hole seaside course with endless surrounding natural beauty aptly named 'The Rainforest' course. And trust me, even if your game is off, the tranquil whisper of the rainforest and gentle sea breezes will definitely soften the blow.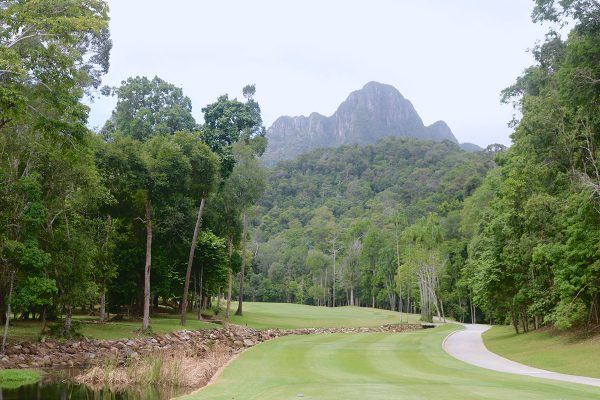 Two of The Els Club's ongoing golf specials are their Introductory Golf Package which includes a 30-minute introductory golf lesson, 3-hole playing lesson, a meal and glove for just RM399 per person. And for those who just want to take to the greens, a Twilight Special is offered with a round of late afternoon golf (after 15:00) and a light meal for just RM350. You won't find deals like this at many other Malaysia golf courses!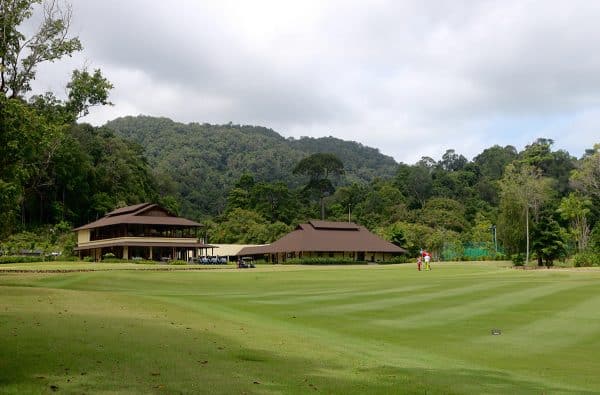 My own historic dabbling with golf lessons spans several decades in the United States, but tackling golf lessons in Langkawi would be my first overseas golf experience. In hearing about The Els Club's introductory lessons I signed right up. The fact that I didn't need to commit to any long term club membership and that I could be more spontaneous with scheduling was certainly an enticement. But the reasonable price also meant that I could look forward to future lessons as time and money allowed.
Getting into the swing of things:
Ironically my first overseas golf instructor was also an American. The Els Club's golf pro, Steve Outlaw, fortunately did what my previous instructors did not. His relaxed friendly manner is free from any pomp and circumstance. And he is quite likeable. Like most new challenges, having a positive introductory experience can be a big factor in the learning and enjoyment process. Steve was able to quickly spot my already ingrained golfing fails and with a few corrections of my body alignment and hand placement beginner success was mine! The satisfaction of whacking a tiny ball and having it actually go in the intended direction? I was glowing with pride! (see below)
But wait! There's more!
In addition to golf instruction for all levels, the open-air Club House offers ample casual seating overlooking the expansive tree lined fairways and a comfortable respite from the links. The in-house Pro Shop is well-stocked with choice quality items from sun glasses to top end golf clubs and fashions.
The Hornbill Café & Lounge is perfect for fueling up pre or post game, serving traditional Malay as well as western cuisine, from sunrise to sundown. The Hornbill's kitchen serves a variety of dishes from traditional Nasi Goreng or Eggs Benedict to the Hornbill's Twister Wrap with roasted chicken or their Els Club Homemade Burger or Grilled Australian Sirloin Steak with mashed potato. Feel like celebrating? A full bar is available to accommodate those toasting their latest golf accomplishments.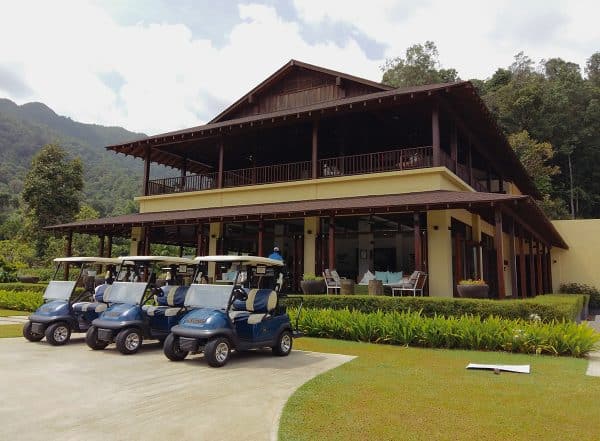 Getting there:
The Els Club, located on Teluk Datai (Datai Bay), is about a 45-minute drive from the Langkawi International Airport. Langkawi is easily accessible by air from Kuala Lumpur, Penang and Singapore via major carriers such as Malaysia Airlines, Air Asia, Firefly, Malindo Air, Silk Air and Tigerair. Langkawi is also accessible by multiple ferry services from Kuala Perlis, Kuala Kedah and Georgetown. Ferry services from Thailand are also available from Satun and (seasonally) Koh Lipe.

The Els Club Teluk Datai
The Rainforest Course
T: +60 (4) 959 2700
E: [email protected]
www.elsclubmalaysia.com