As night gives way to the slivers of daybreak, the quiet of the morning village air is broken first by the calls to prayer followed by the crescendo of song birds' choruses. The familiar daily soundtrack repeats itself as the scent of the sea drifts through. And thus, begins another day in a seaside kampung. Ambience and location can be big factors when choosing Langkawi homestays or Langkawi kampung stays. And for me, the mix of Malaysian local culture and the waterfront are a perfect kampung stay combination.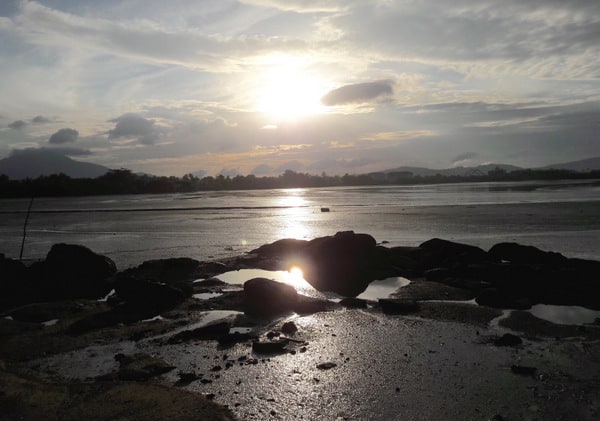 Cultural experiences are one of the main reasons that many people travel. Myself included. Visiting other countries with the promise of experiencing other lifestyles is what prompted me to pack my bags in the first place. Over the years, popular homestay options have popped up throughout Malaysia, enticing foreigners to stay with local families in small communities and villages so they could experience Malaysian culture first hand.
In fact, the Malaysian government even offered financial incentives  to homestay participants, with their certified homestay stamp of approval. Before long the word homestay began replacing the words 'guest house' and even 'hotel', making it a bit confusing for culture seeking travelers to locate a true homestay. Eating a plate of Nasi Goreng at an attached café is not quite the same as watching the lady of the house make it from scratch in her kitchen.
Cultural experiences abound in Malaysia
Over the past few years of visiting Langkawi as well as other parts of Malaysia, I have found some of my more rewarding travel experiences have been directly related to the locals whom I have encountered. From random acts of kindness to introductions to traditional foods and local culture to the seemingly endless number of group selfies (wefies) I've collected.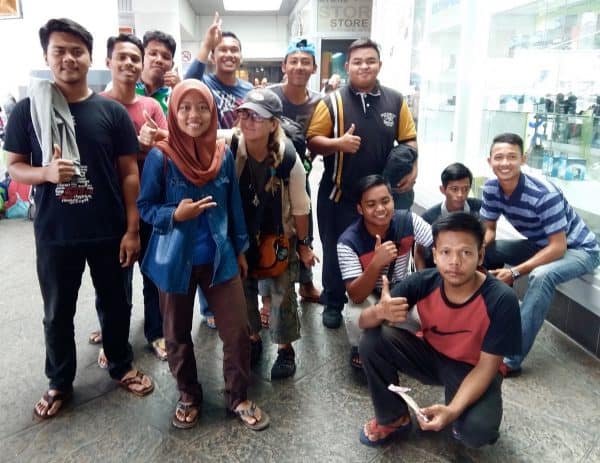 But what options are there for the introverted culture seeker? I myself am not too keen on staying in a stranger's house. Nothing personal, but I just need my own space. Sooo..enter the kampung (village) stay. The opportunity to stay in a traditional Malay village without feeling like an intruder can be an excellent alternative for culture seekers. And a breath of fresh air from the usual run-of-the-mill tourist path.
Langkawi homestays and kampung stays
With the popularity of homestays, small hotels and guest houses have become more abundant in villages across Malaysia today. Initially, perhaps, to offer affordable accommodations for the vast number of Malaysians who are inclined to travel as often as possible. But now, more westerners are also being welcomed into the village folds.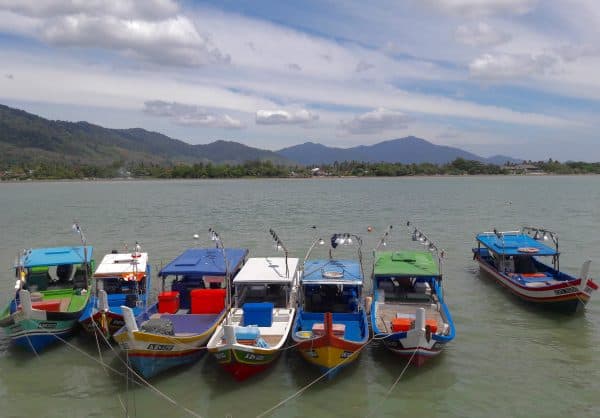 There are plenty of kampungs in Langkawi, with many accommodation offerings. However, the fishing village of Kuala Teriang and nearby Kampung Padang Matsirat top my list as options for unique Langkawi homestays and kampung stays as well as cultural experiences. Especially for new visitors to Malaysia. You will get you a taste of island culture off the beaten tourist path, without giving up the creature comforts of convenience.
Sound like your cup of tea?
Here's a quick guide to Kampung Kuala Teriang with a few recommendations for places to stay, places to eat and a few other juicy tidbits to get you started on your unique Langkawi homestay or kampung stay adventure. Updated Feb 2021.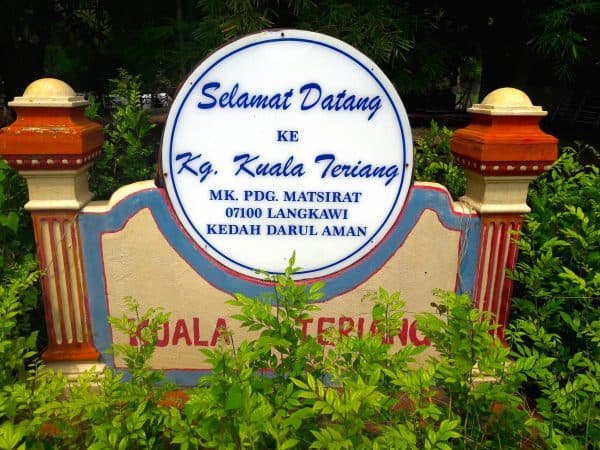 Best places to stay in Kampung Kuala Teriang
Kuala Teriang and nearby Padang Matsirat  have several accommodation offerings, and they generally cover all budgets as well as styles. Along the waterfronts and nearby main roads, there are a few standouts which have all settled into the business of clean, comfortable rooms with a warm welcome and plenty of kampung ambiance. Personally checked out and recommended by yours truly, these lovely options hit the mark when it comes to kampung living.
***I personally don't recommend any short-term (2-3 days), single-dwelling (AirBnB or similar booking arraignment) houses in the smaller Kuala Teriang area, unless the owner (or renter) of the property is also living on the property. In some cases, the person running an 'AirBnB' from a private home has not necessarily gotten the blessings of the nearest neighbor and you could find yourself in the middle of a 'neighbor dispute' over privacy and safety issues.  If you have any questions about a particular property or accommodation, please feel free to contact me. Other than that, here are a few Kuala Teriang accommodation options I highly recommend. *But if you are just looking for a cheap place to stay so you and your buddies can pound down some duty-free bevvies? Kuala Teriang ain't the place lah.

IDAMAN GUEST HOUSE
Under RM250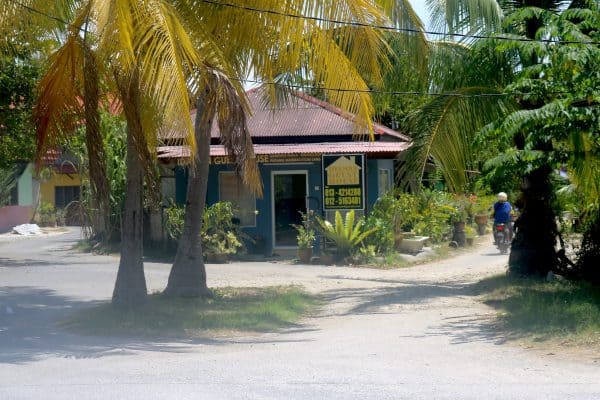 The perky looking Idaman Guest House is a splash of home-sweet-home smack dab in the 'center' of the fishing village. And a stone's throw from the colorful array of traditional Malay fishing boats docked nearby. The Idaman's air-conditioned rooms also include a mini-fridge, writing desk, television and an ensuite bath. Each of the homey rooms faces the waterfront and comes with an individual veranda. The perfect perch for watching village life. If you find them fully booked, ask them for a recommendation. Please call them for room rates & availability; 013-421 4288 or 012-516 3481
SEA SIDE GUEST HOUSE
Under RM200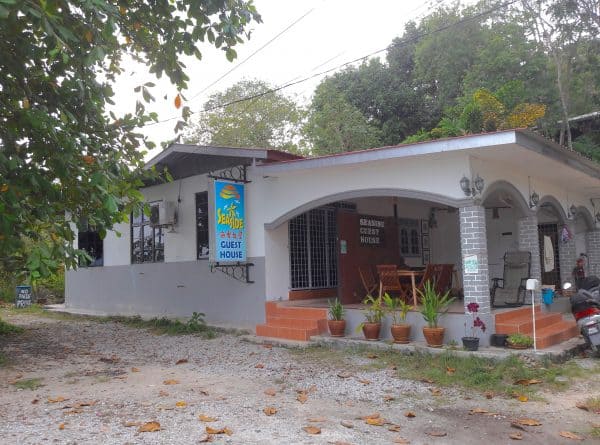 This contemporary style, family home turned guest house takes a more modern twist on the concept of traditional homestays, by being listed in Airbnb. Sea Side Guest House offers 6 rooms with 2 of the rooms allotted for 3 and 4 people. Not 'dorm' rooms, but what is often referred to in Malaysia as 'family' rooms. Great options for families as well as small groups of friends. The 'host' family of this accommodation live onsite. They offer air-conditioned rooms, ensuite hot showers and a mini fridge, Sea Side's location is at the far edge of the village with a view to die for. The warm vibe and picturesque location gives Sea Side a unique edge on the local competition as they have the most jaw dropping sunrise location in the village. Can check their availability HERE
TRIANG GUEST HOUSE
Under Rm100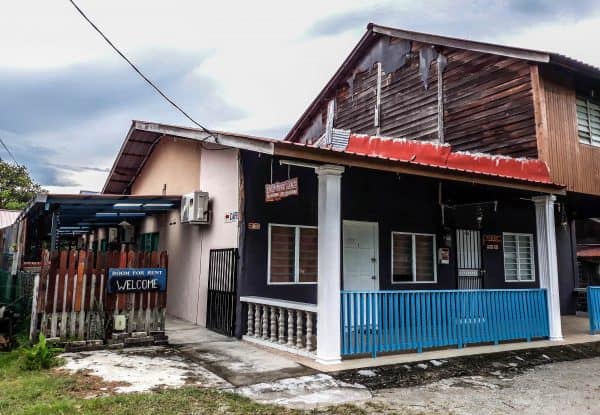 You don't have to be a 'backpacker' to appreciate this money saving gem. Triang Guest House has a homey seaside offering of eleven basic, standard rooms inclusive of air-con/fans, ensuite bathrooms, wifi and a friendly open-air common area. Although they have changed names (and management) a few times since the original kampung house cum guest house opening, this property has raised the bar on the little grass shack ideal. With a front row seat of the nearby mangrove laden shoreline, the sea breeze will be a constant reminder that you are on holiday. And an affordable one at that. You can call them direct at o4-9553788, 012-3053535 or check availability HERE
MERMAID & UNICORN GUESTHOUSE
Under RM100 (closed Jan 2021)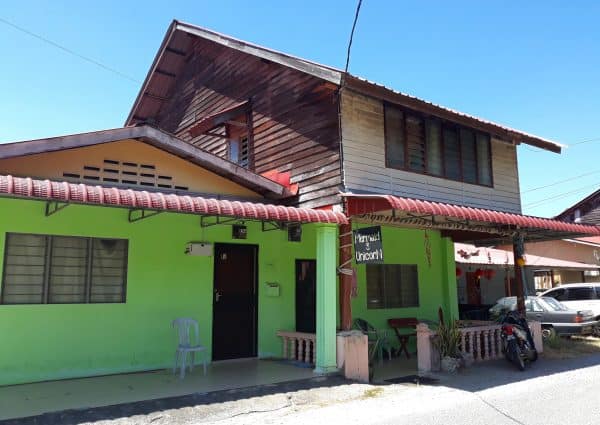 Another Kuala Teriang standout is the Mermaid & Unicorn Guesthouse. Like many of the traditional style houses along the waterfront area, Mermaid & Unicorn was once upon a time a family home damaged by tidal surges during the 2004 Boxing Day Tsunami. Post tsunami, many of these traditional-style, older homes were repaired with brick, leaving the undamaged upper wooden floors intact. The Mermaid & Unicorn offers 7 simple clean rooms, both private and dorm, with a common area balcony overlooking the sea. Breakfast is included and top-notch host Kiruba will welcome you like family. Prices range from RM25 to RM80. You can contact them via their Facebook Page HERE
SHAKA SEA GYPSY
Under RM100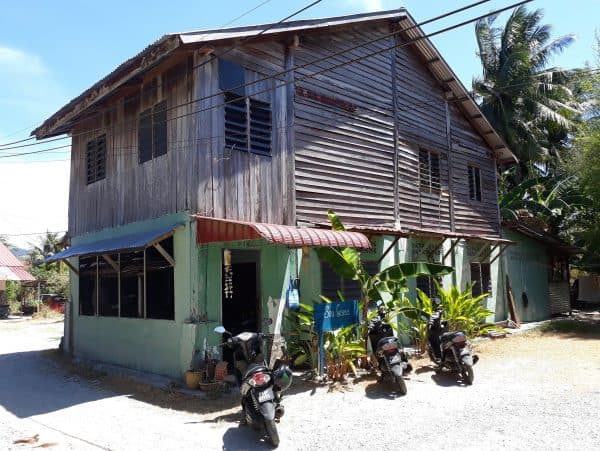 Possibly one of the oldest houses in the kampung, Shaka Sea Gypsy is a charming home-away-from-home, backpacker style enclave. Simple, clean rooms, shared kitchen facilities and some super nice folks. And refreshingly absent of the hippy-dippy vibe one might expect, despite the eclectic (and very cute) artsy décor. They cater to a variety of travelers, can assist with transportation and local tour guide needs, and are well-versed in kampung living. Room rates are RM40 to RM60. You can contact host Han directly at 011-1448 2099 or check availability HERE
ALIA RESIDENCE BUSINESS RESORT
Starting at Under RM200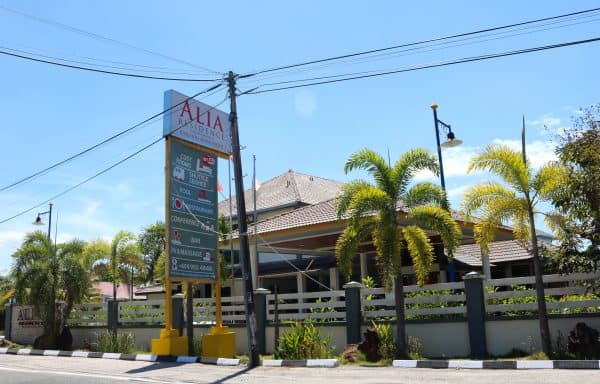 If a good old fashion seaside resort is more appealing to you, there is also that option for culture seekers. Walking distance to the kampung's official entrance, and 'technically' referred to as the same area, is the Alia Residence Business Resort. Just 10-minutes from the Langkawi International Airport, this modern facility offers spacious rooms equipped with plenty of amenities; flat-screen TV, electric tea kettle, desk and free Wi-Fi. They also have an onsite spa, restaurant and pool. Rooms range from Standard Garden View to King Sea Views. Can check room rates and availability HERE
Best places to eat in Kampung Kuala Teriang
Another perk to the Kuala Teriang Kampung Stay is their abundance of restaurant and café options. From Traditional Malay to western fare like mom used to make, you will find it in this eclectic village. The following recommendations offer good food, kampung ambience and friendly service. You will also find them keeping regular hours of operation in lieu of an 'open when we feel like it' schedule. So even if you aren't staying in the village, you can count on these folks to be open when they say they will be open.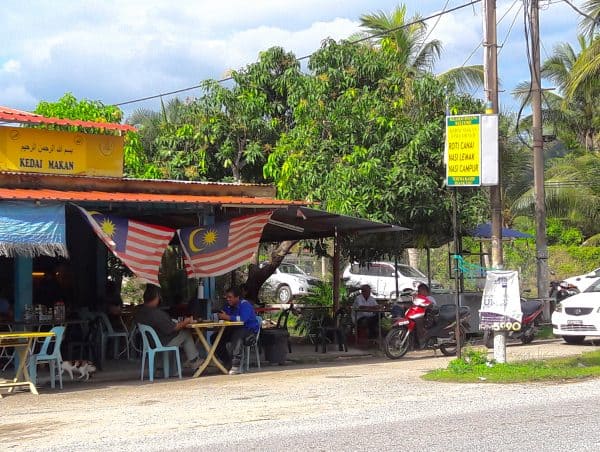 You can't miss Kuala Teriang Roti as they are located at the T-Junction at the entrance to the kampung. They specialize in delicious Roti Canai and an array of Malay dishes. Open daily from sunrise to sunset (closed on Fridays). *Under new management 2022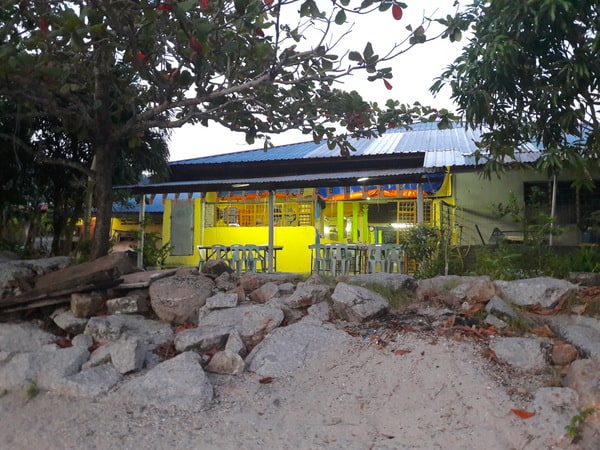 The family owned and operated Restoran Haji Jit is located seaside directly across the street from the Kuala Teriang Polis Station. Serving traditional Malay café cuisine with a strong Thai influence Haji Jit has been serving the community for more than a decade. Their Tom Yum is excellent and can be ordered with plenty of fresh chicken or seafood. Their mixed vegetables (Sayur Campur) are suitable for vegetarians and one of my favorites. Haji Jit is the only Malay restaurant in Kuala Teriang with a seaside sunset view. They keep their beachfront clean and picture perfect, which makes for an excellent Instagram shot. Open daily from 7am until 10pm (open half days on Fridays).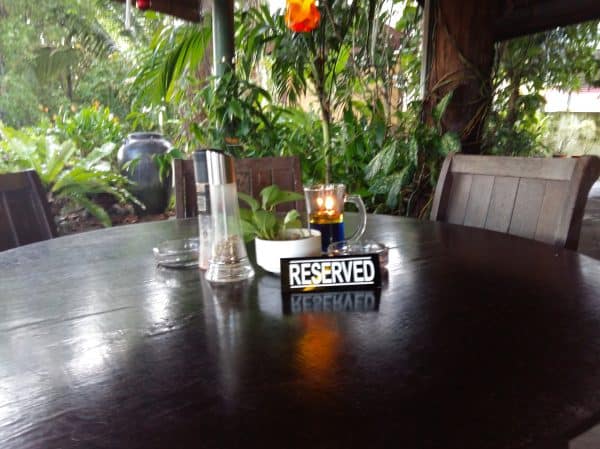 Looking for western food and a cold beer? Just to the left Kuala Teriang's large waterfront community center is Mangoes Bar & Grill. Tucked along the adjacent waterfront mangroves, Mangoes serves up plenty of very traditional western food from steaks and mash potatoes to hamburgers and French fries. And desserts? Plenty, and all homemade. One of the more unique offerings from Mangoes is their Traditional Sunday Brunch served every Sunday from 11am until closing. They make fantastic Eggs Benedict with homemade Hollandaise sauce. The restaurant itself is an addition to a family home, so if you have difficulty finding them just give them a call. Open Wednesday-Saturday 5pm-10pm and Sundays 11am-10pm.
* Post-pandemic reopening soon 2023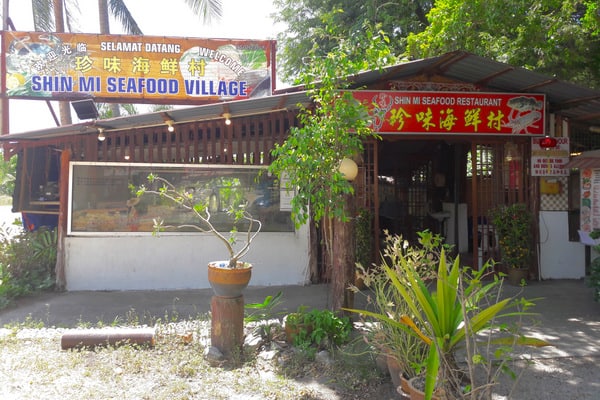 One of the better Chinese seafood restaurants in Langkawi (in my humble opinion), Shin Mi Seafood Village offers a daily selection of fresh seafood prepared to your specification. They also offer Chinese and Thai vegetarian, chicken, beef and duck dishes. Located right on the sleepy boat harbor, their cheery décor and open-air dining can be very inviting on a balmy island evening. Open daily 2pm until 11:30pm. *Relocated to Kuah 2022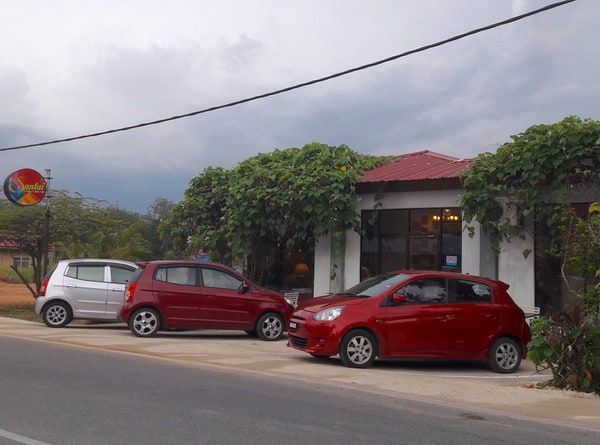 Santai Café is located roadside on the northwest end of the village (next to Shin Mi).  The café's relaxed elegance, excellent customer service and affordable menu is a refreshing change from the local norm. Malaysian and Western cuisine is their specialty and their generous entree and appetizer portions are especially attractive for family style diners. Open Wednesday-Monday 5:30pm-12:00am (Closed on Tuesdays).
Location
Located waterfront as well as spreading out farther inland, the village is just 10-minutes from the Langkawi International Airport. Kampungs Kuala Teriang and Padang Matsirat are halfway between popular Pantai Cenang (Cenang Beach) and Telaga Harbour, making the kampungs about 15-minutes from the lively Cenang tourist beach as well as the famous Panorama Cable Car and 7 Wells Waterfall, in the opposite direction.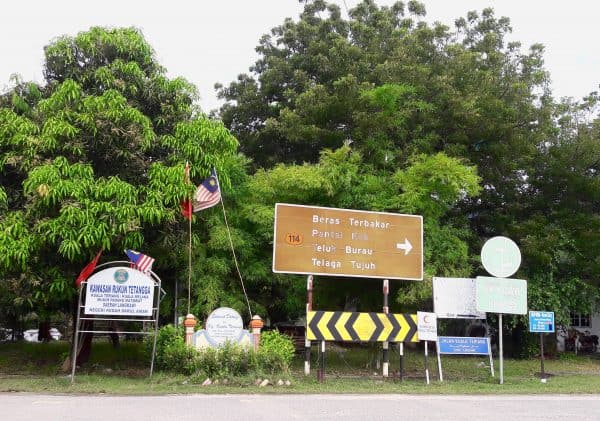 As there is no public transportation in Langkawi, you will be at the mercy of taxi services unless you rent your own car or motorbike. But from the Langkawi International Airport the taxi fare is only about 18-ringgit and from the main Ferry Terminal in Kuah, the 30 to 45-minute ride will cost about 30-ringgit. To be honest, the taxis will give you a fair price, and you might be surprised at how little you would actually spend compared to hiring your own set of wheels. And you're in luck when you stay in Kuala Teriang, because plenty of taxis pass the area day and night and there is a reputable car, motorbike and bicycle rental service just at the 'entrance' to the village.
Location conveniences
Using the initial T-Junction entry into Kampung Kuala Teriang as a reference point,  you name it and Kampung Kuala Teriang has it. Next to Kuala Teriang Roti is Brite Laundry, which no longer offers laundry service, however, they do offer affordable car, motorbike and bicycle rentals. There is also a small sundry shop next door. And if you need a larger sundry shop, just ahead there is a 3-way traffic light, on the main road which heads north to Telaga Harbour.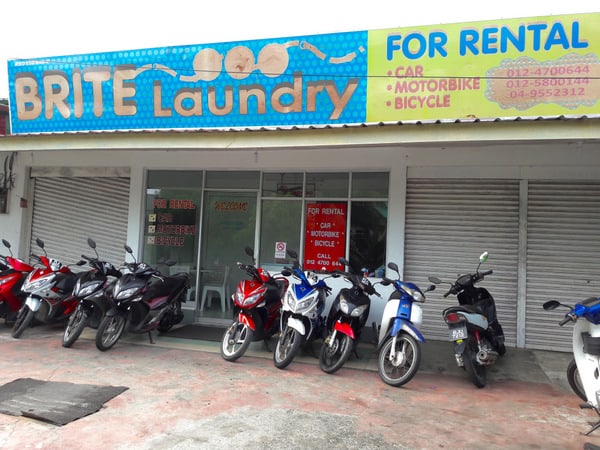 Two mobile top off shops are on each corner as well as a few local souvenir shops.  Just past there, on the main road, is Delight Market, which has just about anything you could need. From cold beverages and ice cream to canned goods and hardware. Further down the road and across from the mosque, LGK Ashi Spa & Massage , a Korean operated spa offers excellent massage and reflexology.
Things to do
In addition to enjoying the day to day comings and goings of kampung life, simply exploring the general area on foot or bicycle can be very rewarding. In fact, Dev's Adventure Tours Bicycle Tours start in Kampung Kuala Teriang and they are an excellent option for a kampung area guided tour. However, just up the road in the Telaga Harbour/Pantai Kok area is Oriental Village and Sky Trek Adventure Park Zipline for some easy to reach tourist fun. The Sunday Night Market in nearby Padang Matsirat is also a not-to-be-missed. You can check The Island Drum's Weekly Events for other night market locations too.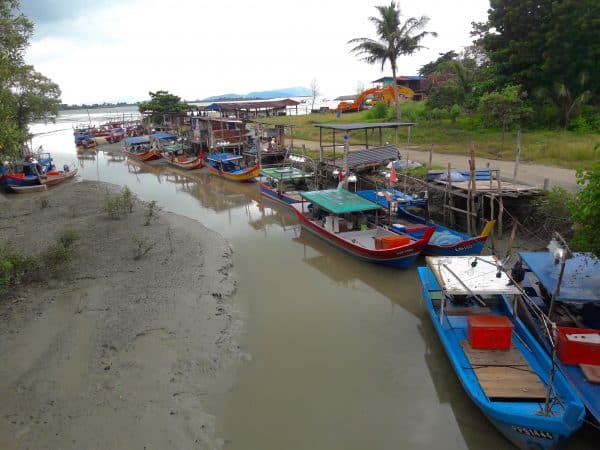 Staying in a seaside kampung, can be a harmonious experience across the board, but do always remember that not all community members are as keen to embrace a good selfie moment as others may be. There are still a few old-school rules of mindful engagement to follow, but the experience of this kampung stay will leave you with lasting memories.
Helpful general kampung tips:
Language barriers
Learning a few Malay phrases and basic words is quite easy and locals will also help you with your enunciation. If you are one of those special request travelers? Do your homework and keep easy access to the Malay word(s) for your special request. Are you a vegetarian? Are you allergic to peanuts? Things like that. Keep a small notebook and pen with you in case you need to draw a picture. Trust me it can be very helpful at times. And remember a smile is universal.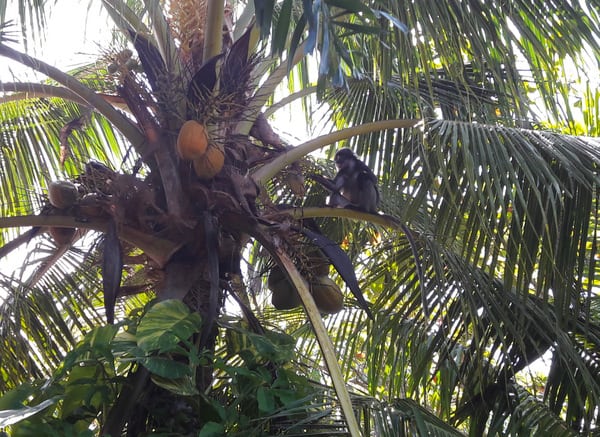 Manner of dress
There are plenty of Malaysians who wear revealing clothes, i.e. short shorts, mini dresses and tank tops. But primarily out of respect of the village elders, consider dressing more modestly when outside of your accommodation makes you more approachable for some villagers. The whole idea of a kampung stay is to blend in, not stand out like a sore thumb, right? Who wants to have people gawking at them when they could be making new friends instead? Bottom line, being respectful of the general local norm will garnish you a more positive experience.
Children
The kids can be gosh darn cute, but a word to the wise, the minute a village child is rude towards you? Show your displeasure with an unhappy face and do not attempt to go tit for tat or you could easily end up with a small herd of children following you. Small groups of polite children are awesome, but if there happens to be that one cheeky smart mouth kid in the group? An encounter can lose its charm quickly.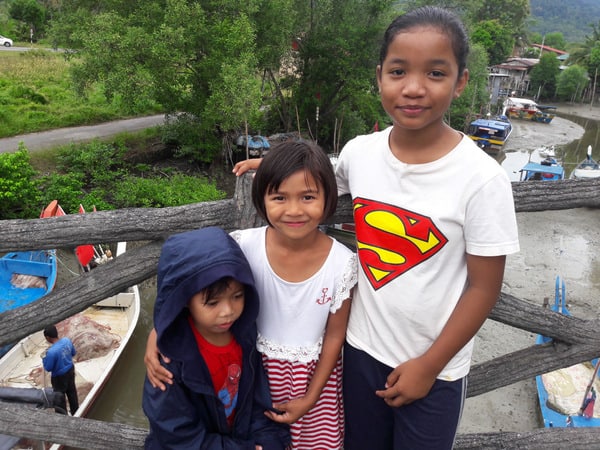 And asking for money? Yup, I have been there done that too. Don't do it. If you happen to run into one or two cute peanuts asking for, "Ringgit?" And you simply cannot resist the adorable smiling face, offer to buy them a cold drink instead. Also never touch a child and do not take them or 'give them a lift' anywhere unless you have permission from their parents.
Money matters
For the longer staying visitors, familiarity may bring you a few new friends in need. I have been told that asking virtual strangers for money or 'loans' is NOT Malay culture. Unfortunately, like anywhere, you may encounter someone who will tell you a heartbreaking story that may have you reaching into your pocket for cash. No one goes hungry in a village and jobs are indeed available, so the opportunity to make income is available island-wide.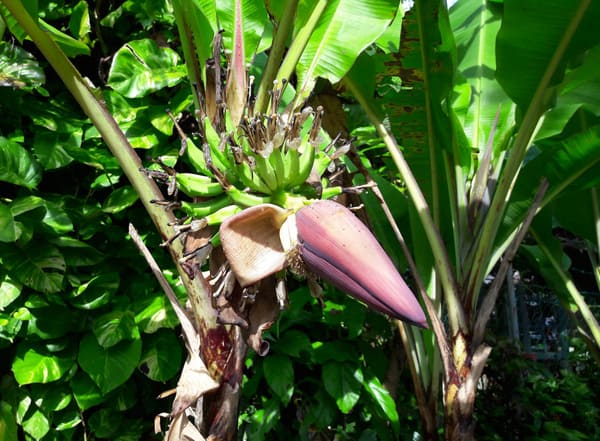 It may be a true story or slightly embellished, but the fact is, Langkawi has a very good Charity Club that does amazing fundraising during the year to indeed help locals who are having a tough time. If you can get your new friend's name and contact information you can directly pass the information to Charity Club Langkawi or if you have any questions, discreetly speak with your accommodation owner.
Alcohol
Depending on where one stays, alcohol can be a sensitive subject and although available, using discretion is recommended. But walking through any kampung swilling beer is just plain rude, so use some common sense and remember Malaysia is not Thailand. Some Muslim hotel owners in Langkawi have compromised on the alcohol topic by allowing guests to have it on site, but asking guests to remove the empties themselves. And of course, being discrete is again preferable.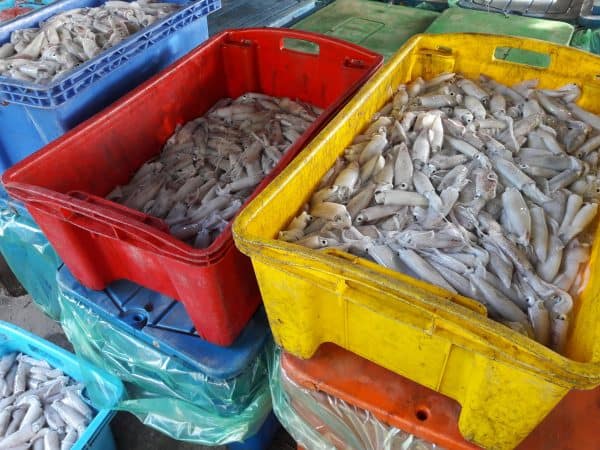 Drugs
Drugs are illegal in Malaysia. Do not use drugs or ingest 'mysterious' beverages or 'home brews' offered you. What you do in your own country is one thing, but what you do overseas is completely different. Drinking special 'ceremonial' drinks in a controlled environment is a cultural experience. Drinking from a plastic baggy of something given you on a dark road is not. It could be a risk that could ruin your holiday.
Strange encounters
Like any community you may occasionally run into a local oddball. Their behavior may be unpredictable or erratic. Try to avoid them if possible or your dismissal of them could invite aggression. Malaysians are NOT aggressive people and any encounter with an aggressive Malaysian is rather rare. Villages are generally harmonious places and just like a hen house, bad eggs are subtly driven out. Banished if you will.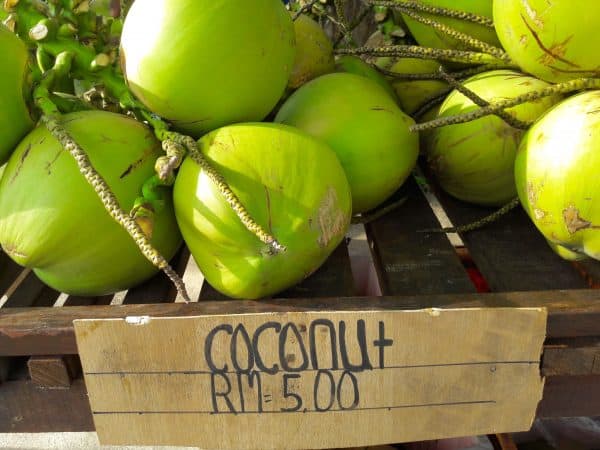 Health and Police Services
Thankfully Langkawi has great services when it comes to safety and health. There is a well-staffed hospital about 20 minutes from the airport and they also have ambulance service. There are also several medical clinics that can fix you up quickly without costing you an arm and a leg (no pun intended). Dental services in Langkawi are excellent as well. And if for whatever reason you need the police, whether a car accident, petty theft or even a lost passport, the Padang Matsirat Police Station is about 5 minutes from the airport. They are top notch when it comes to efficiency and concern regarding tourists. Keep a copy of your passport with you at all times just in case.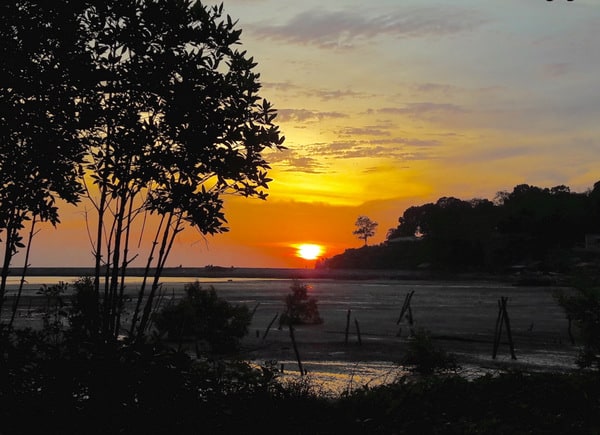 The lines of authority can sometimes become blurred in smaller communities as there is usually a village council as well as an actual village chief in charge of local matters of dispute. What may be criminal to you, may actually be viewed as a 'neighbor dispute' and not police business, so for serious matters do head to Padang Matsirat Police Station or the Kuah Police Station because they have quicker access to various language translators which can be quite helpful in case of an emergency.
Regardless of whether you choose Langkawi homestays or kampung stays,
Langkawi is a great choice for culture seeking travelers!