Where Penang may have dibs on being the 'Pearl of the Orient' there is another nearby island jewel which often goes unnoticed. Located on the eastern coast of Penang Island, Malaysia is the historic island of Pulau Jerejak; a jungle clad, 362 hectares 'hidden gem.' Many people are not even aware of this island's existence or have simply forgotten about it, due to its history of being somewhat inaccessible. But that's all changed in recent months with the opening of the newly refurbished Jerejak Island Resort.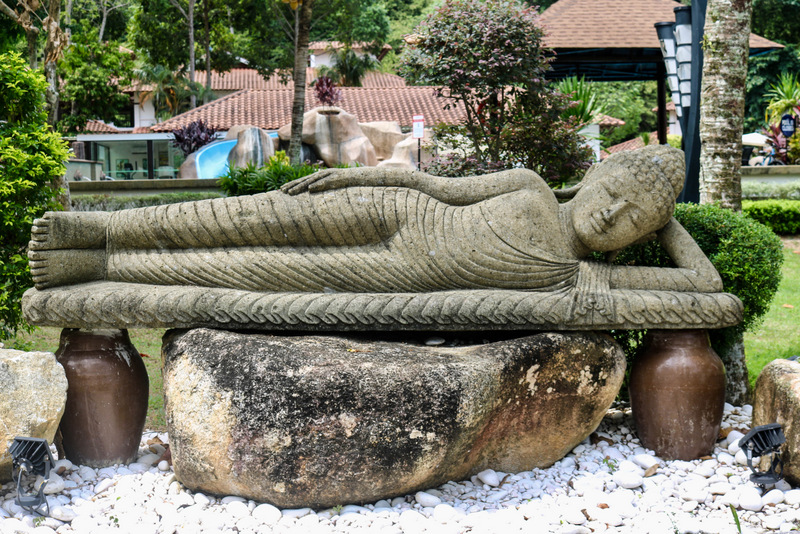 It's the resort's affordable accessibility that has upped the ante on Jerejak Island, because day visitors are now welcome to come enjoy many of the hotel's amenities as well as explore some of the off property historic sites. The previous resort's 'exclusive' rates have been laid to rest too, as Jerejak Island Resort offers a wide range of affordable packages ranging from day visitor passes to 5-day, 4-night super deals. A superb staycation option for locals and international travelers alike.
Am I lucky enough to have checked out this resort personally? You bet! But it wasn't my first time to visit Jerejak Island, so I can also attest to the huge across the board improvements. My previous visit to Jerejak Island was in 2016. And although that short visit was adventurous, it left me scratching my head and certainly wanting to see more. Well, good things sometimes come to those who wait and my recent staycation at Jerejak Island Resort was very good indeed.
Getting to Jerejak Island Resort
Getting to Jerejak Island Resort from Penang Island is now easy and convenient. The Jerejak Island Resort Jetty is located next to Persiaran Bayan Indah in Gelugor, Penang. Daily resort ferry service, to and from Jerejak Island, starts at 6:30am and ends at 12:00am. This ferry service is included (free) for all day and night trip visitors, with various package prices ranging (at the time of this writing) from 15Ringgit to 78Ringgit per person. Advance reservations recommended.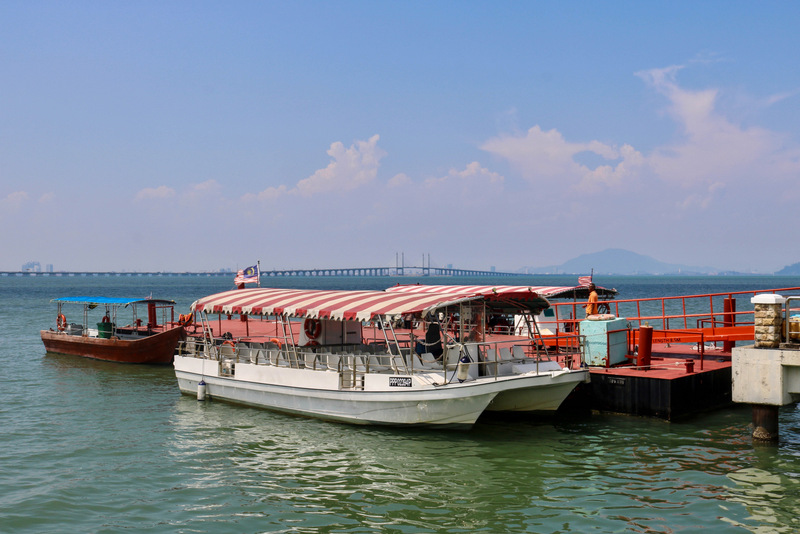 New arrivals to the Jerejak Island Resort will be pleasantly surprised as the resort slowly appears past the forested shorelines. The sprawling resort lawn is a tropical wonderland against the colonial style resort's jungle backdrop. The can't-miss-it, colorful boat dock is sure to bring a smile as well. As are the mysterious Stormtroopers guarding the boat ramp. (I assume these two are in for the long haul as word on the street is that the new owner has a whimsical side). Either way families will be happy to see the splashes of fun décor the resort offers.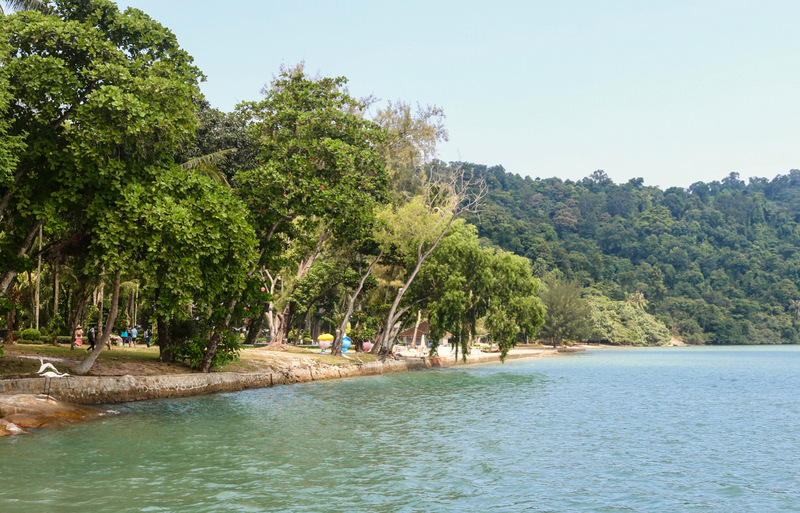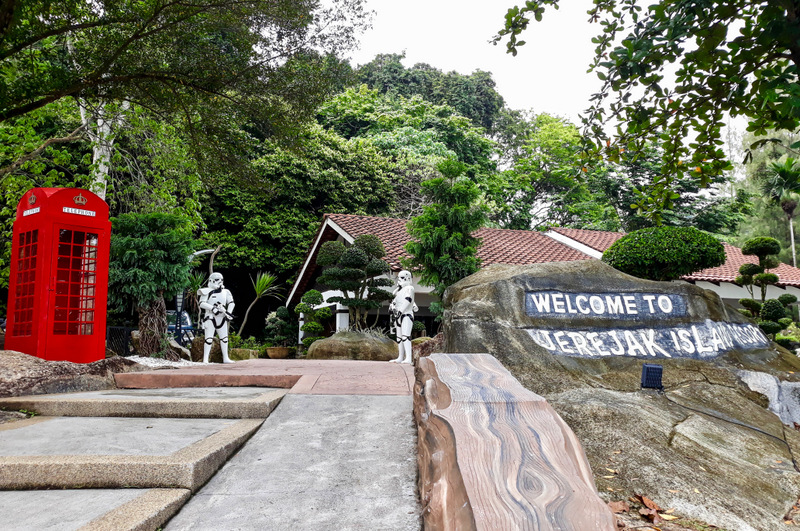 Check in is swift, friendly and professional. A resort buggy greets ferry arrivals and transports visitors (with or without luggage) the short distance to the resort's lobby. Overnighters are then escorted via buggy (if they so desire) to their designated rooms. The open-air lobby is adjacent to the resort's Santapan Restaurant and Survival Store sundry shop, where guests can pick up a few basic essentials, snacks and even swimwear. Be sure to check out the historic and nature information on display, because Jerejak Island is abundant in both and it's an interesting read.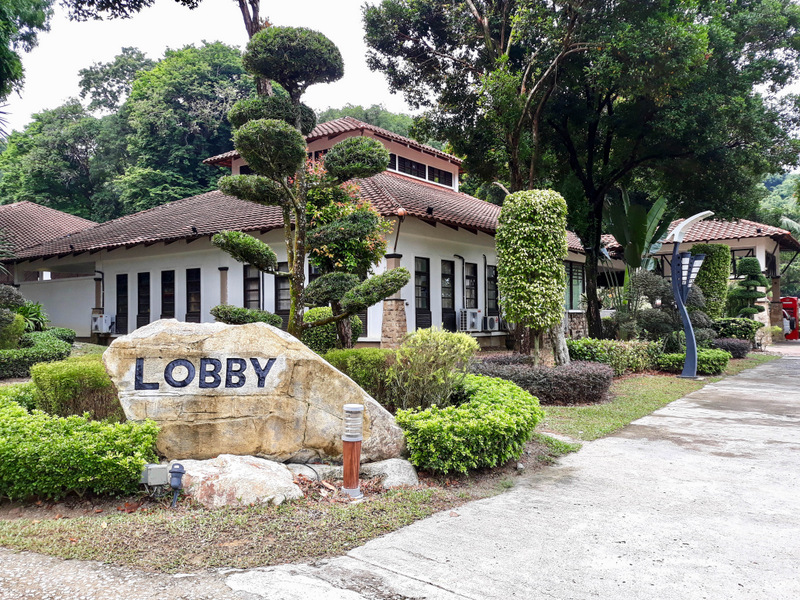 The resort grounds are spacious and impeccably landscaped with colorful tropical plants, above ground ponds and relaxed-looking statuettes. Benches and wooden swings dot the gardens and seafront offering guests a quiet spot to sit back and take it all in. The onshore sea breeze is guaranteed to have you stress-free within minutes. Really. Notable also are the wheelchair friendly ramps and sidewalks throughout the resort property, which are very convenient for the handicapped as well as stroller bound.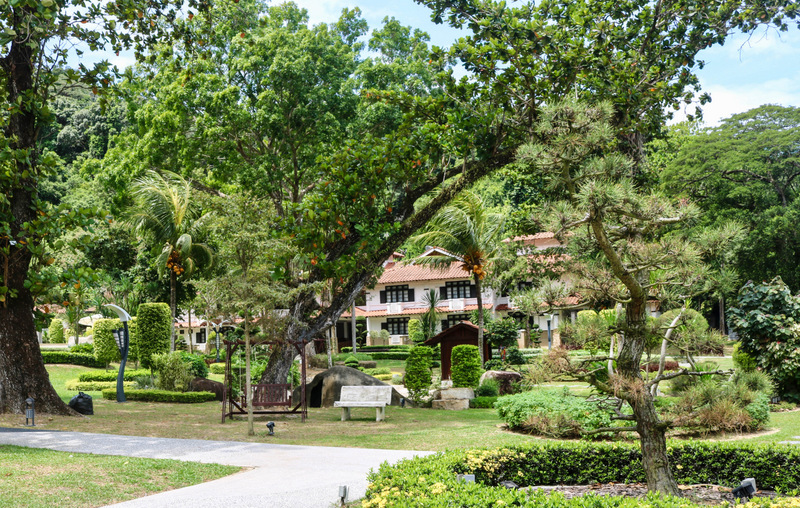 Rooms with Excellent Views
With 72 Deluxe Rooms and Chalets available, Jerejak Island Resort has affordable options for a variety of traveler-styles. Deluxe room styles range from romantic Deluxe Kings to spacious Deluxe Twins to 3-bed Deluxe Family rooms. And hillside? Chalet heaven. Chalets range from King Bed Chalet to Twin Bed Chalet and even Two Bedroom Chalets. All chalets also come with balconies.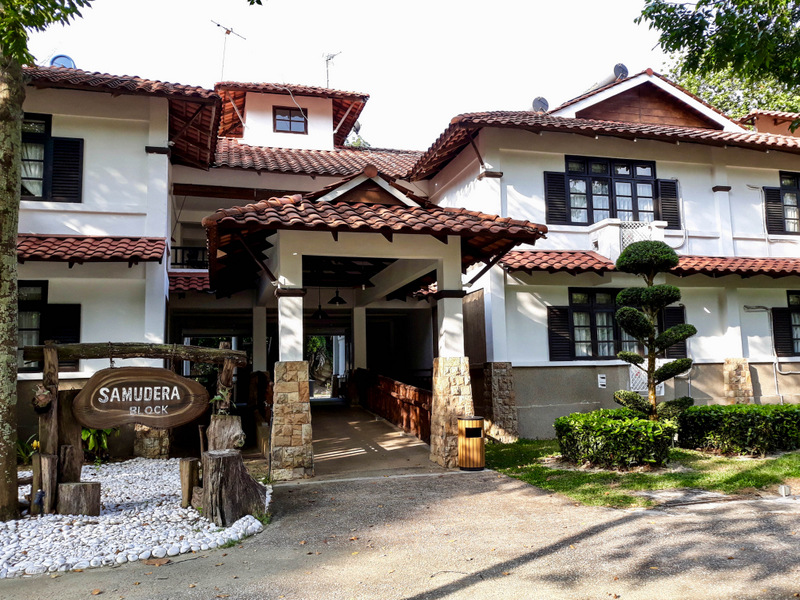 I chose a ground level Deluxe Twin because the floor space was very generous, and the beds were sizable and plush. Jerejak Island Resort doesn't skimp on amenities either. My room had a desk, clothes closet, mini-fridge, electric tea kettle and blessedly fast (and free) internet. It also came with an interesting room dehumidifier which I felt no need to use, but it's always nice to have one in the tropics.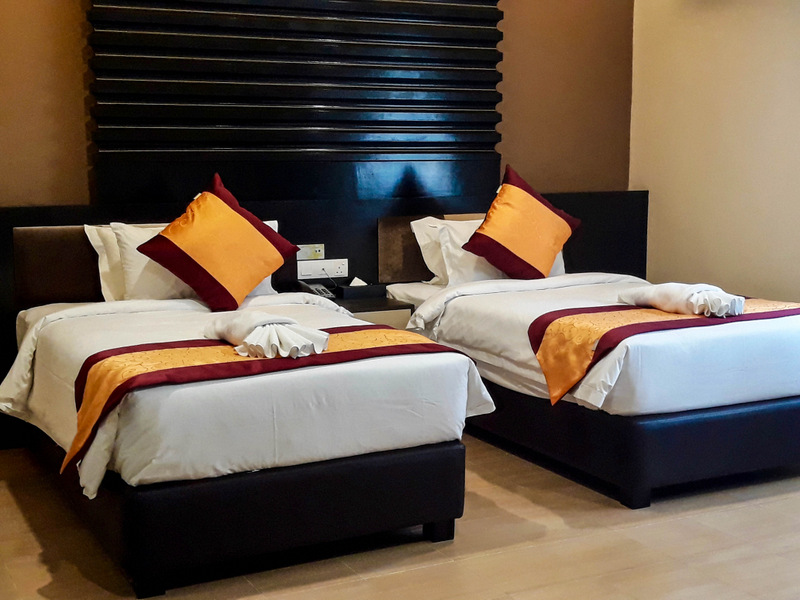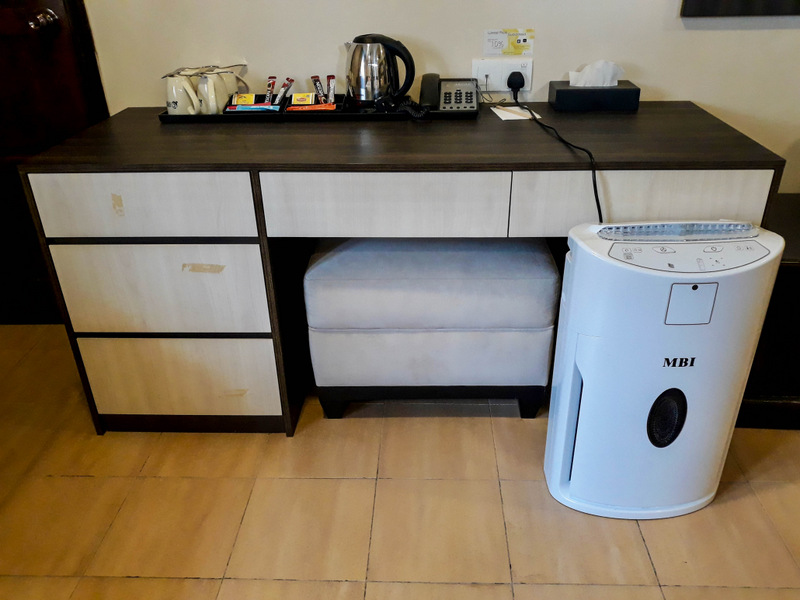 The earth-tone color scheme and high ceilings of the various rooms work well to create an airy, clean modern feel. And for those who love a fabulous shower? The resort spared no expense on re-furbishing their bathrooms with modern lighting and plumbing. But it's the rain showers that are worth writing home about because they're truly blissful.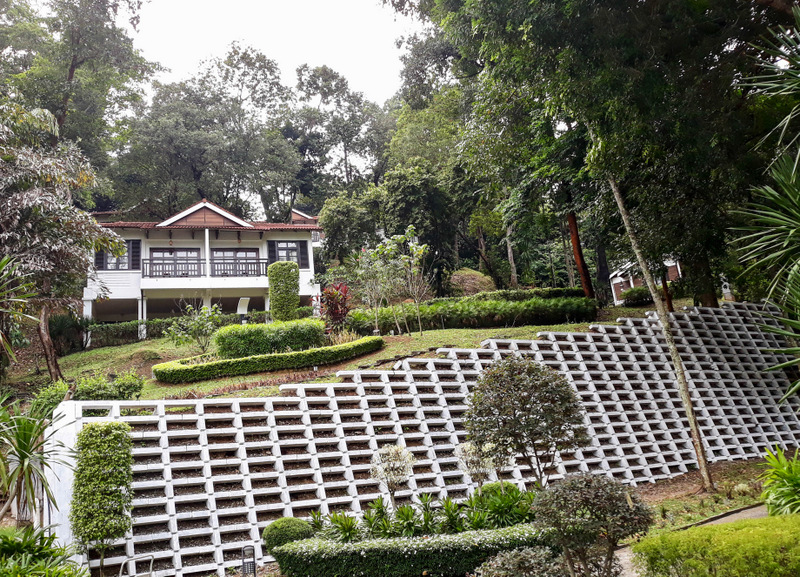 The resort's Santapan Restaurant offers breakfast (7:00am until 10:30am) and all-day dining (from 11:00am until 11:00pm), with some meals being inclusive in various resort packages. Santapan serves Asian-fusion and western menu items in addition to having special pre-arranged Seafood Buffets and Barbeques, which are often promoted beyond the shores of Jerejak Island.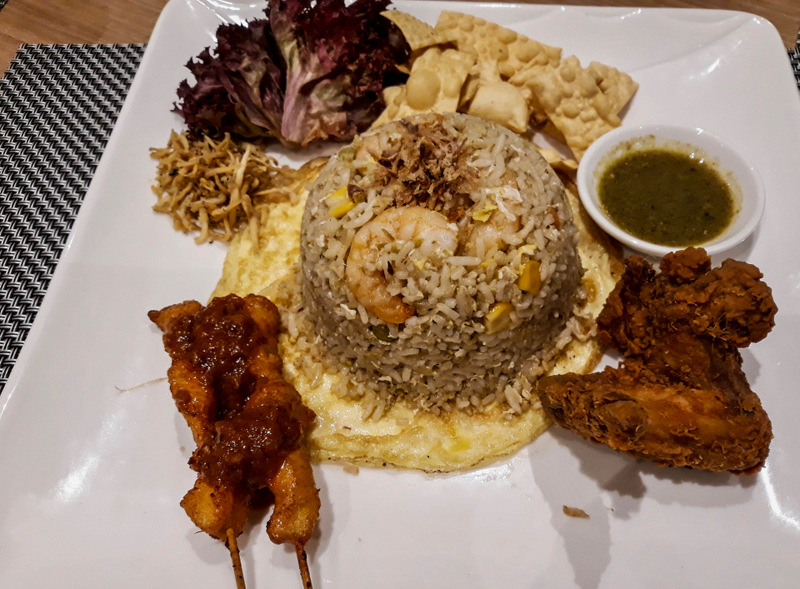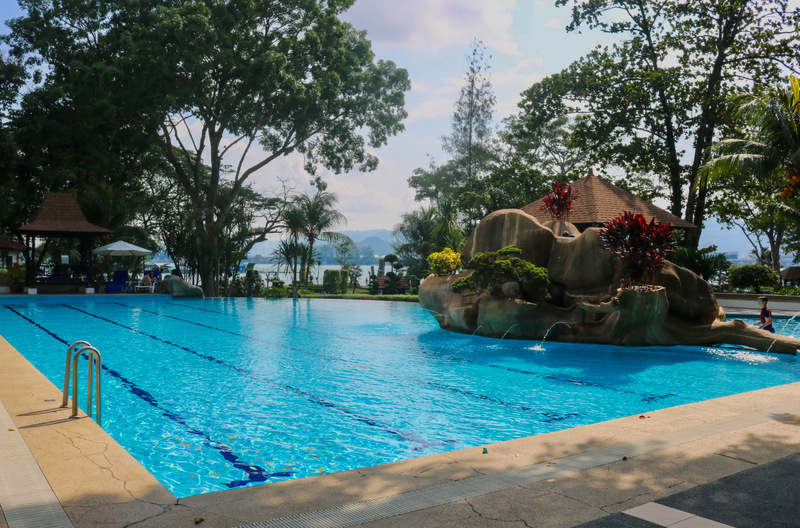 The restaurant does serve alcohol but for those with dietary preferences, no pork is served, and vegetarian dishes are also available. Extra snacks are sold at the Survival Store and beverages of choice can also be selected from the poolside bar. Needless to say, you won't go hungry or thirsty at the Jerejak Island Resort.
Things to Do at Jerejak Island Resort
In addition to a fantastic swimming pool (with plenty of sun loungers, I might add), there is a small, but well-equipped gym poolside. A quiet nearby beach is available for those who prefer sand between their toes. And although the nearby waters might not be a good option for non-swimmers, the sand is as sand-castle worthy as they get.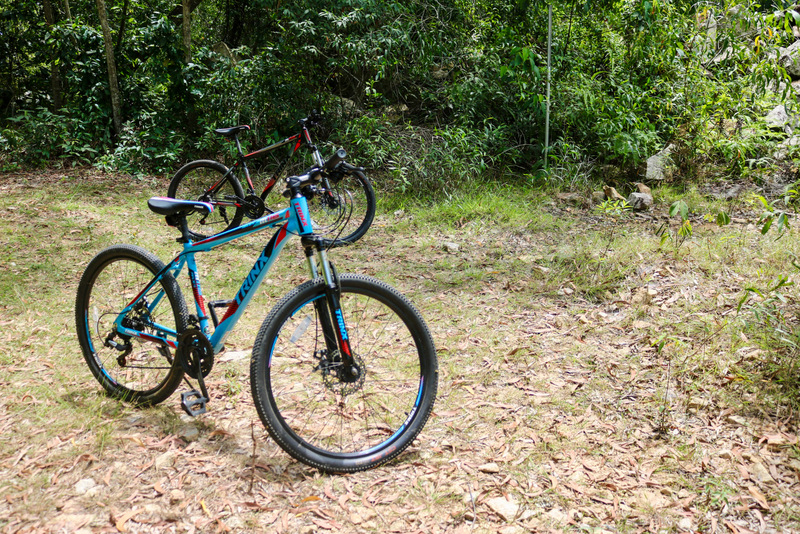 But for the more adventurous, outside of the official resort grounds there is jungle trekking to the old British prison and bicycle riding down the old prison trail. These activities are not encouraged without a resort guide as the historic sites along the way are not a playground and should be visited safely and respectfully. Your guide will also be able to explain much of what you see along the way, and point out various fauna and flora as well.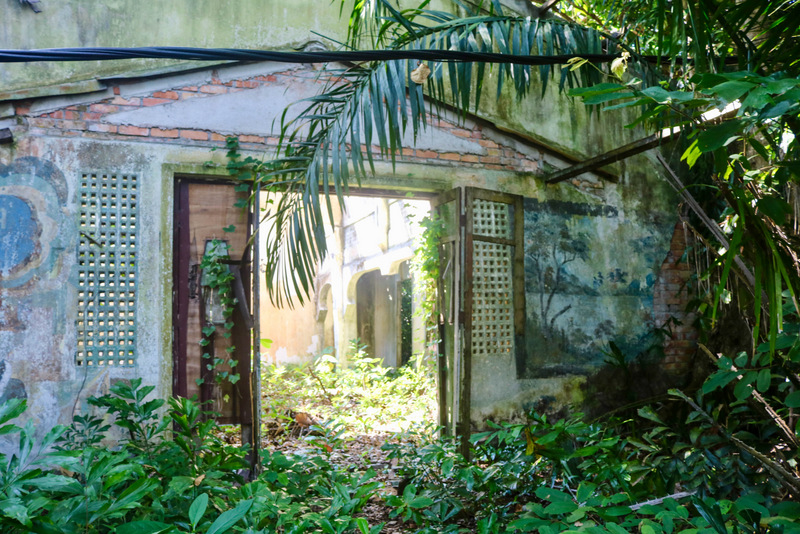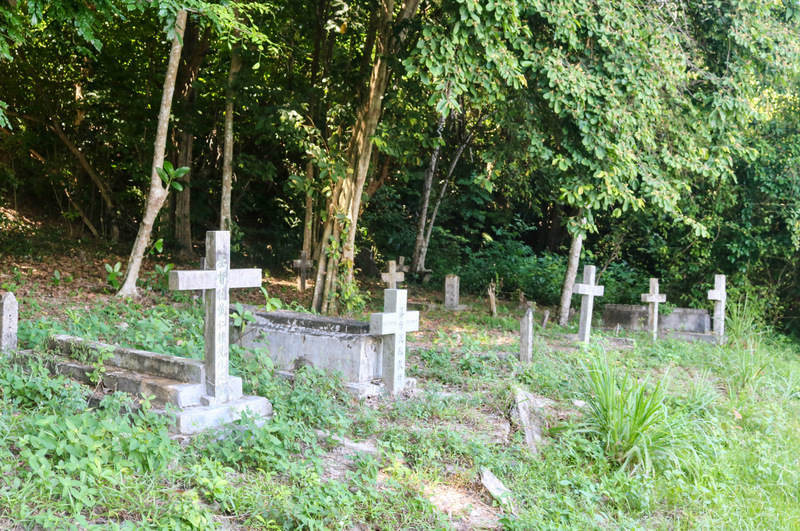 Archery and Paintball are both great ways to test your eye-hand coordination. If you haven't tried either sport before I highly recommend, because they're quite fun. Rental equipment for both sports is available through the resort's recreation department. Prefer watersports? Kayak rentals are available for exploring the island's nearby coastline.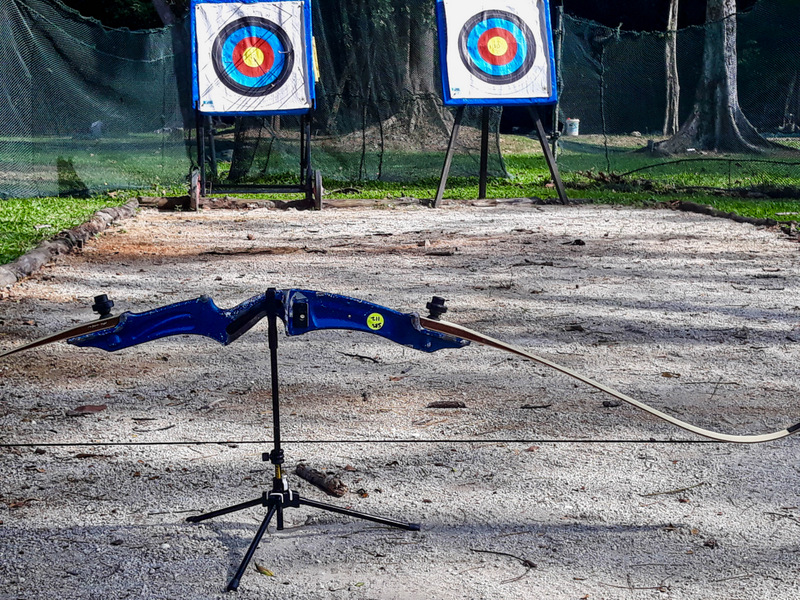 And for the less-strenuously inclined, a Sunset Cruise will be just what the doctor ordered. The hour-long sunset cruise quietly passes below the Sultan Abdul Halim Muadzam Shah Bridge and circles back around Pulau Jerejak past the many fish farms. Definitely a relaxing way to wrap up the day.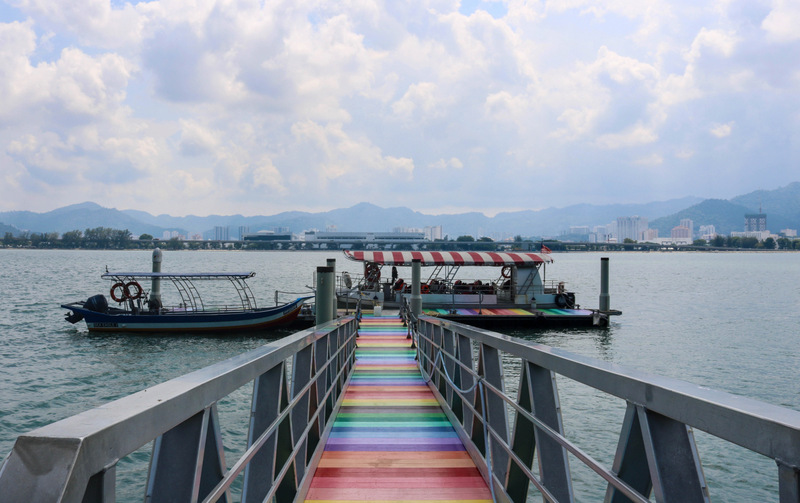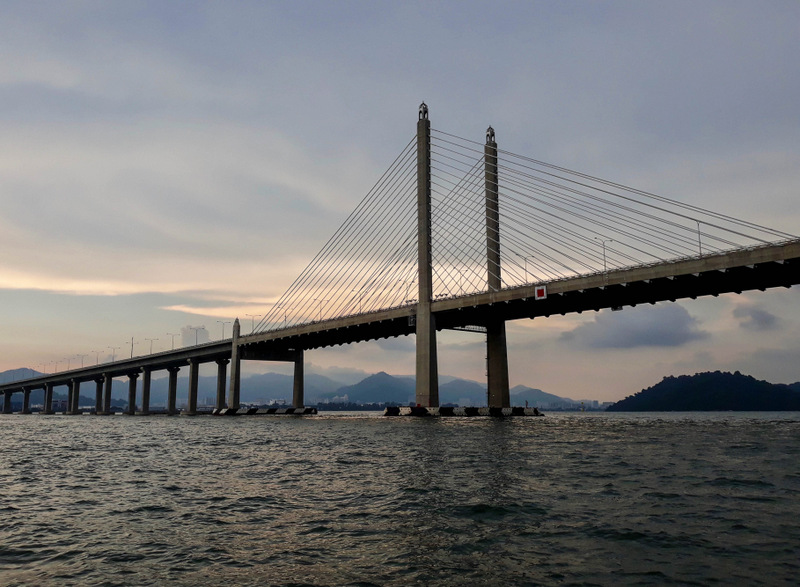 Last but not least, be sure to take an evening walk through Jerejak Island Resort, because it's pure magic. The entire landscape turns into a kaleidoscope of color as the trees and shrubbery are strung with millions of colorful lights. You truly have to see it to believe it.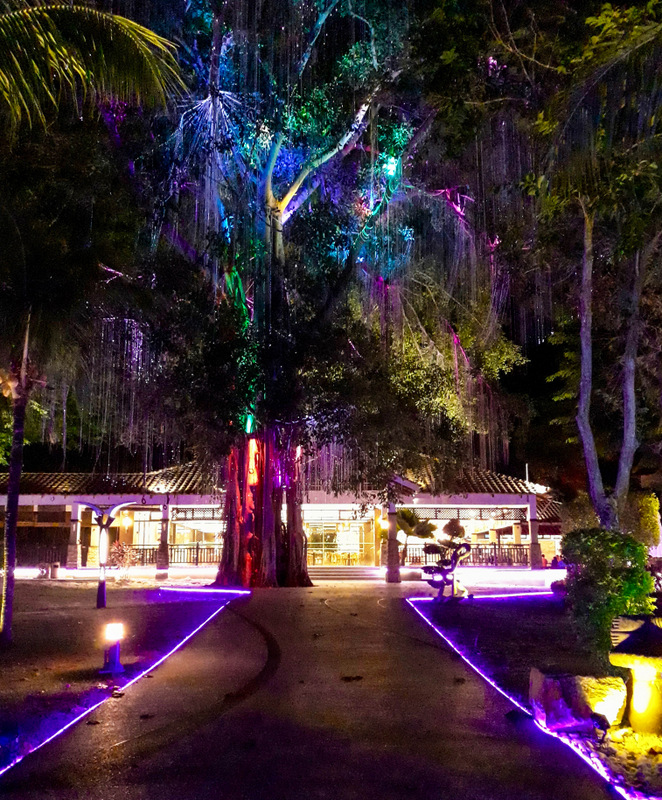 Jerejak Island Resort is everything I had hoped it would be. The staff are wonderful, the rooms are extremely comfortable, the fascinating history and gorgeous forest is preserved, and the scenic views are inspiring. And although I was an invited guest of the resort this time, I will definitely put them at the top of the list for my future visits to the Penang area.
Interested in staying at Jerejak Island Resort? You can check rates and availability HERE
or Check their website for special promo deals HERE
Jerejak Island Resort
No 1, Mukim 13, Daerah Timur Laut,
Pulau Jerejak, Penang, Malaysia, 11900
www.jerejakislandresort.com
*I was an invited guest of the Jerejak Island Resort, but my opinions are my own.