Ever hear of Pulau Tuba Island? Unless you are familiar with the northwest coast of Peninsula Malaysia, you probably have not. Unbeknown to many, Pulau Tuba (Tuba Island) is one of the four populated islands of Langkawi's 99-island Archipelago. The others being Pulau Dayang Bunting, Pulau Rebak and Pulau Langkawi itself. Located 5-kilometers southwest of the Kuah Jetty, Tuba Island is just a 15-20-minute boat ride away. Similar to Singapore's Pulau Ubin (Ubin Island), Tuba Island is a blast from the past and one big happy island kampung (village ). *Updated January 2022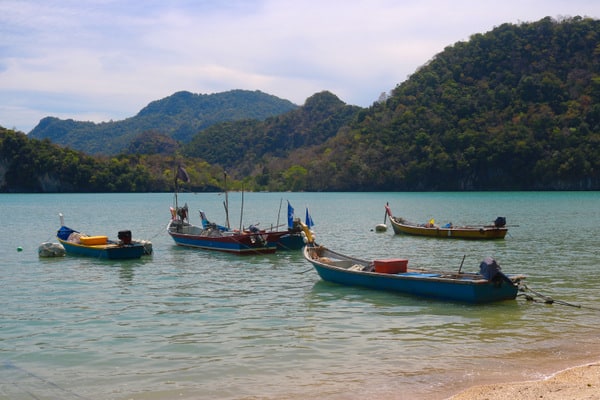 Pulau Tuba may not be for everyone. But if you are one to appreciate a simple laid back island, lush with foliage and encompassed by rocky coastlines and white sand beaches then you should keep reading. This first-time visitor guide to Pulau Tuba is for you.
Jump to:
A Little About Pulau Tuba
Named after the Tuba plant which is a species native to the island, Pulau Tuba is primarily a fishing and farming community. A charming mix of traditional kampung life peppered with a few conveniences of modern times. Although 'traditional' homestays are still available, accommodation options have raised the bar in recent years to attract (a few) more tourists. By adding more western style creature comforts to the mix, an extended visit to Tuba Island has become more of an inviting Kampung Stay. An idyllic island one at that.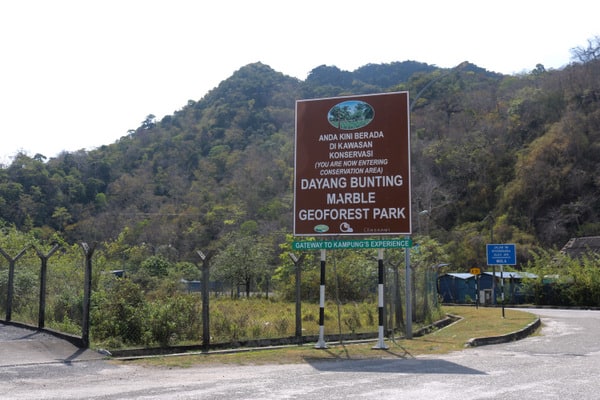 Pulau Tuba is not just any old island though. In addition to its unique Malaysian charm and abundance of nature, it's also part of the Dayang Bunting Marble Geoforest Park. There are three geoforest parks in Langkawi, which make up the entirety of Langkawi's UNESCO Geopark. In addition to Dayang Bunting Marble Geoforest Park, there is also the Kilm Karst Geoforest Park and Machincang Geoforest Park. This often gets the two neighboring islands of Dayang Bunting and Tuba clumped together as one island and that's where things can get confusing. The two islands are connected by a bridge. However, they are definitely two separate islands with separate local councils as well as village chiefs. In fact, Tuba Island is made up of six kampungs (villages) with six separate village chiefs.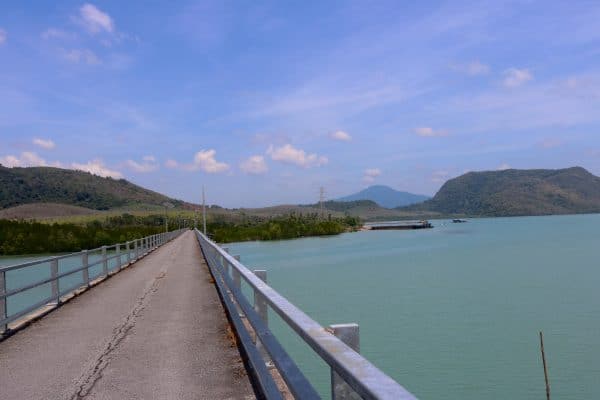 Historically, Pulau Tuba also played unfortunate host to the Japanese military during World War II after their armed forces descended upon Kedah in December 1941. There may even be a few older community members who well remember those confusing and frightening times. One can only imagine. You can read more about World War II's impact in Malaysia HERE.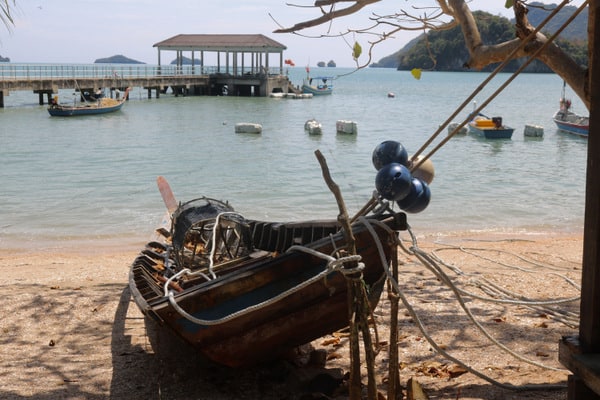 Throughout the years, I've witnessed a waxing and waning of Tuba Island's tourism efforts and destination popularity. That may be because there is little information written about it (in English) to warrant non-Malaysian Langkawi visitors to spend their precious vacation time trail blazing a potential 'hidden gem'. Thus, I present you with my very own DIY tour of Tuba Island, with a catch. What's the catch you ask? The catch is, that you the reader and intrepid traveler use my very basic research in the most sustainable way possible. Utilize the services of Tuba Island local people by dealing with them directly or as directly as possible. With this mini guide, you will be able to visit Pulau Tuba solo or with a small group of friends and do just that.
Getting There (and Back)
Pulau Tuba is located 5 km southwest of Kuah Town. There are two separate jetties that service Tuba Island and adjacent Dayang Bunting Island (at Kampung Selat Bagan Nyior). But the direct jetty is now Jeti Dato Syed Omar (previously known as Marble Jetty) which is located between the Kuah Ferry Building and the Royal Langkawi Yacht Club. The cost is RM10 per person, each way (non-Malaysian price).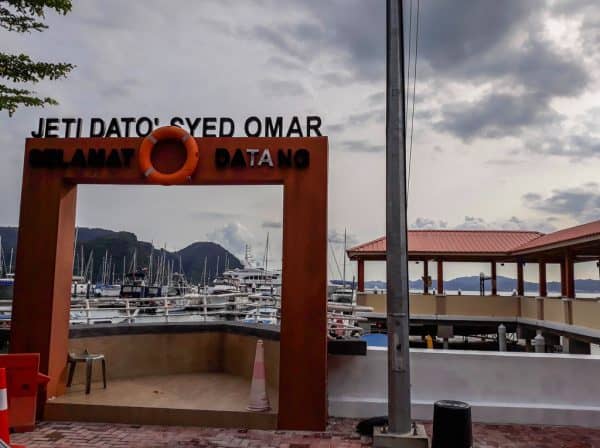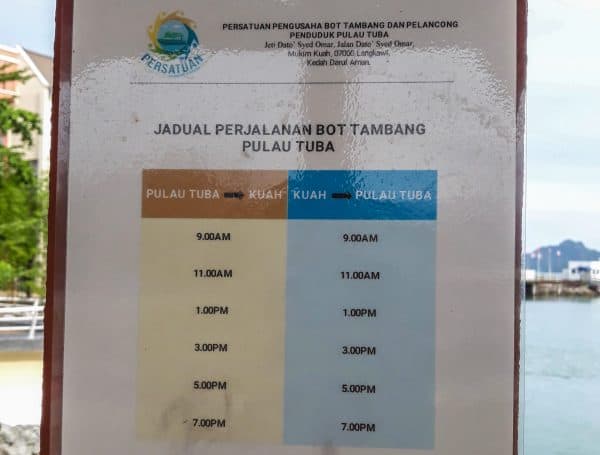 Private transfer to and/or from Pulau Tuba will cost you RM75 each way (or more). I have been quoted RM300 roundtrip (from Pekan Rabu jetty which I adamantly turned down). Stick with the plan and depart from Jeti Dato Syed Omar and you will be treated fairly across the board. The boatmen from 'Marble Jetty' are also Pulau Tuba locals who are in it for the long run, not a fast ringgit.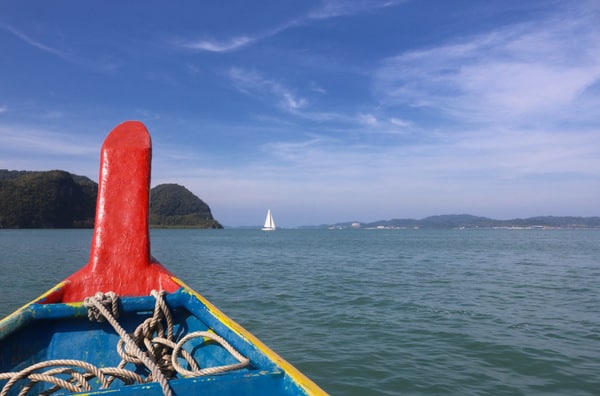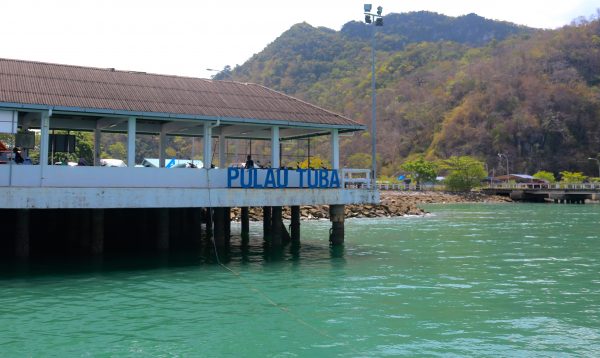 The earlier you depart to Pulau Tuba the better. Trust me, you will want to maximize your Pulau Tuba time, especially if you are only doing a day trip. And the boat ride is lovely! Sit in the front or back for a few scenic photos along the way as they make great Instagram shots.
Things to Do in Pulau Tuba
Armed with the extensive (slightly overkill) how to get there information, you are now ready to tackle Pulau Tuba sightseeing. Exploring Tuba Island can easily take a full day, especially if you are on the DIY tour guide program.  In fact, you wouldn't be able to see and do all that Tuba Island has to offer in one day. Unless of course you start very early and have a lot of energy (and I do mean a lot). All the more reason to consider spending a night or two and not be rushed. So here are a few of the possibilities which I have come up with. There are many more things to do in Pulau Tuba, but at least this will give you a starting point.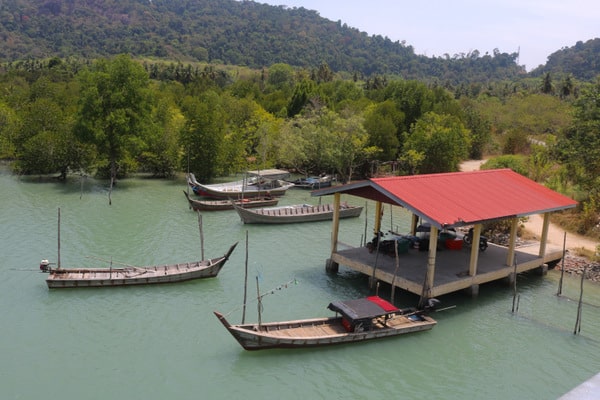 General Day Tour of Pulau Tuba
For a day tripper, simply renting a motorbike and exploring the various nooks and crannies of Pulau Tuba is flat out fun and interesting. Especially on a bright sunny day. The air is fresh and the views are picturesque. Unfortunately, not everyone is motorbike experienced and that's where a taxi van comes in handy. It's also where things can get more complex and time consuming. Unless pre-arranged, you have a 50-50 chance of arriving at the main jetty and immediately finding a taxi who is available to 'escort' you on an island sightseeing tour.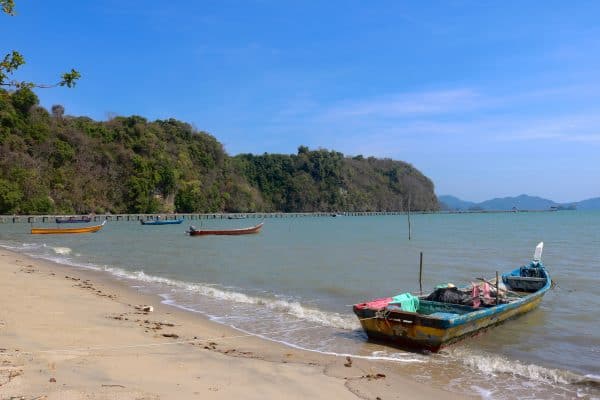 There are at least two drivers that I know of who speak English, but they are not necessarily always around.  (more about taxis later). But at the very least you can hire a taxi at the Pulau Tuba Jetty and ask them to take you the short distance to the seaside area of Kampung Tepi Laut, which is 'town' if you will. The surrounding area is walkable and has a few small restaurants and shops. It even has a long stretch of beach and a jetty.
Jungle Trekking
Even if you are not a jungle trekker, per say, a short hike through the Permanent Forest Reserve is worth the effort. Finding the entry may be a challenge as there is no official sign visible from the road…yet. There is, however, (as of this writing) a striped road sign adjacent to a small, narrow, leaf strewn road. This rustic road leads through a Rubber Tree plantation to a cliff-y dead end and the entry to the reserve via cement stairs.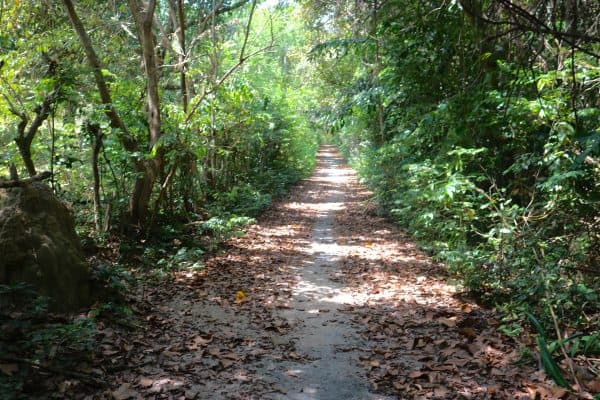 Follow the stairs up and you will reach a wooden walk way which takes you through the jungle a bit. It offers a panoramic view of the forest and various ancient rock formations. Nature enthusiasts will be thrilled with the diverse jungle flora and if quiet, spotting wildlife is not uncommon. Some have referred to this area as 'the Valley of the Bees' as there are often bee hives hanging from the steep jutting cliffs.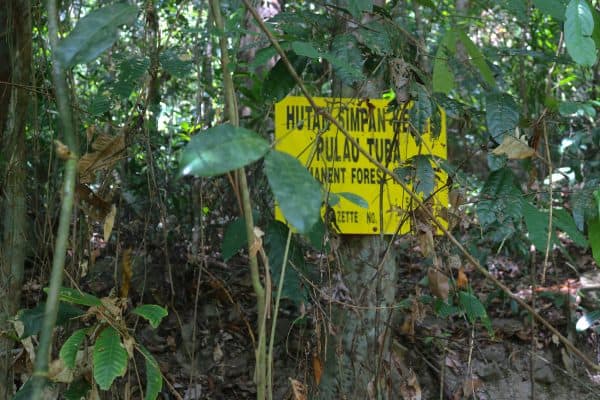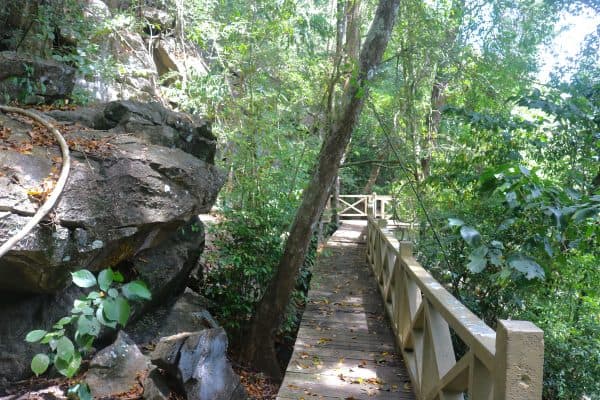 Although this little jaunt through the woods may be a no brainer, I personally do not recommend going solo because when it comes to exploring jungles I am a firm believer in the 'buddy system'. At the very least, do let someone know of your plans.
Trek to Gua Wang Buluh

Within the forest reserve 'man-made' observation area, there will be a sign announcing the nearby Gua Wang Buluh (cave). This cave is one of two caves on Pulau Tuba that villagers escaped to when the Japanese military arrived. It has been said that some lived in the caves for over a month.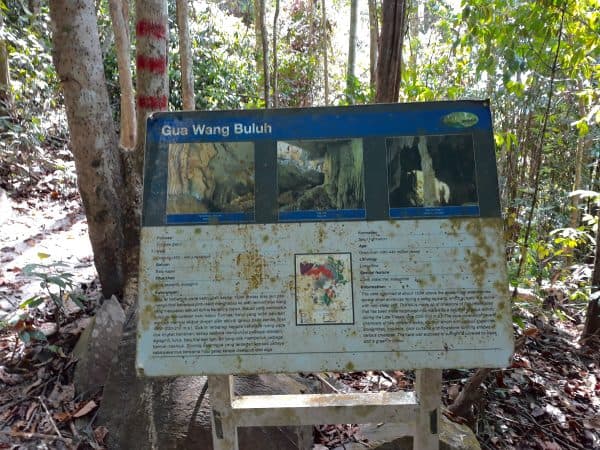 There's a trail that leads to the Wang Buluh cave, however it isn't a walk in the park, so to speak. The rock-strewn trail is a bit wild in places with sizable cliff drops along the way. Unless you are in adequate physical shape, you may well regret taking on the challenge. It's a work out and the jungle humidity is an additional factor. Is it worth the effort to go there? Absolutely. But again, safety first.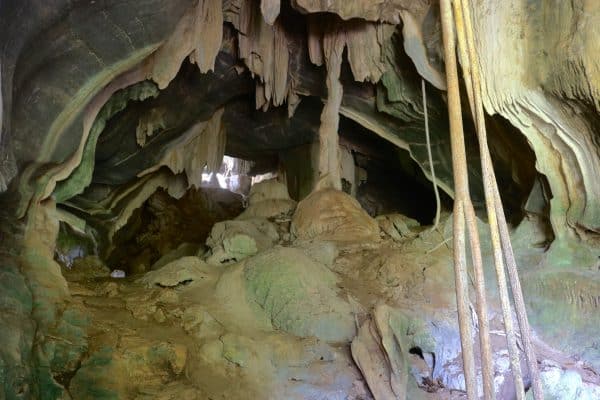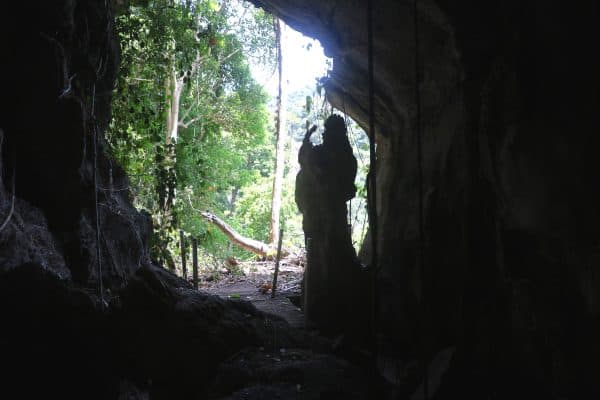 Once past the more challenging parts of the trail, more man-made wooden walkways are at the entry of the cave. Mind your step as you enter the cave as it can be slippery and there are plenty of stalagmites and stalactites to bump into. As you peer across the cave, don't be surprised to see what appears to be the silhouette of a person. This interesting rock formation is referred to as Guan Yin by some and the 'Praying Man' by others. Upon closer inspection, the human form quickly disappears to become a clump of rocks. A dilapidated observation platform is next to the statue and it has many loose and rotten boards. It's a very steep drop from there so watch your step!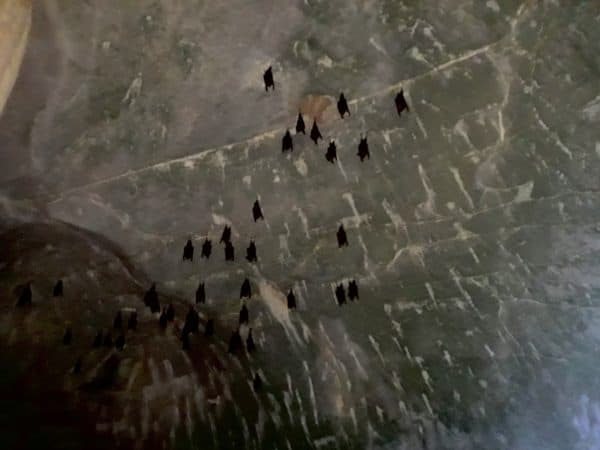 At least two winged creatures call this cave home. Bats and Swiftlets. In flight, it may be difficult to tell the two apart, but don't freak out. The bats will generally be 'hanging out' literally in a slightly darker part of the cave. Swiftlets, for those who don't know, are the producers of the nests famously known as the main ingredient of Bird's Nest Soup. The nests are made primarily from bird saliva but revered for their health benefits.
Exploring Pulau Tuba Nature
Pulau Tuba has plenty of nature and wildlife. For newbies to the jungles of Malaysia, you will be wowed at the plant life alone. A good excuse to bring along a Malaysian plant identification book just to see how sharp your eyes are. From wild orchids to rubber trees to various fruit trees, such as Mangoes, Bananas and Jackfruit. Do remember that fruit on trees is not 'you-pick-em' fruit unless 'someone' gives you permission.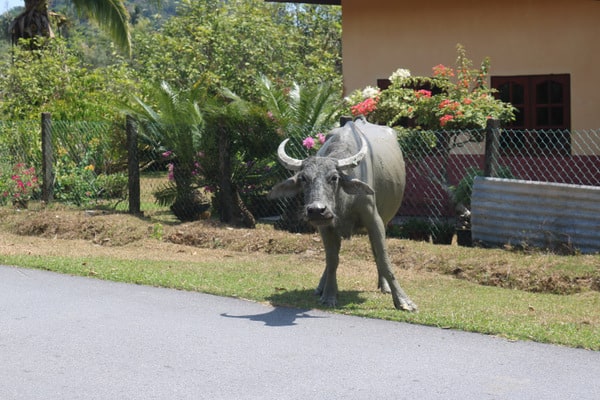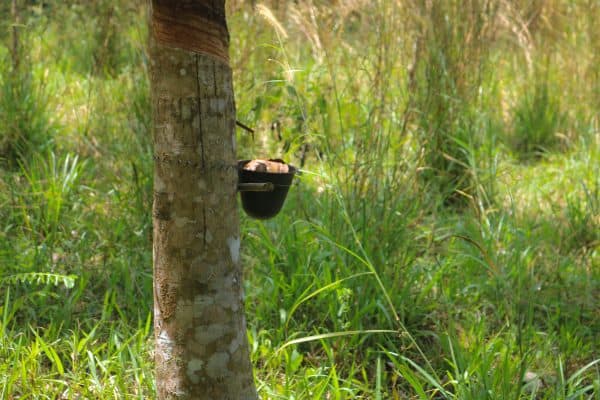 Birdwatching
Birdwatching on Pulau Tuba is a win-win. In addition to Bats and Swiftlets you will find Kingfishers, Brahminy Kites, Sea Eagles and more. So, if you're keen to spot birds, bring your binoculars. If you would like a more formal or scientific introduction to Tuba's nature, wildlife and birds, hooking up with a licensed nature guide would be an excellent choice. You may be hard pressed to find one on Pulau Tuba, but it's worth asking around. I'll also recommend an independent Langkawi (mainland) licensed guide who is more than happy to take single guests in lieu of a more lucrative 'group'. Ms. Wendy Chin is a licensed nature guide and a personal friend of mine. You can contact her HERE
Island Hopping
Pulau Tuba has at least 10 small islands immediately off her coast lines. And they even have names to help keep things straight. It doesn't mean that they are all waiting for a slew of bikini clad foreign tourists to invade, but for some ala carte island hopping they will indeed pass muster. For this you will need a boatman or make arrangements through a local hotel who has a boatman on speed dial.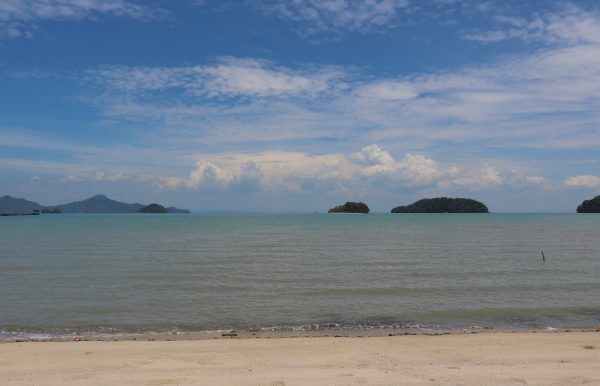 You may also be able to source a boatman at Marble Jetty or ask at the Tuba Island Main Jetty. I was quoted RM100 each way (from the Tuba Island Jetty) for an island drop off and pick up (later) or RM100 per hour to island hop. This is probably a bit on the steep side, but it was a 'private' excursion of just me (and I was desperate at the time). It would be beneficial to have a translator for this negotiation, but not mandatory.
The 10 various islands are: Pulau Bumbon Besar, Pulau Bumbon Kecil, Pulau Tanggok Besar, Pulau Tilol, Pulau Buyong, Pulau Enggong, Pulau Pasir, Pulau Nyior Setali, Pulau Selang Kecil, and Pulau Selang Besar. These islands can sometimes be spelled (and misspelled) slightly different depending the source, but you get the idea.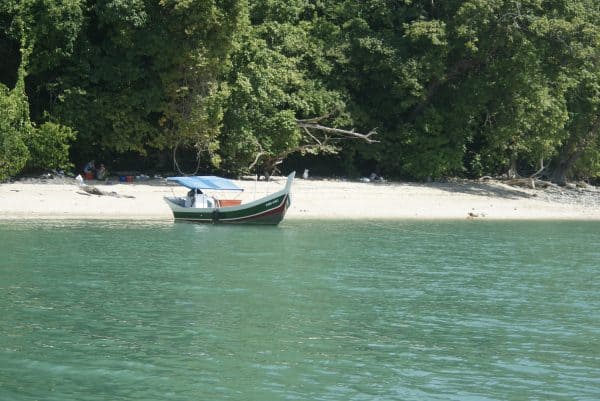 For a day at the beach Robinson Crusoe style, across from the main jetty are three islands side by side; Pulau Pasir, Pulau Enggang and Pulau Nyior Setali. Pulau Enggong is popular with local families and offers shade trees, a long stretch of sandy beach and swimmable waters. If you want to just relax on the beach and enjoy the view, this would be a good choice. If you cannot go to the beach without a cooler full of beer, then this is probably not a good choice.
Fishing Excursions
The waters of Pulau Tuba are a fisherman's dream. Bring your own gear and take a ferry over to Pulau Tuba and you will have the options of fishing from the beach or from one of several jetties. Prefer to take a boat out with a local expert? Again, you will need to source a boatman at Marble Jetty, the Pulau Tuba Jetty or make arrangements at a local hotel (which would be much easier if you are staying at a hotel).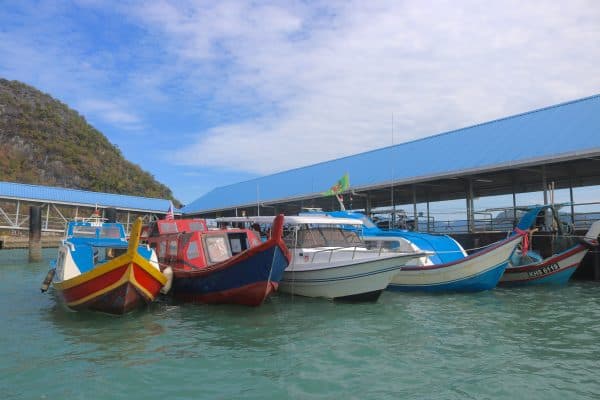 Kayaking and Cycling

If you have seen photos of Pulau Tuba on the internet, you may occasionally see images of happy go lucky visitors paddling through the estuary or cycling merrily down the tree lined roads. Well.. don't expect to find a kayak or bike rental sign greeting you upon arrival or you may be disappointed. However, a few of the hotels have access to kayaks and bicycles. And if they don't have them, they can make arrangements for you. Again, it will be easier (and less time consuming) if you are staying at the hotel. Remember we are still on the DIY Day Trip plan here and there are only so many hours in the day. You can also just cut to the chase and bring your own bicycle with you on the ferry (so I was told by a boatman) for an extra RM5 each way.
Places to Stay
If a few days on Pulau Tuba is just what the doctor ordered, then you're in luck because Pulau Tuba has some lovely accommodation options. You can also pretty much ditch my DIY guide and allow your hotel or guest house to advise you on things to do and where to get what. When planning your trip, do be mindful of possible higher occupancy during weekends and holidays. Especially school holidays. In which case consider booking well in advance to avoid disappointment. Here are a few accommodation options that caught my eye:
The Faridzuan Motel has been in the accommodation business for years. I even remember them from my first visit years ago. Their motel grounds and adjacent beachfront are kept in tip top shape and their rooms are practical, clean and spacious. Their easy to reach location and gorgeous seaview seals the deal. For bookings, call Faridah at 012 6214 433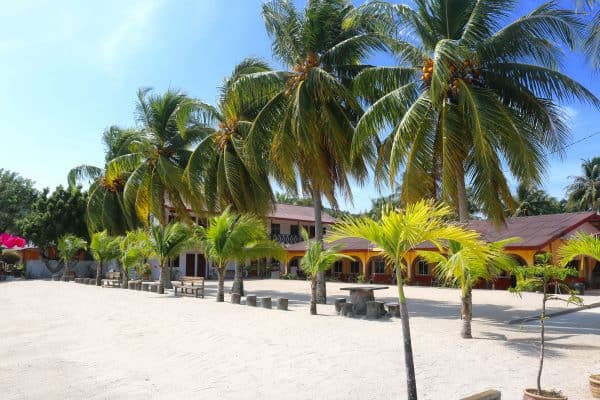 Just down the beach is popular Tuba Beach Resort with its colorful waterfront chalets and oh-so-inviting swimming pool. The Tuba Beach Resort also offers kayaks and local sightseeing tours to their guests. You can check availability HERE
For something more exclusive, Nadia's Villa offers a detached waterfront 3-bedroom villa that comes with a dining area and full kitchen. It would be perfect for a family or small group of friends. You can check availability HERE
A big hit with couples is the eclectic beachfront Wild Pasir Panjang which comes with the perk of catering to two guests at a time, a private beach, staff of two and a bar. You can check availability HERE
Places to Eat
There are several notable small restaurants on Pulau Tuba as well as roadside vendors. Based on my own experience it may depend on the day of the week or the time of day who is open and when, but rest assured you won't go hungry. At the Pulau Tuba main jetty, across the 'parking lot' you will find #7 in the small row of shops. There are two restaurants (without visible names) located between Faridzuan Motel and Tuba Beach Resort, serving a selection of local Malay food and beverages.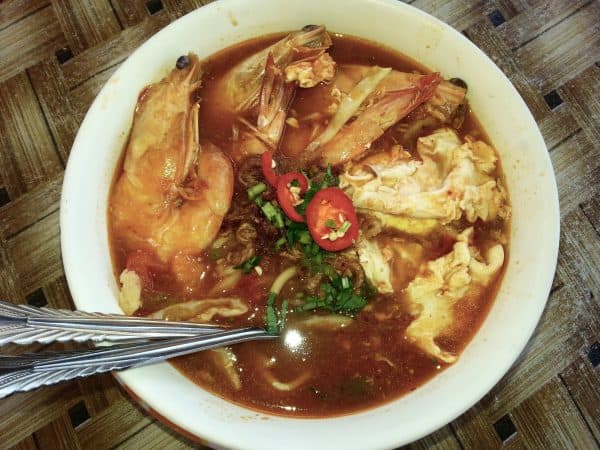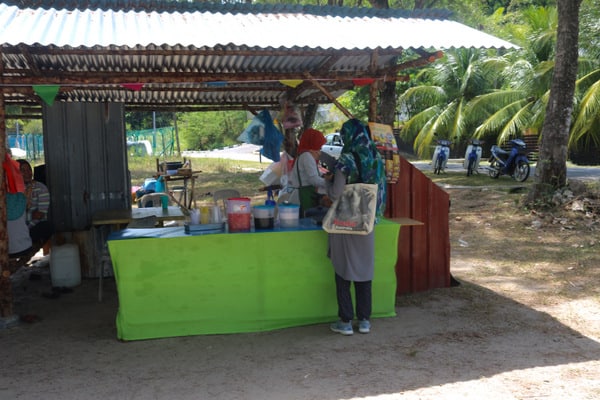 Across the island, just north of the bridge to Dayang Bunting is Mak Cik Saariah's Restaurant and she serves a not-to-be-missed Mee Udon. A bit farther up the road you will find another local favorite whose specialty is Sup Bihun Ayam. Follow that road all the way to the waterfront and Pulau Tuba's new hawker's area, Tanjung Pandan Corner offers shade, a sea breeze and a selection of local Malaysian snacks and beverages. Also be on the lookout for Warung Pokok Asam in the Teluk Berembang area. Like I said, you won't go hungry. And if you are spending the night, there is a good chance your hotel or guest house will be offering their own specialty dishes.
Map of Pulau Tuba
Here is a basic map created for the purpose of reference for this blog post. It by no means includes every Pulau Tuba shop, guest house or business.
Getting Around Pulau Tuba
You have four basic options for getting around Tuba Island; taxi, rented motor bike, walking or cycling. The main Pulau Tuba jetty is the best place to arrive to have transportation needs met in a timely manner. If you somehow end up at any of the other more remote jetties, do plan on walking a bit to find an available taxi (unless pre-arranged) But for first timers, I highly recommend the main Tuba Island Jetty.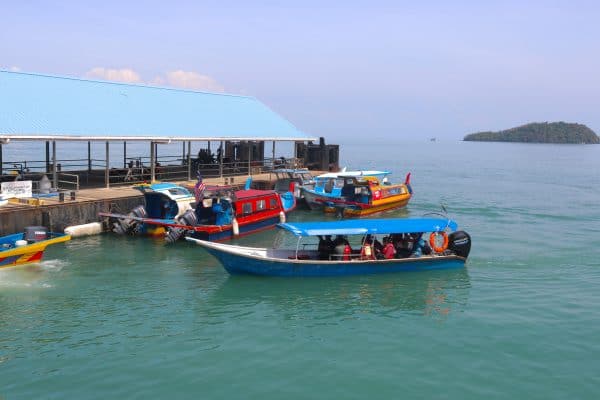 Taxis: There are a limited supply of taxi vans on Tuba Island. You will find them waiting at the main Tuba Island Ferry dock, depending on the time of day. They also may or may not be available to ferry tourists around for a few hours, but can most certainly squeeze in a point A to Point B transfer. If you fancy a tour of the island via mini-van, this is where a pre-arranged taxi is a good idea. Do note that the prices may vary; I've been quoted RM200 for a round the island tour for one person and RM60 per head for a small group of five people to do the same. Good sources for local taxi tour guides are Cali Tuba, at +60 13-550 1125 (he also rents motorbikes) or Mr. Charlie, who can be reached at +60 12-482 0913.
Motor bikes: Motorbikes are plentiful at the Tuba Island Main Jetty. 'Generally' speaking it is RM30 to rent a motorbike for the day. Again, this price may be negotiable. Do note, that you won't see a big sign announcing 'Motorcycle Rentals'. However, you will see many motorbikes in all shapes and conditions. It's a mystery where they all come from or whom they actually belong to. The friendly folks of Tuba Island are often A-Ok to rent their own family ride if it brings in a few extra ringgit. Also be sure to test the brakes and the gas gauge. There are a few steep descents where the ability to brake may come in very handy. And for peace of mind, consider going to the petrol station sooner than later for a top off of at least RM5. You can also pick up some cold drinks while you are there.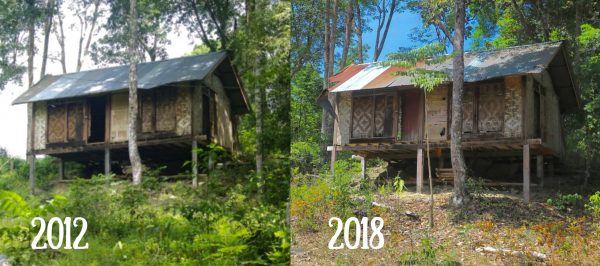 There you have it. You are now all set for your first visit to Pulau Tuba. Again Pulau Tuba may not be for everyone. If you are seeking a wild beach party scene, you won't find it on Tuba. The 3,000 plus locals who live there are Muslim, so you won't find alcohol 'publicly' offered or readily available. As I have found with some smaller Muslim hotels (in Malaysia), BYOB is sometime acceptable with discretionary use. Common courtesy of removing empties yourself is also a 'nice thing to do'.
If you have any new discoveries to add to this mini-guide, please let me know in the comments below. Happy exploring!