Should You Visit Hat Yai, Thailand? Yes! Well at least I think so. I'm always surprised to see so few western faces when I'm there. Hat Yai is a transient city that I've grown rather fond of over the years. I'll admit it took me a few visits to get into the Hat Yai groove, but I'm a big fan now. In fact, it's now my go to place if I need a quick, affordable dose of Thai hospitality, delicious local food, inexpensive massages and even dental treatment. It's also quite easy to get to Hat Yai from Langkawi, Malaysia. With so many things to do in Hat Yai, it's definitely worth exploring for a few days or a long weekend.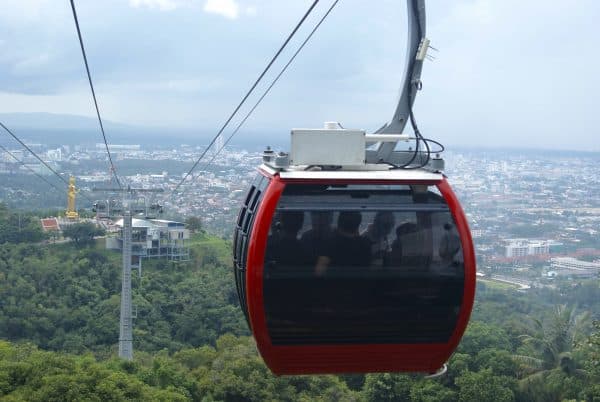 Hat Yai is the largest city in Songkhla Province and one of the largest cities in Thailand as well. Yet Hat Yai's popularity has nowhere near the international traveler popularity of its big city siblings. Hat Yai is a popular travel destination for Malaysians and Singaporeans, but still a bit off the radar for the average western traveler.
The various tourism websites make Songkhla Province look like loads of fun, yet it has taken me years to nail down exact procedures on how to get anywhere in a timely manner. I've been dropped off by various 'taxis' in the middle of nowhere more times than I care to think about, primarily due to my own miscommunications and poor sense of direction.  But hopefully this little Hat Yai guide will be a good resource to help you, too, get into the Hat Yai groove!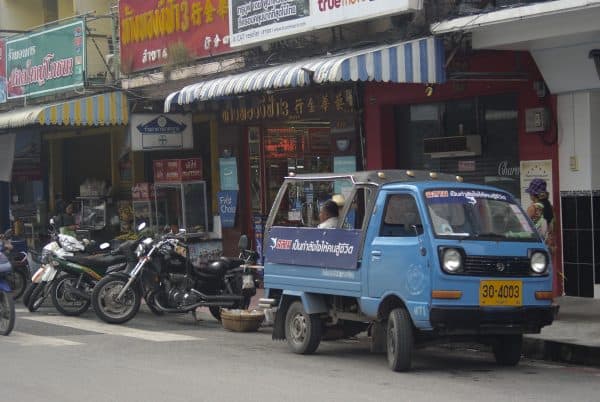 THINGS TO DO IN HAT YAI
Some destinations make simple sightseeing so challenging that it can be easy to declare, "There is nothing to see here" and call it a day. Hat Yai is such a place. Sure, there are a few obvious things to see in the city, such as the Kim Yong Market or the endless shopping venues, but all the other interesting things to see and do? Well, they are seemingly scattered everywhere. It took me awhile, but I did eventually find a few. Here are some of my top choices for things to do in Hat Yai.
Explore Kim Yong Market
There are several markets in Hat Yai; Yongdee, Suntisuk, Phaeng Thong and Asia are all just a couple of blocks up from the Train Station. But the Kim Yong Market is the best of the lot, in my opinion. Located on the corner of Supasamrangsan Road and Phetkasem Road (same road where the Clock Tower is located). This massive market has an eclectic selection of outside vendors that will easily keep you busy tasting and bartering. Piping hot chestnuts, picturesque displays of fresh fruit, magic potions and lotions. And tons of local food! But if you feel like braving the winding maze of interior shops and vendors, there will be plenty more shopping for just about anything you fancy!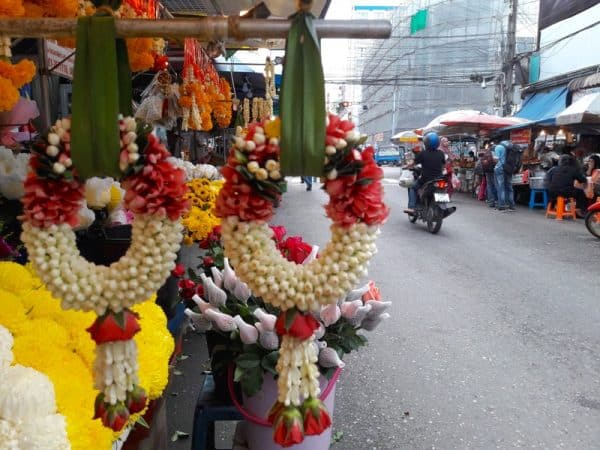 My Two Cents:
*Remember that Thailand is haggle country and Kim Yong Market is haggle central. If no price is visibly posted, you'll be told a price and you can counter that with a lower price until you both come to an agreement. Sounds fun, right? (personally I find it exhausting, but then I'm also poor at numerical wheeling and dealing).
*Bring paper and pen to keep track, in case you aren't a whiz at math or simply for language clarification.
*You can find some excellent bargains on dried fruits, nuts and other snack-ables so before you hit the 7-11, stock up at Kim Yong Market.
*I also recommend bringing a reusable bag of sorts so you can easily carry your loot. Trust me, you will buy stuff!
Visit Wat Hat Yai Nai's Reclining Buddha
The last thing you would expect to see tucked into this tiny corner of Hat Yai would be a massive Reclining Buddha. But yes, the sleepy-eyed Buddha of Wat Hat Yai Nai is a sight to behold.  All 35 meters of him. Claimed at one time to be the third largest reclining Buddha in the world, but I'm not so sure about that fact now. Regardless, the Reclining Buddha is worth a visit and he will greet you with his all-knowing impish grin as he watches you marvel at his size.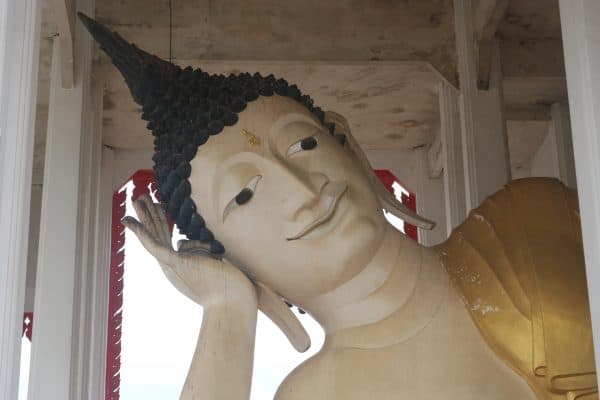 If you head around the literal backside of Buddha, there is a columbarium built into his cavernous bowels. This is where things get a bit unusual. In addition to quite a few tenants, there is a small store to buy religious items. The store clerk ladies and the present monk enjoy watching television, but the monk will say a prayer for you if you roust him from his favorite TV show. Like I said, it's a bit unusual.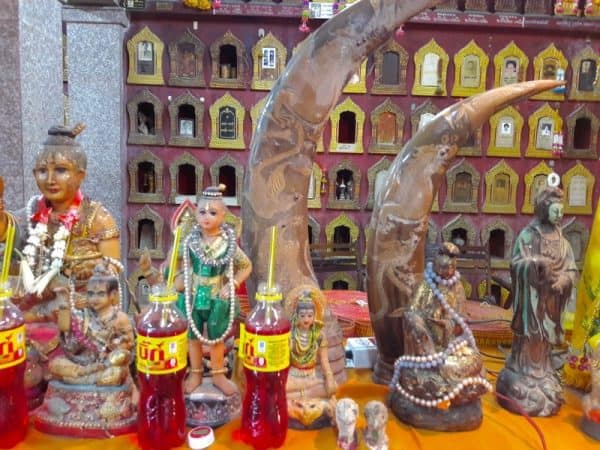 My Two Cents:
*It is possible to get a ride to the temple and no need for a private taxi to wait for you as there will be at least one blue songthaew (small pick-up truck taxi) in the front area (or nearby). You may have to wait a bit but it will eventually head back towards a recognizable part of downtown Hat Yai. The one-way cost is about 20baht.
Sample Local Street Food
Do you like exotic foods? You will have plenty of opportunity to sample and taste test local food in Hat Yai. If you're worried about 'food poisoning' or you question the cleanliness, just remember that the more people lined up, the fresher the food. The Kim Yong Market area and the front street of Lee Garden Plaza are both sure bets for good clean street food.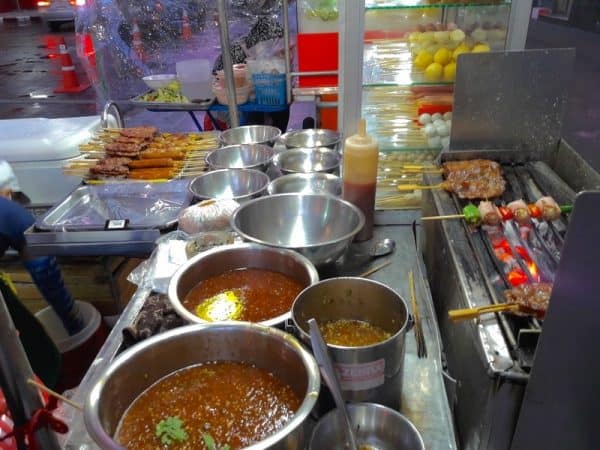 My Two Cents:
*Keep hand wipes with you to help keep your post-sampling fingers clean.
*Bring a reusable bag in case you want to take away more than a few items along the way.
Trek Through Hat Yai Park Municipal
Hat Yai Municipal Park is one of those where-do-I- begin? Places. The park is big and hilly. The trick is actually getting there without paying a fortune. Supposedly one can catch a 20baht songthaew from the Kim Yong Market area, but out of desperation (and my usual bad taxi karma) I ended up with a costly private songthaew. That's still better than being in a bus full of tourists, but I wish I had been more patient and shopped around.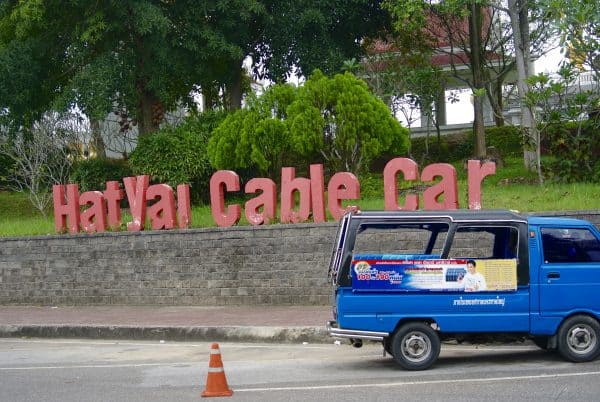 So, what's there to see at this magic mountain of Hat Yai? For starters, lots of statues; a massive golden Standing Buddha, a gorgeous white statue of Guan Yin and a nearby Laughing Buddha (which is reachable by entering a lolling tongued gaping lion's mouth. You'll have to see it to believe it. My words fail me on this one, but it is a definite not-to-be-missed. The impressive Hat Yai Cable Car connects the primary locations as well as offers an excellent panoramic view of Hat Yai. The cable car ride is around 200baht. Lots of golden elephants, statues of dead monks, old photos and much more to be seen, so allot yourself at least 2-3 hours to see the various sights.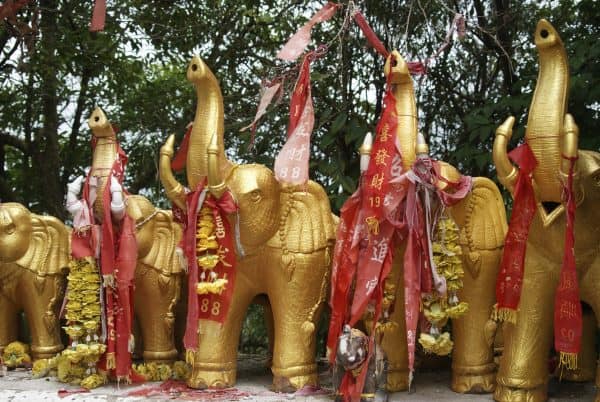 My Two Cents:
*Sunscreen of course.
*Bring your own large water also, otherwise you'll be stuck buying small waters from the park's concession stand at a premium price.
Treasure Hunt at Greenway Night Market
If you love retro clothes and thrift store specials you will find a gold mind of old school fashions at Greenway Night Market. Of course, they have plenty of other items on sale, but there are some real finds there for the fashionista with a sharp eye. It's a bit dark and chaotic, so do go with a clear head and a watchful eye on your personal belongings. Can read more about Hat Yai shopping HERE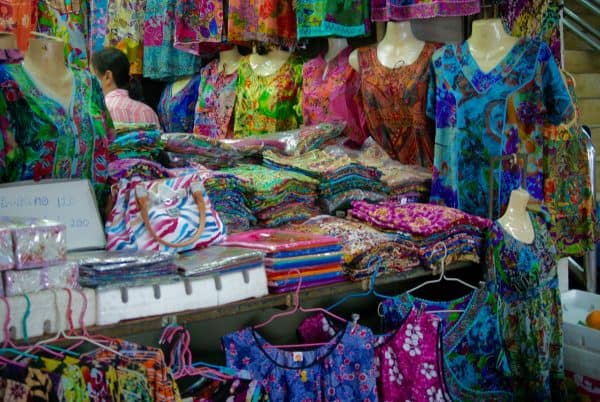 My Two Cents:
*Bring a sorong in case you want to try something on and there is no place out of the public eye.
Get Creative at Hat Yai Magic Eye 3D Museum
By outward appearances, the Hat Yai Magic Eye 3D Museum may look like a cheesy waste of good money, but trust me this 3D museum is top quality and loads of fun. The interactive art was all hand painted by Korean masters. The same Korean masters who created the 3D masterpieces in Langkawi, Malaysia. (Hat Yai had their 3D museum first). Entry is 400baht per ticket, but well worth it. (Updated Dec 2018: Hat Yai Magic Eye 3D Museum has a new location at 414 Kanjanavanich Rd. They are open Mon thru Fri 09:00-18:00.)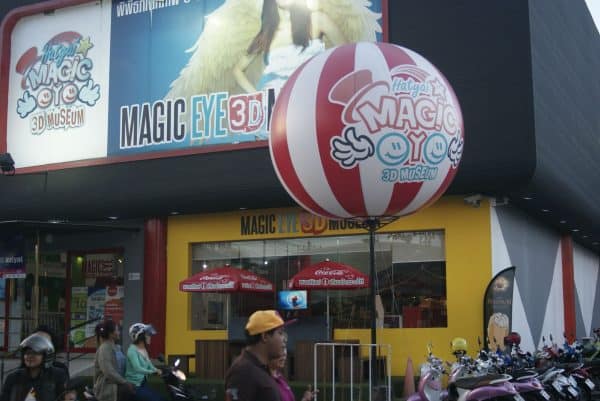 My Two Cents:
*If you are traveling alone and have no one to help you photograph your interactive self, ask for assistance. The staff are more than willing to help.
Eat Your Way Through the Khlong Hae Floating Market
Having never been to a floating market before, my initial reaction was to compare Hat Yai's version to travel magazine photo spreads I had seen. It was a tourist 'trap' compared to the real deal photos of the likes of National Geographic. But after being wowed by the colors and the food on offer, I was happy for the Khlong Hae Floating Market experience. People are friendly, the food is amazing and it's quite picturesque. Unfortunately, they only have the Floating Market available Friday through Sunday. So, if you're planning a trip to Hat Yai, try to include one of those weekend days into your itinerary to avoid missing out.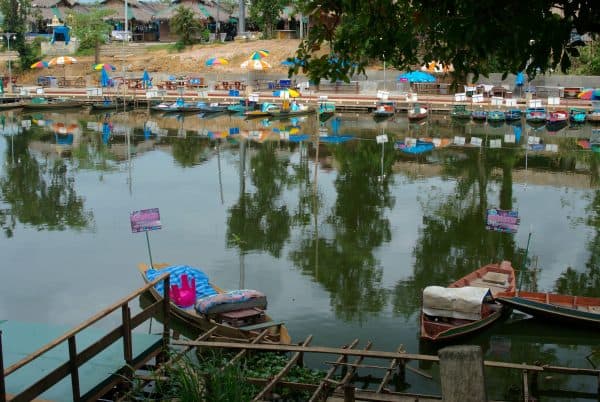 My Two Cents:
*Hand wipes and insect repellent will be your best friends
*Do not attempt to get a ride to the floating market from any songthaew parked in front of a high-end hotel. It may look like a group ride excursion, but it's not. Unless of course you see said songthaew filled with local people. Otherwise it's waiting for you and will take you for an expensive ride.
Get a Massage (or two)
You won't have any problems finding fabulous massage or reflexology services in Hat Yai. They often come with bright lights or a blaring television set as well. It isn't my preference for a massage environment, but I can tolerate a few inconveniences. Especially if an excellent foot massage at a great price is included. There is a tiny rule of thumb when visiting Hat Yai massage parlors (from my own experiences) and that is, that if the full body massage rooms happen to be up a narrow dimly lit staircase.. you might be better off going elsewhere. They tend to be dark and dirty feeling.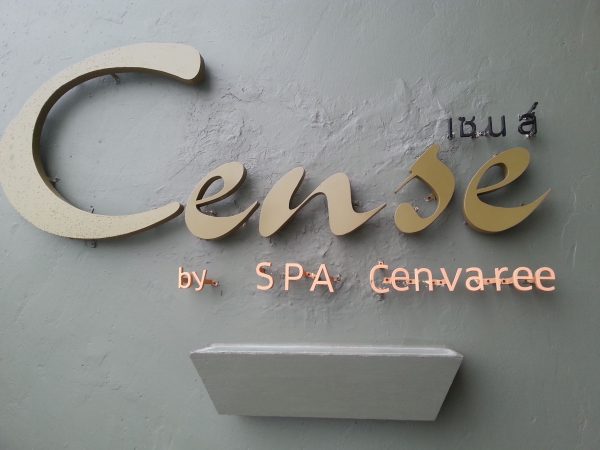 However if you would like a 'spa' style massage in a relaxing and super clean environment I highly recommend Cense by Spa Cenvaree which is located at the Centara Hotel Hat Yai. Do note that you will probably need an appointment, because they stay quite busy. Another massage option would be at the Lee Garden's Plaza Hotel, but you may have to be rather insistent that they turn the aircon down and the television off. Watching loud sitcoms while getting massages seems to be the norm for some massage seekers.
See the Dentist
Song Chai Dental is an excellent place to get your teeth cleaned for about a mere 700baht. Seriously, if you need to have your teeth cleaned or  perhaps a check up, this is the place to go in Hat Yai.  You can call for an appointment, or just walk in and see if they can squeeze you in. I've had my teeth cleaned here four times and am very happy with the professional services and results. You can find them on Foursquare HERE
Shop Til You Drop
Hat Yai has several stellar shopping centers, with Central Festival being one of the favorites, but convenience-wise Robinson's, Central Department Store (next to Centara Hotel) and the Lee Garden Plaza are all within walking distance of the main Hat Yai hub and they have everything. Notable is an organic section in the grocery store below Robinson's and a Boot's 'drug' store in Lee Garden Plaza. Both of these notables offer some great beauty and health products at superb prices.
PLACES TO STAY
Loads of accommodation options are available in Hat Yai; from backpacker to luxury. However, a wee encounter with bed bugs had me rethink the whole budget digs in transient cities idea. For a few extra bucks I can get an affordable hotel with lots of perks and a much less chance of picking up a few bed bugs, so why not? If you are unfamiliar with bed bugs you can read about my experience with them HERE.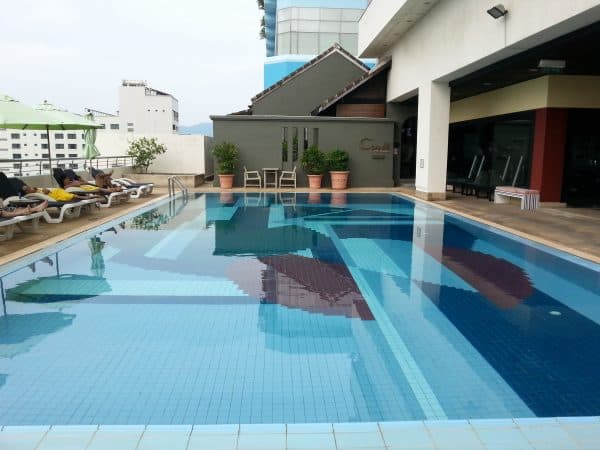 Two hotels I can recommend are the Centara Hotel Hat Yai and the Lee Garden Plaza Hotel. The Centara is the pricier of the two, but well worth the touch of luxury. You can read my review HERE. Especially if you are just coming from the dusty off-the-beaten-paths of Thailand. These two hotels are directly across the street from each other and come with WiFi, gym, pool and an in-house spa/massage option. Both are adjacent to shopping centers.
My Two Cents:
*If you choose a different accommodation, but would love the use of a gym or pool? Lee Garden Plaza Hotel has a well maintained gym and pool which is also open to the public. Their single day use is 150baht per day. They are one of the few hotels in Hat Yai that offer memberships from 1-month for 1,200baht to 6-month memberships for 6,ooobaht.
*Lee Garden Plaza Hotel is absolutely useless when it comes to assisting foreign speaking guests with sightseeing information or transportation questions. Save yourself a lot of time, by asking the Centara Hotel Hat Yai front desk for assistance. They are super helpful.
PLACES TO EAT
There are so many places to eat in Hat Yai, from fancy restaurants to street food. I personally haven't eaten at any restaurant or cafe standouts yet, so I'm happy to take the street vendor options. However, if you're up for exploring, some of the better local eateries are tucked along various side streets, with seating spilling out onto the sidewalks.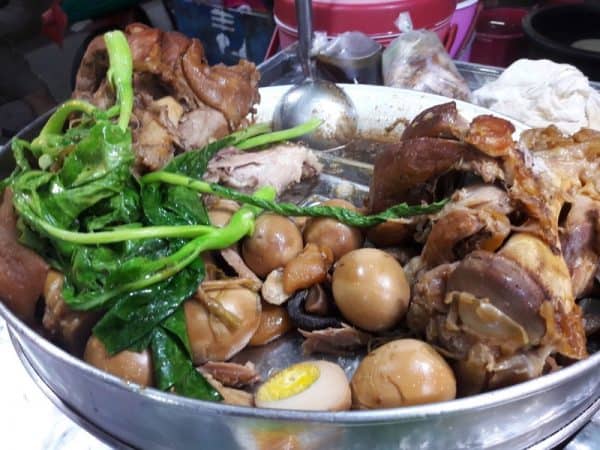 For simplicity's sake and convenience to my preferred accommodation area, the stretch of Prachathipat Road adjacent to Lee Garden Plaza has about 10 separate vendors serving food and they offer tables with chairs as well. The food is fresh, authentic and inexpensive. And if you gotta have a western fix, there's a McDonald's inside Lee Garden Plaza as well as a Swenson's Icecream Parlor.
GETTING AROUND
There is an art to getting around Hat Yai. First off, motorcycle taxis and often 'private' songthaew all seem to have mysterious rates in 100baht denominations. I also don't personally want to ride on a motorcycle snuggled up to Joe Taxi Driver. And songthaew? 8 out of 10 times I will end up in the opposite direction. Why? Because I often forget to carry a visual aid (a map or brochure).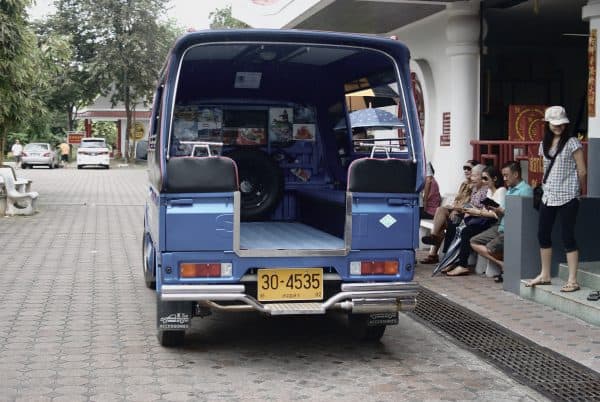 The taxi services seem to be the main hindrance for bopping around Hat Yai in a timely fashion. Or at least it has been for me; a non-Thai speaking foreign woman traveling solo. The zig zag one way streets and the multiple times I have jumped into a songthaew that either suddenly became a private ride or headed in the opposite direction I had intended, seemed to be the norm.  It wasn't until recently that I finally cracked the Hat Yai taxi mystery.
My Two Cents:
*Be aware of a color coding of songthaews. Blue colored songthaews are 'local' and will generally cost less even if it is a 'private' ride. They are also more willing to negotiate a fare price. Red songthaews (from my experience) are more inclined towards private 'groups' at a premium price.
*Carry a map with you at all times
*Keep paper and pen with you for taking notes or possibly communicating with stick figures
*The Foursquare and Swarm smart phone app can be extremely helpful in finding local businesses.
HOW TO GET THERE
Mixing and matching your transportation options is easy in Hat Yai. Flights both domestic and international fly into Hat Yai International Airport at diverse frequency. Buses and Mini Vans are both excellent options as well. In addition to the north and south bound trains. I can actually get from Langkawi to Bangkok or Chiang Mai much quicker and at a lesser cost than by flying from Kuala Lumpur or Penang. You can check BusOnLineTickets for bus and train options HERE
If you opt to take a train from Malaysia to Hat Yai (or visa versa), this post will come in handy:
Hat Yai to Padang Besar by Train, What You May Need to Know Before You Go
My Two Cents:
*Bus Station #1 City Bus Station is the best option for easy transfers in and out of Hat Yai. It is located near the Central Festival shopping center.
*Do expect moto taxi's to automatically quote 100baht to go practically anywhere and avoid getting into any blue tuk tuks unless there are other people already inside. Otherwise there is a good chance it will become your private ride.
*If you are flying to Thailand from Malaysia and already in the north-west Malaysia region, you can save yourself time and money by just high tailing it to Hat Yai and taking a plane from there in lieu of racing to Kuala Lumpur to catch a flight at some ungodly hour.
For travel from Hat Yai to Bangkok or other parts of Thailand, you can book transportation tickets from BusOnlineTickets
If you are heading onward to Songkhla City, you should also read: Discover the Charming City of Songkhla
Have you been to Hat Yai?
If you have any additional tips to add I'd love to hear them!