I've never been a big fan of jet skis, but thanks to Mega Water Sports, I now have three jet ski tours under my belt and a new found love for the water sport. Jet skis often get a bad rap from beachgoers (including me), because there's nothing more annoying than having one's quiet beach day interrupted by the sounds of revved engines piercing through your tranquility. Unless of course you happen to have one of those near-miss-run-ins with crazy beachfront drivers. That can certainly be much more annoying. And dangerous!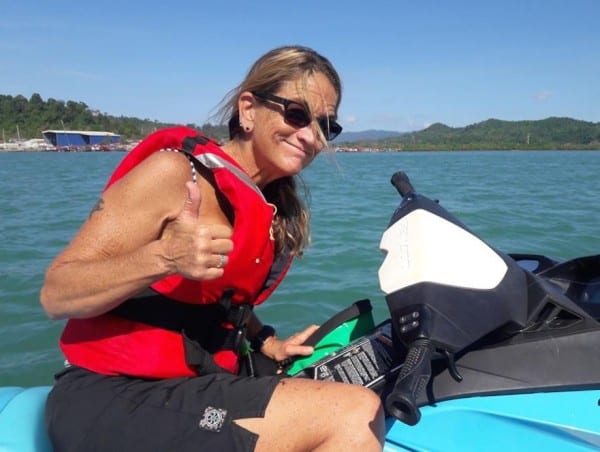 But as much as I loath noise and other interruptions of my personal beach time, when it comes to jet skis, I must confess that my mindset does a complete 360 when I'm the one who's driving. Yup, who knew right? I'm a closet adrenaline junky and I too 'occasionally' have the need for speed. But I should mention that racing a jet ski along the waterfront is not particularly relaxing. In fact, much of the gorgeous surroundings become a peripheral blur. And this is how I came to see jet skis in a whole different light.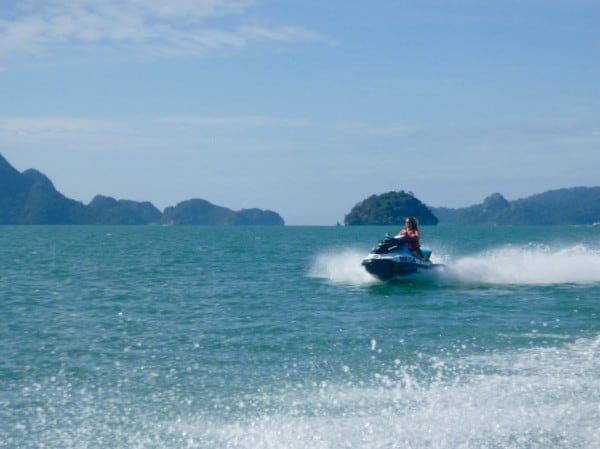 In Langkawi, Malaysia, Mega Water Sports is one jet ski company that doesn't put emphasis on the going as fast as you can aspect of the water sport. Although they do give their guests plenty of safe and environmentally friendly (offshore) opportunities to indeed go quite fast! What they do emphasis is a unique way of seeing some incredibly beautiful offshore geological formations and lush, tropical shorelines, without the inconvenience of a boatload of tourist within an arm's reach. They do, of course, have special tours to accommodate those who prefer to go wide open throttle and just let loose!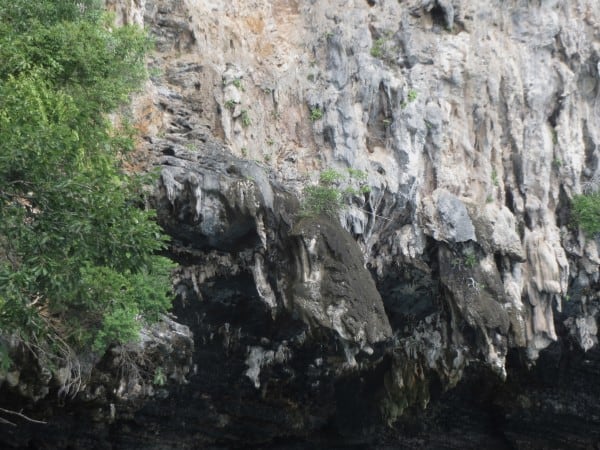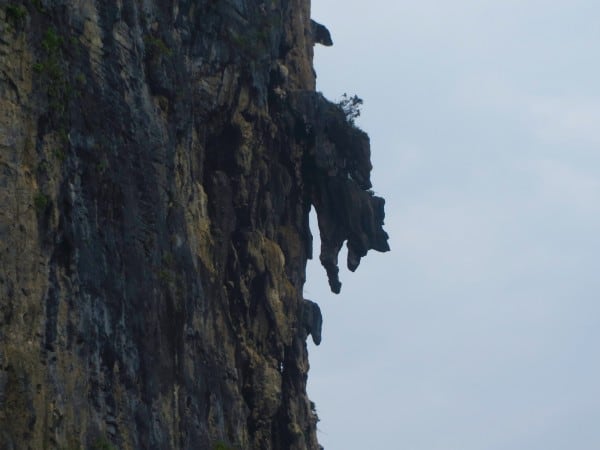 Mega Water Sports offers three unique and affordable (group and private) jet ski tours that are so much more than just going fast for an hour and calling it a day. Mega Water Sports' four-hour tours are designed for different levels and sightseeing interests of riders, including an especially child friendly option such as Tour 1, which takes in three different islands at a slower pace.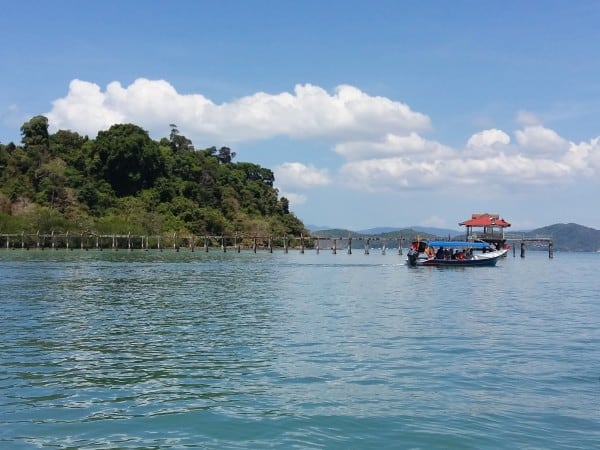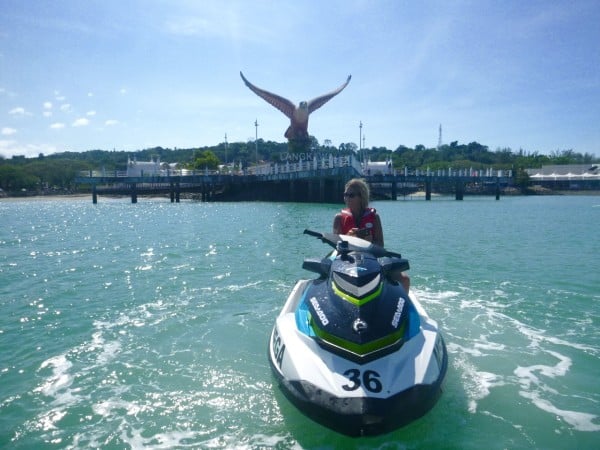 I've taken the popular Tour 2 twice now and both times were slightly varied, allowing me to see a few new sights each time. Tour 2 reserves an hour for exploring Dayang Bunting Island and the Lake of the Pregnant Maiden, before some cruising along those incredible limestone islets and passing through the eagle watching area of Singa Besar. There is ample opportunity to take a few cooling plunges along the way too. But wait! There's more! Towards the end of the tour, about 15-20-minutes are given (offshore) for guests to test their riding skills and do a few fast runs in the open waters.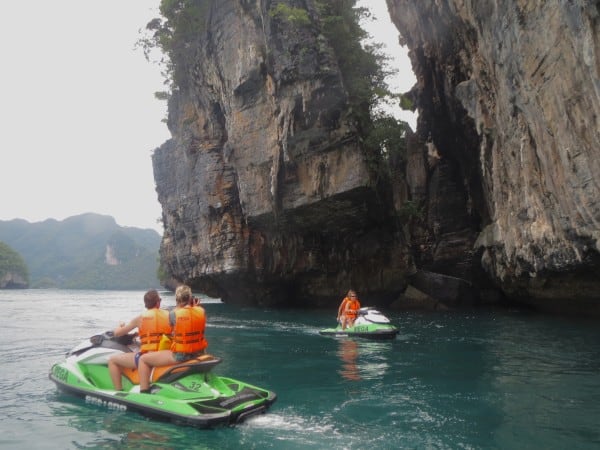 Tour 3 is the more challenging of the three tours, but I now have my been-there-done-that bragging rights. This exhilarating tour takes you along the coastline from Pantai Cenang all the way to Eagle Square in Kuah Town and beyond. It's quite a distance, so the ride is at a faster pace. A few catch-your-breath stops along the way and a picturesque lunch stop complete this unique tour option with plenty (and I do mean plenty) of opportunities to satisfy your need for speed. It's quite a workout but absolutely worth it.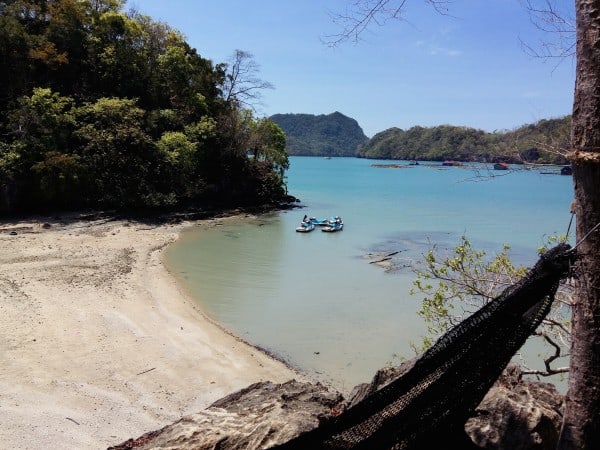 If you have little or no experience with riding jet skis, once you get passed the "How does this work again?" stage then it's a piece of cake. Everyone gets an easy to understand safety briefing and instructional 'how it works' talk, before the tours begin. Once you are offshore, the incredible beauty of the archipelago will completely relax you. I kid you not, it's jaw dropping gorgeous! Mega Water Sports Jet Ski Tours also come with a guaranteed ear-to-ear grin. And I have the selfies to prove it!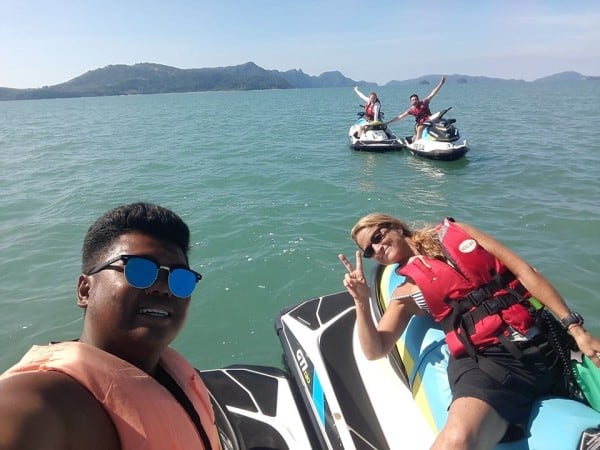 Mega Water Sports Jet Ski Tours are not only interesting, they're fun for all ages and levels of fitness. From children as young as 3 to 5 years, up to the 'you're as young as you feel' older thrill seekers (like me), there is something for everyone. You can check out their different tour packages HERE.
My tips:
*If you get thirsty easily be sure to bring extra water (there is a sizable storage compartment on the jet ski)
*Bring sunscreen and sunglasses (ask your guide for an eyeglasses strap if you don't already have one)
*It is possible to carry a non-waterproof camera (I did), double or triple wrap in plastic plus a dry bag if possible. You will have photo opportunities, but the guides also take photos of the guests if you don't want to risk your camera getting wet.
*Ladies (and men), you may want to bring a sorong or t-shirt cover-up for exploring the popular Dayang Bunting Island (especially if you are the shy type).
*Don't forget to tip your excellent tour guide, they do a fantastic job at ensuring your fun factor is high!
MEGA WATER SPORTS
Jalan Pantai Cenang
Cenang Beach, Langkawi
Tel: (60)1 2389 0801 / (60)1 2200 2155
[email protected]
www.megawatersports.com
*I was an invited guest of Mega Water Sports, but my opinions are enthusiastically my own.
Why else would I take these tours every chance I get? They're awesome!