Need some help planning your 4 days in Langkawi? Langkawi itinerary advice is a dime a dozen these days. Which is a good thing when it comes to planning a Langkawi holiday. Especially if time is limited. Nothing worse than missing something you could have seen or done had you only known about it. Despite Langkawi's often 'sleepy island' persona, a Langkawi itinerary of 4 days will keep you plenty busy. I would personally recommend at least 7 to 10 days, to truly get a feel for the archipelago and get into the island groove. But if a long weekend is pretty much all you've got? Here is my take on a 4 days in Langkawi itinerary. Updated Dec 2022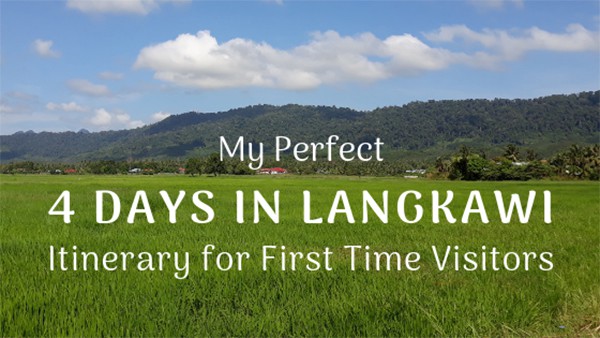 Like any popular destination, new arrivals to Langkawi will immediately be bombarded with brochures and billboards touting redundant information on the most 'popular' Langkawi sights and attractions. Some of those folks simply have large marketing budgets, thus the loudest voices. Are they truly 'not-to-be-missed'? Probably not. Especially considering how much attention they are trying to get. Or at the very least they have a more popular competitor lurking in the shadows. A competitor who may well be able to pass their advertising savings to their customers by offering lower prices across the board. Bet you never thought of that eh?
But I digress. Let's cut to the chase with my mix-n-match 4-day Langkawi itinerary samples. Without including arrival and departure days, because no one wants to hit the ground running, am I right? And on your last day, you will most likely be hugging a palm tree wishing you didn't have to leave. So, let's just make the most of those 4 full days in between, shall we?
Day 1: Langkawi Itinerary
Oriental Village
Panorama Cable Car & Sky Bridge
Seven Wells Waterfall
Field of Burnt Rice
Sunset Cruise
On day one, first time visitors are typically ready to head to Langkawi's top sightseeing venues. Conveniently, both the Panorama Cable Car (Sky Cab) AND Sky Bridge are both located at Oriental Village in Machinchang Geoforest Park. You will want to get an early start and beat the crowds, because these two sightseeing stars are very popular. There will be plenty of local cafes and restaurants along the way to grab a quick breakfast or you can explore the many food options available at the village itself.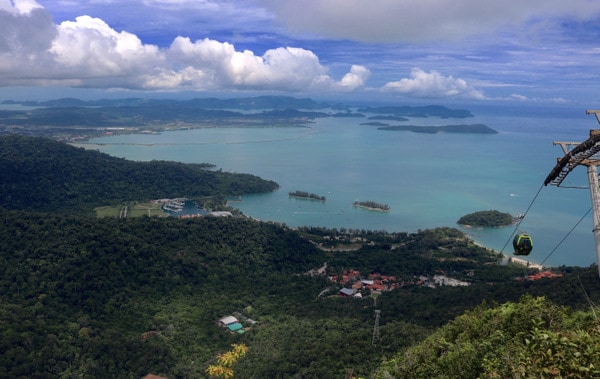 Your eyes may glaze over at the mere thought of a tourist hot spot, but trust me, you must go there! It is truly a not-to-be-missed! And the sooner you go the better as it can be weather dependent. Don't put this stop off until the end of your trip. If it looks like a sunny day, go for it, because you never know what the weather may be like tomorrow.
If you have kids in tow, take advantage of Oriental Village's money saving ticket packages, because there is a lot of extra fun to be had at Oriental Village. I recommend getting a package that includes the Art in Paradise 3D Museum because it's an excellent additional. Do note that there is no entry fee for the village itself, only for the various activities. You can window shop and people watch to your heart's desire for free.
Are you a waterfall fan? If you are, then just up the road from Oriental Village is Seven Wells (Telaga Tujuh) Waterfall. A short (ish) walk up from the parking lot and you will immediately see the photo-worthy main waterfall. It's a further trek up the steep jungle stairs to the top, where there are several pools to swim in, as well as toilets and a changing room.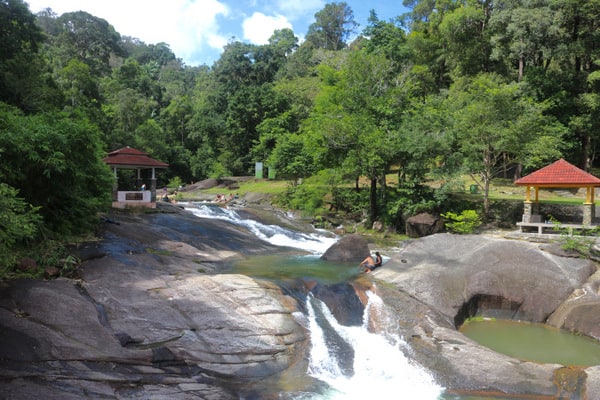 If you do opt to head to the top and hang out a bit, you will eat up your sightseeing time, so keep that in mind. You can always come back another day, when you do your around the island tour. No entry fee is required at Seven Wells, however there is a small parking fee for cars and motorbikes.
There are a few places to eat adjacent to the Seven Wells parking lot, including fresh coconut stalls and a mini mart. Prefer a picturesque waterfront lunch option? Head back to Perdana Quay and you will find a diverse selection of restaurants along the Telaga Harbour boardwalk.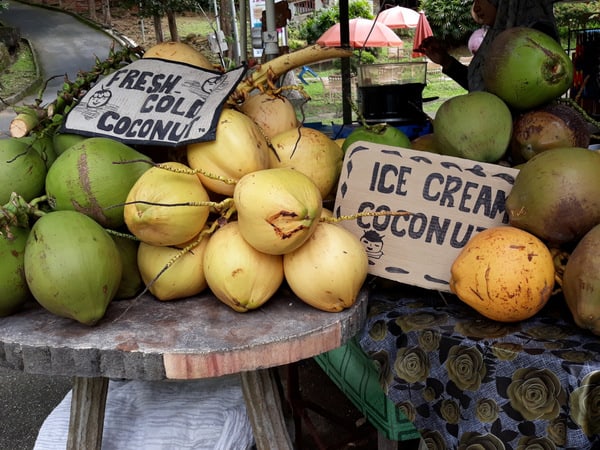 Alternatively, you can beeline to Padang Matsirat, home of the Field of Burnt Rice, where you will find an abundance of local eateries, food stalls and souvenir shops. (Just tell your taxi, "Field of Burnt Rice") It is also a perfect opportunity to try a bowl of famous Laksa at nearby Laksa Kaw or cool off with a tasty Cendol or ABC at Warung Kak Imah (both are nearby on the main road). The Field of Burnt Rice is down the small road in the back of the parking lot. It is just a small house and a memorial plaque, but it's worth a stop by just for a brief, but significant, bit of insight into Langkawi's history.
To get to the small historic site, you will need to pass through a small building filled with various souvenir vendors. Don't walk too fast because there are some excellent deals to be had on batik, t-shirts and local snacks.
Think your day is done yet? Nope, not yet! A Sunset Cruise would be an excellent wrap up to your first day in Langkawi. Tropical Charters offers a very fun 3-hour sunset cruise aboard their trimaran, Seasation. Daily departures are at 5pm sharp for a cruise around the waterfront. Inclusive of free-flow cocktails and mocktails, a salt water Jacuzzi, on board BBQ buffet and a glorious sunset. They have music too! And the Seasation's spacious deck is the perfect place to show off your island dance moves or relax under the starry evening skies.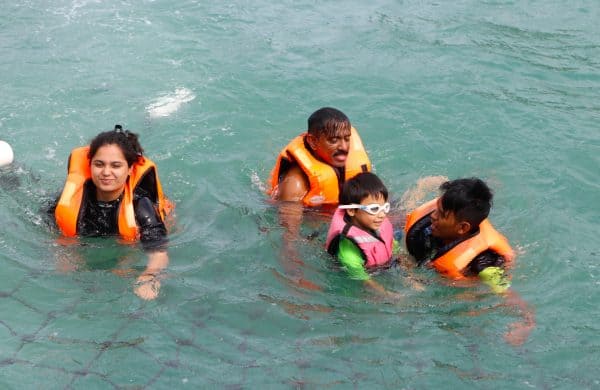 *Alternative adventure activity for Day 1: Island Horses Trail Ride
My Two Cents:
*If you don't have your own transportation, you will have no problem getting a taxi or Grab Car to and from the Pantai Kok/ Oriental Village area. So, unless you are flush with cash, there is usually no need to have a taxi wait for you.
*Be sure to bring swim wear, towel or a change of clothes, in case you find the waterfalls irresistible. Actually, you should always be prepared for a quick dip during your 4 days in Langkawi because after all you are on an island.
*And please, don't feed the monkeys! It makes them more dependent on humans for food, but they can also bite. That cute photo is not worth a trip to the emergency room.
Day 2: Langkawi Itinerary
Mangrove Tour (includes lunch)
Malaysia Cultural Dinner Show
or
Nature Cycling Tour
Wet Market
Sunset Mangrove Tour (includes dinner)
Day two's Langkawi itinerary options come with a pick up from your hotel or guest house. You're on your own for breakfast, but by now you have probably already sourced something near your accommodation. Better yet, grab something you can eat utensil-free or can save for a snack later, because today is Mangrove Tour day with Dev's Adventure Tours!

Langkawi has loads of mangroves and provides an excellent opportunity to see a wide range of diverse flora and fauna. From swimming monkeys, otters, and monitor lizards to snakes and bats. And since over 200 species of birds call Langkawi home, you will see a few of the mangrove bird regulars as well. The 5+ hour mangrove tour generally starts in the morning (not including your pick-up time).
The tour includes a quiet cruise through the waterways, a visit to a bat filled cave and if time allows a quick stop at a secluded beach. All the while observing nature at its best, along the muddy banks and various limestone formations. Your guide will share his or her vast knowledge with you along the way and a delicious local lunch is also included, as is water.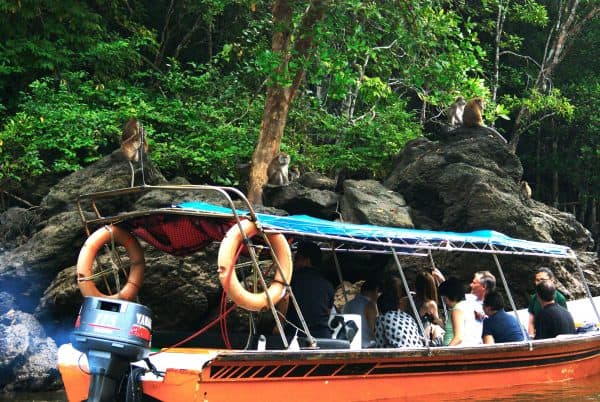 Now, just for the record, there are mangrove tours and there are mangrove tours. The reason I recommend Dev's Adventure Tours for your mangrove excursion is that the tour is not only affordable, but it comes with a licensed, knowledgeable (and passionate) naturalist. 'Some' mangrove tours are basically boat rides through the mangroves with an occasional finger point at wildlife.
Trust me on this one, mangroves can be quite fascinating and you will want to get the most from of your mangrove experience. Dev's is also one of the few tour companies who will not cancel a trip due to the 'boat not being full'. Shared 'group tours' leave as scheduled with (as of 2022) a minimal of four people. Please double check with them on that, as the minimal number may vary, depending on the tour.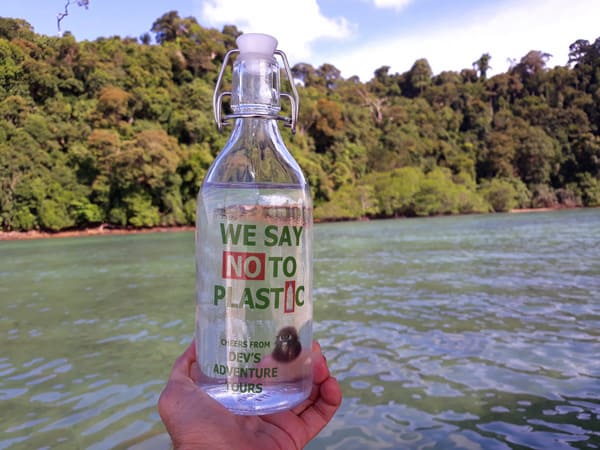 You will be pleasantly pooped after your adventures in the mangroves. And a little down time poolside or at a beach near your hotel would be an excellent way to recharge before dinner.
The Aseania Resort and Spa has a Malaysia Cultural Show and buffet dinner four nights a week that I can highly recommend. It is one of Langkawi's not-so-well-known gems, if I may say so myself. The venue is poolside with a backdrop to an adjacent rainforest and it all looks quite magical throughout the evening. A full buffet allows guests to try generous selections of local foods, from satay to fresh seafood and all the non-alcoholic beverages you desire. Alcoholic drinks are available, but are sold separately. *Updated Dec 2022-  Cultural Show not resumed yet…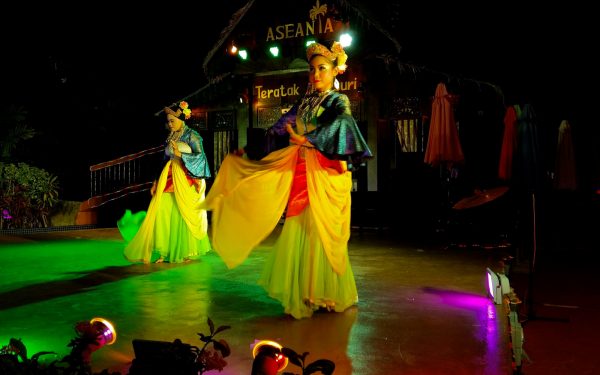 The show itself consists of traditional dancing, music and fire twirling, performed by local professionals who wow the crowds with their talent. On stage photo ops are too fun to pass up, so don't be shy when they invite you on stage!
Or…
If a leisurely bicycle ride through the countryside sounds enticing, then option two for the Day 2 agenda could allow you the best of both sightseeing worlds. The Nature Cycling Tour, offered by Dev's Adventure Tours, typically has a morning tour or an afternoon tour; 8:30am or 3:30pm. If you take the morning cycling tour, you will have plenty of time later to wrap up your day with Dev's late afternoon Sunset Mangrove Tour.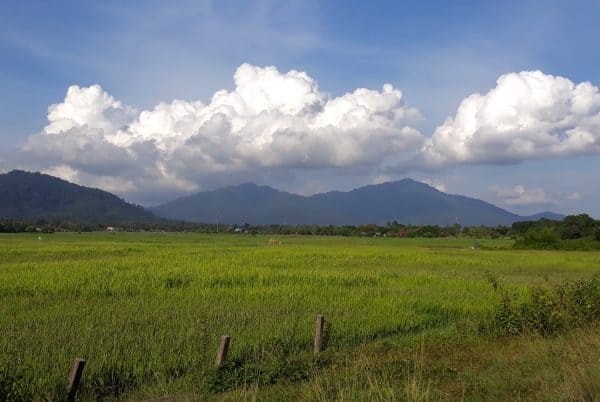 The Nature Cycling Tour is inclusive of transportation and water. The tour is a 3-4 hour leisurely ride through a fishing village and several kampungs (villages). Wildlife and nature spotting along the way come with narratives from your accompanying naturalist who will be happy to answer any questions you have about nature, wildlife and local culture. A stop at the wet market is usually on the agenda as well as a visit to Buffalo Park, where you will get to sample ice cream made from Water Buffalo milk. It is delicious by the way and the Water Buffalo are adorable. *Buffalo Park closed January 2020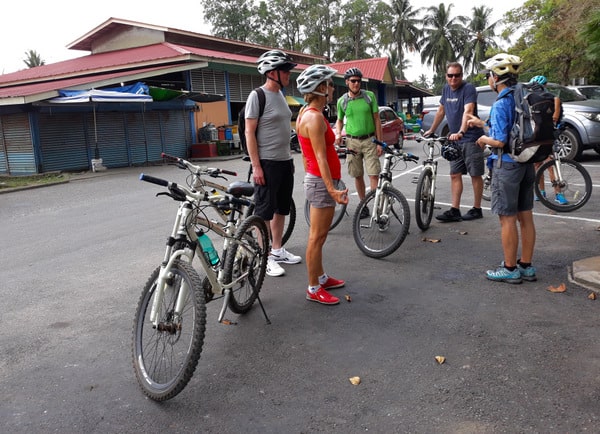 After the cycling adventure, you will have plenty of time to head to the beach for lunch and some beach time or do a poolside recharge at your hotel.
But the day isn't over just yet. Dev's Adventure Tours' new Sunset Mangrove Tour offers a visit to the mangroves during the late afternoon and wraps up the mangrove tour with sunset and a delicious dinner at a local floating restaurant. With the usual mangrove boat traffic having already come and gone, the Sunset Mangrove Tour can be downright romantic!
*Alternative adventure activities for Day 2: Dev's Kayak Mangrove Tour and Mega Watersports Jet Ski Tour
My Two Cents:
*If you opt to take the Nature Cycling Tour, dress for comfort and wear proper cycling footwear (not flip flops). But just a heads up, (ladies) may want to be mindful of showing 'too much skin'. You will be making a few stops along the way and meeting locals, so it's just proper etiquette. But again, this is just my two cents.
*You will also want to have sunscreen and insect repellent with you.
Day 3: Langkawi Itinerary
Island Tour (rental car or taxi)
Skull Sand Beach
Temuran Waterfall
Kraft Komplex
Tanjung Rhu Beach
Eagle Square
Lagenda Park
Night Market
Day 3 of my Langkawi itinerary is about exploring the island on your own. I personally think that having your own set of wheels every day is not necessary. But renting your own transportation for at least one day allows first time visitors to take an island tour at their own pace. At a glance Langkawi may look easy-peasy, and it is for the most part, but it can also get confusing. Heading clockwise and generally keeping a clockwise direction in mind, from any starting point, will help keep the island drive slightly more organized.
And as you can see from the basic map below, the main roads typically skirt the coastline and cross through the middle in a few places. Local eateries and roadside food vendors make their appearances at regular intervals, so don't worry about being hungry or thirsty as you will have loads of options for refueling along the way.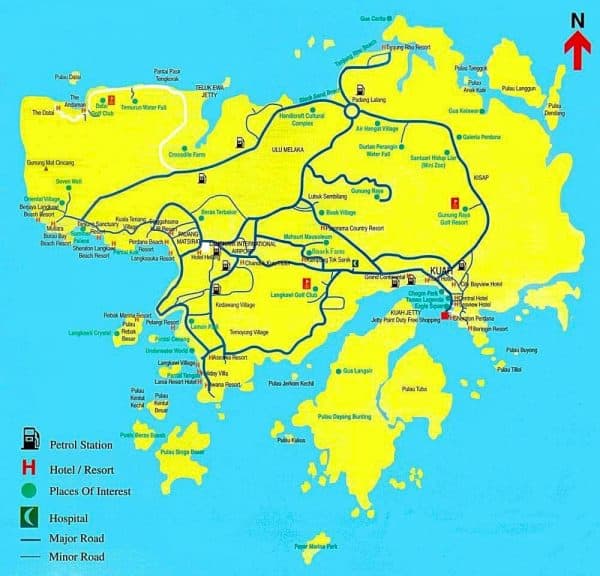 Taking the road from Telaga Harbor northeast towards Tanjung Rhu Beach is a lovely drive with little room for error and plenty of scenic vistas along the way. While in the Telaga Harbor area, if you still want to see the 'top' of Seven Wells Waterfall, now is your chance. There are also two other waterfalls along the driving route; Temuran Waterfall and Durian Waterfall.
Heading northeast through the Machinchang Geoforest Park there will be a northbound road that leads to the Datai Resort. Well past the Crocodile Farm (which is not on this recommended Langkawi itinerary), continue driving north on the well-paved road. As the road (Jalan Datai) reaches the sea and curves left, Pantai Pasir Tengkorak (Skull Sand Beach) will be on the right hand side.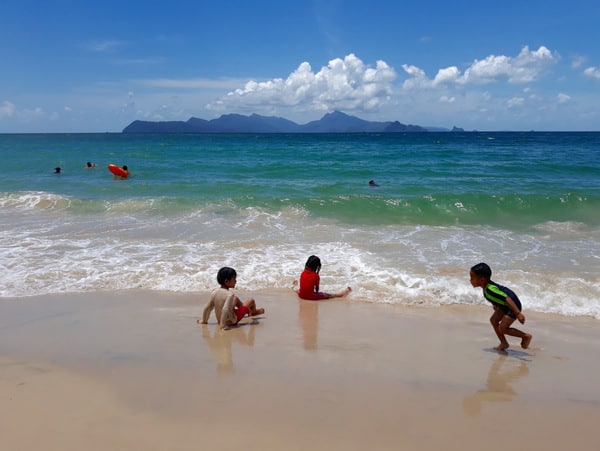 Skull Sand Beach is a small but gorgeous local beach that can really draw a crowd on the weekends. The sand is white, the water is relatively clear and there are plenty of shade trees. But it also has historic significance which is explained in two seaside markers. Named Skull Sand Beach because once upon a time more than a few bodies/ body parts floated their way to these shores from the nearby ex-penal colony island of Koh Tarutao, Thailand. You can see Koh Tarutao looming large across the adjacent waters.
Just up the road, still heading north, is Air Terjun Temurun (Temuran Waterfalls). Temuran Waterfalls has three tiers and is notably the tallest waterfall in Langkawi. The waters cascade 30-meters to the pool below. As with any waterfall, it will be much more dramatic during the rainy season. But it still a beautiful location for a picnic or a dose of nature.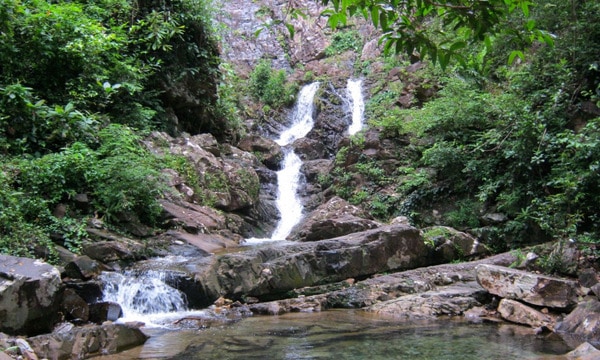 Backtracking to the main road and taking a left, head north and you will reach Pantai Teluk Yu (Shark Bay Beach). Across the road (and down a bit) from the beach is Komplex Kraft (Craft Complex) which is well worth a visit and can easily take an hour or so to explore because it is so interesting. The complex covers about 32 acres with a main building housing three museums with highlights on culture, heritage and the wedding practices of the 13 states of Malaysia. It's an insightful look at Malaysian culture and entry is free.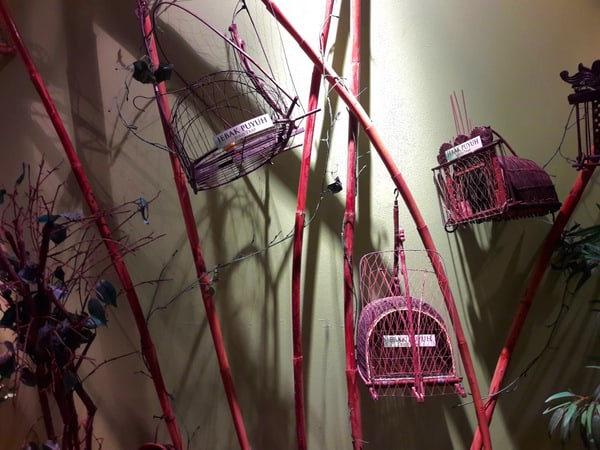 Continuing onward, the road will veer to the right and smack into the roundabout of Padang Lalang. If you take the road to the left (north) you will arrive at the pristine sandy shores of Pantai Tanjung Rhu. Until recently this stretch of public beach was just a beautiful beach with a couple of food and drink vendors. Now, however, there are a few businesses along the waterfront including a jet ski and parasail operation and a small seaside hotel.
Tanjung Rhu Beach is still lovely and has one of the best Fish and Chips restaurants in Langkawi located there. Scarborough Fish & Chips offers a shady lunch spot adjacent to the sea and they aren't too bothered if you linger beyond lunch. If you prefer to eat 'more like a local', to the north you will find several roadside vendors offering diverse selections of traditional foods and beverages.
Had your fill of beaches and waterfalls? Head back to the roundabout and turn left (east). Jalan Ayer Hangat leads you south into Kuah town. Along the way you will pass Ayer Hangat Hot Springs, Durian Perangin Waterfall and Galeria Perdana, but the Kuah Ferry Terminal Jetty is your ultimate goal because your next itinerary stop is Eagle Square.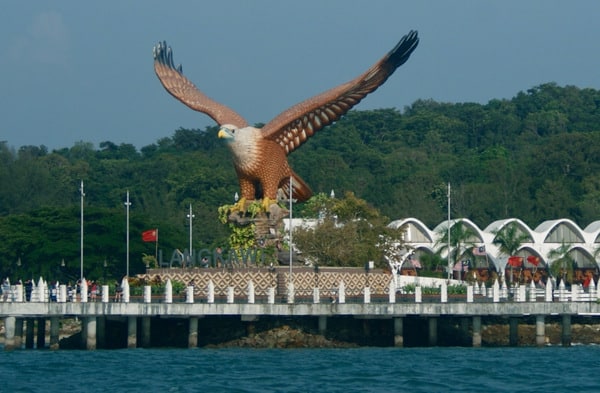 Inexpensive parking is available at the Kuah Ferry Terminal Jetty and it is just a short walk across the parking lot to Dataran Lang (Eagle Square). Yes, it may look like a cheesy tourist thing, but it's worth a visit just for the photo op alone. Adding your own Eagle Square photo to the slew already posted on Instagram is akin to the modern day version of carving your name on a tree. Nothing says, 'I was at Eagle Square' better than an Eagle Square selfie! It's open daily and there is no entry fee.
While you are in the neighborhood, the 50-hectare Lagenda Langkawi Dalam Taman (Lagenda Park) is right next door to Eagle Square. The waterfront garden museum contains 17 sculptures depicting various scenes from the legends and myths of Langkawi. Originally opened in 1996, the park's stone residents are showing their wear and tear a bit, but the grounds themselves are still well-maintained, picturesque and stroll-worthy.
You are probably thinking of food by the end of this day's adventures and a Langkawi Night Market is the perfect place to go with an appetite. There is a night market every night of the week at different locations across the island. Two of those nights are Kuah locations which would be quite convenient if you happen to be winding up your around the island tour on a Kuah night market night. But since you have transportation it will be easy for you to visit a night market either way.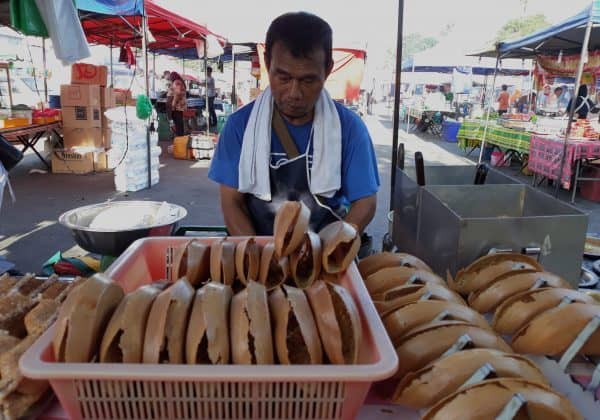 You can find the Langkawi Night Market locations HERE  And if you would like a little background information on some of the foods you may encounter, check out Must Try Night Market Food in Langkawi
On an environmental note, you will be an absolute island hero if you bring your own food container and reusable bags with you to the night market. In fact any effort to be plastic or styrofoam free while you are visiting Langkawi will make you a hero in many people's hearts. Especially those who are working towards the goal of a plastic and styrofoam free Langkawi. Thank you in advance and bon appetite!
*Alternative adventure activity for Day 3: Parasailing at Tanjung Rhu Beach or a side Day Trip to Pulau Tuba
My Two Cents:
*Motorbikes can be oh so fun, but driving one all day long may take its toll. Do consider the distances you are undertaking for the day and gauge your capabilities accordingly. Sightseeing and keeping one's eyes on the road can also be a challenge. Especially for first time visitors. But if you insist, please wear a helmet and be extra careful. I would personally recommend renting a car.
*Be sure to have a change of clothes and your swimsuit with you because you will have several opportunities to get wet.
*Do not leave valuables in your car or motorbike if you can avoid it, regardless of being in a remote location or a seemingly people infested parking lot. It takes less than one minute to quietly break a window and unlock a door or jimmy open a motorbike storage space.
*Also be mindful of leaving valuables unattended on the beach or at a waterfall. This would also be the case if monkeys are present, because to a monkey a bag or day pack could contain tasty treats and they are quite good at snatching bags and climbing trees in the blink of an eye.
*As I mentioned earlier, please do not feed any wildlife, including monkeys along the roadside as this also puts them at high risk to get run over by a car after you are long gone. If you are taking a taxi for the day and the driver is pro monkey feeding, please decline the offer and feel free to tell him or her why.
Day 4: Langkawi Itinerary
Island Hopping
Lake of the Pregnant Maiden
Eagle Watching
Wet Rice Island
Duty Free Shopping
Sunset Dinner
or
Day Cruise (includes lunch)
Sunset Dinner
On your last full day, a standard 3-island, Island Hopping excursion would let you tick off a few more Langkawi sights from your list. The standard Island Hopping is a quick 3-4 hour offshore jaunt to the Dayang Bunting Marble Geoforest Park and Pulau Dayang Bunting; home of Tasik Dayang Bunting (Lake of the Pregnant Maiden). The 'shared' group tour boat option can range from 35-ringgit on up and may or may not include a pick up from your hotel or guest house. 9:00am and 2:00pm are the usual pick up times from predesignated locations in Pantai Cenang.
If you prefer to depart from Kuah, the island hopping boats leave from Pekan Rabu. Be sure to grab breakfast before your pick-up time because food options are not included and island hopping vendor selections are very limited.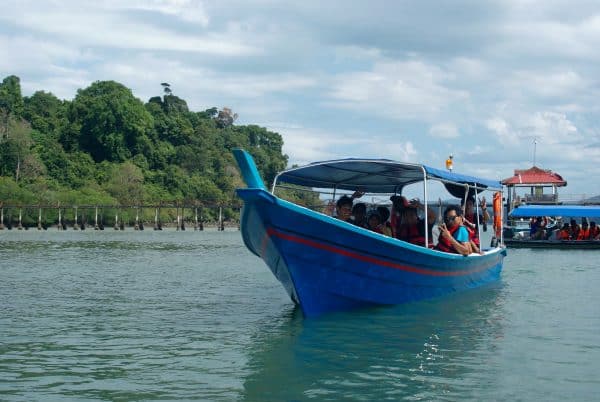 The boats typically have up to twelve passengers. If you prefer a 'private' boat, that can also be arraigned with a much higher price tag. In a shared boat Island Hop, do not expect a special tour guide to be on board. This is just an inexpensive, simple (but fun) boat ride from Point A to Point B and Point C. You should also bring your own water, towel, etc. as they are not inclusive on this adventure.
The first stop at Pulau Dayang Bunting allows guests up to an hour to do the quicki-ish hike to the Lake of the Pregnant Maiden, take a swim and then off to see the 'Eagle Watching'. Eagle 'Feeding' is a big no-no in the eyes of local naturalists and environmentalists so I only recommend Eagle Watching, which is essentially stopping near Pulau Singa Besar (Big Lion Island) and scanning the skies for hungry birds. Sea Eagles and Brahminy Kites top the list of birds that frequent the area to dive for fish.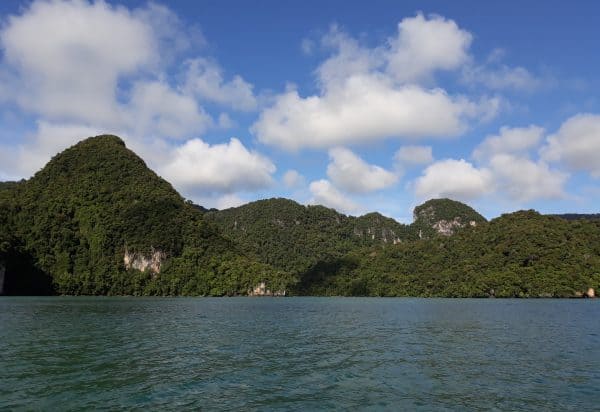 Lastly, a 30 to 40-minute stop at the blindingly white-sand beach of Pulau Beras Basah (Wet Rice Island) for a swim and a few selfies. You will be able to rent a mask and snorkel here as well as buy a few snacks. The sun will be high (and strong) by the time you reach this third island, so be sure to lather up with sunscreen and/or wear a hat.
The standard Island Hopping is bookable at most tour desks, however some tour operators will only be looking for 12 pax groups or 'private' bookings. This is where things can get confusing for first time visitors. The key word is 'shared' group tour unless you happen to be traveling with 11 friends. You can also have your hotel or guest house help you arrange things or for Pantai Cenang departures call Rbz Holiday via sms or Whatsapp at +6 013 420 6303. For Kuah departures call or text Kak Ayu at 010 209 4077. Can read more about Island Hopping HERE

OR…
If you prefer something more relaxing, a Langkawi Day Cruise would be a nice wrap up of your 4 days in Langkawi itinerary. Tropical Charters offers a brilliant half day (6 hours) boat trip through the archipelago that you will not soon forget. Sun, sand and sea is what this relaxing outing is all about. Inclusive of gorgeous scenery, a salt-water Jacuzzi, free flow beverages of choice and a barbecue on a private beach. Tropical Charters also includes transportation to and from your hotel or guest house.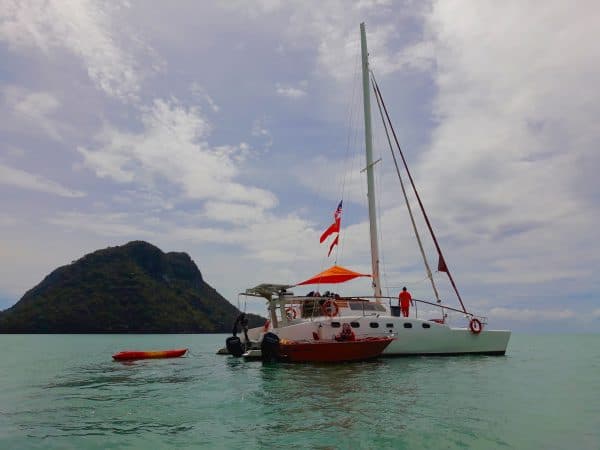 With Island Hopping or the Day Cruise you will be back on shore with plenty of time to do some last-minute Duty Free Shopping and relax before dinner.
The epitome of an island holiday is a picturesque sunset dinner on the waterfront and a great way to end your 4 days in Langkawi. Langkawi also offers plenty of waterfront dining with sunset views. However, not all of these fine eateries serve alcohol as well as non-alcoholic beverages. But fear not as I've made a list of those who do offer both options.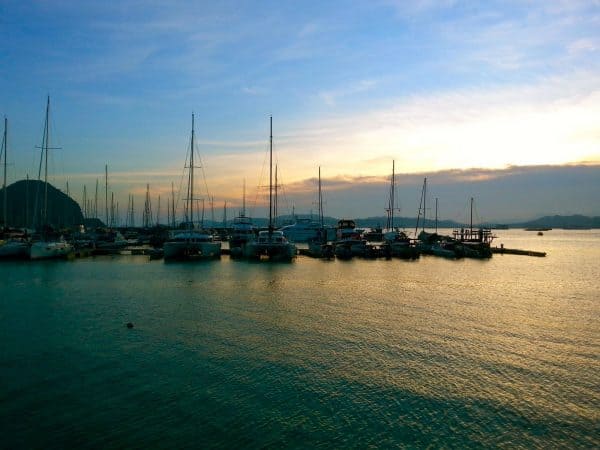 Check out Langkawi's Best Waterfront Watering Holes for nine of my personal favorites and toast the glorious Langkawi sunset with your favorite mocktail or cocktail, a delicious meal and a view of the surrounding sea.
*Alternative adventure activity for Day 4: Jungle Trekking
My two cents:
*Island Hopping boats come in all shapes and sizes, but they should have an adequate number of life jackets on board at all times. Inquiring about this when booking is a good idea. If the boat you are scheduled to meet up with is not compliant, it is totally up to you regarding your safety.
*Please do not join any tour company who is touting 'Eagle Feeding'. The words feeding and watching often get clumped into one, so just for the record, there are some who throw chicken skin out to entice the wild birds to dive for the food and entertain the guests (aka Eagle Feeding). It is unnecessary and unhealthy for the birds. A little patience will reward you with a more natural version during good old fashioned 'Eagle Watching' and it is much more sustainable.
*Being on boats of course increases your chances of dropping something overboard or getting non-waterproof items wet. Having a dry bag or other waterproofing is a good idea.
*Wearing proper shoes on a boat will help prevent slipping or falling. Non-skid rubber sole shoes or sandals with straps are highly recommended.
*Do be mindful of your trash (as well as cigarette butts) and once again, please don't feed the monkeys or other wildlife.
But what if it rains!?
Ahh, yes rain. It does indeed happen. And that is where The Ultimate Guide to the Langkawi Rainy Season can come in handy, as it has a full listing of indoor activity options to explore.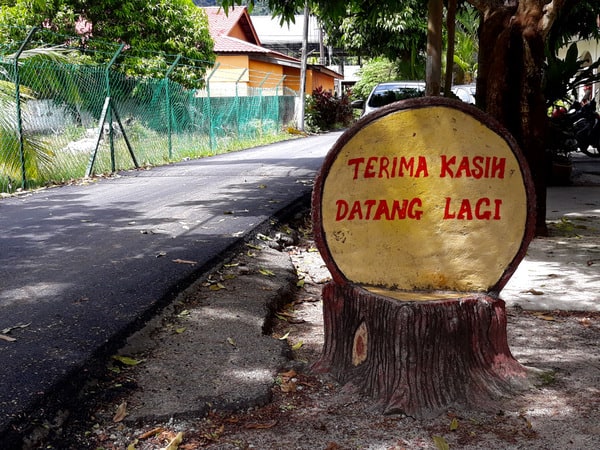 As you can see, the Langkawi itinerary choices are rather eclectic. And there are a lot more things to do than I have even mentioned. Seriously. But for first time visitors or those on limited time, my Langkawi itinerary suggestions are based on some of my personal recommendations, while keeping you in 'general' areas, each day. Hopefully this will allow you to make the most of your Langkawi experience by sparing you the time-wasting, bouncing back and forth across the island. That of course can seriously eat up your vacation time or have you frantically racing from point A to point B. And we all know that islands are best savored typically on 'island time'; slow-paced and relaxing.
Choosing a hotel location can also factor into the conveniences of things. If you are still on the fence about where to stay, check out 30 Great Places to Stay in Langkawi. Care to check out local events and specials? Take a look at This Week in Langkawi, a weekly guide of Langkawi happenings. And if you are also heading to Penang? Check out Langkawi to Penang in 4 Easy (and Cheap) Steps!
If you have any questions, feel free to leave them in the comments below
or shoot me an email. Hope you have a great time in Langkawi!