Although I live in a very pleasant area of Langkawi, Malaysia, the Covid-19 'lockdown' chillout experience has its limits. Waking up to the same routine and same visuals for 100 days straight can take its toll on even the most content of individuals. What's the remedy? A good old-fashioned staycation! And I didn't even need to leave Langkawi as I found the perfect staycation location just across the island at the Langkawi Yacht Club Hotel. Not only was it perfect for me, I also discovered it to be one of the best hotels in Kuah Town. Very affordable too.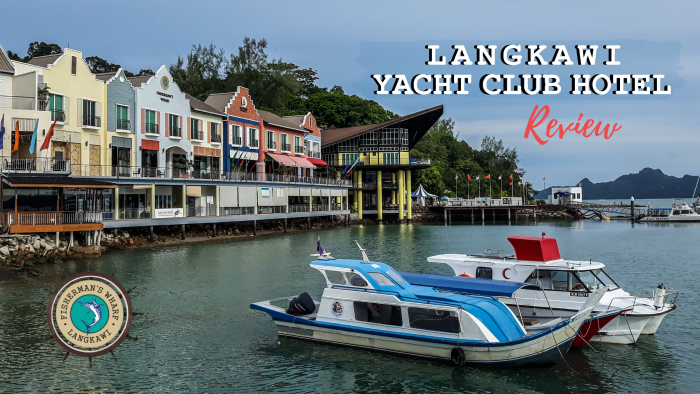 The Langkawi Yacht Club Hotel is located at the Royal Langkawi Yacht Club in Langkawi's main township of Kuah. The recent addition of adjacent Fisherman's Wharf Langkawi, with its many restaurants and shops, has created a unique trifecta for hotel guests now as they can get just about anything they need right on site. Or within walking distance.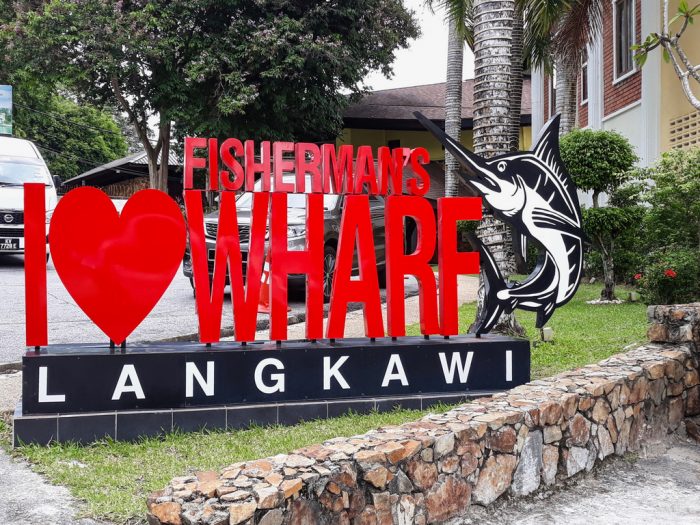 Conveniently situated within a 5-minute walk to the Kuah Ferry Terminal makes the Langkawi Yacht Club Hotel an excellent choice for anyone coming to Langkawi via ferry. But it's also just a 25-minute taxi ride (or shuttle service) from the Langkawi International Airport, so it's easy enough to grab your luggage after landing and be at the hotel in a blink of an eye as well.
Arrival and Check-In at Langkawi Yacht Club Hotel
The colorful Mediterranean style shopping complex of Fisherman's Wharf Langkawi is a bit of an enigma for passersby. Knowledge that a cozy 44-room hotel lurks within the eye-popping façade is not obvious beyond small roof top logos. The subtle signage perhaps keeping this 'hidden gem' somewhat exclusive. In fact, it is only upon entering the breezeway of the Royal Langkawi Yacht Club that you will see the Langkawi Yacht Club Hotel sign in its eclectic, typewriter font.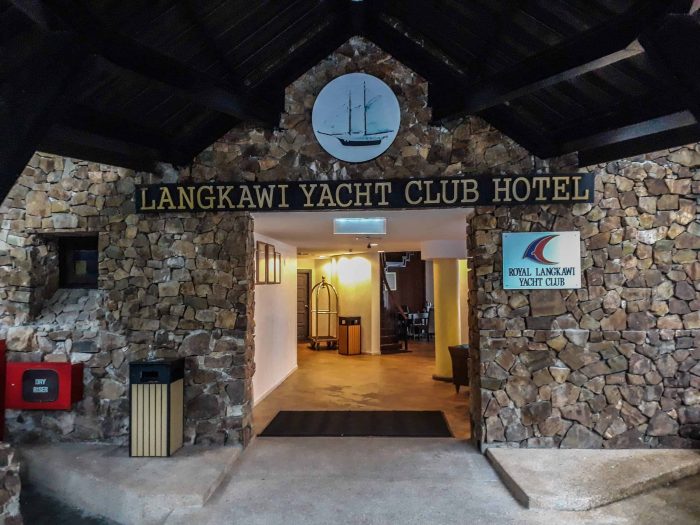 What's it like to check in at the Langkawi Yacht Club Hotel during Malaysia's Restricted Movement Control phase? It's uncomplicated, as it should be. The hotel is now following solid Covid-19 standard operating procedures (SOP) and I must say that they are doing an impressive job tackling this 'new normal'.
I was greeted by mask wearing staff who took my temperature, and kept the appropriate social distancing while checking me in. It took well under 15-minutes. No bumbling around or wearing masks on chins to talk to me, just a quick professional attentive demeanor that left me feeling quite confident that I was in safe hands.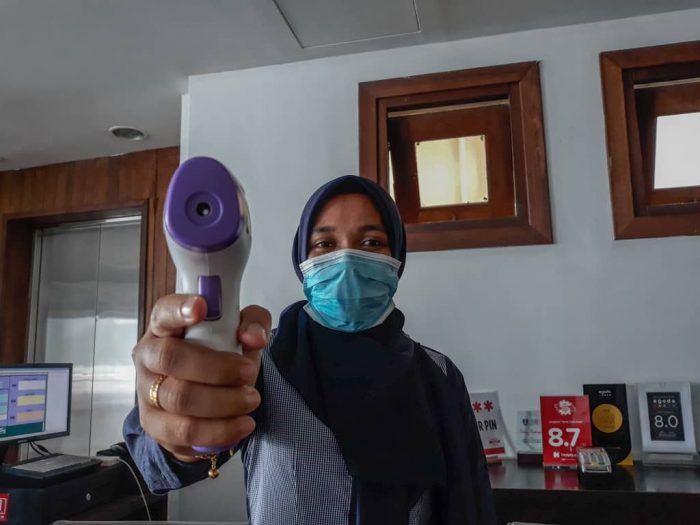 It is of course an unusual time to be checking into a hotel and to be honest I did have my concerns. Even under normal circumstances I'm a stickler for good customer service and neat and tidy hallways and seating areas. But with the pandemic issues lurking I'm especially concerned about overall cleanliness.
I'm happy to report that the Langkawi Yacht Club Hotel was clean as a whistle during my stay. Ship shape if you will. No hallways cluttered with mop buckets or brooms; no overturned chairs being 'stored' until business picked up again (which I find depressing). It felt loved and respected. The kind of hotel I wanted to stay in.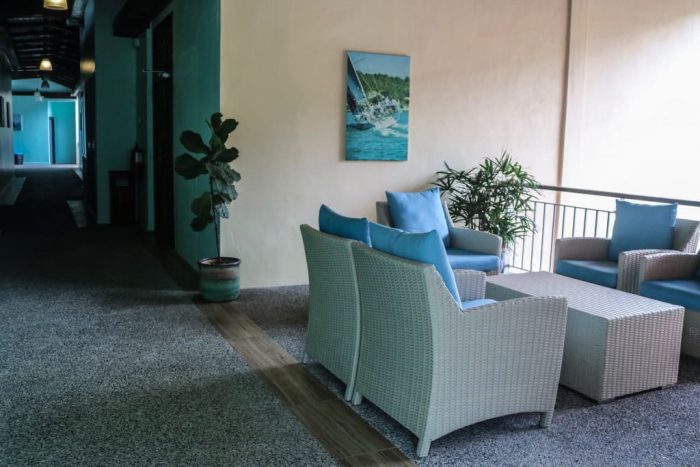 And oddly, despite the fact that they just re-opened and there were few people milling around, there was a buzzy air throughout the hotel as well as the adjacent Fisherman's Wharf Complex. It made me feel recharged from the get go.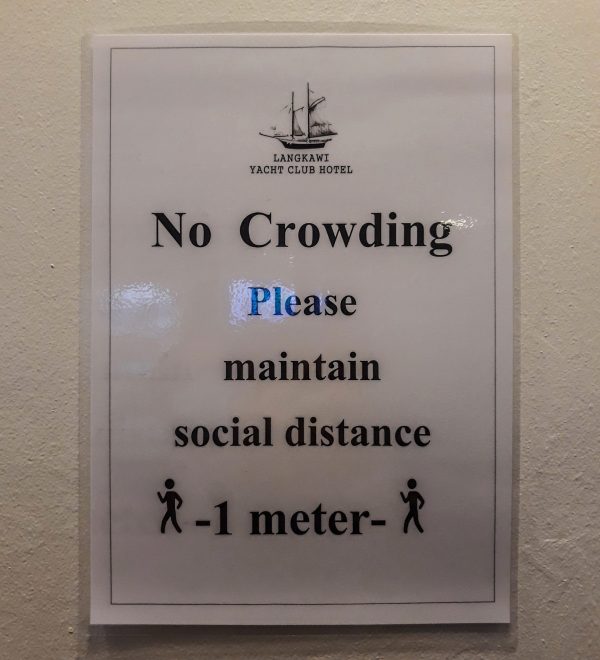 The floors and elevators of the hotel complex are also marked with red boxes as gentle reminders of social distancing recommendations as well as laminated SOP guidelines tastefully posted in the lobby and elevators. If you have any concerns about traveling due to the pandemic precautions, you can rest easy at the Langkawi Yacht Club Hotel; they are on top of it.
My Deluxe Seaview Room and Amenities
I was pleasantly surprised when I walked through the doors of my Deluxe Seaview Room. For me it was perfect in size, floorplan and décor, but the view from my balcony? It sealed the deal. The expansive view of the 250-berth Royal Langkawi Yacht Club marina against the backdrop of those 99-islands of the Langkawi archipelago is breath taking. Add in a few horn toots from the ferry boats and I had the full monty of a maritime experience right at the threshold of my balcony.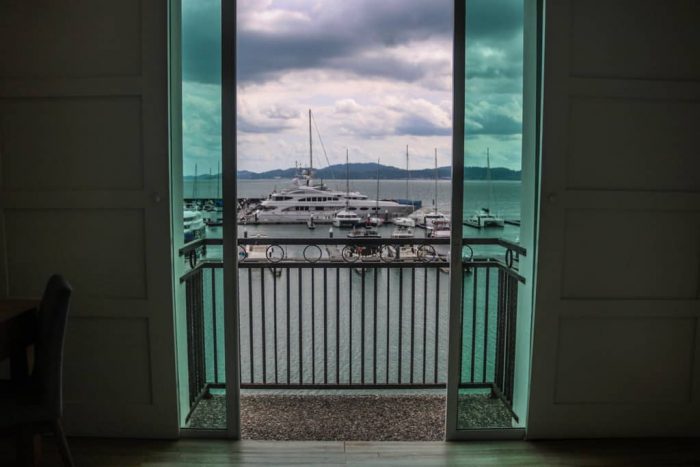 With a minimalist approach to décor, the practical arrangement of furnishings accentuated the already ample floor space. Even with a sizable king size bed in place, there was still plenty of leg room. With a desk, sideboard table and 2 bedside tables, it was easy to keep the clutter down; an added perk for over-packer traveler types like myself.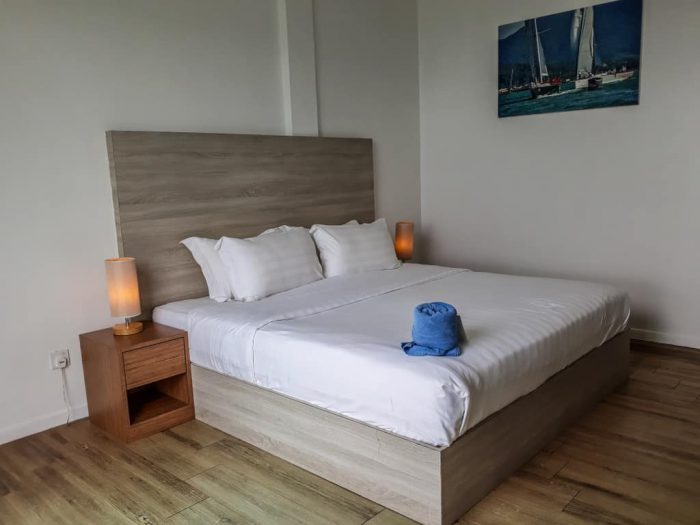 Other room amenities included fast WIFI, flat screen TV, electric tea kettle, mini- fridge and a personal safe. Plenty of closet space too. And in addition to the wonderful sea facing balcony, the bathrooms have a rain shower, with no skimping of available hot water. Oh yes, nothing beats a steady rain shower for de-stressing.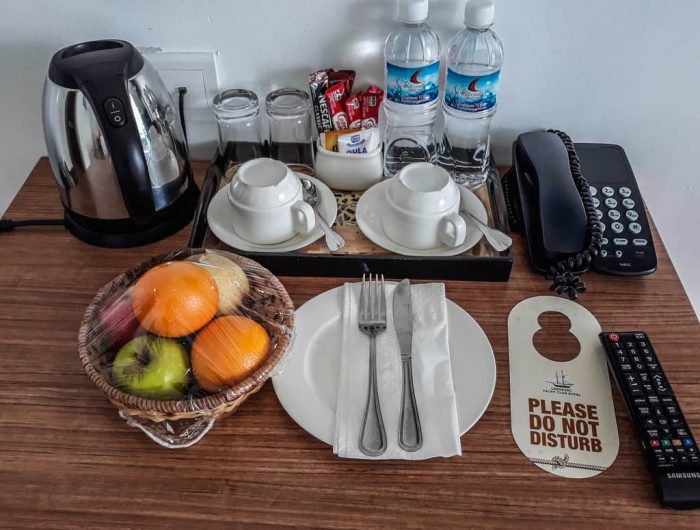 The 44-room Langkawi Yacht Club Hotel has six room styles to choose from, but I chose the Deluxe Seaview Room as I was traveling solo and preferred a room with a direct sea view. The Deluxe Seaview Room is a good choice for couples as well as singles. I would not however recommend this room style for anyone with small children in tow due to balcony safety issues. Yes, you could always just keep the balcony door closed, but then what's the point of having a balcony if not to enjoy it to its fullest, right? Other more child friendly room options are available.
Facilities Available at Langkawi Yacht Club Hotel
When it comes to facilities at the Langkawi Yacht Club Hotel, there is something for nearly everyone. In addition to having access to the 250-berth Royal Langkawi Yacht Club marina and a seaside swimming pool, the adjacent Fisherman's Wharf Langkawi offers guests eclectic shopping, diverse dining, a full-service spa and creative entertainment (inclusive of a karaoke venue).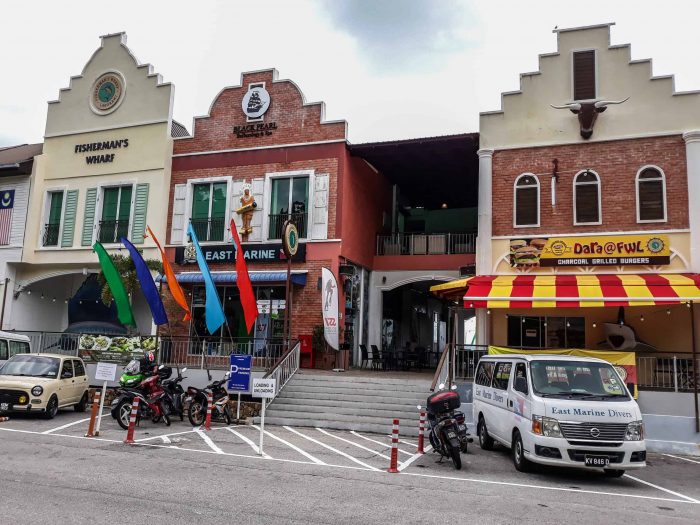 The hotel's 2 restaurants top the list of onsite eateries; Charlie's Bar and Grill and Barbosa Pizza. Charlie's Bar and Grill also serves up the hotel's inclusive breakfasts; enjoyed seaside in Charlie's open-air restaurant or delivered to your room. Come sundown, Charlie's Bar and Grill also has one of the best seats in Langkawi for enjoying sunset.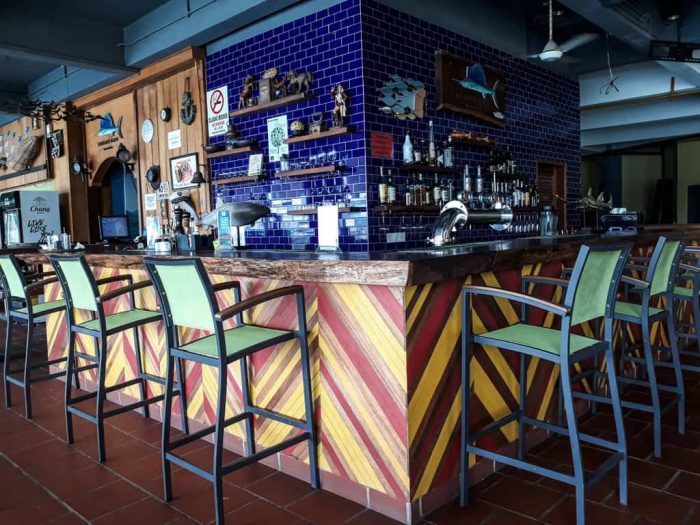 Feel like exploring the Kuah Town area? Shuttle service is available, not only to and from the airport, but around Kuah as well.
Exploring Langkawi
If you feel like getting out and about, several popular Langkawi sightseeing options are within easy walking distance to the Langkawi Yacht Club Hotel. The iconic Brahminy Kite statue of Dataran Lang (Eagle Square) and Lagenda Langkawi Dalam Taman (Lagenda Park) are both located next to the nearby Kuah Ferry Terminal. The location for the scheduled Wednesday and Saturday Night Markets is just another 10-minute walk down the road.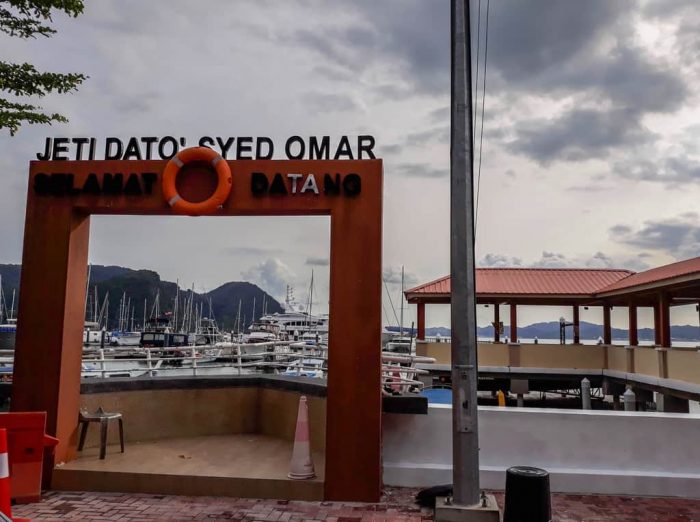 And for the more adventurous, Pulau Tuba (Tuba Island) is a 10-ringgit boat ride from the Langkawi Yacht Club Hotel, with water taxis departures regularly scheduled at Jeti Dato Syad Omar (previously known as Marble Jetty); located next door to Fisherman's Wharf. Visitors can also check in with This Week in Langkawi for updated listings of local Langkawi events and happenings.
My Verdict on the Langkawi Yacht Club Hotel
At a glance I would not have thought the Langkawi Yacht Club Hotel was much to write home about. But I was wrong. It's a very cool hotel and has much to offer. It wouldn't necessarily be my top recommendation for large gregarious families, but I would recommend it as a top pick for couples or small groups of families or friends. During these uncertain pandemic hindered travel times, the Langkawi Yacht Club Hotel offers a breath of fresh sea air as well as a safe relaxing haven to hunker down in for a few days. If you need a staycation, I highly recommend staying here.

*I was an invited guest of Langkawi Yacht Club Hotel, but my opinions are my own.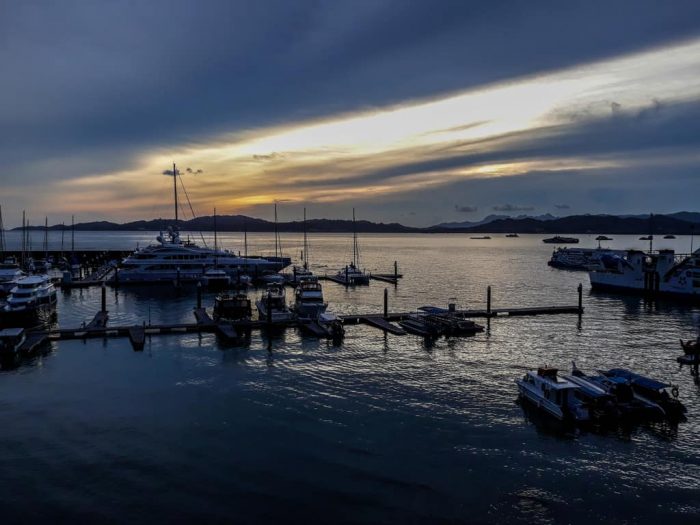 You can check rates and availability HERE
or check the Langkawi Yacht Club Hotel's website for special promotional rates:
www.langkawiyachtclubhotel.com