Drawn to the pendulums of bananas in an empty shop, the nearby clamor of pots and pans sliced through the air like a family reunion. The crescendo of cheerful voices floating amidst the kinetic energy of the busy little restaurant next door; a symbolic clock tower chime of the time of day; makan time. Time to eat. And what better location for an eclectic Malay restaurant than this very spot where I stood and took it all in. The Padang Matsirat, main street location of Warung Kak Imah Restaurant.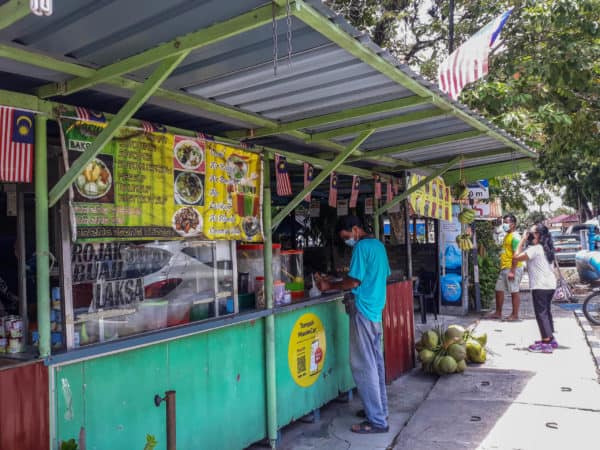 Although it was the banana shop that caught my eye first, I was quickly drawn to the selection of cold beverages being offered next door at Warung Kak Imah. Carefully lined up above the mint green shop space serving window, the swirling concoctions of Air Kelapa (Coconut Water) and Jus Limau (Lime Juice) reminded me of just how thirsty I was on this extremely hot day in Langkawi.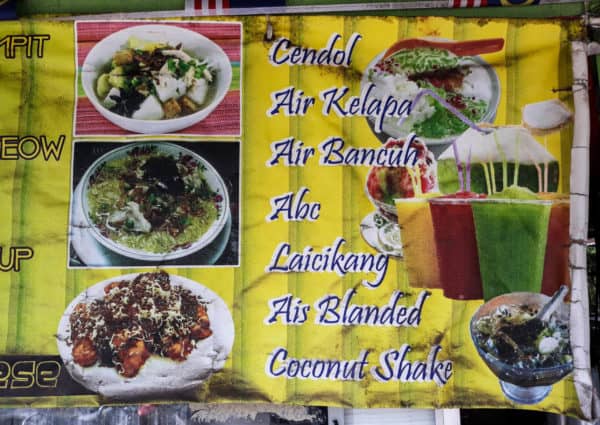 Smiling faces suddenly connected me with those cheerful voices and clamoring pots. It was Kak Imah herself along with her mother and sister who were the creators of this happy restaurant vibe. They won my heart as soon as I stepped through the entry way.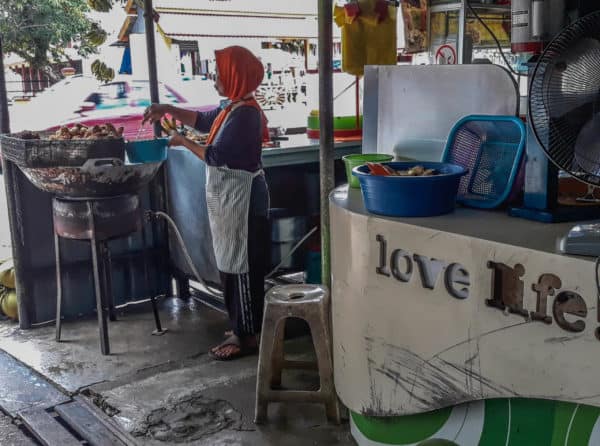 And then I spied Kak Imah's Pisang Goreng (fried bananas). Sure, why not!? I had my friend Anis with me that day so we ordered a couple of cold drinks and a plate full of the crispy nuggets of fried banana. It was good. Really good. Nearly greaseless, golden orbs that melted in my mouth. We both agreed that Warung Kak Imah was a keeper. So much in fact that we returned the next day to try a few more dishes.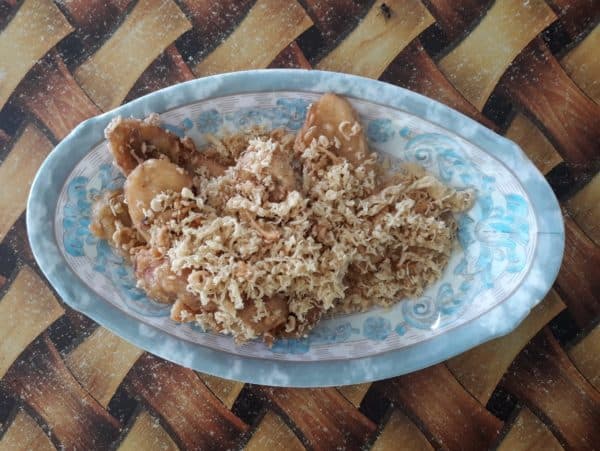 With Anis in tow it was easier to order more dishes and do some serious taste testing. We came hungry and on a mission. After carefully scrutinizing the many possibilities, we ordered; Laksa Utara, Bihun Sup, ABC and Cendol along with a Jus Limau and Air Kelapa, served in charming, mason jar style glassware. Honestly if I was in love the day before, I was even more so on my second visit.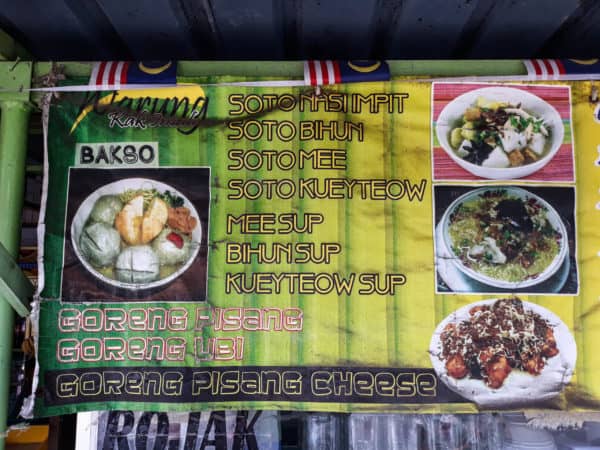 Bihun Sup is a light noodle soup using rice vermicelli noodles mixed with spiced chicken broth (or beef) and garnishes. In Malaysia, vermicelli is often referred to as mee hoon, mi hoon, mihun, bee hoon or bihun. Kak Imah offers her noodle soups with tender chunks of chicken breast and a choice of noodle styles; bihun, mee or maggie; a perfect non-heavy soup for a hot day.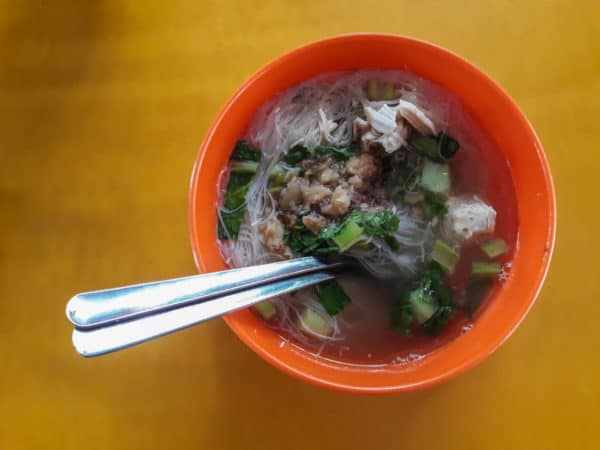 Laksa Utara is 'northern laksa', but some will refer to it as Laksa Kedah. Kedah, of course, being the northwest Malaysian state where Langkawi is located. Kak Imah's Laksa Utara is an ample bowl of laksa noodles combined with a (not-too-fishy) fish-based, asam-flavored gravy. Garnished with the usual laksa toppings, this dish also proved itself a hot day winner. If you are interested to learn more about Laksa, check out Laksa 101: Written By A Clueless Tourist.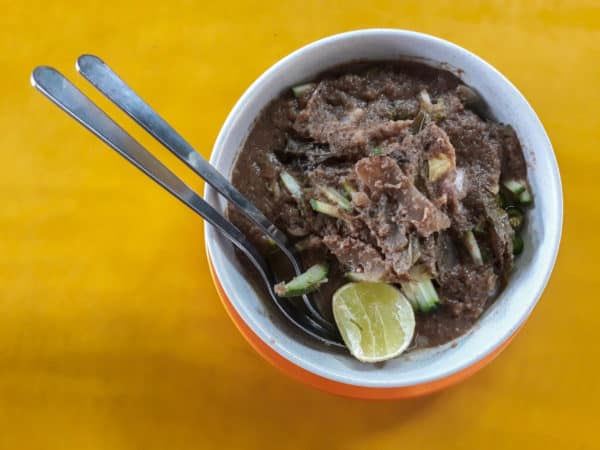 Thinking more about photos than practicalities, our icy desserts were well melted by the time we finished our savory soups. But never the less, melted ABC or melted Cendol on a hot day can't be beat!
I confess that it took me several years before I understood that ABC and Cendol were not the same thing. But in time I came to recognize Cendol's signature green rice noodles versus ABC's colorful volcanic shaped, shaved ice mountain. They are definitely not the same, but can sometimes look similar depending on the availability of shaved ice.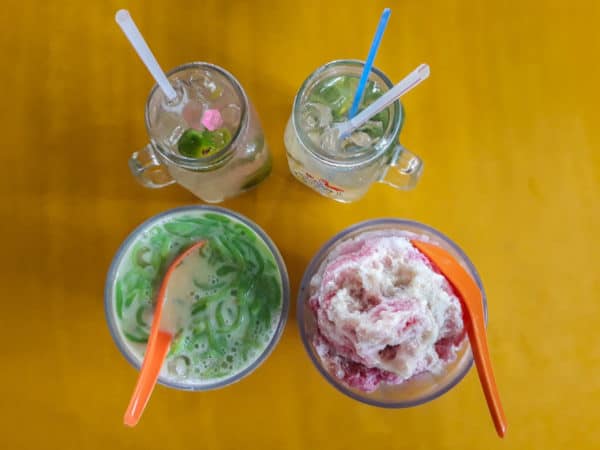 Authentic ABC (Air Batu Campur or 'mixed ice') is an icy dessert mix that isn't always easy to find. At least for me it hasn't been. Likely due to the shaved ice availability issue. One just doesn't serve authentic ABC on ice cubes.
Originally this recipe was called Air Kachang and was just ice and sweet red beans. However, the 'modern' version of ABC is a gallery of colors, flavors and endless creativity. The ABC served at Kak Imah's is a simple mix of shaved ice, red beans, coconut milk and rose water. Reminiscent of the snow cones of my American childhood, it is sweet and chilled to perfection.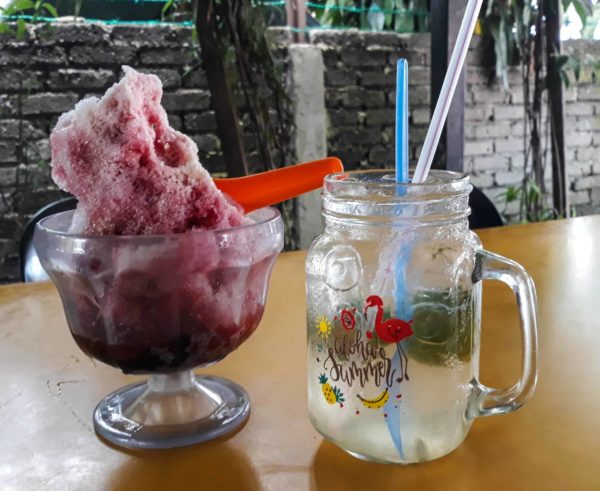 Cendol is an interesting concoction that has a diverse history and can be found in most countries of Southeast Asia, including Vietnam. Some local chefs have also taken Cendol creations to new levels, by adding everything from durian to M&Ms. Kak Imah's Cendol is spot on traditional with a slew of green, pandan-colored rice noodles mixed with coconut milk and gula melaka (palm sugar) served on crushed ice. A smattering of red beans and corn floating in the mix just the way I like it; old school style.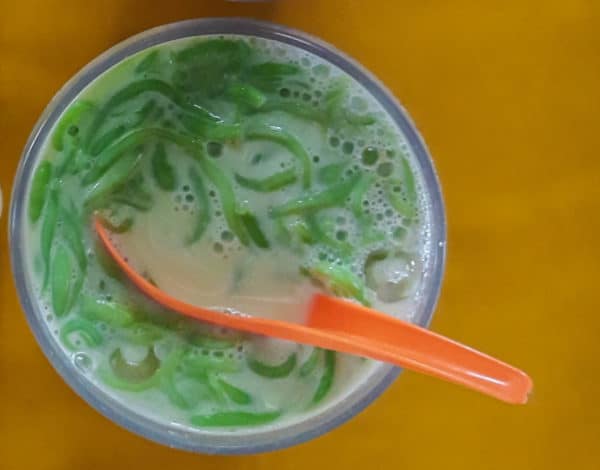 Not only was the food we tried picturesque and Instagram -worthy, but not one food item served was amiss. All the boxes got checked; presentation, freshness, flavor, serving size and price. The icing on the cake being the customer service. Having been in business for 15 years, it's safe to say Warung Kak Imah has their recipe for success down pat and they know how to make their customers feel welcome.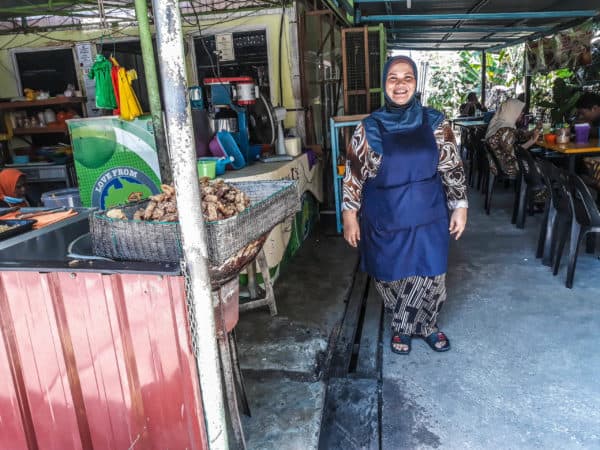 If you are looking for tasty local food in Langkawi, Warung Kak Imah is a must visit. Non-Malaysians who are new to Malaysian food will have an easy opportunity to try several popular, traditional recipes as well as unique beverages. Locals will be thrilled to find many of their favorites in one convenient location.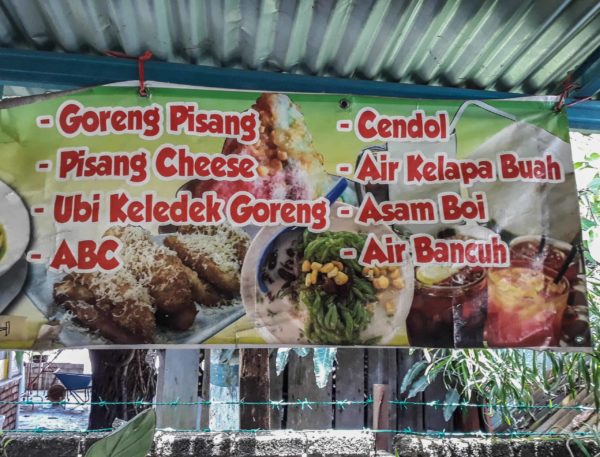 Warung Kak Imah is located in Padang Matsirat, just a short walk south from Beras Terbakar (the Field of Burnt Rice) on Jalan Kuala Teriang. Look for the landmark bananas in the shop next door or the gaggle of children milling around the school across the street. Warung Kak Imah is open daily from 10:00am until 7:00pm. Directions HERE
Warung Kak Imah
Jalan Kuala Teriang
Padang Matsirat, Langkawi, Malaysia
Open daily 10:00am to 7:00pm