I am a clueless non-foodie tourist. There, I've said it. And I feel much better confessing that straight away. Yet I am driven to untangle the mysteries of Malaysian Laksa. Not because I am a massive fan of Laksa, per say, but because there is so much heritage wrapped into this dish. I had erroneously thought that each state in Malaysia had their own special version of Laksa and that was basically it. In fact, I also thought it was unique to Malaysia. Wrong on both counts lah.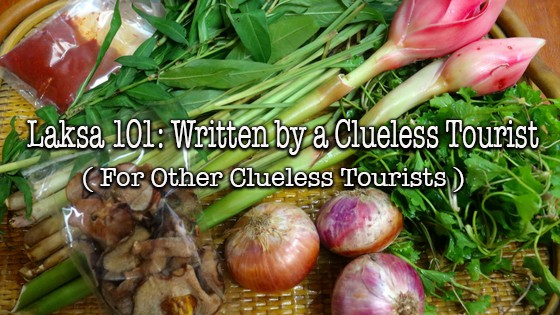 Each state in Malaysia may indeed have 'their' own recipes, but within those states there are also numerous famous and not-so-famous aunties stirring up a variety of Laksa Love. Probably a few uncles as well. And don't forget the numerous monikers that come with the many Laksa recipes. I counted about 22 variations of Laksa just in Wikipedia alone (and you know they have the answer to everything, right?). Leave the country of Malaysia and then a whole new adventure in International Laksa comes into play. Singapore, Indonesia, Thailand, Laos, Vietnam and even Burma have a 'laksa' dish.
This information made me stop the presses and rethink my entire Laksa blog idea. Seriously. Who indeed would even bother to read a Laksa version of War and Peace (the largest amount of words I have ever seen in any one book). Especially if written by a 'matsali' who can't even cook?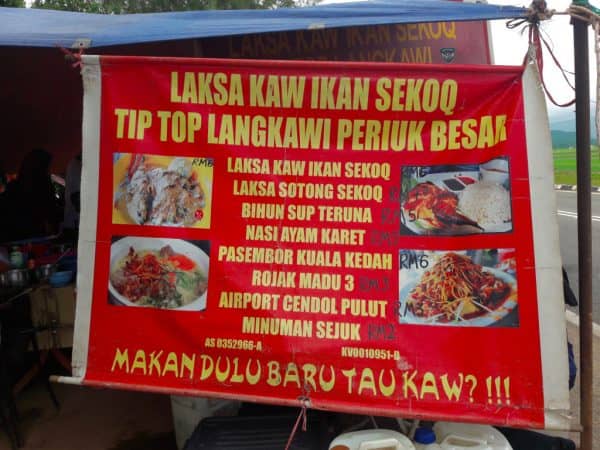 However, while doing some initial taste testing and research in Langkawi, Malaysia, I did actually learn a few helpful things about Laksa. So, I'll carry on here with a few basic bits of information which I discovered. And I'll be honest, the first bowl of Laksa I ever tasted made me gag. The second bowl made me fall in love. Go figure, right? But I'm glad I gave Laksa a second chance or else I would never have known what an amazing food it is.
Now, I don't want you to visit Malaysia without also falling in love with Laksa.  So, let's just go over a few basic facts to make sure you don't get short changed on your own Laksa experience. I can almost guarantee that there is a bowl of Laksa out there that you will indeed love. Oh, and before you say, "But, I don't eat meat or fish!" Alas, there is also Vegan Laksa. Ask the 'Fierce Aunty', Nazlina from Penang's Spice Station. She invented it.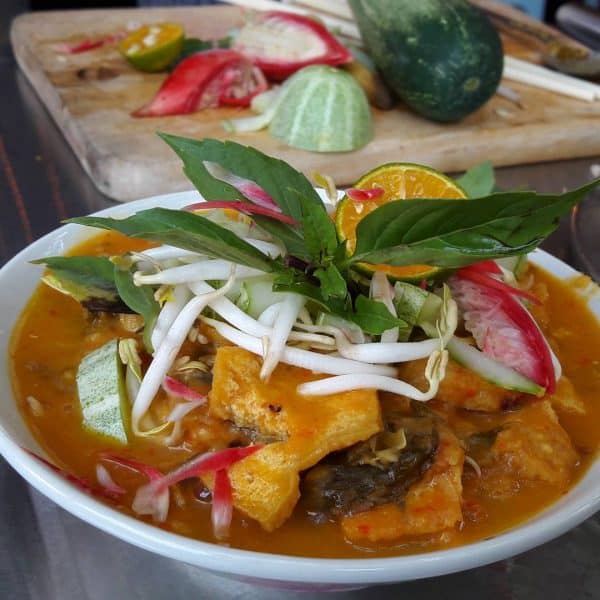 What is Laksa?
In a nut shell, Laksa is a spicy noodle soup. The noodles used can be thick rice laksa noodle or rice vermicelli, or a combination of the two. The soup is made with either a rich curry coconut base or a sour tamarind base. But seriously, that's just the basics.
The name 'laksa' itself has several possible origins.  It may have originated from the Hindi word lakhshah, which refers to a type of vermicelli (noodle). Lakhshah may be derived from the Sanskrit word 'lakshas', which means 'one hundred thousand'. But my favorite possibility is the Chinese word 辣沙 (Cantonese: [lɐ̀t.sáː]), which means 'spicy sand' and refers to the ground up dried prawns often used. This apparently can give Laksa a bit of a gritty texture.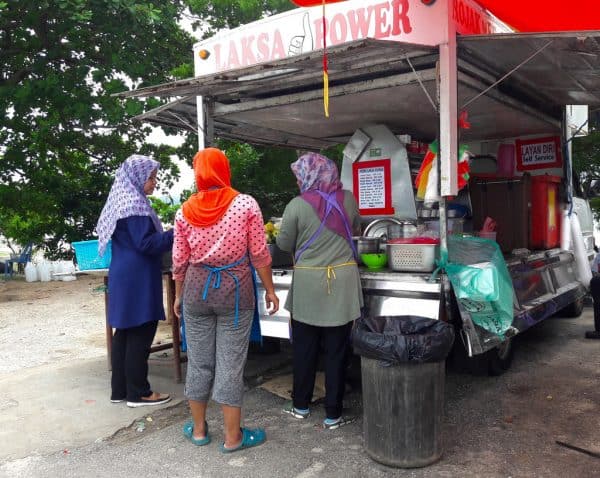 Types of Laksa
Now this is where things get interesting and perhaps a bit confusing for us clueless tourists. Apparently there are at least 11 variations of Curry Laksa, 6 of Asam Laksa and 5 combination varieties which make their appearances on the international culinary scene. The type of Laksa is categorized according to its soup base. Curry or Lemak Laksa has a coconut milk based soup and Asam Laksa has a sour fish based soup.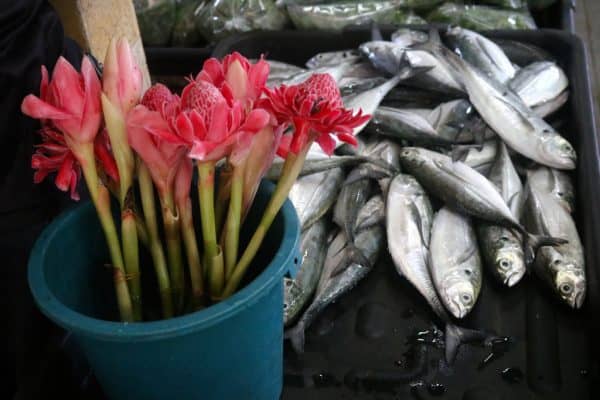 Curry Laksa
With Curry Laksa, different regions typically add their own unique ingredients to the basic recipes. But for the most part, Curry Laksa can include fish, shrimp and even chicken. Garnishes can include bean sprouts; sambal chili paste and Vietnamese coriander 'Laksa Leaf'. Keep an eye out for these names on the menu selections; Laksa Lemak, Nyonya Laksa, Laksam and Katong Laksa (Singaporean).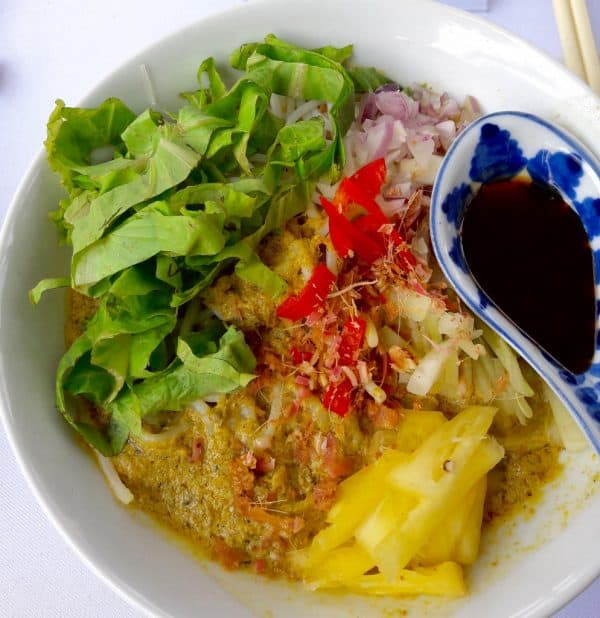 Asam Laksa
In addition to a tamarind-fish based soup, Asam Laksa can also be made with asam gelugar to add the slightly sour flavor. And that fishy taste often associated with asam style? It totally depends on the recipe and the type (and amount) of fish used. Mackeral is a favorite and mackeral tends to be a strong-tasting fish that locals savor.
Additional ingredients of chili, lemongrass, galangal (root), turmeric, garlic, cucumbers, onions and torch ginger flower (bunga kantan) may or may not be included. Look for these names on the menu selections; Penang Laksa, Perlis Laksa, Kedah Laksa, Ipoh Laksa and Kuala Kangsar Laksa, to name a few.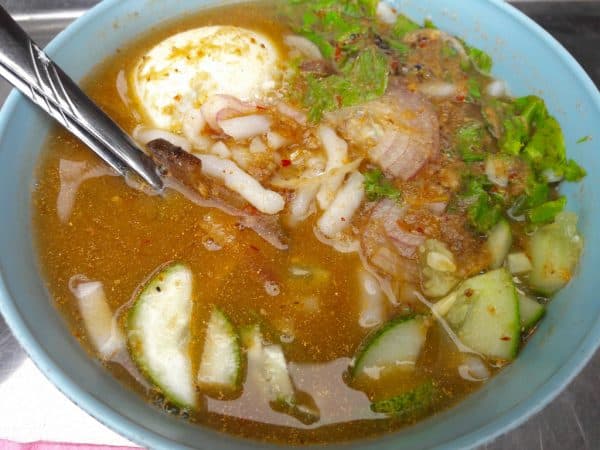 Combination Laksa
I will confess that I am a big Sarawak Laksa fan as it's not too sour and not too fishy. And as you can guess it has a delicious balance of the best of both Laksa worlds; tamarind, coconut milk and belacan (shrimp paste) are the general building blocks for combo Laksa. Additional ingredients and garnishes may include sambal belacan, garlic, lemon grass, omelet pieces, chicken strips, peeled prawns, coriander leaves and lime. Be on the lookout for these menu offerings; Johor Laksa, Kelantan Laksa and of course Sarawak Laksa.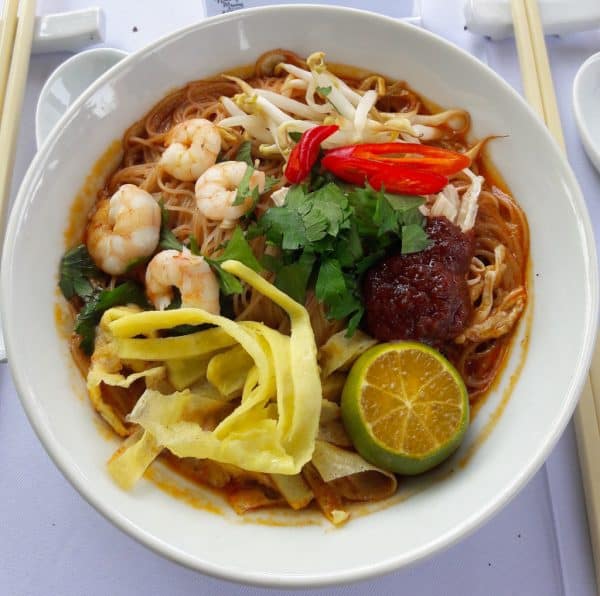 Laksa Noodles
That brings us to the noodle category. Thick rice noodles are the most commonly used, yet thin rice vermicelli noodles (bee hoon or mee hoon) are also popular. As well as a combination of laksa and vermicelli noodles. Johor Laksa even calls for spaghetti noodles and still stays within the boundaries of a 'traditional' dish.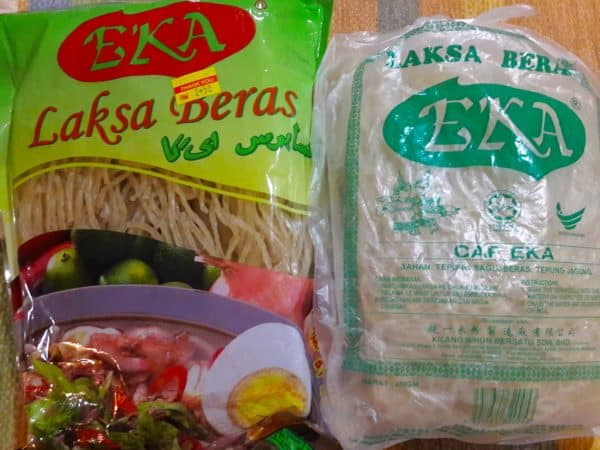 Who has the best Malaysian Laksa?
Well, those are fighting words that will never leave my mouth. I personally prefer the coconut based, less fishy, lemak style, depending on my mood. Although Lemak Laksa also has a subtle fish taste as belacan shrimp paste is often used. But being the clueless non-foodie tourist that I am, I have had my share of opportunities to taste test a few asam style Laksas as well. Amazingly enough, although those recipes can taste similar (and quite fishy) they can also vary greatly. Again, the additional culinary magic depends on the chef and the selection of ingredients used.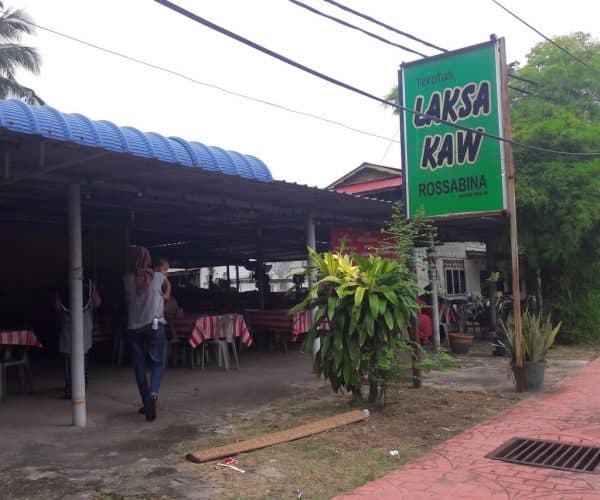 My Malaysian Laksa Disclaimer
This post was originally going to be the 'Best Laksa in Langkawi' but after taste testing several popular vendors' recipes I realized that there is no 'best' when it comes to Laksa. It is truly a personal preference and full on experience that visitors to Malaysia, as well as other Laksa making countries, really need to explore for themselves. And I don't mean just one bowl, I mean every chance you get. To get a true taste of local cuisine and culture. Because you will most likely discover that behind every bowl of Laksa is a unique recipe and flavor as well as a story.
Already have Malaysian Laksa experience? Have any tips or stories to share?