Island hopping in Langkawi is one of the top sightseeing activities offered by local Langkawi travel agents and tour guides. And with the Langkawi archipelago having 99 islands (104 at low tide), it is definitely an island lover's dream come true. Plenty of island hopping possibilities too. But with so many islands to choose from, where to begin, right? Thankfully Langkawi has a tried and true island hopping trifecta that has stood the test of time, is easy to do and crazy affordable. And if you don't check out this popular Langkawi island hopping tour, you will surely miss out on one heck of an opportunity.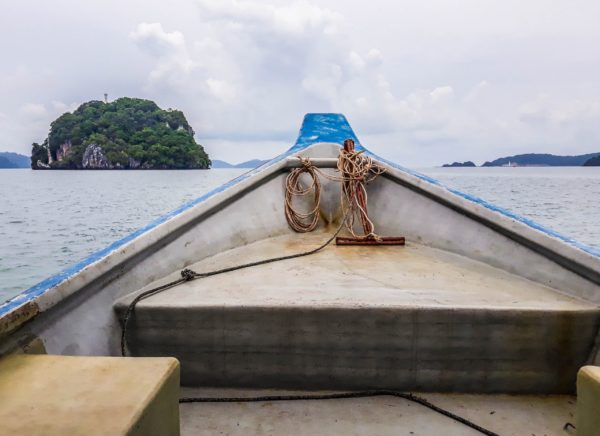 I'm talking about just 3 islands that are so popular that they have been the stars of the Langkawi island hopping tour packages for over a decade; Pulau Dayang Bunting, Pulau Singa Besar, and Pulau Beras Basah.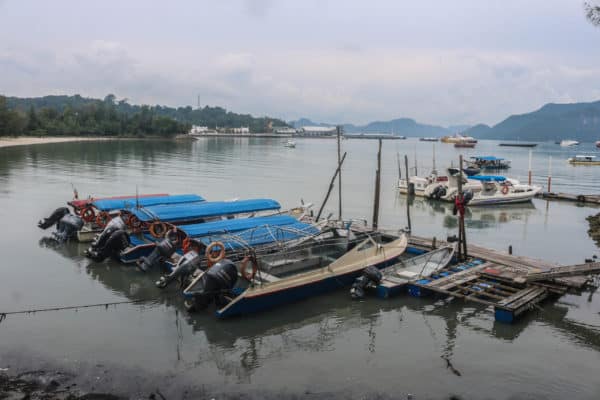 The 3 island Langkawi Island Hopping adventure is a 3 to 4-hour tour that takes in the three islands typically starting with Pulau Dayang Bunting, then onto Pulau Singa Besar and ending with Pulau Beras Basah. However, sometimes the boatman will reverse that order to help ease boat congestion, or because they feel like it. If the island hopping order is important to you, you can always let the boatman know your preference. It usually takes 20 to 30 minutes to get to the first stop either way, depending on how fast your driver is. And in many cases, they can go quite fast so hold on tight!
Meet the Stars of the Langkawi Island Hopping Trifecta:
Pulau Dayang Bunting (Pregnant Maiden Island)
Pulau Dayang Bunting is the second largest island in the Langkawi archipelago. It is also part of the Dayang Bunting Marble Geoforest Park, one of three such designated parks within the Langkawi UNESCO Global Geopark. Dayang Bunting is around 17 kilometers from the Kuah jetty which translates to a 20 to 25 minutes boat ride to get there.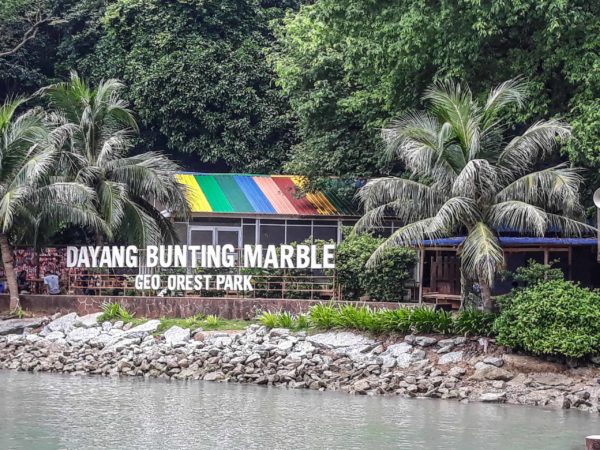 The heavily forested park itself is 4,354 hectares in size and has a massive freshwater lake, which is about 800 meters long and 350 meters wide. The average depth of the lake is 14 meters.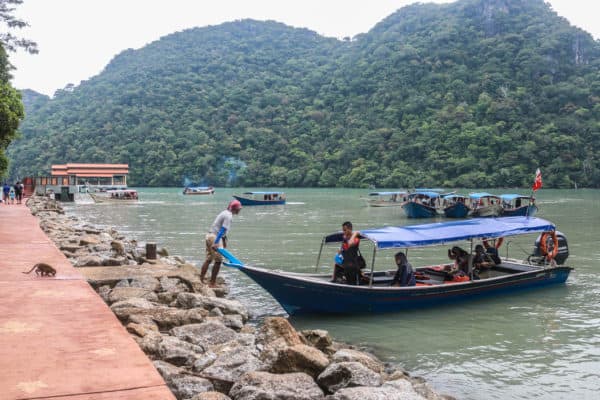 Several legends are tied to the naming of this island and namesake lake; Tasik Dayang Bunting (Pregnant Maiden Lake). The lake is famously known for its rumored fertility-enhancing properties. The surrounding hills' likeness of a reclined pregnant woman (or maiden), of course, helps back up this story. The hillside silhouette is only visible from the sea, so your boatman will stop at the location en route to the island so guests can take a photo. Be sure to have your camera ready, because it's a very brief look-see stopover.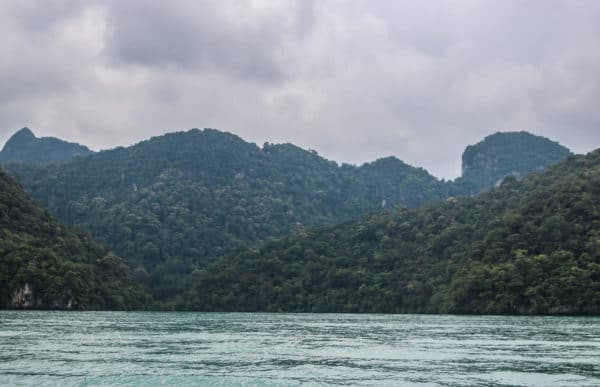 So, what's the legend about fertility enhancing waters, you ask? Well, one version is the tale of a lonely fairy princess who was tricked into marrying an earthling whom she had met at the lake. At the time the jungle was so dense that few locals had ever been there, thus any man suddenly appearing would certainly be a special catch for a lonely fairy princess. The child, born of their unconventional union, unfortunately died and the princess buried the baby in the waters of the lake. She then blessed the waters. And as legends go, now, any barren female who drinks from the lake will become pregnant.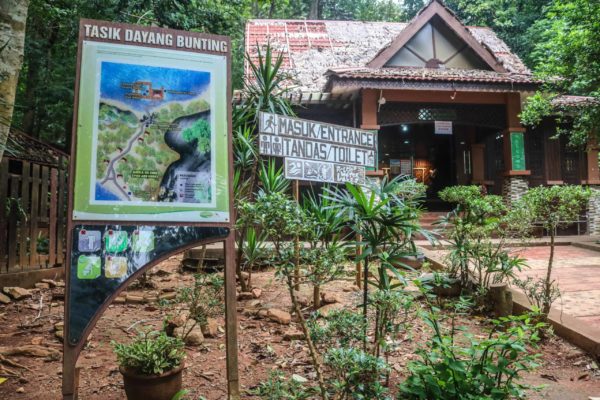 Geologically speaking Pulau Dayang Bunting is an impressive 350 million years old and comprised of various types of limestone. You can read all about the geological wonders of Pulau Dayang Bunting and Tasik Dayang Bunting at the admission/ entry building as there are several informative signboards there.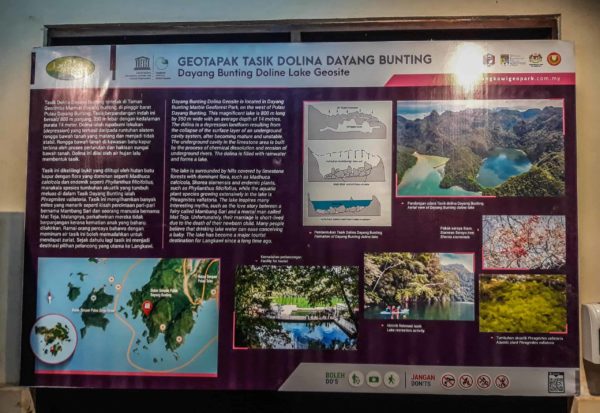 How much time:
Group tour time allotment is typically about 1 hour
What to do there:
There are two sections of the Pulau Dayang Bunting 'tour', the arrival dock area and the lake area. The arrival dock area has a small open-air food stall, a couple of small shops, toilets and a Geopark information building/ admission ticket desk. Tasik Dayang Bunting (Pregnant Maiden Lake), where most of the action is, is about a 10 to 12-minute walk through an inclining forest walkway and down a set of very steep slightly irregular stairs.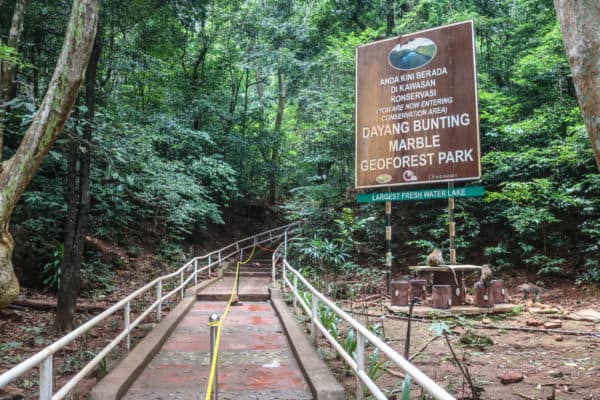 A small admission fee of 3-6 Ringgit is now required to visit the lake. Visitors can swim in the lake, rent a kayak or a paddle boat. There is also a very inviting reflexology shop there now and the perfect lakeside spot for a foot massage (Dayang Bunting Spa).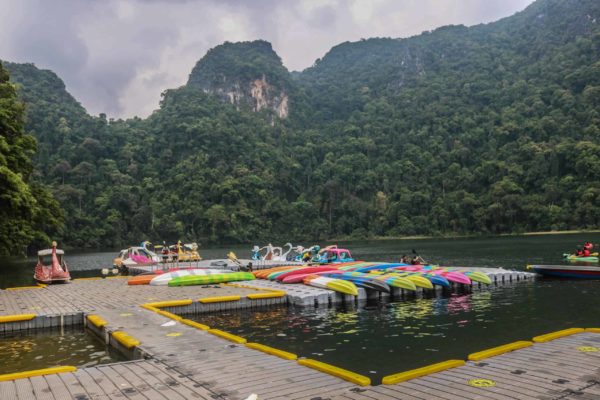 My two cents:
*If you are taking a group tour, your time will be limited. So, do keep that in mind if you are enticed by the smell of food and decide to grab a bite first, because you may not have much time to take a dip in the lake or get your money's worth in kayaking (or foot massage) time. If you are keen on making the most of your Pregnant Maiden Lake experience, you will want to get to the admission desk quickly, get your ticket and hike up the stairs to the lake. You can grab a bite or check out the shops afterwards. 
*A degree of physical fitness is needed to hike to the lake and back. The jungle can also be quite humid, so be sure to hydrate well. Proper footwear and loose comfortable clothes will also make the short hike much more pleasant. 
*Please do not feed the monkeys! As friendly as they may appear, they are still wild animals and they can bite. They are also quite capable of getting their own food from the jungle as nature intended.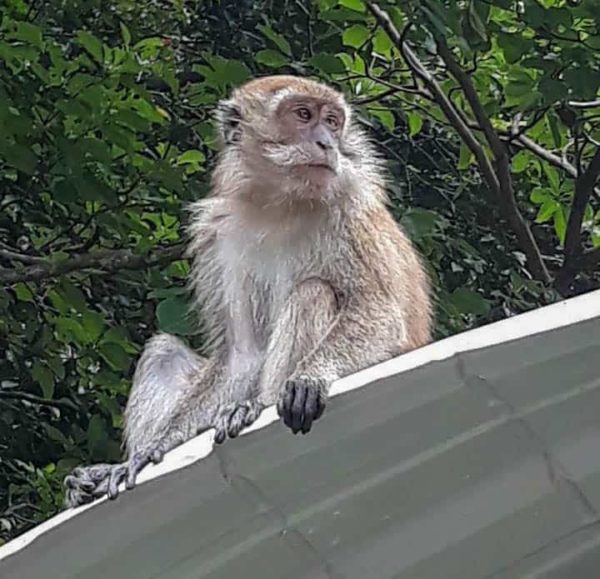 Pulau Singa Besar (Big Lion Island)
Pulau Singa Besar is located about 7 kilometers from Kuah and around 7 kilometers in length and 3 kilometers in width. The dense jungle clad island was declared a wildlife sanctuary in 1988 and unfortunately became more of a zoo or something as a number of non-indigenous species were introduced and things just didn't work out. The 'sanctuary' has since closed down.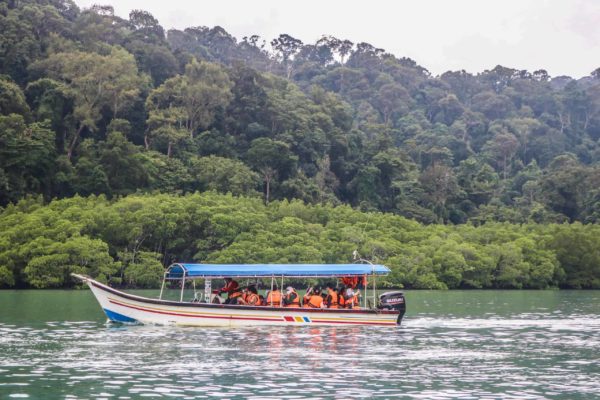 The island is said to be shaped like a lion (or perhaps once was), thus the name. But the more colorful version of how this island got its name has to do with a legend of a fairy who placed lions on the island for protection. Lions apparently were very big back in the olden days as similar lion references came into play among ancient mariners in the naming of both Singapura (Singapore); Lion City in Sanskrit and Songkhla, Thailand. Songkhla City's original name was Singgora, which means 'the city of lions' in ancient Malay language.
Never the less you won't find any lions at Pulau Singa Besar but you will find many Brahminy Kites and White-bellied Sea Eagles hunting for food in the nearby waters.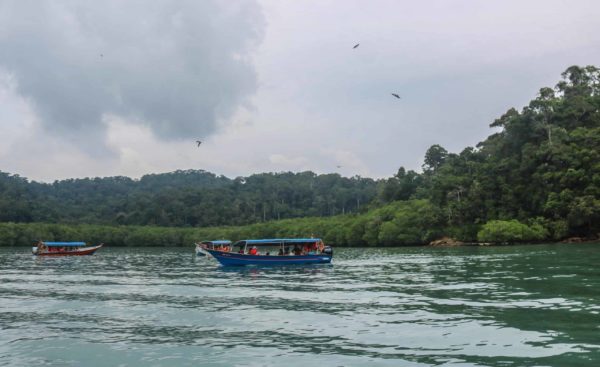 How much time:
Group tour time allotment is about 15-20-minutes.
What to do there:
You won't be going ashore at Pulau Singa Besar, so just sit tight and look towards the sky and shoreline tree tops for the famous birds of prey; Brahminy Kites and Sea Eagles. This is the location for the Eagle Watching or Eagle Feeding activity as Brahminy Kites and White-Bellied Sea Eagles have come to favor the waters of Singa Besar as a place to find food.
'Eagle Watching' is the politically correct version of 'Eagle Feeding'. 'Eagle Feeding' is tied to a bit of controversy, in recent years, depending on how you see things. Some tour guests may even erroneously think they are personally going to be hand-feeding wild eagles.

Technically you will be 'watching' eagles (Brahminy Kites and Sea Eagles) feed, but in some cases your boatman (or other boatmen) may choose to encourage the birds by offering them chicken skin. If birds are flying especially close to a boat it is likely that that is what is going on. These birds are Raptors and are quite capable of catching their own natural food.
'Raptors required a diet rich with protein and calcium which they derive by preying on fishes and sea snakes in the wild. Protein and calcium are very important in development of strong muscles, healthy bones and feathers, whereas a diet of commercially farmed chicken entrails and skin are rich in fat, antibiotics and synthetic hormones. These will seriously impact the health of the wild birds and indirectly the ecology it lives in.'
– Junglewalla Tours, Langkawi
If you are a true nature lover and prefer to travel more sustainably, then just be content to watch the natural version of eagles feeding and do not ask your boatman about 'feeding' any wildlife nor encourage him to do this activity. No need to argue with anyone about it either; just be aware of what's what and be cool. Especially if you are in a group boat. And if you need an especially fantastic photo of a bird in flight, then bring a telephoto lens (not chicken skin).   
My Two Cents:
*Not all boatmen are going to announce that you have arrived at Pulau Singa Besar, and maybe not even mentioned what it is you are doing there. It may be assumed. You may even connect the dots yourself just as the boat starts to speed off again. So be ready and if you don't have ample time for a photo, just ask the boatman to give you a few more minutes. (I speak from personal experience as you can see from my not-so-stellar Pulau Singa Besar, 'Eagle Watching' photos).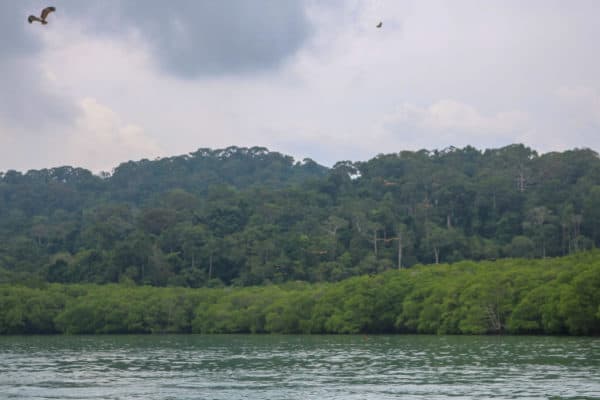 Pulau Beras Basah (Wet Rice Island)
Located about 25 kilometers from Kuah, Pulau Beras Basah is what you see is what you get; white sand beaches and swaying palms. It also has an intriguing name as there are no visible padi fields there and no online mentions of how it came to be named. Coincidentally there is another Pulau Beras Basah in Indonesia, so maybe there is some connection between the two.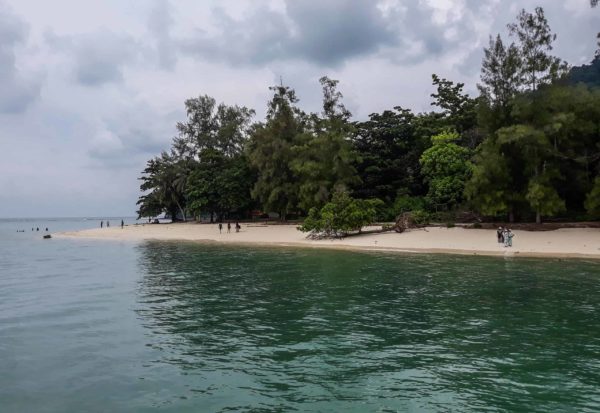 At any rate, the island is undeveloped and has but a few buildings (including toilets) presently situated along the beach. Pulau Beras Basah is known as a safe harbor for fishermen caught in storms as well as famously known for its white sand beaches.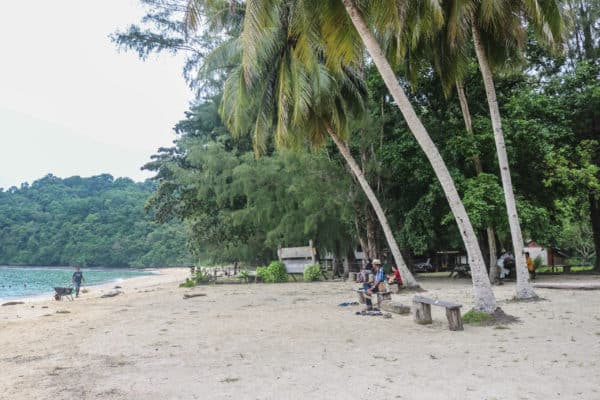 How much time:
Group tour time allotment is about 40-minutes.
What to do there:
If you love white sand beaches, then you will love Pulau Beras Basah. But considering the limited time, do consider in advance if you just want to just take a few selfies there or get wet. Snorkel equipment is available to rent (20 Ringgit) and banana boat and 'couch boat' rides are also available. You can easily spend half your group tour allotted time posing on the beach, because it's just that kind of beach. By the time you saunter up to the water sports counter it could easily already be time for your pick up. So be prepared!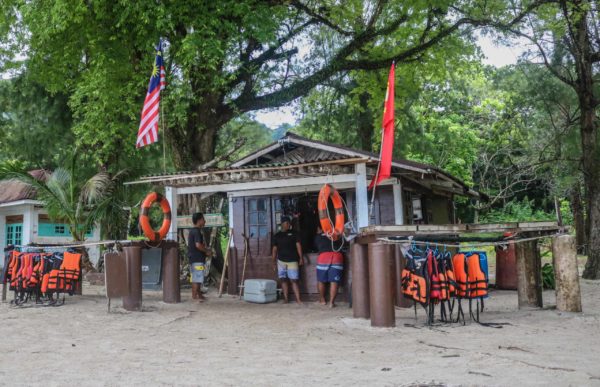 My Two Cents:
*Please dispose of your trash in the appropriate container. Despite having staff raking and cleaning the beach front, there were still many tell-tale spots (when I visited) where it was obvious a tourist had sat, snacked and left their trash. Unsightly is an understatement. No one at Pulau Beras Besah is being paid to pick up after lazy tourists, so please do your part to help keep it clean.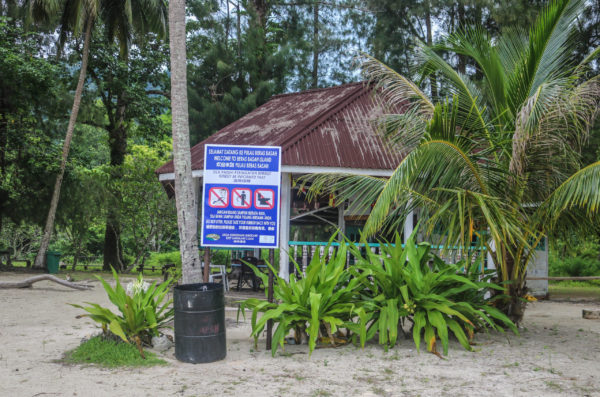 How to Sign Up for an Awesome Langkawi Island Hopping Tour
Easy peasy! Most tour desks will be offering this 3-island, Island Hopping Tour; some will be tour companies and some will be freelance agents selling for tour companies. But for Kuah departures, I can personally recommend Kak Ayu at the Pekan Rabu Jetty. I was able to sms her 2-days beforehand and just show up 30-minutes before my island hopping tour. It was easy and hassle-free. You can call or text her at 010 209 4077 or go see her in person at the Pekan Rabu Jetty. For Pantai Cenang/ Porto Malai departures call Rbz Holiday via sms (text) or Whatsapp at +6 013 420 6303. Both could also help arrange other island hopping tour packages as well.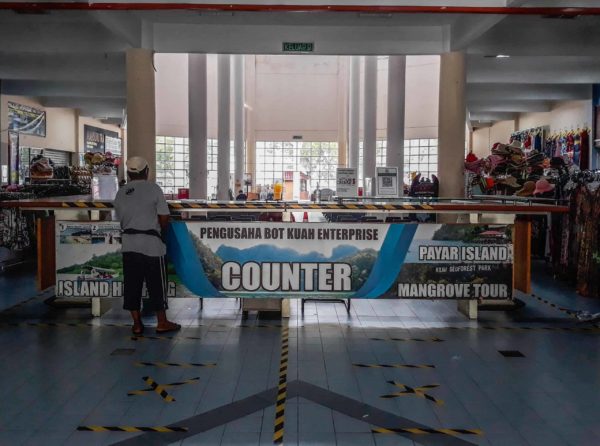 When purchasing island hopping tickets, do make sure you get a proper receipt. Tickets may vary in price if hotel pick up is included or if someone is fattening up the sales commission, but it shouldn't vary much more than 5 or so Ringgit. If your group tour is quoted at closer to 50 Ringgit per person, you might want to shop around, because that is not the across the board price for a group tour.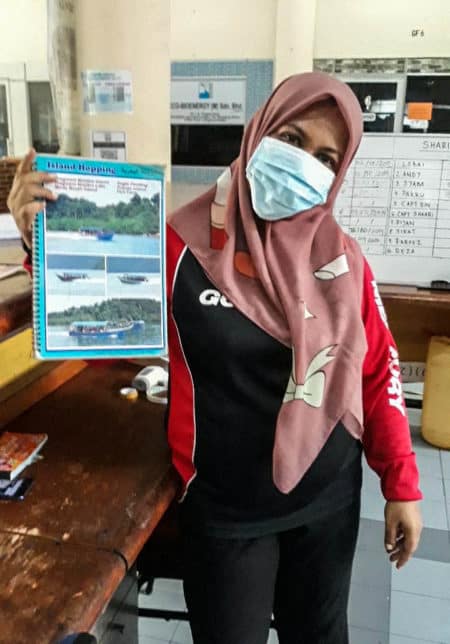 When is the Best Time for Island Hopping in Langkawi
It's always a good time to go island hopping in Langkawi! And unless the seas are extremely rough, island hopping is pretty much offered year-round. Even during the monsoon months, you might get a little rain and some grey skies, but if you still want to go for it, it is doable. However, if you are strictly on a quest for great photos, you may want to opt for a blue sky day.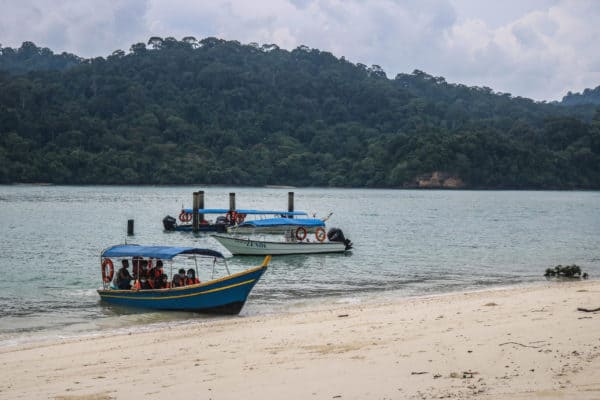 What to Wear and What to Bring
Dress for comfort and wear practical shoes.  Do remember that group tours include other people, so itsy bitsy bikinis or speedos (only) are not always appropriate. Please consider the diversity of the others in your boat and at the island stops.
If you plan on getting wet, be sure to bring a towel and change of clothes. A cheap rain poncho isn't a bad idea either, especially during the monsoon season. Just in case.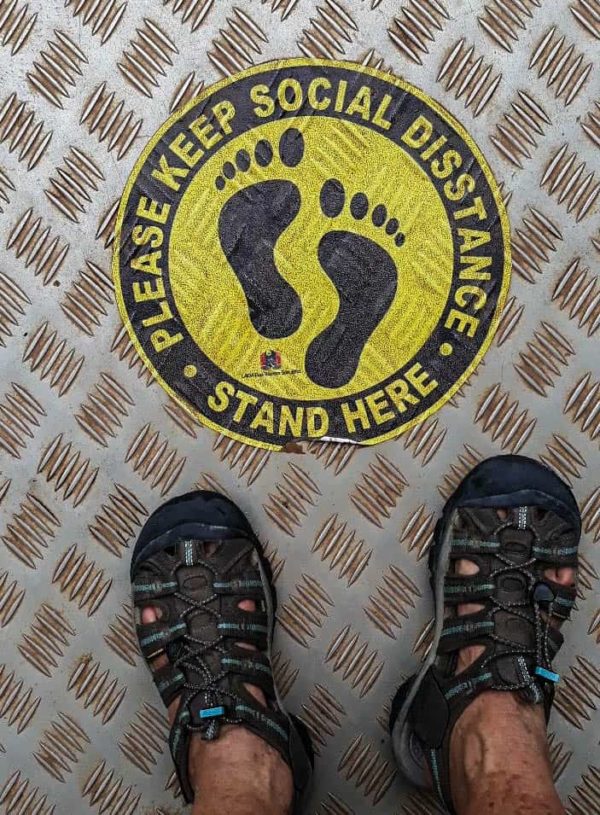 You will also need to bring your own water as the group tours do not include it. You can purchase water and other beverages at the jetties, Pulau Beras Basah and Pulau Dayang Bunting. Snacks and food items are also available at these locations.
*Do not expect to find alcoholic beverages offered and it is not likely that bringing alcoholic beverages on any island hopping tour is a brilliant idea, or even allowed. But you can certainly clarify that with the tour agents.
Group Island Hopping Tour vs Private Boat
Group island hopping tours are normally 12 persons per boat (10 during Malaysia's Covid-19 RMCO regulations). The cost per person is beyond reasonable at about 35 Ringgit per person. There is a schedule to follow with limited time at each island stop.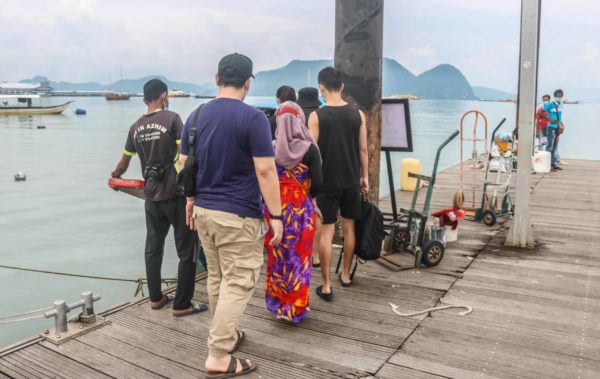 Private island hopping tours are basically you, a boatman and a boat with a starting price of 250 Ringgit on up. You could hook up with a few other like-minded island hoppers and share that 'private' boat option or just enjoy the luxury of your own private ride. You can still do the three island hop, but you will have more time to hang out at each location.
Other Islands
If you are interested to explore other islands in Langkawi, aside from Langkawi's main island there are 3 others that are inhabited. Inhabited meaning that there are communities of people there; Pulau Tuba, Pulau Rebak and the other side of Pulau Dayang Bunting (Kampung Selat Bagan Nyior). All three are easy to get to and either free of charge or a small fee. Pulau Tuba departs from Jeti Dato Syed Omar (previously known as Marble Jetty), Kampung Selat Bagan Nyior bound boats can be found at the Pekan Rabu Jetty and Pulau Rebak bound boats can be found at Kuala Cenang near Tubotel (hotel). And for a slightly more adventurous island hop, check out Pulau Payar Marine Park; 35-kilometers south of the Langkawi archipelago.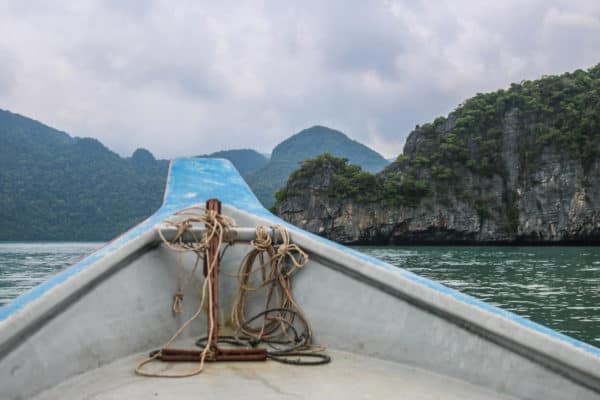 For the other 95-plus (depending on the tide), well, island hopping those islands can also be arranged. However, you might want to do a little research first as that island with the cool name could be just a sliver of beach and jungle. Or be non-existent at high tide. Either way you will just need a boatman and some good price-negotiating skills.
Where to find a boatman you ask? Go back to the island hopping tour agents and tell them you would like to hire a private boat to visit a particular island or islands. It might even be helpful to have your dream islands circled on a map, for communication purposes.
Here are a few video clips from my recent tour
Can subscribe to The Island Drum's You Tube Channel HERE
Final Tips on Island Hopping in Langkawi
Money:
Be sure to get to an ATM before you check in for your island hopping tour. There are no ATMs at Pekan Rabu or the Porto Malai jetty and certainly none on any of the islands. You will want some extra cash on hand just in case.
Feeding Wildlife:
Again, please don't feed the monkeys (or any wildlife for that matter). Yes, the begging monkeys are oh so cute, but you are not doing them any favors by feeding them. You make them dependent on humans as well as too trusting, which puts them at risk when encountering not-so-nice humans who may want to hurt them. They can also bite. And please do not hand them plastic bags of snacks or plastic bottles of water, because not only is it not good for them, what do you think happens to the trash once your boat has departed?
Trash:
Speaking of trash, please always dispose of your rubbish properly regardless of where you are in Langkawi. It takes so little effort for everyone to do their part to help keep Langkawi Clean. Langkawi thanks you!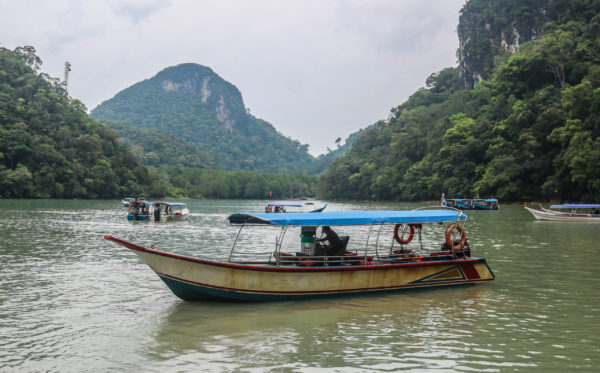 Happy Island Hopping!