Writing about Malaysia's diverse cuisine takes more expertise than one might expect. Writing about Langkawi night market food is no small undertaking either. My own personal knowledge has certainly improved since my first night market visit years ago, but there is still so much to learn. Traveling through Malaysia you'll find that names, recipes and even spellings of the same (or similar) foods can be quite different throughout the various states. It can get even more complex (and interesting) when those states border another country. Such as the case with Northern Peninsular Malaysian states and Southern Thailand.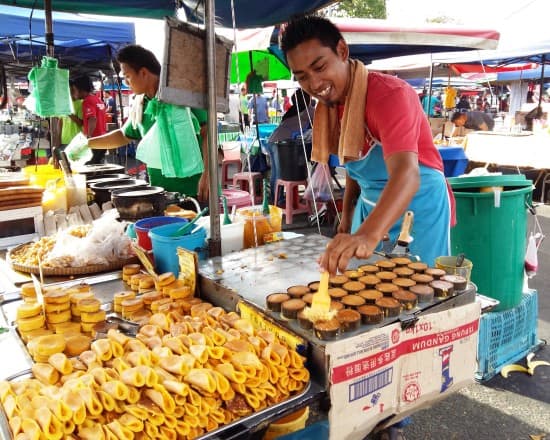 Langkawi Island, in the state of Kedah, has much to offer in the local food and culture arena. Especially if you know where to look. For a taste of Langkawi culture (literally), a trip to the night market (pasar malam) is a great place to start. And lucky for visitors to Langkawi, there is a night market (or two) seven nights a week at different locations across the island. This allows for plenty of taste testing opportunities. Some of these tasty recipes have been handed down from generation to generation with an added dash of personal family touches (and secret ingredients), so be sure to go with an empty stomach so you can sample them all.
Here are a few local delicacies I've discovered that are well worth trying. There may of course be other names and descriptions for these foods, so please feel free to leave a comment or correction!

Dangai
Dangai is at the top of my favorites list. Originating from the state of Kedah (so I've been told), Dangai is made from glutinous rice baked with coconut and sugar. The Malaysian answer to the 'Coconut Macaroon' if you will. And despite its rather dry appearance it has a moist and sweet center.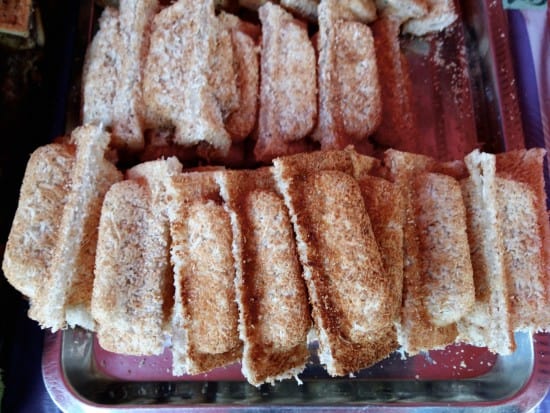 Apam Balik
There is no confusing the Apam Balik (or 'sweet puff' as I was told it's also called). It's a thin pancake filled with sugary ground peanuts and creamy canned sweet corn. The pancake batter is a mixture of flour, eggs, sugar and coconut milk, which certainly adds to its richness. It also comes in two sizes, with the large family size being thicker and more cake-like. Declared a heritage food by the Malaysian Department of National Heritage, Apam Balik is a must try!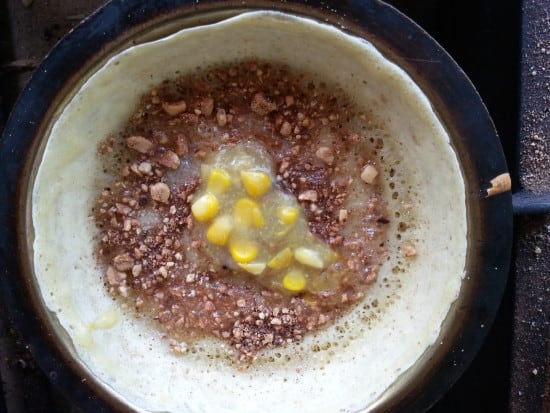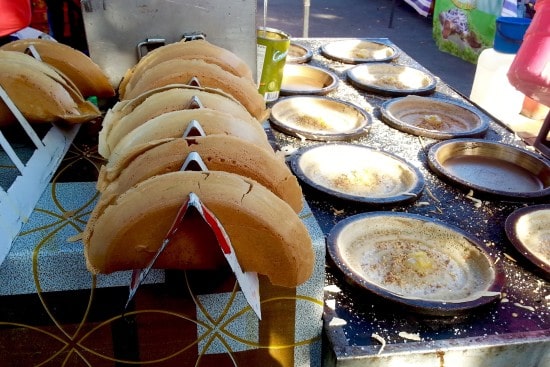 Curry Puff  (or Karipap)
These small pies were brought to Peninsular Malaysia, via Singapore, by the Javanese under the moniker of Epok-Epok, but the 'Karipap' has been said to have originated in Singapore during colonial times. Possibly inspired by the Epok-Epok, the Portuguese empanada, British pastries or all three, so take your pick! They come in a variety of meat flavors as well as vegetarian and tend to be on the spicy side, but they are delicious.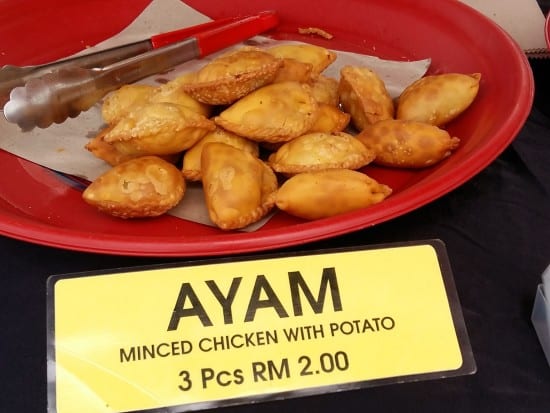 Samosa
Like its cousin the Curry Puff, the triangle-shaped Samosas have an extensive cultural background. Although often similar to the Curry Puff in fillings and flavors, they are less spicy and have more varieties (including vegetarian options).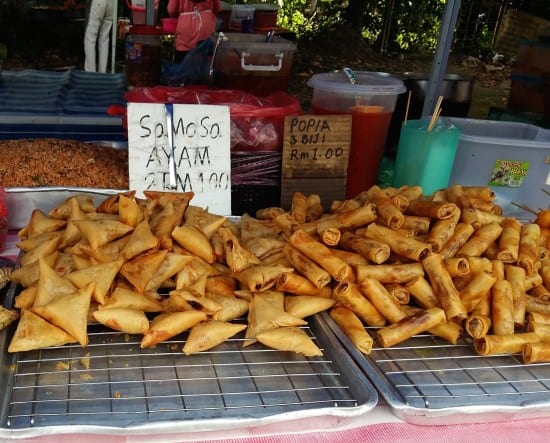 Kerabu
For ceviche fans, Kerabu Seafood Salad is a must! Especially if you like hot and spicy. There is a bit of confusion with the name, as Kerabu is also reserved for the Kelantan specialty, Nasi Kerabu. So if you see 'Kerabu' on a sign board there's a good chance that one or both dishes will be available. Made with lime-cooked slices of raw fish, cilantro, tomatoes, onions and plenty of chilies, a version of this dish, called Hinava, is also a traditional food of the Kadazan-Dusin people of Sabah, Borneo.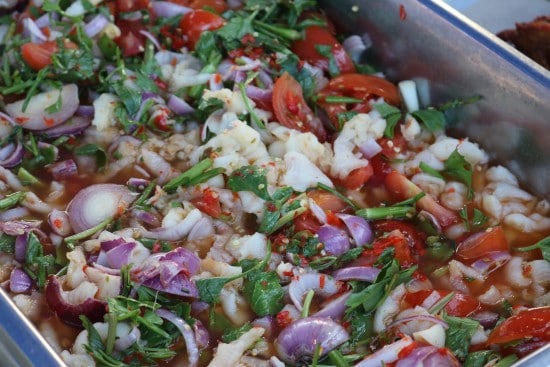 Otak-Otak & Pulut Panggang
Otak-Otak is a fish cake made from fish paste made from fish, tapioca starch and various spices, such as chili, turmeric and curry powder, wrapped in banana leaf and cooked over hot charcoal. The fish used can vary from state to state adding a unique regional touch to the final product. The word Otak means 'brains' in Malay and Indonesian language, thus named supposedly due to its brain-looking appearance.
Pulut Panggang looks identical to Otak-Otak, but it's made from glutinous rice, shredded coconut, dried shrimp and spices. It has a much subtler fish flavor and my personal favorite of the two.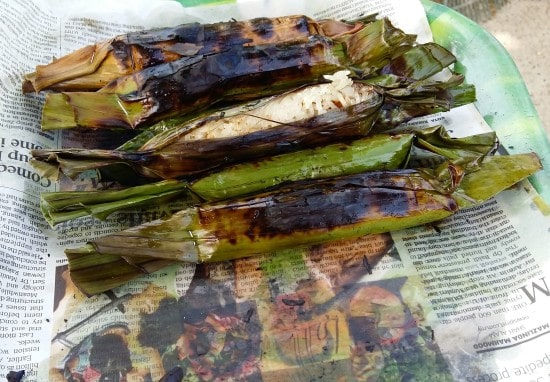 Kueh Kechi (or Kuih Kochi )
Kuih Kochi is a grilled specialty treat made from glutinous rice flour with a sweet coconut filling. Not to be confused with it's savory look alike cousins Otak-Otak and Pulut Panggang.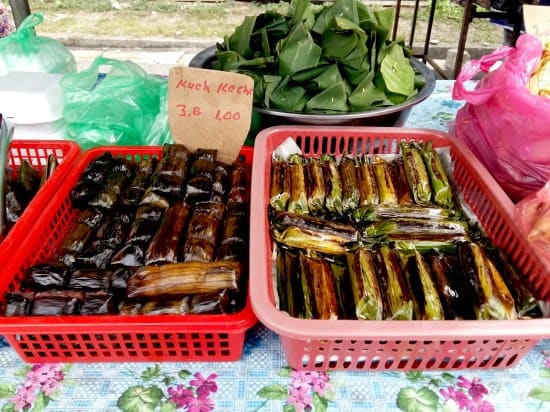 Murtabak

The popular Murtabak is readily available throughout Malaysia. Traditionally, a thin bread dough (as used in Roti Canai) is rolled out, an egg cracked and spread evenly across the surface, then filled with onion and chili and often a meat mixture. Some vendors in Langkawi cook the filling separately. The bread is then folded into an envelope around the filling and cooked on a hot griddle.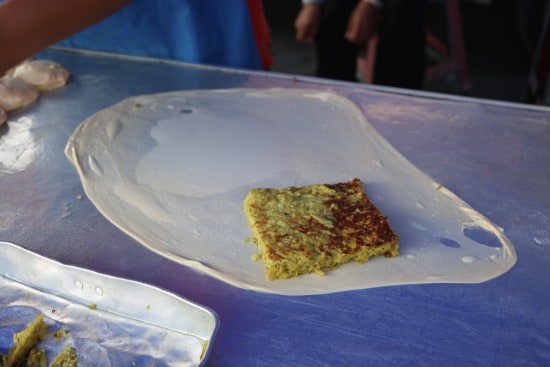 It can be eaten hot or cold and is often served with curry, which some purveyors insist is the secret to their Murtabak success. Murtabak originated in Yemen with the large Indian population there. Indian Traders then brought the unique recipe back to India and across Southeast Asia. Its popularity has made it an everyday dish in Malaysia and a Langkawi night market regular.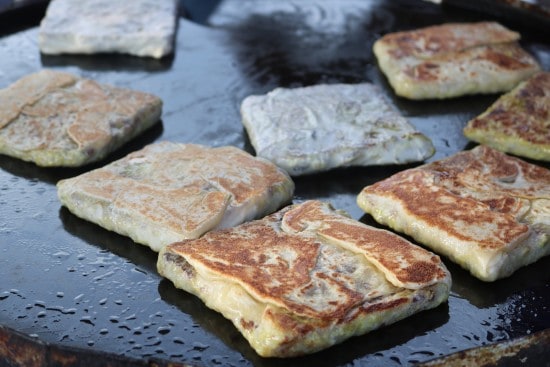 Dorayaki
Dorayaki originates from Japan and has a history as far back as the early 1900s. Japanese supermarkets that opened in Malaysia, during the late 1970s and early 80s, are credited with introducing Dorayaki to Malaysian taste buds. Now you can find fresh 'home' made Dorayaki at night markets all over Malaysia (including Langkawi). It's made from two small thin layers of sponge cake with a sweet red bean or kaya, a sweet coconut spread, inside. This tasty treat was originally named Dorayaki due to its gong-like shape, because 'dora' is the Japanese word for 'gong'.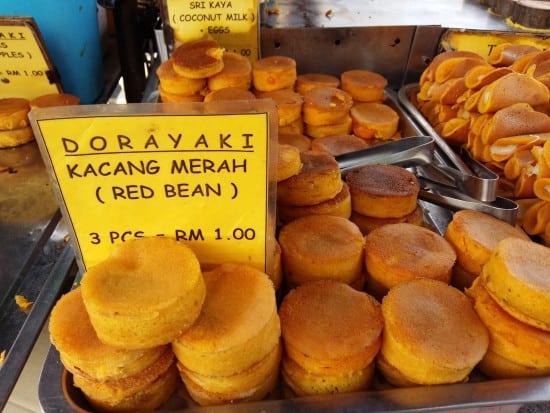 Tokiyao (or Tokiyoo)
Tokiyao is the 'original' Dorayaki. The original Japanese Dorayaki consisted of only one layer until 1914, when it became its present shape. How it became known in Langkawi and other parts of Malaysia as Tokiyao is a mystery. It's made from a small and light pancake folded over a dollop of kaya or other flavorful jams.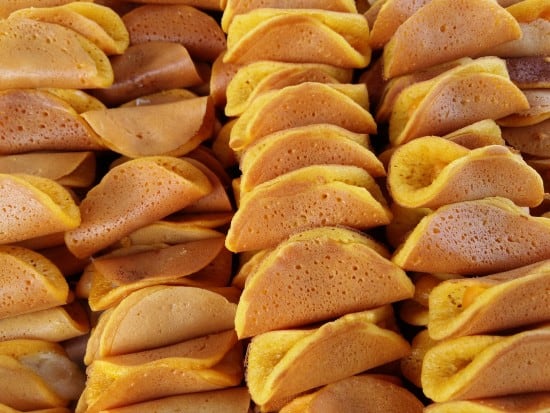 Popiah Basah
Popiah comes in two different styles. One is a deep fried spring-roll while the other is a large non-fried version. The name 'popiah' can be assigned to either but the larger non-fried is the actual reference. Popiah (or Poh Piah) originated in the Fujian province of Southeastern China where the word 'poh piah' means thin pancake. The variations of Popiahs' ingredients can get down right creative, so you'll certainly find one to suit your own taste buds as well as dietary preferences.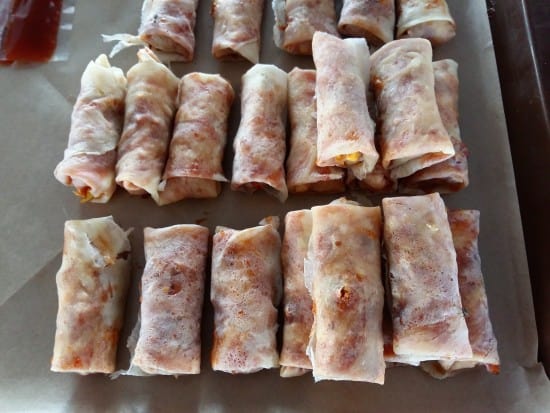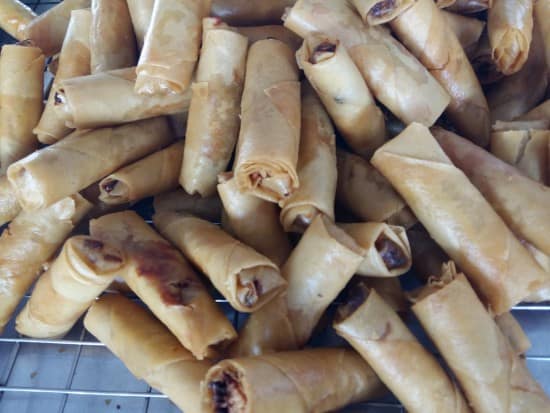 Peneram  (or C

oq Meneram)
Peneram is Malaysia's version of the donut. It's also called 'coq meneram' by Kedah locals. This South Indian specialty is made with rice flour and brown sugar cooked with Pandan leaves. It's surprisingly delicious (and a bit addicting). Usually made onsite from rolled out dough and a makeshift cookie cutter, the Peneram tastes best when fresh. Another local donut variation is Keria, which is made from Sweet Potatoes.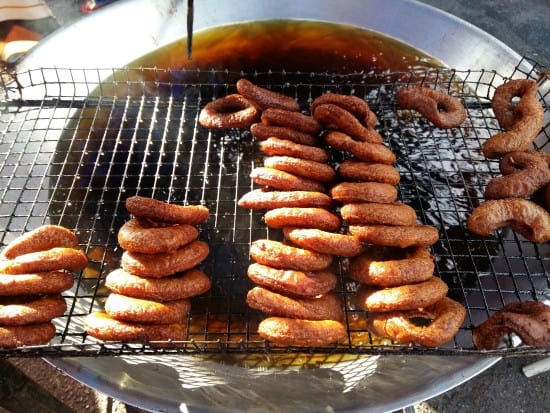 Putu Buluh
One of the night market staples is Putu Buluh (bamboo sweet rice), which is also called 'Indian Pop'. Originally of Tamil origin, ground rice and coconut are packed into bamboo cylinders and steamed creating a cylindrical shaped sweet that is served up with more grated coconut or palm sugar. Some hawkers use metal tubes or even paper cups instead of the traditional bamboo, so be on the look out for the Indian Pop variations, they can vary from location to location.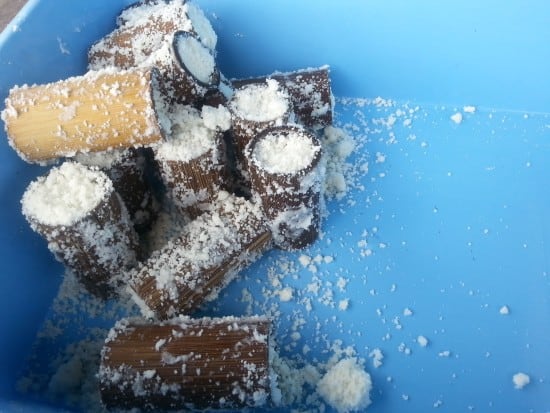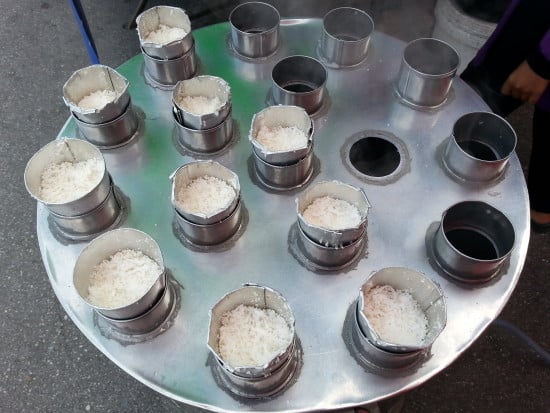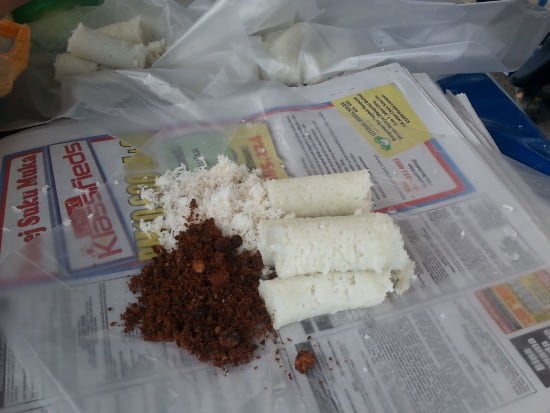 Putu Mayam or Putu Mayong
Another local favorite is Putu Mayam or Putu Mayong, also of Tamil origin. This lace-like creation can be served up as a dessert or with just about anything, especially curries. Made from rice flour, the dough is hand pressed through a wooden sieve, creating long stringy noodles. The vermicelli-sized noodles are delicately squeezed out in a circular motion onto a cloth covered rattan basket creating a lacy pattern.
Several baskets get steamed at the same time ensuring plenty of Putu Mayam to go around. Although there are modern sieves (also called sevanazhi) available, locals will attest to the superior flavor created with the traditional wooden sieve. This is a traditional food that has stood the test of Langkawi time.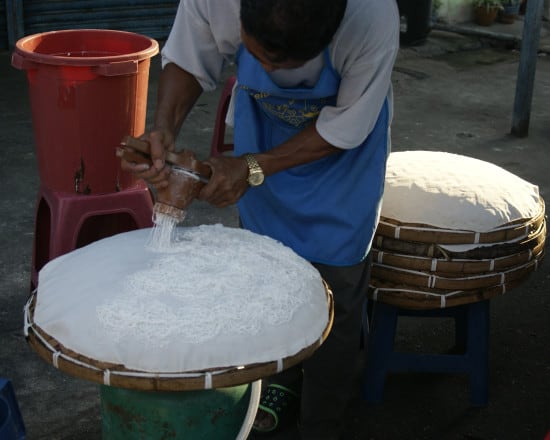 Since you will probably get thirsty at some point during your night market excursion, here are a few interesting beverage choices that may be available.

Teh Bungah
If you have traveled through Southeast Asia you'll probably be familiar with Chrysanthemum tea, but in Langkawi you may encounter it at the night markets under the name of Teh Bungah (flower tea). And if you're lucky it will come with festive flowers floating in the mix. What's not to like about that, right?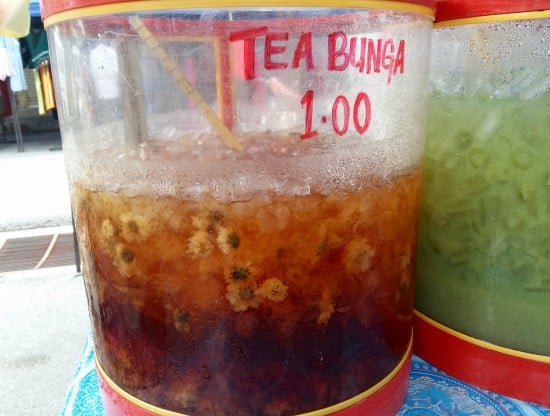 Asam Boi Limau Kasturi
The zingy Asam Boi (pronounced like 'awesome boy') is one of my favorites. It may be a slightly acquired taste for some, but the unusual mixture of dried salted plums, lime juice and sugar can really hit the spot.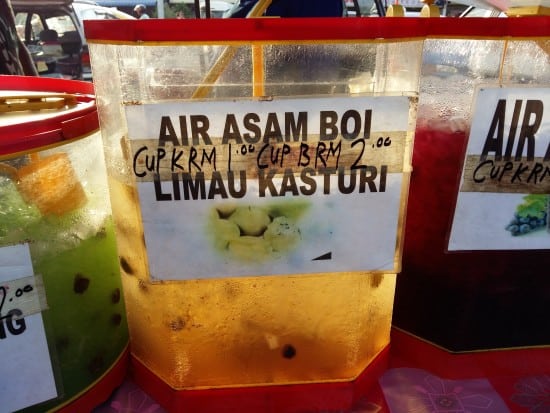 Kelapa Laut
This unique beverage is a real eye catcher at the night market, especially with its rich cola color. Although it's referred to as Sea Coconut, it's actually made from the fruit of the Sugar Palm. The gelatinous fruit used is housed inside the coconut-like encasement and tastes nothing like an actual coconut.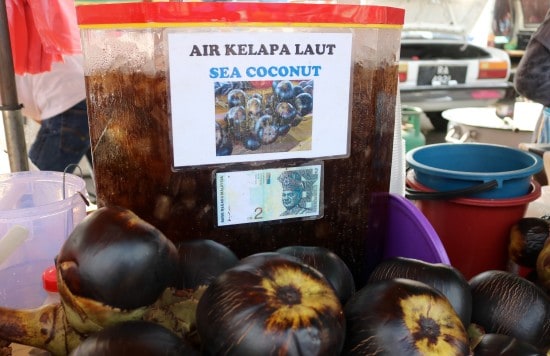 If you love learning about local cultures through food, then a visit to a Malaysia night market is a must. The endless variations of names, recipes and secret ingredients can be a real eye opener into Malaysia's cultural diversity and a not-to-be-missed culinary adventure. You can also help Langkawi decrease the use of single use plastic bags & styrofoam by bringing your own reusable food containers & bags.
*The above food and beverage selections were sourced from the Ulu Melaka, Ayer Hangat and Padang Matsirat night markets in Langkawi, Malaysia. If you are interested to learn about a few other local foods, check out 13 Must-Try Traditional Malaysian Desserts.

*Need some tips for eco friendly shopping at night markets? Check out this video!
Can also subscribe to The Island Drum's You Tube Channel HERE

Have you been to a Langkawi night market?
Do you have a favorite food or drink?