Reading the words 'sand flies' in a Trip Advisor review, had me rethinking my grand Koh Tarutao adventure. A fate worse than prisoner ghosts or giant jungle snakes, in my opinion. But the historic ex-prison island of Koh Tarutao has fascinated me for years. Looming on the distant horizon, its mysterious, yet picturesque presence is very visible from the nearby shores of my basecamp; neighboring Langkawi, Malaysia. My recent trip to explore the Satun Geopark had also convinced me that it was time to make this trip a priority. Koh Tarutao is the location of at least four of the 72 listed geosites within the four districts that make up the UNESCO Satun Geopark, the first geopark in Thailand.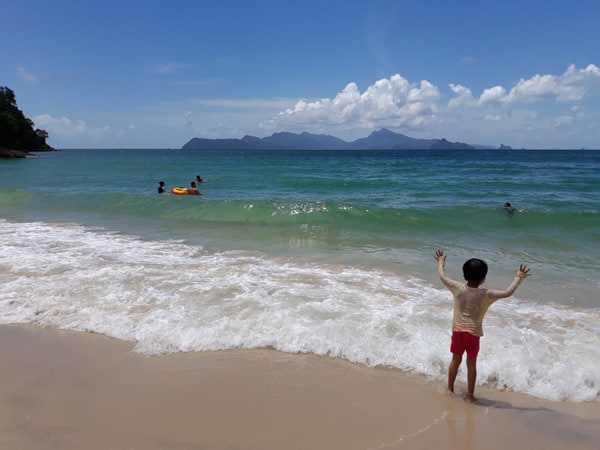 However, getting there seemed challenging due to seasonal accessibility limitations. But with a window of opportunity and some time on my hands I decided to bite the bullet and go for it. And one can research until the cows come home, but sometimes you just have-to-see for yourself. One person's paradise is another's survival boot camp. And if anyone tells you Koh Tarutao is a slice of paradise just waiting for your bikini clad self to come prance along the shores? Do more research and get several opinions. Or at least be sure to bring a lot of insect repellant and an open mind. But if I can survive two nights on Koh Tarutao, you can too! You may whine a bit here and there, but at the end of the day you will be glad you made the effort.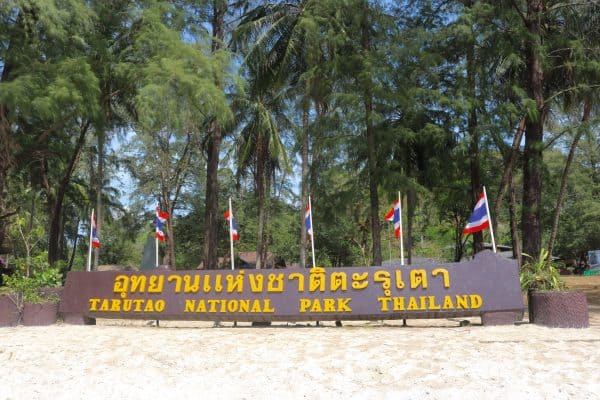 Quick Guide:
History of Koh Tarutao
Koh Tarutao (or Ko Tarutao) is often referred to as Koh Tarutao National Park, but the island itself is just one of 51 islands included in the 1500 Square Kilometer Koh Tarutao National Marine Park area. Koh Tarutao is the largest of the seven main islands which also includes Koh Lipe, Koh Adang, Koh Rawi, Koh Batuang, Koh Klang, Koh Bitsi, Koh Khai and Koh Ta-Nga. These islands are further divided into two groups; Muko Tarutao (east) and Muko Adang-Rawi (west). According to the Thai National Parks website, the name Tarutao derives from Pulau Tertua, which means 'the island of old' (oldest island); the original Malay name when it was part of the Malay state of the Kingdom of Setul Mambang Segara.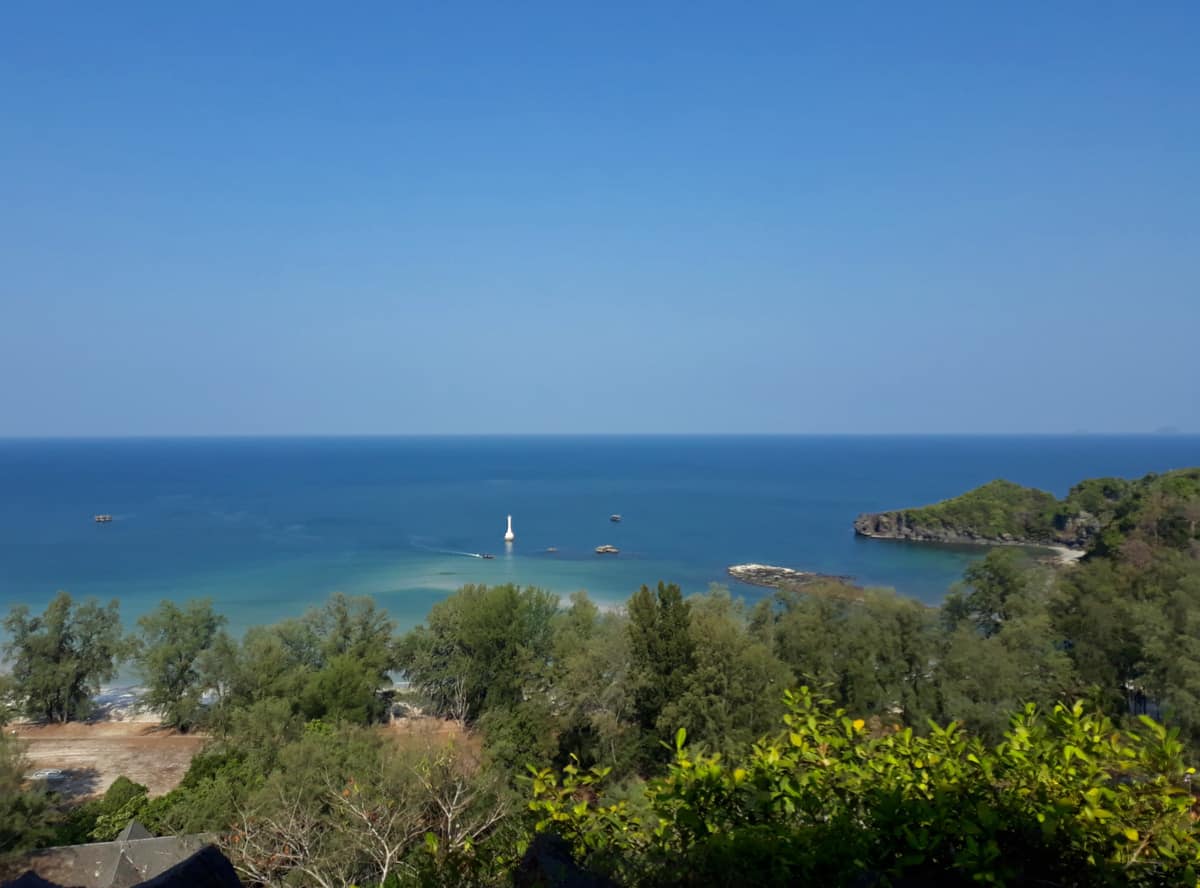 In 1909, the area of Southwest Thailand and Northwest Malaya, that included Satun and Kedah, was divided between the British Empire and Siam as part of the Anglo-Siamese Treaty of 1909. Satun became part of Thailand (Siam), with Kedah becoming part of British Malaya. It was during this time the islands of Koh Tarutao, Koh Lipe and Langkawi were allocated as well. It was Tarutao and Lipe's population of Urak Lawoi Sea Gypsies who helped the Thai government prove to Malaya's British colonial administrators that the Adang-Rawi Archipelago belonged to Thailand. The Sea Gypsies were proof that a Thai population had already settled in the area when national borders were being established.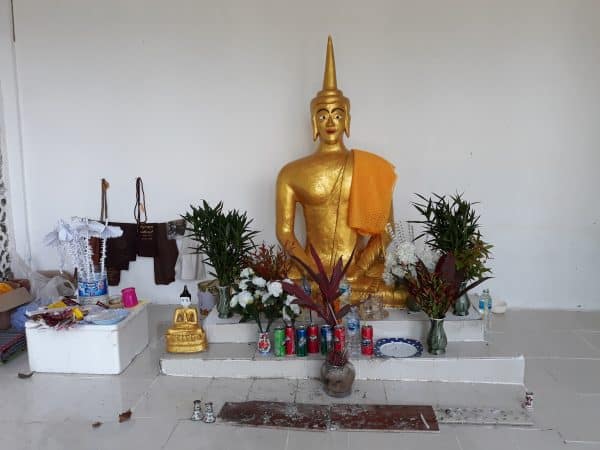 Fast forward to 1936 and the Thai Correctional Department had decided to set up a vocational training program for pre-release convicts as well as find a place to isolate political prisoners. Koh Tarutao was chosen due to its remote location and surrounding shark and crocodile infested waters; attempted escapes would be limited for sure. Houses for wardens, dorms for prisoners, and an occupational training center, were built first at Talo Udang Bay and later at Talo Wao Bay. Prisoners were of course the labor force behind constructing the 12km long road between the two prison camps.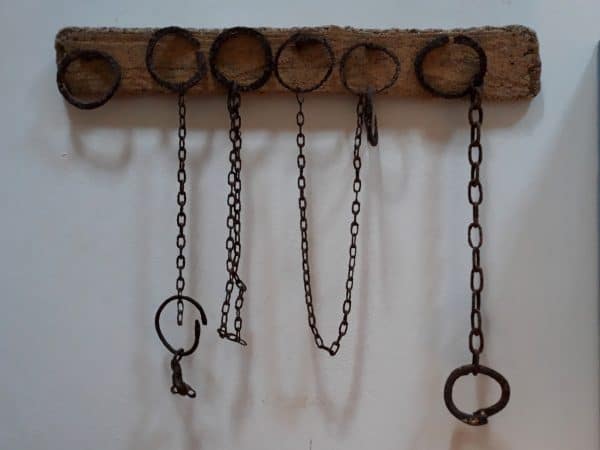 By 1938 the first group of 500 prisoners arrived with the numbers gradually increasing to 3000. Common prisoners were subjected to manual labor work, such as building roads, constructing buildings and farming. Political prisoners were given more respect due to their social status and affluence and were basically being given the equivalent of a Koh Tarutao 'time out' to keep them (and their influence) away from the general Thai population. Members of the infamous Bowondet and Nai Sip coups were among those 'privileged' convicts.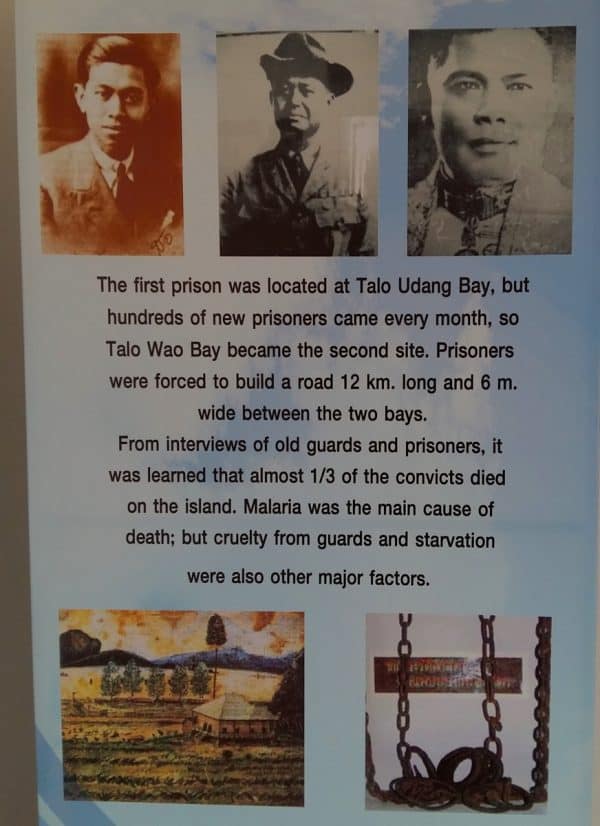 When World War II made its ugly appearance in 1941, the Tarutao prison was greatly affected as food and medical supplies were interrupted. This resulted in many prisoners dying from illness and starvation. At this point prisoners and wardens began attacking commercial ships that were passing through the nearby Straits of Malacca en route to Penang. This in turn caused shortages of commodities in Penang, with a trickle-down effect being food rations and a lucrative black market. A black market that the now infamous 'Pirates of Tarutao' also took advantage of.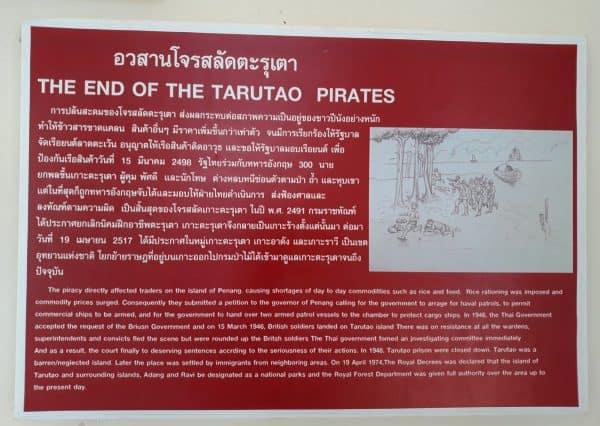 By 1945, only 1200 prisoners were remaining on Koh Tarutao. And although World War II had come to an end in 1945, the Pirates of Tarutao got especially nasty between 1944 and 1946 with an increase in violence towards the crews of pirated ships. This resulted in many deaths. Interestingly enough, just 8km south on the island of Langkawi, Malaysia there is a beach called Pantai Pasir Tengkorak (Skull Sand Beach). Named for the number of corpses (or body parts) that washed in with the tides, long ago.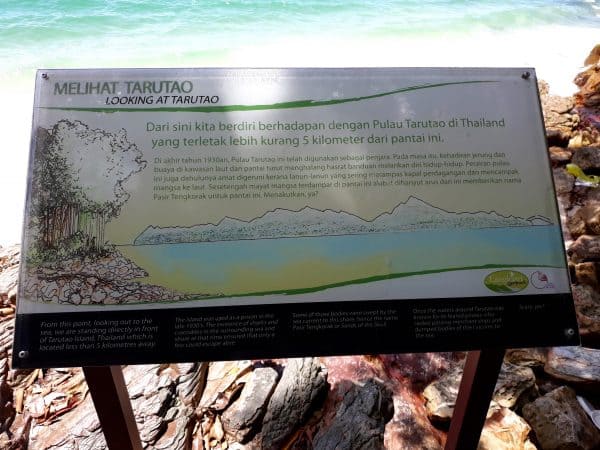 In March 1946, with permission of the Thai government, British troops arrived in Koh Tarutao, successfully suppressed the pirates and reinstating safe passageways for trade ships. By 1948, the Department of Corrections closed the prison permanently. The jungle has since reclaimed most of the old prison camps, but in 1974, Koh Tarutao was declared a national park; the second marine park in Thailand.
When's the Best Time to Go?
Although Koh Tarutao is 'open' year around, for the average visitor, Koh Tarutao is seasonal (October 15 through May 15 were the 'open season' dates quoted to me by the ranger). There is no visit when you feel like it option, unless you come by private boat. But despite my arrival in the middle of the high season, I was very surprised to find the place essentially empty. However, within two days over 800 people were expected for the annual Mini Marathon. I was lucky to get the two-day accommodation that I got because the park was booked up after that. At least for the length of the sports event. School holidays will also factor in. So, although the park may be open for the season, if you plan on spending the night it is best to call ahead and secure a cabin (or for the more adventurous, a tent). My friend George tells me he usually brings his own tent just in case. Like I said, for the more adventurous.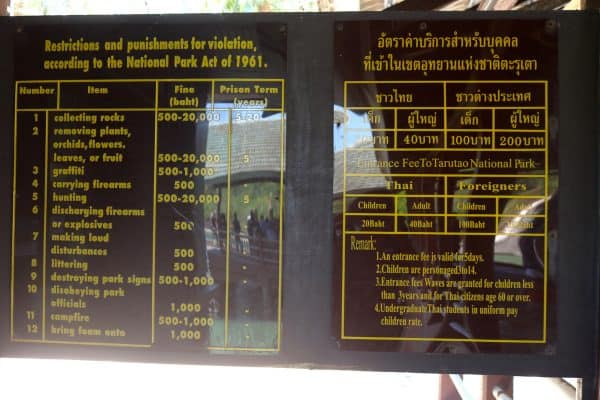 There is a list of park rules and the fines for infractions. But it may be more of their version of 'We reserve the right to refuse service to anyone' type of thing; because it is difficult to imagine a boat load full of school kids adhering to these park rules. But it is comforting to know they acknowledge the possibility of rowdy party animals coming in search of a full moon event. Or attempting to create one.
Getting to Koh Tarutao
Getting to Koh Tarutao is possible via Koh Lipe or Pak Bara. Speedboats heading in either direction will stop at Koh Tarutao en route, but only once a day. It's also seasonal. The speedboats stop in Koh Tarutao for about 20 minutes, to drop off or pick up Tarutao arrivals and departures. They also allow ongoing guests to disembark, to look around and take photos. For Pak Bara departures, call Ploysiam Speedboat for latest departure information at 6687631 11996 or 66817380803. For Koh Lipe departures, call Manah Lipe Travel at 094-3165339 or 6793667.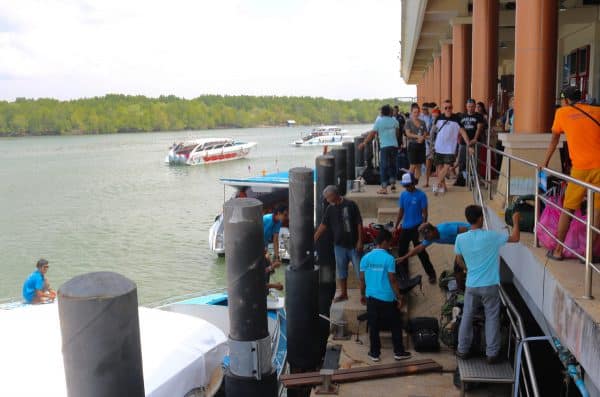 * Tarutao National Park areas include Koh Tarutao, Koh Adang and Koh Lipe. There is a 200baht (adult) and 100baht (child) entry fee (used for park maintenance) which is usable for 5 days for visits to these islands (so don't lose your receipt/ticket).
Finding Shelter
Ao Pantae Malaka is located at the northern tip of Koh Tarutao and for me would be the preferred area to stay due to the conveniences. Most everything you can get is here; visitors center, lodgings, restaurant, store and even onward travel arrangements. The lodging options in Ao Pantae Malaka range from waterfront triplexes at 1000baht a night to 600baht sea view duplexes that have ensuite toilets and cold showers, plus a veranda and overhead fan.
The rooms are super clean, but the mattresses are quite hard and uncomfortable. And I'm honestly not that particular, but my mattress was not great. But overall the room I had was much more comfortable than I expected with exception to no electricity from sunrise to sunset. That means no fan during the day (in case you are a mid-afternoon napper), and no charging of batteries or other electronics. I survived though and it was most definitely better than a tent.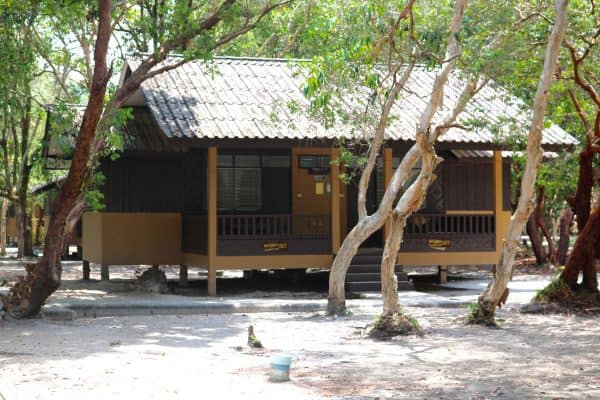 Surprisingly mosquitos were not an issue in Koh Tarutao. Maybe it was because everything was extremely dry at the time of my visit (mid-March). However, I did have a small swarm of bee-looking creatures trying to get into my room. Some actually did. They were not exactly small bees so it was a bit unsettling. And what is the protocol for bee defense in a national park? I had no clue, so I used organic mosquito repellant which of course was useless.
Apparently, it was the light that was attracting them, so I switched on the next-door bungalow porch light and turned mine off. That did the trick! In the morning, there was a small colony of bees surrounding that light bulb like some kind of insect cargo cult. During the night the loud sounds of banging trash cans can also be heard. Being that it was pitch black and I had no torch (my bad) my imagination initially got the best of me. The park rubbish bins are all secured quite tightly to keep animals out of them, but under the cloak of darkness the critters of the night give rubbish can raiding their best efforts.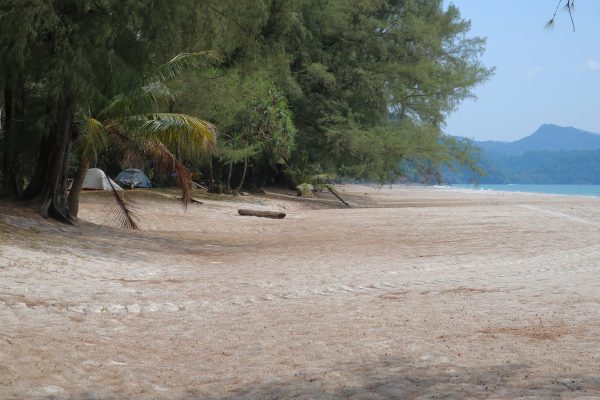 Dormitories and tents are also available and would probably be a lot of fun if you were traveling with friends. Personally, I like my privacy, so it was worth the extra baht for that amenity. Other area accommodation options are at Ao Molae and Ao Son. Ao Molae is about 4km south of Ao Pantae Malaka and Ao Son is even more remote at about 8km south of the main jetty. Again, there is no GRAB taxi, but you can walk, rent a bike or in some cases get lucky with a ride with a passing park ranger; each location also has ranger stations and food. You can call Ranger Prayoon directly and inquire about accommodation availability at 061 745 6304.
Forging for Food and Water
There is a restaurant located in Ao Pantae Malaka. It is open twice a day; 7:30am until 2:00pm and 5:30pm until 8:30pm. Not that I'm a food snob, but after the delicious food I had had in Pak Bara I found Koh Tarutao food to be slightly overpriced and not particularly good. But beggars can't always be choosy. However, I did take full advantage of Ao Pantae Malaka's little sundry shop, which was well stocked and had very reasonable prices.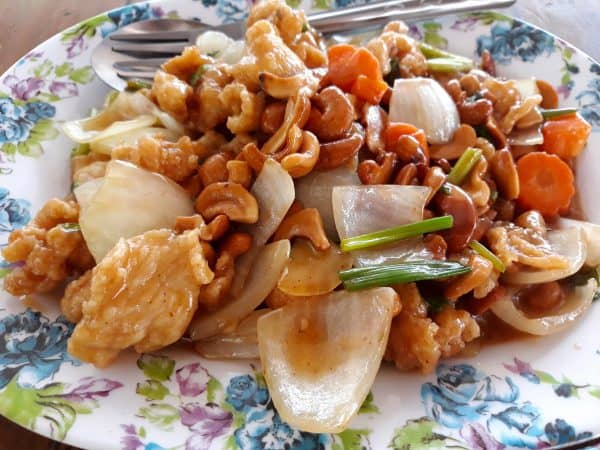 Getting Around the Island
There are three options for getting around Koh Tarutao; walking, 250baht per day bicycle rental or 600baht for two-hour roundtrip shuttle ride. These were the options quoted to me, at the visitor's center. Rumor has it that long-tail boats are also available, but unfortunately they were not an option while I was there. Nor an explanation as to why they weren't an option (despite the park's website mention).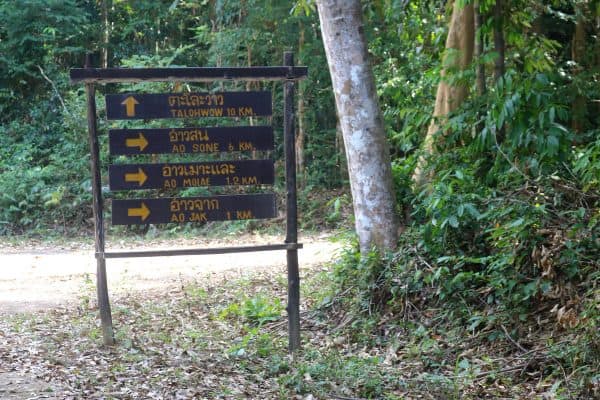 Asking about getting to the Ao Talo Wao Historic Trail, I was told that a shuttle would cost me 600baht (the price of my room). I found this two-hour roundtrip shuttle option price absolutely ridiculous. When I whined about it, I was told, "Maybe you can join a group and share the cost". Unfortunately, I didn't see any groups around, nor did I have one with me. End of conversation. No additional helpful suggestions were given by the Visitor's Center attendant.
When I asked about bicycles I was quoted a flat 250baht per day rate, which I also found a bit pricey. And apparently, anyone too cheap to fork over 600baht for a shuttle will at least not be too lazy to ride a bike 12km through the jungle, hike a couple of hours on a trail and then ride 12km back. But then perhaps they weren't expecting me; I'm cheap and lazy and had limited time.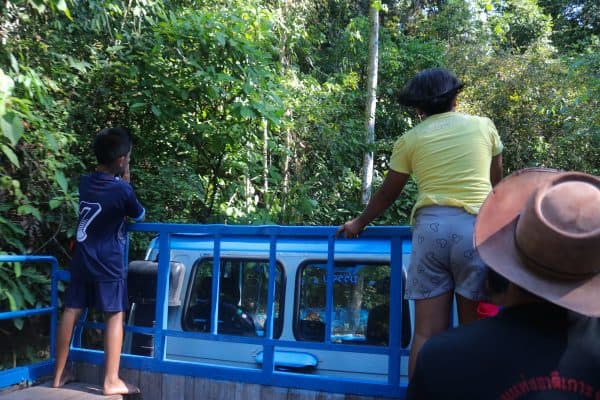 In the end, I was able to get a free ride on a morning work truck and a return motorbike ride was generously provided by the ranger from Ao Talo Wao. He probably still has hand prints on him, as I was clinging to him for dear life.
Never the less, if you are keen to walk (hike), be sure to carry plenty of water with you. You can get water in Ao Son and you can also get water in Ao Talo Wao, where there is also a ranger's station and help if you need it. The bike option is definitely the best plan, but expect some hill climbs and a couple of hairy downhill twisty road bits. If you are heading to Ao Talo Wao, a morning start would be wise and do let a ranger know your plans if heading down the historic trail (or any remote trails) as you may well be the only person there.
Things to See and Do
Typically, I prefer to spend far more than 3 days somewhere before I start spewing my travel blogger 'vast knowledge'. Unfortunately, in this case I had limited time to experience all that Koh Tarutao has to offer, which turned out to be more than I had anticipated. But I'll share with you what I did experience and learn about, and hopefully it will help you get the most out of your own Koh Tarutao adventure.
*Do note that there may be a variety of spellings used in reference to a location name. A brochure or map may say one thing and the sign boards something slightly different. Unless you speak Thai, it's anyone's guess which are the correct English versions.
Ao Pantae Malaka
The entry to the park and location of park Head Quarters, Ao Pantae Malaka has a gorgeous white sand beach that wraps around from the main pier and heads south. The adjacent waters are a bit wavy but a lovely shade of teal and has a sandy bottom. Those just stopping for a quick look-see won't be disappointed with the souvenir photo op. Add the Koh Tarutao National Park sign as a back drop and walah! you've got yourself a winner.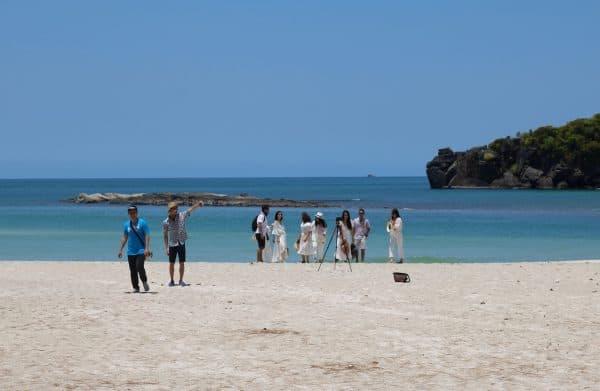 Large tree swings and hammocks dot the beach and a few benches as well. The shady casuarinas pine trees are plentiful and the onshore sea breeze is consistent. There are a few campsites along the waterfront, but for the most part you will have the beach to yourself. Do note that the sand fly rumors ARE true, so if you plan on working on your tan be sure to put insect repellant on. You may not feel the bites, but you will feel the evidence emerge later as the bites itch like mad.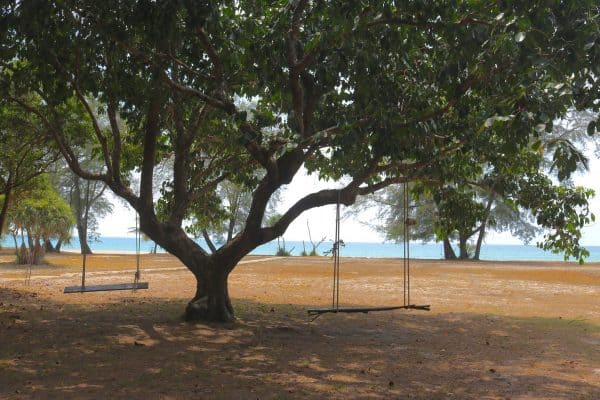 Both a Father God Shrine and a statue of King Rama V are near the main pier. Unfortunately, no information about the shrine or statue is available in English but they are both photo worthy and add to the area's park-like charm.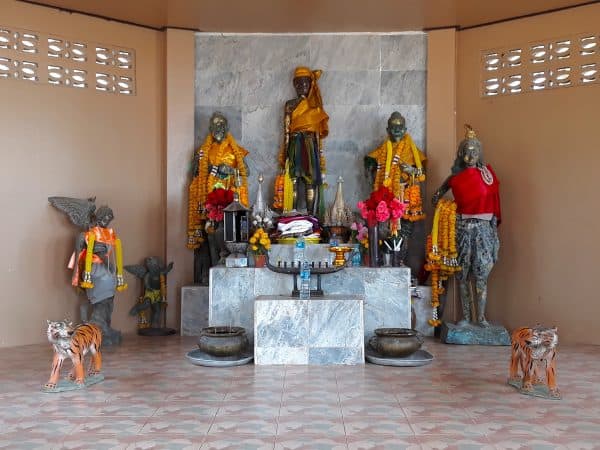 The Ao Pantae Malaka Educational Center is directly next door to the Visitor's Center and has some very interesting displays of Koh Tarutao's history, geological wonders and wildlife. Information is provided in both Thai and English. It appeared the rangers sometimes show movies and have special talks at the educational center, but when I asked if any talks were scheduled during my visit I was unfortunately told no. Those activities may be reserved for special groups, but it is worth inquiring about just in case.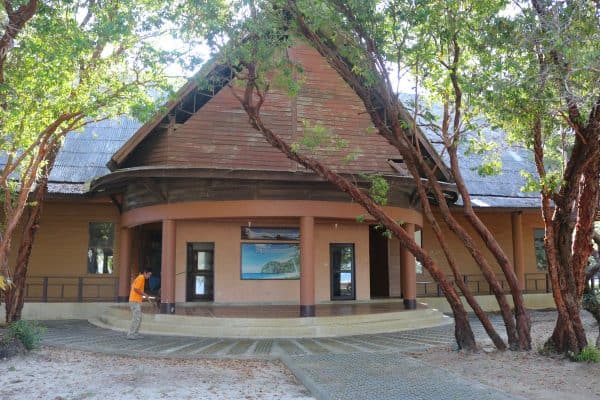 Behind the Visitor's Center is a path to Toe Boo Cliff, aptly named Toe Boo Cliff Trail, which is 60-meters above sea level. The 500 meter climb is a mix of old broken steps, jungle and rock formations. It is a bit rustic in parts, so a buddy system might be a good idea. The 20-minute climb to the top will reward you with a panoramic view of the surrounding islands and a golden Buddha who gazes longingly out to sea. It is a steep drop from the top so watch your footing and stay on the trail.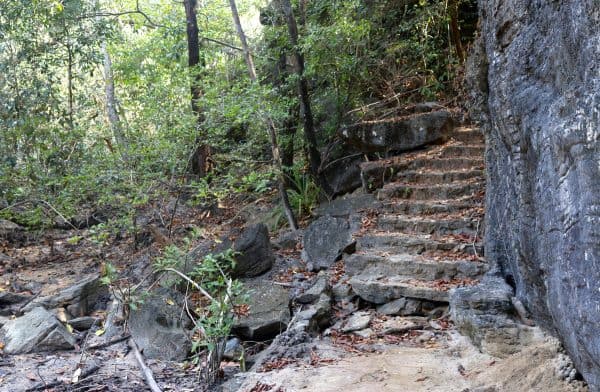 Located inland, the Crocodile Cave is reachable by long-tail boat or kayak via the Pantae Melaka Canal. The canal begins near the main Ao Pantae pier. The cave is 300 meters deep so be sure to bring a torch. Kayaks can be rented at the Visitors Center for around 500baht for the day. Long-tail boats may or may not be available (they weren't when I inquired). The trip via long-tail is said to take 20-minutes. If kayaking to the cave, do consider the time of day and your kayaking expertise.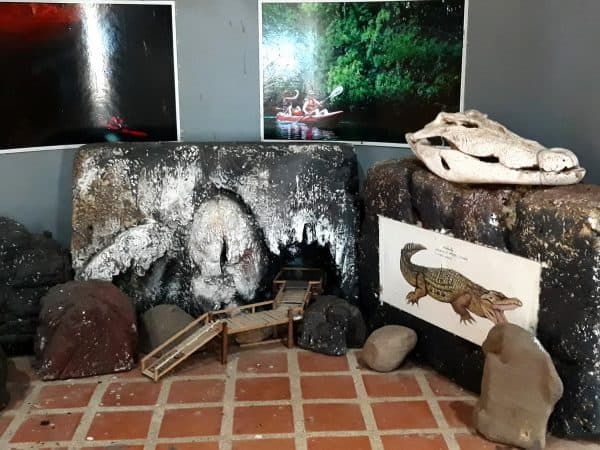 Wildlife is abundant on Koh Tarutao. Wild Boars meander throughout Ao Pantae undisturbed. Macaques linger in small intimidating gangs along the main road. Hornbills and Drongos keep the tropical air alive with bird calls. Those are just a few of the many species which call Koh Tarutao home. Walk quietly and keep your eyes open, you will see and hear plenty. *Do remember NOT to feed any wildlife, it is a big no-no.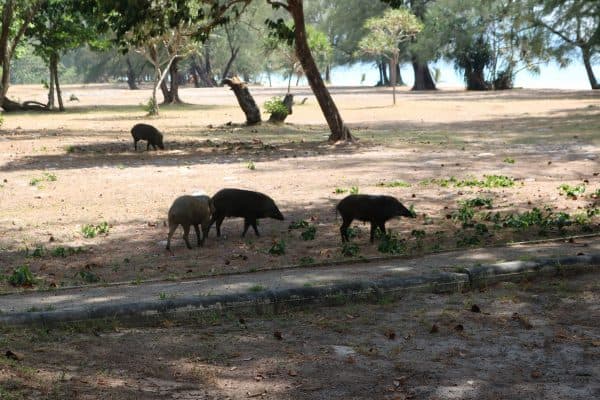 Ao Talo Wao
Located 12km from Ao Pantae Malaka, Ao Talo Wao was once the location of the Tarutao Prison's common criminal prison. Details of Tarutao Prison's colorful history are explained at Ao Talo's recently opened Tarutao Correctional Historic Study Building through old photos and drawings.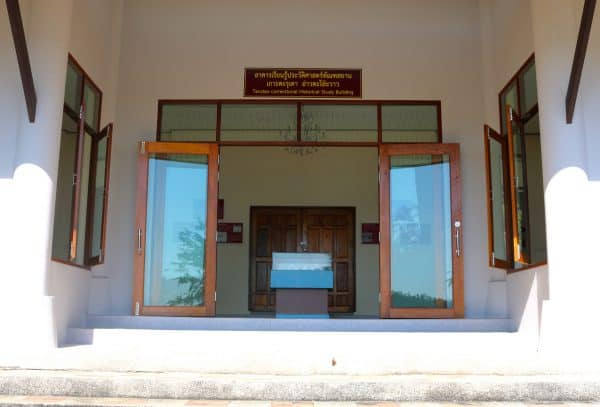 On the nearby waterfront, the Ao Talo Wao Pier leads out to iconic rock of many a Koh Tarutao tourism brochures. Geologically speaking it is officially an 'Ordovician limestone stack'. It's impressive either way and definitely photo worthy.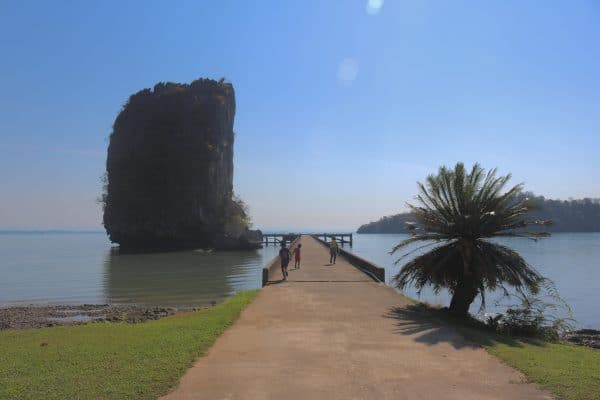 The Ao Talo Wao Historic Trail circles around the old original prison site. Landmarks are well established with a few signboards here and there, some collapsed structures as well as what appears to be an attempt to reconstruct a couple of historic buildings. The 2km wooden walkway is easy to negotiate and the surrounding dense jungle is the epitome of a nature experience. The trail takes about an hour to stop and explore the sites. The signboards on the trail are in both Thai and English.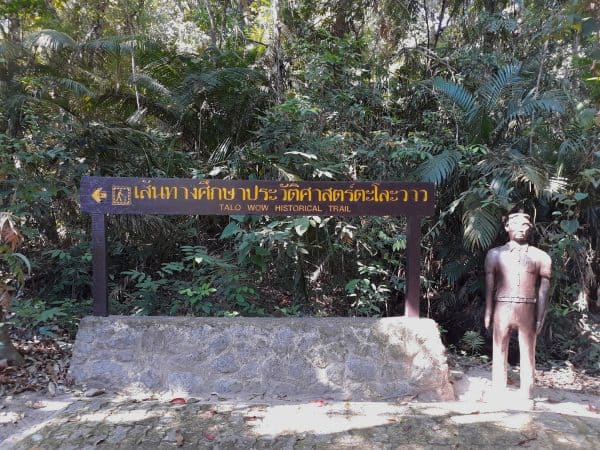 Ao Talo Udang
Ao Talo Udang is 12km south of Ao Talo Wao and 24km from Ao Pantae Malaka. The beginning of this trail leading to Ao Talo Udang is towards the end of the Ao Talo Wao Historic Trail. However, there are no walkways and although the jungle trail looks well-trodden initially, it's hard to say how far that it goes.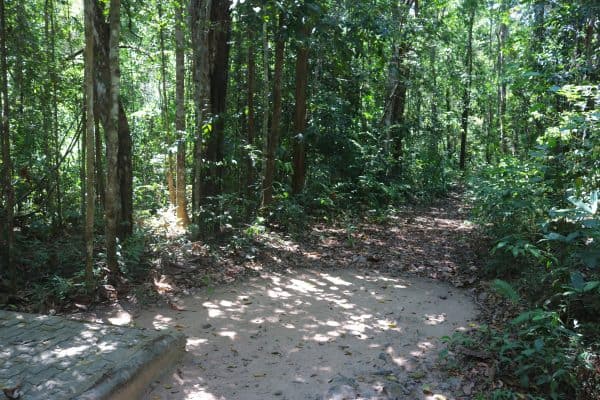 It's recommended to ask a park ranger to go with you (which I'm sure would thrill them to bits to hike 12km through the jungle when they could be manning the beverage counter instead). When I inquired, at the Ao Pantae Malaka visitors center, about going to Ao Talo Udang, I was told, "There is nothing there". This of course came from the same enthusiastic staff who told me no tours or boats were available (in the middle of high season).
Other places to visit on Koh Tarutao include the beaches of Ao Jak, Ao Molae and Ao Makham as well as Ao Rusi (if you can find a boat to transport you to that remote part of the island). Aside from being another beautiful Koh Tarutao beach location and place to stay, Ao Son's other claim to fame are the nearby Namtok Ludu and Namtok Lopo waterfalls. The trails leading to the waterfalls begin in Ao Son and each take an hour or more to reach the falls. Like I said, there is a lot to do in Koh Tarutao!
What to Bring (Be Prepared!)
Ok, this is probably a bit of an overkill list, but I couldn't quite cover all of the potential possibilities with my Personal Travel Hacks for Southeast Asia post.  So, you can decide for yourself if these suggestions might work for you.
Sim card:
There is no internet on Koh Tarutao but if you have a Thai Sim card you can get decent connection on Koh Tarutao. It does however get sketchy (to non-existent) deep in the jungle. If you are coming from Pak Bara, you can pick up a sim card at the 7-11 near the pier. Be prepared to show your passport.
Cash:
Cash is king on Koh Tarutao and the cost of conveniences (such as a transportation) can certainly add up. Bring more than you think you might need or you may indeed end up forging for food or (gasp) sleeping on the beach. ATMs and money exchanges are available in both Koh Lipe and Pak Bara. In Pak Bara you can do a money exchange at the travel office at the pier.
Solar Battery Charger:
On a generator powered island, having several back up batteries for electronics, is probably a good idea. When the electricity cuts off at sunrise you are looking at 12 hours before it is turned back on. Having a solar recharge option for more important electronics could come in handy.
Extension Cord:
In addition to having Thai power plugs on hand, do consider the placement of electrical outlets, and don't expect them to be numerous or in practical locations. Because they won't be.
Large Plastic Bags:
You may already have waterproofing for your luggage, but having a few heavy-duty plastic trash bags on hand are an additional option. Not only will you be traveling to Koh Tarutao by speed boat but if you end up sleeping in a tent, rain could be problematic. Large plastic bags also come in handy as MacGyver-style rain wear.
Torch (Flashlight):
The park and walkways are very dark at night and many creatures of the night are scurrying about; tripping over a Wild Boar might not be in your best interest. If you plan on visiting any caves, you will also need one. A Smart phone torch just doesn't do the trick as well.
Bug Spray:
Bring not just insect repellant but full on death spray in case you encounter a swarm of aggressive bees in your chalet. You probably won't need to use it, but better safe than sorry. If you have insect allergies, emergency services may take some time to get to you.
Waterproof Sun Screen:
A no brainer, but the sun can get very intense and sun screen should be applied often.
Non-perishable Food:
Although there are food options in Koh Tarutao, a jar of peanut butter and jelly can go a long way with staving off hunger pangs between restaurant opening hours. You can also save a few baht on 'eating out'. But do make sure any food you bring with you is monkey and wild boar proof. A whiff of your tasty treats and you could suddenly have new friends from the animal kingdom.
Instant coffee:
If you are a coffee drinker you will be grateful you brought your own. Being limited to restaurant opening hours is never my ideal, so I usually bring my own instant coffee stash (and a sizable cup). And if hot water isn't available I'm happy to mix and shake a cuppa via a bottle of cold water. A portable hot water maker would be very useful as well.
Clothes Line/Rope:
Not only is a nylon rope useful as a clothes line, it's also useful for creating a privacy 'fence'. Hanging a few sarongs out to dry also looks 'normal' rather than looking like a paranoid kook putting up a privacy fence.
Sarongs:
Speaking of sarongs, I can't praise them enough for having multiple uses. I have used them for quick dry towels, bed linen, grocery 'bag', curtains, beach cover up and of course they are great for an instant privacy fence.
Handy Wipes:
You will sweat like a wild boar on Koh Tarutao, and you will probably smell like one too. A few refreshing wipe downs throughout the day will make you smell much more socially acceptable. You will also be sitting very close to other passengers on the speedboat (just an FYI). Very close.
Foam Mattress Pad:
If you have back issues, be forewarned that the mattresses on Koh Tarutao may actually have been acquire through the Thai Department of Corrections surplus. At least the one in my room might qualify. It was very uncomfortable. I'm not even sure why it felt so uncomfortable, but it was. Still better than sleeping on the hard ground though.
Day Trips to Koh Tarutao
Day trip excursions to Koh Tarutao are limited. Plenty of Koh Taruato National Park 'tours' are being touted, but if you look closely they typically include several islands and beaches and are not specifically isolated to the main island itself. They are tours of the Koh Taruato Marine Park. At best, a quick 20-minute stop and peek of Koh Tarutao is an option via boats going to and coming from Pak Bara and Koh Lipe.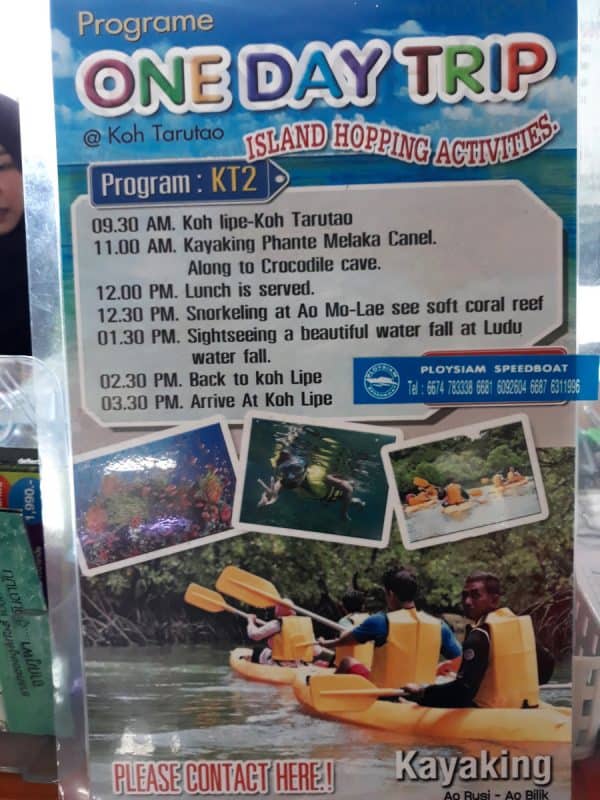 I was told by several tour operators on Koh Lipe that I would need to stay overnight if I wanted to spend several hours in Koh Tarutao. You get dropped off by a boat coming or going from Pak Bara to Koh Lipe or from Koh Lipe to Pak Bara and the next day you get picked up by the same en route boats. However, I did discover, after the fact, that Ploysiam Speedboat offers a 6-hour tour of Koh Tarutao departing from Koh Lipe. You can check their rates and schedule at 6674 783338 6681 or visit their travel desk at Pak Bara Pier (where I got this flyer).
Onward Travel and Escape Routes
If you are heading onward to Koh Lipe, Koh Bulone or Pak Bara, you can buy a ticket at the ranger's desk at the Ao Pantae Malaka Pier. (My one-way ticket to Koh Lipe was 450baht). Arrivals and departures all happen around the same time of day and only once a day. Arriving from Koh Tarutao to Paka Bara you can easily catch mini vans to Trang or Hat Yai. Mini vans to Satun are no longer an option, but mini vans are available from nearby La-ngu to Satun. Getting from Pak Bara to La-ngu may or may not be a challenge. If a songtheaw happens to be available count your blessings because the other option is a motorbike taxi.
If you are trying to get to Langkawi from Koh Tarutao, via Pak Bara-Satun you will probably have a nervous breakdown trying to catch the last ferry unless you take a private taxi from Pak Bara to the Satun Ferry Terminal. It won't be cheap. The quickest way to get from Koh Tarutao to Langkawi would be via Koh Lipe-Langkawi 'seasonal' direct ferry service. You will need to spend at least one night so don't expect to hop from one speedboat to another. This route includes extra time for Thai immigration exit procedures. You can also go from Pak Bara to Hat Yai (bus station #1) and then take a minivan to the Dannok/Bukit Kayu Hitam border crossing. After entering Malaysia, you can take a taxi to Kuala Perlis (about 60RM) and catch the ferry to Langkawi (35RM), but securing a ticket in advance is highly recommended.  *Do note that Malaysia is one hour a head of Thailand.
*Satun to Langkawi Ferry info 2023 update: Satun Ferry to Langkawi in 3 Easy-ish Steps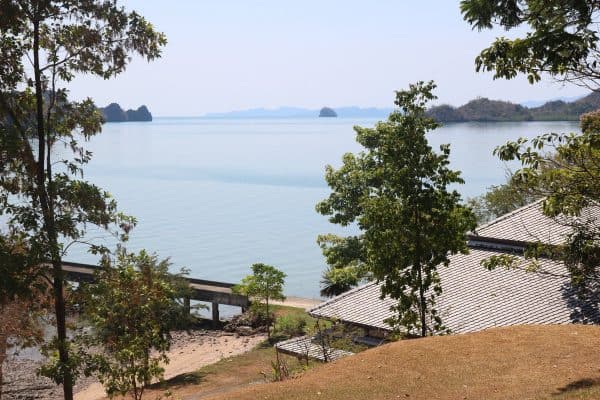 Koh Tarutao is not for everyone, but it is a great place to ponder the meaning of life or commune with nature. A quick 20-minute stop is easy enough to do, but to truly appreciate the beauty and uniqueness of the island, I highly recommend spending at least two nights there. Three or four even, because there is a lot of terrain to cover. It can be challenging for the unprepared, but the peace and quiet can do wonders for clearing one's head.
You may also arrive to find park employees who jump through hoops to make your visit exceptional as well as educational by offering interesting tours or more diverse transportation options. And perhaps some of my survivor tips will be completely unnecessary. But either way, you will at least be prepared to not only survive Koh Tarutao, but fully enjoy the experience. It is definitely worth a visit.
For more information about Koh Tarutao you can visit the national park website HERE