When it comes to Langkawi waterfront restaurants and bars, the island has plenty. But when it comes to places to have a bite to eat and a beverage of your particular 'choice', then the selections can vary greatly. From limited beverages choices to inconsistent hours of operation or indifferent customer service and uncomfortable local cliques. Not to mention a smattering of ongoing nearby construction project noises or excessively loud music to enhance one's visit. So here is a rundown of the top picks of Langkawi's waterfront watering holes. They cover all the bases for a pleasant seaside experience; offering a luscious waterfront view, great customer service and ambience, good food and alcoholic as well as non-alcoholic beverages without being a 'bar scene'.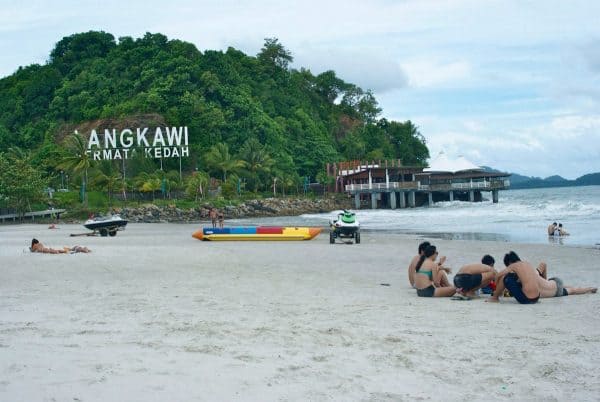 PANTAI CENANG
The Cliff Restaurant and Bar
Most visitors to Langkawi head straight to the popular sandy shores of Pantai Cenang in search of the popular waterfront watering holes. And with its iconic Langkawi Kedah sign being an easy reference point Pantai Cenang is indeed a great place to start. That beachfront sign also shares the nearby waterfront with The Cliff Restaurant and Bar. Tucked into the rocky outcrop, the Cliff is reminiscent of many a pounding surf against the rocks kind of places around the world. Ranging from casual to fine dining, this open-air venue offers a perfect sunset spot with an extensive view of the length of busy Pantai Cenang beach.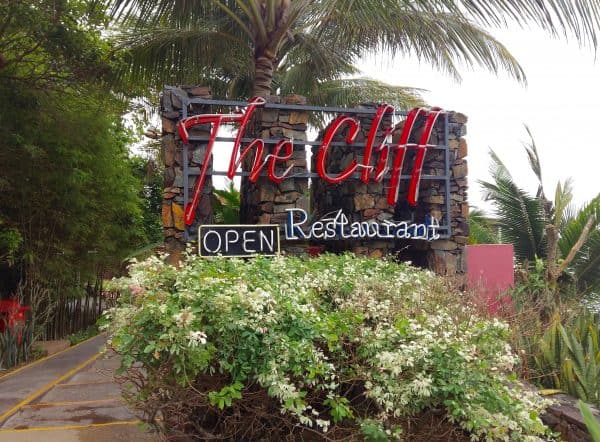 Their menu runs from classic western to Malay influenced seafood and meat dishes. The Cliff beverage selection includes Langkawi Island Iced Tea (with a kick) to tropical mocktails, covering the gamut for an excellent sundowner hot spot with a view. Their official 'bar' is also aptly named D'Reef, mask and snorkel not required. The Cliff is open daily from 12:00 until 23:00.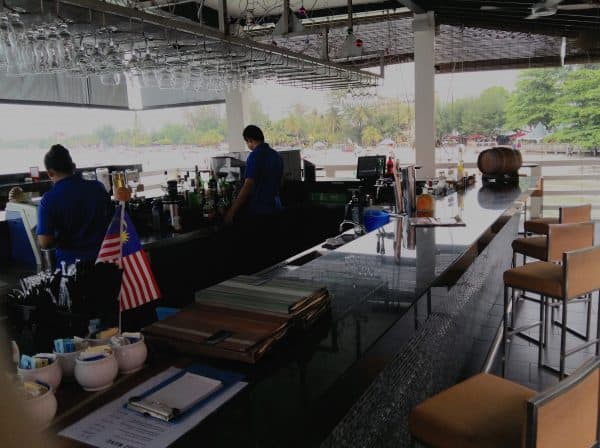 Yellow Cafe
One of the last standing of the original Langkawi beach bars and nearly as iconic as the nearby Langkawi Kedah sign is Yellow Café. Yellows is aptly painted bright yellow and can't be missed (literally) for daytime and evening wining and dining on the waterfront. The original bean-bags-on-the-beach folks, offer toes in the sand bean bag or open-air café seating. They also offer a glorious sunset, free of charge.

Having gradually morphed with the modern times and the developing Pantai Cenang area, Yellows keeps their beacon yellow paint fresh and their menu diverse. From salads and burgers to New Zealand lamb and Mama Mia style pastas and pizzas, you for sure won't go hungry. And pick your poison from an extensive liquor and wine list or a selection of cold beer and soft drinks. Yellow Café is open daily Wednesday through Sunday, 12:00 until 01:00 and Monday through Tuesday, 15:00 until 01:00.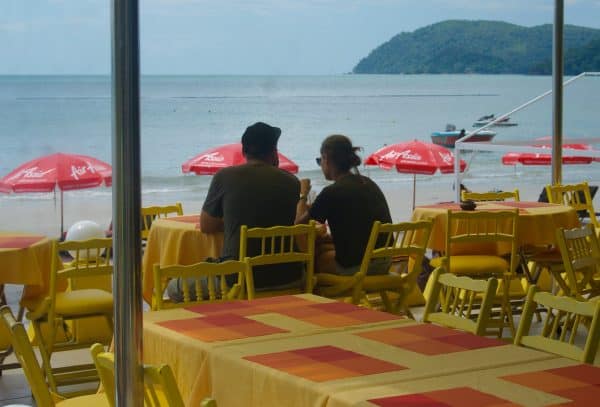 Thirstday Bar and Restaurant
Thirstday Bar and Restaurant is one of the new waterfront kids on the Pantai Cenang block. Its long bar and raised terrace offers a modern twist on the rustic waterfront shanties of the Pantai Cenang of yesteryear; inclusive of fancy tropical cocktails and mocktails worthy of an Instagram moment.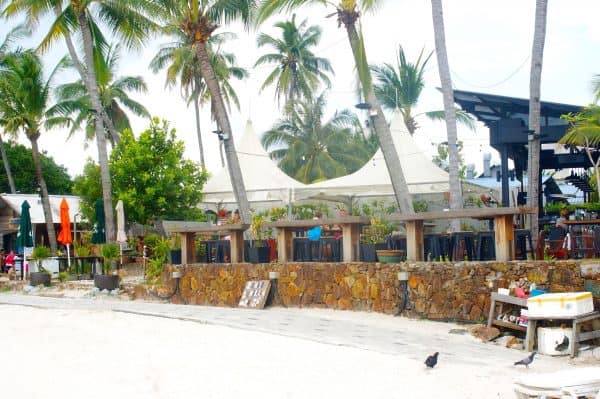 Al fresco dining is available straight from the kitchen of neighboring (and older sibling) Orkid Ria Seafood Restaurant or from Thirsty's own simple menu. Located waterfront, next to Mega Water Sports, Thirstday's is a perfect stopping point during those long walks on the beach. They're open daily from 13:00 until 01:00.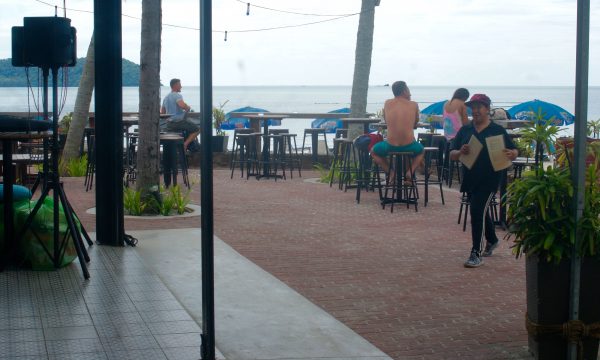 Kalut Café N Bar (
closed 2020

)

Just when it seemed that the last of Pantai Cenang's classic beach bars had disappeared, Kalut Café N Bar miraculously appeared. With its plank floor, rustic furniture, wood long bar and plenty of sling back beach chairs available, Kalut captures the quintessential tropical ambience of a beach hangout.

Serving cold beer, cocktails and non-alcoholic beverages with a laid back tropical atmosphere, Kalut Café N Bar also serves a limited menu of burgers and bites that include Satay and Chicken Wings. By late afternoon, the barmen set out colorful bean-bag chairs and mats onto the sand, for their sunset loving patron's to relax and enjoy toes-in-the-sand, sundowner bevvies. Located on the beach, behind the Mali Mali Beach Resort, Kalut is open daily 11:00 until 01:00.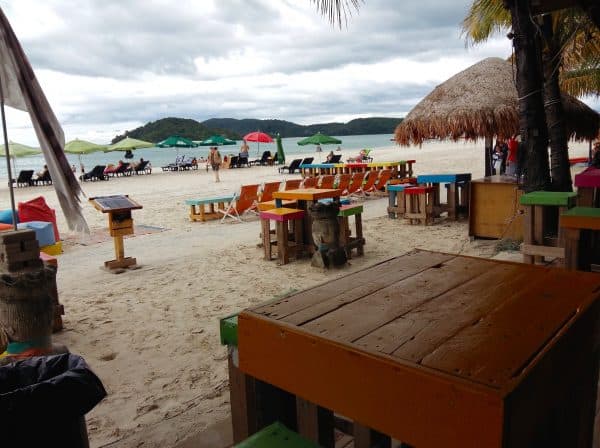 Cba Restaurant and Bar
At the Northwest end of the Pantai Cenang stretch is Cba Restaurant and Bar. Although part of the Meritus Pelangi Beach Resort, Cba heartily welcomes guests as well as non-guests to their open-air beach front restaurant and bar. The seafront grounds are dotted with comfortable loungers under shady palms swaying in time with the gentle sea breeze. Live bands often quietly serenade evening guests who either take to the dance floor or simply enjoy some balmy night stargazing under the Langkawi moonlight.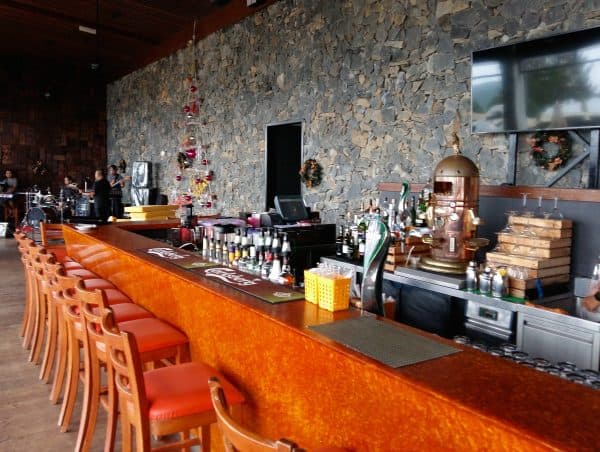 Beverage service is extensive with delicious fresh squeezed juices cum tropical mixers or G-rated non-alcoholic shakes, as well as cold beer, wine and soft drinks. Cba's light bites or more solid fare range from Fried Calamari to juicy steak dinners. Sunsets are particularly magical as the dipping sun sets the romantic tropical stage and the hushed tones of nightfall come alive. Cba is open daily 11:00 until 01:00.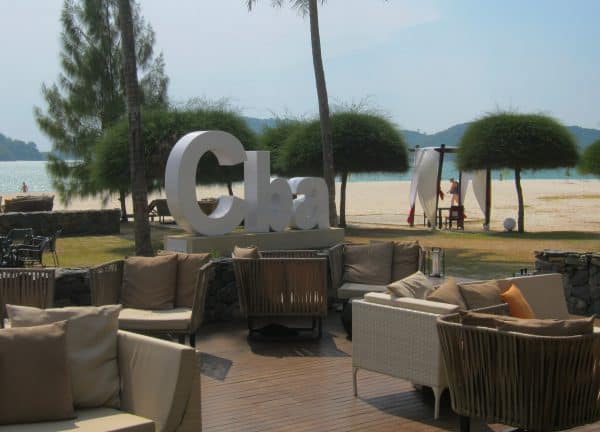 KUALA TERIANG
Mangoes Bar and Grill
The not-so-secret little gem of Mangoes Bar and Grill is tucked away in the seaside mangroves in the charming fishing village of Kuala Teriang. A long time favorite among local expats, Mangoes serves up cold beers, cocktails and wine along with their extensive western menu.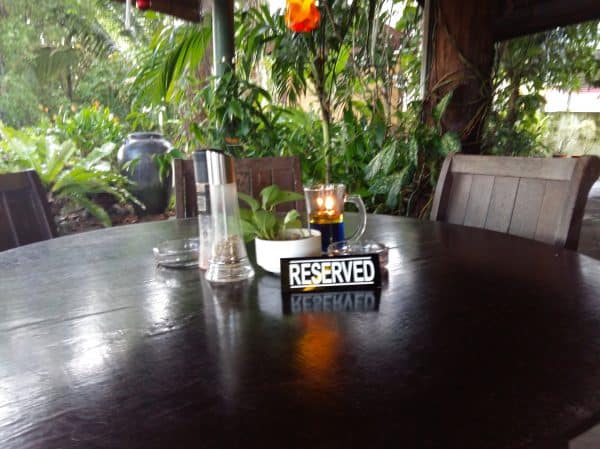 The lush tropical surroundings and almost constant onshore breeze makes Mangoes a perfect place to relax and dine as the sun sets below the distant horizon of the Andaman Sea. Open Wednesday through Saturday, from 17:00 until 22:00. On Sundays they are one of the few to offer a proper Sunday Brunch from 11:00 until closing, serving a delicious specialty menu which includes Eggs Benedict with homemade hollandaise sauce and fabulous Bloody 'Merries' and Mimosas.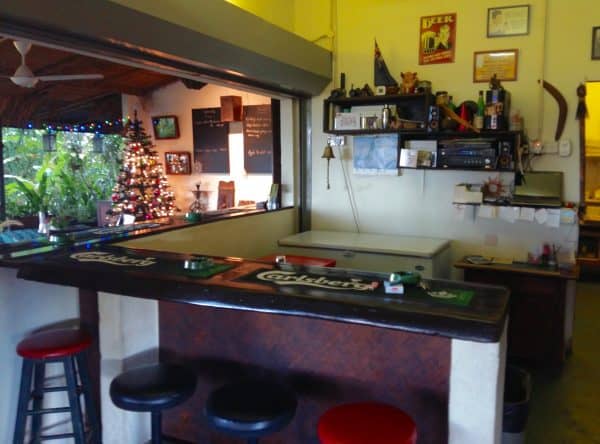 TELAGA HARBOR
Tapaz (Relocated to Kuala Chenang 2020)
Tapaz is one of the original restaurants to occupy the Telaga Harbor boardwalk. Al fresco dining and sundowners is the ticket here, serving up ice-cold beer, wine and their house specialty of tasty, fruity Sangria like Mom use to make. They also have a full bar. Like their name implies, Tapaz has tapas! And if you like Mediterranean, you will salivate over their menu of hummus, stuffed grape leaves, tabouli and more. Plenty of kid friendly snacks and beverages as well.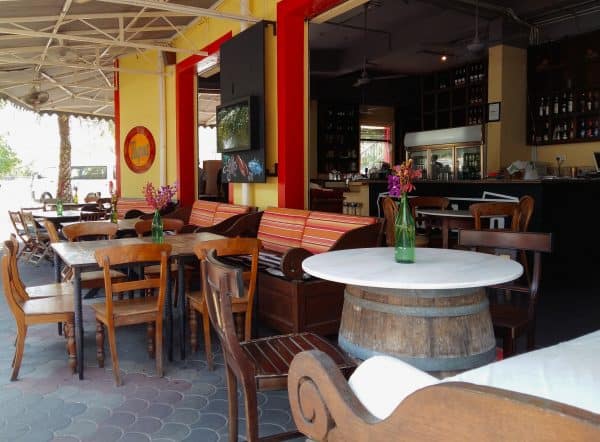 Although they have limited interior seating, with a large retractable awning and an ample number of umbrellas, outdoor seating is available rain or shine. Their harbor-front corner location is easily identified by their colorful array of tables and chairs. Tapaz is open daily from 11:00 until 23:00. *Relocated to Kuala Chenang May 2020.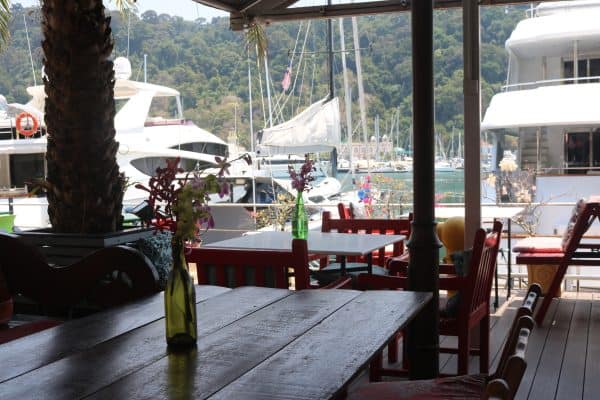 TANJUNG RHU BEACH
Scarborough Fish and Chips
Across the island in gorgeous Tanjung Rhu Beach, just as you reach that last spit of public beach area, is a small blue house cum restaurant. There you will find (aside from the nearby 5-star resorts) one of the few cold beer stops in the area. Scarborough Fish and Chips serves not only cold beer, wine and soft drinks, they also offer some of the most traditional Fish and Chips in Langkawi.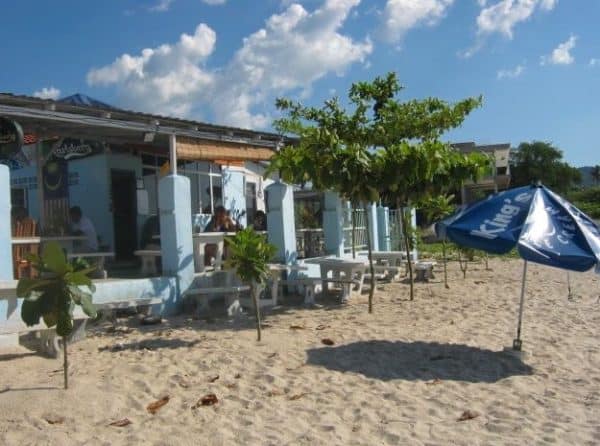 Scarborough's beachfront location is quiet and linger worthy and you are more than welcome to simply hangout. Of course, once you settle in you may have a hard time leaving anyway. The sea breeze and white sand beach will easily keep you entertained for hours. Across the way Koh Tarutao, Thailand and a few other distant islands and islets add a hint of mystery to the area. And the sunsets will definitely not disappoint. Scarborough's is open Tuesday through Sunday, 11:00 until 21:00.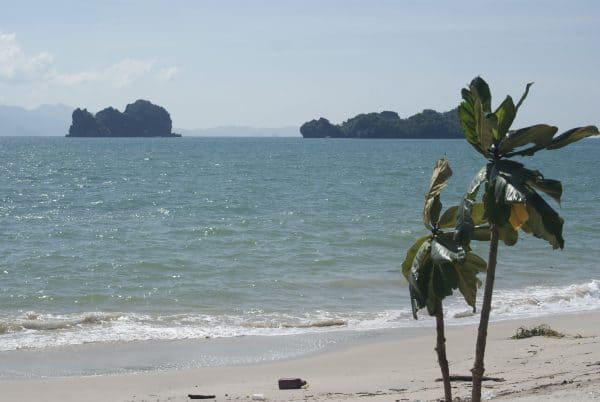 KUAH
Charlie's Bar & Grill
In Kuah, the famous Charlie's Place has moved just a few steps away to the lower level of the new Fisherman's Wharf at the Royal Langkawi Yacht Club. Retaining its wide harbor view and open-air environs, the now named Charlie's Bar & Grill, is still the bustling waterfront watering hole of choice for visiting yachtsman and racing sailors alike.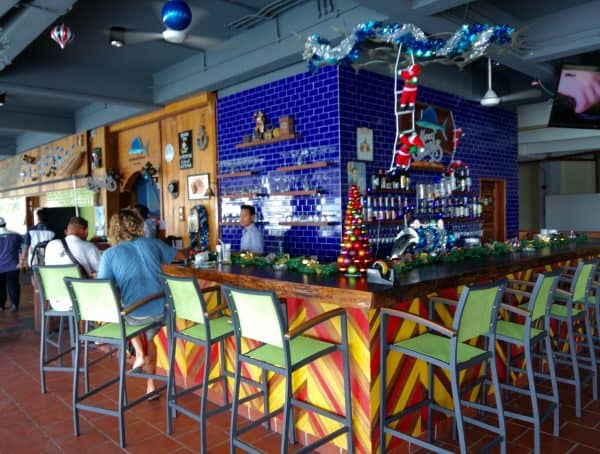 Charlie's offers cold beer, cocktails, mocktails and a varied wine selection, along with seafaring favorites such as Fish and Chips and Clam Chowder. A welcome oasis from the kinetic energy of the busy Kuah township, as well as the nearby Ferry Terminal. For anyone arriving to Langkawi by ferry and looking for a cold beer, Charlie's Bar & Grill is just a short walk up the street. They're open daily for breakfast, lunch and dinner, from 08:30 until 23:00.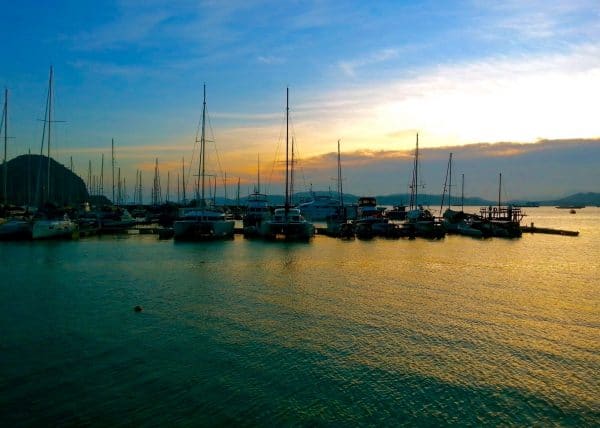 Again, there are plenty more great places in Langkawi to eat and drink. But if you want a waterfront vista with the option of alcoholic or non-alcoholic beverages, this list will definitely help you cut to the chase.