Street art in Malaysia has become much more common place these days. From typical graffiti-style smatterings of paint to the symbolic imagery of community 'thinkers' hoping to subtly let the world know what's really on their minds, to cultural highlights and beyond. Most visitors to Malaysia will see a variety of street art during their sightseeing jaunts throughout the country, especially in cities like Penang, Kuala Lumpur, Johor Bahru, and Ipoh. More popular Peninsular Malaysia tourist destinations. But those cities have something else in common and that is the 'bragging rights' that foreign artist Ernest Zacharevic has visited and left his artistic fingerprints and influence on their city walls.
But this post isn't about Ernest Zacharevic. This post is about 7 new locations to see street art in Malaysia. And they refreshingly have nothing to do with Mr. Zacharevic. So, please keep reading!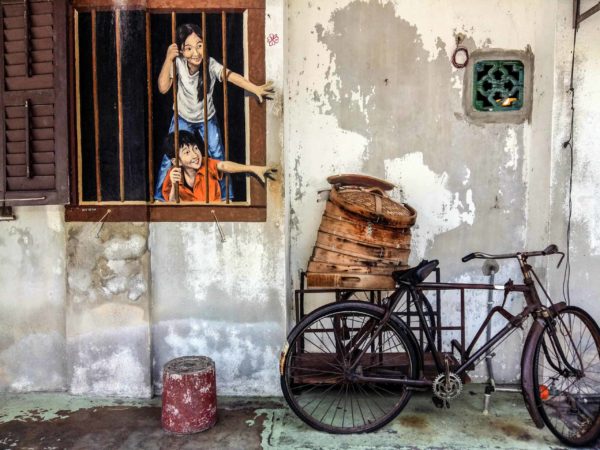 But First, the Zacharevic Factor…
In 2012, while traveling through Malaysia, a young man named Ernest Zacharevic approached the George Town Festival about some street art ideas to be included in the festival's month-long schedule of events. His focus on Malaysian culture and heritage as well as his additional interactive, mixed-media pieces wowed the public, won many hearts, and the rest is history. It wasn't long before other Malaysia cities were inviting (and paying) the foreign artist to come spruce up their cities as well. Big shoes to fill for local artists following in his footsteps or already struggling for local recognition.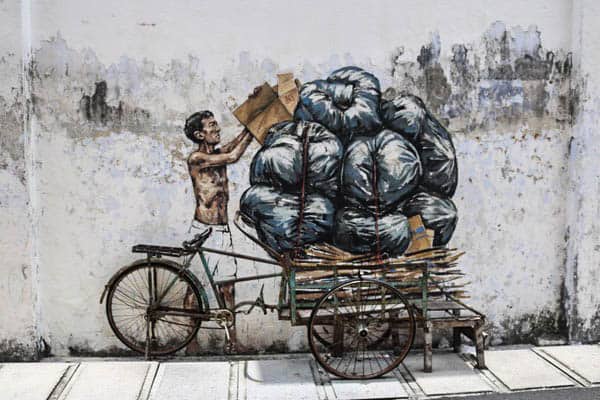 Take Ipoh for example. With exception of the cover image, 7 out of 8 images on the Ipoh Mural Art Trail map are of the work of Ernest Zacharevic. The cover painting was done by Ipoh local artist Eric Lai. But not a single mention of either artist by name. Granted the brochure was originally printed in 2014, but why are they still handing out the same Ernest laden brochure in 2020? A lot has changed in Ipoh in the past 7 years, especially in their art scene.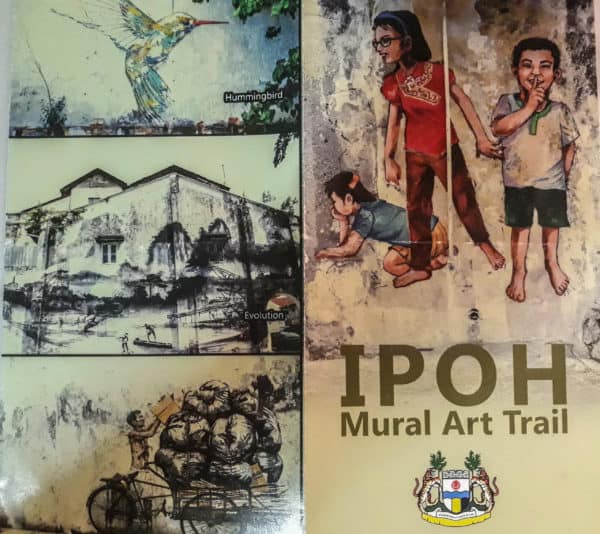 I've been to Ipoh a few times in the last couple of years and can tell you that there are many more murals there than just the work of a privileged, professionally trained Lithuanian painter. But if highlighting a foreigner, helped pave the way for the local talent to be allowed to express themselves on the walls of their own home towns, then so be it. And hopefully the next Mural Art Walk map that Ipoh prints out will take this into consideration and acknowledge all of the artists. Not just the 'famous' ones.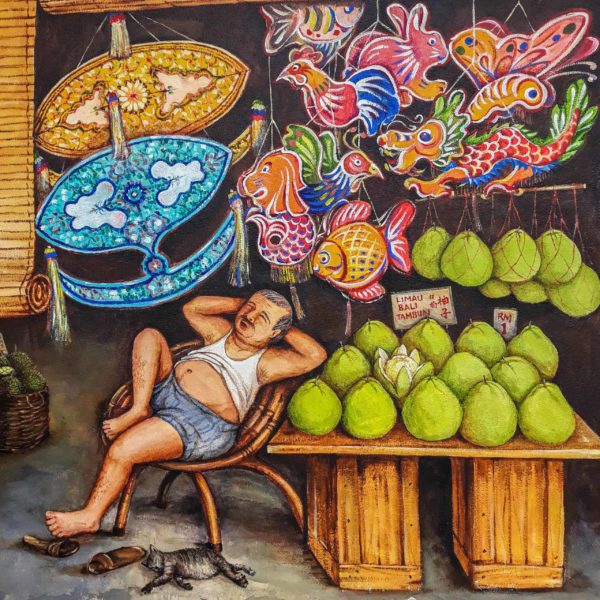 One Blank Wall at a Time
But, imagine being a budding street artist attempting to paint a mural in any city. It's a very public process. People constantly watching, murmuring their own input about how the job should be done. Perhaps silently comparing your work to the art work of 'the famous one'. And don't forget the weather! Outdoor mural and street art painting can often be weather dependent, unless one is well equipped to be protected from the elements.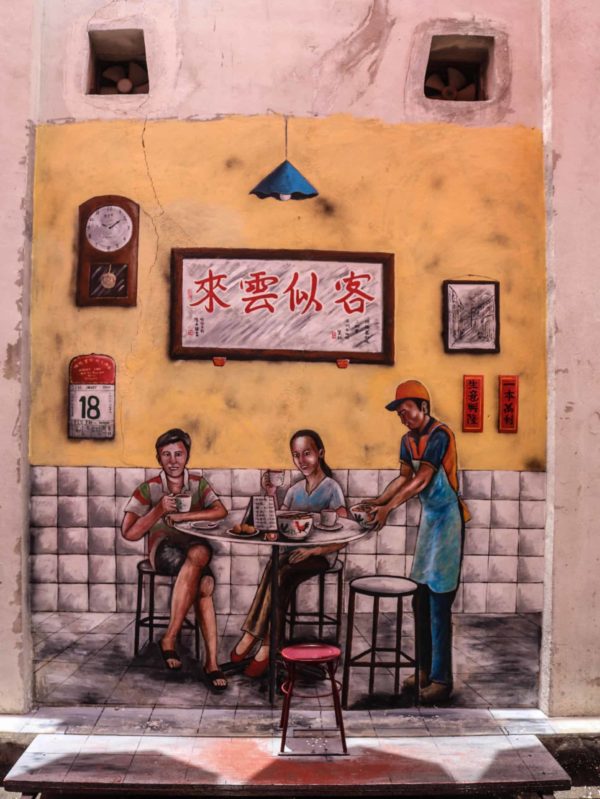 A street artist is a brave soul in my book and they deserve a lot of respect. As a once upon a time art student myself, I've heard my share of not-so-encouraging comments about my own artistic endeavors; the more openly critical often being from people who had little if any knowledge about the process of art; non-artists.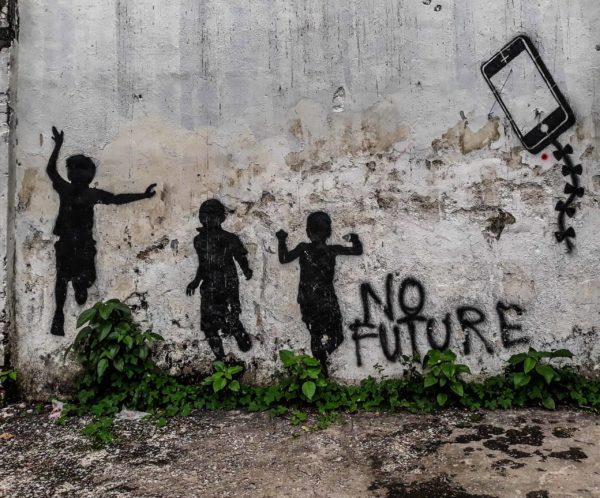 So, kudos to Malaysia's street art muralists who have been diligently painting their way through Malaysia one blank wall at a time, despite the occasional lack of support from various powers that be. The future is much brighter for them than it once was.
7 Cities to See Unique Street Art in Malaysia
Here are seven locations in Peninsular Malaysia that have an abundance of street art and are refreshingly free of the 'Ernest' influence. What you see is what you get. Art created by a variety of artistic individuals at many levels of painting expertise. Artistic snippets that add color and charm as well as insightful glimpses of the local communities' heart and soul.
Art & Culture Path
Kota Bharu, Kelantan
Kota Bharu, Kelantan is one of my most favorite Malaysia cities. It's a fascinating historic township that, in my book, is the epitome of Malaysian culture and heritage. I've extensively explored the area at least five times in the past eight years. But you could have knocked me over with a feather the day I accidentally discovered the massive art project happening in Kota Bharu.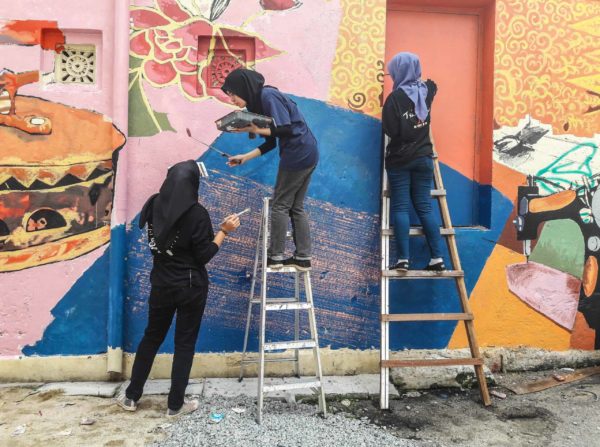 It was October 2017, and I had just arrived by bus and was killing time waiting for a friend to also arrive. The city bus station is pretty much the center of town and is buzzy with activity. Street vendors, cafes and a mish mash of stores and budget hotels are the main occupants of this area.
But as I shuffled down the street, checking my watch, I turned the corner at a back alley between Jalan Dato Pati and Jalan Temenggung and my mouth fell open. There before me were about twelve young men and women painting the walls along the small street. I was especially happy to also see women teetering from ladders and scaffolding, paint brushes in hand, it was a first for me in Malaysia. It was an impressive sight.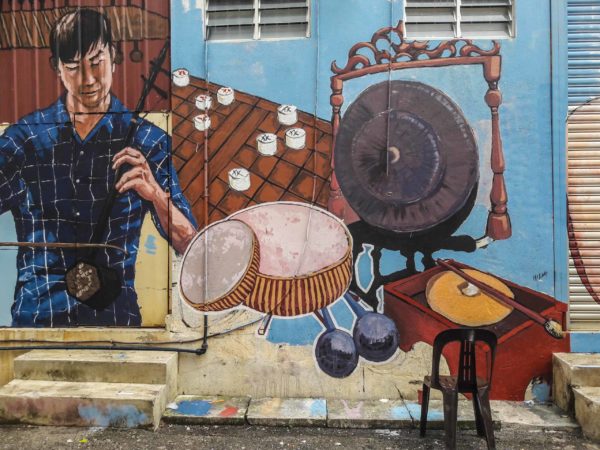 The theme of the initial efforts I was fortunate to have witnessed, was Kota Bharu culture and heritage. And, of course food, which Kelantan is quite famous for. At the time, I was told by one young artist, that they (the painters) were art students. I later learned that painters from the Kelantan Painters Association were also involved and that the 'new' Art & Culture Path was a fundraising project from the National Visual Arts Development Board as well as a collaboration between the Kota Bharu Council, Pesini Art Collective and the National Art Gallery.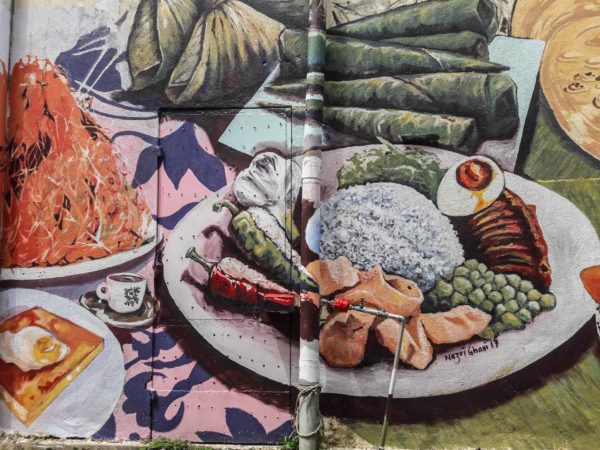 More murals have been added since my 2017 visit. In 2022, I finally got to see the finished work of the Art & Culture Path as well as several other areas of Kota Bharu. You can read more about those Kota Bharu street art projects here; Must See Street Art in Kota Bharu, Malaysia.
Kangar Street Arts
Kangar, Perlis
I consider Perlis part of my stomping grounds since I pass through on a fairly regular basis. But 'passing through' and actually exploring a location are vastly different. I can thank Tourism Malaysia for the formal introduction in early 2020. One of the stops on our media trip was Jalan Kangar in Kangar, Perlis. I was stunned. I had never seen the 'artsy' side of the Perlis community. Bits and pieces here and there, but not an entire street dedicated to street art.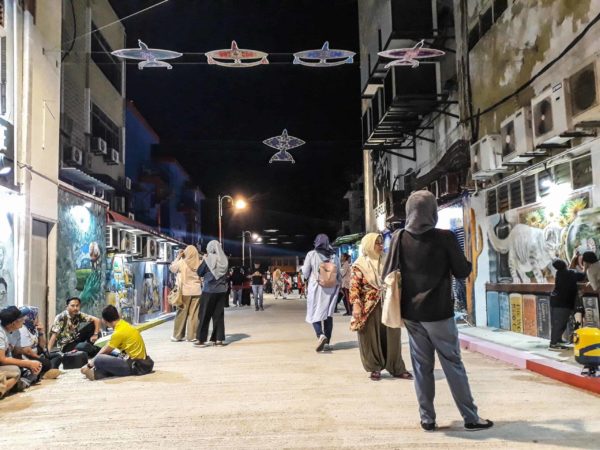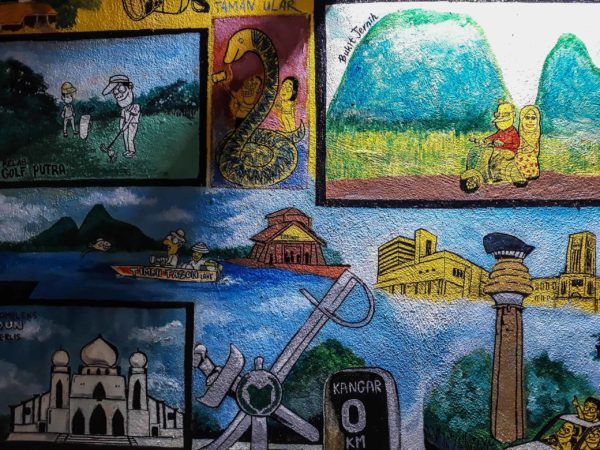 Jalan Kangar is a festive little area which is well lit at night and a real crowd pleaser of colorful paintings both 3-D and interactive. Images range from cultural highlights to the whimsical.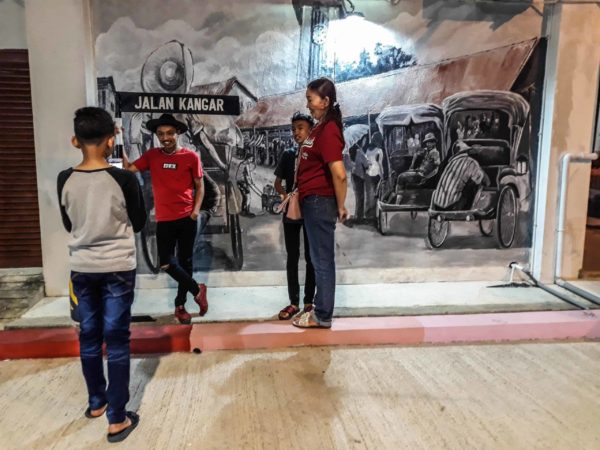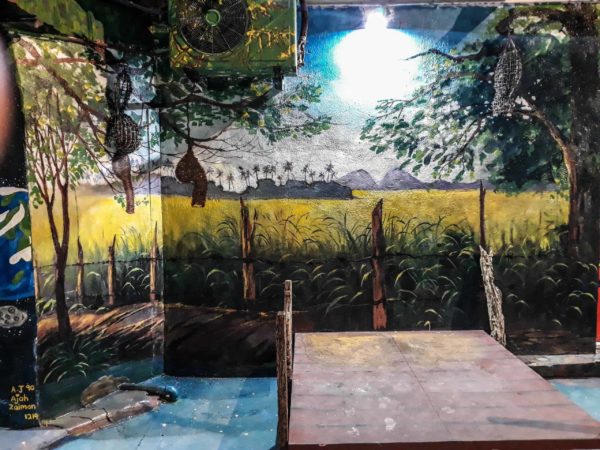 The Kangar Street Arts initiative includes paintings commissioned by the Perlis government as part of an effort to beautify Kangar. Their collaboration with the Perlis Artists Association has successfully done just that. If you haven't visited Perlis, Malaysia yet, here is a Weekend Guide to Perlis for First Time Visitors, which of course also recommends a visit to Jalan Kangar.
Butterworth Art Walk At Bagan Luar
Butterworth, Penang
The Butterworth street art scene was another accidental discovery I made after a last-minute decision to spend a night in Butterworth. Realizing that day, that I wouldn't make the last ferry from Kuala Kedah to Langkawi, I opted to end my north bound train travel at the Butterworth Railway Station. Knowing very little about Butterworth, I randomly (and fortunately) picked the Lodge 18 Hotel, from Google maps. It wasn't until I had checked in that I saw the Padang Bandaran Dataran Pemuda Merdeka park across the street. Standing sentry over the vast lawn was the massive image of a batik artist painted on the sides of 5 stacked storage containers. That visual alone was a score.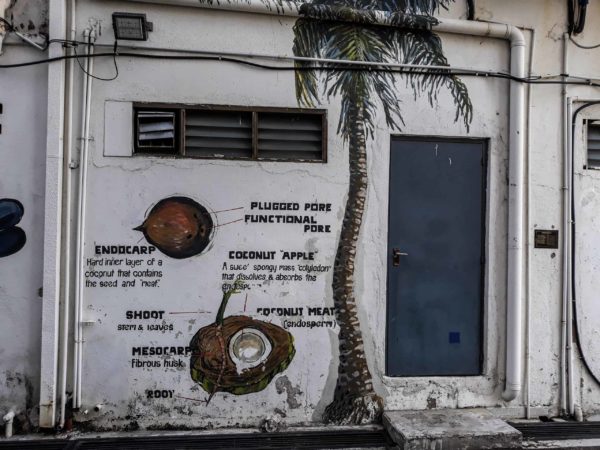 But then I saw a sign for an art walk outside of the hotel and low and behold that art walk was just next to my hotel. Ah yes, there was obviously much more to Butterworth than I knew! The Butterworth Art Walk begins in the alleyway next to the Lodge 18 Hotel and covers a couple of blocks and other side alleys. The airspace above the street is festooned with Chinese lanterns created from recycled bits and bobs.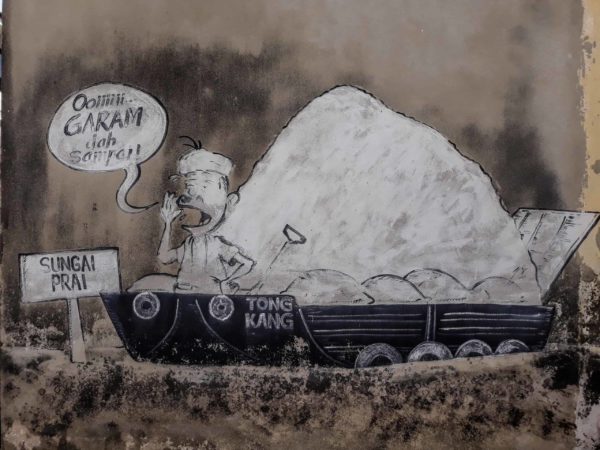 I spent a couple of hours checking out each mural and thoroughly enjoyed the Butterworth journey from past to present. I learned that Butterworth was a big producer of sugar cane back in the day but has since worn many hats. Along the art walk, various traditional trades and heritage images were mixed in with the concerns of the present generation; environmental conservation and preservation.
Here's a video of my Butterworth Art Walk Jalan-Jalan
It's obvious a lot of planning and effort went into creating the Butterworth Art Walk. Credit goes to Think City, a social purpose organization with the mission of 'making cities more people-friendly, resilient and livable' (according to their website). Think City and Malaysian architect Zaini Zainal along with a team of six or more artists began the project in 2016. The artists included were Shazwan Jalil, Azmi Husin, Syamsul Addenno, Amir Andha, Suhaimi Ali, Hadi Ramli, and Nazmi Jamarudin.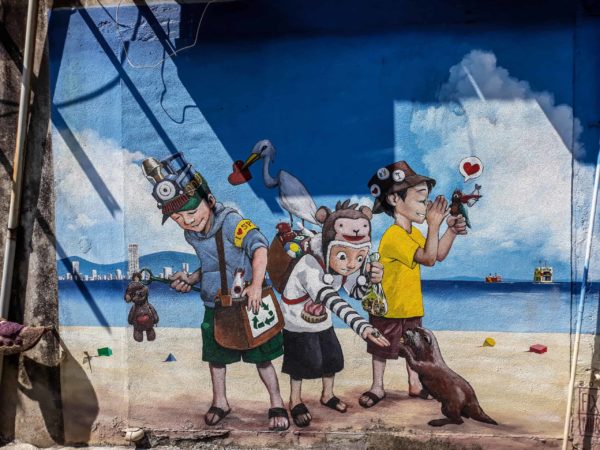 But Butterworth isn't actually new to Malaysia's art scene. In 2015, Butterworth was part of the Urban Xchange Festival, an international public art festival which gained the city several large-scale murals (which I have not seen yet). They were also involved in the Different Strokes Street Art Festival, another international art collaboration.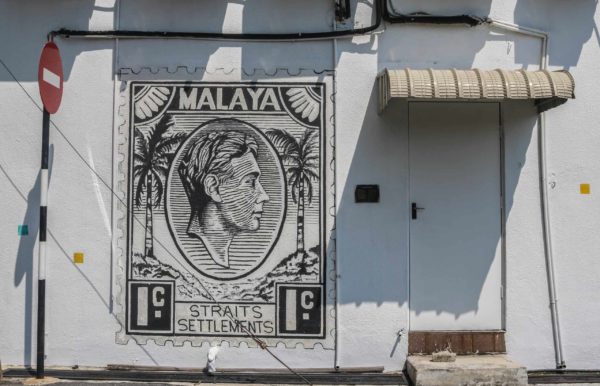 That same year the Butterworth Fringe Festival debuted as part of Penang's annual George Town Festival (GTF). A successful effort to bring part of the GTF Penang island crowds to the mainland. It also successfully helped keep the creative flames lit for Butterworth's future street art and mural projects including the Butterworth Art Walk.
Melaka River Arts Project
Melaka City, Melaka
Melaka City is well known for its historic significance as well as unique heritage. But peppered throughout the heritage city are bursts of eclectic street art. From shop lot walls on Jalan Jonker (Jonker Street) to side alleys near the river and beyond, Melaka City is no stranger to street art.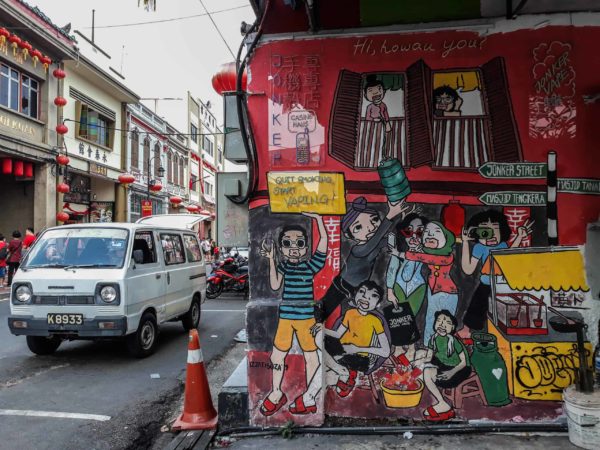 I'm not even 100% sure that Ernest Zacharevic doesn't have any art work here, but as far as I know he does not. But Melaka City jumped on the bandwagon early on with their River Art Project in 2012. At the time nine groups of graffiti artists collaborated to beautify the many shoulder to shoulder buildings, hotels and guesthouses along the Bandar Hilir River.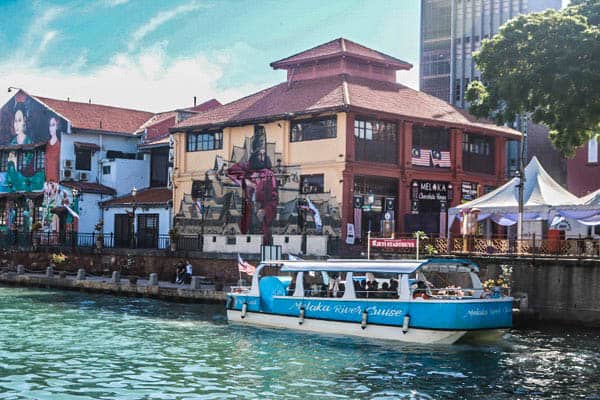 Visitors can admire the paintings by taking the popular River Cruise, which slowly cruises past the open-air gallery or by taking a leisurely walk along the opposing river front's promenade.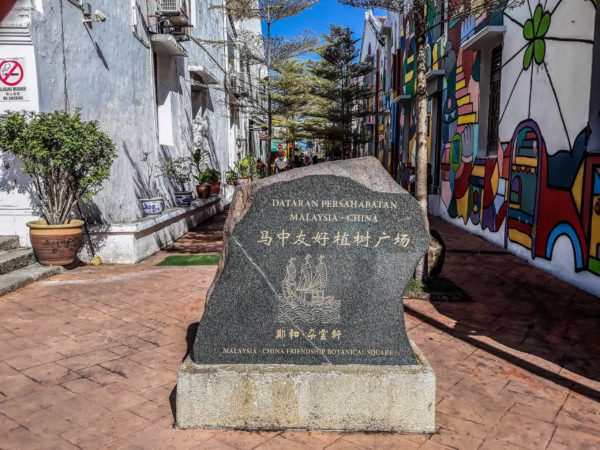 The Dataran Persahabatan Malaysia China (Malaysia China Friendship Botanical Square) is the first location for a few photo ops as the buildings adjacent to the small square are adorned with colorful, festive mural backdrops. Just follow the river front from there and you're in for a real artsy treat.
Langkawi Street Art Project
Langkawi, Kedah
Last but not least, Langkawi, Kedah. I had started writing this blog post weeks before I was even aware that Langkawi had already quietly began expanding their own street art projects effort. In August 2020, 3 local artists created 'Mangrove Covid-19 Awareness' on an outer wall of the Geopark Discovery Centre in the Kilm Geoforest Park; a colorful salute to frontliners and the Langkawi UNESCO Global Geopark.
Before that, in 2019, several artists added gorgeous murals along Jalan Penarak in Kuah's Pandak Mayah area; Langkawi's iconic Water Buffalo, Kingfisher and Brahminy Kite adding a much-needed splash of color to the adjacent, sunbaked buildings. The talented crew of artists signing their work most prominently with their Instagram handles; @burgerreeze @pakey_one @snozze @annienah_ .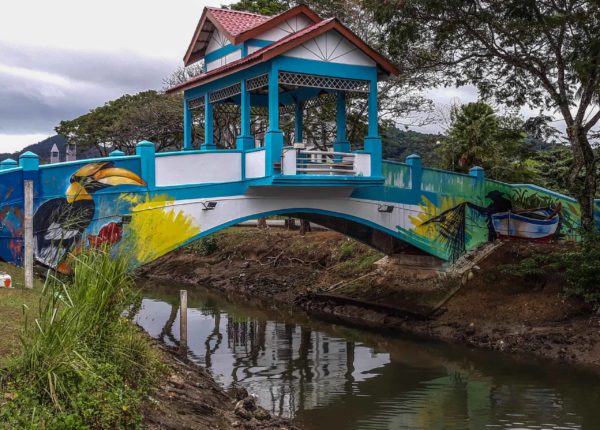 But thanks to a collaboration between LADA, the Langkawi Municipal Council and the National Arts Station, a group of local artists were recently also given the green light to tackle the area of Sungai Kuah Linear Park, just a stone's throw from the Jalan Penarak masterpieces. This latest Street Art Project includes 3 small bridges which offered up their own challenges with the 'over water' location and uneven river banks.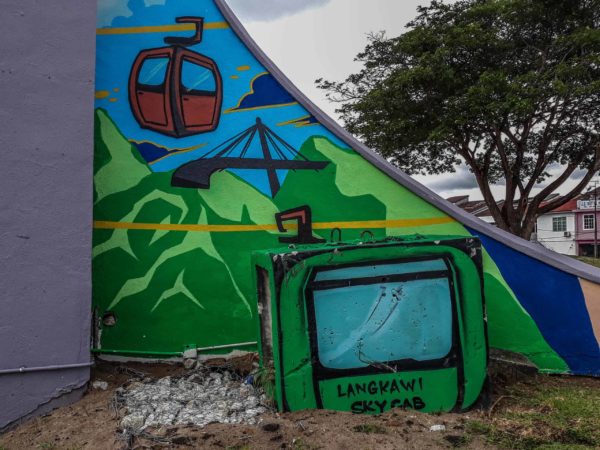 The theme in general covers Langkawi legends, culture and sightseeing highlights such as Legend of Mahsuri, Lake of the Pregnant Maiden and the Panoramic Sky Cab (Cable Car). And although much of the art work is situated over water or above uneven non-pedestrian friendly terrain, it is definitely worth a visit and a few across the water selfies.
Updated 2022: If you're traveling through Sandakan, Sabah or Alor Setar, Kedah, be sure to check them out for more street art! Choosing Tours in Sabah & First Time Visitor's Guide to Alor Setar, Malaysia
Street Art in Malaysia has come a long way in the past 9-plus years. Art is also becoming more of a family approved (and encouraged) career choice, thus several new Malaysian art schools and art programs have come to fruition. For some artists, street art will be a side 'hobby' and for others it will be another medium to explore while continuing art studies. And for some it will be their future.
A future, thanks to Malaysia's growing appreciation of expressive, eclectic art, which is much brighter than it once was. Here's a general map showing the locations of these unique street art hot spots. If you're in the areas, please stop by and pay your respects to the immense creativity and talent of Malaysia's Street Artists.
*My apologies for not being able to credit all of the individual artists whose art is highlighted in this post. Some work wasn't signed when I took these photos or I was unable to clearly decipher the name. If you recognize someone's painting please feel free to give them a shout out (and me a heads up) in the comments below. Thank you!