For many people Kota Bharu is all about food, and yes they have plenty of delicious cuisine, but for me this particular area of Kelantan, Malaysia is about the culture and the people. The people of Kota Bharu and the surrounding area made me fall in love with their community back in 2013 and I've been raving about them ever since. Oh sure the food is a definite bonus, but Kota Bharu also actively maintains a calendar jammed packed with enough community, cultural events and activities to keep even the most apathetic of individuals blessedly entertained. There are a ton of things to do in Kota Bharu!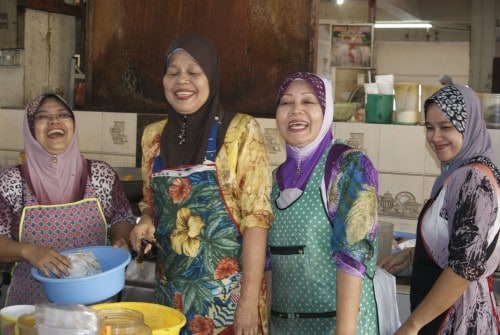 Having six museums as well as a cultural center and three major wats (temples) is an incredible feat in itself, but culture seems to be the mainstay of the Kota Bharu area with traditional values and a strong work ethic being a cohesive bond that is a significant part of the community charm. Kota Bharu's cottage industries continue utilizing the dedication and creativity of local tradesmen (and tradeswomen) and artisans that keep the state of Kelantan rich and alive as they honor the Malaysian heritage of the region. In fact, I might venture to say that to truly experience Peninsula Malaysia, a visit to Kota Bharu and the surrounding area should be at the top of your travel itinerary.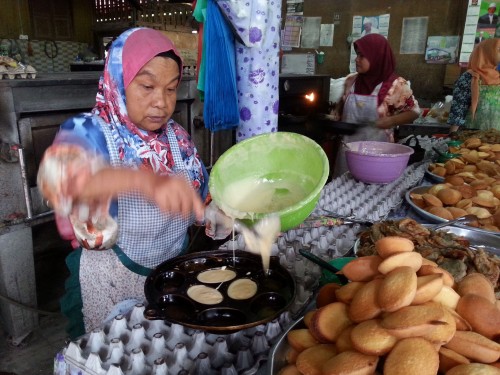 Here's a just a sample (and I do mean sample) of a few of the cultural adventures visitors to the Kota Bharu area can take in.
Batik and Malaysia's 'Cloth of Gold'
Although batik making was not originally a traditional Malay craft, it was apparently introduced in the 1920s and 1930s by neighboring Indonesia and Java, continuing it's journey to this day as one of Malaysia's most popular crafts. And once you've seen quality hand-crafted batik up close and personal, you'll appreciate the real deal so much more.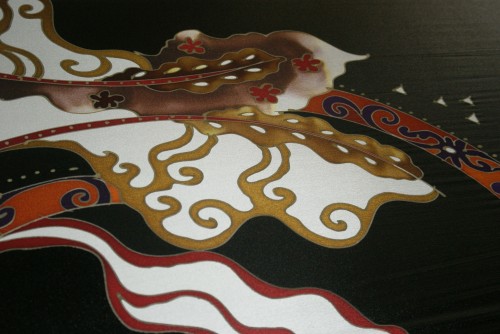 Nordin Batik sells a massive selection of quality batik, in addition to other local 'souvenir' items, making them a top choice for shoppers. But for a hands on batik-making experience or to observe talented artisans at work, RNZ Batik Tradikraf has the start to finish production line which even includes a rather interesting manual packaging procedure.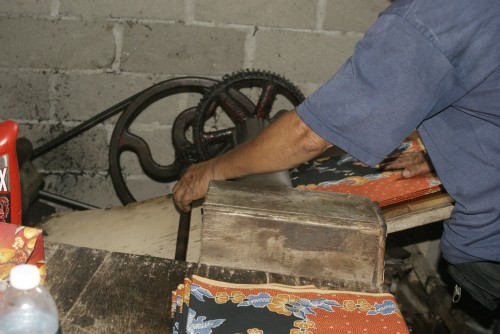 Where batik makes it's appearance everywhere in Malaysia, from resort wear to executive boardrooms, songkets have a more prestigious role in Malaysian society. Due to the use of gold thread made with a certain amount of actual gold leaf, the songket was once dubbed Malaysia's 'Cloth of Gold' and reserved for royalty. These days the songket is less exclusive and is often used for special ceremonies and weddings. Kedai Cik Minah Songket is the place to see this specialized weaving technique as well as pick up some top grade gifts and souvenirs.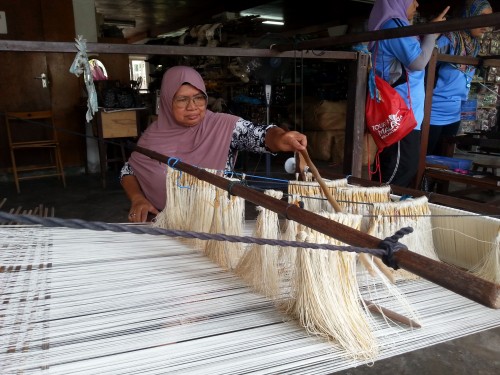 The Treasure Trove
There are more than a few fine jewelry stores scattered throughout Malaysia, but few may realize that metalwork and jewelry has historic significance in Peninsular Malaysia's past. Various accounts of the finery of the courts, of ancient Malay Kingdoms, go back as far as the first century AD (so I've read).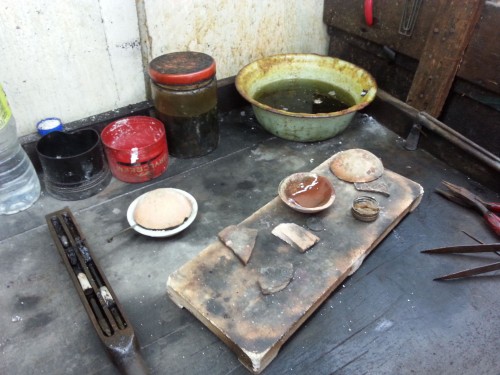 Although Kedai Emas Pak Cu Roni  is a relatively new establishment, they have a time tunnel workshop adjacent to their showroom, where gold and silversmiths work side by side creating unique jewelry pieces using some of the same tools and techniques of the past. From a foot pump generated torch to the use of cuttlefish 'bones' for casting. They not only have plenty of jewelry for sale but they also create special orders on site and  the process is quite fascinating to watch.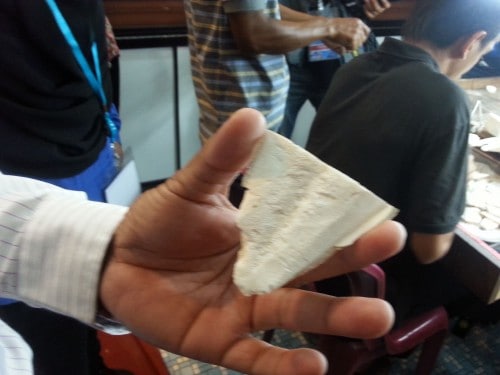 The Business of Wood
I'm sure there are volumes written about Malaysian woodcraft and most travelers have seen their fair share of kitschy wooden 'souvenirs' for sale practically everywhere. But to actually step into a woodshop filled with intricately designed hand-carved works of art can be a real eye opening experience.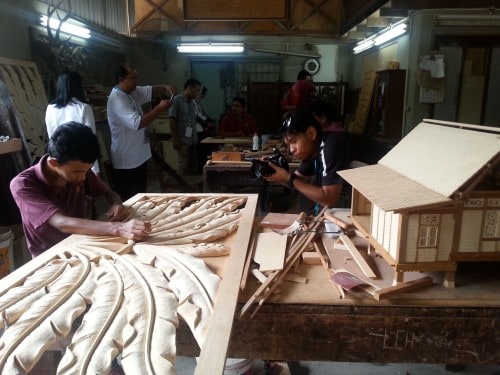 And in Kota Bharu a visit to A. Rahman Wood Craft (kayukraf) puts you in the inner circle of the woodcraft empire. Perhaps once upon a time wood carvers would indeed enter a forest, pick their wood, and say a few words of thanks to the forest spirits, but these days business is booming for the much appreciated craft and that time consuming practice may be a thing of the past, in order to keep up with the supply and demand in a timely manner.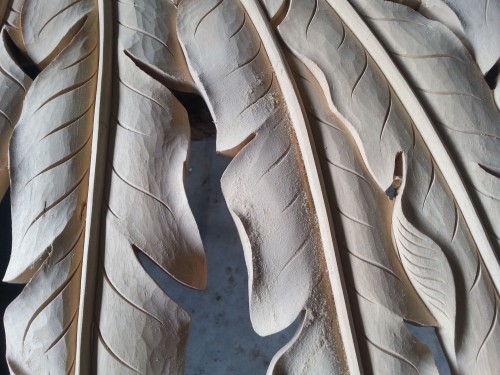 The carving process itself generally involves four stages, from a drawn or traced design to cutting the unwanted bits out to the actual carving and polishing up.  Time consuming procedures that takes a considerable amount of patience. But anything handcrafted is a one of a kind unique piece and well worth waiting out the creative process for. At the very least it's worth watching some of the process in person.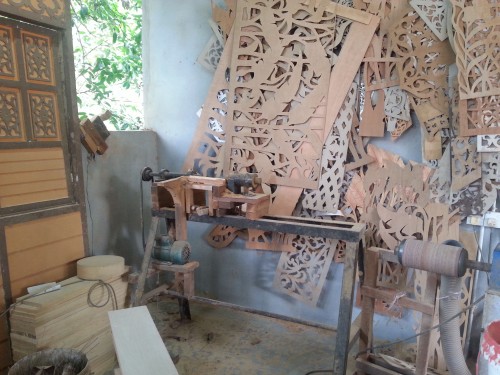 Kites and Puppets
From the looks of things, Kelantan may appear as one giant playground with 'toys' being a popular pastime. But it does give a little insight into the region's passion for good-natured competition as well as story telling. Those of us that grew up with the dismissive idiom of "Go fly a Kite!" obviously had never stepped into Kelantan before. The Wau (kite) culture includes not only creating kites from scratch, it also involves having the talent to make them fly.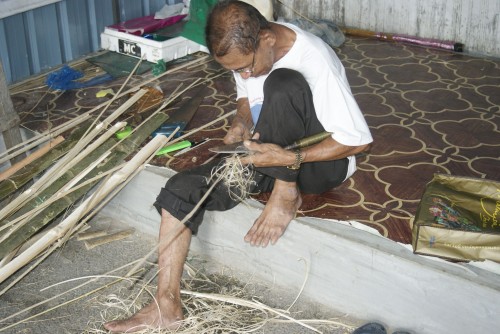 You may have to ask around to find a local kite maker's workshop, but a tell tale sign would be seeing one adorning the front of a building. With any luck you'll be able to see a few developmental stages of the colorful craft. The history of kites in Southeast Asia lapses over several countries, so I won't even begin to speculate on its arrival to Malaysia. But interestingly enough, layang-layang is the generic Malay word for kite but Ẁāw (pronounced "wow") is actually the Thai word for kite and is commonly used along the east coast of Peninsular Malaysia.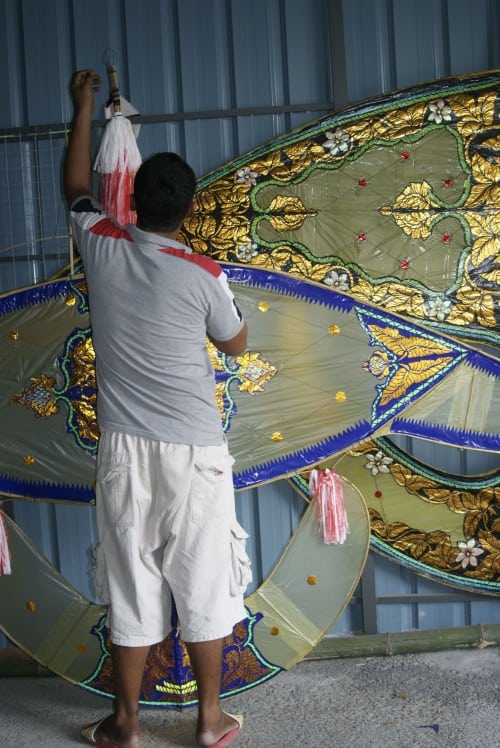 There are several different types of kites; wau kuching (cat kite), wau merak (peacock kite) and the popular wau bulan (moon or crescent kite) to name a few. And what was once a post harvest past time; kite flying has become a significant part of Kelantan and Malaysian culture and festivals. The wau is further glorified in Malaysia on the fifty-cent coin of Malaysia (the wau bulan to be exact) and although Malaysian Airlines' logo looks similar to an airplane, the inspiration came from the Wau Kucing (cat kite).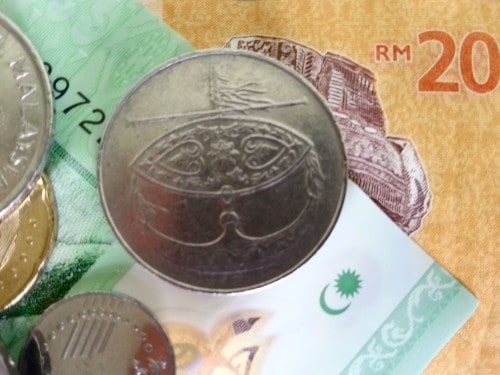 I had always thought shadow puppetry was a Balinese tradition but Wayang Kulit or shadow play is an old form of storytelling that has crossed a few borders to become a well-revered art in Malaysia. To see a production in person is to appreciate the fine nuances that go into a performance, not to mention the actual making of the puppets, which are usually created from goat hide.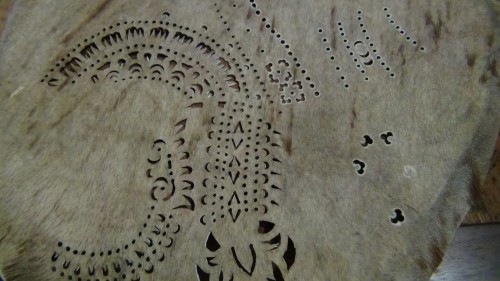 The plays themselves are nothing less than enchanting. With accompanying and well timed live music provided by traditional Malay musicians, the master puppeteer (Tok Dalang) runs the rest of the show usually single handed, as he not only breathes life into the 2-D puppets to create 3-D magic he also does voice-overs for not one but several characters.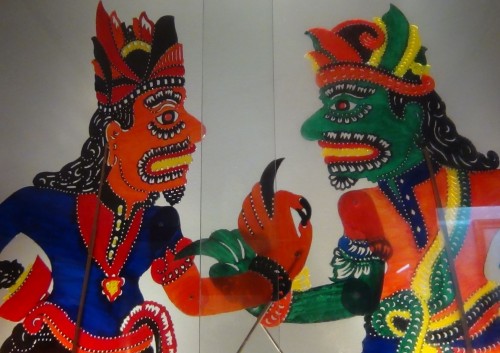 Movement and time are recreated rather brilliantly with the Chiaroscuro-esque shadows as the Tok Dalang takes the audience on a journey to the past that is just one of those not-to-be-missed experiences. The Kelantan Malay Traditional Shadow Play Gallery has scheduled performances as well as workshops for those inspired to try their hand at Wayang Kulit.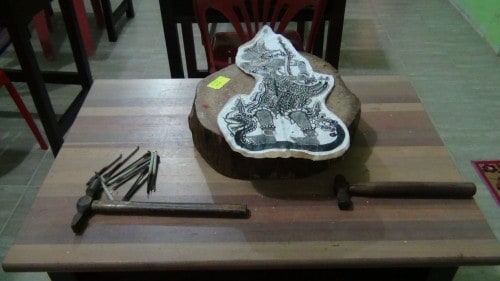 No Match for the Match Factory
 When one thinks of safety matches (if one did) you might assume a large modern factory would be responsible for producing the billions of matches that make their way to barbecues and fireplaces around the world, but in Kelantan, the Kelantan Match Company manages to churn out a massive number annually with their small tight knit human production line and have been using the same techniques and machinery since 1933!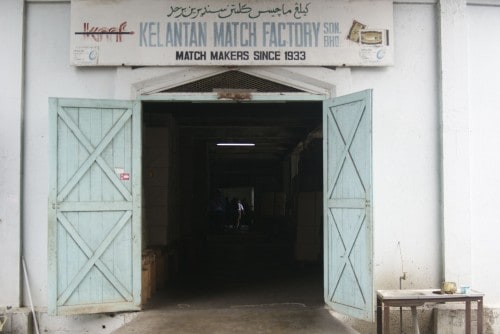 But before you envision a Dickens' novel of despair, again we are looking at one of those Kota Bharu businesses whose history and dedication are a source of community pride.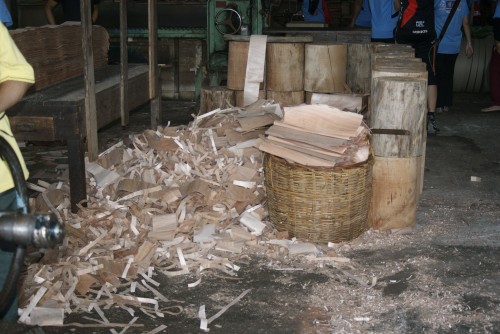 A merchant from Bombay named A.G. Shaikh originally started the Kelantan Match Factory in 1933. It wasn't a coincidence that that same year Kelantan stopped importing matches to the state. Unlike neighboring states, Kelantan was not dependent on immigrant labor and there was plenty of work to go around and plenty of locals willing to take advantage of steady employment.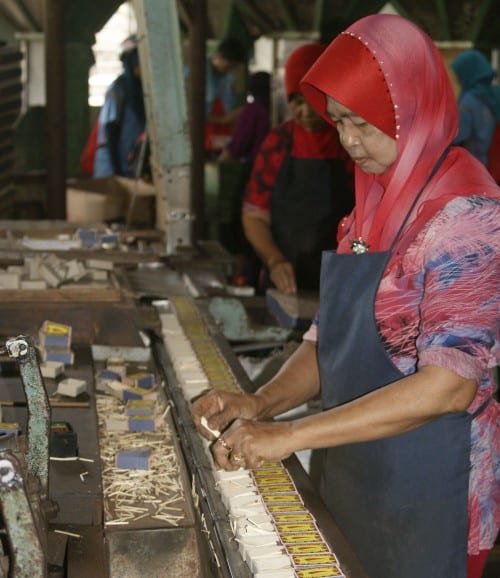 From tree to matches to the match boxes themselves, the Kelantan Match Factory uses the simplest of machinery with somewhat retro style labels which accent their historic operation. The well orchestrated match making process in itself is an impressive venue that's well worth visiting.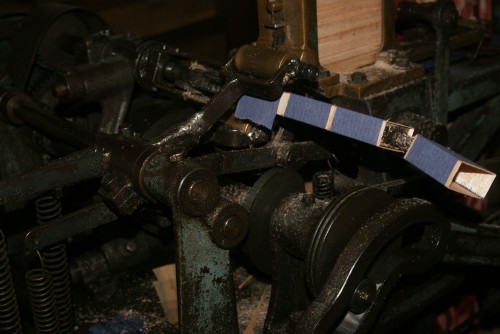 Again, my brief account here is just a taste of what Kota Bharu has to offer and yet I've seen few western faces on the various occasions I've visited the area, with the exception of those bee-lining for the nearby Perhentian Islands. Not that I would blame anyone for bee-lining to any tropical island, but for those passing through the area I highly recommend allotting yourself a bit more time to explore Kota Bharu and the surrounding areas of Kelantan, you won't be disappointed.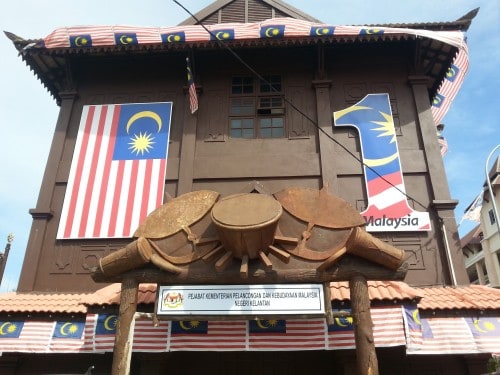 Hiring a local guide will help you get the most of the experience and you can get great local tour information, as well as maps and brochures, from the Tourism Malaysia Kelantan office. But you will also find plenty of locals willing to point you in the right direction or offer insight as well, so don't be shy!
Have you been to Kota Bharu or other parts of Kelantan?
Any must-see suggestions for visitors?