Ever hear of a place called Perlis? Perlis is the smallest state in Malaysia, but being located on the Malaysia-Thailand border it has a colorful past history and heritage which makes it quite unique. I've passed through Perlis many times on my way from Langkawi, Malaysia to Hat Yai, Thailand, and had thought it was pretty much a what you see is what you get kind of place. Weather worn fishing boats bobbing in the coastal waters and endless miles of paddy fields being the usual representatives of this quiet northwest pocket of Peninsular Malaysia. But guess what? There are actually a lot of interesting things to do in Perlis and a great place to spend a weekend.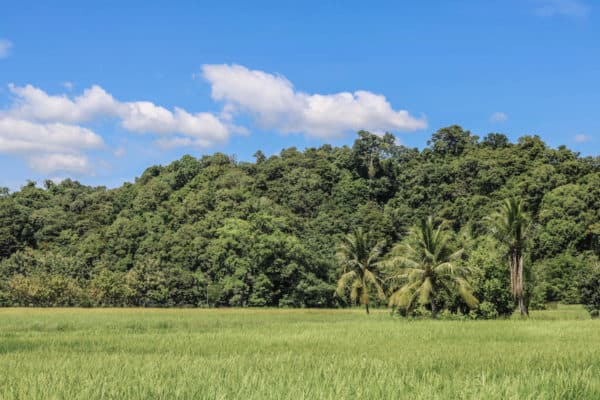 This post was initially intended as a weekend guide, but it can also be used as a guide for a general 3-day-itinerary. However, if you do have a weekend to tackle this amazing little state, or can include a Friday or Sunday on your itinerary, all the better, because Perlis has a weekend morning market that is absolutely incredible. So, without further ado, here is a Perlis weekend (or 3-day) guide and suggested itinerary for first time visitors.
Here's a map to give you point A to B distance references!
Things to Do in Perlis on Day 1 (or Friday)
Ladang Nipah Khipli, Trek Kurong Tengar, Masjid Al Hussain
Upon arriving to Perlis you may be famished and tempted to rush to the first local eatery you see. But do yourself a favor and try to hold off until after your hotel check in, because you will want to visit Ladang Nipah Khipli with an empty stomach.
Ladang Nipah Khipli (Palm Plantation)
Located in Sanglang, which is near the Kedah border, Ladang Nipah Khipli is tucked away in the middle of a Nipah Palm plantation. And before you get your nickers in a twist about 'palm plantations', the Nipah Palm is a sugar palm. And not only is Ladang Nipah Khipli the location of a famous restaurant, it is also a Nipah Palm Plantation which specializes in the production of Nipah Juice (also known as Nira Water).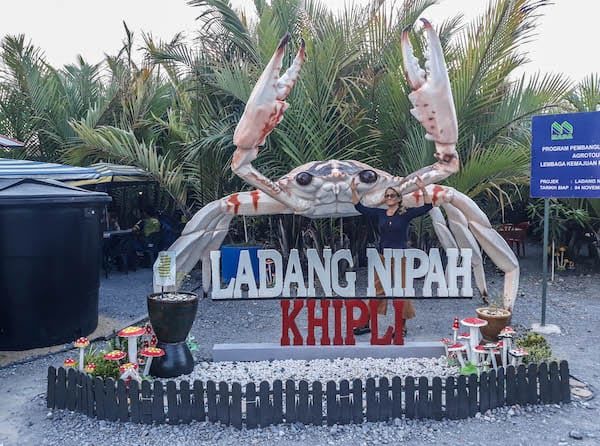 The Khipli Palm Farm has over 2000 trees on their estate and the extraction of the Nipah Juice is quite fascinating. The extraction also takes time and patience. The non-edible fruit clusters, when ripe, are removed, but before the fruit is removed the branches are aggressively smacked with a stick. Once the fruit is cut off, a baggie (or container) is tied to the end of the cut branch. Juice then slowly drips out into the baggie.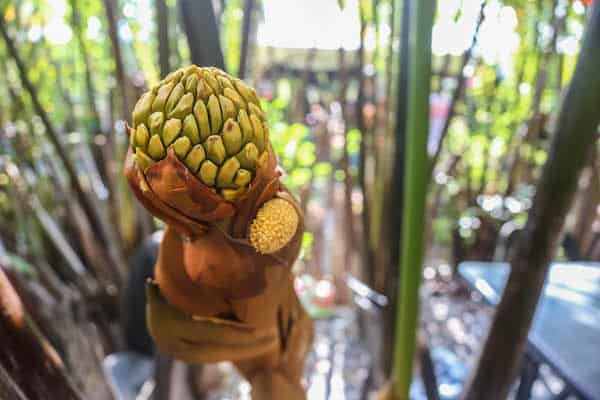 The extraction can take up to six hours per stalk and an estimated 15 Nipah stalks can yield about 5 to 10 liters of juice per day. Nira water will last less than a week before it slowly becomes sour. Once collected, the juice needs to be refrigerated immediately or else risking the juice turning sour quicker. Fortunately, there is still a market for non-sweet Nira Water as it can be processed into a special vinegar that enjoys its own popularity due to its believed health benefits. Some Malaysian states also use nipah juice to make tuak, a ceremonial rice wine.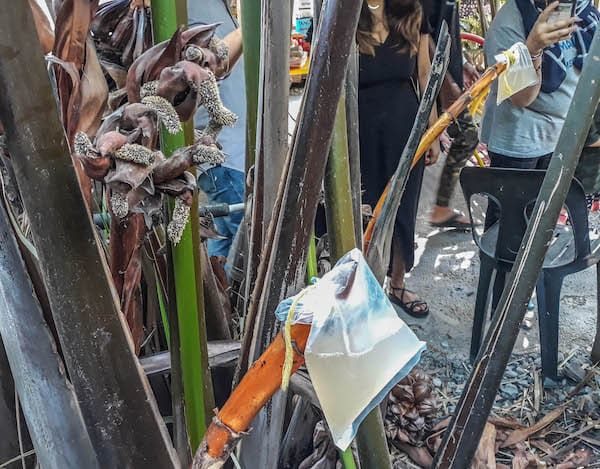 At the open-air Ladang Nipah Khipli Restaurant you can enjoy a cold glass of the delicious Nira Water. They also offer Laksa Kedah, Cendol and more. You'll be glad you saved your appetite!
–Ladang Nipah Khipli, Sanglang, +6017 5190 638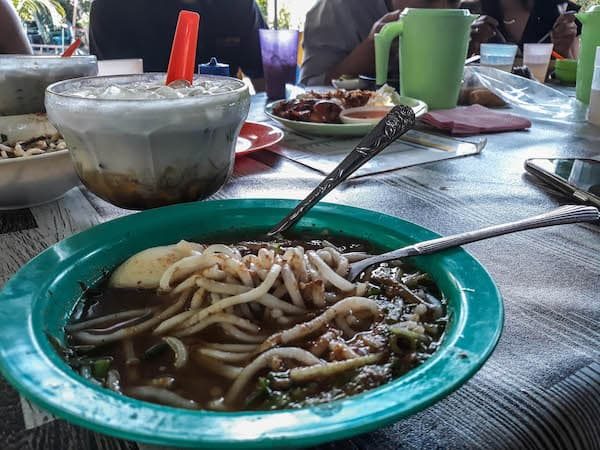 Trek Kurong Tengar (Festive Sunset Spot)
After your tea break/ late lunch you can head on over to Trek Kurong Tengar on the coastal road. Although it looks more like a parking lot by the sea, it has a lovely view. It also has a festive atmosphere in the late afternoons, with vendors setting up a few stalls and locals congregating for selfies and kite flying.
–Trek Kurong Tengar, Kuala Perlis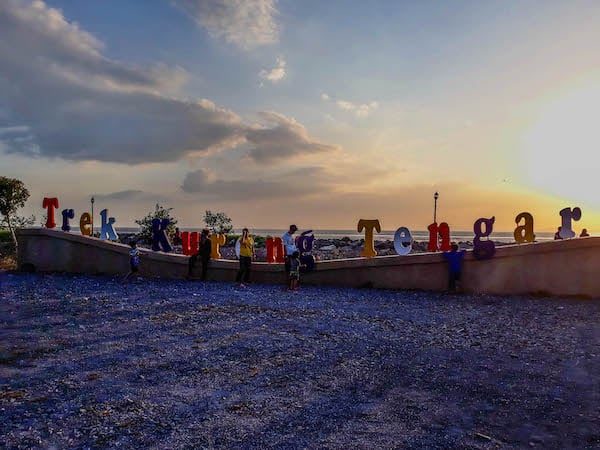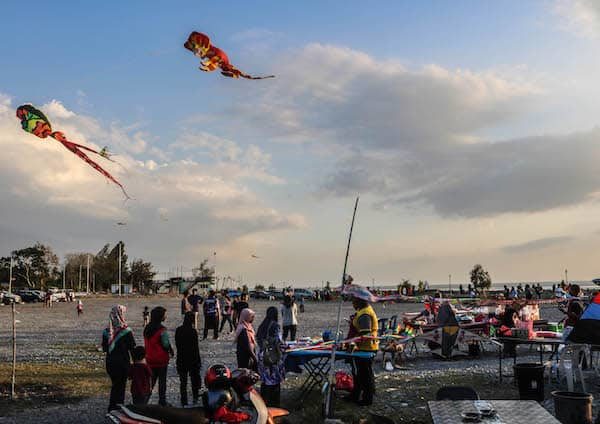 Edible-Nest Swiftlet houses
Be on the lookout for the Edible-Nest Swiftlet houses when you are in the area and see how high-falutin the Swiftlets of Perlis are. Where many in the Bird Nest business upcycle old empty buildings to attract the birds, some of the lucky Swiftlets of Perlis get seaside luxury condominiums built specifically for them. Edible-Nest Swiftlets are the makers of the 'edible bird nests' which are built almost entirely of their own saliva (plus a few twigs) and the main ingredient in bird nest soup. These edible nests are believed to be very good for one's health and have been used in Chinese cooking for over 400 years!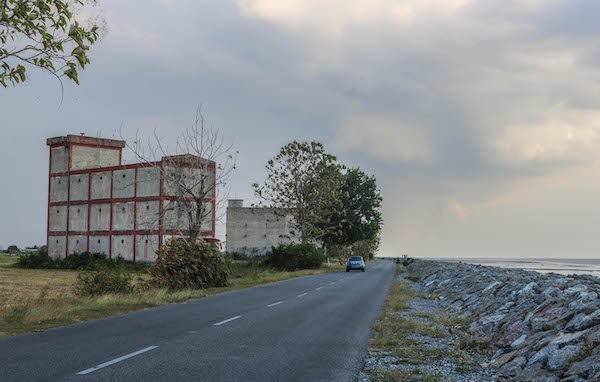 Bird chirping soundtracks are often played via loudspeakers to attract the birds in hopes of getting them to nest inside the buildings instead of difficult to reach cliffs or caves. You can read more about Edible-Nest Swiftlets and other northern Malaysia birds HERE
Masjid Al Hussain (Floating Mosque)
Once you've had your fill of family fun at the seaside, head north, just before the Kuala Perlis Ferry Jetty, to catch the call to prayers at the Masjid Al Hussain Mosque. Often referred to as a 'floating mosque', the Al Hussein Mosque was built over the waters of Kuala Perlis and does indeed appear to be floating during high tides. Construction on this unique mosque began in 2006 and it opened in 2011.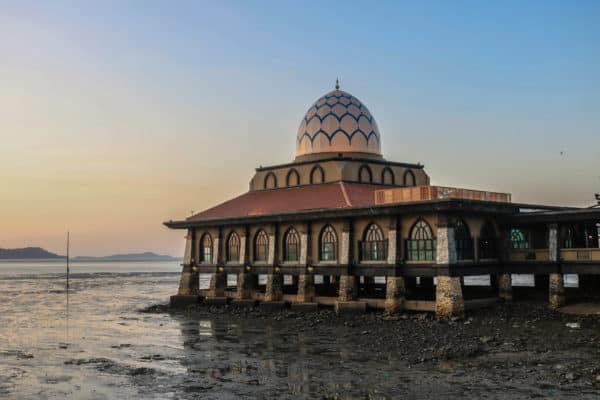 The use of paint to beautify the mosque was apparently only used on the ceiling of the building. The rest of the coloring embraces an eco-friendly concept and comes from golden colored natural materials, such as quartz stone fragments, coral, marble or specially selected gravel and pebbles. The mosque's colorful dome lights up during prayer time, but it also serves as a landmark for the offshore fishermen and can be seen from up to 10-kilometers away. It is especially beautiful at dusk and sunset.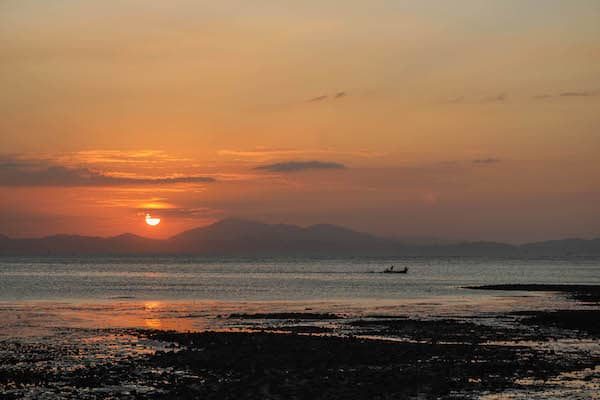 Masjid Al Hussain is open to non-Muslim visitors, but do avoid prancing to the door showing a lot of skin. Arms and legs covered is preferable as well as head covering for women. Typically, mosques in Malaysia which are open to non-Muslims will have a selection of 'proper attire' on hand for visitors to wear inside, including headscarves (tudung or hijab).
–Masjid Al Hussain mosque, Kuala Perlis, Open daily 0430 – 2200, +604-985 5000
Restoran Asputra Ikan Bakar
Wrap up your first day in Perlis with a hearty meal at Restoran Asputra Ikan Bakar. Very popular with Perlis locals, Restoran Asputra serves an excellent sweet-n-sour seabass, water spinach with shrimp paste and sambal. The spacious dining area is family friendly and the customer service comes with a smile.
– Restoran Asputra Ikan Bakar, Kuala Perlis, +6014-342 2201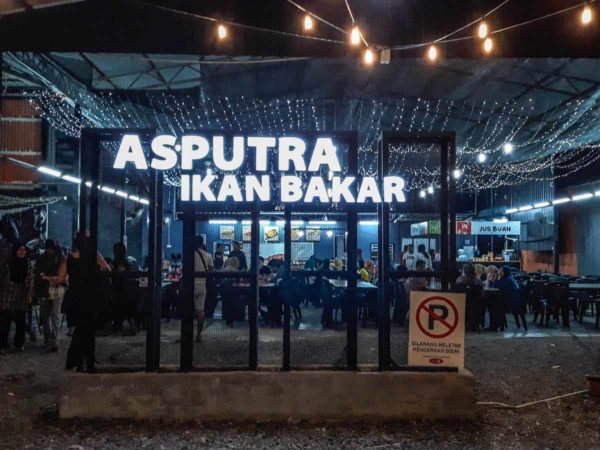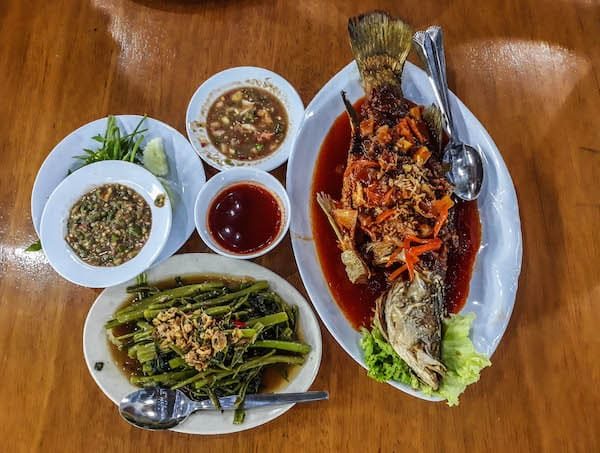 Things to Do in Perlis on Day 2 (or Saturday)
Gua Kelam, Kangar Street Art
Day 2 will be requiring some physical exertion, but you are guaranteed to have a super interesting day in the great outdoors, with delicious refueling options along the way.
Warung Tepi Sawah (Restaurant)
Start your day bright and early with a stop in at Warung Tepi Sawah. This restaurant is perfect. Really. The open-air kampung style nook overlooks lush padi fields against a picturesque, backdrop of a craggy limestone hillside. It's truly stunning.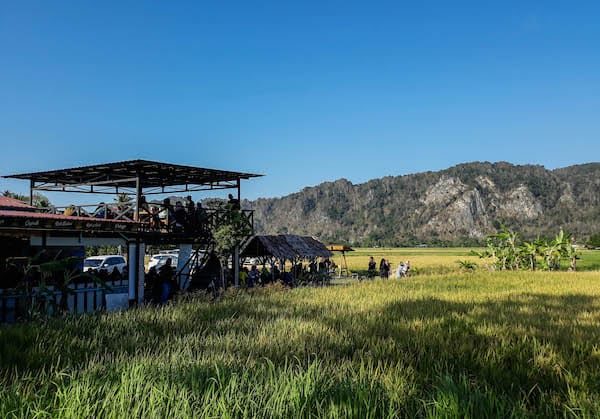 But it's not just the view that attracts customers, Warung Tepi Sawah serves fresh Apom Lenggang (crepes) with curry or sambal (or both!). In fact, they are rather famously known for their crepes, so be sure to get there early to beat the crowds.
– Warung Tepi Sawah, Kangar, +60 11-1083 7769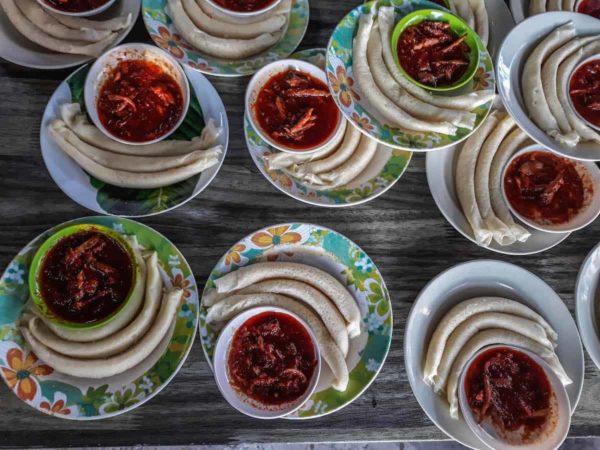 Gua Kelam (Cave of Darkness), Galeri Gua Kelam, Secret Garden
Magnificent Gua Kelam (aka Cave of Darkness) is located about 1 -kilometer from the small community of Kaki Bukit, in Arau, near the Thailand border. The entrance to the 370-meter cave was pick axed by hand by eager ore miners anxious to make their fortune back in Malaysia's mining hey days. The high perched suspension bridge, presently used to get to the cave entrance, was recently part of the government's 15,000 Ringgit refurbishment efforts. Additional refurbishing includes a new gallery and landscaping; Galeri Gua Kelam and the Secret Garden.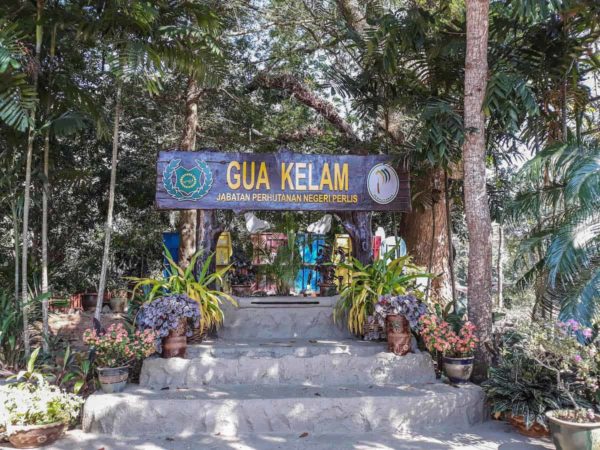 The family-friendly, Galeri Gua Kelam has educational displays and dioramas about wildlife, geology and historic bits left behind by the miners. It also includes a few well-placed 3-D interactive art works to entice smart phone aficionados; you can get a cute photo of yourself falling into a hellish 3-D ravine or cozying up to a Malaysian Tiger.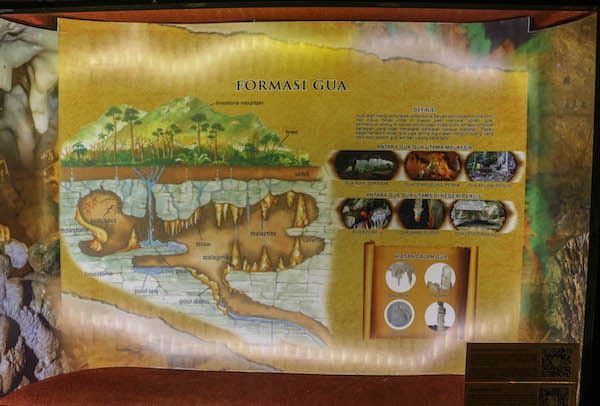 Today, visitors to Gua Kelam have a choice of two caves to explore; Gua Kelam 1, which includes a 400-meter underground river and Gua Kelam 2, an above ground cave. Gua Kelam 1 was previously used as a short cut route to transport heavy minerals from Gua Kelam 2. It was also used by locals as a non-mountainous route to get from Kaki Bukit to Wang Kelian.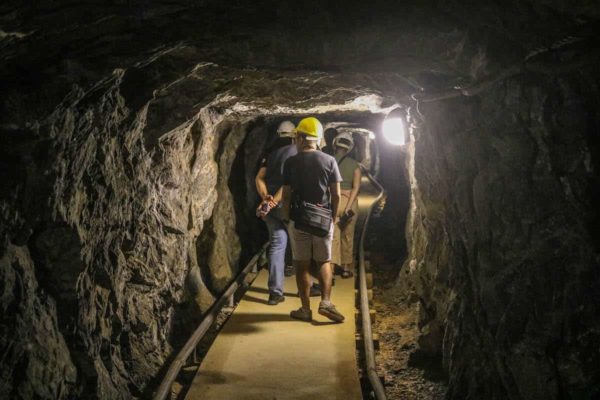 Gua Kelam 2 includes a 1.5 kilometer colorfully lit, passage through the cave, from the bridge entrance to the exit at the park-like Secret Garden. Old trolley tracks are visible along the way as well as graffiti style love notes etched on the walls by the male miners, who were professing their attractions to certain female miners they encountered (while they romantically pick axed their way to fame and fortune).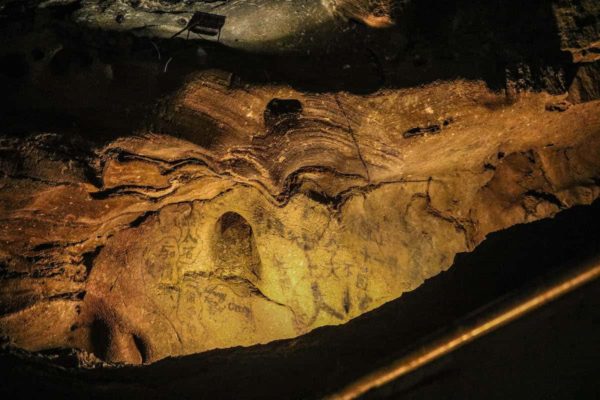 Mysterious rock piles and shrines also make their appearances within the cave, indicating the possible burial or last-breath-taken locations of miners who met their deaths inside the cave.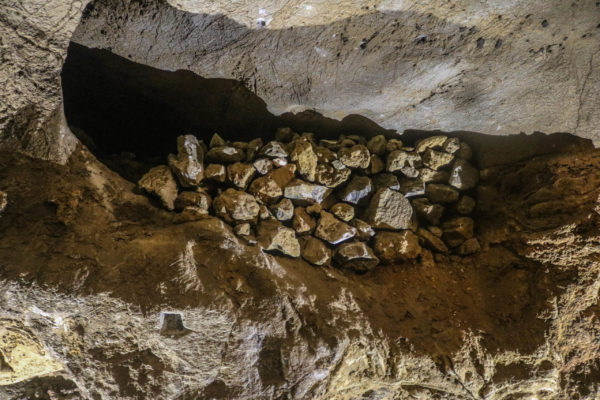 After your 1.5 kilometer walk through Gua Kelam you will be rewarded by the appearance of the Secret Garden and a quiet river view. You will be able to get a cold drink here, catch your breath and take in the beauty of nature.
– Gua Kelam, Kaki Bukit, Open daily 0800 – 1700, +604-938 4466 / 012-455 2121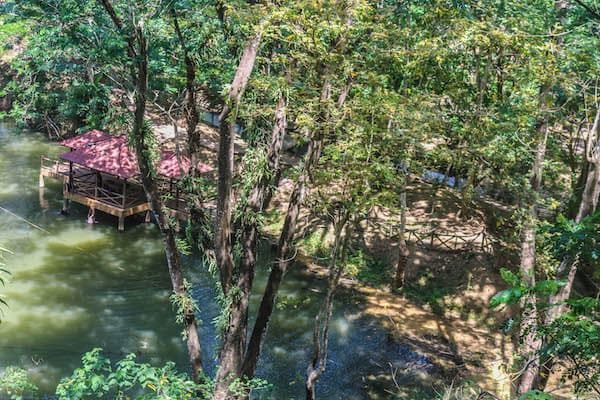 Restoran Tok Mek (& Motel)
Ready for a hearty lunch? Restoran Tok Mek offers a budget-friendly, smorgasbord of Malay specialty dishes. As they are also part of a motel, their buffet style dining is a big hit with large groups as well as hungry, post Gua Kelam adventurers.
– Restoran Tok Mek, Kangar, +6019-477 5999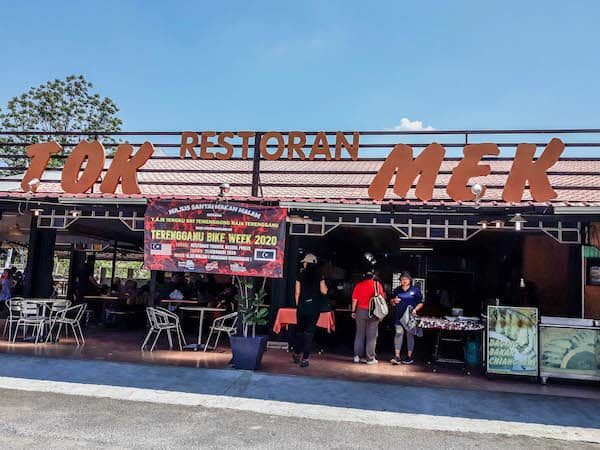 Kangar Street Art
After a hotel break and a well-deserved afternoon nap, it's time to check out the impressive Kangar Street Art on Jalan Kangar. The theme 'Colors of Perlis' is an interesting mix of traditional Perlis culture and heritage with splashes of the more typical interests of modern-day young people.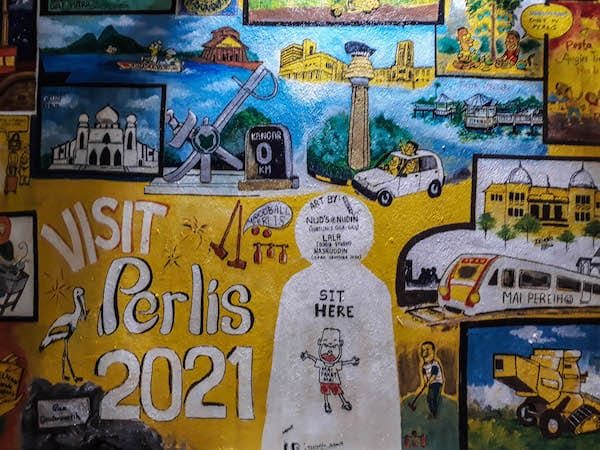 The more than 80 murals located on Jalan Kangar and nearby buildings on Jalan Lencongan were produced by 30 talented, visual arts students from around Malaysia. The initial 'Kangar Street Art' program was part of the National Level Arts Festival 2016.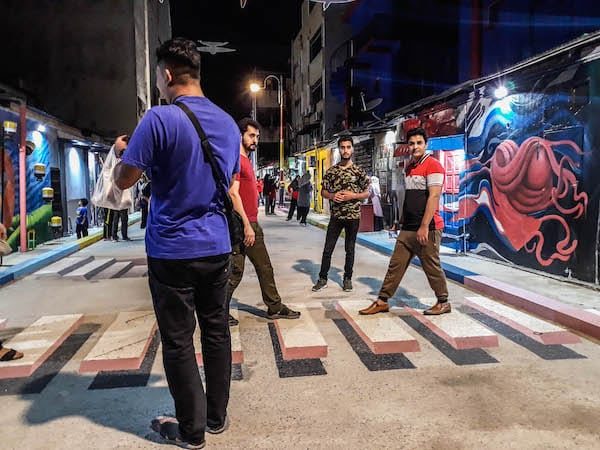 The interactive street art is a big hit with locals and tourists of all ages. Some aiming for a few clever shots to share on their favorite social media sites, and others just enjoying the family friendly, hipster vibe of the revamped Kangar street.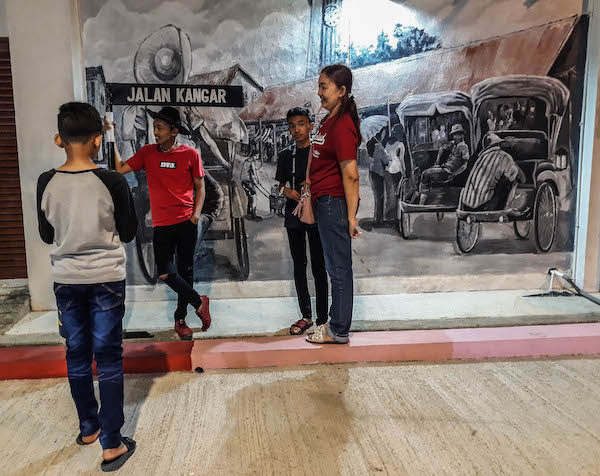 Clever donation boxes, in the form of propane gas can Minions, are set up along the curbside to raise funds for mural maintenance and upkeep. If you think the art is as awesome as I do, please show your appreciation with a few ringgits.
– Kangar Street Art, Jalan Kangar, Kangar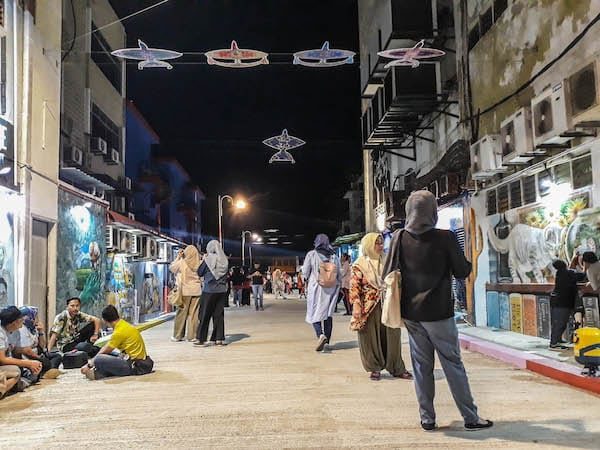 Hanna's Cookies Cafe
Dinner at a coffee shop? You bet! Don't let the name fool you as Hanna Cookies Cafe offers a lot more than just cookies and coffee. Hanna's has an airy, modern café style that attracts locals with a craving for western style foods like burgers and pasta dishes.
–Hanna's Cookies Cafe, Kangar, +604-976 2790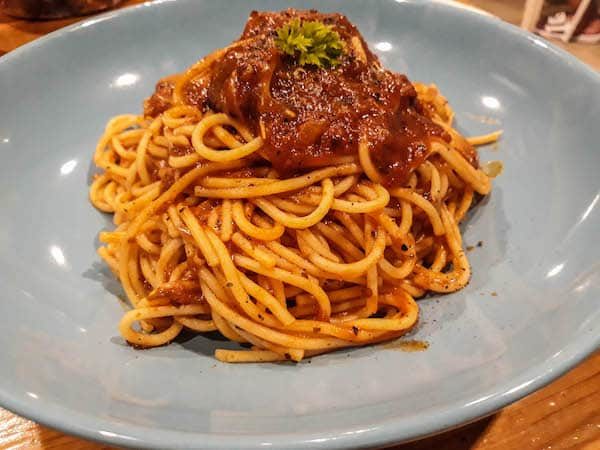 Terompah Vintage Bundle Shop
Here's a quick shopping tip for those who like bargains. Next door to Hanna Cookies is the Terompah Vintage Bundle Shop! And what makes this bundle shop unique is that they specialize in shoes, with many famous name brands appearing on their shelves. Converse, Vans, Columbia and more. Definitely worth a visit.
– Terompah Vintage Bundle Shop, Kangar, +6019-681 1180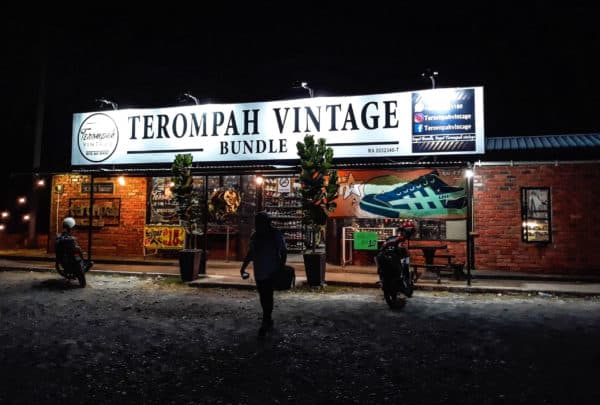 Things to Do in Perlis on Day 3 (or Sunday)
Nat Pokok Getah, Masjid Alwi Mosque
You'll once again want to get an early start today, because Day 3 of this weekend itinerary is a visit to the fabulous Nat Pokok Getah (market). You will be able to grab breakfast there too, so just wake up and hit the road!
Nat Pokok Getah (Morning Market)
Possibly one of Perlis' best kept secrets is the Nat Pokok Getah (morning market). It's held every Friday and Sunday at an expansive Rubber Tree plantation in Arau's Kampung Kubang, from 0800 until 1300. Sundays are the more popular of the two days, so do get there early and come with an empty stomach as there will be lots of food to try.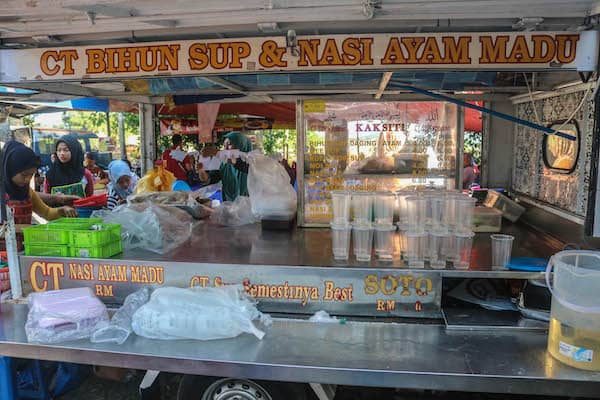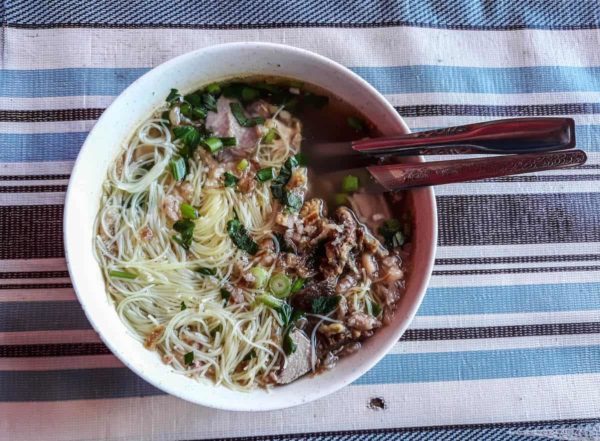 There are two sections to this market; one section focuses on food and produce and the second section (across the road) leans more towards everything else. From clothing and plants to medicinal herbal remedies and homemade knives.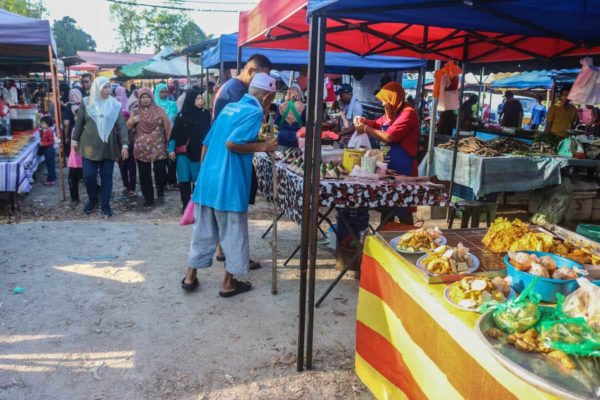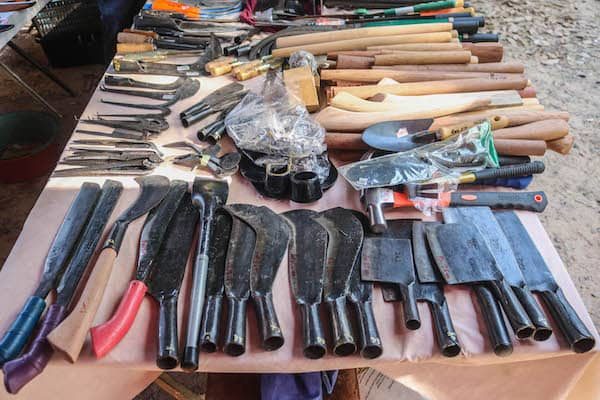 One of the interesting aspects of this market is its name. The word 'nat' is a Thai loanword, which means 'market' in both Thai and Malay language. Although most Malaysians refer to morning markets as pasar pagi (morning market), Perlis as well as Kedah folks often refer to morning markets (specifically) as 'nat'.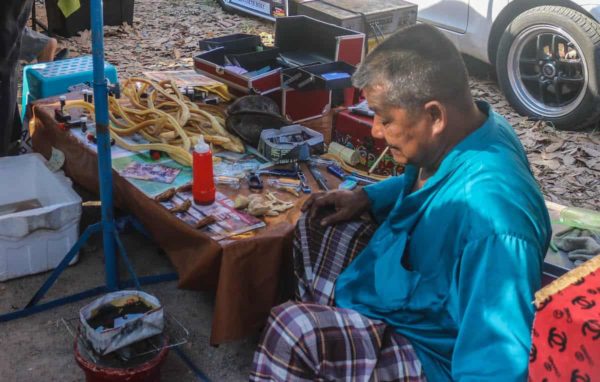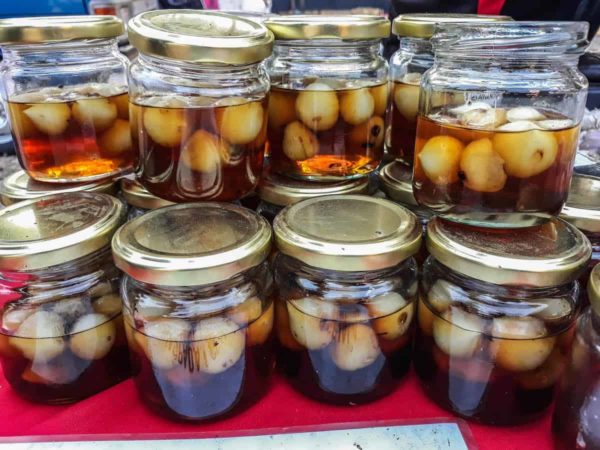 Nat Pokok Getah alone is worth a trip to Perlis because it's fascinating. You will also find some excellent prices on nearly everything available. The buzzy vibe is sure to bring a smile to your face as well.
– Nat Pokok Getah, Kampung Kubang Paya, Open Fridays and Sundays 0800 – 1300, 017-559 6751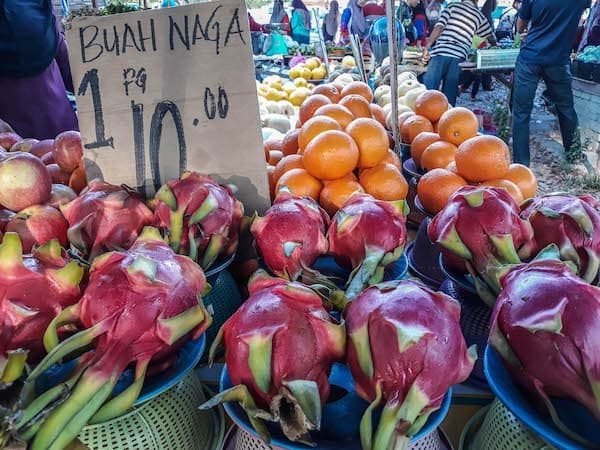 Anjung Keli Restoran
Wrap up your 3-day trip to Perlis with a leisurely lunch at Anjung Keli Restoran, where they specialize in traditional Malaysian kampung (village) dishes. The famous local eatery attracts a diverse crowd of foodies, so expect to find a diverse menu and plenty of food.
– Anjung Keli Restoran, Kangar, +6019-443 3384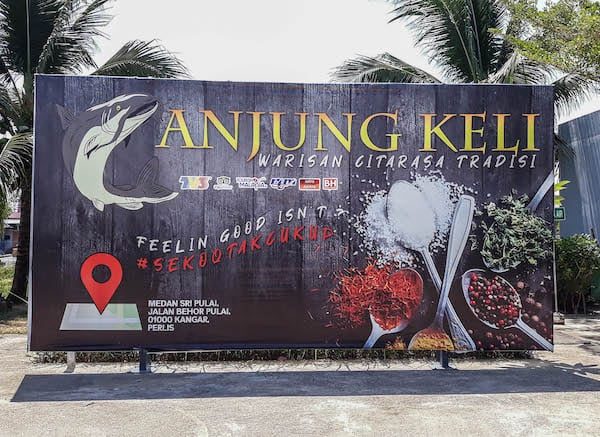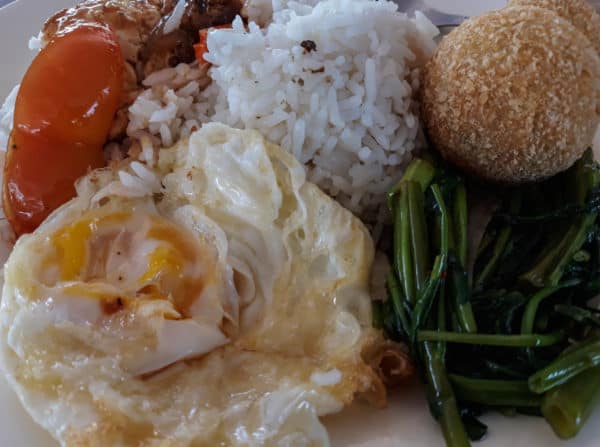 Masjid Alwi (mosque)
While you are still in the Kangar area, be sure to stop and pay your respects at the beautiful black and white Masjid Alwi mosque. Fund raising for the building of the historic, 87-year-old mosque began in the 1920s, with the actual construction starting in 1931 and completed in 1933. It was officially declared a national heritage in 1988 and makes for a lovely Instagram shot.
– Masjid Alwi (mosque), Kangar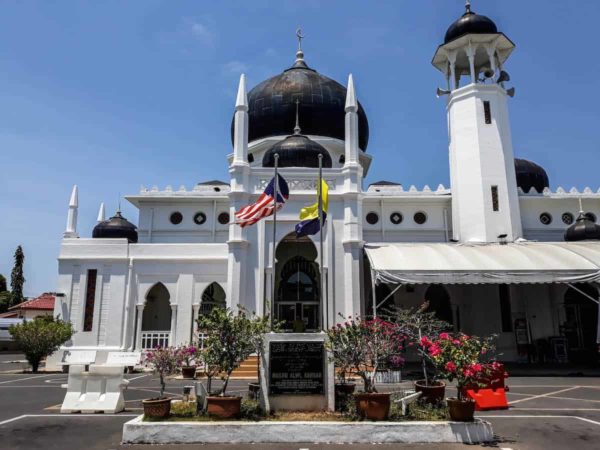 Where to Stay in Perlis
As you can see Perlis is quite the interesting little state, and definitely worth a few days of exploring. Although day trips to Perlis are always an option, spending a couple of nights of course would be optimal. It's can also be affordable. There are plenty of places to stay in Perlis, but I stayed at the Putra Regency Hotel Kangar and truly loved it. My room was spacious, conveniently located, and had all the amenities I typically appreciate; fast internet, mini fridge, coffee and tea set and blessedly quiet. They also have a swimming pool and in-house dining.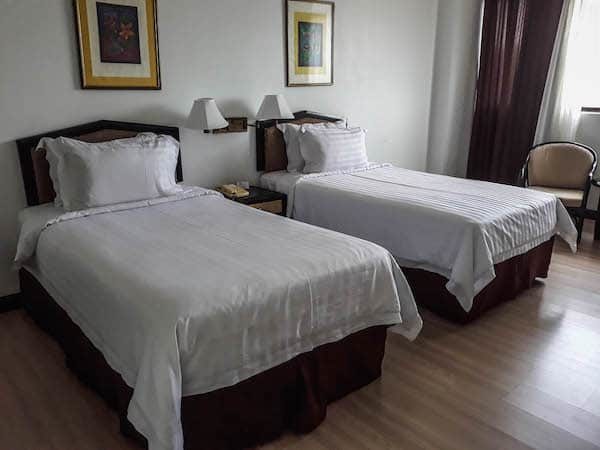 Located in the commercial area of Kangar, the Putra Regency is 10 kilometers from the Arau train station and 12 kilometers from the Kuala Perlis Jetty, as well as Kuala Perlis bus station (about a 15 Ringgit taxi distance). Check their website for rates and availability HERE
*Updated 2023: Two additional accommodations I can personally recommend in Kuala Perlis are The Zuley Heritage Hotel (located diagonally from the ferry terminal) and the Putra Brasmana Hotel (located waterfront, just a 5-minute walk from the ferry terminal).
Care to shop around? Check Booking.com for more accommodation options.
Getting Around
If you don't have your own car to use during your Perlis trip, then you will have taxi (GRAB taxi also available) and 'city' bus options. For prearranged transportation or local tour guides, I highly recommend One Love Adventures and Unic Astana Holidays. Both are affordable and have great customer service.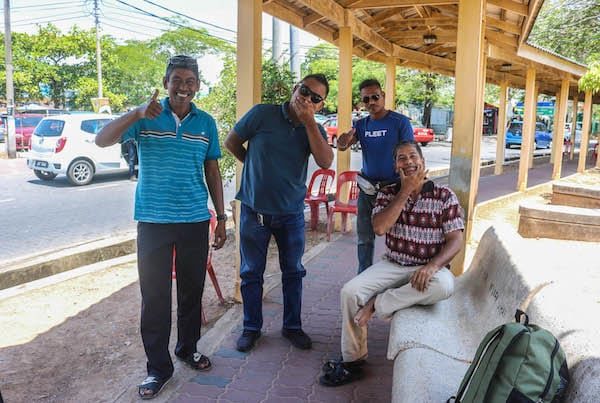 Getting There
Perlis is super easy to get to. For Malaysia travelers without a car, there is a west coast train route from Kuala Lumpur to the train station in Arau, Perlis (the KTM Platinum takes just five and a half hours). There are also three main bus stations in Perlis; Kuala Perlis, Kangar and Arau. And from Langkawi, Malaysia, it's just a 45-minute ferry ride away. For those who prefer to fly, there is also an airport in Langkawi that has flights from Kuala Lumpur and Penang, from there it's a taxi ride to Kuah and then the 45-minute ferry ride. For Thailand travelers, there is an airport in Hat Yai as well as mini van or bus options from Hat Yai, Dannok and Satun.
*Updated Dec 2022: Since the pandemic, Langkawi to Perlis ferry services are limited to just 5 times a day and tickets sell out quickly, especially on weekends and holidays. You also cannot buy roundtrip ferry tickets at either Langkawi or Kuala Perlis ferry offices, only one way. If you find tickets sold out, you can check with the RoRo car ferry service offices in both Langkawi and in Kuala Perlis. Roro car ferries sell roundtrip tickets at both their offices or can be purchased online: production.wantasroro.com/info/contact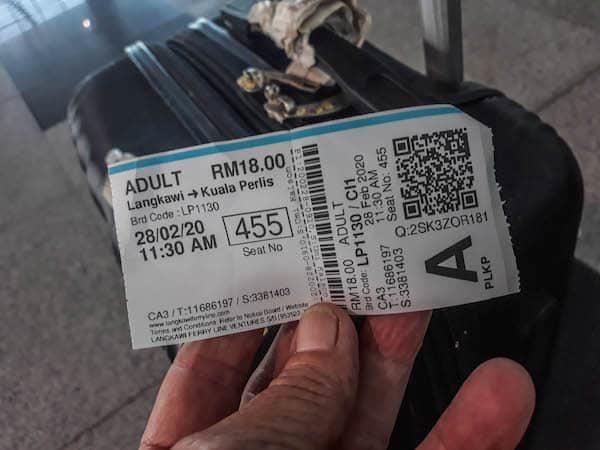 Perlis, of course, has more to offer than the few activities listed in this itinerary. They are also quite consistent in having local festivals and events. One annual event to keep in mind is their Pesta Angin Timur (East Wind Festival) which is usually held around February or early March.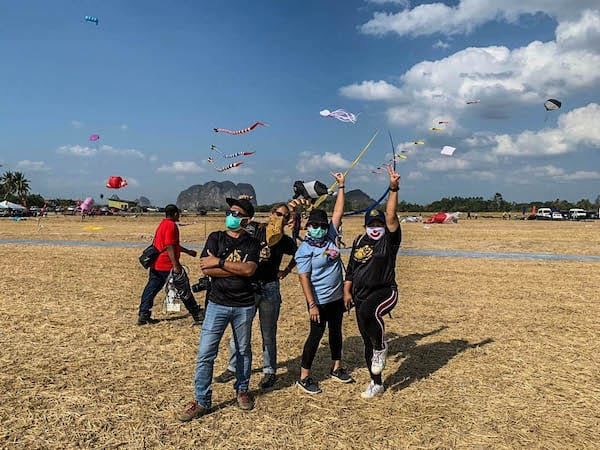 Have you been to Perlis, Malaysia?
Have any more recommendations or travel tips to share?