When it comes to island hopping in Peninsular Malaysia, the state of Kedah has been the king of the hill with their Langkawi archipelago turned UNESCO Global Geopark. Langkawi (also known as the Jewel of Kedah) has 99 islands and islets shrouded in jungle-y mystery and often dotted with white sand beaches and eerie ancient rock formations. But Kedah, beyond the shores of the geopark, has one more jewel to offer visitors and that is Pulau Payar (Payar Island). But Pulau Payar is not just an island, it's part of a namesake marine park; Pulau Payar Marine Park.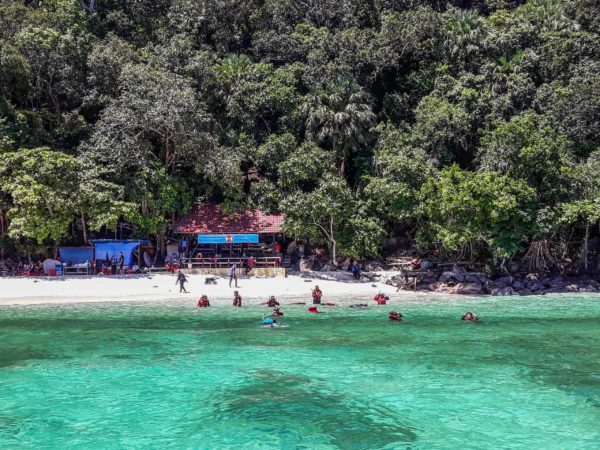 Located 35 kilometers south of Langkawi, the Pulau Payar Marine Park consists of four islands; Pulau Kaca, Pulau Lembu, Pulau Segantang and Pulau Payar; the largest of the four. Pulau Payar Marine Park is protected under Malaysia's Fisheries Act 1985 and Marine Parks Malaysia Order 1989. It also has the honor of being the first official marine park in Malaysia, established in 1989.
History of Marine Park Development in Malaysia
People might be surprised to learn that Malaysia has a number of marine parks between Peninsular Malaysia and Borneo. Including more than 40 islands collectively in Peninsular Malaysia alone; all now managed by the Department of Marine Park Malaysia, which was officially established in 2007.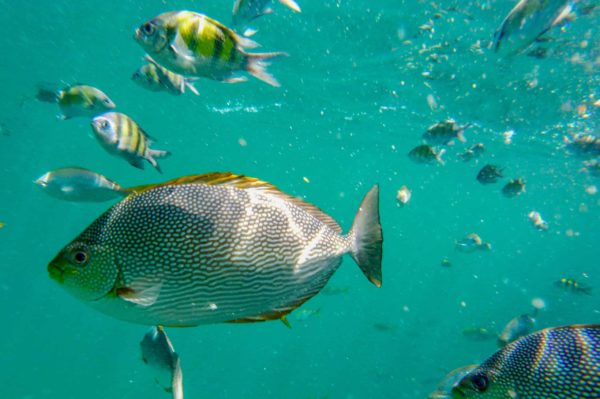 In the early 1980s, Malaysia recognized the need to protect its coral reef areas after seeing the decline in the county's marine fishing resources. In 1983, Ex-Prime Minister Tun Dr. Mahathir Mohammad directed the Ministry of Agriculture's Department of Fisheries to establish marine parks in the country, which was included in Parts 41 through 45 of the Fisheries Act, 1985.
'The principal goal of establishing Marine Parks in the country is to protect, conserve and manage in perpetuity representative marine ecosystems of significance, particularly coral reefs and their associated flora and fauna, so that they remain undamaged for future generations. In addition, our aim is to inculcate public understanding, appreciation and enjoyment of our marine heritage.'
– Department of Marine Park Malaysia
By 1994, 40 islands were included in protected areas under the umbrella of the Marine Parks Malaysia Order with a buffer zone of two nautical miles seaward from the outermost points of the various islands. Islands included are Terengganu's Pulau Redang and Pulau Perhentian Archipelagos, Kedah's Pulau Payar Archipelago, Pahang's Pulau Tioman Archipelago, Johor's Pulau Tinggi Archipelago, and the Federal Territory of Labuan Archipelago. Terengganu's Pulau Nyireh and Pulau Tenggol were added in 1998. You can read more detailed accounts of Malaysia's marine parks development HERE
Borneo Malaysia's marine parks management is considerably different from Peninsular Malaysia's. The marine parks of Sabah appear to march to the beat of their own drummer and are apparently managed by Sabah Parks Board of Trustees. Marine parks of Sarawak are managed by the Marine of the National Park & Wildlife Division of the Sarawak Forestry Department.
Never the less, you will find no shortage of marine parks in Malaysia!
Here's a short video from my trip to Pulau Payar
Can subscribe to The Island Drum's You Tube Channel HERE
Is Pulau Payar Marine Park Worth a Visit? Yes!
Having established that Pulau Payar is the oldest marine park in Malaysia, it's safe to say they have been through a few learning curves since 1989. And likely made some mistakes, as well as taken a few hits of harsh criticisms along the way. But knowing what I know now about Pulau Payar, I can appreciate the efforts of the Department of Marine Park Malaysia even more.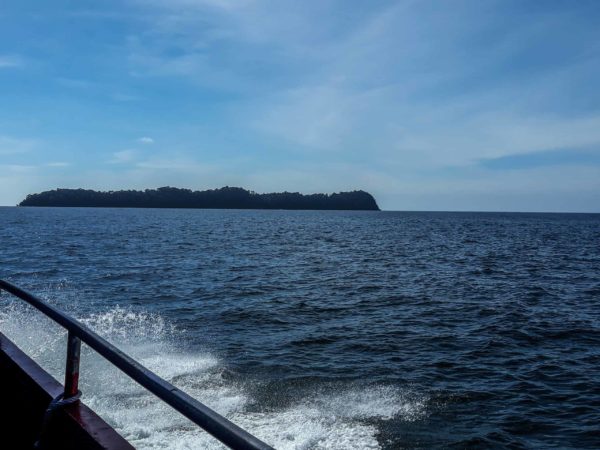 Back in 2010, the Department of Marine Park Malaysia closed numerous islands in three states due to coral bleaching, including Pulau Payar. The closure was only from Early July to the end of October, 2010, but at least an action and reassessment was done.
Since that brief closure and reopen time, other areas of Pulau Payar Marine Park have become access limited or temporarily closed in an effort to protect the park. Unfortunately numbers of daily visitors have not been limited. Daily tour groups from both Penang and Langkawi have been consistently visiting the marine park until the 2020 pandemic hit.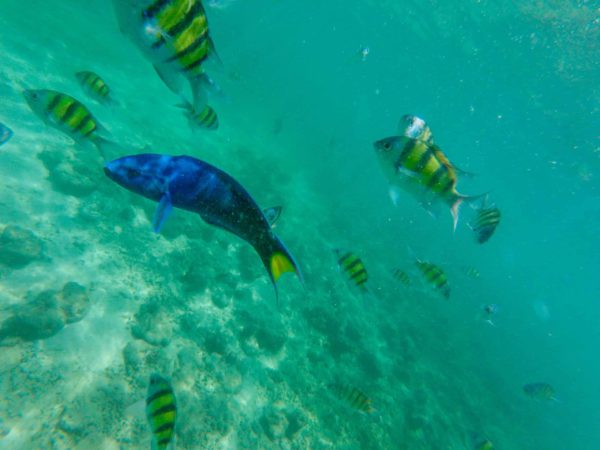 However, in addition to keeping areas closed, other plans are in the works for Pulau Payar, include more aggressive coral restoration efforts and limiting the number of daily visitors. Which I think are both excellent ideas.
My Langkawi Coral Experience
Pulau Payar had been beckoning me for many years, but the price tag to get there and online photos of massive numbers of people was just a tad off-putting. And, to be honest, I can't say the 'negative' reports I had heard and read about helped much either. But finally seeing it for myself? I gotta say, I loved it. It was nothing like I was expecting and it's an excellent day trip option from Langkawi.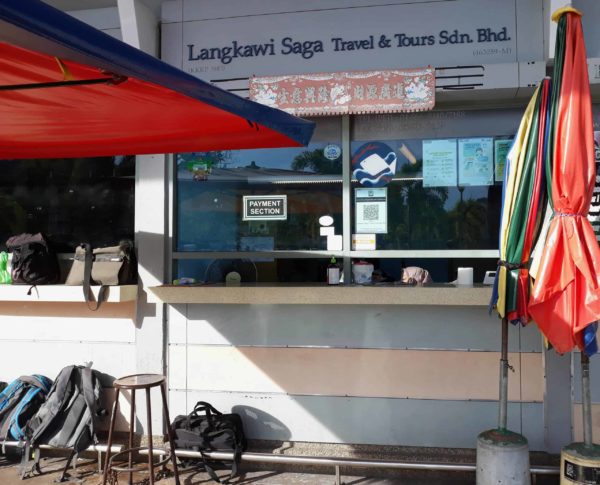 I went with Langkawi Coral for my first time visit to Pulau Payar Marine Park and I just can't give enough kudos to these folks. They pay attention to details and have great customer service. I will definitely choose to go with them on future Pulau Payar trips too.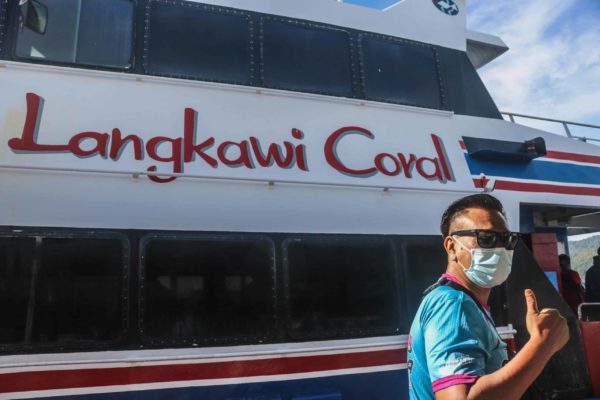 Right off the bat, from my prior direct booking to check in was smooth sailing. After checking in and getting our identification wrist bands, our tour group for the day was escorted to the Langkawi Coral ferry. We departed right on schedule at 0945.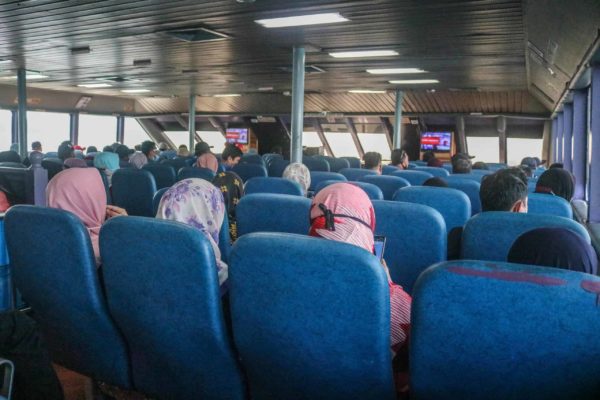 I had previously thought that taking a speed boat would be the best way to go to Pulau Payar, but after realizing how far we were actually going (35 kilometers each way), I'm pretty sure that the Langkawi Coral ferry is a much more relaxing option. Easy access toilets can also come in handy when taking long boat journeys too.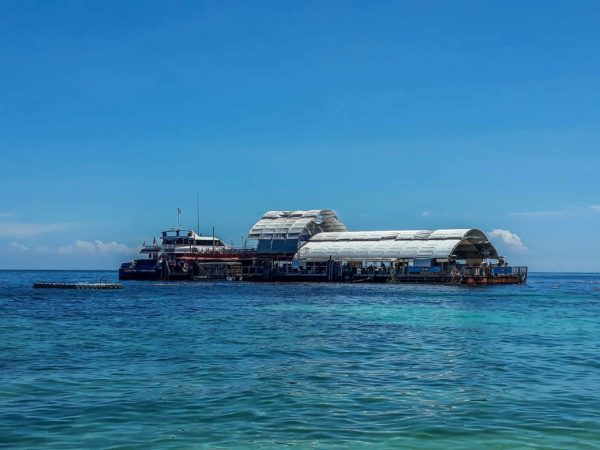 Langkawi Coral guests also have the option to go topside during the ferry ride to and from Pulau Payar. There you can check out the scenic vista, enjoy the sea breeze and take some maritime selfies. It takes about forty-five minutes to get to Pulau Payar Marine Park by ferry.
I would also venture to say that the ferry option would be wheelchair and stroller friendly as would the platform disembark later; making it the best option for the less physically fit, young children and the adventurous handicapped.
Upon arrival, those who were beach bound were shuttled onward to the beach and the rest of us were briefed on the day's schedule and where to get our snorkeling equipment.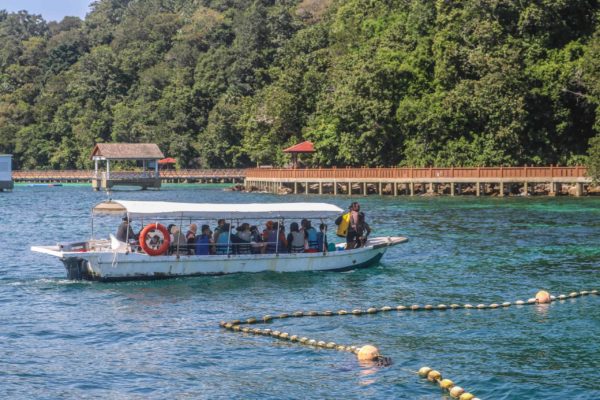 Langkawi Coral offers two snorkel packages for guests (whether they choose to snorkel or not). The Langkawi Coral Beach Package includes a life jacket, snorkel equipment, a packed lunch and a ride to and from the beach.
I chose the Langkawi Coral Reef Platform Package, which offers full access to both the beach and the reef platform. This includes not only a life jacket and snorkel equipment, but all platform amenities; Glass Bottom Boat Ride, Underwater Viewing Chamber, a platform lifeguard, toilets, and fresh water showers and changing rooms. Additionally, lockers are available for RM20.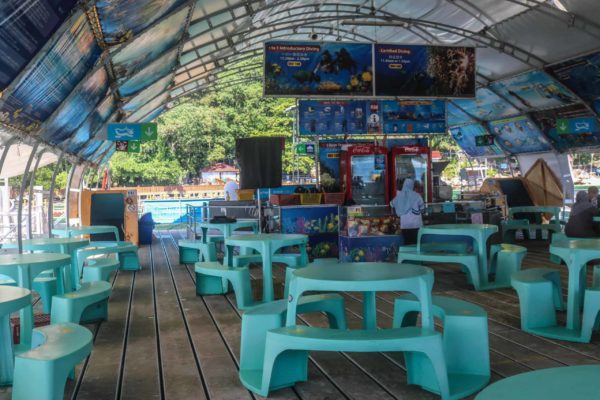 The platform package also includes a simple, but hearty buffet lunch. And an extremely helpful staff. Both packages include insurance and the Pulau Payar Marine Park Conservation Fee, which all marine parks in Malaysia charge visitors.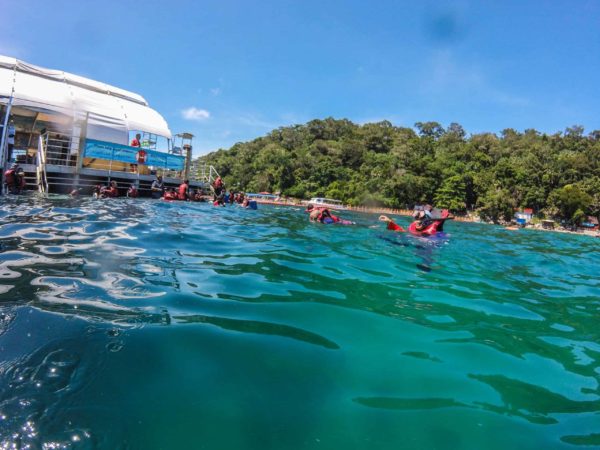 To be honest I was mesmerized by the number of fish hanging out around the platform. Likely well-schooled (no pun intended) that the platform is a steady source of food when there are people around; bread crumbs and table scraps. Although there is plenty of room to explore within the roped off 'public' reef area, the majority of visitors during my mid-week visit (myself included) were content to just hang out in the waters near the platform.
In a nod to marine conservation, dive fins are no longer allowed (or encouraged) for snorkeling in Pulau Payar Marine Park, which will certainly cuts down on any temptations for visitors to stand on sensitive coral. It may take extra work to finlessly kick your way through the water, but it's good exercise!
The lunch buffet is served around 12:30. Extra drinks and snacks are also available for purchase at any time. Those on the Platform Package have the option of having the lunch buffet on the platform or ordering a packed lunch for the beach. I highly recommend taking the buffet option, which has plenty of selections to choose from of both Asian and western fare. A vegetarian lunch is also available upon request.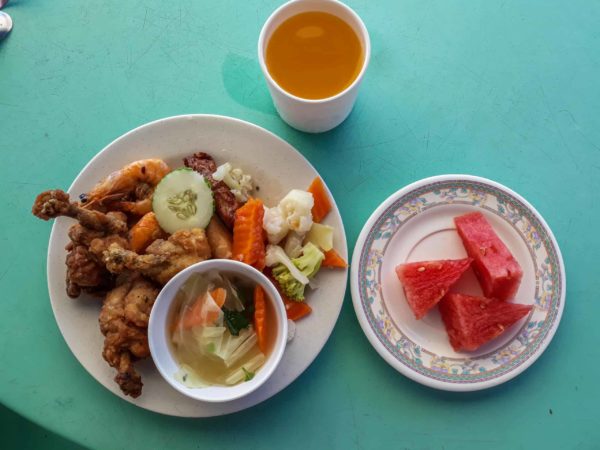 The buffet is prepared ahead of time and ferried out to the marine park, so if anyone is expecting a 5-star dining experience you will be disappointed. However if you go to Pulau Payar to see loads of fish, have fun in the sun and get fed a decent meal, you'll be quite happy. I personally had no complaints about the food.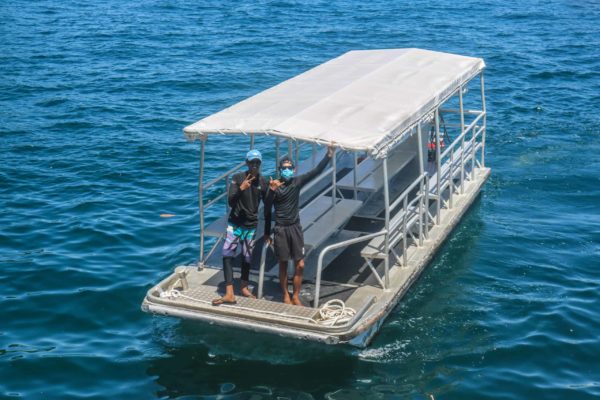 After lunch, I finally got around to taking a boat to the beach. In hindsight, I regretted not going before lunch as after lunch there was not a lot of time left to explore the beach area before the last pick up from the beach arrived.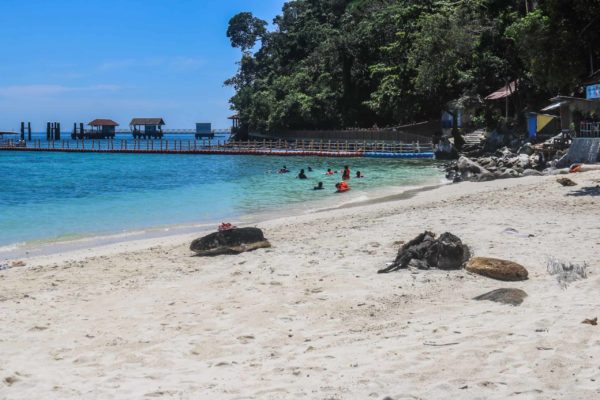 The sand is blindingly white and although the turquoise water was a bit murky from swimmers kicking up sand, it is an idyllic island scenario none the less. One can still stand in waist depth water and see plenty of fish (including sharks), with or without a mask on. Maybe not the most sustainable of practices, but 'shark feeding' is a big hit at the beach. I have a healthy respect for sharks of any size and being in the water while they are feeding is not something I consider particularly smart. So do consider watching from afar especially if you have little kids with you.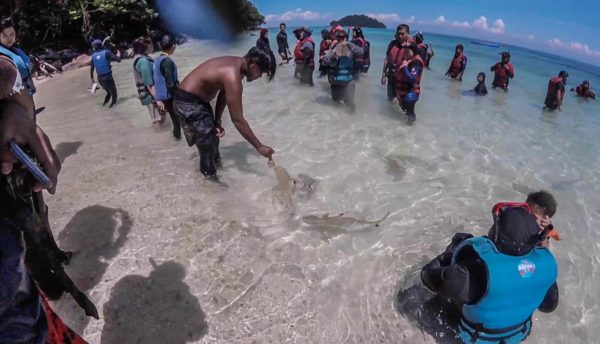 As I mentioned earlier, with exception of the main beach, areas of the marine park remain closed as a conservation effort. A few food and drink stalls, shade trees and a lovely beach is the bulk of the Coral Island beach experience. So, if you want to see some fish or just relax and work on your tan, it's perfect.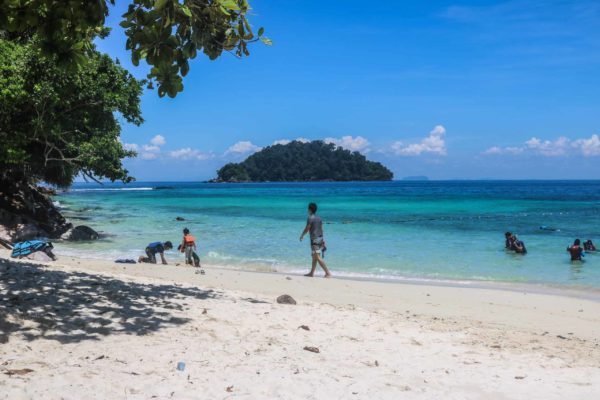 Is the public access coral reef of Pulau Payar Marine Park a National Geographic moment of colorful corals and exotic plant life? No. And if anyone expects that then they watch too many television specials of expensive expeditions to remote corners of the globe.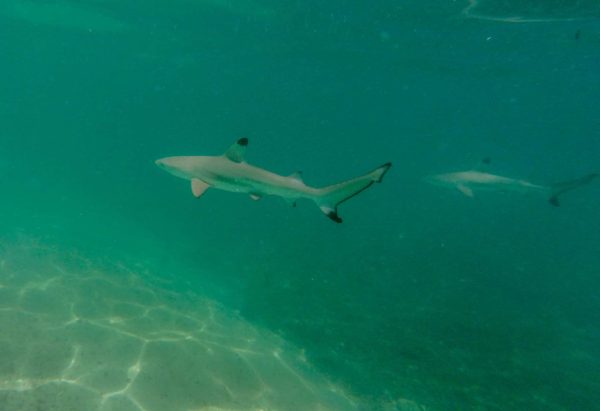 A visit to Pulau Payar Marine Park does offer the opportunity to see marine life in their natural habitat to those who want to get wet and to those who prefer to stay out of the water. A unique opportunity not generally offered at other marine parks. Pulau Payar Marine Park is definitely worth a visit!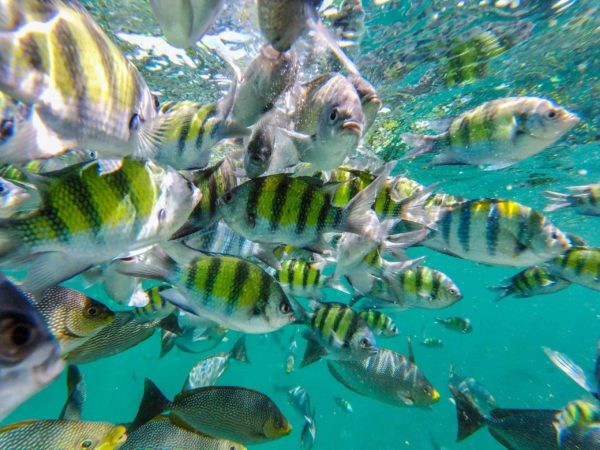 I was an invited guest of Langkawi Coral, but my opinions are my own.
For more information about Snorkeling and Scuba Diving packages at Pulau Payar Marine Park, Langkawi Coral offers trips from both Langkawi and Penang. You can contact them via Facebook HERE or through their contact info listed below.
Langkawi Coral Reservation & Information
Tel: 012-426 3855 (0800-1000)
604-966 7318 or 012-426 3855 (1000-2200)
Langkawi Saga Travel & Tours (Langkawi branch)
Plot 9-11, Tingkat 2
Kompleks Cayman Kuah
Langkawi, Kedah, Malaysia 07000
Email: [email protected]
Langkawi Saga Travel & Tours (Penang branch)
16, Jalan Tanjung Bungah
Penang, Malaysia 11200
Tel: 604-899 8822 or 012-484 2676
Email: [email protected]