Locating street art in Kota Bharu is like following a treasure map with no specific directions. Google maps can give you a 'general' idea, but one must still root around like a truffle hunter. The city's maze of back alleys has, in recent years, become an endless canvas of colorful images depicting heritage, religion, politics and Kelantanese life in general. For those who appreciate art and culture, hunting for Kota Bharu street art is well worth the effort.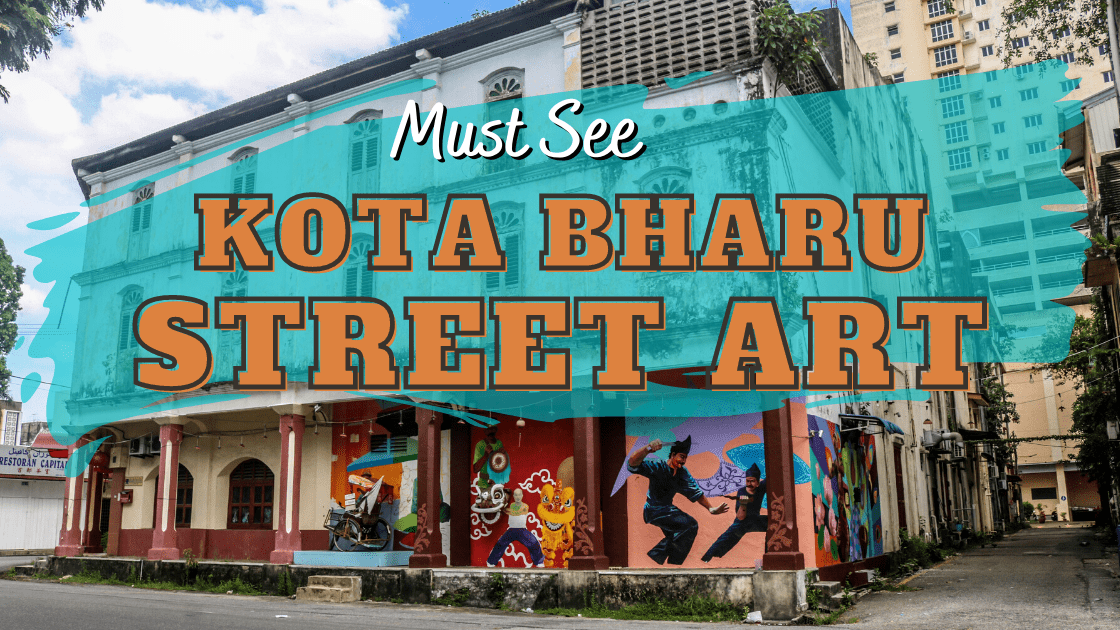 At the risk of writing a fluff piece with pretty pictures and little information, this Kota Bharu street art guide aims to help at least one new tourist find their way to these magnificent Kota Bharu gems. Despite the straightforward layout of the city, negotiating the various streets can still be challenging, so hopefully the little map below will also be helpful.
Kota Bharu Street Art Treasure Map
Unfortunately, I'm unable to properly credit all of the artists who have brightened the many side alleys in Kota Bharu, but I'll do what I can. Here are a few main areas of Kota Bharu street art that you won't want to miss.
Art & Culture Path Murals
Located in the alley behind the Subway sandwich shop at Jalan Tok Hakim and Jalan Ismail, this Kota Bharu street art project was born in 2017. That same year I found myself shuffling around the bus station waiting for a friend to arrive from Thailand. A couple of blocks away I walked into a vision of beauty. Artists. Real artists getting down and dirty with a down and dirty side street. I was mesmerized. I was also pretty psyched to witness, first hand, the progress of the Kota Bharu street art movement.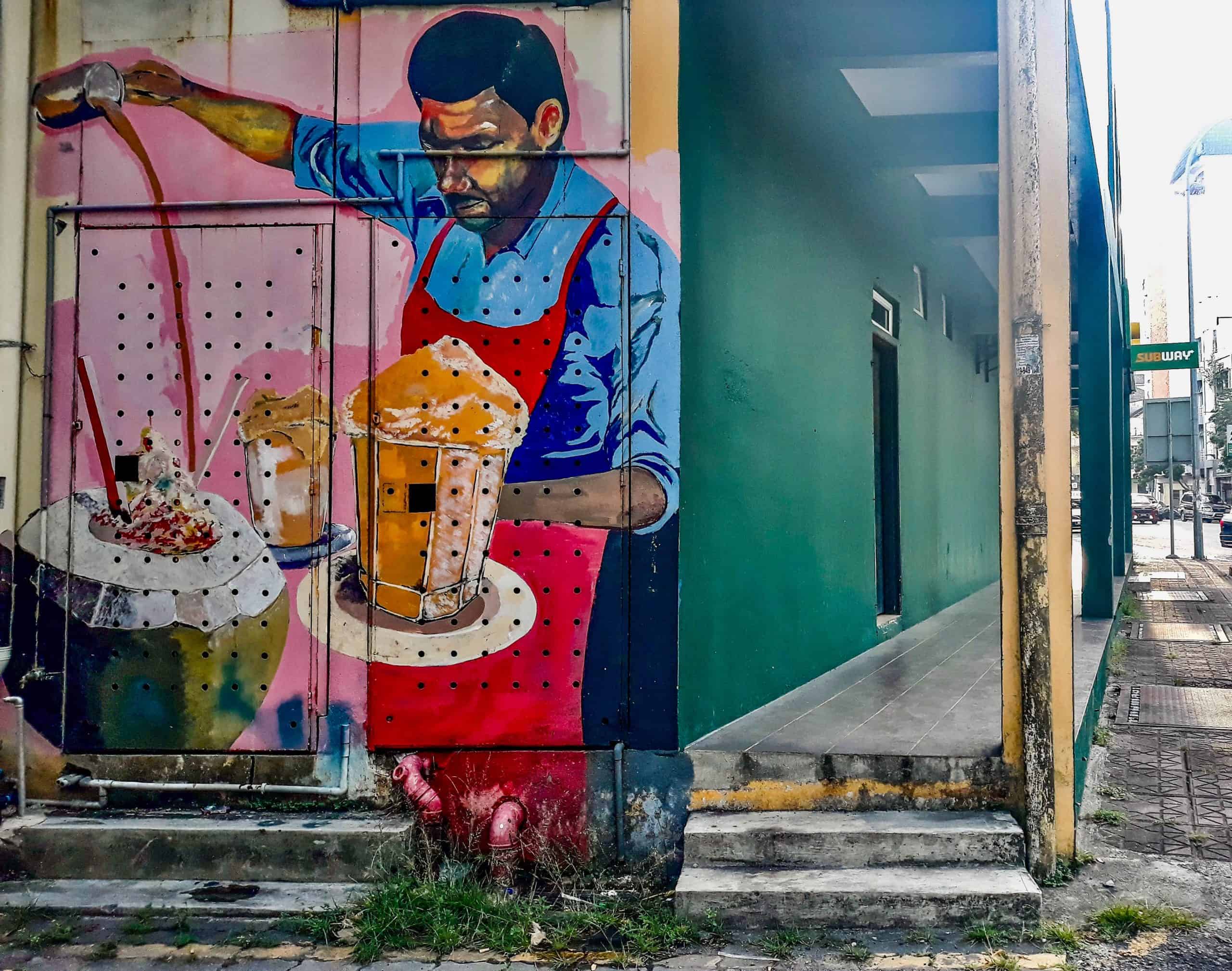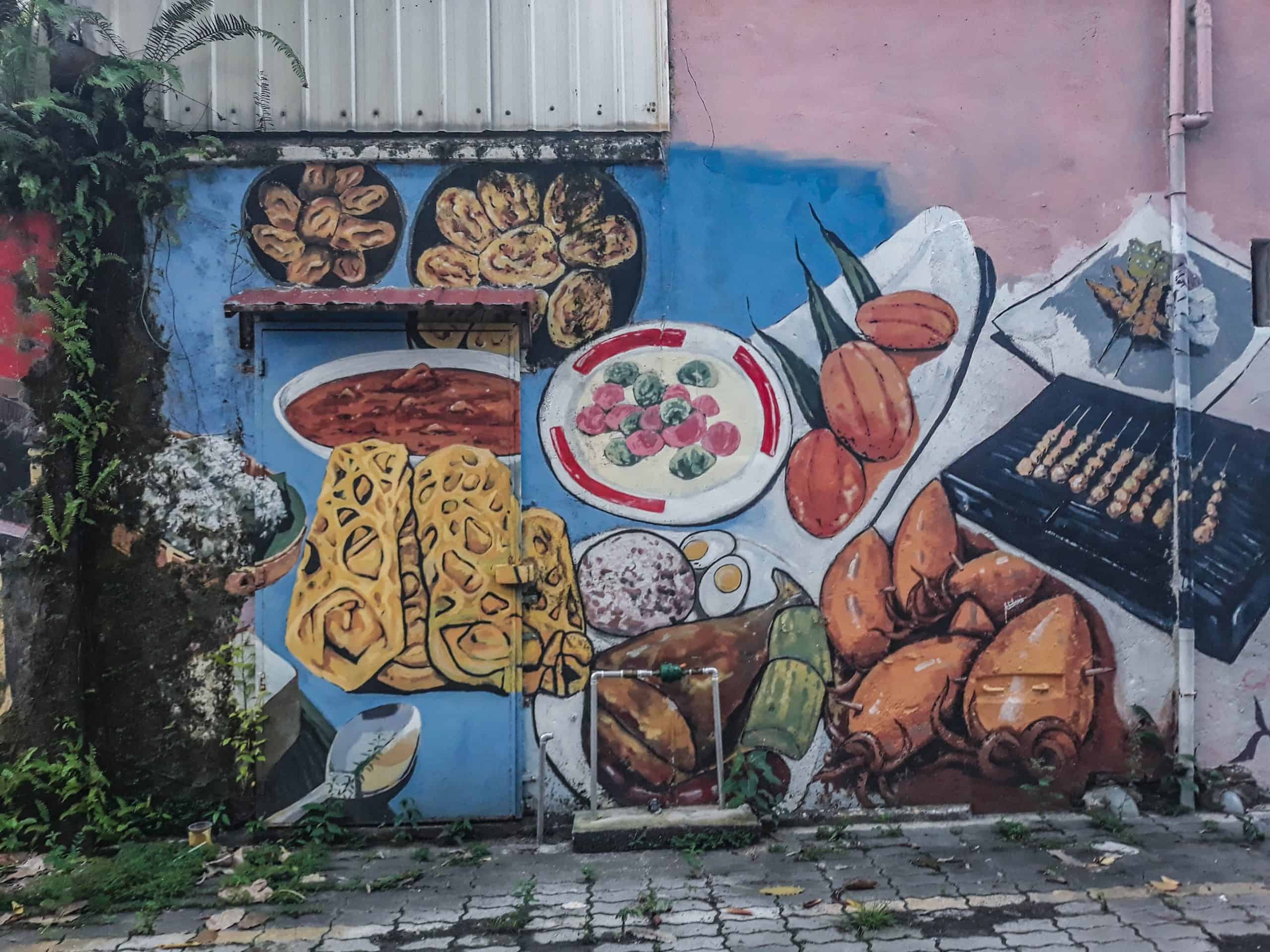 There before me were about twelve young men and women painting the walls along the small street. I was especially happy to also see women teetering from ladders and scaffolding, paint brushes in hand, it was a first for me in Malaysia to see female street artists. It was an inspiring sight. The theme of the initial efforts was Kota Bharu culture and heritage. And, of course food, which Kelantan is quite famous for. At the time, I was told by one young artist, that they (the painters) were art students.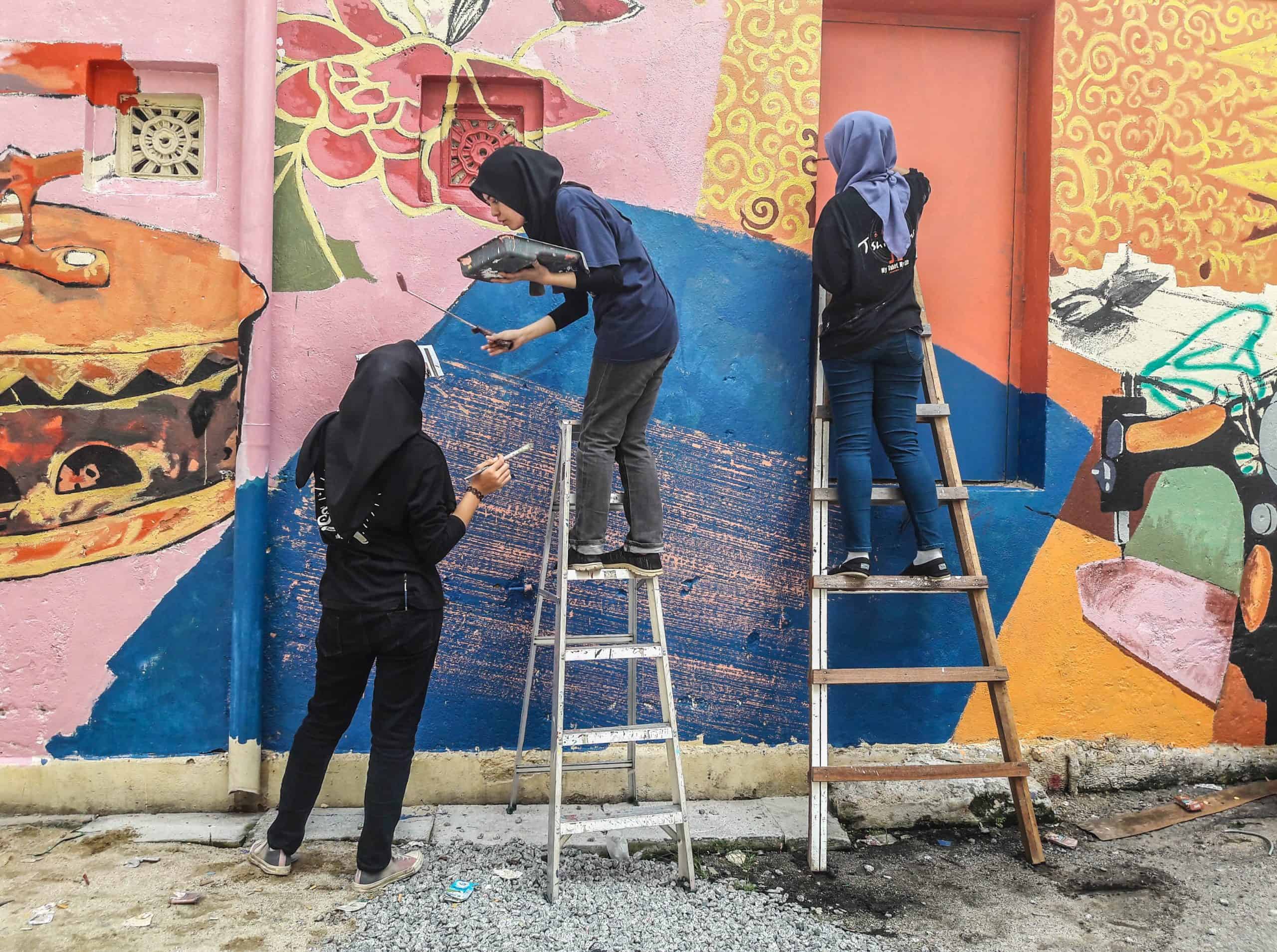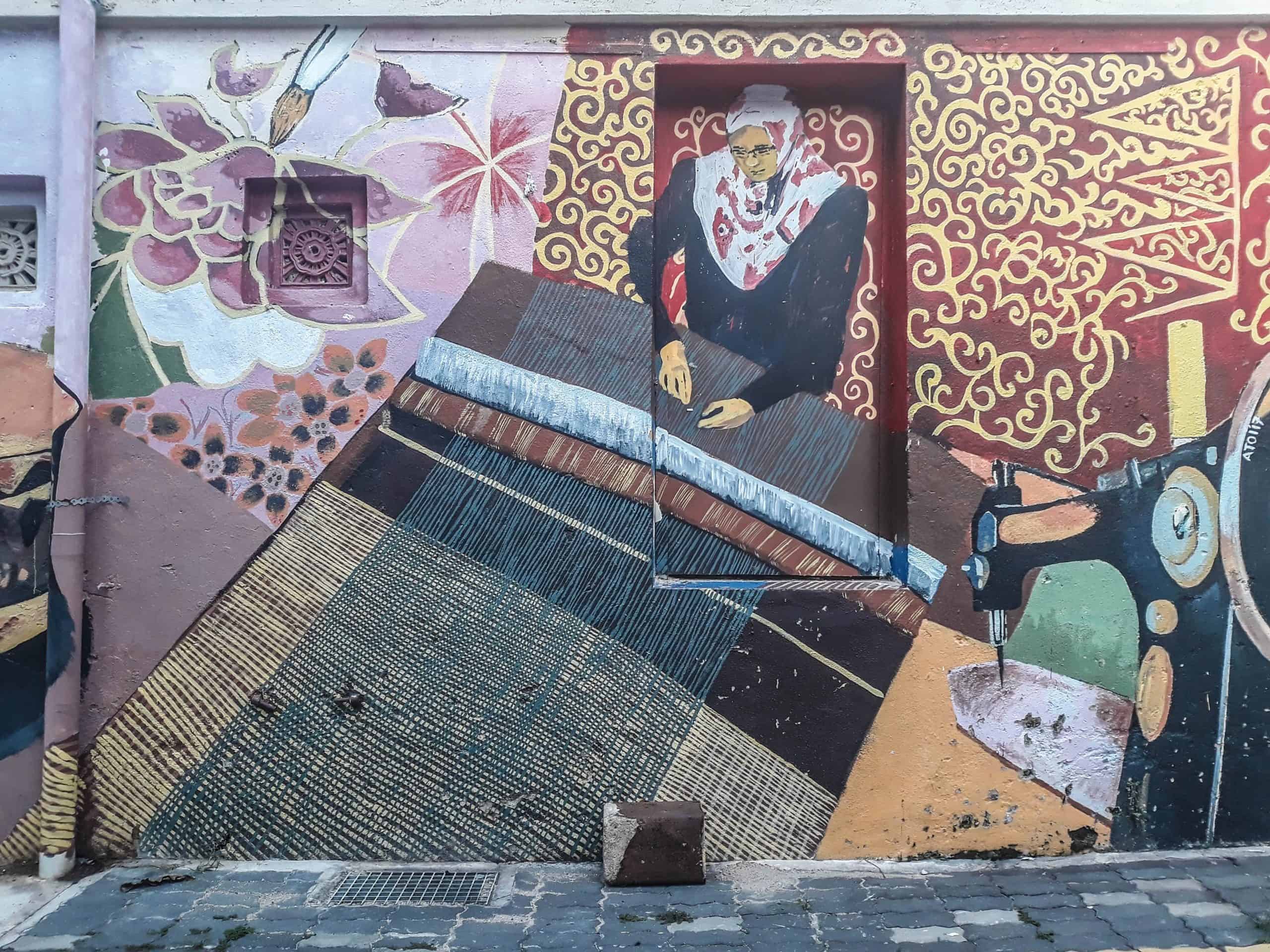 I later learned that painters from the Kelantan Painters Association were also involved and that the 'new' Art & Culture Path was a fundraising project from the National Visual Arts Development Board as well as a collaboration between the Kota Bharu Council, Pesini Art Collective and the National Art Gallery.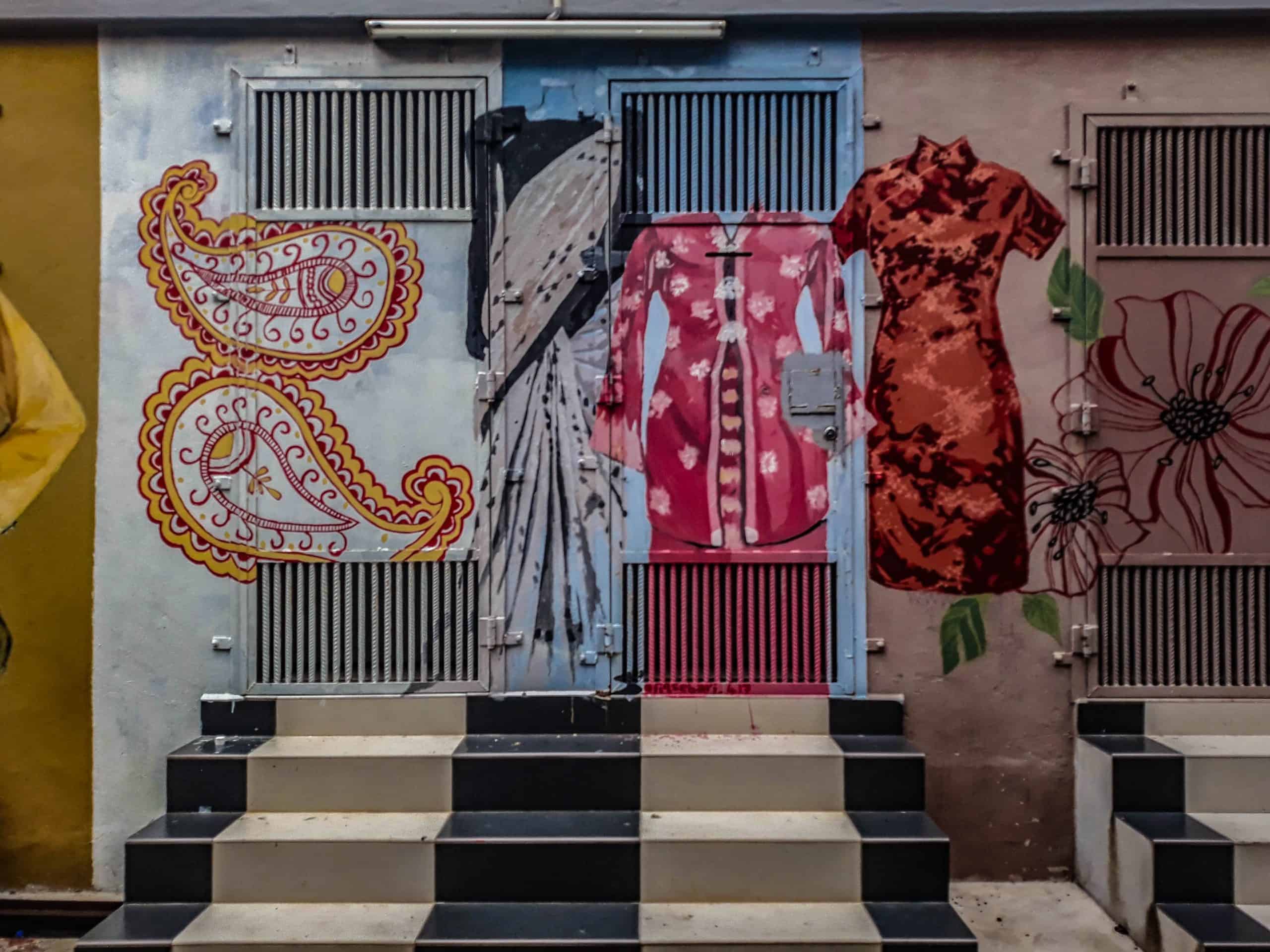 I was disappointed when my newly arrived travel companion showed no interest in returning to the colorful alley, or exploring other possible street art areas. So, like the good friend (I sometimes try to be), I followed her agenda and simply brushed it off as, "I'll be back soon enough…" Well, unfortunately, that didn't happen. Five years passed including two years of a travel restricted pandemic. But alas, now the alley is completed, with a few of the original pieces repainted with newer works.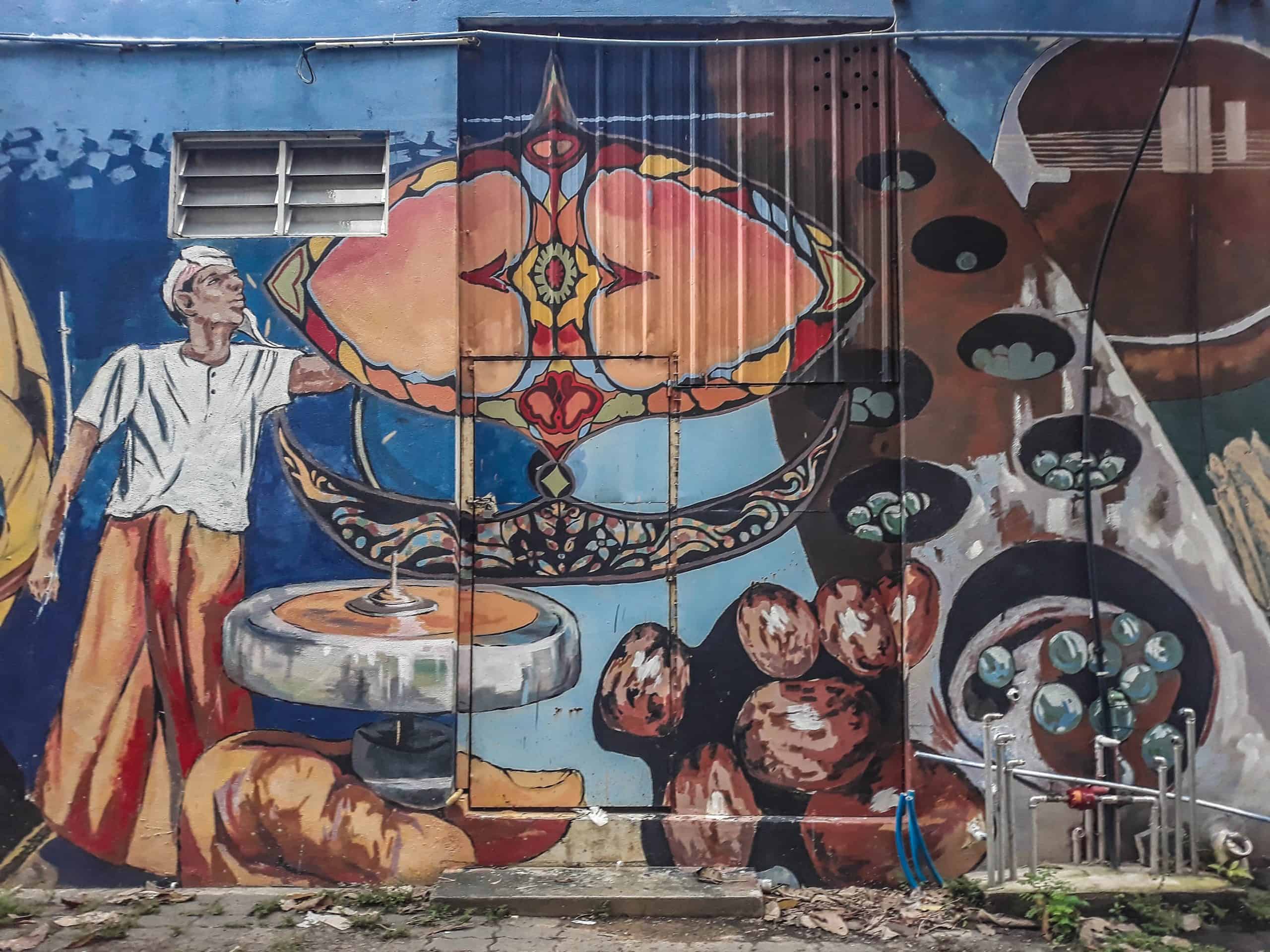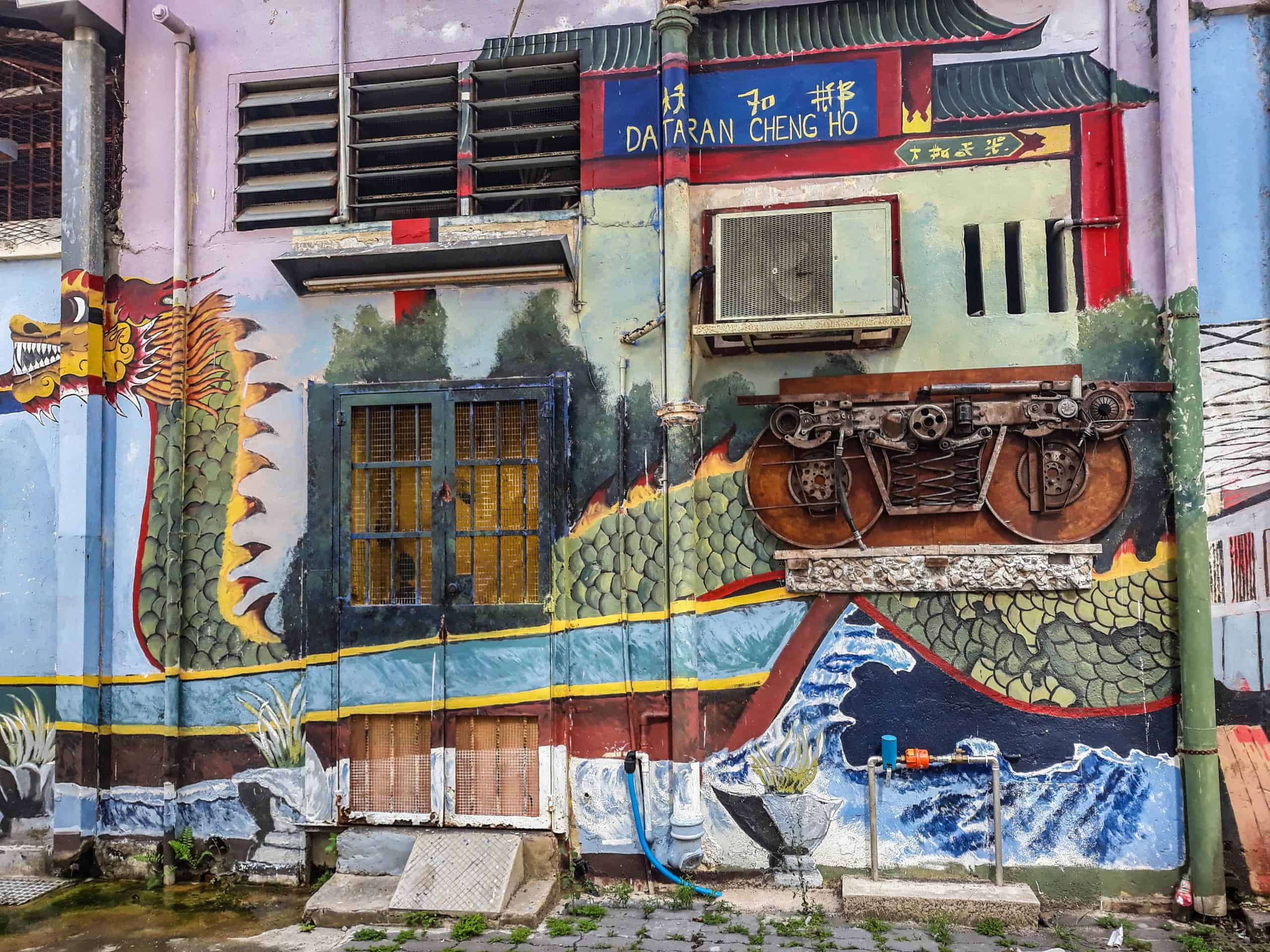 Kota Bharu Street Art Smorgasbord
This next patch of Kota Bharu Street Art was a bit confusing (to me). The area has 6 matching brick archways on several separate alleys between Jalan Dato Pati and Jalan Temunggung, yet the themes of the work within the areas is not obviously cohesive. Gorgeous Middle Eastern images (including colorful painted carpets) merge with tragic Palestinian war imagery. And within the same general area, a variety of Malaysian culture and heritage inspired murals as well a brief splash of an Augmented Reality research project. A little something for everyone I suppose.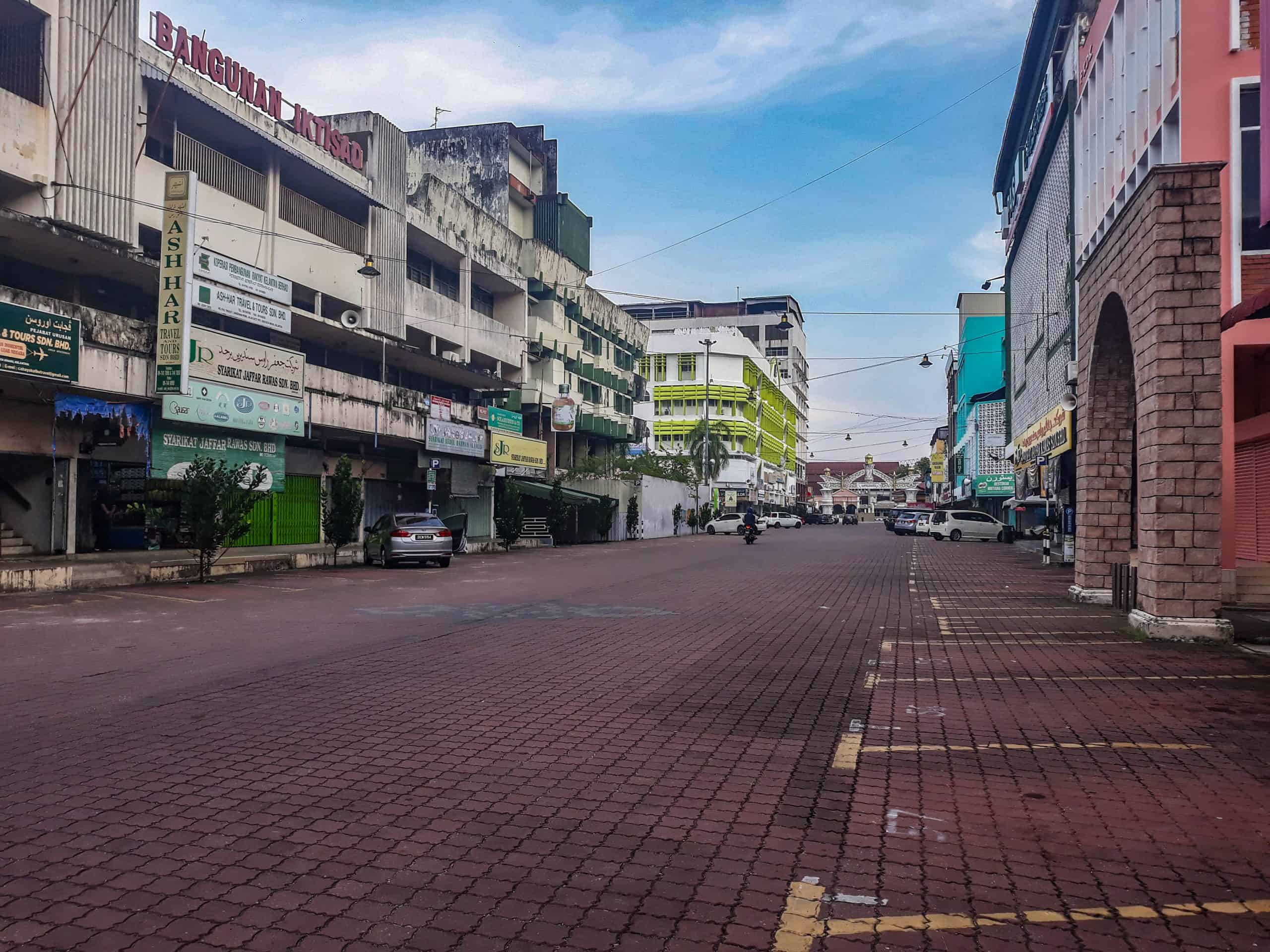 Souk Fil Madinatul Jadid Murals
Across the street from the Syarikat Jaffar Rawas vitamin store, in the small alley just off of Jalan Dato Pati is the 'Souk Fil Madinatul Jadid' mural. Apparently Arabic for 'Market in New Madinah', the initial art work depicts colorful scenes from the Middle East; including painted Persion-style carpets. This area was created, in 2015, by the Kelantan Art Association, in collaboration with Tangan Emas Studios and the Universiti Malaysia Kelantan as a show of support to Palestine.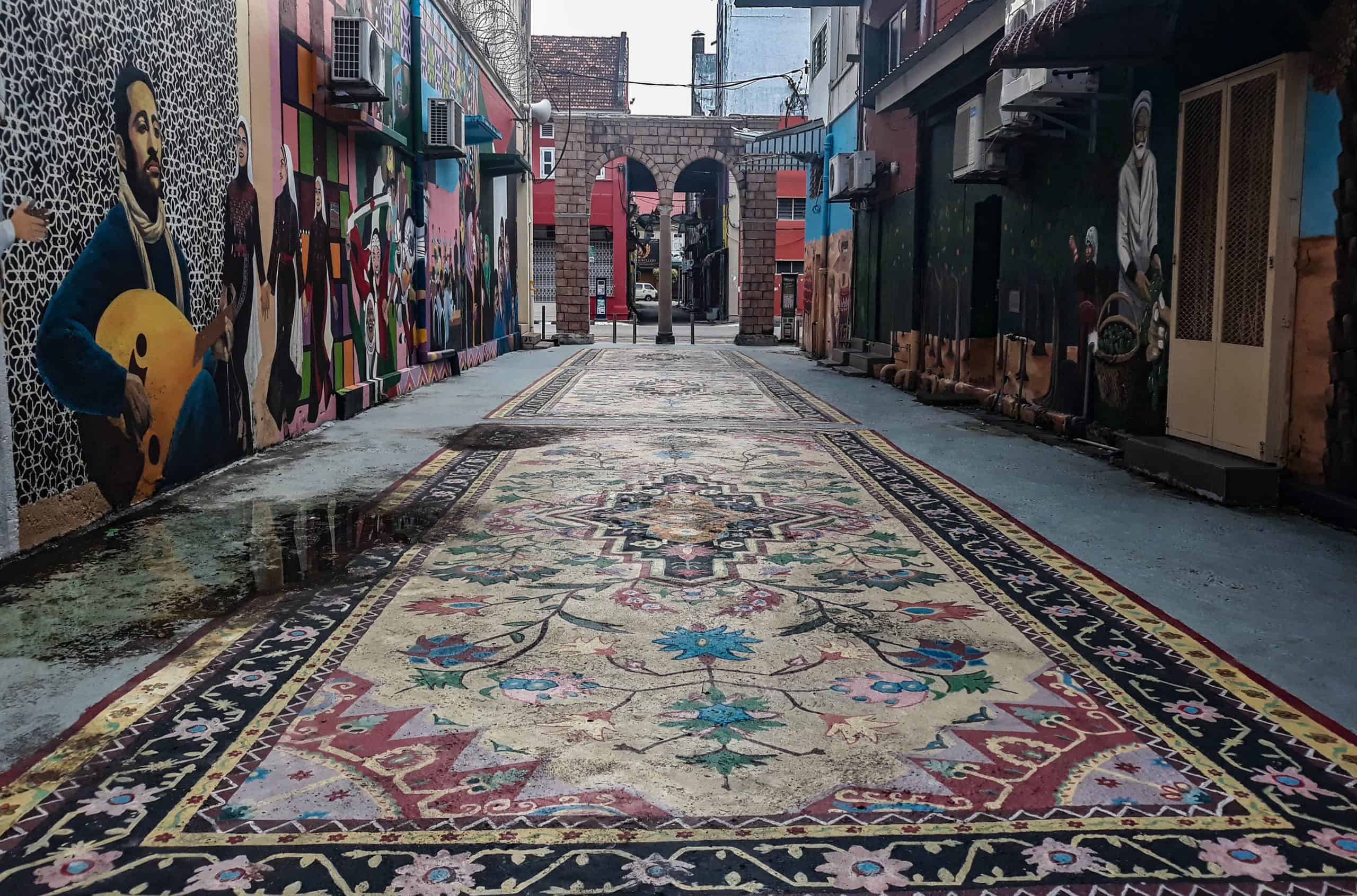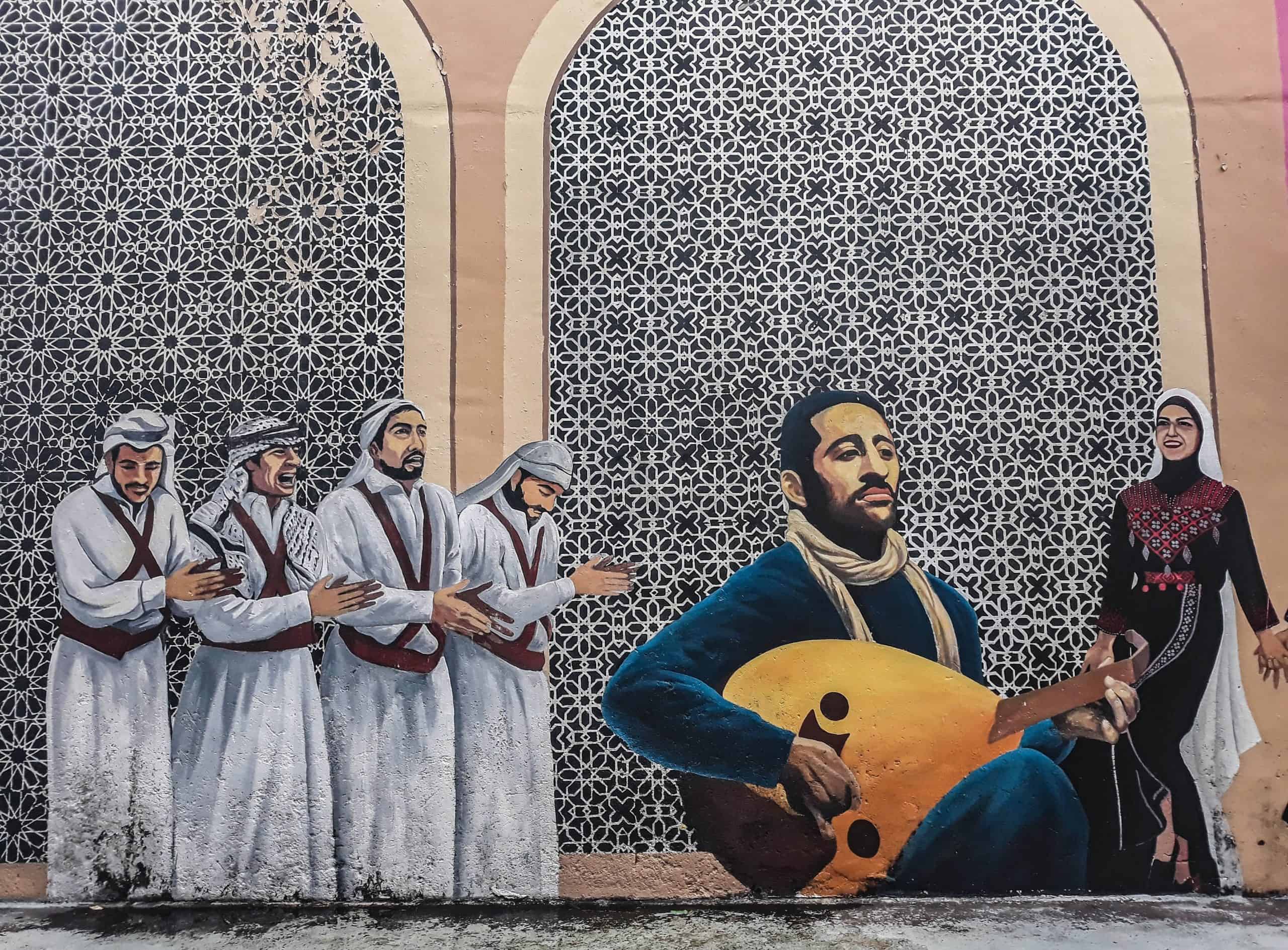 According to the Wan Mohd Sharafi Wan Mustafa, the President of Cakna Palestine, the idea of creating the "Cakna Palestine Site" began back in 2014 before the 'pilot murals' were painted in 2015. Considering that Kota Bharu street art is primarily created with tourism in mind, this may be why the initial images are generally happy, positive images; perhaps to test the waters.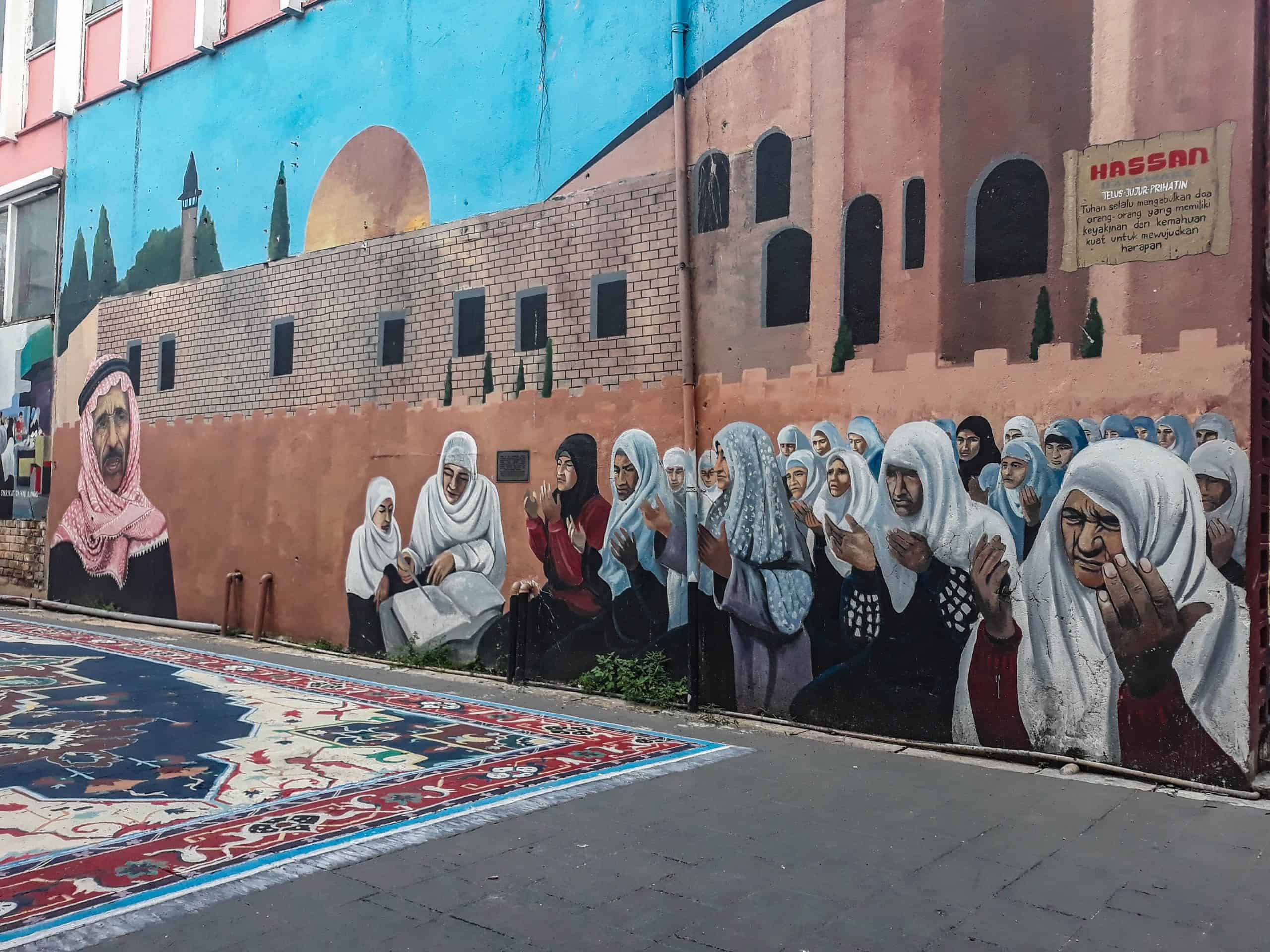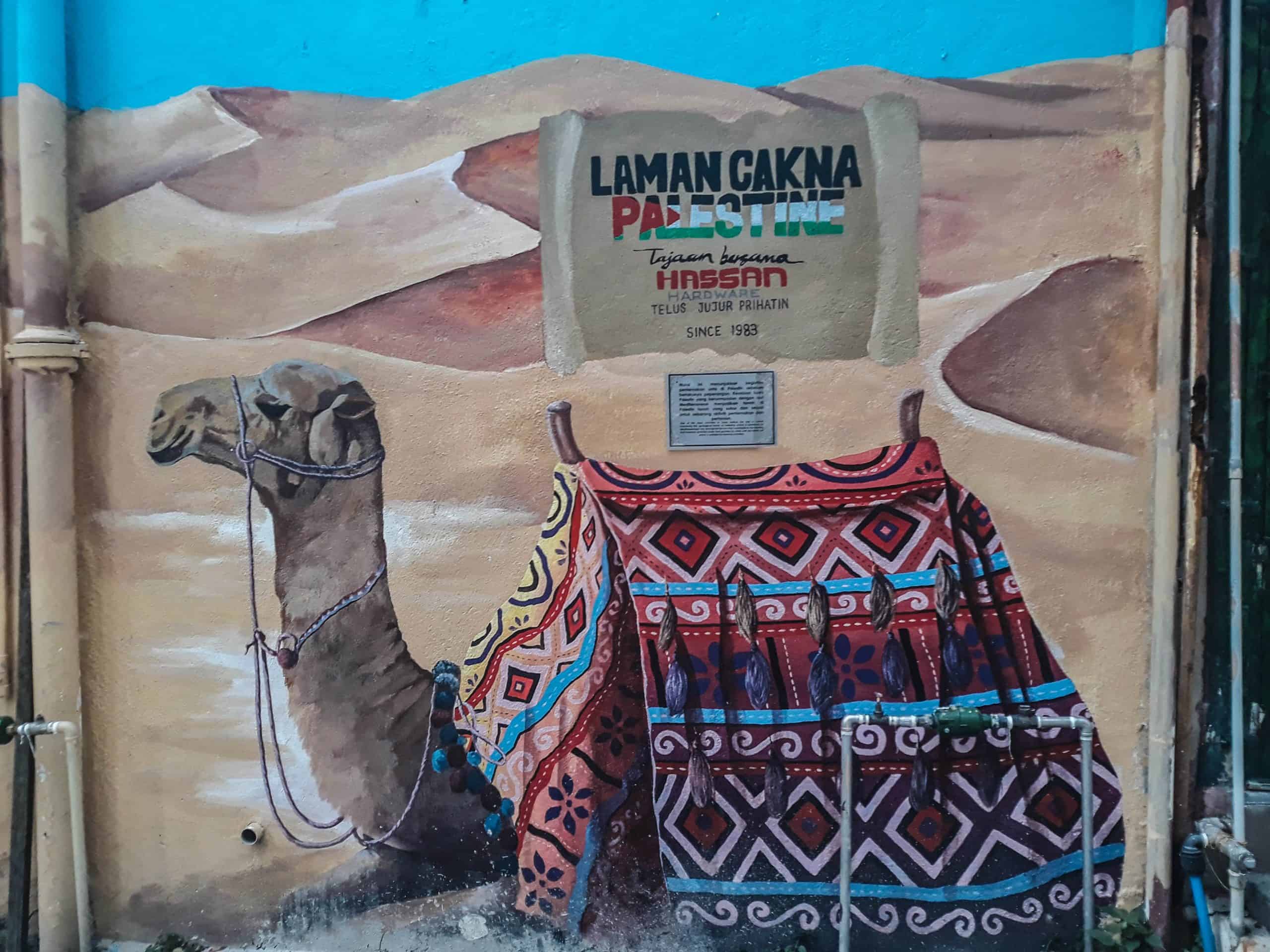 Palestine Murals 

The Palestine Mural is much more than just one mural. The original Souk Fil Madinatul Jadid mural was added to in 2018 and the Middle Eastern imagery takes a dark turn. War and chaos taking a front row seat. The Palestine Mural is a show of continued support and empathy to the Palestinian people.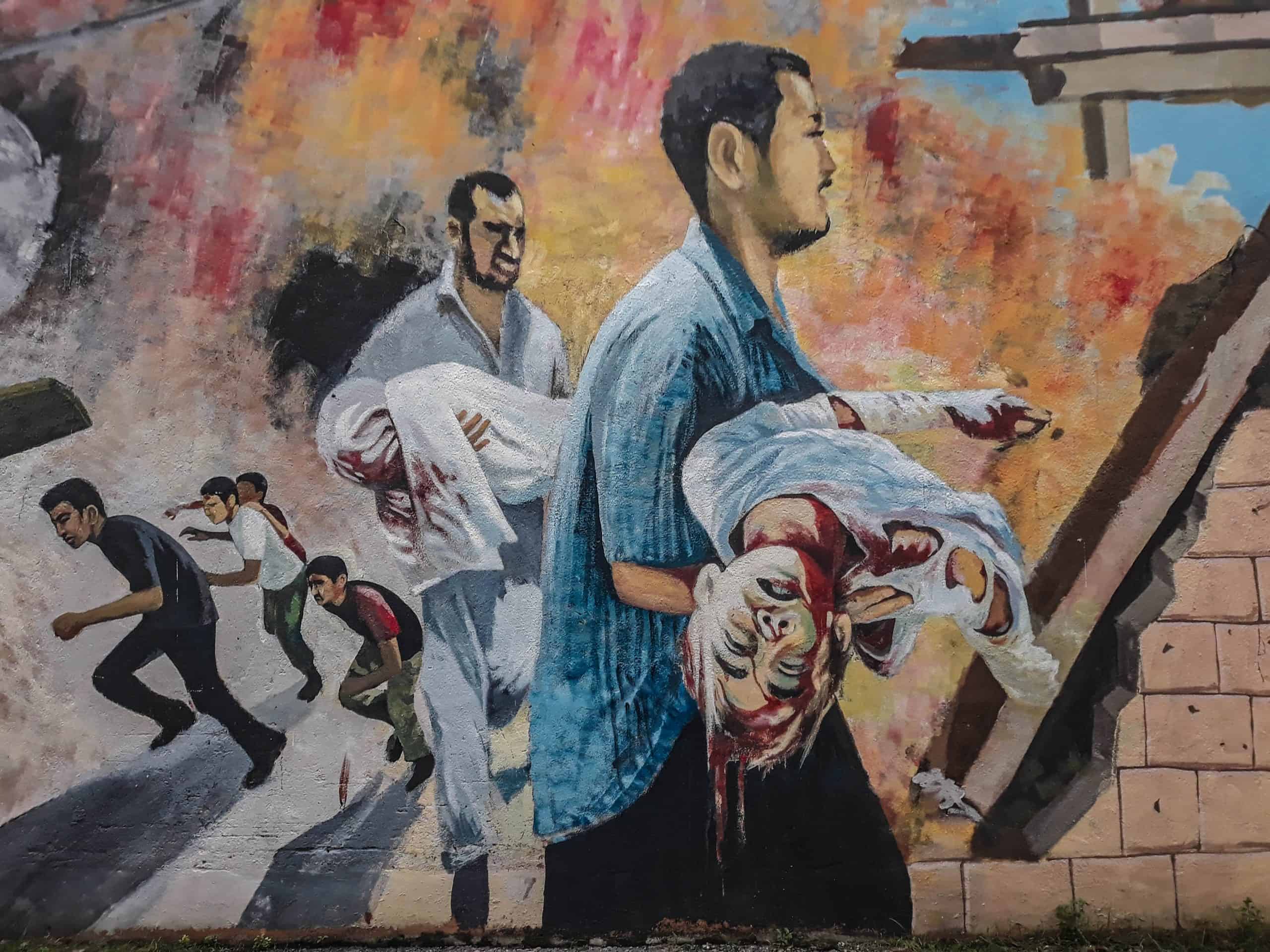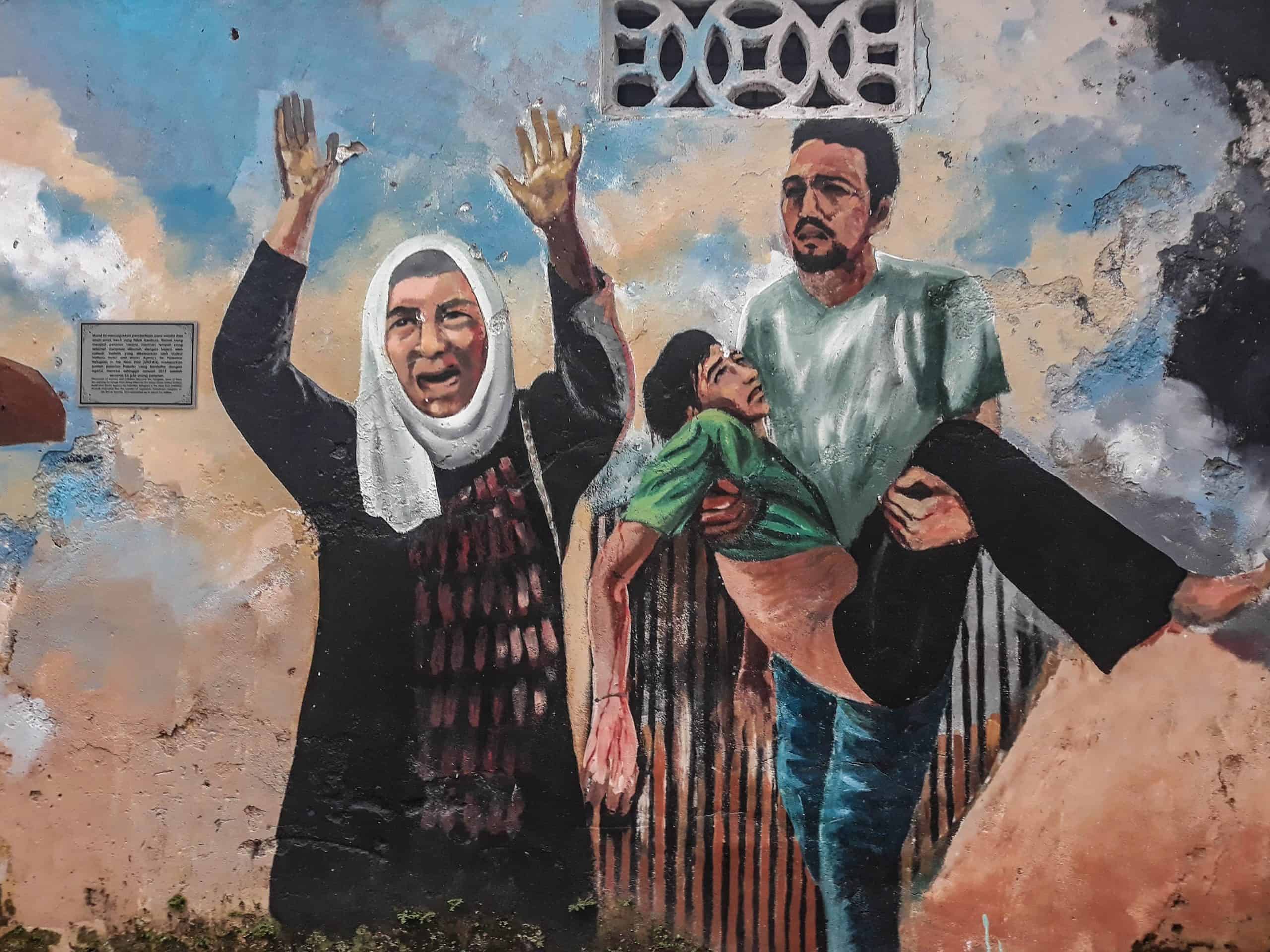 It's not 'fun' to look at, but it is a reminder that there are many unfortunate people who live in other parts of the world. Local artist Mohd Nawi Mat Ali and four other artists are credited with the work. The Archway main entrances to these murals are located at Jalan Dato Pati next to the Syarikat Jaffar Rawas shop and at Jalan Ismail next to the Syarikat Lea Thong shop.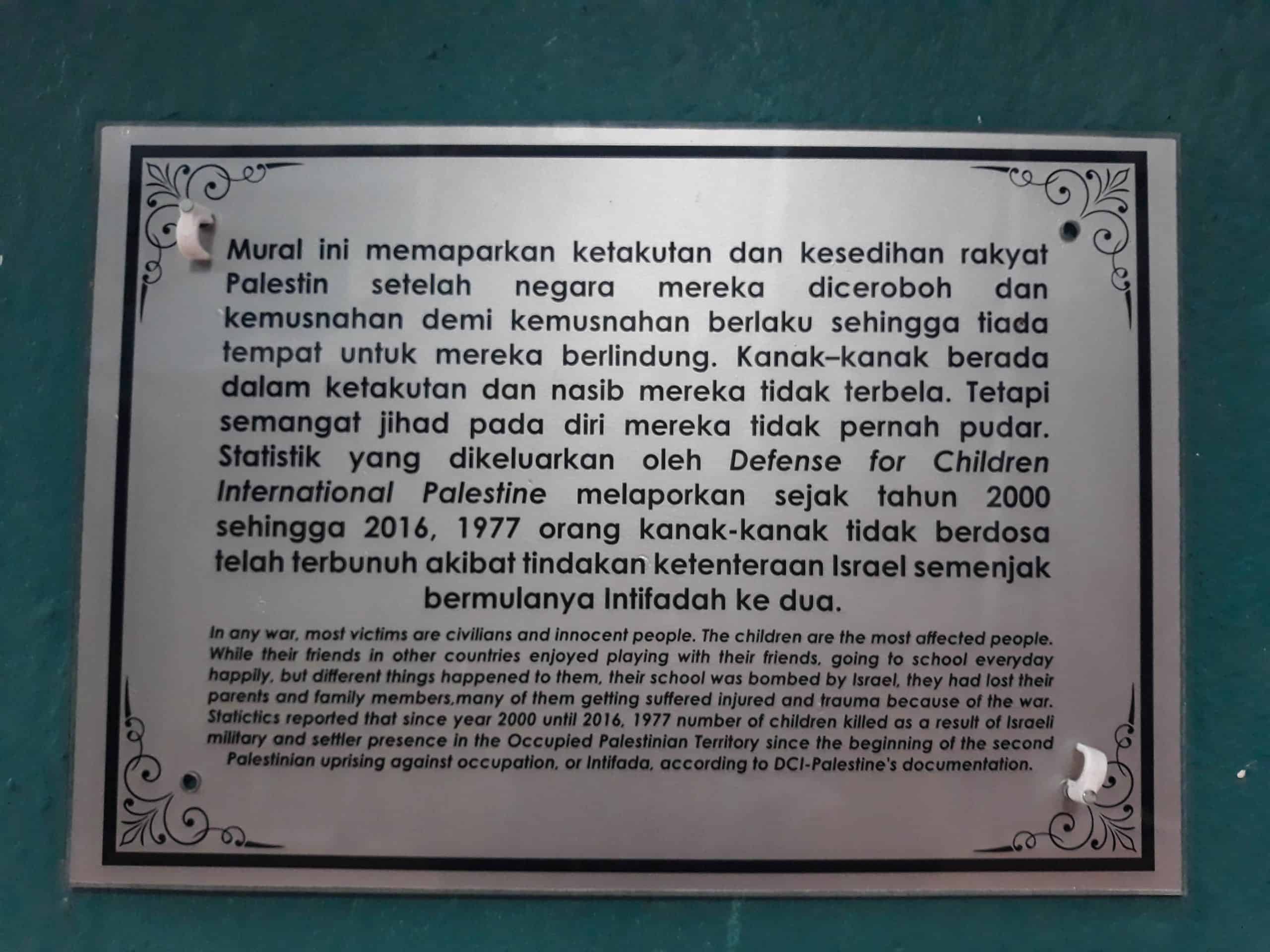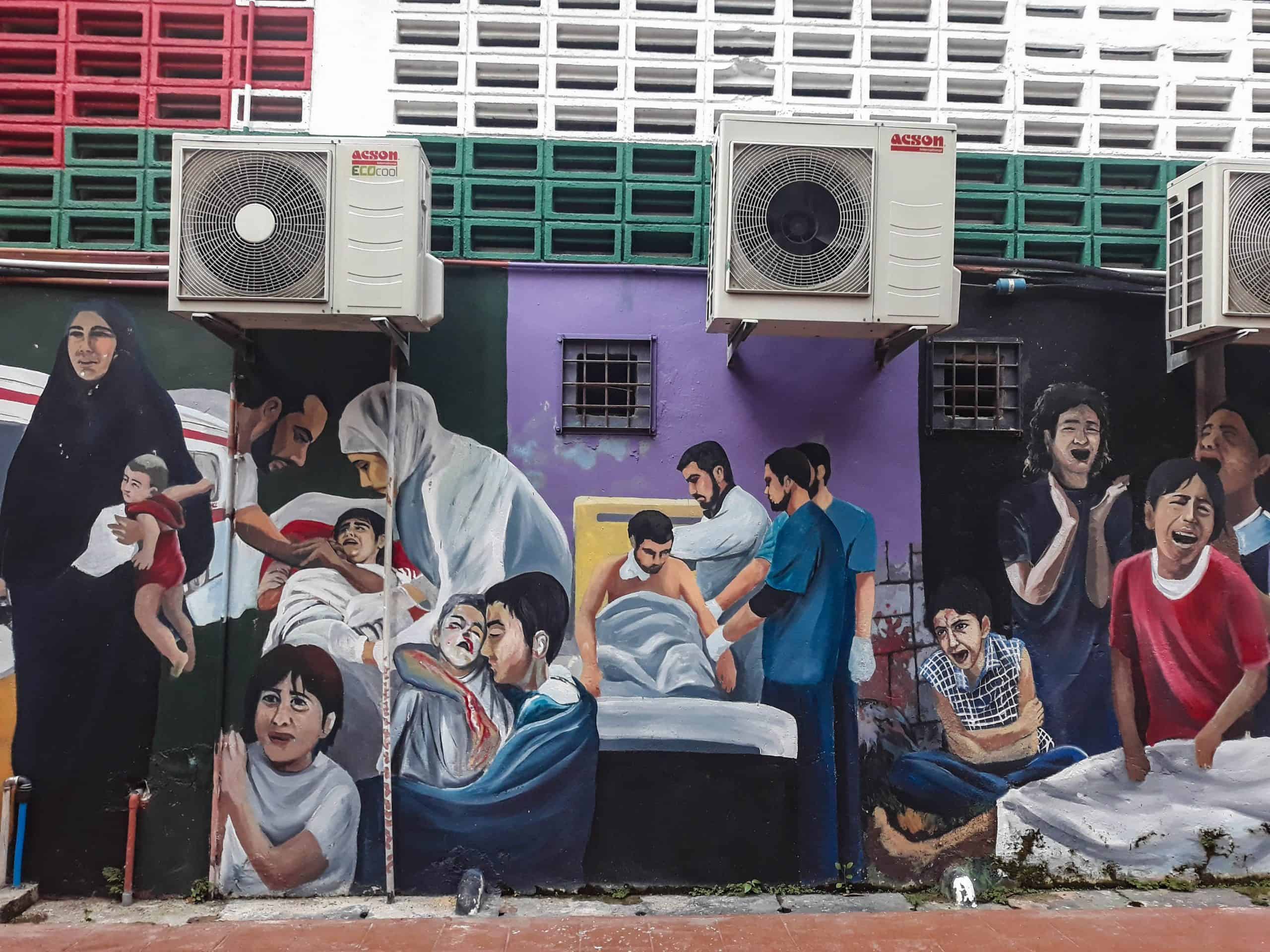 Nation's Pillars in Augmented Reality Mural
Across from the Palestine Mural archway entrance, at Jalan Ismail (next to the Syarikat Lea Thong shop), is Nation's Pillars in Augmented Reality Murals. I'm only mentioning them because they are there. In my opinion, they look odd and out of place. The images are part of an Augmented Reality phone app which was part of a Universiti Malaysia Kelantan research project.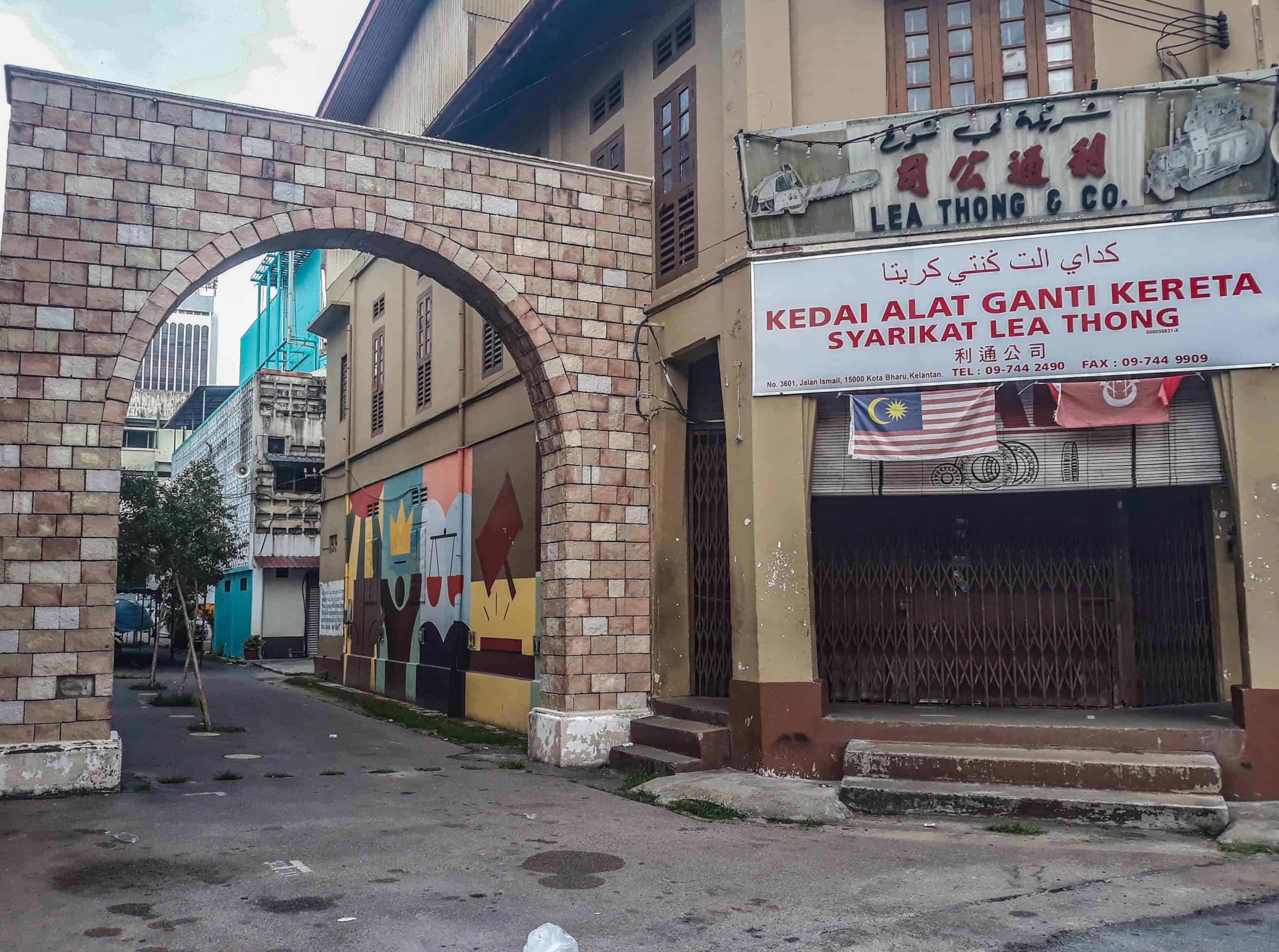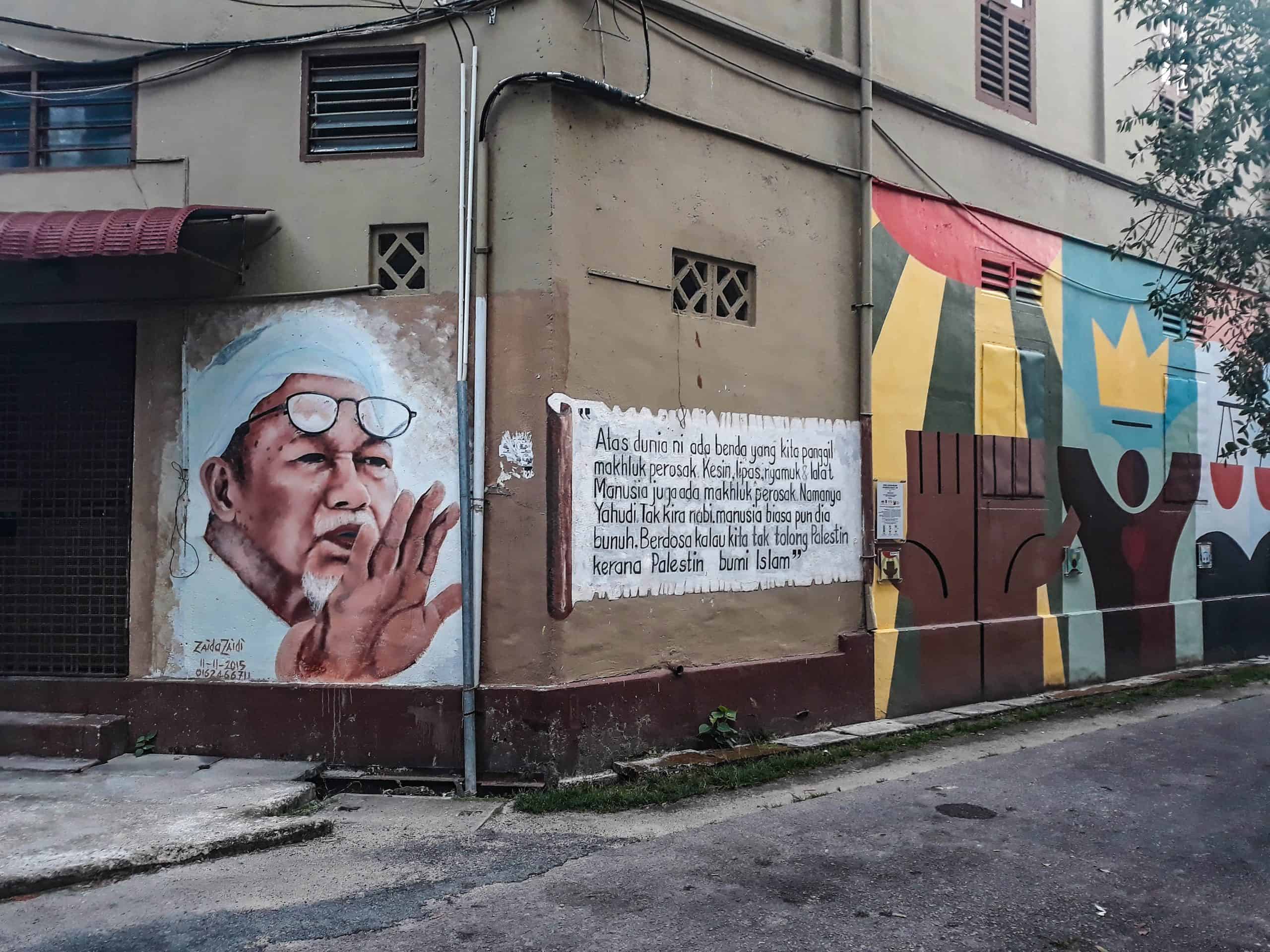 Funded by FRGS Racer, the project was led by Dr Tengku Fauzan Tengku Anuar and nine UMK students. I downloaded the app via Google Playstore and got no further than the warning page. I think the gist of the project is street art meets high tech and is somehow attempting to prove that street art is good for tourism. Obviously, a few years late to the party but more power to them. You can check out the Nation's Pillars AR app HERE.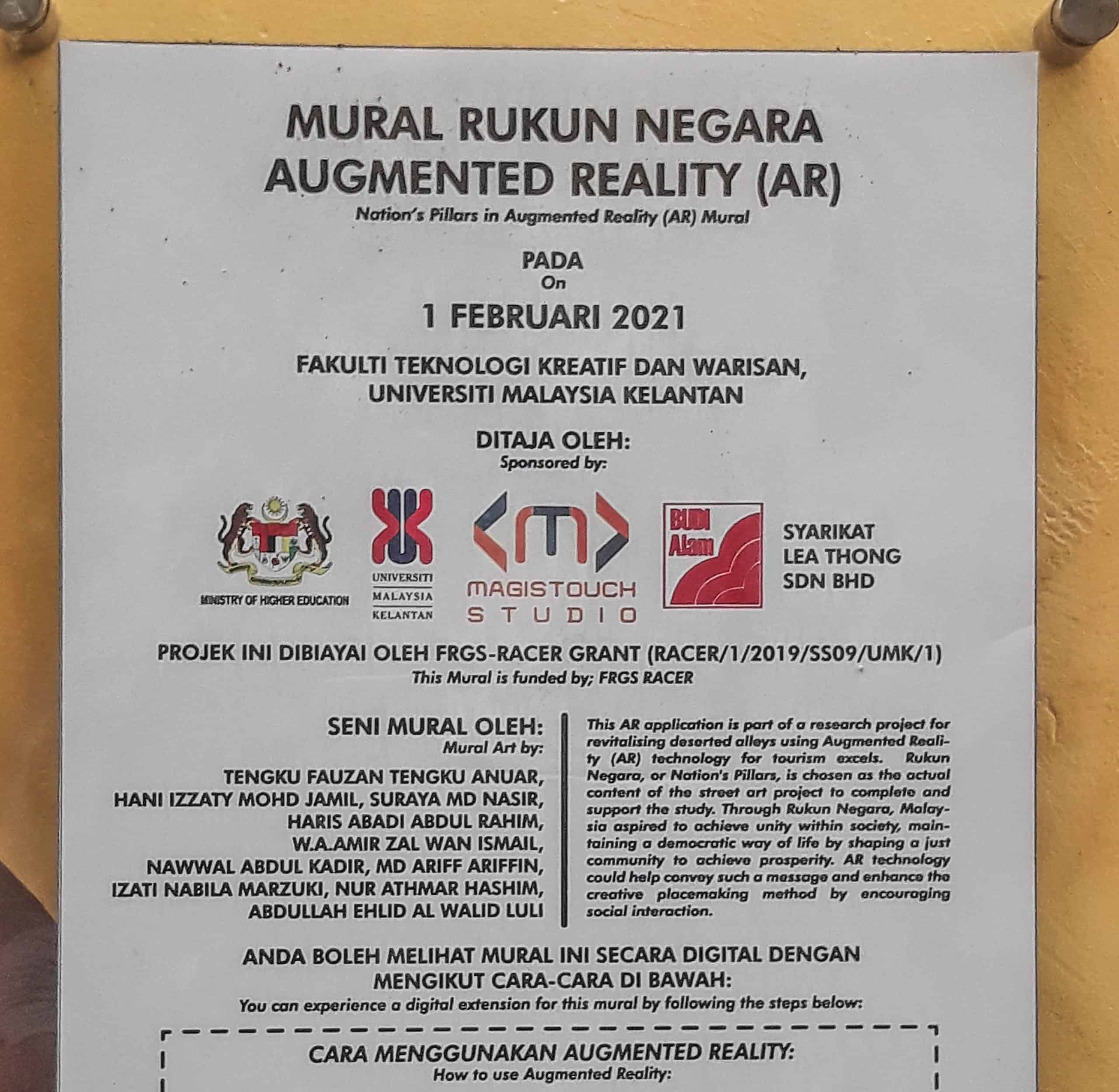 Laluan Budaya (Culture Lane) Murals
As a tourist (and occasional artist), the Laluan Budaya Culture Lane murals are by far my favorite of the 'archway' areas. The vibrant images depict everything I love about Kota Bharu. Larger than life paintings of kite making, gasing (top spinning), traditional dance, shadow puppetry and more.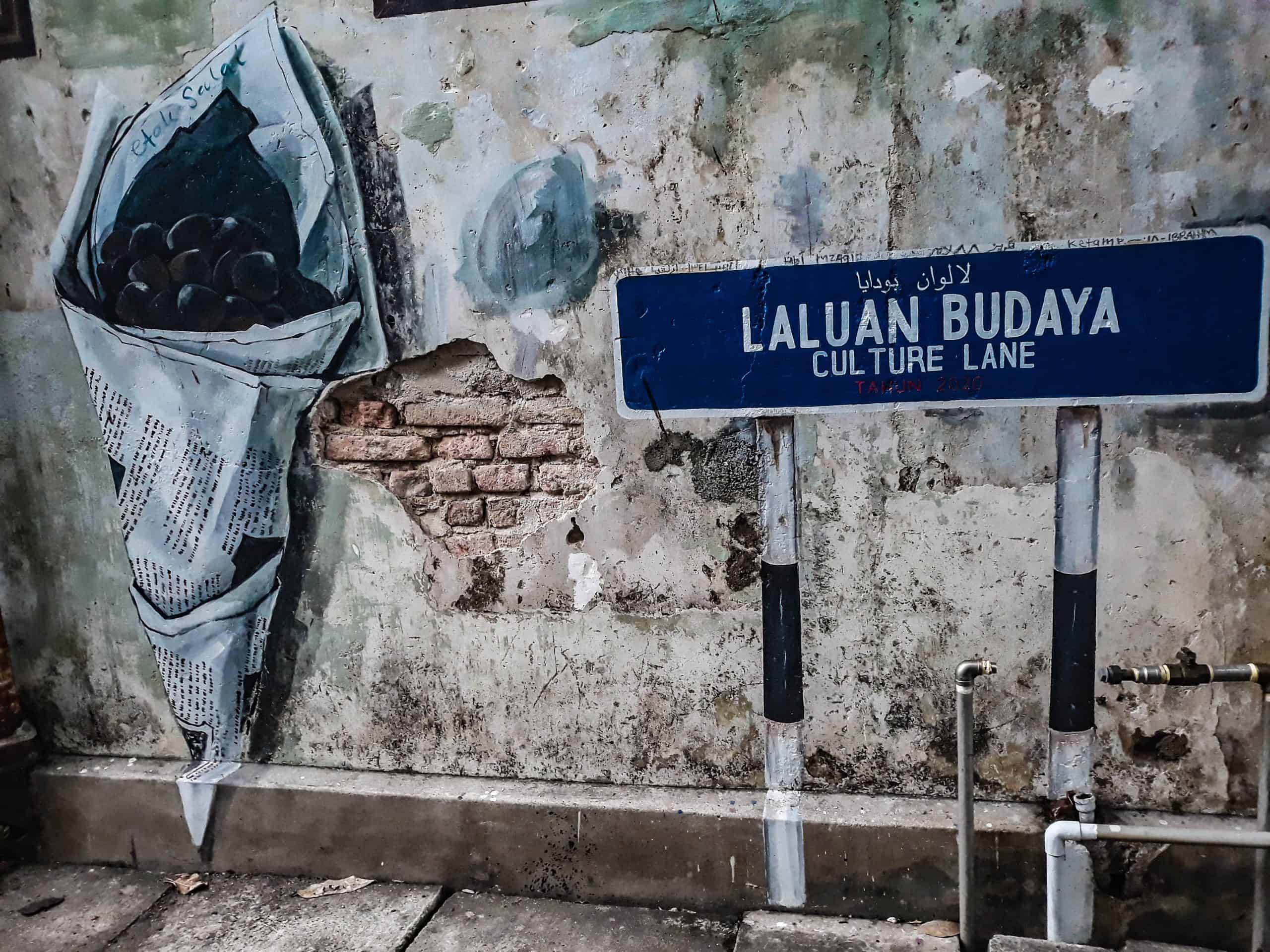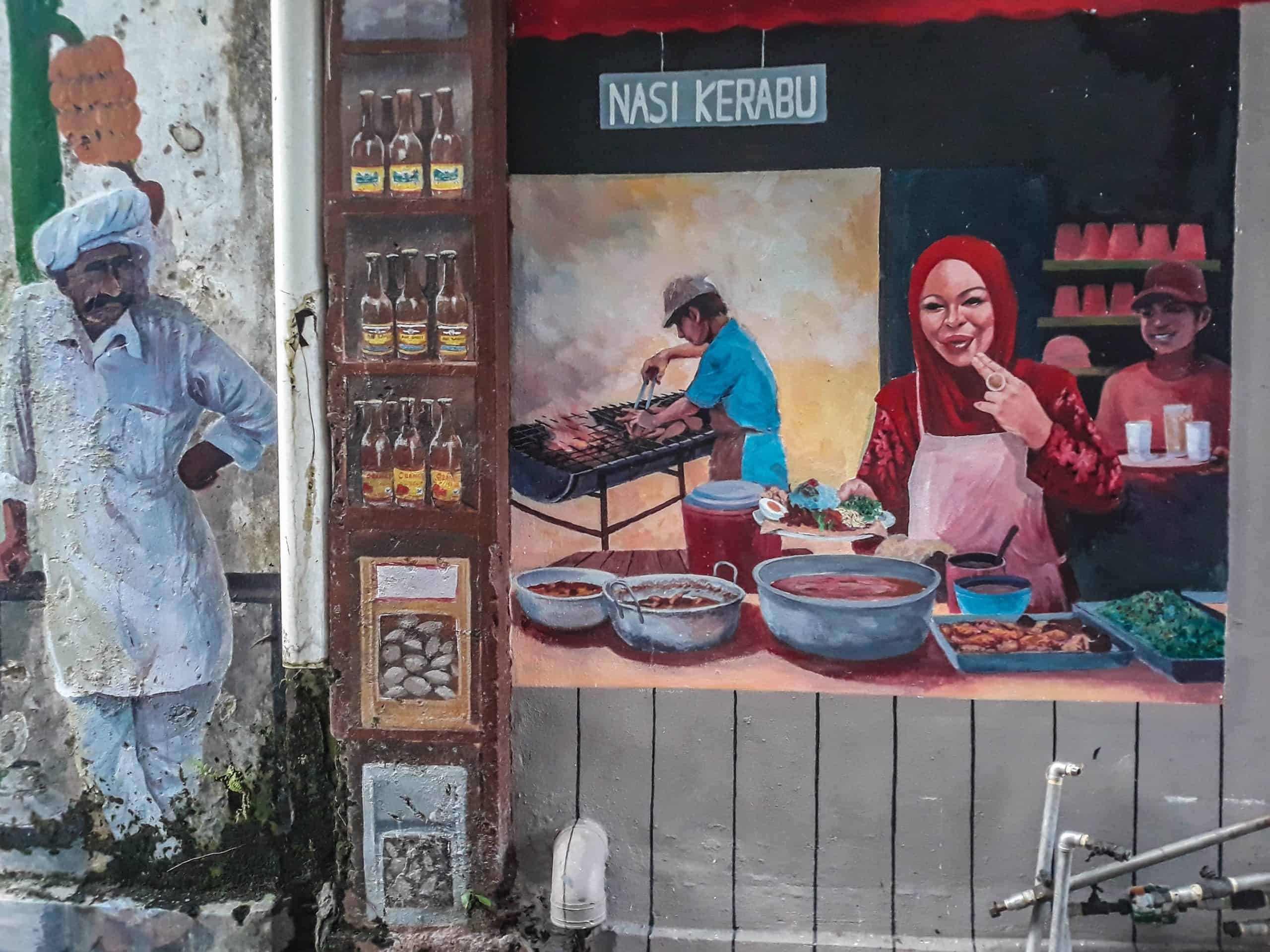 Despite the expertise of the work, I unfortunately could not find any information about the artists or who funded this alley project. But kudos to them all because it's fantastic. Definitely a must see. Look for these beauties at the archway entrance located at Jalan Temenggung next to Hock Teong Trading.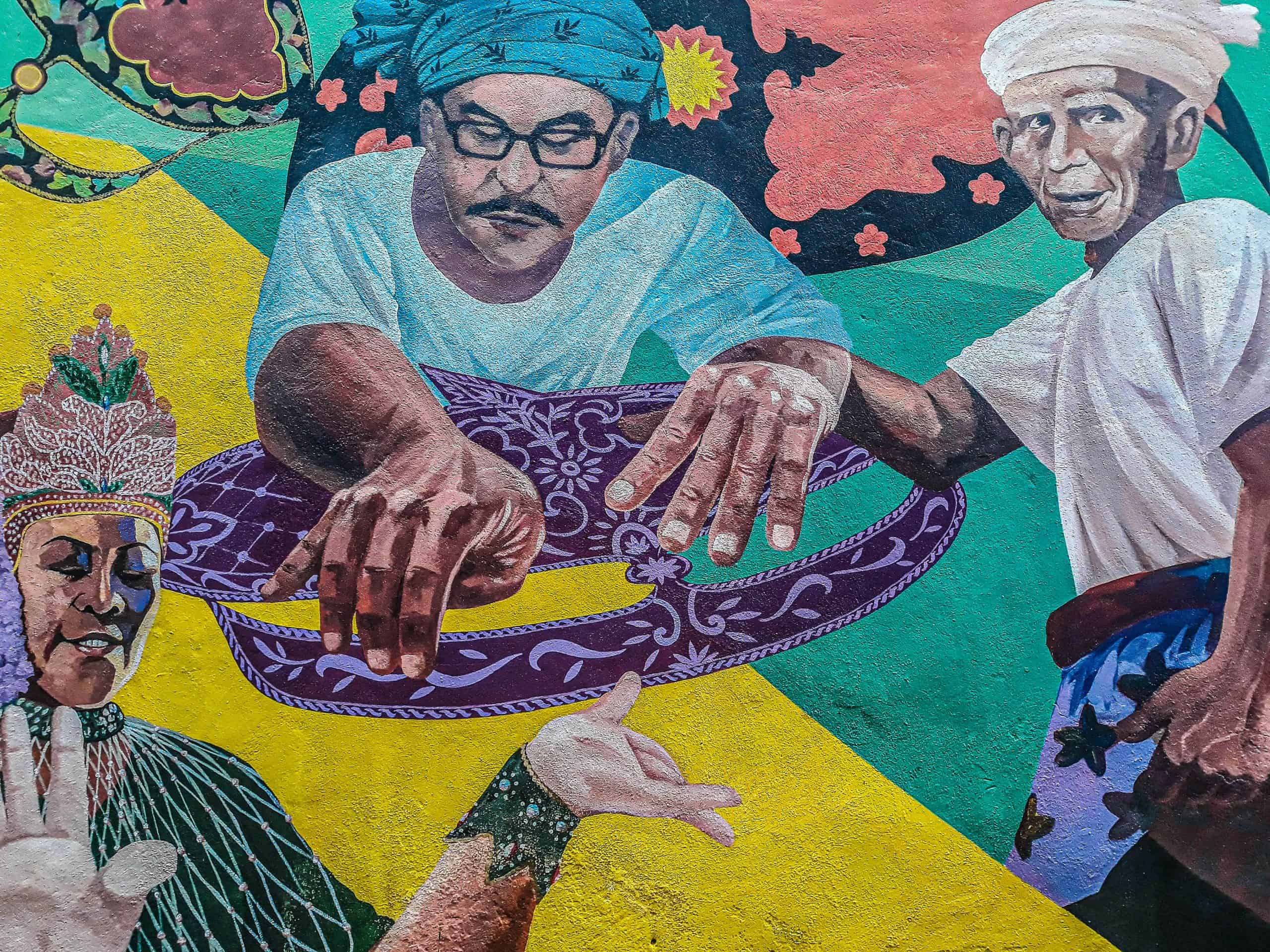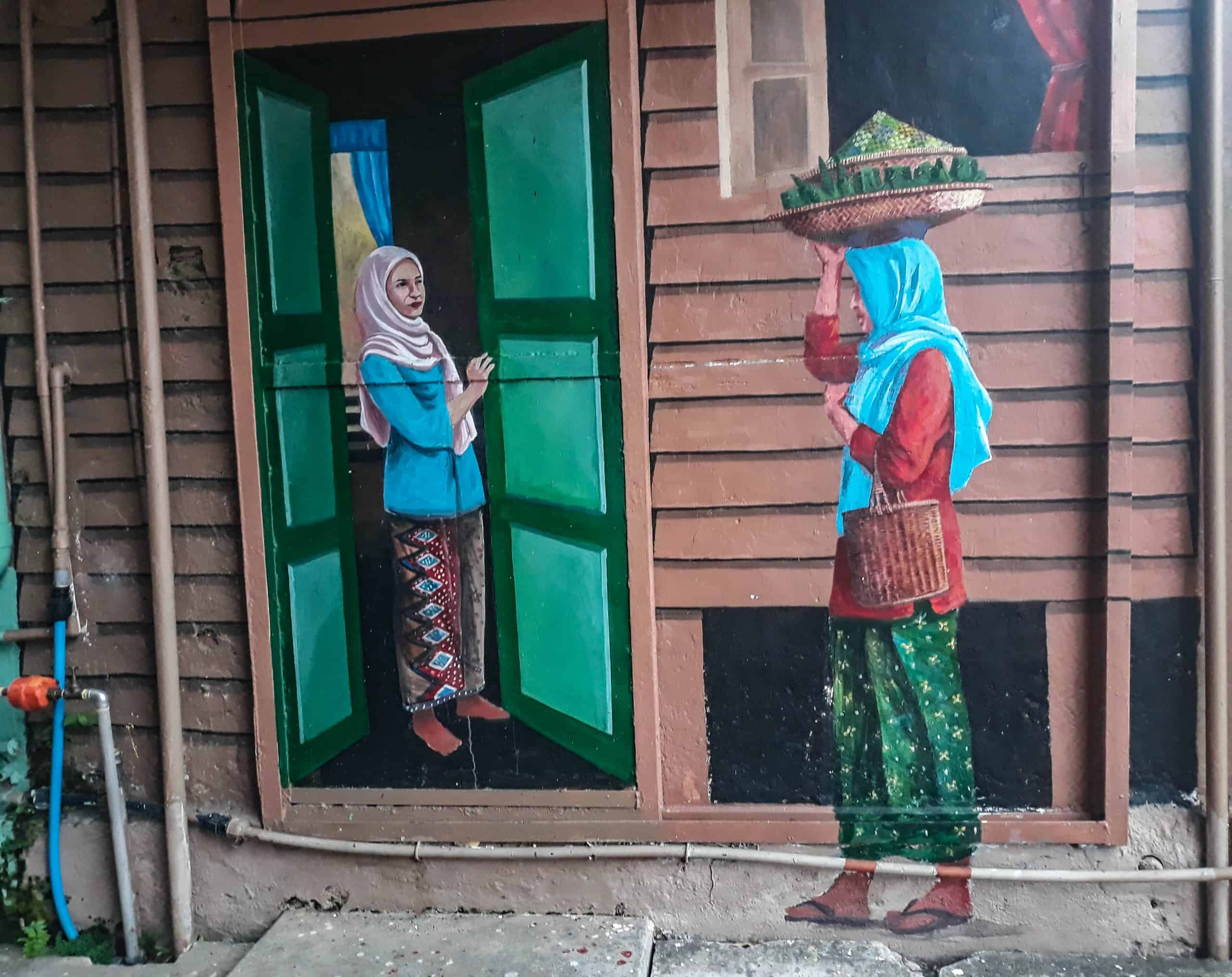 Other Noteworthy Kota Bharu Street Art Locations
Covid Mural
Funded by the National Art Gallery, Kota Bharu's Covid Mural is reportedly 80-feet in length. I didn't measure it, but it does cover an entire side building of Hotel Prince, adjacent to Jalan Temenggung . The theme of 'Together with Frontline Officers Tackling the Covid-19 Outbreak' was meticulously produced by artists Izzat Abdul Ghani and Muhammad Sayuti Rosli. The Covid Mural is a beautiful work of art and photo-op. Be sure to get there early (or non-work days) if you want to capture the image without cars parked next to it.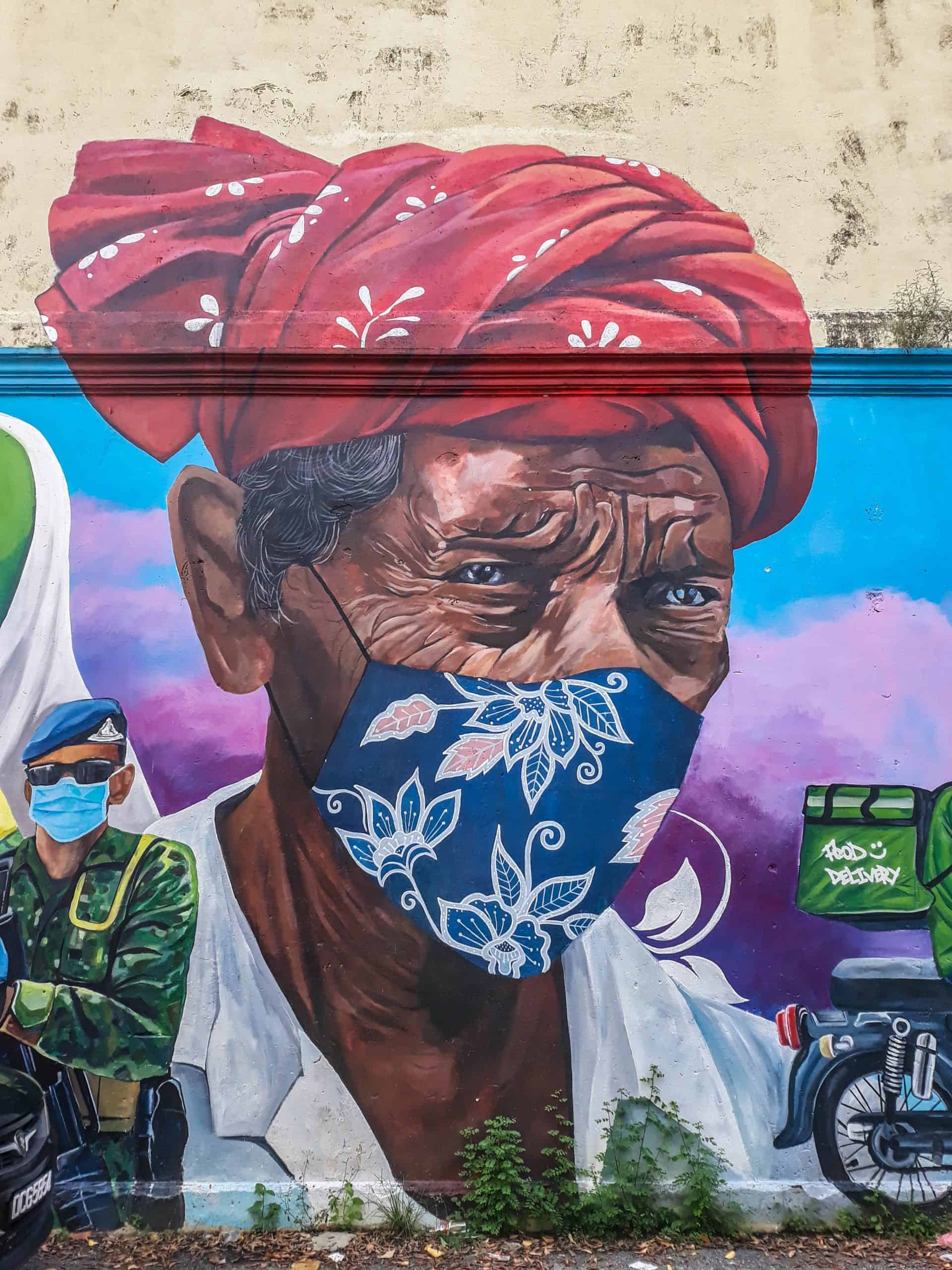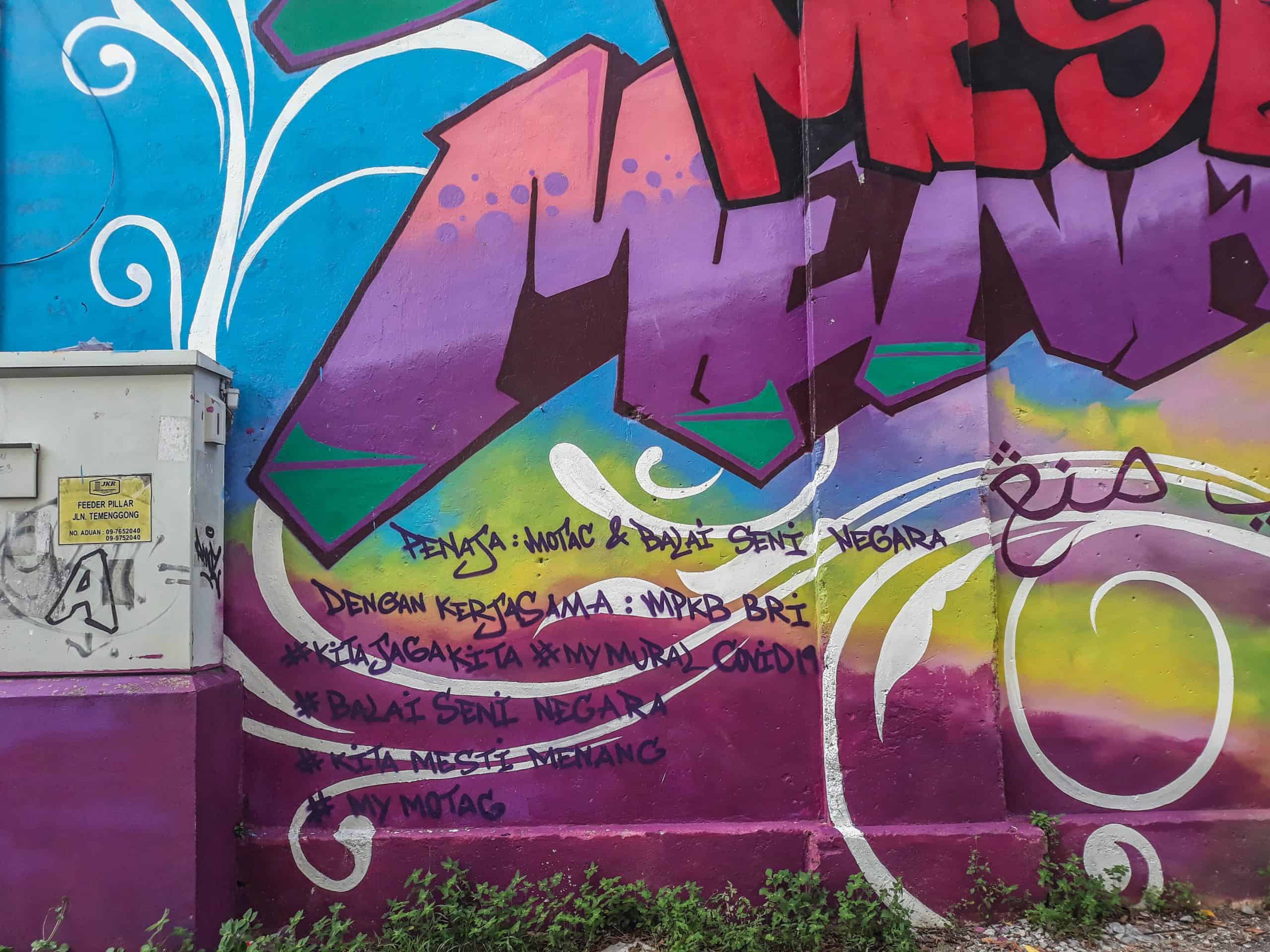 Jalan Tengku Besar Murals
Two blocks up from the river, on Jalan Tengku Besar across from Padang Merdeka (park) is a colorful, interactive mural that appears slightly unfinished. The excitement of Visit Malaysia 2020 was obviously interrupted when Malaysia went into national lockdown in March 2020. Despite a few missing feet and chunks of background, the culture themed murals still beckon tourists to join them in a photo op.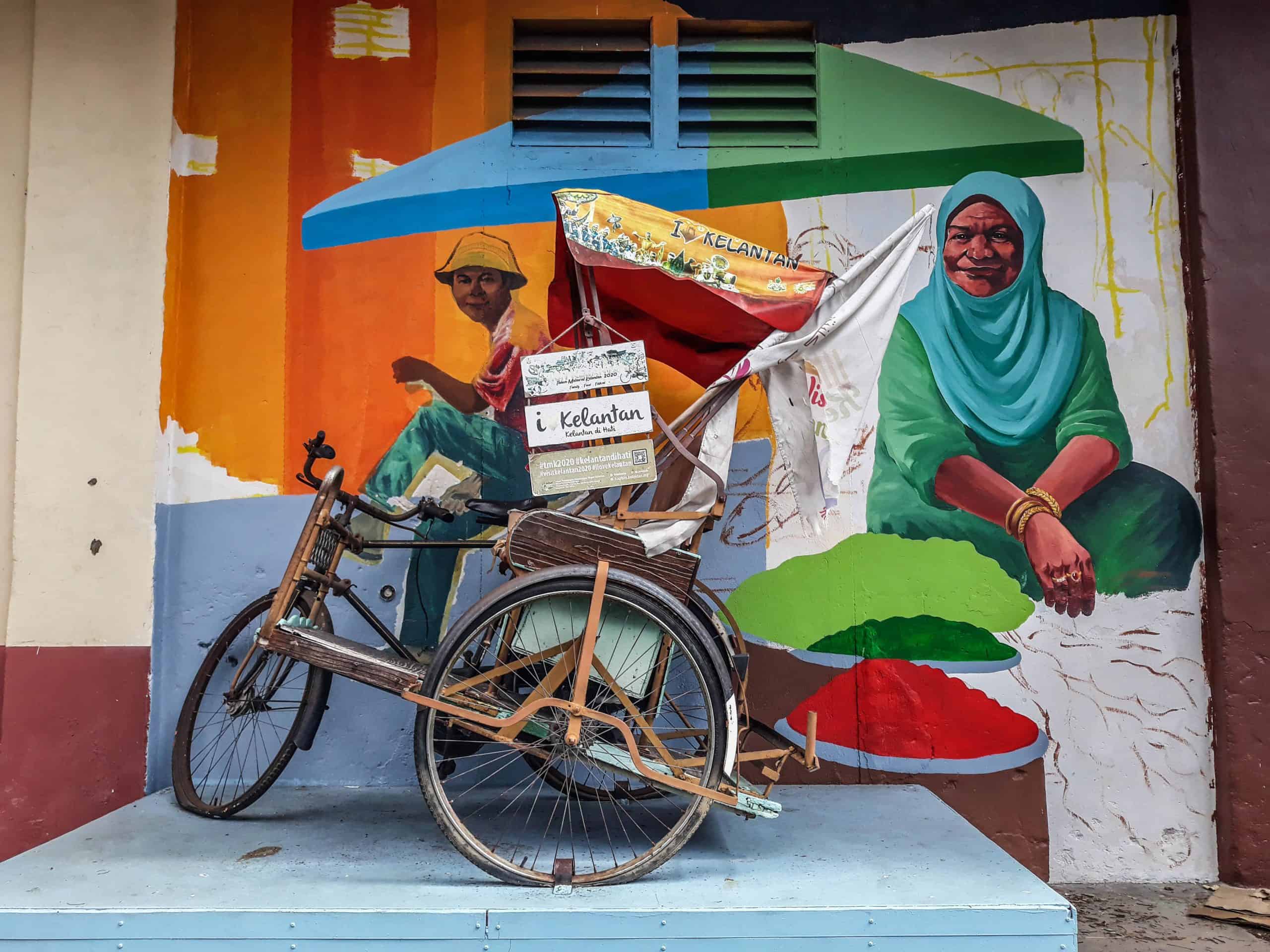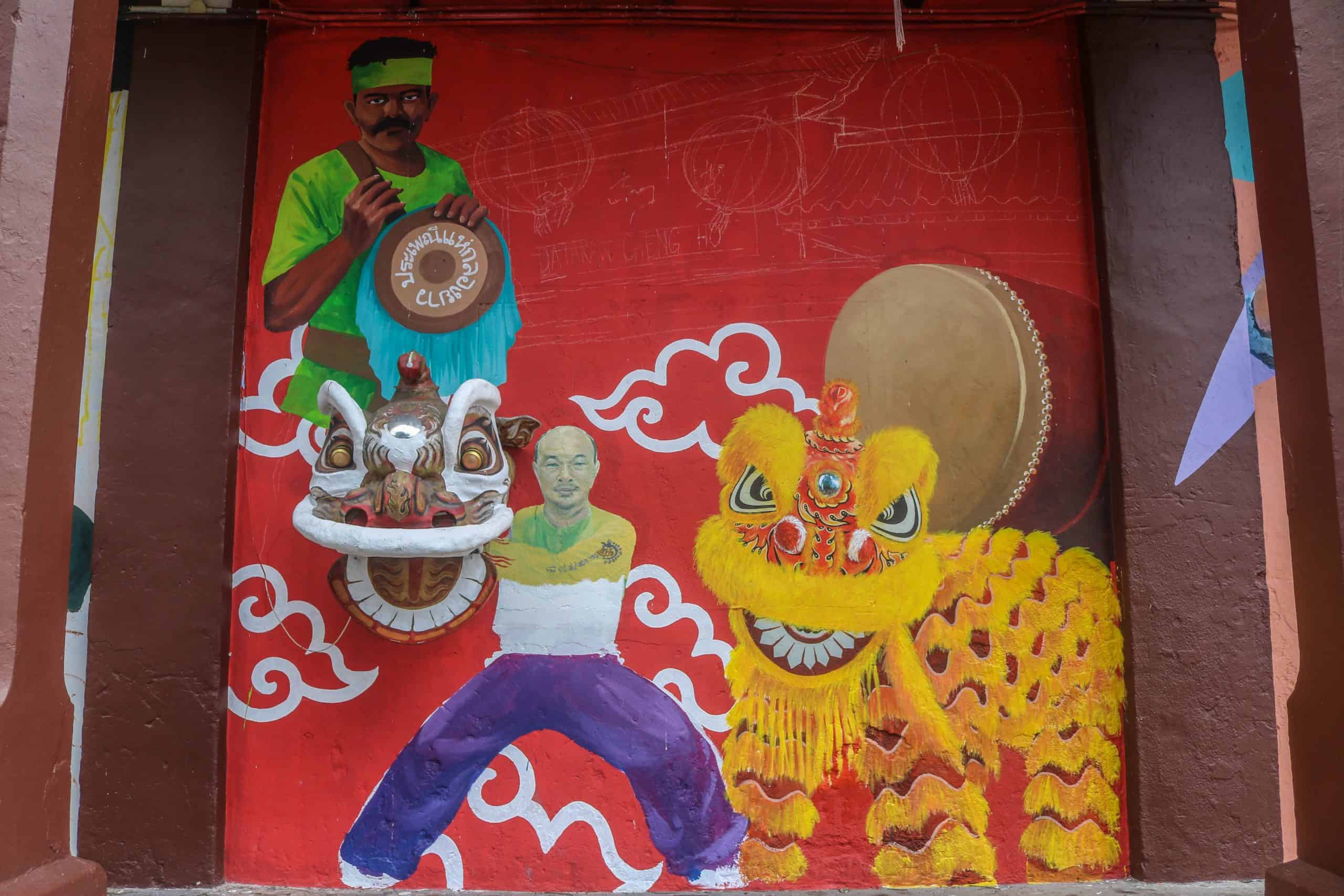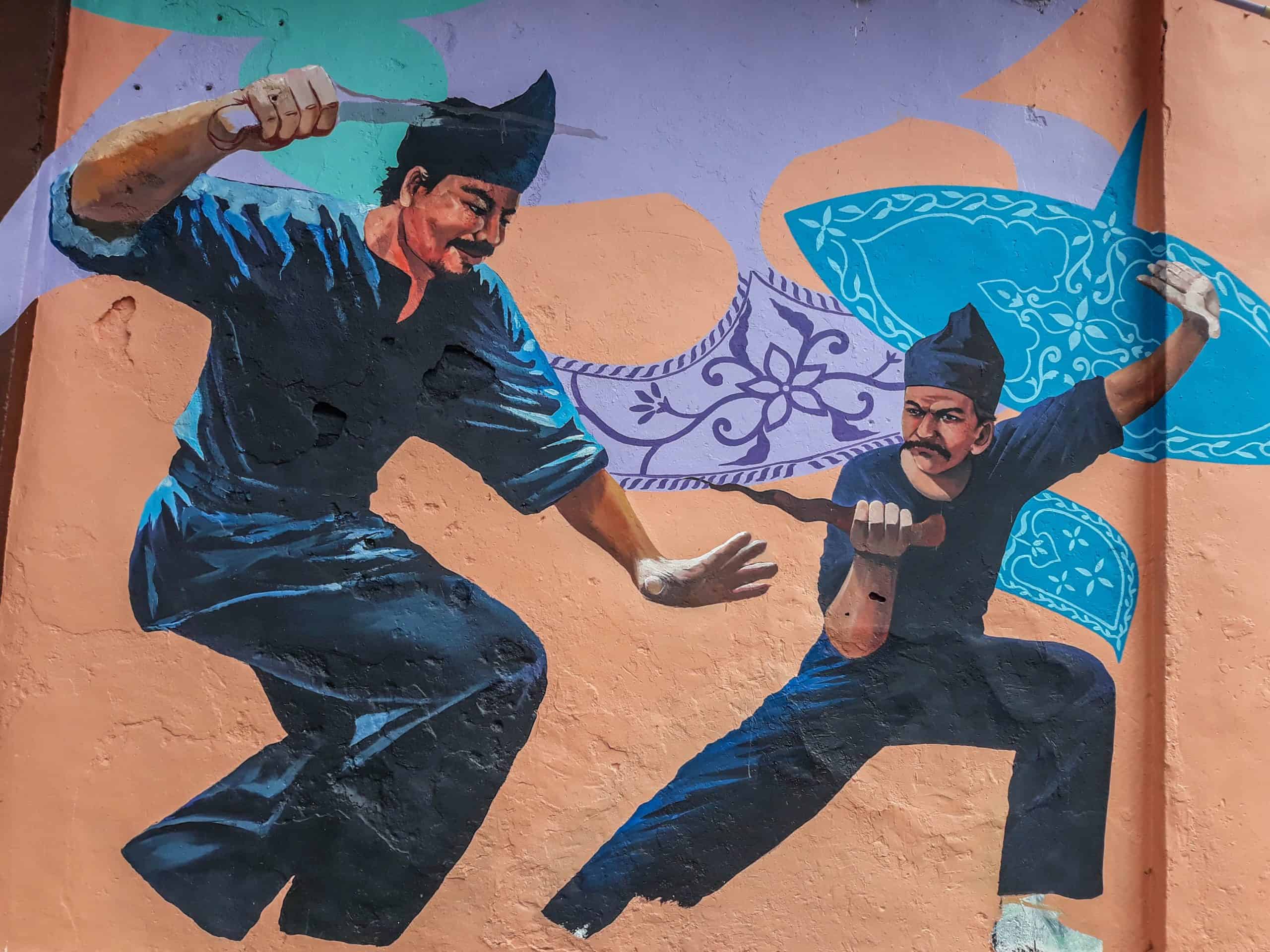 Siti Khadijah Market Mural
A colorful addition to the exterior of Kota Bharu's Siti Khadijah Market is this mural of a market woman; painted by local artist Asmadi Yasin in 2016. An appropriate image considering the 4-level market is run primarily by women. The famous wet market was named after the Prophet Muhammad's wife and has been open for an impressive 37 years. The Siti Khadijah Market mural can be seen at the Jalan Buluh Kubu entrance, next to Masjid Al-Baro'ah Mosque.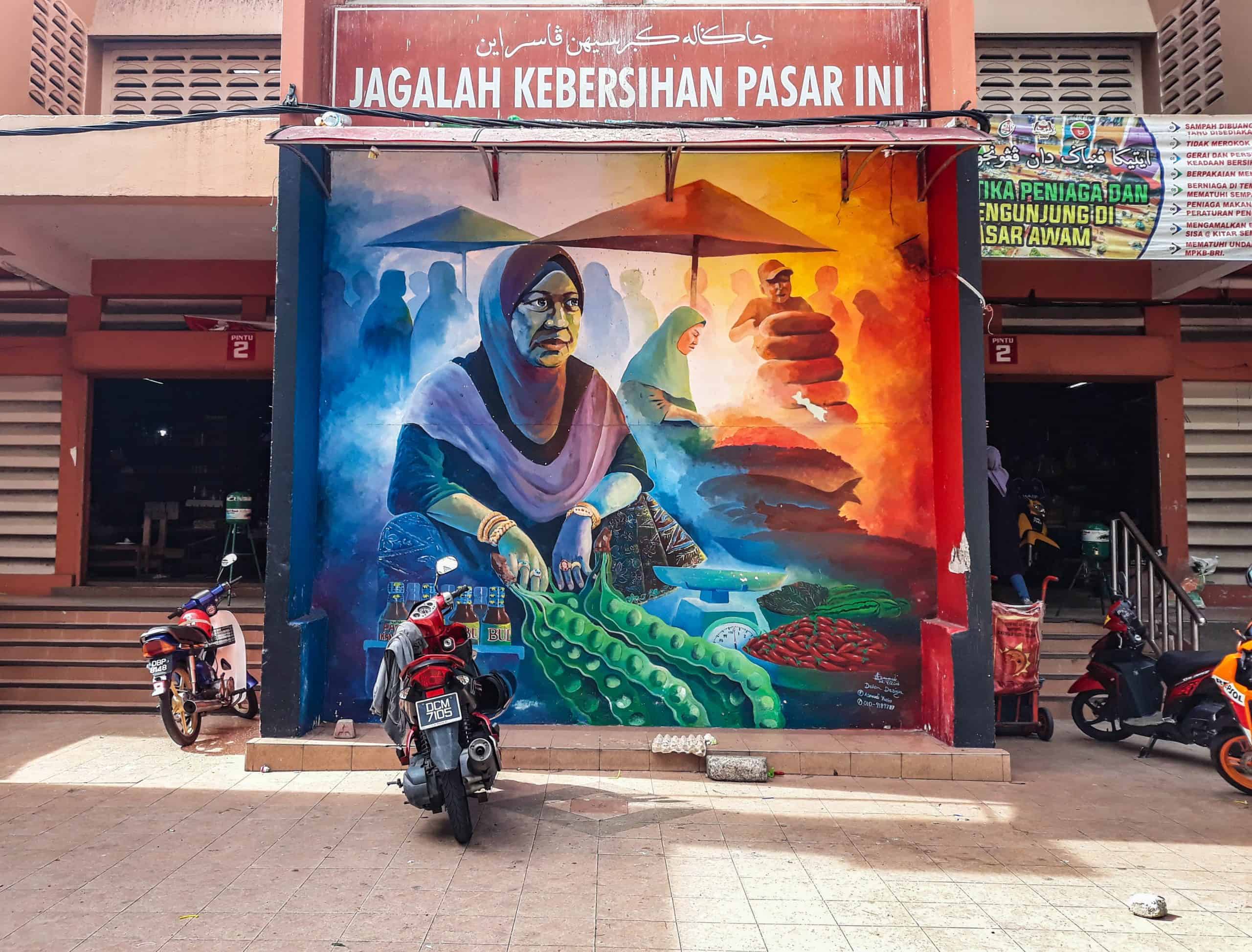 Hokkien Huay Kuan (Hokkien Association of Kelantan)  Mural
The bright yellow Hokkien Huay Kuan (Hokkien Association of Kelantan) is tucked in near the corner of Jalan Buluh Kubu and Jalan Sultanah Zainab. At first glance it looks like a small restaurant and perhaps even doubles as one, on occasion. Festive Chinese lanterns festoon one side of the building and a delicate rendition of a plate of local cuisine is on the other side. Local artist Chua signed his culinary work of art in 2015.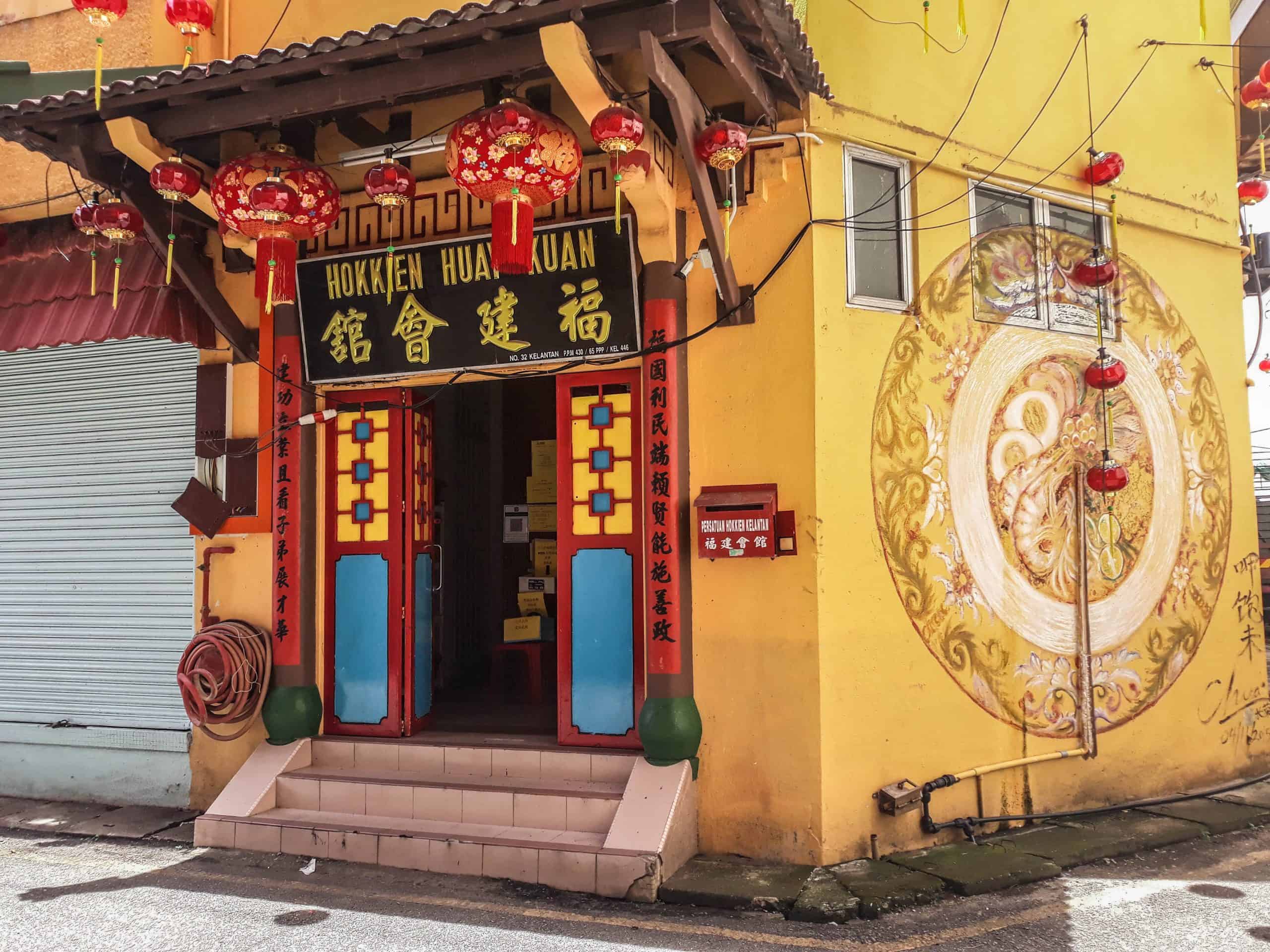 Che Wok Hotel Mural
Tasteful murals are becoming the norm in Kota Bharu with even small local shop owners adding business related artworks to their exteriors, such as the Che Wok Hotel and this jewelry shop; both works by local artist Asmadi Yasin. These, and the above mentioned Kota Bharu street art sites are within relatively easy walking distance of each other. Other than dodging a bit of traffic here and there, the street terrain is wheelchair and stroller friendly as well.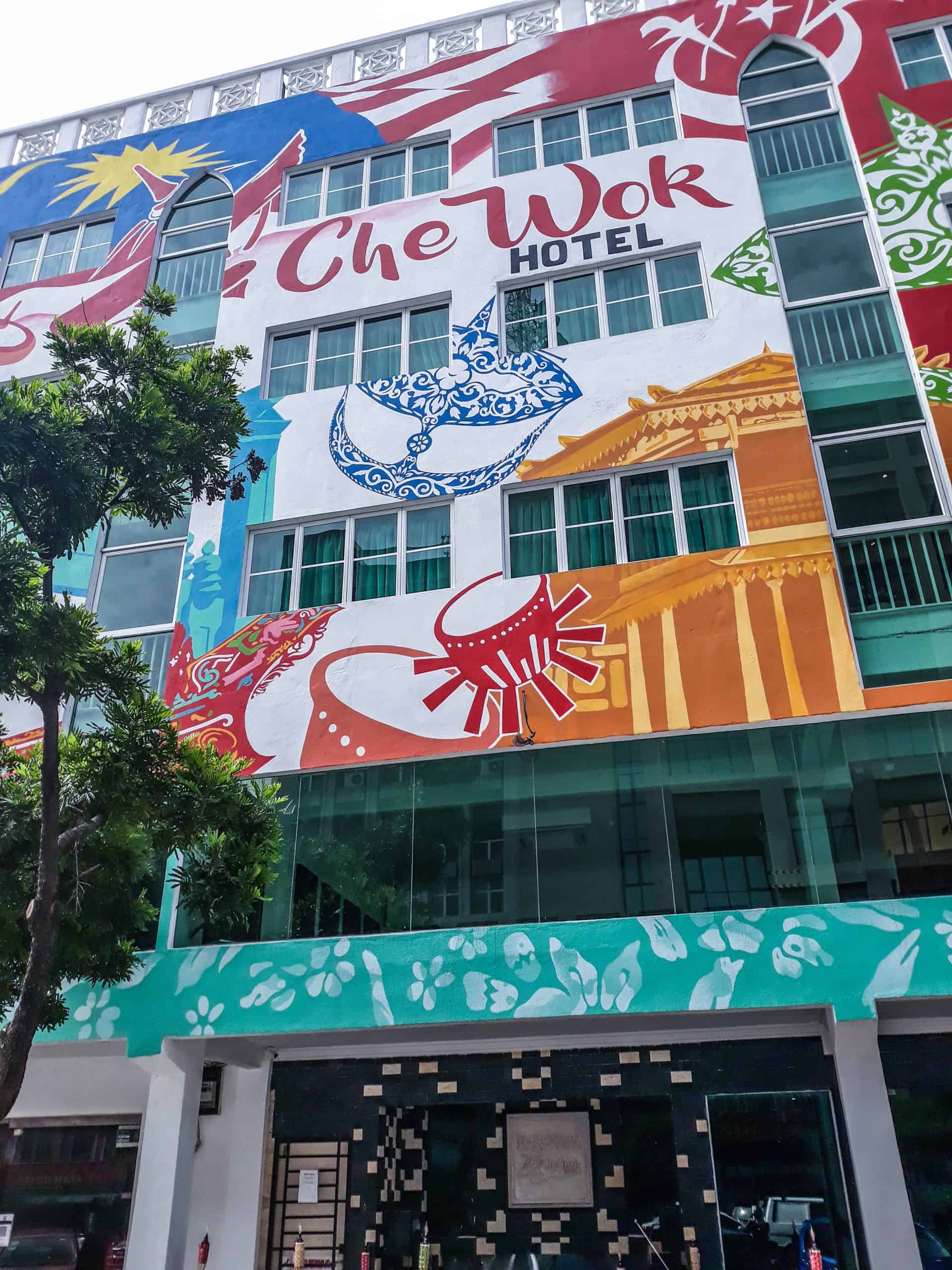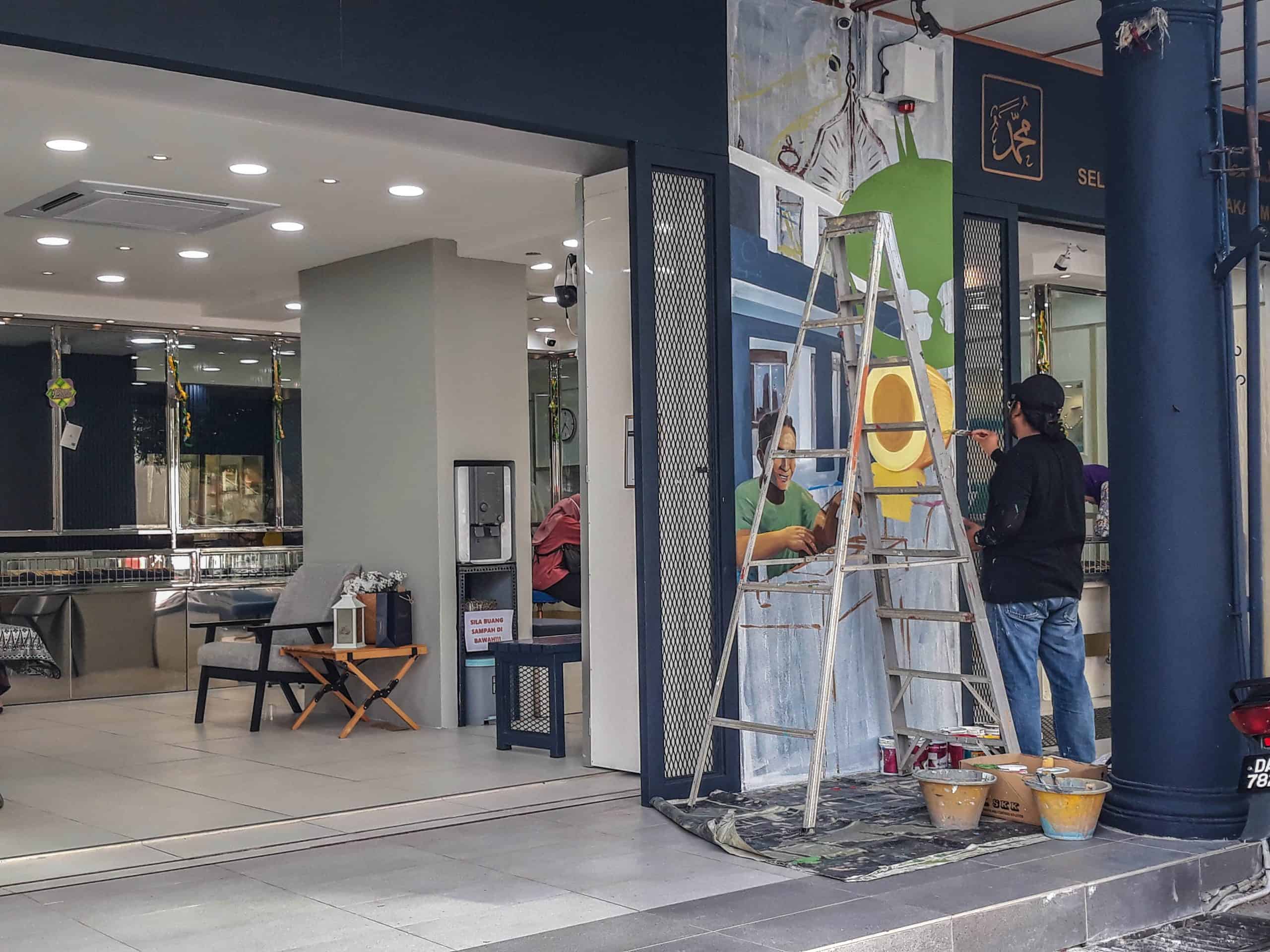 Regardless of your interest in the arts, you will definitely learn a few things about Malaysian culture and heritage from Kota Bharu's various works of street art. If you are a big street art fan, be sure to check out these other fabulous Malaysian street art locations highlighted in 5 Cities to See Unique Street Art in Malaysia; a post I wrote while waiting to return to the streets of Kota Bharu. Happy street art hunting!