Malaysia has taught me many things about culture, language, food, agriculture, and even history (which isn't something I've ever had much interest in). And I've picked up many pearls of wisdom is some very unlikely places. One such place being local markets. Shopping at local markets in Malaysia can be an experience one doesn't soon forget. Especially for newbie visitors who are accustomed to the conveniences of more typical, contemporary grocery stores and specialty shops.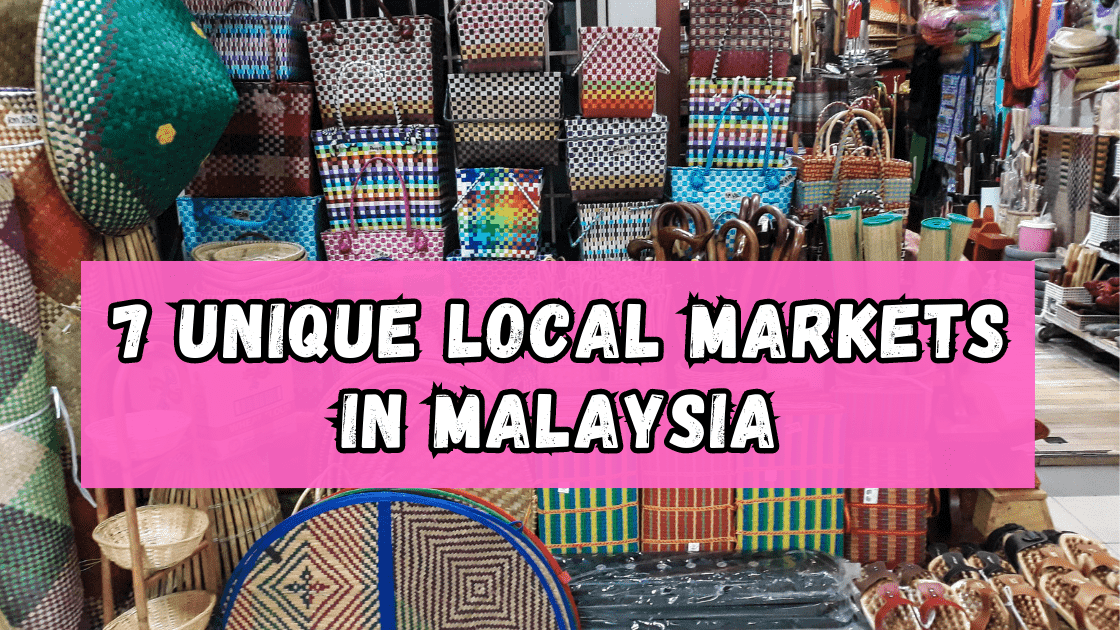 Wet markets, flea markets and street markets are very popular shopping venues among Malaysian consumers, not just for the bargains they can find, but the diverse selections as well. From special locally made belecan (shrimp paste) to hand woven baskets to mysterious medicinal eel oils, you just never know what you will discover at Malaysia local markets.
Location can also be a factor in local Malaysia market goods too, because different states have their own specialties. Which is why if you are traveling through Malaysia, you should add local markets in Malaysia to your itinerary. Because you will discover the heart of that particular location. Here are 7 local markets in Malaysia, that I think you'll love as much as I do.
Nat Pokok Getah (Morning Market)
Kampung Kubang Paya, Perlis:
Nat Pokok Getah (Morning Market) is possibly one of Perlis' best kept secrets. and one of my absolute favorite local markets in Malaysia. It's held every Friday and Sunday from 07:00 to 13:00 at a vast rubber plantation in Kampung Kubang, Arau. Sunday is the most popular of the two days, so try to come early to beat the crowds. Also be sure to go with an empty stomach, because there will be ample opportunity to try local foods.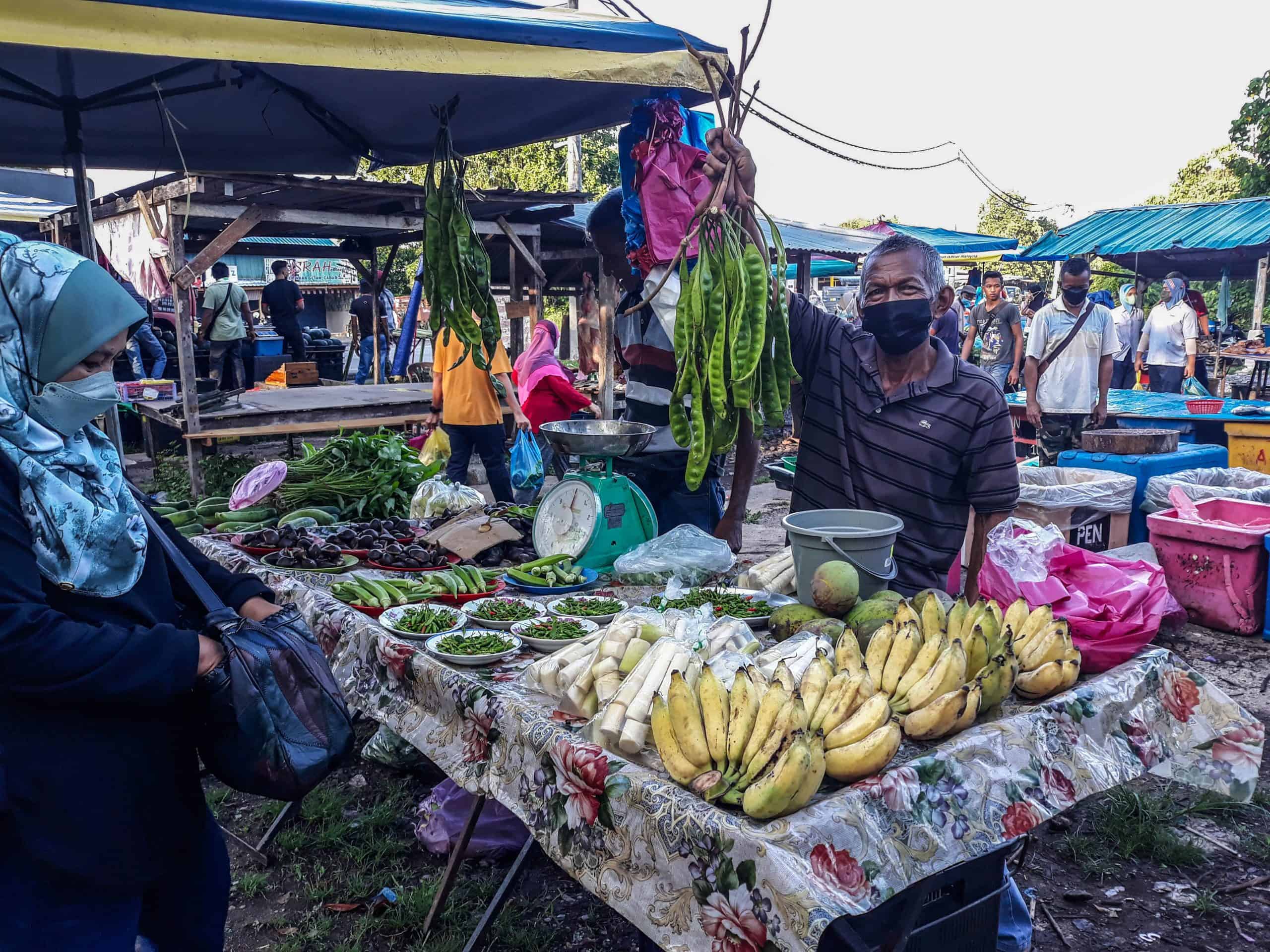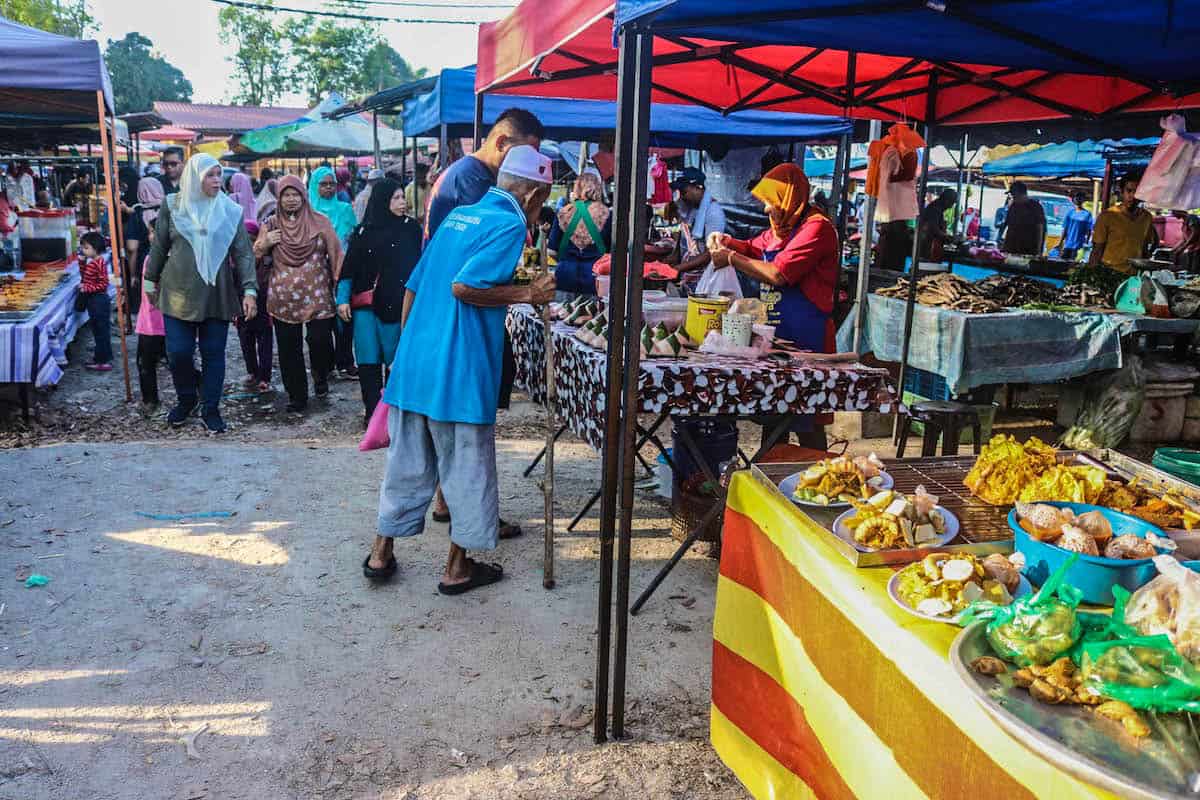 There are two sections to this market; one section focuses on meats and produce and the second section (across the road) is a smorgasbord of everything else. From clothing, plants and tools to herbal remedies, antiques and even homemade knives. You name it and Nat Pokok Getah probably has it.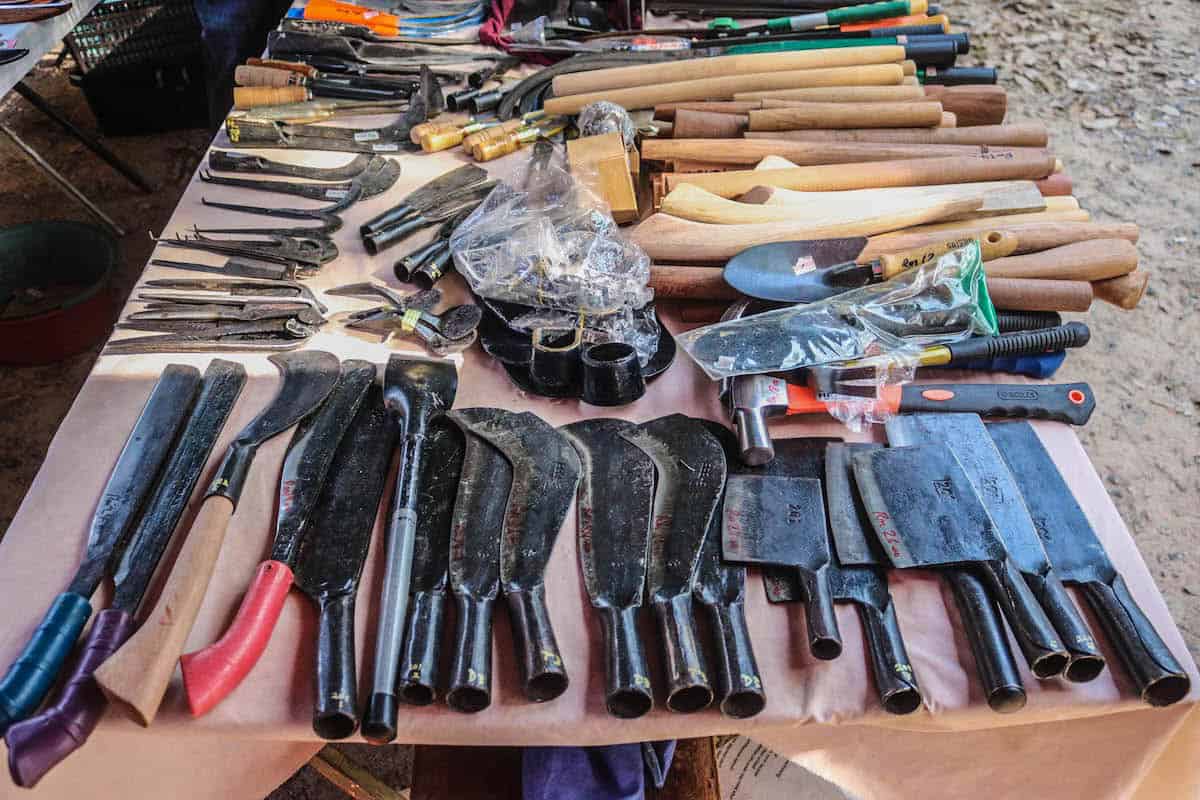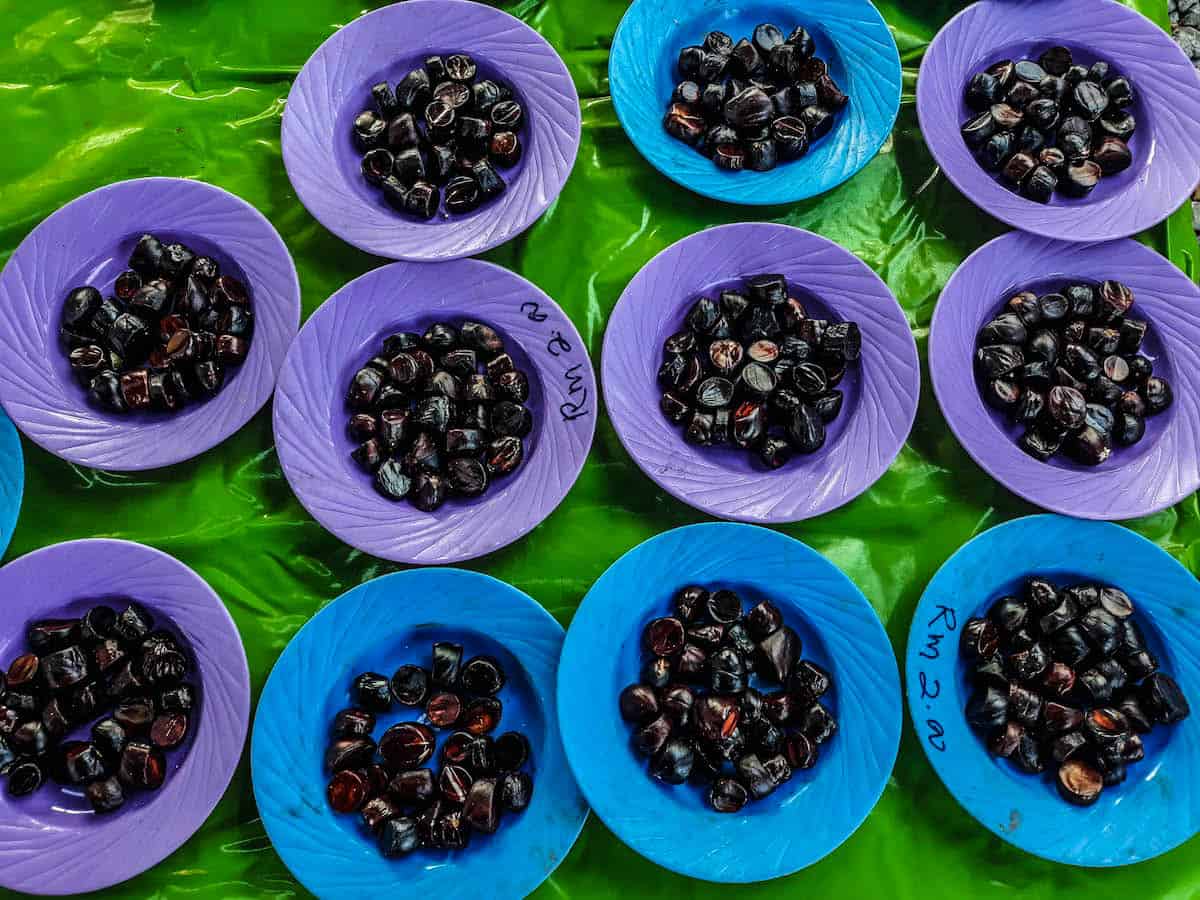 One of the interesting aspects of this market is its name. The word "nat" is a Thai loanword that means "market" in both Thai and Malay. While most Malaysians refer to morning markets as pasar pagi (morning market), the local people in Perlis and Kedah often refer to morning markets (specifically) as "nat".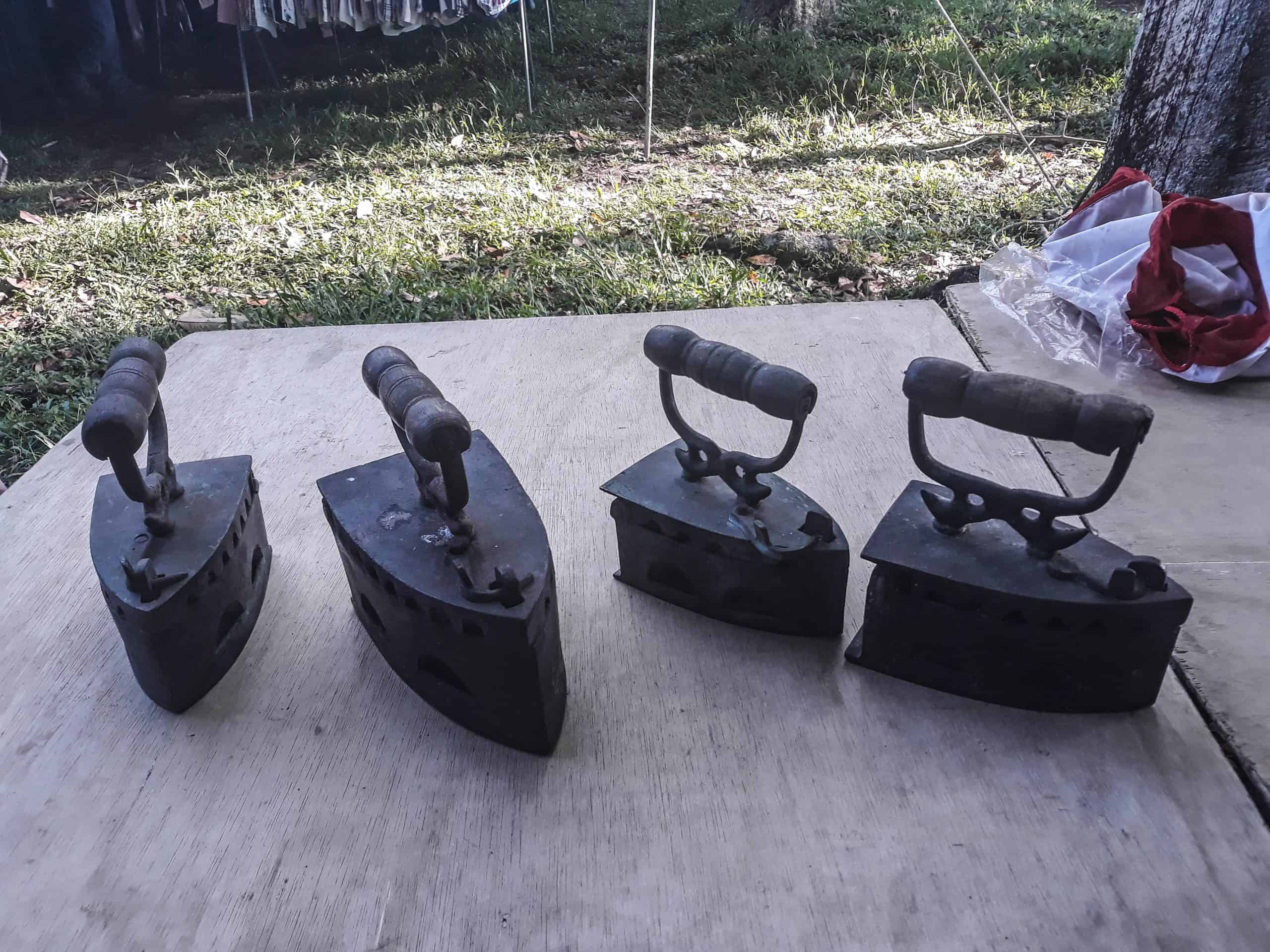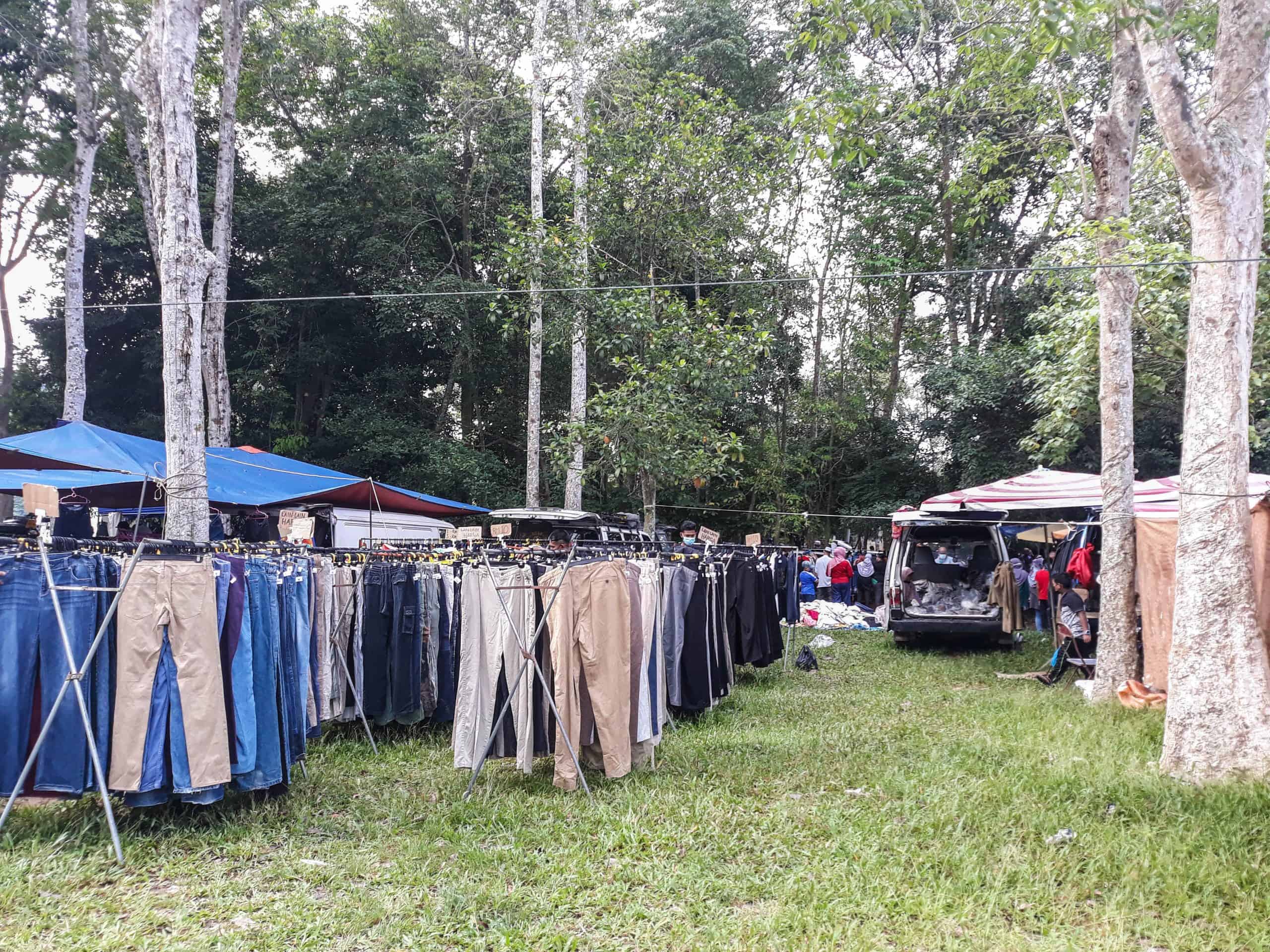 Nat Pokok Getah alone is worth a visit to Perlis because it's fascinating. You'll also find some great prices on just about everything available. The festive atmosphere will also put a smile on your face. Can read more Nat Pokok Getah here: Nat Pokok Getah, King of Perlis Flea Markets
– Nat Pokok Getah, Kampung Kubang Paya, open Friday and Sunday 0700 – 1300, 017-559 6751
Pekan Rabu (Wednesday Market)
Alor Setar, Kedah
Pekan Rabu (which means Wednesday Market) can be a mystery for first timers due to seemingly erratic hours of operation, but timing is everything. Although the hours of operation are posted as 1000-2000, I've personally found many shops closed when I arrived both at mid-day and late afternoon. But it's worth being persistent, because you'll eventually get your timing right.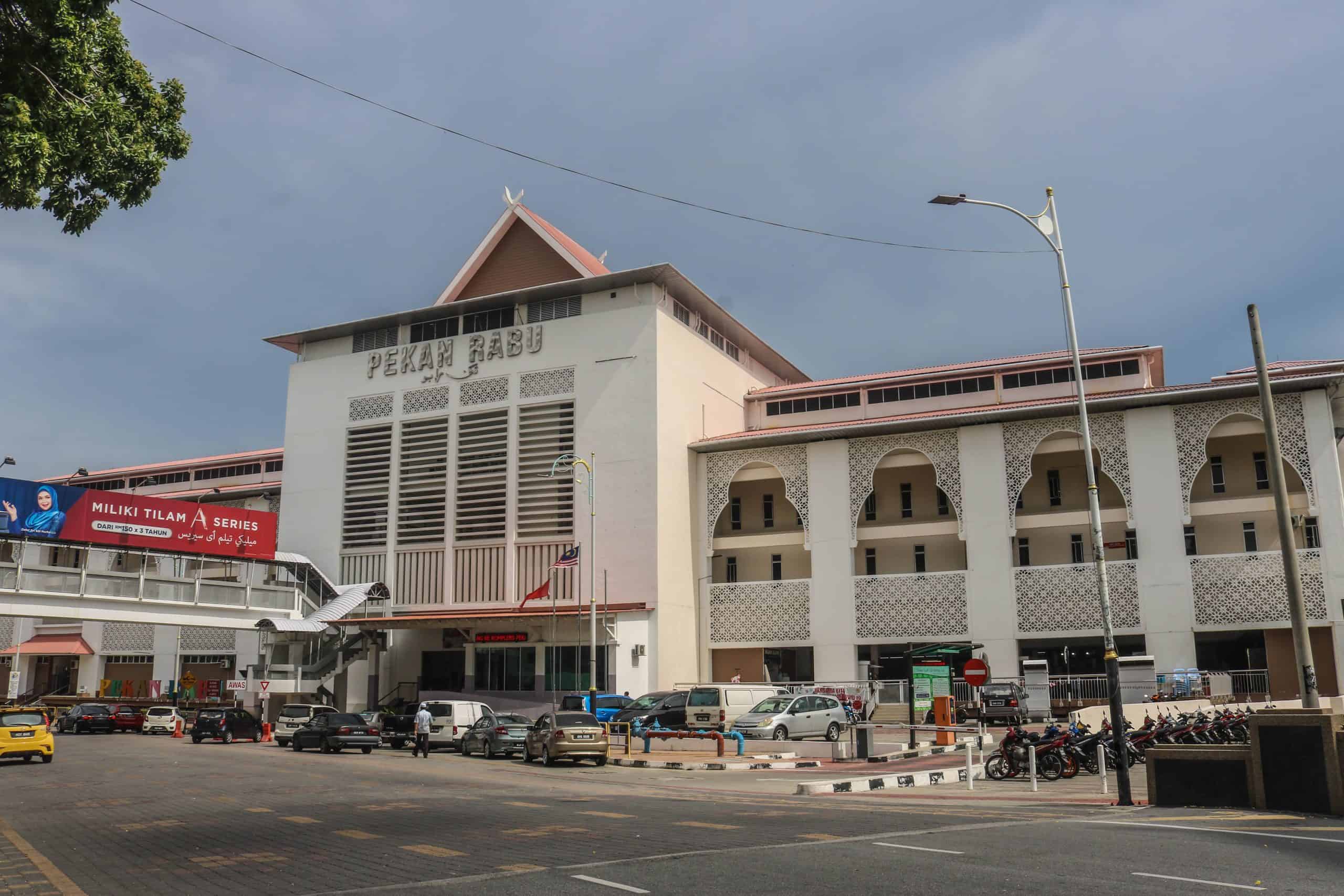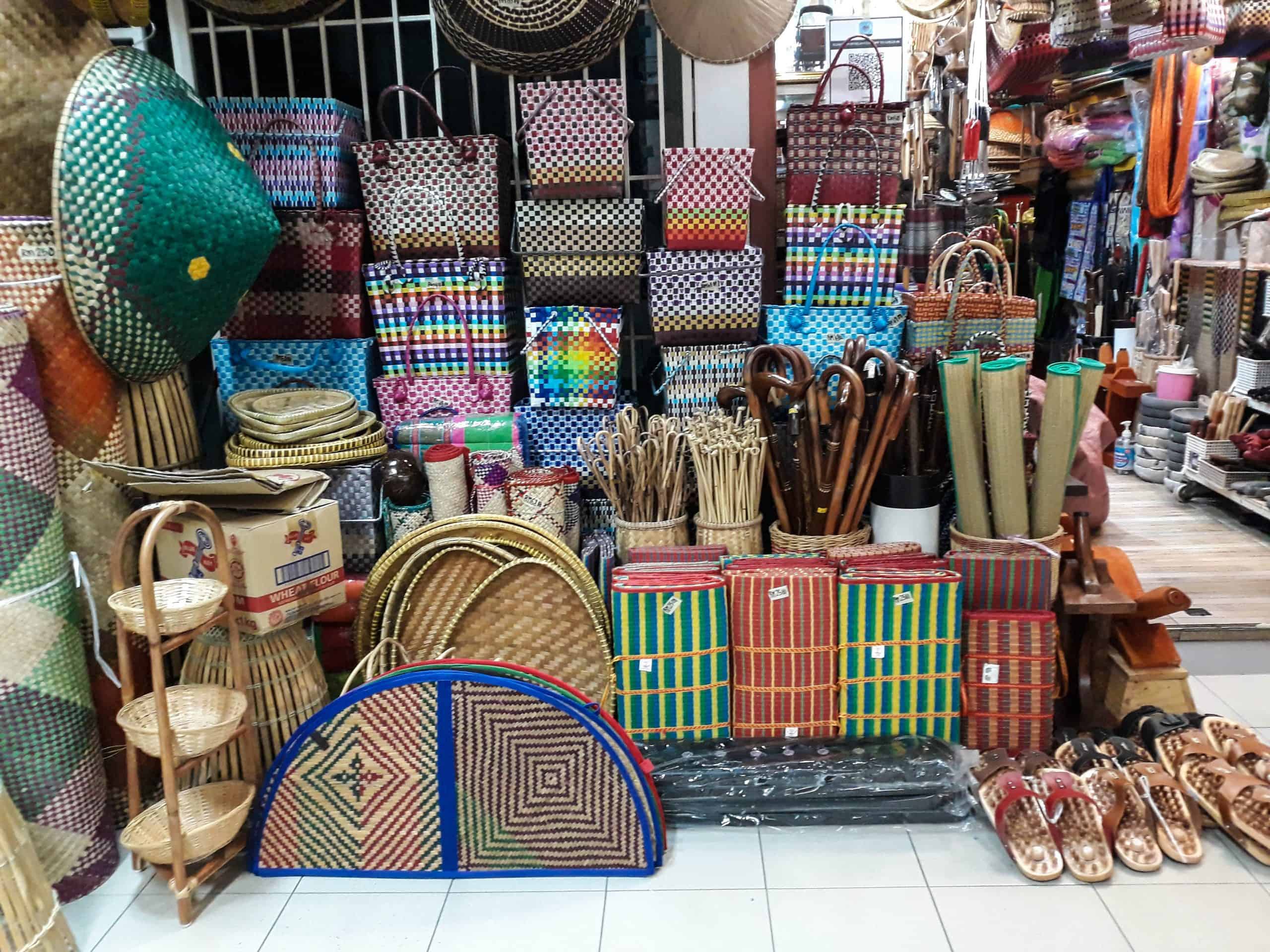 Located within walking distance of many Alor Setar star attractions and museums, the two-story shopping complex should definitely be added to your Alor Setar sightseeing list. The 'market' sells everything from traditional Malay clothing and textiles to baskets and local food products.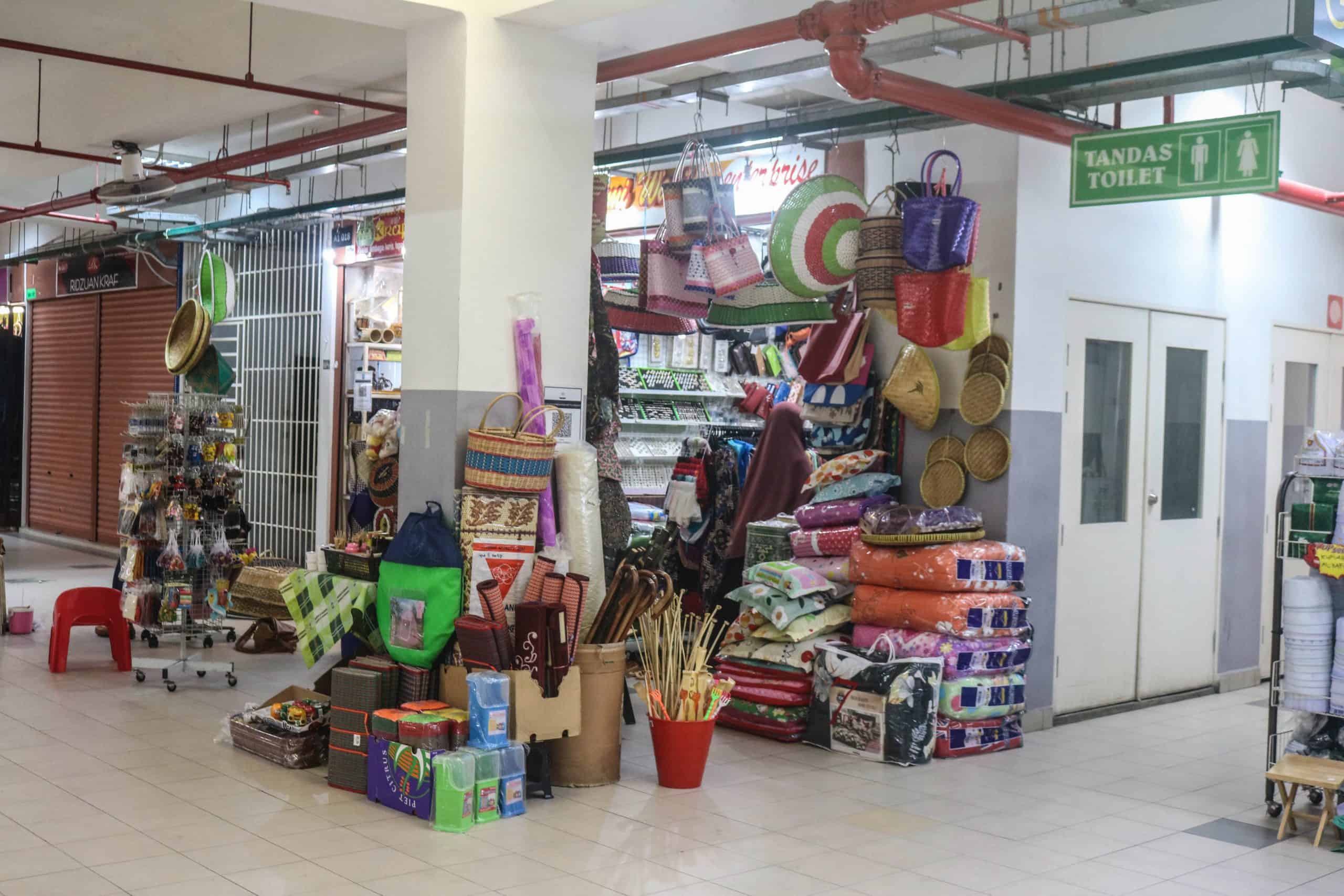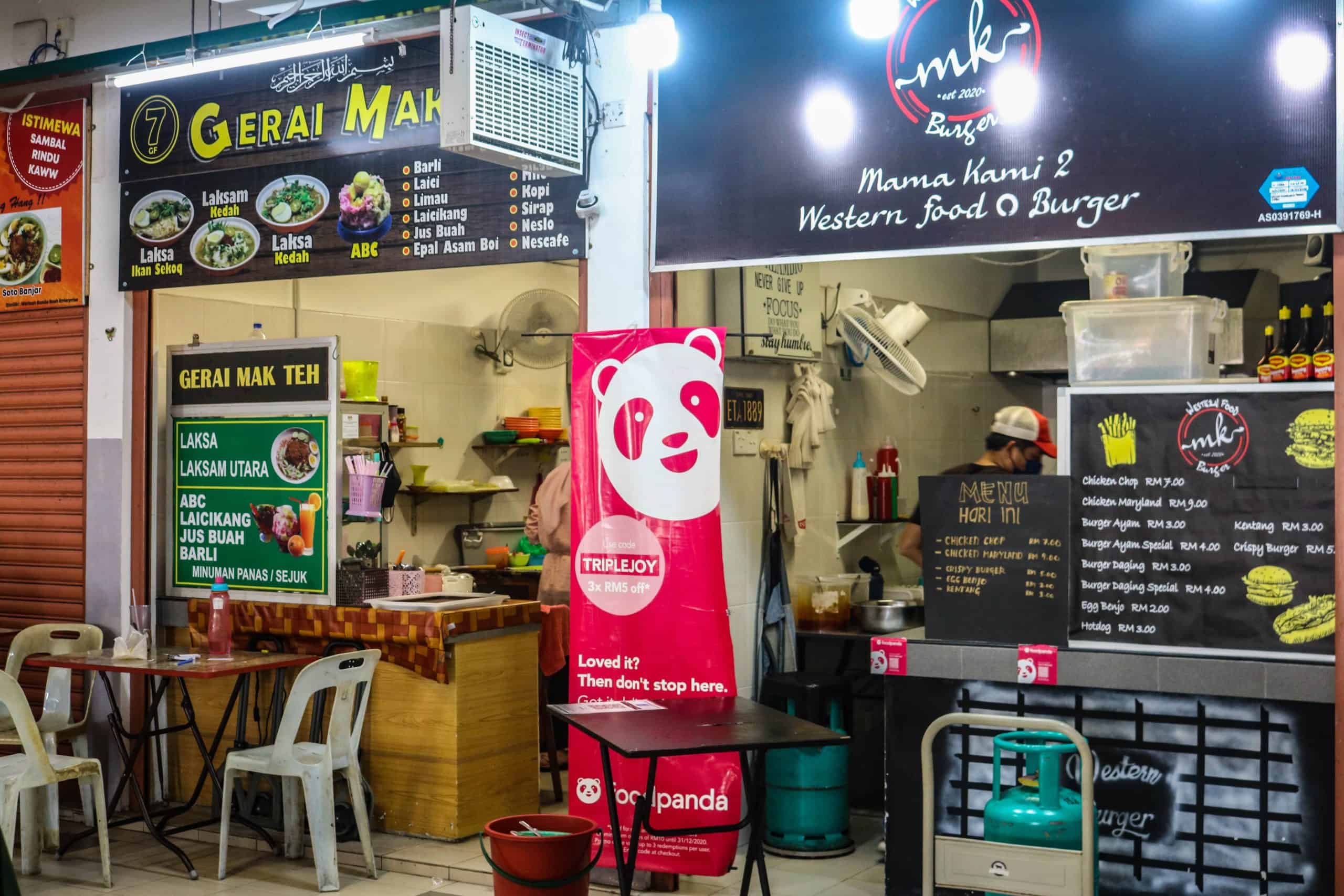 At a glance the indoor shops look a bit heavy on traditional Malay apparel, but keep poking around and you can find some great deals on local and imported (from Thailand) goods. You'll find even more open-air shops in the back of the complex at street level. Pekan Rabu also has a cozy food court, where you can get some delicious Laksa Kedah (also called Laksa Utara which means Northern Laksa).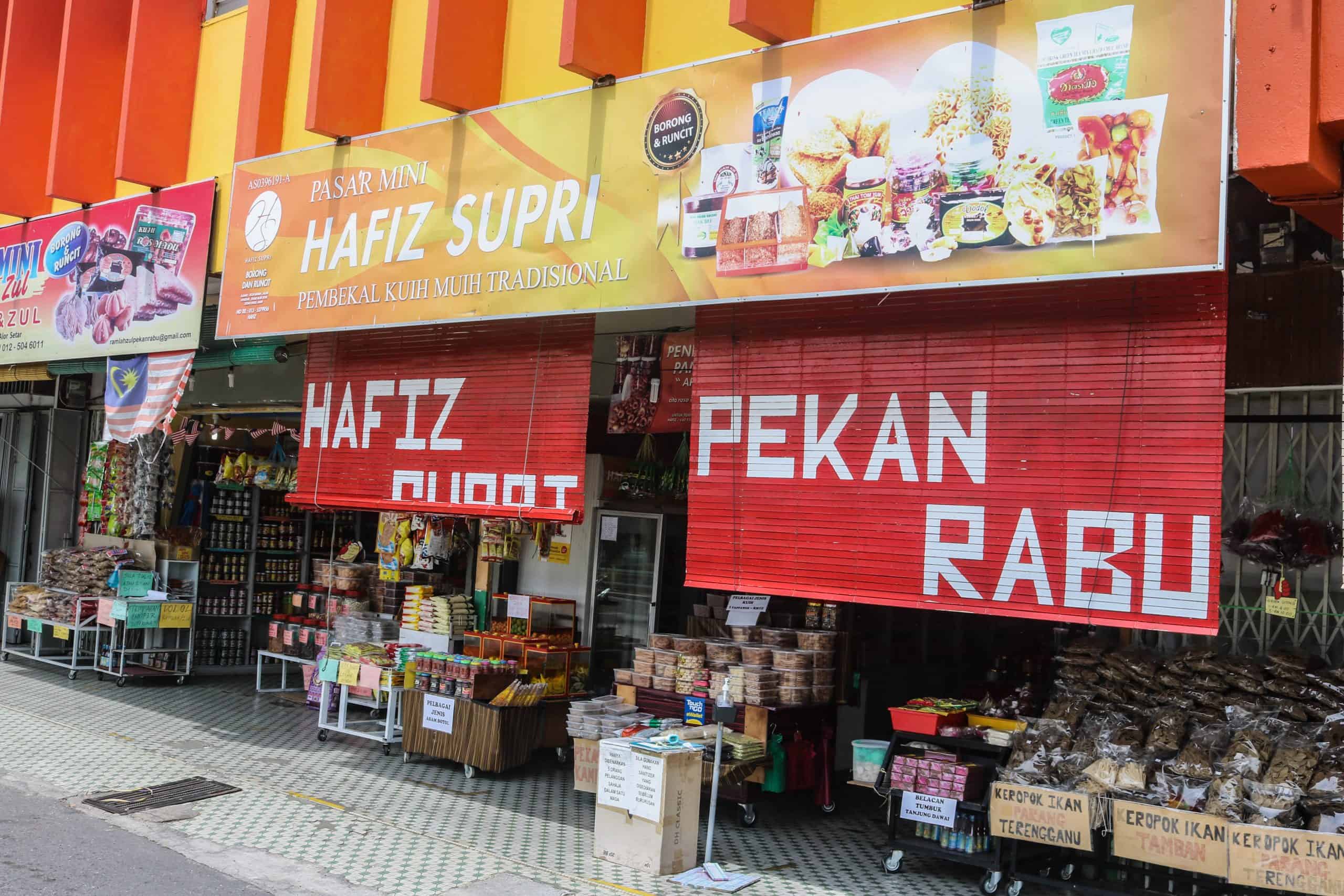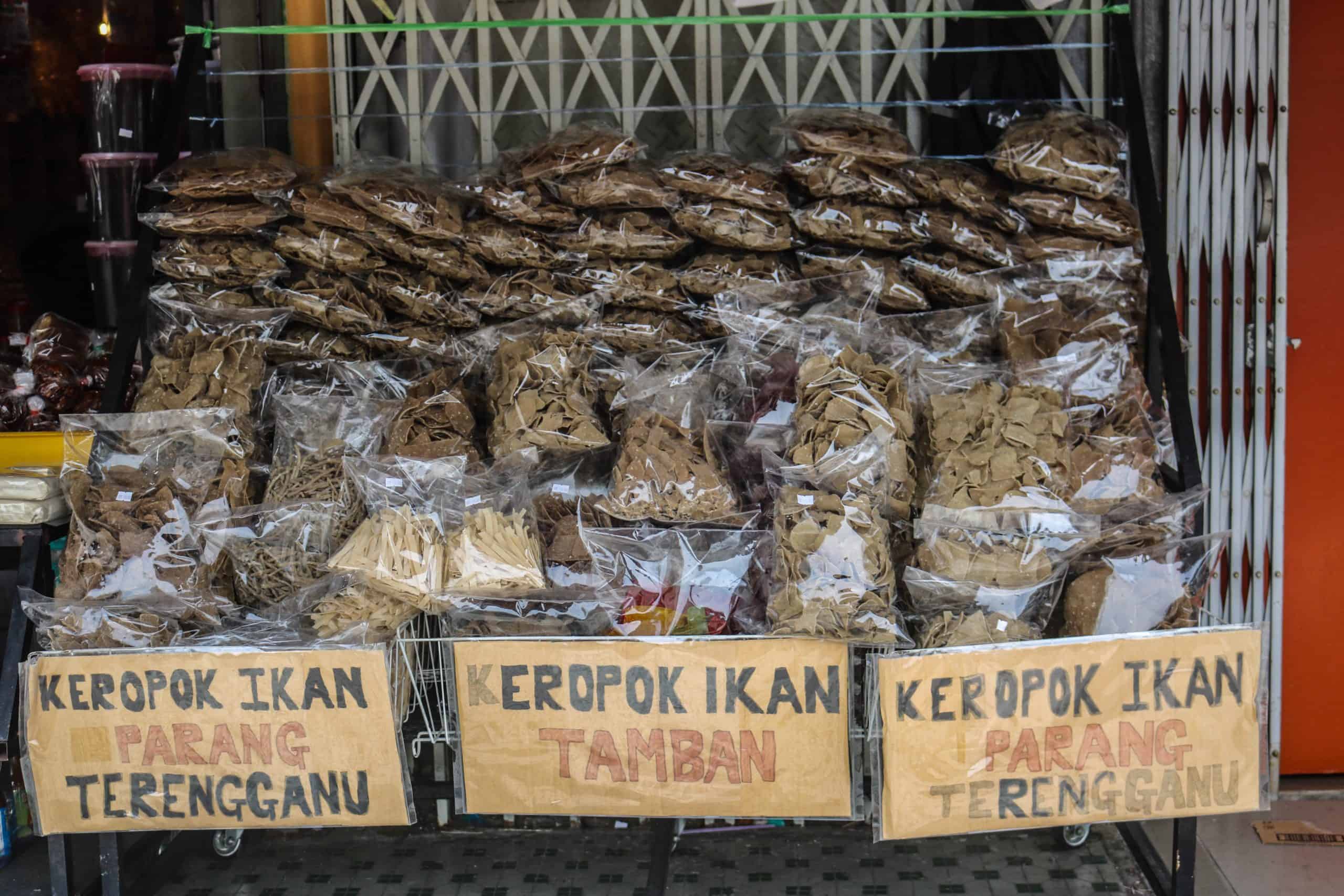 But Pekan Rabu is more than just a shopping treasure trove, it's also another Alor Setar historical gem. Pekan Rabu's history began during World War I! Tunku Yaacob Almarhum Sultan Abdul Hamid (18th Prince of the 26th Sultan of Kedah) wanted to show Malaysians that they could succeed in business beyond agriculture and encouraged them to go into trade and other business ventures.
Tunku Yaacob's training ground was the Wednesday market near Tanjung Chari (which he founded in 1920). It was called Pekan Nat and later Pekan Rabu. The Wednesday Market was moved to its current location on Jalan Tunku Ibrahim in 1931. Pekan Rabu has since been refurbished; in 1978 and again in 2004. Can read more about Alor Setar here: First Time Visitor's Guide to Alor Setar, Malaysia
– Pekan Rabu, Alor Setar, Open daily: 1000 – 2000
*While you're in Alor Setar, you can also check out Pasar Karat Kampung Berjaya

Siti Khadijah Market
Kota Bharu, Kelantan
Over the years, photos of the Siti Khadijah Market have graced many a Malaysia tourism brochure. And rightly so, as it's a famous Kelantan icon now. The 4-level market was first opened in 1985 by Sultan Ismail Petra and simply named Pasar Besar Buluh Kubu (Bulu Kubu Big Market). In 1997, Mentari Besar Nik Aziz Abdul Aziz Mat renamed the market Siti Khadijah Market in honor of Khadija binti Khuwaylid, the wife of Prophet Muhammad.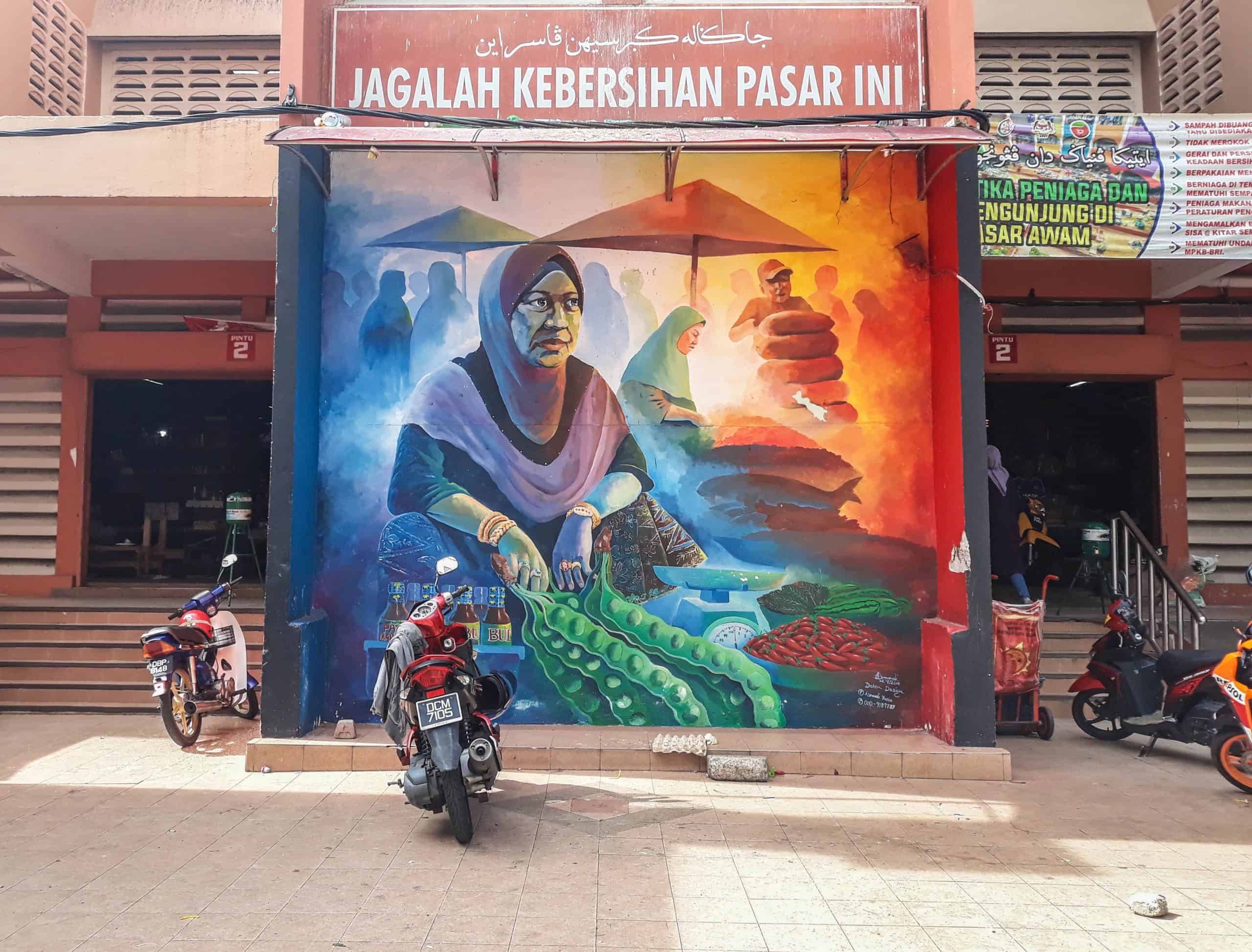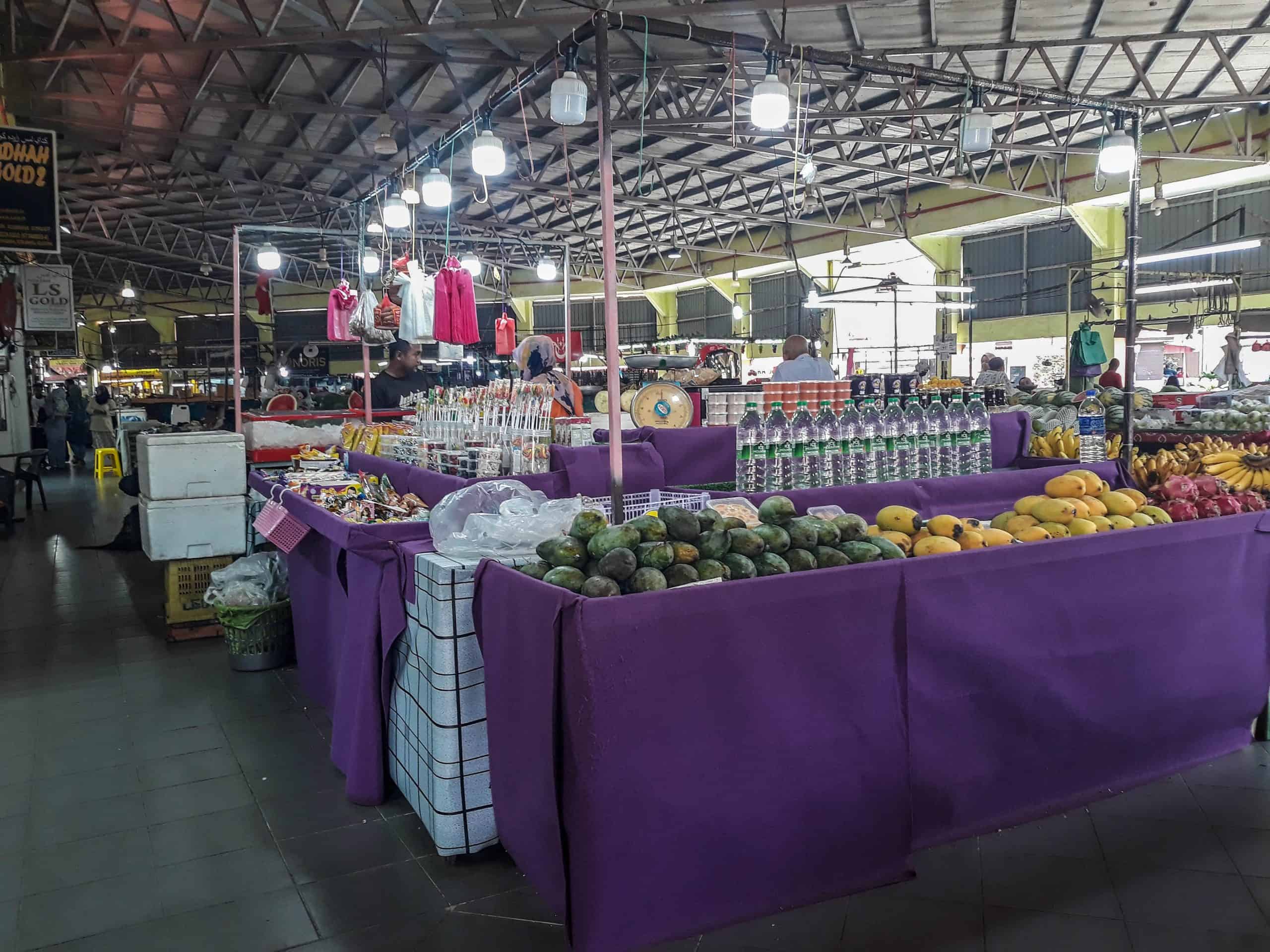 Located at Jalan Buluh Kuba, next to the Masjid Al-Baro'ah Mosque, you can't miss the entrance as it's now highlighted with a beautiful mural of a market woman; painted by local artist Asmadi Yasin, whose expansive collection of murals can be seen all over Kota Bharu.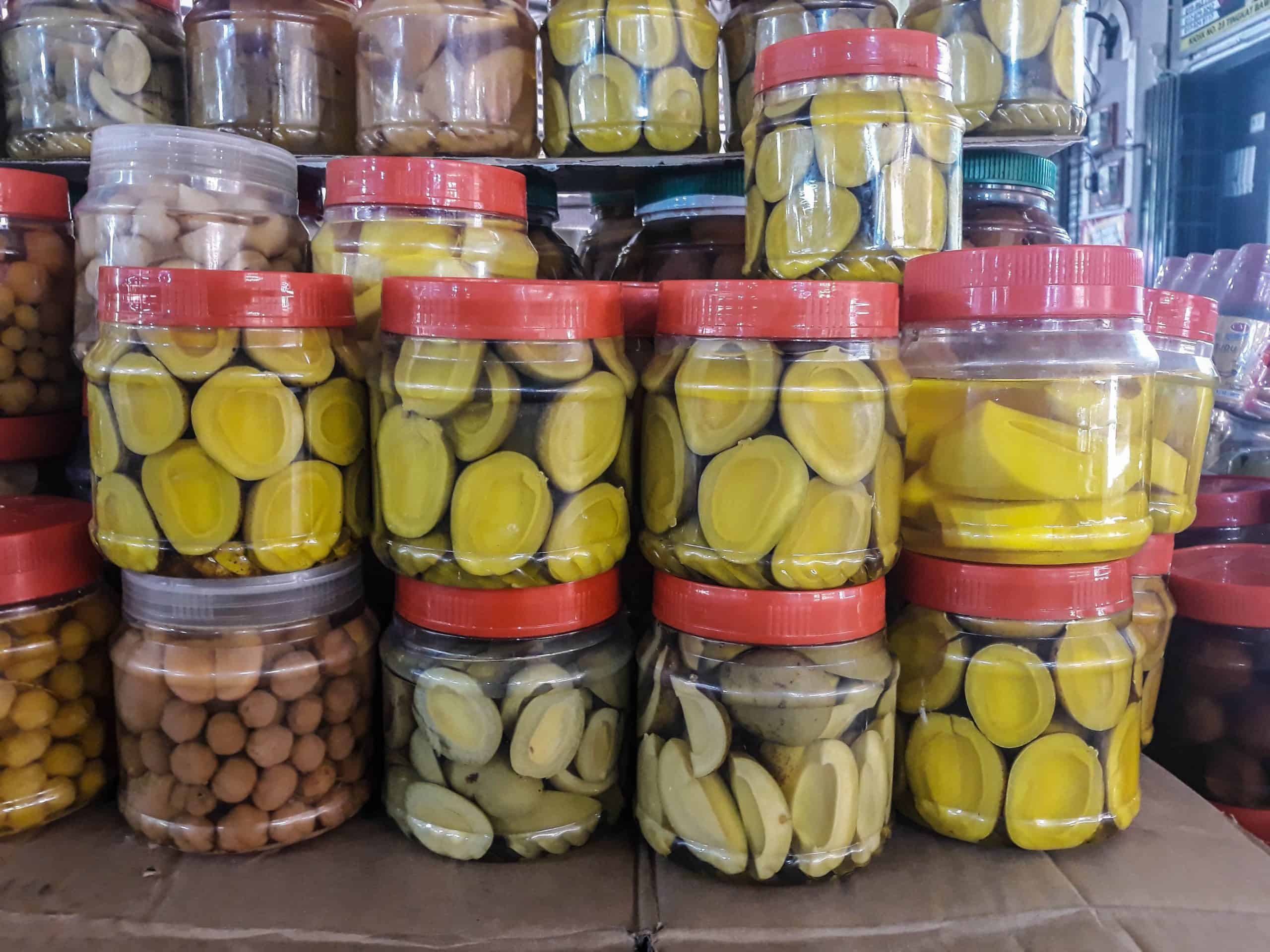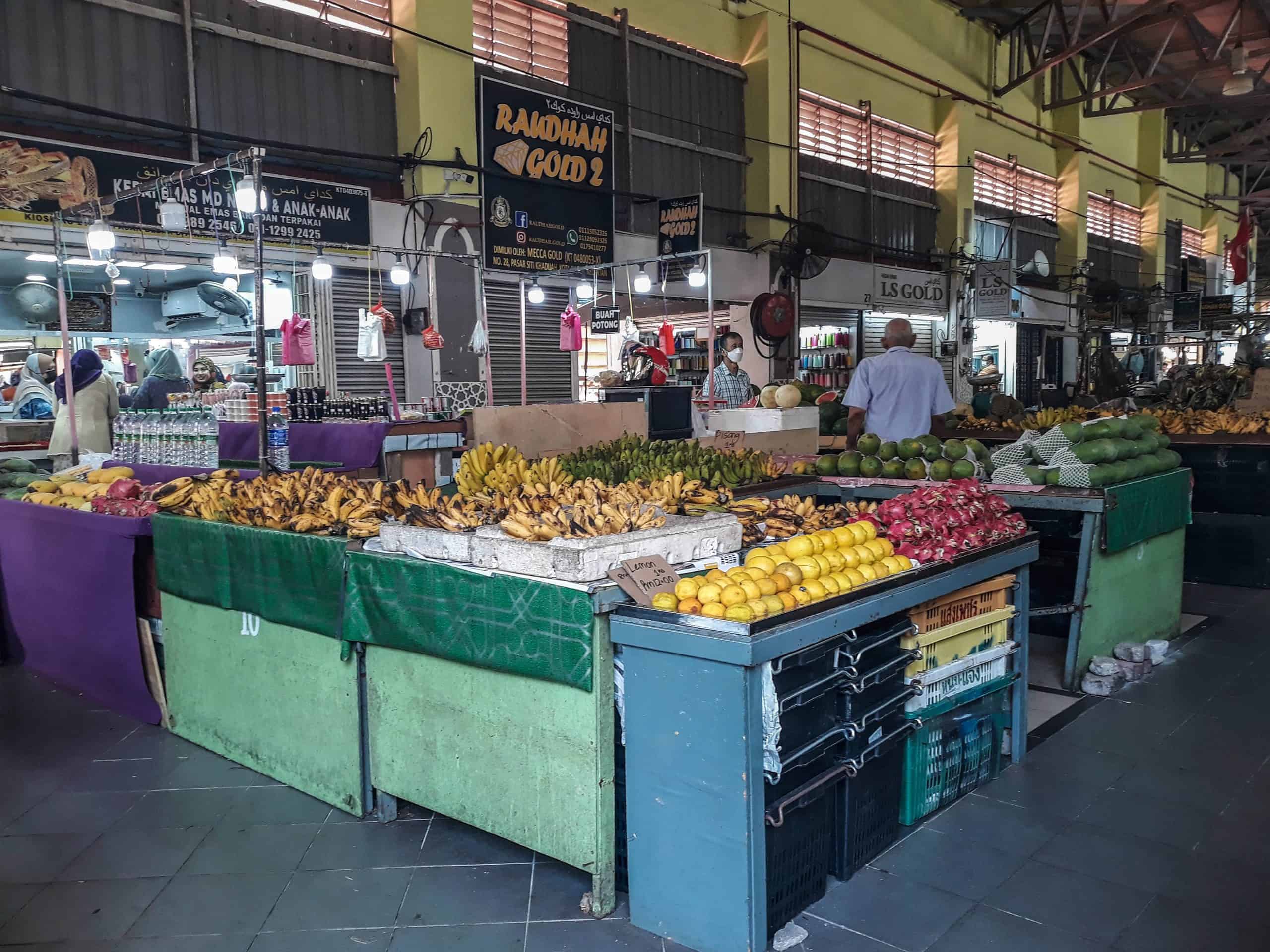 The first level of the market has historically been allotted for meats and produce, but in more recent times gold vendors are now stationed around the market as well. Dry goods can be found on level two, and a variety or other sellable items can be found on levels three and four. You'll also find some tasty Kelantan food stalls on the upper levels too, so be sure to go on an empty stomach, so you can add a Kota Bharu foodie experience to your market outing. Can read more about Kota Bharu here: Kota Bharu, a Cultural Adventure
– Siti Khadijah Market, Kota Bharu, Open daily: 0730 – 1730, 017-914 6218
Pahlawan Walk Market
Melaka City, Melaka
History laden Melaka City (also known in English as Malacca) has plenty of interesting non-historical sightseeing options that blend well with the heritage-themed fabric of the community. So, for visitors who like to mix it up a bit a visit to Pahlawan Walk Market should do the trick.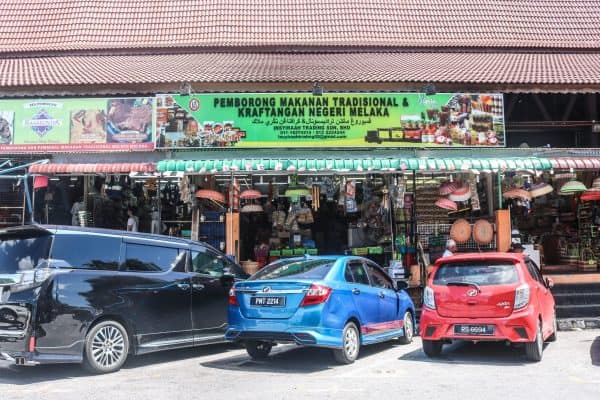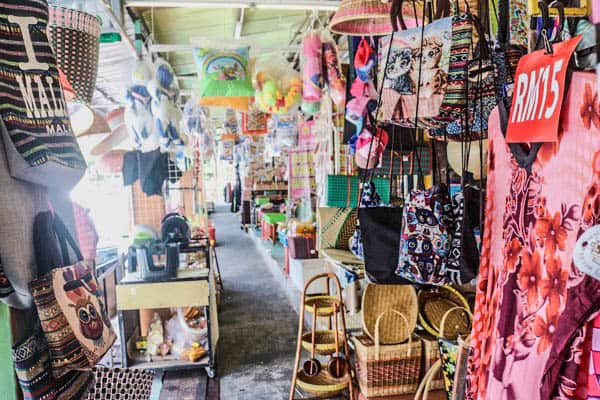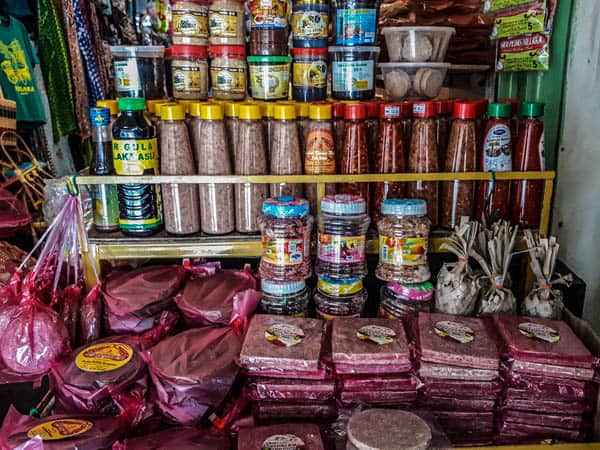 Located at Plaza Mahkota, eclectic Pahlawan Walk Market isn't all 'I Love Melaka' T-shirts and handbags, but they do have their fair share of Melaka collectables. However, they also have some great bargains on everything from household goods and clothes to spices and homemade products. It's a great place to stock up on homemade Gula Melaka palm sugar or fresh Sambal Belican in addition to an assortment of traditional local snacks. The vendors are friendly and will give you a healthy dose of Malaccan hospitality. Can read more about Melaka City things-to-do here: A Fun Non-Touristy Day Trip to Melaka City
– Pahlawan Walk Market, Melaka City, Open daily: 1000 – 2200
Chow Kit Market
Chow Kit, Kuala Lumpur

Famously known Chow Kit is a unique little enclave within the Kuala Lumpur district. It was named after Loke Chow Kit, a Penang-born tin tycoon who was also owned one of a Kuala Lumpur's largest department store (at the time), Chow Kit & Co, which opened in 1905. Until the 1980s, Chow Kit was a thriving center of trade in Kuala Lumpur and also well known for its colorful red light district past. It's unique to say the least.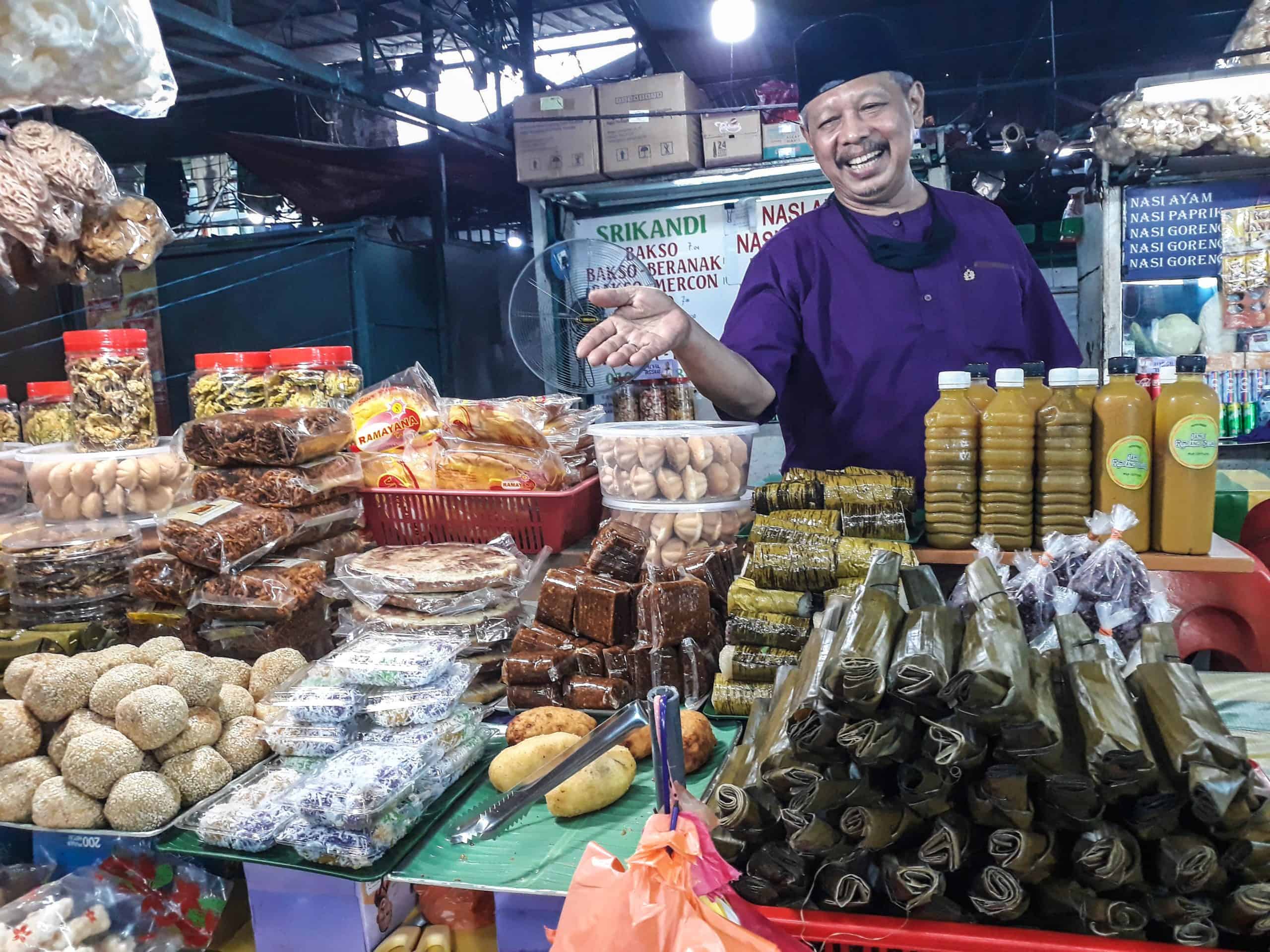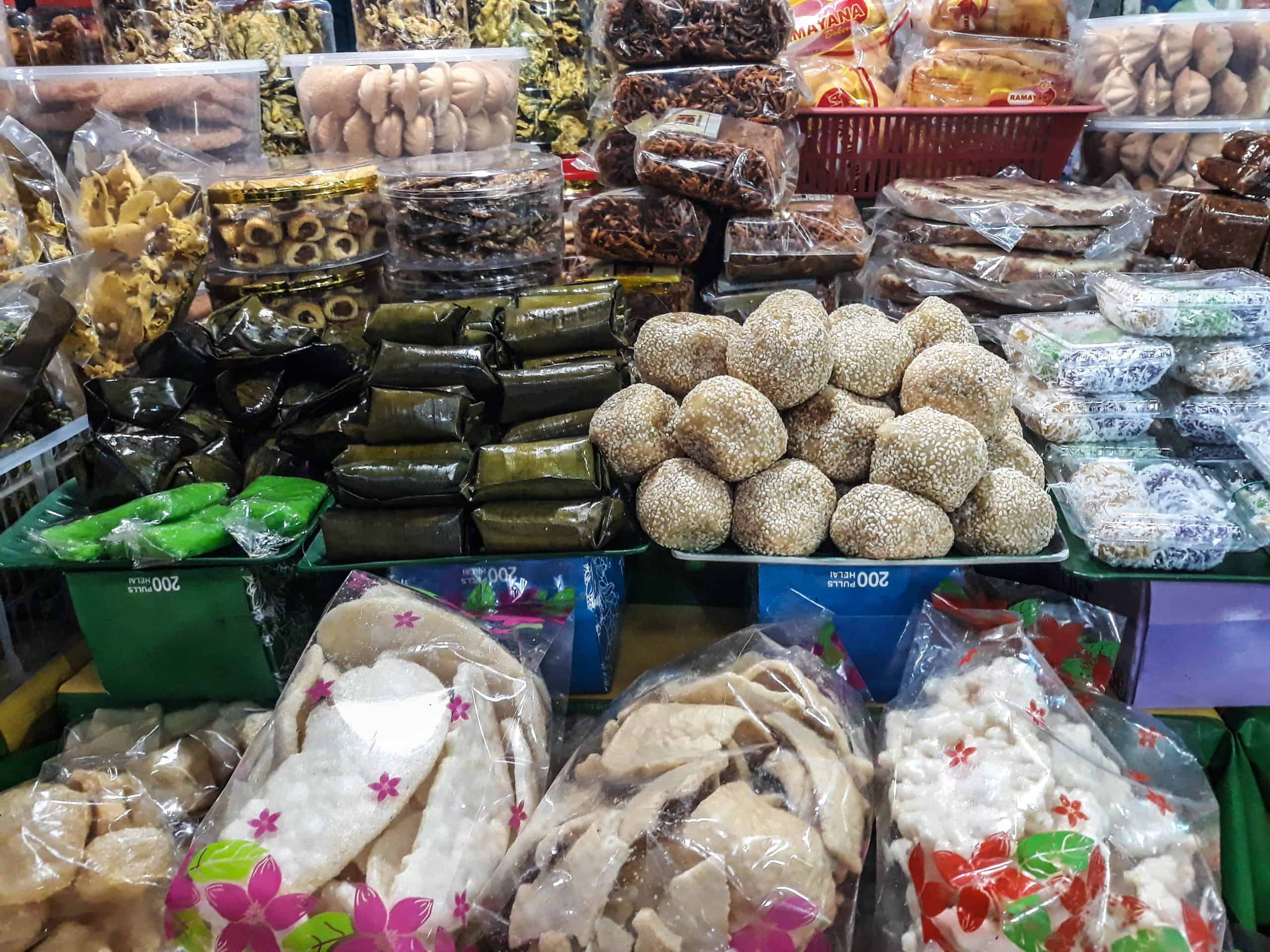 No visit to Chow Kit is complete without stopping at the famous Chow Kit Market; possibly one of Malaysia's largest wet markets. Indeed, it is quite sizable, as well as bustling, that's for sure. When it comes to wet (and dry) market goods, you name it and they've got it. From tropical fruits, local and imported veggies, and meats to delicious kuih and fresh cut flowers; the market is colorful and fascinating. Just a heads up (no pun intended), some aisles (in the meat area) might want to be avoided if you're sensitive to slightly gory visuals such as teeth baring cow heads.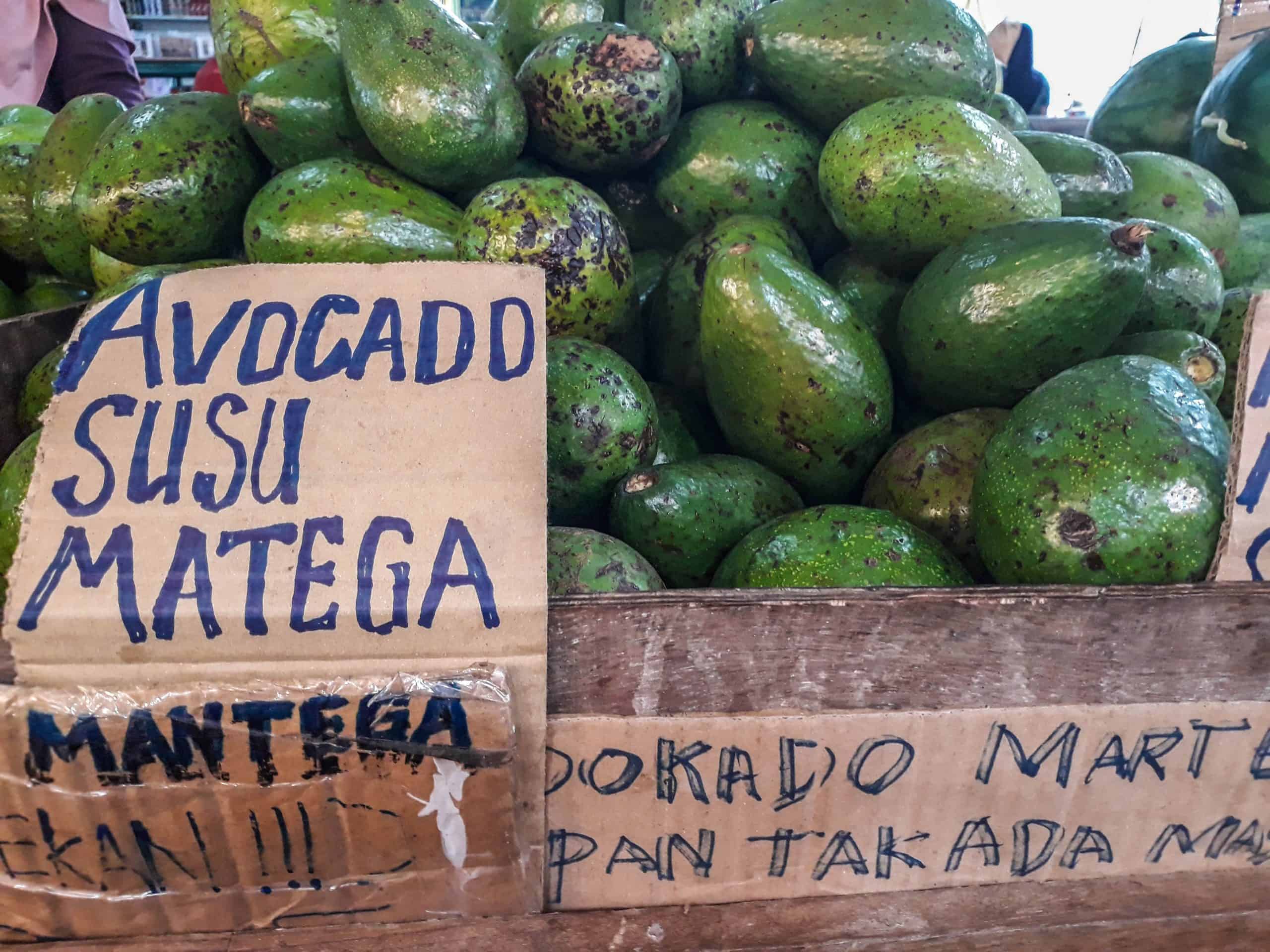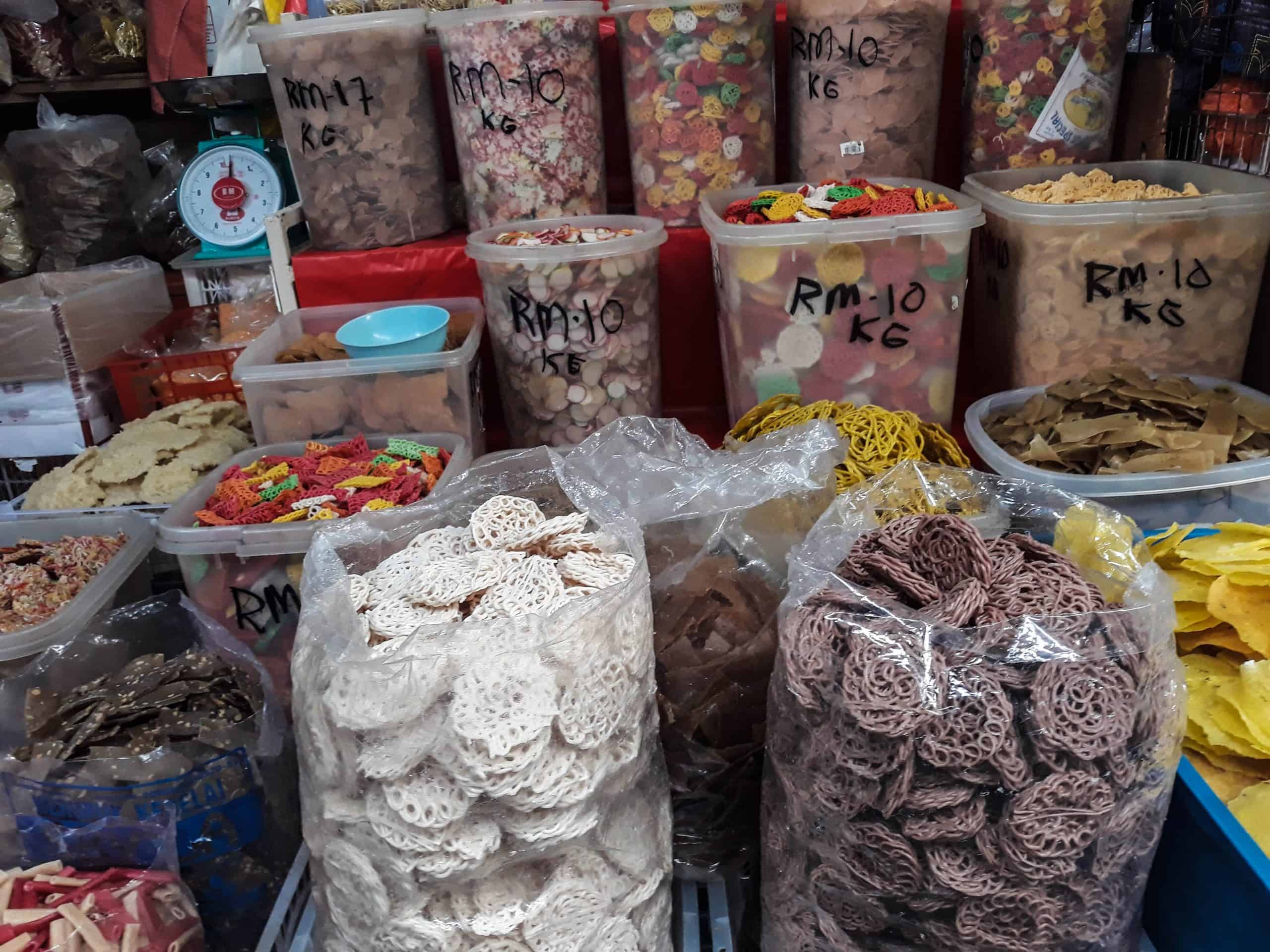 Vendors at Chow Kit are friendly with foreign tourists, but may have even more patience with you if you are accompanied by a local. A Chow Kit Walking Tour is given by charismatic local guide Fuad Fahmy, who grew up in nearby Kampung Baru and is the Chow Kit go-to expert. He includes a stop in the Chow Kit Market on his walking tour, and can answer any questions you have about the Chow Kit Market. Can read more about the Chow Kit Walking Tour here: Chow Kit Walking Tour Unique KL Experience
– Chow Kit Market, Kuala Lumpur, Open daily: 0600 – 1700, 014-965 5711
Gaya Street Sunday Market
Kota Kinabalu, Sabah
Kota Kinabalu is probably the number one must-visit for every first timer visiting Sabah, Malaysia. And rightly so, as there are loads of sights to see and things to do in Kota Kinabalu, even beyond their famous rainforests, orangutans and mountain gods. But a visit to the Gaya Street Sunday Market should definitely be at the top of the list of not-to-be-missed experiences too.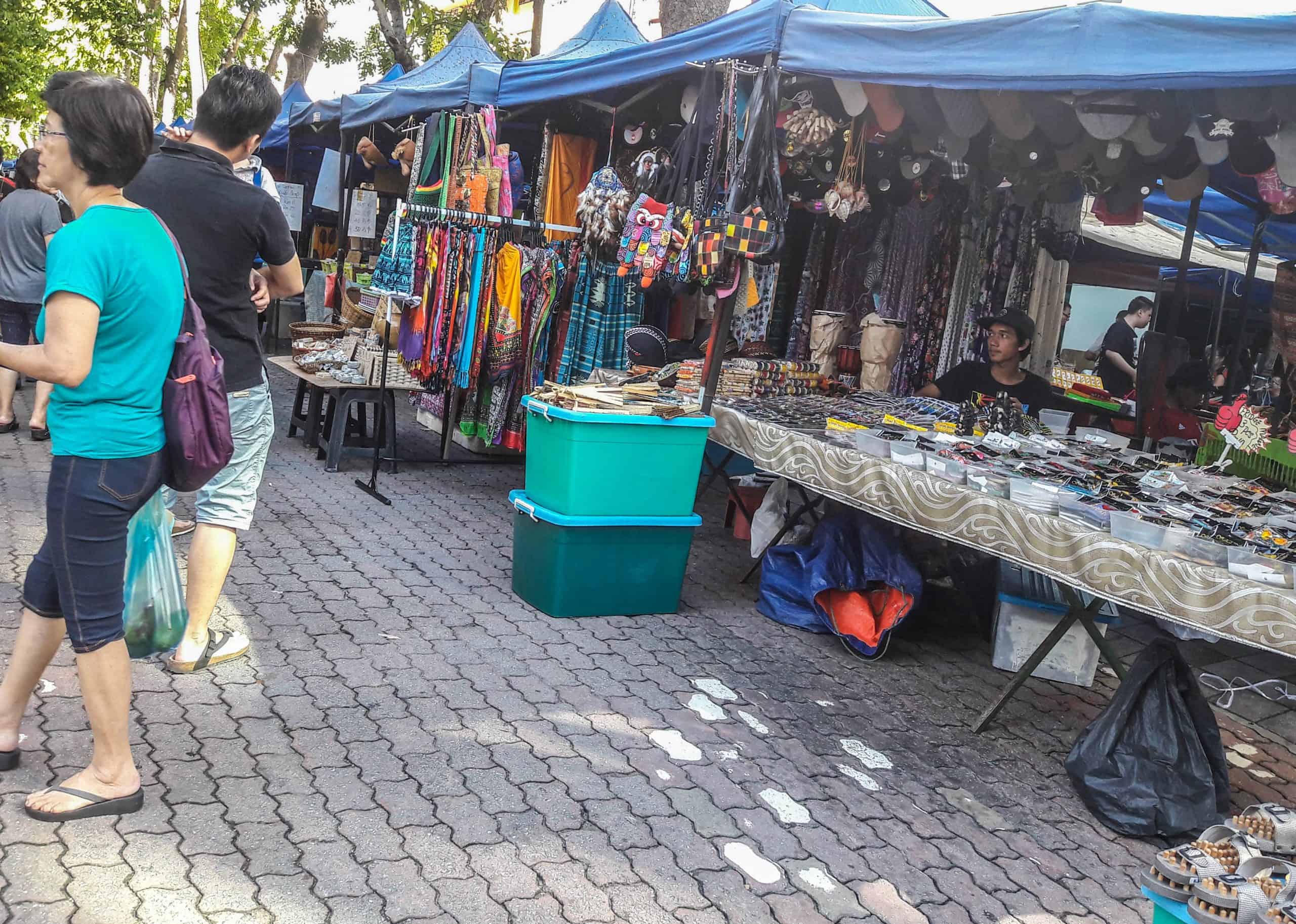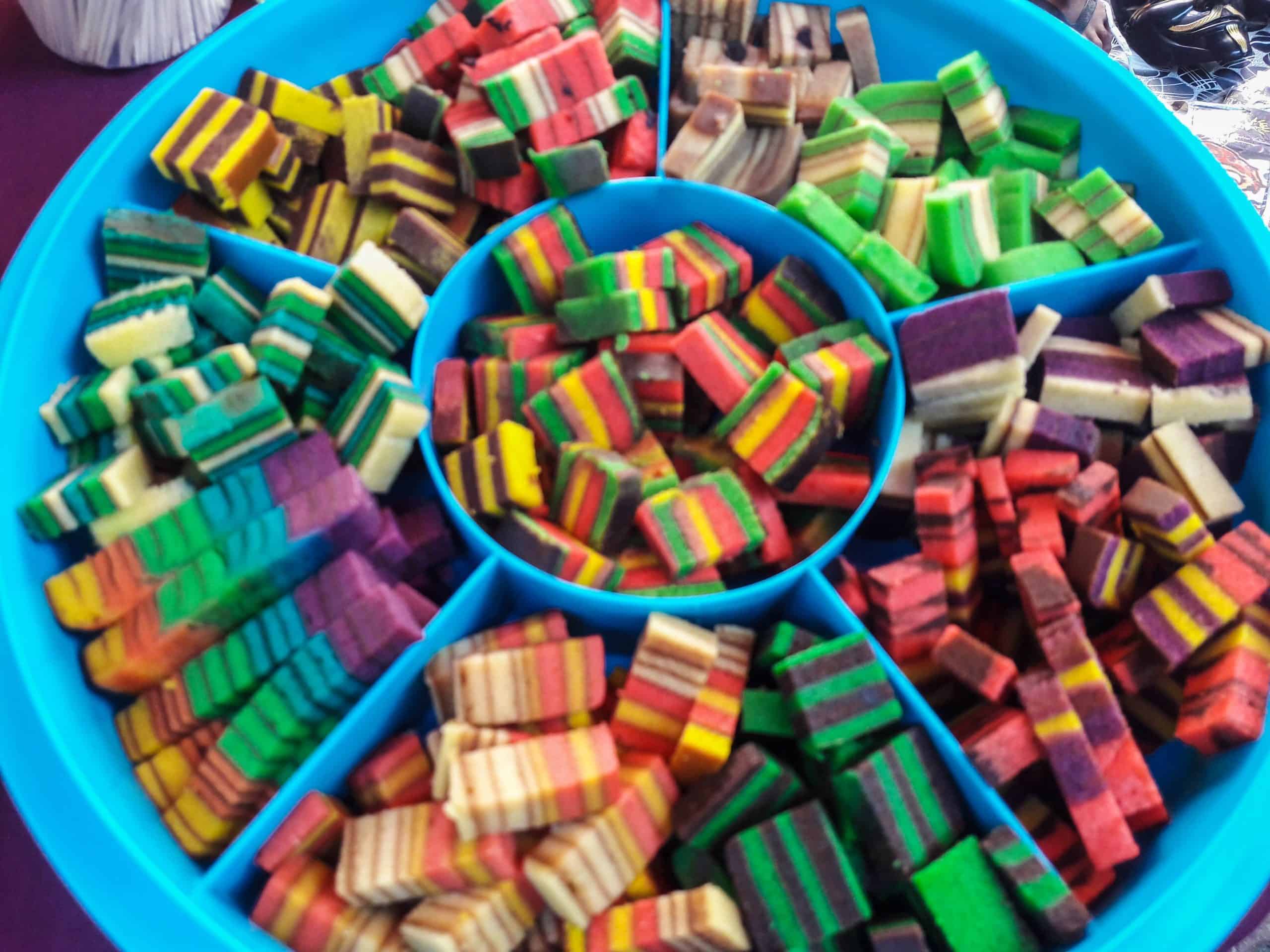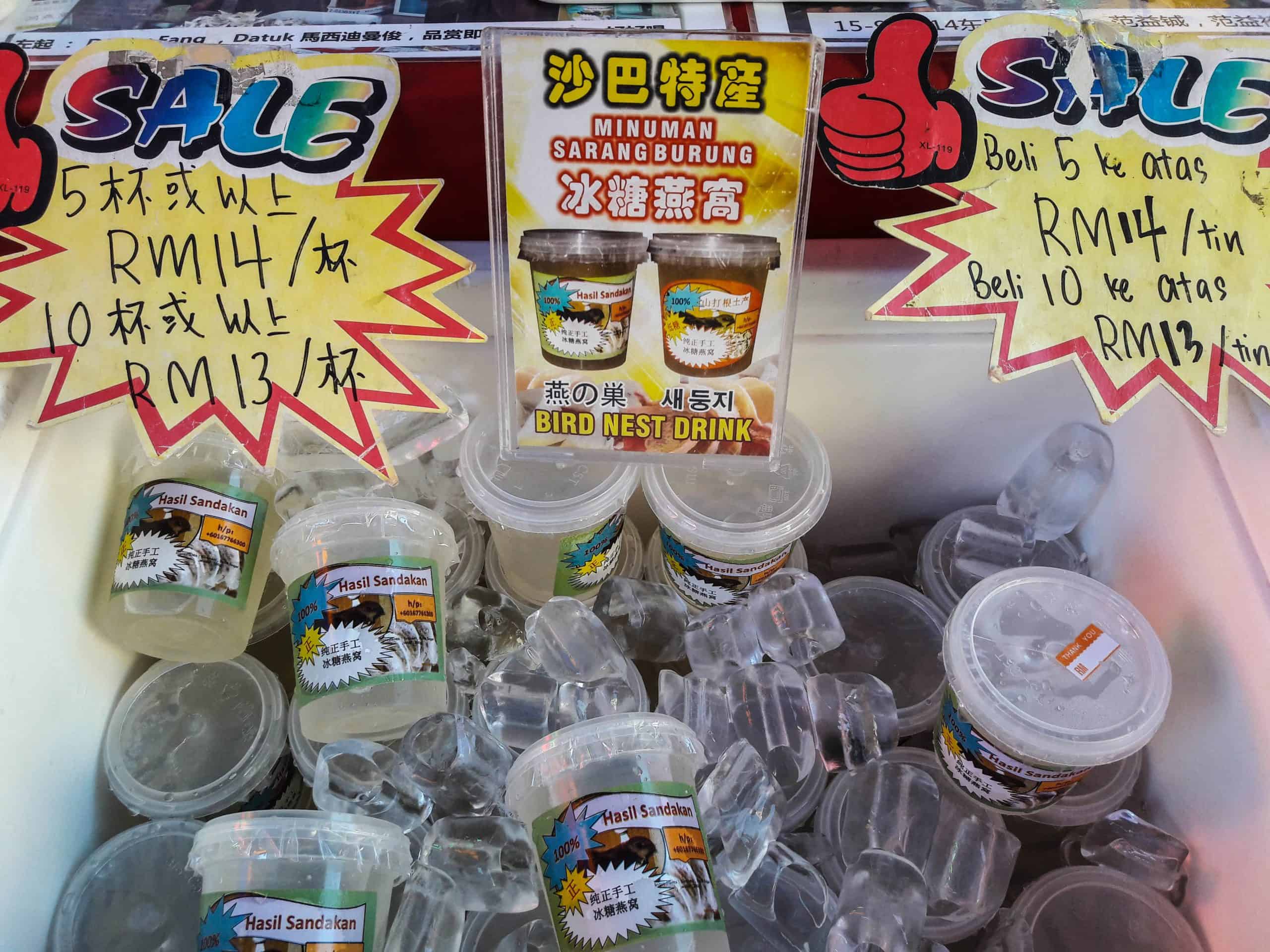 Held every Sunday from 0600 until 1300, this fabulous market is similar to some of the best Farmer's Markets I've been to in Northern California; it's downright hip. From kitschy touristy souvenirs and unusual local products (breast milk soap anyone?) to tasty treats and fruit trees, you can easily spend several hours here shopping and exploring. Can read more about Kota Kinabalu here: Kota Kinabalu and My Discoveries in the Land Below the Wind
– Gaya Street Sunday Market, Kota Kinabalu, Open Sunday: 0600 – 1300, +60 88 212 121  
Sandakan Central Market
Sandakan City, Sabah
Located near the Sandakan City waterfront, the Sandakan Central Market is nearly unmissable due to the huge marine life mural near it's main entrance. There may also be a few tour buses parked in front as well, because nothing draws a crowd like a diverse local market.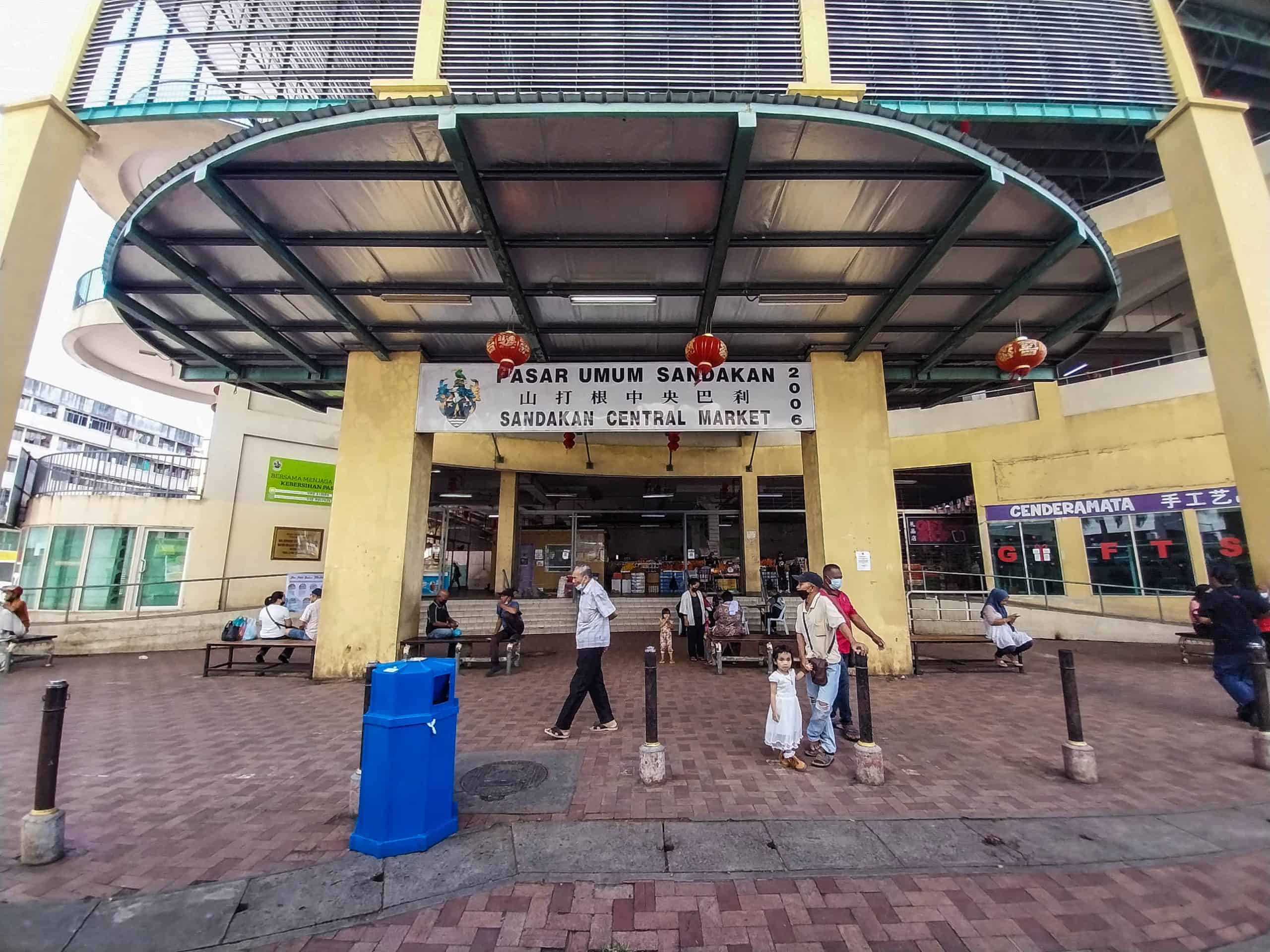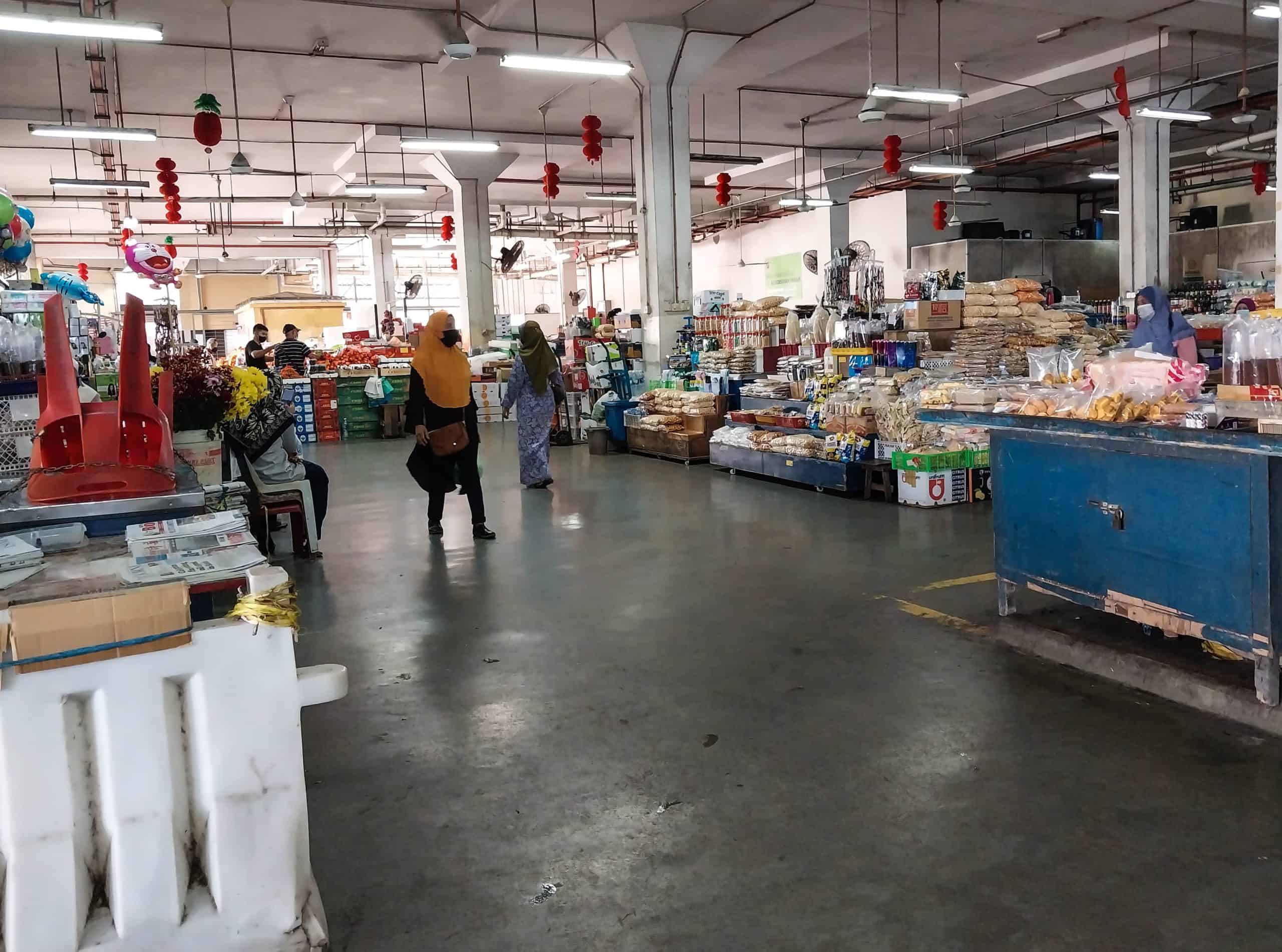 You can expect to find an abundance of fresh seafood and a whole lot more at the Sandakan Central Market. The massive market has 3 floors, so be sure to give yourself plenty of time to explore. The first floor alone is enough to keep you busy for a while.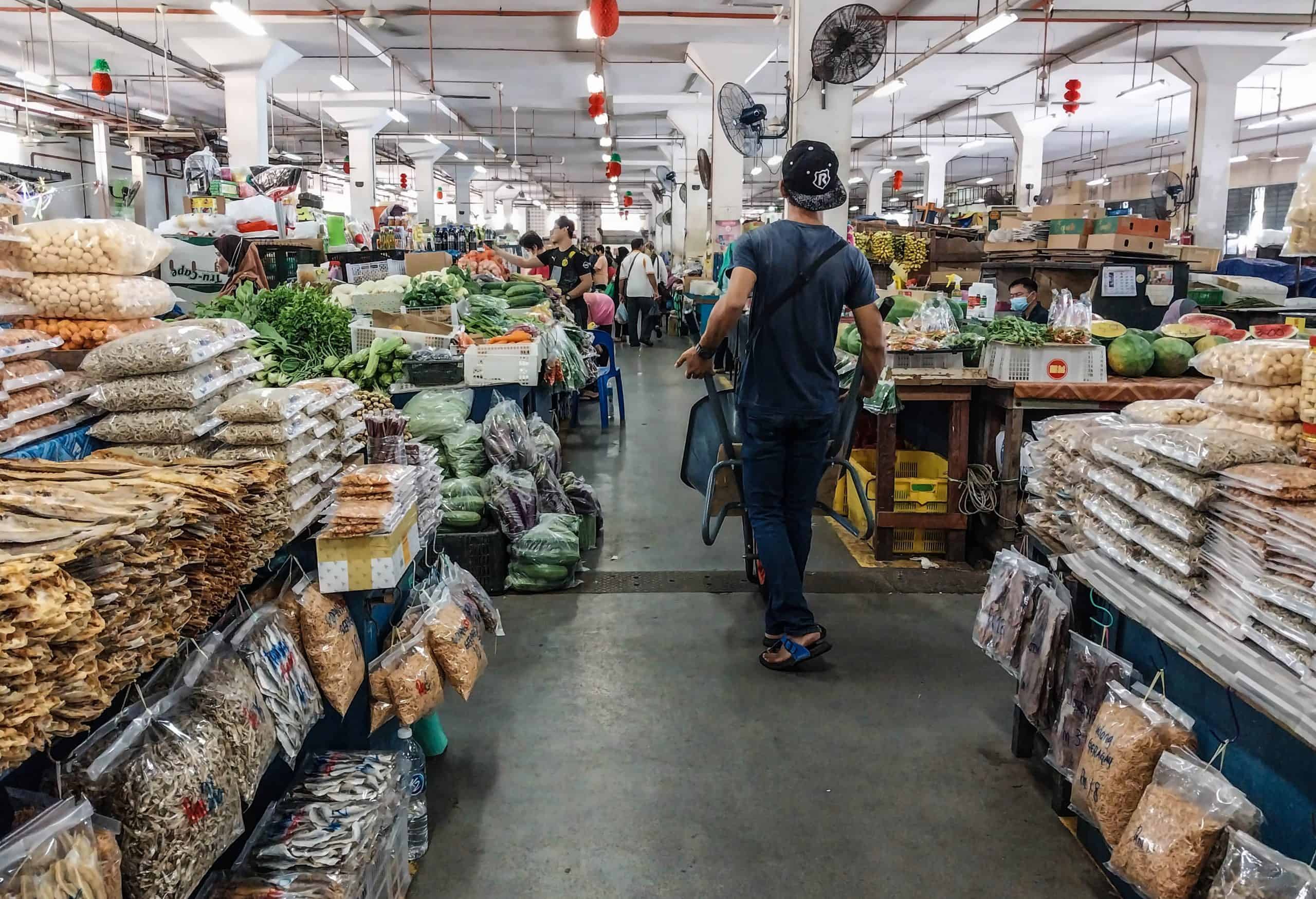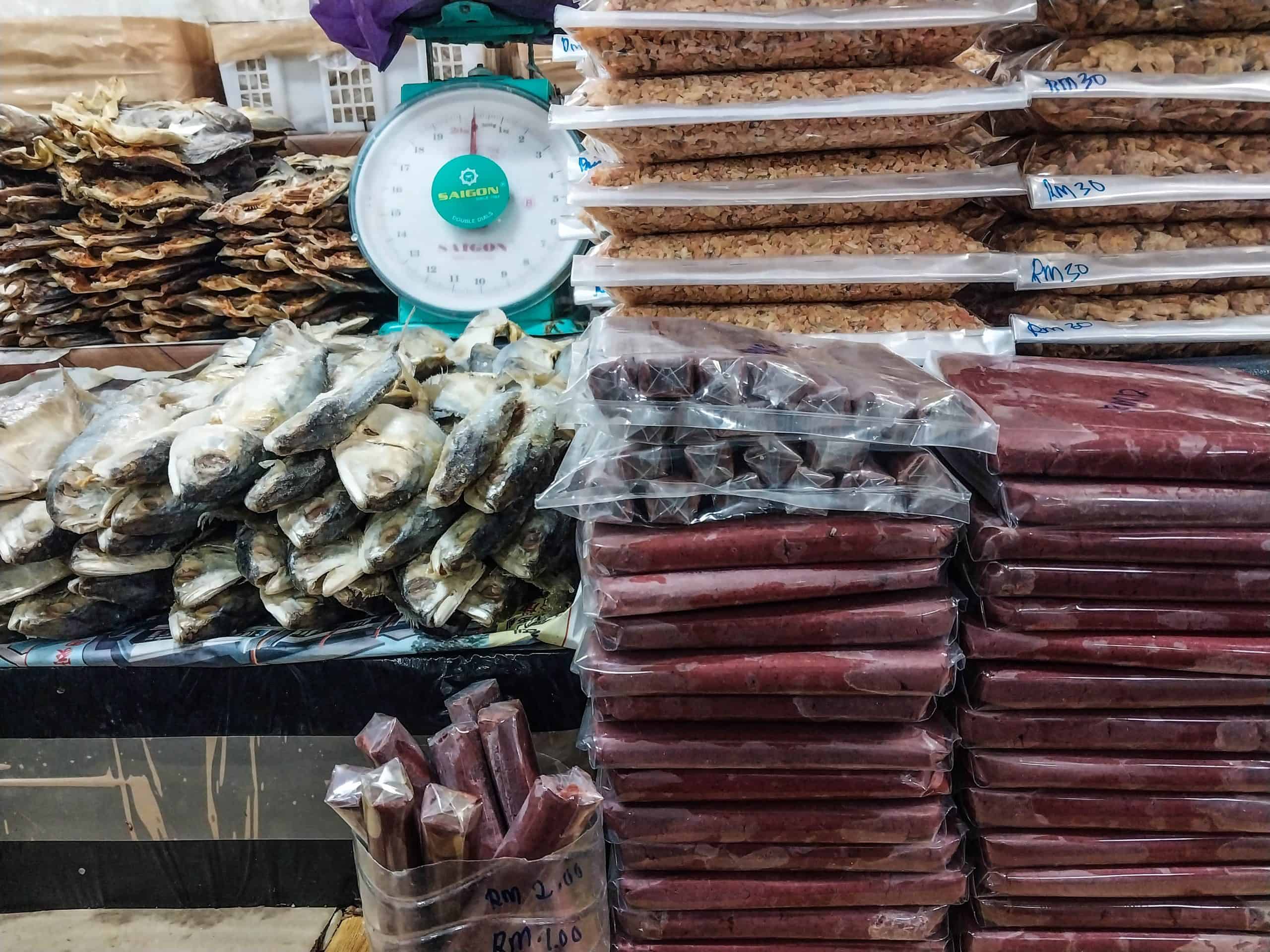 Also known as 'Pasar Gantung' (hanging market), the ground level is typical of a wet market with loads of fruits and veggies, shrimp pastes, dried fish and Malaysian kuihs taking center stage. You will also find handicrafts, souvenirs, clothing, shoes and household goods, so keep your eyes open for some great deals.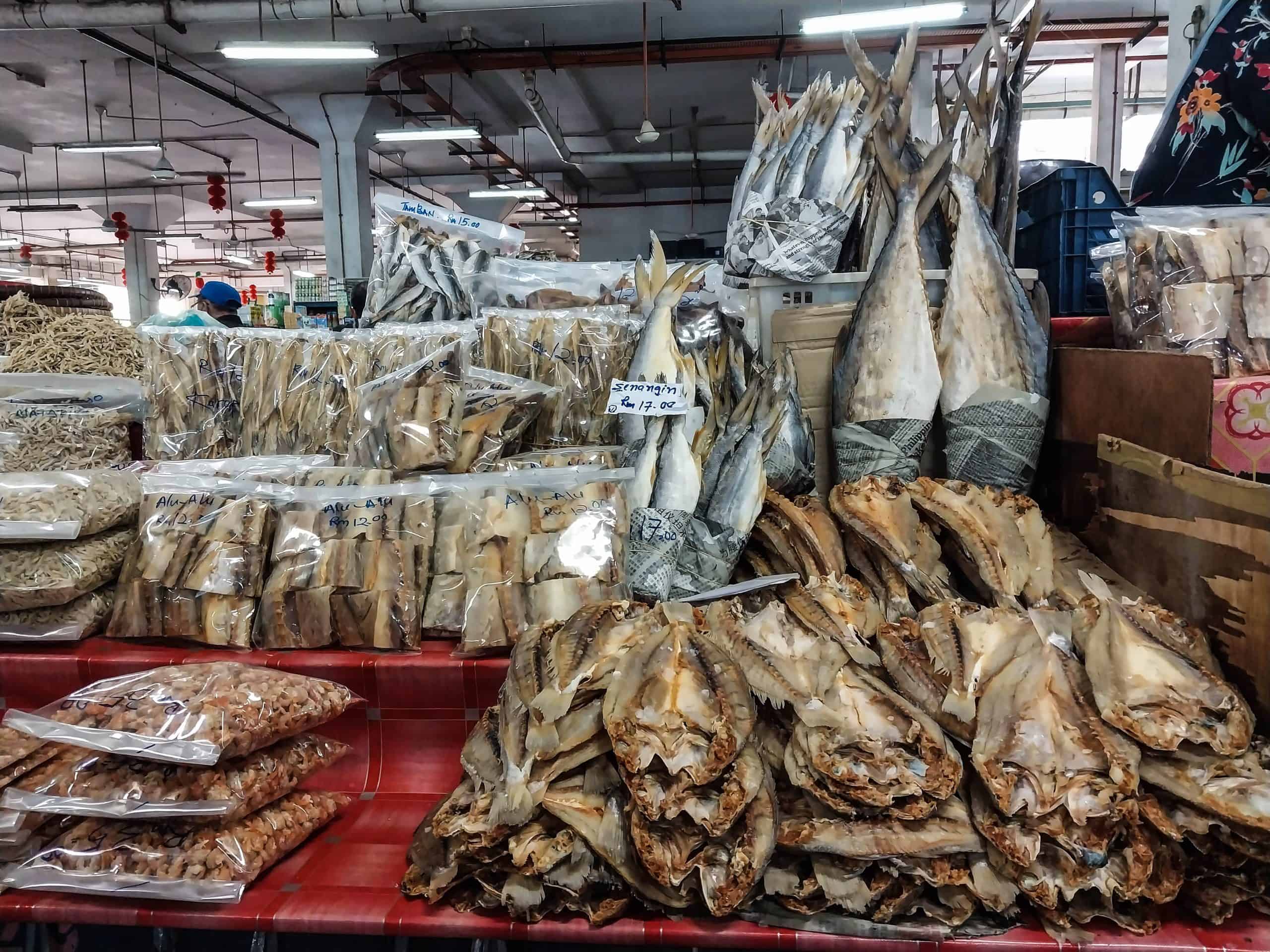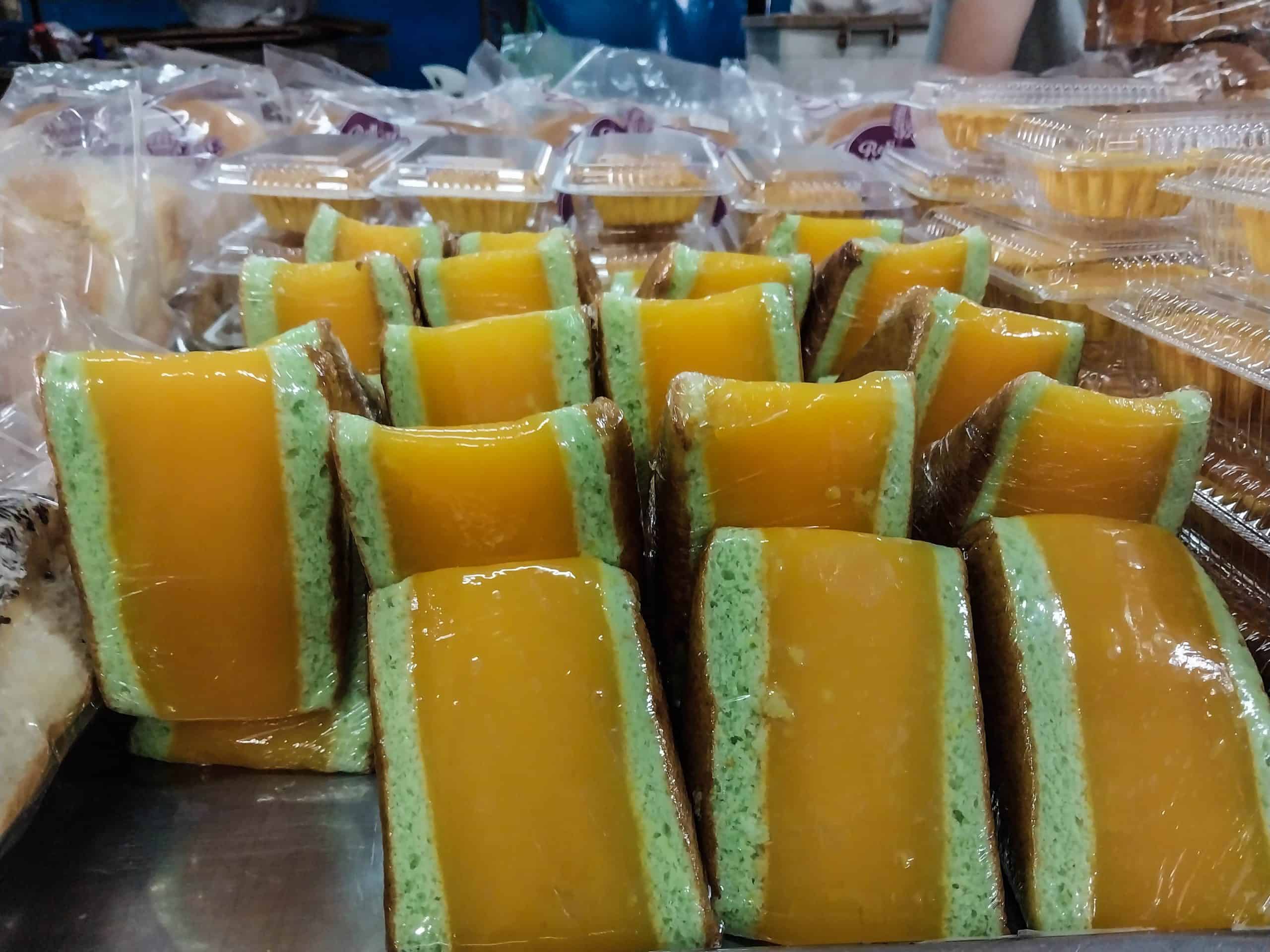 The second and third levels have Chinese and Malay food stalls, which offer visitors plenty of opportunity to try a variety of local cuisine at bargain basement prices. Can read more about Sandakan here: Choosing Tours in Sabah: 16 Must See & Dos in Sandakan & Kinabatangan in 2023 and here: First Time Visitor's Mini Guide to Sandakan
-Sandakan Central Market, Sandakan City, Open daily: 0600 to 1700
There you have it! Seven local markets in Malaysia that I have personally been to and can recommend to any other intrepid travelers. Malaysia markets are always an interesting cultural experience and worth a visit, especially if you like to shop or eat local foods, so I hope you enjoy these diverse markets. Happy shopping!