If you happen to be passing through Perlis, Malaysia on a weekend, a visit to Nat Pokok Getah morning market is a must! Nat Pokok Getah is possibly one of Perlis' best kept secrets, as it's more of an eclectic flea market than just a simple market. To call it unique would be an understatement.
I was privileged to have had a brief introduction (via media trip) back in 2020; just prior to Malaysia's national 'pandemic related' lockdown. For two years I waited for a chance to return and dig a little deeper into this fascinating market. Fast forward to 2022 and I can now happily report that after being forced to shut down, for the duration of the lockdown, Nat Pokok Getah is once again open!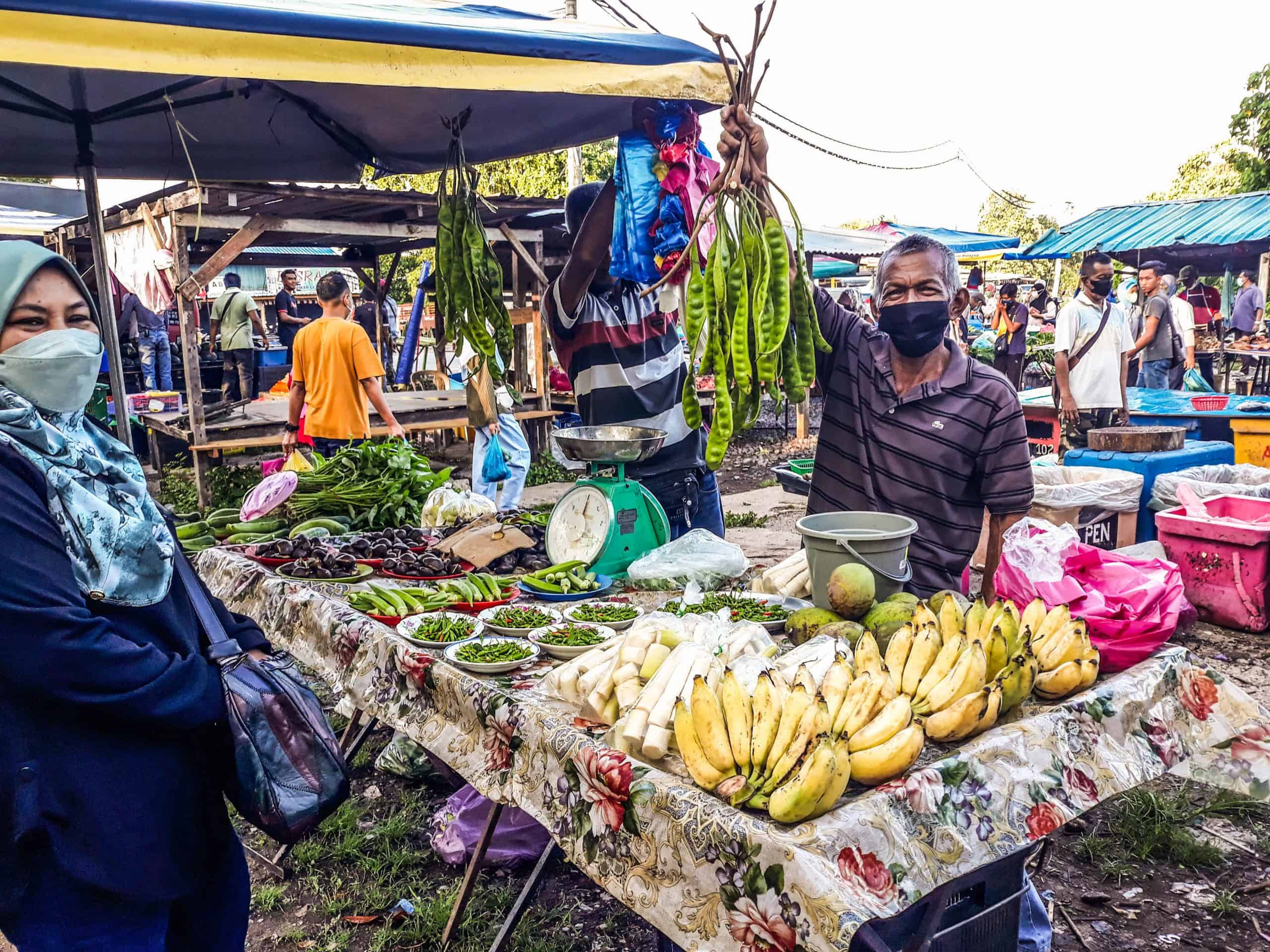 The word 'nat' is a Thai loanword, which means 'market' in both Thai and Malay language. Although most Malaysians refer to morning markets as pasar pagi (morning market), Perlis as well as Kedah locals often refer to morning markets (specifically) as 'nat'. Pokok getah refers to 'rubber tree', thus the name 'Rubber Tree Market'.
Nat Pokok Getah is held every Friday and Sunday at a massive rubber tree plantation in Kampung Kubang Paya, in Arau. The hours of operation are 0700 until 1300 on both days, with Sunday being the more popular (and busiest) of the two days.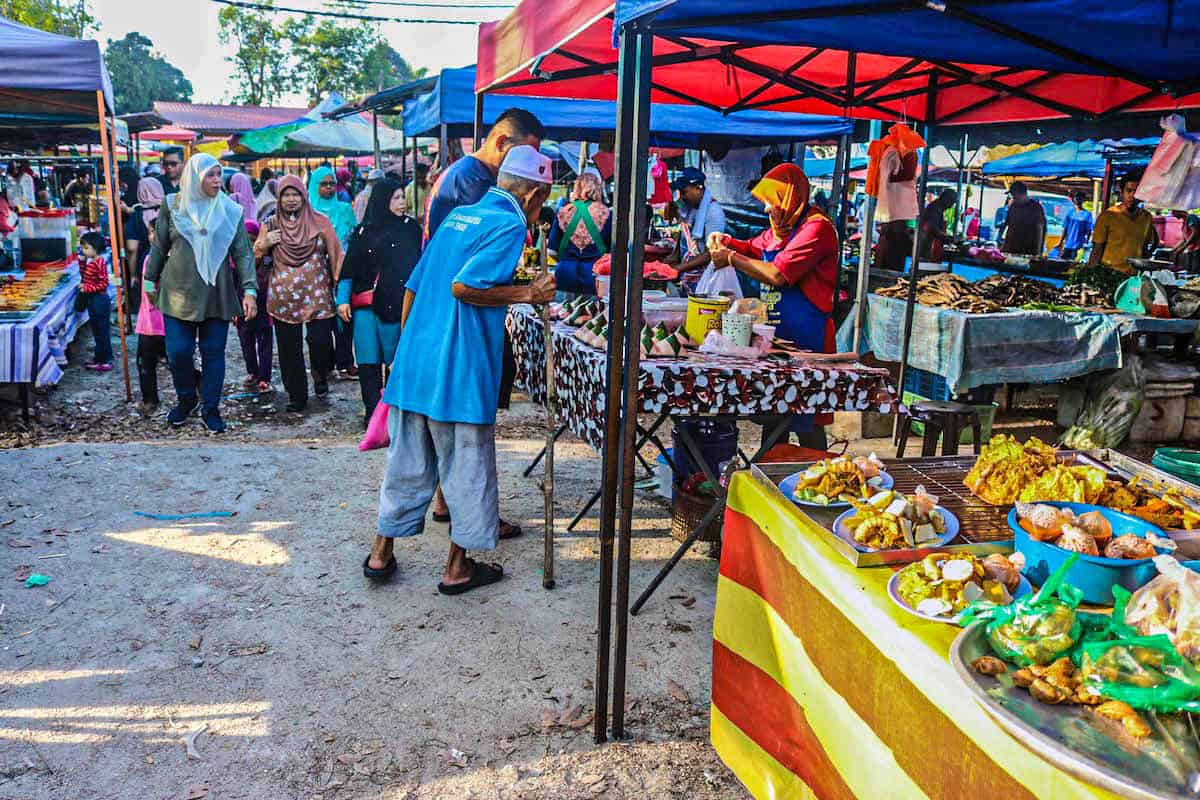 There are two sections to this morning market/ flea market extravaganza; one section focuses on food and produce and the second section (across the road) covers everything else. From produce, meats and seafood to clothing, plants and medicinal herbal remedies, Nat Pokok Getah has a little (or a lot) of something for everyone.
Here's some of what you'll find at Nat Pokok Getah…
Fresh Produce
You'll find fresh fruit, vegetables and herbs galore at Nat Pokok Getah. Some grown locally and some imported from across the border, in nearby Thailand. Non-locals may find it challenging to decipher the less obvious items on display; such as jering pods, and the tables full of alum (Malaysian salad greens). So, if you have any questions just ask the vendor and they will do their best to enlighten you.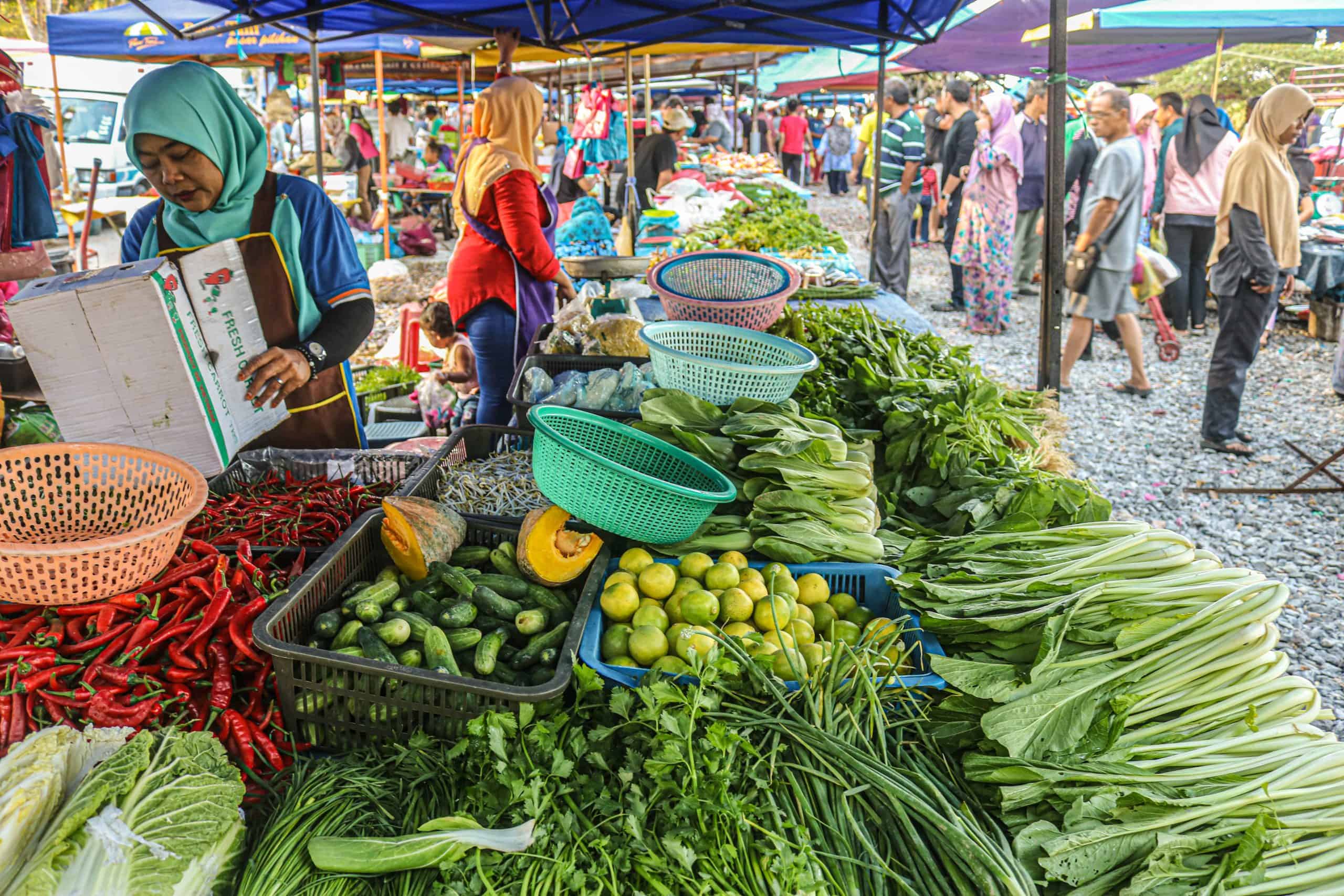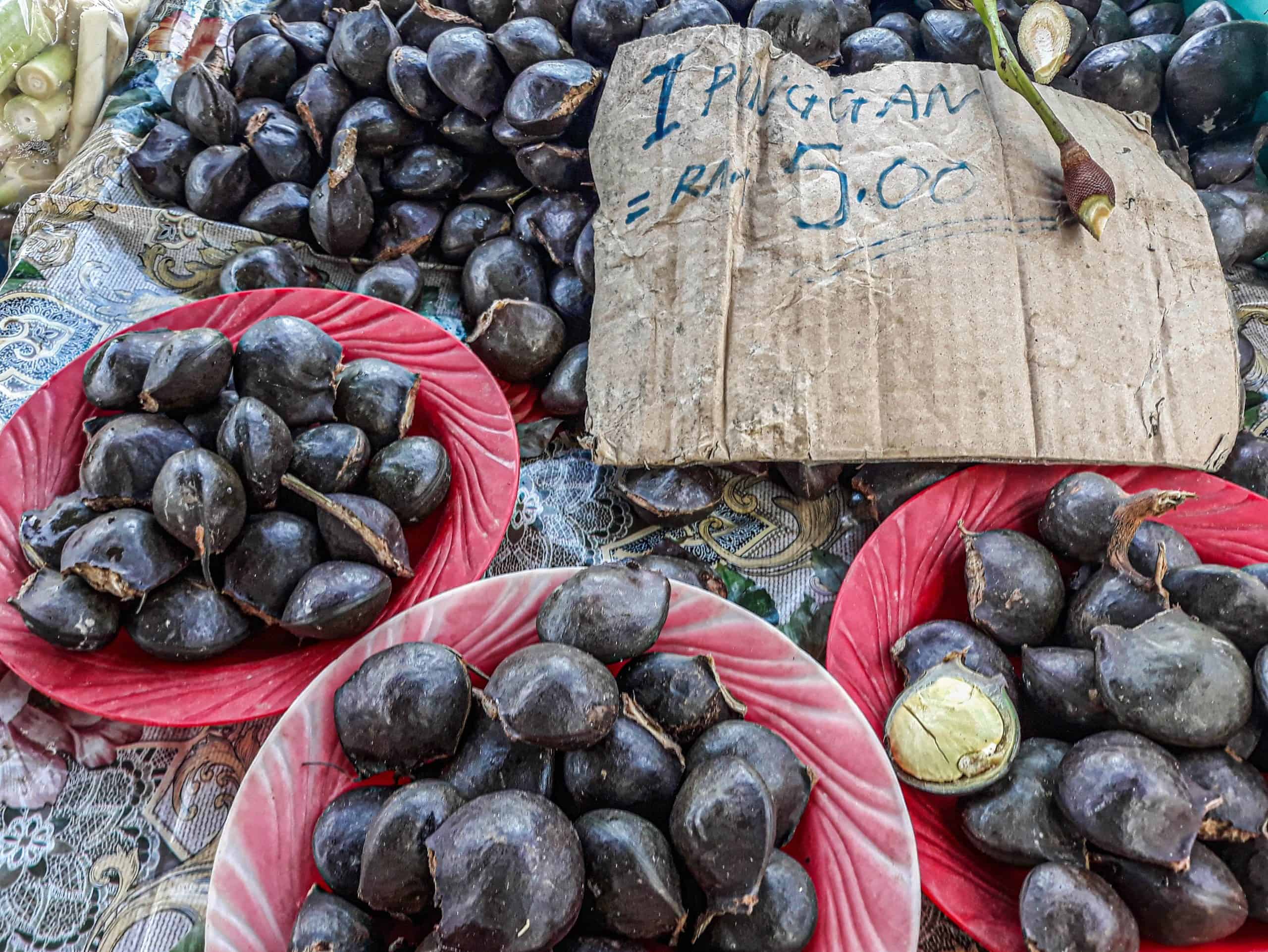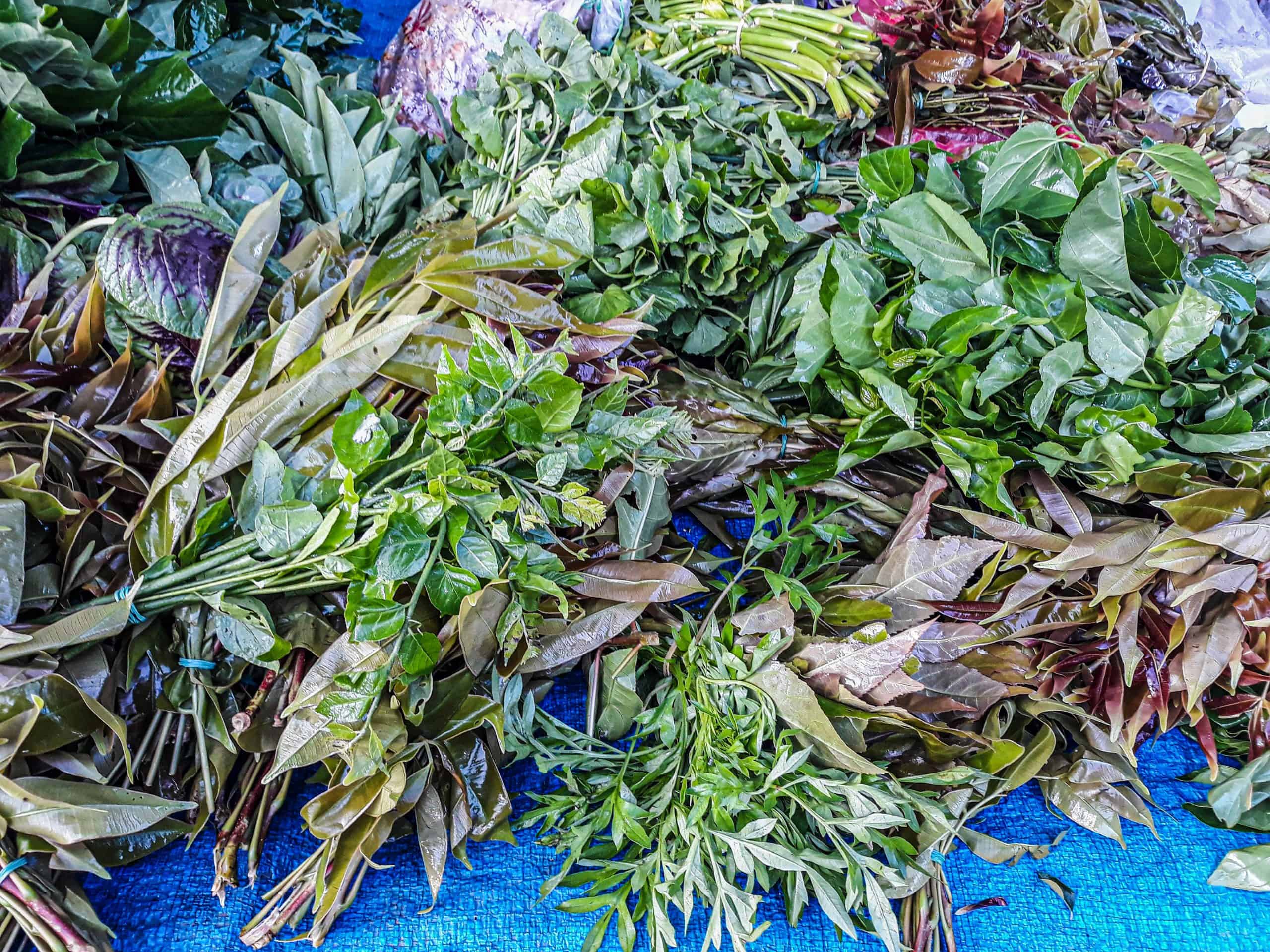 Clothes
If you're shopping for clothes, you will be blown away at the bundle shop style displays. At a glance it may look like too much to deal with, but take your time lah. There are a lot of vintage gems to uncover, in addition to new and pre-loved items to score at bargain basement prices. I found some excellent Teva flip flops that are the most comfortable sandals I've worn in a long time.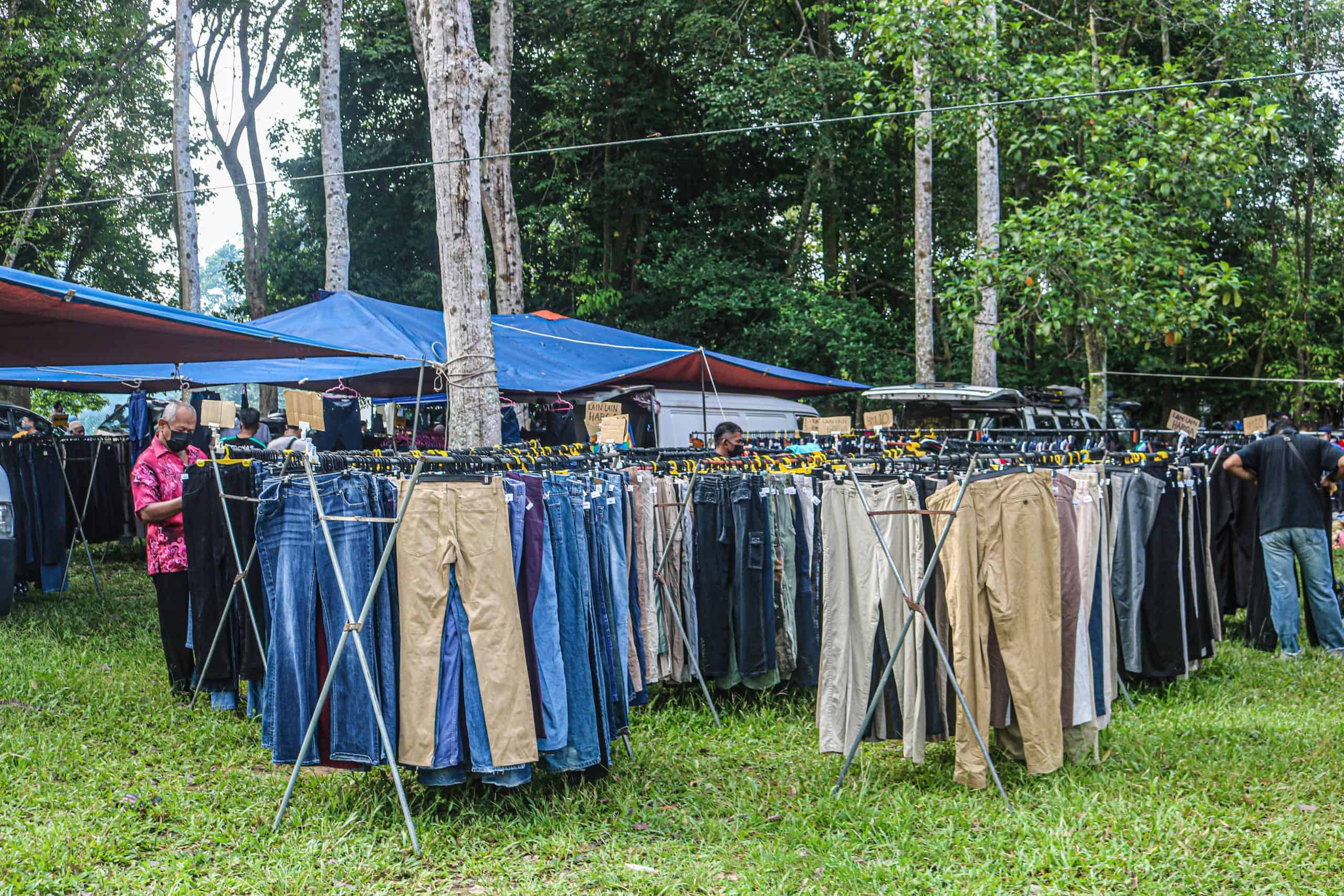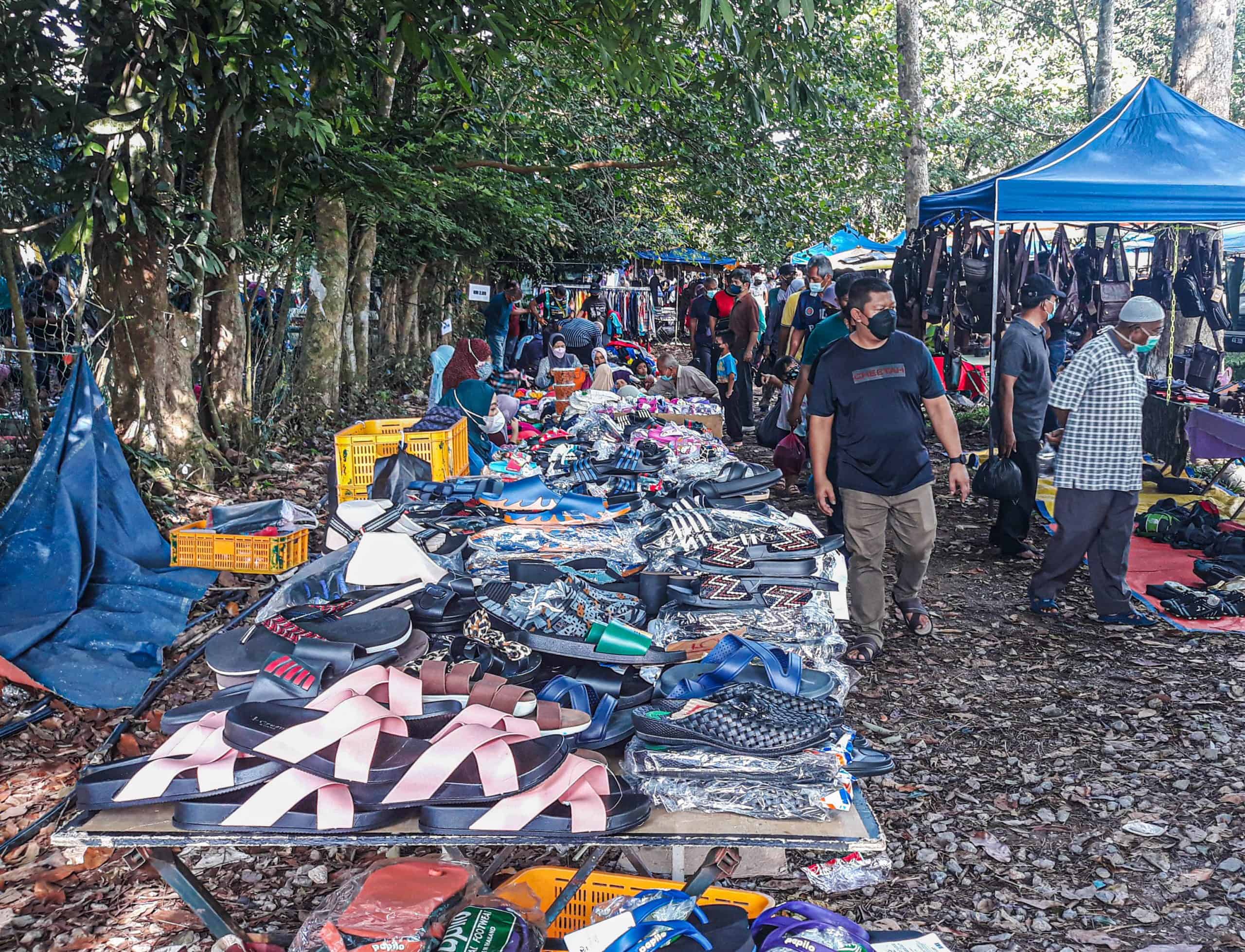 Meats and Seafood
Fresh meats and seafood are on full display at the Pokok Getah market; just like a regular wet market. It may be a disturbing visual for some non-locals (aka westerners), but just remember that Malaysia's open-air market practice has been a tradition for generations, and these folks are experts at market health and safety. The meat, poultry and seafood will likely be super fresh as well as inexpensive.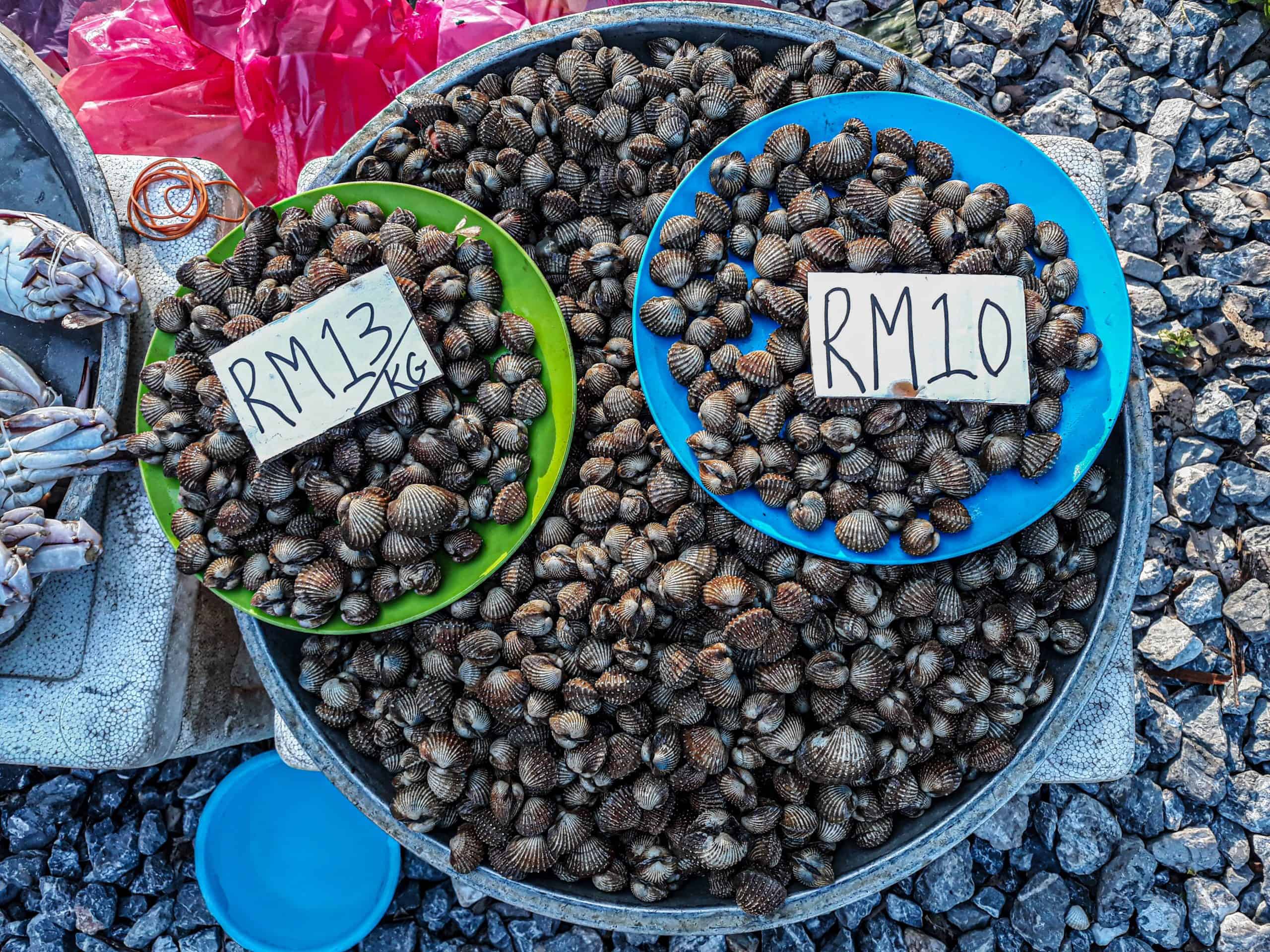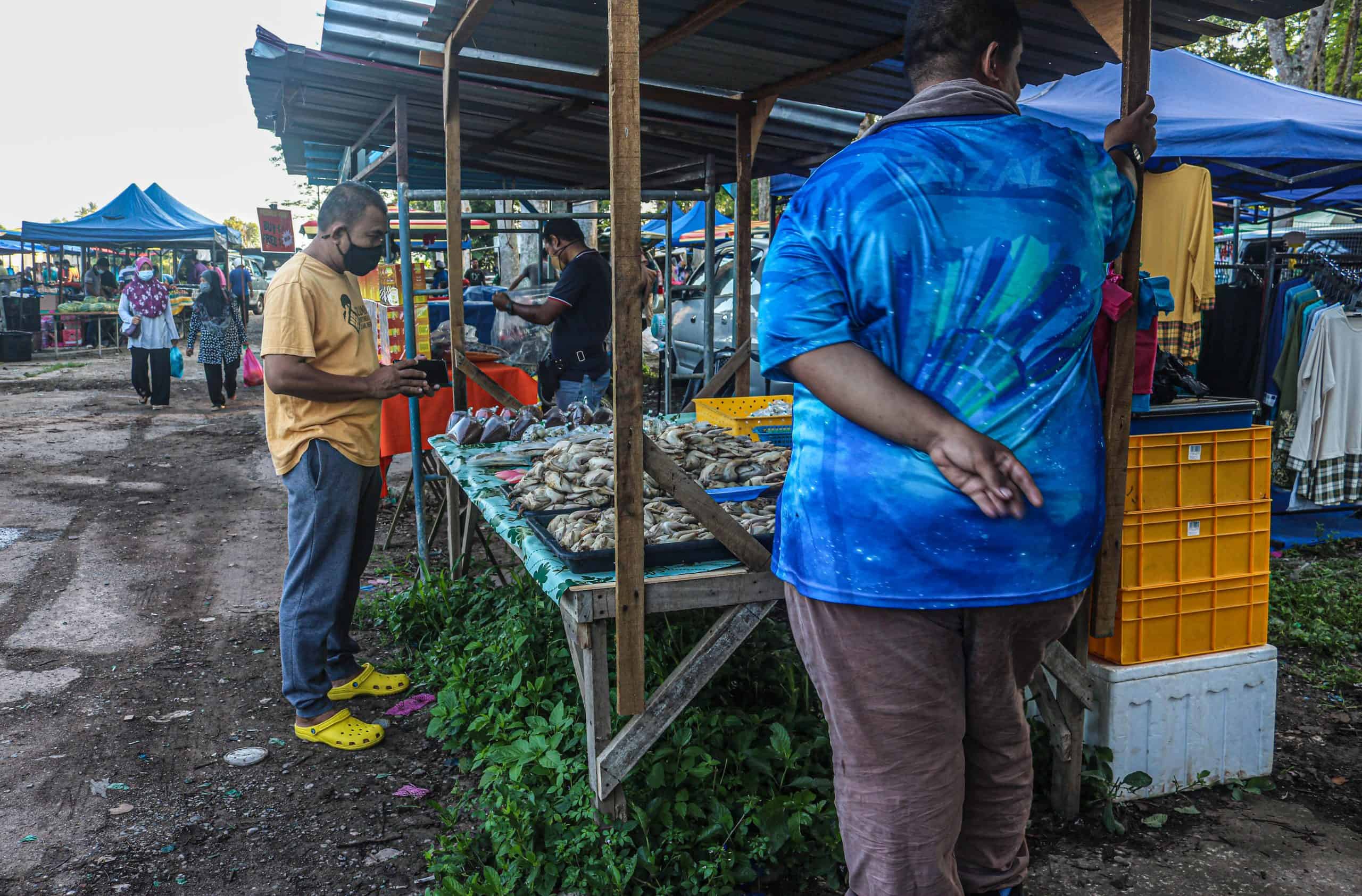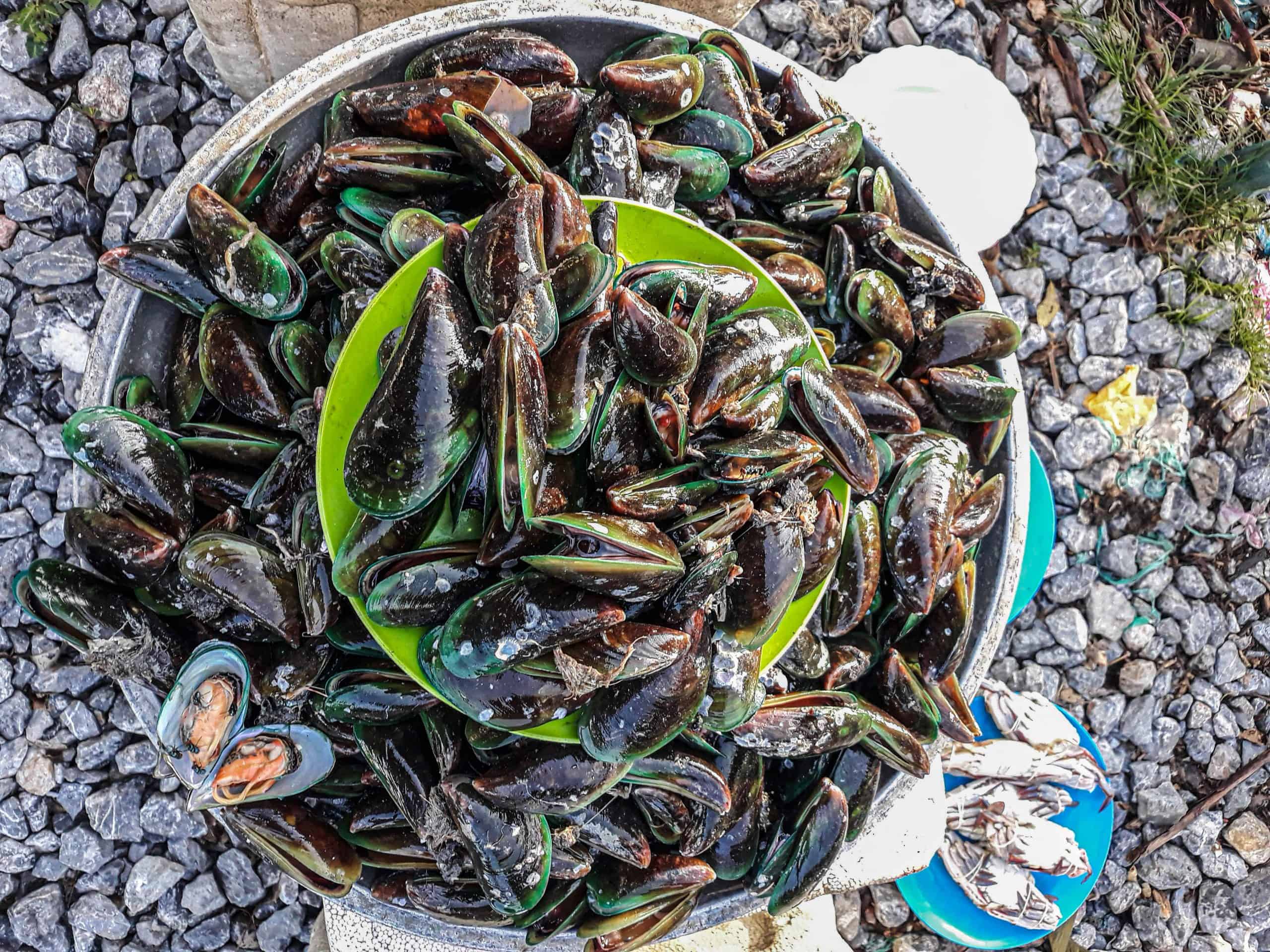 Local Food at Nat Pokok Getah
Food and beverage stalls are plentiful at Nat Pokok Getah. Be sure to go there on an empty stomach so you can eat your way through the market. Most of vendors will be selling local recipes from the Northern Malaysia region, which can often be very distinct, in flavor, from dishes found in other parts of Malaysia. So, if you're a first timer to Malaysia travel this is your chance to try something new.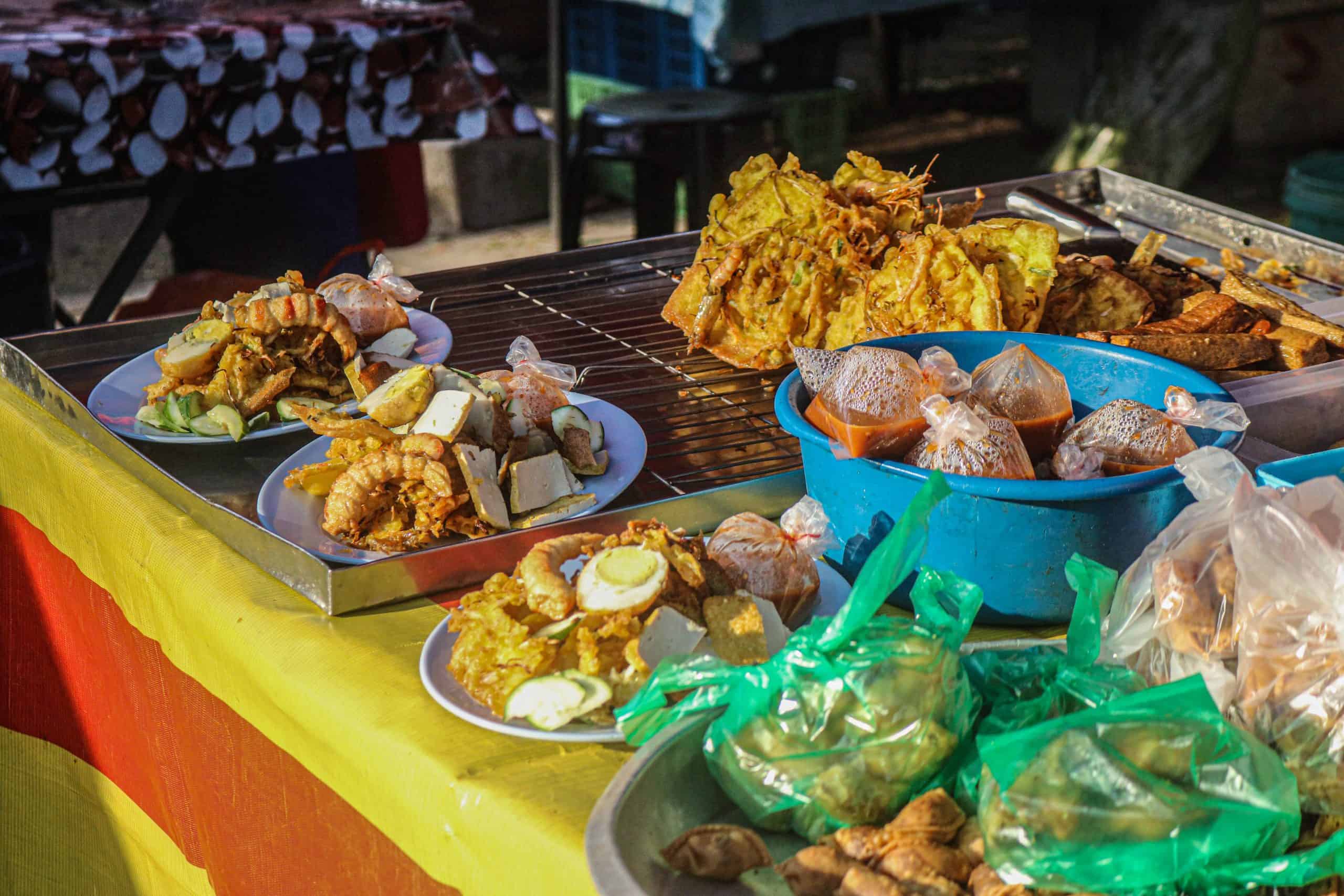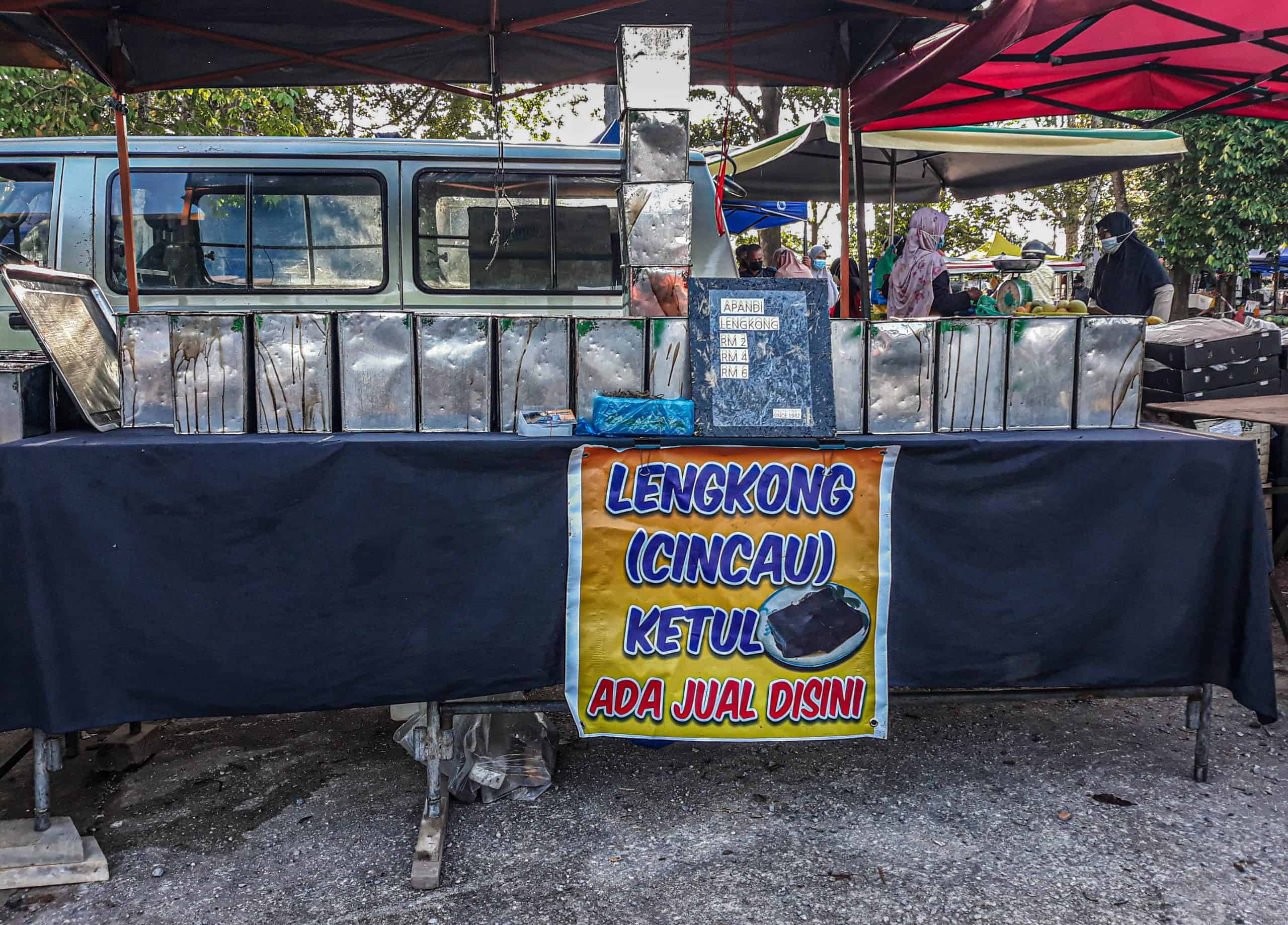 Plants and Garden Supplies
From fruit trees to ornamental houseplants to gorgeous flowers, the Pokok Getah market is a gardeners one-stop-shopping, dream come true. You will find a wide variety of healthy plants on display at very reasonable prices. You can even buy easier-to-carry 'cuttings' at some stalls.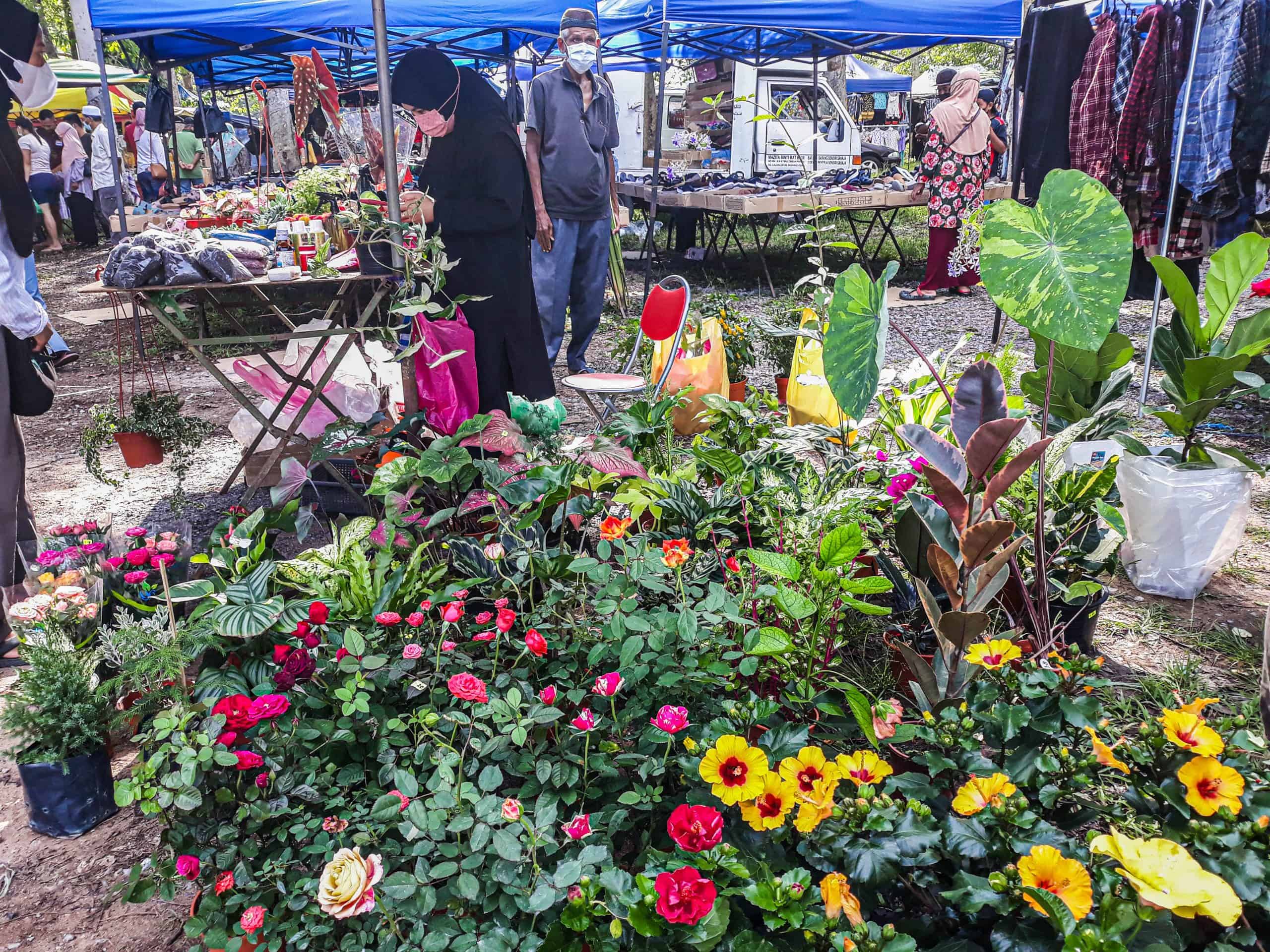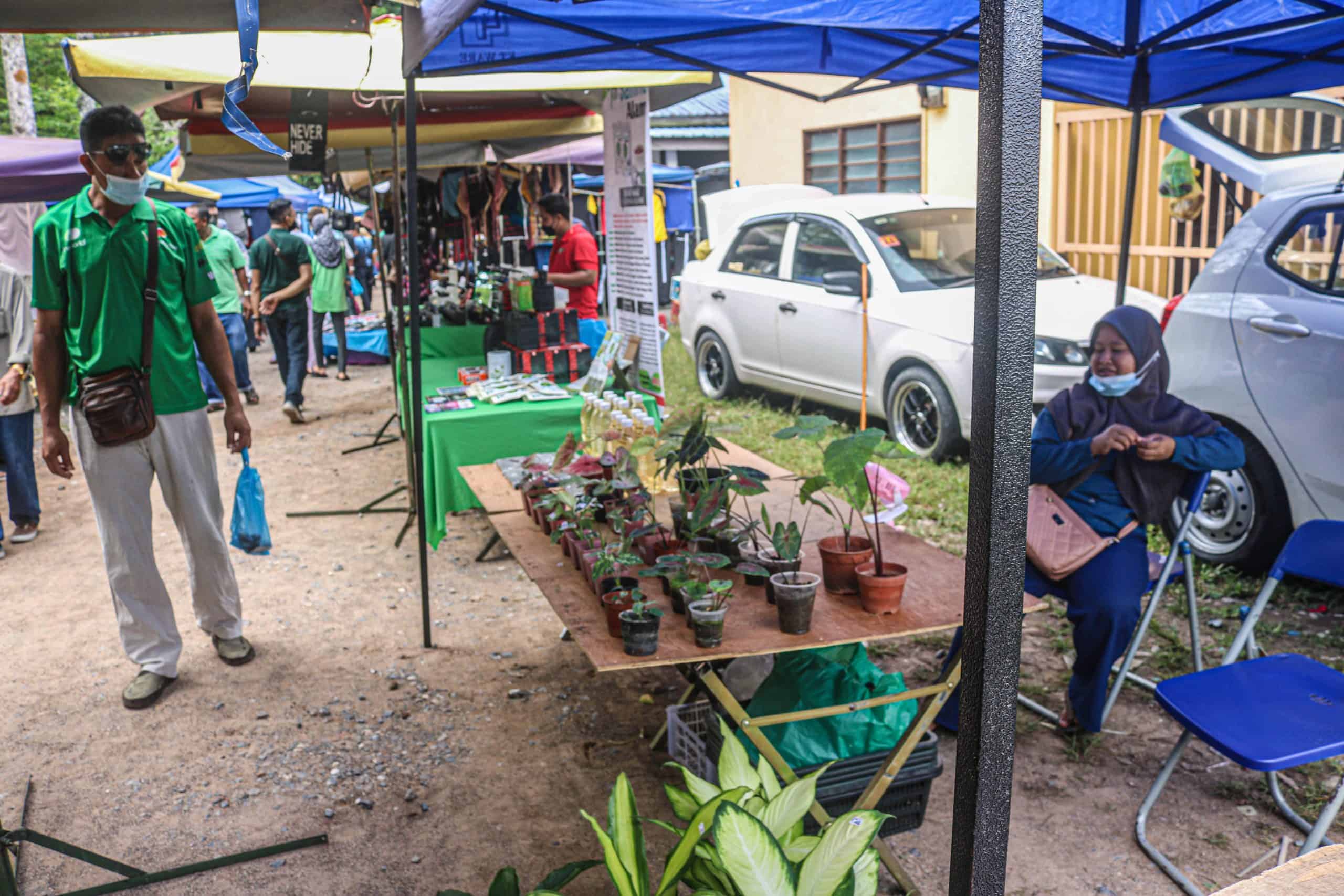 Bits and Bobs at Nat Pokok Getah
Among the various niche vendors, there will be plenty who sell little bits of this and that. Worth digging around if you are looking for something in particular. If it looks like the vendor just cleaned out a storage unit and dropped the lot next to their car, well you may well have a gold mine of potential right there. Really! Pokok Getah market can be just like that.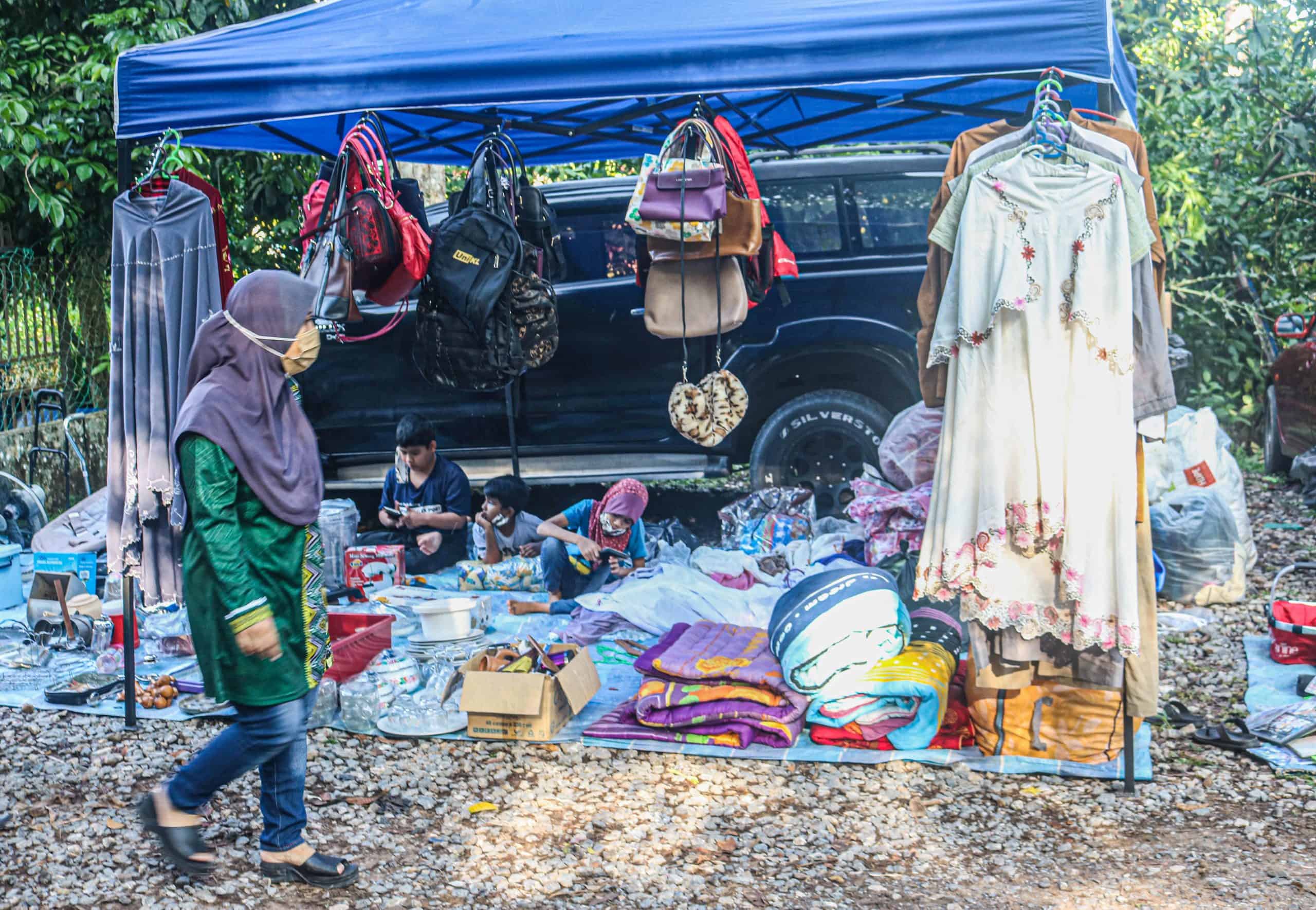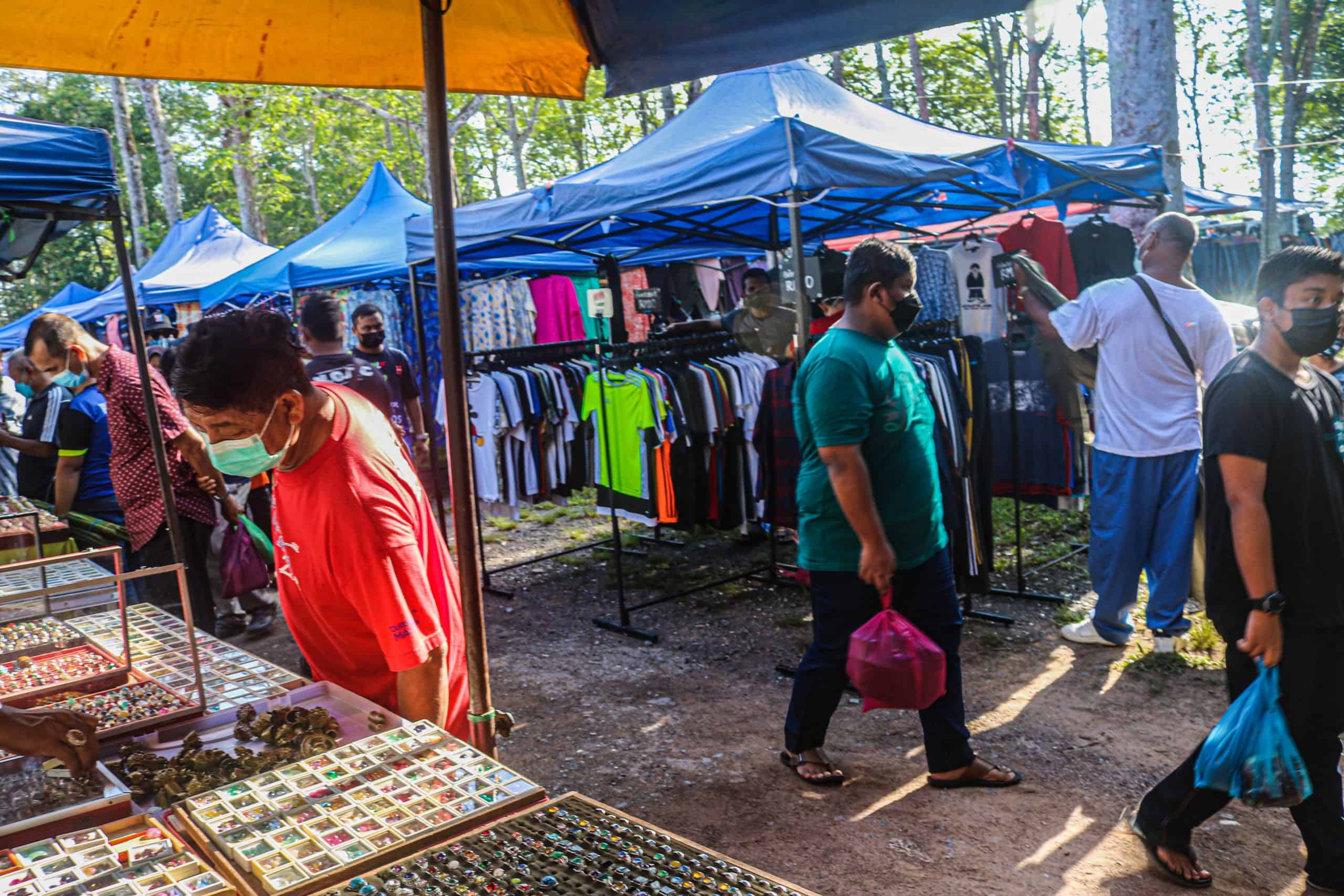 Antiques and Tools
Antique fans will have the opportunity to poke around some great selections of 'old stuff'. Depending on your age, some of those items may be a mere stroll through memory lane, while other items will truly have you scratching your head as to how they survived decades of the tropical climate. Or ever made it to Malaysia to begin with. The market is also a handyman's dream come true, with unique selections of homemade as well as factory tools making their appearances.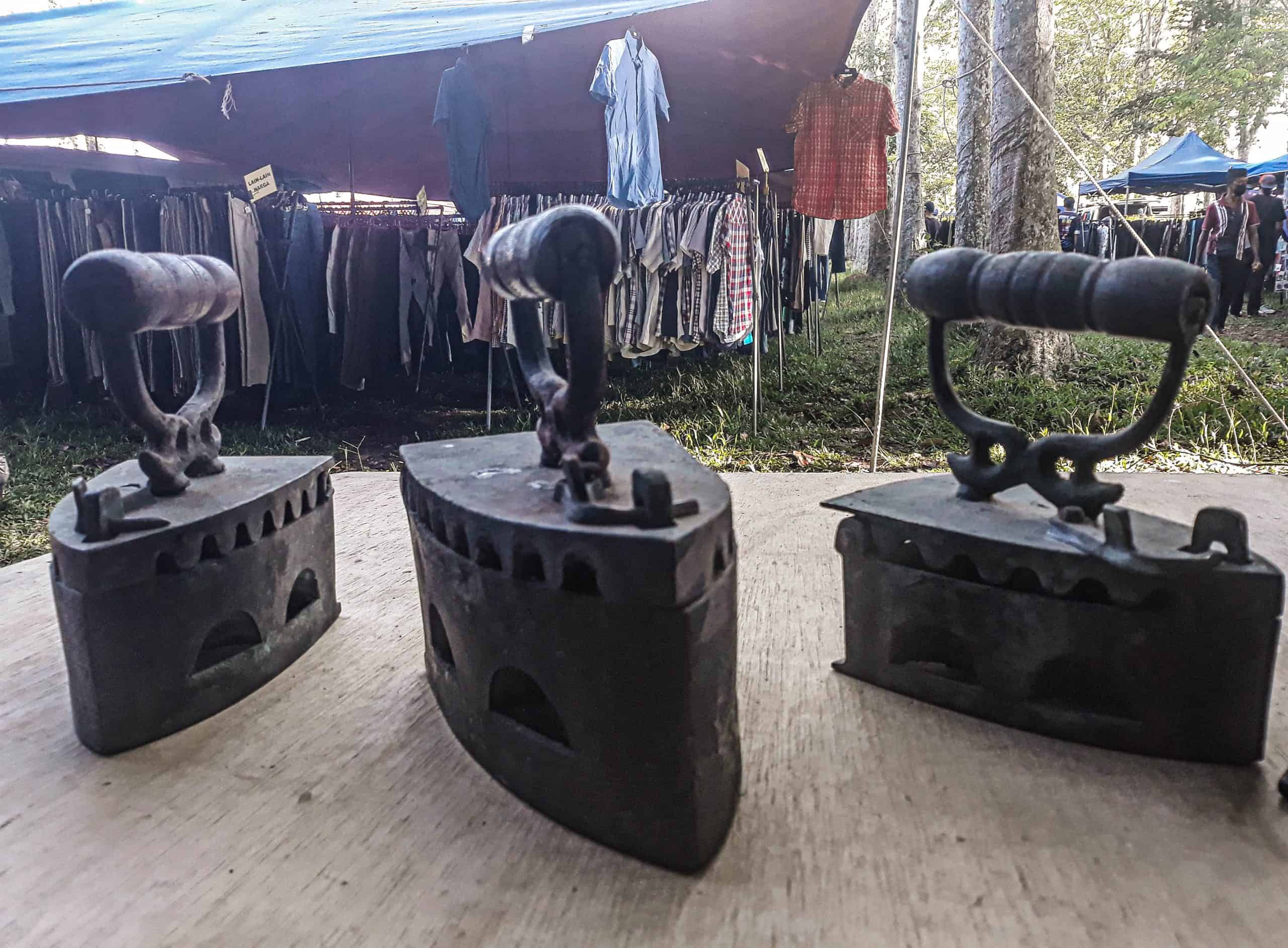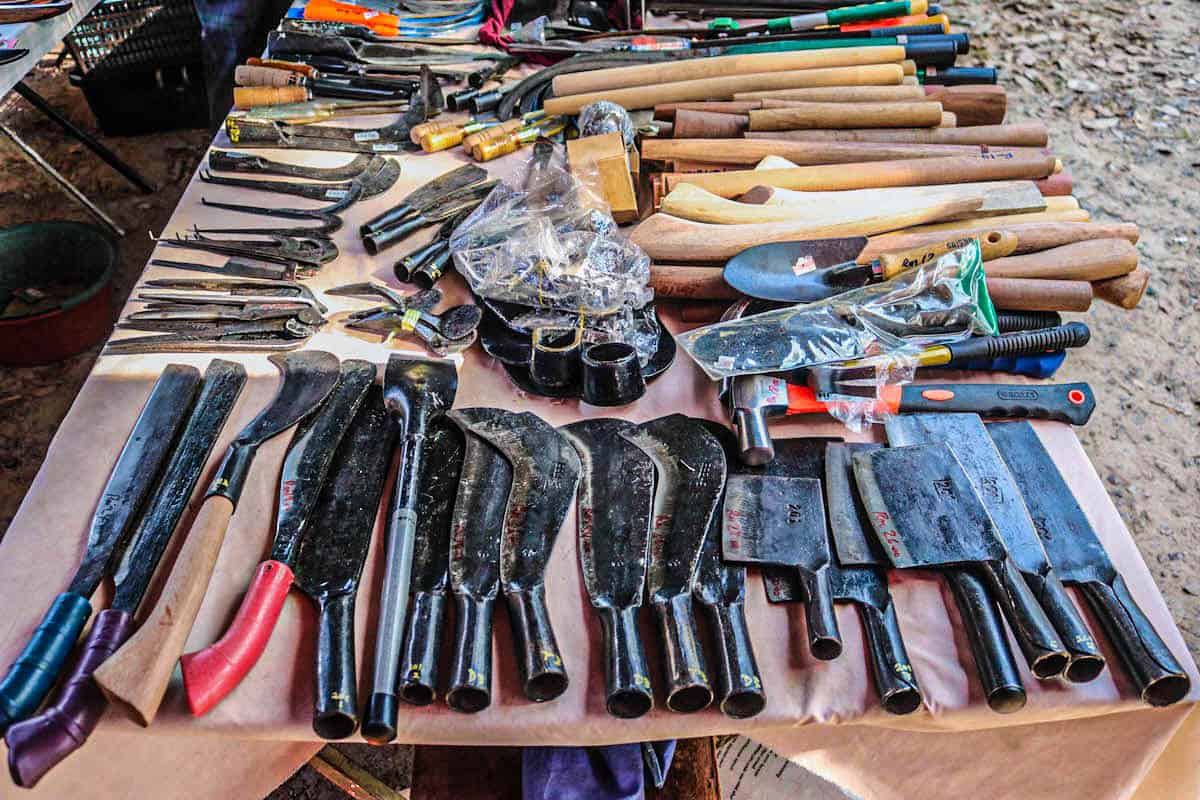 Traditional Medicines at Nat Pokok Getah
You may need to keep an open mind when it comes to the various concoctions for sale, but the vendors are very enthusiastic as well as convincing. Most of the traditional medicines are also homemade mixes created from natural ingredients and not nearly as scary as they may appear. Malaysians to this day are quite adamant about their traditional medicines, so don't knock it 'til you try it. You never know what you may discover!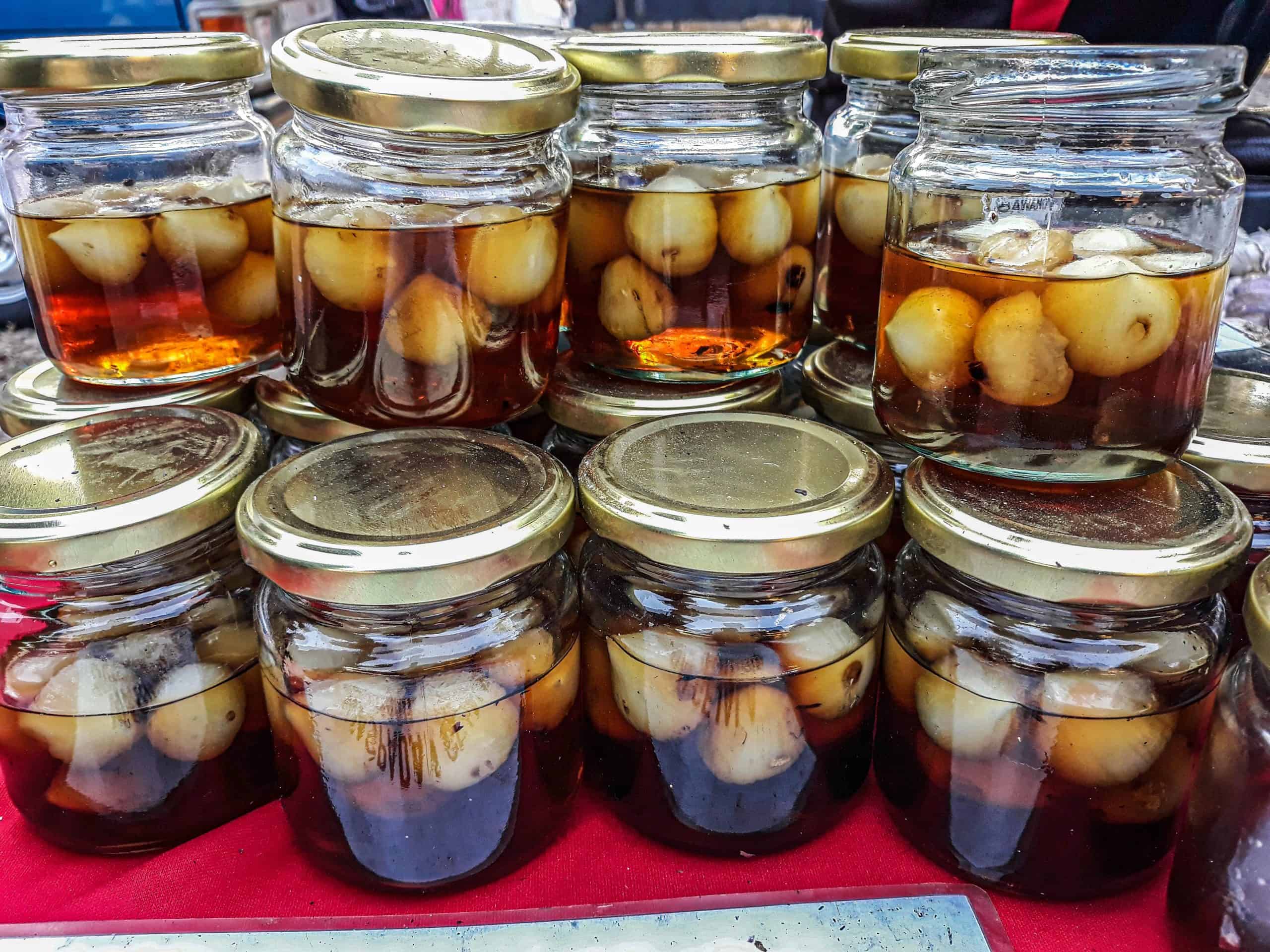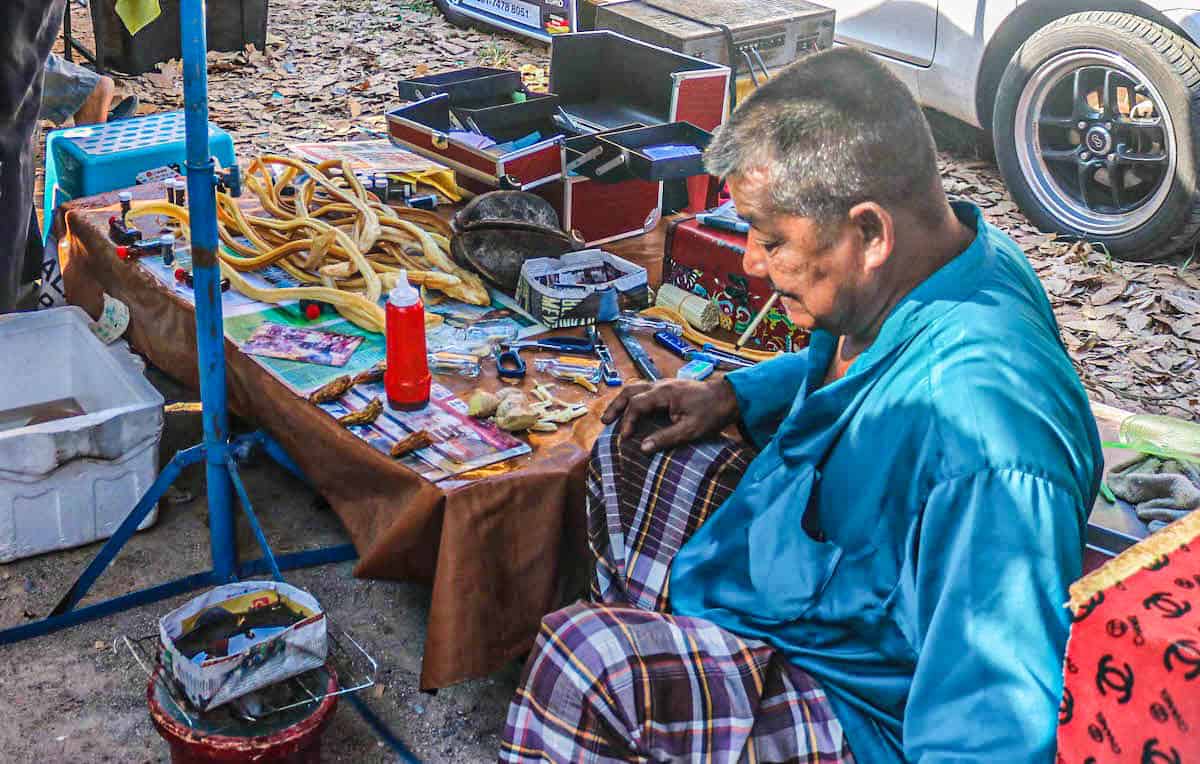 When flea market tourism became a trend in Malaysia in 1997, Nat Pokok Getah jumped on that bandwagon soon afterward and was 'officially opened' in 1998. However, since neighboring Thailand has been embracing flea markets since the 1940s, it's safe to say that eclectic markets have already been quietly happening in Northern Malaysia as well as Southern Thailand for many years already. Perhaps just without much media fan fare. Never the less, the Pokok Getah market is hands down one of the best (and most interesting) markets you will find in Northern Malaysia. It's truly a not-to-be-missed experience.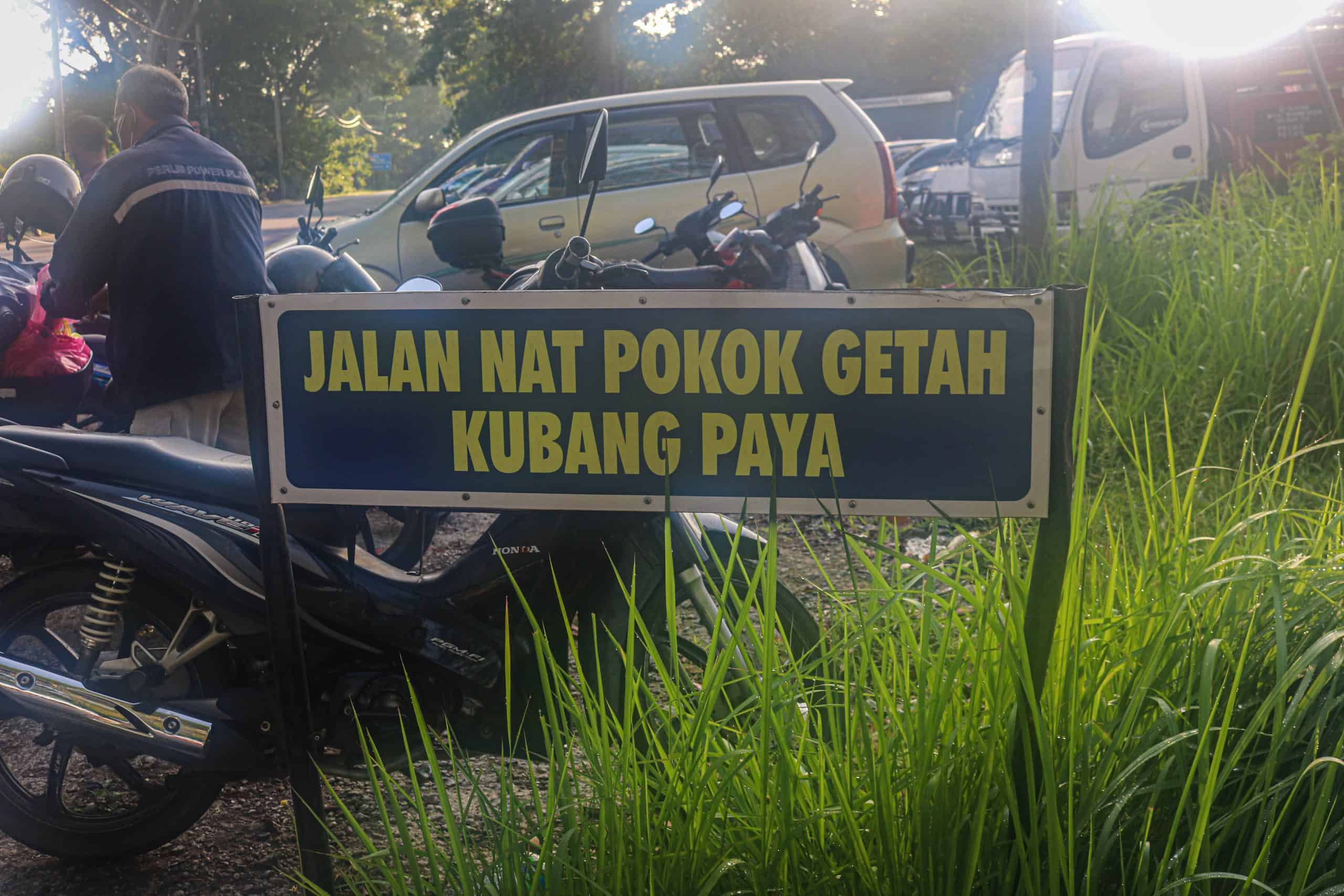 Getting there:
The Nat Pokok market is about 20km from Kuala Perlis and 12km from Kangar. For those without transportation, GRAB taxis are readily available going to or coming from the market.
Nat Pokok Getah
Jalan Nat Pokok Getah
Kampung Kubang Paya, Arau, Perlis
Open: Fridays & Sundays 0700 to 1300
+6017-559 6751