There's more to Sabah, Malaysia than rainforests, orangutans and mountain gods. The many things to do in Kota Kinabalu alone is evidence that it's just the tip of the state's jungle-clad destination iceberg. Like meeting new people, first impressions of a new destination weigh heavily in my initial decision as to whether I like a place or not. But my first impressions of Kota Kinabalu? I had imagined something completely different. My pre-imagined trip to Kota Kinabalu included dense, steamy jungles, adorable orangutans and a massive, snow-capped mountain. I had imagined sherpas milling about among adventure seeking tourists. I had imagined the ho hum culinary offerings of a land spoilt by their popularity. I had imagined plenty of kitschy souvenirs for sale alongside unenthusiastic vendors, indifferent to the massive daily arrival of tourists like me.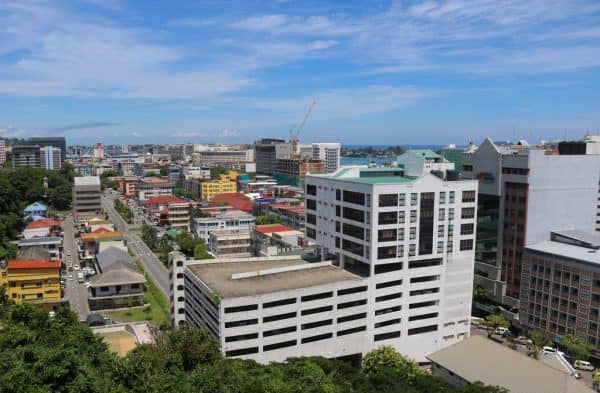 What was the reality? I found Kota Kinabalu to be a fascinating city which sparkles with community pride. It became apparent quickly that the Malaysian state of Sabah deserved some serious future exploration, but for an initiation Kota Kinabalu and the surrounding area is a great place to start. But even Kota Kinabalu deserved more than just one week.
A LITTLE HISTORY
The history of Kota Kinabalu is fascinating as well as complicated. Much like the rest of Malaysia, it involves British colonialists, unhappy locals and the horrors of World War 2. Kota Kinabalu, once known as Jesselton, is the state capital of Sabah; the second largest of the 13 states of Malaysia. It wasn't until August 31st 1963 that North Borneo (as it was previously known) became independent of the British Empire. Shortly thereafter (newly named) Sabah, was united with Malaya, Sarawak and Singapore, to form the Federation of Malaysia on September 16, 1963. It wasn't until August 1965 that Singapore was encouraged to leave the federation (to do their own thing) and the rest is history.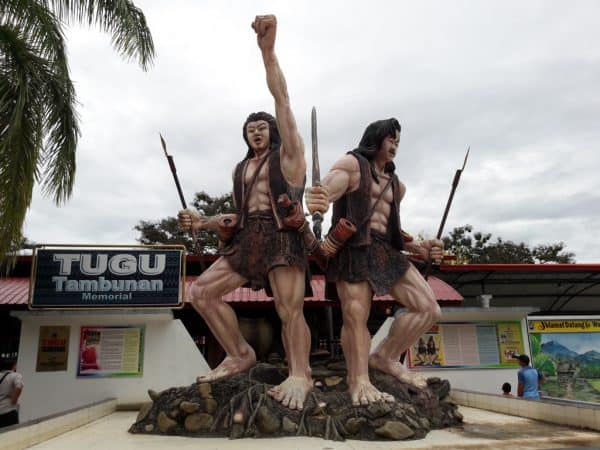 This is all part and parcel for the melting pot of Malaysia and perhaps even more so for Sabah. Here are a few of my discoveries during a week-long visit to Kota Kinabalu and my first visit to the land below the wind.
THE SABAHAN WELCOME WAGON
The people of Sabah are known as Sabahans. There are 32 recognized ethnic groups in Sabah, with the largest indigenous group being the Kadazan-Dusun people in addition to the Bajau and Murut people. The largest non-indigenous ethnic group are the Chinese. Kota Kinabalu's charming melting pot of people won me over from the get go.
Although I was with a local guide for many of my excursions, I did have ample opportunity to mix and mingle with locals on my own. There was absolutely no change in the genuine friendliness of everyone who I encountered. Plus, they are very easy to communicate with! English is widely spoken, in addition to the Sabahans' own mother tongues, Bahasa Malaysia (the national language) as well as Mandarin and other Chinese dialects.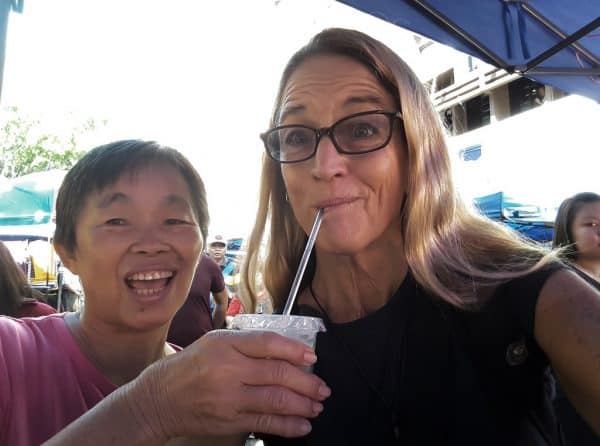 WHERE HERITAGE AND CULTURE ARE KING
Kota Kinabalu celebrates its culture and heritage every day and that's obvious from the 'One Malaysia' vibe of the locals. Just one big happy family. But every year they take that celebration a big step farther with the annual harvest festival. The Kaamatan or Pesta Kaamatan is celebrated by the ethnic Kadazan-Dusuns and other ethnic groups in the state. This amazing festival lasts for the entire month of May as the indigenous people of Sabah thank the gods for a bountiful harvest.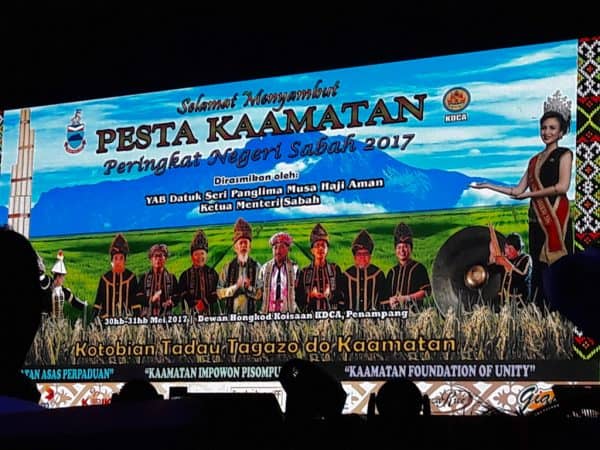 PLENTY OF LOCAL SIGHTS TO SEE
Loads of sights to see and things to do in Kota Kinabalu, but the Gaya Street Sunday Street Market should definitely be at the top of the list of not-to-be-missed. Held every Sunday from 06:30 until 13:00, this fabulous market is akin to some of the best Farmer's Markets I have been to in previous travels. From kitschy touristy souvenirs and unusual local products to tasty treats and fruit trees, one could easily spend several hours there exploring and shopping!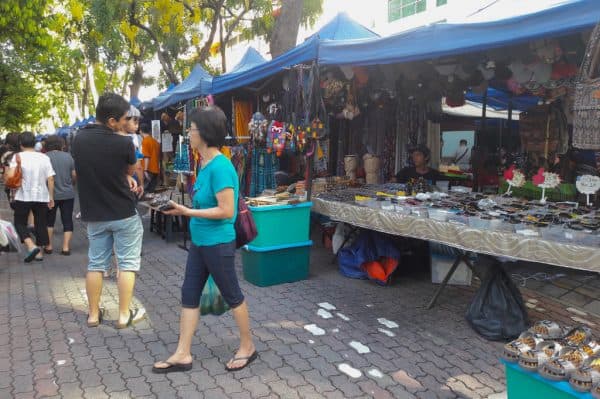 Prefer long walks on the beach? The Kota Kinabalu Esplanade is the next best thing. This 2-kilometer walkway is adjacent to the South China Sea. It's especially peaceful in the early mornings or at the end of the day, when the Kota Kinabalu sunset creates it's colorful, masterpiece across the horizon. Picturesque, romantic and all the other adjectives to describe the perfect Instagram sunset moment.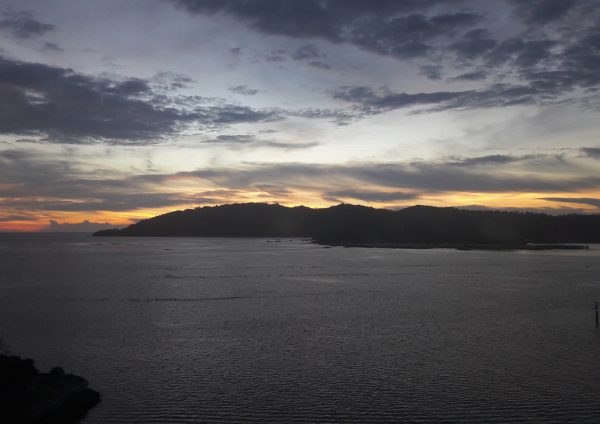 A charming little known fact about Sabah is that of the 23 districts within the region, nearly all have at least one special roundabout. Why are they special you ask? Because each roundabout has a statue-like structure depicting a specialty of that district. Known for their rich marine resources, Kota Kinabalu's eye catching roundabout includes a massive Billfish splashing from the center of the roadway near city center. Definitely something to keep a lookout for as you explore other districts of the region.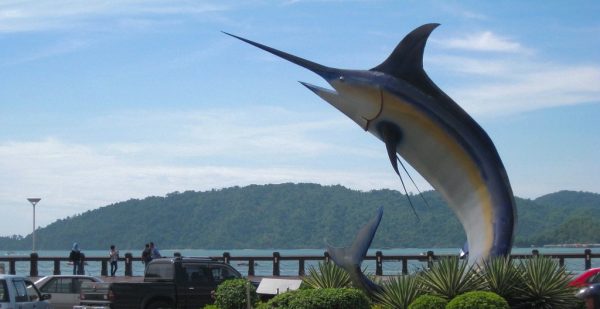 Photo credit: Bernard Oh
Even non-architectural fans will be amazed at the vision of the Yayasan Sabah Tower (aka Menara Tun Mustapha), a very popular tourist 'attraction', located about 5-kilometers from the Kota Kinabalu City Center. At 30-stories tall, this architectural wonder has dibs on being the second tallest building in Borneo.
But that's not all. What makes this building so unique is that it is actually suspended from a core structure of 96 steel rods. It's one of four such buildings in the world. The 72-sided polygon shaped building has external walls made from over 2,100 reflective glass panels which can withstand wind speeds of up to 272 km per hour. This iconic building shares its stage with Mount Kinabalu, whose own iconic reflection can be seen shimmering from the many reflective glass panels.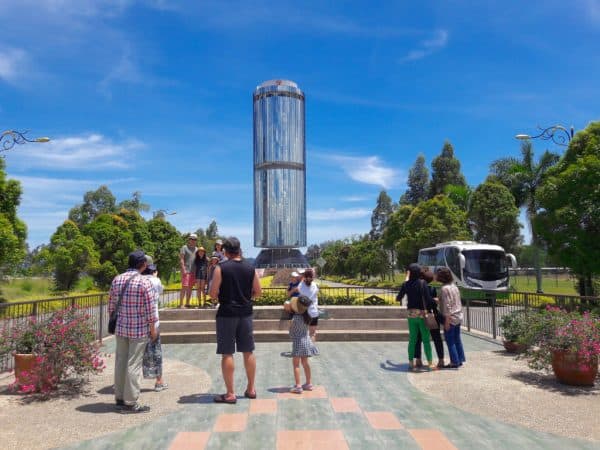 For a good overview of the Kota Kinabalu township and beyond, the Signal Hill Observatory Tower is the highest point in the capital city. Standing the test of time, literally, is the nearby Atkinson Clock Tower. Presently the oldest standing structure in Kota Kinabalu, it was originally constructed of wood without the use of nails. Previously known as the 'Atkinson Memorial Clock Tower', it was built as a memorial to Francis George Atkinson; the first District Officer of Kota Kinabalu. The memorial tower was funded by Officer Atkinson's mother in 1905.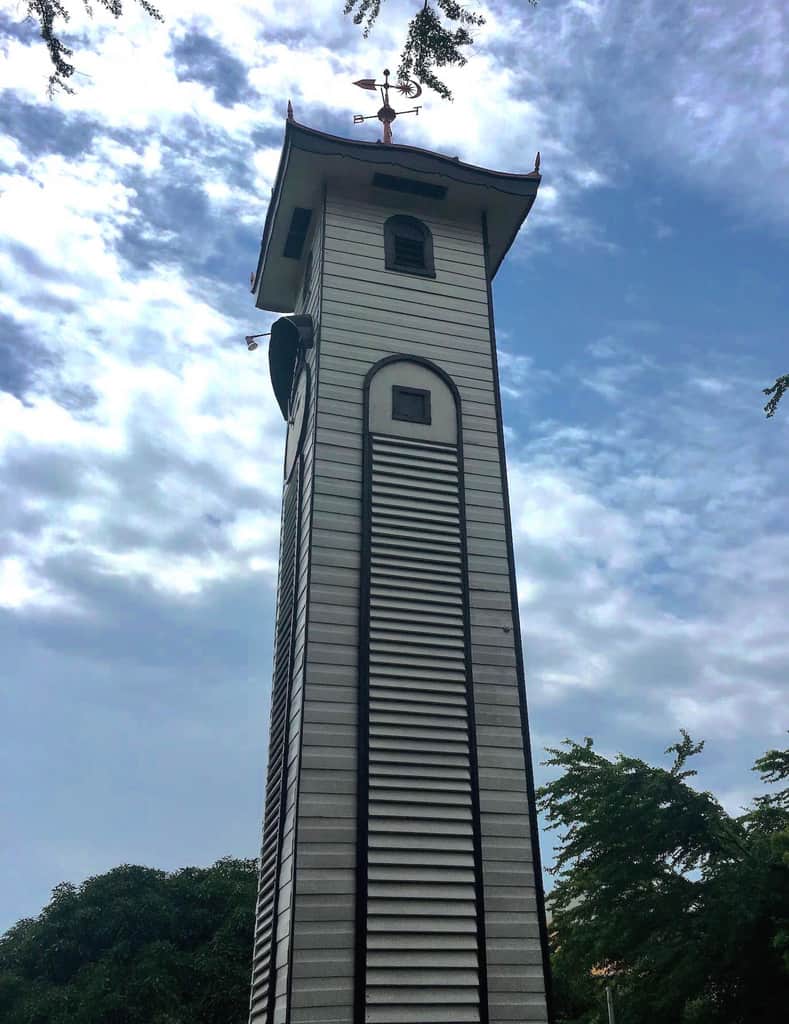 Photo generously provided by Shandos Cleaver from Travelnuity 
NATURE IS TREASURED IN KOTA KINABALU
Considering my pre-imagined Kota Kinabalu experience, it's safe to say that Sabah is internationally known for its flora, fauna and wilderness adventures. Popular social media feeds are peppered with updates about palm plantations vs. rainforests, rehabilitated orangutans and the star of the show Mount Kinabalu. A mountain which challenges average people to trek to the top and take a selfie. Good news or bad, those are probably the first things that come to other people's minds when they hear the word 'Sabah'. But there are many more, less famous, nature experiences to be had which can be especially attractive to new visitors with limited time (like me).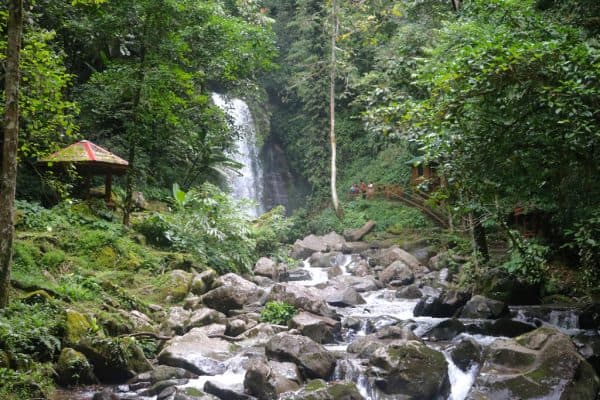 Enter Crocker Range Park. Just an hour and a half from Kota Kinabalu, near the town of Tambunan, is the Mahua Substation of Crocker Range Park. Registration and a conservation/entry fee is required (about RM10) to enter the park. And it is money well spent as the monies' use is obvious once you set your eyes on a pristine forest, a rubbish free river and a crystal-clear waterfall. The Mahua Waterfall is just 500 meters from the substation's entrance via a well maintained bricked trail. The 17 meter tall waterfall is picture perfect for a picnic, an Instagram capture or even a brave frigid dip.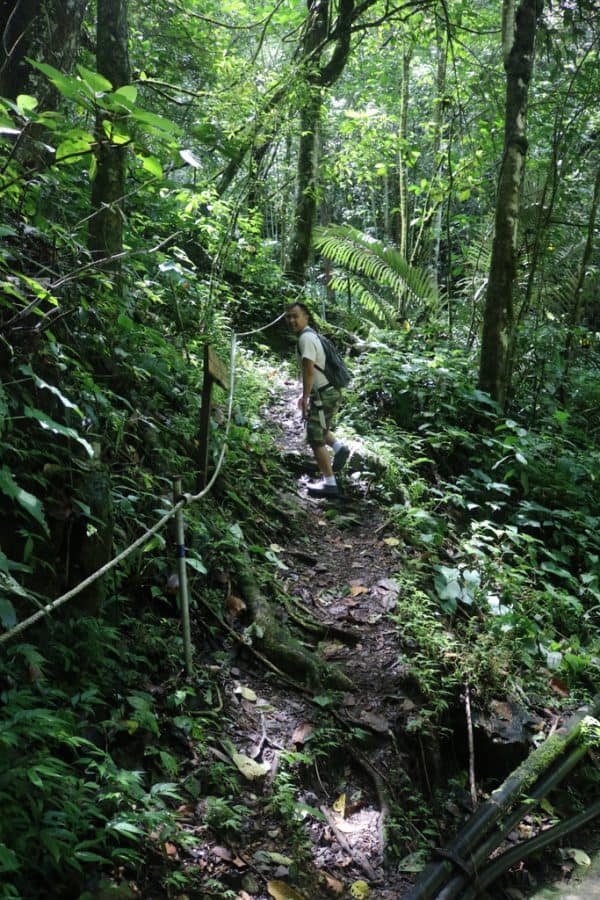 Up the ante on your adventure seeking self by continuing onward to the last kilometer or so of the Minduk Sirung Trail, (the beginning of this 12-kilometer trail starts at Mount Alab, located in the center of the Crocker Range). This mini trek's goal is ultimately to reach the 'big tree'. It's adventurous enough as the trail is dense with forest and the surround sounds and appearances of birds and wildlife (including leeches). One thing I learned is that the absence of leeches means the absence of nearby wildlife. I'm happy to report that I did pick up a few leeches along the way. I also witnessed one of the most spectacular insect events I have ever seen as I watched these ants carry away a large millipede. Check out my You Tube video clip of the Amazing Ants of Sabah.
If you're keen to get a glimpse of the famed Proboscis monkeys of Sabah, head to the town of Kota Belud just an hour and a half north of Kota Kinabalu. The drive is lovely with panoramic views of Mount Kinabalu on the horizon. Considered to be the heartland of the Bajau as well as the Dusun people, the surrounding communities exude a sense of close family ties and strong local culture.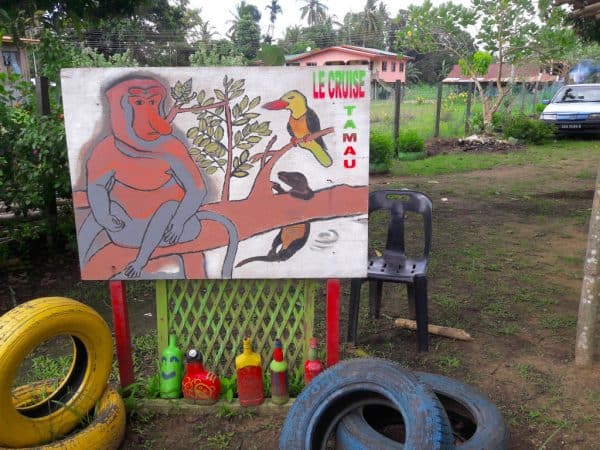 River cruises with local guides are a great option for spotting a variety of wildlife, but it takes patience and a sharp eye (or a good set of binoculars). My group spotted Proboscis monkeys, a Kingfisher and Brahminy Kite, giant land crabs and a monitor lizard. The exotic river flora and fauna are intoxicating.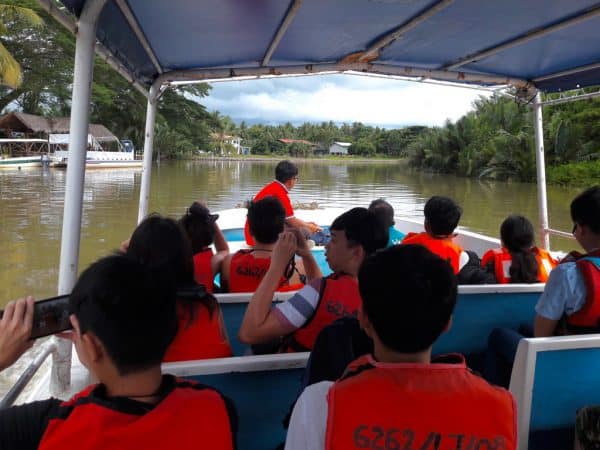 FOOD GLORIOUS FOOD
As a self-proclaimed, budding foodie, I was stunned by the diversity of food and drinks available in Kota Kinabalu. Similar to Ipoh and Penang, Kota Kinabalu is a food lover's dream destination. It certainly helps to have a guide or even a checklist of 'foods to try' because you won't want to miss anything. Except maybe the Sago Worms (which I didn't try because I'm a sissy).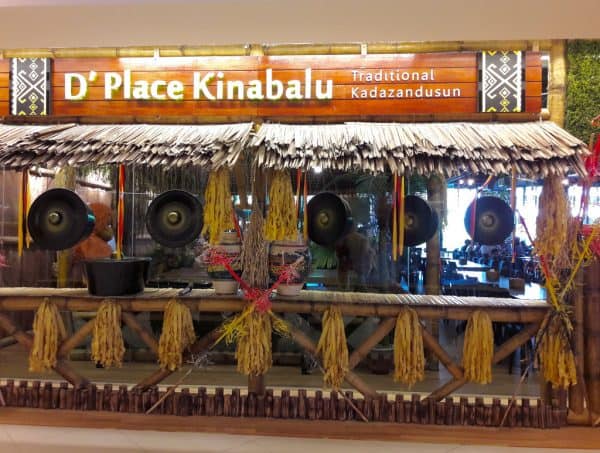 My guide Bryan, from Borneo Passages, spoiled me with culinary perfection by introducing me to some of the best local eats in town. But even on my own I had zero food fails. And trust me, my luck isn't always good when it comes to scouting out new places to eat. It's safe to say that many local restaurants are basically 'famous' for a particular dish, so with limited stomach space (or time) shoot for the 'house specialty'.
BUDGET FRIENDLY
Visiting Kota Kinabalu is easy on the wallet! I found that local eateries and higher end restaurant chains had lower prices than the typical 'big city' in Southeast Asia. Even the Suria Sabah Shopping Mall was budget friendly, despite their prime real estate location. Everything from book stores and hair salons to fashions and sporting goods; great selections and very reasonable prices. Kota Kinabalu hotels are also plentiful, with selections to suit all budgets.
GETTING THERE IS EASY
Kota Kinabalu is super easy to get to, especially from Kuala Lumpur. There are up to 13 flights are scheduled daily with Air Asia alone. I found that option quite budget friendly as the frequency allowed for easy connecting flights, short layovers and no need to spend the night prior to my flight date or changing airport terminals. My direct flight from Langkawi to KL to Kota Kinabalu took less than 6 hours total. And it was an absolute breeze of a journey.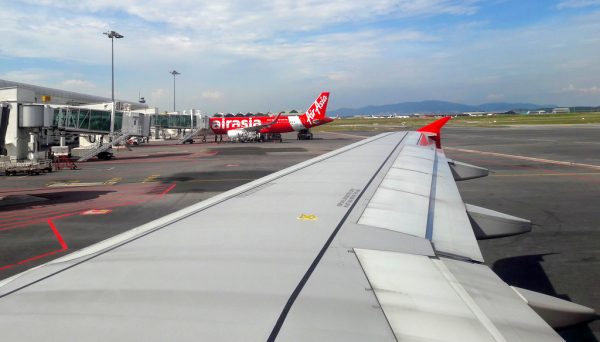 BOPPING AROUND TOWN
Getting around Kota Kinabalu proper is a piece of cake. Many of the main sights within the city are easy walking distance of the town center and taxi service is readily available; including Uber. I even hailed an Uber 30-minutes outside of the city limits. Good to know if you happen to get stranded somewhere slightly remote.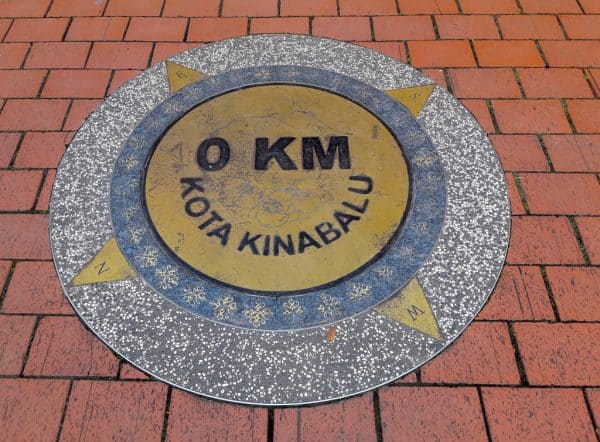 LAND BELOW THE WIND
Sabah is known as the 'land below the wind' because it's located below the typhoon belt. This allows for generally perfect weather year round. Combined with my above-mentioned discoveries, Kota Kinabalu and the rest of Sabah is a slice of Malaysian paradise that is definitely worth a visit or two or three. If you are heading onward to Sandakan, be sure to check out our First Time Visitor's Mini Guide To Sandakan
For more information on Sabah, Malaysia, Borneo travel/tours:
Sabah Tourism Board: +60 88-212 121
Borneo Passages:(+6 088) 250728 or email: [email protected]
*Borneo Passages guide Bryan and driver Wilfred, made my first trip to Kota Kinabalu exceptional.
I was a guest of the Sabah Tourism Board and Borneo Passages, but my opinions as always are my own.
Disclosure: This post contains affiliate links, which means that if you click on one of the product links I may make a small commission, at no cost to you.
Have you visited to Kota Kinabalu? If you have any tips, I'd love to hear them!