Shopping in Hat Yai is incredible. Especially for bargain hunters. Hat Yai is the largest city in Thailand's Songkhla Province, yet despite the numerous things to do in Hat Yai it doesn't see nearly the western tourist traffic that its sibling cities see. But ask any Malaysian why they go to Hat Yai and the majority will tell you, "For shopping!".  I used to roll my eyes a bit about that until I actually went to Hat Yai for the sole purpose of shopping. Let me tell you, my eyes were opened lah. Hat Yai is indeed a shopper's paradise.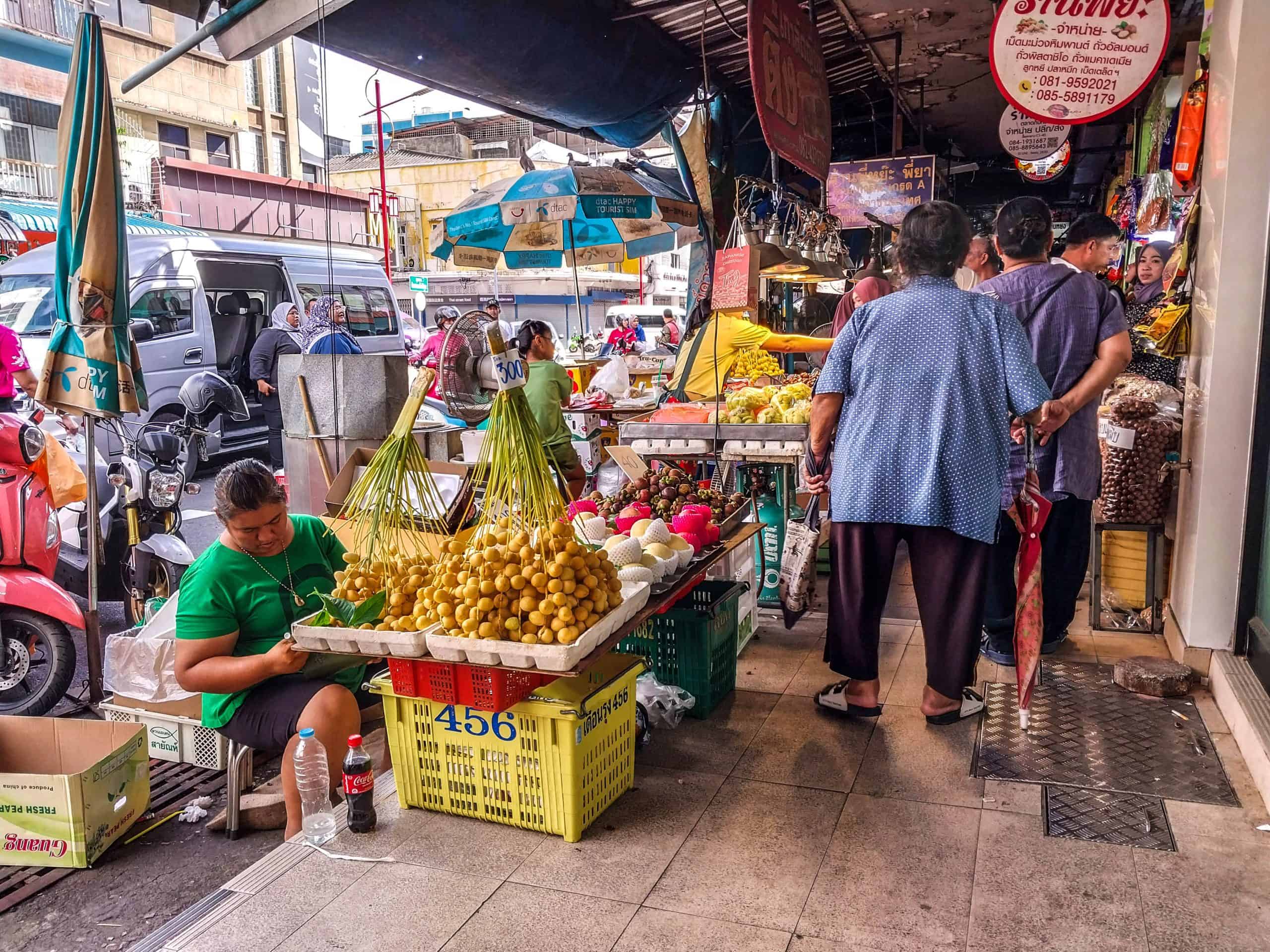 Sure you'll see similar merchandise in some popular locations, but if you dig a little deeper you can find a lot of excellent bargains on a huge selection of goods. Here are 6 locations to check out next time you go shopping in Hat Yai.
Asean Night Bazaar
Located just two blocks from Bus Station 1, the Asean Night Bazaar is a must visit for discerning budget shoppers. The night bazaar is spacious, diverse, refreshingly well-organized, and clean as a whistle. Apparently, it has also been open since 2005, but it was only recently that I even heard about it.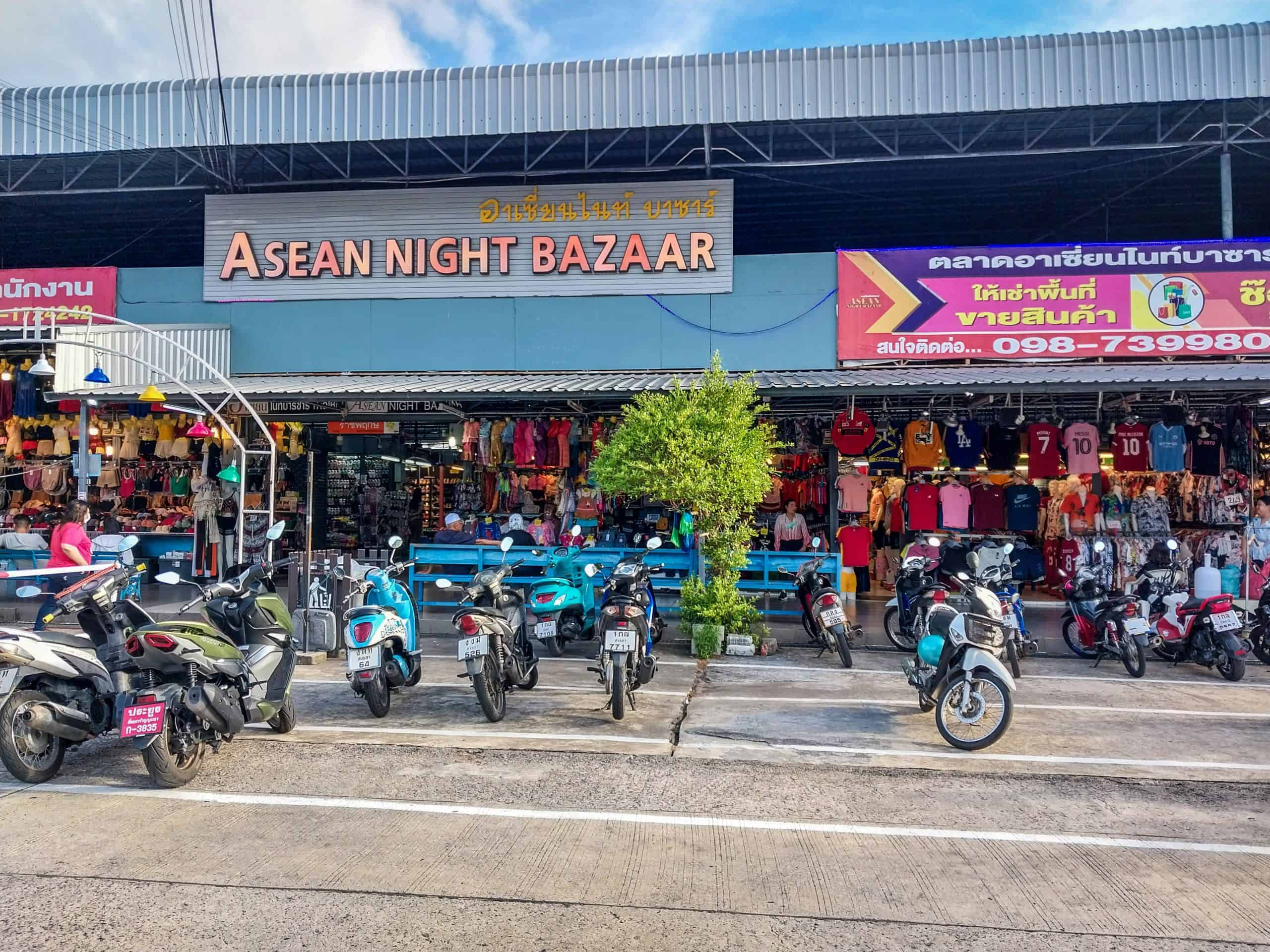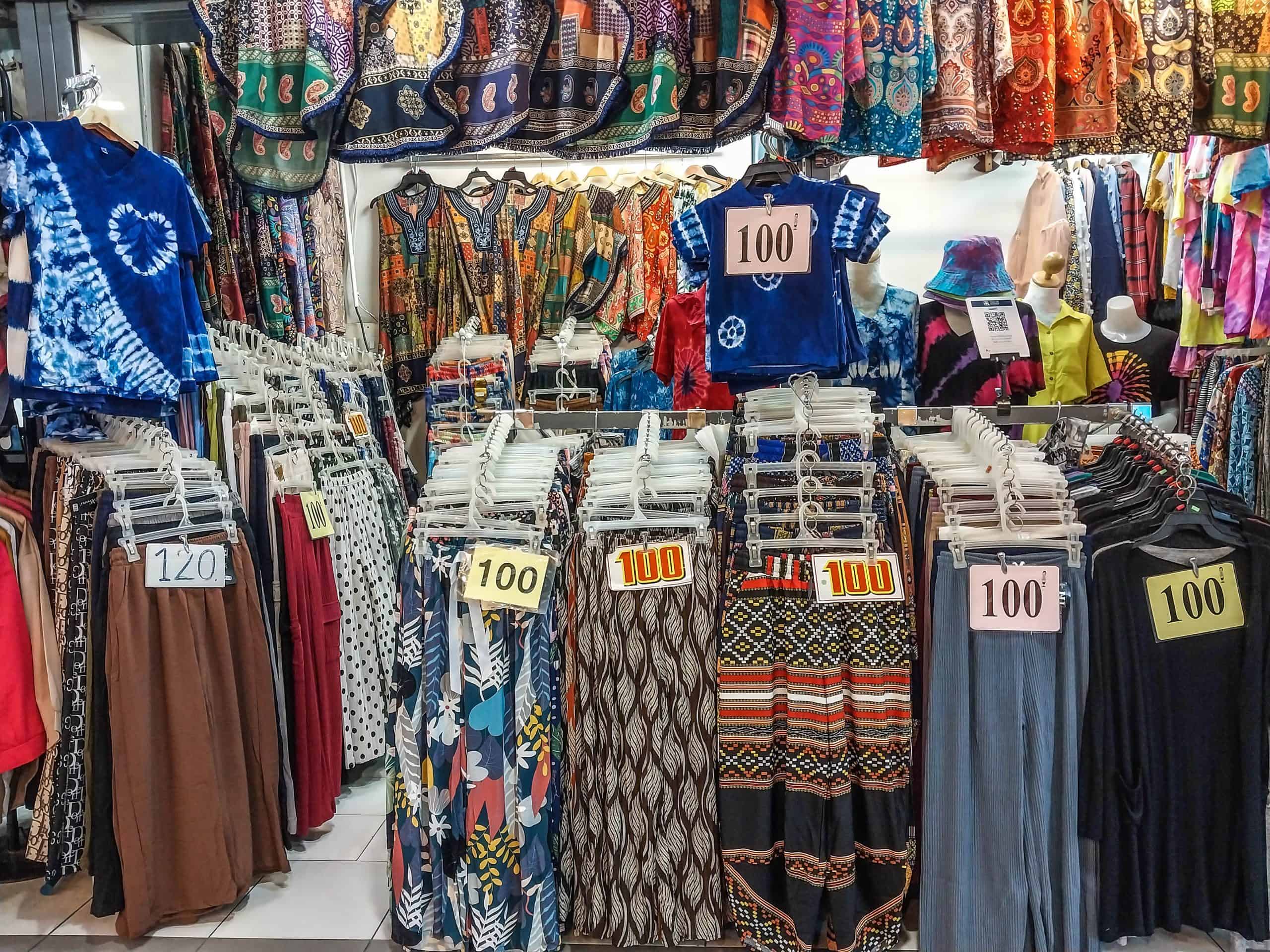 The two-level market offers a wide selection of both new and second-hand clothing, souvenirs, shoes, hats, and more at bargain basement prices. With 100baht price tags being a common sighting. You won't necessarily find dressing rooms available, so keep that in mind if you plan on trying clothes on.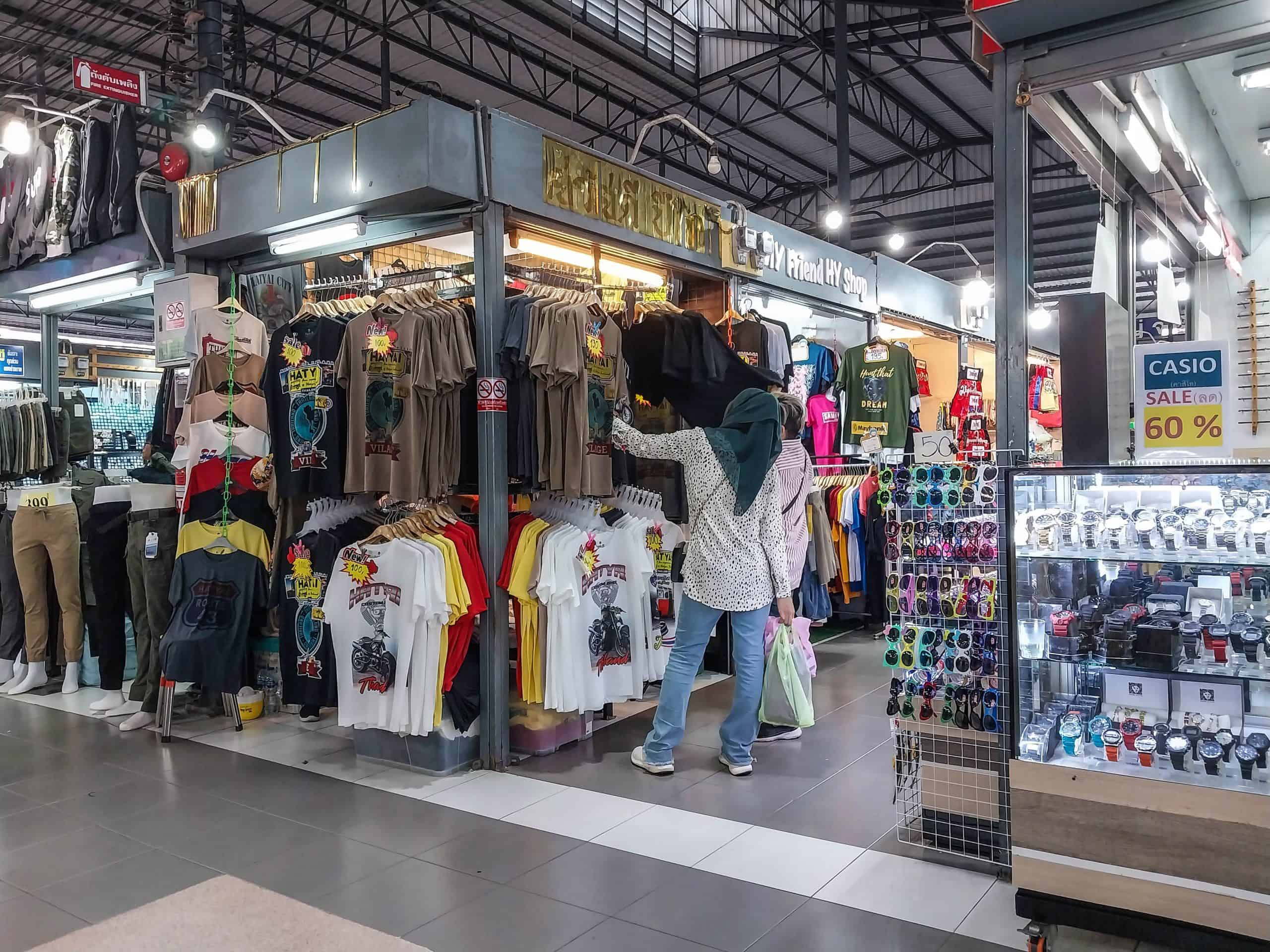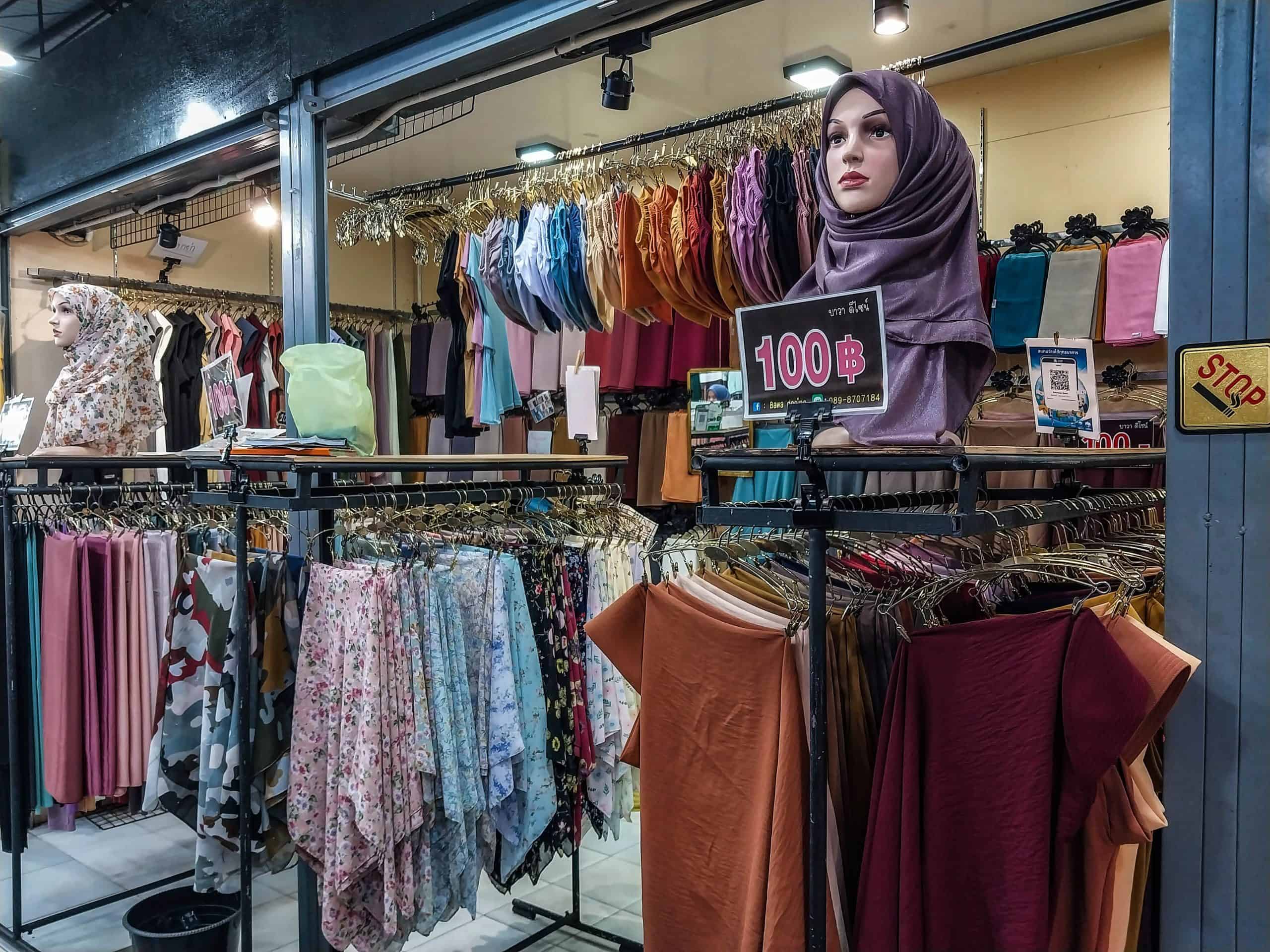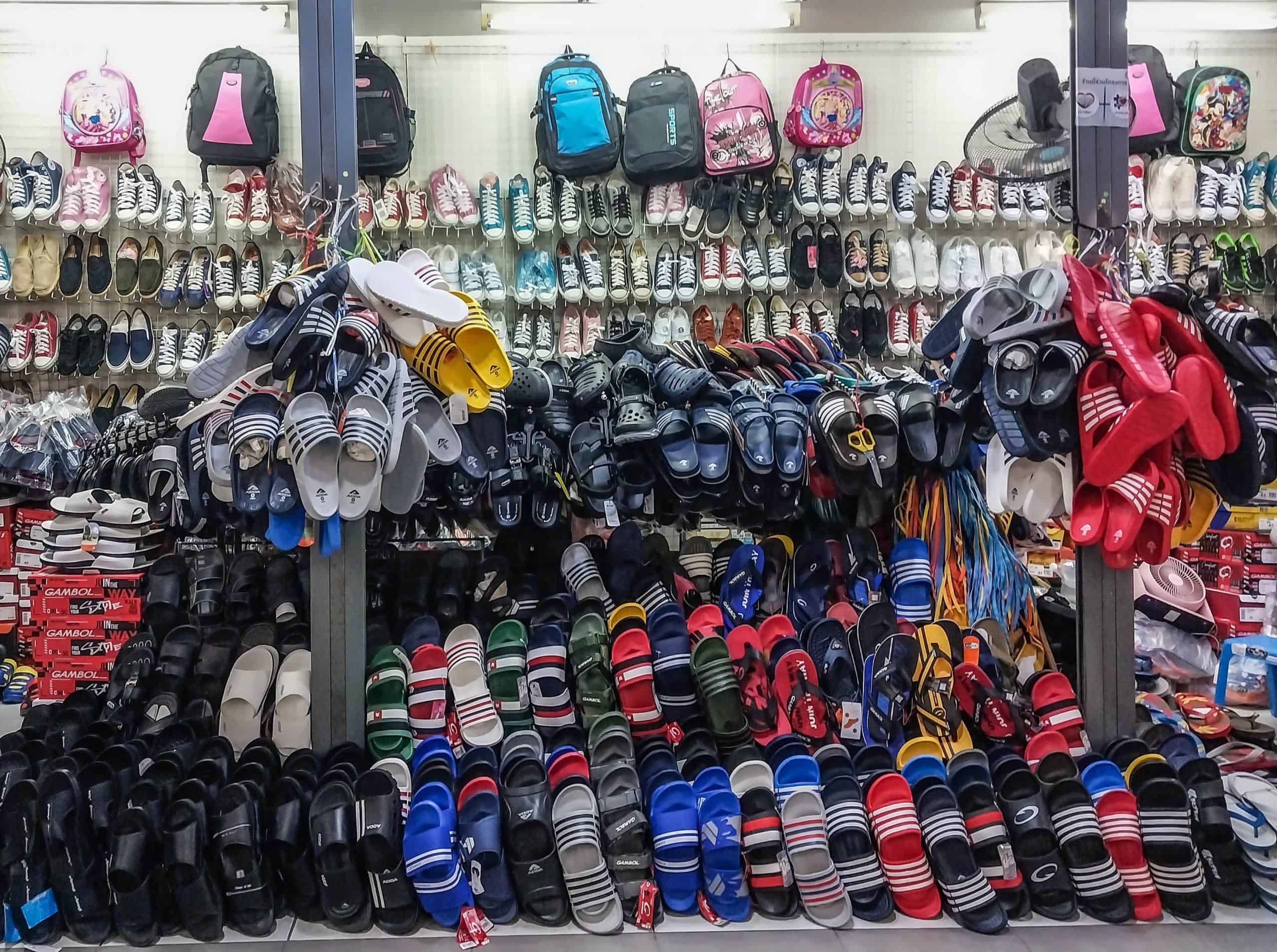 Upstairs you'll find a pretty awesome food court, There is a generous selection of Thai and international halal (Muslim friendly) food; no pork or no alcohol. Seafood, fried chicken, noodle dishes and desserts are plentiful. Plus there are plenty of tables and seats available.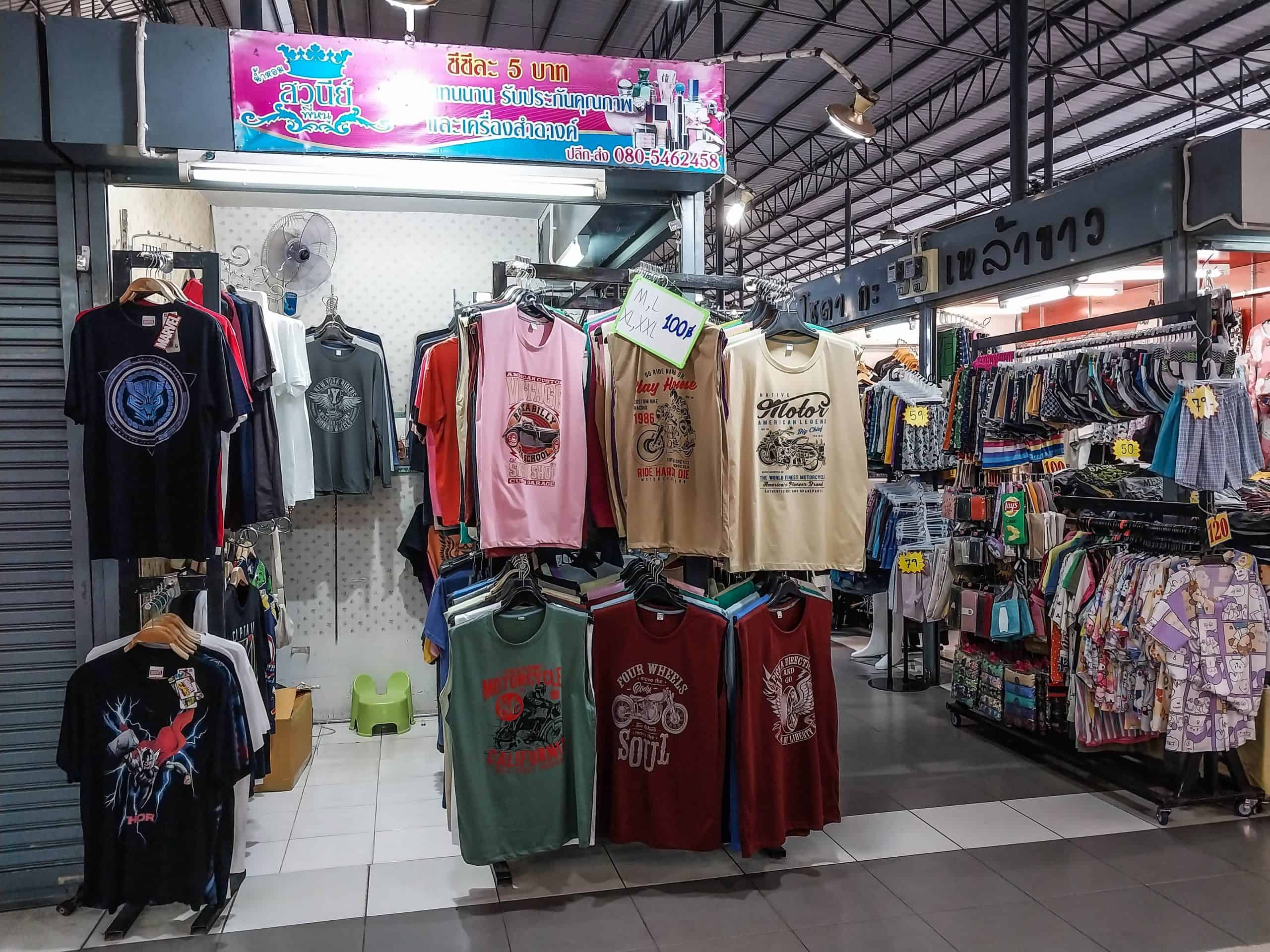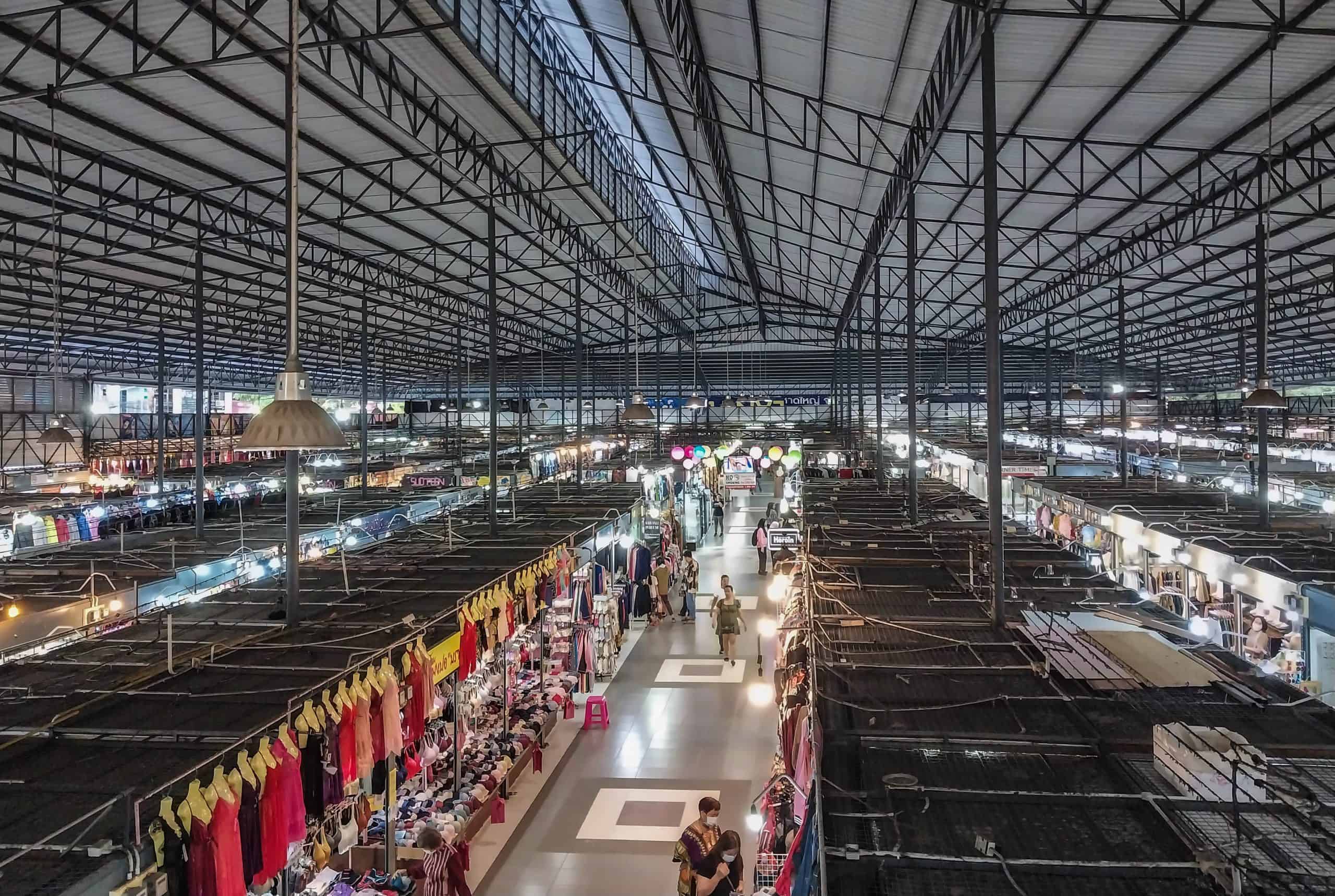 Outside of the main building is a park and playground, as well as picnic tables. It's also well-lit and feels generally safe and family-friendly. Taxis and songthaews congregate at the front entrance making the Asean Night Bazaar easy to get to and from on any budget.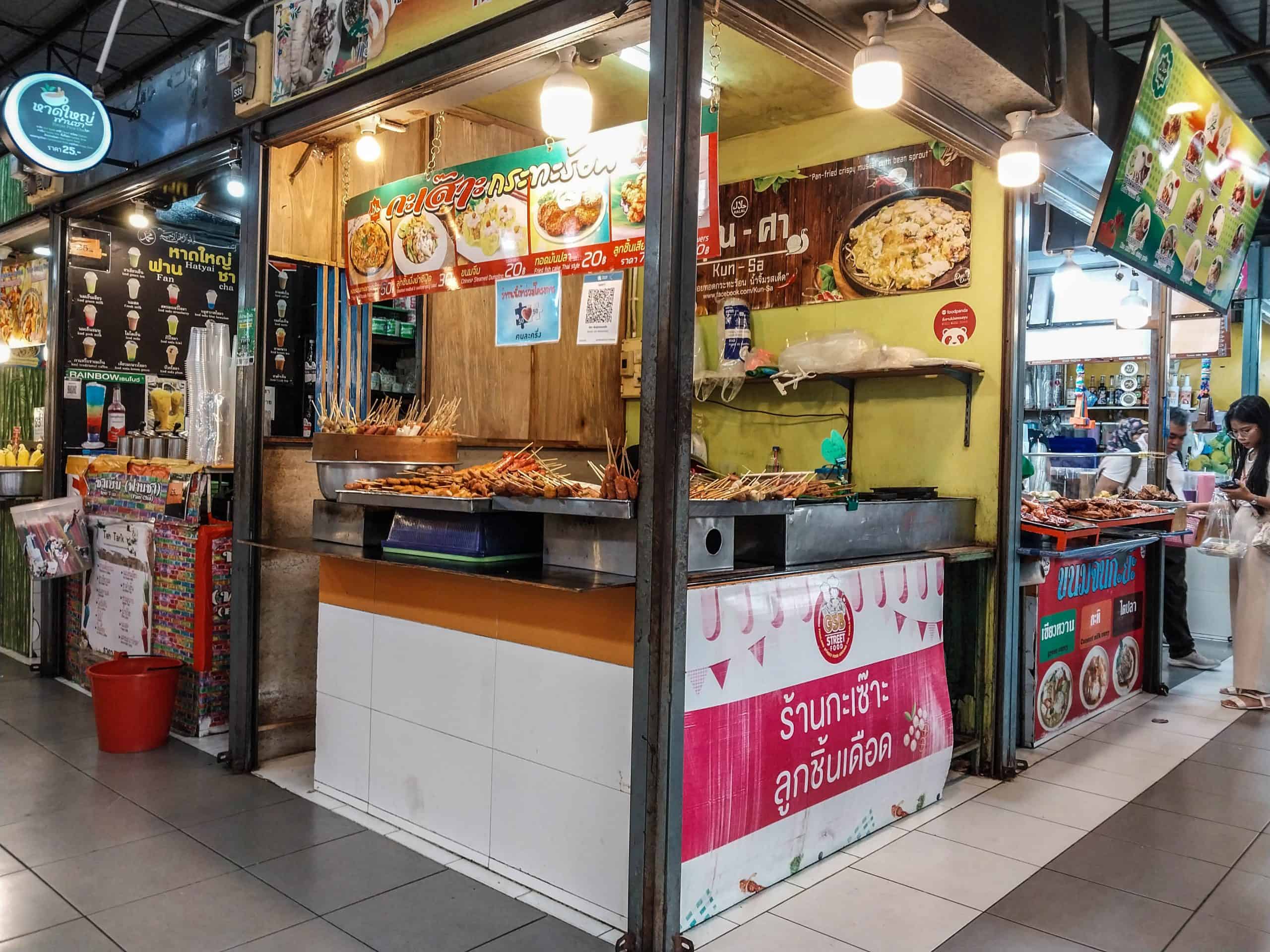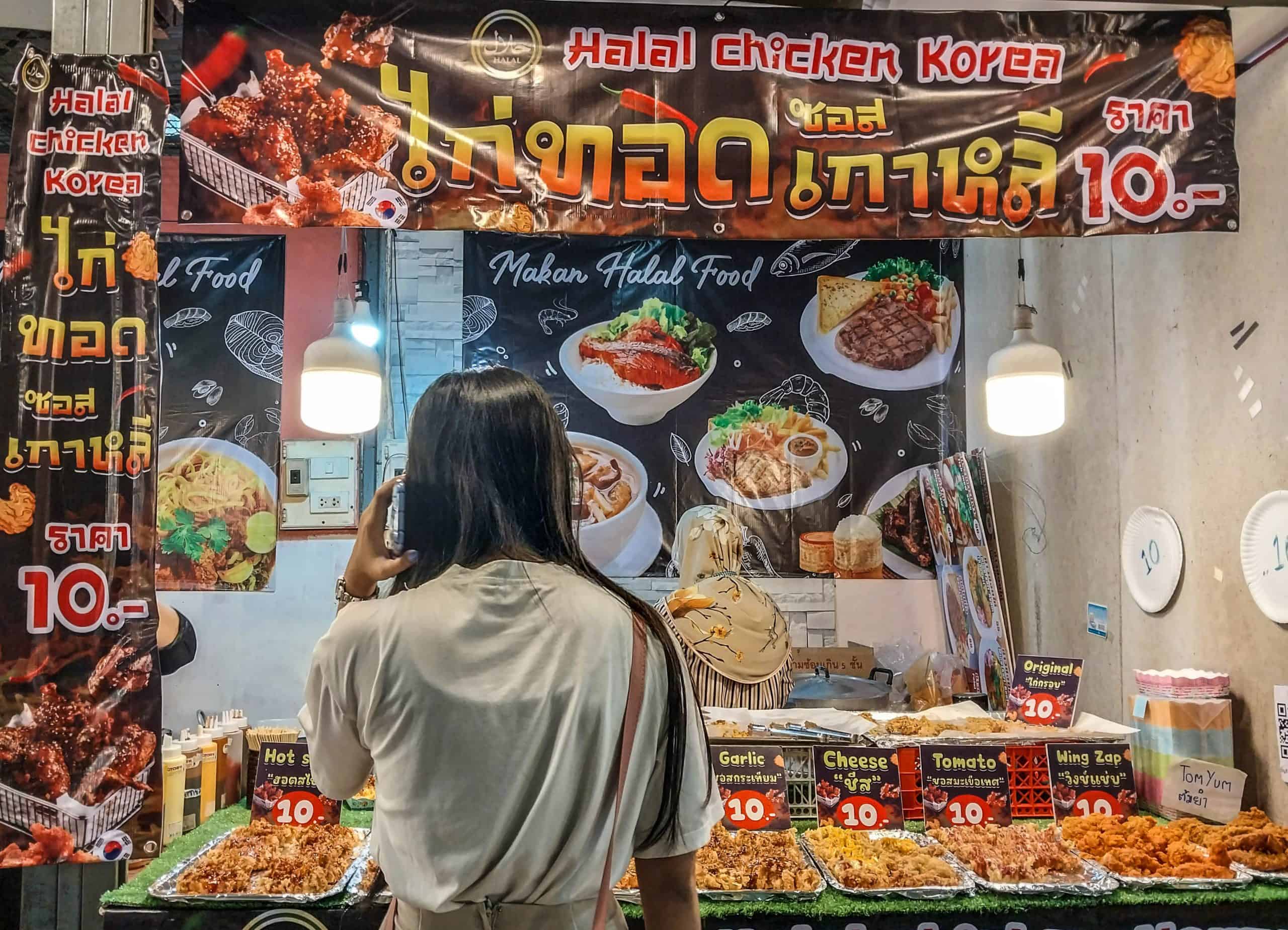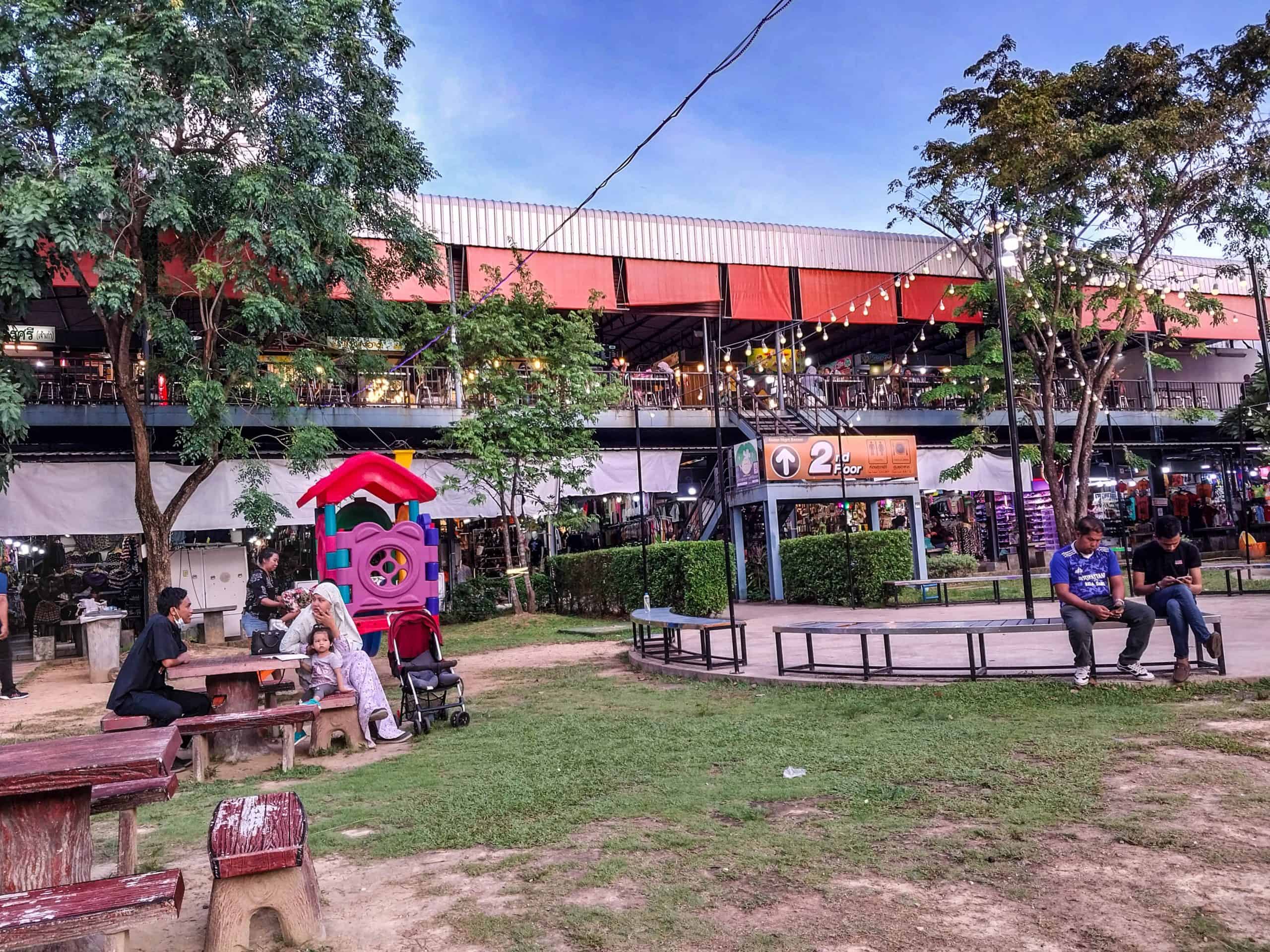 Asean Night Bazaar is open Tuesday through Sunday, 4:30pm until 10:00pm. Arriving early is optimal to avoid feeling rushed. If you're planning to visit Greenway Night Market as well, be aware that their opening hours are similar, but it's doable to visit both in the same night.
Asean Night Bazaar, 76 Chotevittayakul 3 Rd, Hat Yai
Open daily: 4:30pm until 10:00pm (Closed on Mondays)
+66 98 739 9809
Greenway Night Market
For those well-versed in Hat Yai shopping, Greenway Night Market has always been a front runner in popularity. In fact, it was my first 'bundle shopping' experience, as there were many vendors, at the time, selling (literally) piles of eclectic, second-hand clothing.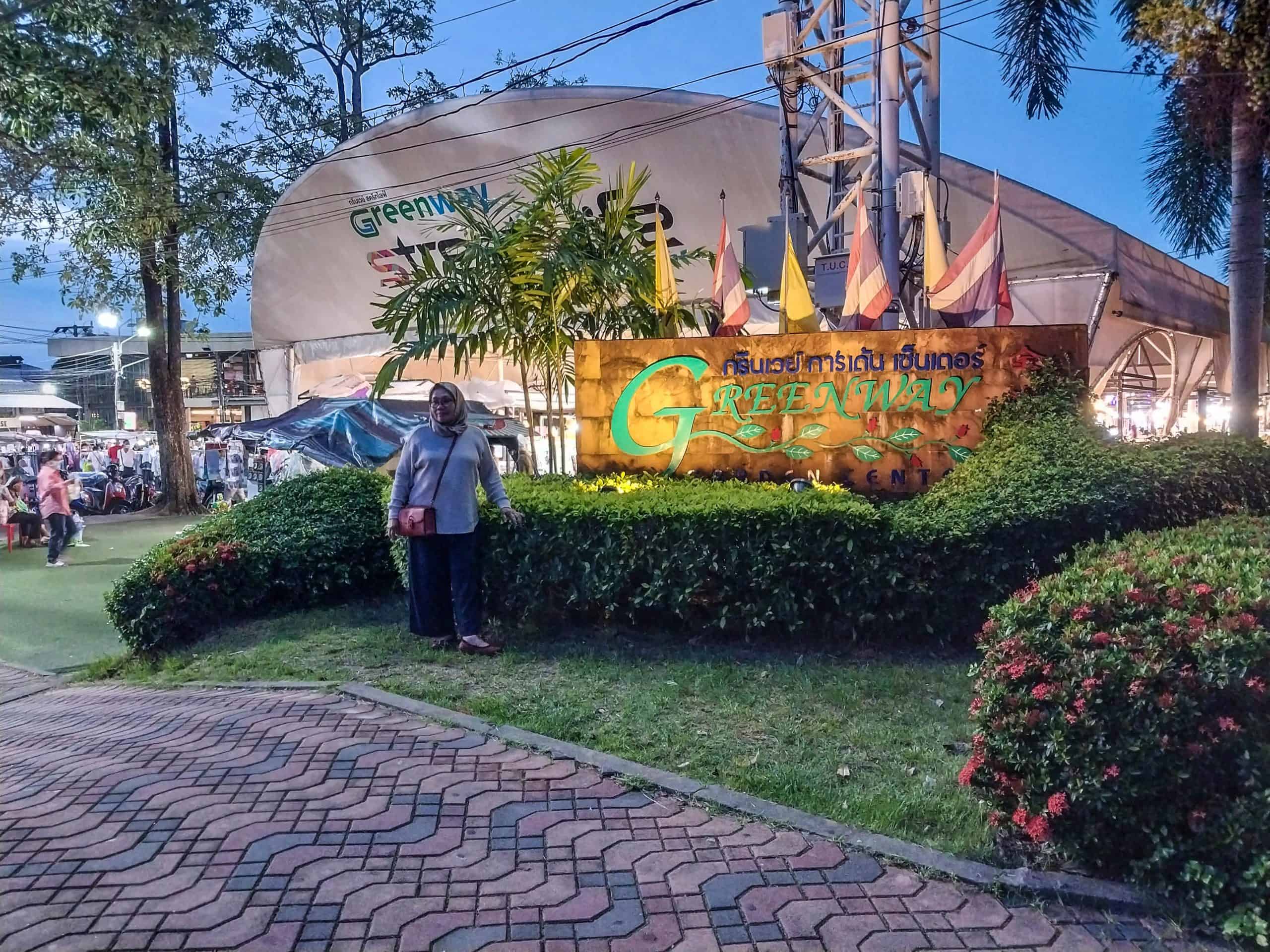 The market was also a bit dark and chaotic (in my opinion). But fast forward to the present and Greenway Night Market is downright happening. Lots of bright lights and a plethora of items for sale. Less chaotic too.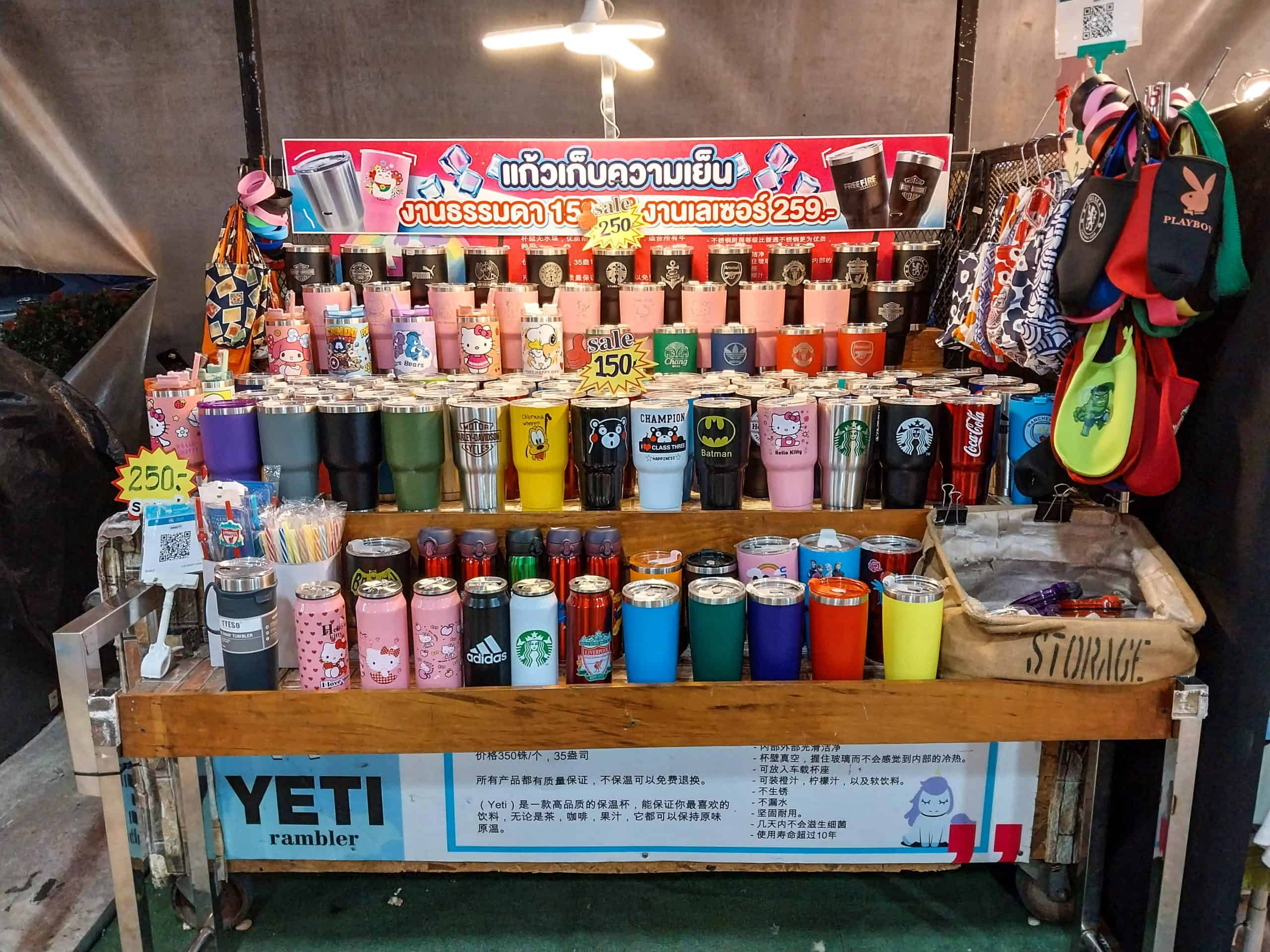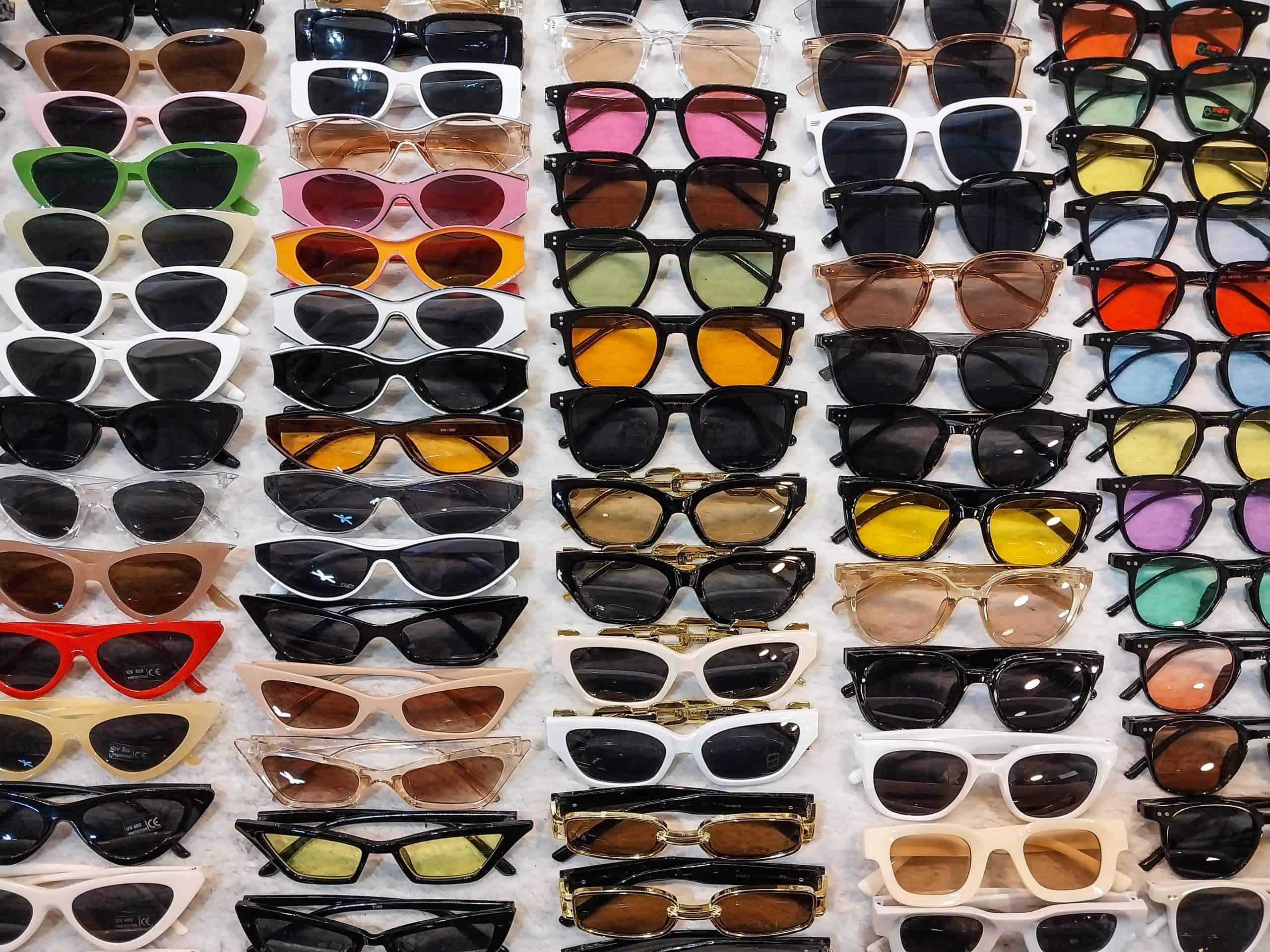 Pricewise I don't think it compares to the Asean but perhaps the quality of the goods is a bit higher. And it certainly has a range of some very unique items. From clothing to sports gear to household goods, there is a lot to sift through as it's not necessarily categorized.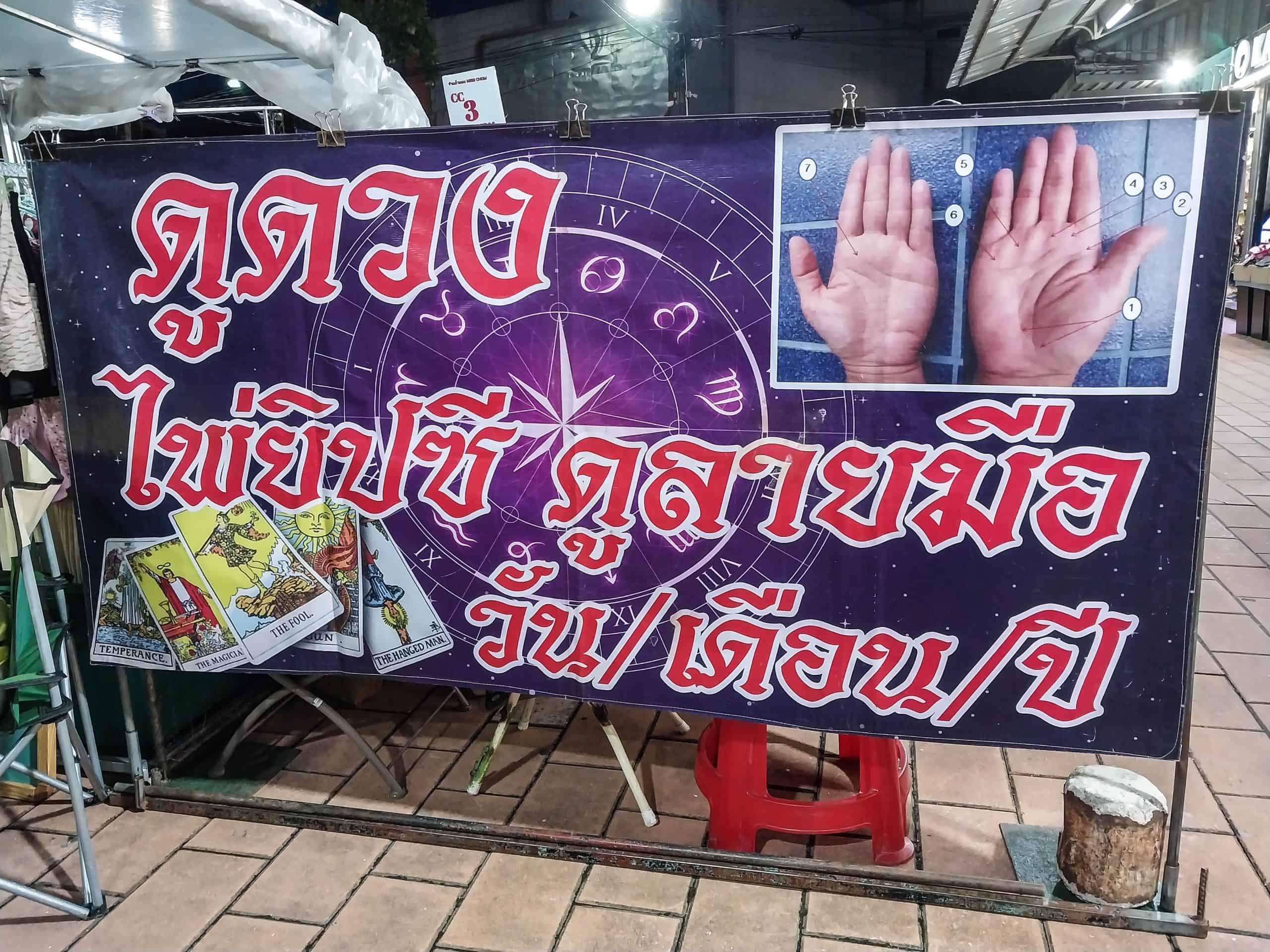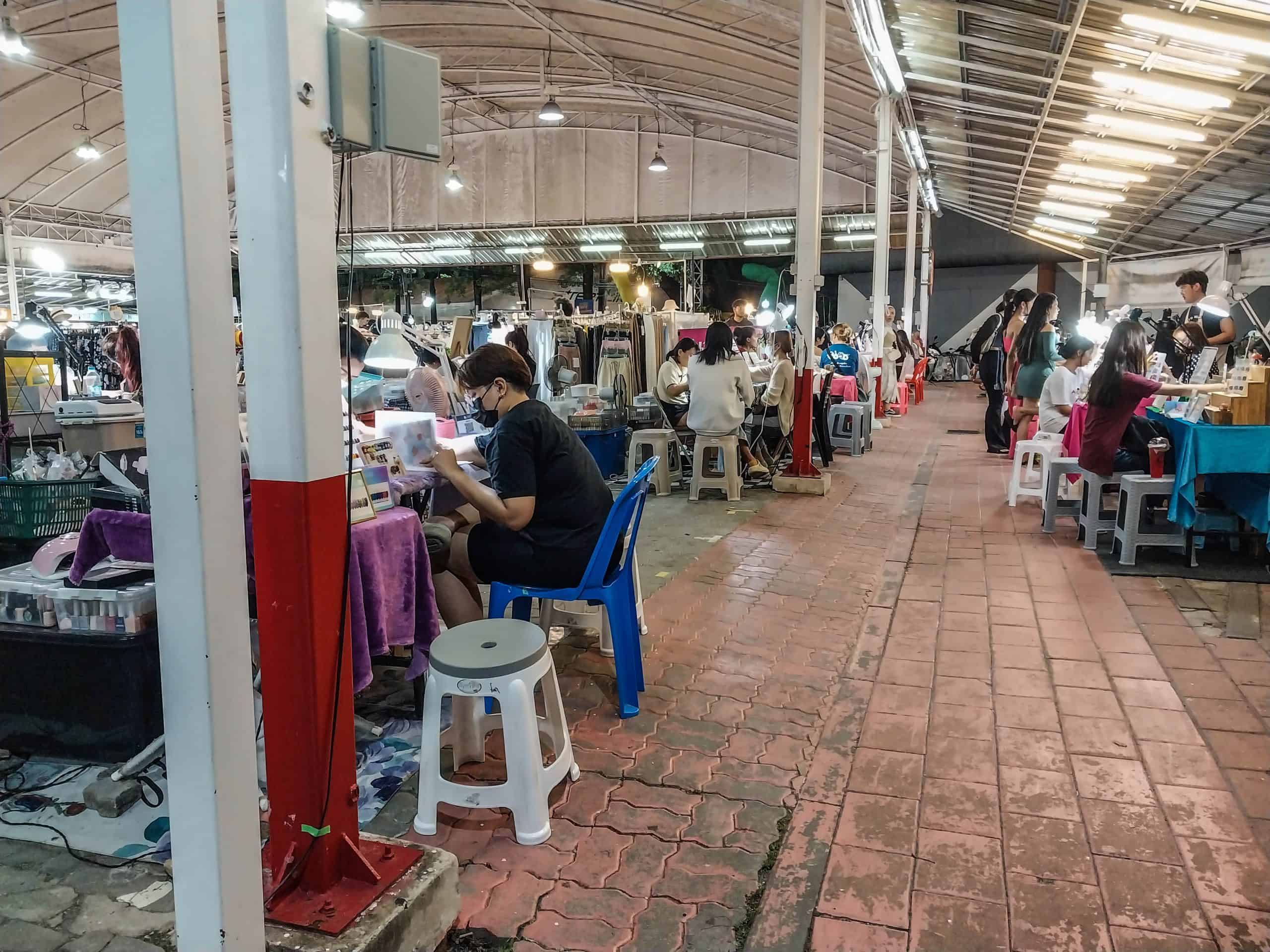 Outside the main open-air buildings you can find more 100baht price tags, plus a few second-hand vendors.  Also, there are lots of rest stop benches for those who need a break from all of the excitement. You can even get your fortune told from the onsite palm-readers! So much to do so little time!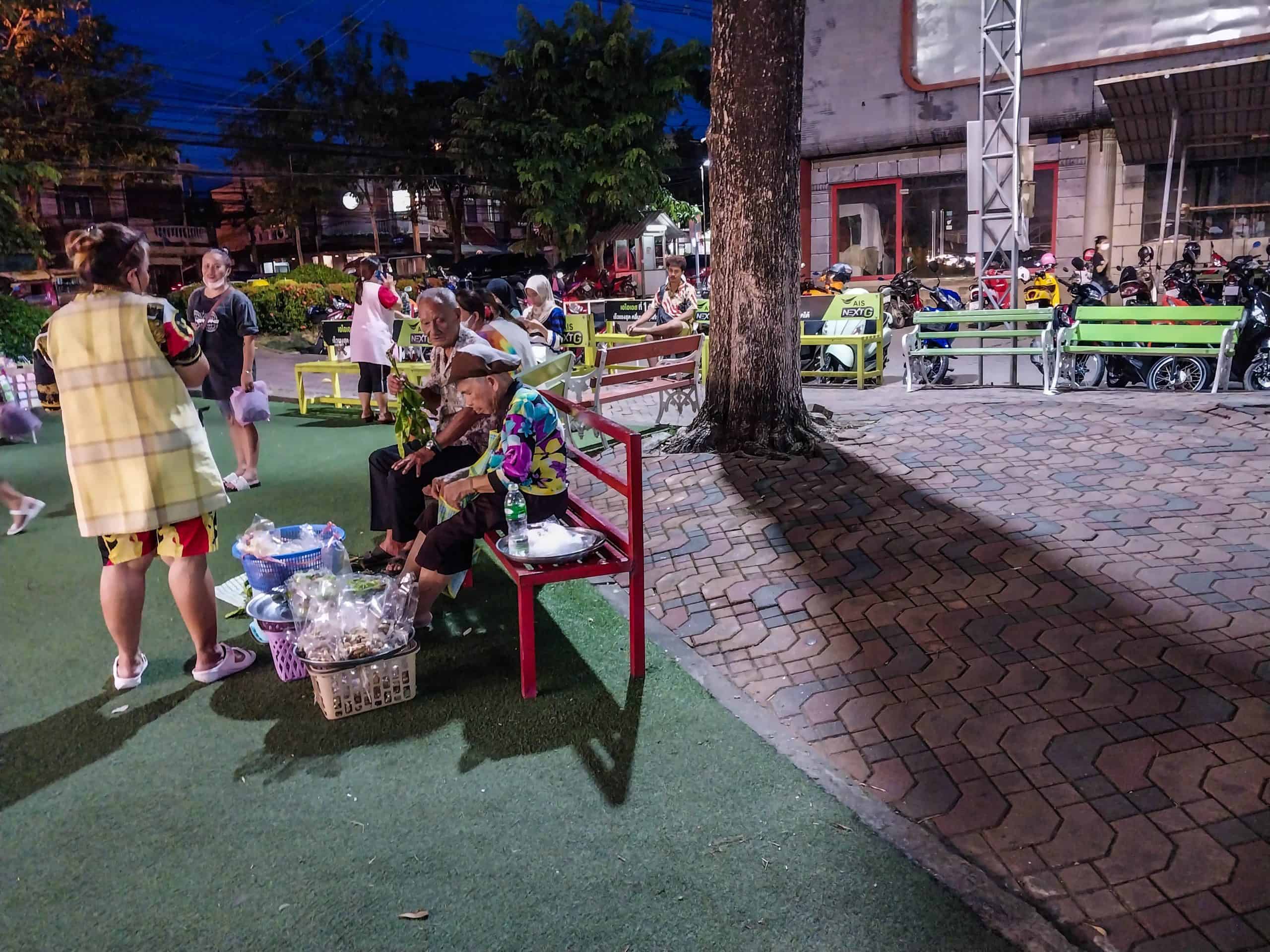 Located several blocks from the Asean Night Bazaar, walking through the area at night would not be a lot of fun as the traffic is a bit busy on the main street. I opted for a songthaew to get there which was quite easy, but took a local taxi back to my hotel. You'll find a que of songthaew waiting for passengers in front of Greenway Night Market, but when I was there, the drivers seemed more interested in their male bonding than a potential passenger, thus my opting for a car taxi instead.
Greenway Night Market, 1406/3 Karnjanavanit Rd, Hat Yai
Open daily: 4:00pm until 10:00pm (Closed on Mondays)
+66 81 990 6553 ·
https://www.greenwaynightmarket.com/
Kim Yong Market
Kim Yong Market is mentioned in nearly every tourism brochure, so why not visit right? Located at the busy intersection corner of Supasarnrangsan Road and Thanun Niphatuthit, you can't really miss this massive market as it's a colorful scene of fruits, vegetables, snacks, and whatnots that spills out from the stalls to the adjacent sidewalks and beyond; a classic shopping in Thailand experience.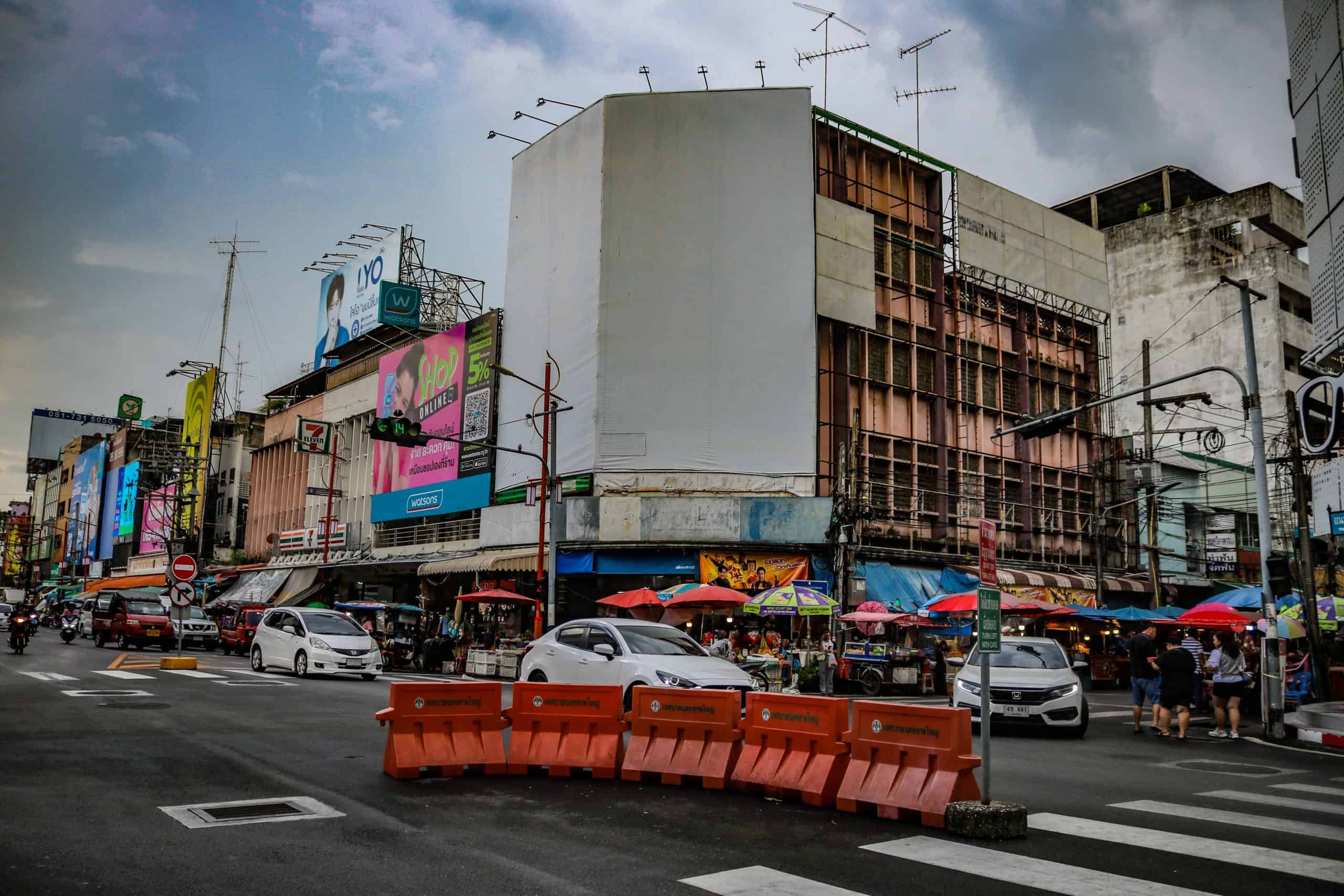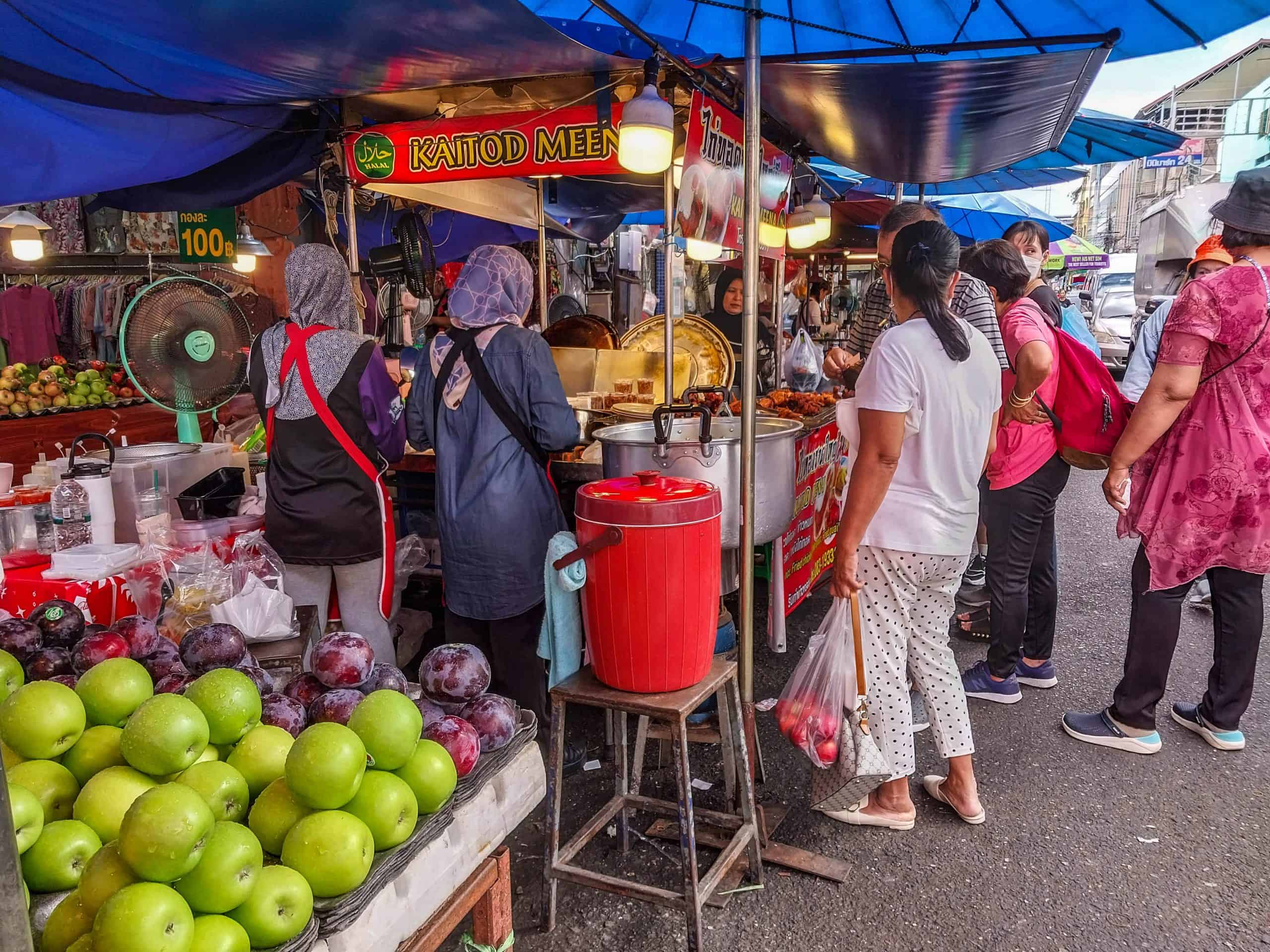 It can be a bit confusing where the market actually begins and ends, so just follow the crowds to help you navigate the maze-like inner aisles. The exterior (sidewalk) vendors specialize in produce, snacks and souvenirs. Clothing and various other goods are more prominent inside.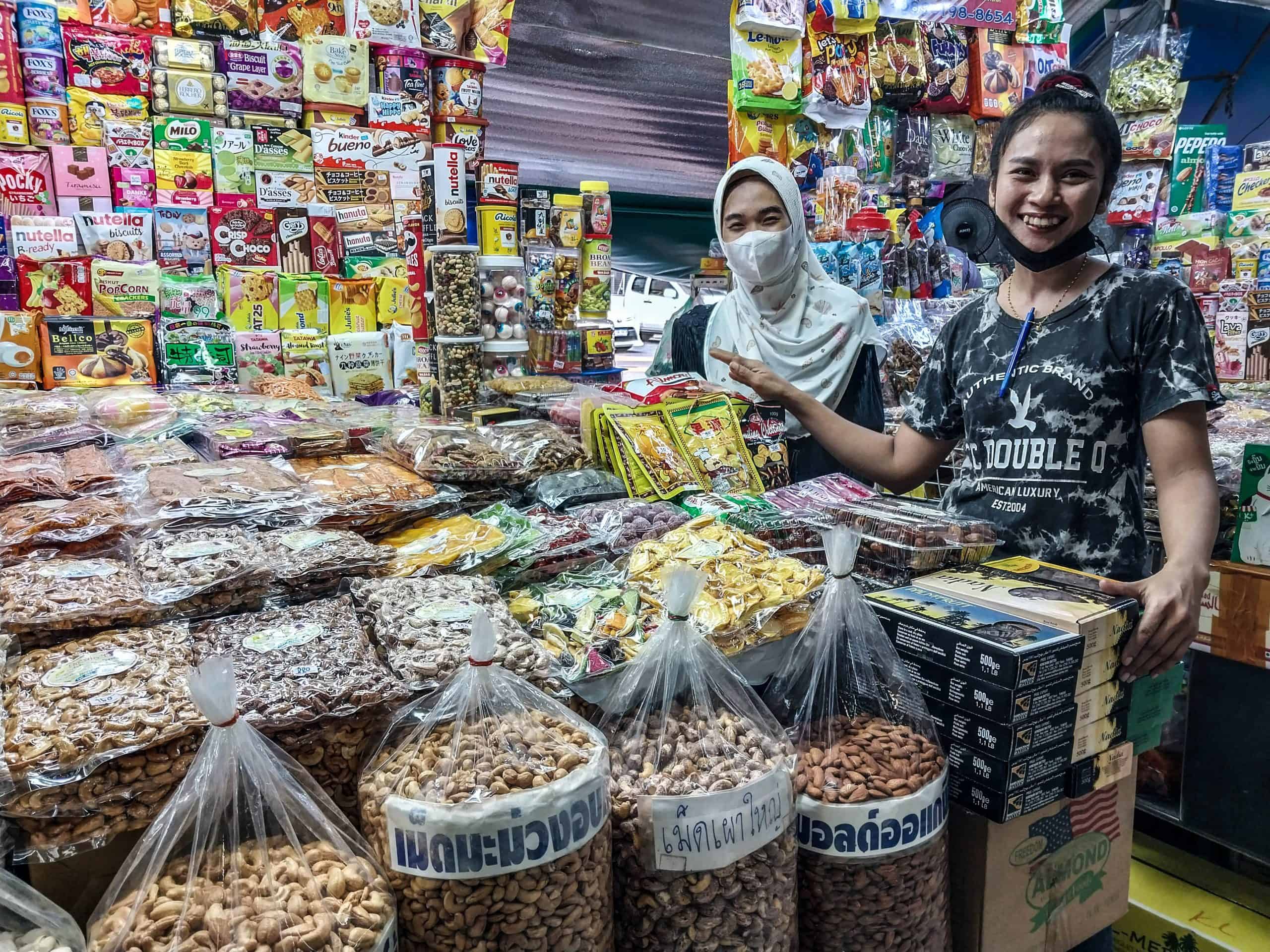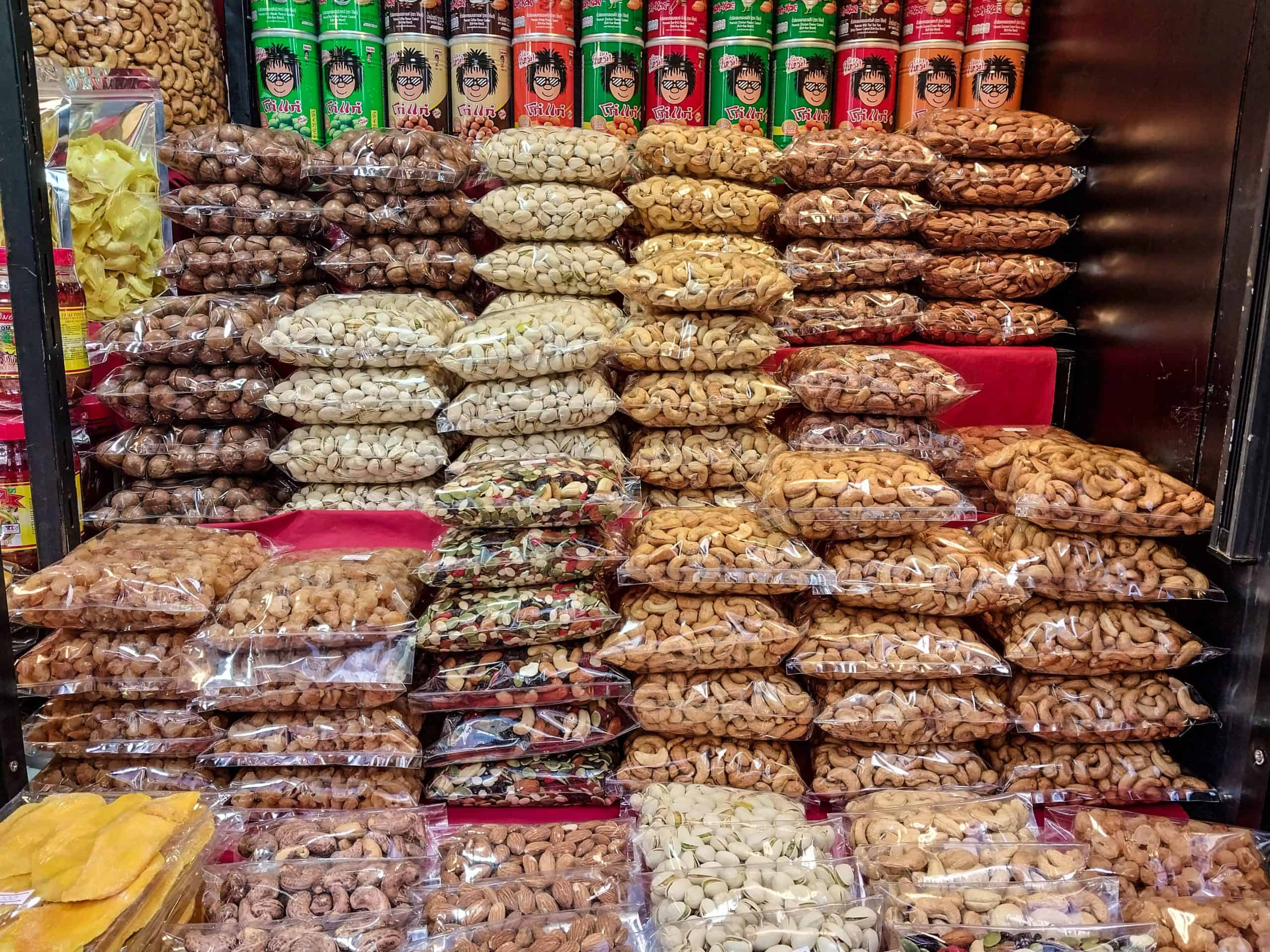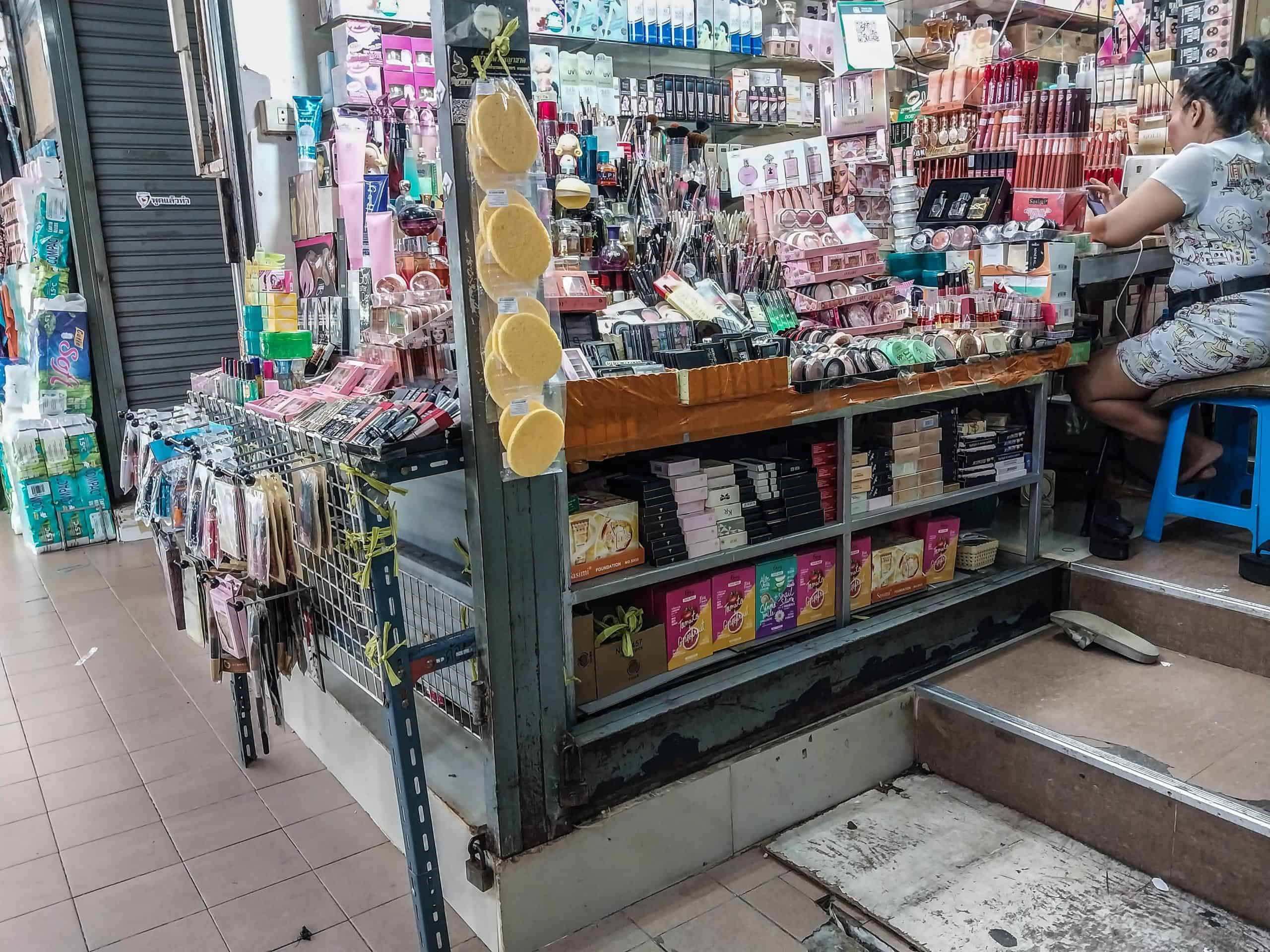 As you venture further towards the seemingly interior, you'll get a bit of shopping de ja vu as many of the items on sale just seem to repeat themselves. It's a wonder how any of the folks in the center make any money or at least 'stand out' from their competition, but obviously they do as there are loads of stalls.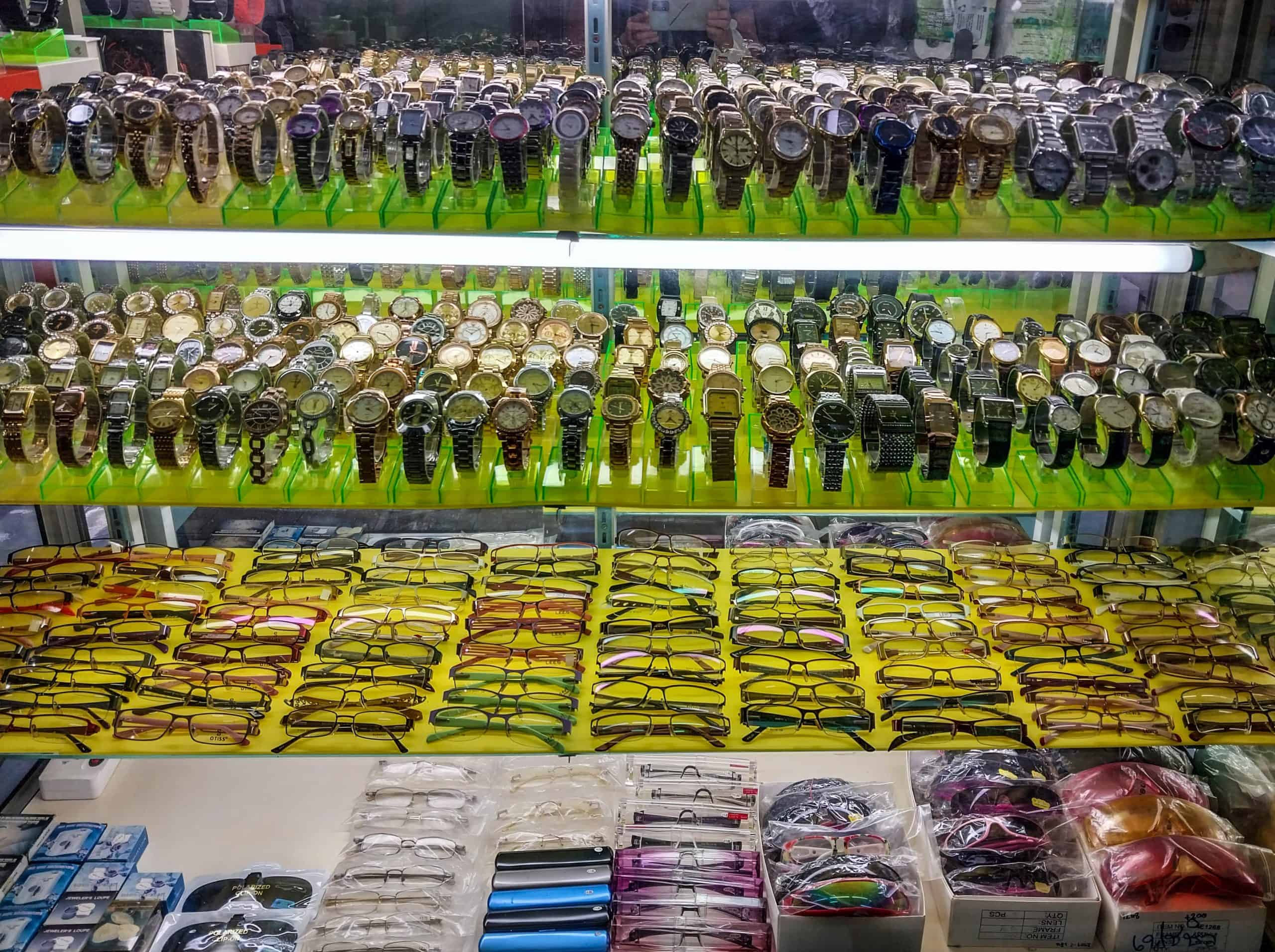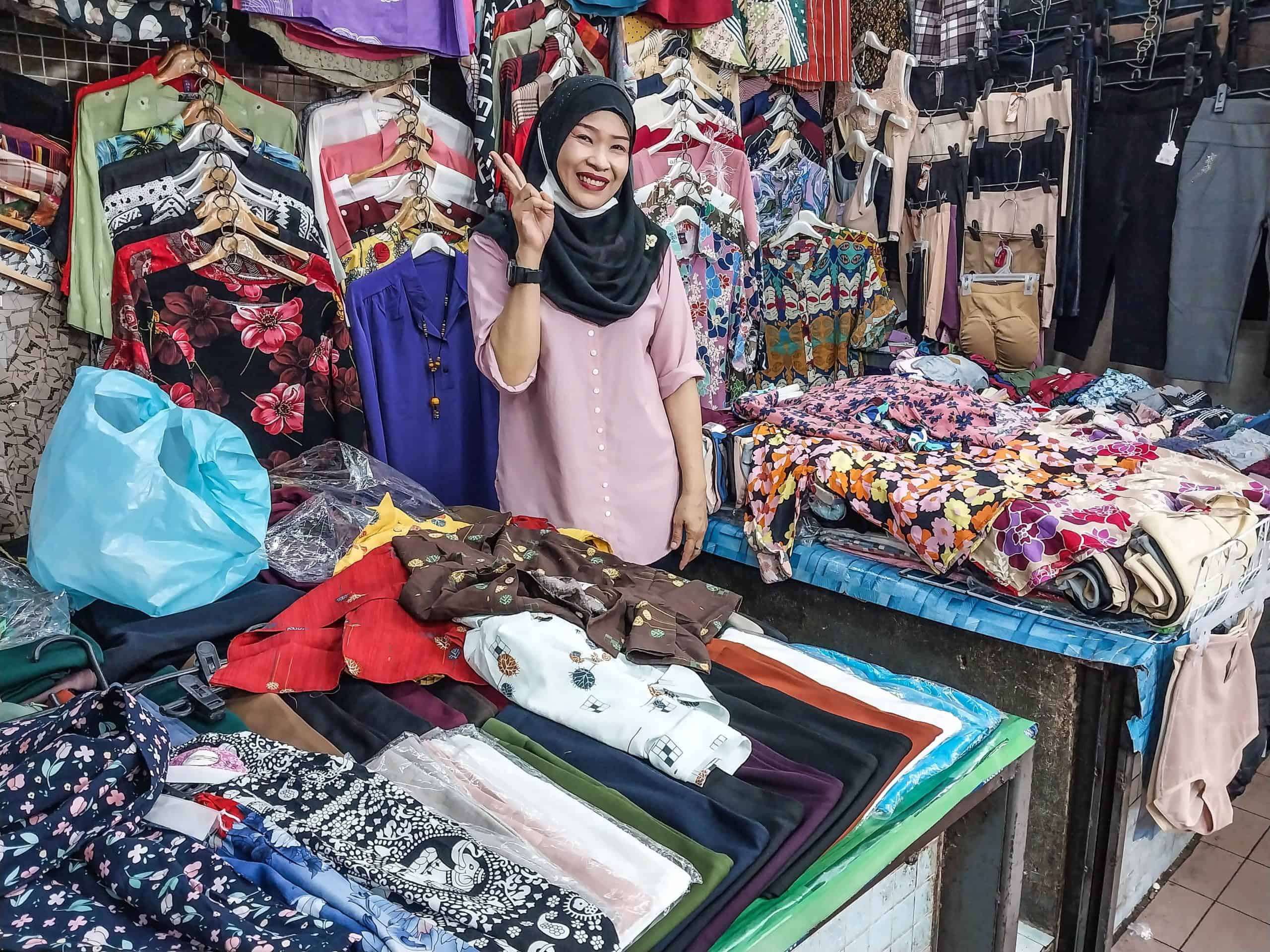 I'm personally not one to play the 'bargaining' game, because I find it a bit exhausting (and embarrassing). But I'm pretty sure these folks are used to it, so if it's your thing, go for it. I did find that many vendors were willing to toss in something extra (as a gift) or simply offered me a 'special' price straight off the bat. The prices are already extremely low here, so if you need Thailand 'shopping' experience this would be a good training ground.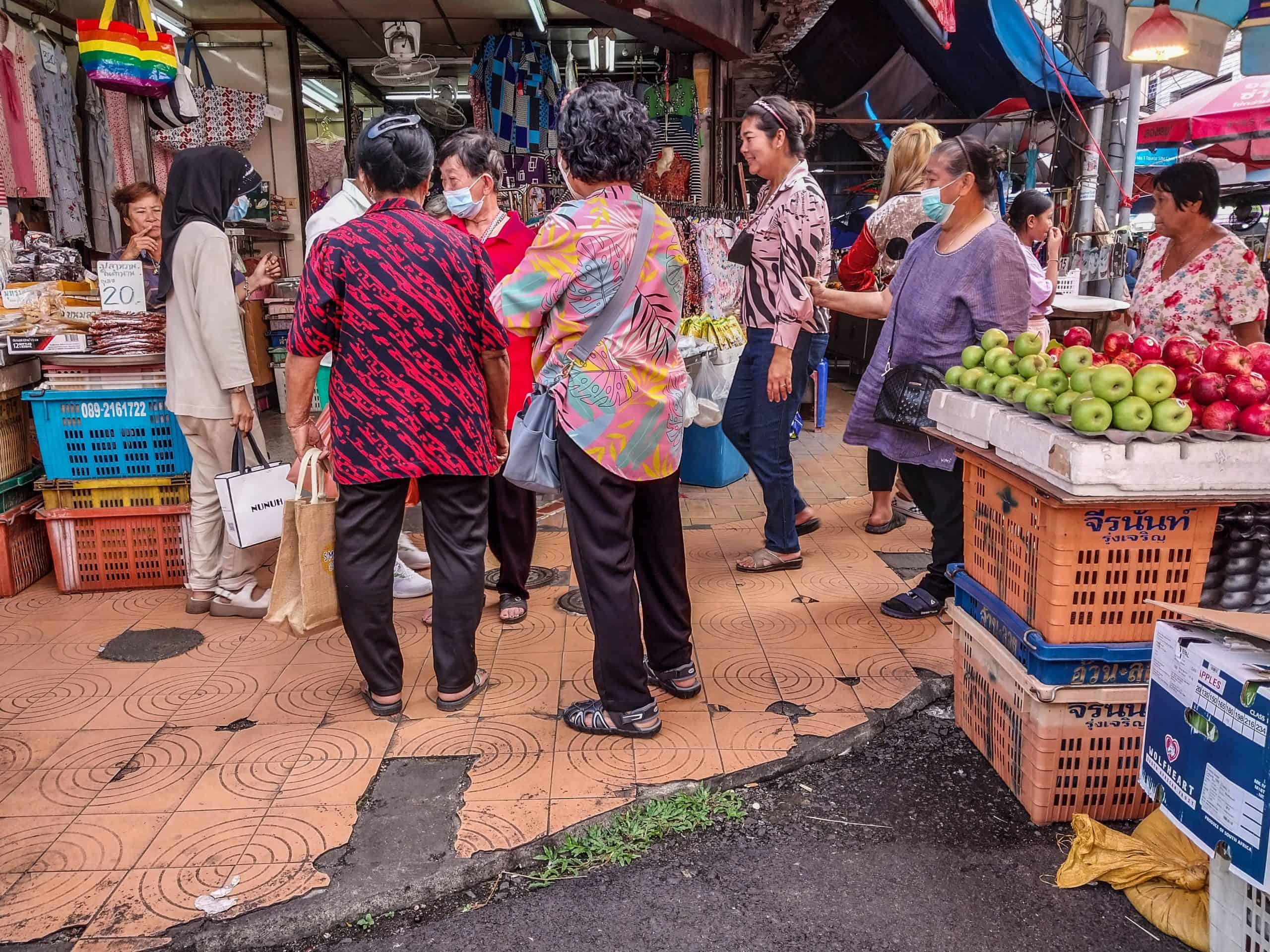 And of course, since the aisles are crowded and you'll be running into many other shoppers, do take the normal precautions in keeping your valuables out of easy reach.
Kim Yong Market, Corner of Supasarnrangsan Road & Thanun Niphatuthit
Open daily: 10:00am until 6:00pm (Sundays opens at 7:00am)
Lee Garden Night Market  & Walking Street
Lee Garden Night Market and Walking Street is located at… you guessed it; Lee Gardens Plaza Hotel! I consider this particular area of Hat Yai as my old stomping grounds as I have stayed many times at Lee Gardens Plaza Hotel or across the street at the Centara Hotel Hat Yai. Everything you could possibly want is within shuffle distance from these hotels. But even more attractive is the street market that appears there nightly.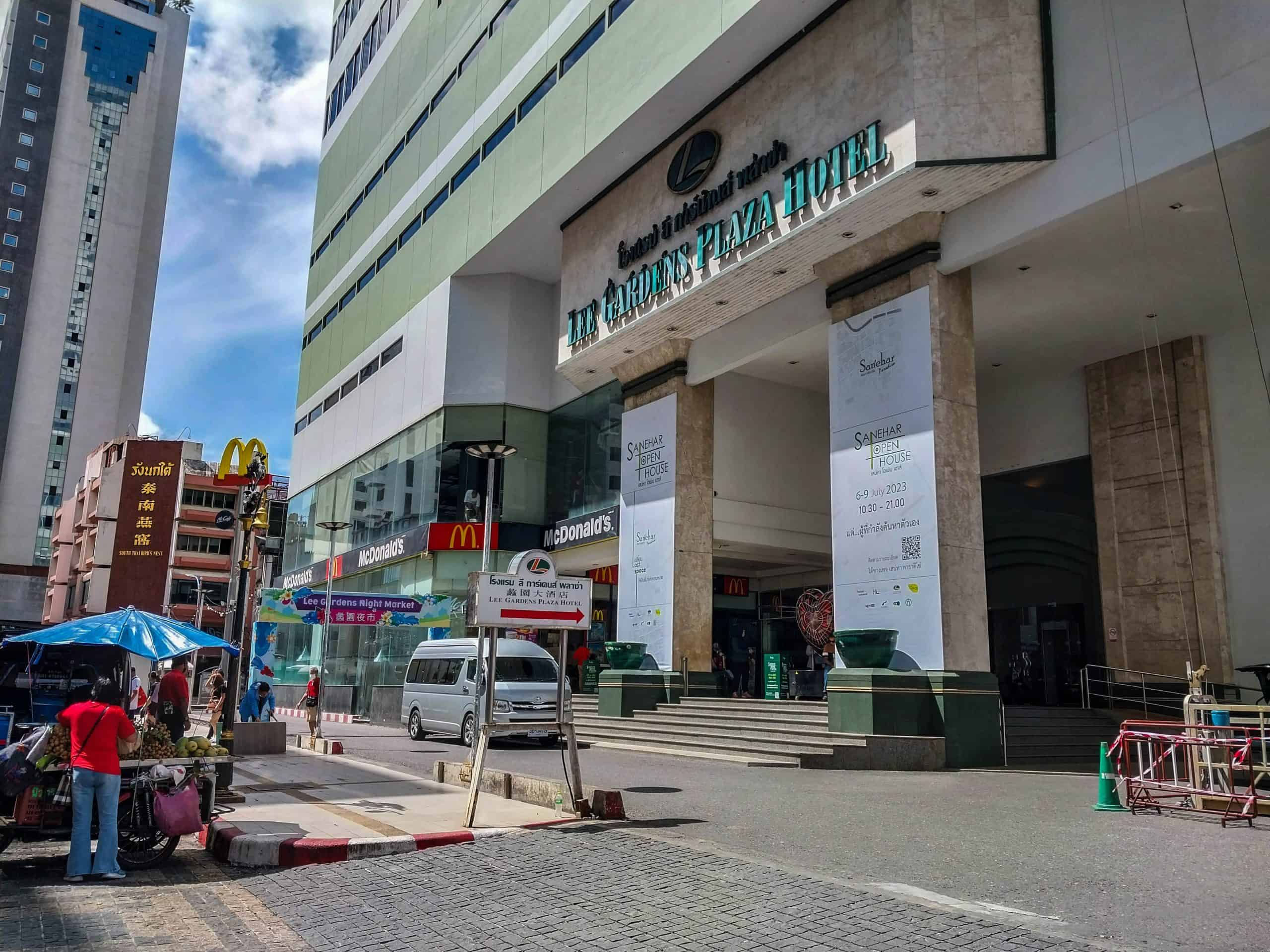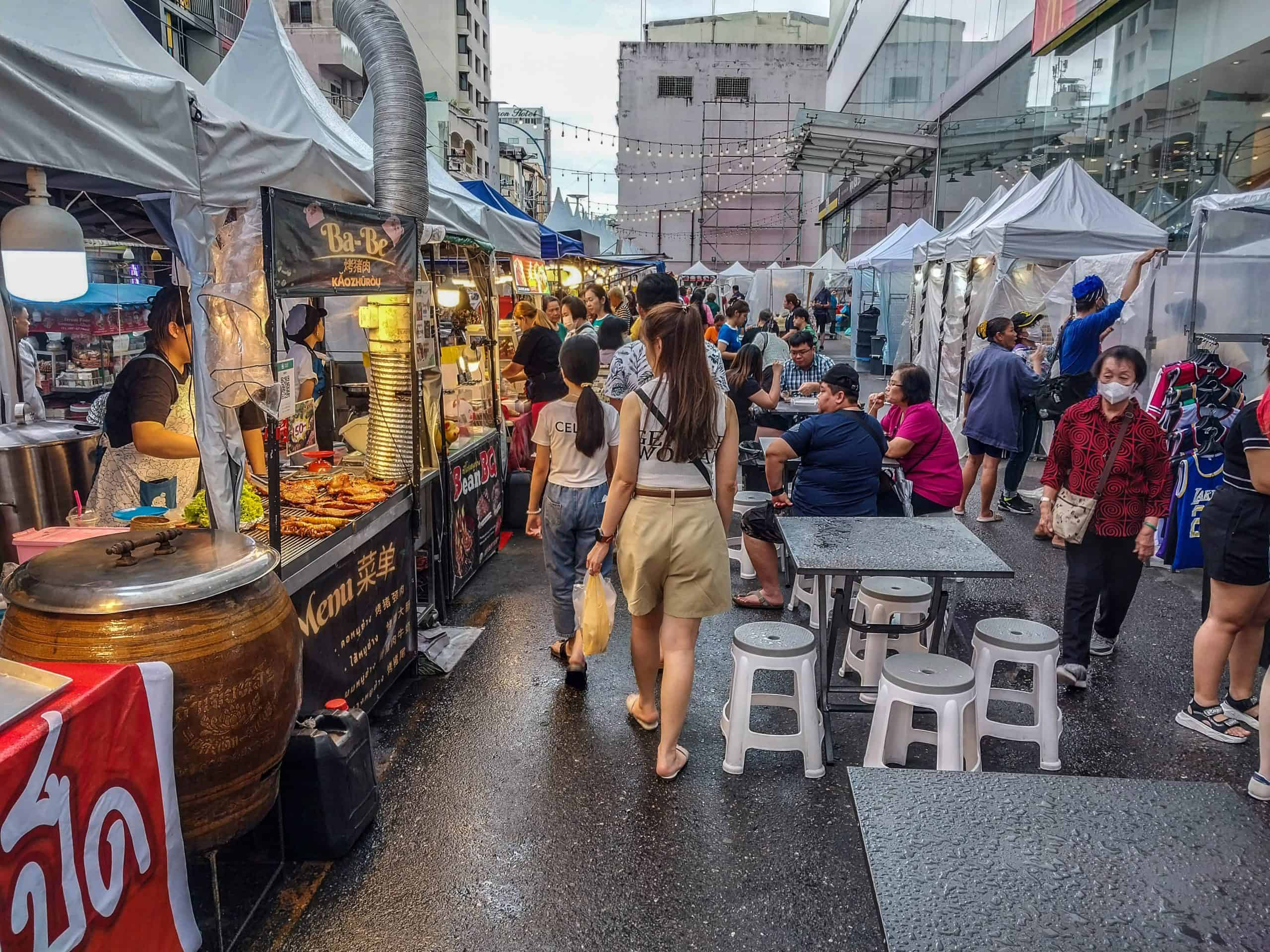 Although food is the main attraction, you'll find plenty of other things for sale in the area. Those keen for a bargain will find that many nearby shops will be open and have their goods on display on the adjacent sidewalks.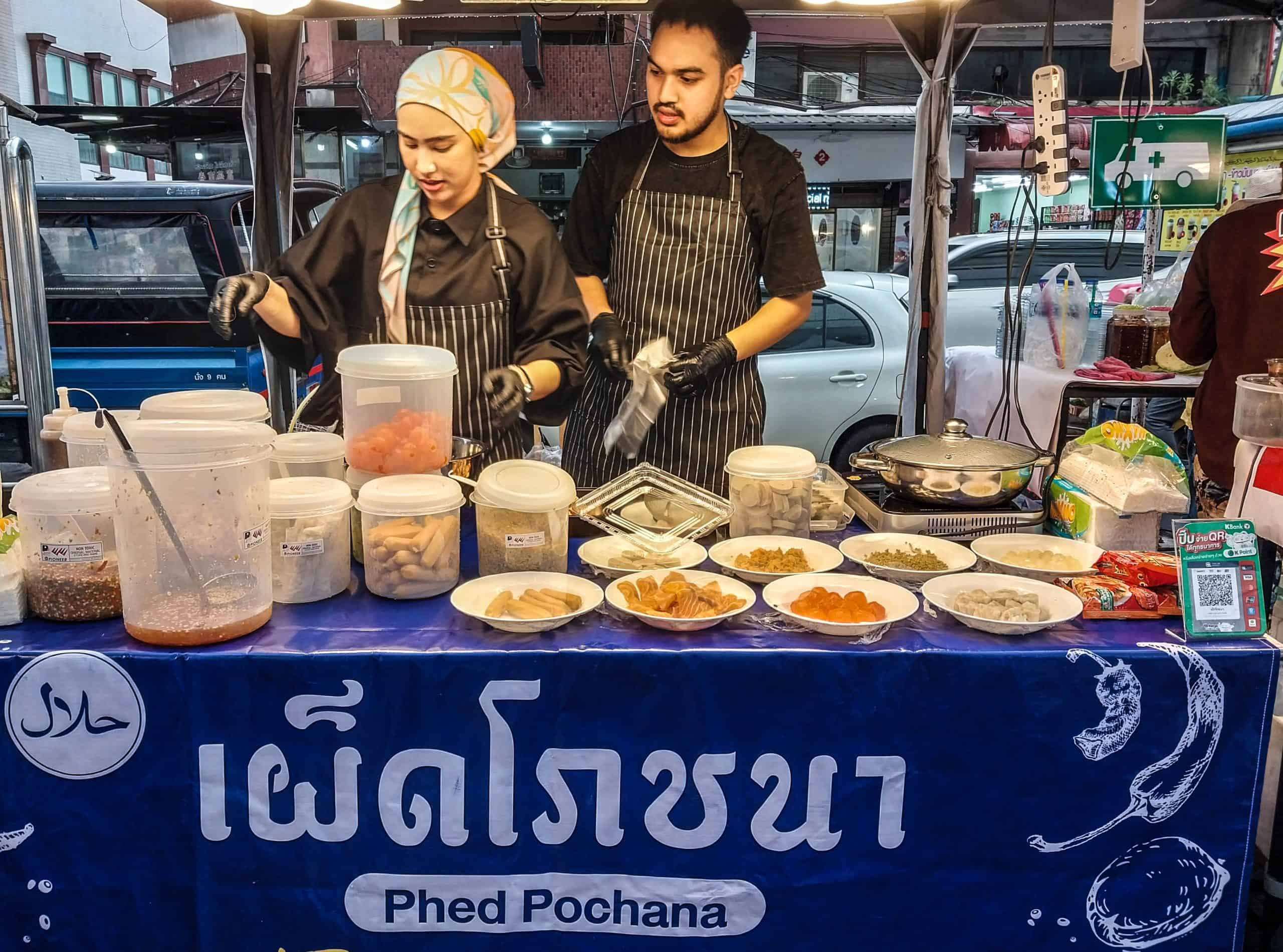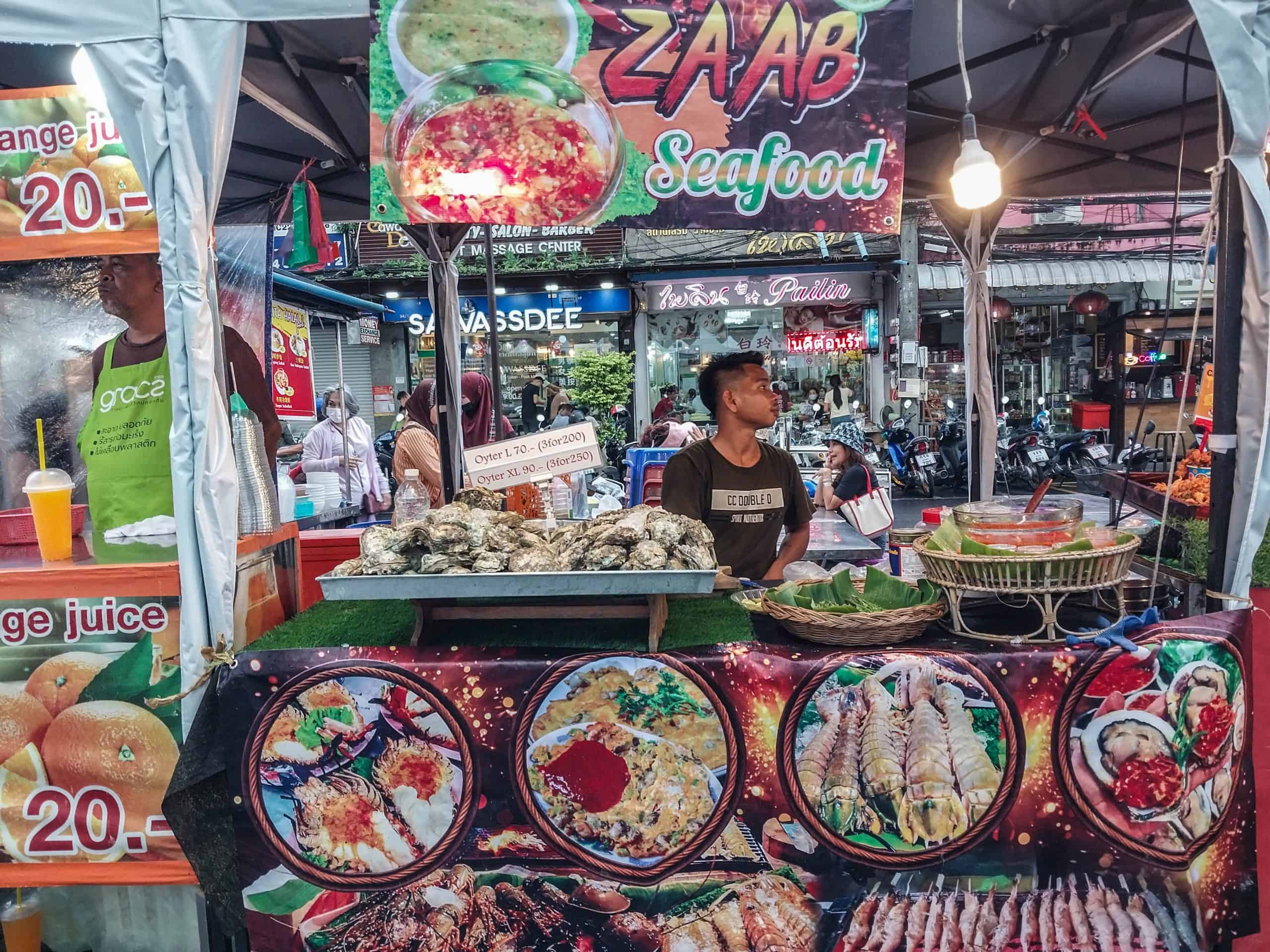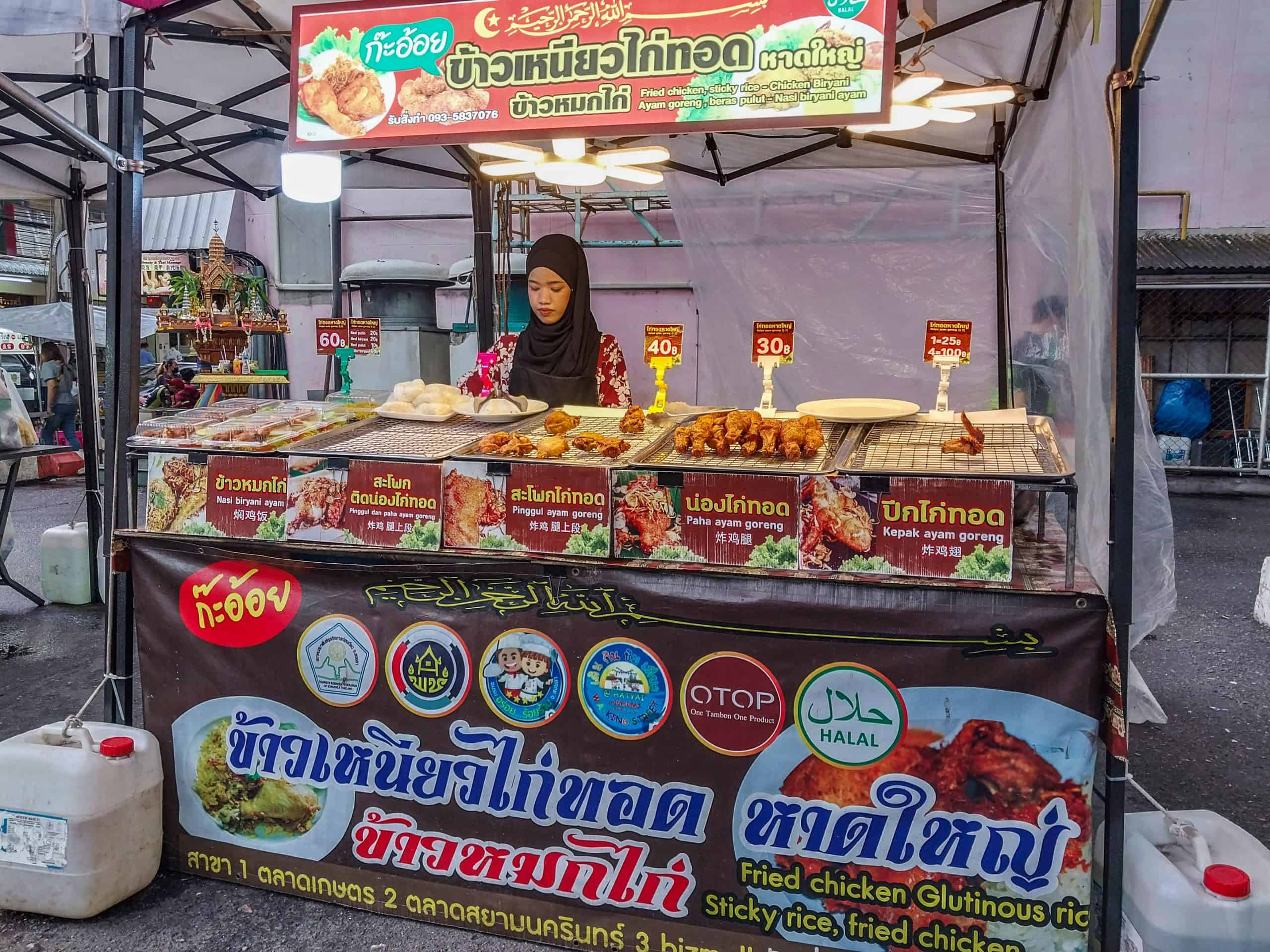 Normally I'd just grab my food and run, but since I was specifically on a shopping mission, I took a closer look at the offerings; t-shirts, dresses, purses, shoes and more! What got me especially excited about shopping in this area was when I spotted some textile bags I had been looking for for years. Not just the run-of-the-mill Thailand bag with the obligatory elephant print design, but colorful textile bags of all sizes. What a score!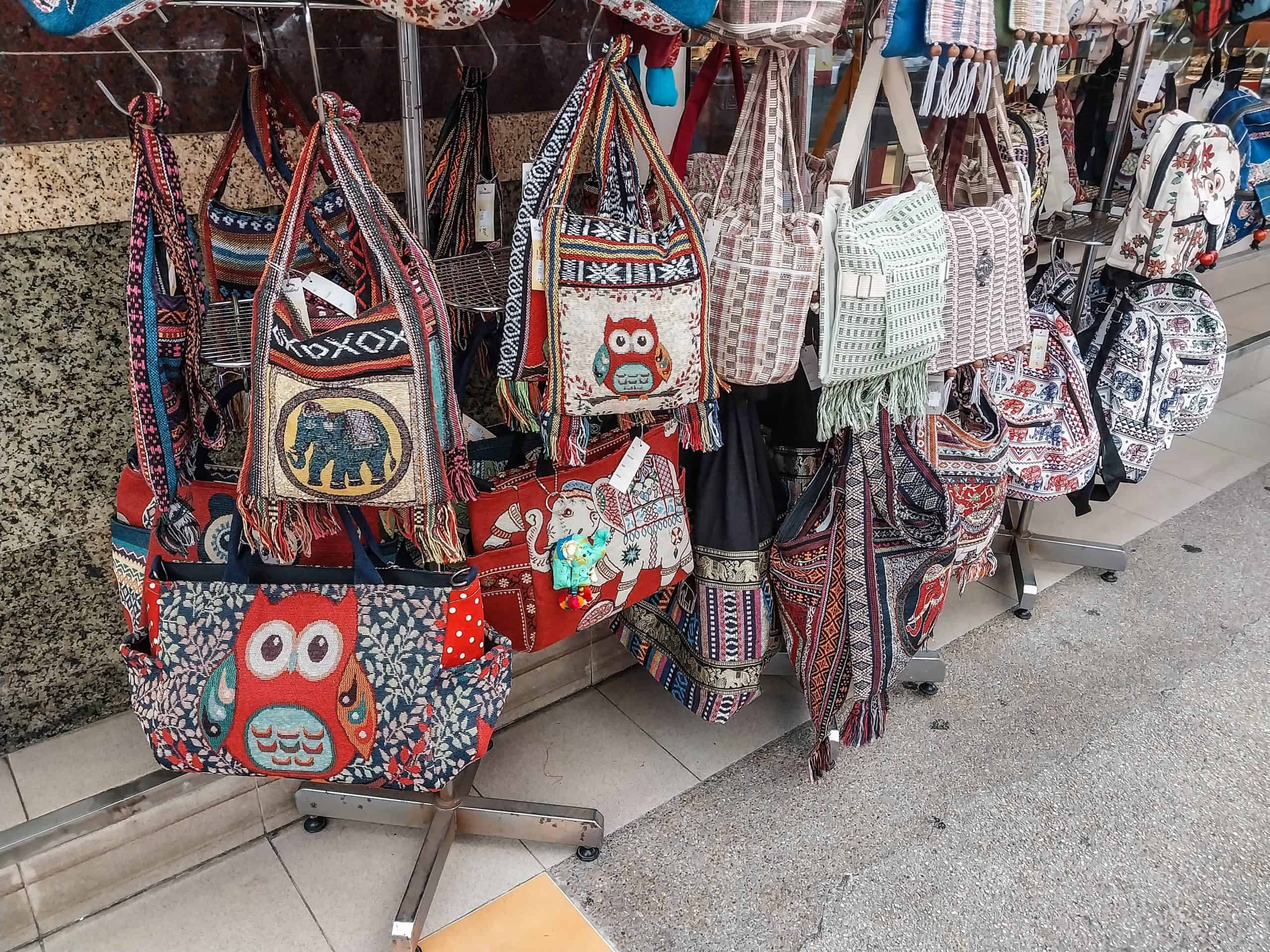 And if that's not enough for you, pop into the Lee Garden Plaza first floor and you'll find 'mall vendors' with tables of items for sale; t-shirts, knick-knacks, souvenirs, etc. There is also a Boots Pharmacy on the first floor that carries a lot of higher end health and beauty products not found at other chain pharmacies.
Lee Garden Night Market & Walking Street, 2F4C+9HG, Tambon Hat Yai, Hat Yai
Open daily:4:00pm until 12:00am
Khlong Hae Floating Market
If you haven't visited a floating market before Khlong Hae Floating Market should probably be at the top of your Hat Yai to-do list. However, it is only available on the weekends. It's also a bit outside of Hat Yai city. Getting there is easy enough, simply by going to the bus station or any popular hotel, because there will probably be other tourists heading that way and there will be a songthaew group pick up. You can of course also go the easy way by hiring a private songthaew/ taxi or calling GRAB and paying premium.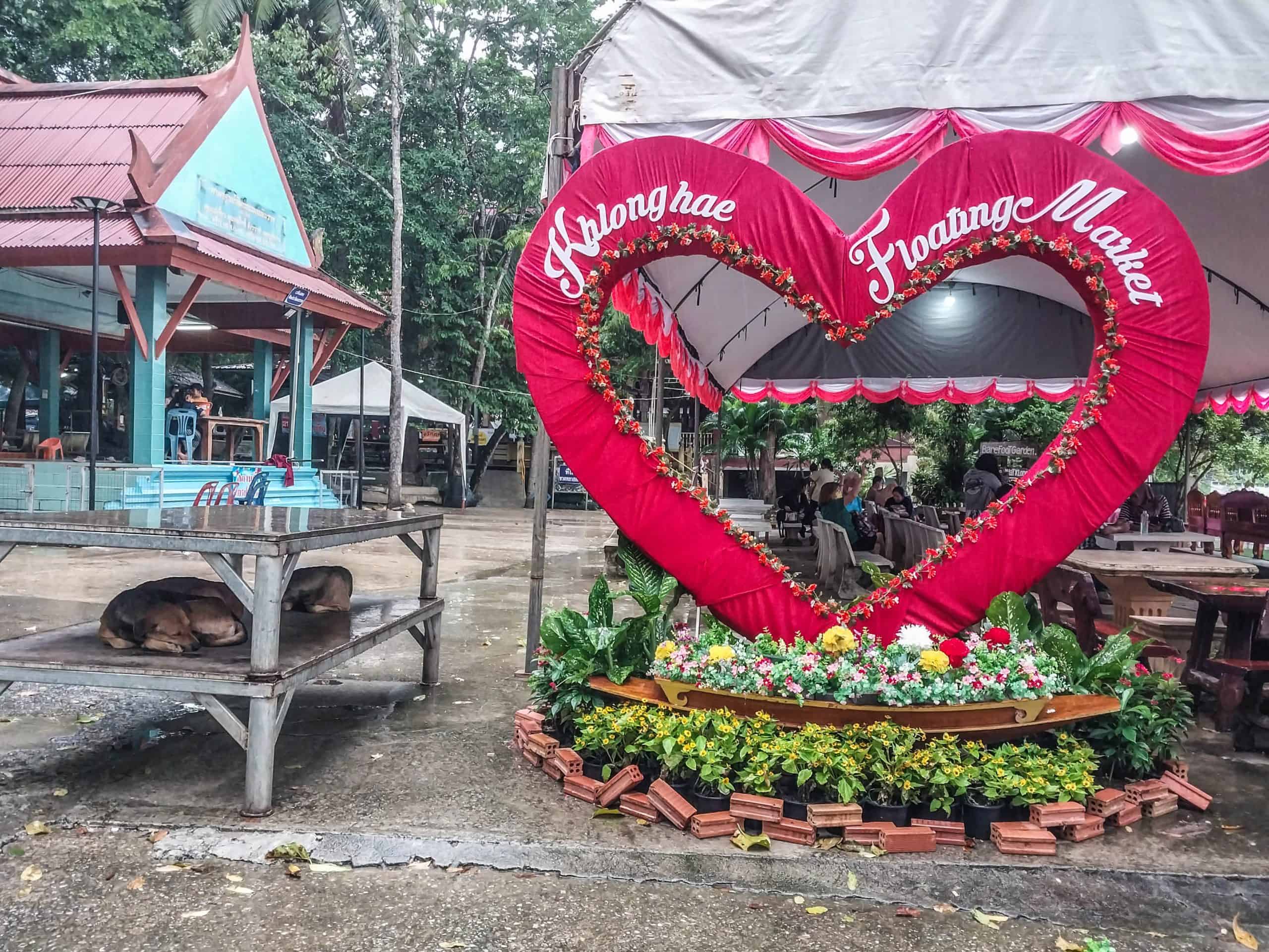 For first timers it may or may not be the National Geographic type moment you had hoped for, but it's still pretty interesting. I erroneously had first thought that the local vendors paddled into the location from their various villages, but that's not the case. One only needs to show up during non-opening hours to see all the empty boats tied to the banks, indicating that the vendors will be arriving most likely by vehicle. Never-the-less, when it's open it is a sight to behold.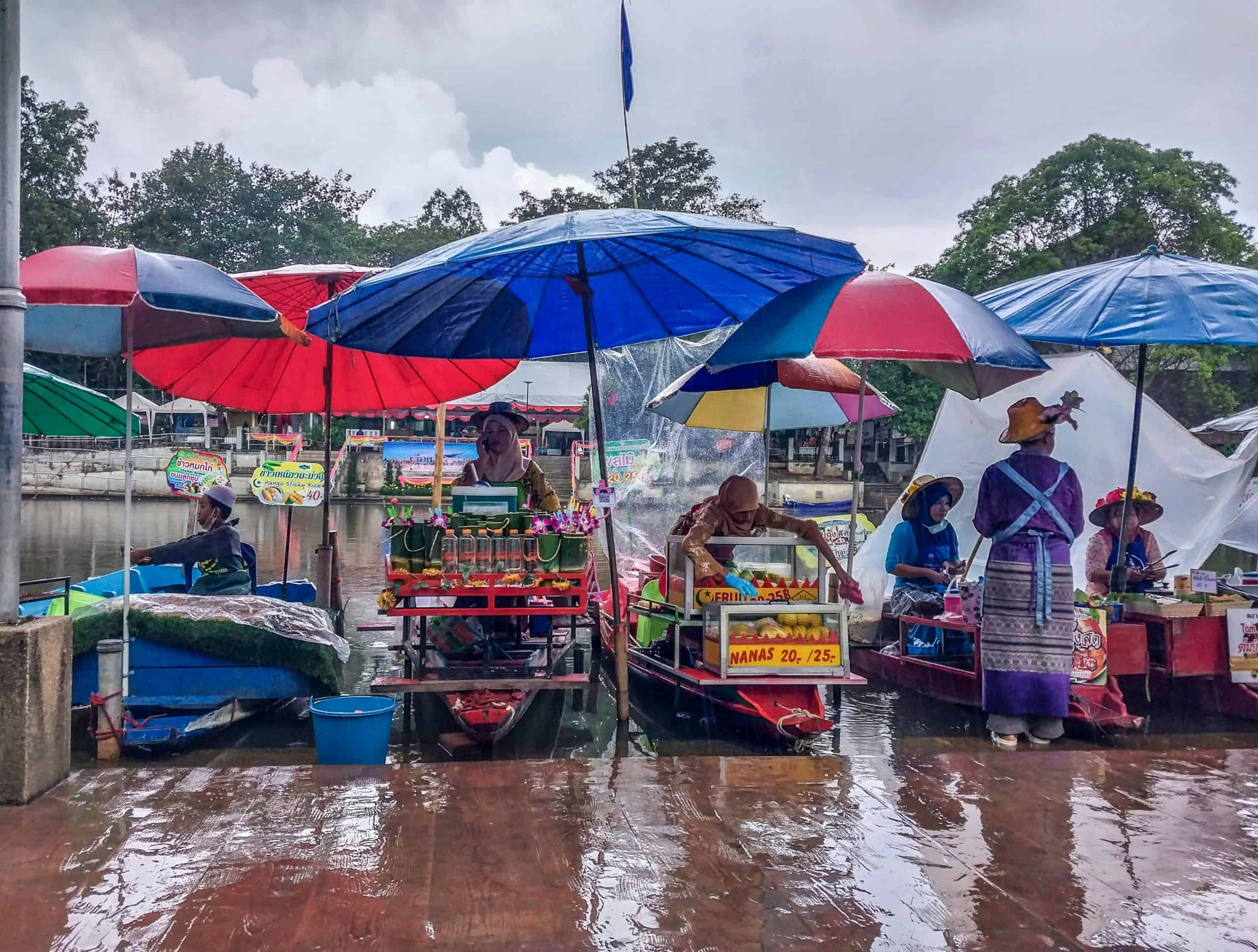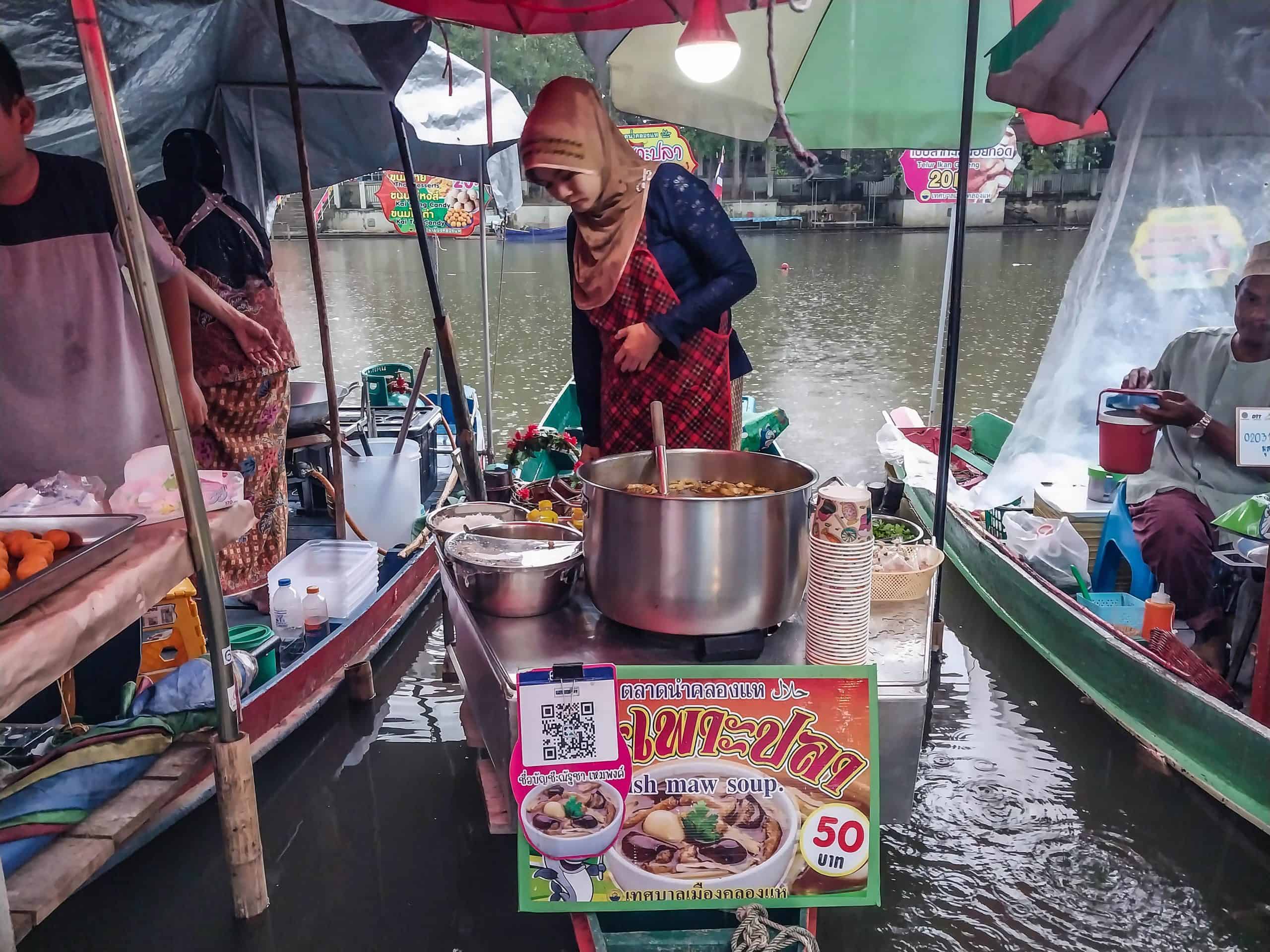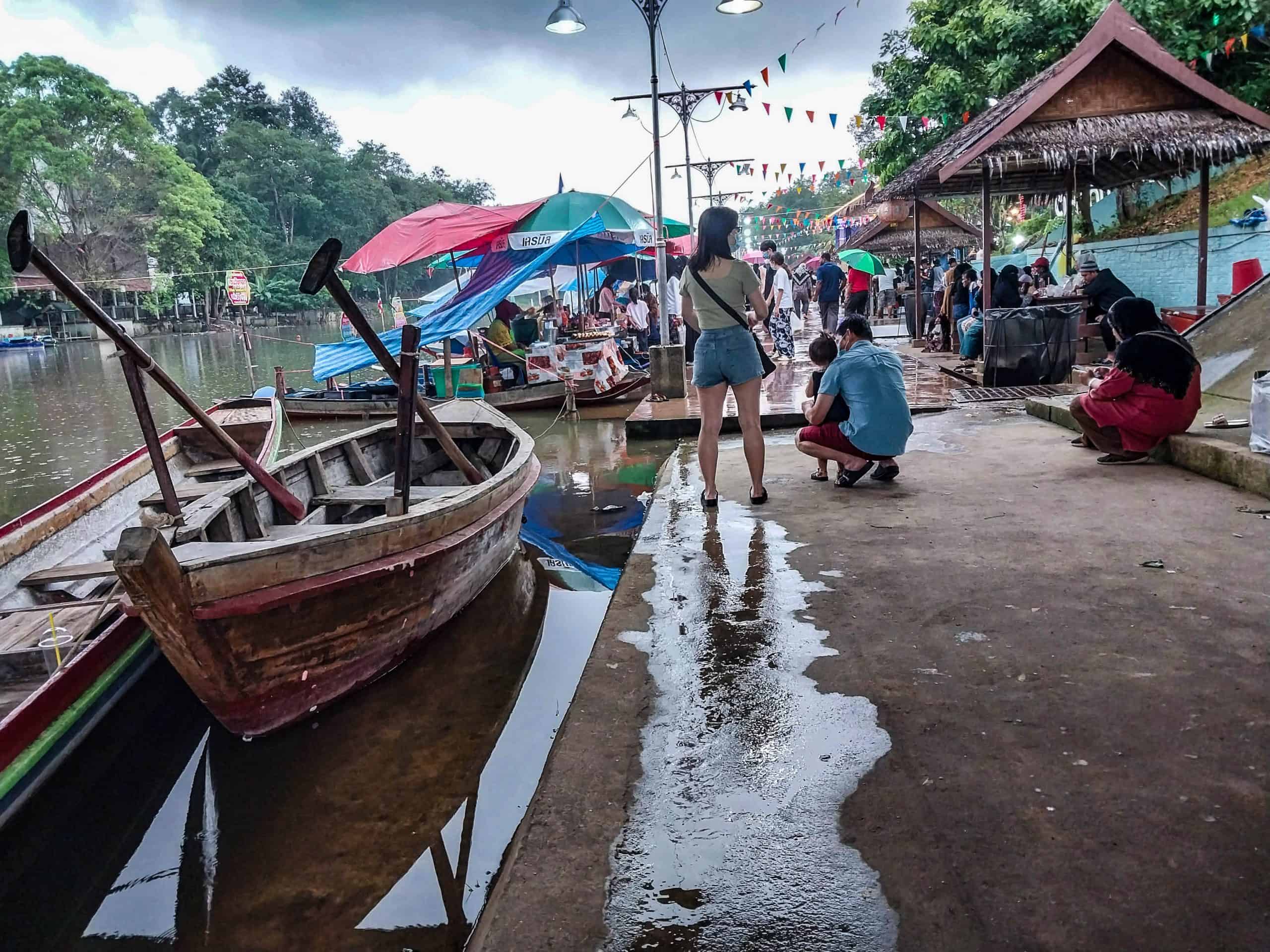 The main parking lot shares space with a Temple that has some unique exterior décor, such as a skeleton with blinking red eyes and other curious figures. A bridge leads to the other side of the river, where the river bank is, of course, filled with food vendors selling all manner of tasty local cuisine. There is even a stage where various cultural performance take place.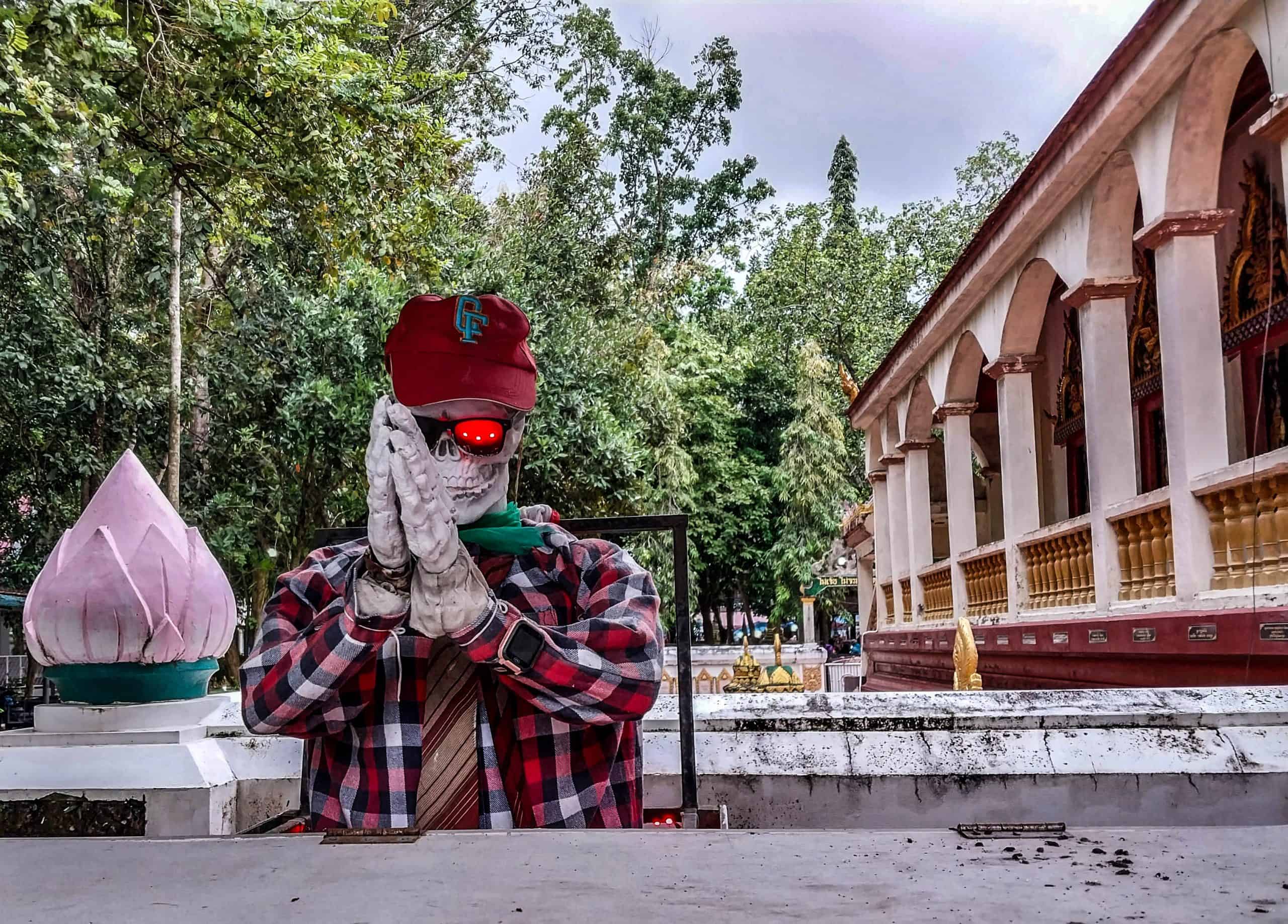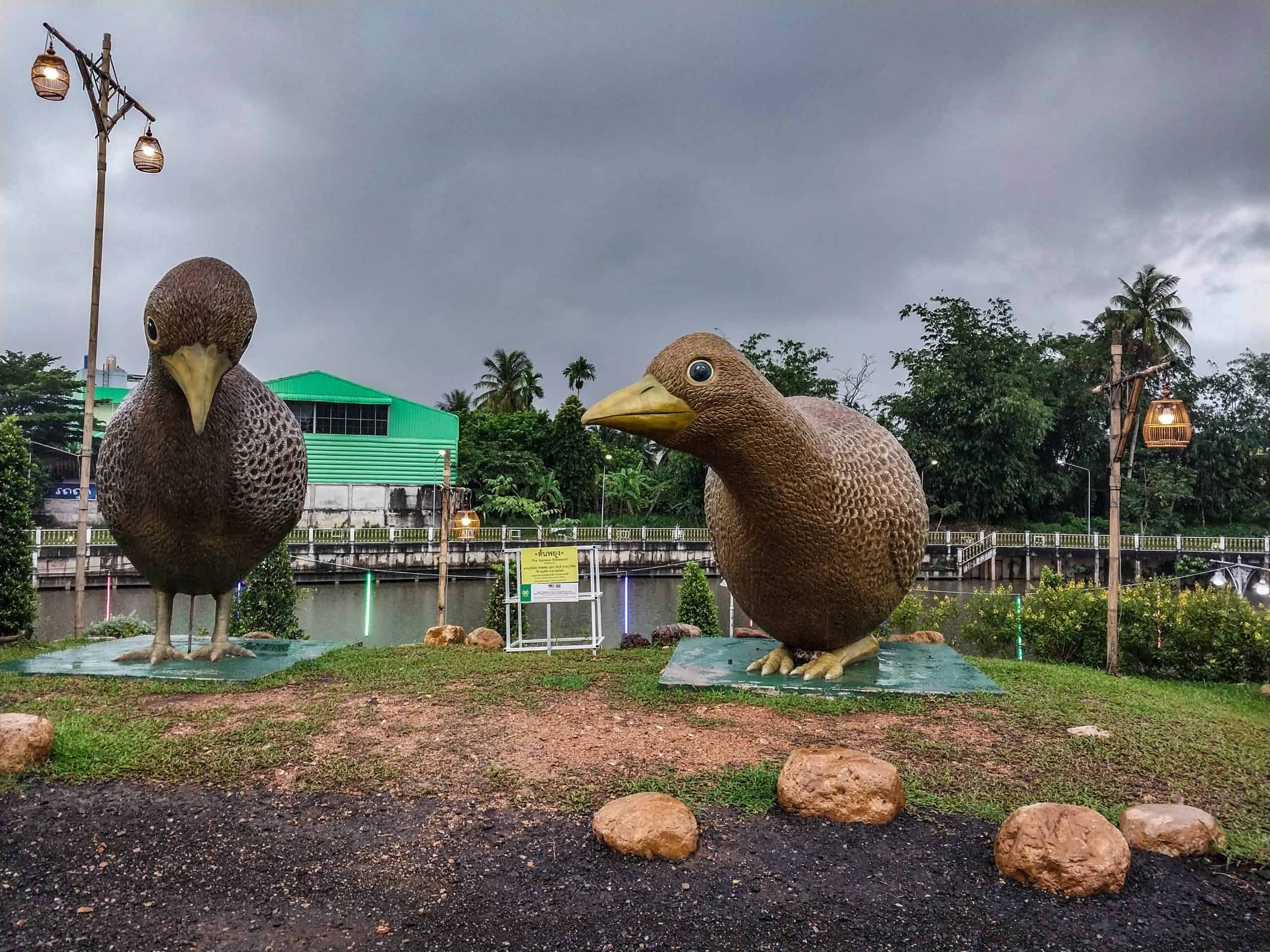 But beyond all of that, on the road near the temple is a street full of vendors selling goods; sportswear, t-shirts and other clothing items. You'll also find some of the more colorful food items such as fried insects. Which of course every tourist must indulge in (and take a photo) simply for bragging rights. It's the only place I have seen in Hat Yai that sells such questionable delicacies, so do make note of it. Bon Appetit!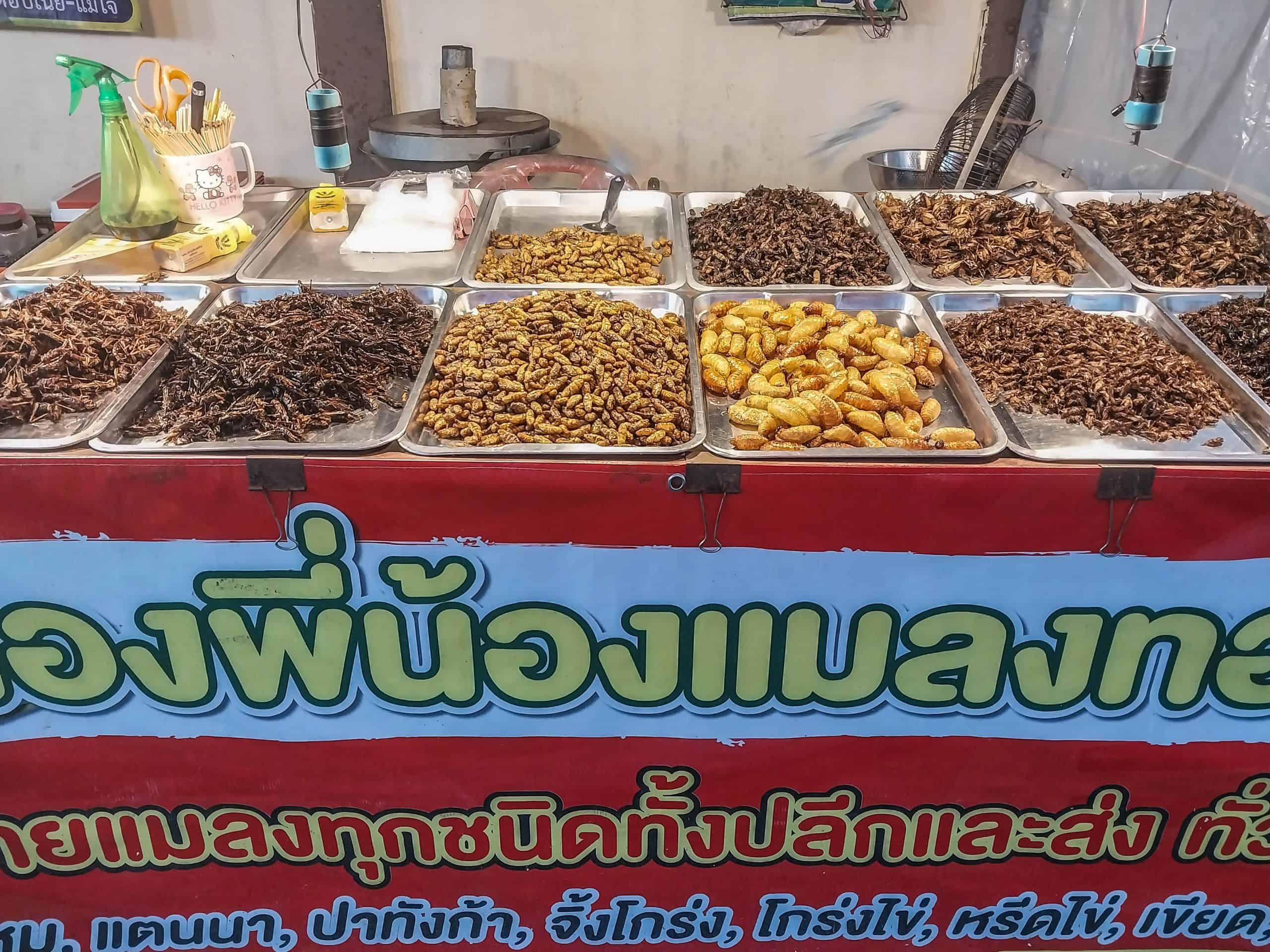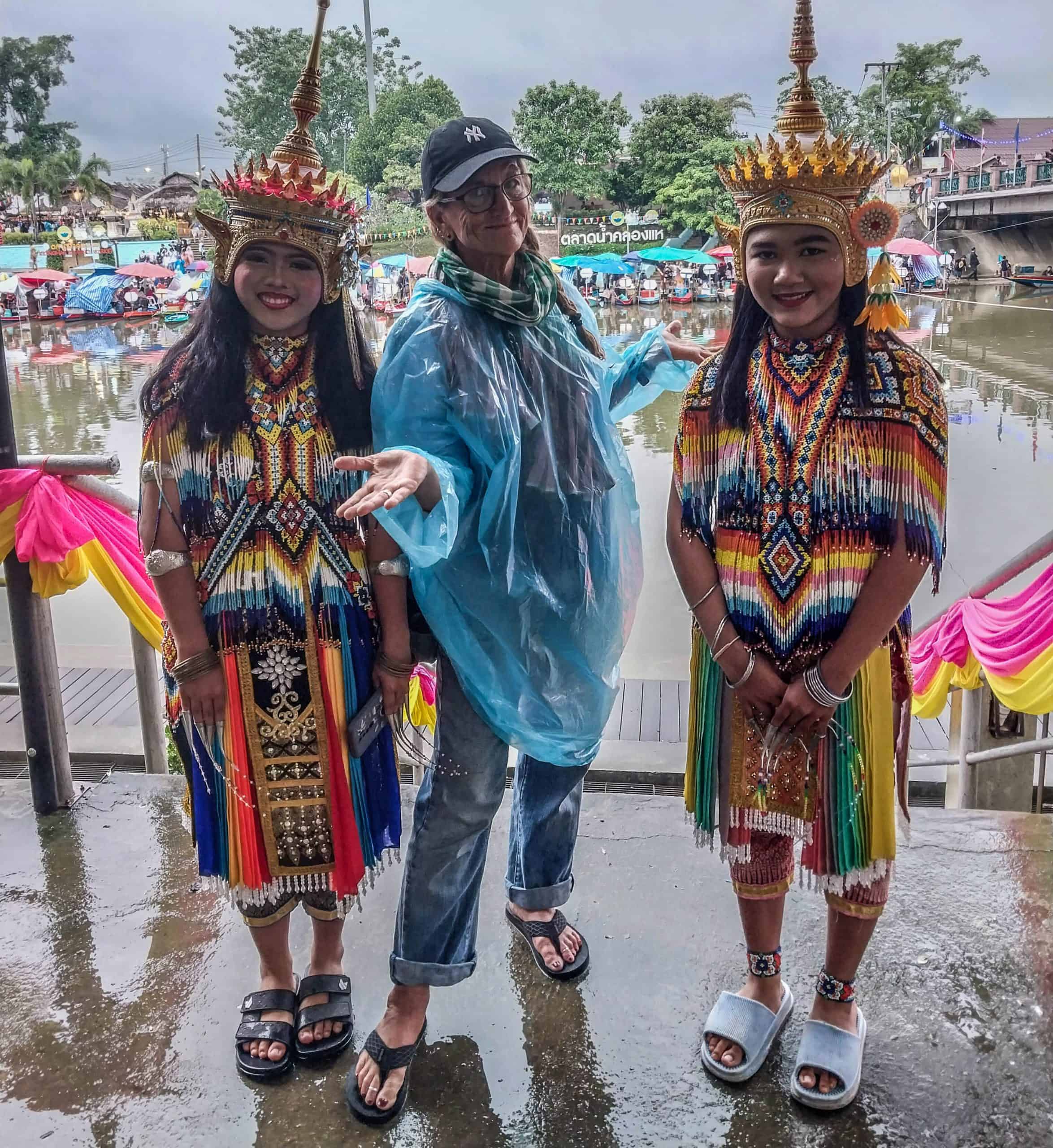 Oh! And don't let the sunny skies fool you, as Hat Yai weather can be tricky at certain times of the year. Be sure and bring an umbrella or rain poncho with you, because a sudden downpour can really dampen one's shopping mood.
Khlong Hae Floating Market, Khlong Hae district
Open Friday thru Sunday 2:00pm until 9:00pm
+66 74 305 333
Central Festival Hatyai
Last but not least for shopping in Hat Yai is Central Festival Hat Yai, a mall to beat all malls. I'd always thought Robinson's was a big deal but nope it's Central Festival. Once considered the largest shopping mall in Thailand, Central Festival has been open since December 2013 and still rules the shopping roost in Hat Yai.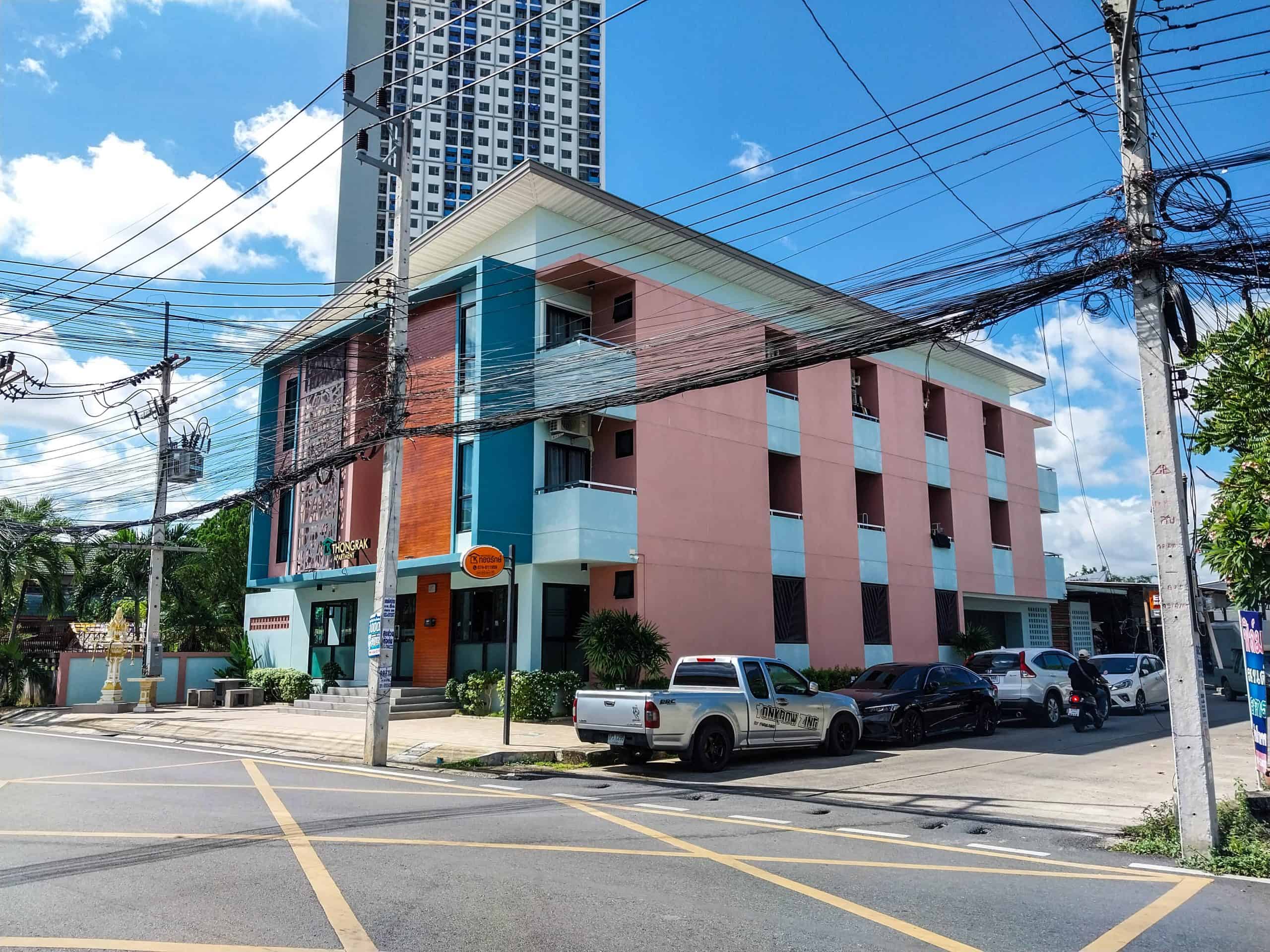 Located a few blocks from Bus Station number 1, this is the shopping mall to head to for any and everything you could possibly need. I'm talking name brands and quality goods too. Did I get a photo of this fabulous mall? No. Why, you ask? Because I only popped in there to buy a few groceries for the week and came in through the back parking garage, which happened to be just 2 blocks from my hotel; TK Thongrak Apartment. Once I found my way in, it took me forever to find my way out (while lugging two bags of groceries). It was overwhelming, but certainly noteworthy. I'll definitely be back.
Central Festival Hatyai, 1518 Kanjanavanich Rd ·
Open daily: 10:00am until 9:00pm
+66 74 801 555
Writing this mini guide to shopping in Hat Yai was an afterthought, as it wasn't until I saw with my own eyes the endless retail therapy potential that I wanted to share my discoveries with you via blog post. Shopping in Hat Yai is fun, but also a bit exhausting. So I highly recommend you start your shopping expedition as soon as you hit town and pace yourself.
Here's a map, to help you find your way.
Also be sure to bring bags or 'spare luggage' that will make it easy to transport your shopping loot because your hands will get filled up quickly. I know this because I looked like a pack mule/ bag lady returning to Malaysia by train. But I certainly regretted not having more hands, as well as more time in Hat Yai to shop. Next time I will be better prepared for sure. Have fun in Hat Yai and happy shopping!