Kedai Makan EIM Corner is a quaint 'cafe' in Kampung Kuala Teriang. One of the more visible in the village  (and yes, on a corner). They serve an assortment of Indian and Malay food, including nasi lemak, aneka goreng, curries, and (excellent)  tom yum soup. But Roti Canai is their specialty dish. This is a 'local' place with a real taste of Malaysia and very welcoming to foreign faces. A not-to-be-missed for any Langkawi visitors.
Roti Canai is an Indian influenced flat bread that is common in Malaysia and Indonesia.  Roti means bread in Hindi, Urdu and most Northern Indian Languages  as well as Malay. Canai means ' to roll out' in Malay. The dough is twirled until very thin and then fold folded into a round shape then grilled with oil. This makes for a flat bread with many layers almost like a flakey pastry. It is then served with a curry or dahl. Add a couple of eggs on the side and it makes a great breakfast!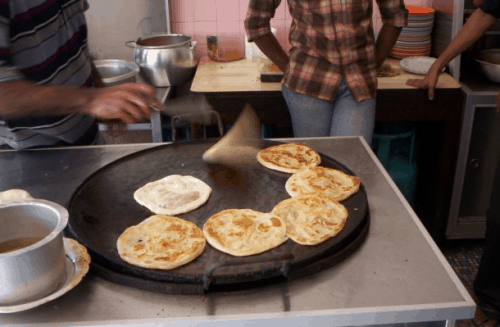 Abduk Rahim, the owner of Kedai Makan EIM Corner, came to Langkawi four years ago from Penang. This was post  2004 Tsunami, but Kampung Kuala Teriang was still in the process of cleaning up the devastation. Now in 2012, business is booming for many locals, whom you'll often find having a bit of makan or a cup of kopi at EIM Corner at various times of the day. If you stop in, you will most likely meet a local or two who will be up for a chat and a smile.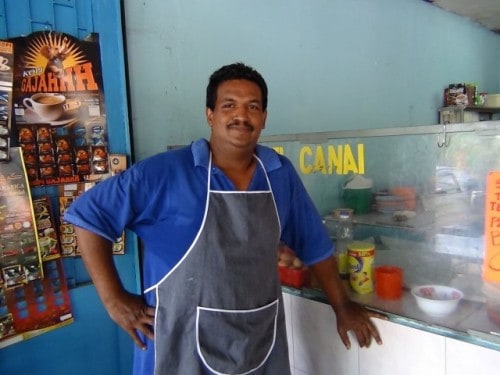 This little Indian Malay restaurant is located on the corner where the coastal road hits the t-junction in Kuala Teriang ( next to the Brite Laundry ).