Unless you are a geology buff, mining museums are probably not at the top of your sightseeing wish list. But if you're heading through Perak, Malaysia now would be a good time to do just that. Perak has some of the best tin mining museums in Malaysia and mining is a huge part of Perak's culture and heritage.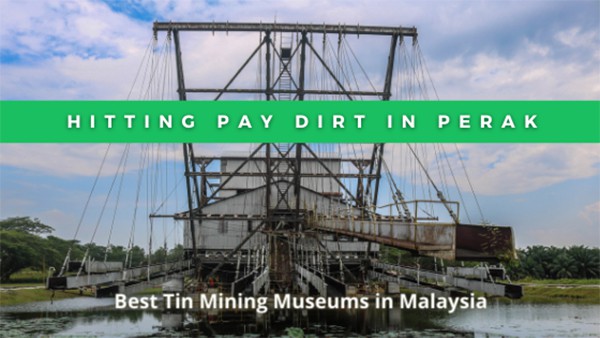 Back in the 19th century tin mining was a significant contributor to the country's economic growth. With Peninsular Malaysia's centrally located Kinta Valley fast becoming the tin mining hot spot, employment opportunities attracted many Chinese immigrants to permanently put down roots in the region. This migration explosion led to the birth and development of townships such as Ipoh, Taiping, Gopeng, Batu Gajah, Kampar and more.
But of course, it wasn't just the Chinese who had their fingers in the mining pies, Malays and Europeans were also eager to seek their fortune within the boundaries of the Kinta Valley. Making for quite a cultural melting pot.
Here's a Little History about Tin Mining in Malaysia
Tin Mining is one of the oldest industries in Malaysia, dating back to the 9th Century. However, it wasn't until the early 1800's that mining expanded due to the arrival of Chinese immigrants under the influence of Chung Keng Kwee, bringing the expertise and needed labor to expand the industry to new heights. Chung Keng Kwee was appointed Kapitan Cina (Captain China) by the British in 1877 and was renown as an innovator in tin mining.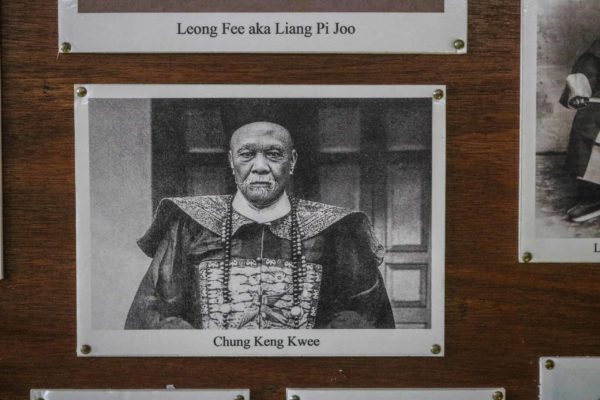 By the 1860's Chinese miners were swarming Malaya (Malaysia gained independence in 1963) to meet the expanding British and European demand for tin. Before the British and Malaya Governments started heavily investing in tin mining, most transport was done by interior water ways, porters, water buffalo drawn carts and even elephants. That rapidly changed as new rail links and roads were built in the early 1900's and allowed for the tin industry to expand to make Malaysia the world's leading supplier of tin.

Tin was mined from pits and tunneling into rock faces. The pitting mining method involved digging a shaft of about four to five square feet of no more than 30 feet in length (due to risk of structure collapse or decrease in available oxygen to breath). Pitting and open cast mining was originally developed by the Malays, who generally mined in the lower foothills.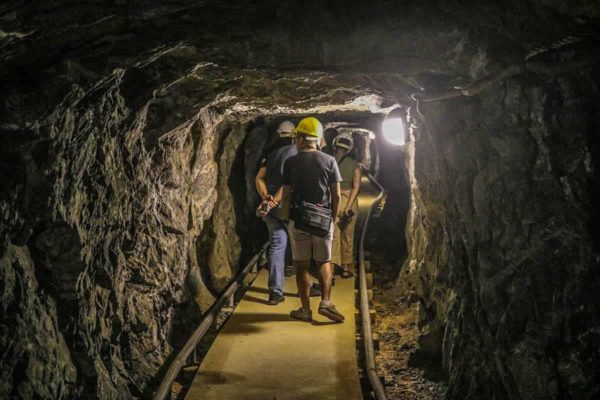 They eventually discovered that the much sought-after iron ore was much deeper in the ground. This required much more labor and the larger scale operation was referred to as 'open cast' mining. The success of any open cast operation was of course based on man (and woman) power and some of the larger mines employed up to one-thousand laborers at a time. By 1872, Malaysia had about 40,000 miners working in the industry. Many of them Hakka and Cantonese.

Dredging was introduced in 1913 by Malayan Tin Dredging Ltd. The bucket dredge method was a huge breakthrough and had a significant impact on the continued success of the Kinta mining industry.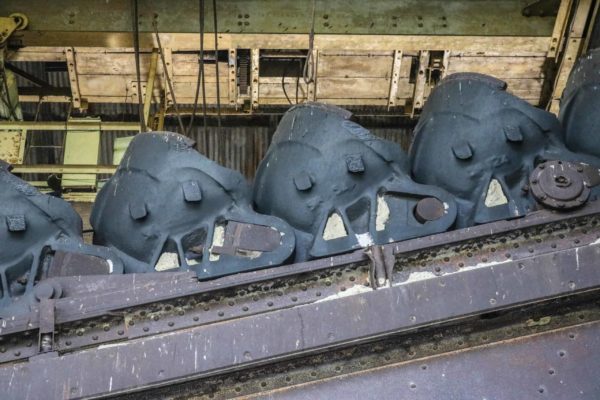 Malaysia remained the world's largest supplier of tin until the price crash in the late 1980's with more than 300 tin mines forced to close. Malaysia now is only producing a small portion of tin that it did in its former production heyday.

Hitting Pay Dirt in Perak; Best Tin Mining Museums in Malaysia

Hitting Pay Dirt is an old mining phrase related to unearthing valuable minerals and gems. Dictionary-wise it means 'to find or achieve something important and valuable'.  I personally put information in the 'important and valuable' category and these Perak Tin Mining Museums deliver the goods when it comes to information. These three museums are not only unique in their own way, but a treasure trove of information related to mining in general. They also highlight the historic and cultural aspects of the tin mining life in Malaysia. 
 
Kinta Tin Mining (Gravel Pump) Museum
Kampar, Perak
The Kinta Tin Mining Museum is dedicated to Malaysia's miners and the huge economic impact the country's mining community had on Malaya (and later Malaysia) since the mid 19th century. Established in 2012, the idea of creating the museum came from former miner Tan Sri Hew See Tong, who was a third-generation miner and worked in the industry from 1949 to 1989; starting at age 18.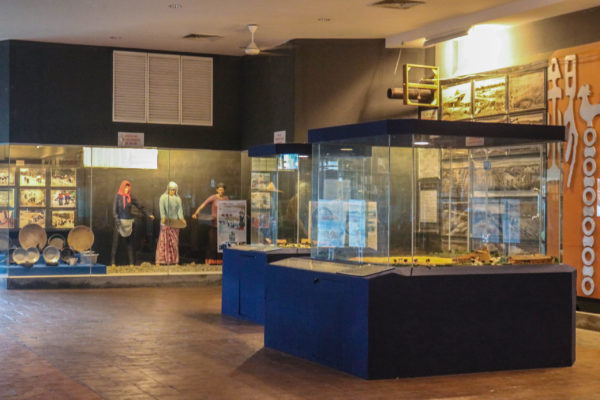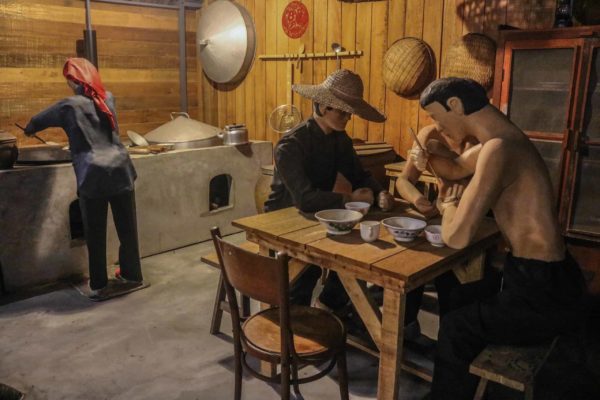 The spacious, two story museum has over 1000 artifacts, images and displays throughout the complex, which spills out into the adjacent grounds. The first floor is dedicated to the history and methodology of mineral extraction while the second floor highlights the development and upcycling of the area's many left over mining pits. Most have now been transformed into lakes and are part of the community's urban development.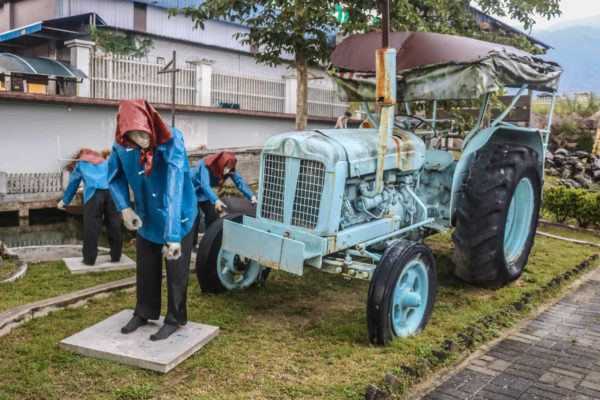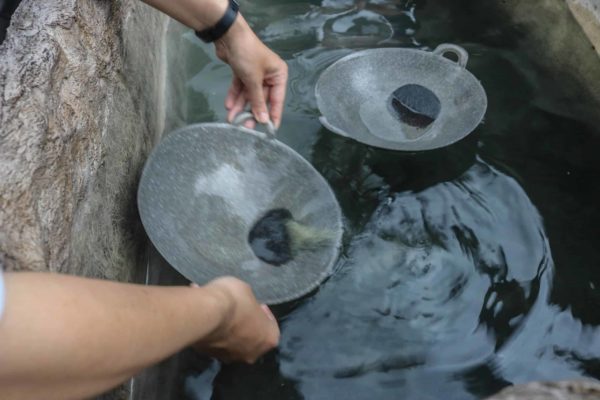 The outside of the museum serves as a stage for more cumbersome exhibits, including gravel pumps, tractors and other heavy machinery. There is also a dulang washing station, where visitors can try their hand at 'panning' for tin. (It's much harder than it looks by the way).
Kinta Tin Mining (Gravel Pump) Museum
Lot 126026, Jalan Batu Karang
012-288 8530, Open: Daily 0900 to 1700,
Entry: RM5 Adults/ RM2 Kids (2-18yrs)
www.kamparmuseum.com.my

*Another mine-related thing to do while in the Kampar area is to take a guided tour of the Kampar Tin Mining Heritage (Walking) Trail


Tanjung Tualang Tin Dredge (aka TT5)
Batu Gajah, Perak
Tanjung Tualang Tin Dredge (also known as TT5) is the last remaining tin dredge in Malaysia. Let that sink in for a minute. The dredge was built in England in 1938 by F.W. & Sons; at the time a prominent dredge engineering company. TT5 was upgraded in 1963 and had continued operations until August 1982. In 1997, Malaysian Mining Corporation (MMC) donated the Tanjung Tualang Tin Dredge to the Perak State Government.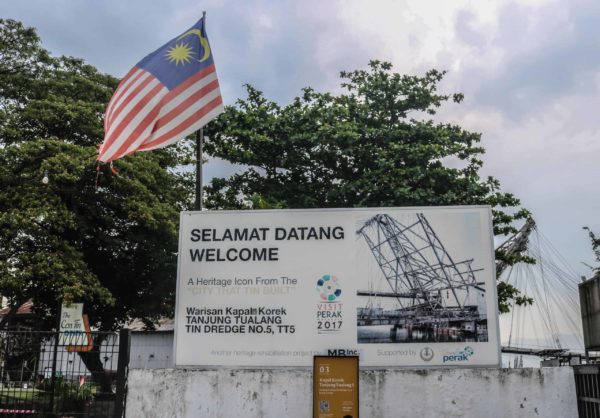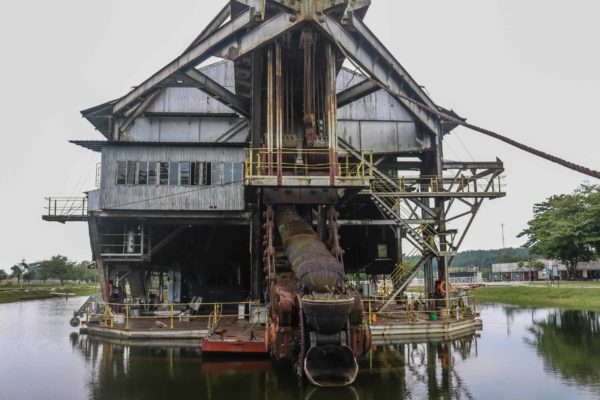 In an effort to preserve this important part of Malaysia's tin mining history, the dredge and surrounding area has been turned into a park. Visitors can take a guided tour of the dredge which includes plenty of well-preserved ancient machinery. The equipment is in such stellar condition that one might expect it to suddenly come to life with the pull of a switch.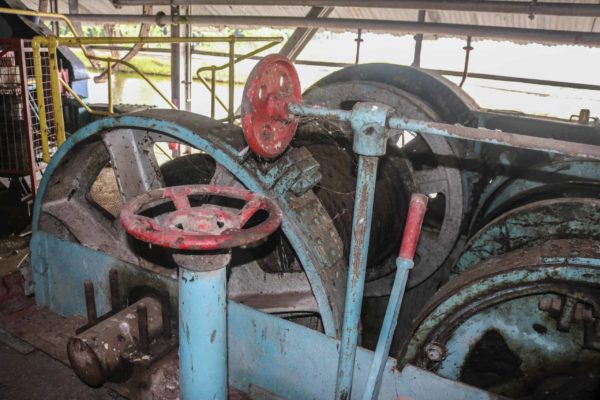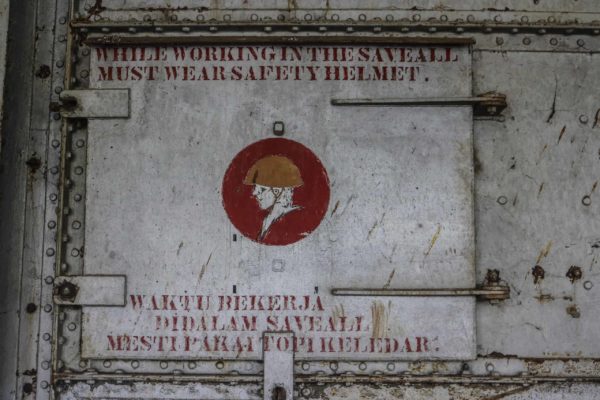 The onsite gallery/mini-museum is worth taking a few extra minutes to carefully read some of the info plaques before taking the guided tour. Understanding the importance of the historic dredge is key to appreciating its preservation. Otherwise non machine enthusiasts may find themselves glancing at their watch and missing informative parts of the tour (like I did).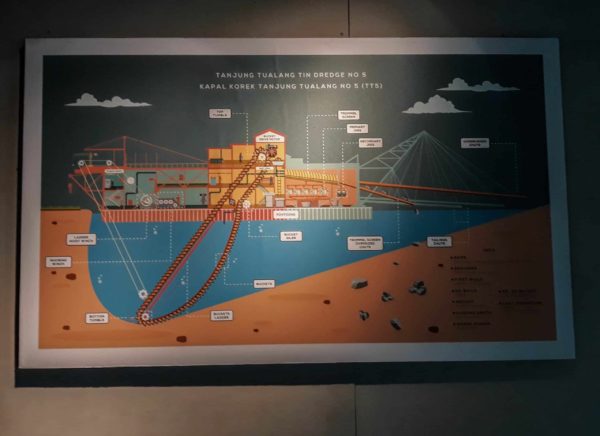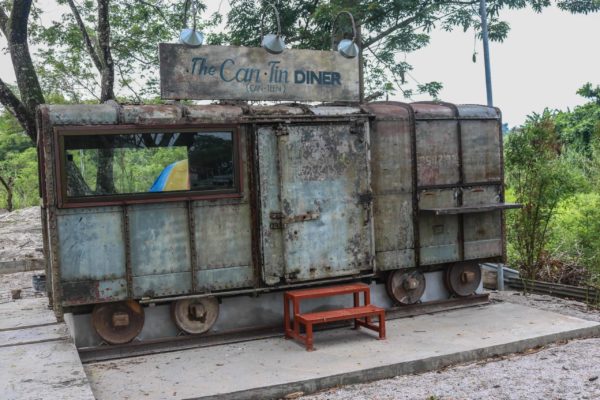 Visitors can also try their hand a dulang washing (panning) or take a walk around the picturesque lake (which has a wheelchair friendly walkway). And old train car turned café is adjacent to the lake and makes for a relaxing place to sit and ponder those mining days gone by.

Tanjung Tualang Tin Dredge
9th KM, Jalan Tanjung Tualang
+6014-904 3255, Open: Daily 0900 to 1800
Entry: RM5 Adults/ RM2 Kids (2-18yrs)
www.tt5perak.com
*Another mine-related place to visit, while in the Batu Gajah area, is Kellie's Castle. The castle's name sake owner (William Kellie-Smith) was once also the owner of the Kinta Kellas Tin Dredging Company.


3 Han Chin Pet Soo (Ipoh World)
Ipoh, Perak
The history behind the museum is complex, as the original building was once the Han Chin Tin Miners' Club founded by a man named Leong Fee. Leong Fee was an impoverished immigrant from Guangdong Province, China who arrived in Penang in 1876. Through hard work and many side gigs he was able to purchase a shop house located on what was known at the time as Treacher Street. The street has since been renamed Jalan Bijeh Timah, where Han Chin Pet Soo is presently located.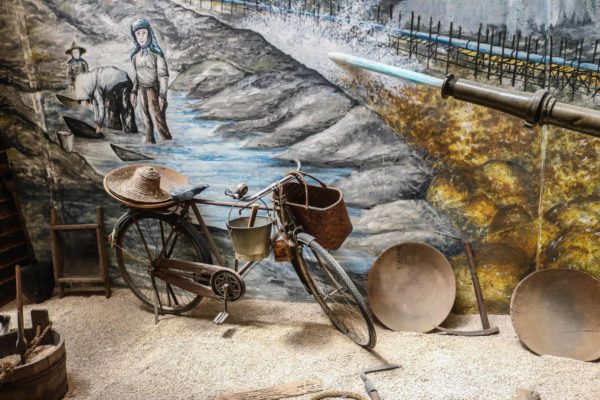 Back in the day the Tin Miner's Club was a place for Hakka miners to let their hair down. The club was a place where opium, gambling, prostitution, and secret societies were the norm. The club was also exclusive to Hakka miners only. Founding father Leong Fee died in 1912, but the club activities and various vices continued for decades. In 1929 the club purchased the property from Leong Fee's son and rebuilt the original establishment into the building it is today.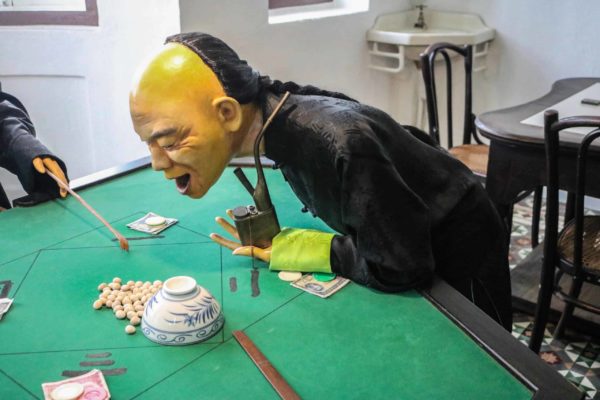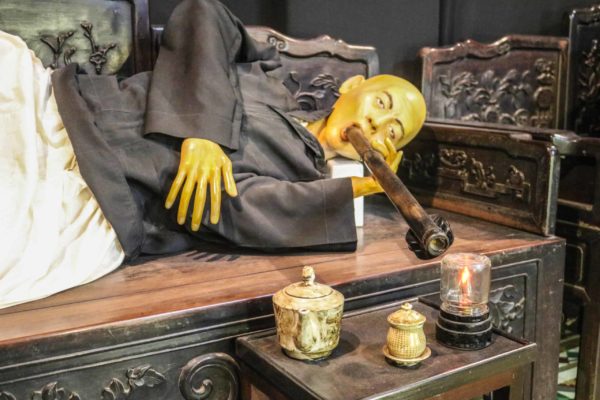 The building eventually fell into semi-disrepair, but in 2013 it was leased out to Ipoh World for restoration and historical refurbishing. Ipoh World is a non-profit community organization focused on preserving Perak's heritage. Han Chin Pet Soo now has two floors of exhibits and is open for public tours by appointment only.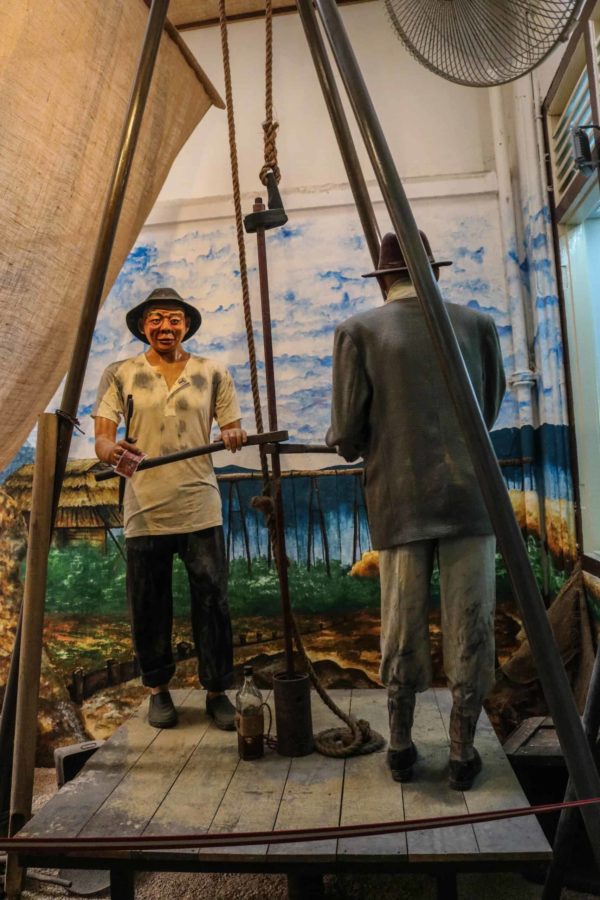 The first floor has an extensive exhibit of the tin mining industry and culture, while the second floor is dedicated to the culture of the Hakkas. The exhibit includes an impressive map and photos of the Hakka's mass migration efforts over the years as well as dioramas of the club members' often decadent leisure activities. Being a non-profit, a set entry fee is not in place, however they do ask for visitors to 'donate' from RM5 to RM10 to help cover the cost of additional staff and upkeep of the building.
Han Chin Pet Soo,
3, Jalan Bijeh Timah,
Ipoh, Negeri Perak
+60(0)5-241 4541,
Open: Tuesday to Sunday (by appointment only)
Entry: Donations of RM10 Adult/ RM5 per Child
Another mine-related thing to do while in the Ipoh area is to visit the Tin Mining Heritage (walking) Trail.

Caves, Quarries and Resorts
Perak wasn't the only mining community in Malaysia (or Malaya), but it was definitely the front runner. Some previous mines such as Gua Kelam (Cave of Darkness), in Arau, Perlis, have become tourist attraction caves.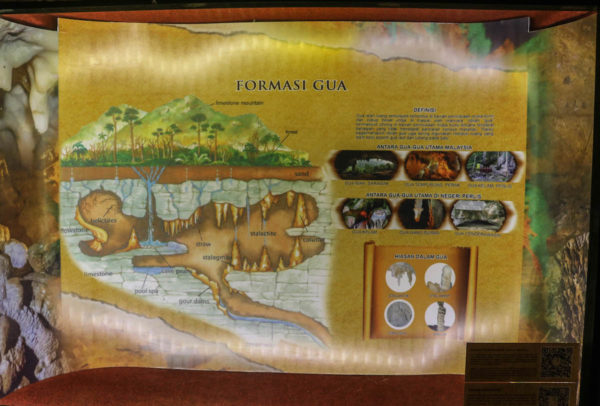 The old Sungei Besi Mine (AKA Hong Fatt Tin Mine), in Selangor, is now a gorgeous lake and the location of the amazing Palace of the Golden Horses Hotel.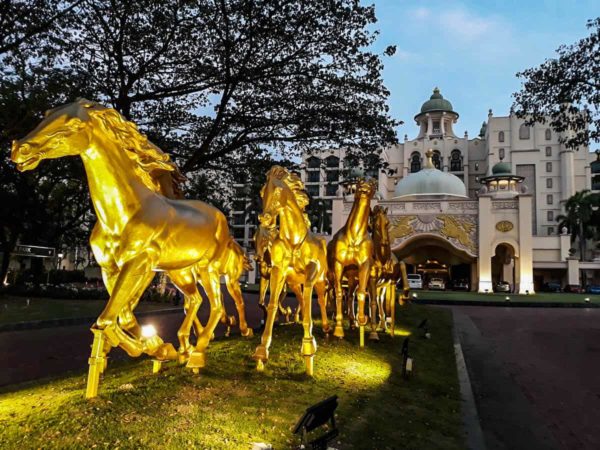 And since Singapore was also a part of Malaya back in the day, Singapore's Pulau Ubin (AKA Pulau Batu Jubin or Granite Stone Island) was once a vast supplier of granite, with five quarries located on the island. Pulau Ubin has since been turned into a beautiful island park. All worth a visit for any mine enthusiasts.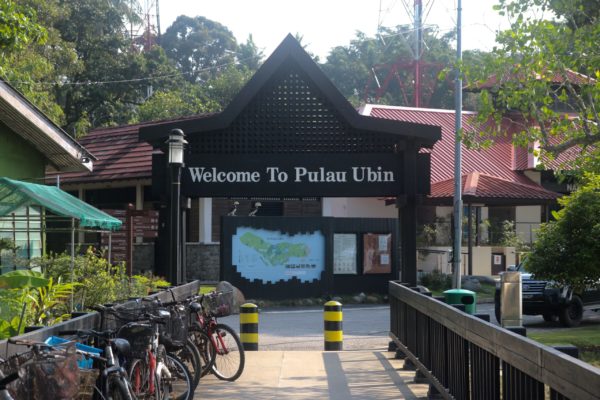 As you can see, if you visit any area in Malaysia (or Singapore) with the word 'mine' mentioned, dig a little deeper and you are likely to unearth a little pay dirt of culture and heritage. Safe travels and happy digging!