The idea of learning to surf in Langkawi or anywhere else in Malaysia may come as a big surprise to some folks. It's just not something you hear much about. At least not consistently. And that may be because Malaysia's waves are seasonal. Typically generated in direct relationship to the monsoon season (aka rainy season). No one intentionally plans their holiday hoping their beach vacation will be filled with rainy days, but that's one of the beauties of surfing in Langkawi, the monsoon season is not a daily torrential rain scenario. It's quite often just daily scattered showers mixed with plenty of hours of sunshine.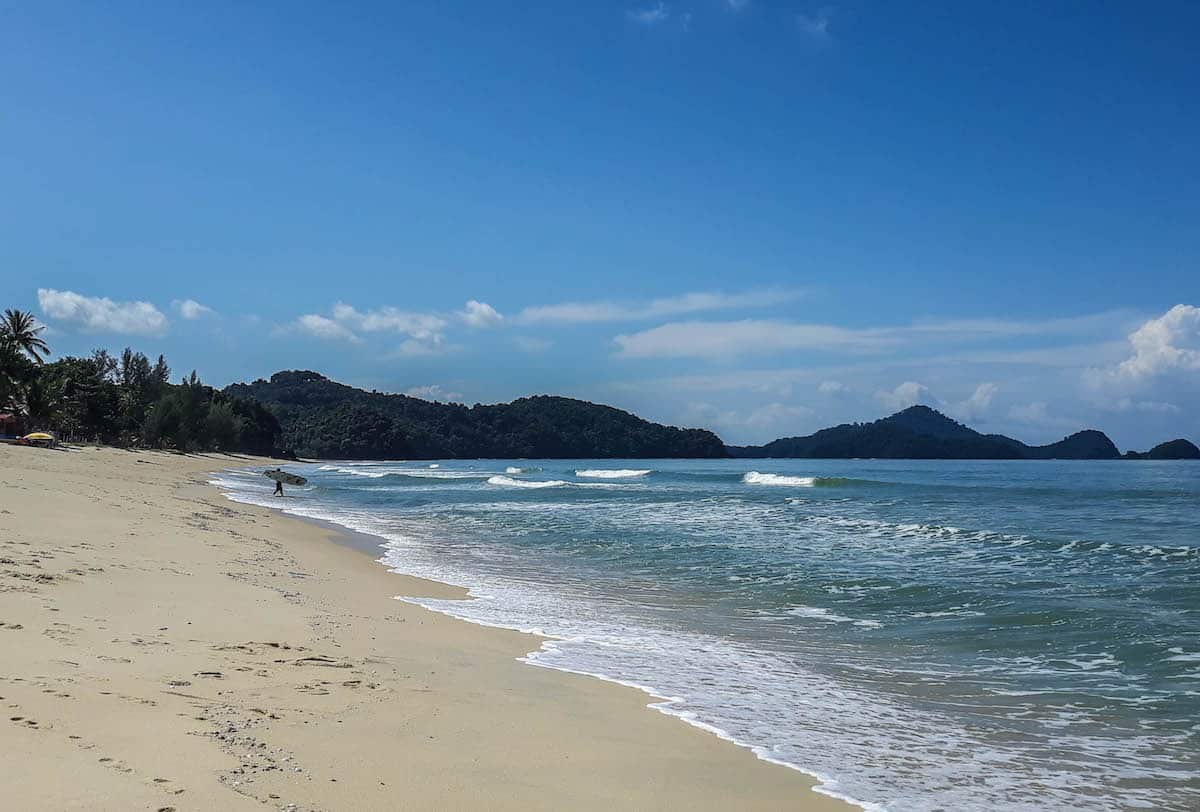 Langkawi's monsoon season also coincides with 'low' season for tourism, so flights and hotels are usually much cheaper. Generally speaking, that is from mid-April to mid-November, but 'officially' considered September through November. Either way, it's a win-win for surf enthusiasts who prefer a quieter beach and less tourists to dodge in the water. But also, a win-win for any newbies hoping to learn to surf in Langkawi as rain often brings waves.
Learning to Surf in Langkawi
Depending on the remoteness of some surf blessed beach locations, finding surf boards to rent or surf lessons can be a challenge. Especially if there is no surf shop in the immediate area. Does one just walk up and down the beach looking for a pile of surfboards and ask? Well, yes, you could actually do that and you might even luck out.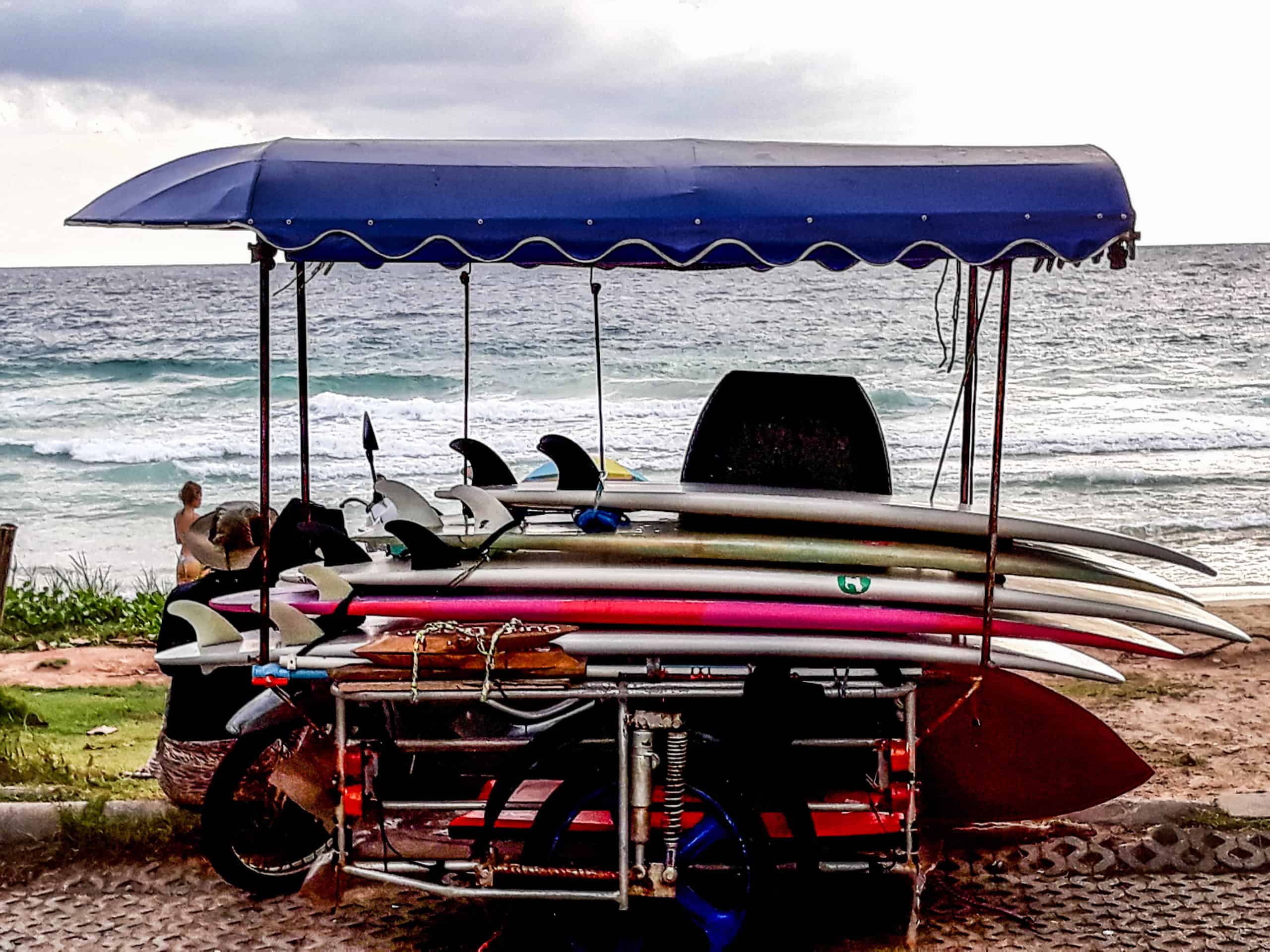 From my experience pretty much anyone hanging out on a beach with a surfboard will be willing to teach a newbie. Especially if the newbie is willing to shuck out a few bucks for 'lessons'. But not everyone has the finesse and patience it takes to teach and communicate across the cultural divide.
However, a surf school or program with a long-term reputation to consider is going to make the effort to make sure you are a successful beginning surf graduate. And that's where my friends Amor (Arm) Syarifuddin and Napi Samsuddin come in.
Endless Monsoon Surf Lessons
Endless Monsoon Surfer is the name of Langkawi's present beginner surf program of surf camps and private surf lessons. It's run by two local chaps, Arm and Napi; both die hard surfers who are eager to introduce the awesome sport of surfing to anyone from age 6 years and up. Although they prefer to keep classes small, Arm and Napi have a backup team that steps in to help with larger groups. This ensures that every student gets personalized attention, which in the end will guarantee your beginner surf success. Surf instructors are also CPR + First Aid Certified and make student safety a priority.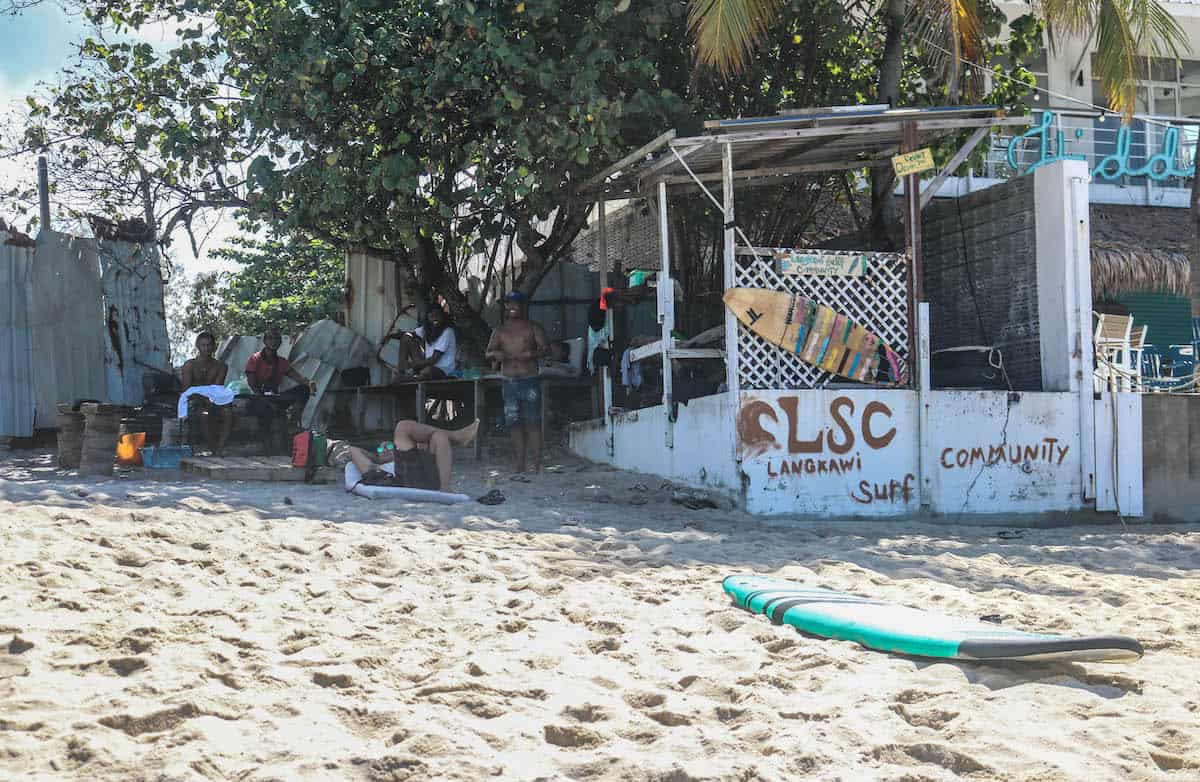 First timer surf lessons will usually have a student standing and riding a wave within a couple of hours (or so). You won't necessarily be standing very long, but even a brief thrill of victory is enough to get a newbie stoked (surf lingo for excited, enthusiastic).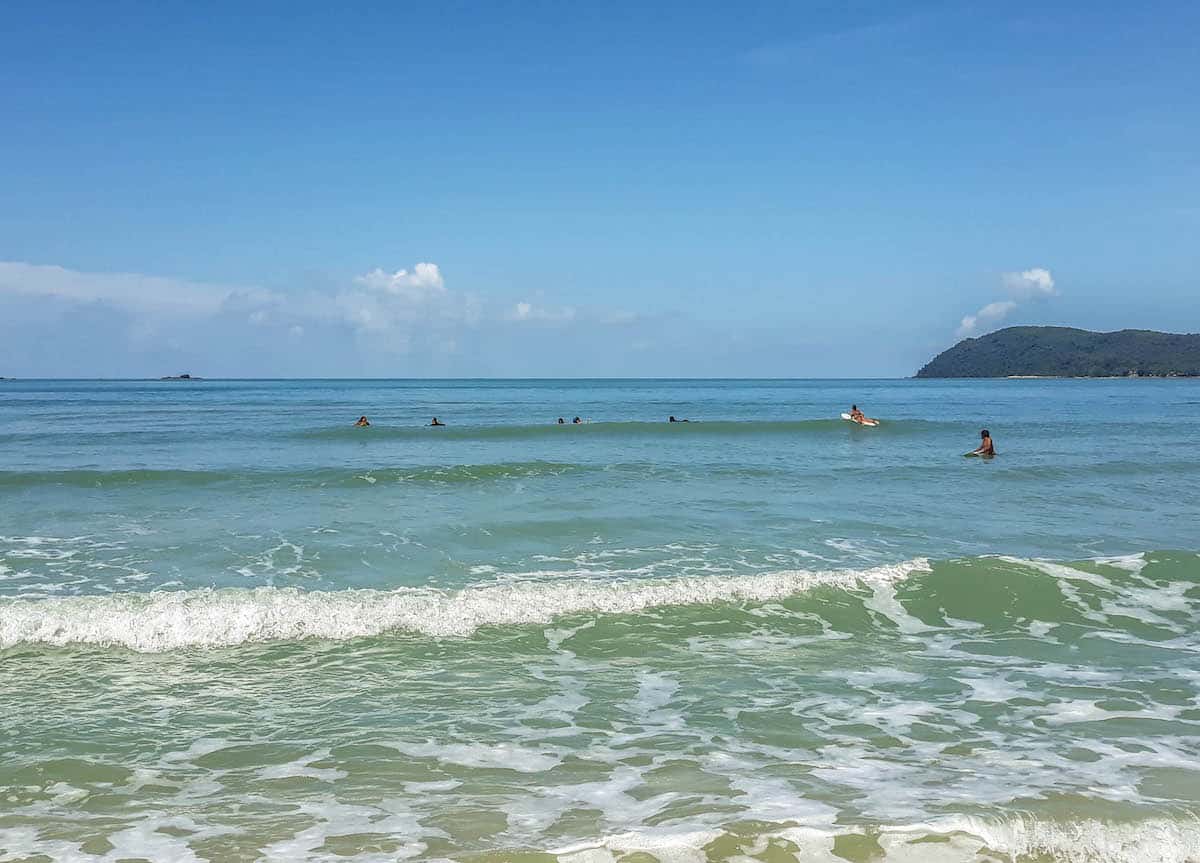 I recently signed up for a surf lesson and surf session with Arm, so I could check out his teaching style. He covered all the on-land basics before we headed to the water; including the importance of wearing a surf board leash and protecting your face and head when you wipe out (surf lingo for falling off the board).
Step 1: Lying on a Board and Jumping to a Stance
Lying on a board and jumping to a 'stance' in one quick motion, having one foot forward and one-foot back. Sounds simple, right? This is how you will find out if you are regular foot or 'goofy' foot. You will automatically favor one or the other; right foot forward, left foot back (goofy) or left foot forward, right foot back (regular). The oh-so-important leash goes on your back ankle, so you don't trip over it getting to your feet. If you don't wear a leash, you risk injuring yourself or others with a runaway board.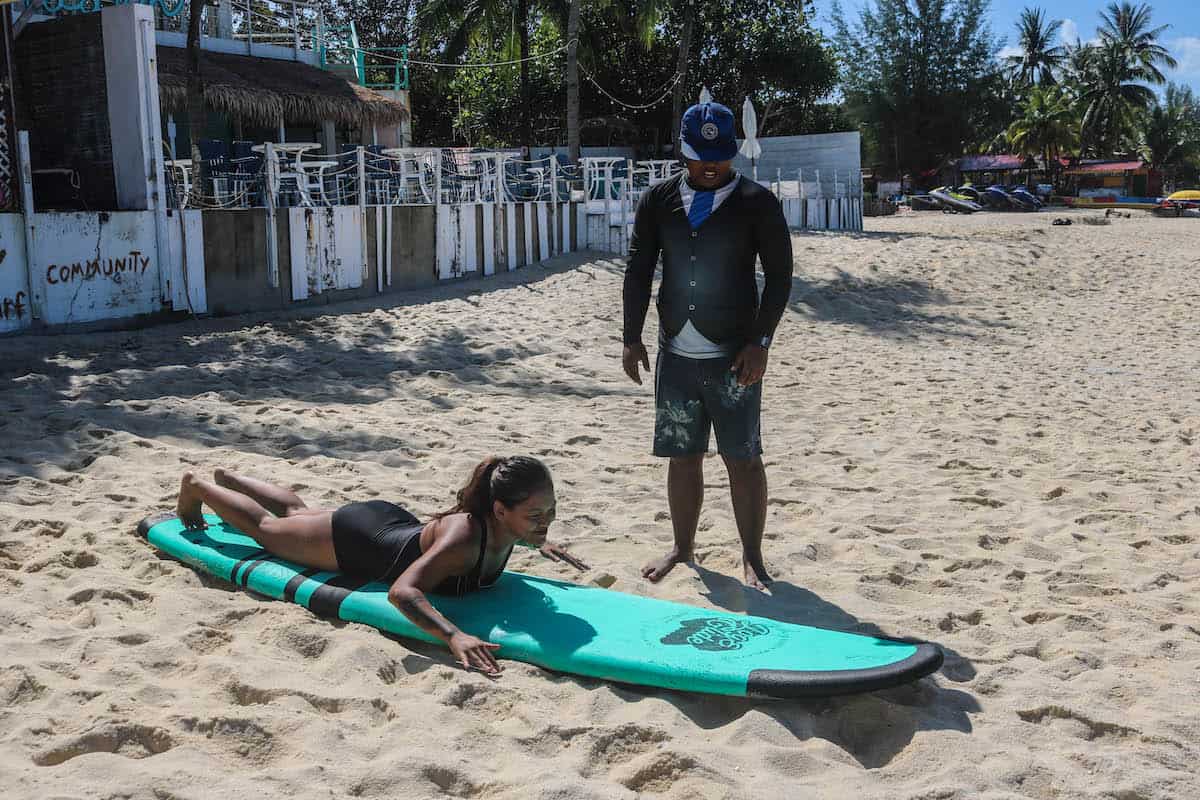 *In the future, you will later discover that riding certain waves may be easier based on your 'natural' foot position. As a wave breaks it often peels right or left. As a 'goofy-footer' I find that facing the wave is easier than a wave at my back (a backside wave). New learners should try to conquer the skills it takes to ride both rights and lefts and not favor one over another (which can be a bad habit to develop).
The jumping to a stance part is also super important and takes practice. The faster and smoother you are 'jumping' to your feet the better. Placement of your body on the board is also critical; too far back and the nose of the board will be lifted out of the water and slow you down, too far forward and you will pearl (surf lingo for the front of the board going under the water and likely tossing you into the water). Learning where the sweet spot is can take a little practice, especially if you are using boards of different sizes.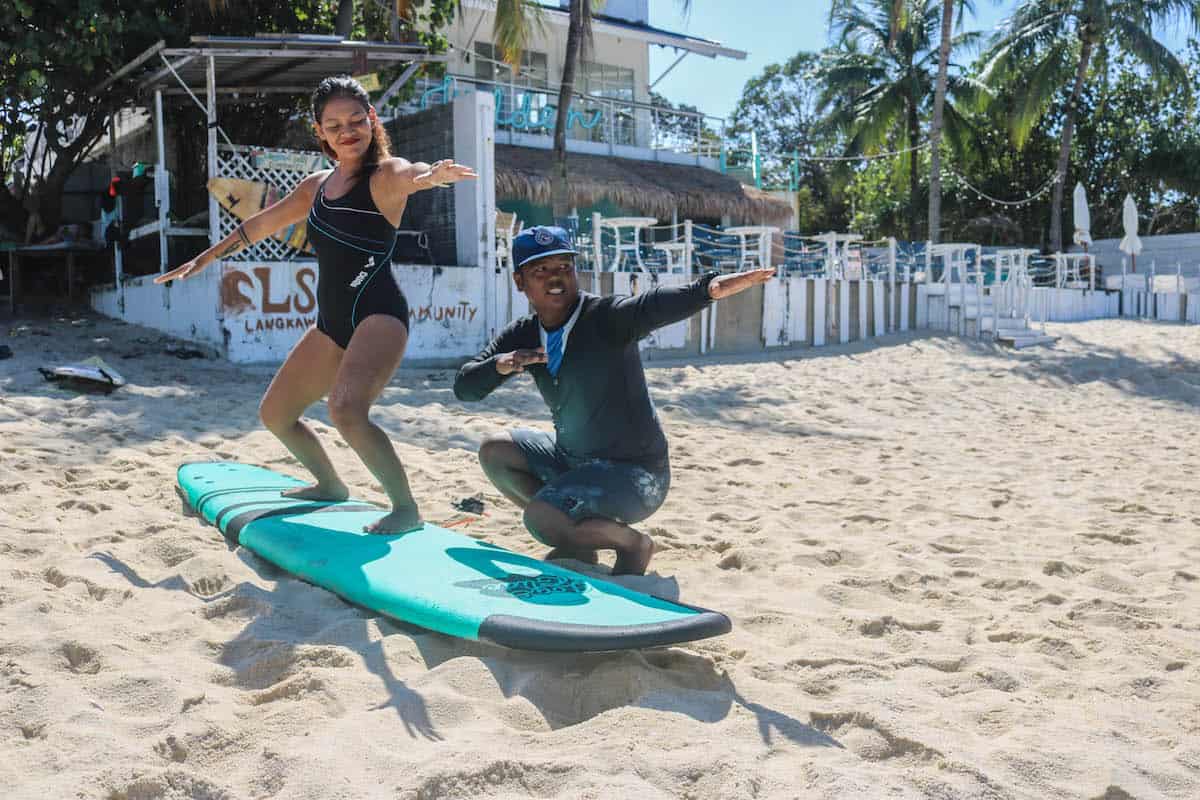 Step 2: Paddling Out and Catching Some Waves
Now it's time to get wet! Learning to paddle, sitting on a board and catching some waves are the next steps. To accelerate things, instructors at Endless Monsoon may focus their students on just catching waves and standing up. If the students' initial paddling efforts are limited, the instructors may assist by pushing you (and your board) into the wave (similar to body surfing). Once you are propelled forward, you can then 'jump' to your standing position.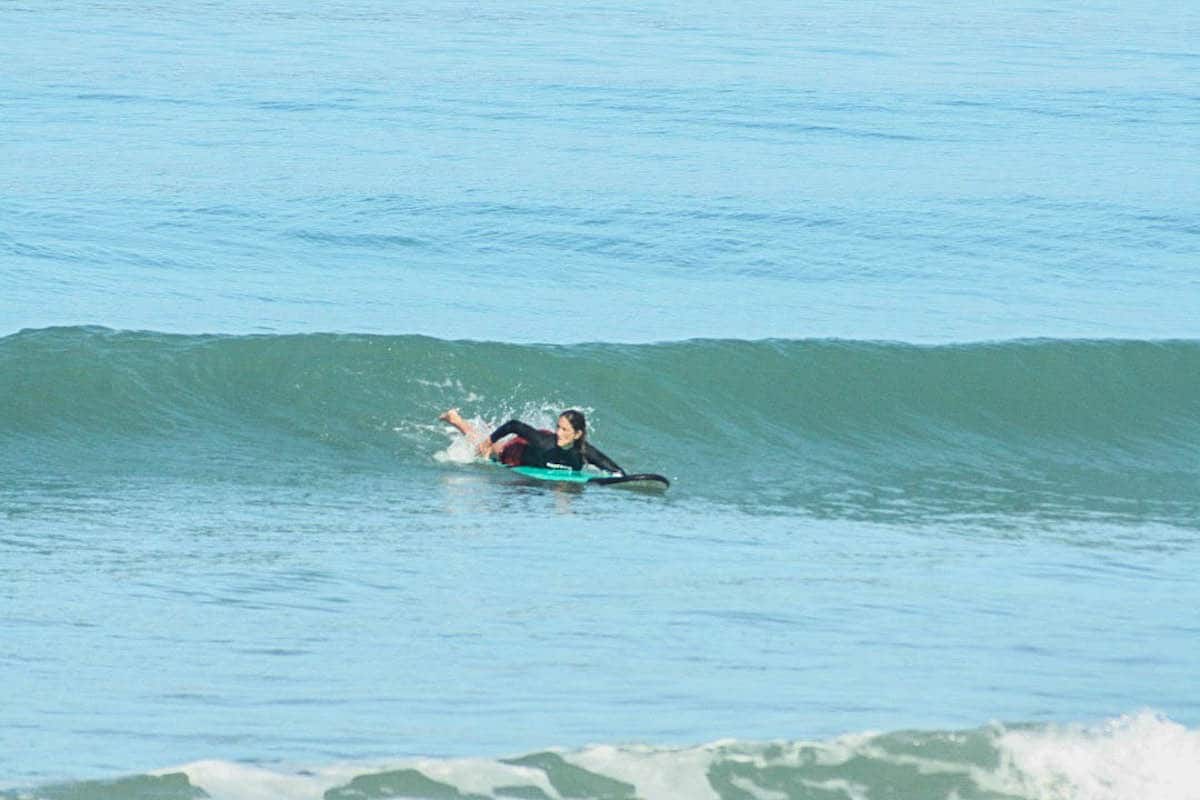 You may be happy with this progress or you can challenge yourself a bit more by learning how to sit on a board and face the sea and then quickly turn the board to face the shore. This can usually be done by rotating your lower legs clockwise or counter clockwise like egg beaters.
Just sitting on a board in a line up (surf lingo for a group of surfers waiting for waves) can make you feel instantly cool. For some it can be a long journey to get to this point; fear of the water, early surfing failures on a too small board, etc… But just remember that every single person who has learned to surf started the same way. Some are naturally gifted to pick up the sport quickly and for some it may take more effort, but never the less, if you want it, it can be yours!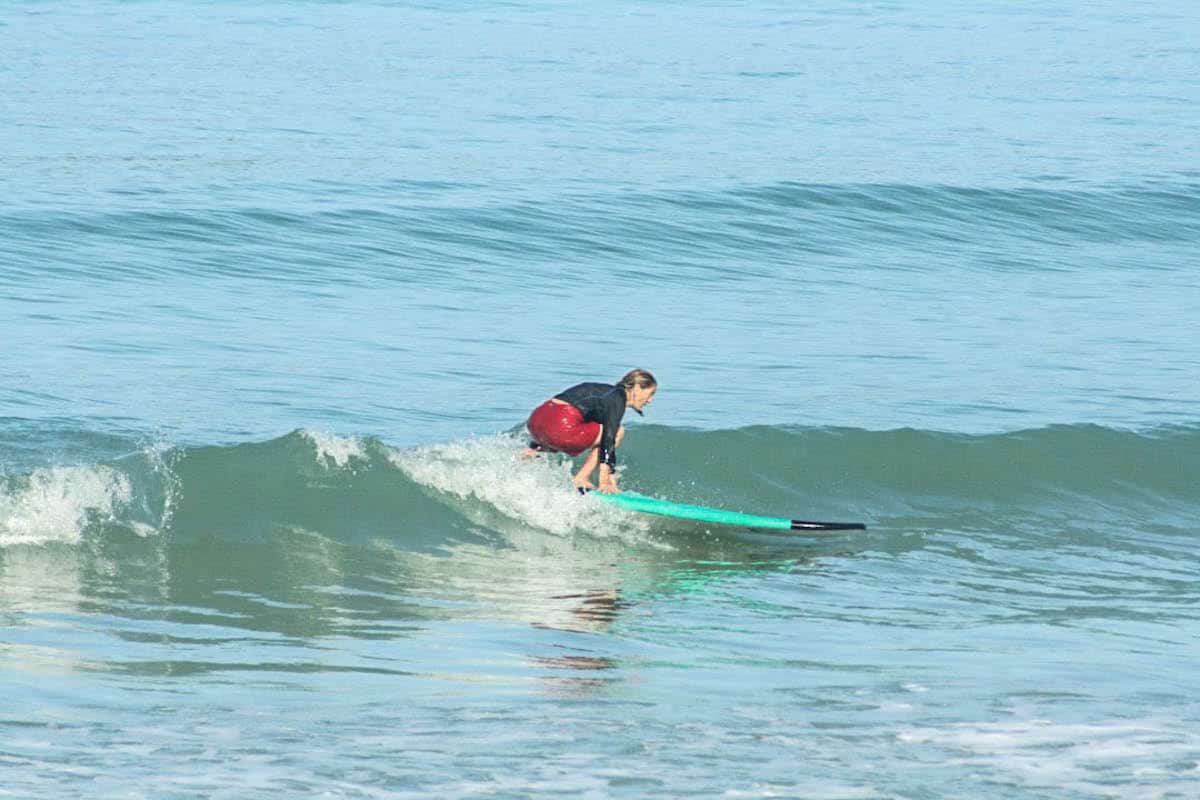 If the water is relatively shallow, beginners may find it easier to walk their board out to where the waves are breaking and then hop on. But they also need to learn how to paddle efficiently, so take advantage of down time between trying to catch waves to paddle back and forth. Keep your strokes even with your palms cupped a bit. Don't slap the water.
Arching your back while paddling, will help you see incoming waves as well as make it easier to correct your body placement at critical moments. If your face is touching the surfboard while you are paddling then rest assured you look like an absolute beginner. Remember to arch your back and be able to see what is going on around you. You'll look cooler too.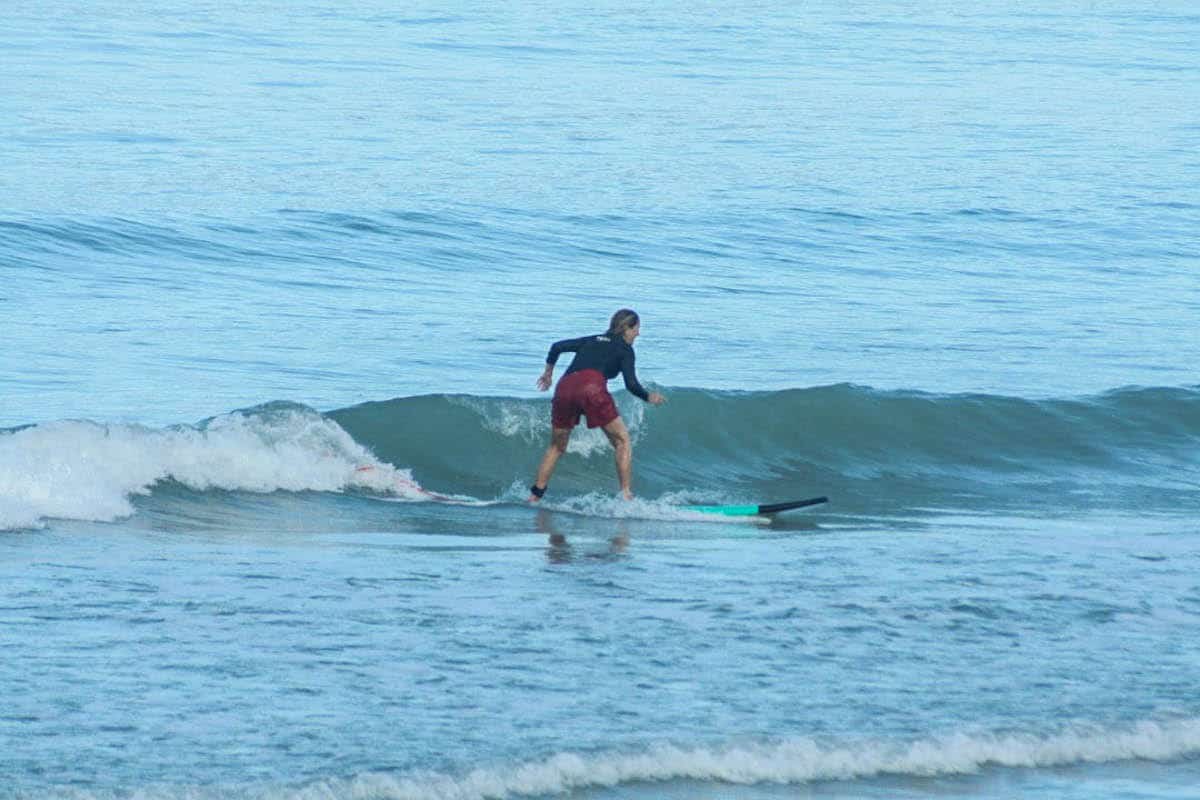 Why is paddling prowess so important? Because you need to match the speed of the wave. With no instructors pushing you into the waves, it is up to you to propel yourself forward. It may be tiring at first, but you will get stronger and more efficient with practice.
*Learning to read the incoming waves and timing sets is an essential part of your future surfing. Waves generally come in sets and the bigger the waves the more important this is, because the first wave of a set is not usually the biggest. This knowledge can help new surfers be prepared in advance to know when to paddle. But it will also make life easier for you when you start paddling out in bigger waves; paddling out between sets is easier.
Equipment
Another impressive part of the Endless Monsoon Surfer program is their equipment. They don't use ratty, old boards salvaged from garage sales, the quiver (surf lingo for a collection of surfboards) they use for their surf lessons are Olaian and Suns brand surfboards; durable, floaty and responsive. They also look good in a surf class graduation photo.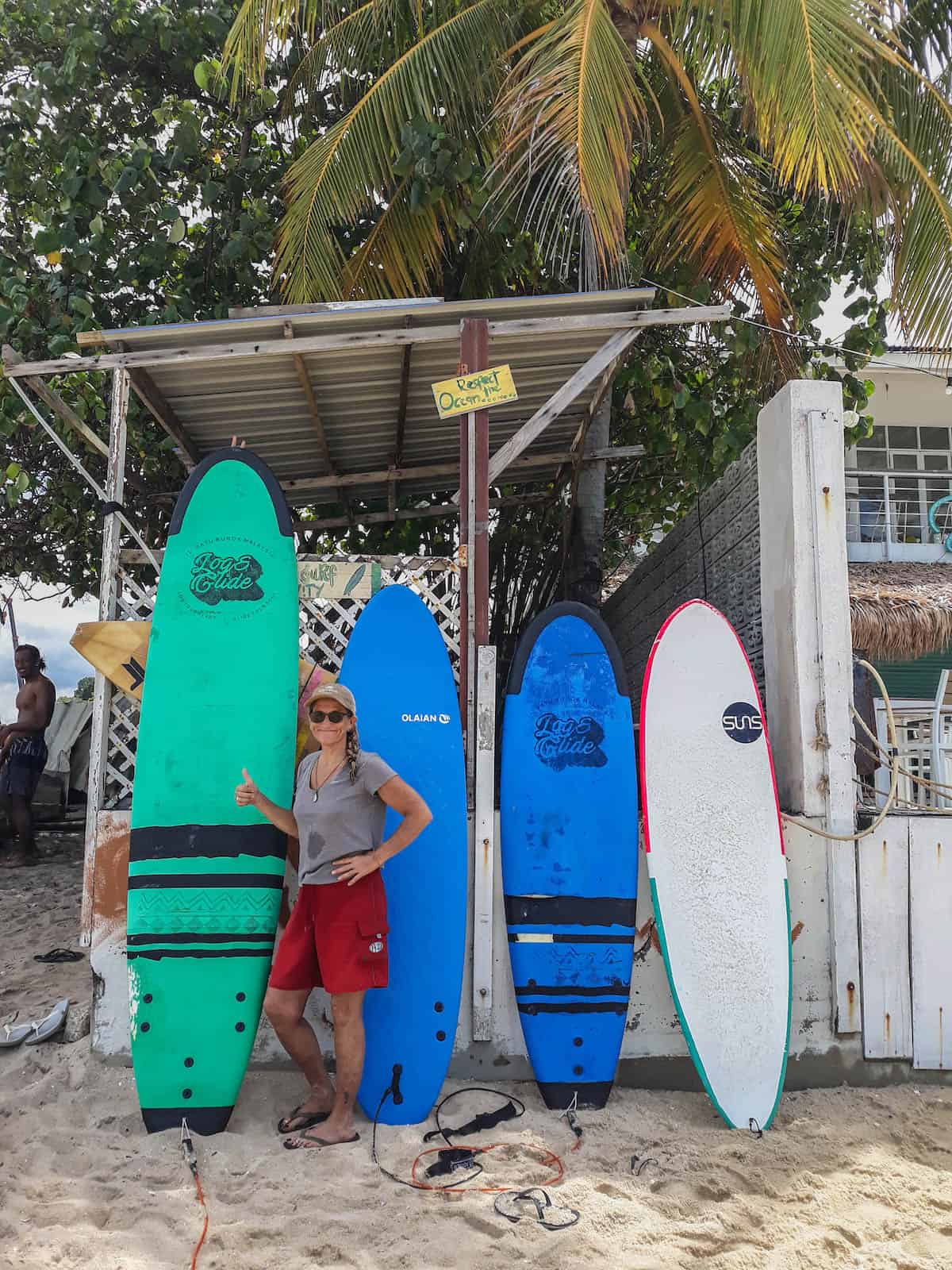 What to Wear
Wear swimwear that is comfortable and won't fall off. If in doubt of the seaworthy-ness of your swim suit, wear a rash guard or t-shirt on top and loose-fitting board shorts or non-slippery tights. Trust me it can be quite embarrassing when your swimsuit falls off! And remember that learning to surf is much cooler than being a fashion statement.
Already Know How to Surf?
Although I've been surfing off and on for the past 38 years, it never hurts to get a refresher course! Bonus points for an opportunity to also meet new people. But another reason to sign up for a lesson, whether it be beginner level or intermediate, is that you will get the inside scoop on where the local surf breaks are and when is the best time to catch them.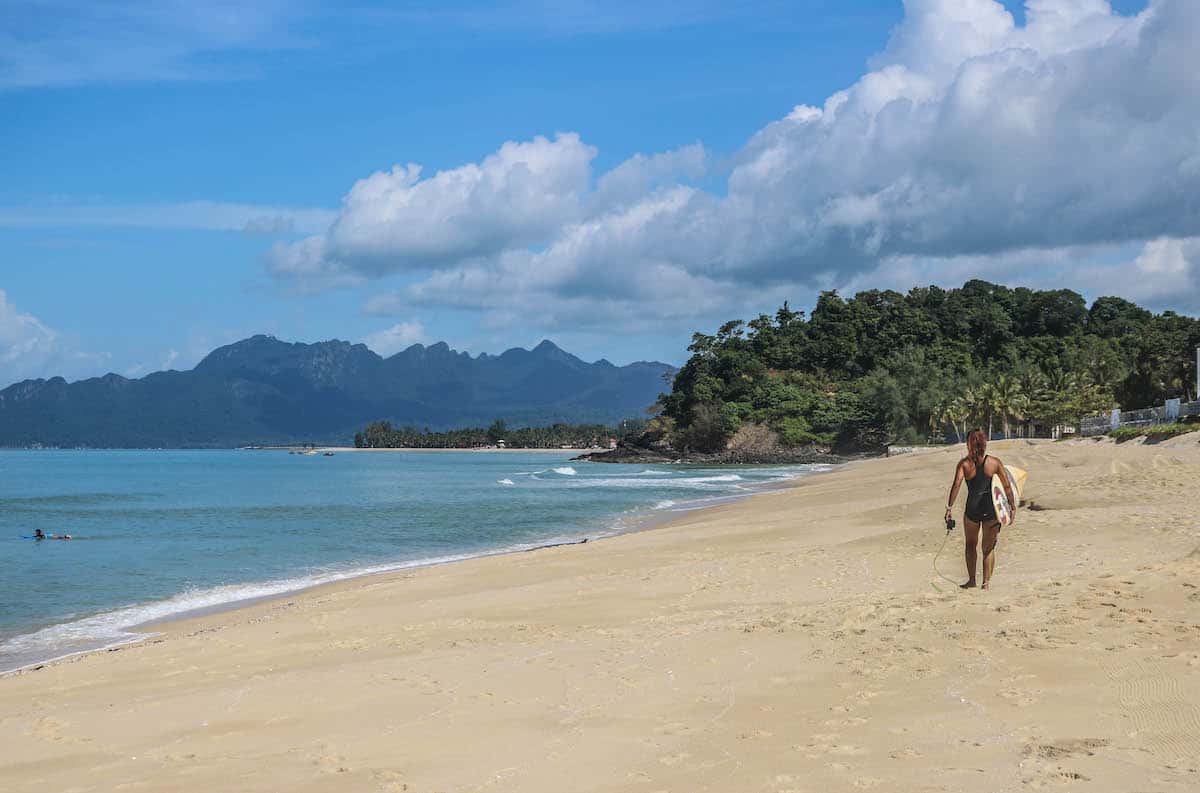 Sure, you could just rent a board and head to the beach, but why not just sign up for a lesson first, which already includes a board as well as someone to go surfing with. When you go back later to rent a surfboard, you'll automatically be part of the local crew. And of course, in Langkawi, that's worth its weight in gold.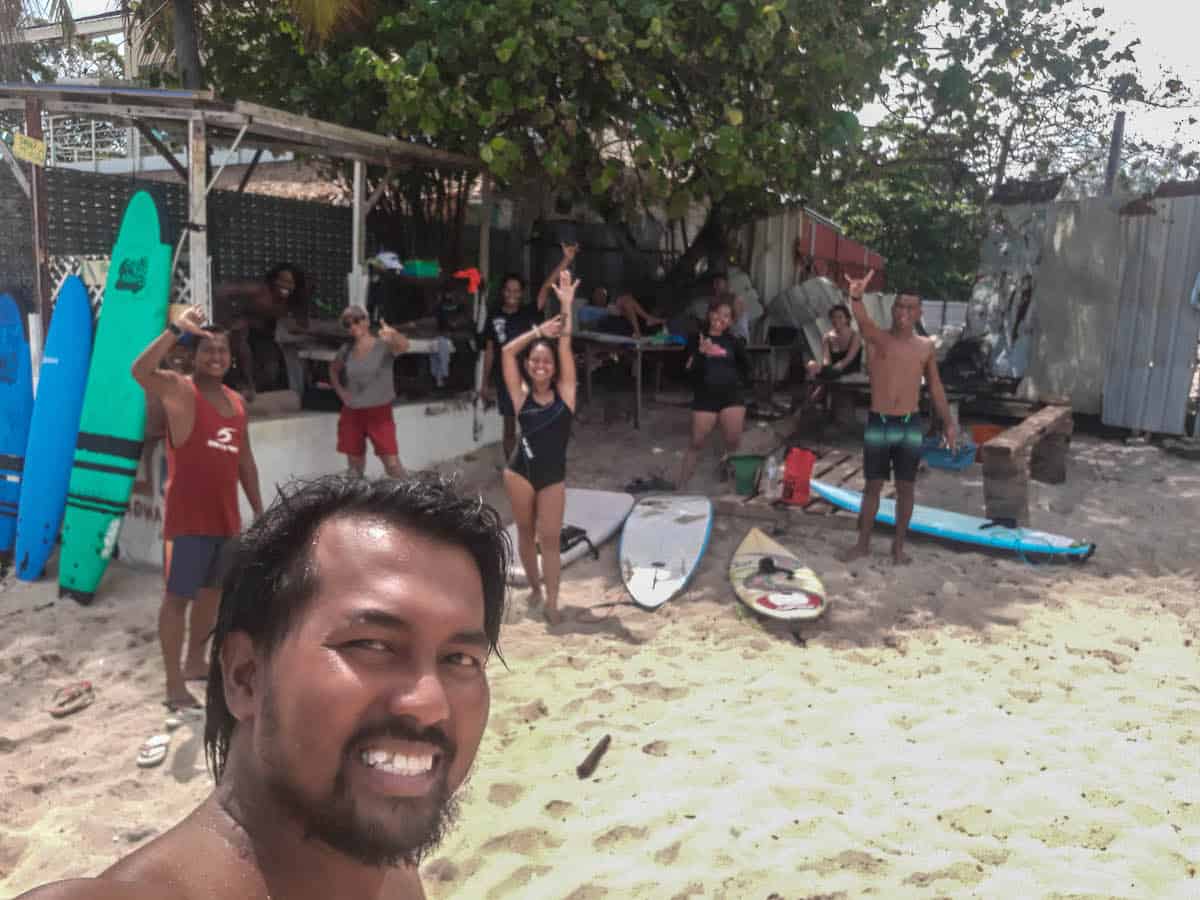 So, are you ready to do some surfing in Langkawi? I sure hope so! For more information about Endless Monsoon Surfer, give Arm or Napi a call. Or contact Indiana Café & Dorm, their Pantai Cenang base camp.

Endless Monsoon Surfer: Napi +6011-1237 6804
Indiana Café & Dorm:  +6011-1237 6804