The Pesta Angin Timur Perlis (Perlis East Wind Festival) is yet another reminder of the similarities between Malaysia and my own homeland of America. Having grown up in a small town in rural Florida, 'County Fairs' were an annual part of my childhood. Complete with the familiar colorful lights, carnie style hawkers and crazy games and competitions. We all looked forward to the fall season when the fair came to town.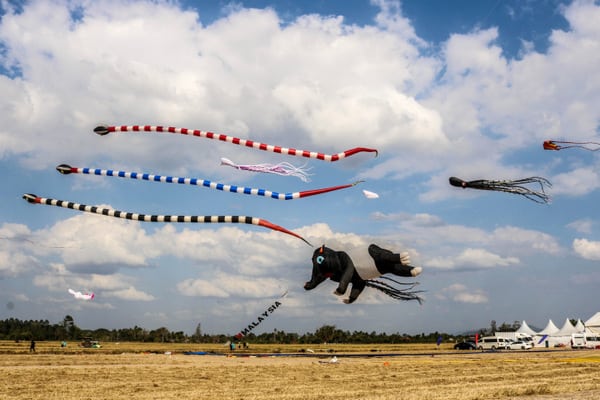 I'd been trying to catch this particular Perlis annual festival (pesta) for several years now, but 2020 was the year I made this little bucket list goal a reality, as my own annual Malaysia travel dates had coincided perfectly. And I'm happy to report that Pesta Angin Timur Perlis 2020 was everything I had hoped for and then some. Good old-fashioned fun with a hefty dose of Malaysian culture and heritage.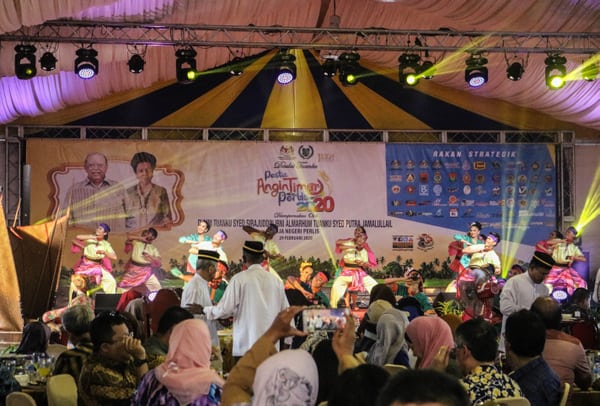 In its 8th successful year, it was obvious that there is a lot of local passion and enthusiasm for this annual event. Despite the heat and gusting, dusty winds, the Perlis East Wind Festival was well attended by the supportive community of Perlis and the surrounding areas.
Once Upon a Time in Perlis
Kedah, Malaysia may claim to be the 'Rice Bowl of Malaysia' but northern neighbor Perlis certainly has their share of paddy fields. So much in fact that their East Wind Festival has become an annual celebration to mark the transition from the typically moderate climate of Malaysia to the significantly drier, windy weather bout that coincides with the Perlis paddy harvesting season.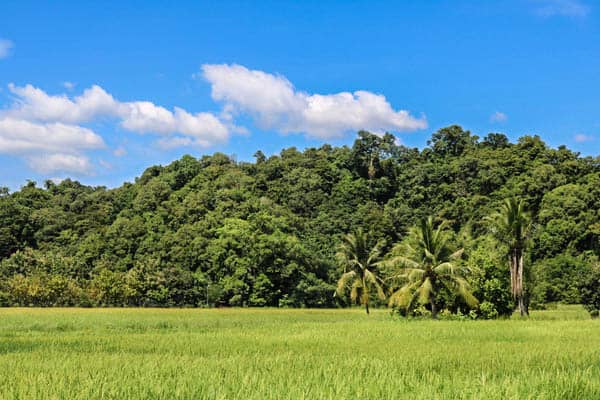 Historically, once the fields were plowed under there were not many daily 'chores' for Perlis rice farmers to embrace, so a variety of entertainment was created to help while away those non farming hours. Until it was time once again to plant the fields.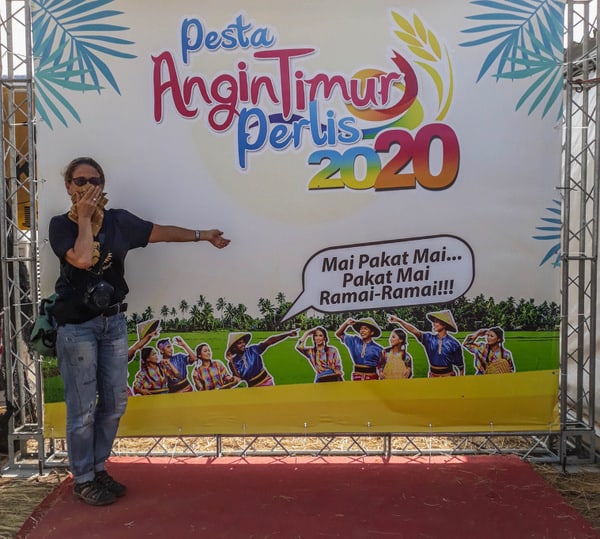 If this year's festival games and competitions are any indication of the imagination of bored farmers, I'd have to say things must have been a real hoot back in the olden days. Although I did not see all of the various traditional games, what I did witness was uniquely interesting as well as (in some cases) hilarious.
Traditional Games and Then Some
From fishing for chili peppers, via strategically looping the stems via fishing line tied to a bamboo stick, to trying to catch a gaggle of surprised ducks who had previously been lazily swimming in a paddy 'pond'. Only a few brave souls took the challenge of riding bicycles on tiny planks across a pond in hopes of not falling in the muddy water below. To my knowledge no one made it across dry, but it made for a laughable scene for sure.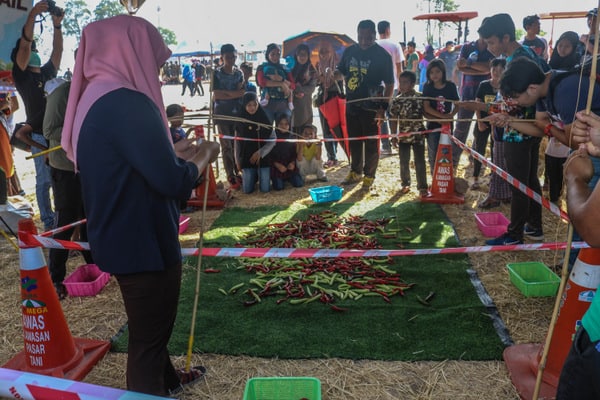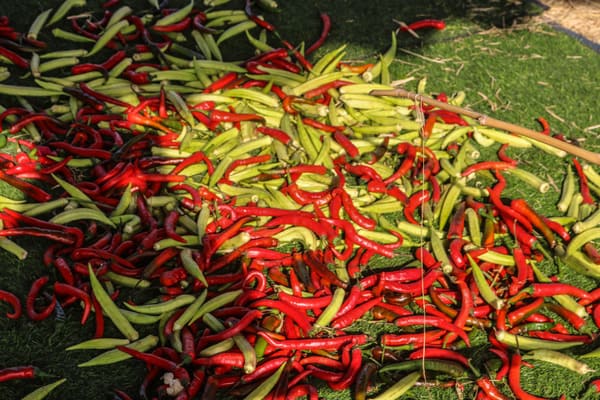 There was a catfish fishing competition, as well, with some very patient sportsmen and sportswomen dotting the banks of a small estuary. Their eyes transfixed and zoned in for the first sign of a bite. It was like watching a high stakes golf competition as the surrounding audiences respectfully kept their voices down and probably fished vicariously in their own minds; secretly wishing they had signed up for this competition.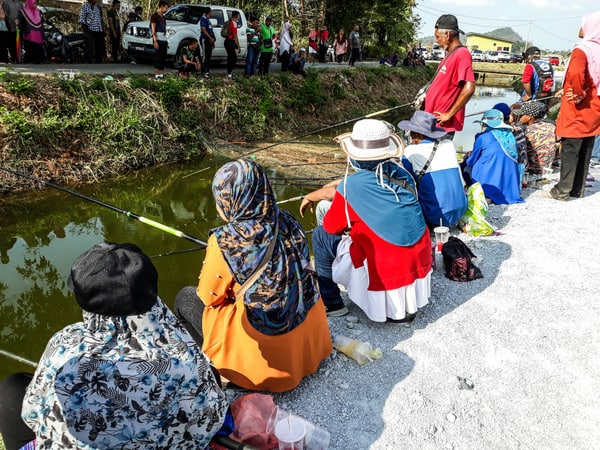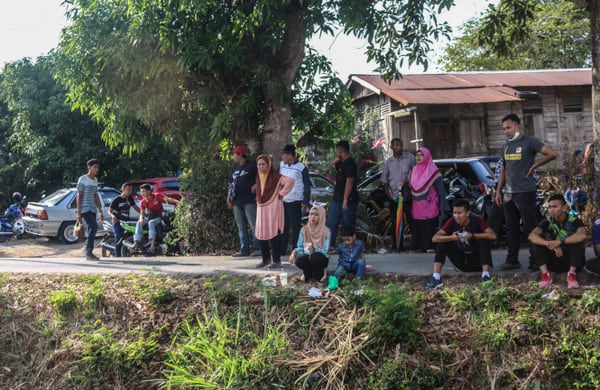 Many activities overlapped timewise, but a detailed schedule of the eclectic happenings had been posted for those who wanted to make the most of the 3 day event. Including the arrival of the Raja and Raja Perempuan of Perlis (being seated front and center pondside to the 'catch a duck' venue no less). Which made me like them immediately btw. Respect. The Perlis East Wind Festival is usually held in a plowed-up paddy field, so things also have the potential to get downright rustic.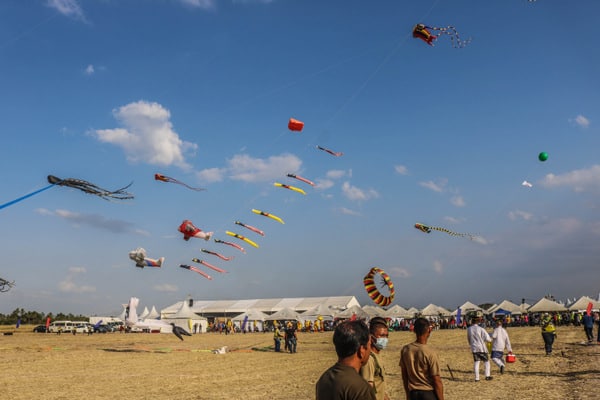 But in addition to all the games and competitions, massive balloons were on display in the paddy field skies above. Seeing one go from ground zero to being airborne is quite exciting if you have never witnessed it before. I had the opportunity to assist Mr. Nasri Ahmad, president and founder of Layang King Showkite Malaysia in launching his impressive Mahsuri kite. I can tell you it was epic to see her come to life and float across the sky.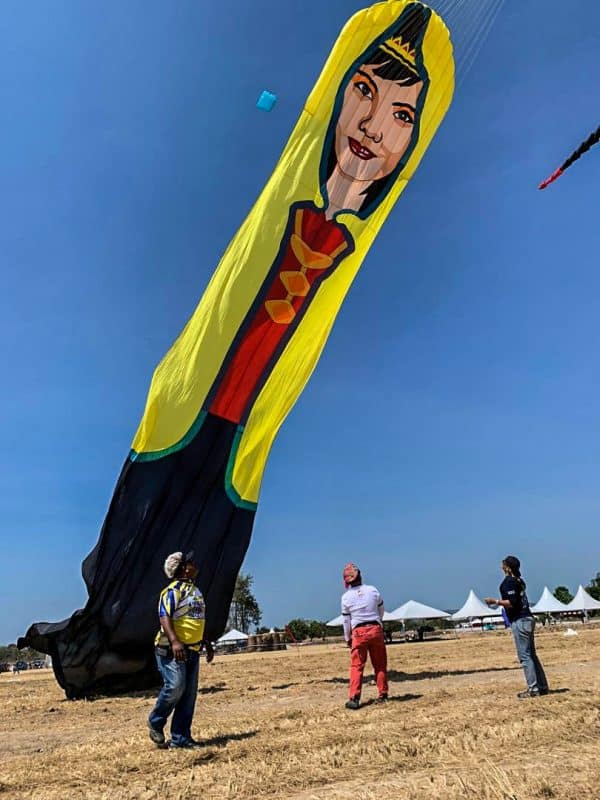 Vendors Galore
There were well over 25 vendors and various booths to visit at the Perlis East Wind Festival including a military tent where a group of fun loving (but scary looking) camo clad soldiers offered selfies with machine guns and military rations taste testing. Like I said, this festival is unique.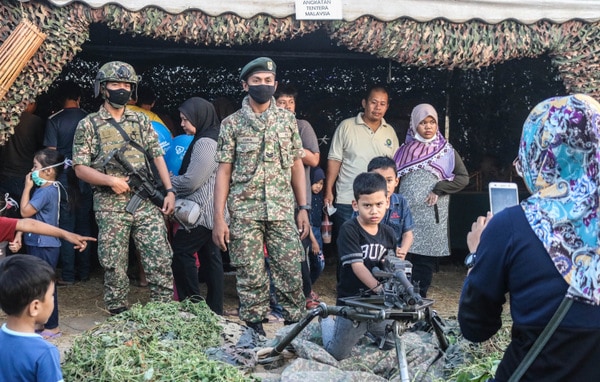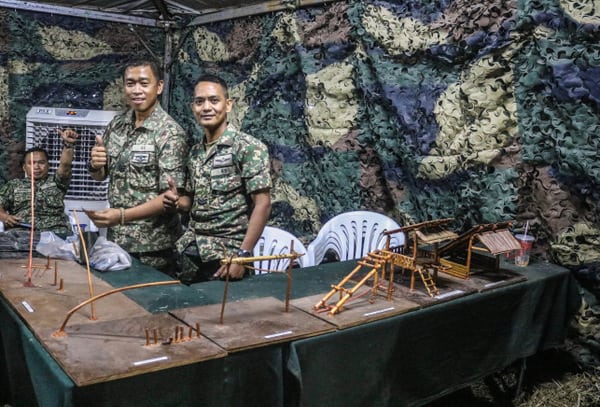 Plenty of shop till you drop options too. I scored 2 smart phone cases and an LED rabbit hat (which made me look completely foolish) but I had to have one. Unfortunately, I ran out of cash by the time I got to the retro bundle shop tents. They also had great deals on shoes, gardening supplies, electronics, tools and more.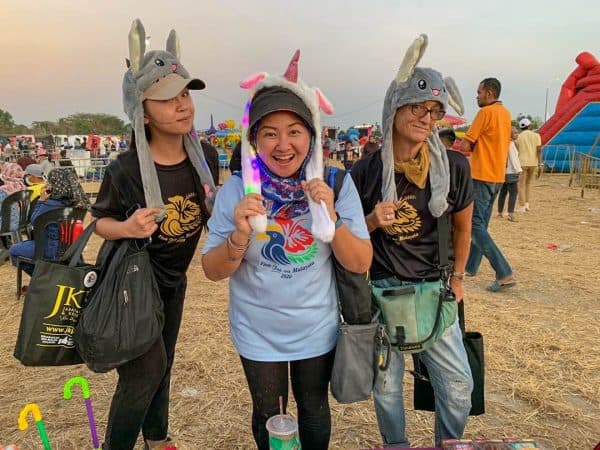 And typical of any Malaysian event, there were a lot of food and drink stalls, with a distinct focus on local Perlis cuisine and specialty dishes. If you haven't tried a steaming bowl of Laksa Perlis yet, you are in for a real treat!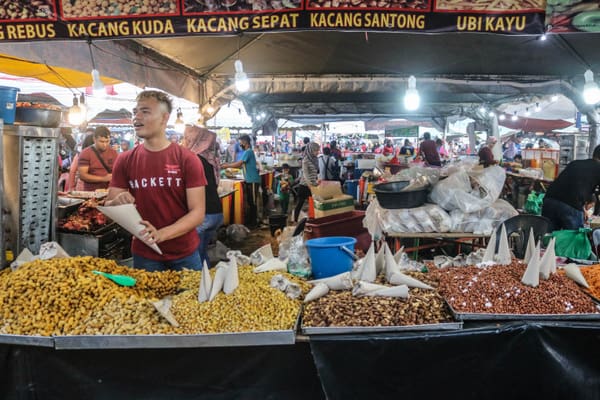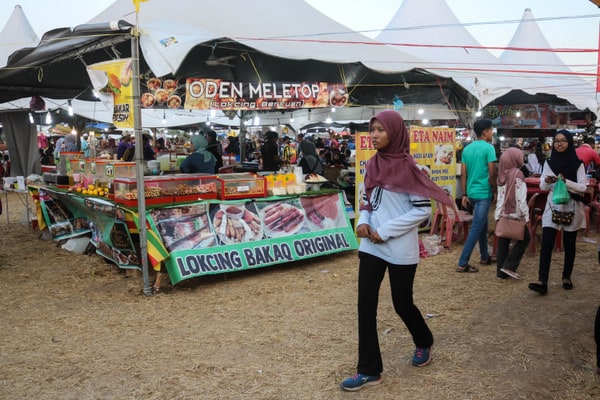 My Perlis East Wind Festival Tips!
1) Although 3 full days may be too much for some people, I would recommend at least spending a night or two in Perlis, as there are plenty of local sites to take advantage of visiting as well. Entry is free at the festival so going al a carte style is doable. If you need a hotel, there are many to choose from in Perlis, but I can personally recommend the Putra Regency Hotel in Kangar.
2) Be sure and have a change of dry clothes with you in case you are inspired to take on a potentially 'dirty' challenge, such as chasing ducks in a pond or catching fish by hand (yes they had that competition too!)
3) Bring wet wipes and a face mask in case you start feeling dust covered. A mask and/or sunglasses will help keep some of the dusty sand out of your mouth, nose and eyes and a few quick wipes will leave you feeling fresh as a dust-free daisy.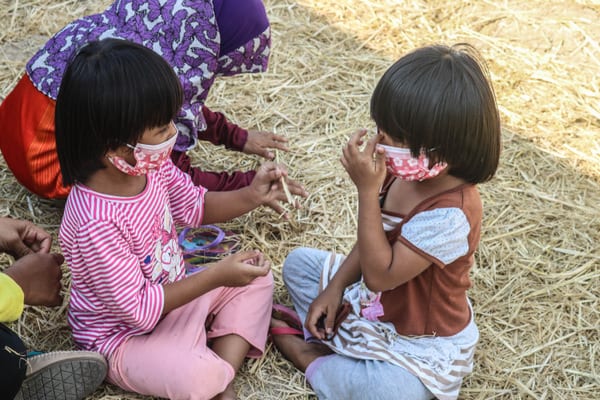 4) Bring cash. You may also want to bring more than you think you might need unless you are one of the lucky few who can control their spending impulses. Lots of cool stuff to buy and at great cash only prices.
5) For non-Malaysians (as well as Malaysians) a local guide is worth engaging for transportation and side trip options. In fact, some local companies already have in place Pesta Angin Timur Perlis tour packages. Unic Astana Holidays and One Love Adventures are both excellent and often work together to offer guests the best Perlis experience.
The Perlis East Wind Festival is a Winner
Pesta Angin Timur Perlis is organized through the cooperative efforts of the Perlis State Government, the National Department for Culture and Arts and the Ministry of Tourism, Arts and Culture Malaysia. Various state agencies, non-government agencies and private sectors are also to be credited for continually creating such a successful annual event.
Here are a few video clips from Pesta Angin Timur Perlis 2020
This was one of the last public events to happen in Peninsular Malaysia prior to the Covid19 pandemic, which caused many of the 2020 prescheduled Malaysian events and festivals to be cancelled or postponed. I'm most certainly appreciative that I was able to attend this as I truly loved it. Hopefully next year the show will once again go on as planned, because if you have the opportunity to attend it is definitely not-to-be-missed! For more things to do in Perlis, check out our Weekend Guide to Perlis for First Time Visitors!
#VisitMalaysia #TourismMalaysia #MalaysiaTrulyAsia