When I hear people talking about their Sabah travel plans, topics like private drivers and special guides come up. Or the great need to go wayyyyy off the beaten path to have some sort of National Geographic experience. But it's actually quite easy to travel in Sabah comfortably, not spend a lot of money and have plenty of unique experiences, without breaking the bank. How? By simply focusing your travel efforts on Sandakan. Sandakan is super interesting and there are plenty of cheap things to do in Sandakan as well.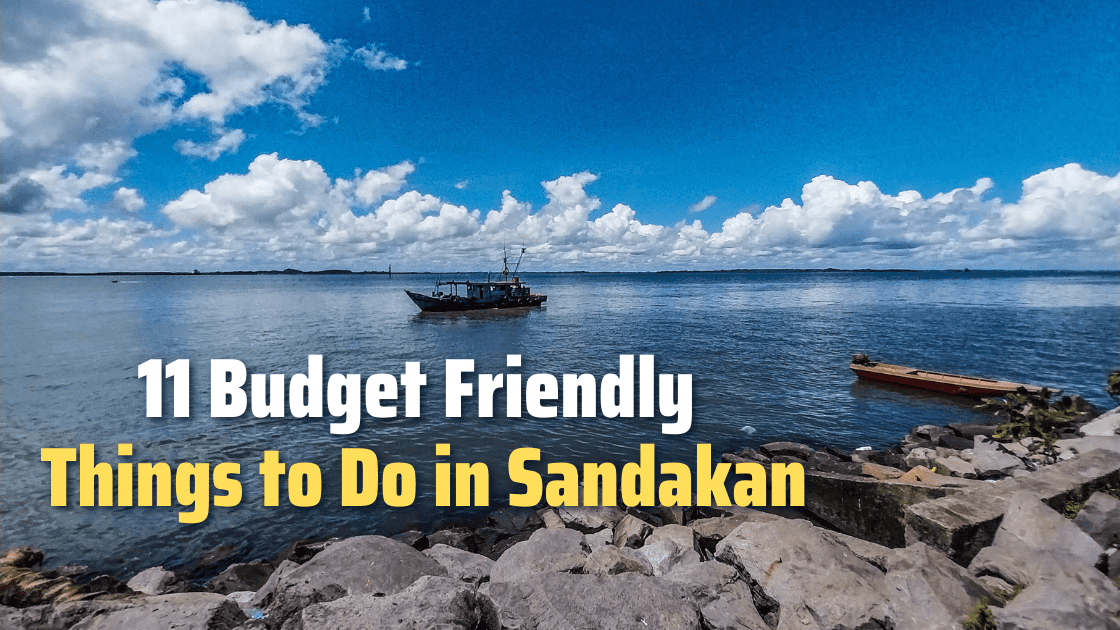 Located on the east coast of Sabah, Sandakan is the largest of five divisions in the state of Sabah. Its namesake capital city, Sandakan is the second-largest township in the state, after Kota Kinabalu. At a glance Sandakan, Sabah may appear a bit old school rustic here and there, but settle in for a few days and Sandakan's unique qualities emerge.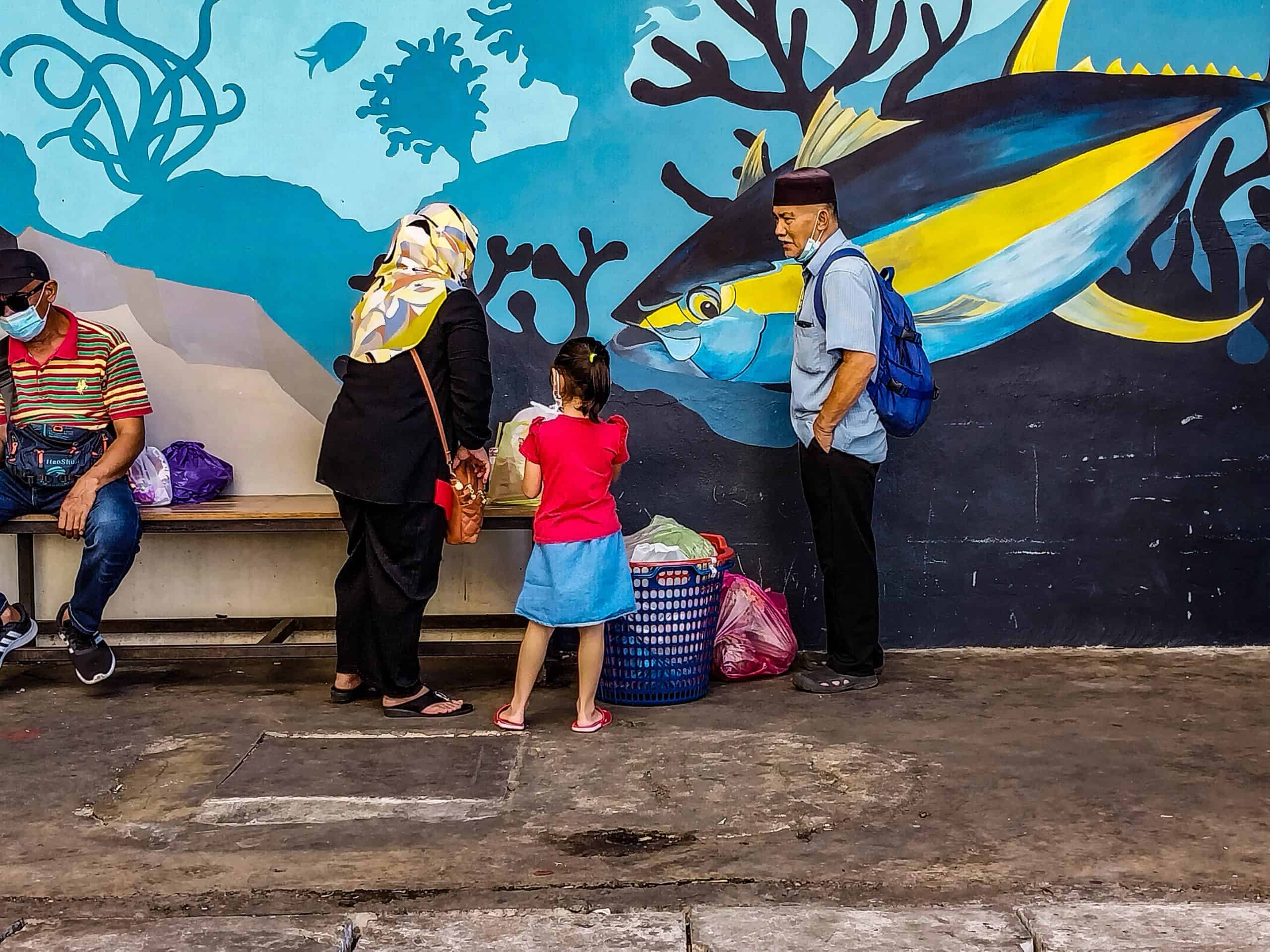 Sandakan was nearly destroyed by the bombings of World War II and resulted in North Borneo becoming a British Colony in 1946. The Sabah state capital was then moved to Jesselton, which is now known as Kota Kinabalu. It took three years after the war ended for Sandakan to be fully re-occupied and revived. On September 16, 1963, North Borneo joined the Federation of Malaysia, together with Malaya (present-day Peninsula Malaysia), Sarawak and Singapore and became known as Sabah.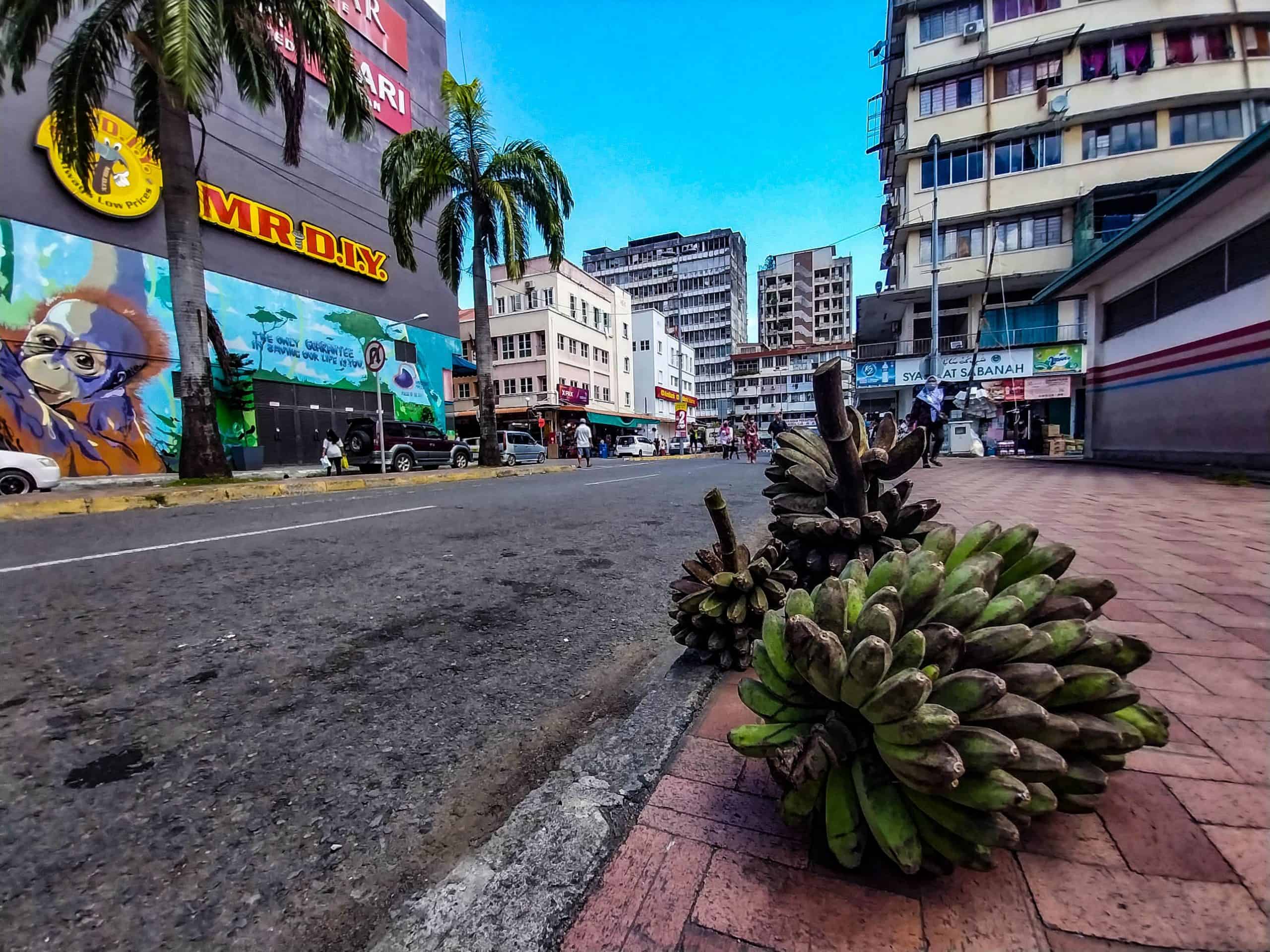 With such a diverse cultural and historic background, it's no wonder that there are so many cheap things to do in Sandakan. Without overwhelming you, here are a few Sandakan highlights that are budget friendly, interesting and doable in just a few days.
11 Cheap Things to Do in Sandakan
1. Follow the Sandakan Heritage Trail
After arriving into Sandakan City, one of easiest first things to do, is to follow the well-marked Sandakan Heritage Trail, that visitors can take at their own pace. The route takes about one hour and begins at the 100-year-old Masjid Jamik and ends at the Sandakan Heritage Museum.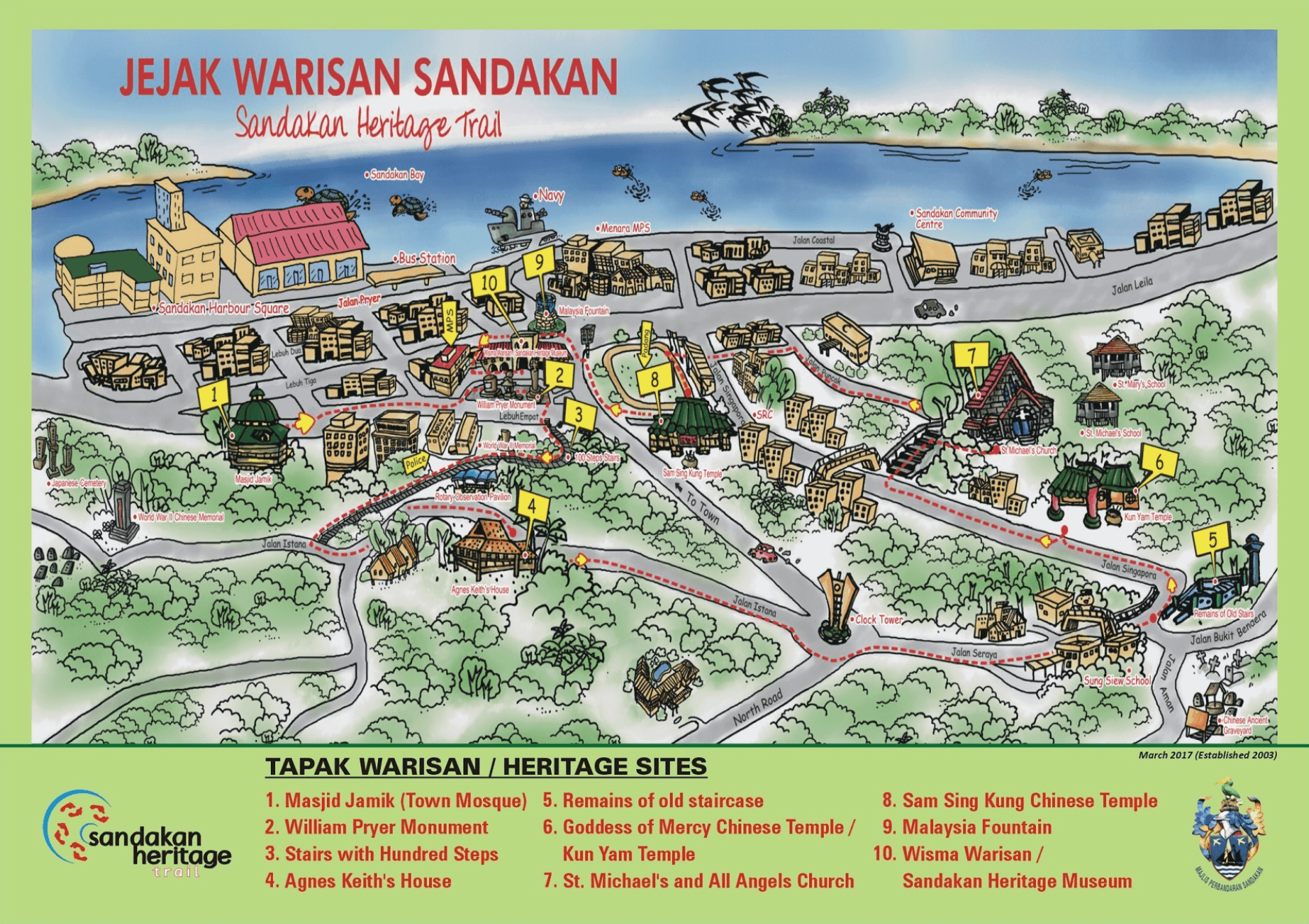 The Sandakan Heritage Trail is a no brainer for newbie Sandakan visitors and it's also free. A few of the stops on the trail may warrant a bit more time, so I'll give them their own highlights. Like to be prepared? Get a copy of the Sandakan Heritage Trail map HERE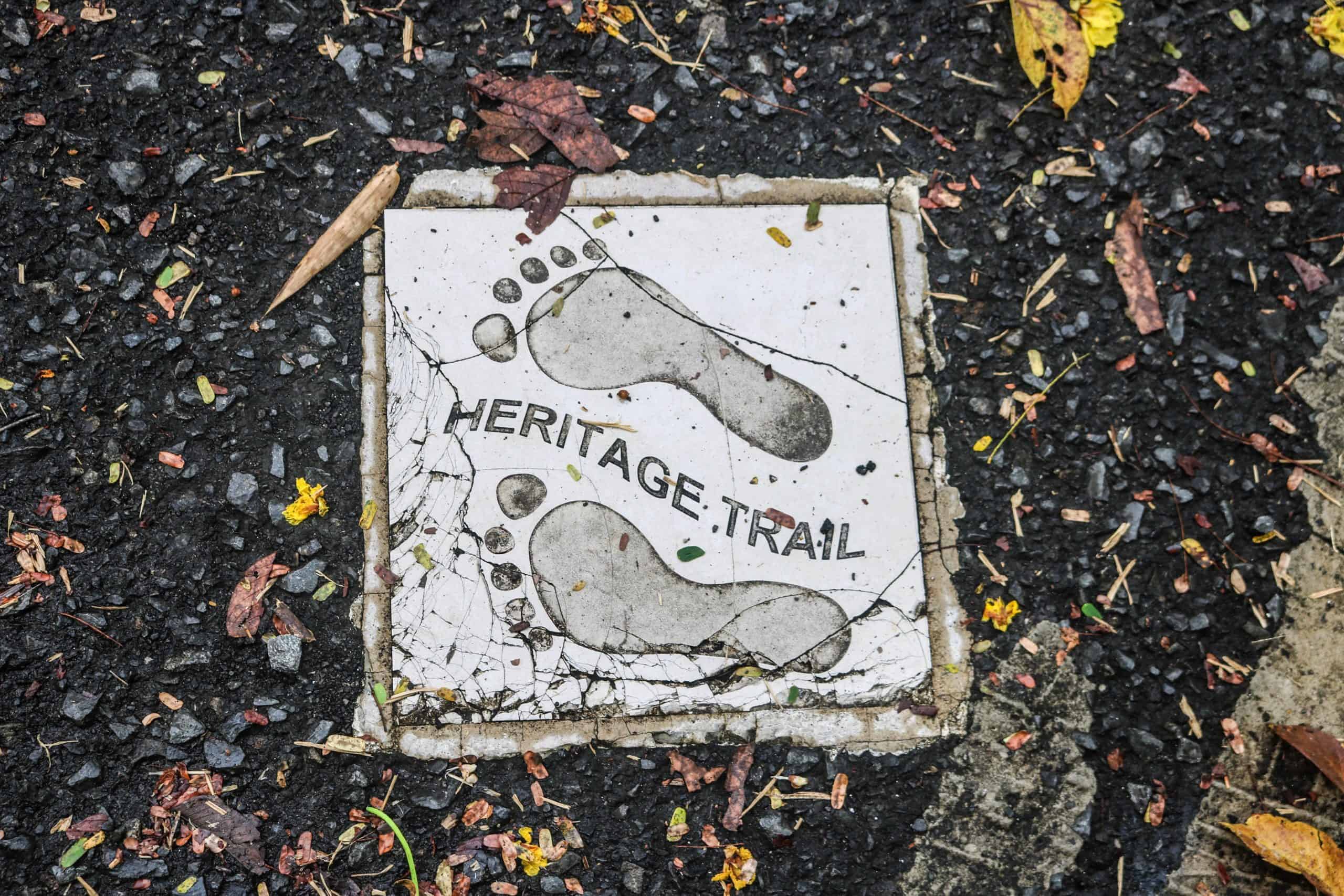 2. Visit the Agnes Keith House
History buffs and fans of colonial style architecture, will appreciate the Agnes Keith House. It's number 4 on the heritage trail map, but a great first stop for new arrivals because there's also a unique restaurant nearby.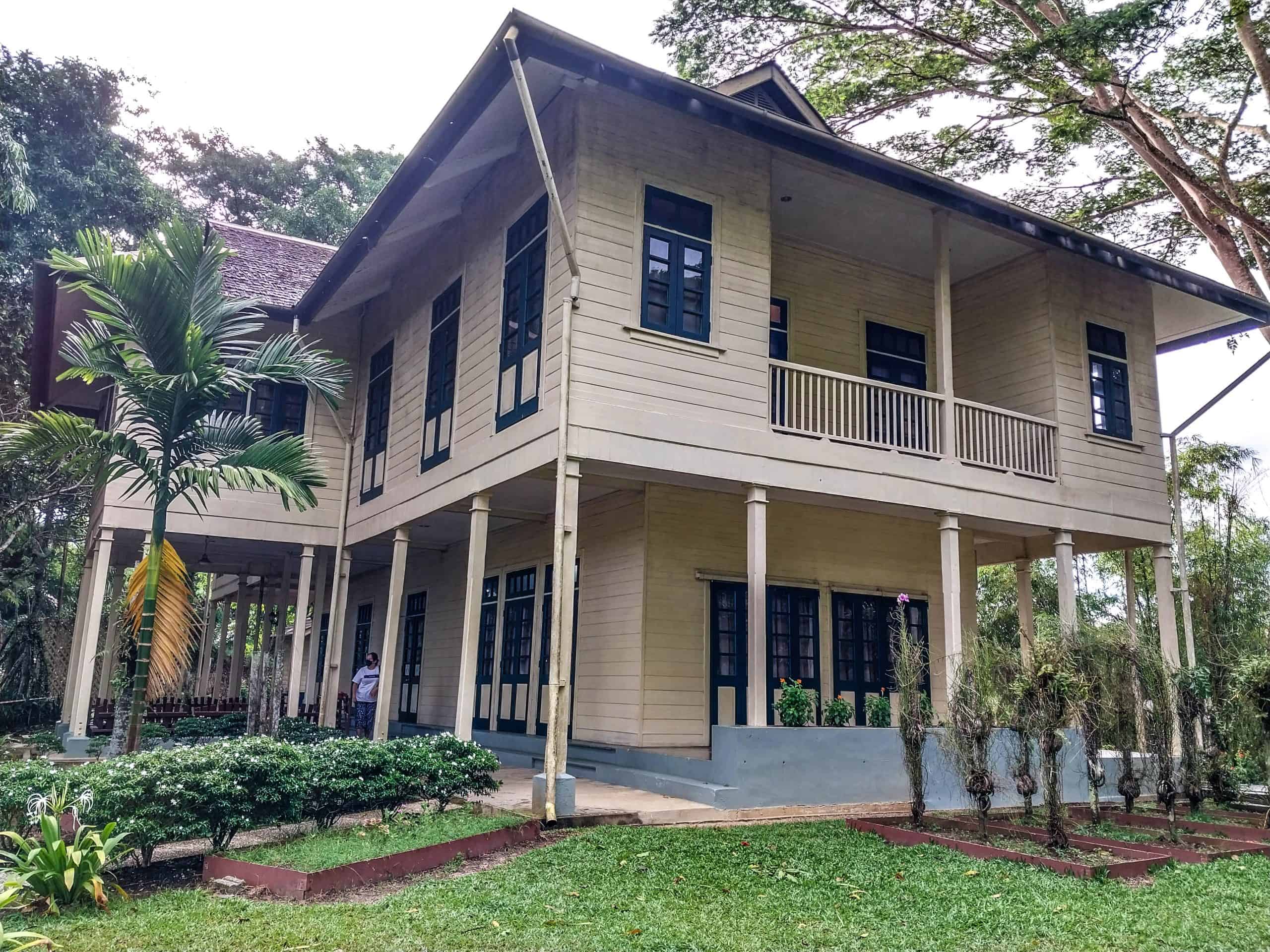 The Agnes Keith House was a British colonial government quarters, known as 'Newlands', and was the home to Henry George Keith, his wife Agnes and son George. Henry Keith was the Assistant Conservator of Forests for the governor of North Borneo. However, in addition to the gorgeous refurbishing of the original building (which was destroyed during World War II) it was Mrs. Keith who brought fame and recognition to the property.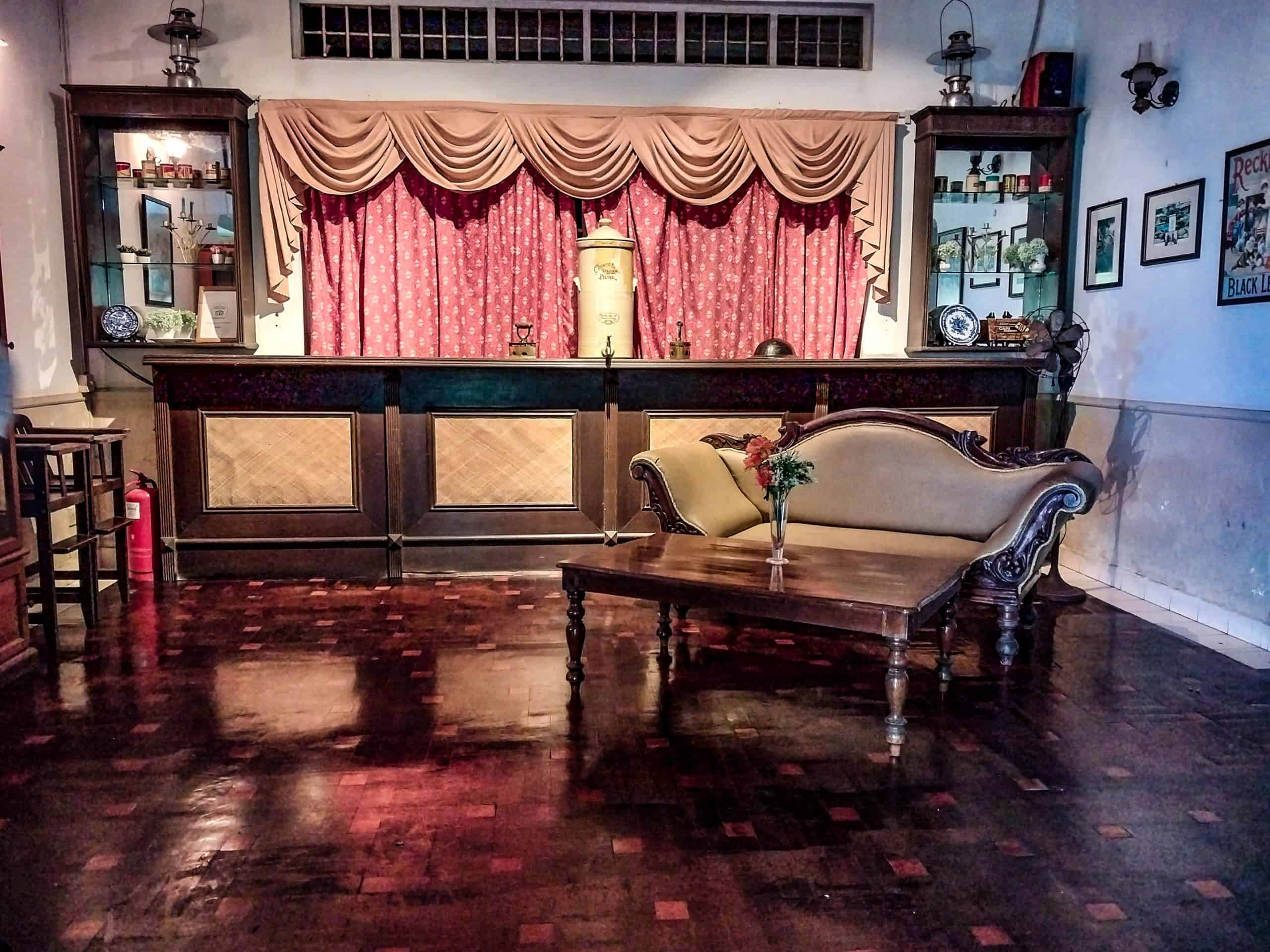 Agnes Newton Keith wrote three books based on her life in Borneo; Land Below the Wind in 1939, Three Came Home in 1946, and White Man Returns in 1951. Three Came Home is the only book which was not written from the shores of Sandakan. It was a post-World War II account of the Keith family's life as prisoners of war, and was written after their temporary, post-wartime departure to Canada.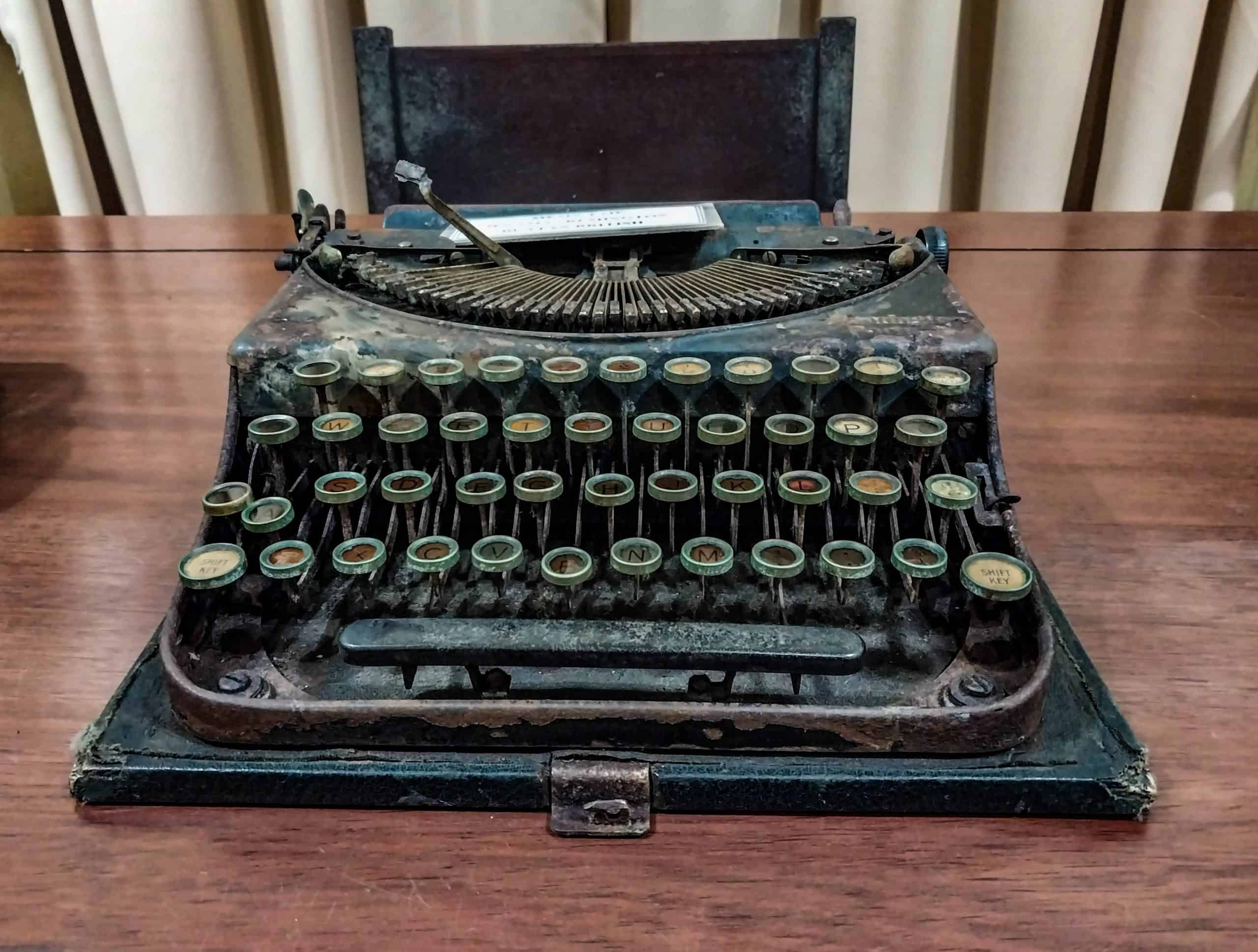 Newlands was rebuilt after 1946. It became the first government permanent timber building to be built after World War II and was forever referred to as the 'Agnes Keith House'. The Keith's permanently left Sabah in 1952.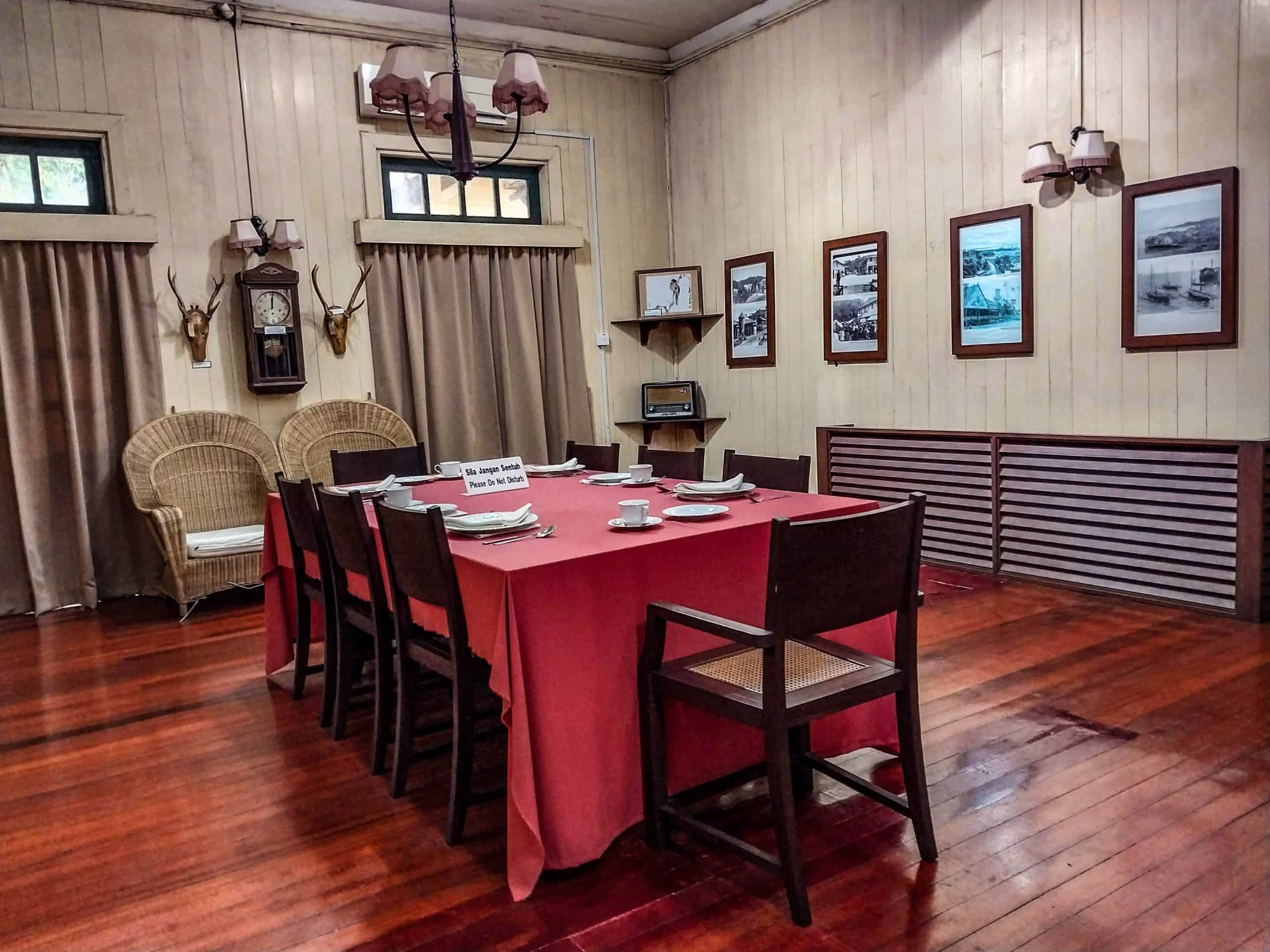 Today the building has been restored and turned into a heritage house by Sabah Museums and the Federal Department of Museums and Antiquities. It is furnished with reproductions of colonial furniture and antiques and highlights the life of Agnes and her family. To keep in the colonial spirit of things, the English Tea House & Restaurant is right next door.
Agnes Keith House,296, Jalan Utara, Sandakan
Open: Daily, 9:00am to 5:00pm, Tel: 089-221 140
Entry: RM15 (Under age 12, free)
3. Get Historical at the Sandakan Heritage Museum
Number 10 on the Sandakan Heritage Trail map is Muzium Warisan Sandakan Wisma, better known as the Sandakan Heritage Museum. Not what you might expect from a Malaysian heritage museum, but the Sandakan Heritage Museum houses several displays which highlight the Borneo movements of American adventurers Martin and Osa Johnson.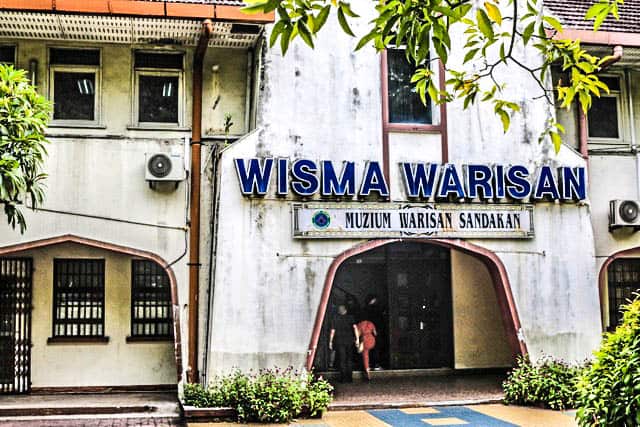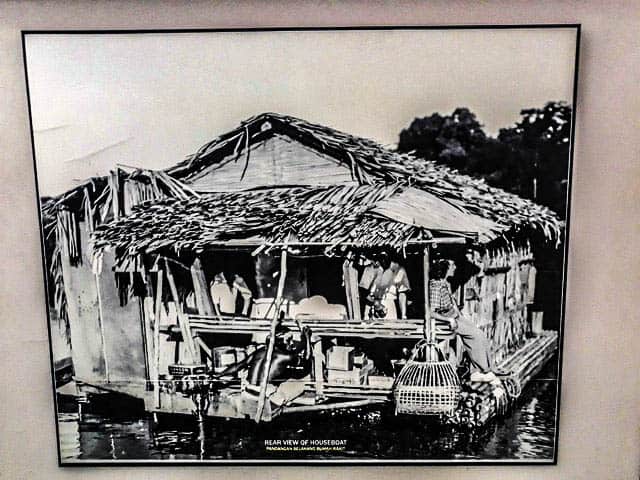 The Johnson's legacy may include a certain degree of exploitation, especially in the case of their time in North Borneo. But on the plus side, their film documentations of Borneo during the 1920s and 1930s has left the world with an incredible glimpse of an amazing part of Malaysia. You can read more about this adventurous couple HERE
Sandakan Heritage Museum, Pusat Bandar, Sandakan
Open: Daily, 9:00am to 5:00pm, Tel: 088-255 033
Entry: Free
4. Take a Free Walking Tour
Visitors to Sandakan can also take advantage of Borneo Sandakan Tour's Free Walking Tours given on Wednesdays and Fridays, 10:00am until 12:00pm. Yes, that's right, free!  The tours are led by local volunteers who support sustainable tourism, local businesses, culture and tradition, as a way of supporting and giving back to the community they love.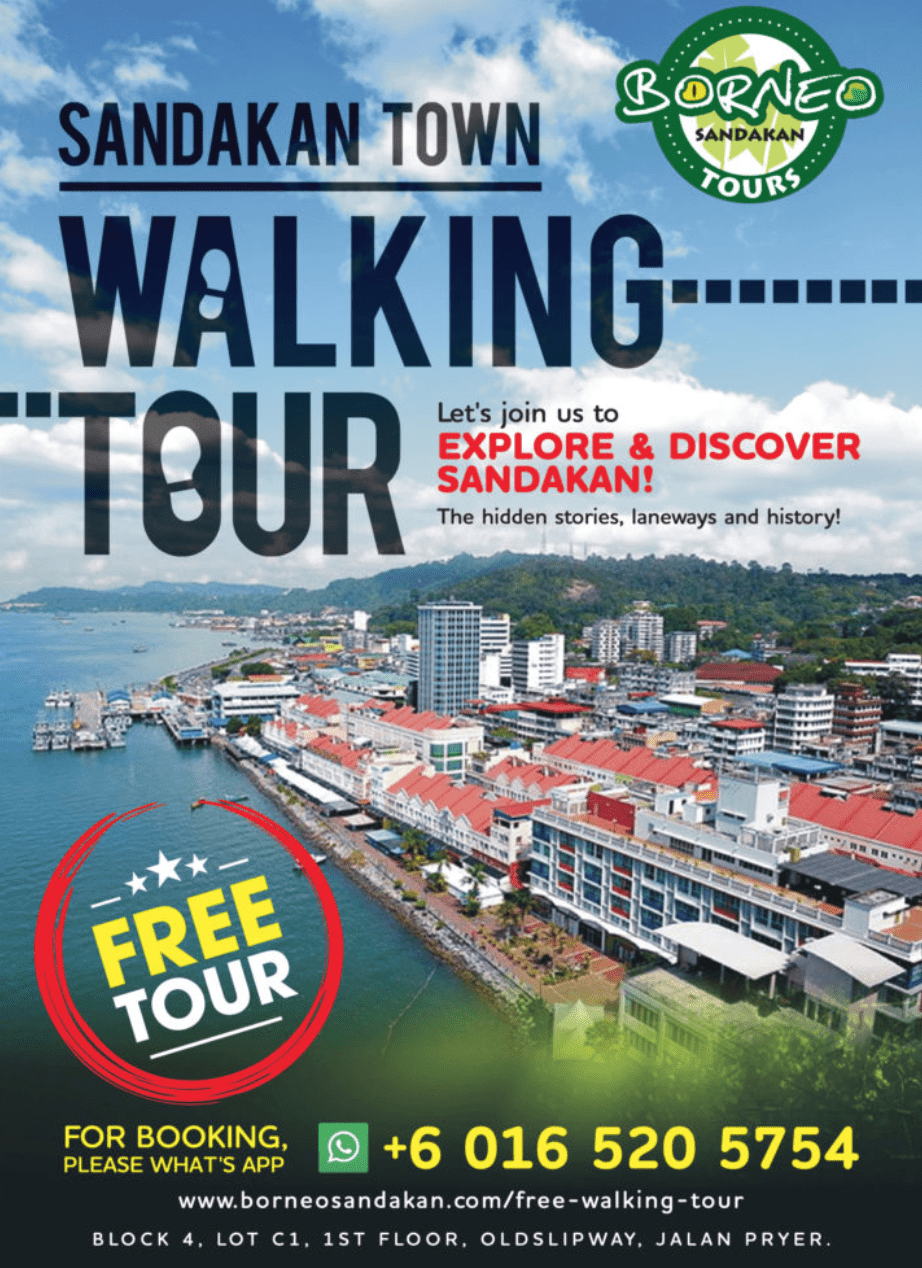 Included in the two-hour walking tour are stops at the William Pryer Monument, Sandakan Central Market, Masjid Jamek, Sandakan Heritage Museum, Sam Sing Kung Temple, Sandakan Harbour Square and the Malaysia Fountain. Borneo Sandakan Tours asks that you book 24 hours in advance and do note that the maximum number of participants is 'usually' 15.
For booking, WhatsApp them at +6 016 520 5754 or check their website HERE
5. Explore the Sandakan Art Trail
Although you will see various street art all-around Sandakan City, there is also an official Sandakan Art Trail with attached information markers which highlights several works of art. Each official marker includes an art trail map, theme inspiration and credits the artists by name, which is something you don't often see at other street art locations in Malaysia.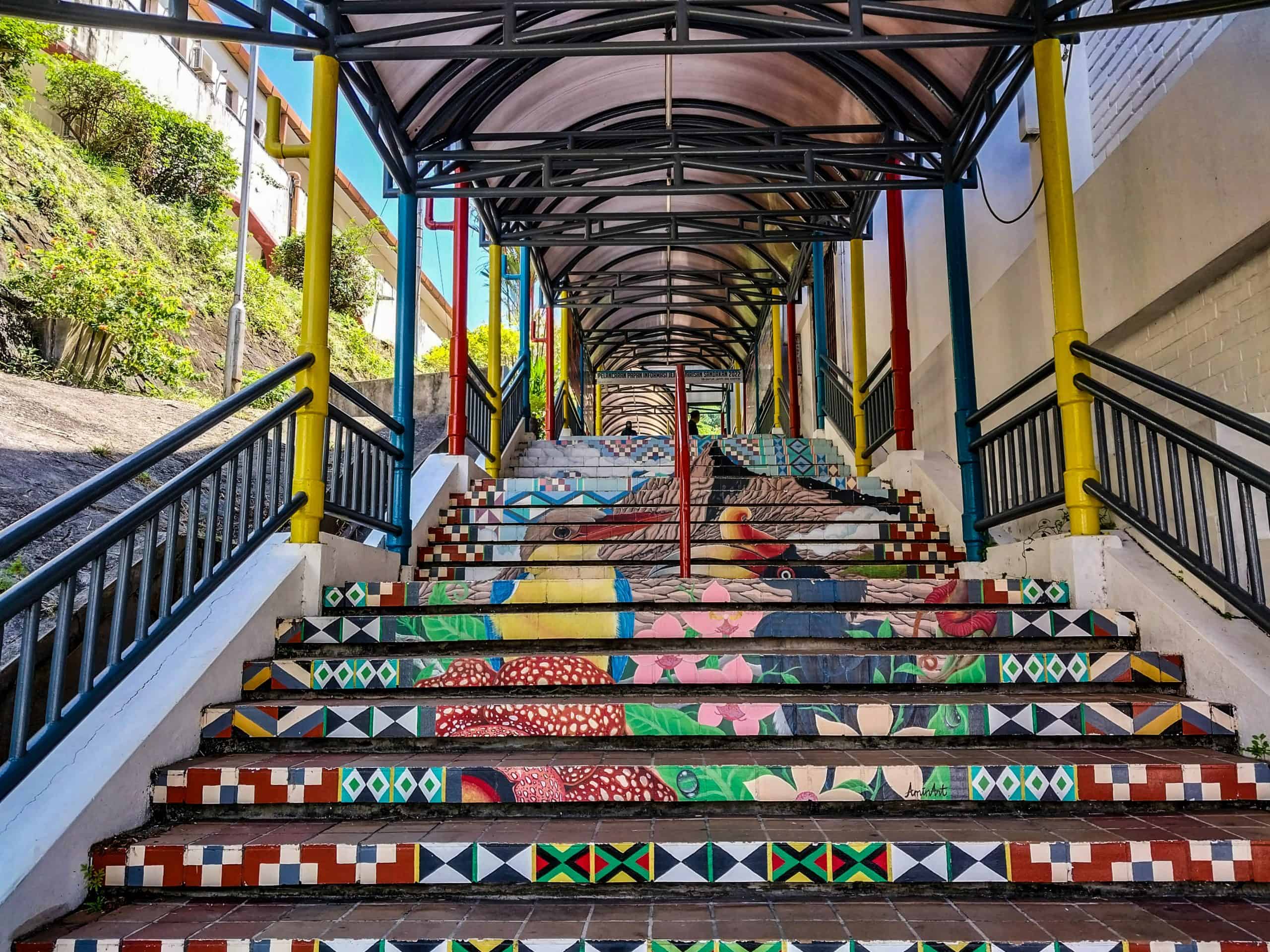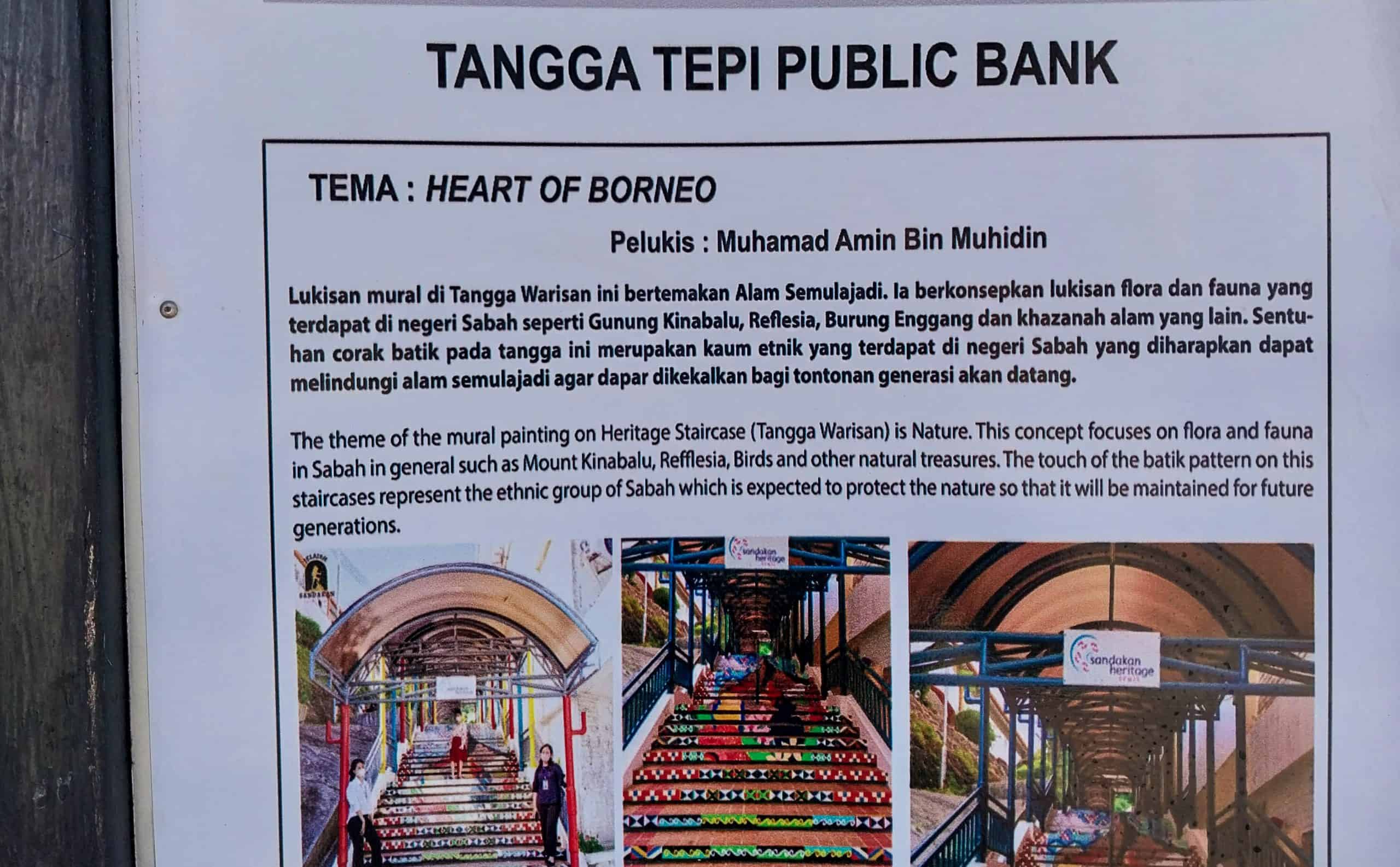 The eight locations include a wall at the Sandakan Heritage Museum, the stairs next to the Public Bank, Astaka Padang Bandaran Sandakan, the REX Building, the former Standard Chartered Building, STP PUMP Pasar Umum, the Sandakan Central Market (Pasar Umum Sandakan) and Jalan Servis Harbor Square (more famously known now as Creative Lane).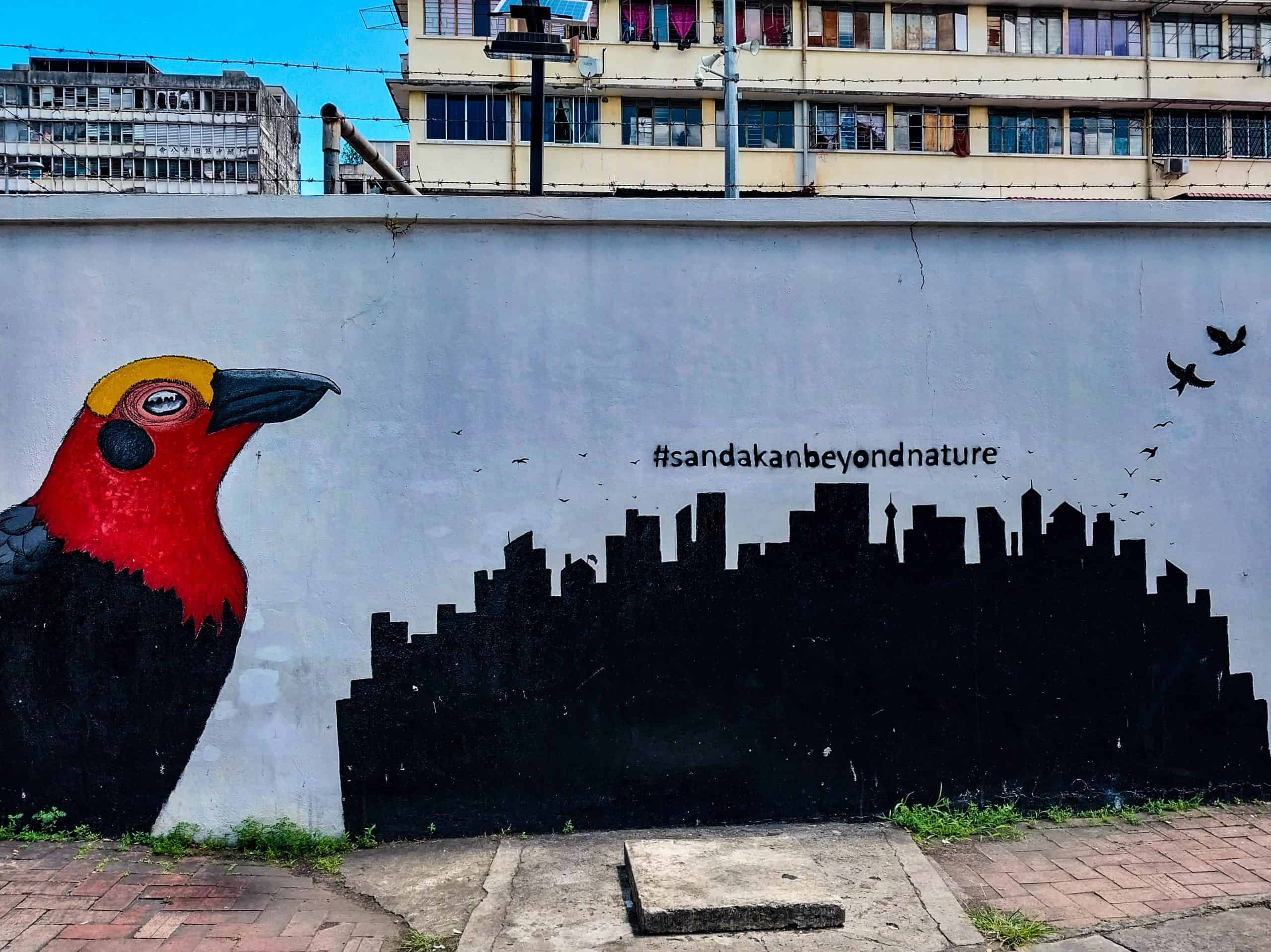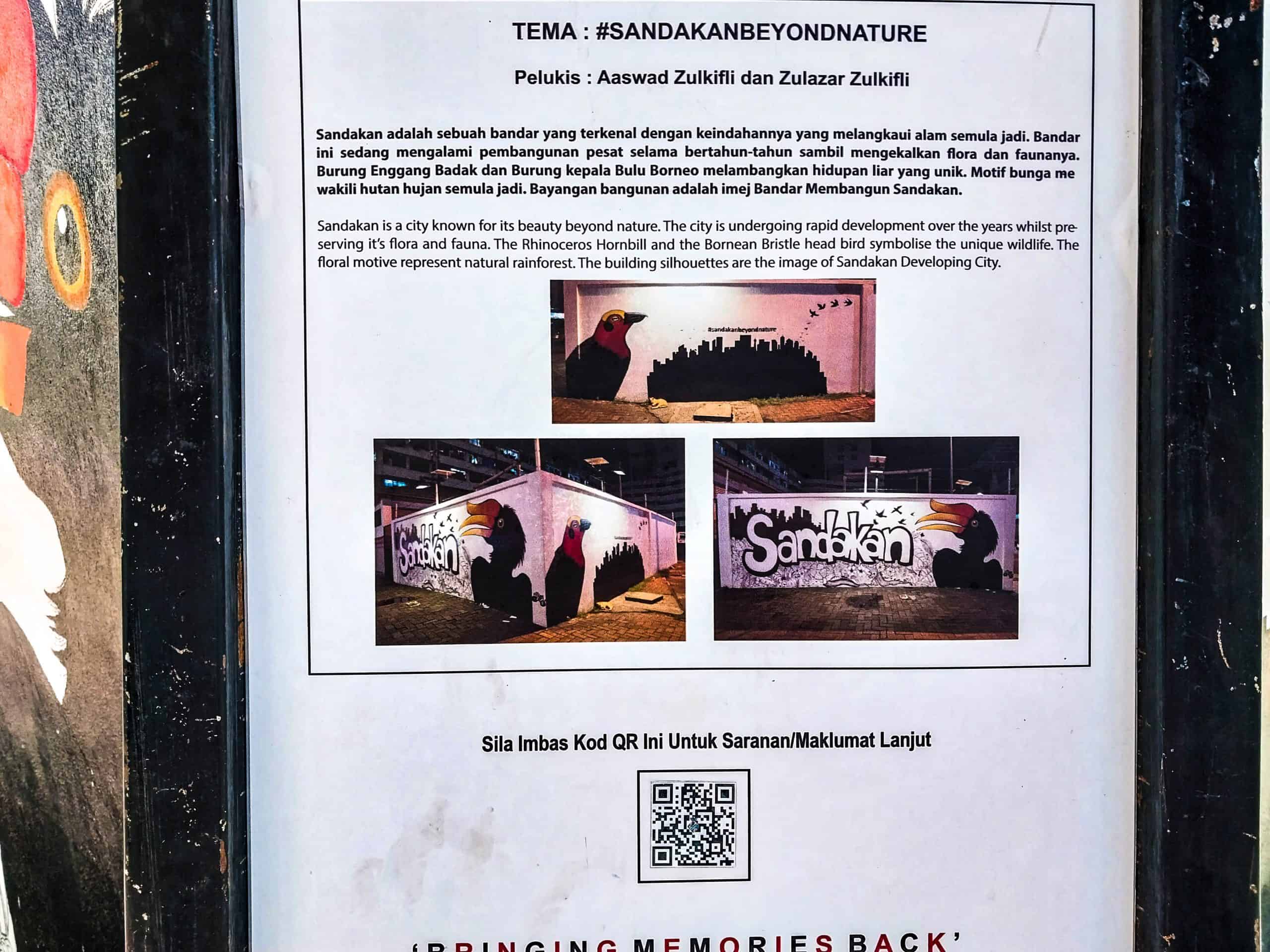 6. Shop Till You Drop at Sandakan Central Market
Malaysia markets are always an interesting cultural experience and worth a visit, especially if you like to shop or eat local foods. Located near the waterfront, you can expect to find an abundance of fresh seafood and a whole lot more at the Sandakan Central Market. The massive market has 3 floors worth exploring, so be sure to give yourself plenty of time to explore.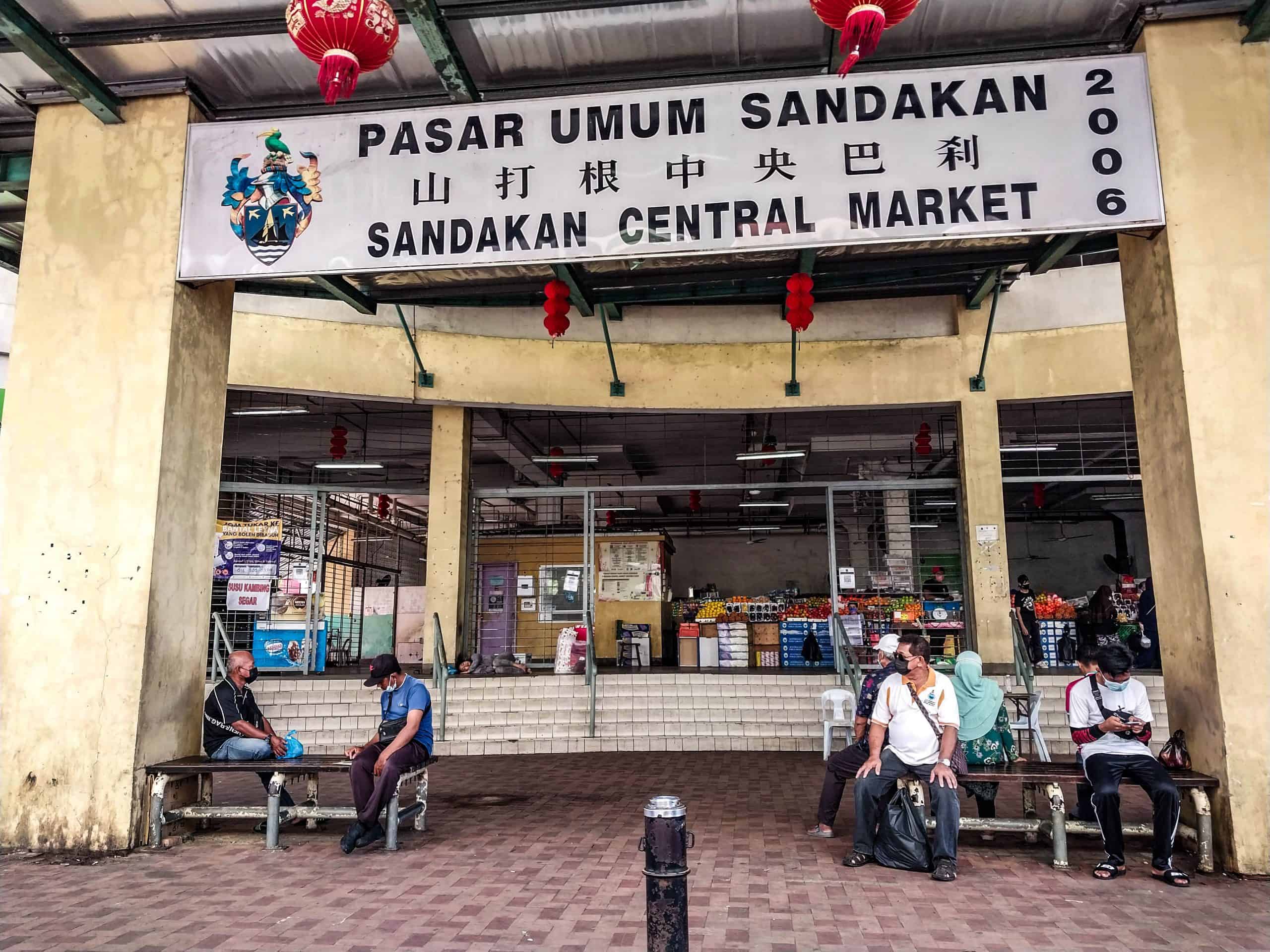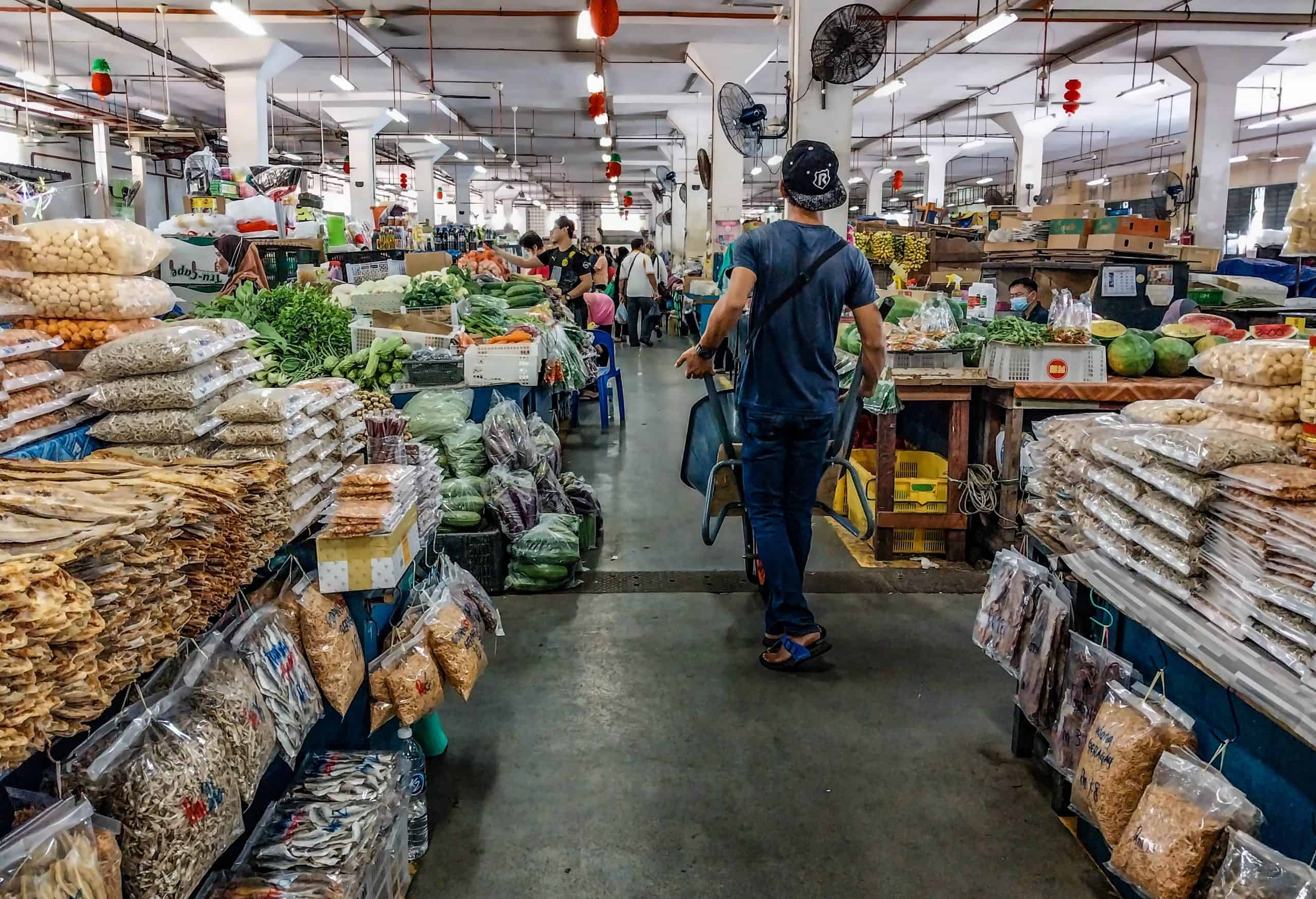 The ground level is typical of a wet market with loads of fruits and veggies, shrimp pastes, dried fish and Malaysian kuihs taking center stage. The second and third levels have Malay and Chinese food stalls. You will also find clothing, shoes and household goods at the Sandakan Central Market, so keep your eyes open for some great deals.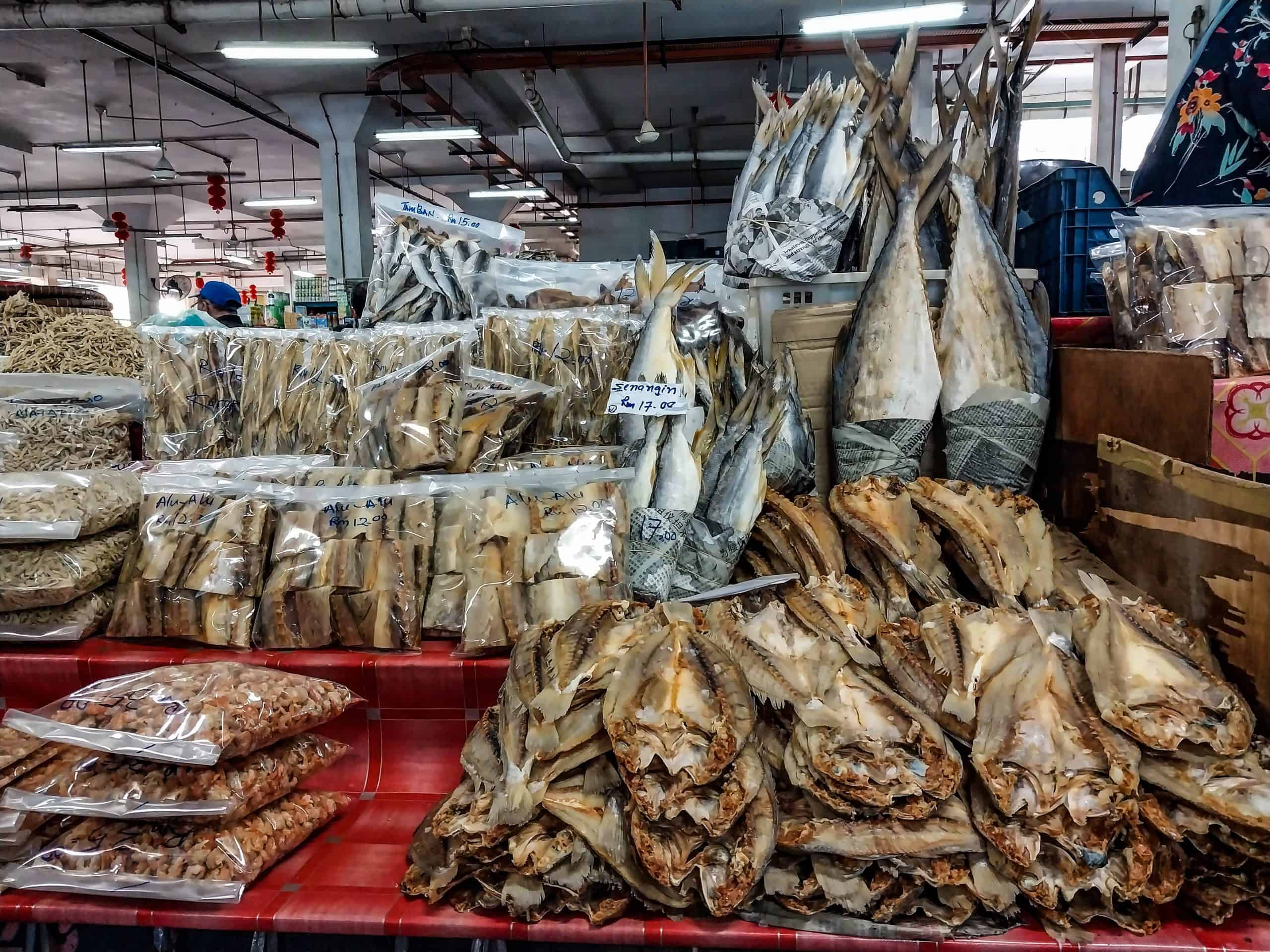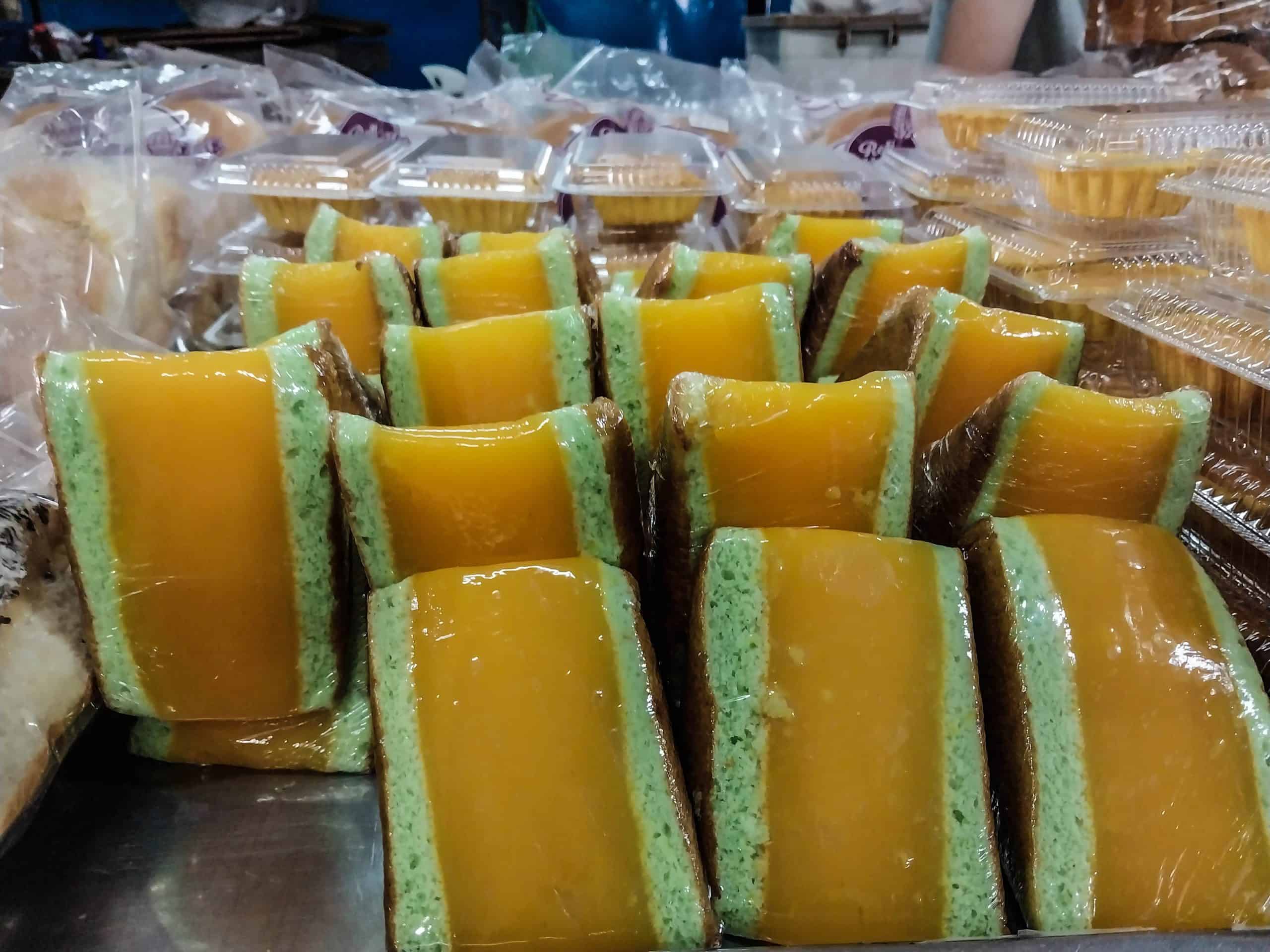 Sandakan Central Market, Jalan Pryer, Pusat Bandar, Sandakan
Open: Daily, 6:00am to 5:00pm
7. Pay Your Respects at Sandakan Memorial Park
Located 11km from Sandakan city, the Sandakan Memorial Park is the site of a former World War II prison camp. With its careful landscaping and modern signboards, the park is almost too sterile, aside from a few rusty pieces of forgotten machinery dotting the grounds. But for those who are acquainted with the past horrors of this site, the quiet whispers of nature could easily be interpreted as the whispers of the dead.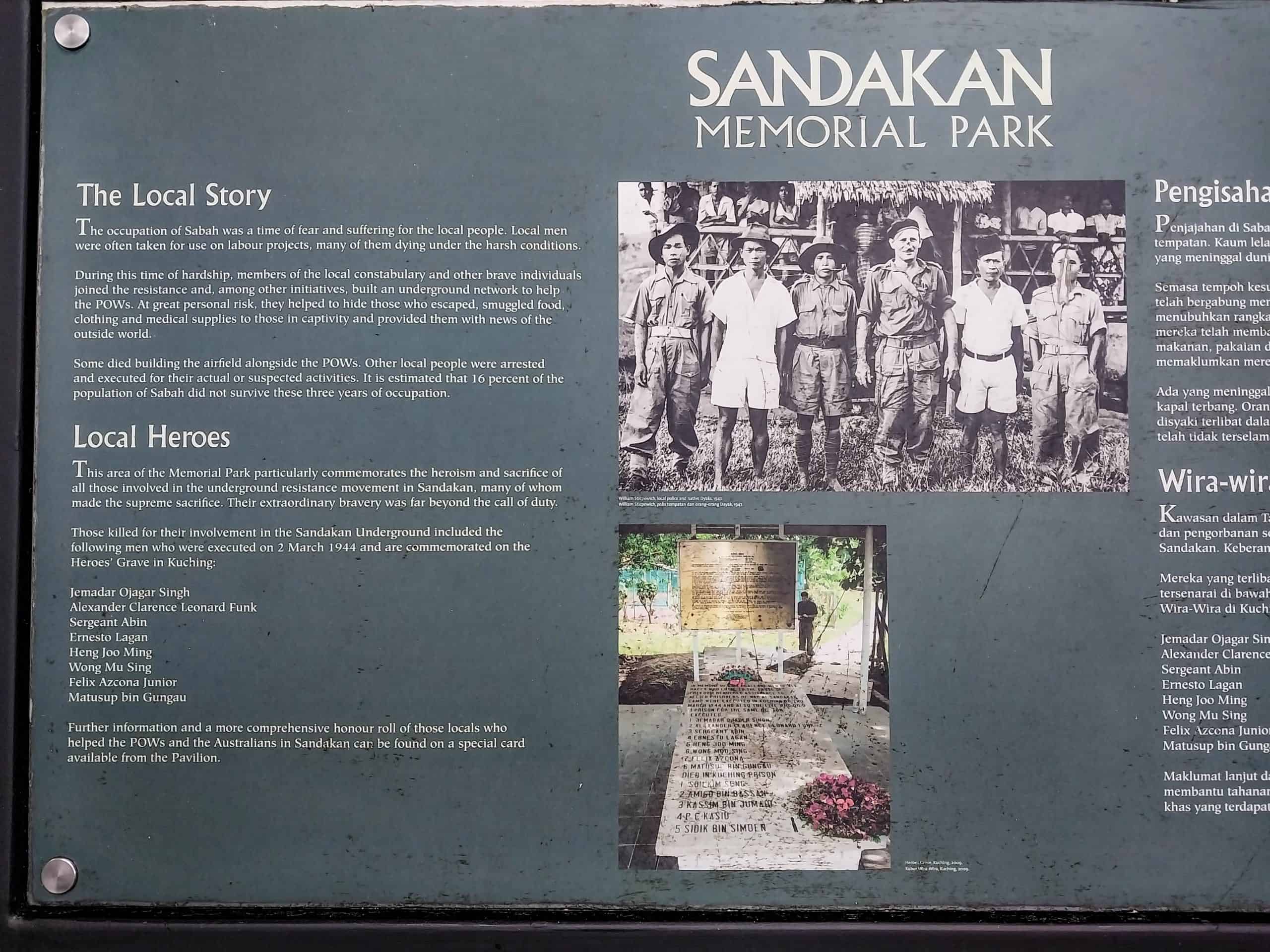 Approximately 2500 Australian and British prisoners of war died at the Sandakan POW camp. Many had initially been captured by the Japanese military during the Battle of Singapore (in February 1942) and were shipped to Borneo to help build an airstrip for the Japanese military. 6,000 Javanese civilians were also used as forced labor on the airstrip construction.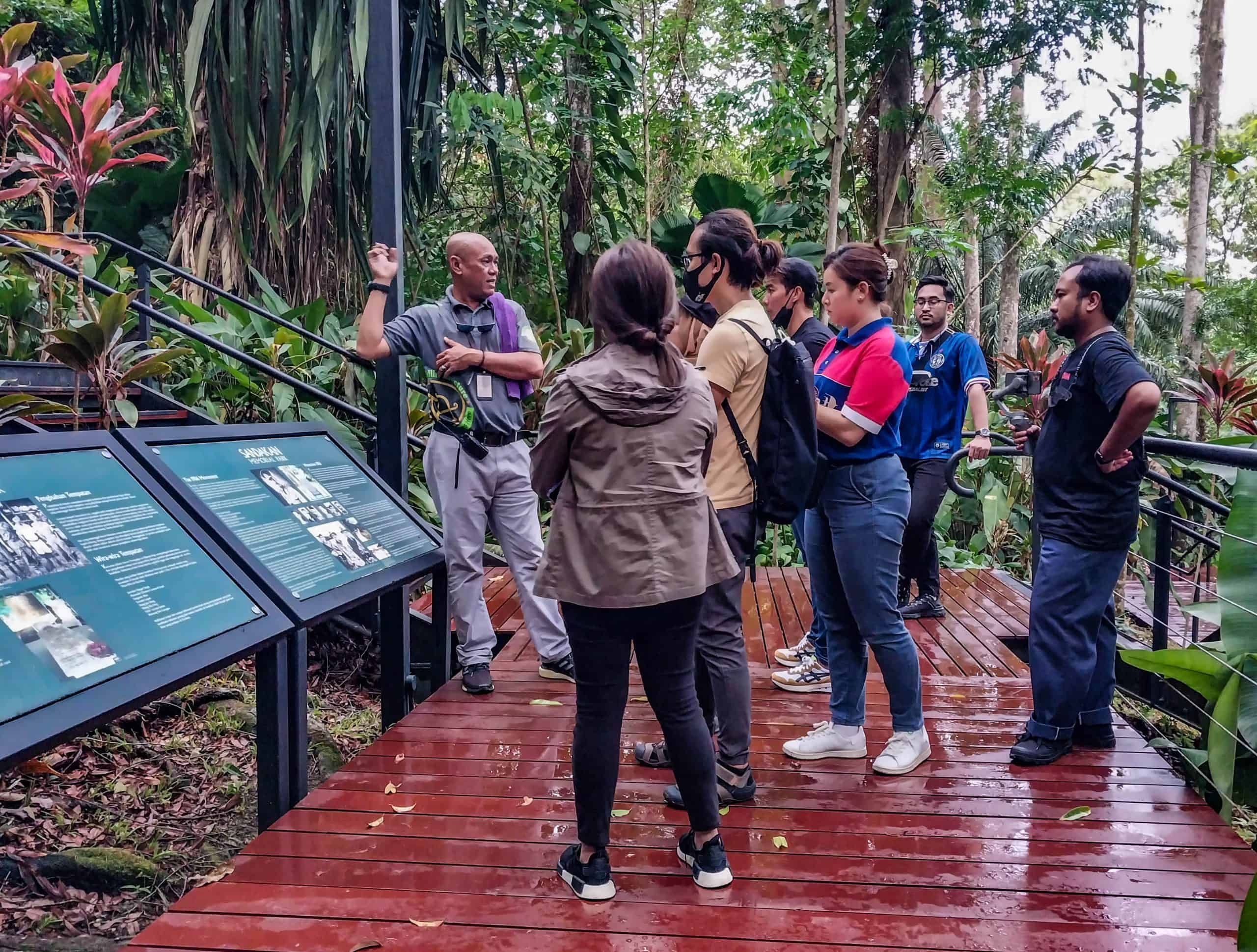 In 1945, the surviving Australian prisoners were, on three separate occasions, used to carry baggage and supplies for the Japanese battalions relocating to the western coast. The hike across North Borneo took its toll on many of the already weak prisoners. Sandakan Memorial Park is the first stop of these prisoner of war routes known as 'The Sandakan Death Marches'. Only six prisoners survived.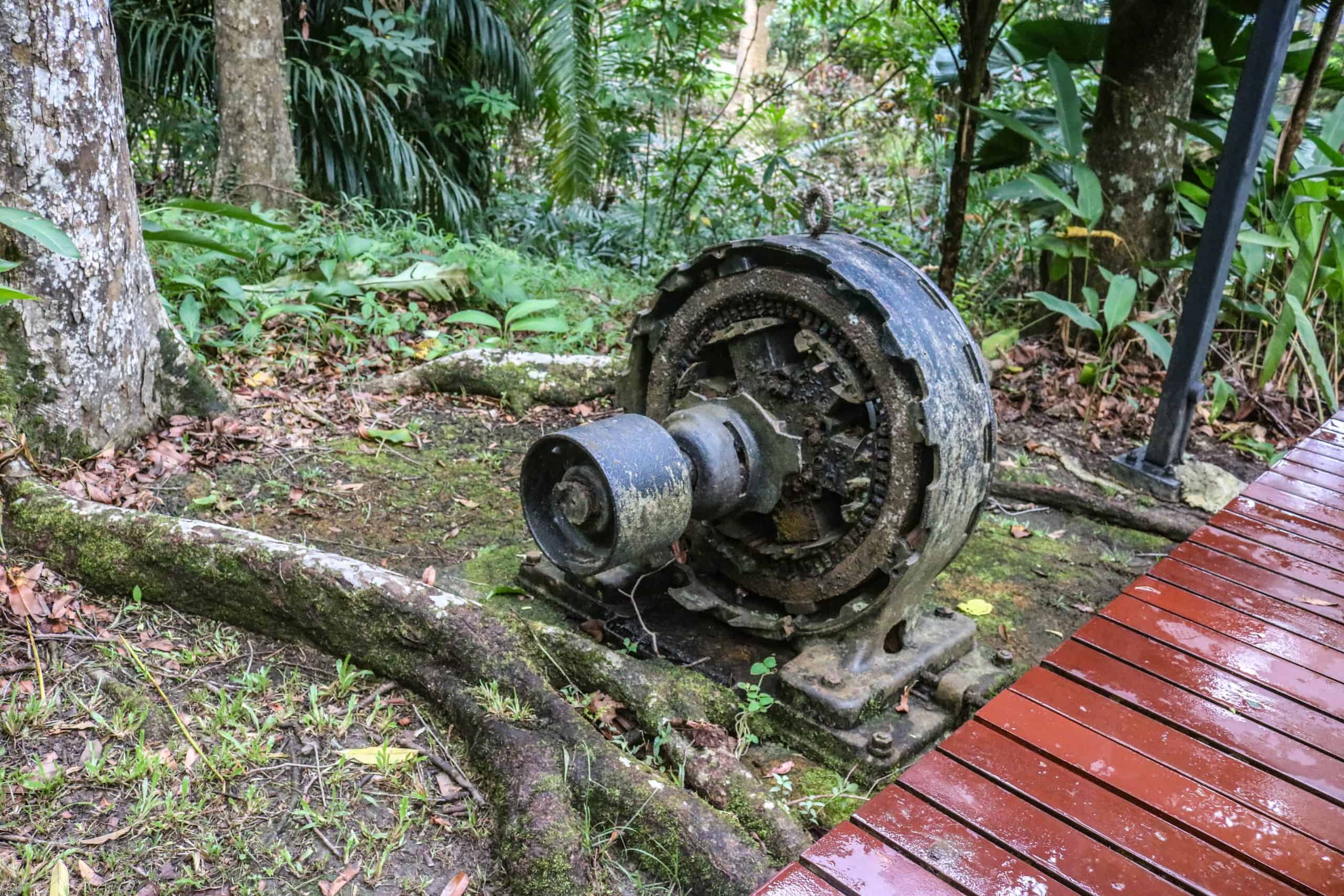 Although the park or its small onsite museum has no entry fee, donations are used for daily maintenance and upgrades. The Office of Australian War Graves operates an account for donations, which can be made payable to DVA Official OAWG Contributions.
Sandakan Memorial Park, Jalan Labuk, Taman Rimba, Sandakan
Open: Daily, 8:00am to 6:00pm, Tel: 089-275 400
Entry: Free, Donations appreciated
More Cheap Things to Do in Sandakan District
8. Visit the Sepilok Orang Utan Rehabilitation Centre
An absolute not-to-be-missed if visiting the Sandakan district, the Sepilok Orang Utan Rehabilitation Centre is 26-kilometers west of Sandakan City. The center opened in 1964, long before rescuing wildlife became trendy. It was the first orangutan rehabilitation project focused on rescuing orphans (and later injured adults) whose lives had been negatively affected by the logging industry, plantations, illegal hunting, and the illegal pet trade. Orangutans are presently only found in the jungles of Borneo and Sumatra.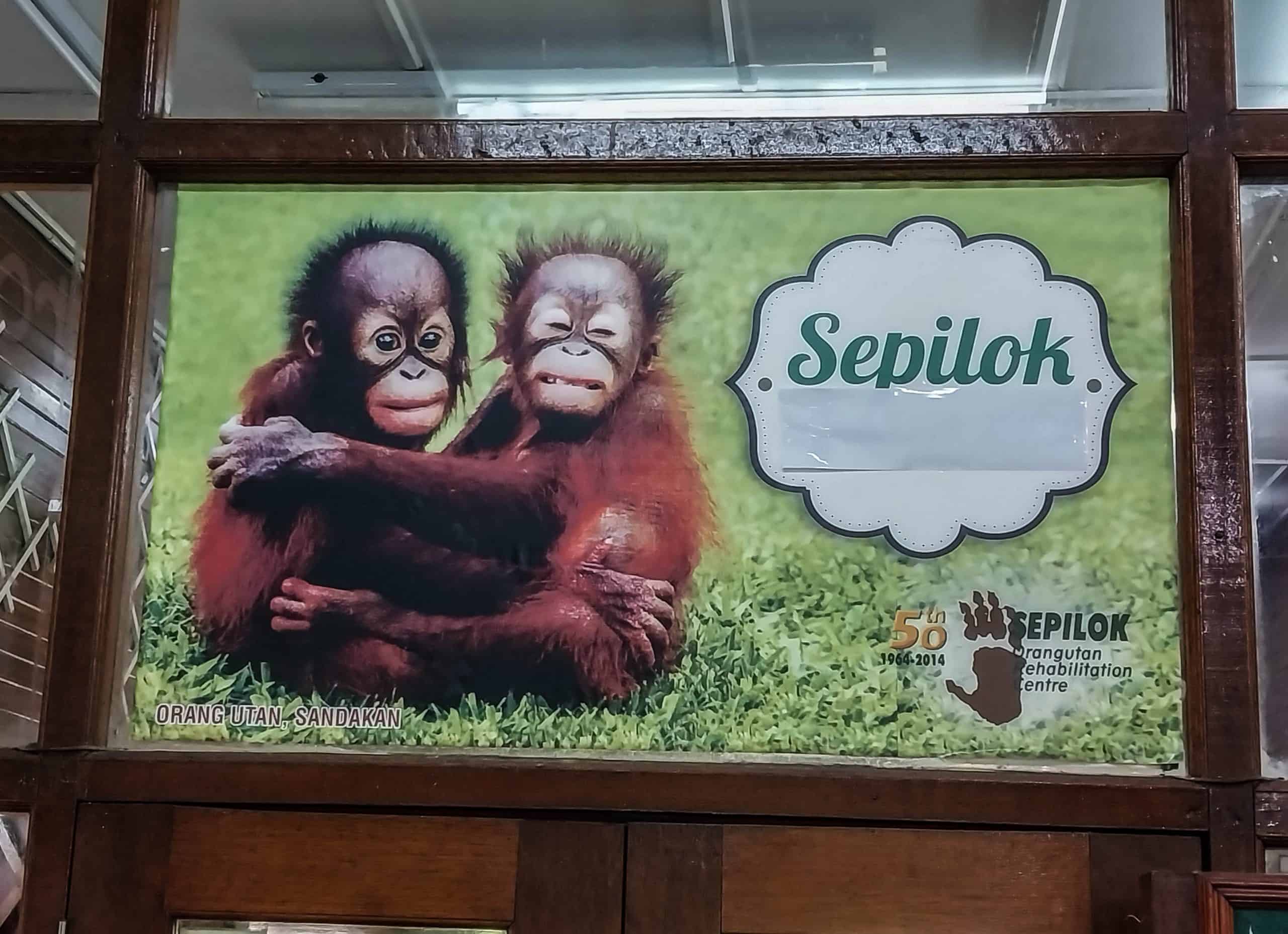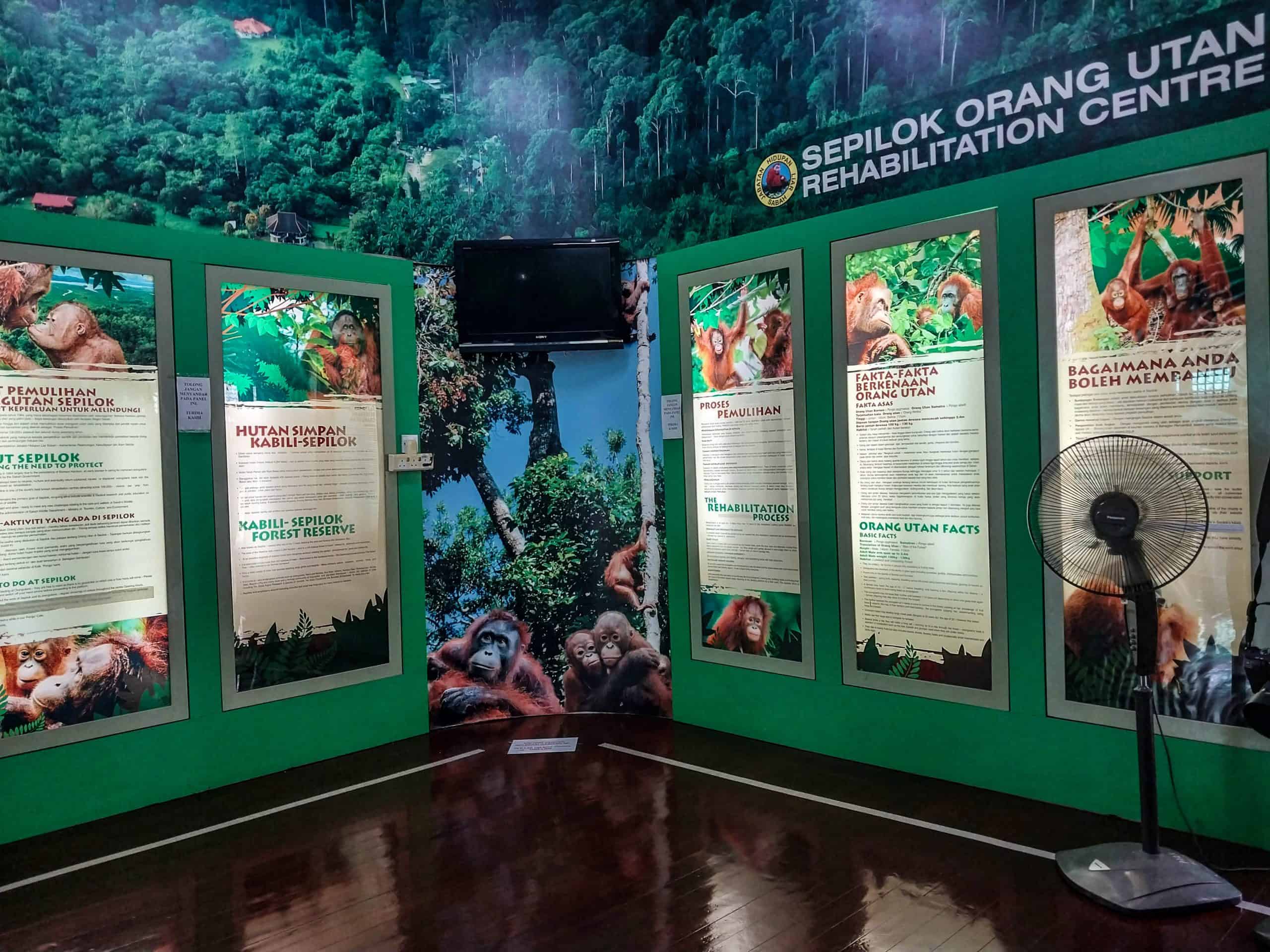 Baby Orangutans stay with their mothers for 7 to 10 years to learn all of the skills necessary to survive in the jungle. If the mother is killed, the babies have little chance of surviving. That's why it is essential to have proper rehabilitation.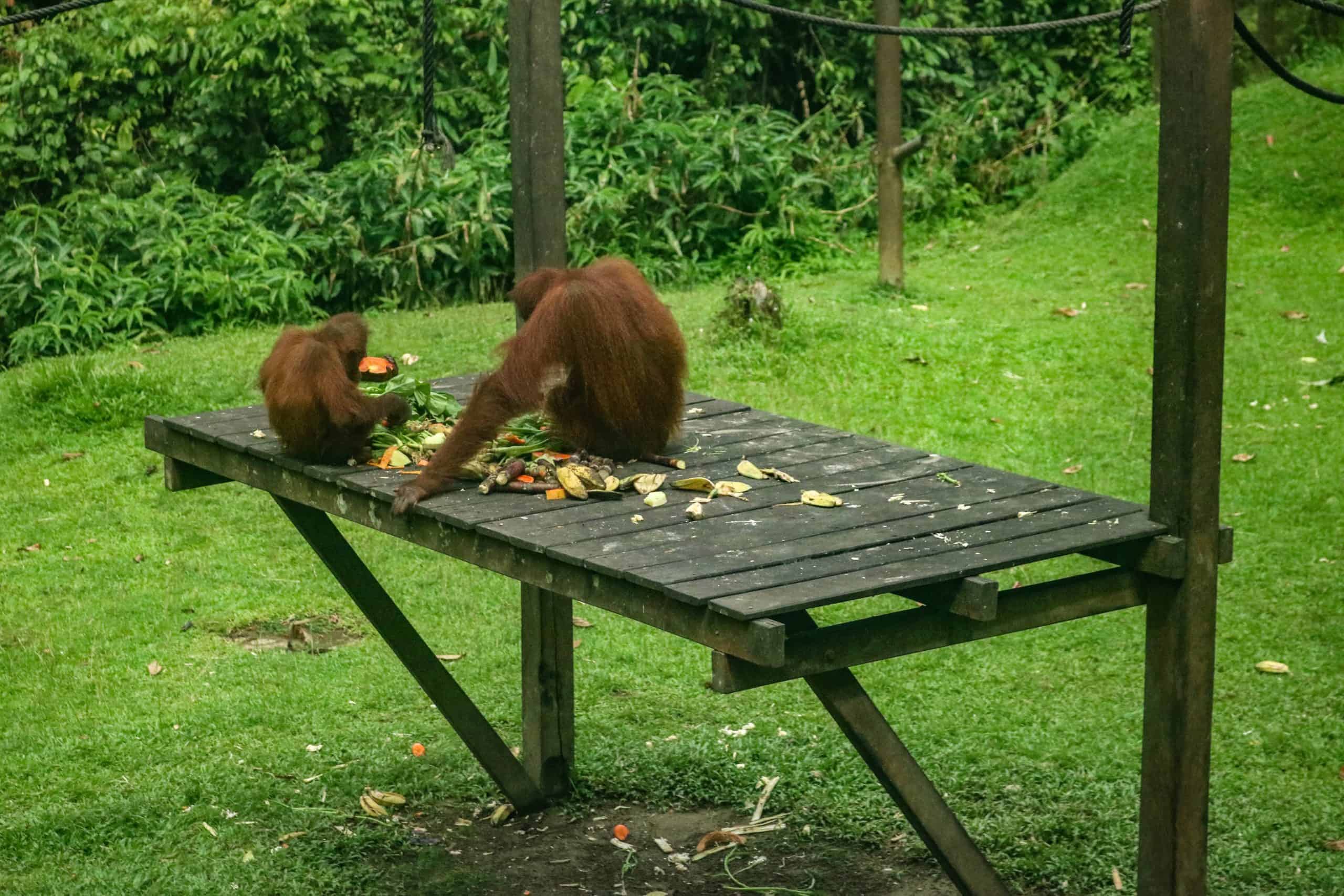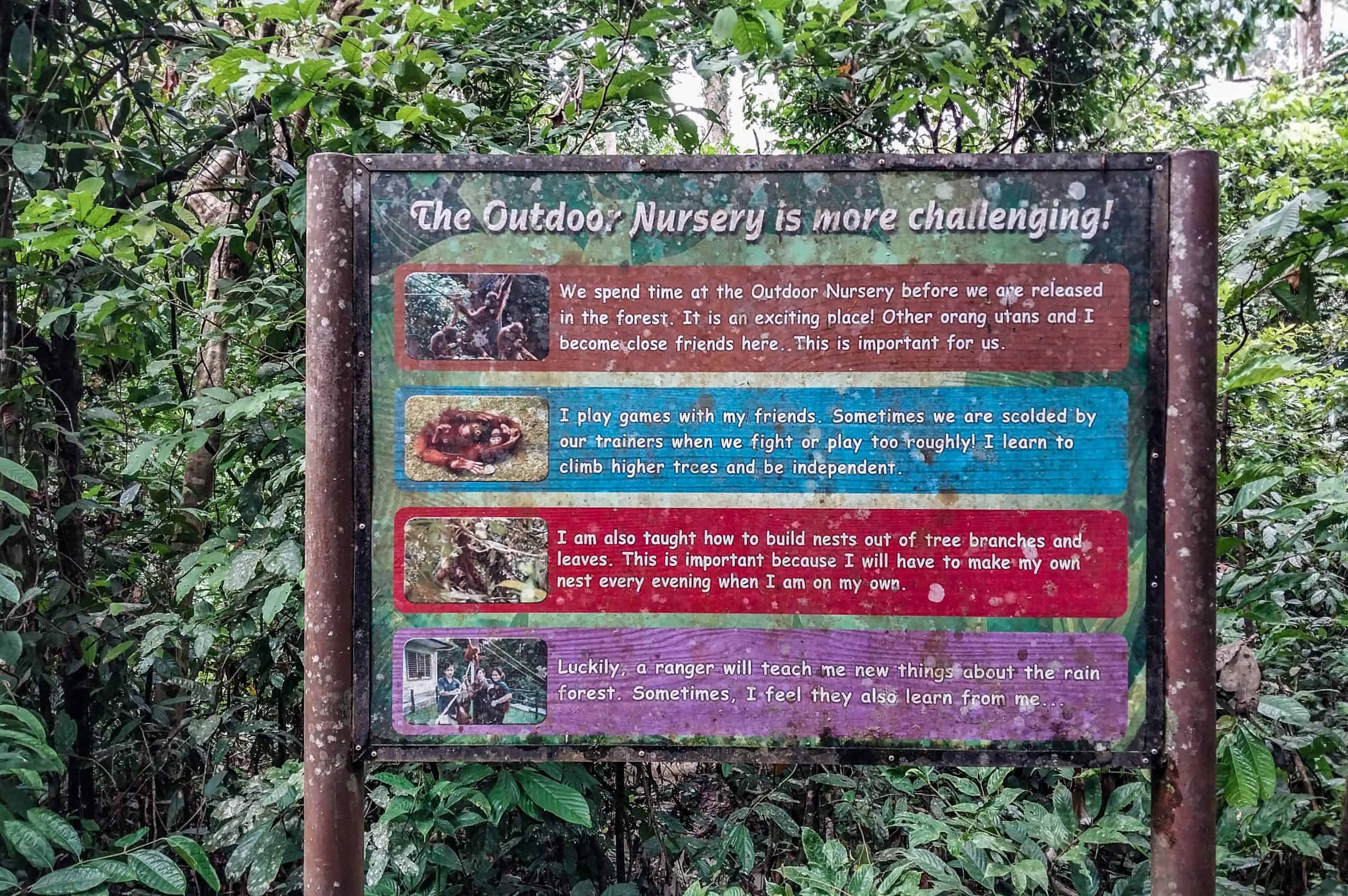 It will take up to 10 years for Sepilok rehabilitation graduates to be releasable to the wild, at the cost of 8K Ringgit per Orangutan per year.It's a commitment. So please visit them during your visit to Sandakan because the center needs all the support it can get. Plus, the Orangutans are guaranteed to put a smile on your face because they're so cute.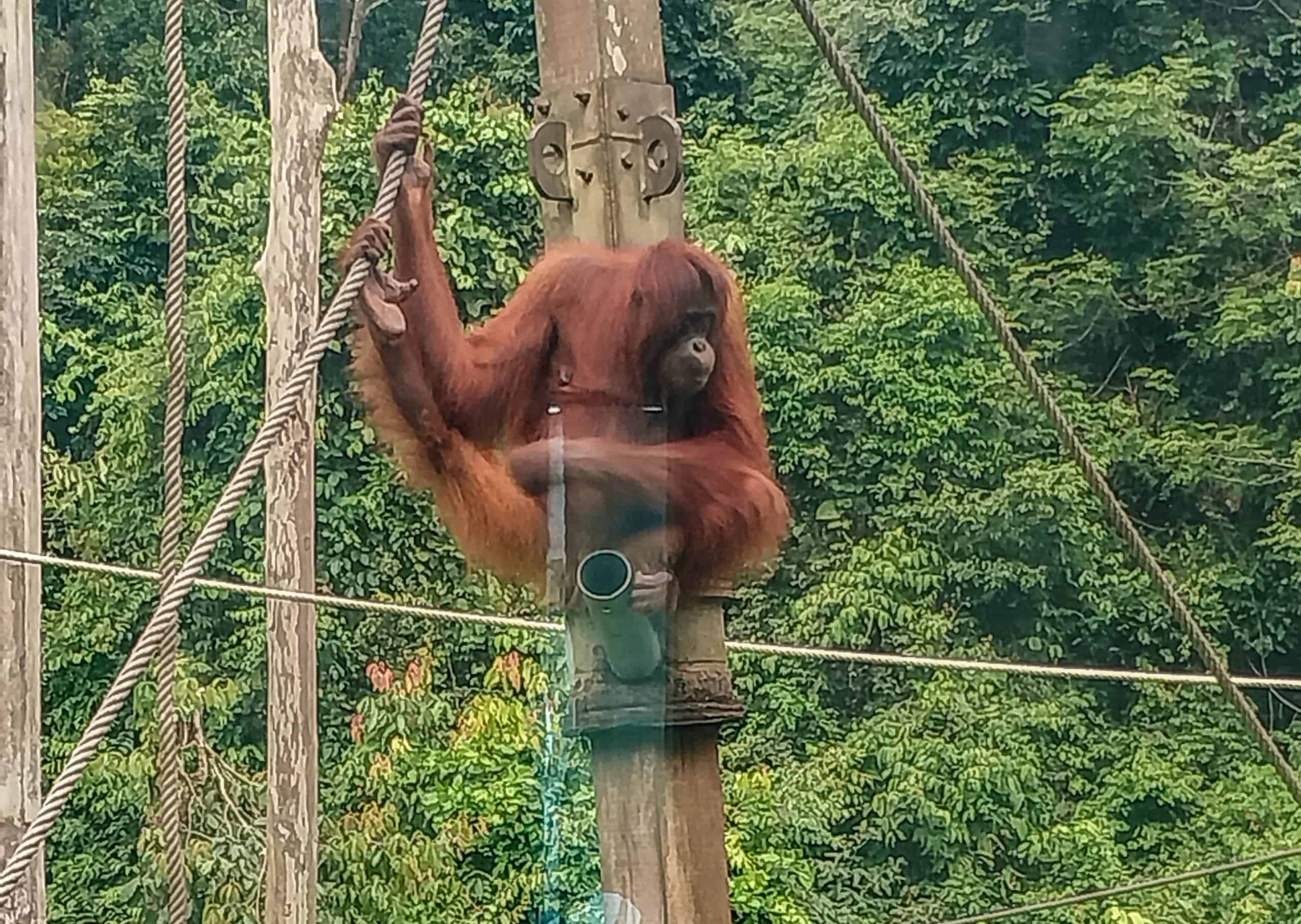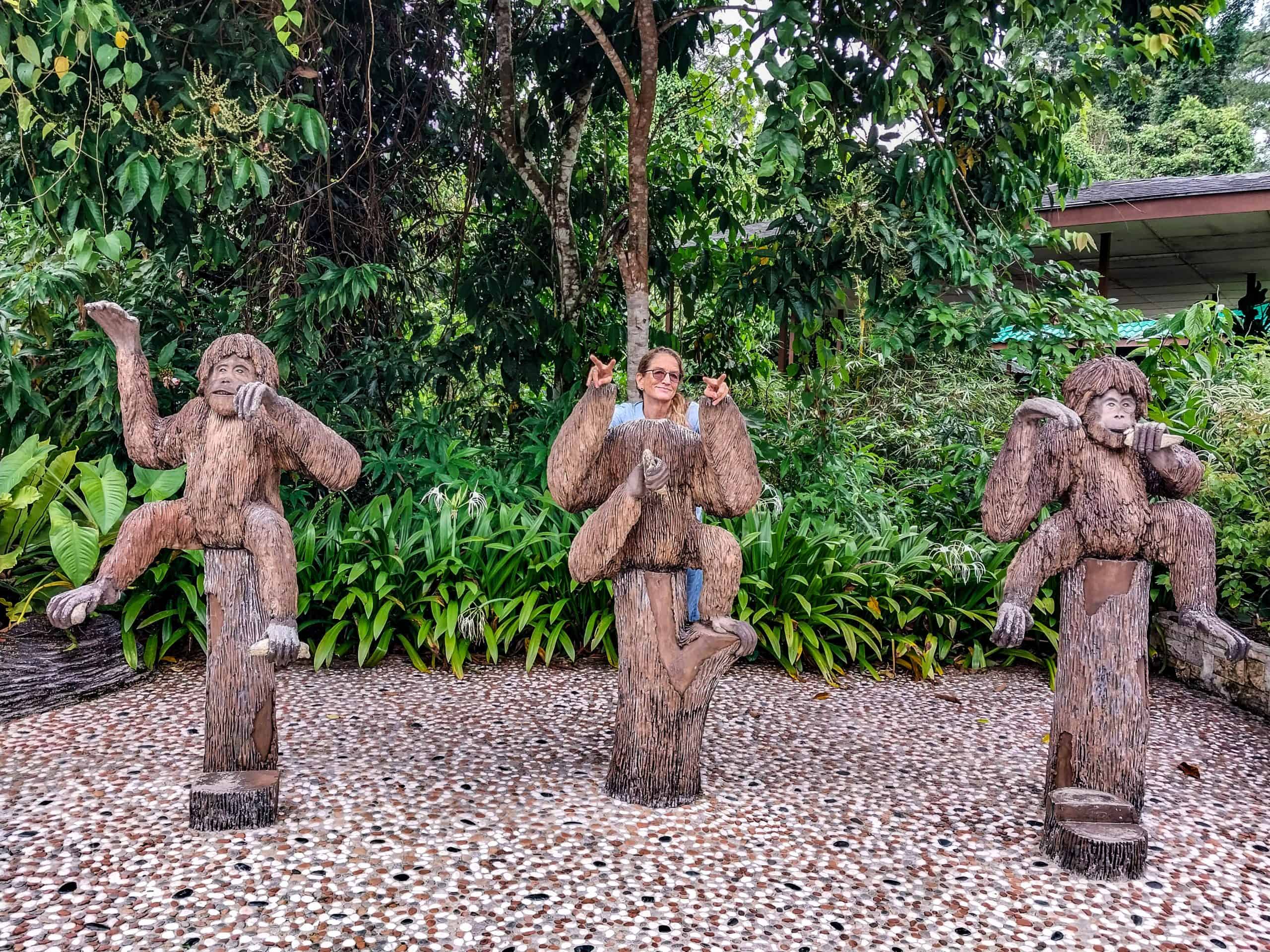 The center has a feeding platform and outdoor nursery where visitors can observe the Orangutans (at a distance) and take plenty of photos. Interestingly enough, despite the feeding station looking a bit staged, if it's fruit season in the jungle then there is a good chance that no Orangutans will show up at the feeding station. During fruit season the jungle has plenty of tasty snacks for the Orangutans to feed on. You can read more about the Sepilok Orang Utan Rehabilitation Centre HERE
Sepilok Orang Utan Rehabilitation Centre, Jalan Sepilok, Sepilok
Open: Daily, 9:00am to 11:00pm, 2:00pm to 3:00pm
Thursday, 9:00AM to 11:30am, 2:00pm to 4:00pm
Tel: 089- 531 180
Entry: RM30 (additional RM10 for cameras)
9. Meet Sun Bears at Bornean Sun Bear Conservation Centre
Established in 2008, the Bornean Sun Bear Conservation Centre (BSBCC) offers a sanctuary and rehabilitation program for injured or (previously) captive sun bears. Sun Bears are the smallest bears in the world and are presently in danger due to habitat loss (development and timber industry), illegal hunting, and they are also at risk of capture for the illegal pet trade industry.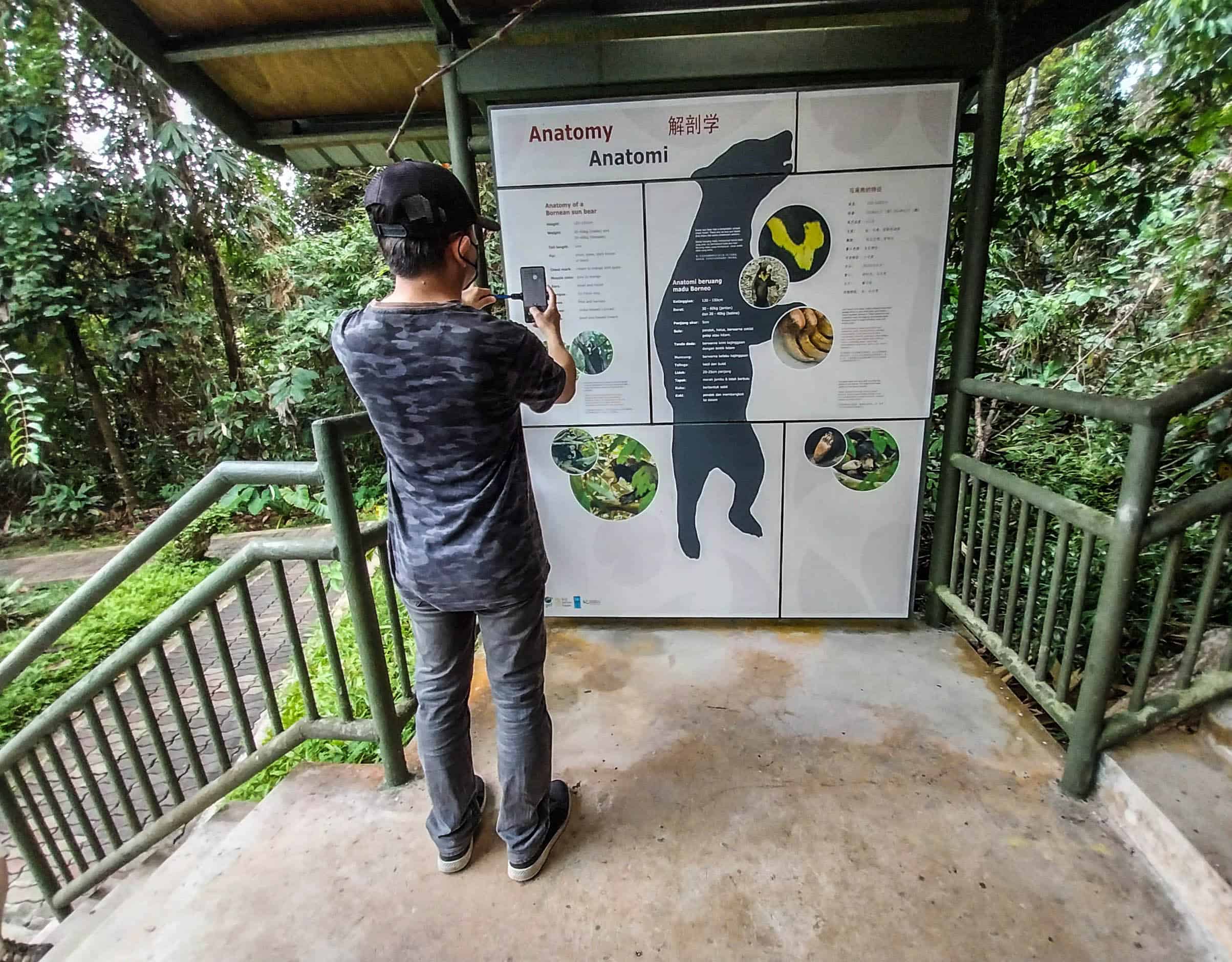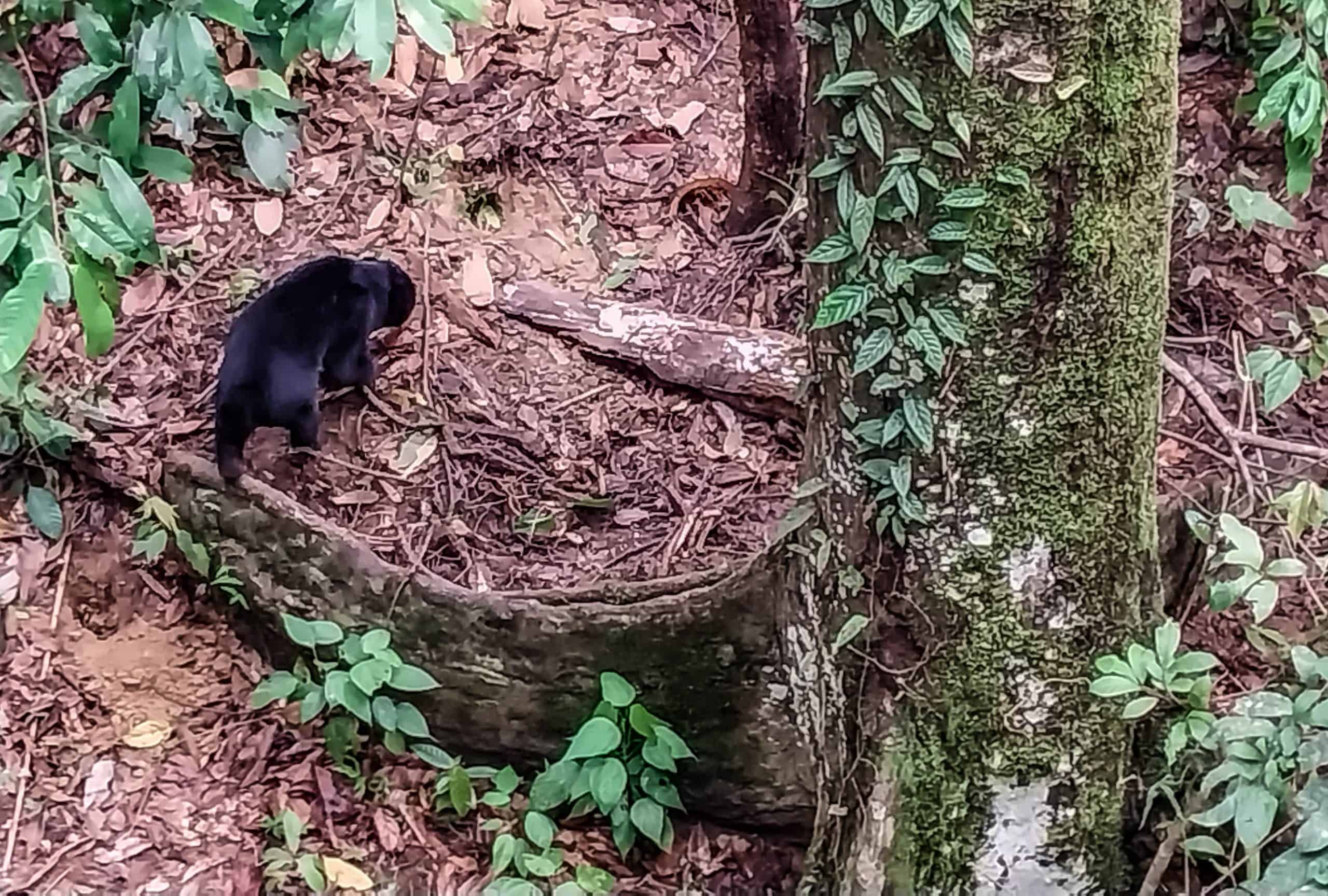 The BSBCC presently has 37 rescued sun bears within their 2.5 ha parcel of forest. Visitors can observe the sun bears via an elevated wooden walkway but are never allowed to come into direct contact with them. Sign boards introduce some of the bears and tell their stories as well as display sun bear information. Education and awareness are a big part of the center's objective so don't be shy about asking questions. In Sabah, sun bears are now categorized as a Totally Protected Species under the Sabah Wildlife Conservation Enactment 1997. Jail time and big money fines are given to anyone ignoring sun bear protection laws.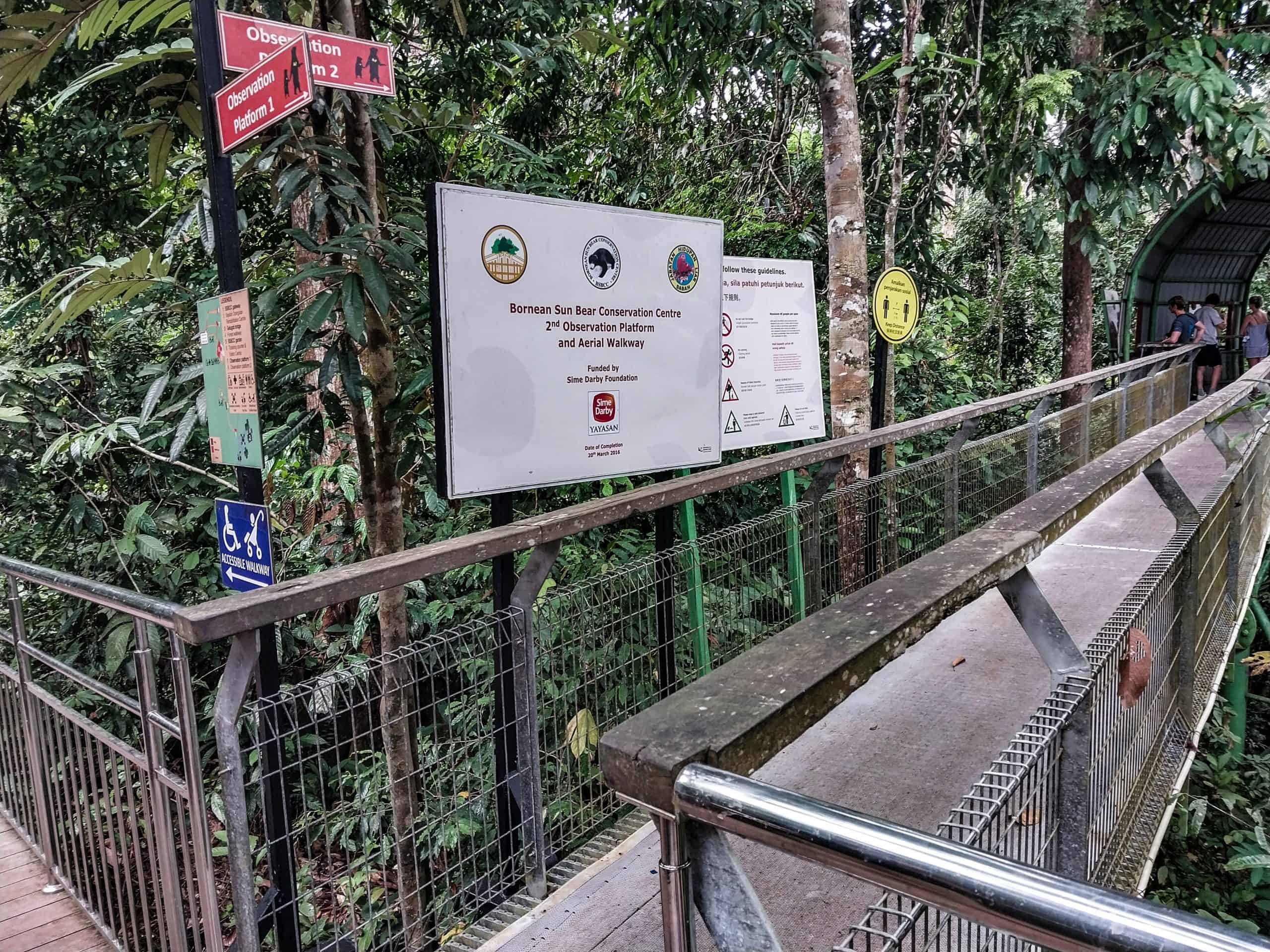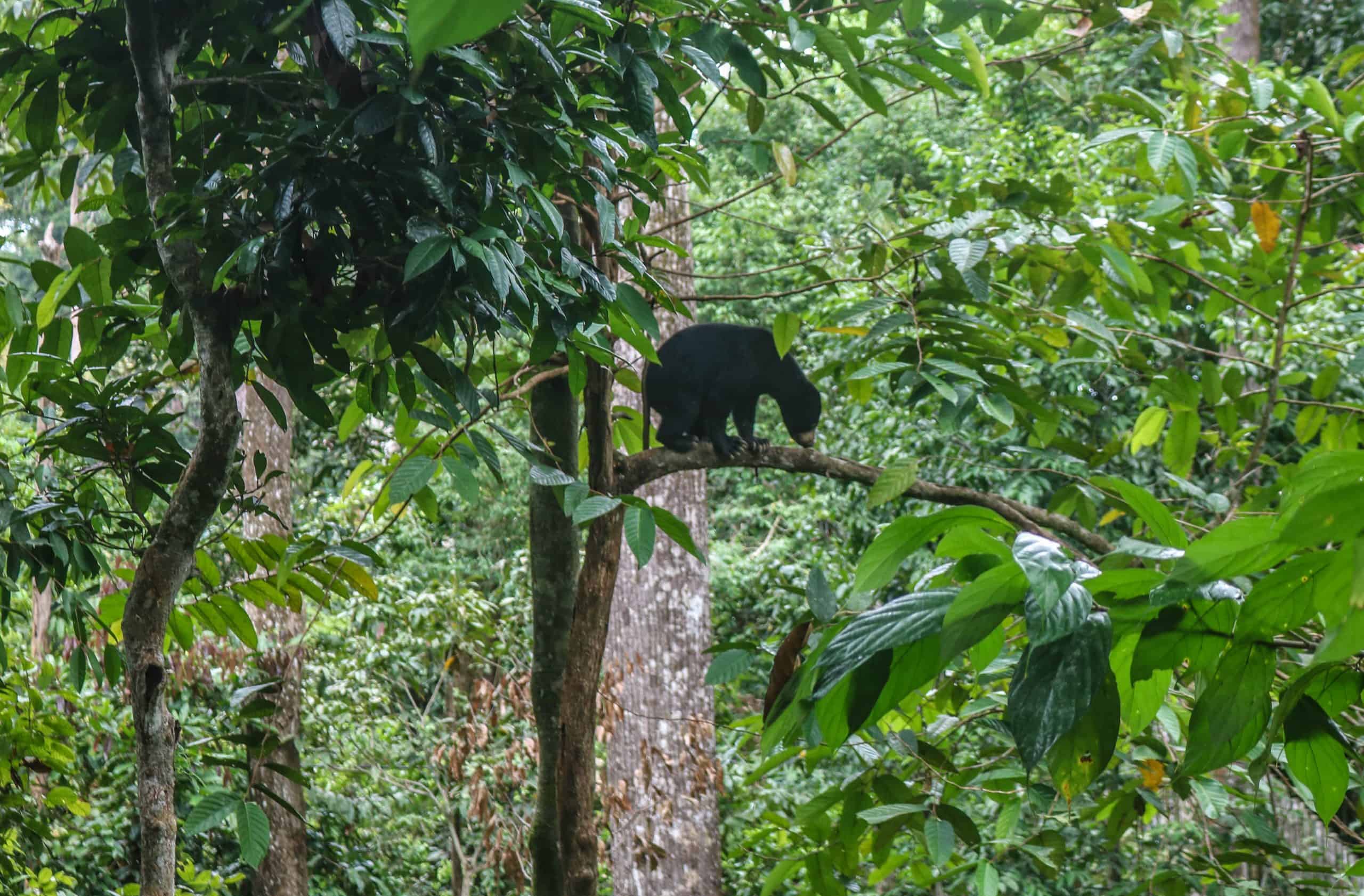 Since the BSBCC is conveniently located next to the Sepilok Orang Utan Rehabilitation Centre, visitors can easily spend several hours visiting the two sanctuaries, so be sure to give yourself enough time to thoroughly explore both. You can also 'Adopt a Sun Bear' from the conservation center. Adoptions can be made under your own name or given as a gift. An excellent gift for the wildlife lovers or animal rights supporters in your life.
Bornean Sun Bear Conservation Centre, Jalan Sepilok, Sepilok
Open: Daily, 9:00am to 3:30pm, Tel: 089-534 491
Entry: Adults RM30-50, Kids (13-17 years) RM15-25, Kids under 12 free
(additional camera fee of RM1,000 for cameras with lenses 500mm or more)
10. Get Back to Nature at the Rainforest Discovery Centre
Located within the Kabili-Sepilok Forest Reserve (and just 2km from the Sepilok Orang-utan Rehabilitation Centre, the Rainforest Discovery Centre is an environmental education facility run by the Sabah Forestry Department. The Rainforest Discovery Walk is paved for the most part and wheelchair and stroller friendly.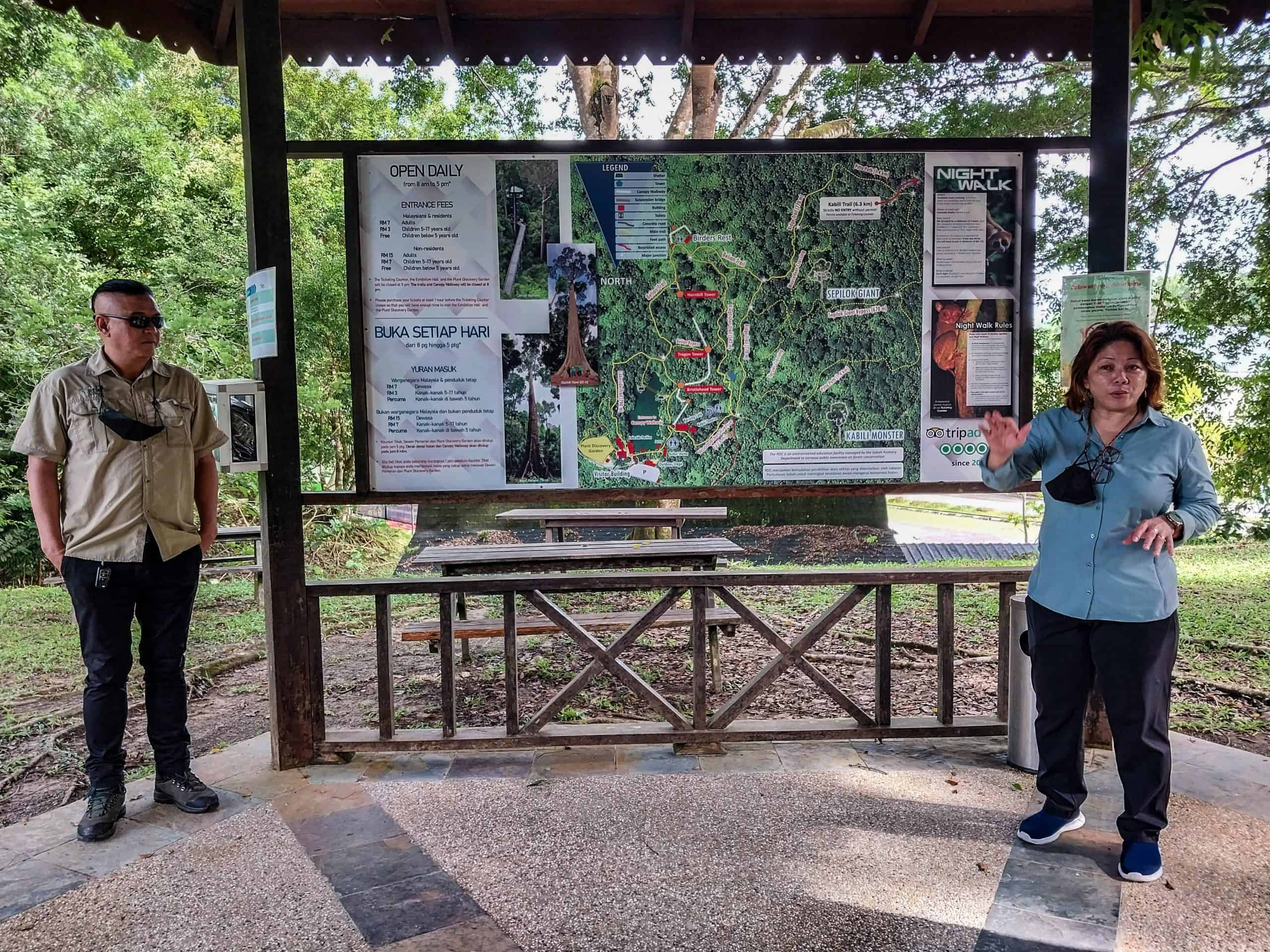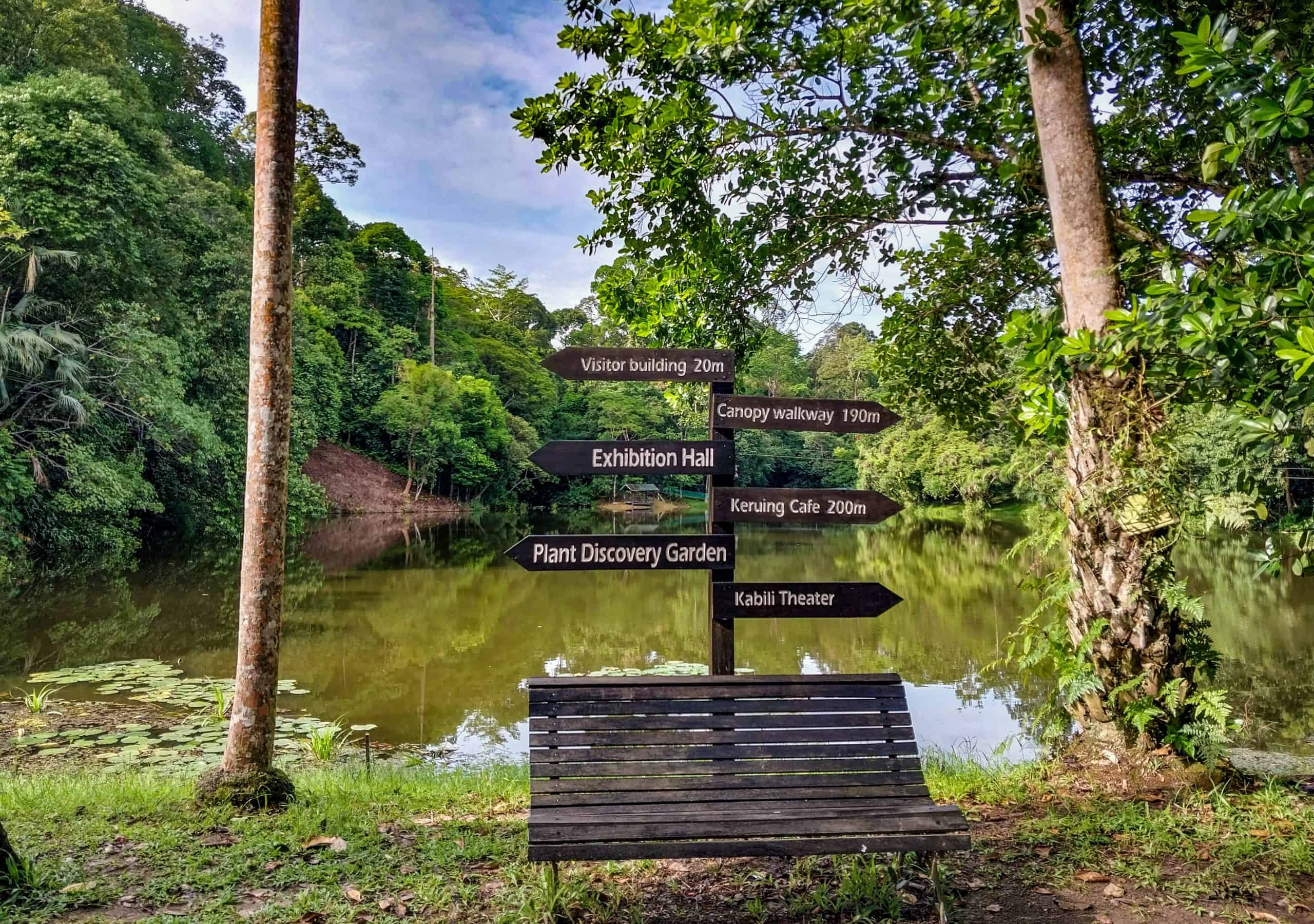 A rather intimidating 347-meter, long Canopy Walkway provides a birds-eye-view of the surrounding forest. It also has sign boards to help non-bird experts identify some of the 300 species of birds (and other wildlife) that call the RDC home. The Rainforest Discovery Centre is so abundant with birds that it's the official location for the Annual Borneo Bird Festival, which is usually held in October.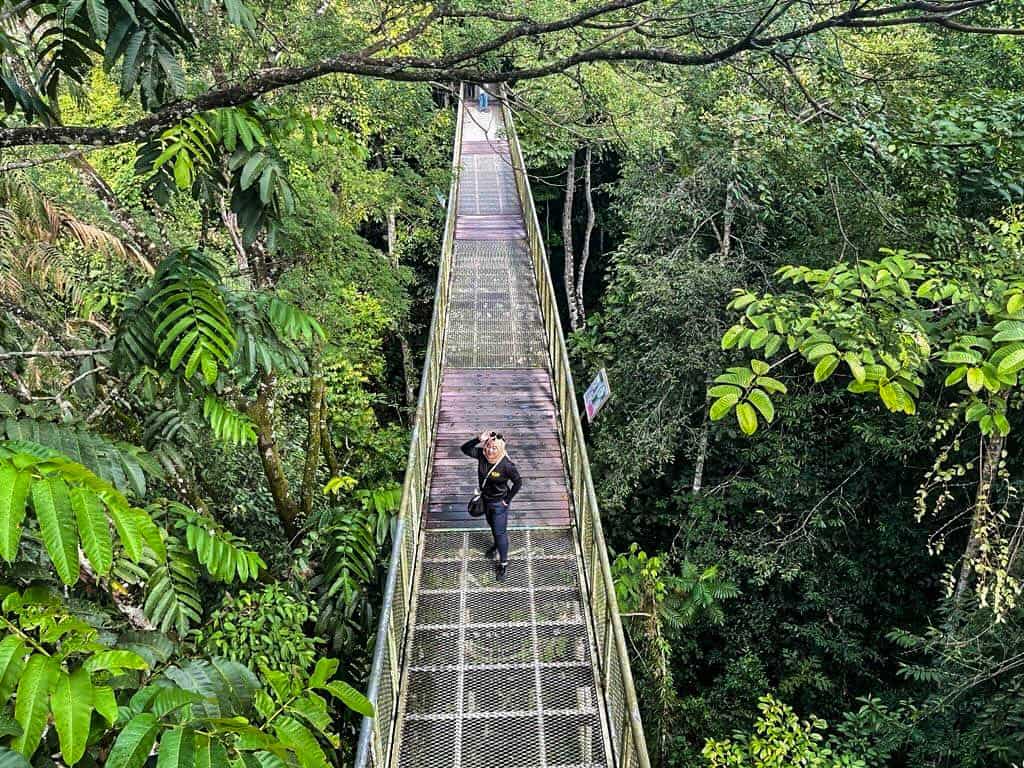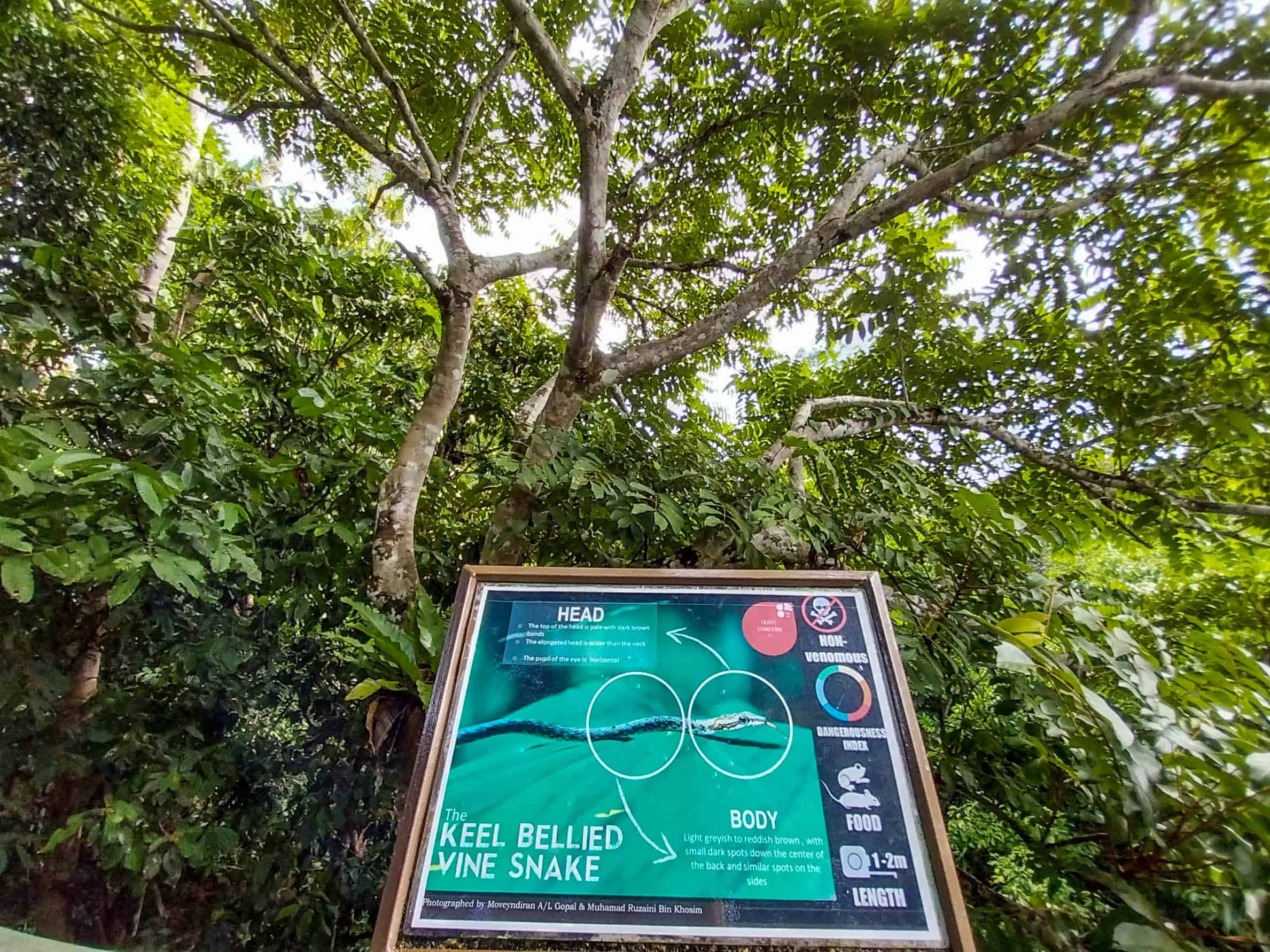 An onsite Exhibition Hall offers an introduction to Sabah's flora and fauna and a Plant Discovery Garden has displays of more than 250 species of native orchids, pitcher plants, ginger plants, and more. You may need a couple of hours, to fully appreciate all that the center has to offer. So be prepared. They also have a Night Walk: Monday, Wednesday & Friday 6:00pm to 8:00pm.
Rainforest Discovery Centre, Kabili-Sepilok Forest Reserve
Open: Daily, 8:00am to 5:00pm, Tel: 089-533 780
Entry: Adults RM15, Kids (5-17 years) RM7, Kids under age 5 free
11. Don't Forget to Eat Like a Local
Regardless of where you travel to in Sabah, you will discover amazing local food. Finding some of the best eateries is much easier now thanks to Tourism Malaysia Sabah's SeeEatFood Trail Fun Map. The culinary themed travel brochure comes with a colorful map and highlights 42 seafood restaurants within Kota Kinabalu, Kudat, Sandakan, Lahad Datu, Semporna, Tawau and Labuan. Seven locations in one neat package! But these restaurants don't just serve seafood, many also serve non-seafood dishes as well as have vegetarian menu listings.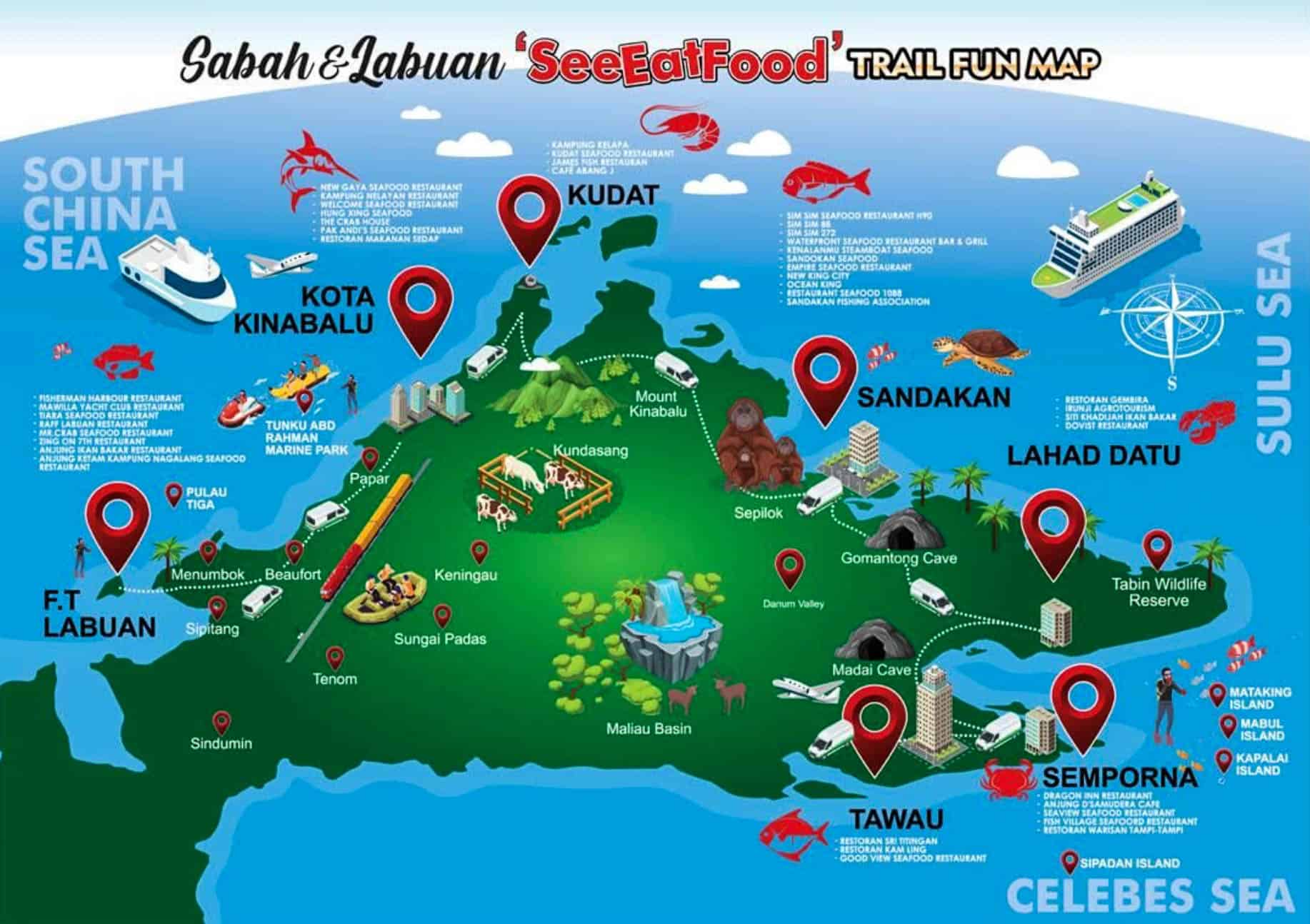 For more information about Tourism Malaysia Sabah's 'SeeEatFood' Trail Fun Map and their fabulous list of 42 top seafood restaurants in Sabah and Labuan, visit their website at www.malaysia.travel . You can also get information at the Tourism Information Center at the Kota Kinabalu International Airport. Bon Appetit!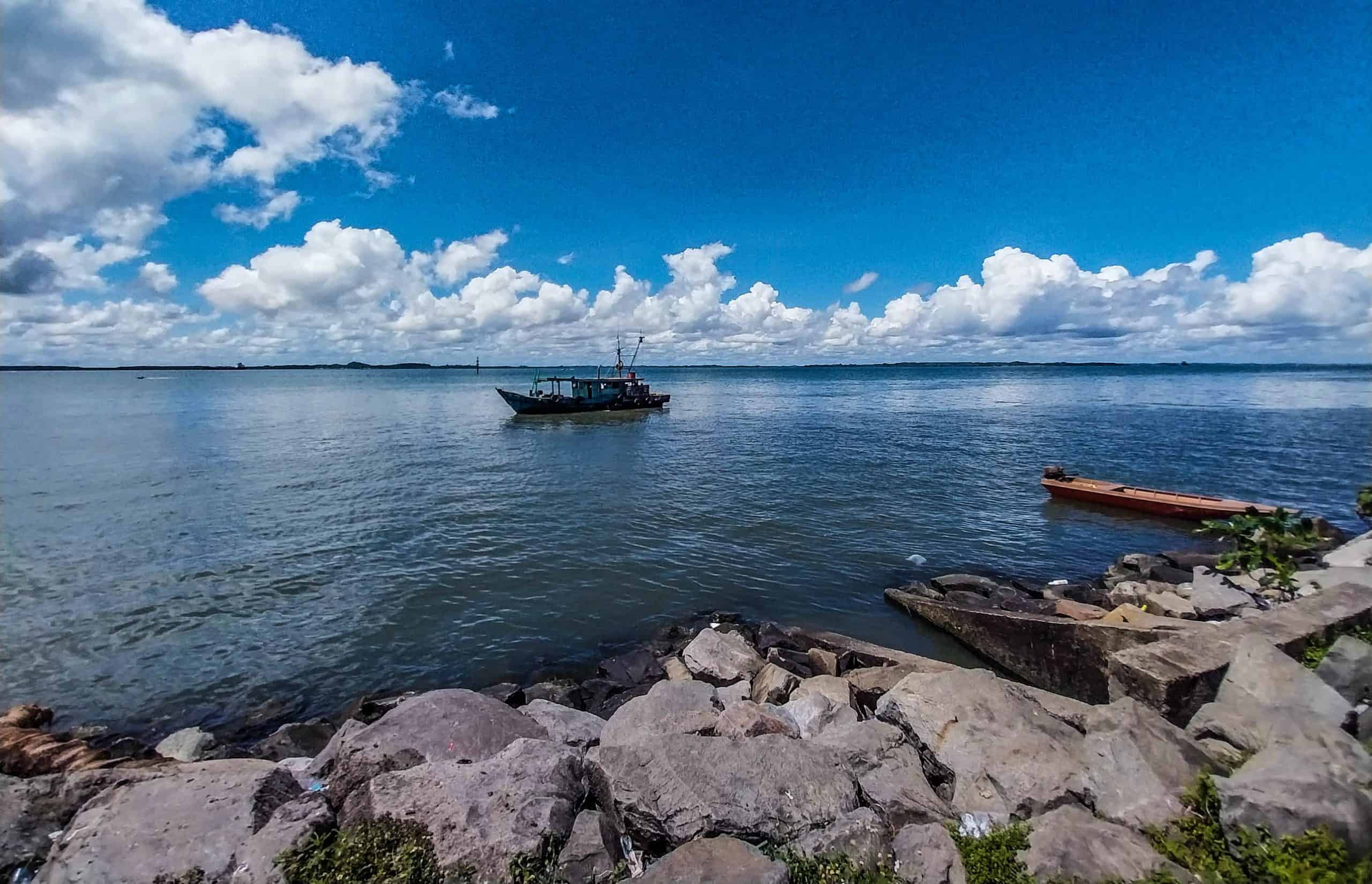 My best advice for anyone planning a trip to Sabah, Malaysia is to leave yourself some timeline wiggle room. If your time is limited, Sandakan packs a punch in seeing a lot in a short period of time and you can easily do them on your own, without any special guide or tour. You may need to rely on the convenience of a taxi or local bus, but those transportation options are fast and also budget friendly. Still want more jungle-y adventures? Check out my recommendations for Kinabatangan, it's also in the Sandakan district: 5 Unique Things to Do in Kinabatangan
For more information about travels in Sabah, contact Tourism Malaysia