Looking for the best seafood restaurants in Sabah and Labuan? That gastronomical challenge will be much easier now thanks to the launch of Tourism Malaysia Sabah's SeeEatFood Trail Fun Map. The culinary themed travel brochure comes with a colorful map and highlights 42 seafood restaurants within Kota Kinabalu, Kudat, Sandakan, Lahad Datu, Semporna, Tawau and Labuan. Seven locations in one neat package!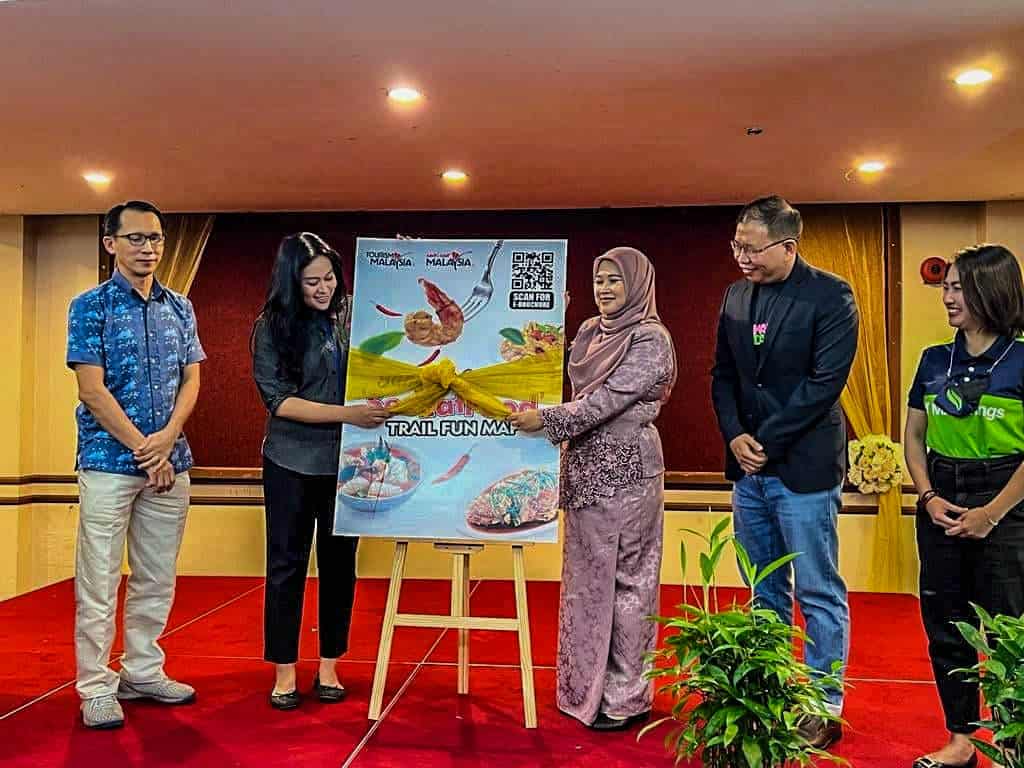 A QR code is also provided for those who prefer an E-brochure. Just scan the code with your smart phone and a downloadable PDF of the SeeEatFood brochure magically appears. 
At the August 3rd, 2022 fun map launch and press conference, Tourism Malaysia Sabah director Ednie Rahma Ab Rahim stated that gastronomic tourism is one of the main components in domestic tourism and should be given as much attention in Sabah as the cultural and eco-tourism products get. As both a 'foreign' and domestic tourist, I couldn't agree more; discovering the cuisine of Sabah has been a delicious adventure for me and another feather in Sabah's hat as far as travel destinations are concerned.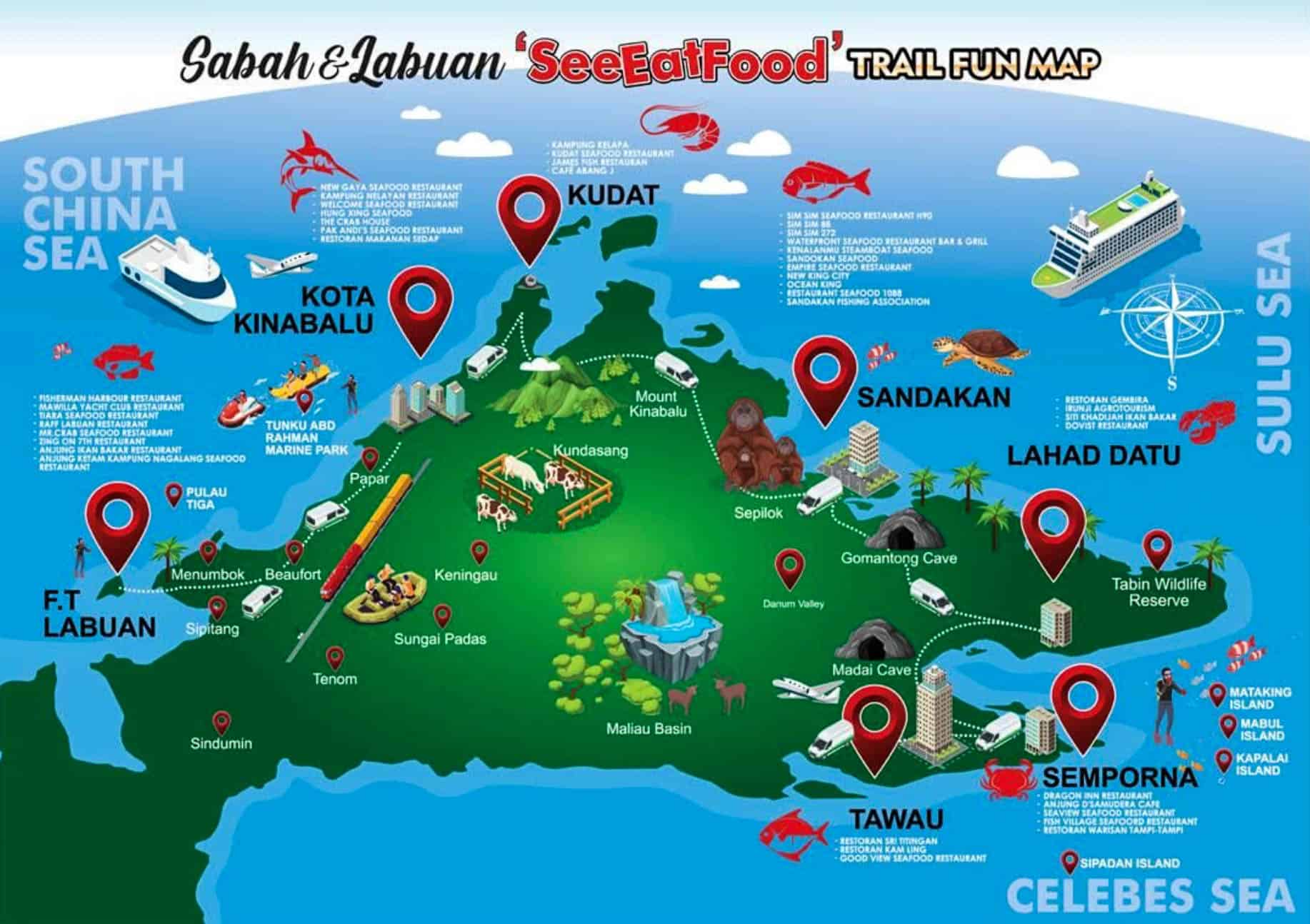 Officially named the Sabah & Labuan 'SeeEatFood' Trail Fun Map, the initiative is one of Tourism Malaysia's efforts to attract tourists to Sabah and Labuan. Both destinations are known as a seafood paradise due to their geographical advantage of being surrounded by the waters of the South China, Sulawesi and Sulu Seas. This also makes fresh seafood available at cheaper prices across the board. Eating your way through Sabah and Labuan couldn't get any easier!
The brochure also lists two recommended dishes for each restaurant. This will definitely come in handy when the abundance of mouthwatering menu selections are presented to you.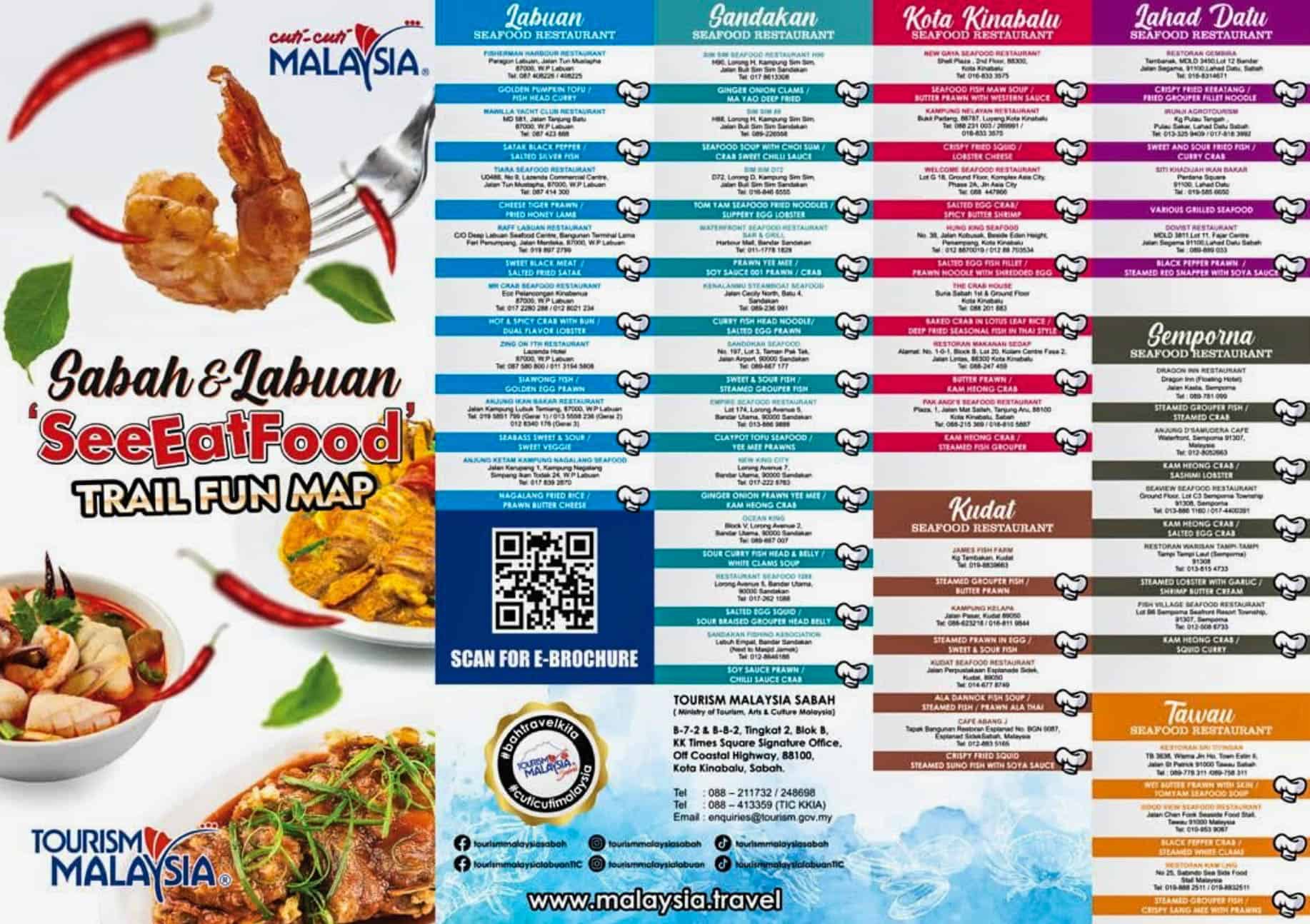 On my recent return trip to recent trip to Sandakan, Sabah, I was fortunate to try two of the listed restaurants; the Empire Seafood Restaurant and Kenalanmu Steamboat Seafood Restaurant, and all I can say is wow! I would never in a million years expected the quality of the seafood I ate based on my occasional, misaligned visual criteria of restaurant ambiance. But I'm slowly learning.
Fading building paint or dimly lit parking lots usually have nothing to do with what comes out of the kitchens of Malaysia. In fact, older buildings or creative floor plans, usually prove that the restaurant or local eatery has stood the test of time and is well-rooted in the community as a local favorite. Favorite restaurants that groups and families gravitate towards for special get togethers. Favorite restaurants that caught the attention of Tourism Malaysia and made the list.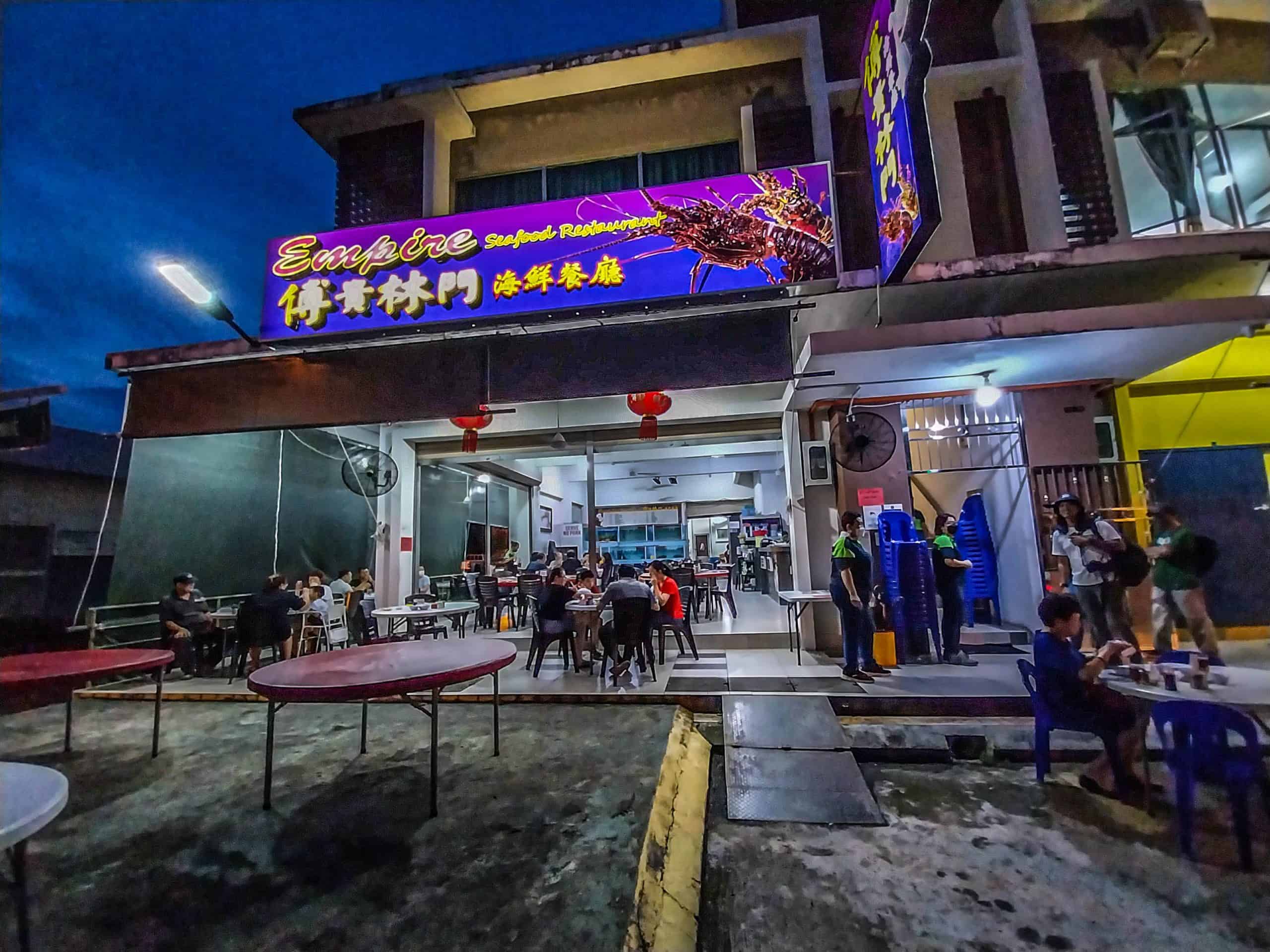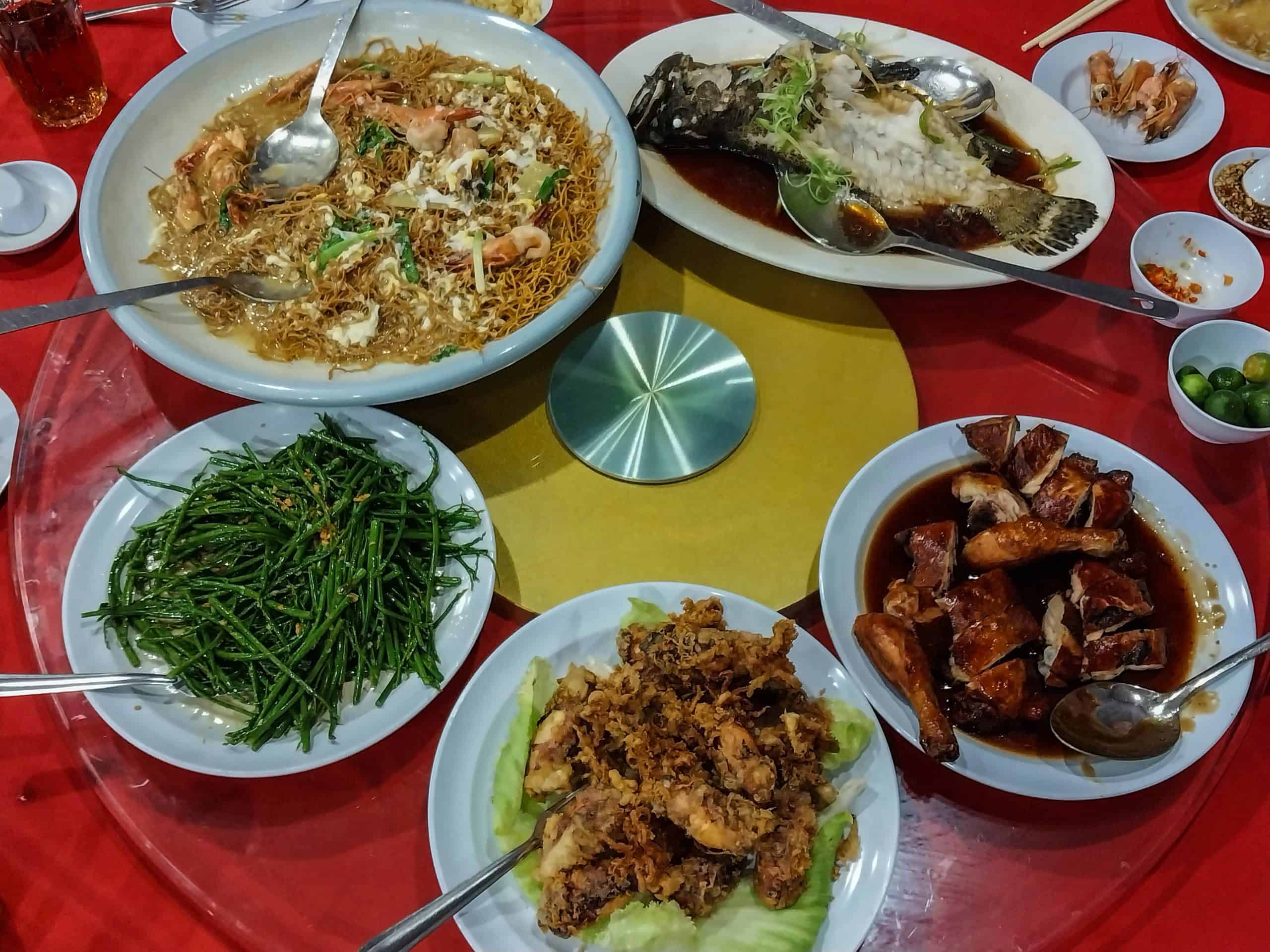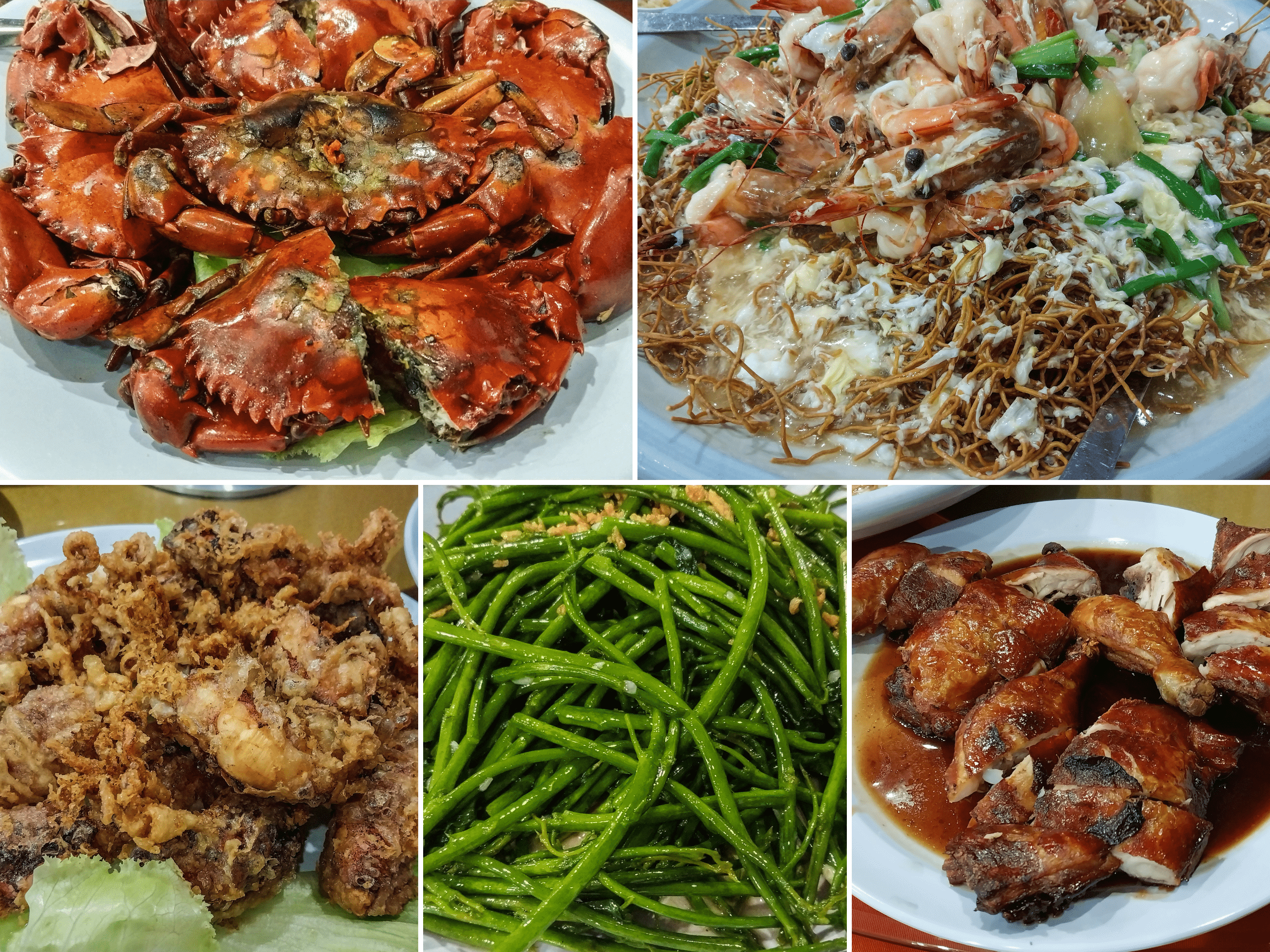 Such is the case with the Empire Seafood Restaurant and Kenalanmu Steamboat Seafood Restaurant. Their seafood is so fresh that it tastes like it came straight from the boat. Perfect presentation and no skimping on serving sizes. In addition to that, their staff treat guests like family, by bending over backwards to make them feel welcome. Now, I don't know about you, but I'm a big fan of delicious food and great customer service.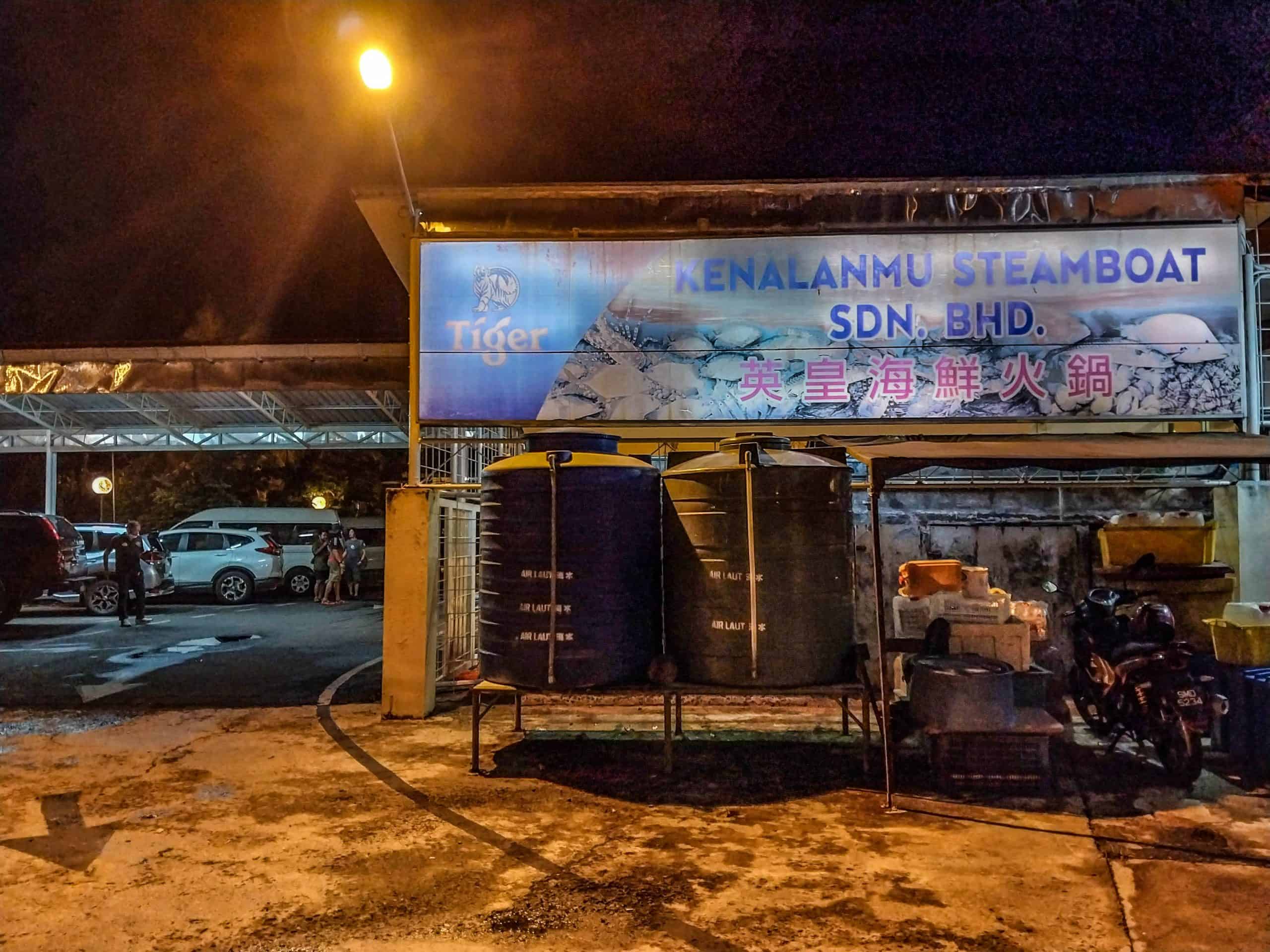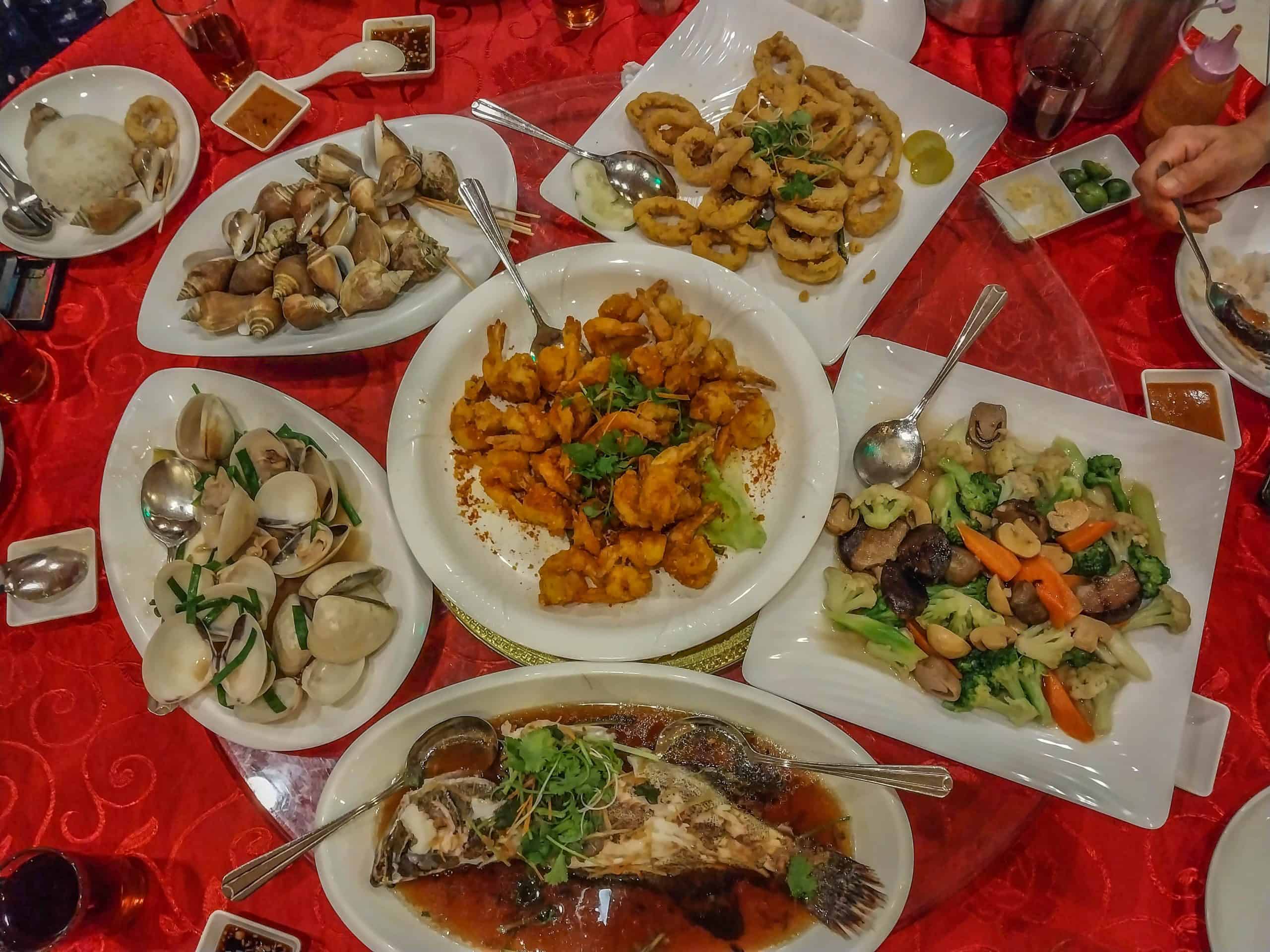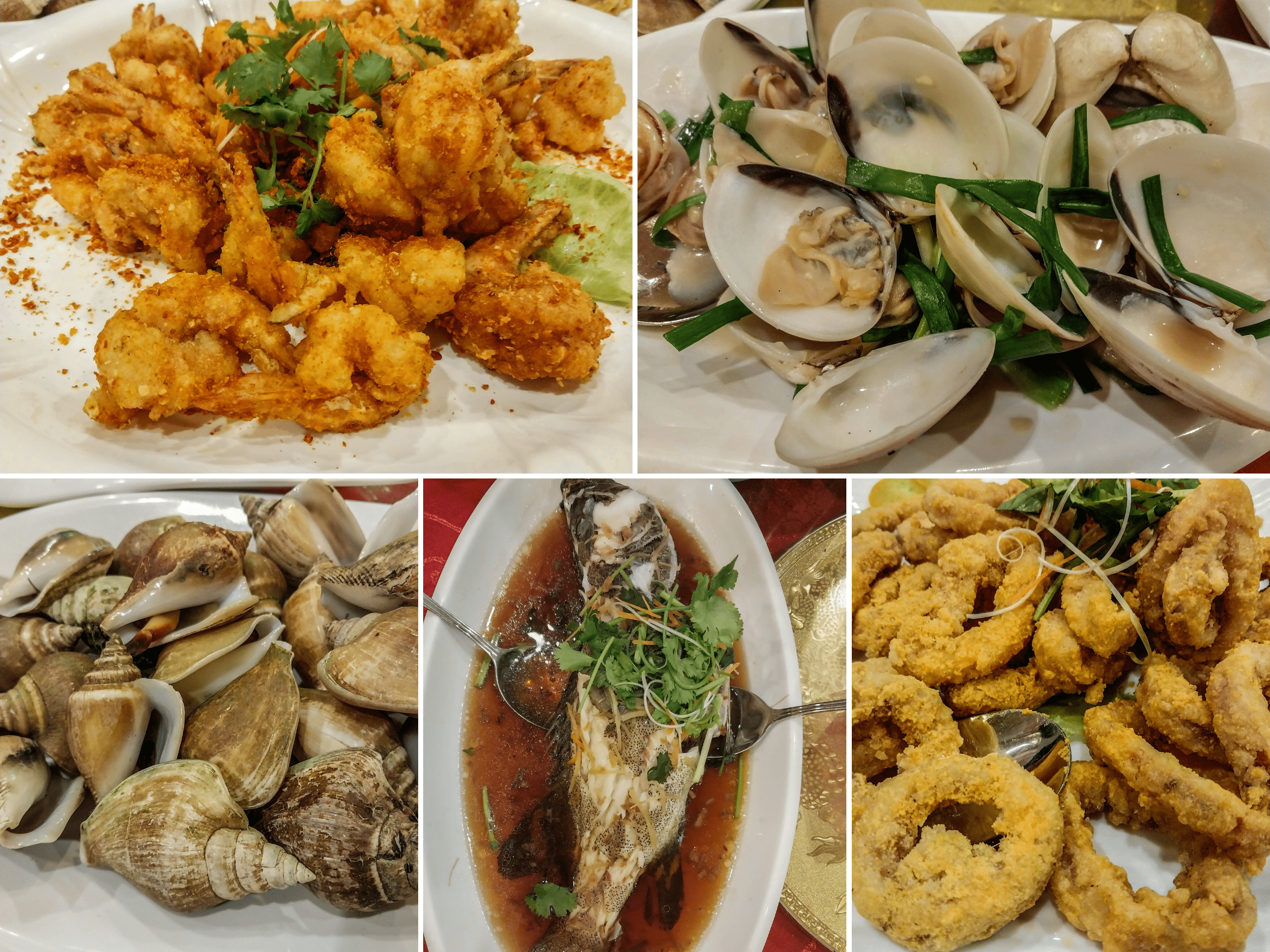 Look at those selections, amazing right? Imagine what the other 40 are like! So many dishes, so little time, but I'm looking forward to eating my way through the best seafood restaurants in Sabah and Labuan no matter how long it takes.
Ready to start meal planning for your upcoming trip to Sabah or Labuan? Download your own copy of the 'SeeEatFood' Trail Fun Map and get instant access to those 42 Top Seafood Restaurants in Sabah & Labuan today. Bon Appetit!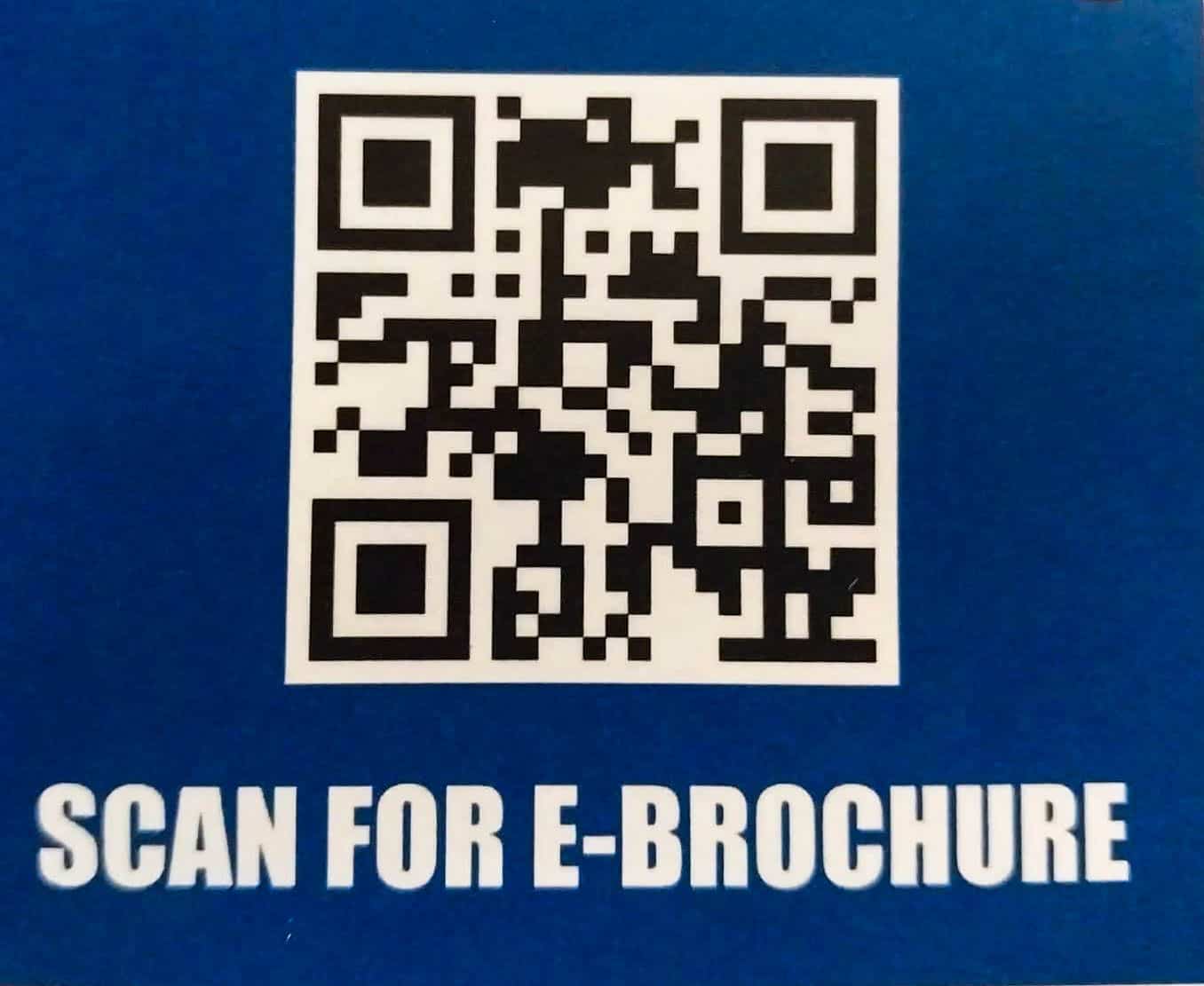 For more information about Tourism Malaysia Sabah's 'SeeEatFood' Trail Fun Map and their fabulous list of 42 top seafood restaurants in Sabah and Labuan, visit their website at www.malaysia.travel or their Facebook Page at  Tourism Malaysian Sabah . You can also get information at the Tourism Information Center at the Kota Kinabalu International Airport.