Entering the lobby of the Hanoi Graceful Hotel  the din from the surrounding city streets diminishes to library-esque quiet. The hotel's entrance is nothing short of charming, with the large glass front looking rather elegant against the mahogany-colored wooden pillars. The Hanoi Graceful Hotel sign glimmers in reflective gold accents while the entryway is guarded by two iconic stone lions. For arriving guests an attentive doorman will have the door opened so fast that you may wonder if it's automated.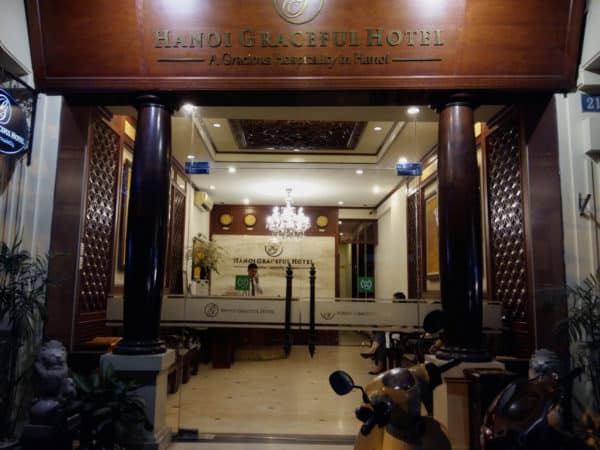 Guests of the Hanoi Graceful are ushered in and immediately given a warm welcome. Luggage is whisked away and a cold juice beverage suddenly appears in front of you as if by magic. Check in is swift and efficient. Even if the front desk staff is tending to another guest, eye contact and a smile will be offered as acknowledgement. If your room is not quite ready yet, the hotel staff will do their utmost to expedite things.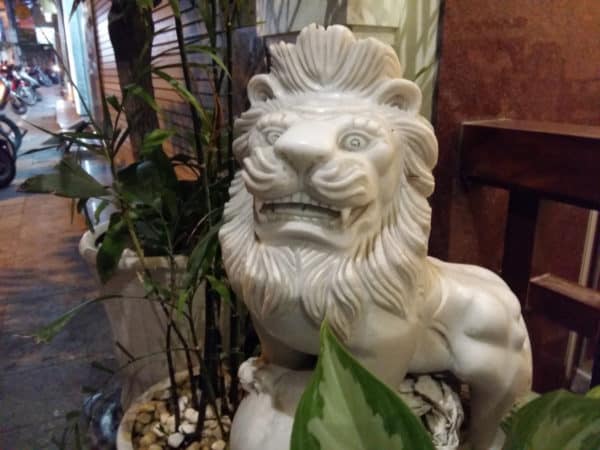 But wait!
This isn't just another hotel review. I also have a story to tell. And it begins with…
Once upon a time…
About four or five years ago I actually stayed in this same hotel. It had a different name at the time. I also had a very different hotel experience. What had started out as just an ok room for a few days, quickly became an encounter with staff who showed annoyance with me to the point of being cold and rude. In fact, the smiles disappeared as soon as I turned down 'tour options'. At any rate, I vented my unhappiness on Trip Advisor. That's not something I do very often either.
Low and behold, about a year later I get an email from that hotel's new manager. He invited me back to visit under the new management team. Even for a few years after that and periodic hellos he continued to invite me back, and he had also explained that my review had hurt their rankings. I can tell you that I felt like quite a schmuck but at the time there was nothing I could do.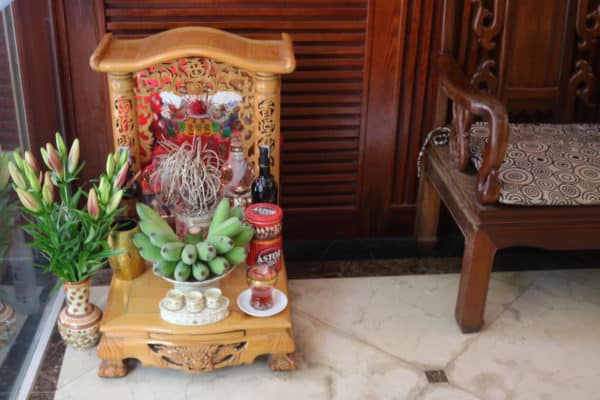 Fast forward to the year 2016 and I was looking at a return trip to Hanoi. Guess who I contacted immediately? Yup. The young man, whose name is Mr. Lee, was barely 24 years of age when he first contacted me and incredibly is still the manager of the hotel. And now we would have not only a chance to meet in person, but I would finally have an opportunity to see his 'new' hotel. In fact, the new hotel was renamed Hanoi Graceful Hotel.
Is this an infomercial? No. I was astonished at the change in the hotel. It has new life. It feels loved. Professional yet very personable staff, with the friendliest of smiles, greeted me when I arrived. But in addition to finally meeting the inspiring Mr. Lee in person, the 2015 Trip Advisor 'WINNER' Award was on display. And as hokey as it sounds, I couldn't help but smile with pride. As if Mr. Lee was my own flesh and blood. Never have I encountered such diligence, especially in someone so young. 'Winner' indeed.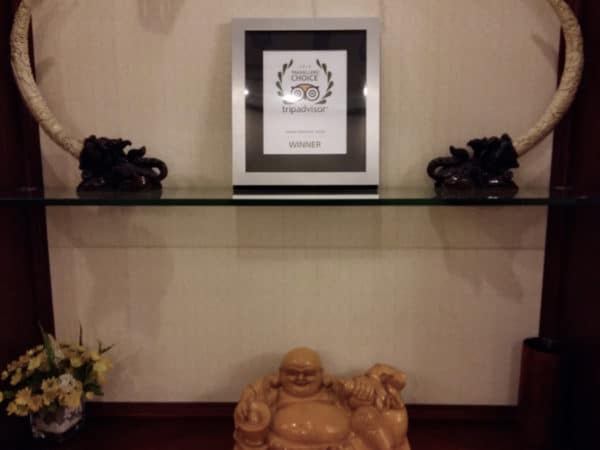 So what was my room like at the new Hanoi Graceful Hotel?
I actually stayed twice during my recent visit to Hanoi. My first room was a standard room with a small private balcony and a street view. The décor of white walls against wooden flooring and trim, with traditional art work and silk tapestries, gave the room an exotic, luxurious feel.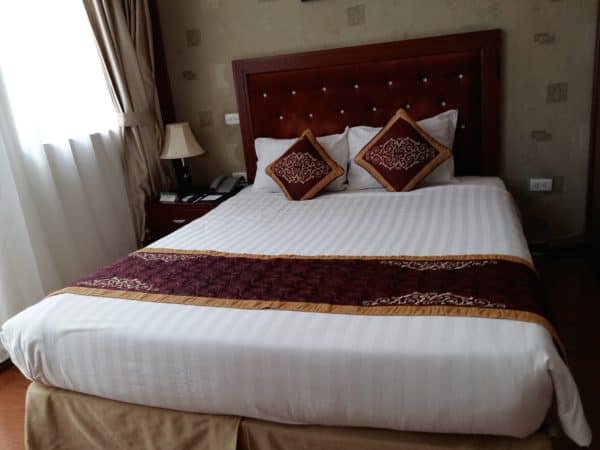 There was plenty of floor space, a sizable bed with high quality pillows and mattress, large armoire, flat screen TV, fast WiFi and a desk and work space. The stocked mini-bar and coffee and tea making set rounded out the perfect accommodation for me. Although the street was just below the room, the room itself was quiet due to the double paned glass doors. The marble bathroom was an added touch of luxury with a powerful hot-water shower and modern fixtures.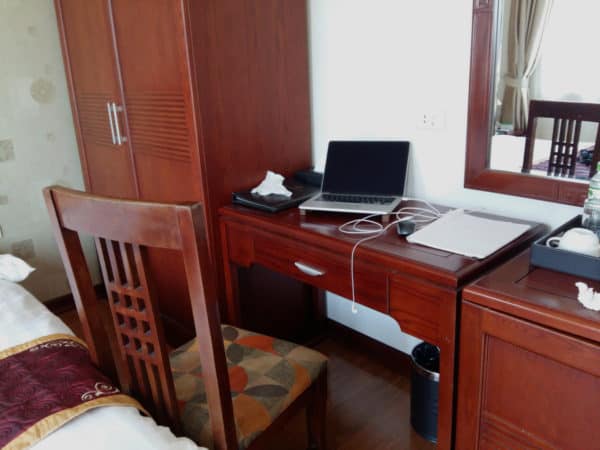 My second room was a surprise upgrade to the executive suite. It actually looked nearly identical to my standard room, but with a few extra perks. More floor space and a tub style shower were welcome additions. But the best part? A private rooftop balcony with an amazing city and sunset view. In the early morning I could even hear the cacophony of tropical birds echoing across the slightly mist-laden city.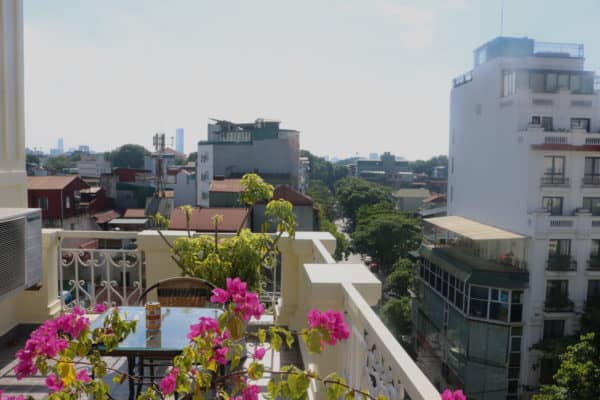 Amenities and then some
Amenities-wise the Hanoi Graceful Hotel includes a lovely breakfast buffet and daily bottled drinking water for their guests. They can also arrange transportation to and from the airport or various sightseeing venues. This is a bonus, because the taxi initiation, which newbies to Hanoi will get, can leave one exhausted as well as frustrated. Local sightseeing tours can also be arraigned with reputable companies and tour guides.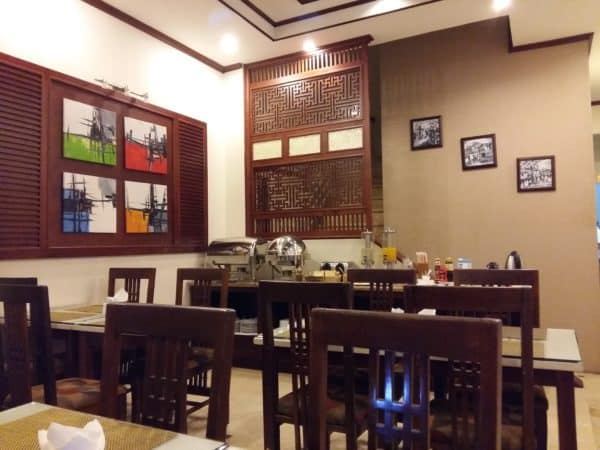 Location, location, location
Although the Hanoi Graceful has its own small restaurant on site, you will also find plenty of places to eat just outside the hotel's convenient Old Quarter location. From casual local eateries to less traditional western-style establishments. ATM's, money changers and various sundry shops are all within walking distance too. Being just 2 km from the Botanical Gardens, Ho Chi Minh Mausoleum, the Temple of Literature and the One Pillar Pagoda, sightseeing on your own schedule is easily managed as well. The Hanoi Graceful Hotel is definitely a perfect accommodation choice for visitors to Hanoi and it really is a winner. I think you'll love it as much as I do. You can check their room rates and availability HERE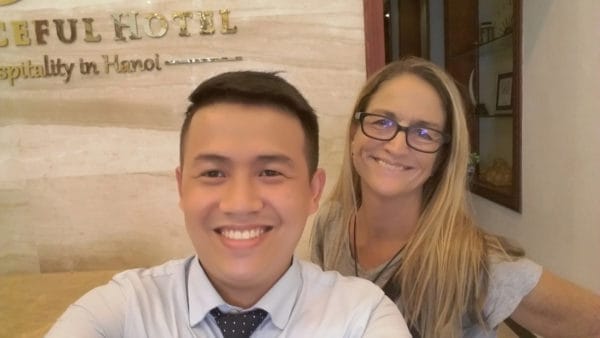 Hanoi Graceful Hotel
21 Hang Phen – Hoan Kiem – Hanoi – VietNam.
Tel: ++84 4 39233398 or ++84 4 39233397/ Fax: ++84 4 39233396
Email: [email protected]
Website: http://hanoigracefulhotel.com