Penang is one of those 'Where do I begin?' kind of places. With an absolutely endless selection of possible things-to-do available, it could easily take a month or more to explore all of Penang's fascinating nooks and crannies. George Town alone is enough to keep the average sightseer hopping, that's for sure. Especially for history buffs. Informative guided tours can certainly help anyone with limited time to get the most from their visit to the historic city. George Town World Heritage Inc. (GTWHI) is the designated gatekeeper of historic George Town and and one way they promote their city is by offering walking tours which highlight Penang traditional trades and heritage.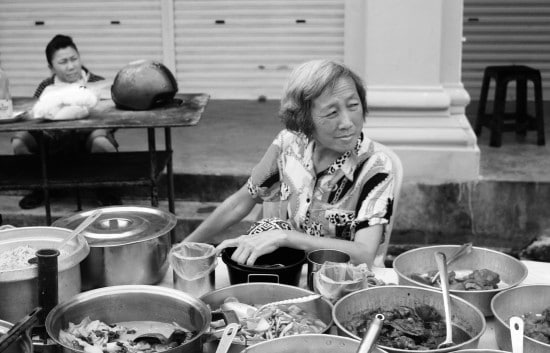 I had had the Traditional Trades Discovery Walk on my radar since GTWHI first started offering it, but it was only recently that one of my trips to Penang timed perfectly with the once a month guided tour. The Discovery Walk is a 2-hour walking tour through various hot spots throughout George Town. From Campbell Street to Jalan Masjid Kapitan Keling to Queen Street and Market Street to Beach Street and on to Armenia Street. It's an eye opening look at traditional trades that are still very much alive in the George Town of today.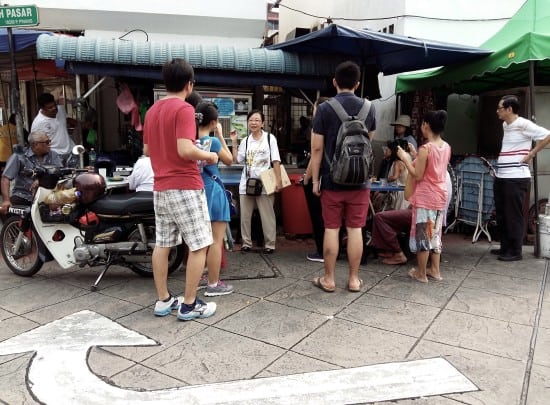 With tour group sizes kept to a manageable 10-20 person limit, our small group was able to visit quite a few places in two hours and our tireless guide took full advantage of every minute! I had fully intended to take great notes and amazing photos but this incredible whirlwind tour had my brain saturated within minutes. But in a good way! So here is a glimpse (and I do mean glimpse) of just a few of the many things we saw along the way.
The Lively Campbell Street Market:
There are markets and then there's the cornucopia of the Campbell Street Market. Honestly, who needs a supermarket when you can pick up fresh produce in such abundance? Everything from fresh fruit to as-you-like-it chicken chop and freshly made fish balls, all the while as cars and motorbikes zip past. Makeshift tables dot the street's busy edge, but there's plenty of room for shoppers (and tourists) to check out the weekly offerings.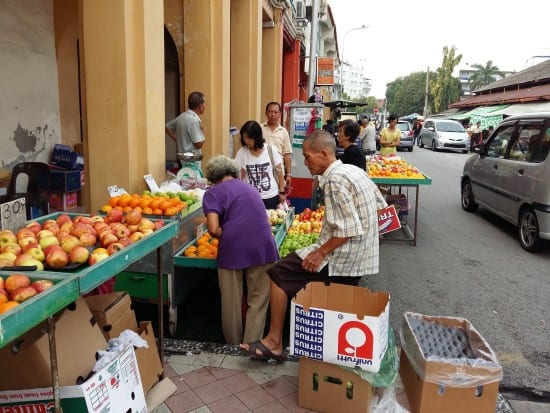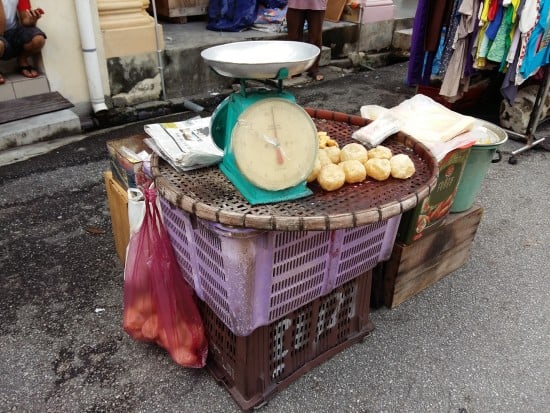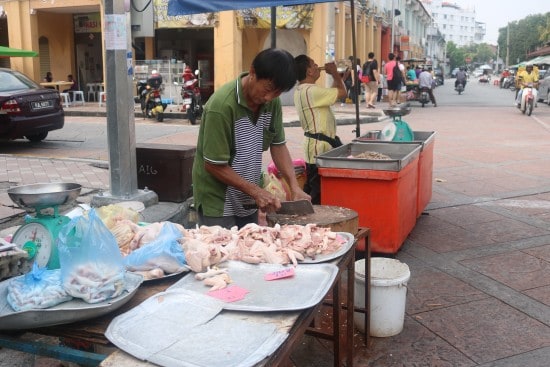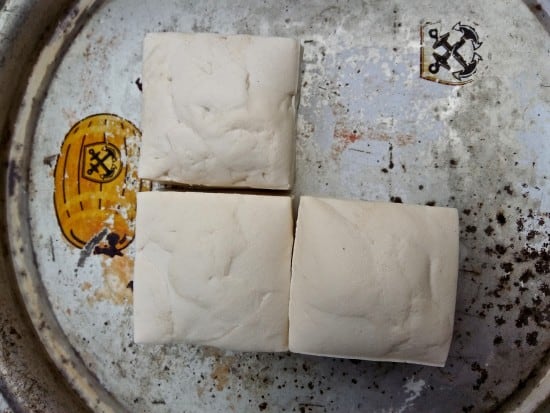 To see fish balls being made may not be high on your bucket list, but to be honest I thought they were made the same way as meat balls, but using ground fish. This vendor, however, meticulously scooped out fresh fish using a spoon to create balls from different types of fish. One of the make or break flavorful ingredients of Penang specialty dishes too!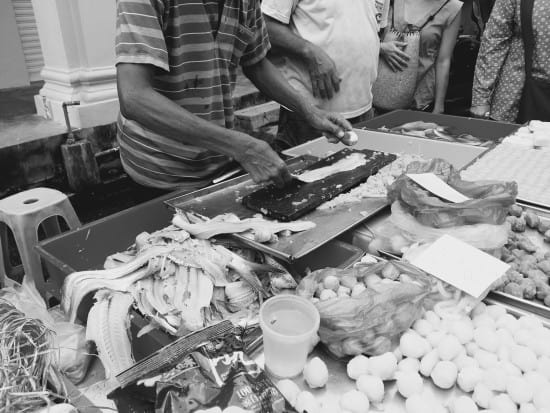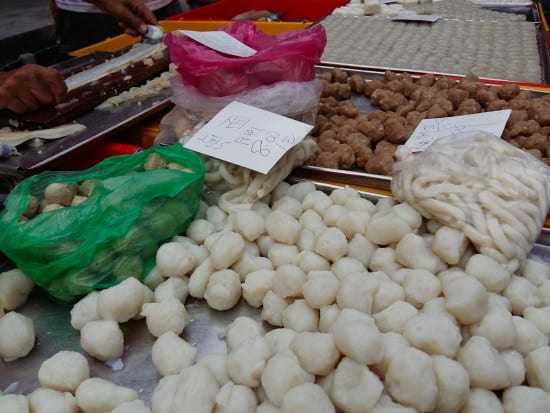 Wooden Signboards and Rattan:
Wooden signboards are quite popular in George Town, with wood carving skills still very much in demand. Our visit to the Sung Dynasty Wood Carving shop, at 77 Lebuh Carnarvon, gave us an opportunity to observe the delicate process of wooden sign board making. Owner, Mr. Lee Chee Cheng and his team of artisans also carve ancestral tablets and Chinese deities. Traditionally, Chinese sign boards are hung over front doors with a company name or 'auspicious couplet' (or verse) and family surnames intricately displayed.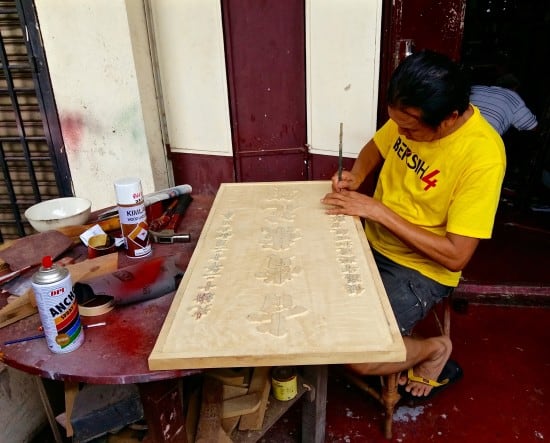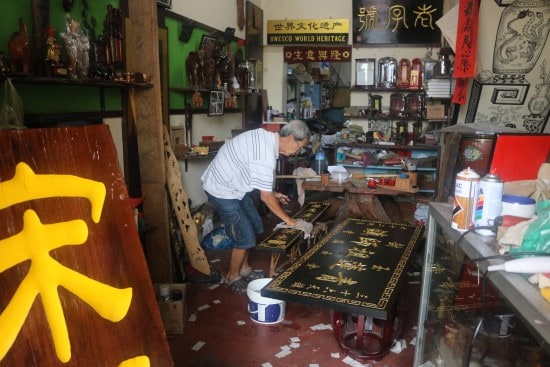 I've often heard about these mysterious people who repair those treasured rattan chairs, but I've never seen one in person. I have however seen many a rattan chair perched in dumpsters, likely for lack of an available skilled rattan weaver. Meet veteran rattan weaver, Mr. Sim Buck Teik of Seang Hin Leong, at 393 Lebuh Pantai in George Town. He is a second generation rattan weaver artisan who learned his unique craft from his father, back in his home district of  Teochew, China. Now considered a 'Living Heritage Treasure of Penang', we were fortunate to get a glimpse of this quiet craftsman working his rattan magic.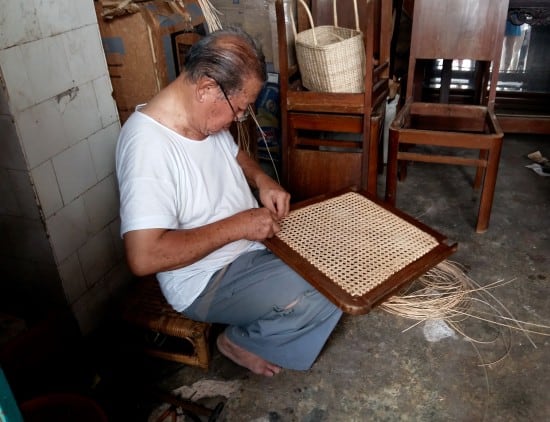 Money-changing and Spices:
Apparently money-changing is a highly competitive business, with about 70 licensed operations in George Town alone. But talk about tradition, many of them have roots from the same village in India. One of the leading money changers is M.S.K.M. Mohamed Haniffa Forex, at 59 Jalan Masjid, they not only change money but also deal in antique coins and notes.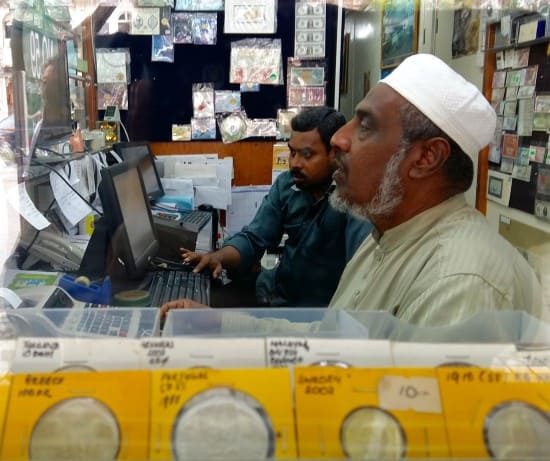 The legacy of Penang's spice trade is alive and well along Lebuh Pasar and their presence is impossible to miss. Even non-cooks (like me) can appreciate the magical aromas that radiate from the premises, as fresh spices, from around the world, are available. Syarika Tabdul Ghaffar Trading, located at 29 Lebuh Pasar, also sell plenty of other tasty treats, such as imported honey and baked goods.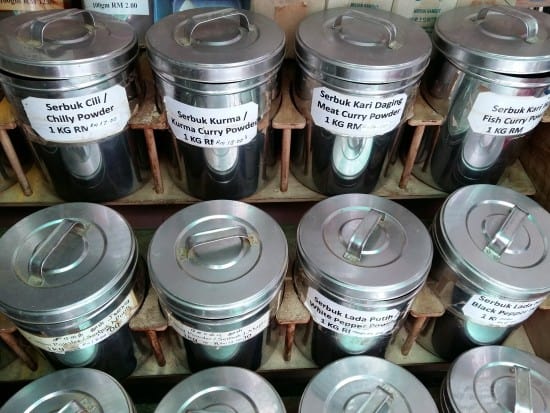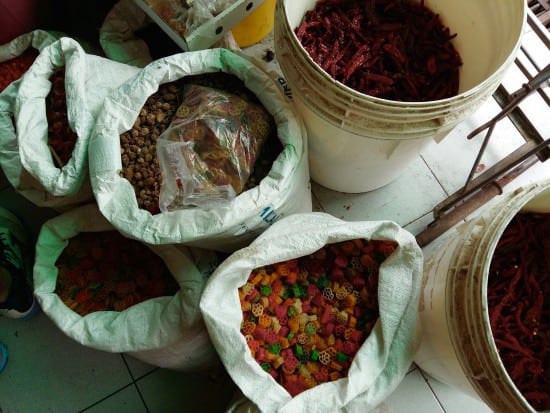 Special Samosas and more:
We passed quite a few food stalls during our Discovery Walk, but the eye catching Penang Special Samosa, at 45 Lebuh Queen, really catches your eye! They have a massive variety of samosas and other Indian specialities on display and their popular (and famous) open-air stall gets plenty of hungry foot traffic.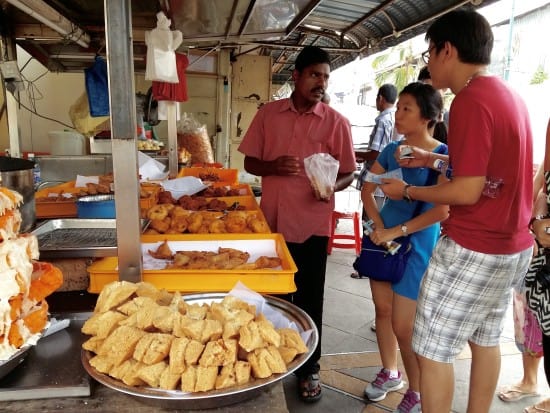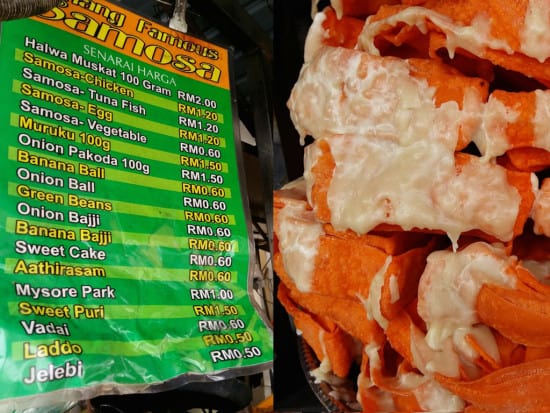 The sweet fragrances of garlands and perfumes:
Most visitors to Southeast Asia have seen those beautiful flowered garlands for sale, but as tempting as they are to buy, they are definitely not to be confused with Hawaiian style leis. Originally brought to Penang by Indian immigrants, floral garlands are an intrinsic part of Hinduism and offered at Hindu temples, shrines and household alters. However they are worn 'lei' style for special ceremonies. We visited the garland shop, next to the Goddess of Mercy Temple, on Jalan Masjid Kapitan Keling, as they were sorting and stringing a vast selection of beautiful flowers. The flowers are chosen based on their fragrance and colors and include marigolds, jasmine and roses, to name a few.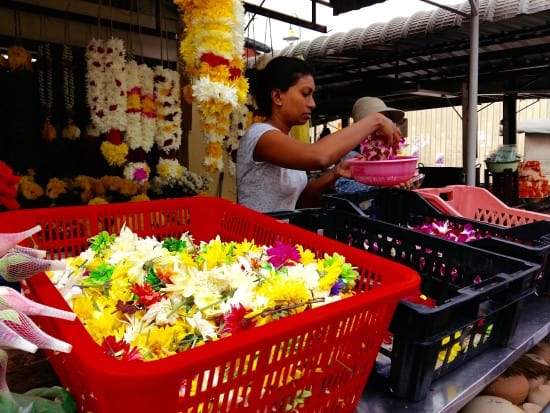 Another incredible trade firmly rooted in George Town is S.M. Badjenid & Son perfumery, at 184-186 Lebuh Pantai. This family owned and operated business was established in 1917! It's also Malaysia's oldest manufacturer, wholesaler and retailer of perfume compounds, essential oils, bakhoor and oudh (agarwood). Their alcohol-free creations are especially popular with Malaysians in the know. You don't need to be a wealthy starlet to have your own signature scent created at Badjenid & Son, you just need to visit George Town!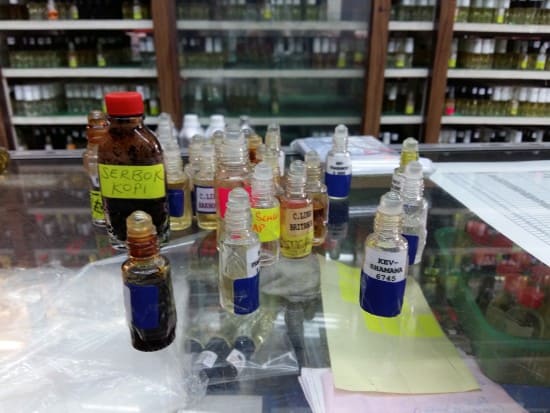 Again, there is so much detailed information shared during the Traditional Trades Discovery Walk, it is well worth taking the tour more than once. To envelop the energy of tradespeople and their various cottage industries is a true Malaysian experience to be savored. I highly recommend this tour for anyone wanting more than just 'sightseeing' George Town, because you will meet some fascinating people and get a real taste of Penang. And if you happen to run into the Busking Uncle of George Town, be sure and grab a tambourine and try your musical hand at busking George Town style!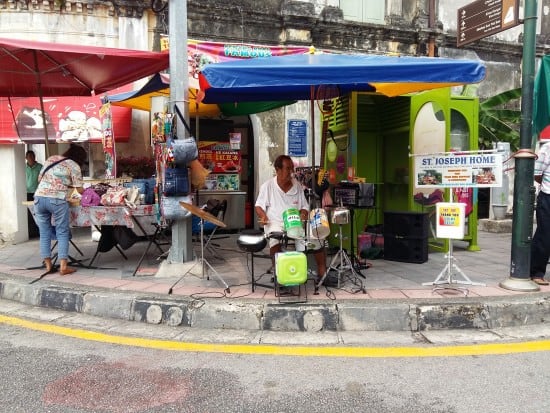 My Tour Tips:
-Wear comfortable shoes (not flip flops like I did)
-Carry water with you, it is not provided by GTWHI
-Bring wet wipes for cleaning post snacking hands (remember those samosas?)
-Carry a reusable bag or two for shopping along the way
If interested in taking a Traditional Trades Discovery Walk or similar local tour, contact George Town World Heritage or check out the local tour options below:

George Town World Heritage Incorporated
116 &118 Lebuh Acheh
T: +604 261 6606
[email protected]
www.gtwhi.com.my