Few people I know visit Singapore for extended periods of time unless they are working or perhaps pet sitting. In fact, when asking about local sights, I often hear, "Oh, I was only there for a few days, I didn't get to see much." I myself have said the same and have the Instagram shots to prove it; the iconic Merlion spewing seawater, the Marina Bay Sand's commanding presence on the horizon and of course Sir Raffles holding court along the river. Pick up a few tourist brochures at the airport and when it comes to things to do in Singapore the choices can be overwhelming. I'd say two weeks in Singapore might be enough time to put a dent in the massive list of Singapore's things-to-do possibilities,  but who has time like that right?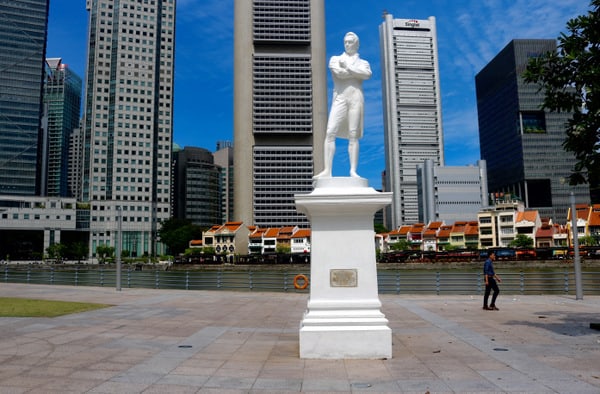 In planning my own future revisit to the Lion City, I decided to reach out to 25 travel bloggers for their top recommendations, based on their own previous travel experiences. Although most were also visiting Singapore on limited time, they have offered up some excellent selections of places to go and things to do in Singapore. If you are heading that way, you will definitely want to keep this list handy.
25 of the Best Things to Do in Singapore
ArtScience Museum
By: Greta Omoboni of Greta's Travels
What To do in Singapore in 12 Hours (Or A Long Flight Layover)
I recently had a long flight layover in Singapore, with a whole 12 hours before my next flight I decided I couldn't just sit around and wait at the airport. So I jumped in a taxi and headed straight for the ArtScience Museum. I had seen a lot of photos and reviews about it online, and as expected it did not disappoint. Ticket prices vary depending if you want to see one or multiple exhibitions, since I was short on time I only visited the Future World one. Here the idea of "where art meets science" is truly brought to life through interactive games and installations.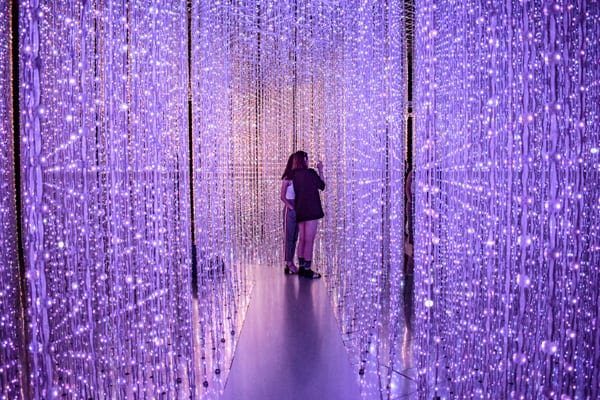 My personal favourite was where you could draw a fish, scan it and it would then get projected on the main wall of the room. The wall was also sensitive to touch, so if you tapped your fish they would all quickly swim away from you, as real fish in an aquarium would respond. Once I got over the fact that the average was around 10 years old, I thoroughly enjoyed my time there, and ended up spending most of my 12 hour layover in the ArtScience Museum. Find out more about spending 12 hours in Singapore
here
.
Buddha Tooth Relic Temple & Museum
By: Erin Tracy of Traveling Thru History

If you're looking for something unique and culturally important to do while in Singapore, be sure to visit the Buddha Tooth Relic Temple & Museum in Chinatown. This beautiful temple and museum was built in 2007 in a Chinese Tang-style design and has a 7,700lb stupa where the tooth relic is housed. The first floor is dedicated to the main temple while the second, third, and fourth floors are dedicated to offices, a museum, and the Sacred Light Hall where the sacred relic resides. The temple and museum is open to visitors 9am-6pm with a free 2-hour guided tour on Saturdays at 2pm.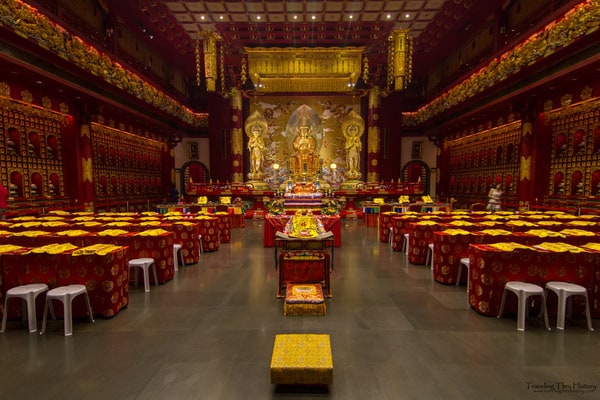 Visiting Changi Village is one of my favorite things to do in Singapore
By: Vanessa Workman (that's me!) of The Island Drum
5 Reasons To Visit Singapore's Changi Village
I discovered Changi Village quite by accident as I had thought the Changi Prison Museum (mentioned on the tourist map) was worth a visit on my way back to Malaysia. Especially since it was near the Changi International Airport where I'd be departing from. I booked a hotel near the waterfront and slowly realized that Changi Village was not some hip new neighborhood development, as its trendy sounding name implies, but a resurrected historic site.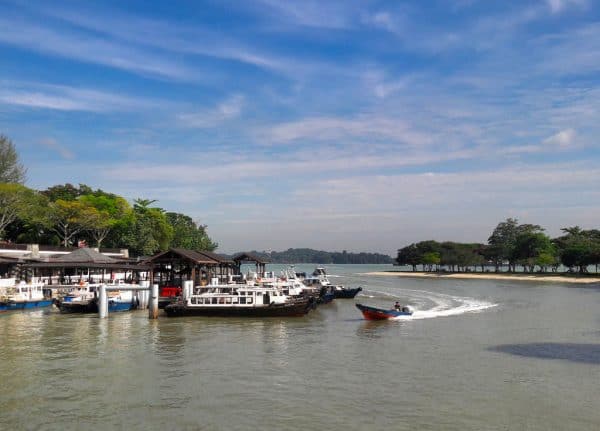 I also soon found out that the Changi Prison Museum was actually the Changi Museum and Chapel and had nothing to do with naughty criminals or murder weapons, but the horrors of World War II. In addition to its historic significance, Changi Village is literally a breath of fresh Singapore air. The picturesque little village is abundant in shade trees and foliage, has a gorgeous 2.2-kilometer walkway along the waterfront and by golly they have a white sand beach as well. If that's not enough, the Changi Village Hawkers Centre has more traditional local food than you can shake a chop stick at.
Clark Quay
By: Raksha Rao of The Roving Heart
Clark Quay(pronounced as Clark Qi) is quite popular for its nightlife. Splashy lights and Karaoke nights by the riverside is hard to pass on. Locals and tourists alike arrive at Clark Quay, especially over the weekend for a fun banter after a long day of moving around and relish themselves by the riverside. It was easy to fathom why this is a favourite spot for tourists and natives alike. But, I'm not quite done yet. Apart from the happening night life, Clark Quay has something to offer the adrenaline junkies to. G-Max Extreme Bungee as the name suggests is extreme and quite adventurous if you are courageous enough to attempt it!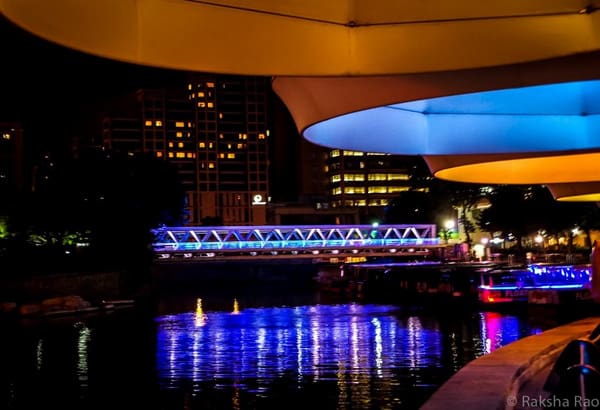 Hawkers Center Food Tour
By: Kristen Furtado of Travels and Treats
Chinatown Singapore Food Tour: Things You Must Eat in Singapore
A great way to get a cultural experience and taste of the local culture in Singapore is to take a food tour through the local hawker centres. The hawker centres in Singapore are where many of Singapore's must-eat items are being served and at very affordable prices. The hawker centres have more food stalls than one person could tackle on their own, so joining a food tour is a great way to experience many of the different local dishes by being able to share servings of food with a small group of travelers.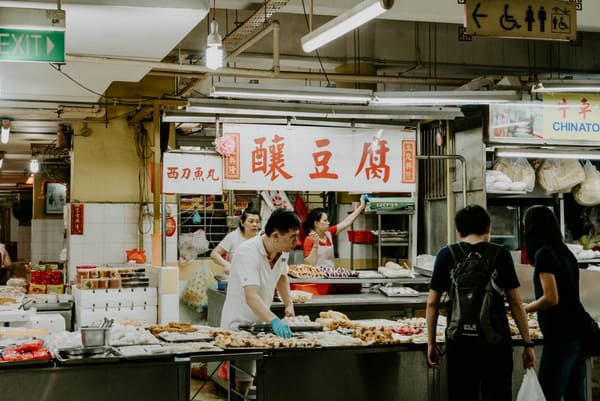 Often the food tour guides are experienced locals who share the historical and cultural context of the food in the area and provide educational value along with the tasting of the food. Some of the most popular hawker centres in Singapore that travelers should visit are Maxwell Road Hawker Centre and Chinatown Complex Food Centre.
Fort Siloso
By: Sarah Carter of A Social Nomad
WWII Singapore- War Tourism in Fortress Singapore
Fort Siloso is located on today's entertainment island of Sentosa and it is free to enter and explore.  It's here that you'll find the history of Fortress Singapore from World War II (WWII).  The island nation was considered impregnable and its fall was a shock to all, not least, the then English Prime Minister, Sir Winston Churchill, who on hearing the news wrote in his memoirs "I put the telephone down. I was thankful to be alone. In all the war I never received a more direct shock."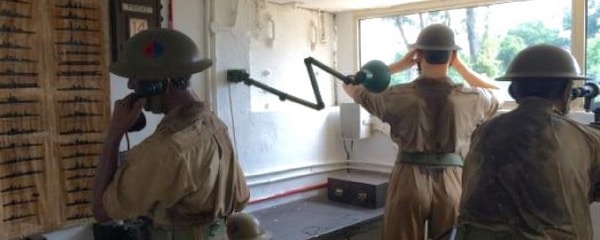 Fort Siloso is easy to reach – walk across the bridge, take the cable car or take the elevated walkway.  The story of Singapore in WWII is told as you walk through a series of WWII era buildings.  There are videos, reasonably realistic dioramas and information boards. As you travel throughout Singapore and South East Asia, it's easy to track the route of war and conflict in the region – Singapore and Fort Siloso is quick and easy was to gain an understanding of what happened here in the 1940's.
Free City Tour from Changi Airport
By: Adam Crimson Hawk of Local Nomads
In most airports an 8 hour layover might feel like a death sentence. But at Changi Airport in Singapore it's an invitation. If you've got at least 8 hours to spare, you can leave the airport for a FREE 2 hour bus/walking tour of Singapore. Register at least an hour in advance for your tour at the information desk in the Terminal 2 or Terminal 3 Transit Area. Tours fill quickly so get there as early as possible. At the time of the tour, a guide will lead your group out through customs. They'll process your passports as a group, then they'll escort you to the bus.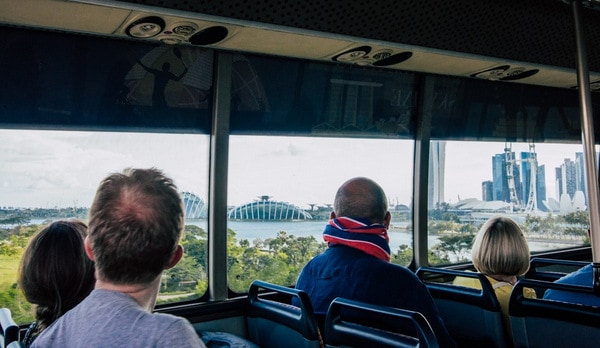 There are 2 different tours to choose from, so check the itineraries to decide which one suits you best. You'll learn a lot of information about Singapore and have the opportunity to see and photograph some of Singapore's most iconic sights including the Marina Bay Sands, Merlion Park, The Esplanade, and the Gardens by the Bay. They'll even let you get off the bus for about 20 minutes to walk around and take photos! After the tour you'll be returned to the airport with at least 2 hours to spare before your flight. Check the Changi Airport website for details.
Gardens by the Bay is at the top for things to do in Singapore
By: Meg Jerrard of Mapping Megan
Singapore is a spectacular city, but one of the most spectacular attractions is Gardens by the Bay. This is a Singapore icon; a massive nature park famous for its grove of enormous supertrees, as well as the Flower Dome – the world's largest glass greenhouse, with an impressive collection of the world's flora.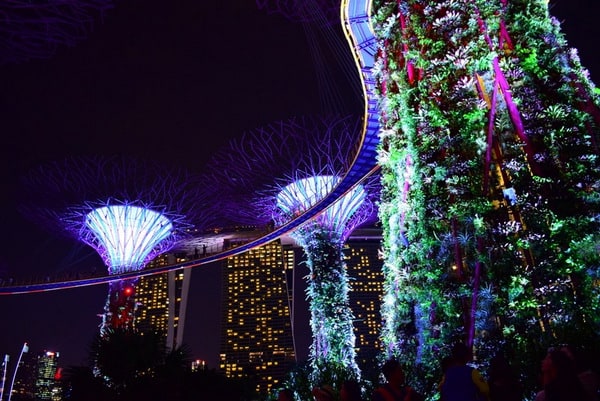 You should visit the gardens during the day, as it's a beautiful botanic garden to walk around and explore. But plan to either stay past sunset, or come back in the evening to catch the Garden Rhapsody light and sound show. The show is free and runs at 7:45 p.m. and 8:45 p.m. daily, and while you may think you're retracing your steps, it's an absolutely magnificent and dazzling sight to see the gardens glow at night.
Haji Lane
By: Shandos Cleaver of Travelnuity

Haji Lane is the hip pocket of Singapore you never knew existed. Just a few blocks away from the modern high-rises of Suntec City and Millenia Walk, it's a small street of two-story shopfronts largely saved from the past. Inside of them are now a beguiling array of cute boutiques (think local design wares and vintage-style fashion), alongside a plethora of cafes and bars. Whether it's an evening cocktail, a selfie coffee or great burgers you want, there's plenty to choose from. And everywhere you look is colour, whether the rainbow hues of the shopfronts or the fantastic pieces of street art that pepper the walls and the surrounding laneways.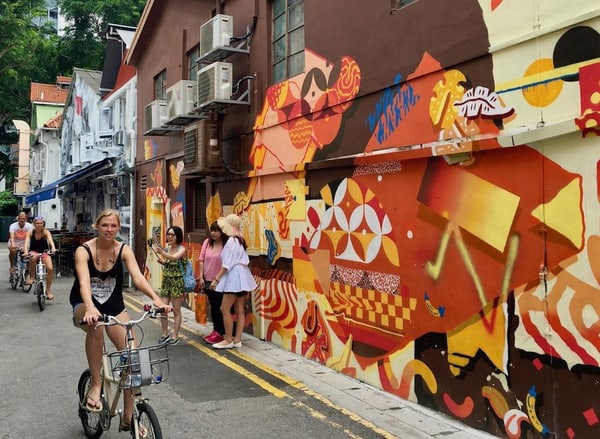 Haw Par Villa
By: Josie Kelsh of Josie Wanders
Haw Par Villa, Singapore's First Theme Park
Haw Par Villa is described as a theme park, but you won't find any roller coasters, overpriced food or souvenir shops here. It was built back in 1937 as a private garden by brothers Aw Boon Haw and Aw Boon Par, better known as the inventors and sellers of Tiger Balm. It consists of dioramas and displays dedicated to Chinese mythology and morality.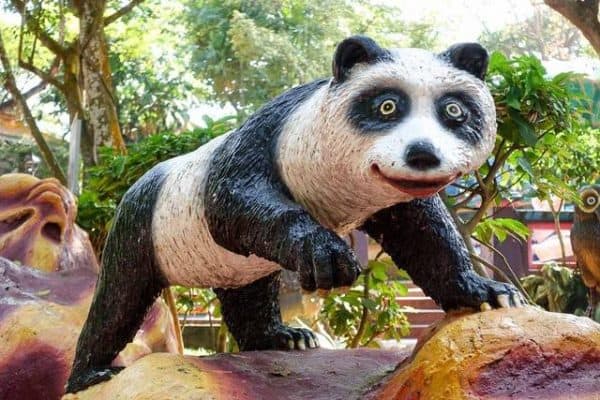 Most of the displays are macabre, quirky or just plain weird. One of the most memorable is the "Ten Courts of Hell" which shows in gory detail what will happen to you in the afterlife if you do not live a good life. Tomb robbers, for example, will be tied to a red hot copper pillar and grilled! Another sequence of dioramas shows the story of the monkey king, or as we are more familiar with, the story behind the cult "Monkey Magic" television series. There are also numerous animals, gods and even the memorials to the Aw Boon family members. Admission to Haw Par Villa is free, and it has it's own Haw Par Villa MRT stop on the yellow line, so it's perfect for even the budget traveller.
Hiking Bukit Timah Reserve
By: Karen Alexis of WanderlustingK
Insider's Guide to Singapore on a Budget
Bukit Timah is such a fun hike in Singapore. Although people don't expect nature in Singapore, this steep trail takes you into rainforest where wild monkeys live. It's quite humid and hot, but it's amazing to cross the street from a hawker center to arrive at one of the best preserved forests in Singapore. It's perfect for a day out although bring enough mosquito repellent as the mosquitos will eat you alive here. The trail is mostly made of wooden steps and can be a bit slippery in the rain, so check the weather before going to Bukit Timah!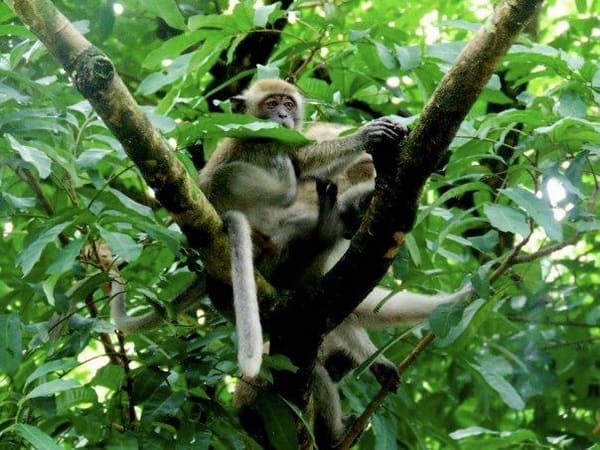 Jurong Bird Park
By: Anjali Chawla of Travel Melodies
Jurong Bird Park is a must-visit if you are a bird lover or if you are visiting with kids for that matter. This fun place is sure to trigger a joy! Jurong Bird Park is the best and the largest bird park in Asia (reason enough to visit?) The parkland has almost every species of birds you could ever imagine; even the endangered ones. To add to it there are iconic, and interactive bird shows that will bedazzle everyone especially the kids.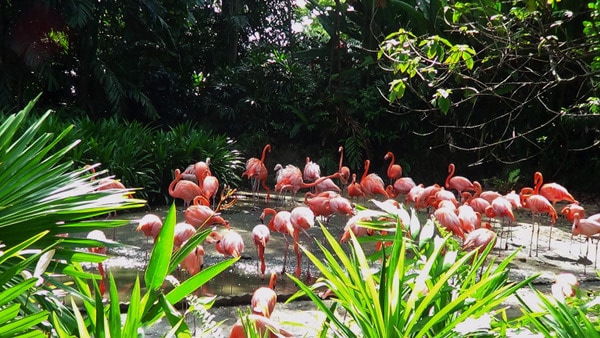 The park is huge, so if walking isn't your cup of tea you can hop on a buggy to take a bird's eye tour. We opted to stroll through the park at our own pace and loved spending time with colorful creatures of flight. You can even feed the birds; do camping inside the aviary or visit the Breeding and Research centre to meet the newly hatched residents of the park. Some of the cool shows include The Kings of the Skies, High Flyers Show and Lunch with Parrots (Yes, you can even dine with the feathered friends!) The attractions not be missed include Penguin Coast, Waterfall Aviary, Pelican Cove, Lory Flight Aviary, and Flamingo Lake. While my daughter loved the Birdz of Play, our favorite moment was feeding the colorful cockatoos and Lorries at the Lory Loft.
Kranji Mangroves and Farms
By: Nicholas Lim of Rambling Feet
5 Bizarre Foods You Can Find in Singapore
While you need to go out of your way to find farms in Singapore, those in the Kranji countryside do their best to make the journey rewarding. A shuttle bus service connects them to the Kranji MRT station and the Sungei Buloh Wetland Reserve, where you can spot migratory birds, mudskippers and even crocodiles from the boardwalk.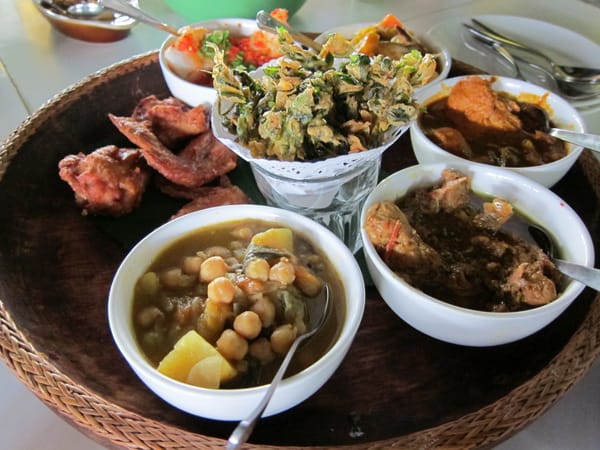 From the village garden charm of Bollywood Veggies to the unusual produce at Jurong Frog Farm and Hay Dairies (think goat's milk and desserts made from bullfrogs), you will experience what the visitors who don't venture beyond the city and the zoos miss out on. These farms also serve up local delicacies in on-site bistros and that's as farm-to-table as it gets in this country. Sadly, the government has other plans for the area in the near future and the future of these farms is up in the air. Visit them while you can.
Kusu Island
By: Erin Tippins of Standby Sojourners
Every year during the ninth lunar month, thousands of devotees flock to a tiny reef outcrop less than 6 km from the mainland of Singapore to seek prosperity, health and peace. The island is named Kusu, the word for "tortoise" in a local Chinese dialect. Legend has it that the island was formed when a giant tortoise stranded himself on the reef to save two sailors, a Chinese and a Malay. Though it is only 8.5 hectares, Kusu Island is now home to three Malay kramats, a popular Chinese temple, and a tortoise sanctuary, in homage to the legend.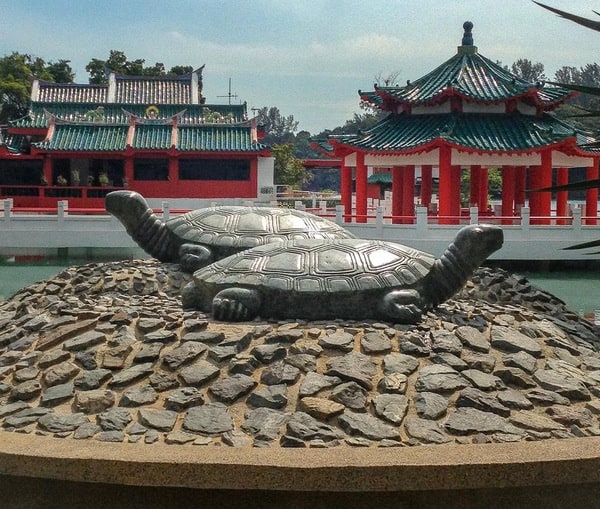 Even if you aren't a pilgrim, you can enjoy a quiet day lounging on the small sand beach or picnicking under the shade of swaying palm trees on Kusu, a bit of a respite from the glitz and hustle of the city. Singapore Island Cruise runs a ferry from the Marina South Pier to Kusu, stopping along the way at Saint John Island. Holiday bungalows are available on Saint John, for travelers who really want to get away from it all.
Little India
By: Cindy Collins of Free Two Roam
The 8 Most Colorful Places In Singapore
Our favourite thing to do in Singapore is to wander around the streets of Little India. This bustling area is the centre of the Indian community in Singapore. It's home to colourful shopfronts and local markets, selling vibrant fabrics, flower garlands, traditional saris and much more. As you browse the shops, the aroma of raw spices and curries will tempt you into trying some delicious Indian food. Try a dosa or a chicken Biryani. They're so tasty!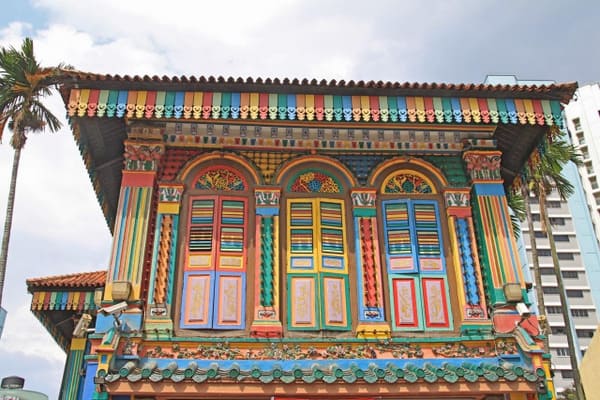 Then walk down Serangoon Road and its neighbouring streets. Here you can explore the mix of Hindu and Chinese temples and learn more about their culture and traditions. All this, while Bollywood music plays in the background!
MacRitchie Reservoir
By: Cal Andrew of Singapore N Beyond
Nearest forests to escape to in and around Singapore for a hike
Underneath its metropolis façade, Singapore has some fantastic spots to escape to that are filled with lush greenery. One of those places is MacRitchie Reservoir, slap bang in the middle of the Red Dot. It's a favourite for locals looking to get away from the city fumes, as it is lined with leafy trail runs which, at times, will make you feel as if you're in the Malaysian jungle (monkeys included!). The 11km walking trail that circumnavigates the reservoir is my personal favourite spot to go for an early morning or late afternoon jog for some tranquility among nature.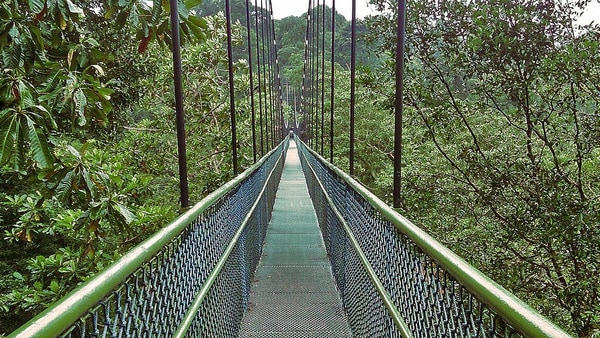 There are easier trails that begin at 3kms, though. More information on the route options here. Make your way to the massive reservoir, where you can rent a kayak (cash only) from the Paddle Lodge, about a five-minute walk from the MacRitchie Reservoir bus stop. A favourite activity is the treetop walk where you will be amazed by the epic views above the trees. Take water with you as once you start on the path, it may be a while before you come across a store.
MegaZip Zipline
By: Helena Kreis of Through An Aussie's Eyes

The MegaZip over Sentosa is an adventure that you can't miss! This zip line is 75 metres high, 450 metres long and gets up to the epic speed of 60kph. You sign up at reception on Sentosa Beach and then you jump in a little jeep with your mates and drive all of the way to the top of the island. There are three wires that allow you to race your friends down to the beach at a decent speed. As you hook on to the wire, you have a stunning view all over Sentosa. You feel your adrenalin rising as you zip off down the wire. Make sure you keep your eyes open as you race down to the beach. This zip line really isn't one that you will forget!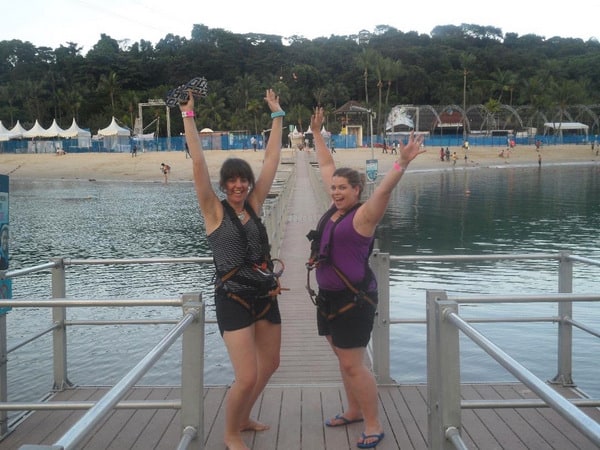 Michelin Hawker Stall
By: Yulia Dyukova of The Foodie Miles
The Time I Ate at the Cheapest Michelin Star Restaurant in the World
If you love exploring new destinations through food as much as I do, then visiting the cheapest Michelin-starred restaurant in the world is a must on your trip to Singapore. Located in China town, Hong Kong Soya Sauce Chicken Rice & Noodle looks like thousands of other unpretentious food stalls, but there's one big difference — in 2016 it was the first street food stall in the world to receive one Michelin star.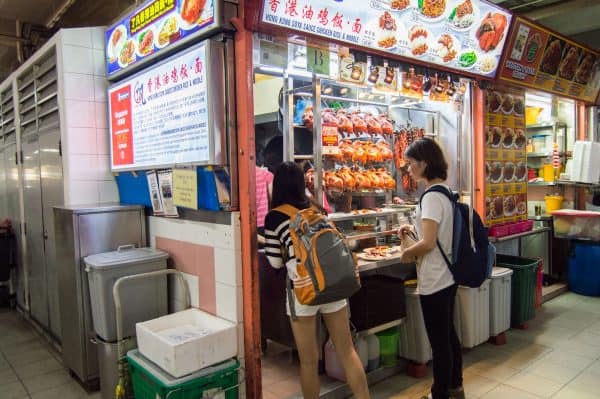 Eating their signature chicken rice, the national dish of Singapore, will set you back USD $1.5. You will probably have to wait in line of other hungry foodies to try it, but the tender poached chicken in soy sauce served on a bed of fragrant white rice is well worth it. The owner of the world-famous food stall has recently opened a new branch, a spacious restaurant just across the road from the first location. The line is a little shorter and the air-conditioned space is more accommodating, but I'd still go to the original location inside hawker center (food court) every time.
National Design Center Singapore
By: Clemons Sehi of Travellers Archive

Singapore's National Design Centre (NDC) is the heart of design and art in this bustling Southeast Asian metropolis. It is located in the Bras Basah-Bugis area, which is also known as the cultural, learning and entertainment district of Singapore. Apart from being a great spot for artists to exchange their ideas, it may also be the place to get some attention from the DesignSingapore Council which sometimes supports and finances great ideas. Above all, it's simply a great spot to chill and get away from big city life. You'll find lots of great shops and restaurants here and can potentially have the best coffee in town at kapok.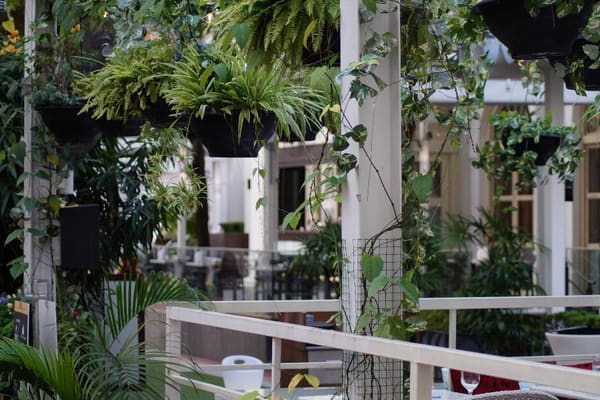 Pulau Ubin (Ubin Island)
By: Singapore blogger, Owen Ter of My Turn To Travel

When people think of Singapore, images of futuristic buildings and colorful supertrees spring into mind. No one would relate the financial center of Asia to nature or a place for relaxation. As a Singaporean, when I want to escape the hustle and bustle of the city life, I take a 15min bumboat ride from Changi Point and immediately be transported back in time.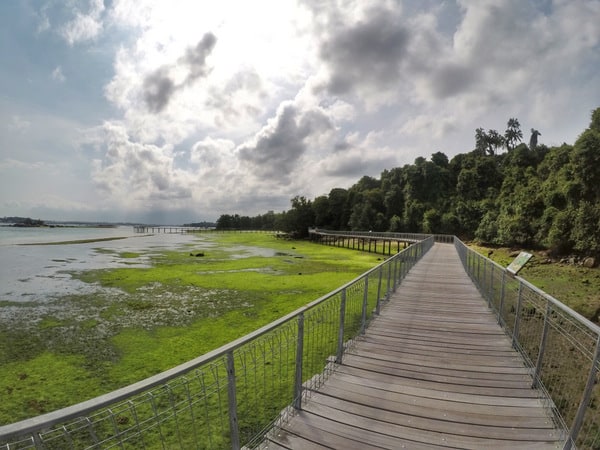 Pulau Ubin is often considered 'the last kampung (village) in Singapore' and being there, all cares are left behind on the mainland. Rent a bike and cycle around the green island, taking in the scents of the forest and spot the monkeys and wild boars roaming the roads. Or stroll along the mangrove boardwalk at Chek Jawa wetlands and get up close with the fruit trees at the Ubin Fruit Orchard. While you're there, take some time to appreciate the old Chinese-styled houses and the traditional music coming from them. These are some of the last few left in Singapore. When you are done, reward yourself with a coconut drink at the stores near the jetty. Pulau Ubin is an ideal day trip for tourists and a quick getaway for residents and expats who need to reconnect with nature.
River Cruise
By: Wendy Maes of World Wide Wendy
48 Hours in Singapore
When you are in Singapore and you have only time for one excursion, I think a river cruise is the right choice.   It's the best way to explore the region around the Singapore river.  There are a few companies that organise cruises.  A cruise takes about 40 minutes . Along the way you will pass some beautiful old bridges,  such as Cavenagh bridge, the oldest suspension bridge in Singapore.   You will also pass boat Quay and Clarke Quay. Clarke Quay is a perfect neighborhood to get out and stroll along the cozy restaurants and terraces.  Close to Clarke Quay you will see the old police station.  This building was police station and jail in one.  Nowadays it's a museum.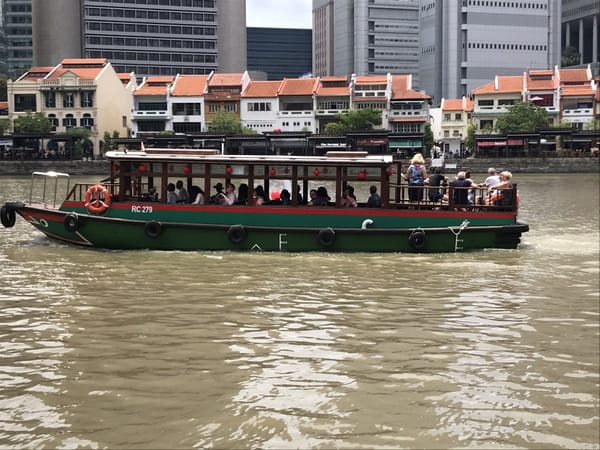 At the Marina Bay, you will have a perfect view on the iconic Marina Bay Sands hotel.  On the other side of the river is the Fullerton Hotel that is housed in the former General Post office. Close by is Merlon Park with the wellknown Marlion statue, a mythical creature half lion and half fish, that is seen as the symbole of Singapore (The old name of Singapore was Singapura, Lion city)
Sentosa Beach
By: Tais Nowrouzi of Together To Wherever
A lot of people seem to know about the many wonderful attractions and things to do in Singapore as they have become so popular in the last few years. However, I don't really think that many folks are aware that this country that is an island itself also has an island with multiple beautiful beaches to relax on! I know I wasn't aware of this until our visit there last year.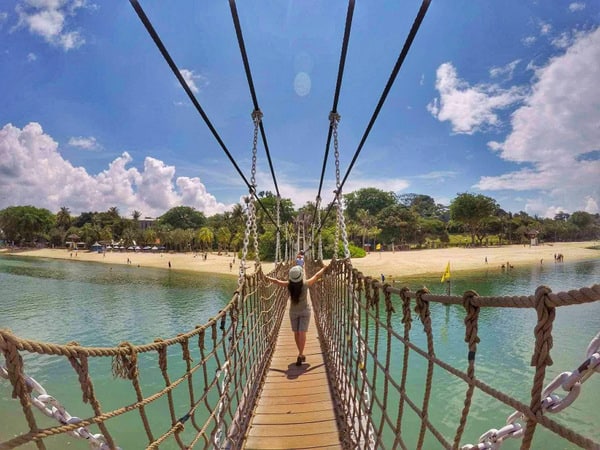 We had spent the whole previous day at Universal Studios so we decided to take a half day "off" from our vacation and just chill out on Palawan Beach at Sentosa Island. It turned out to be just what we needed! It's peaceful and absolutely gorgeous! It was a bit strange to be there since it is so contrasting to the big city vibe of the rest of Singapore! I mean this in a positive, delightful way. For those who are looking for a quick lazy beach day after checking out the amazing architecture and fun activities, this is the place to go in Singapore!There are restaurants on the beach and as the sun sets, there's even a cable car you can ride back with picture-perfect views!
Singapore Botanical Gardens
By: Matilda G of The Travel Sisters
3 Days in Singapore: The Perfect Itinerary for First Timers
One of my favorite spots and a must on any Singapore itinerary are the Singapore Botanic Gardens. These are no ordinary gardens.  The Singapore Botanic Gardens is the first and only tropical garden to be designated a UNESCO World Heritage Site and is also Singapore's first listing.  The gardens are massive and you can easily spend hours enjoying the beautiful flowers and plants or working out like the locals.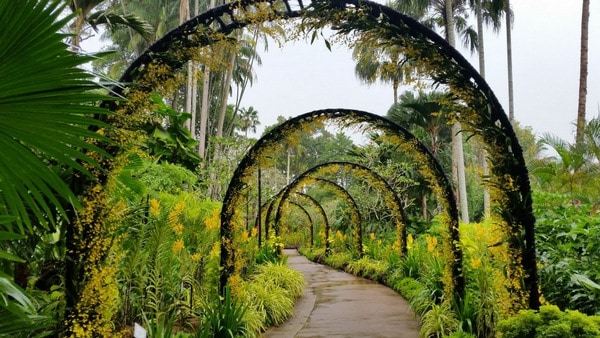 There is a lot to see as the Singapore Botanic Gardens consists of several small gardens, three lakes and even a small tropical rainforest.  The highlight is the National Orchid Garden which houses the largest exhibit of orchids in the world.  Those on a budget will be happy to know the gardens are free to visit except for the National Orchid Garden which charges a small entrance fee.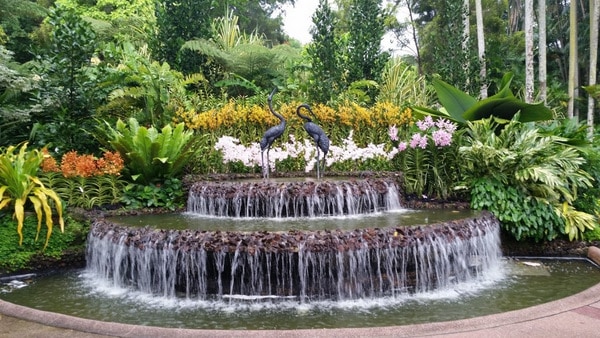 Singapore Chinese Heritage Centre
By: Nathalie McNabb of Marquesta
Travel to Southeast Asia: Southeast Asia Itinerary
Now, a symbol of utter elegance and distinction, Singapore had very humble beginnings and to really understand them you need to head to Chinatown and visit the Heritage Centre. We love to dig into the roots of a new place and this tour delivered just that during our short visit to Singapore.The Heritage Centre is the only place in the city recreating the lives of the Chinatown 1950's residents, offering guests a unique opportunity to truly envision what Singapore's early life was like. A guided tour of 3 well-restored shop houses, located on Pagoda Street, gave us a glimpse into the day-to-day of its many past residents.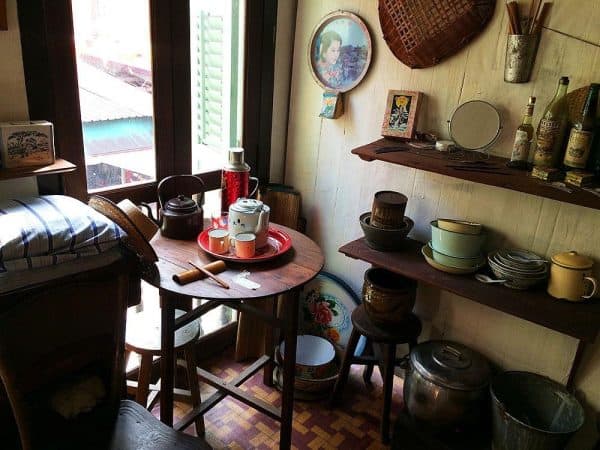 The visit highlights each lodging, from the spacier tailor's shop at the street entrance, the tiny 8'x8′ cubicle family quarters all the way to a doctor's office on the second floor, capturing well  the sense of this community. These shophouses were shared by many families and businesses, all cohabiting under one roof, incredibly so without running water or electricity until 1970s, a true fire hazard. Filled with stories of its many the residents, our tour left us with true insights into the struggles and aspirations of its inhabitants. We do recommend a visit to this great heritage centre to get a peek into the humble beginnings of Singapore, built on resilience and perseverance, now strong and elegant.
Southern Ridges Walk
By: Lotte Eschbach of Phenomenal Globe
The Perfect Four Day Singapore Itinerary For First Time Visitors
The Southern Ridges Walk is a beautiful 10 kilometer walk through green forest, manicured parks and beautifully designed bridges. To get to the hike take a bus or MRT to Harbor Front station and walk up the Marang Trail. The Southern Ridge trail leads through Mount Faber Park and Hort Park. Along the way you'll come across the Henderson Waves, Alexander Arch and the Canopy Walkway. The lush green forest is the perfect way to take a break from the buzzing city center and if you are lucky you can even spot monkeys and several tropical birds! Be sure to bring some water, Singapore can get hot and sweaty?.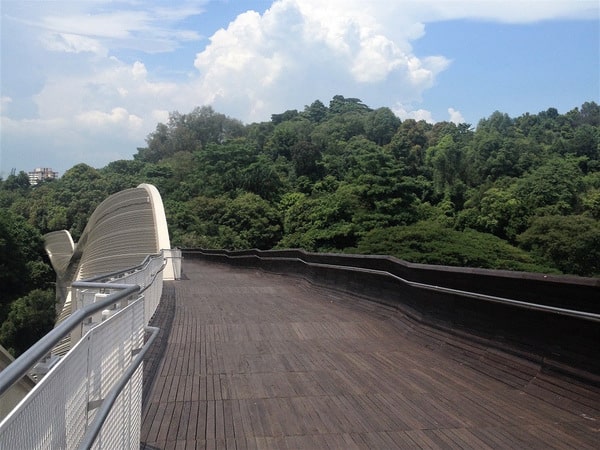 Speakeasy Bars
By: Soraya Nicholls of Hello Raya
Cocktails in Singapore: 28 Hong Kong Street
Not Studying: Only Cocktails At The Library In Singapore
"What's the Password?" they asked when I arrived to what I thought was the right entrance. I had a chuckle to myself because I thought this only happened in the movies! But that's how I knew I was at the right place. It's the element of surprise that adds to the thrill when you are trying to find speakeasy bars in Singapore…whether it's behind what looks like a 'locked door' at 28 Hong Kong Street or what seems to be a tea and spices shop, but really behind the wall is a delicious cocktail bar know as The Library… it's a thrill.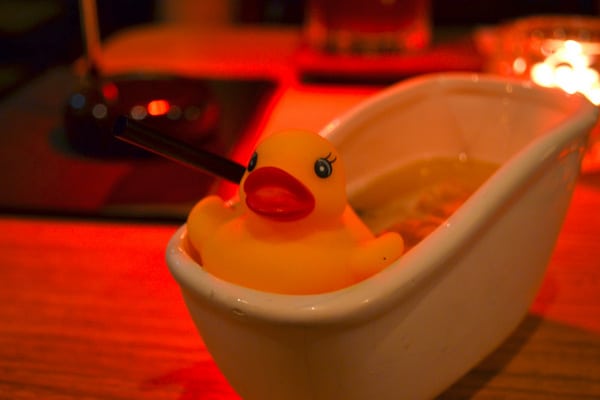 What is a Speakeasy Bar anyway? Well the best way to describe it – it's a hidden bar. A bar that is not easy to find and sometimes you have to get a little bit creative to find it. This concept traces back to the Prohibition-era where alcohol was illegal…and so in order to sell alcohol, bars had to be hidden so they wouldn't be easily found by legal authorities. Sometimes it takes a bit of extra time to figure it out…but oh the fun it adds to the experience of finding them. And definitely makes it more memorable when you have to search for the speakeasies. And boy are they worth it – Singapore has some great speakeasy bars, which offer delicious cocktails with a wonderful ambience.
Universal Studios
By: Pierre Kiefe Cheng Pek of Anything Under Our Stars
Universal Studios Singapore is a  must-see destination when you are traveling in  Singapore. As you may know, it is the only Universal Studios in Asia. Perfect for the young and young at heart, this movie theme park consists of over 20 rides.To name a few, the Transformer ride 3D, Galactica roller coaster and my favorite, The Revenge of the Mummy are one of the most popular ones there. They have different shows and attractions in seven different themed zones. One zone which is my favorite is the Shrek castle. Just a perfect way to kill time in Singapore.And the best of all, relive the most nostalgic movies from your childhood days.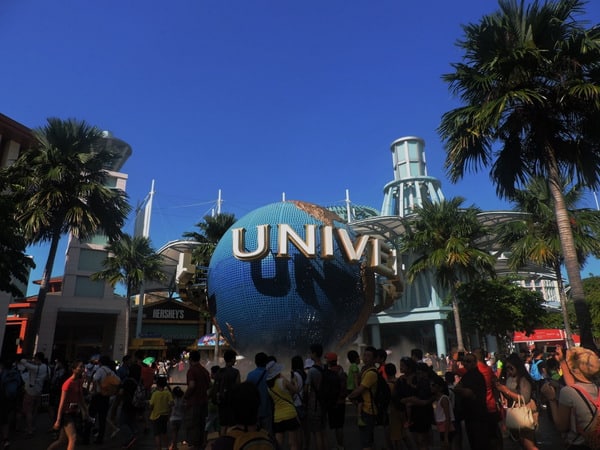 As you can see, Singapore is beyond diverse. It also begs for visitors to rethink their travel itineraries a bit. The rich culture and heritage of Singapore is one to savor. The unique mix of the historic and the ultra-modern, combined with an abundance of nature is a true inspiration for today's urban developers and travelers alike.
For additional things to do in Singapore,
check out the tour options below!
Been to Singapore? Have any additional recommendations?