Ghost stories are plentiful in Asia. And many are quite believable. Ghost stories in Malaysia alone are enough to make a believer out of the most skeptical. Mix the modern day it-happened-to-me narratives of ordinary people with cultural beliefs and legends and it does make one wonder which came first; An innate belief in the afterlife? Or mysterious, unexplainable occurrences that simply took on lives of their own?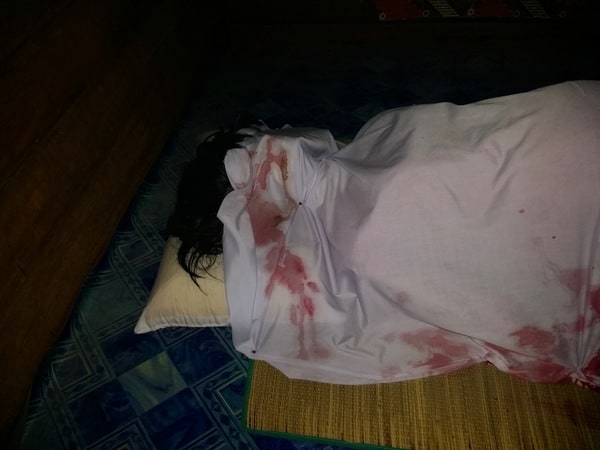 A Ghost Story from Malaysia
In March 2015, I was casually crossing through the lobby of a popular mall in Kuala Lumpur. It's adjacent to the hotel where I was staying. Suddenly a blackness filled my eyes. A blackness akin to a dark shadow or thick black smoke. It happened so quickly that I blinked my eyes and it was gone. With no issues the rest of the day (i.e. headaches, blurry vision, etc.) I thought nothing more about it as anything significant.
However, the next day, as I was once again crossing through the multi-story mall's massive lobby, it happened again. This time the speed of the dark swirl was so intense that I physically jumped back. My heart skipped a beat and a WTF emerged from my silent mouth. Once again in the blink of an eye it was gone. I glanced to the people near me and apparently no one else saw 'it' nor had reacted to me jumping back and freezing for no particular reason. It had me wondering if it had happened at all.
Had my subconscious somehow create a visual hallucination? I certainly wasn't thinking about ghosts at the time. But I was most certainly thinking about them now. Although there could be a scientific explanation for what I experienced, the odds of it happening two days in a row in the exact location made me skeptical. I also don't believe in coincidences.
Later, a quick Google search and I got a hit. Not one, but two young women had jumped or fallen to their death in pretty much the exact spot I had crossed. One from 5 floors up. Further research came up with a slew of 'ghost stories' associated with the hotel. Some via Trip Advisor no less. It also turned out that the hotel was built near a now demolished prison which was quite famous for its hangings, back in the day.
Coincidence? Do I chalk it up to a lot of superstitious people with vivid imaginations?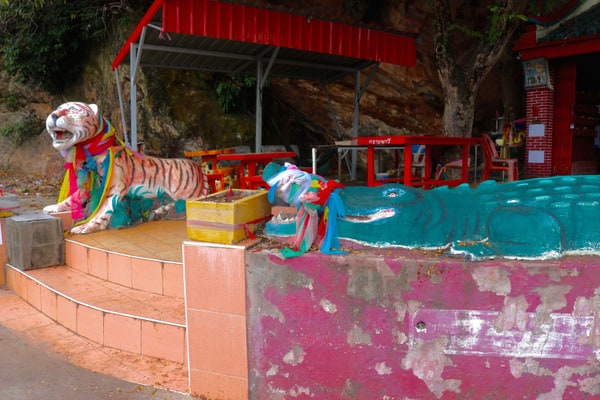 This wasn't my first 'paranormal experience' in Malaysia or other parts of Southeast Asia nor was it the last. I could easily write 5K words on my personal experiences in Langkawi, Penang, Kuala Lumpur, Pahang, Bangkok, Koh Samui and even a remote village in Songkhla. Why the increase in these experiences?
Being surrounded by cultures that are strong believers in honoring the dead on a regular basis could have something to do with it. Or my coming from a family of clairvoyants could be a factor. We apparently all have the ability to be more acutely aware of the world around us, it's just that some people can be more 'sensitive' to it at different phases in their life.
At least I'm in good company in Southeast Asia as ghosts and the paranormal are celebrated in annual festivals, highlighted in movies, TV shows and even a few ghost museums. Researching the paranormal has even become a passion for some, like geography teacher Augustine Towonsing who posts his experiences on his website Malaysian Ghost Research.org
History of the Paranormal
Researching ghost stories in Malaysia and other paranormal experiences around the world led me to many who, what, where, when and why theories. However, the best explanation came from Christopher French, a professor of psychology and head of the Anomalistic Psychology Research Unit at Goldsmiths, University of London.
"What we have is people trying to make sense of something that, to them, seems inexplicable, so you get the misinterpretation of noises or visual effects that do have a normal explanation, but not one that people can think of. People assume that if they cannot explain something in natural terms, then it must be something paranormal."
But there is also the connection between paranormal beliefs and animist beliefs. Animism is the world's oldest religion. Animists believe that all things have a spirit; animals, trees, rocks, plants, rivers and seas, etc. Through the years, as practitioners had more contact with other cultures, beliefs overlapped and mixed with existing religions. Variations are still practiced in many societies today giving credence to stories of angry mountain gods and cursed islands such as Koh Hingham, the mysterious Thai island of black pebbles.
I asked a few travel bloggers if they were willing to share some of their own (if any) paranormal experiences overseas and the stories emerged. Skeptics for the most part, but these travel bloggers were left with memories of mysterious encounters none the less and were willing to share them.
Ghost Stories
Suffering a paranormal experience was not the adventure I planned to have during my visit to Tbilisi, Georgia. The hostel I booked on one of the most buzzing streets in Tbilisi looked straight out of an old English movie set. There were ceiling-high wooden doors and those creepy proximity sensor bulbs in the entire building which only lights up when someone passes through making the place look legit haunted. The first vibe of that hostel wasn't too pleasing for me and to make the things worse I realized it was just me and my friend spending the night in the small hostel cum home owned by an old strange lady. Tired from a long flight I totally passed out to sleep that night when suddenly I woke up at around 3 am with a feeling as if something forcefully touched me to wake up.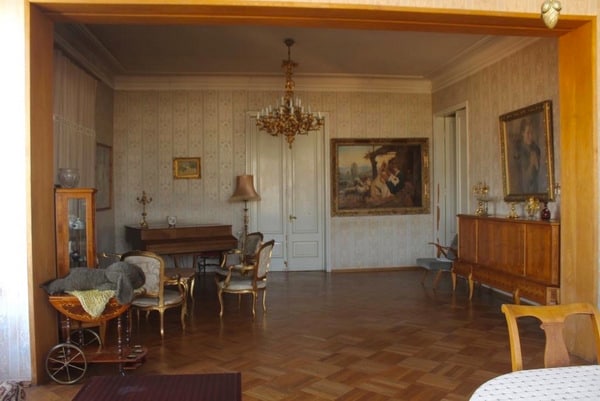 Looking around I learned my friend was already asleep on the bed next to me and I tried to ignore everything and went back to sleep. However, in the next couple of minutes while I was still awake I saw someone or perhaps something sitting on the edge of my bed which disappeared as soon as I got up panicking from the bed. By this time, I knew there was something seriously not normal about the room or the hostel altogether. I woke up my friend and waited till 6:30 am in the morning when the sun came out and then checked out of the hostel in the next few hours.
I am still not sure was it just my imagination or that hostel was legitimately haunted. The only thing I knew is that was one of the worst nights and travel experiences I ever had.
Haunted House in Barrackpore, India
Pujarini Mitra : My Soul Travels
Facebook: My Soul Travels
Welcome to Barrackpore, the oldest cantonment in India' said the board and the moment you cross it, you are transformed into a bygone era. The centuries-old buildings and walls speak of a time when Barrackpore was the center of British Raj. The old gothic style bungalows that housed the British offices and the officers situated on the riverside have witnessed the glory of British Raj and now lie forgotten in history. While some buildings are still used as cantonment offices and administrative buildings, some have paid the price of neglect. I stopped the car to photograph one of those houses.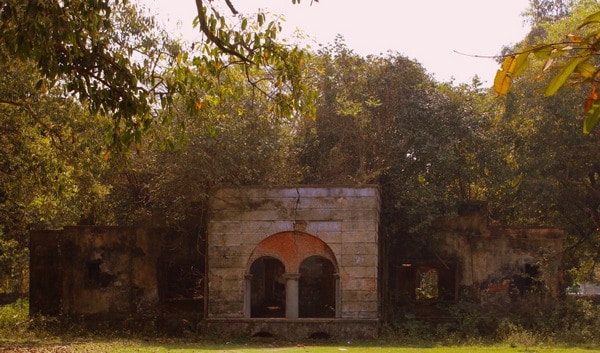 As I crossed the road, strangely the temperature had suddenly dropped. While I looked around, I realized, this abandoned house was in between two well maintained colonial-style bungalows with landscaped gardens. However, this particular house had somehow been ignored and now had been well claimed by nature. The crumbled walls no longer seemed to have any life in them but while I was photographing the area, I had a constant feeling of being watched. By the time I had finished, I was quite spooked and left the area quickly.
I have never believed in ghost and am not sensitive to it at all, but change my mind about this recently. About two months ago I took a 'Ghost Tour' of Seoul, which takes you to different sites where murders have taken place during the Joseon Dynasty (the last dynasty in South Korea). I came on the tour alone and three (very sensitive) other girls I haven't met before also joined. Every time we came to a new spot the girls could immediately feel what happened, this didn't freak me out so much until we came at the last spot.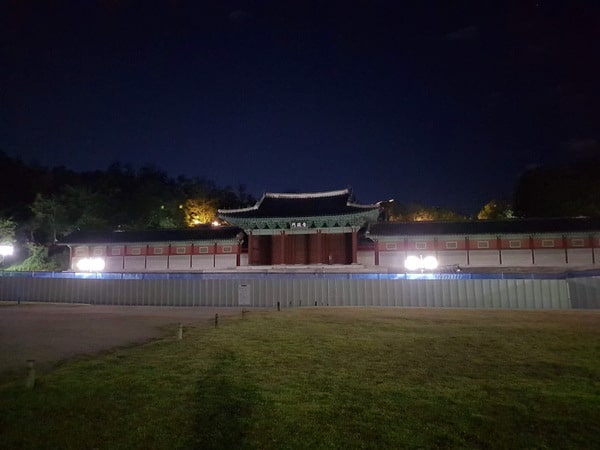 One of the palaces with a very dark murder story, the palace was quite dark but had these lamp post providing enough light to feel comfortable walking around. The guide explained that many of the guests on the tour could see this girl roaming around the palace entrance, and the other girls on the tour could also see her. I couldn't but when looking through my phone camera I could see these 2 bright shining dots that looked like eyes. That totally creeped me out. If you look at the picture, to the left of the roof of the palace you can see the two dots.
Thai Taxi Tales of Possession
Nancy Kim: enSquaredAired
Growing up, ghost stories and ghost sightings were shared on a frequent basis. So, while I'm on the fence on whether I believe in ghosts, I love asking people if they believe in ghosts. Because ghosts are a common topic of conversation in Southeast Asia, it was natural for me to ask my tour guide on the ride back from Wat Rong Khun to Chiang Mai if he believes in ghosts. What I wasn't expecting were the scary ghost stories he told me that left me shivering as we drove through the mountain in total darkness.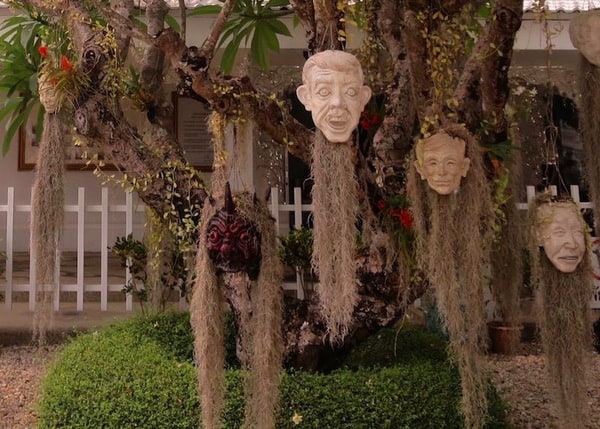 Of all the ghost stories he shared with me, the scariest one was about how his friend's possessed mom. Out of nowhere one day, she started to talk in a man's voice. And not just a regular man's voice, but one that sounded demonic. He imitated how she talked briefly to help me understand, which was not far off from the possessed girl in the Exorcist. Needless to say, I did not sleep a wink that night.
The Forbidden City (Zijin Cheng in Chinese) has over 600 years of history full of assassinations and plotting, so it's no wonder that it's also said to be occupied by several ghosts. When I was there long ago, I didn't know all the famous stories about ghost dogs running on the empty corridors or the eerie sounds and flute music echoing around the walls in the middle of the night. But when I walked inside these ancient walls, I did felt the ghosts of the Forbidden City.
I felt a couple of those famous "cold spots," however, it was +30C on that day. And from time to time I got a feeling like something, or someone was watching me, even though I was alone in the room. That gave me the creeps. I've always been a sensitive person, so I know something was there, even though I didn't see anything.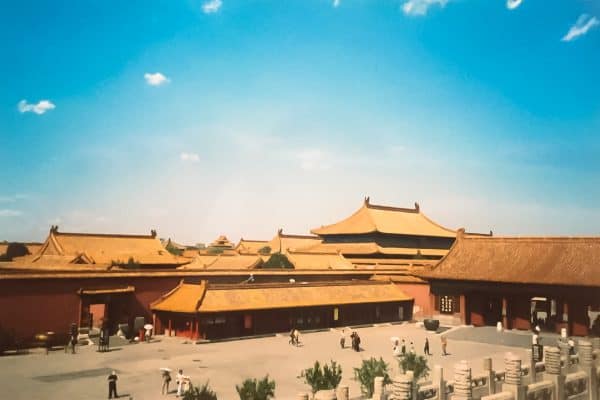 Also, the legend tells that the Forbidden City has been cursed since the days when its builder, the Ming Emperor Yongle in 1421 slaughtered over 2800 people in his harem when he was trying to suppress an alleged sex scandal at the official opening ceremonies which were held on the New Year's Eve. Yongle also got an epithet "The Evil Emperor."
So, I think it's evident that the Forbidden City must be full of paranormal activity, right?! Believe it or not.
FORTUNE TELLERS
When Oracles Answer in China
Shara Johnson: SKJ Travel
Facebook: SKJ Traveler
In the small village temples in rural northern China, a small six-sided cylinder is used as a "fortune stick" or "oracle," each side painted with Chinese characters. You ask the temple's god a question, just inside your own head, and then roll the stick for the god's response. I stayed in one of these villages as a volunteer ethnographic documenter in Shaanxi Province.
One day, Papa of our host family took us to the temple of the Holy Mother of the Ninth Heaven — the Dragon God's mother. Our translator asked for her fortune. Papa rolled the cylinder two times, and each time something good came up and she was very happy. (I can't read Chinese characters or interpret the stick, Papa was the one who did that.) Papa smiled and patted her back. I then asked if I could get a fortune.
Papa told me to ask the god my question (after burning some incense), then he rolled the fortune stick. When he spoke to our translator to tell her what it meant, he wasn't quite so smiley as he had been with her fortune, and she didn't tell me what the oracle said. Papa rolled it a second time, again no happy smiles, and then there was some confused discussion between the two of them.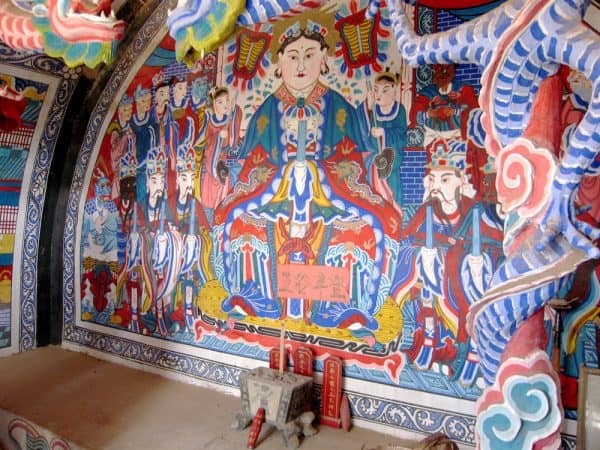 She asked me if someone was waiting or expecting me at home, perhaps a spouse or other family. I said, "I do have a husband back home, I suppose you could say he's waiting." The translator explained, "Well, the fortune indicates that perhaps you need to hurry home, that someone is waiting for you." It was the same message with both rolls of the cylinder, which apparently is unusual. Papa thought it could mean that my safety in the village was in danger, or I was needed back home.
Papa decided to roll the cylinder once more for me; he seemed to be trying to come up with something better. He didn't say much about the third roll except to smile meekly and say it was good, or at least that's what our translator told me. She and the principle investigator were concerned that I might not be happy with my fortune. But a fortune is a fortune — the oracle said what it needed to say, and I certainly didn't expect that it had to be good.
But in fact, no one knew how eerily relevant the oracle's answer was to the question I asked privately of the Holy Mother inside my head. I didn't actually have in mind any particular topic when I asked to have my fortune told. But when I knelt down and was told to formulate something in my mind, a particular question immediately, almost forcefully, jumped from my heart, thrown out to the god like a fast ball. Not only was the oracle on the mark with the nature of my question, but as an answer, it was a very happy fortune. Someone is waiting for you. My dad had passed away two years earlier. Missing him and wondering about the afterlife, what I asked was, "Will I ever see my dad again?"
India is a considered to be a land of the mystical and I was born and brought up there.  Even though I come from a religious background, I have always been skeptical but curious. So, as a fun experiment one day, my husband and I set off to meet an astrologer/ palm reader in Mysore, India. We had never met him before. He asked us no other information but our birthdays and to have a look at our palm lines.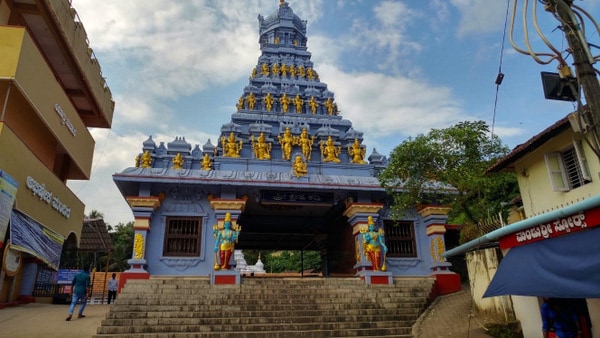 I was prepared to scoff at everything he said, but when he started to give a detailed background of my husband's and my background, I was speechless as he was spot on. Then, he proceeded to tell us that we would move to a very far and very cold country. A month later, my husband and I were relocated to Canada by the company we were working for. We have since become permanent residents of Canada and continue to reside here.
HEALERS AND SHAMEN
Mystery Ailment in Siquijor, Philippines
Ale Werner: Universo Viajero
Philippines is formed by thousands of islands, so it's no estrange that each one of them has their own story and background. Many of them are today fully populated and other have being forgotten. Siquijor is an island where paranormal activity abounds. The belief is that this place is inhabited by witches, sorcerers, ghosts and other creatures like elf and gnomes.
When you first step the island, you will feel like stepping into somewhere stop in time. Here there are not big cities or many modern constructions. Many come only because of its legends and to try to contact one of the still living mangkukulam (warlocks) who practice sorcery and witchcraft, or the mananambal (shamans) who many believed can heal some incurable diseases.
On our trip to the island, we immediately felt this different vibe, and suddenly Ale got sick of her back. After traveling for more than 10 months, this mystical island was the exact place to get sick… Why? One night we start talking with another tourist of our hotel about this legends and myths, being both of us skeptics, even laugh a little bit about the people who believe in this kind of things… The next day Ale could not get up from the bed and our new tourist friend disappear, even though he told us would be staying for at least 3 more days in the hotel.
We felt the urgent need to leave the island, got scared that anything else could happen to us and felt guilty for talking bad about the spirits… maybe they got mad. We leave the next day and change our itinerary… never mess with this kind of things! Especially if even other Filipinos avoid coming to this beautiful island because of its multiple legends.
I spent a few years living and rural Thailand and I got used to the idea that ghosts are part of daily life. One week there would be an 'exorcism' of a spirit out of a neighbour's daughter, and the next, a farmer would see a headless ghost in the field while walking home at night. I haven't personally spotted any apparitions, but I had a rather mystical experience that no medical professional would be able to explain.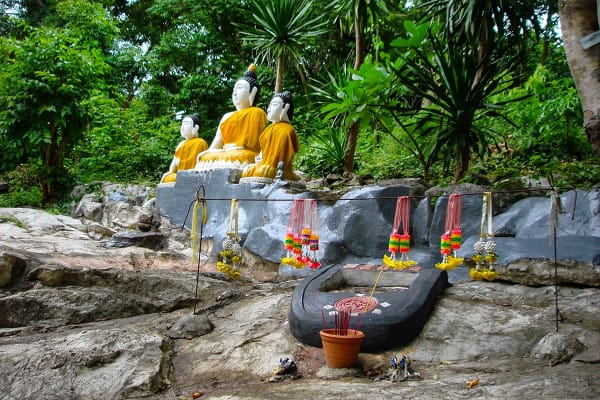 I was in Khao Sok National Park in southern Thailand and one day, while tracking down a herd of elephants through some very rough terrain, I sprained my ankle so bad that my foot swell up to twice its size and I could not walk unaided for a few weeks. About a week into my handicap, a villager took me to the local healer/witch doctor. She was as old as she was grumpy, and I got a feeling she was not impressed to see a foreigner in her home. But she sat me down on her living room floor and proceeded to rub some thick ointment on my ankle, while mumbling some incantations under her breath in Pali (the ancient language of Thai Buddhist monks). Once she was done, she simply walked away. I got up to my feet and in utter disbelief realized that I could walk without the slightest limp.
My renewed walking ability lasted until the following morning, and then I was back on my crutches. A few days later, I visited her again, and walked home on my own just like the first time. Sadly, it wasn't a long-term solution – it took another two weeks until I could walk well enough for good, but it was a little spooky and downright mysterious.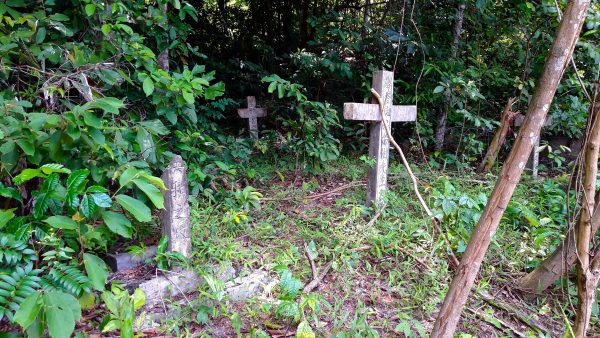 As you can see, even skeptics can have paranormal experiences. And what Dr. French says certainly rings true, "People assume that if they cannot explain something in natural terms, then it must be something paranormal." But there is paranormal and then there is 'not normal' paranormal and I for one still believe there is more to it than that.
How about you? Had any paranormal experiences you'd like to share?
I'd love to hear about them!