It's not every day I get to visit a farm. But, to be completely honest, it's also not a 'sightseeing' experience I would normally seek out. However, my recent visit to the Selangor Fruit Valley has changed my point of view completely. Agrotourism can be pretty darn interesting if given a chance.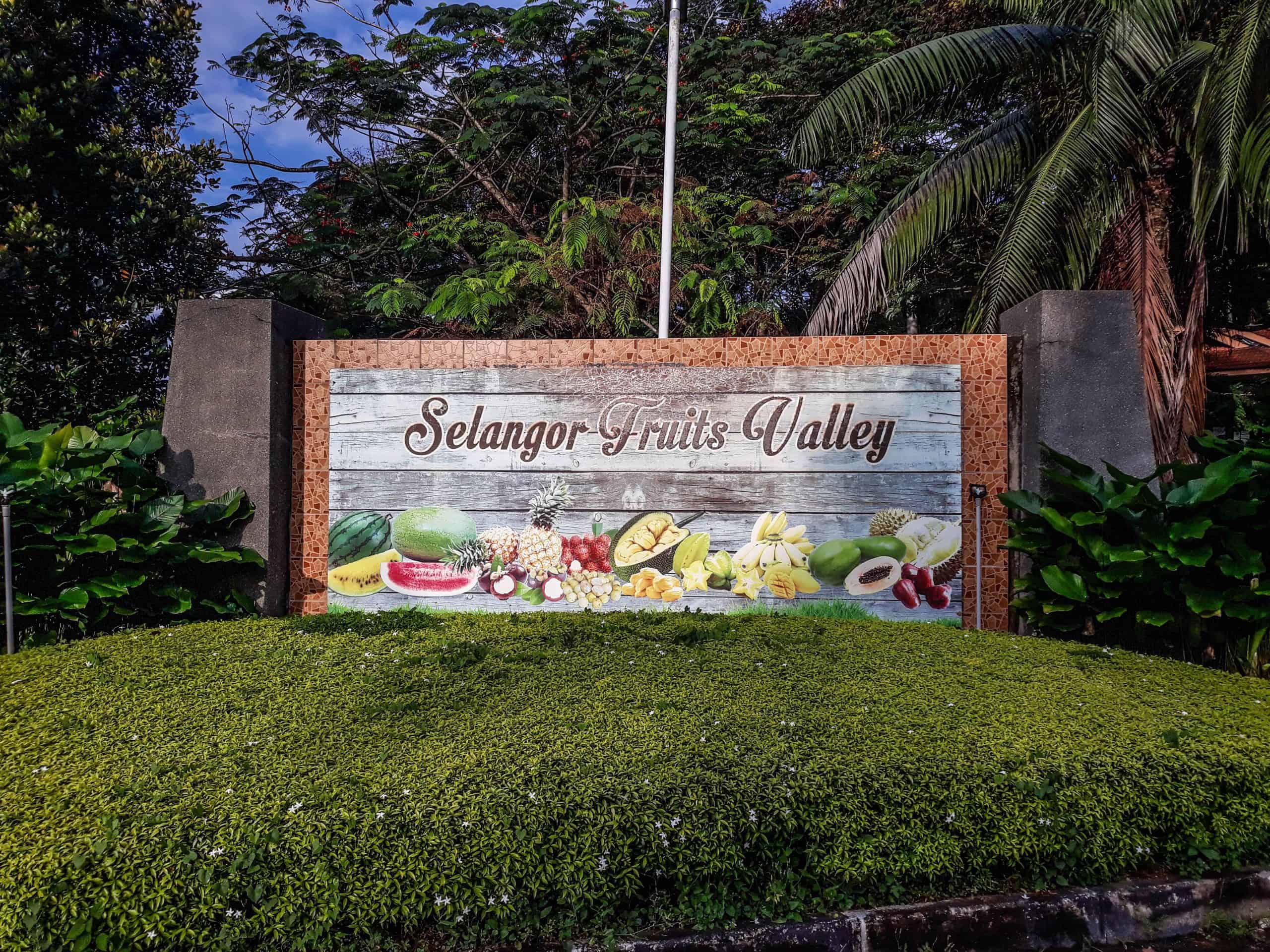 There's something quite decadent about eating fruit freshly picked from a tree. Or hand-feeding cute farm critters. Farming vicariously is right up my alley. This is farm life at its best in my opinion (without the daily chores). I can still share the proud moment of seeing flourishing fields of produce and groves of bountiful fruit trees without breaking a sweat… That's the beauty of Selangor Fruit Valley; it's a labor-free agriculture adventure.
But Selangor Fruit Valley is more than just fruit trees and cute animals. It's educational. You are guaranteed to learn something new during your visit. I sure did!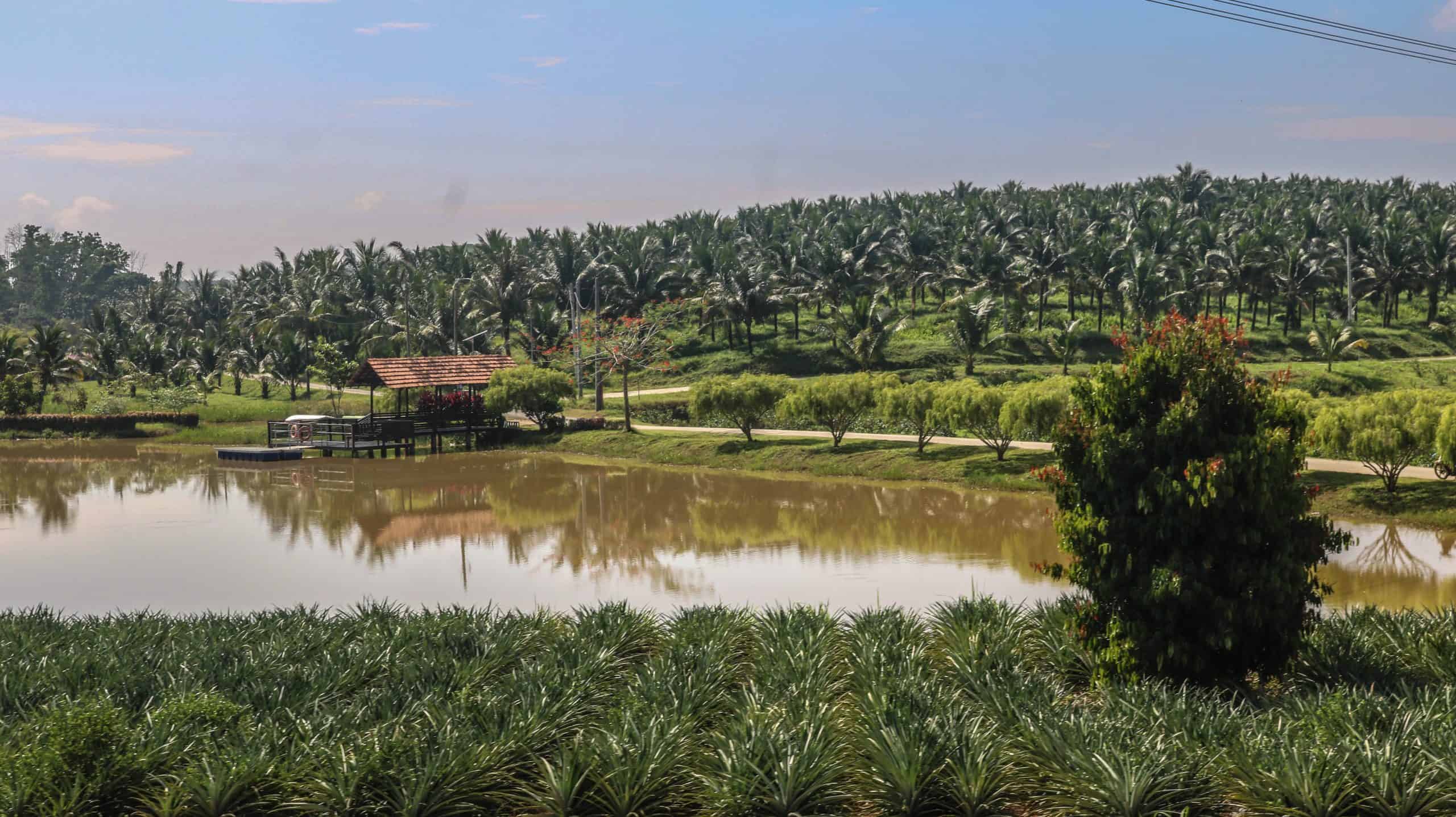 Selangor Fruit Valley History
Selangor Fruit Valley (also affectionately known as SFV) was developed by the Selangor Agricultural Development Corporation. Starting in 2002 with just over 1235 acres, they have since expanded operations to more than 2400 acres. About 25 different types of crops are grown at Selangor Fruit Valley, including Bananas, Pineapples, Jackfruit, Coconuts and more.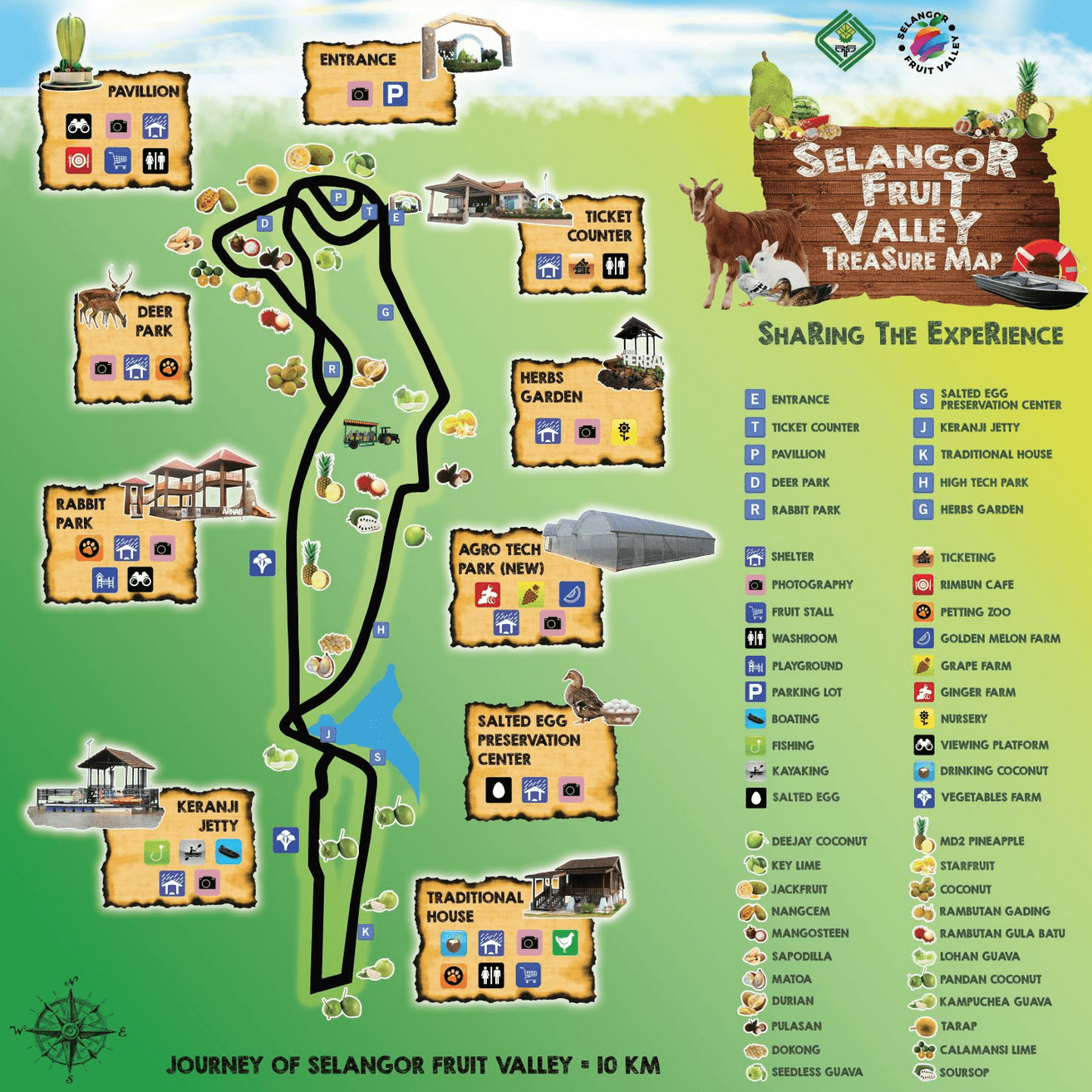 Day Visit to Selangor Fruit Valley
Located about an hour away from Kuala Lumpur, the drive to Selangor Fruit Valley is peaceful and scenic. Once through the colorful entry way, trams are waiting in the small shady parking lot to transfer visitors to the hilltop located Carambola Pavilion and Center Point. A festive mural greets new arrivals as well as a gigantic starfruit. Shops and bathroom facilities are located here in addition to a panoramic view of the farm.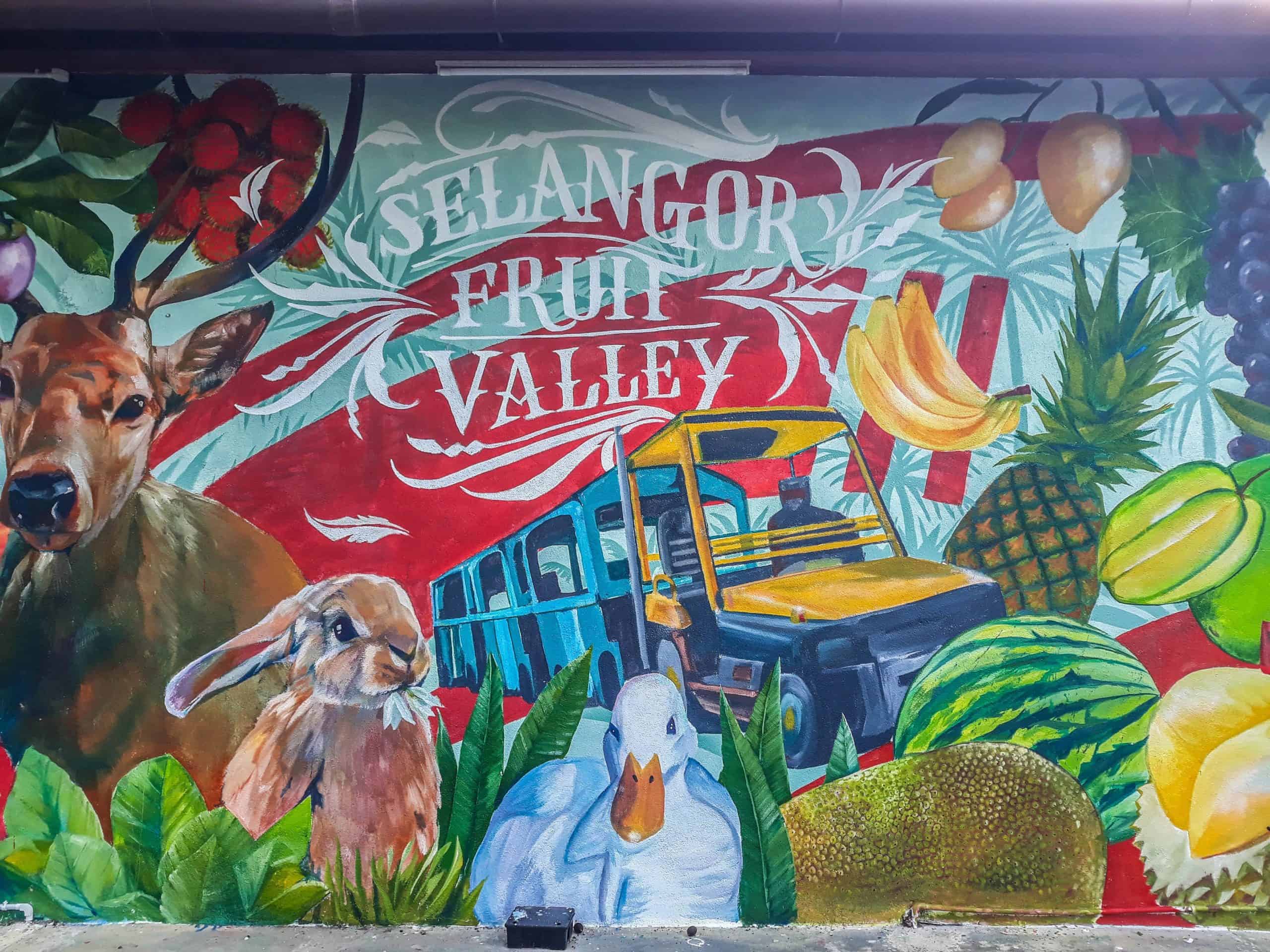 Two types of transportation trams are available at Selangor Fruit Valley; a covered open-air spacious buggy and a rustic (but fun) mini train style transport. I happen to like the little trains a lot, although they can get a bit bumpy at times, I think they're fun. And that's what Selangor Fruit Farm is all about; having a good time.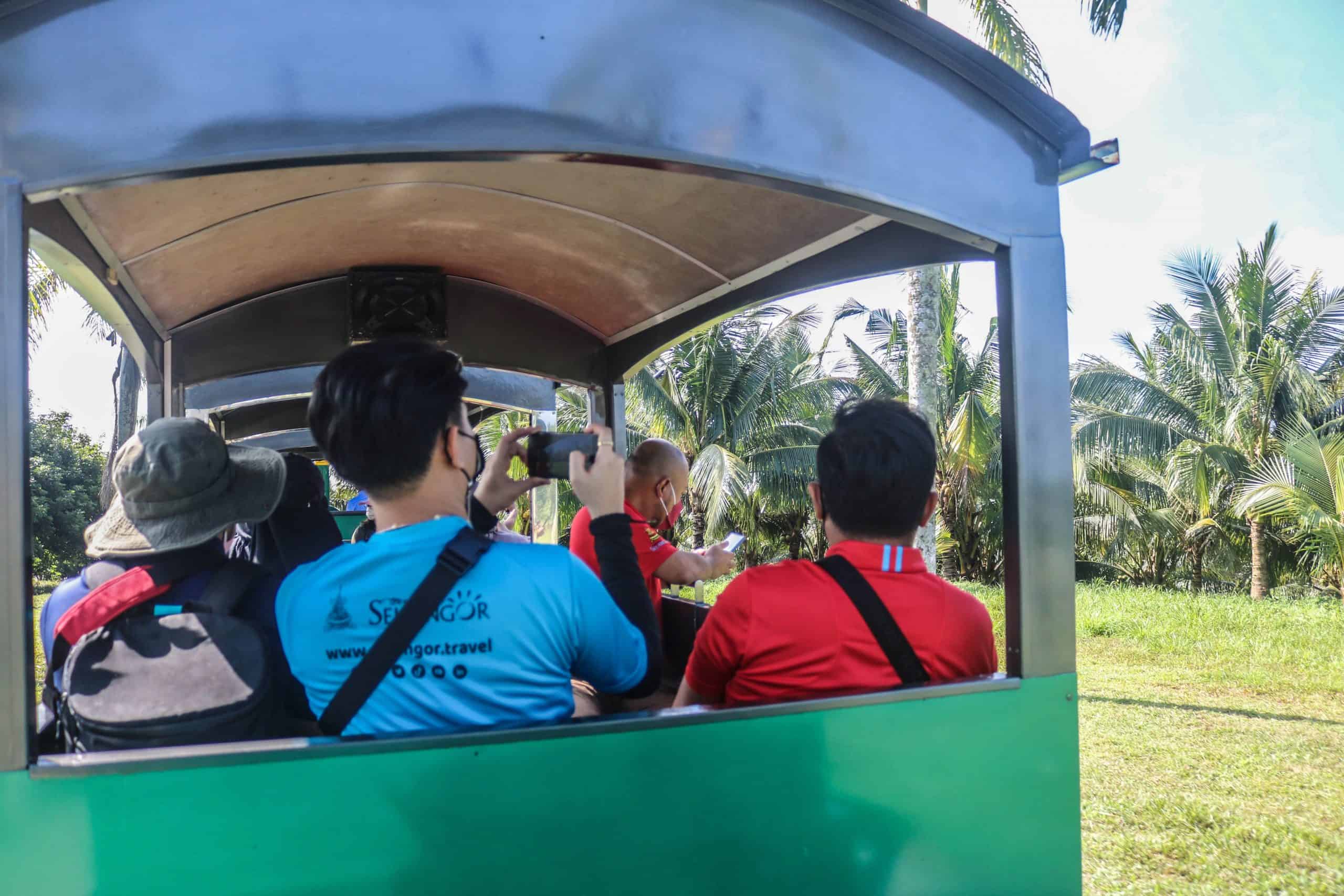 What's there to do at Selangor Fruit Valley?
Plenty! With visitor packages ranging from RM16 to RM37 for the whole day, you have a lot of activities to choose from. Here is a small sample of things to do at Selangor Fruit Valley.
Take in the Scenic View from the Carambola Pavilion
The Carambola Pavilion not only offers an excellent view of the 2400-acre estate, it doubles as an event hall. It would be a great location for a wedding or company party. When not shut down for private events, the pavilion is open for visitors to simply enjoy the view from.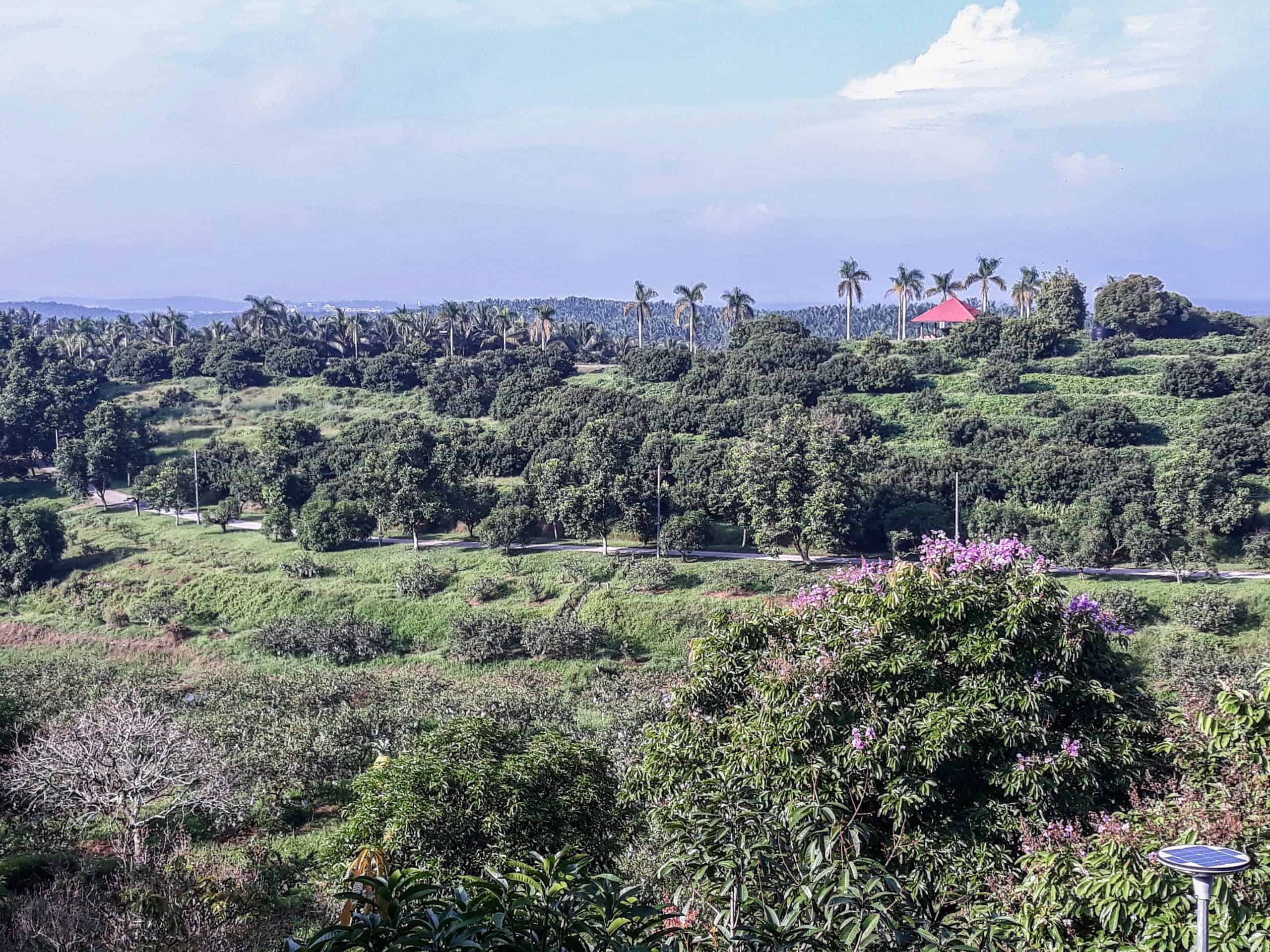 Get a Selfie with the Carambola Monument
What the heck is a Carambola you ask? It's a Star Fruit! In fact, Malaysia is said to be one of the biggest producers of Star Fruit. And what better place to put a Star Fruit Monument than at the Selangor Fruit Valley. The fruit farm grows not only Star Fruit, but 20 other types of tropical fruit as well; including Papayas, Rambutan, and Mangoes.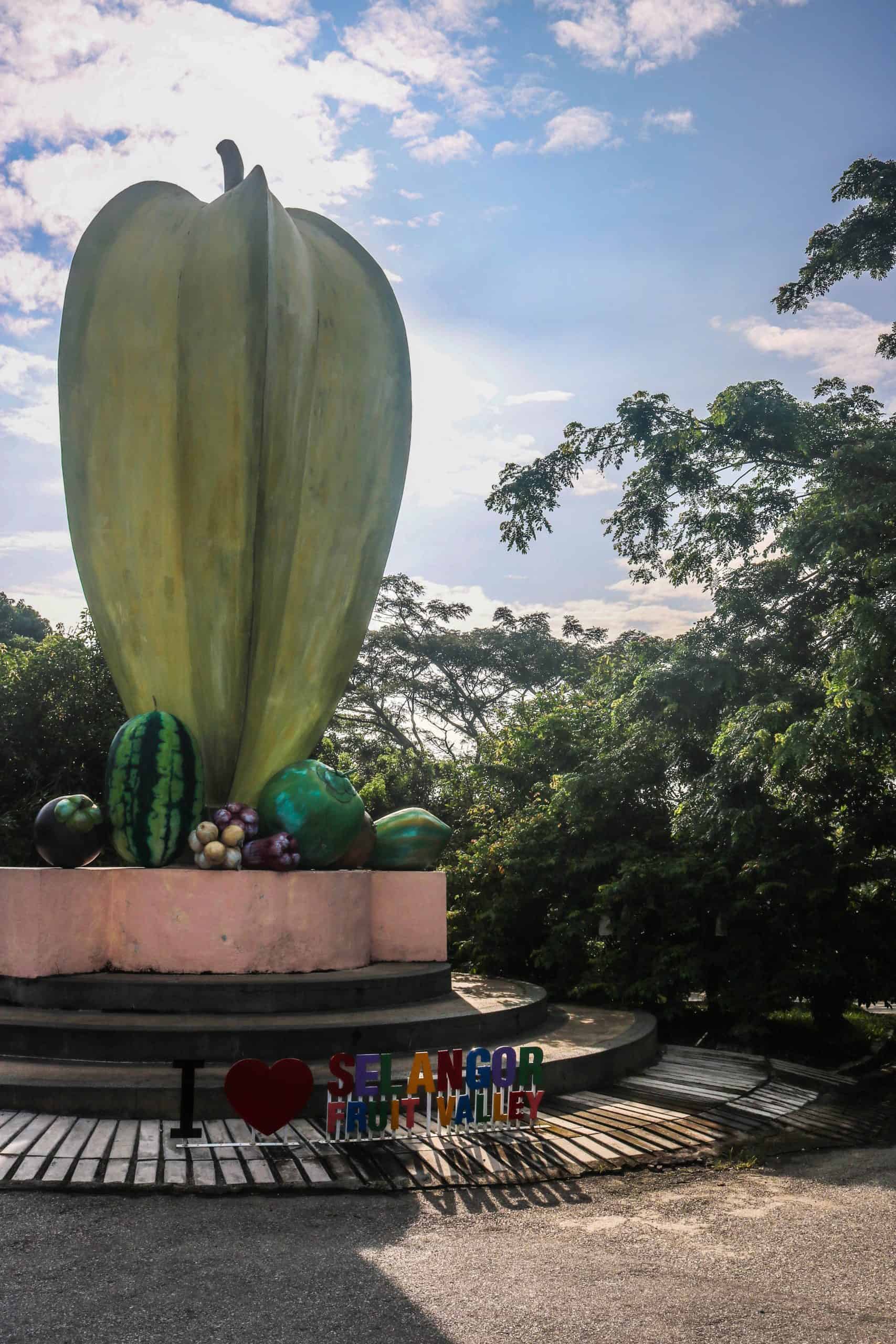 Visit Selangor Fruit Valley's Herbal Garden
The Herbal Garden has 150 species of herbs on display with attached information cards; you can test your knowledge or learn something new! The surrounding landscape offers plenty of shady rest stops which are also Instagram-worthy.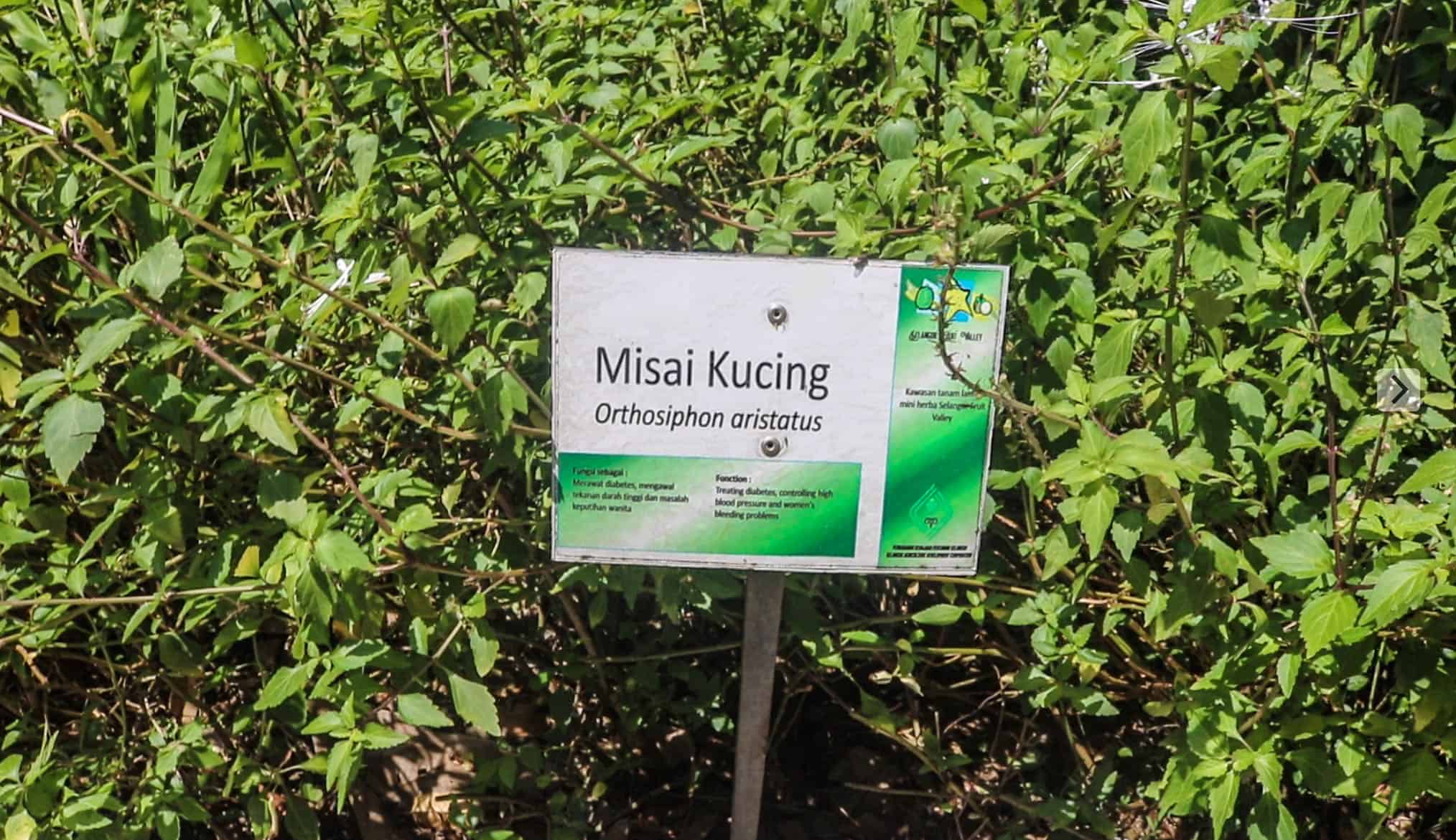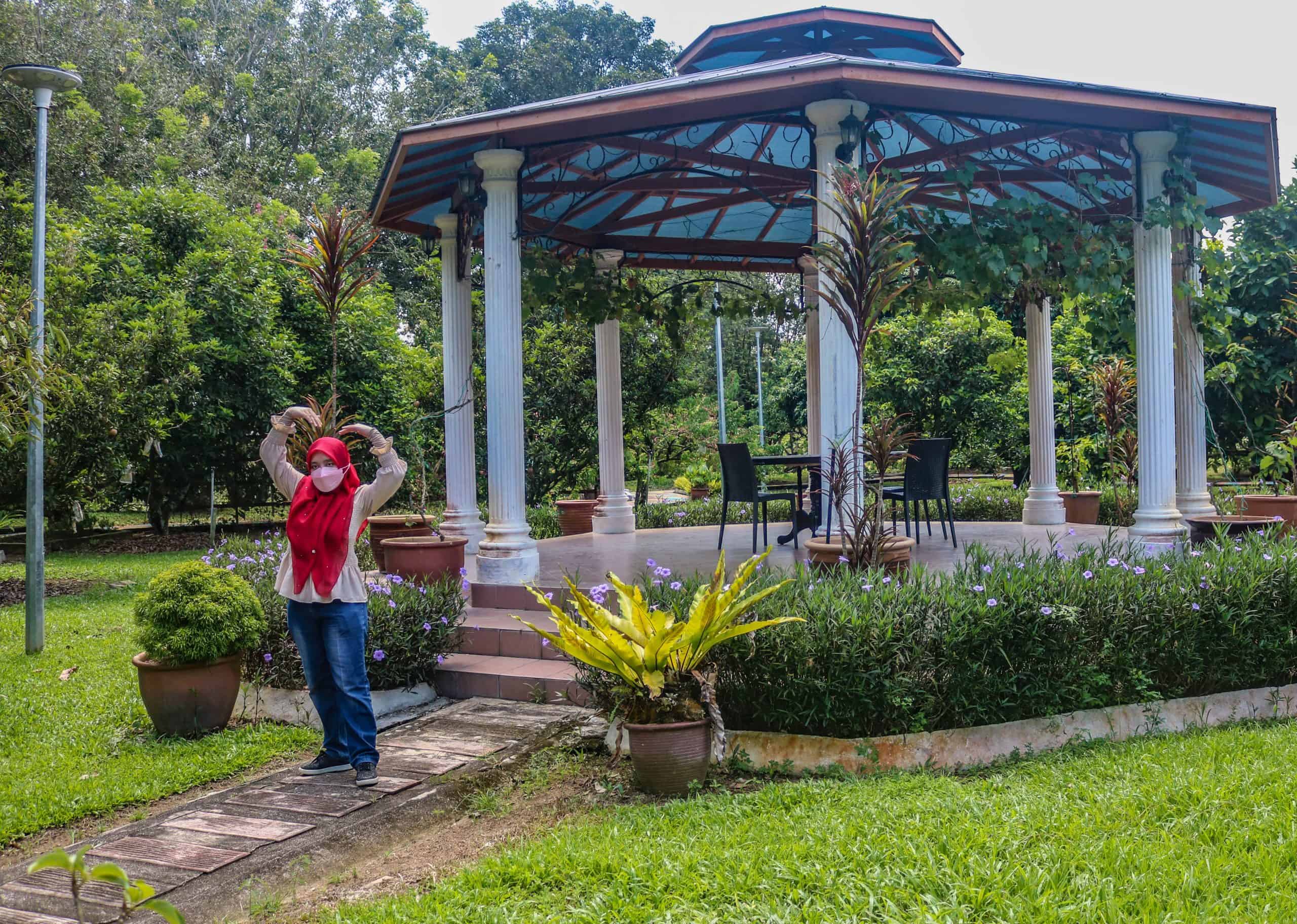 Witness how Fruit Grows from Seedling to Harvest
Throughout the Selangor Fruit Valley estate, crops are growing everywhere; with several greenhouses strategically located near the fields. This is where some of the Fruit Valley magic happens, as some of the farm's plants start their lives in a controlled environment before being transferred out to the open fields. Seeing Malaysian fruit growing can be a real eye opener for those only familiar with store-bought produce.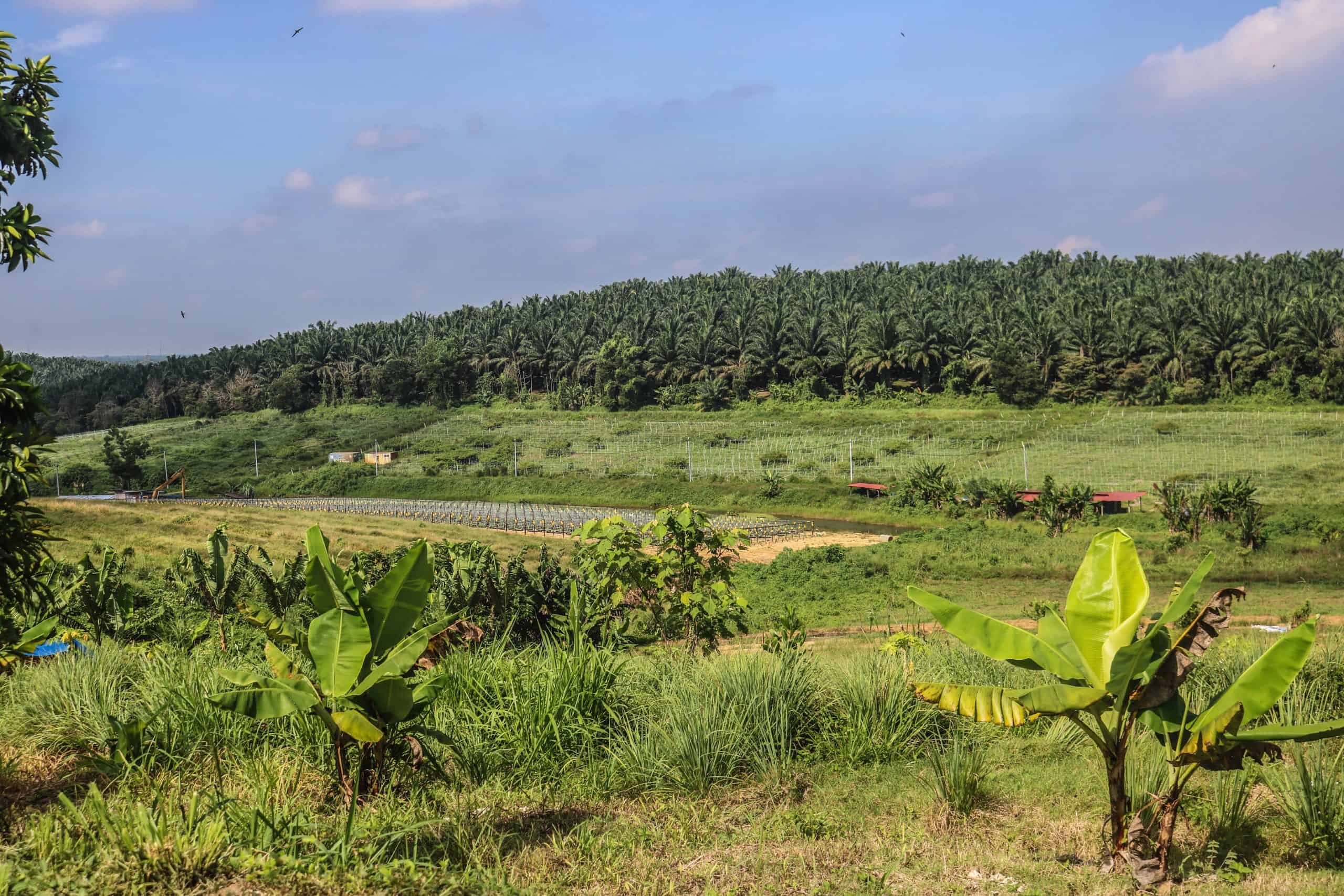 Get Up Close and Personal with Farm Animals
Deer, ducks, and rabbits are the animal kingdom headliners at the Selangor Fruit Valley. Some of the animals are kept in large enclosures allowing them a safe escape from over-excited human hands. However, the rabbit pen (aka petting zoo) allows a lot of hands-on encounters. Some encounters were a bit disturbing (in my opinion) as I witnessed newborn, hairless, baby rabbits being passed around like a bag of popcorn, when I visited.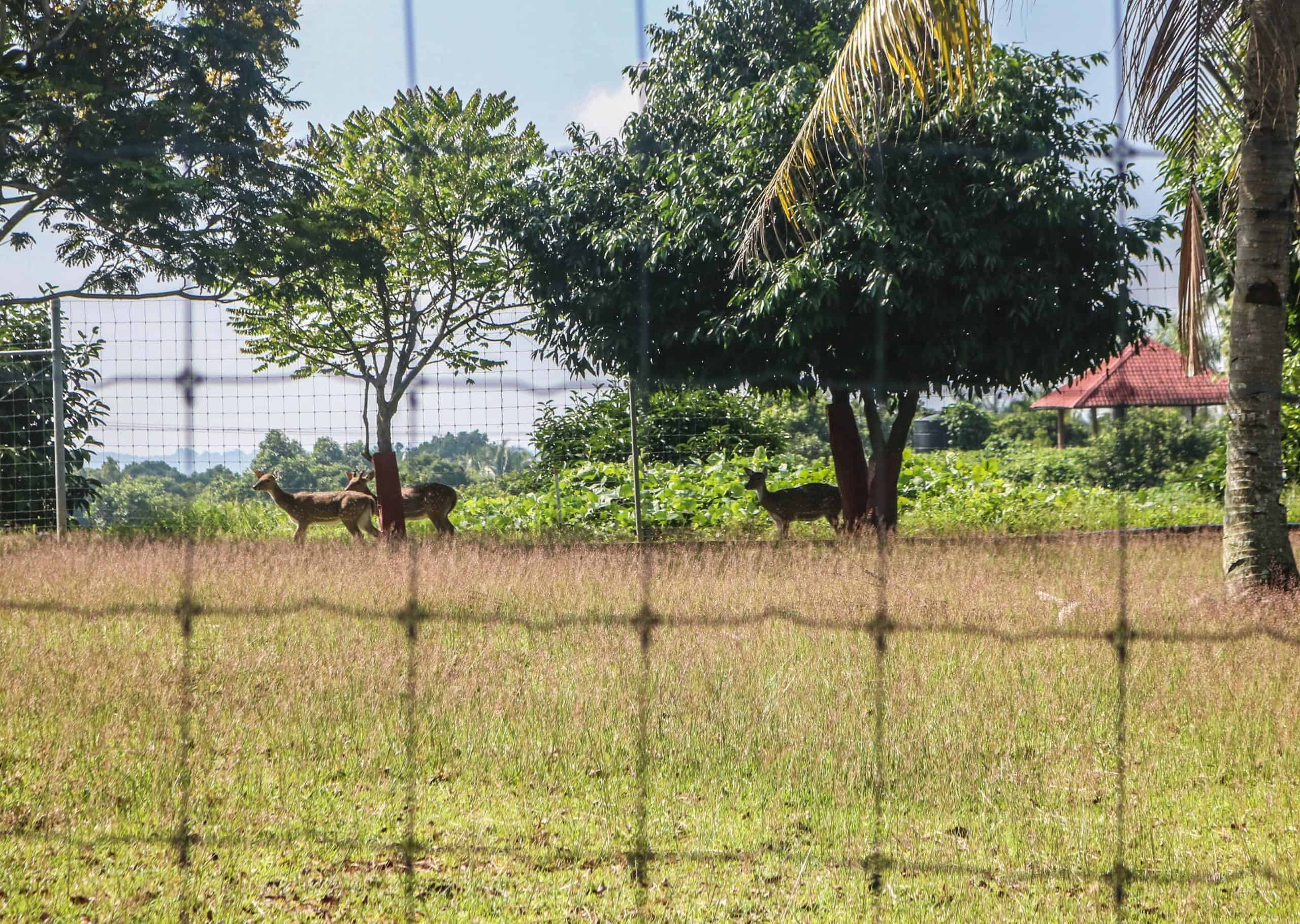 I'm no expert on the animal kingdom, but that can't possibly be good for any baby animal. Perhaps it was just an oversight that the newborns were not separated from the petting zoo area, but I steered clear anyway. You should too, unless a selfie with a newborn bunny is mandatory for your Instagram gallery.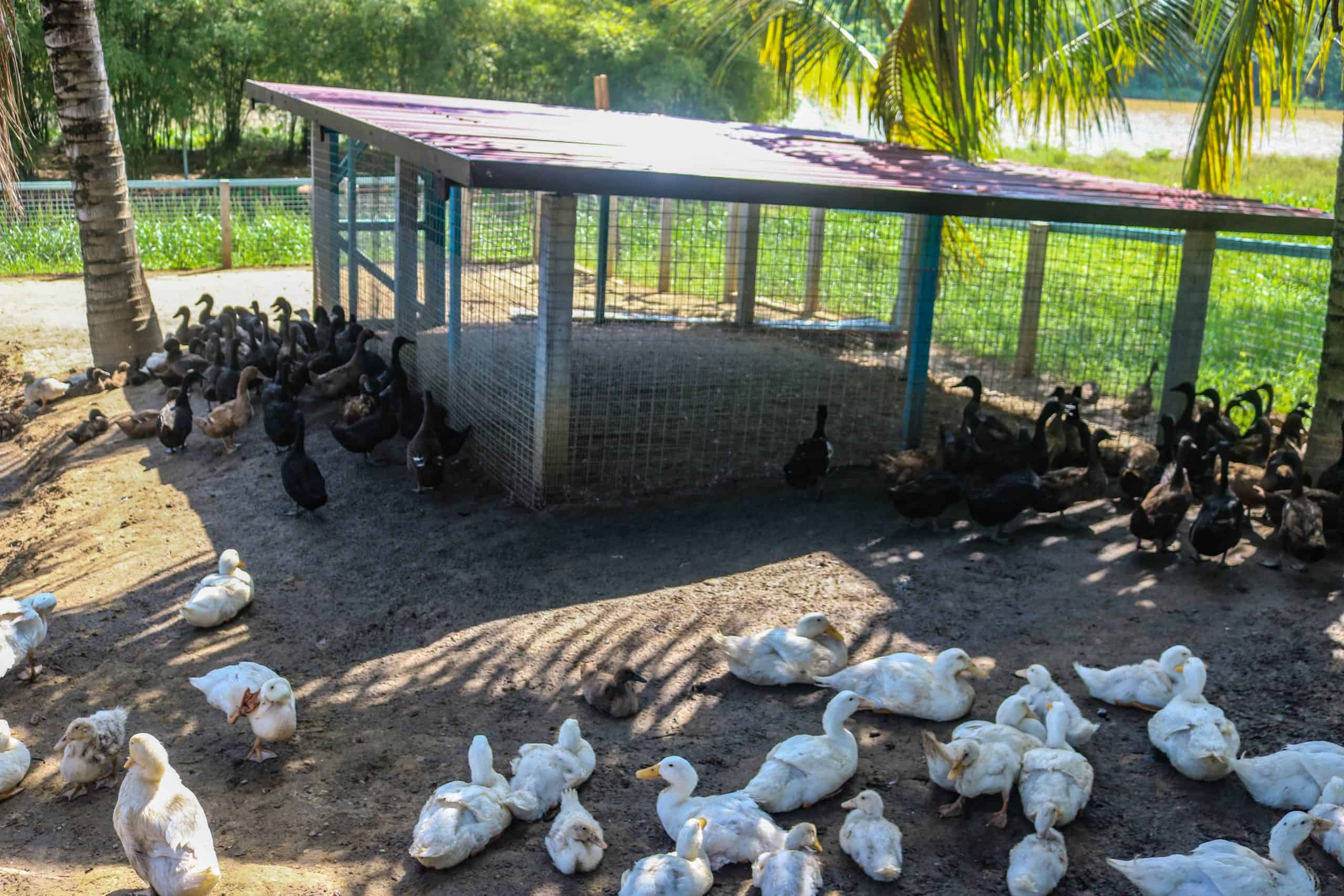 Learn How to Make Salted Eggs
Making Salted (preserved) Duck Eggs is quite fascinating. The steps are easy but the ingredients used are not exactly household items. It also takes 10 days for the eggs to be ready to eat. First you roll your freshly washed (and brined) duck egg in a special clay mixture, then roll it in a soil/ rice husk mixture. The eggs are then left at room temperature for 10 days (the SFV method). Easy right? Bonus points for visitors who do this activity is that they also get to take 4 Salted Eggs home with them, and 10 days later, bon appetit!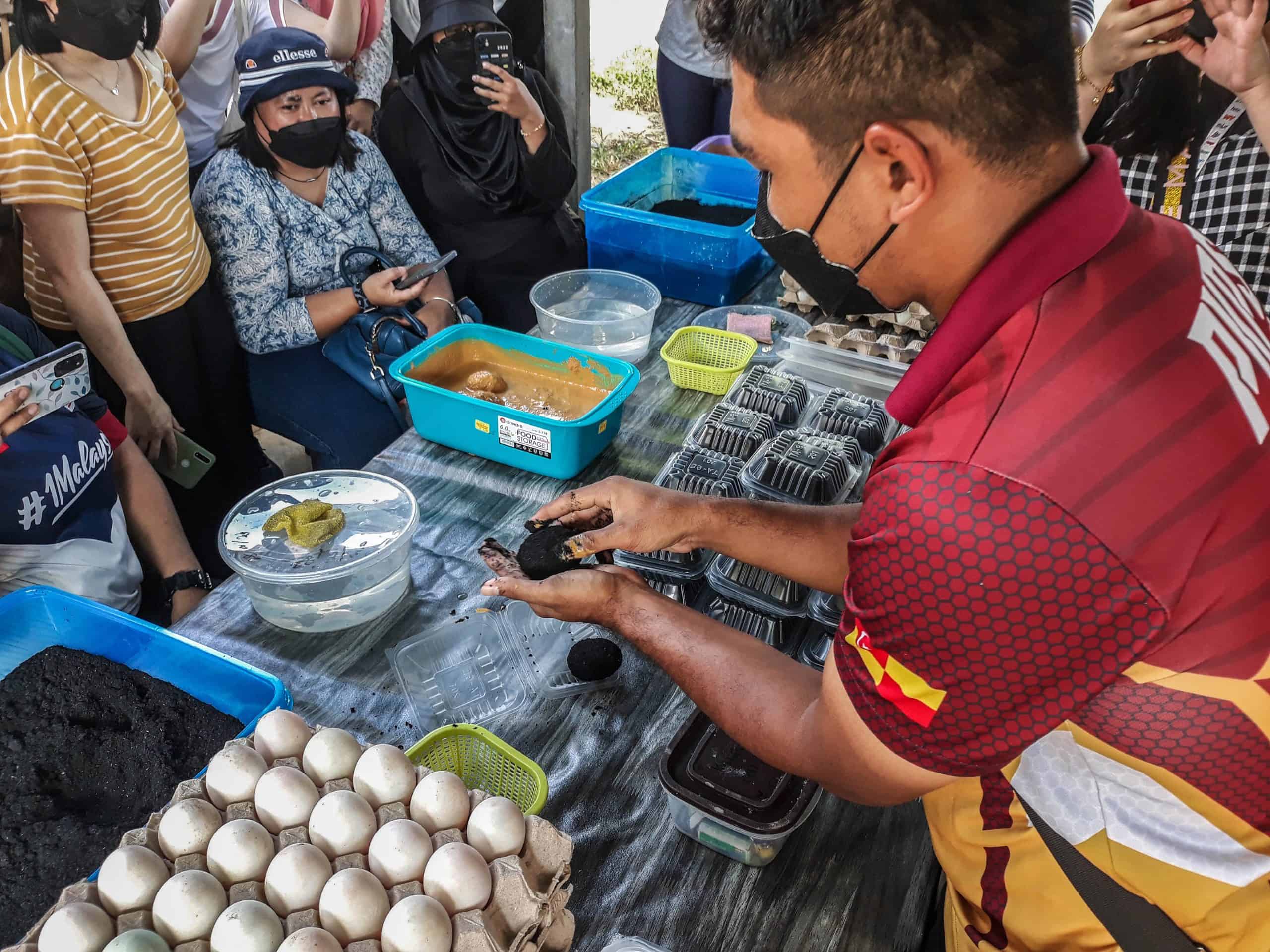 Pick Fresh Fruit Straight from the Tree
Harvesting fresh fruit and produce is a lot of work, but when you are just grabbing a few pieces to take home? Then it's categorized as good old-fashioned fun; educational too. The staff at Selangor Fruit Farm will teach you what to look for when selecting your take home fruit, which will make the experience even sweeter. Depending on what is in season during your farm visit, your to-go fruit could be guava, pineapple, or more. And the taste will be worlds apart from any store bought, imported fruits.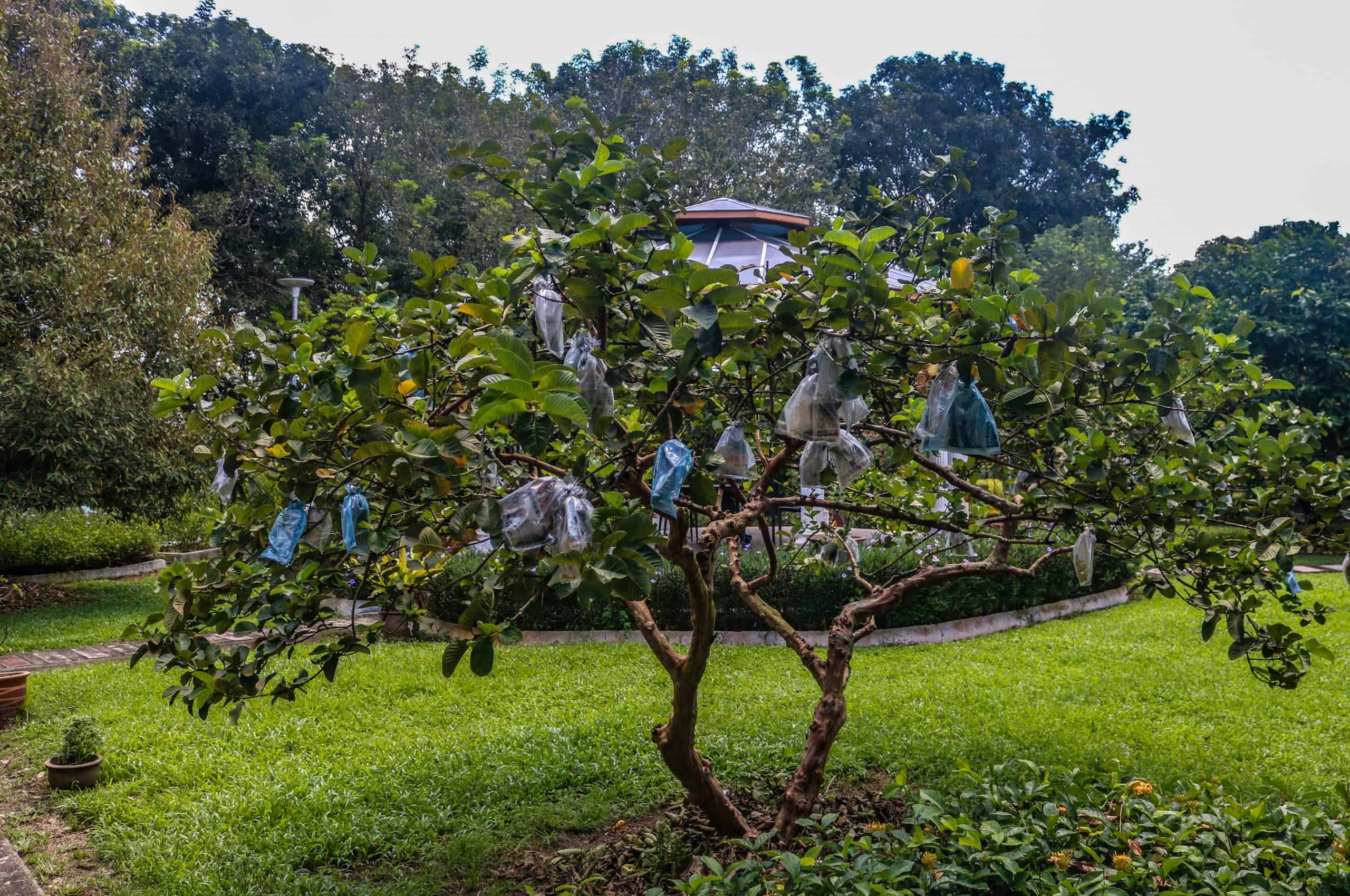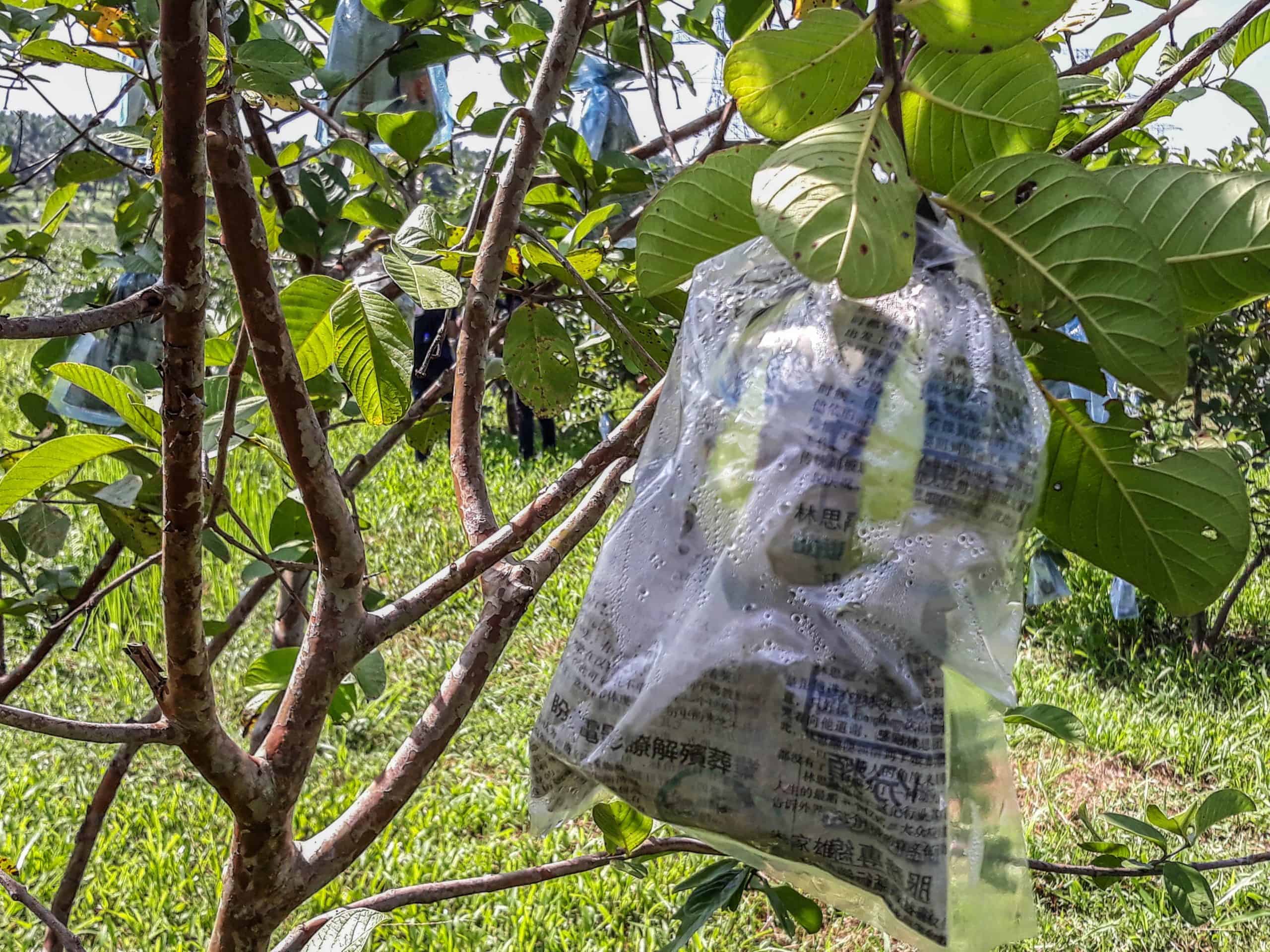 Learn about Stingless Bees (Lebah Kelulut)
If you have never heard about Stingless Bees, you are in for a real treat. These insects are fascinating! With over 500 species of stingless bees buzzing around the world, you've probably already unknowingly encountered these interesting insects. In Malaysia alone, there are reportedly 30 known species of stingless bees (known in Malay as lebah kelulut).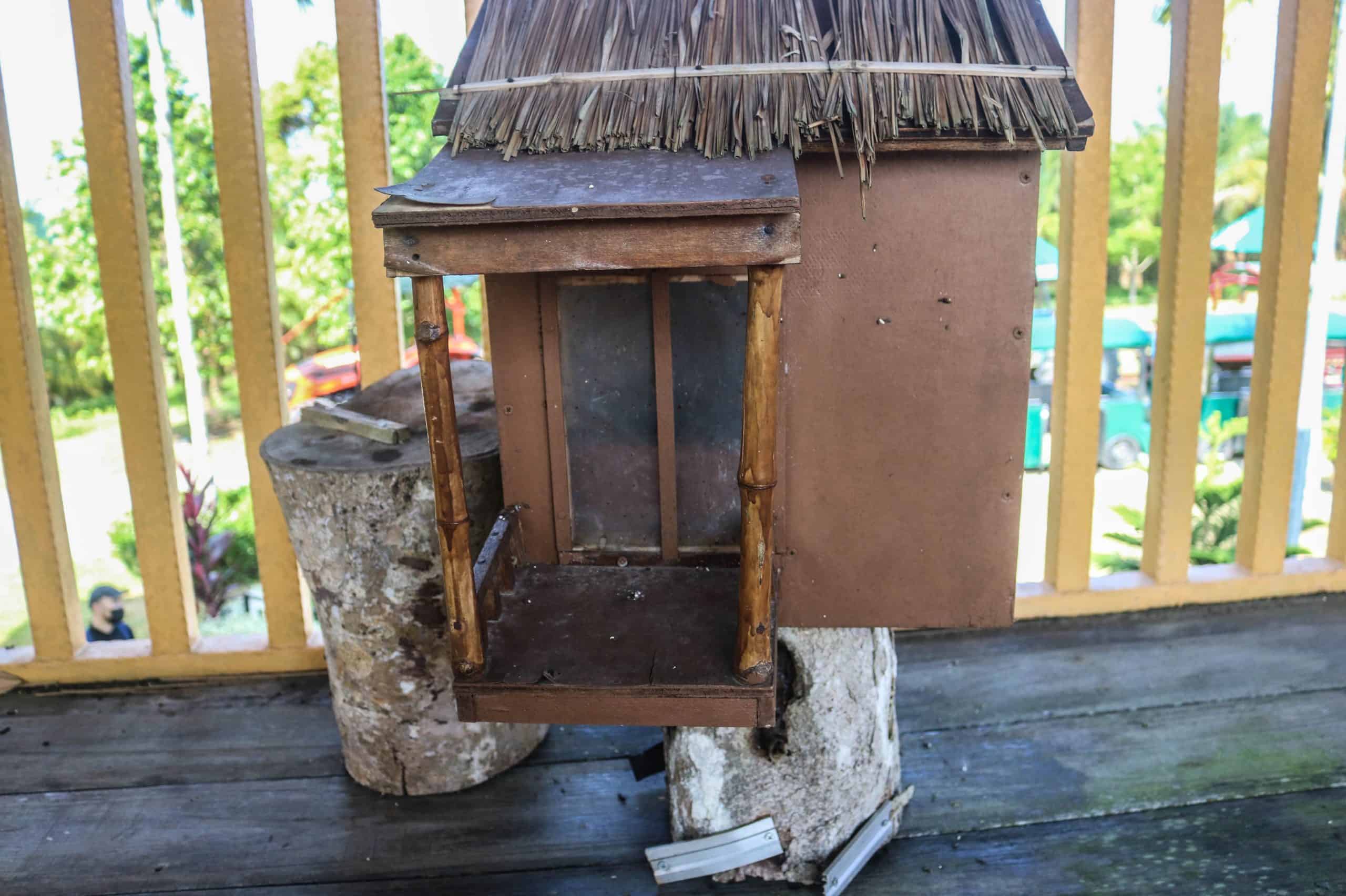 Stingless bees are of great benefit to crop production, as they have a flight range of about 500-meters which keeps them generally close to home. At Selangor Fruit Valley, those cute little wooden 'cabanas' that you'll see onsite are Stingless Bee hives, which you can observe closely without getting stung.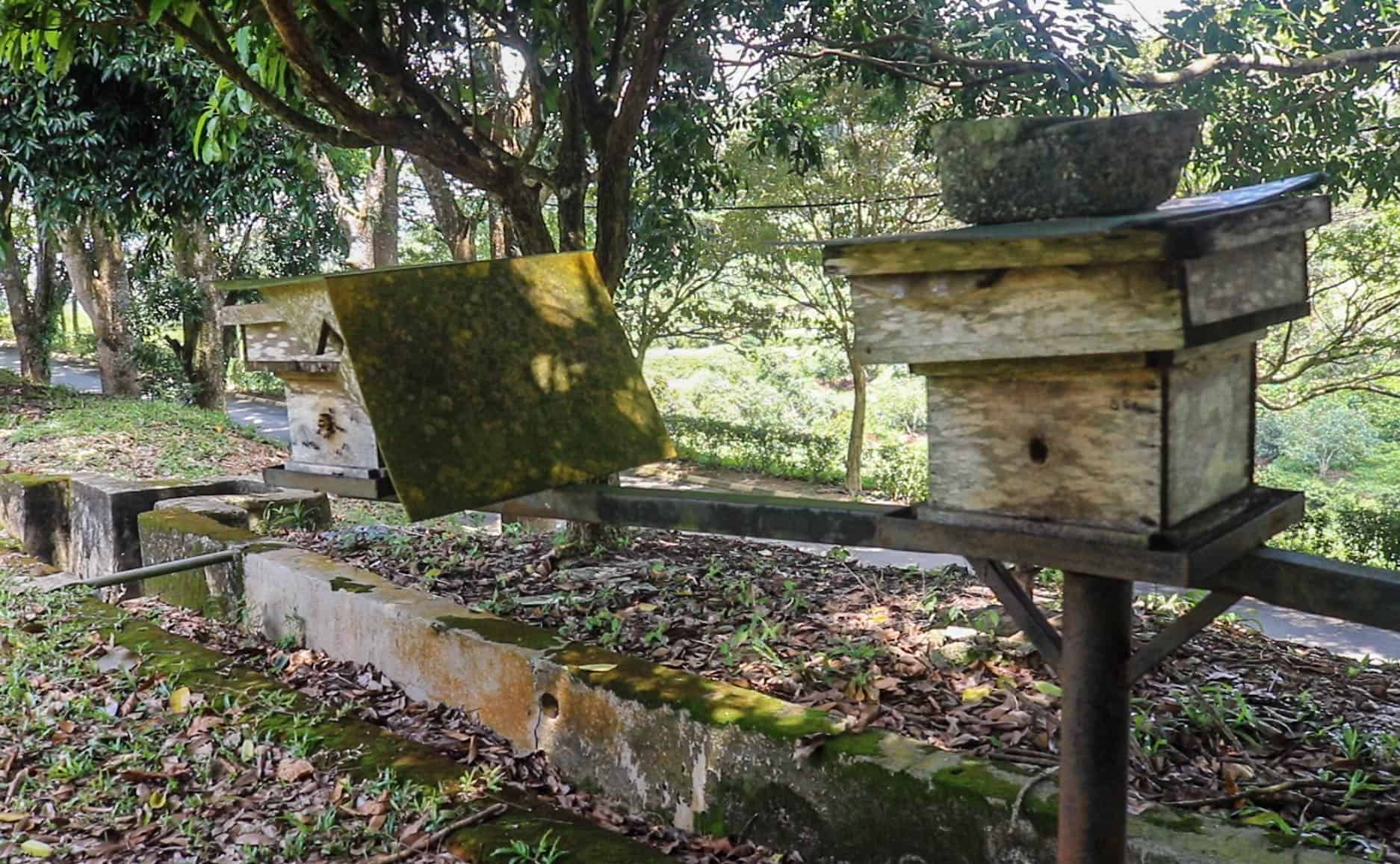 But wait, there's more!
There is a lot more to see and do Selangor Fruit Valley; from cycling and fishing to simply strolling the grounds and enjoying the farm vibe. There's something for everyone and very family-friendly. If you're looking for a conveniently located, quick family outing, Selangor Fruit Valley is an excellent choice.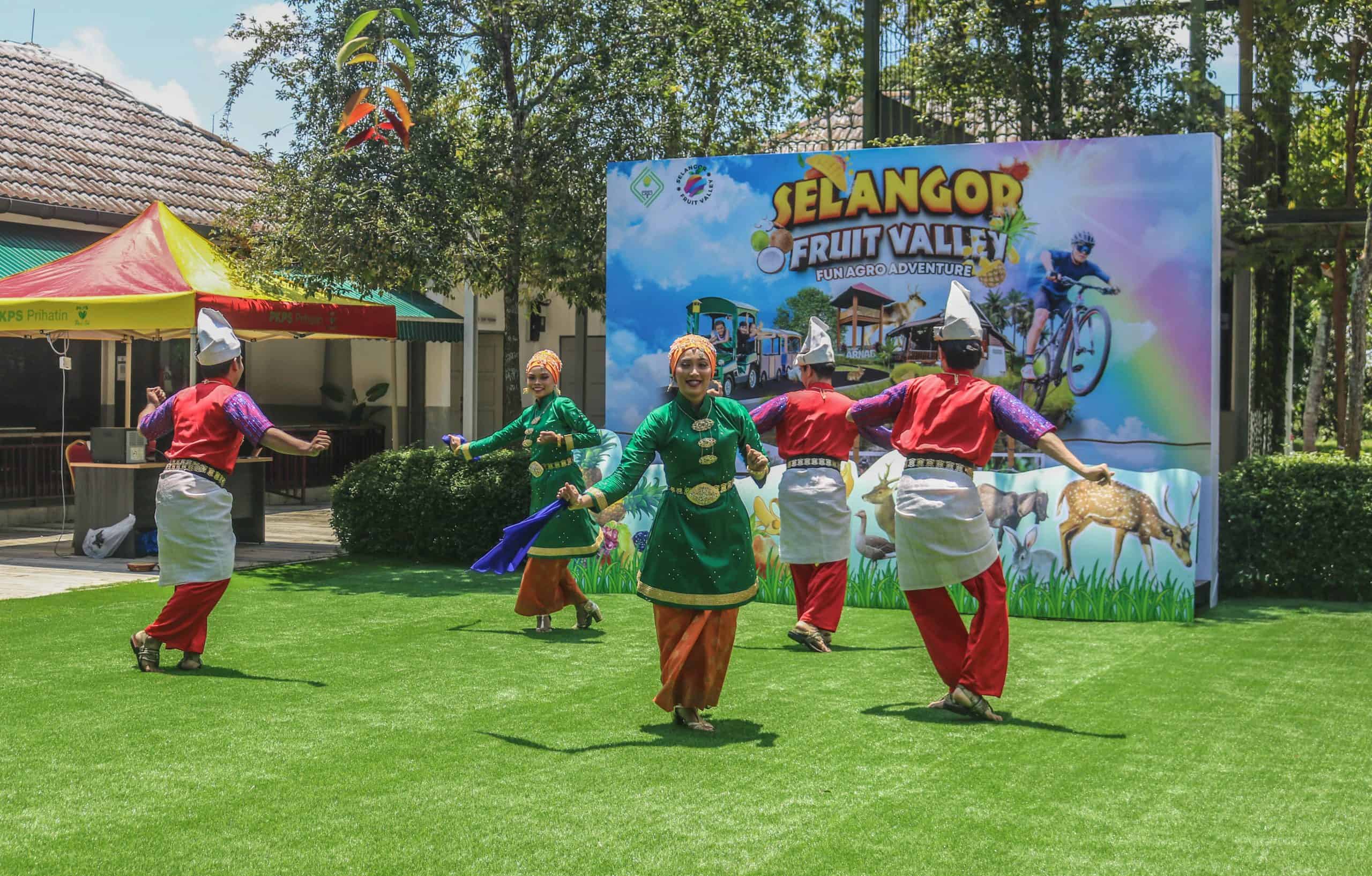 What's the entry fee for the Selangor Fruit Valley?
Basic walk-in admission fee for kids and seniors is RM10 (My Kad)/ RM25 and for adults the entry is RM15 (My Kad)/ RM30, but farm visit packages include fresh cut fruit and a coconut drink.
Adult Farm Visit Package is RM22 (My Kad) / RM37
Includes: Entry ticket, fresh cut fruit, whole coconut
Student Farm Visit Package is RM16 (My Kad)/ RM32
Includes: Entry ticket, fresh cut fruit, whole coconut
Senior Citizen Farm Visit Package is RM17 (My Kad)/ RM32
Includes: Entry ticket, fresh cut fruit, whole coconut
Additional activities cost a little extra, but you can check those prices HERE.
For more information about things to do in Selangor, Malaysia, check Tourism Selangor's Website HERE.
SELANGOR FRUIT VALLEY
KM 7, Jalan Bestari Jaya, Batang Berjuntai, Selangor, Malaysia
Email: [email protected]/ Tel: 016-688 0792/012
Open: Thursday to Sunday, 0900 to 1600 (Closed Fridays)