You will find chicken served up in just about every restaurant in Langkawi from simple Nasi Ayam (chicken rice) to stick to your ribs Chicken Curries. But one of the more difficult food selections to find is an excellent barbecue chicken. You know the hot-off-the-grill, slow roasted over glowing charcoal until it's full of flavor, kind of excellent barbecue chicken? Well, nothing beats roadside barbecue Langkawi style!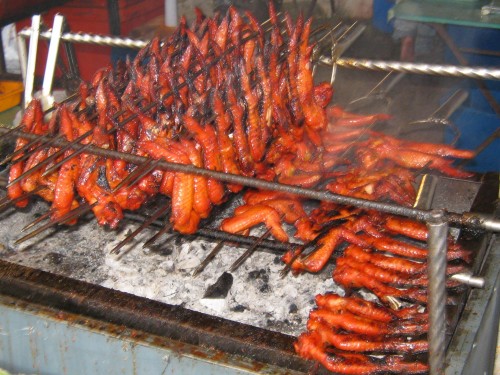 I lucked out about a year ago when I discovered the small family run operation of Maju Pak Jang located roadside between the Langkawi Lagoon and the airport runway. They were usually there when I passed by the area and I wondered how long they would (or could) keep up that pace. But the consistency of this man and wife team has certainly paid off, as their operation now, a year later, requires a few more helping hands to keep up with the ever growing demand of their rather perfect and definitely excellent barbecue chicken.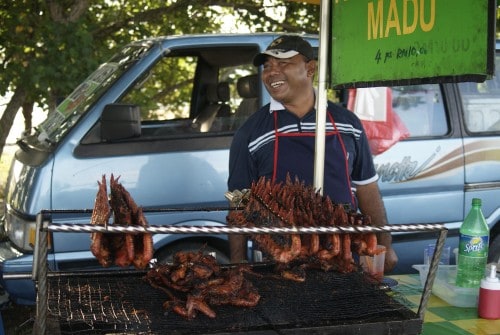 Maju Pak Jang is tucked away amongst the many Laska stands and coconut 'milk' hawkers that set up along the waterfront in the latter part of the day. Because of the popularity of these mobile hawker's trailers, the local government recently develop bricked areas and pavilions overlooking the lagoon just for the ever growing visitors who are drawn there. And that means even more business for the Kepak Ayam Madu operation as they are presently the only purveyor of slow roasted barbecue chicken.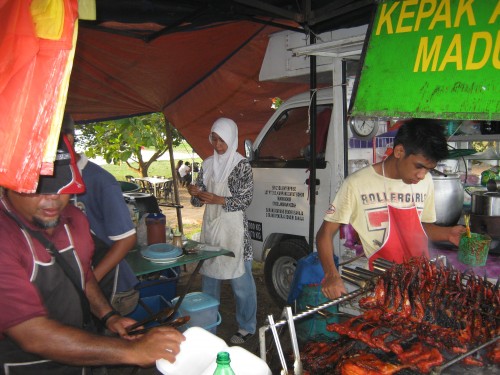 Just look for the stand where the smoke is rising and filling the air with the aroma of barbecue. And it's not just any old barbecue chicken. The whole chickens and individual wings are marinated in a family recipe of herbs, spices and coconut milk. It's then slowly roasted, all the while being constantly basted with their secret sauce. The constant basting and slow roasting infuses the flavor thoroughly through the meat, keeping it moist and succulent.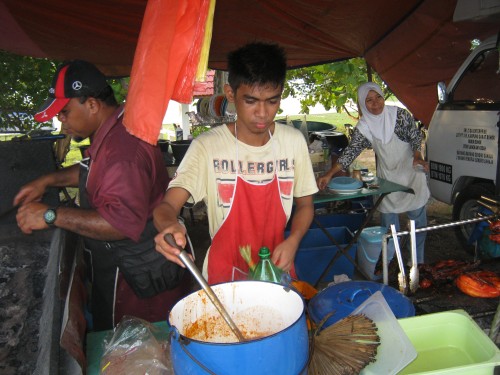 You can purchase a whole or half chicken or just buy some of the wings for a quick snack. They also serve a rather tasty coconut rice which goes perfectly with their spicy chicken. And now with the availability of tables and chairs along the picturesque shoreline you can have an outdoor picnic while enjoying the seaside view.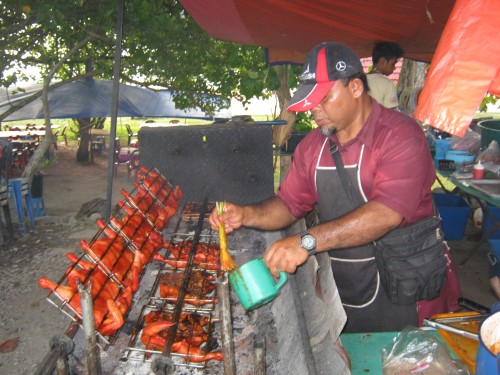 Maju Pak Jang usually starts firing up their grill around 16:00 almost daily with exception of Fridays and some holidays. They are however take away only, so bringing your own reusable food container or take away bag if possible will help keep Langkawi green by reducing the use of plastic as well as reduce rubbish.