Many moons ago I worked in a Famous New Orleans hotel gift shop, selling over priced trinkets to the wealthy guests. I took the same early morning trolley car from my aunt's house in the Garden District and became accustomed to the same daily passengers, including a lone blind man who worked in a small garment factory near the French Quarter.
I would often see this man meander about the streets of New Orleans, somehow negotiating those cracked heat swollen sidewalks with magical ease. His striped stick tip tapping throughout his day-to-day life.
I later worked with the visually impaired in a rehabilitation unit and cringed at the work that went into being retrained to 'see'. Their daily frustrations obvious as they learned to negotiate a world without light.
One of my worst fears would indeed be to lose my eyesight.
I rely heavily on it.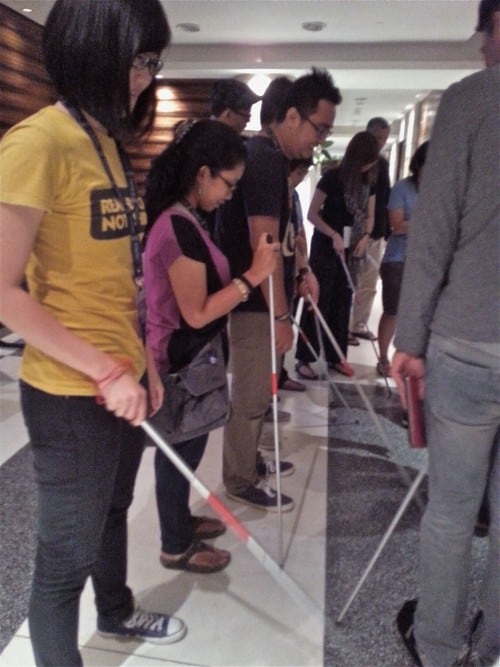 But a recent team building experience made me realize that I had become blind (aka visually impaired) in another way. I had grown to rely on my sense of sight so much, that my other senses had indeed become rather dull and lazy. And with that, any interesting descriptive narratives about the world in general, through written word, video, art or any other creative endeavors would continue to be limited and created with less passion.
As a participant in Tourism Selangor's #TSBreakAway challenge, myself along with the other 11 Xplorers were introduced to Dialogue in the Dark.
Having not done any prior research to this 'workshop' I hadn't actually understood what the Dialogue in the Dark was supposedly about, nor could I even imagine. Ok, I probably thought it was something cheesy like putting my hands in a bowl of slimy gummy worms mimicking human entrails, or perhaps I'd be be forced to eat a grape eyeball.. (gasp!)…
But no, I wasn't even close. The internationally recognized Dialogue in the Dark's concept is simple. Remove the sense of sight from the seeing and place them in an environment where they must apply their other senses to experience what they would under 'normal' conditions. Their sense of smell, touch, hearing and even taste are used to interpret their even most basic surroundings. Blind guides actually lead them through this experience to give participants a sense of security and orientation in a world without vision.
Our exercises were devised primarily (I assume) to utilize the concept of teamwork, but in relation to what #TSBreakAway was about I slowly realized there was a greater concept being introduced. I don't want to go into detail about the activities we did in the dark (all G-rated btw) and of course any experience is individual based on one's own previous experiences in life…
Let me just say that my visual time-out gave me a chance to really think about what I wasn't seeing based on my mental library of images and past experiences. If that sounds a bit like groovy chit chat.. well, I do have my occasional 'moments'..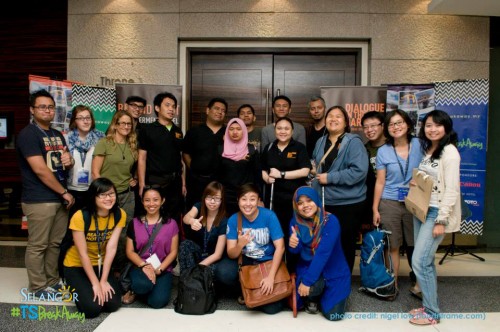 In retrospect being engulfed in blackness is probably easier than being surrounded by a teasing blur of images. Why? Because the sense of sight desperately tries to connect to the brain to make sense of contrasting images, exhaustively working overtime. But blackness is a no-brainer. That leaves the kinfolks; taste, smell, hearing and touch (not necessarily in that order) to pick up the slack. But again these senses also rely on individual experience and perception.  A writer's foie gras.
It's often too easy to compare something new to something familiar, but imagine describing your world to someone who has never actually seen your world? Or any world for that matter. It's far too easy to rely on a few redundant words and catch phrases in describing the world and for story telling, or any form of narrative, can be just plain boring.
Sometimes it just takes closing your eyes to really see.
But Dialogue in the Dark held another message for those of us who might need reminding. The reminder that there are many people in the world with hurdles to overcome, some greater than others. No one is really immune to life's obstacles and everyone deserves opportunity regardless of deemed handicaps and limitations.
Dialogue In The Dark Malaysia
1-3, Jalan Solaris 2, Solaris Mont Kiara
Kuala Lumpur, Malaysia
Tel: Stevens Chan +6012-2035410 / Mel Leow +6012-3392551
Email: [email protected]
Website: http://www.dialogueinthedark.my/
Official Website: http://www.dialogue-in-the-dark.com/

*This is my fifth post for Tourism Selangor's #TSBreakAway