Without going into the details of Malaysia's Ramadan fasting month and what it means for Muslims, I will say there is a lot of food involved (between fasting). For non-Muslims, if you aren't fortunate enough to be officially invited to a traditional 'break fast' (buka puasa), you can still experience some of the cultural aspects of Ramadan by visiting a Ramadan market and exploring the Ramadan market food in Malaysia that is available. It's a great opportunity to try some unique dishes you might not otherwise have a chance to try.
Malaysian Ramadan markets are quite similar to regular Malaysia night markets, with plenty of the usual night market foods as well as some typical wet market foods. Except during the auspicious fasting month, the food and beverages on sale at the Ramadan market will all for sure be halal and more 'special occasion' foods will also be offered.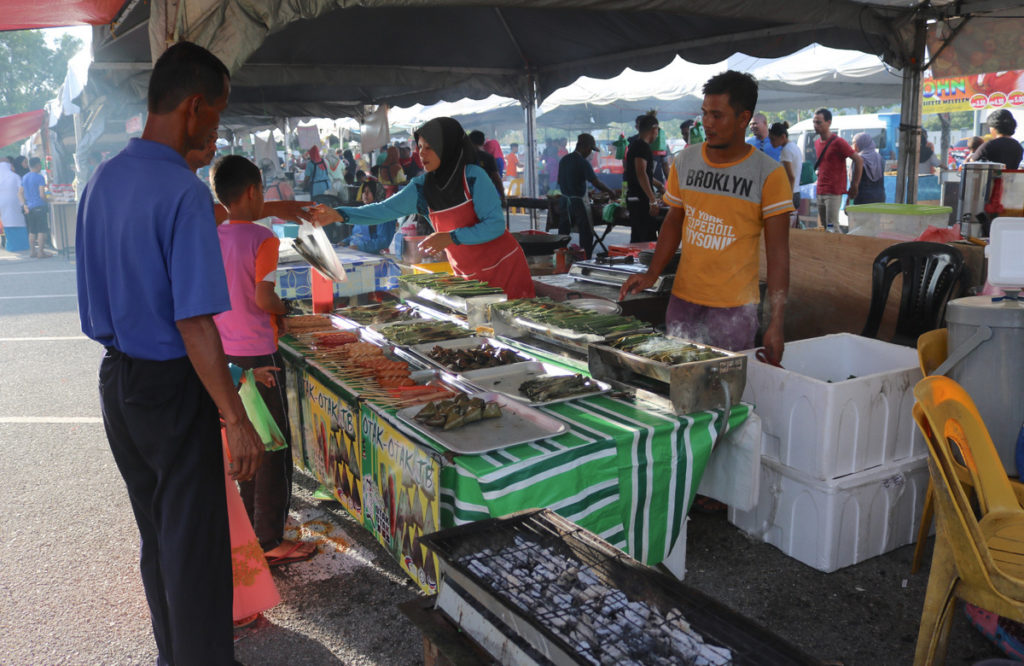 There are also a few tricks to the Ramadan market that newbies should consider when visiting these markets. First off, the markets generally open and start selling food around 17:00 and many Muslims will come early to get their food to go and break fast with family and friends at the appropriate time.
This actually varies slightly from day to day during the month depending on the lunar calendar and break fast time will be a little earlier each day. So if you see the locals getting priority service, try not to get huffy about it. Those folks are probably hungrier than you are.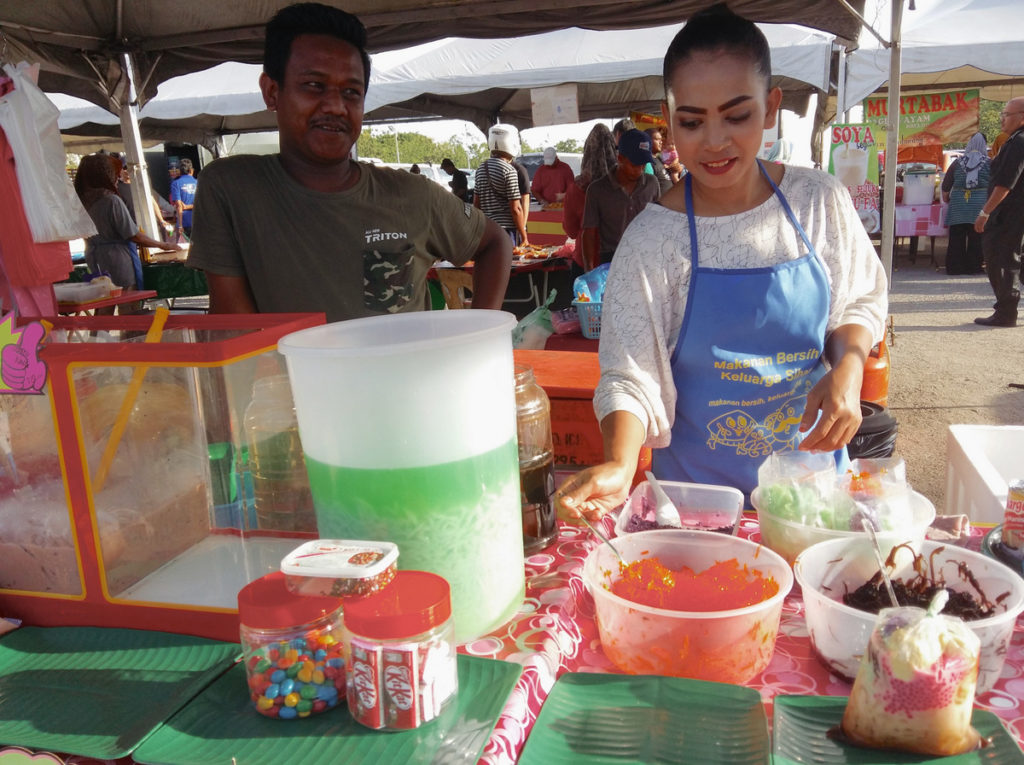 I personally prefer to go early to avoid crowds and it can be very tempting to want to start sampling food right away. But during Ramadan month, try to be cool. If no one else is eating, then it isn't time yet and it is more respectful. Either wait patiently or get take away and enjoy the unique cultural experience elsewhere. Ramadan market foods in Malaysia, as well as other countries, will vary depending on the location. Some serving more 'unique' food than others.
Not sure what foods to try? Here's my culinary cheat sheet that I've put together from my own Ramadan market experiences in Malaysia. Just a few of the Ramadan market foods you may encounter (and hopefully find delicious). Hope you find this helpful, Bon Appetite!
 Air Tebu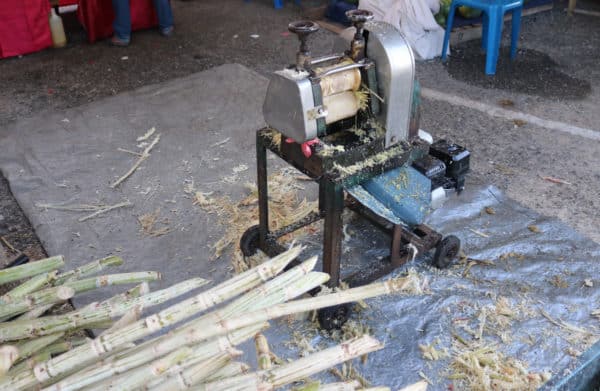 Air tebu is 'sugar cane juice'. It's not only delicious (and refreshing), additional entertainment comes from watching the juicing procedure. Vendors usually use a traditional machine to squeeze every precious drop of juice out. It's a bit noisy but fun to watch.
Ayam Golek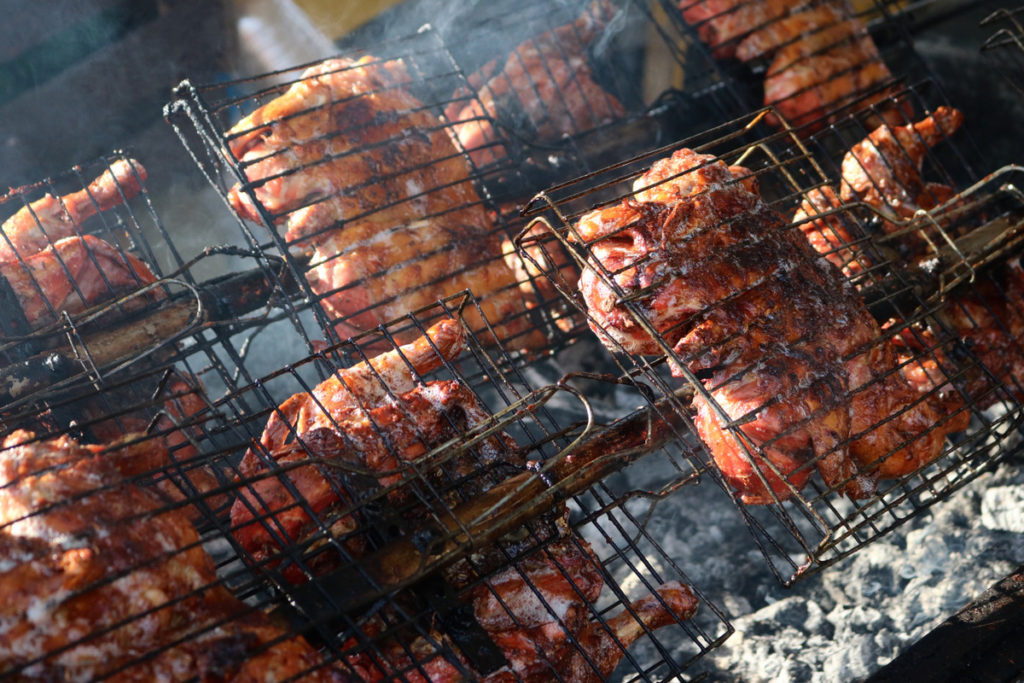 Ayam Golek is Malaysian rotisserie chicken at it's best. If you see the word 'madu' nearby, then expect some honey added to the secret family recipe. Buy it whole or have it chopped to your preference, the vendors are happy to oblige.
  Ayam Percik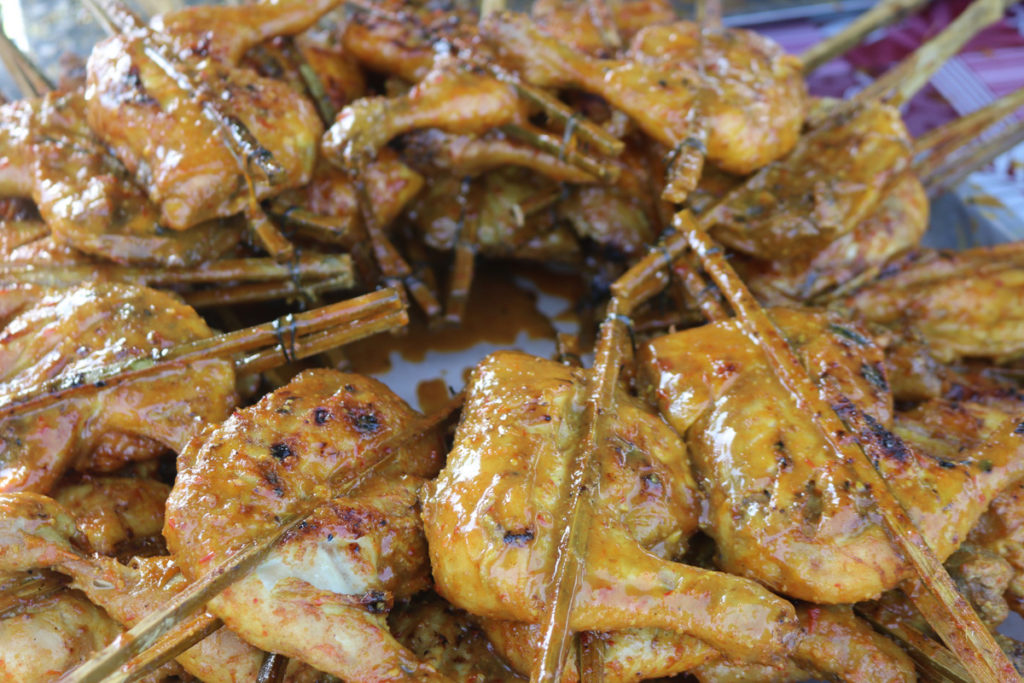 Ayam Percik is a barbecued chicken recipe which originated in the Malaysian state of Kelantan. Dipped and re-dipped to perfection in a sauce made from coconut milk, chili, garlic and ginger. Often grilled between two bamboo-style chopsticks with some parts being more identifiable than others.
Buah Rojak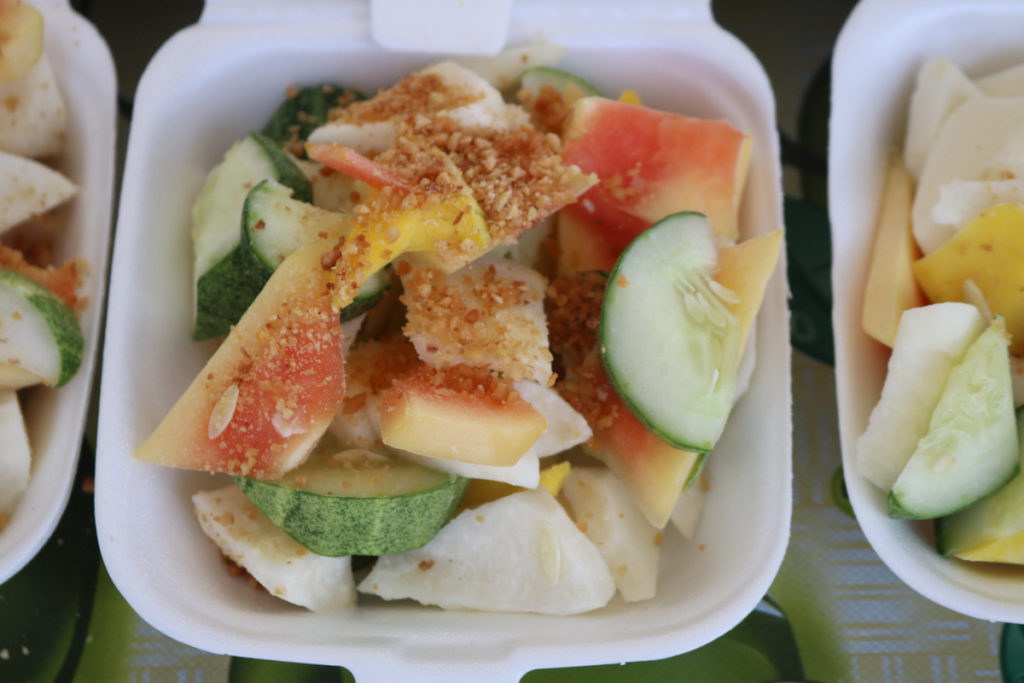 Buah Rojak is a tasty fruit salad and then some. The dressing, however may not be to everyone's liking because it may include shrimp paste along with the mixture of chili, lime juice and sugar. Variations can also include tamarind, black bean paste or peanut sauce. The sauce is usually offered separately so you can always taste test first, before mixing it in with the fruit.
 Bubur Lambuk or Kanji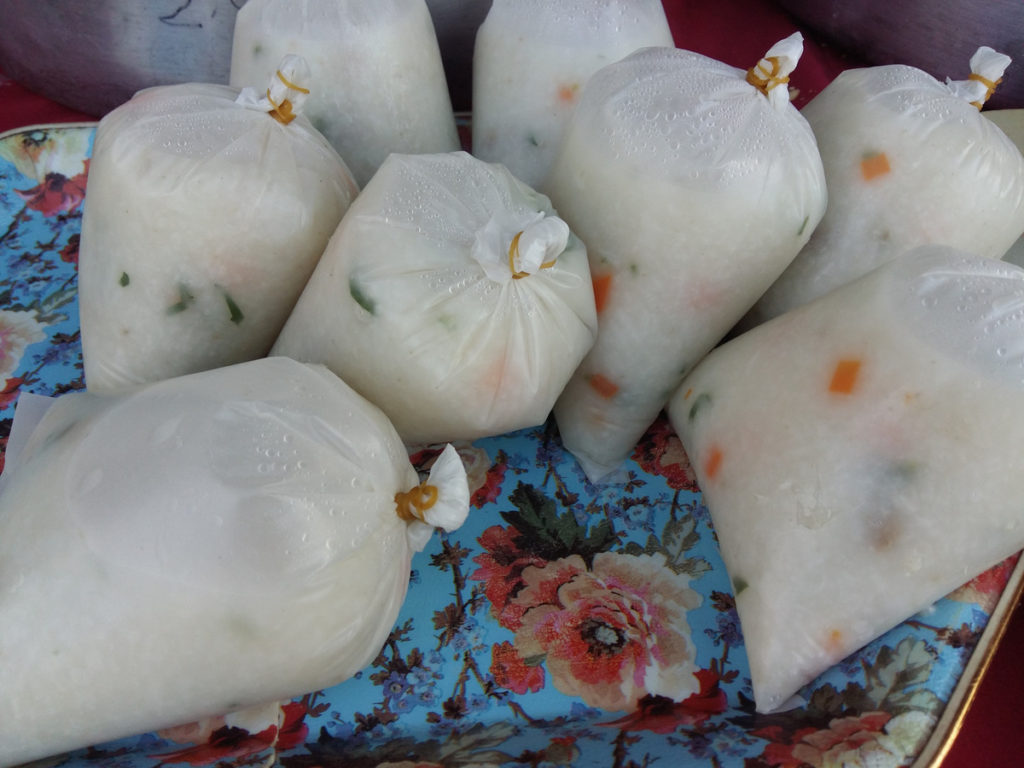 Some may know the word 'kanji' as a Chinese or Japanese character. But 'congee' is rice porridge which can go by quite a number of different names. In Malaysia it is called bubur or kanji. This popular rice porridge is made with chicken or other meats, carrots, lemon grass and ginger. The word kanji itself is of Tamil origin, which is another nod to the cultural diversity of Malaysia.
Cucur Udang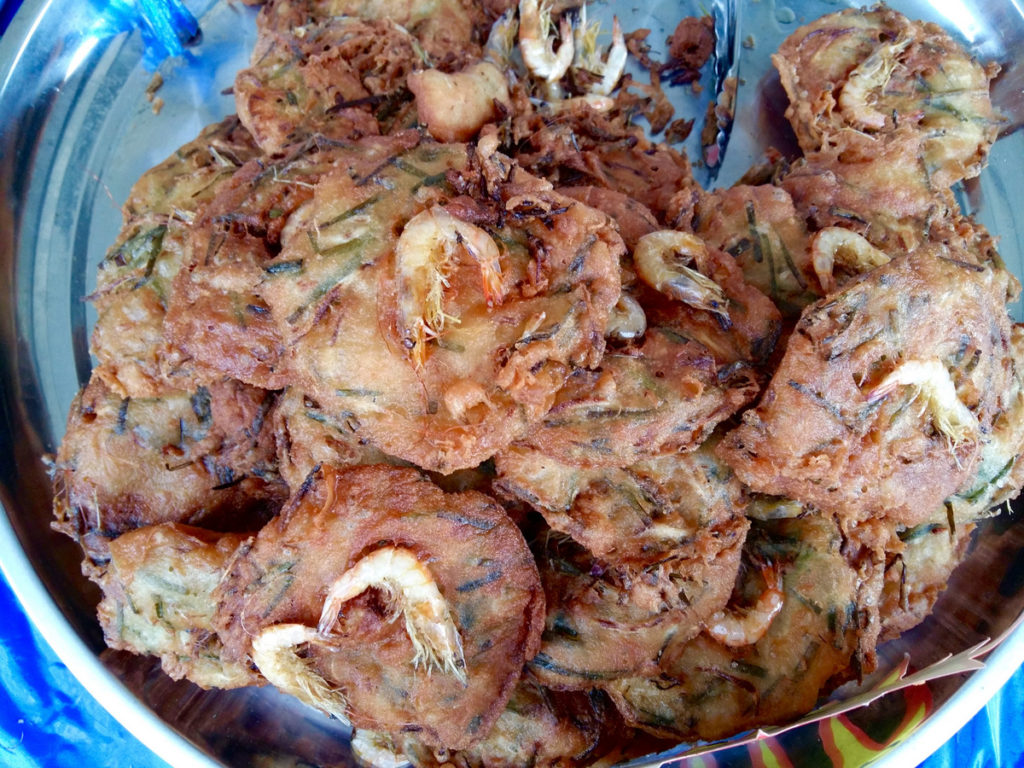 The tell tale sign of the Cucur Udang is the whole shrimp topping, and these deep fried shrimp fritters are especially good when served fresh and hot. The fritter batter includes chopped chives, onion and eggs and the final product can be a bit on the greasy side, but that just adds to the stick-to-your-ribs factor.
Dates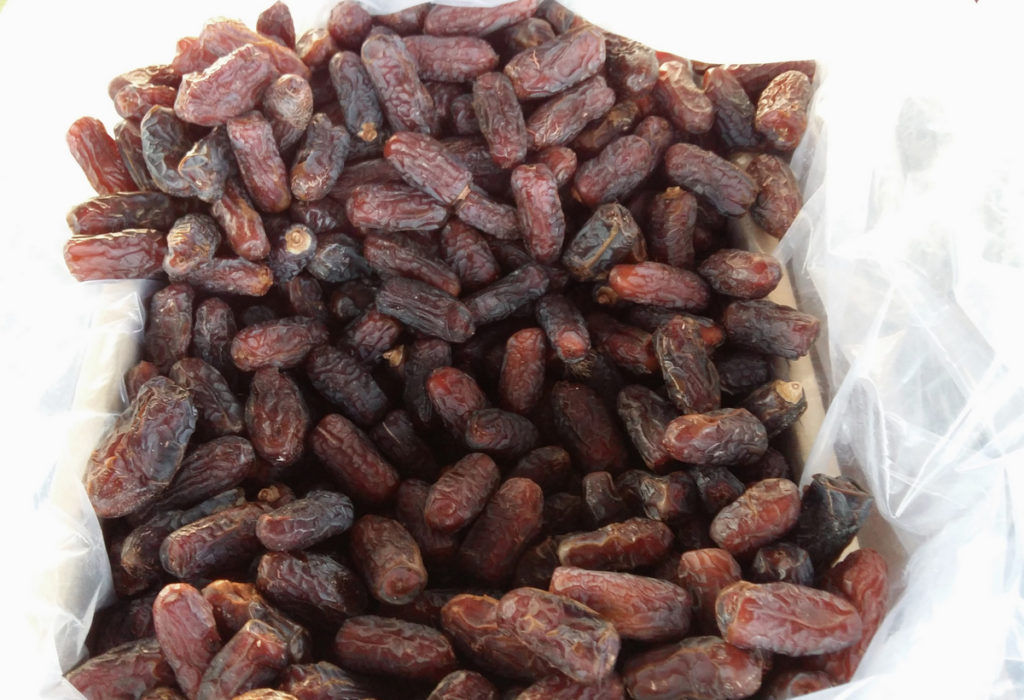 Dates are nearly as iconic as Ketupat when it comes to Ramadan. Chocked full of natural sugars, it's a very popular 'break fast' food. You can buy them at an especially good price during Ramadan and they also have a long shelf life, so don't be afraid to stock up.
Ikan Bakar and Sambal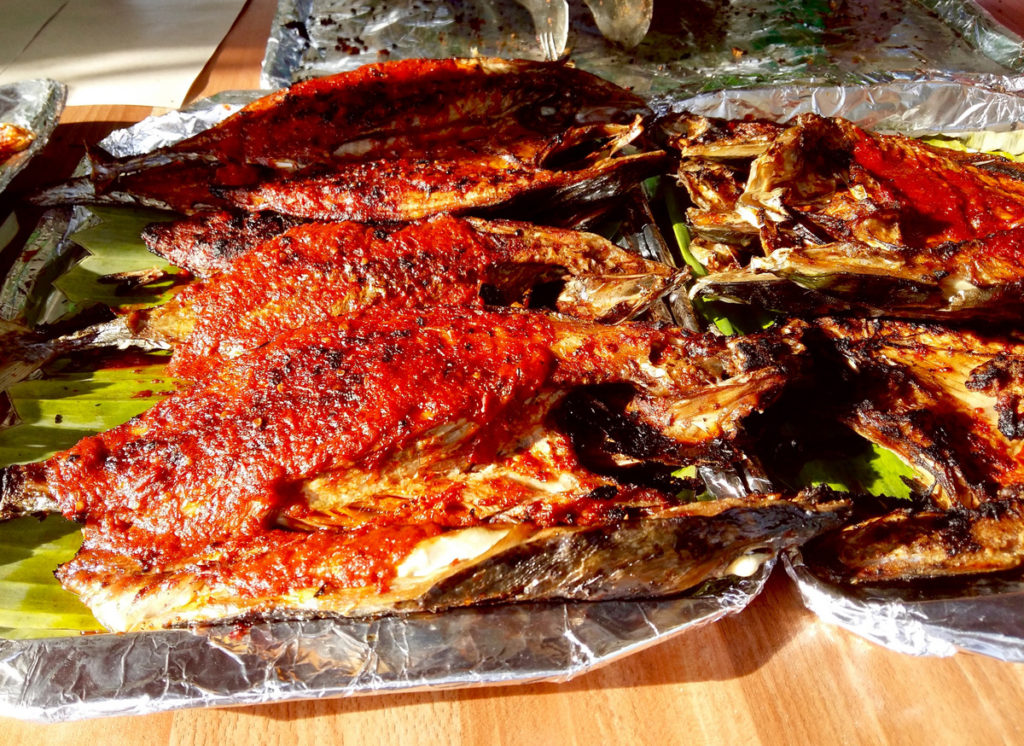 Don't let that red stuff put you off, if the fish is sleeping on a banana leaf bed, then that sauce is fresh sambal. Ikan Bakar and fresh Sambal can't be beat! Sambal comes in varying degrees of 'spicy' but if I can handle it anyone can. Sambal is made with ground red chili and variations of  shrimp paste, fish sauce, ginger, scallions, garlic, sugar, lime juice and even tamarind.
 Air Kelapa Laut
Although it's referred to as Sea Coconut, Air Kelapa Laut is actually made from the fruit of the Sugar Palm. The gelatinous fruit used to make the juice is housed inside the coconut-like encasement and tastes nothing like an actual coconut. It is super sweet too, so no added sugar needed!
Keria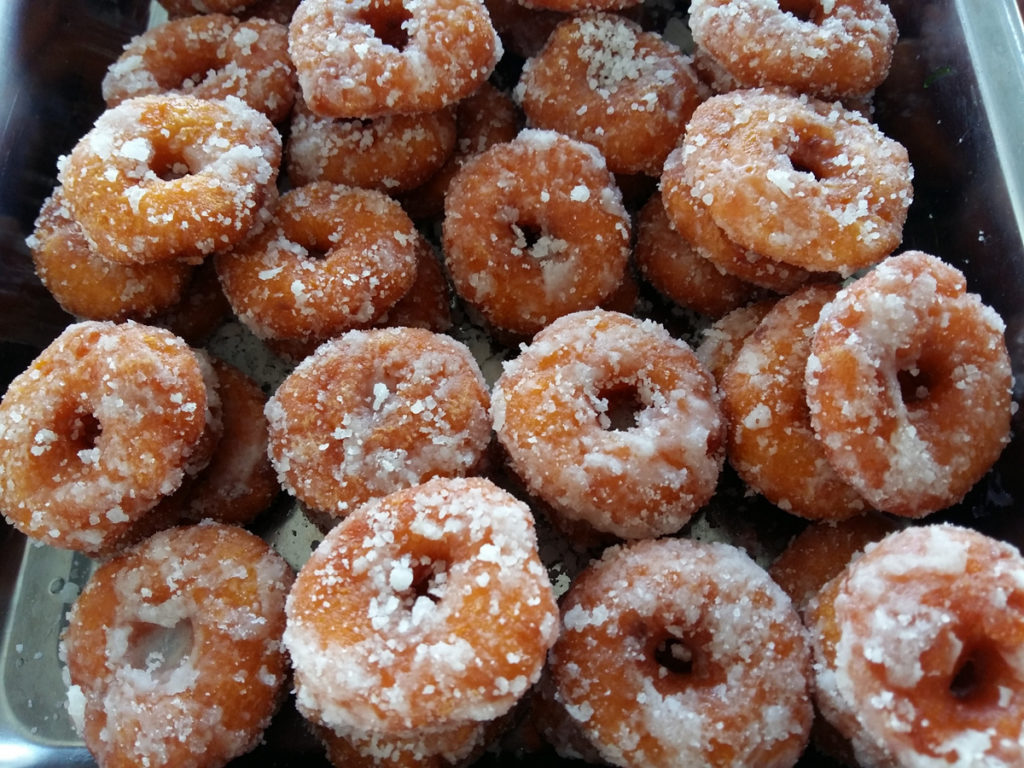 Malaysia's version of the donut and very similar to Peneram, but the Keria is made from sweet potatoes. Usually made onsite from rolled out dough and a makeshift cookie cutter, Keria tastes best when fresh and hot from the skillet.
Ketam Masak Cabai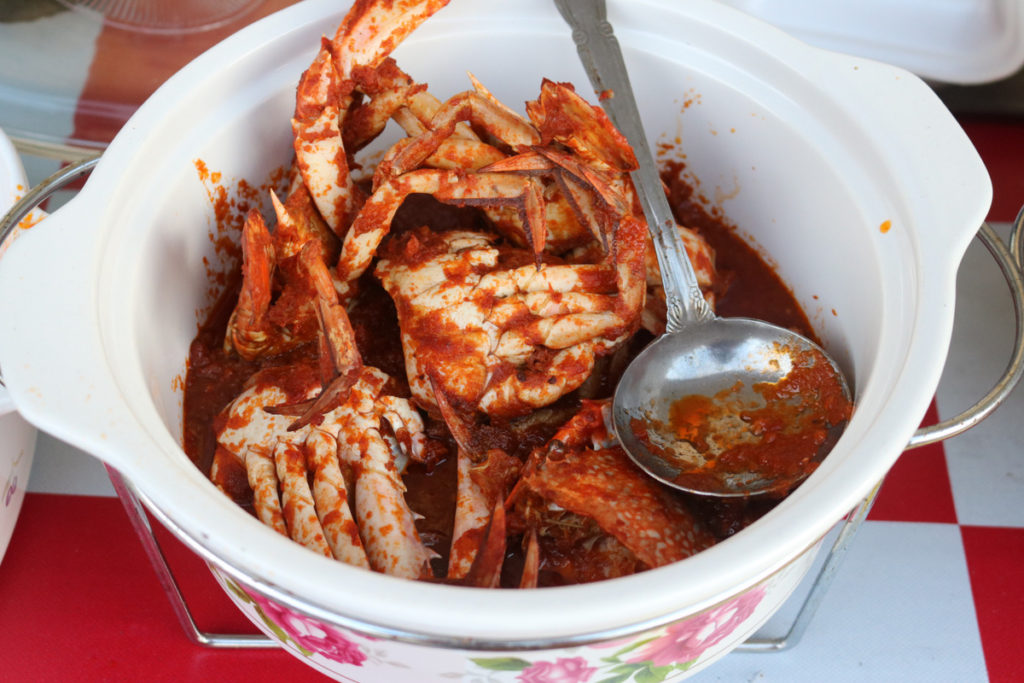 Ketam is the Malay word for crab and Ketam Masak Cabai is your good old fashioned Chili Crab. If you love spicy seafood, this dish should do the trick! Fresh Flower Crab smothered in delicious Sambal is a messy meal but well worth the challenge.
Ketupat – a Ramadan Icon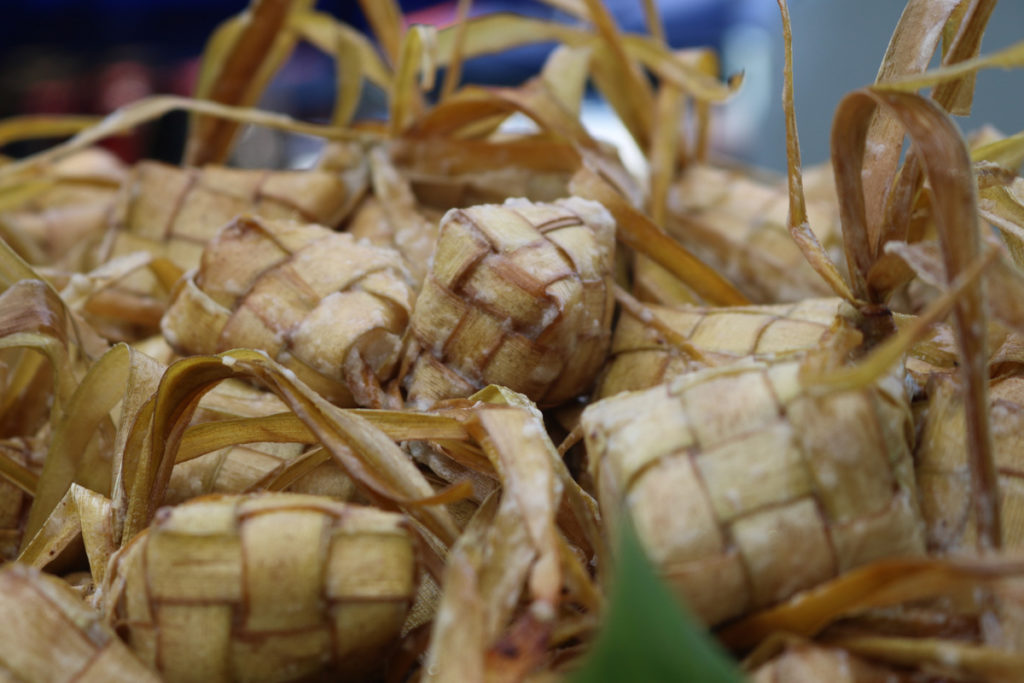 Ketupat is symbolic of Aidilfitri and originated in Indonesia. The word Ketupat may be a derivative of the words 'ngaku lepatis' which means 'to admit one's mistakes' (the traditional theme for Ramadan). The intricately woven palm leaf containers are filled with rice. As the rice cooks inside the palm leaves it absorbs water and expands; compressing it at the same time. It's later sliced and served traditionally with Beef Rendang or Satay.
 Kuih Cara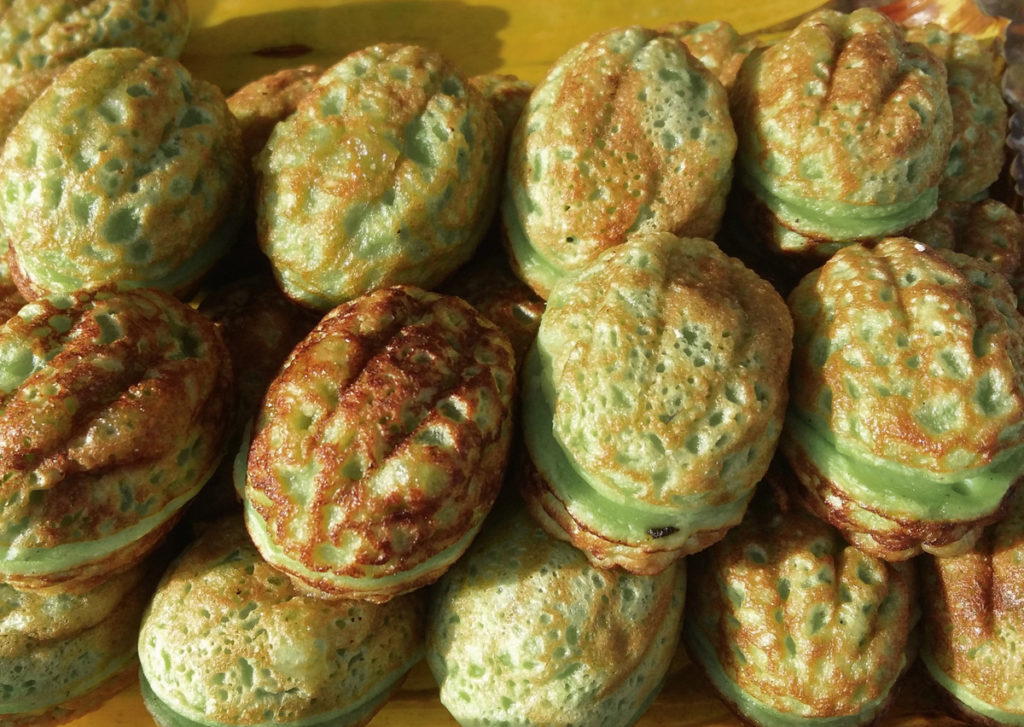 Kuih anything is a dessert lover's dream and these Malaysian pastries come in many colorful bite sized forms. The Kuih Cara are tiny molded Pandan cakes with sweet pandan filling. Soft, fluffy and delicious!
Kuih Lopes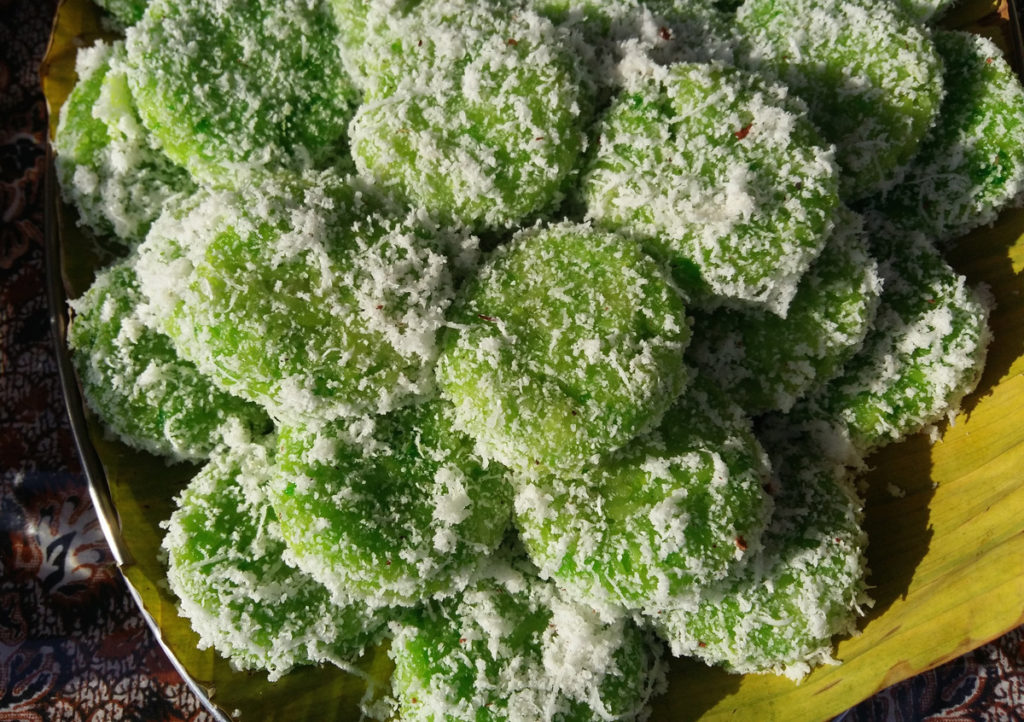 Kuih Lopes are made from slices of glutinous rice and sprinkled with coconut and salt. Another not-too-sweet snack that's often served with palm sugar syrup.
 Marie Batik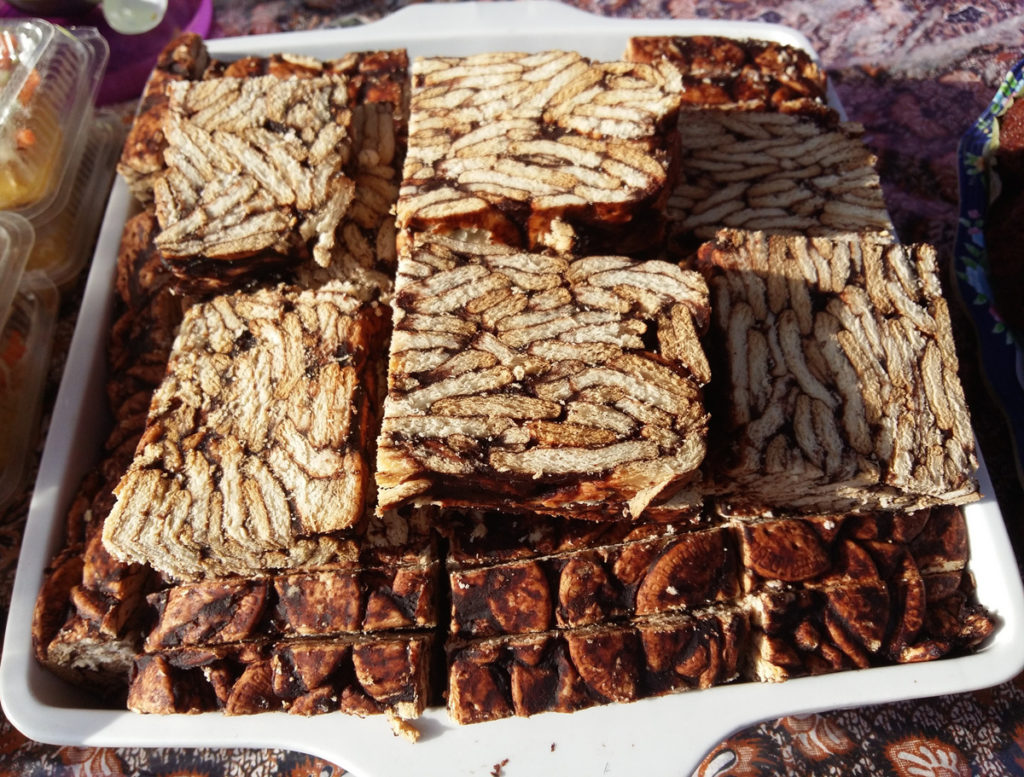 I love the name of this recipe and just assumed someone named Marie invented it. But this recipe is traditionally made with 'Marie Bisquits'. Cake baked with cookies what's not to like though, right? Marie Batik is soft and moist and not too sweet. Perfect with a cuppa or a dollop of ice cream.
 Moi Berlauk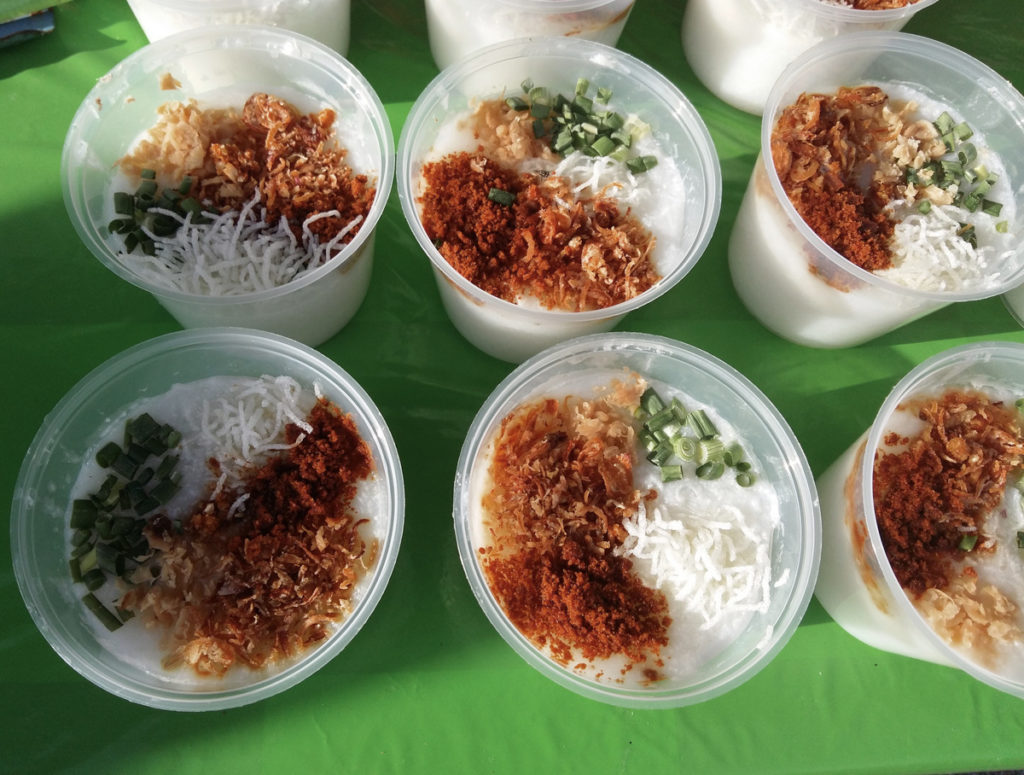 Moi Berlauk is another type of rice porridge. Lauk (berlauk) is the general term for the toppings. This Moi Berlauk (pictured) has chives, meat floss (shredded meat), coconut and some chili. This stall caught my eye because of presentation and the reusable containers they offered (instead of plastic bags). I'm also a big fan of congee.
Murtabak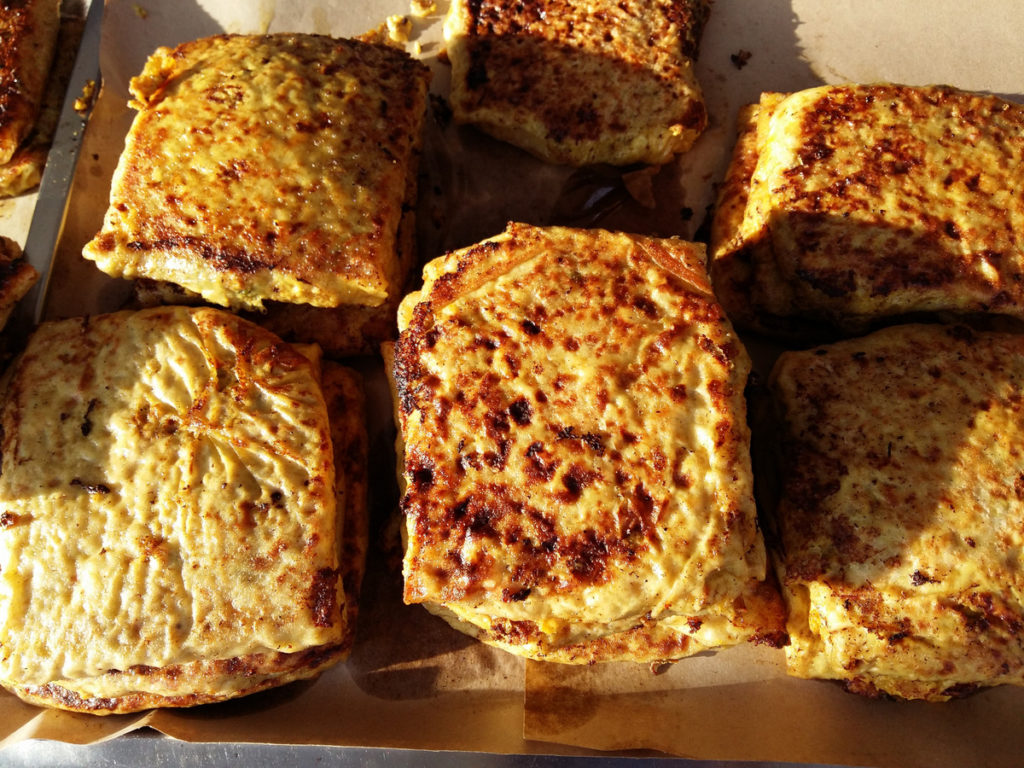 Everybody's favorite, Murtabak is readily available throughout Malaysia. Traditionally, a thin bread dough (as used in Roti Canai) is rolled out, an egg cracked and spread evenly across the surface, then filled with onion and chili and often a meat mixture. The bread is then folded into an envelope around the filling and cooked on a hot griddle.
Pulut Udang or Pulut Panggang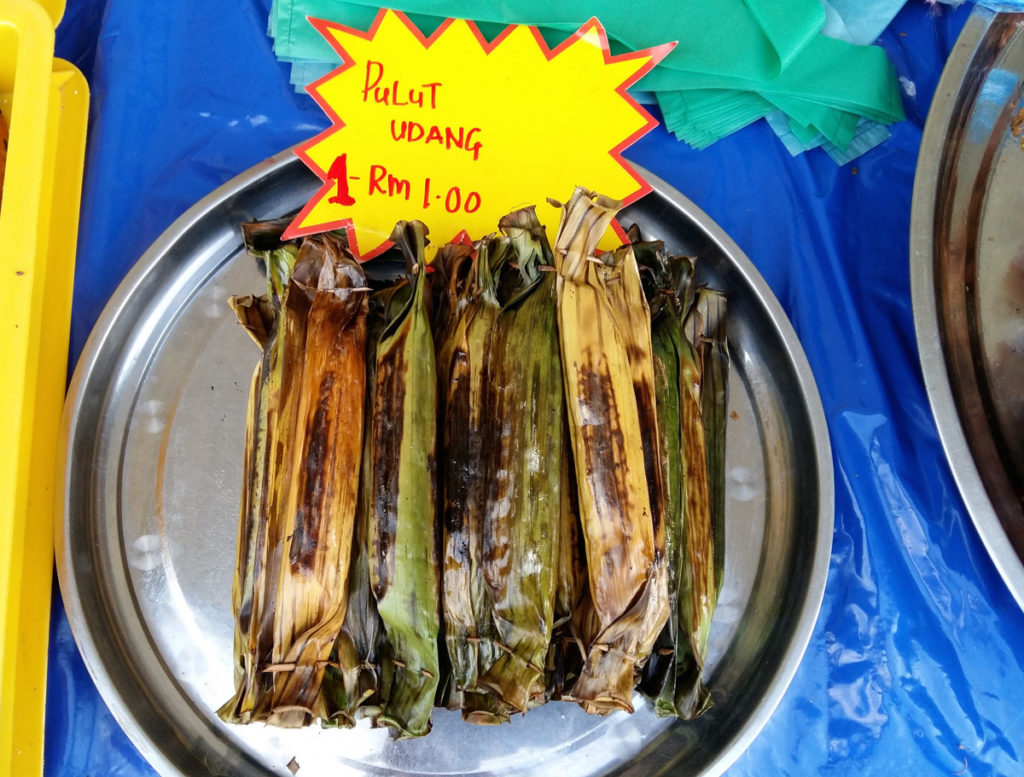 Pulut Udang (also called Pulut Panggang) looks identical to Otak-Otak, but it's made from glutinous rice, shredded coconut, dried shrimp and spices. It has a milder fish flavor and my personal favorite of the two.
Pulut Ayam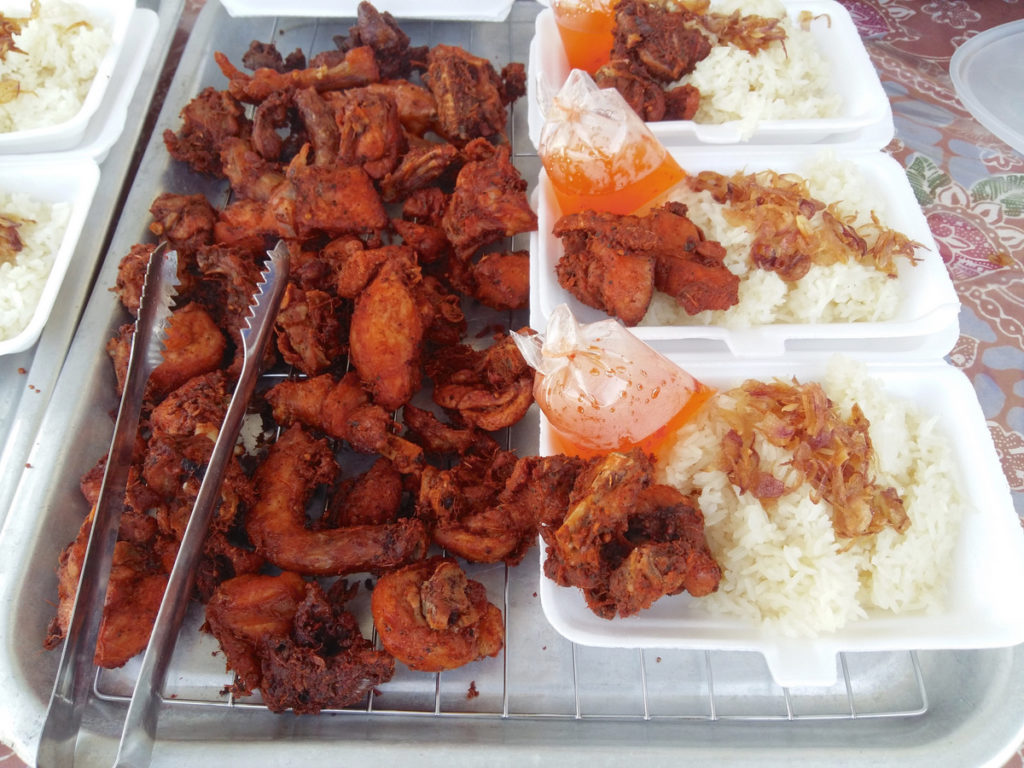 Pulut Ayam is Thai Fried Chicken. It has a dark color because it's marinated in soy sauce and various herbs and spices before deep frying. It usually comes served with an order of sticky rice and sweet chili sauce.
Roti Jala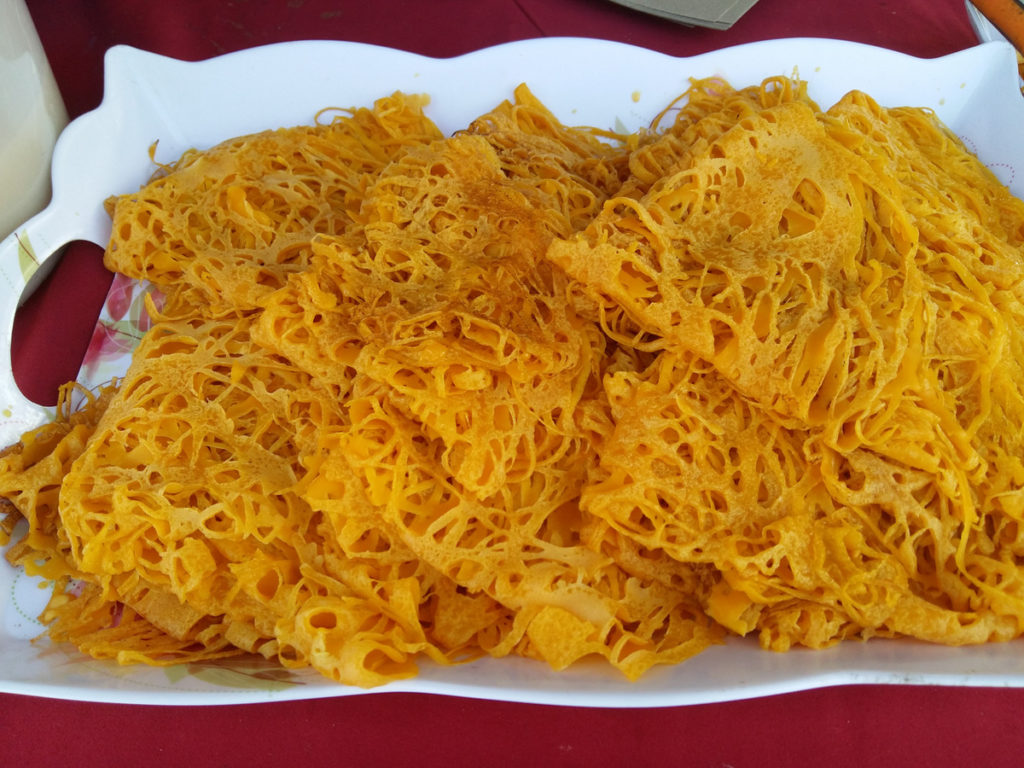 Roti Jala is 'net bread'. The batter is swirled expertly onto the grill creating a a lacy design which is then scooped up, folded and ready to serve with curry or other dip-able sauces. If you get a chance to see it Roti Jala being created, be sure to have your camera ready because the process is notably creative but over in a blink of an eye.
Tepung Pelita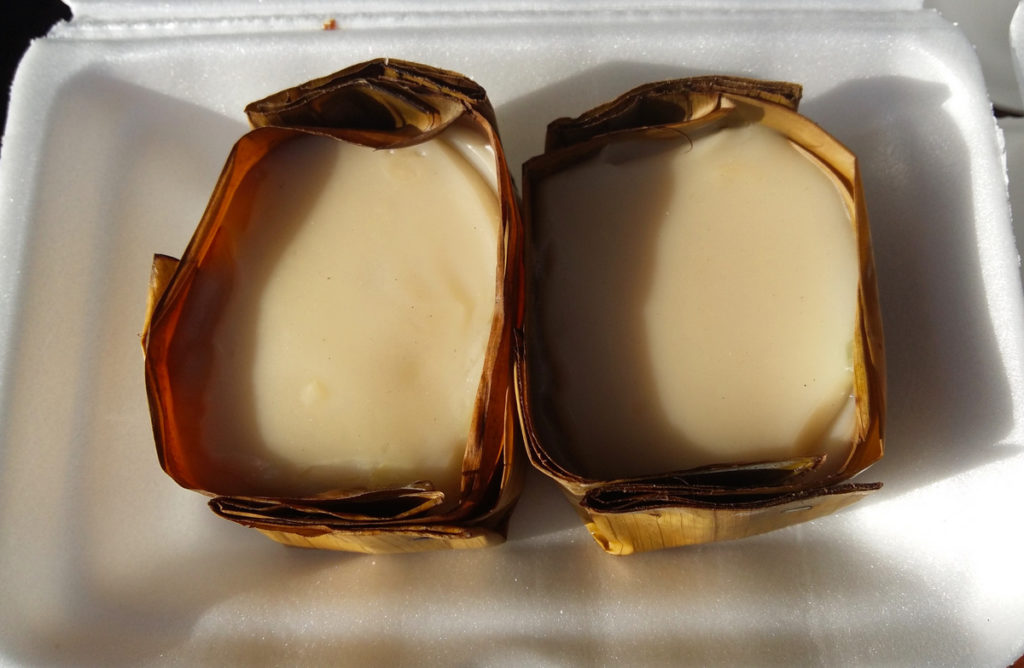 Another type of kuih, Tepung Pelita is custardy goodness. Two layers of coconut milk based custard that is served in tiny rattan baskets.  The top layer is thick coconut milk sprinkled lightly with salt. The bottom layer is coconut milk mixed with sugar and pandan leaves, which can also give it a festive green color. Guaranteed you will want more than one.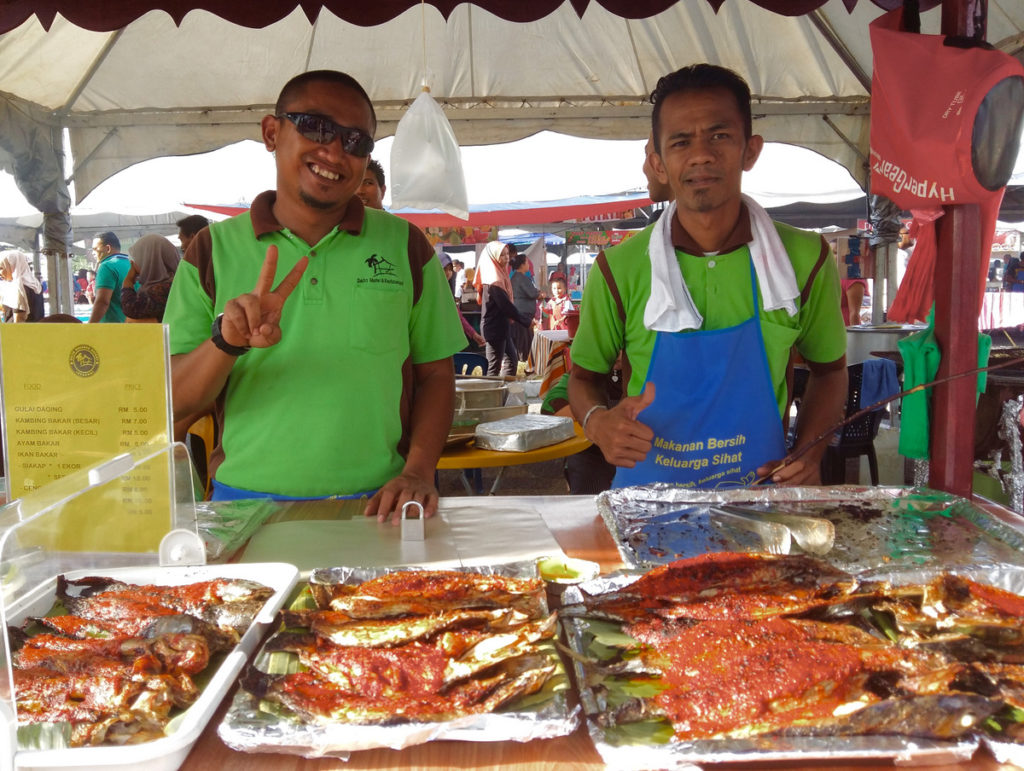 Again, this is just a small sample of the many foods available in Malaysia during the Ramadan fasting month. The above food list was sourced from Langkawi Island in the state of Kedah. As with night market food, recipes, names and even spellings of the different foods can vary from state to state, leaving the Malaysian culinary adventure wide open during Ramadan and a great time to visit the country. Especially for people who love food!
Tips:
For some vendors the annual Ramadan market is one of the few opportunities they have to meet or engage with foreigners. Here are a few tips to keep in mind that you may find helpful.
*Please remember to be respectful at all times and do not haggle the prices.
*If you normally fancy more revealing attire, do consider dressing a bit more modestly.
*And my best tip? If possible, please bring your own food containers and reusable bags. The eco friendly affordable take away options for local vendors can be very limited in some locations, and that means an over use of non-eco friendly single use plastic bags and Styrofoam. Bring your own containers and you not only help save the vendors money, but you help keep their homeland green.

For more tips for traveling during Ramadan:
Check out Tips For Traveling During Ramadan by Passport and Plates
Have you visited a Ramadan market before?
I'd love to hear about your experience!