As diverse as Kota Kinabalu is when it comes to sightseeing and things to do, it's even more so when it comes to accommodations. I nearly pulled an eeny, meeny, miny, moe in making my initial 'where to stay' decision. But I must have good hotel karma because I picked from hundreds and thankfully they did not disappoint. Kota Kinabalu gets high marks in the accommodation category. At least in my recent experience. Kota Kinabalu hotels have rates which are reasonable, conveniently located and customer service which defies star rating. Tourism Sabah came to my rescue, for part of my week-long trip, with a few excellent suggestions. So, I'm going to pass those on as well as my own discoveries. Looking for a few great places to stay in Kota Kinabalu? Here are five that I can personally recommend.
HOTEL GRANDIS
The Hotel Grandis is a stand out. From the intimate lobby entrance, I would never have expected what The Hotel Grandis actually had to offer. With a name like Grandis, one might even expect a few dazzling chandeliers lighting the entry way. But the Hotel Grandis needs no such pomp and circumstances. They flat out dazzle with great customer service, sparkling rooms and a view to die for. And in case you are wondering.. Hotel Grandis was named after the Ascidieria Grandis, a wild orchid found on Mount Kinabalu.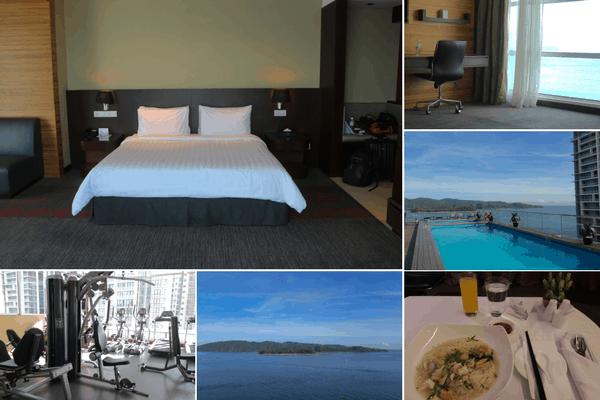 Located next door to the Suria Sabah Shopping Mall the centrally located Hotel Grandis is the perfect shopper's accommodation. But their waterfront location is also just a short walk to the Kota Kinabalu ferry terminal and the ever popular Gaya Street, making for a convenient basecamp for sightseers. I stayed in a Superior Room with an amazing view of the sea. My room was also super spacious and included a king size bed, sitting area and a large desk. A mini fridge, fast Wi-Fi and a flat screen TV are included in all the rooms, with upgraded rooms offering sea or city views, living rooms and some even have kitchenettes. The view from the Hotel Grandis is spectacular. The South China Sea and the nearby Tunku Abdul Rahman Park islands are stunning, especially at sunset. The hotel's rooftop pool and gym are both additional top notch perks.
Hotel Grandis
1A, Jalan Tun Fuad Stephens
+60 88 522 888
Check rates and availability HERE
GAYA CENTRE HOTEL
Gaya Centre Hotel could well be the budget version, older sibling, of the 'Grandis'. In fact, the two are practically next door to each other and both offer excellent customer service and many of the same amenities. And hands down the Gaya Centre is possibly the fastest and most concise check in I have ever experienced. Truly, within a blink of an eye I had key in hand and a smile on my face. And despite its popularity, this hotel is very quiet.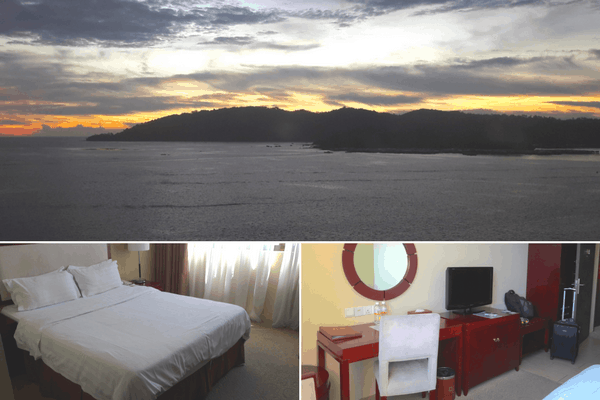 Just 7 kilometers from the international airport, the Gaya Centre is conveniently located on the waterfront, next to the Suria Sabah Shopping Mall as well as across the street from the Wisma Merdeka Shopping Mall. I chose the Panorama Queen room and was pleasantly surprised to have a waterfront view as well as all the amenities that typically speak to me. Mini fridge, desk, coffee making set and super-fast WiFi. Perhaps a bit small but the floor space was adequate for me. They do however have 260 rooms to choose from; from Standard two single bed options to Studio Suites with two queen-sized beds. Aside from the great rates, customer service and convenience, Gaya Centre Hotel has an in-house tour desk and an excellent sundry shop. They also offer an open-air terrace which is perfect for a picturesque Kota Kinabalu sunset view.
Gaya Centre Hotel
Jalan Tun Fuad Stephens
+60 88-245 567
Check rates and availability HERE
MANDARIN HOTEL KOTA KINABALU
The Mandarin Hotel Kota Kinabalu is a cozy welcoming option and in fact that is where I spent my first night in KK. Arriving after dark, the streets where alive with the sounds of clanking dishes and karaoke and the air was adrift with the aroma of local cuisine. Just a 25-minute drive from the airport, the Mandarin's convenient corner perch is surrounded by a diverse selection of restaurants and shops. Although a slightly dimly lit area, the lively neighborhood feels comfortable.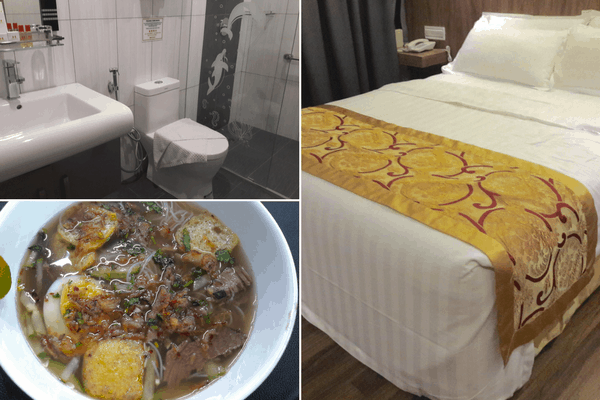 My room was simple but clean and well laid out with a large window overlooking the quaint neighborhood. I had plenty of floor space in addition to a large comfortable bed, a small desk, mini fridge and coffee and tea set. And yes, they also offer free and super-fast internet access. The staff at the Mandarin Hotel went out of their way to check on me to make sure I was a happy camper and I greatly appreciate that. They are also knowledgeable about the area and can recommend places to eat as well as nearby sightseeing.
Mandarin Hotel Kota Kinabalu
138 Jalan Gaya
+60 88-225 222
Check rates and availability HERE
HILTON KOTA KINABALU
The Hilton exudes the atmosphere of the reputable and the well-behaved. The coming and going sounds of guests are muted by the sheer size of the Hilton's grand lobby. Guests are offered a cool towel and a fruit juice as they check in; quick, smooth and perfunctory. The Hilton Kota Kinabalu is the ultimate, no nonsense, business hotel.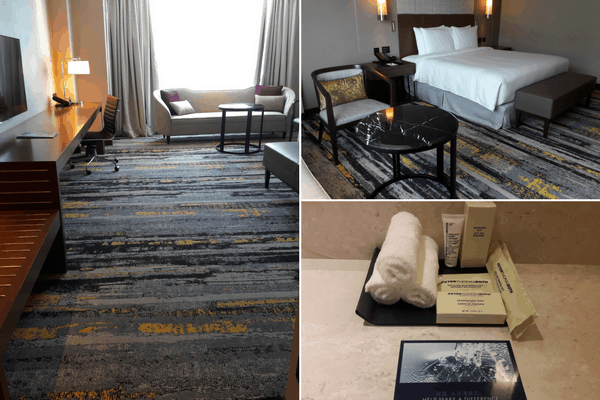 Located on busy Jalan Tunku Abdul Rahman, the immediate area around the hotel is a bit of a clash with the more upscale Hilton. With a smattering of nondescript food stalls, massage parlors and mini marts just down the street. My King Deluxe room was quite spacious and had a massive desk in addition to the massive bed. This put me both in work mode and nap mode at the same time. The mini fridge, coffee and tea set and a luxurious rain shower made for an excellent catch my breath accommodation option. A top of the line gym and pool are available, in addition to an in-house bar and restaurant.
Hilton Kota Kinabalu
Jalan Tunku Abdul Rahman
+60-88-356000
Check rates and availability HERE
DINAWAN ISLAND RESORT
Dinawan Island Resort is a quaint Robinson Crusoe style get away option. Located on a small private island just a 20-minute drive from Kota Kinabalu and another 20-minute boat ride from the Sungai Kinarut Jetty. Obviously more remote, but amazingly enough I was able to catch an Uber from the jetty, back into town.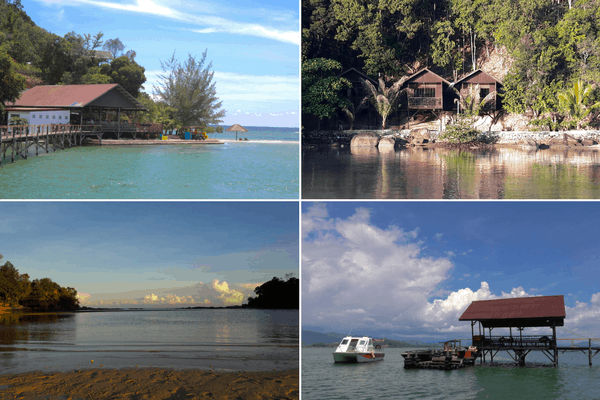 Each of the 30 wooden chalets sleep 2 and comes with an attached bathroom plus a private veranda. My room was a bit on the dimly lit side, but it was clean with a ceiling fan, aircon and a view of the sea. Picturesque, inviting and for the most part quiet. Unfortunately, there is sketchy at best internet access available. At least during my stay.
A golden sand stretch of beach and various watersports are the main attraction for this resort. But although this is an exclusive island, they do cater to daily tour groups so there may be an abundance of extra day guests vying for beach space. Come sundown the tropical vibe can get a bit lively with plenty of food and beverages of choice available. If you prefer the meditative sounds of geckos and the wind in the trees, requesting a room away from the dining area cum evening 'lounge' may be preferable.
Dinawan Island Resort
KM22, Papar Road, Laut Kinaraut
+60 19-817 7888
This list is just the tip of the accommodation iceberg, there are plenty more Kota Kinabalu hotels to choose from. And if you are looking for things to do in Kota Kinabalu, check out my post My Discoveries in the Land Below the Wind.
For more information on Sabah, Malaysia, Borneo travel/tours:
Sabah Tourism Board: +60 88-212 121
Borneo Passages: (+6 088) 250728 or email: [email protected]