Finding an affordable Koh Lipe accommodation during 'high season' can be a challenge, especially if a waterfront location is at the top of one's preferred amenities list. But taking advantage of the seasonal Langkawi to Koh Lipe direct ferry service means travel to Koh Lipe during their busiest and most popular time of year. Did I go to Trip Advisor for help? No. I went to Instagram and looked through a variety of Koh Lipe hashtag threads. And lo and behold, a little beacon of hope kept popping up in the Instagram feeds. A resort with a heart. Literally. Lipe Beach Resort; home of the famous flower-laden, photo op heart smack in the middle of their beach front. Lipe Beach Resort, whose tag line is 'Home is Where the Heart is'.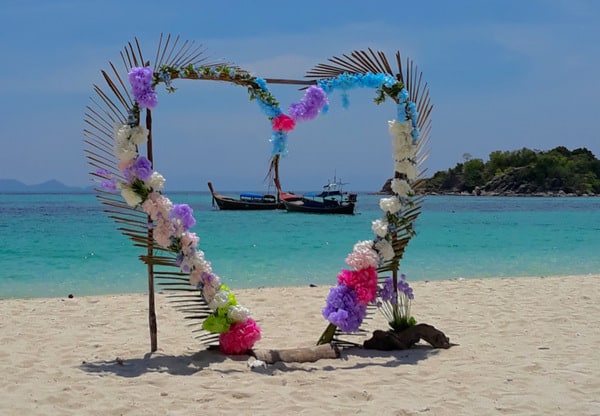 Original? No and yes. But that cheesy heart has won… well, many hearts among photo snapping guests and passersby. It also sold me enough to veer me from my beloved comfort zone of convenience, Pattaya Beach, for the first time. Lipe Beach Resort is located on Sunrise Beach. A quieter part of Koh Lipe which will hopefully stay that way. Sunrise Beach is also the home base to Koh Lipe's Urak Lawoi Sea Gypsies, thus perhaps the reason wall to wall hotels are blessedly absent from the waterfront. Because if there is anything Koh Lipe doesn't need, it's another hotel.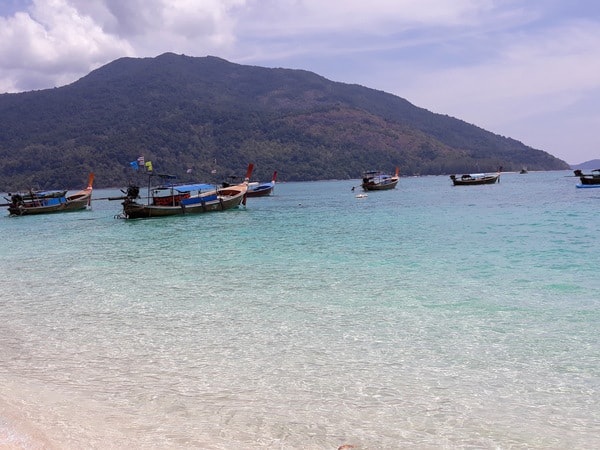 Getting to Lipe Beach Resort
Sunrise Beach is a good 20-25 minute walk from the immigration building at Pattaya Beach or a 50baht, 10-minute taxi ride. Do note that some of the taxi drivers tend to drive relatively fast and pot holes are fair game. If you happen to have a back ailment or other sensitive physical issue you may want to communicate this with your driver. A more scenic (and gentler) way to get to Sunrise Beach is by water taxi, which could cost up to 200 baht, depending on how many passengers are also heading in the same direction. More passengers, lower price per person. For first timers, I recommend the bumpy taxi ride as it will better orientate you to the local landmarks.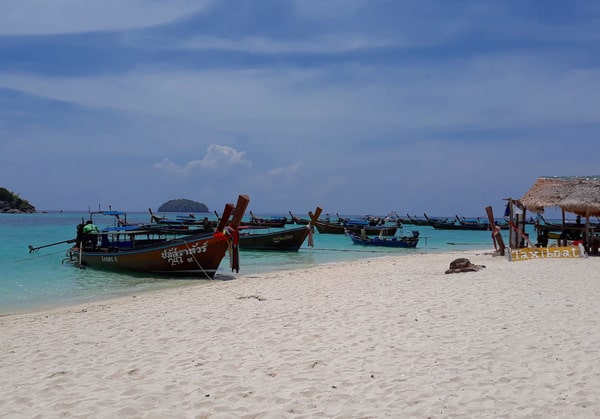 Checking In
As the Koh Lipe island-ship whizzed past my eyes, I was surprised at how quickly my 50baht taxi arrived at Lipe Beach Resort. What was even more surprising was the ease of check-in and the blessed gift of room keys in my hand before noon. Early arrival and early check-in equals a full day to enjoy Koh Lipe! Having left Langkawi's Telaga Harbor at 9:30am (8:30am Thailand time) I had secured my spot on the beach and was plunging into the clear waters of the Andaman Sea by noon.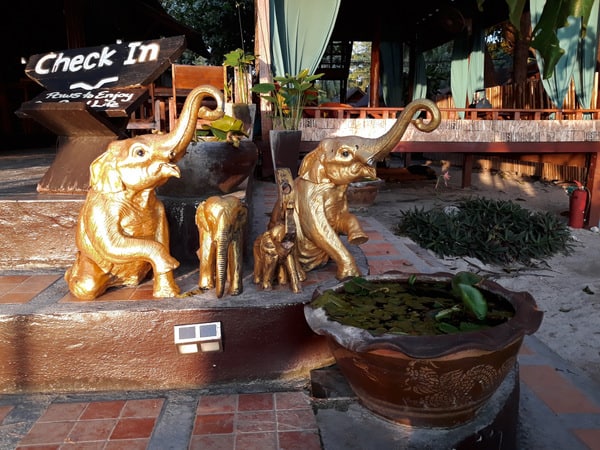 Bungalow Bliss
Lipe Beach Resort has at least 10 bungalow styles to choose from, from garden view bungalows to waterfront family rooms. As tempting as it was to splurge and pay top high-season dollar for the best (Beachfront Premium Bungalow), I chose a lower end price range and booked a Garden Bungalow Fan which was actually much nicer than I had expected.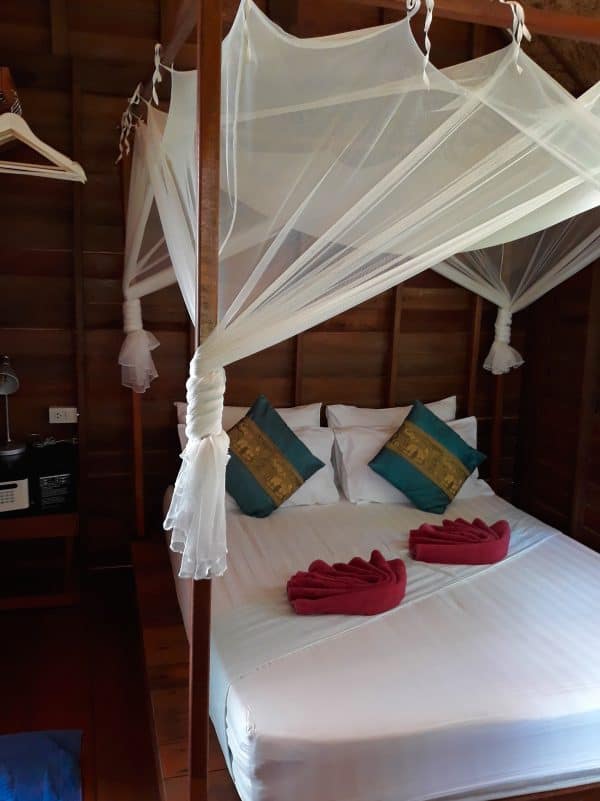 The individual wooden bungalows come with a private veranda and even the smaller units are fairly spacious considering the generous bed size. My room also had ample cross breeze with the windows open and the fan on. Unfortunately for me I often need to use electronics in hotel rooms and found that my computer was overheating unless I was directly under the fan. Other than that, my bungalow was quiet and comfortable. However, next time I will be booking a bungalow with AC. Why didn't I switch rooms? Well, as the weekend was approaching AC rooms in my price range had already been spoken for and were no longer available. Ah, but there is always next time!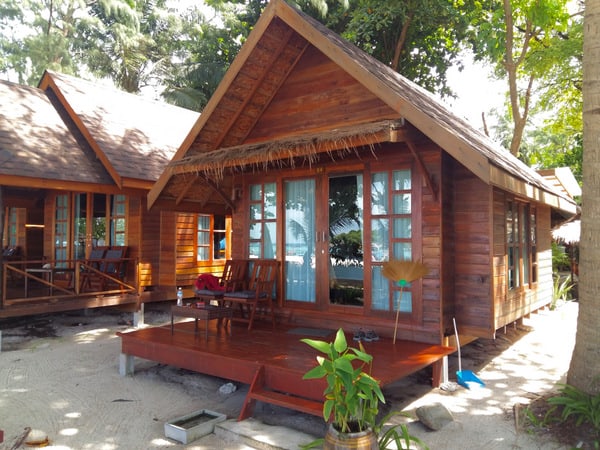 Wining and Dining at Lipe Beach Resort
Lipe Beach Resort conveniently has an onsite restaurant. Elephant Beach Bar & Restaurant offers western fare as well as delicious Thai cuisine and a full bar. They also offer a daily selection of set breakfasts for free. If you're a single guest you are even provided with two daily breakfast vouchers, so pick a second selection for an easy snack option for later (I recommend the breakfast sandwich).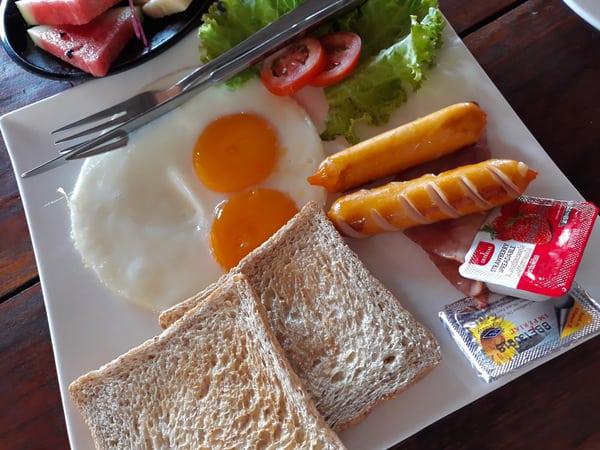 If you would like to explore other food options, Walking Street's got you covered as there are many eating options there and along the various streets from Sunrise Beach to Pattaya Beach. Around the corner from Lipe Beach Resort is also a well-stocked sundry shop which sells homemade Thai snacks, such as steamed buns and traditional sweets as well as western 'junk food' and favorite 'beverages of choice'.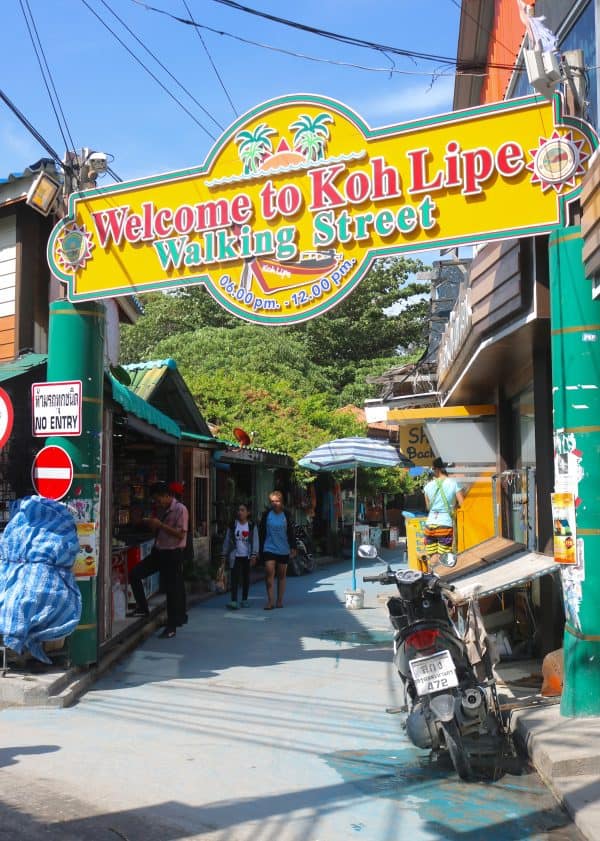 Things to Do
In addition to simply enjoying the pristine beach, getting a Thai massage is always at the top of my list of things-to-do in Koh Lipe. Conveniently enough, Lipe Beach Resort has an open air, upstairs massage service where you can get a fabulous massage while enjoying the onshore breeze and the sounds of the lapping sea.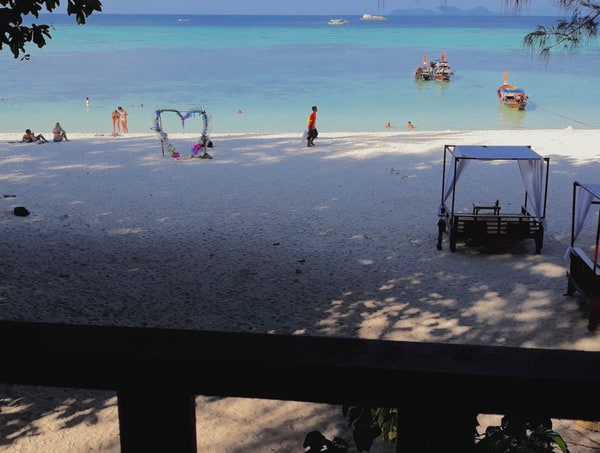 Long walks on the beach are a beautiful possibility at Sunrise Beach, which crosses over to Sunset Beach. The entire stretch has glorious white sand and adjacent turquoise waters. Truly blissful.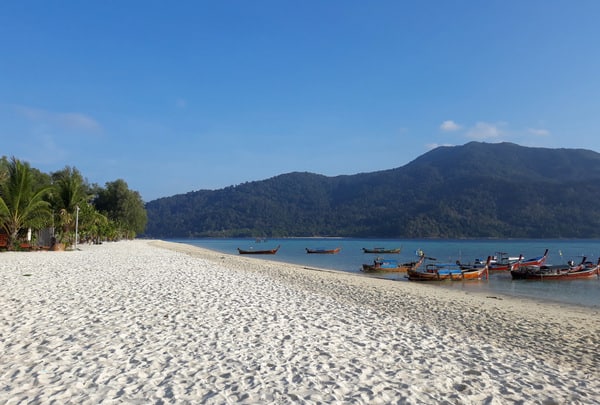 Learn about the local Urak Lawoi sea gypsies by taking a quiet walk through their village (behind Lipe Beach Resort). Many of the buildings and homes are decorated with beautiful murals depicting the culture and heritage of the Urak Lawoi and are accompanied by basic informative plaques. The information is written in Thai and English, so it is expected that tourists will be passing through the area to admire the art work. Do be respectful when taking photos of villagers as well as their homes and always ask permission. You will know straight away if it's a yay or nay. You can read more about the Urak Lawoi HERE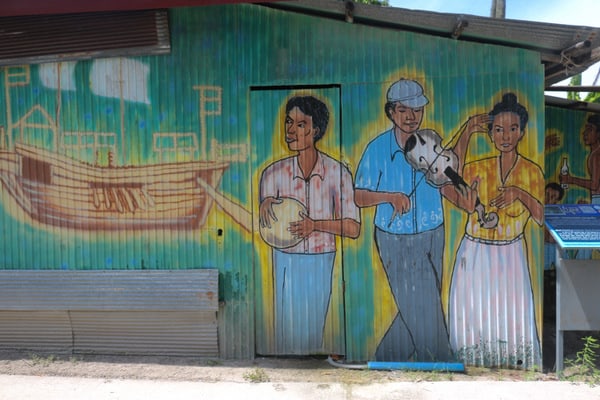 At aptly named Sunrise Beach, the sunrises are stunning. Be sure to get up early to catch at least one.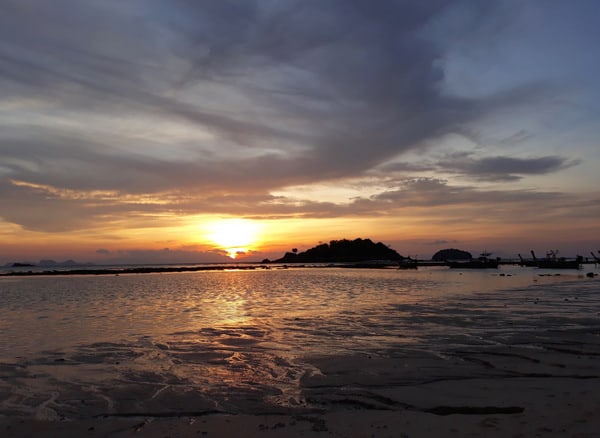 Fancy some island hopping, fishing or diving? Or need to make bookings for onward travel? Contact my friend Mamah Kalong, who is the manager of Manah Lipe Travel & Tour. His office is on Walking Street (near Elephant Cafe). +66 094-3165339 or +66 093-6793667
Last But Not Least…
No review of Lipe Beach Resort would be complete without mentioning their stellar customer service. The staff are friendly and go above and beyond to assist guests in a timely, uncomplicated manner. Certainly, not all speak English (nor do I speak Thai) but there is usually someone around to translate or clarify things if communication becomes an issue.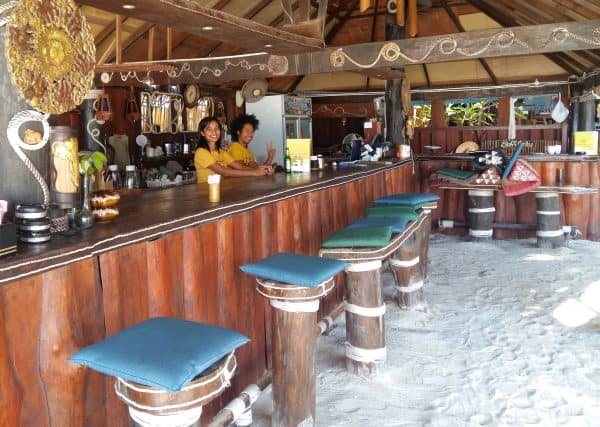 Home is where the heart is? You bet! You'll definitely find a comfortable, little Koh Lipe home-away-from-home at Lipe Beach Resort. Check rates and availability HERE