Sourcing a last minute hotel during a popular festival week can often be challenging in addition to ending up being a costly headache. Not one to generally be lucky in the online booking arena, I've personally grown to favor the luxury of walking in and leaving fate to the winds of karma rather than take my chances on 'no refund' policies.But needing a place to base camp for a week in Kuching, I opted to let my mouse do the walking to save me time and I got lucky with Hotel Grand Continental Kuching; which was especially fortuitous considering it was the week of the Borneo World Music Expo and the Rainforest World Music Festival.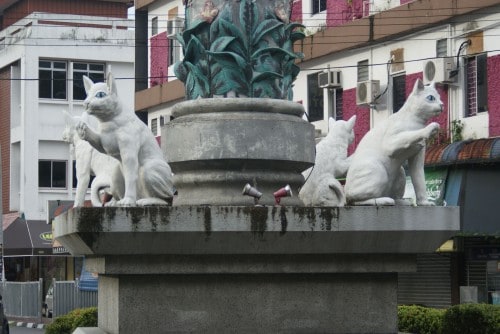 One never knows exactly what to expect from seeing professional hotel photos on the Internet, so I was pleasantly surprised on arrival. The 14-story Hotel Grand Continental Kuching dominates its neighbors in height, but with its well-manicured intimate grounds and earth-toned exterior, it blends in nicely. The Chinese Dragons situated at the lobby entrance are also a pleasant addition to the culturally diverse neighborhood, which includes the Sri Srinivasagar Kaliamman (Hindu) Temple next door.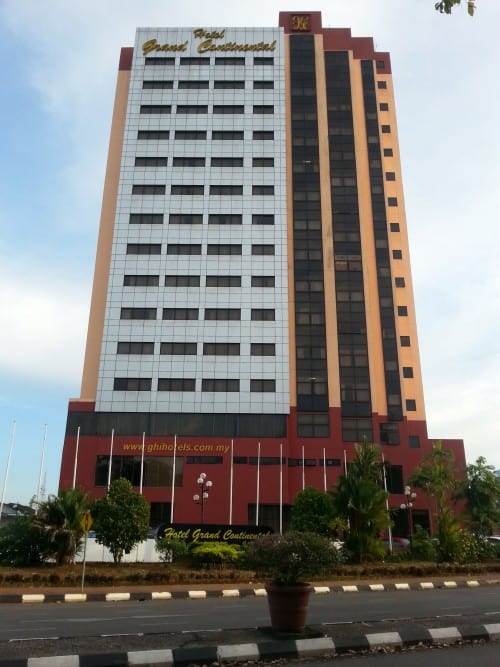 When I arrived, greetings from the doorman, 5-star style, and the front desk staff were heartfelt, giving me an immediate sign that I (and my mouse) had made the right choice. The slightly heritage feel of the mere 18-year-old hotel conveys a sense of homey timelessness. With a massive chandelier casting it's flattering light from the alcove overlook of the next floor, the spacious lobby, and adjacent onsite restaurant Brasserie Kuching Coffee Shop creates a relaxing common area.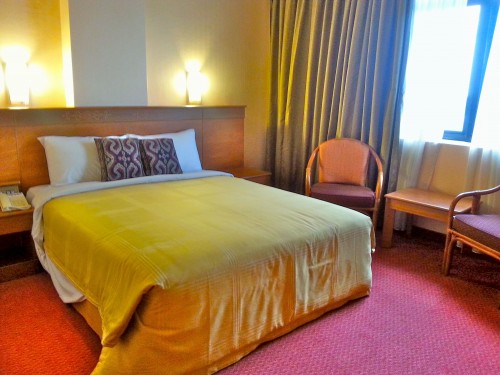 The corridors and rooms are carpeted, keeping the 180-room hotel very quiet. I had even started to wonder if I was the only one on my floor, despite being across from the elevator. The simple furnishings accent the room nicely and the amenities certainly make up for anything 'non-modern' looking. My standard room was well equipped with a flat screen TV, mini-fridge, daily complimentary bottled water, electric teakettle, hair dryer, and even an ironing board (just in case). The comfy chairs and desk gave me the perfect little office away from home with in room WiFi to boot and a large window to view the skyline through.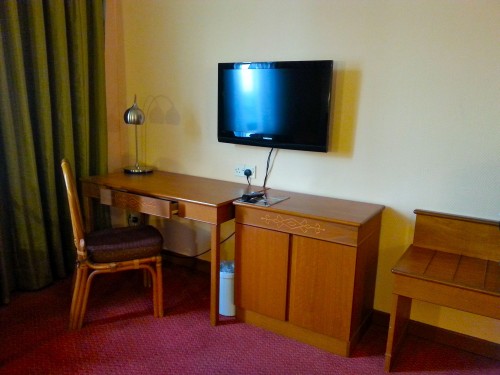 There's also a pool with a sunning courtyard surrounded by tropical plants. There is however a meeting and conference area next door, so the pool area becomes more popular during tea breaks. Other than that I generally had the area to myself. And for added convenience there is 24-hour room service direct from the kitchen of the Brasserie Kuching Coffee House. The Brasserie also whips up a delicious inclusive daily breakfast buffet that includes plenty of Malaysian dishes as well as western fare.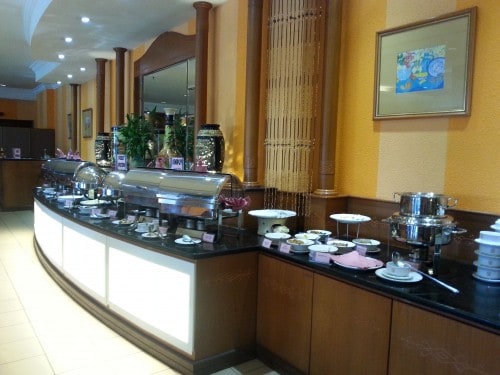 Having seen enough hotels in the past couple of years to note the consistent architectural trends of the region, I don't necessarily judge a hotel based on 'modern' appearances. Although I'm still very appreciative of modern amenities such as working WiFi (preferably in my room) and I've also grown to appreciate any hotel that doesn't replace furnishings in an effort to appear modern. "If it ain't broke, don't fix it." is a somewhat sustainable motto I usually agree with.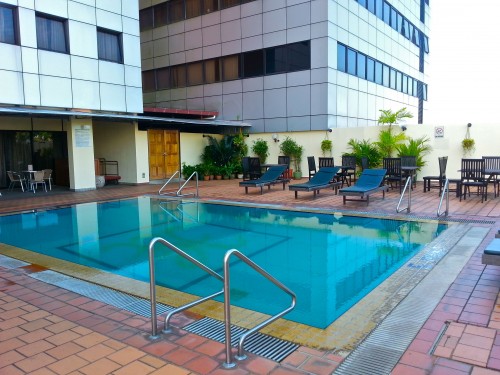 The location may look like a bust for a new arrival, but once you take a look around you'll see that you are indeed surrounded by convenience. Across Jalan Ban Hock, there is the fabulous C.C. K. Food Centre that sells lots of yummy Asian snacks, a pharmacy, Irene's Massage (with a 20 ringgit per hour reflexology), Fat Boys Seafood Kopitiam and more.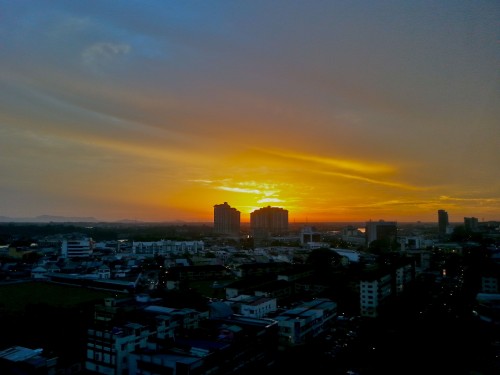 The Hotel Grand Continental Kuching, stands centrally located away from a few other tall hotels that dot the Kuching skyline, making it an easy landmark for the directionally challenged (like me). Online maps belie the actual convenience of their location, which not only offers a panoramic view of the surrounding areas but easy walking distance to the Kuching waterfront. You can check their room rates and availability HERE
For sightseers who prefer dodging in and out of backstreets, there is plenty to explore in the hotel's immediate surroundings or venture further to the picturesque Sarawak Culture Village, which is about 65 ringgit by taxi one-way. The late night enthusiasts will be thrilled to discover that just west of the hotel there are plenty of karaoke clubs and bars to be had, in addition to even more local eateries, and all within a lucky stone's throw away from Hotel Grand Continental Kuching.
Hotel Grand Continental Kuching
Jalan Ban Hock, Kuching,
Sarawak, Malaysia
Tel: (60 82) 230 399
Fax: (60 82) 230 339
[email protected]
Rates start from RM140nett for a Superior Room