As the Kedah countryside sped by, my eyes were glued to the distant horizon. My mind asking, "Are we there yet?" while my mouth spewed non-stop questions (as usual) with my jovial GRAB taxi driver. I'd only seen a few vague online photos of the Kedah Paddy Museum and knew nothing of its history or actual location. My driver was quite happy to answer questions and seemed to share my enthusiasm for heading into the great unknown. Even if it was just his backyard. It wasn't mine, and due to the pandemic I hadn't been off of Langkawi island in nearly a year. So, this trip to the Kedah Paddy Museum was a big deal!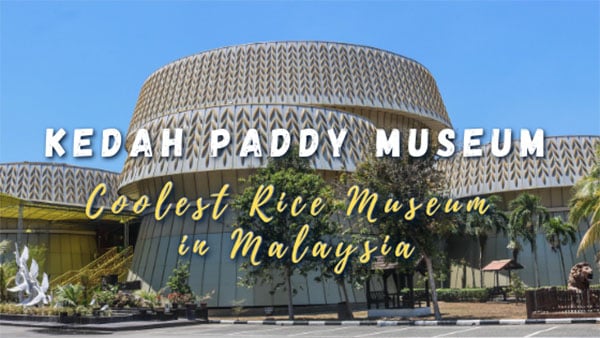 I was surprised to discover how close the museum was to the Kuala Kedah Ferry as well as Alor Setar. My previous trips to Alor Setar were all simply brief stopping points on my way to somewhere else. I was well acquainted with the bus and train stations, but knew very little of the sights in this part of Kedah, Malaysia. Had I known how easy it would have been to drop into this museum, I would have done so sooner. An extra 13-ringgit taxi fare and two hours of my time was a small price to pay to see the coolest rice museum in Malaysia. And cool it is.
Our easy 15-20-minute scenic drive ended in Kampung Gunung Keriang. Its namesake mountain's true size only apparent as our car passed. Gunung Keriang is huge! But just past the iconic limestone giant was my Kedah sightseeing goal; Padi Muzium Alor Setar (aka Kedah Paddy Museum); the first rice museum in Malaysia.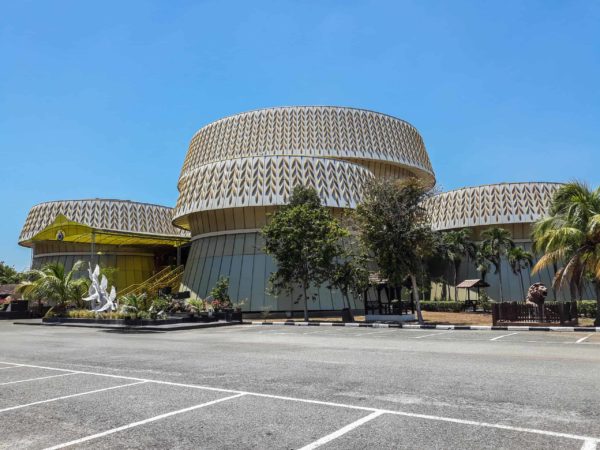 It was a quiet day when I visited. The pandemic had forced the museum to close for a bit, but had recently reopened. I was likely one of the first visitors too. A few eco-scarecrows were waiting patiently in the empty parking lot as the wind billowed their sun-bleached dresses towards various compass points. All that was missing was a passing tumble weed.
The museum is modeled after 'gemai padi' and looks like bundles of paddy stalks. There is one main building and six smaller 'bundle' buildings surrounding it, totally about 2,000 square meters. A stone farmer and water buffalo, ducks in flight and even a stone lion stand sentry near the main entrance.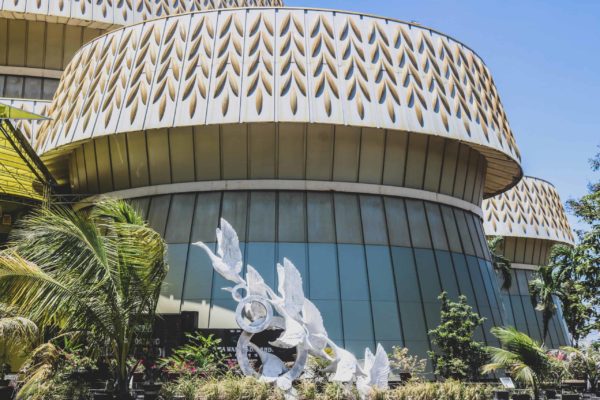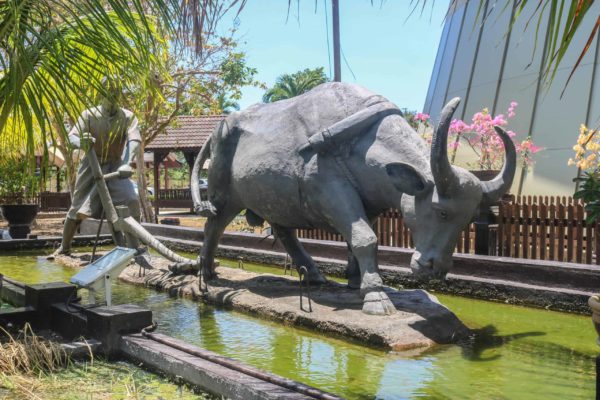 It's a good thing the parking lot was empty because it offered me the opportunity to see that beautiful Paddy Museum building in all its magnificent glory. Taking my sweet time absorbing its uniqueness, before rambling my way up the museum's golden-hued stair way; complete with rice-motifed hand rails and miniature kampung house photo-op façade.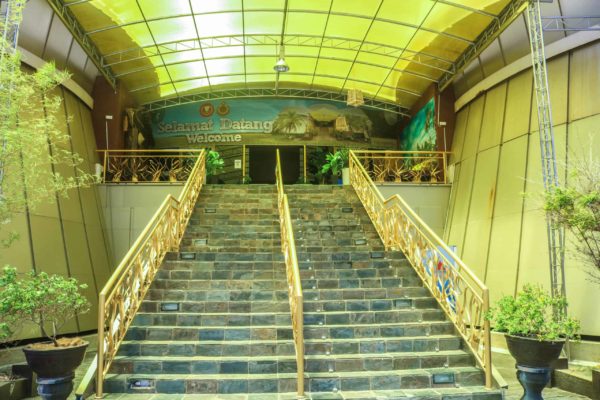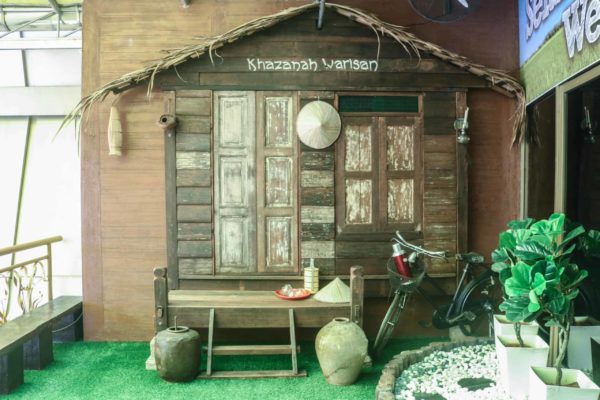 The front desk staff happily took my 5-ringgit entry fee and waved me towards a spiral staircase. A mere 59 winding steps to the 3rd floor (top) level through a stone laden, cave-like tube. Trickles of water glistened as the hollow sounds of droplets quietly echoed. A well-done imposter of an actual Gunung Keriang cave experience.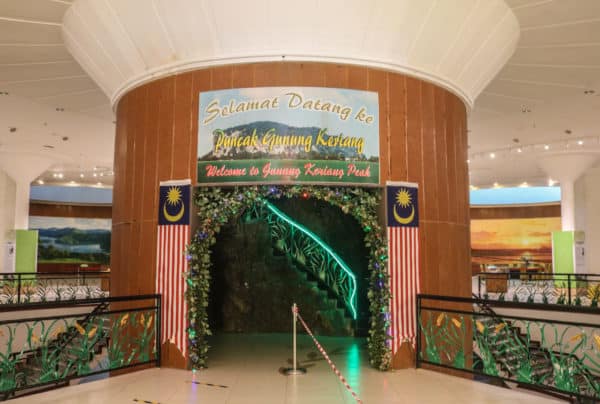 Level 3 of the Kedah Paddy Museum
I'm not accustomed to starting at the top and working my way down, but in this case, it proved to be an excellent way to begin the exploration of the Kedah Paddy Museum. What emerges at the top of the staircase is a massive 360-degree mural that will blow your socks off. A mountain top view of the Gunung Keriang and Alor Setar landscape and community life painted in almost voyeuristic detail.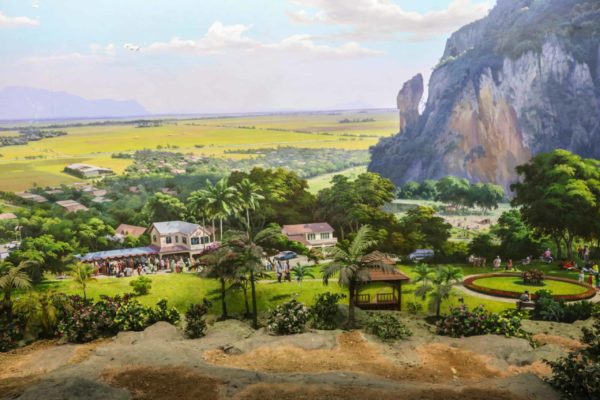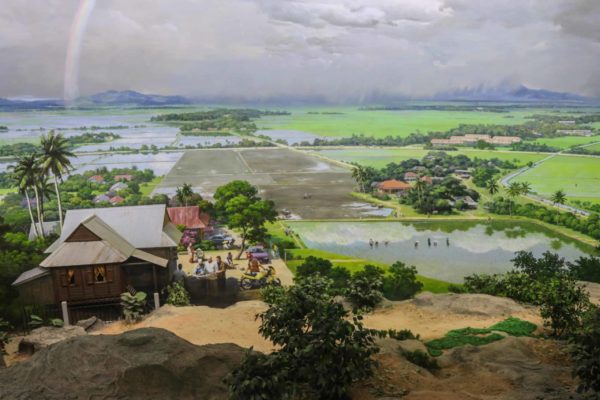 The mural is 8 meters high and 103 meters in length. The painting is the work of 60 North Korean artists who spent two years living in nearby villages as part of their pre-mural research. They must have absorbed a lot as they were able to complete the entire painting within 6 months. Just in time for the museum's grand opening in October 2004.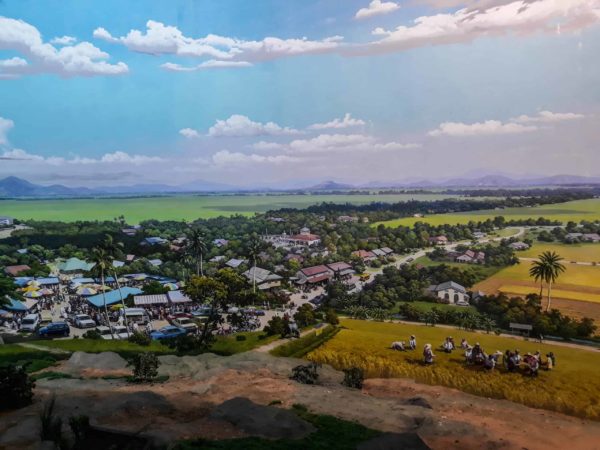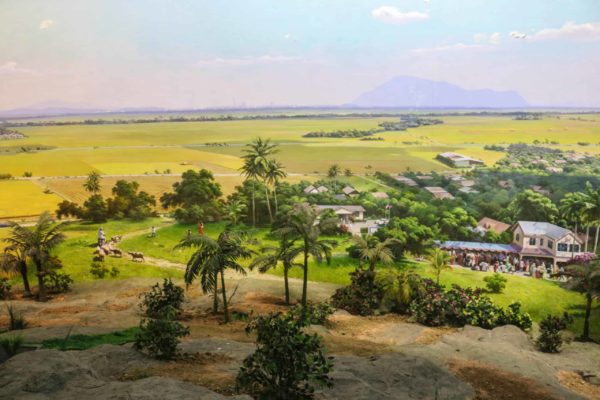 The visitor's viewing platform has padded bench style seats and slowly revolves. The Kedah landscape creeping by like a cultural buffet. Just beyond the platform, rocks, dirt and shrubbery decor descend into the painting creating more realism and depth. A breath of fresh sightseeing air if ever there was one.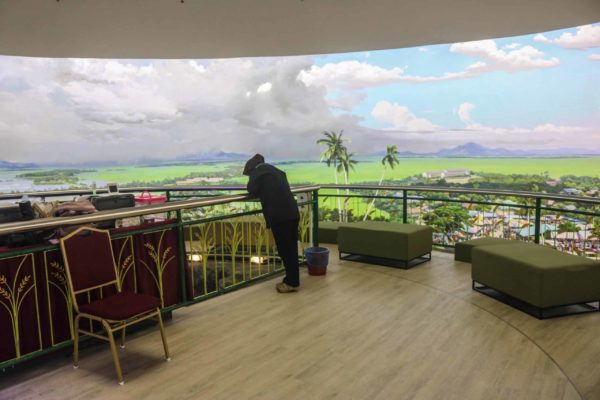 Heading back down to level 2, I ran my hand across the damp, rocky walls of the vertical staircase tunnel letting my mind take one more whiff of the imaginary musty air of the Gunung Keriang faux cave. All just very cool.
Level 2 of the Kedah Paddy Museum
Level 2, which is also the main entrance level, continues the rice history journey with six galleries tucked into the ecliptic interior walls of the six gemai 'bundle' buildings. The galleries were roped off during my visit, but small explanatory plaques in both Bahasa and English were visible. The galleries display paintings, illustrations and dioramas of the rice industry both locally and internationally. The cultivation styles of padi farming are also explained.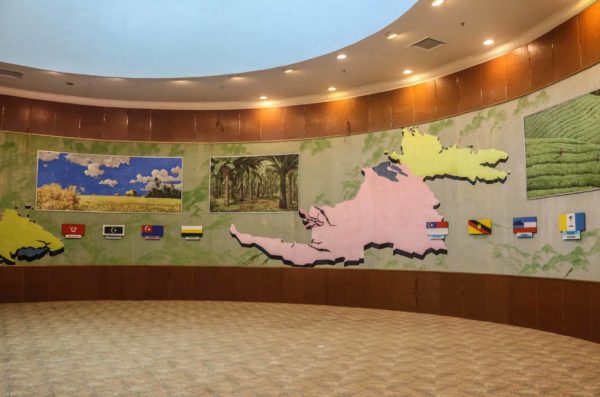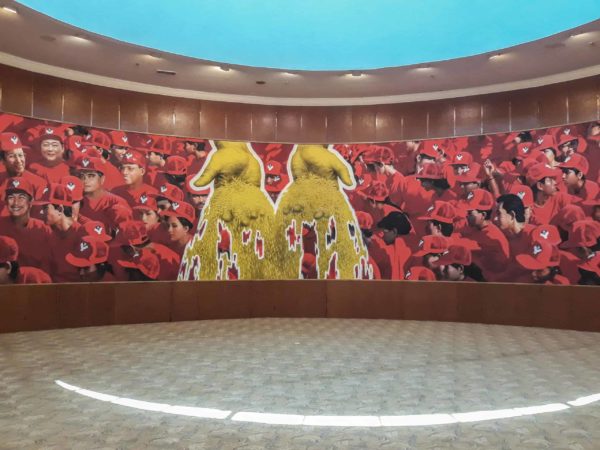 Interspersed throughout the level two lobby are various info plaques and displays highlighting even more historic facts and stories of the Kedah rice journey. It's a bit tedious to read so much, but the accompanying photos and displays are interesting and easy on the eyes.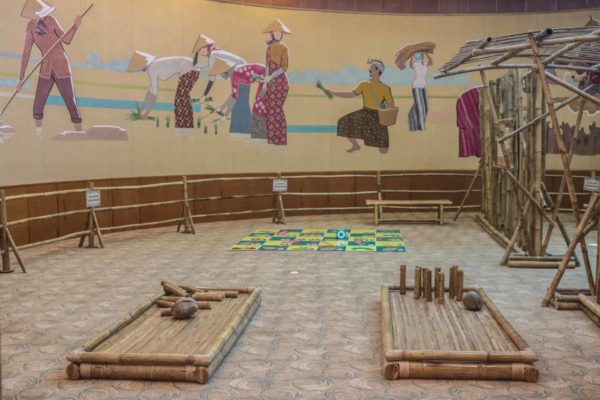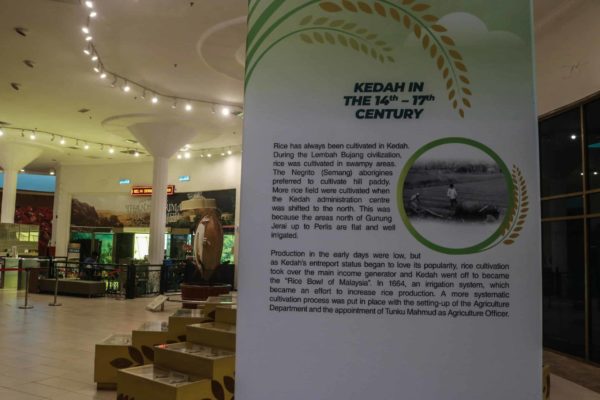 Level 1 of the Kedah Paddy Museum
Last but not least is level one. A plethora of rice cultivation information. A diaromatic journey of displays; rice products, traditional rice baskets and tools, rice by products, rice snacks. You name it and there is probably an honorific display dedicated to that very thing. There are even a few eco-scarecrow farmers quietly waiting for their next wefie opportunity. Plenty to learn on the ground level so take your time!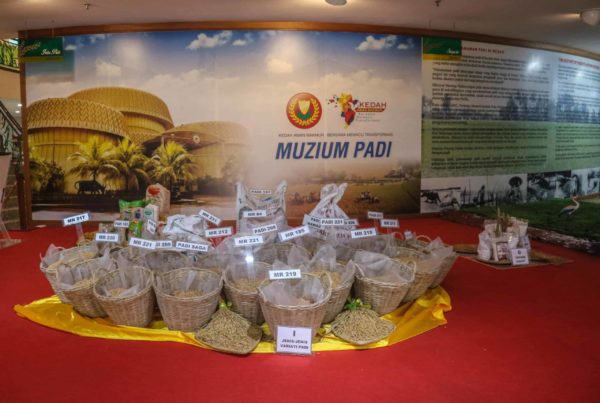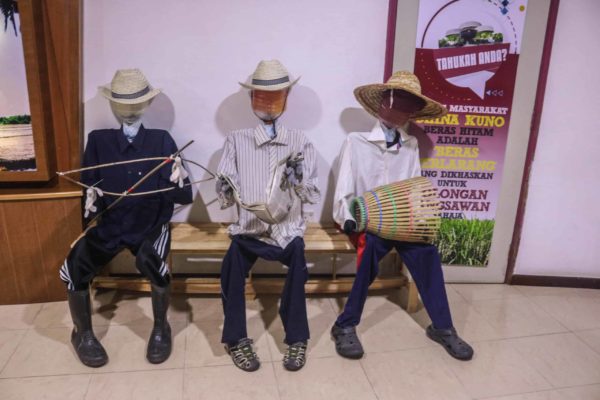 Although the Kedah Paddy Museum is slightly off the beaten path, its location is significant and well thought out. Outside of the ground level and beyond the parking lot are padi (or paddy) fields. 'Padi', btw, is the Malay word meaning 'rice plant' and it is derived from the Proto-Austronesian word 'pajay' which means 'rice in the field'.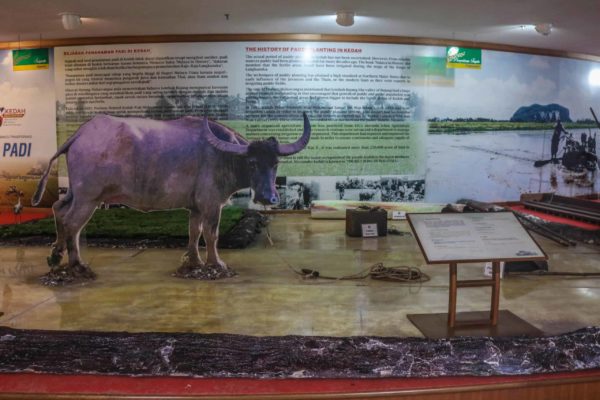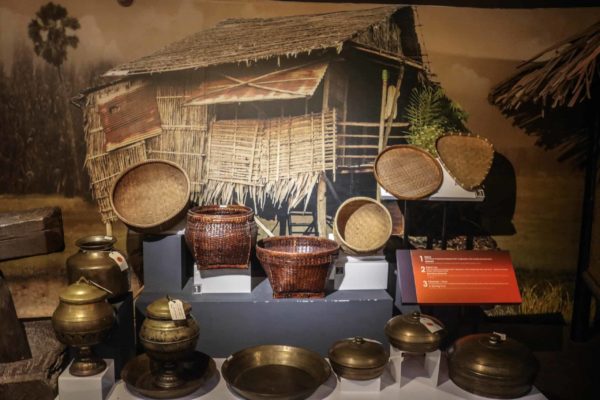 In a perfect world the picturesque sight of growing rice would have greeted me, but at the time of my visit to the museum, the surrounding fields were the dusty brown of dry season. The ground level of the museum also felt a bit between seasons as not everything was fully opened yet; a couple of sections were roped off and the museum's café was unfortunately closed. The only food visible being tasty looking displays.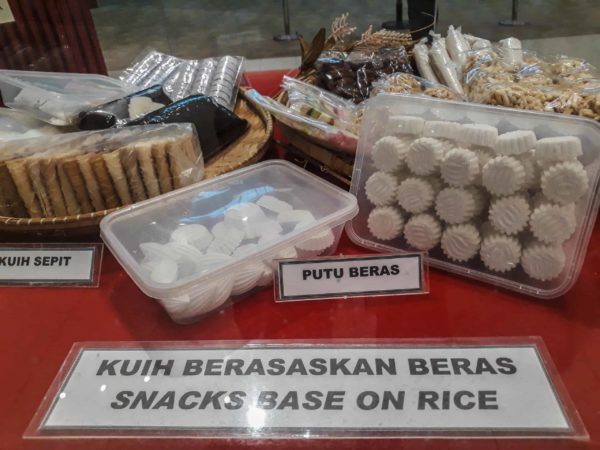 I did however get to meet Mr. Lares, the owner and creator of Lares Rice Tea. He and his wife also run the museum's souvenir shop (which was fortunately open). A quick cup of fresh Lares Rice Tea was the perfect wrap up to my museum visit.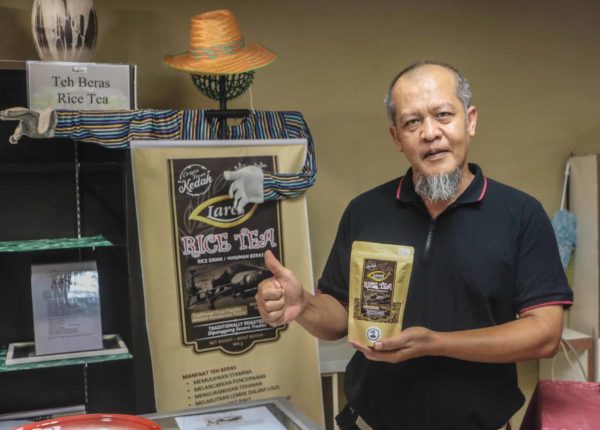 By visiting the Kedah Paddy Museum, I had hoped to learn a few interesting facts about rice. And indeed, I did. But the museum is much more than just a rice museum. It successfully tells the bigger story of the culture and heritage of Kedah, the Rice Bowl of Malaysia. A state worth exploring and a story most definitely worth hearing. Padi Muzium Alor Setar, more commonly referred to as the Kedah Paddy Museum is just plain cool. Interested to know more about Alor Setar? Take a look at my First Time Visitor's Guide to Alor Setar, Malaysia
Padi Muzium Alor Setar
Jalan Gunung Keriang, Mukim Gunung Keriang,
Alor Setar, Malaysia/ Tel: 04-735 1315
Open: Saturday thru Thursday 0900 to 1700
Friday 0900 to 12:30 and 1430 to 1700
Entry: Adults RM5 Children (7-12) RM2
*GRAB taxi fare is about RM13 from Kuala Kedah and Alor Setar