Jet Skis are present everywhere these days and many only see them as the loud crafts that speed up and down the waterfront invading erstwhile swimmer's  space. Some would like to see them banned from certain areas all together due to the noise, pollution and potential danger to wildlife (and people). But there's another side to Jet Skis and what they offer, especially in Langkawi. Mega Water Sports is one of the newer and more 'eco-friendly' operators on the island, who deliver plenty of fun with the least amount of negative environmental impact possible.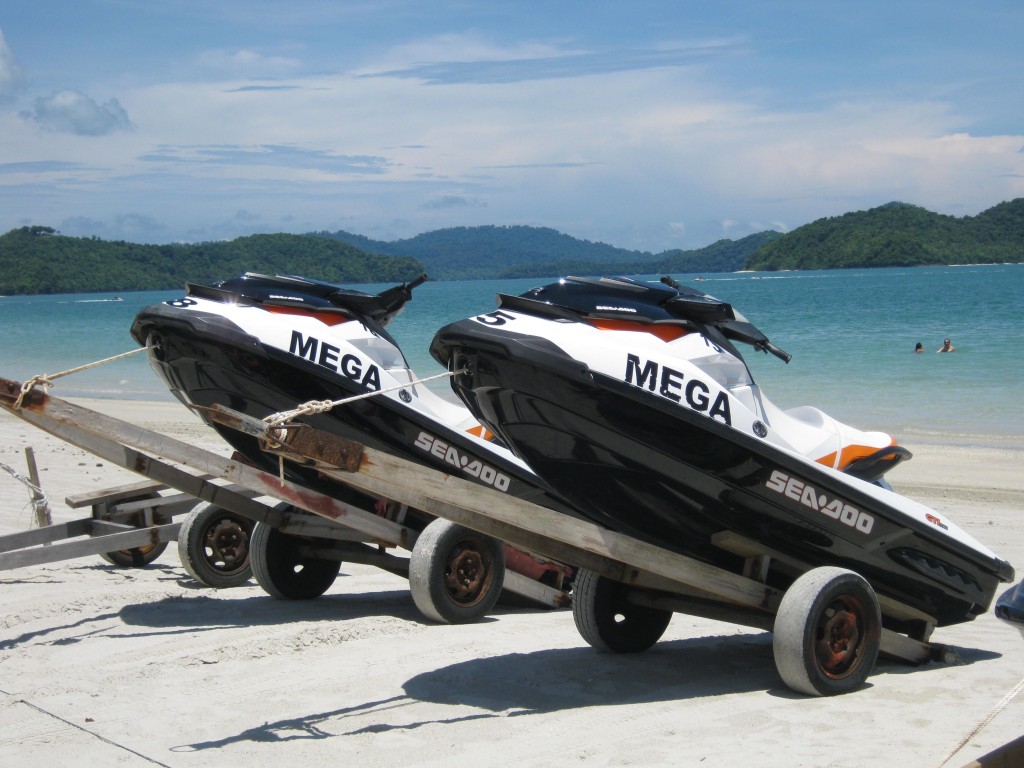 They have invested in a fleet of low emission Jet Skis that reduce sound levels, air and water pollution. They also enforce a pragmatic safety program and everyone that contracts with Mega Water Sports goes through a comprehensive safety orientation. So no shore-line trick riding for these folks.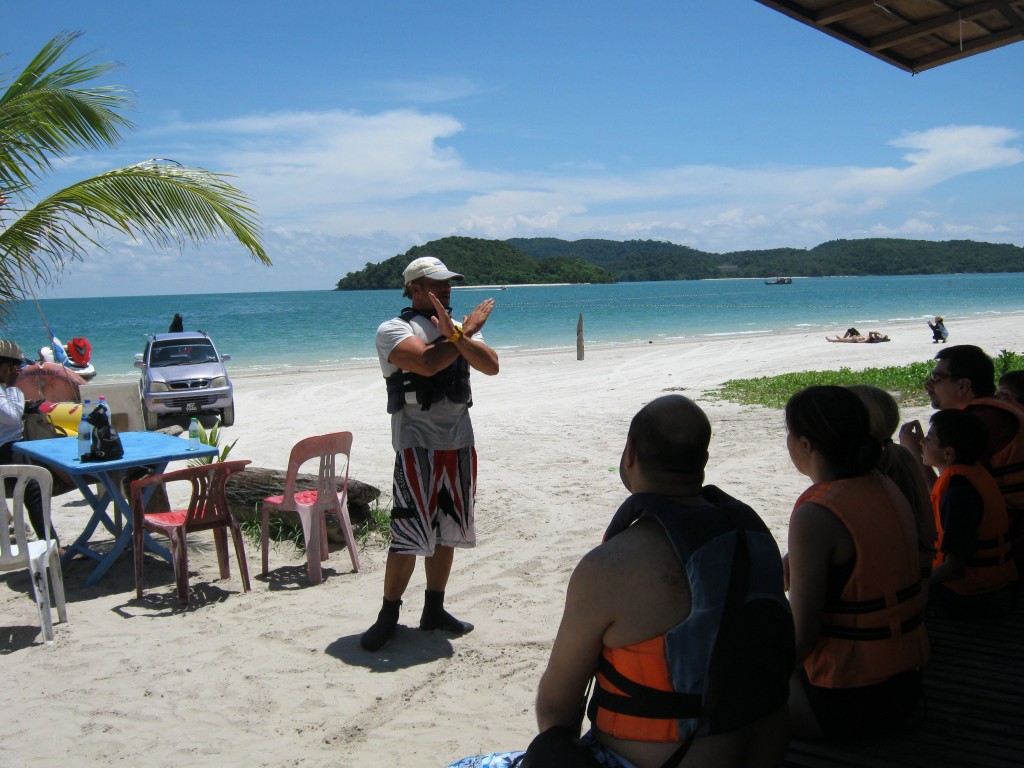 I was a bit skeptical about this new sightseeing vehicle, especially in Langkawi. But I have to say that Mega Water Sports not only cares about the environment, they've opened up an entirely new way to see the magnificent islands and geological formations of the Langkawi Archipelago.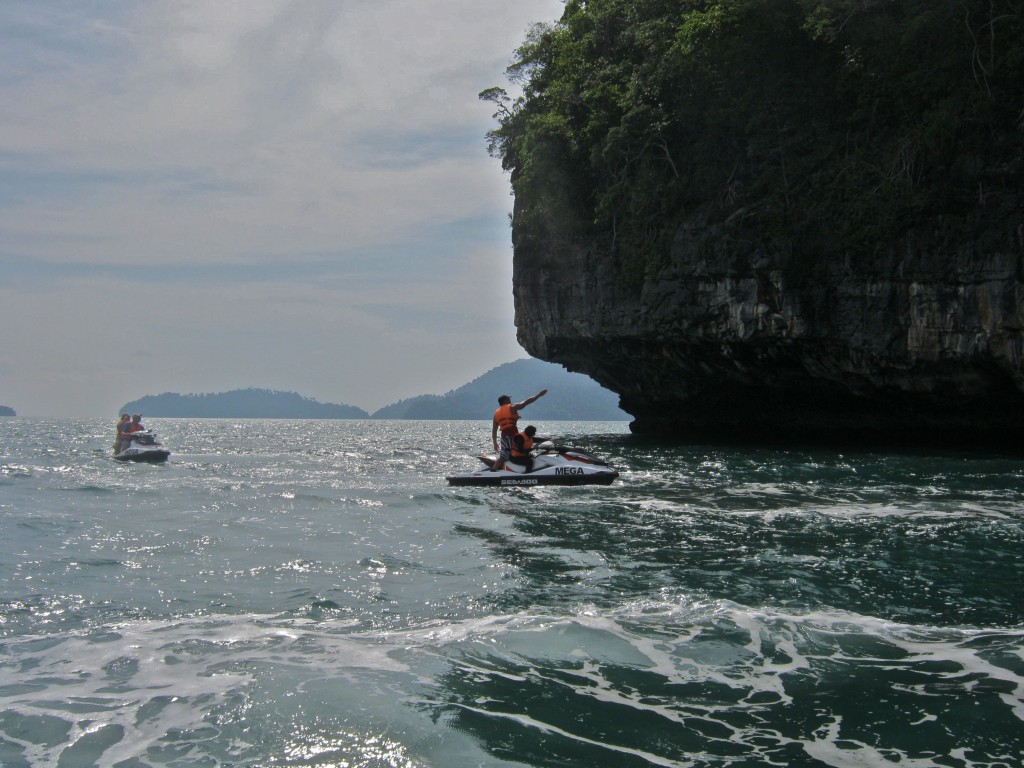 It's also their policy to keep the tours away from populated beaches as much as possible, as well as reducing speeds when near those shore lines. And just in case an occasional errant 'rebel-rider' has other ideas, each of these top-of-the-line Jet Skis also has a speed governor to prevent riders from exceeding a safe speed limit.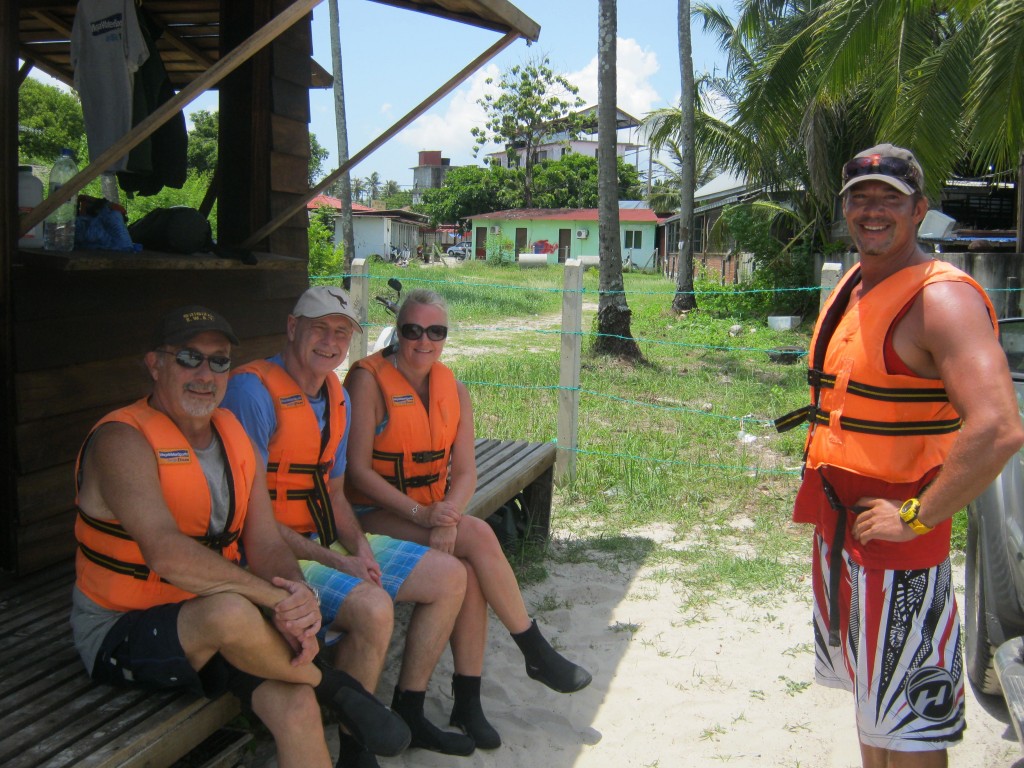 Before you board your Jet Ski you go through a briefing on water safety, how the tour is going to work, how the Jet Ski is run and how you deal with issues that may arise once you're out on the water. Trained staff members explain this in an easy to comprehend 'first-timer' language.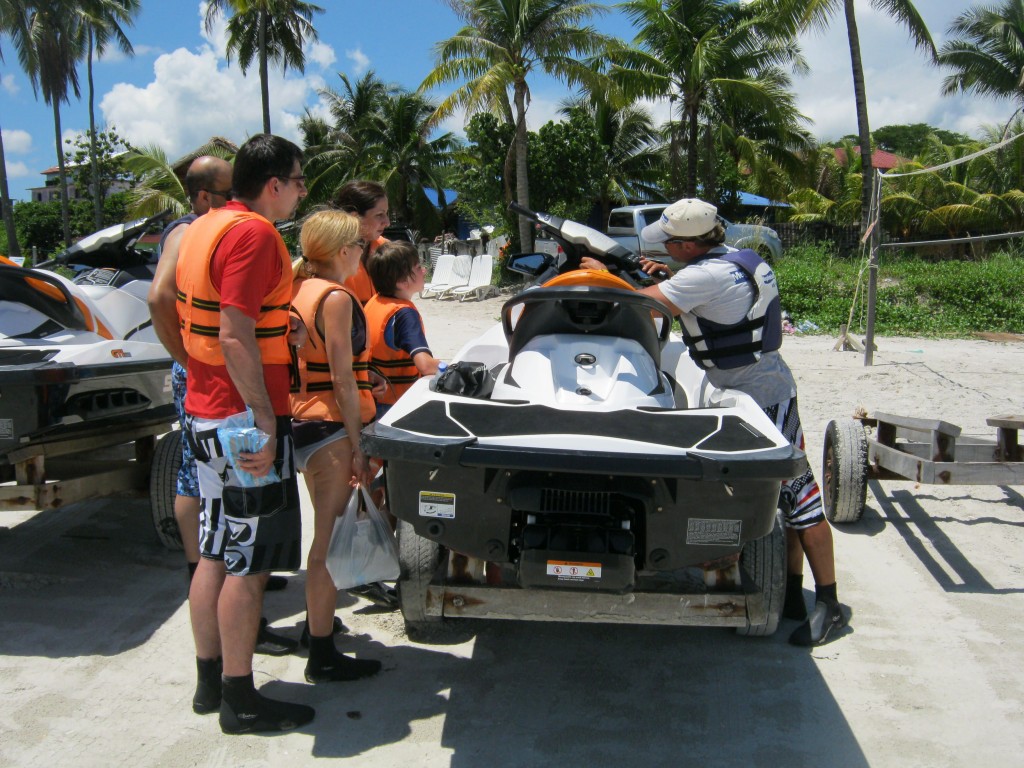 The staff spends up to a month in training before being awarded the position of a tour operator. This training includes water rescue, evacuation procedures and how to deal with sometimes unruly participants. Alcohol and Jet Skis don't mix and there's a zero tolerance policy at Mega Water Sports.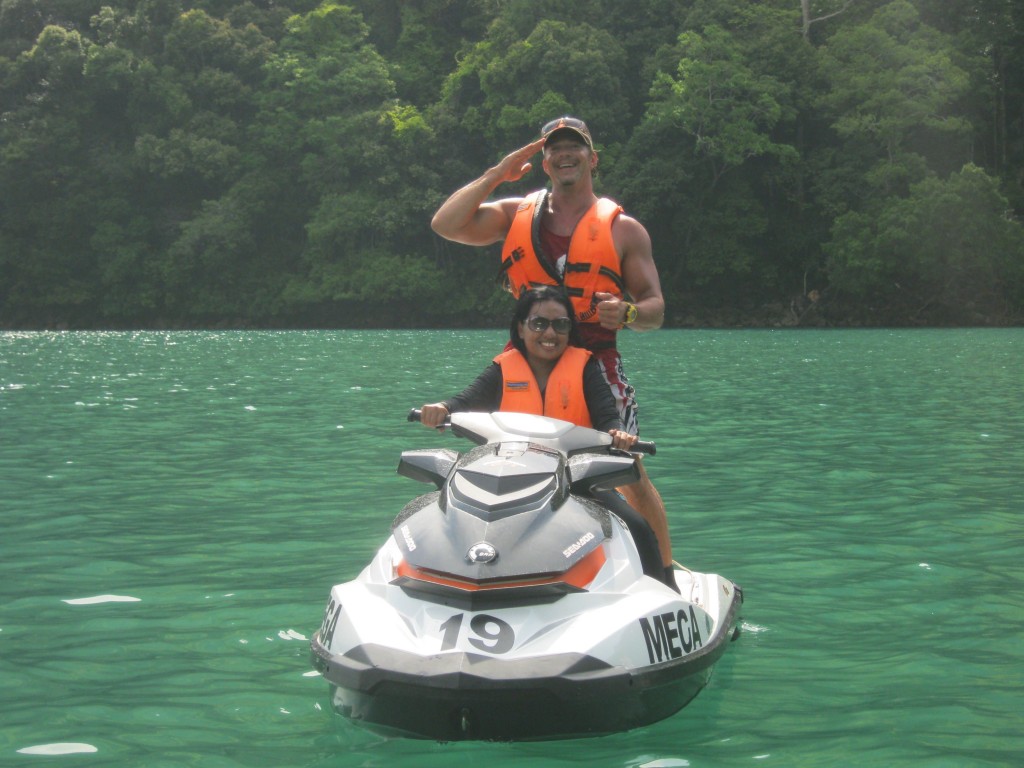 Having a slight prejudice from my own shore based experience of witnessing Jet Ski rider antics; I was surprised by just how much fun this form of water adventure can be. Especially when done responsibly. This was obvious by my ear-to-ear grin as I followed the tour leaders across the water. Seeing the outer islands on a jet ski brings you much closer to the surrounding offshore nature and it's certainly a "Wow" experience well worth experiencing at least once in your lifetime.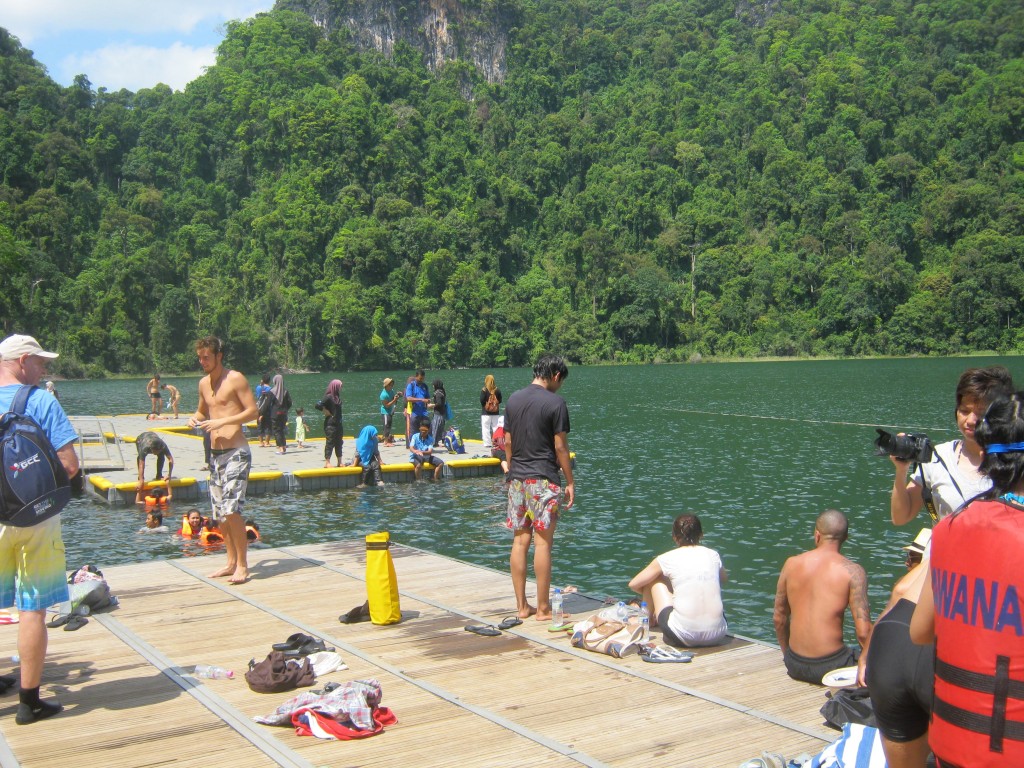 Running almost underneath the tall limestone formations, taking a swim out in the bay and seeing sea life and birds such as the Sea Eagle and Brimini Kite fly in formation was an eye opening experience.  The guides take great care not scare the wildlife and travel as unobtrusive as possible into their environment.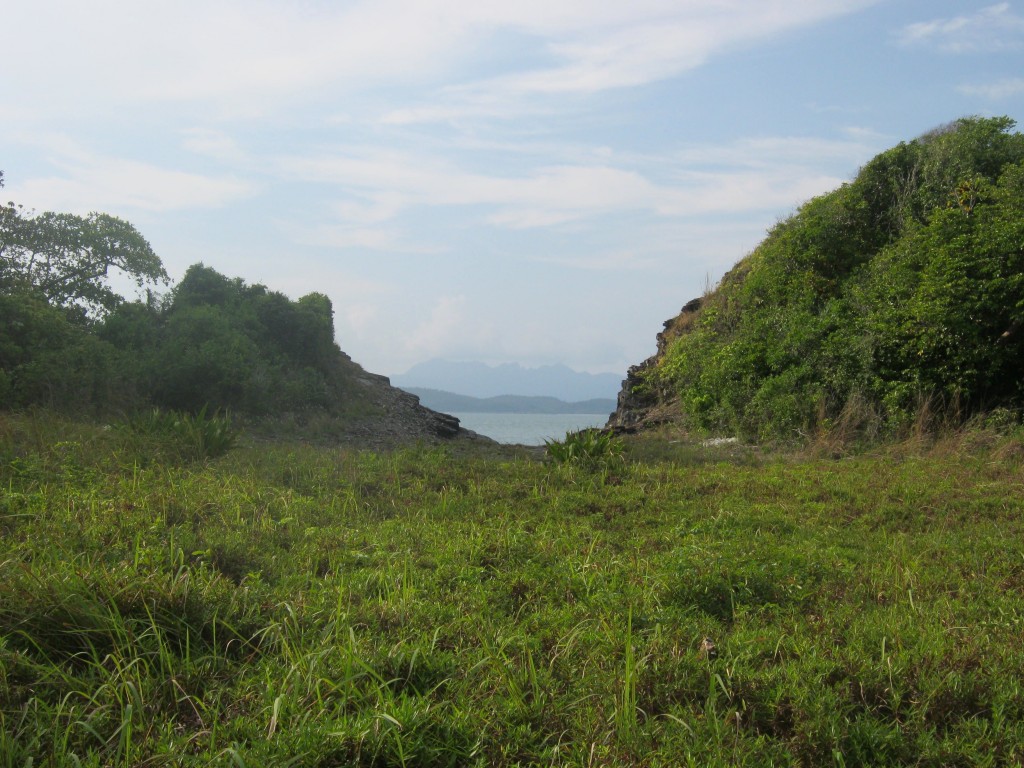 Using a Jet Ski to explore places that are not as approachable by more conventional craft opens you to new insights and creates a better understanding of the complex environment of the Langkawi Archipelago. It's educational as well as fun and often times those 'rebel' riders give Jet Skiing a bad rap, so signing on with a reputable company helps ensure higher standards.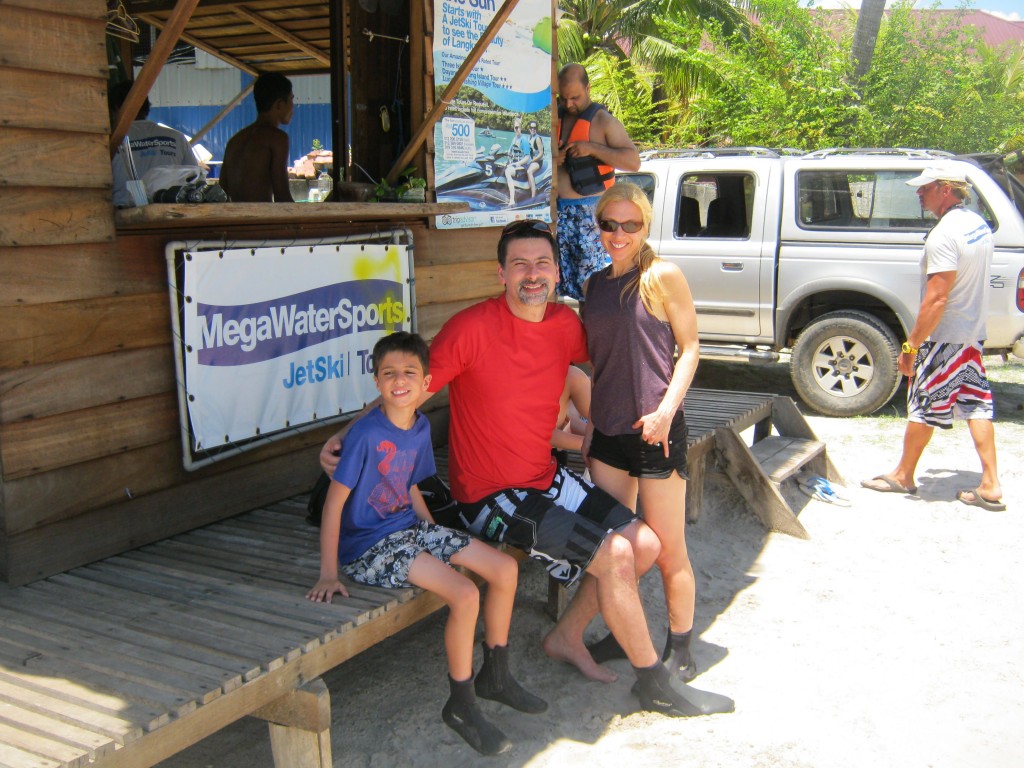 Jet Ski tours at Mega Water Sports are best booked directly through their website or by phone if you're looking for the best price. But this is one experience where you'll not question the value for the ringgit. And remember, although reputable companies may be a bit more pricey there's a direct correlation in proper equipment maintenance and staff training to ensure the balance between safety and savings.
You can check out their different tour packages HERE.

Mega Water Sports
Pantai Cenang (behind Orkid Ria Restaurant)
Tel: (60)1 2389 0801 / (60)1 2200 2155
[email protected]
www.megawatersports.com